Nestled along the length of Poh Huat Road in Singapore, lies Melvin's charming farmhouse style condo apartment. What makes this farmhouse style home interior design special is its take on rustic modernity to create a cheerful ambience. So, what do we do when we take a tour of a beautiful home like Melvin's? We try to pocket as many ideas on the farmhouse interior design style as we can, of course! From hacking to plumbing and all the little things in between, you can use these price estimates to plan your own condo reno.
Join us as we take you through each room in this beautiful 3-room condo designed by Livspace designer Widya Yuniarti. Who knows, you might just find some inspiration for your next home project too!
---
Who Livs here: Melvin and his family
Location: Poh Huat Road
Type of home: 3-room condo spanning ~115 sqm
Design team: Interior Designer Widya, Project Manager Jensen, and Business Manager Nivedita
Livspace service: Flooring, hacking, carpentry, painting, tiling, electrical rewiring, false ceiling, and appliances
Budget: $$$
---
IN A NUTSHELL


Brief

To create a homely American farmhouse style interior design that make the best use of limited space

What We Loved

The outdoor seating area that oversees the pool

Look Out For

– The farmhouse style barn doors that lead to the bedrooms
– The use of slatted wall panelling on the TV wall
– The shaker-style cabinetry in the bathrooms and kitchen

Biggest Indulgence

Smart devices and fans for the home to match the modern farmhouse theme


How Much Should You Consider Budgeting For a 3-Room Condo Renovation?
| | |
| --- | --- |
| Type of Service | Estimated Cost |
| Hacking | S$7,638 |
| Plumbing | S$4,166 |
| Furniture | S$2,437 to S$5,263 |
Before we get into this farmhouse style home interior tour, it'll be helpful to have a breakdown of the costs involved when renovating a condo apartment. For Melvin's condo renovation, the costs were relatively higher given the nature of changes made. However, you can still use this as a baseline to estimate the amount you can expect to spend.
Design Tips You Can Borrow From This Farmhouse Style Condo Renovation
So, what did all the money that went into this budget amount to? The end result is always worth the wait especially if you've invested more money into designing your home. Take a tour of Melvin's chic country-style home to see how it turned out:
#1: Wooden Accents Complement Soft Neutrals in This Living Room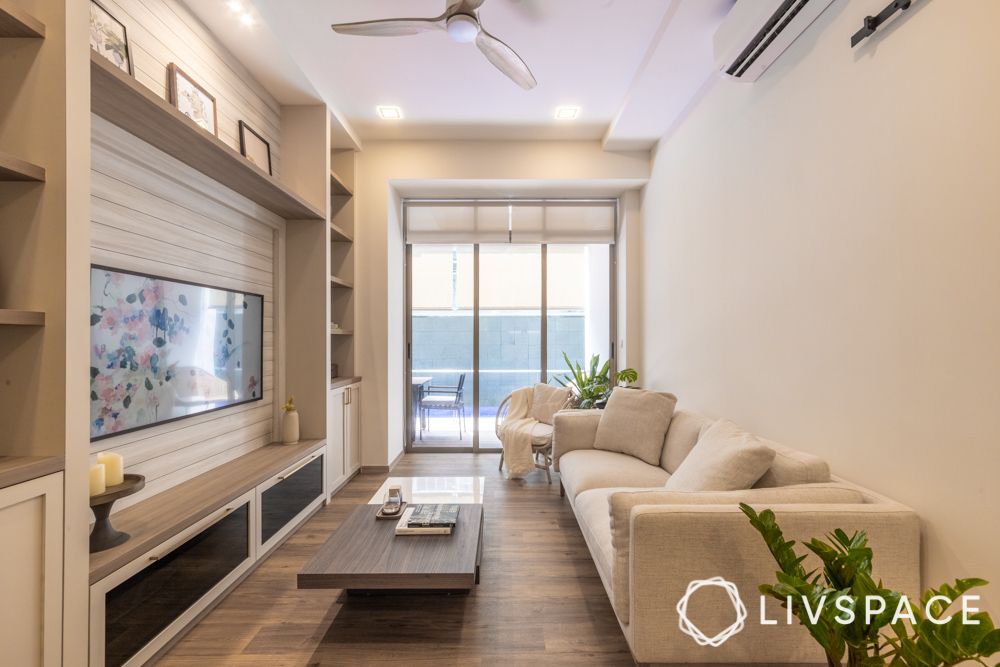 Imagine waking up in a home that gives you 24/7 vacay vibes. While it might make you want to lounge around all day and take in the views, the pride you'd feel about living in such a home would be unparalleled. Melvin's farmhouse style interior decor embodies the spirit of picturesque Airbnbs that all of us love browsing through in our free time.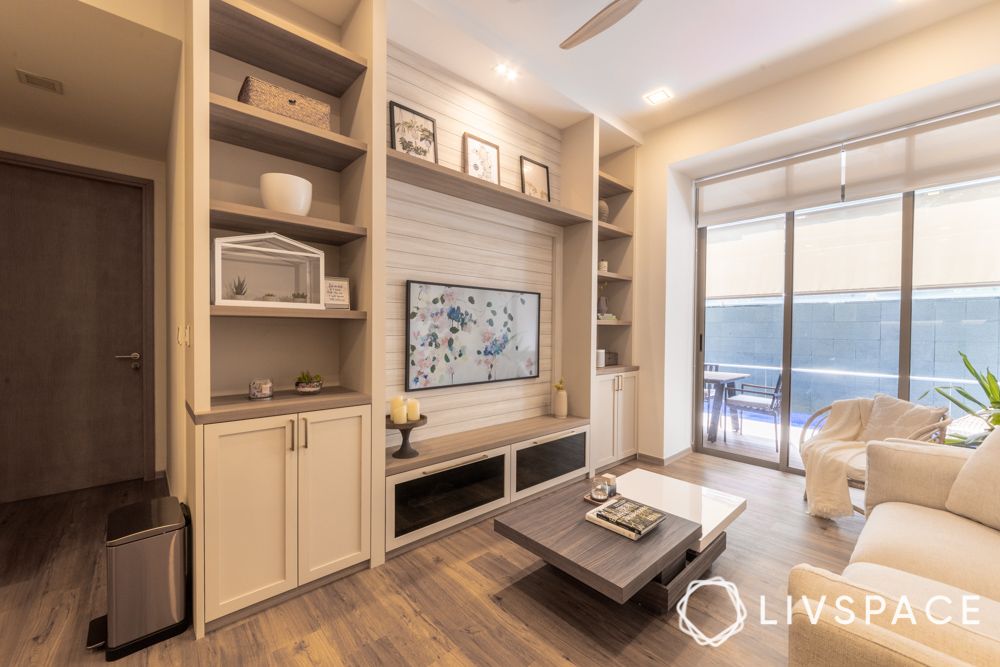 Similarly, there are a host of ideas that you can borrow from this charming space. Some of the obvious elements that add to the farmhouse interior design style of this cosy, luxe condo include:
Slatted wall panelling for the TV wall resembles wooden fencing popular in country-style homes.
Wood-grain accents tie into the rustic look of the space, while still keeping it modern.
Soft muted neutrals offer perfect contrast to the wooden tones in the floorboards and coffee table.
The sliding balcony door helps pool in light to further highlight the warm colour scheme of the living room.
Also Read: How We Designed a Stunning Small Condo With Pretty Neutrals & Luxe Accents
#2: A Sliding Barn Door Paired With Framed Cabinets Suggest Cool Cottagecore Vibes
No farmhouse style home interior design is complete without a classic barn door to drive your interiors home. Likewise, the sliding barn door acts as a separator between the common areas and master bedroom. Melvin's farmhouse style condo design, though spacious looking, was originally quite low on space. In such situations, the best thing to do is embrace sliding doors, instead of hinged doors, as they take up less space.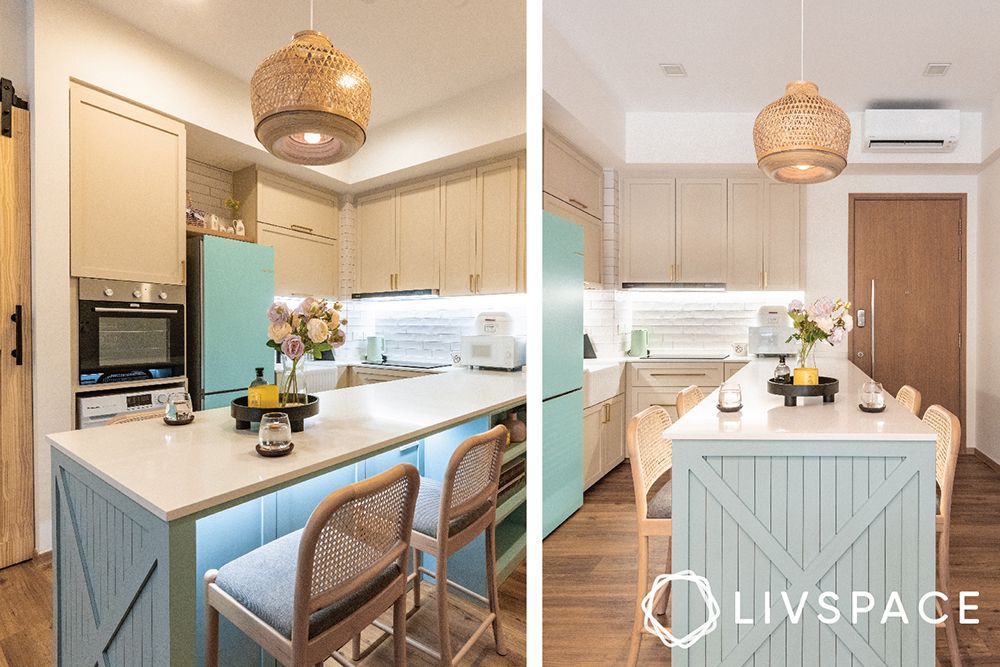 Other than the sliding barn door, there are several other visual components in this room that amplify farmhouse style interior design. Can you guess what they are? If you guessed the shaker-style cabinets, you're absolutely right!
Rattan used as light shades and panelling for chair backrests brings in an added level of texture.
Clever under cabinet lights for the island and worktop make the space functional and keep dark corners well-lit.
Matching teal fridge emboldens the rustic aspect of the farmhouse interior design style.
A complementary colour scheme ties the room together, where most of the elements pair off with similar palettes.
#3: Two Rooms Combined Into One to Create This Chic Master Bedroom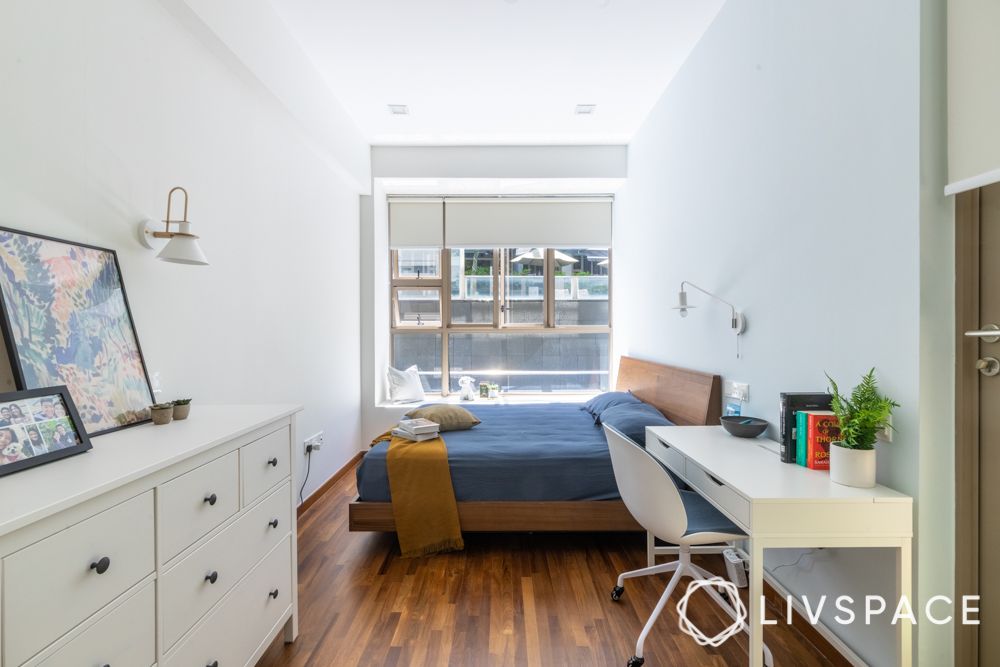 Given the limited space in this farmhouse style home interior design, the master bedroom was one area that required a bit of revision. The homeowners decided to hack the wall between two bedrooms to create a spacious master bedroom.
Though the master bedroom doesn't embody as much of the farmhouse style interiors observed in the other rooms, there are still a few touches of it found. The framed door cabinets, wall sconces, and wooden flooring are a few similarities to note.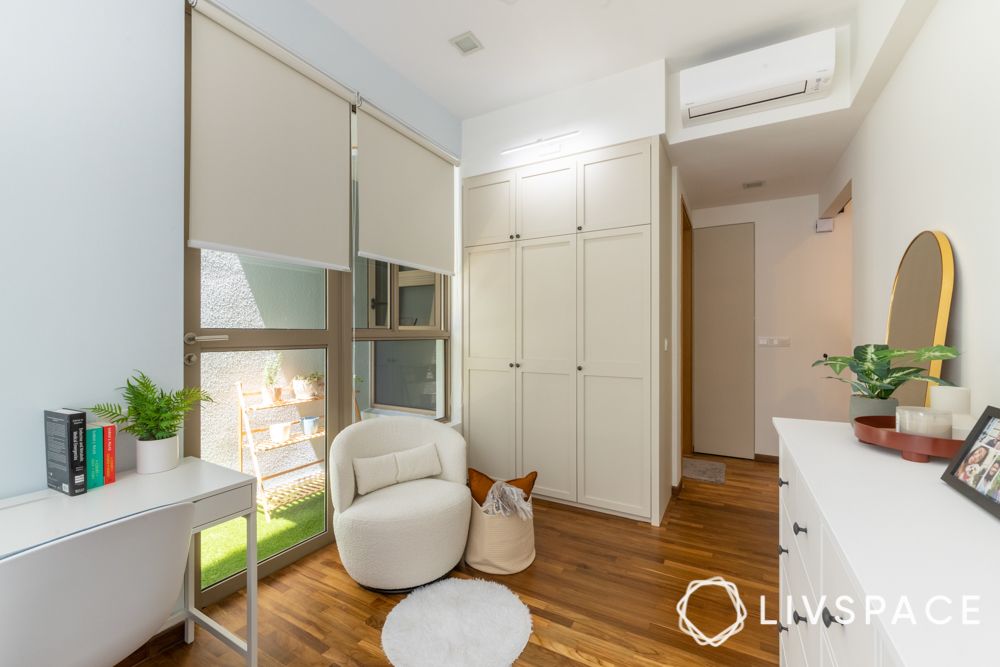 Besides maintaining a modern take on the farmhouse style home interior vibe, the master bedroom also focuses on making the best use of space. White is used for both the walls and furniture in the room to create a more spacious looking design.
Notice the windows along two walls of the bedroom? They help add to the openness of the room, further accentuating the illusion of a bigger space.
Also Read: 7 Smart Tricks to Make your Condo Look Bigger
#4: Cosy Vibes Ensure You'd Never Want to Leave This Study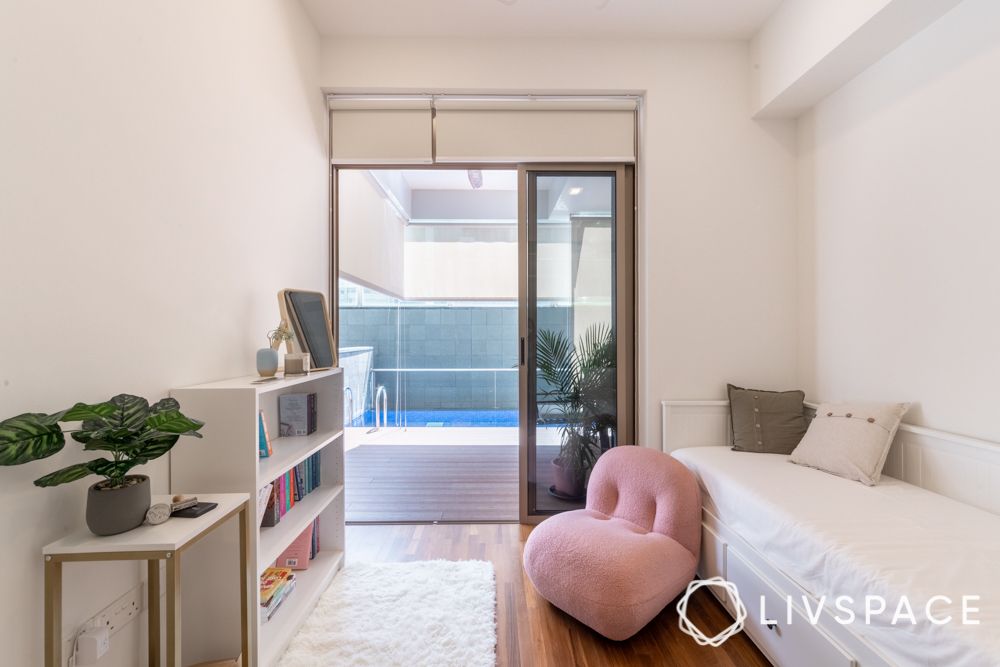 Who doesn't love lounging poolside with a good book in hand? In Melvin's farmhouse style condo design, the study room design allows just that. Flush with a collection of great reads and comfortable interiors, this space is every bookworm's dream.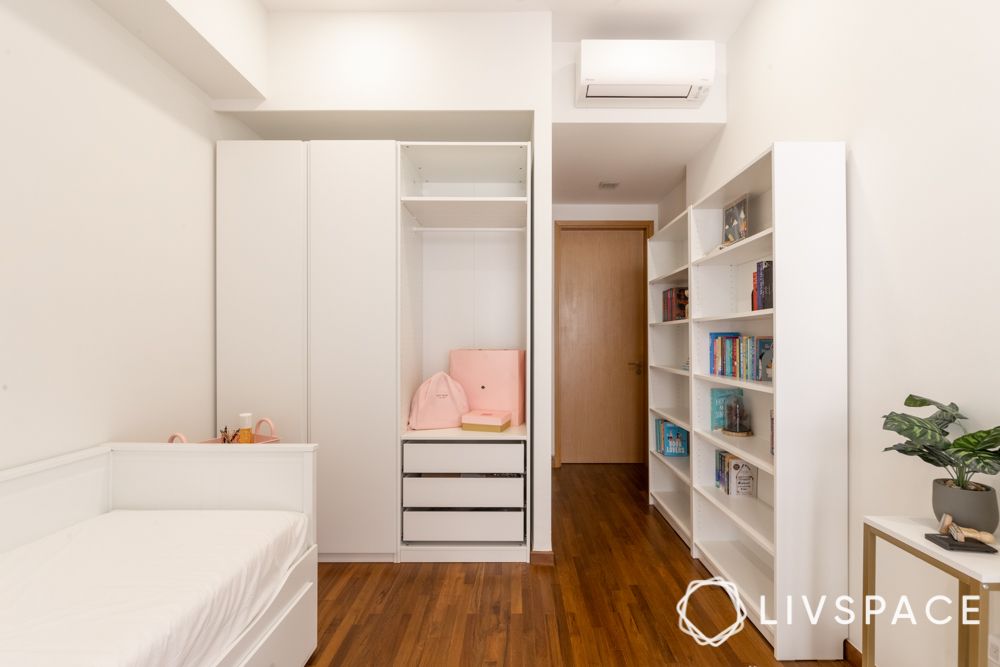 The wardrobe, day bed, and bookcase help address storage concerns in this relatively compact space, without compromising style. The all-white theme used here carries forth continuity in design from the adjacent rooms, maintaining the farmhouse style interior decor. The room is further illuminated by the inflow of light from the pool area, reflecting off the white interiors.
#5: Charming and Elegant Bathroom Design That's Like a Breath of Fresh Air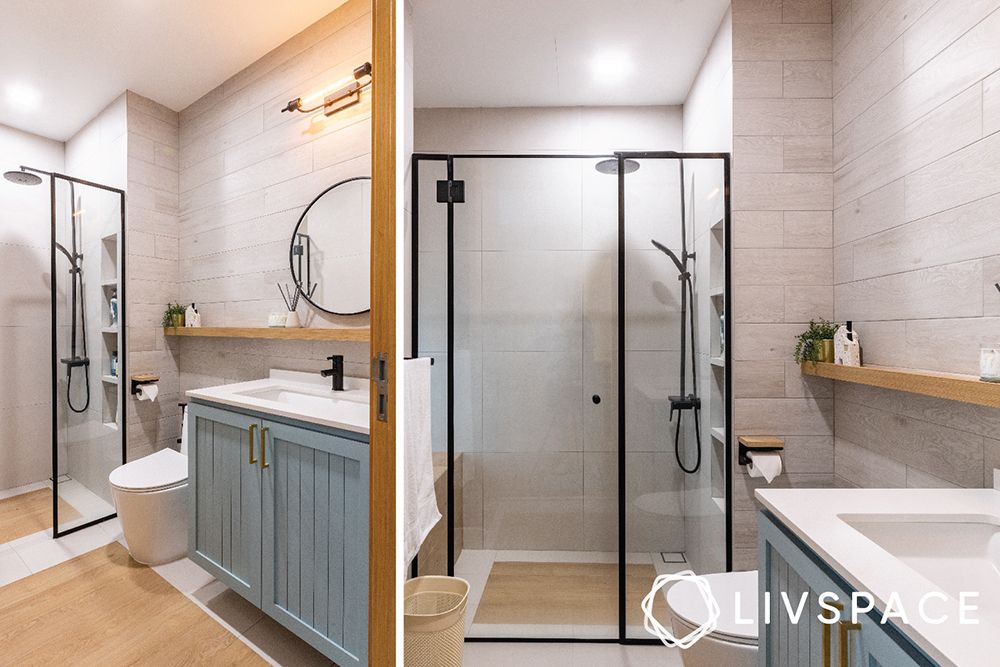 This bathroom belongs to the master bedroom and surely is a sight for sore eyes. Compared to the usual take on bathroom design, the bathrooms in this home have their own unique personalities. In line with the farmhouse interior design style of the home, the bathrooms too follow suit.
Shaker-style vanity cabinets that use panelling to enrich the country-style theme are what make this space interesting. Moreover, the use of teal shades to add a pop of colour to the grey-toned wooden walls bring this space to life.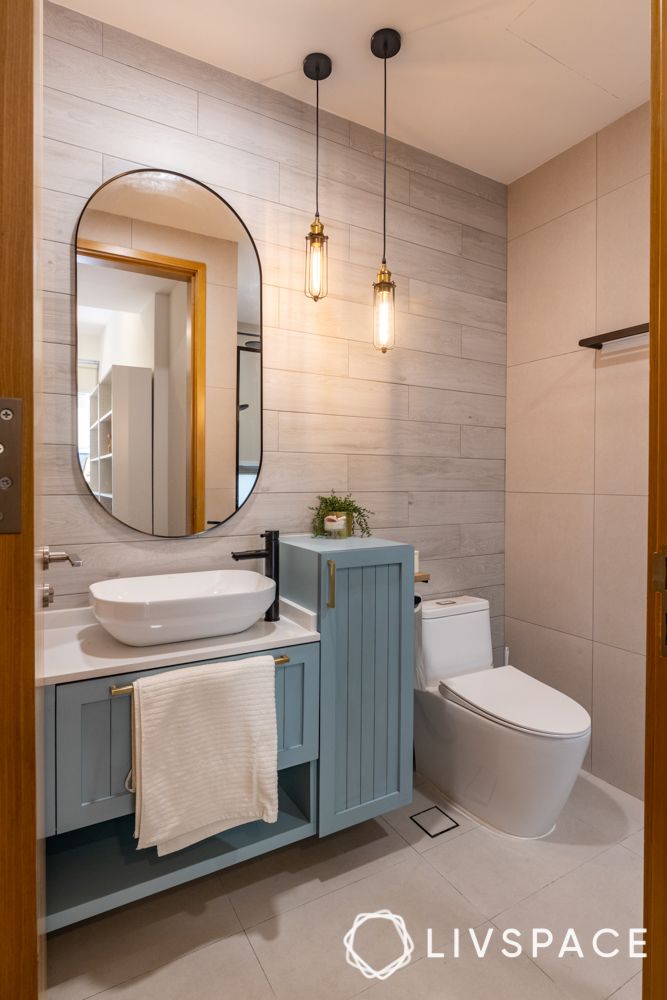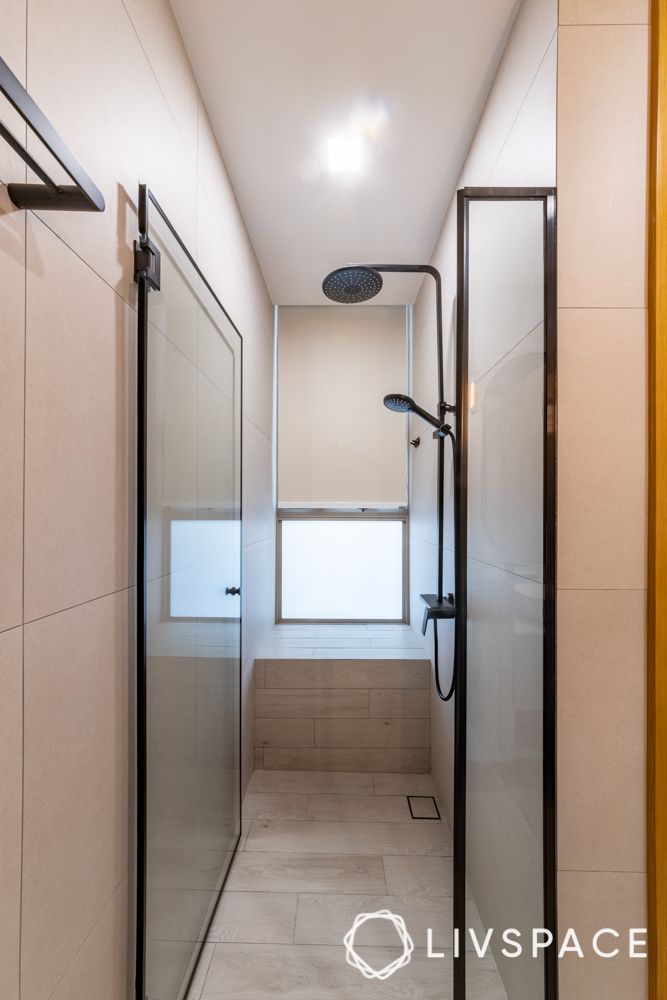 While the design for the study room's bathroom doesn't stray too far from that of the master bathroom, it does come with less space. However, this doesn't stop it from making the best use of whatever space is available. An elongated mirror helps add more depth to the room, while the pendant lights help draw the eyes upward, creating vertical length.
#6: Space-Saving Outdoor Patio Embraces Form and Function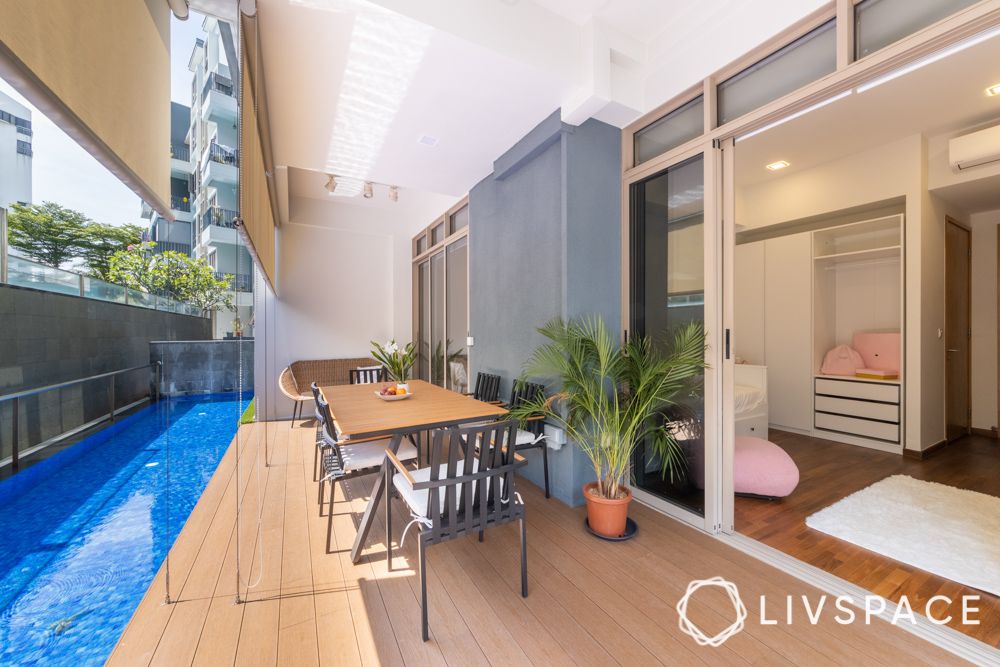 During this farmhouse style condo renovation, the outdoor patio had a few restrictions when it came to space management. Previously, the home had an aircon vent above the area where the table sits. Due to this, finding a suitable design solution was tricky.
However, ID Widya and PM Jensen were ready for the challenge. With the approval of condo management, the design team was able to reposition the aircon vent and create a more cohesive look.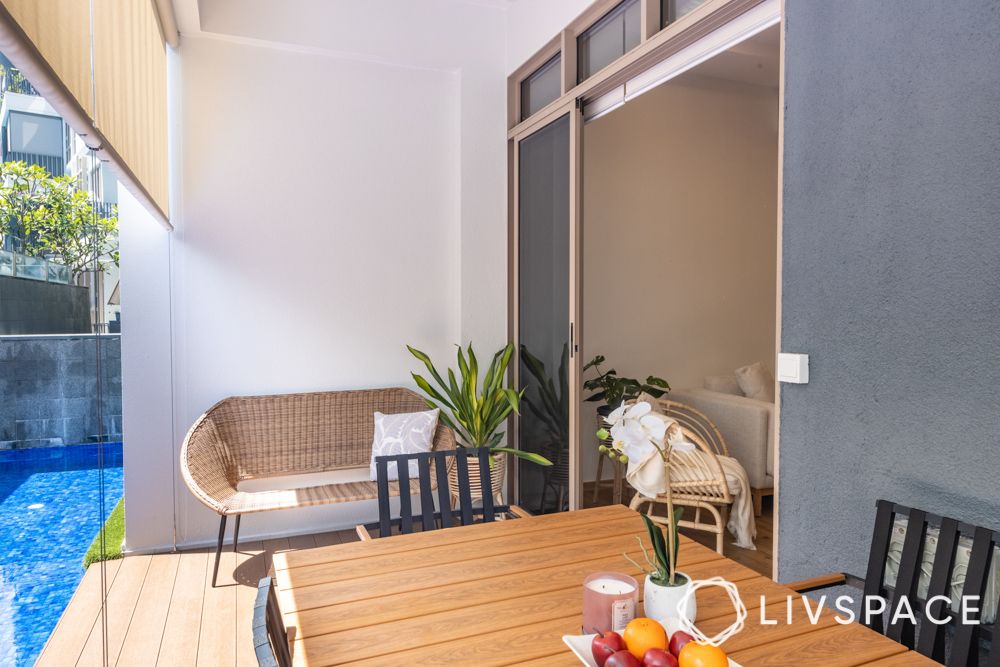 Now, the patio holds a beautiful alfresco dining area and extra seating space. Much like the rest of the home, the patio area too makes use of farmhouse style home interior decor with rattan furniture and slatted chair backrests. Handy roller blinds help keep this area shaded and cool while the family eats their meals or enjoys time by the pool.
How Can Livspace Help You?
We hope you enjoyed the tour of this farmhouse style condo design! For more inspiration, check out our favourite condos and ideas from each that you can borrow.
Want your home to be just as beautiful? Look no further. Book an online consultation with Livspace today! If you have any comments or suggestions you'd like to share with us, feel free to write to us at editor.sg@livspace.com.