Whether you're staying in an HDB flat or a condo apartment, space is always an issue. This is especially true if you have a family of six! This 3-room apartment at Forestwood Condominium is home to Joyce Lee and her family, and has been lovingly renovated to accommodate the family of six. Despite multiple design restrictions like space constraints, Livspace designer Kevin Chia did everything possible to make this condo interior perfect for the large family. He added contemporary design elements to this 3-room condo renovation for Forestwood Condominium while creating an inviting atmosphere for the entire family to enjoy.
---
Who Livs here: Joyce Lee and her family of six
Location: Forestwood Condominium
Type of home: 3-room condo spanning ~915 sq.ft.
Design team: Interior Designer Kevin Chia, Project Manager Fione, and Business Manager Andrea
Livspace service: Living area, dining area & 3 bedrooms
Budget: $$$
---
IN A NUTSHELL

Brief

To create a home for a large family of six in this 3-room condo interior renovation under S$50k

What We Loved

The rounded edges and also the use of EDL Fenix laminates for a kid-friendly home

Look Out For

– Innovative lighting solutions
– Use of wallpaper throughout the home
– The mirrored pantry cabinet in the dining area

Biggest Indulgence

Smart devices and lights for the home to keep the modern contemporary theme


You can also watch the video tour of this interior renovation for Forestwood Condominium 3-room condo here!
Modern, Airy and Cosy Living Room With Innovative Lighting Ideas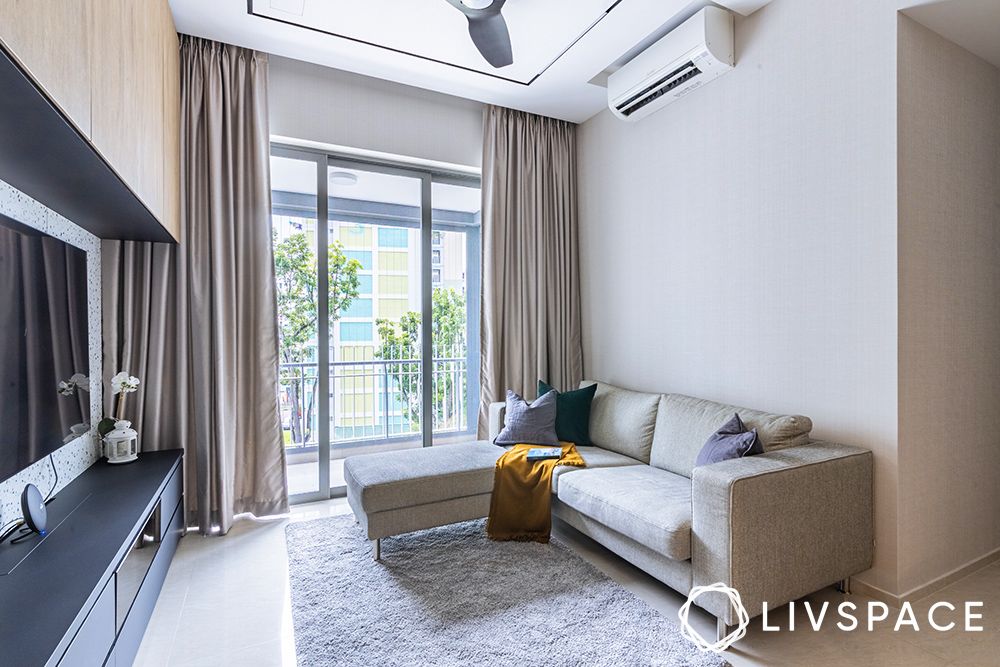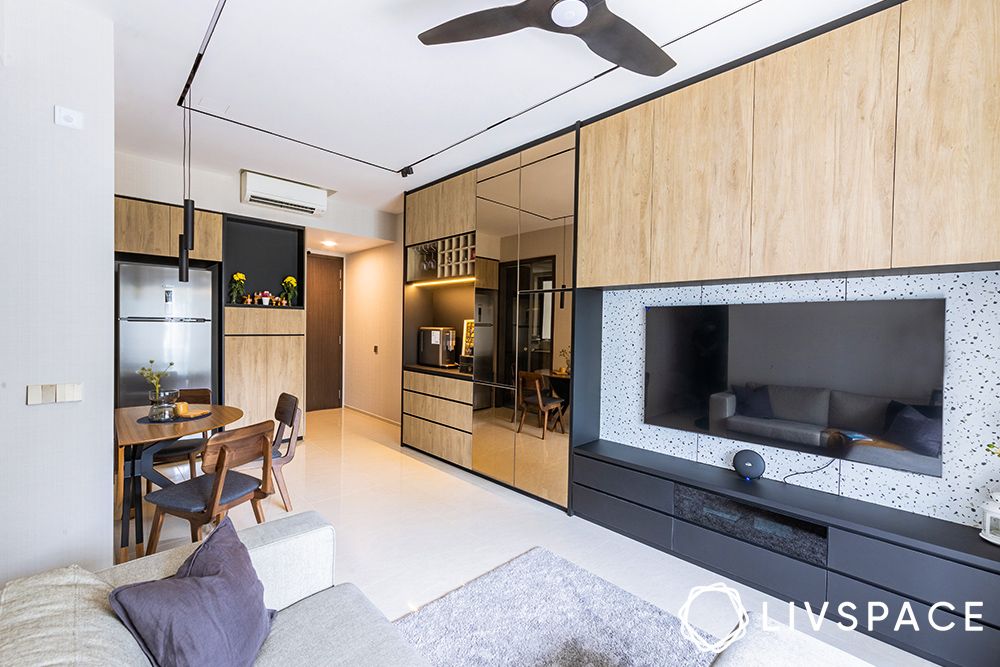 The open floor plan and simple beige sofas in the living area of this 3-room condo renovation for Forestwood Condominium give us the modern contemporary vibe. But the natural wood furnishings and sleek matte black accents are what truly caught our eyes. Kevin had also suggested to make do without a coffee table so as to make room for the four kids to play in. This living area appears like it belongs in a contemporary design magazine thanks to the clean lines and edges, and neutral colours.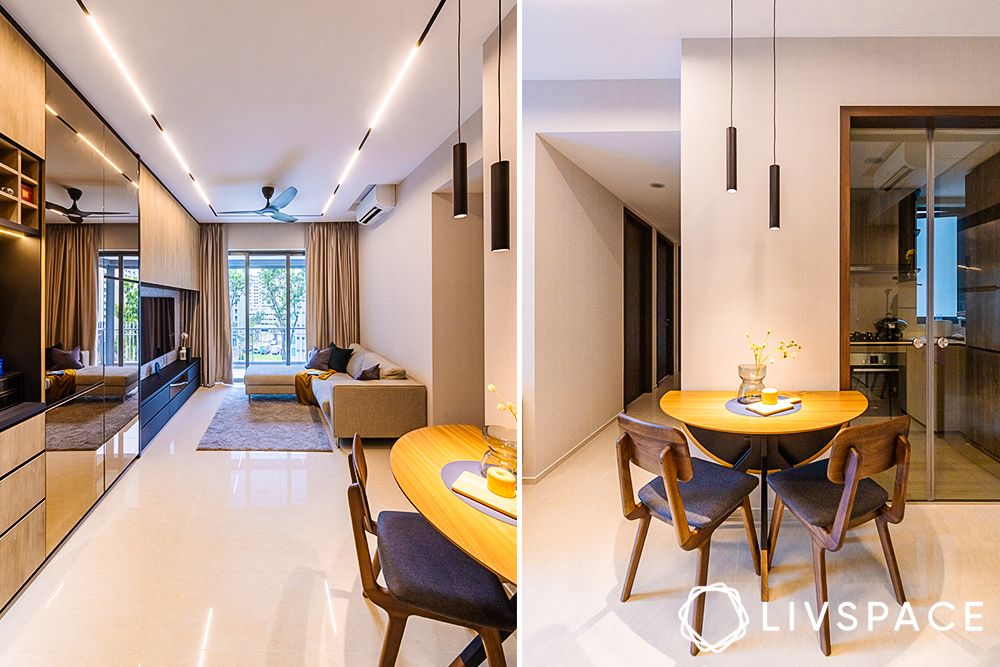 The shared living and dining area consists of innovative lighting systems. From classic hanging pendant lights to modern magnetic track lights, this 3-room condo renovation for Forestwood Condominium has, basically, got it all. The magnetic track lights can be removed from one area and tucked to the other whenever and wherever needed.
Also Read: How We Designed a Stunning Small Condo With Pretty Neutrals & Luxe Accents
Dining-Area With Foldable/Expandable Dining Table and Mirror Cabinet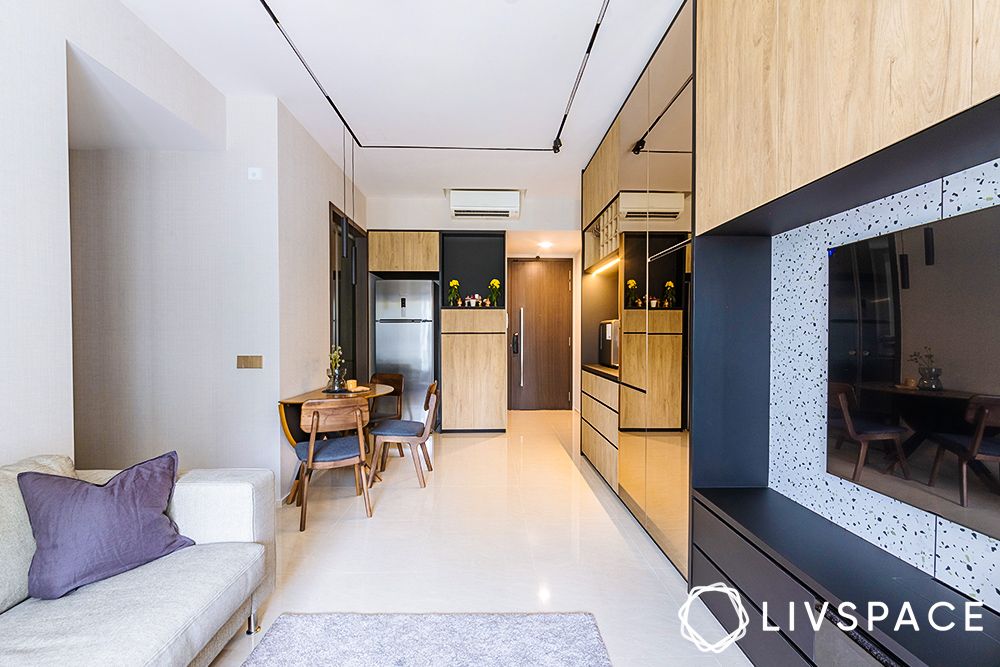 Since this is a big family of six, they needed a big dining space where their entire family could sit and eat together. To that end, Livspace ID Kevin provided a separate dining space in this open concept home. The dining area consists of an extendable dining table which can accommodate six people when needed and save space when not in use. Moreover, the hanging pendant lights add the lush-factor to the dining area.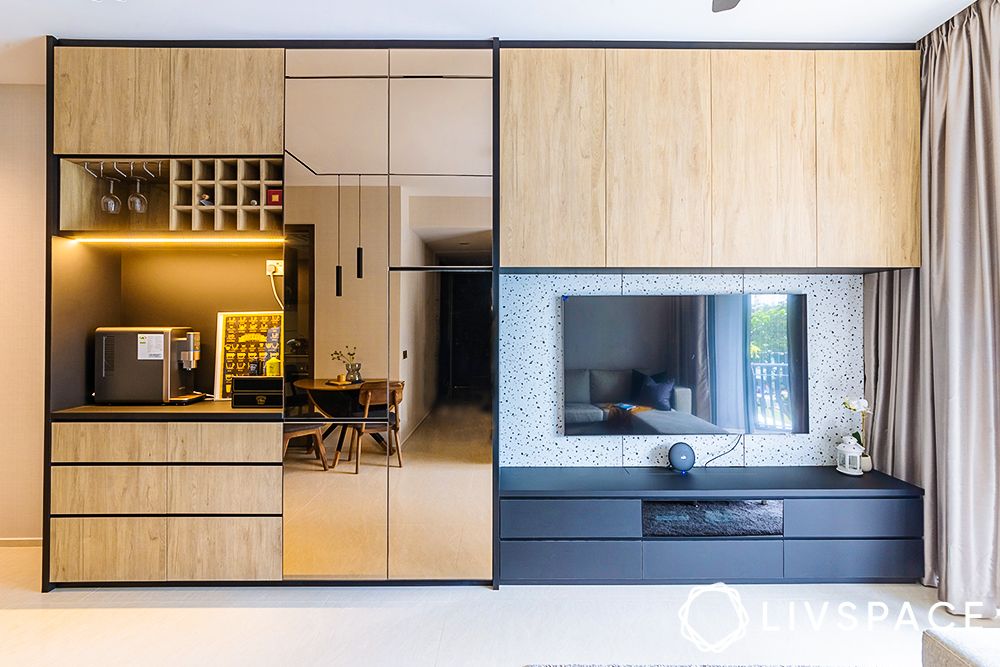 The dining area is also equipped with a mirrored pantry cabinet that provides storage while helping to keep the home looking neat and tidy. It also makes for an innovative design idea which is both aesthetically beautiful and functional.
Functional Master Bedroom With EDL Fenix Laminate and Sleek Black Accents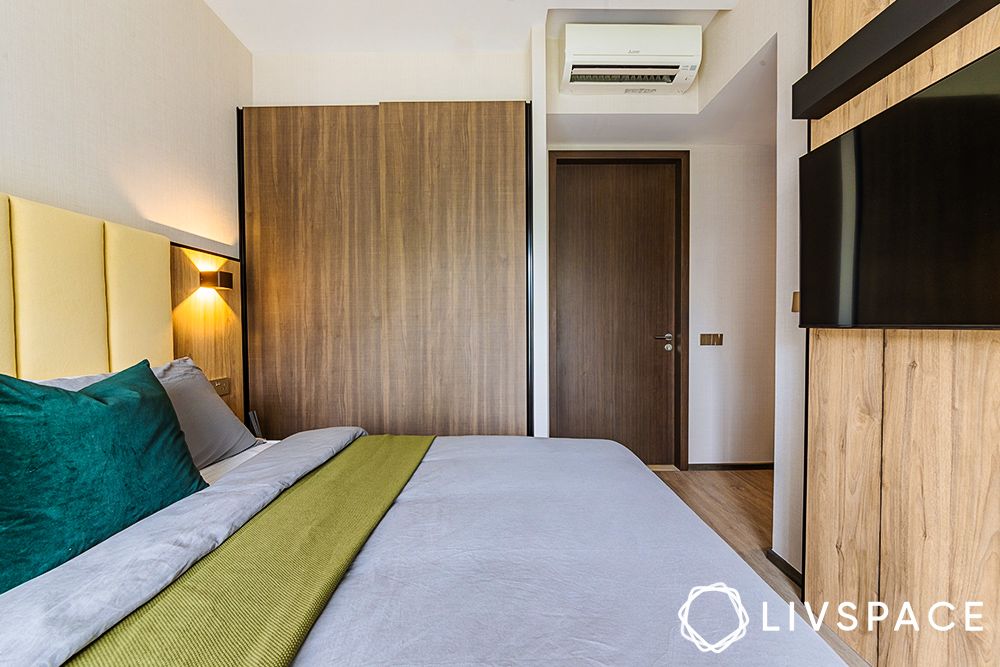 The master bedroom for the parents in this 3-room condo interior of Forestwood Condominium also follows the modern contemporary design guidelines, complete with sleek black accents. The furniture in the bedroom – side tables, sliding wardrobes, TV wall is natural and certified. Kevin also substituted a vanity cabinet, next to the wardrobe, with scant storage.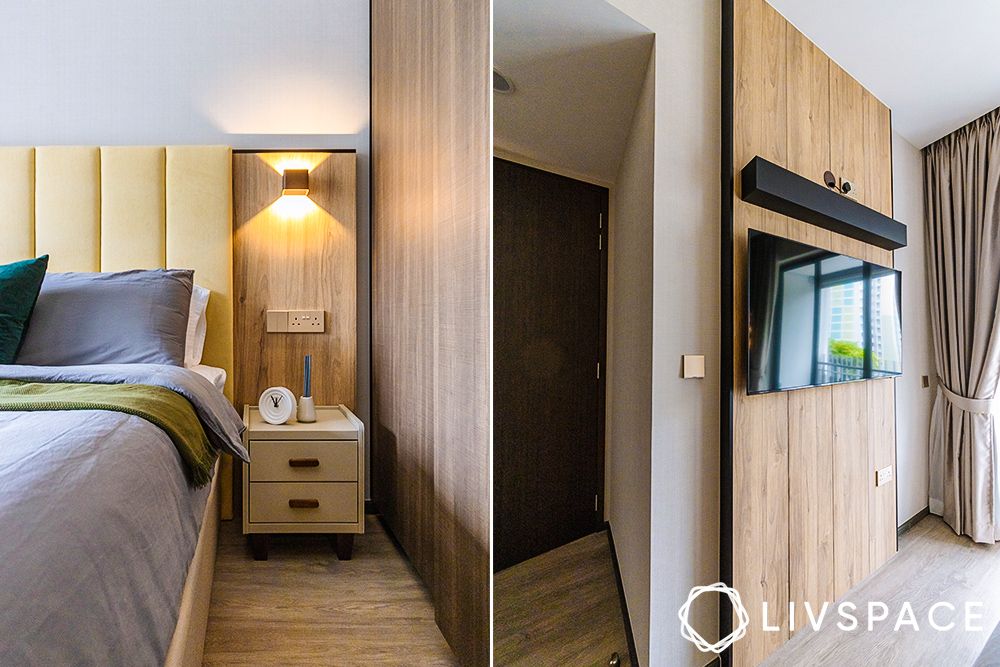 In addition, he furnished this bedroom with dark brown EDL Fenix laminate. It is basically a nanotech material which heals itself from minor scratches. This material is a highly practical choice for a family with kids.
Also Read: 7 Smart Tricks to Make your Condo Look Bigger
Storage-Intensive Bedroom for the Girls With Bunk Beds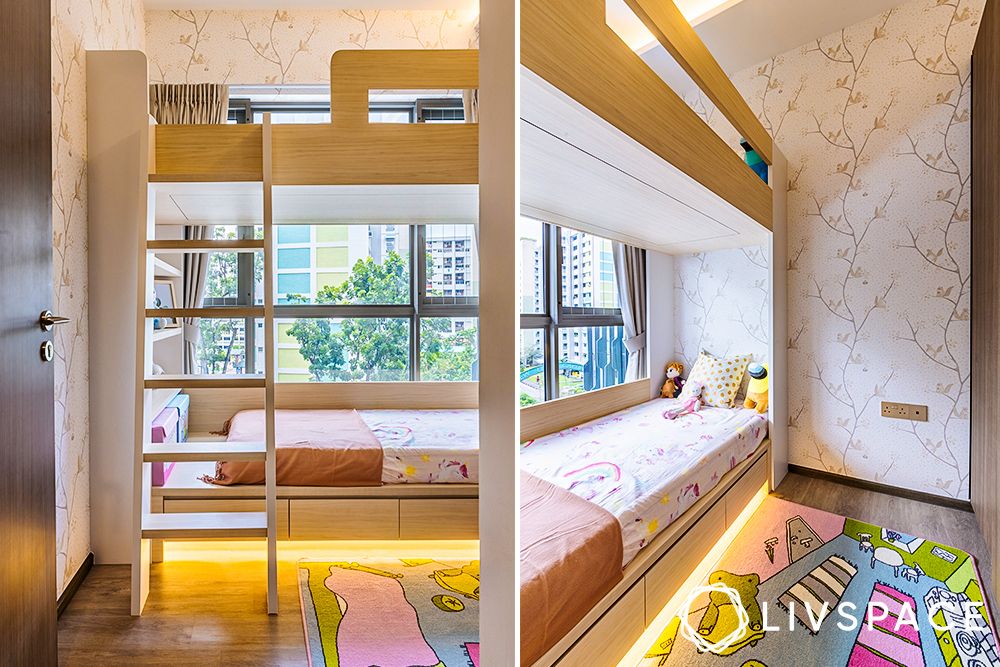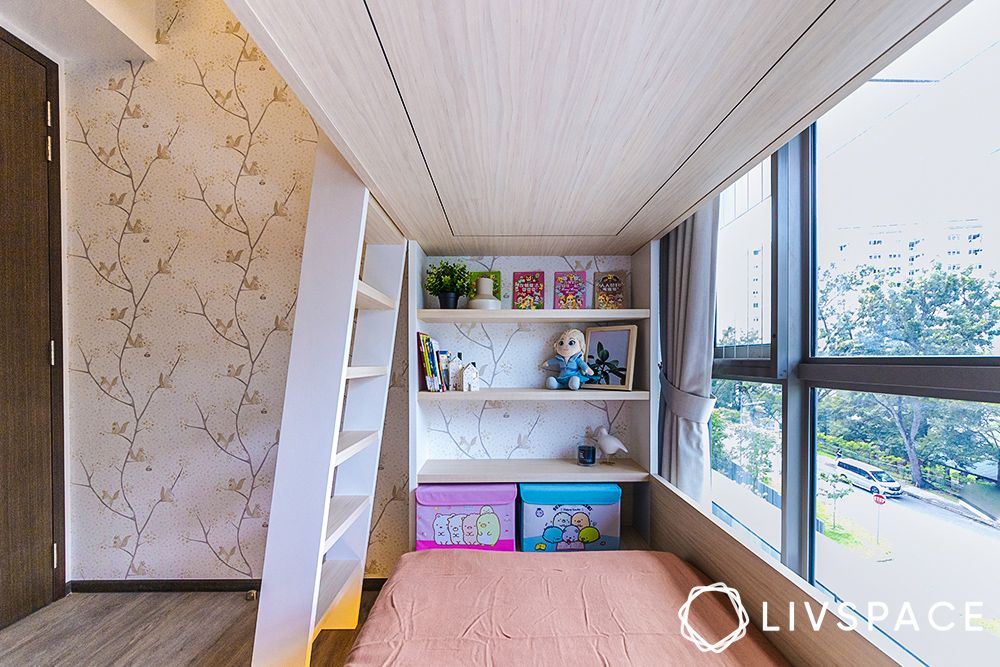 The couple has two daughters and this is their room. Kevin has chosen the neutral shades in this area tastefully to suit the girls' tastes as they grow older. This entire room has a floral wallpaper running through. More importantly, our designer customised bunk beds that can accommodate both girls without taking up to much precious floor space. This 3-room condo renovation for Forestwood Condominium also ensured that there is enough storage for growing girls and that explains the shelving near the beds.
Sons' Bedroom With Flexible Workspace and Loft Beds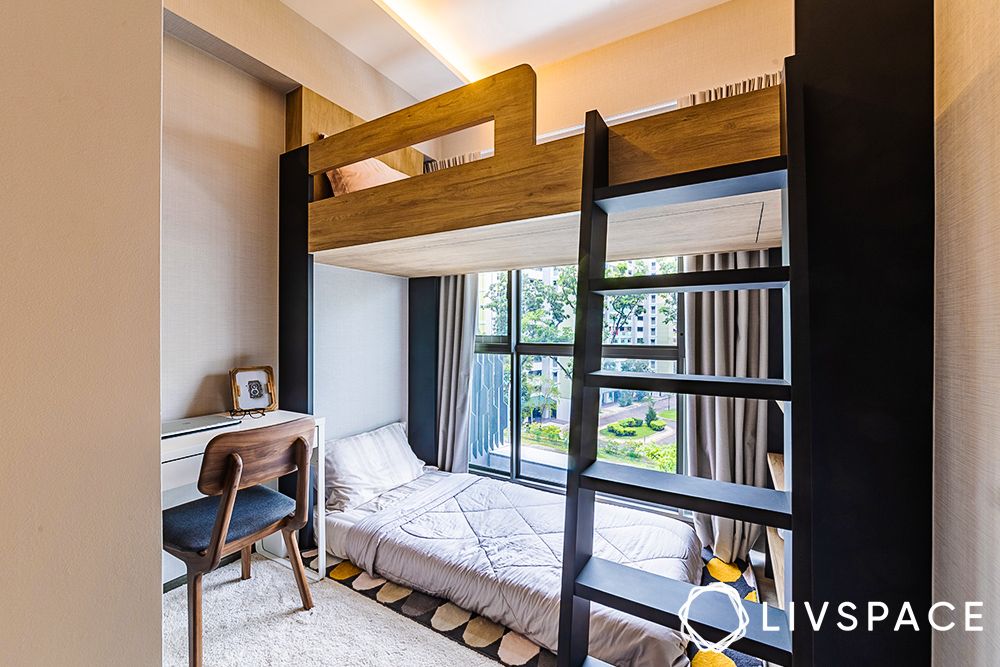 This room, for the two older sons, is also equipped with customised beds. Here, loft beds allow the furniture to to adapt to the boy's growing age and changing lifestyles. Besides, the bottom bed here can be swapped out for the lounge area or the workspace. Their room is also storage-intensive and has a work-station next to the beds.
How Can Livspace Help You With Your 3-Room Condo Interior Renovation Under S$50K?
So, did you enjoy the functional and smart interior renovation for Forestwood Condominium 3-room condo? Now, it's your turn to get beautiful interiors for your dream home. All you have to do is book a consultation with Livspace designers. Also, we'll make sure that you get quality interiors with safety. You can learn more about our COVID-19 safety protocols here.
Lastly, don't forget to send in your thoughts and suggestions at editor.sg@livspace.com.