If you're looking for ideas to get that getaway feel in your 4 room HDB design, you've gotta scroll further!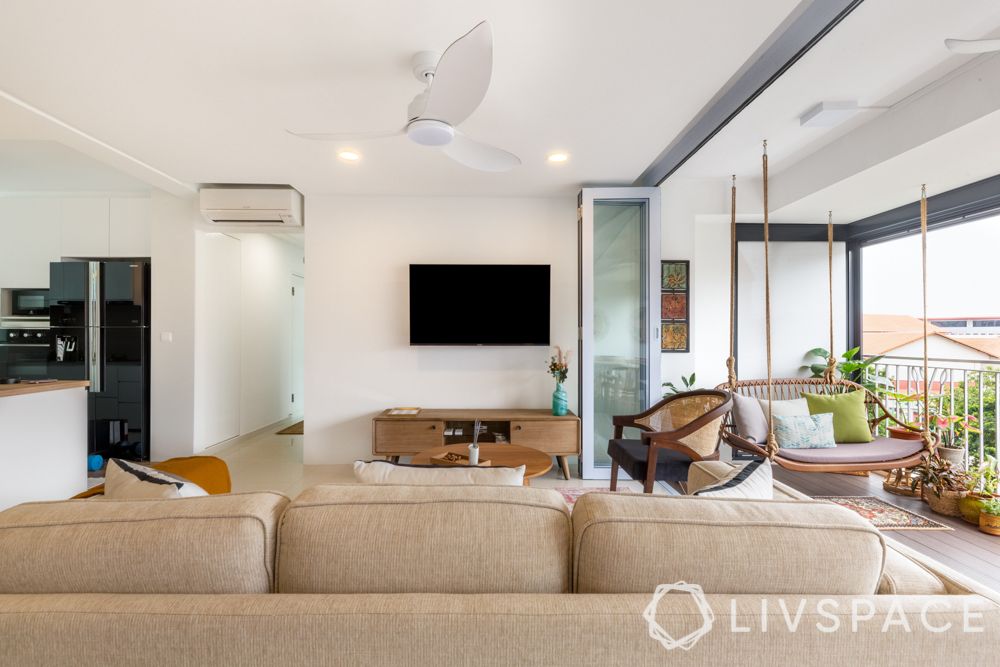 ---
Who livs here: Roslyn Ng with her husband
Location: 273B Bishan St
Type of home: 4-room resale HDB
Livspace team: Interior Designer Weigen Pan and Project Manager Kent Huang
Livspace service: Demolition, mansory, plumbing, aircon, plastering work, electrical works, design
Budget: $$$$$
---
The year gone by has changed the way we live at home and has forced us to think out-of-the-box when it comes to home interiors. For Roslyn, when she decided to get her resale HDB renovated, she wanted to make sure that it is her perfect staycation. She wanted ample space for herself and her friends to chill around her home. Easy maintenance is obviously what follows when you're going to be entertaining a lot, and you don't want your interiors to look worn out very soon and spend hours cleaning.
Hence, our designer, Weigen Pan, stepped in and took charge with his expertise. He suggested just the right layout, design, plan and materials that would work for Roslyn. He also tried to combine the existing furniture with new modern furniture and made the design look seamless. You have to check out the details of this 4 room HDB design!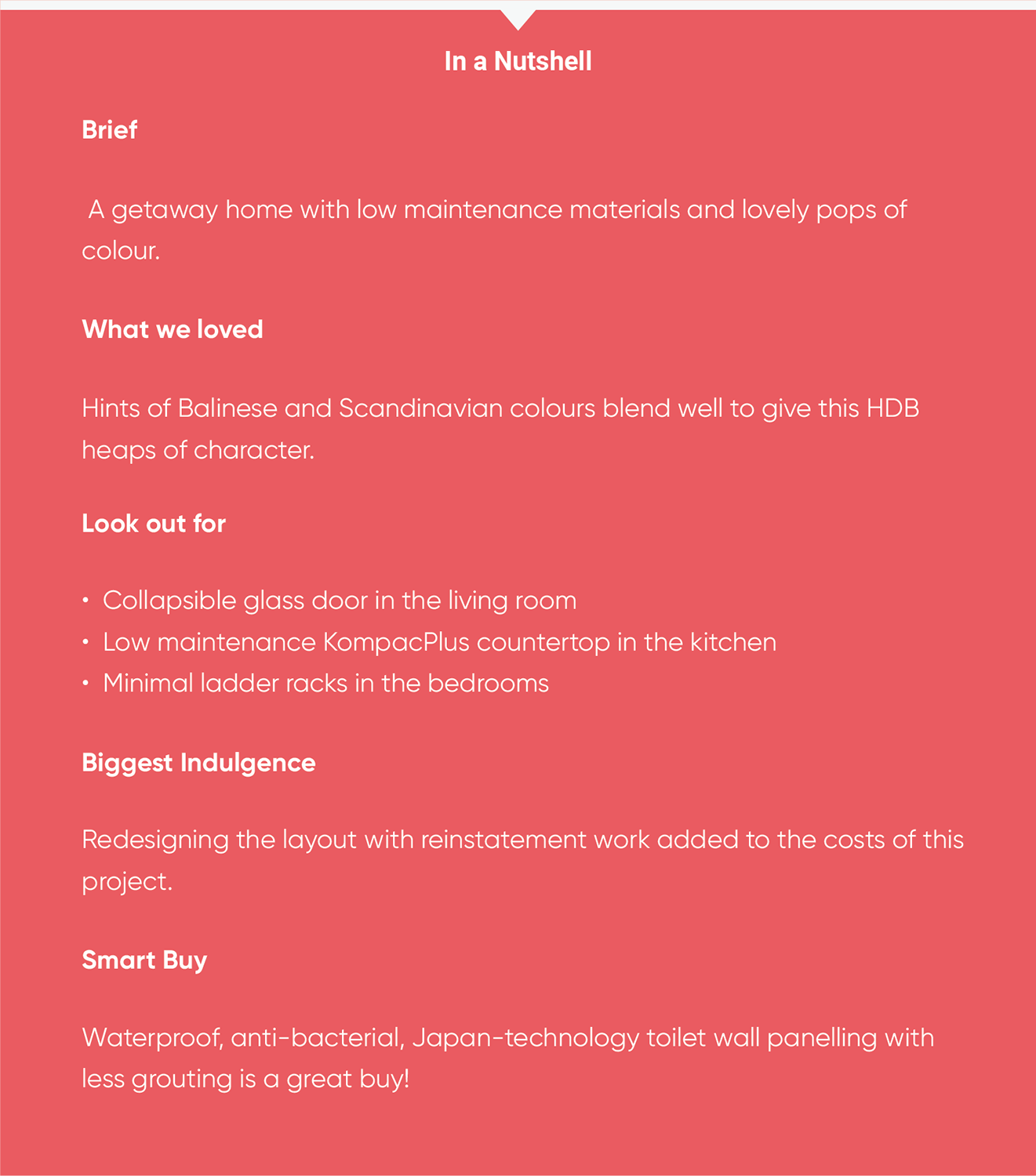 A spacious and well-lit living room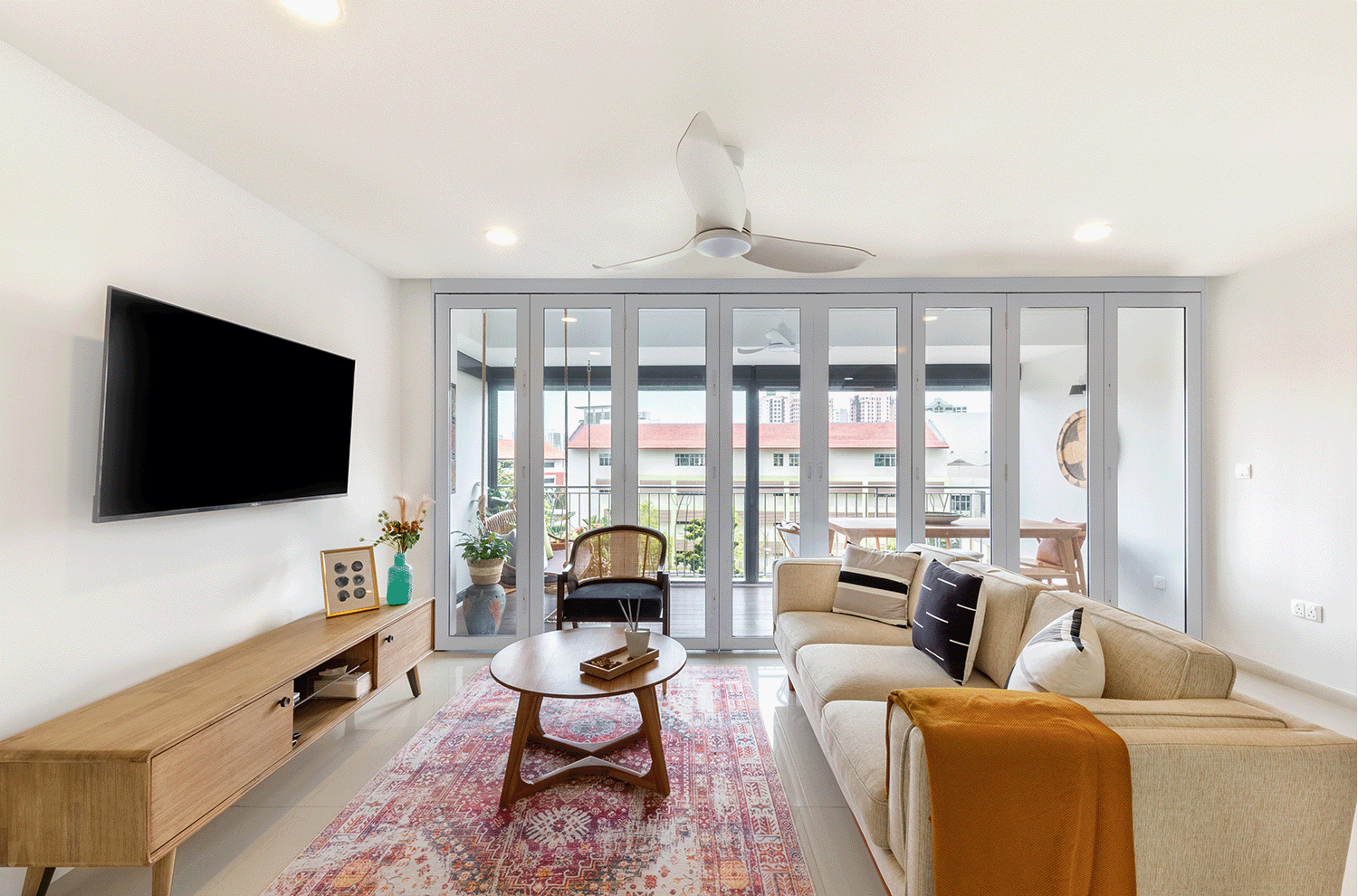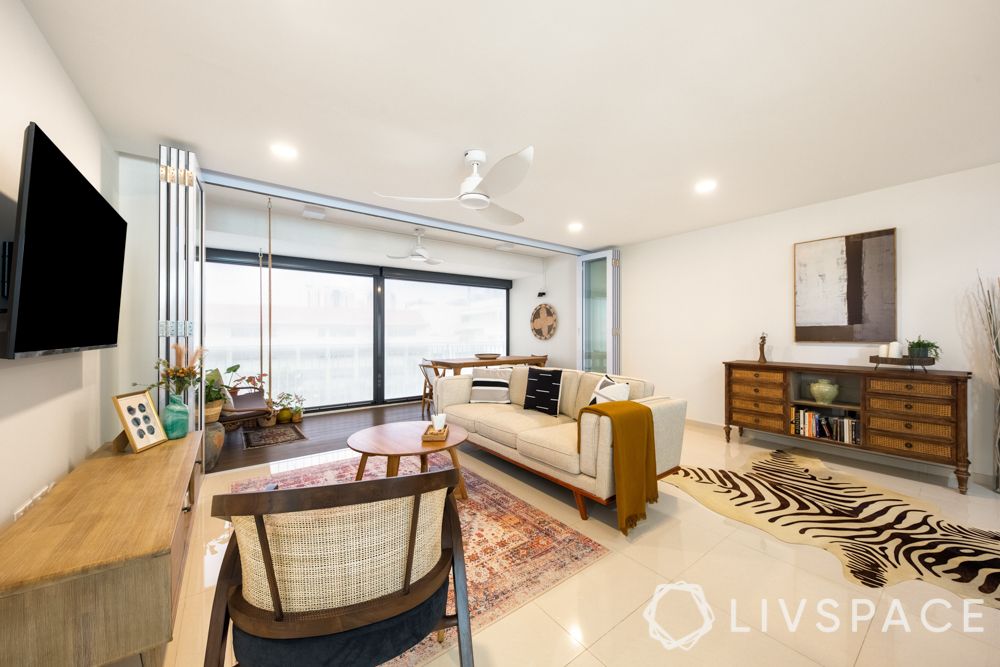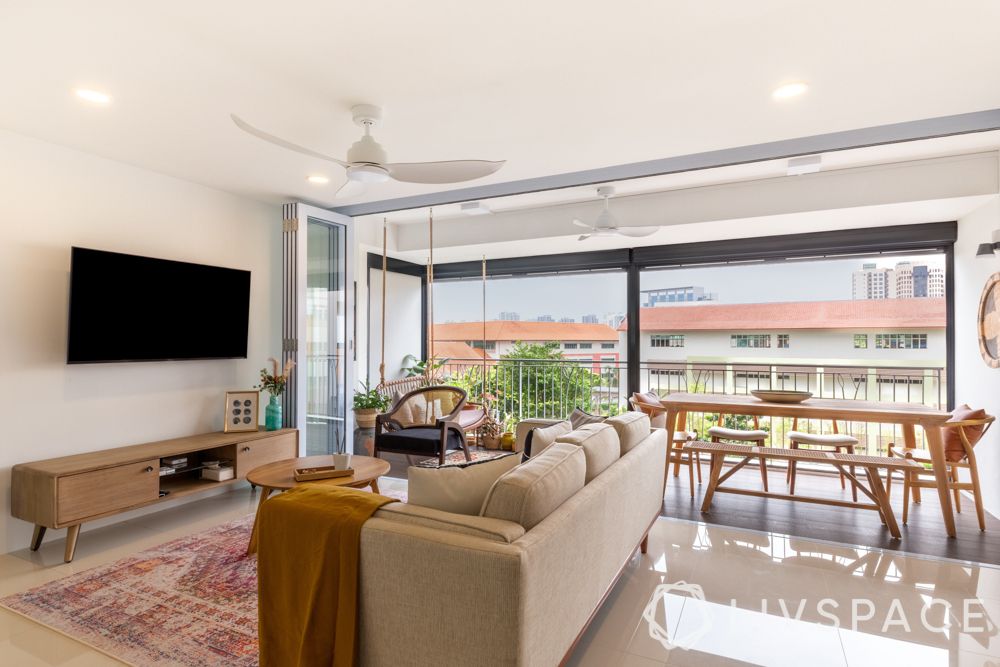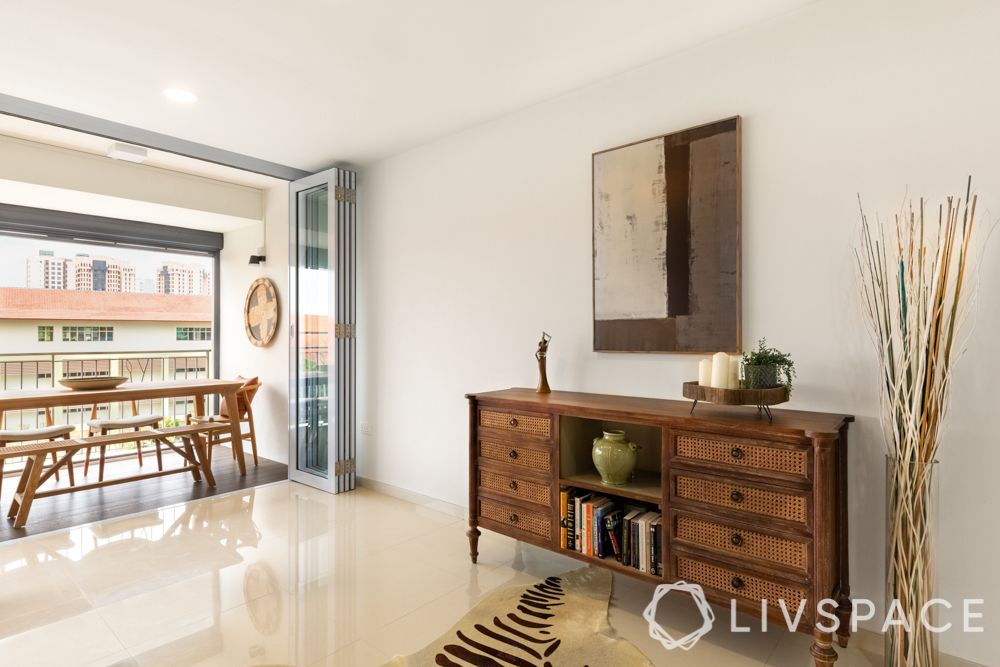 You can experience a slice of Balinese design sensibility the moment you step foot inside the living room. Weigen has added mid-century modern furniture here and balanced it out with plain walls. Rugs also play an important role in this space with an abstract one in the centre and an animal print one on the other side. The highlight of this living room is the TV wall. Instead of a fancy feature wall, Weigen has used a simple plaster wall covering and covered all the wiring with loose furniture.
Perfect dining area in the balcony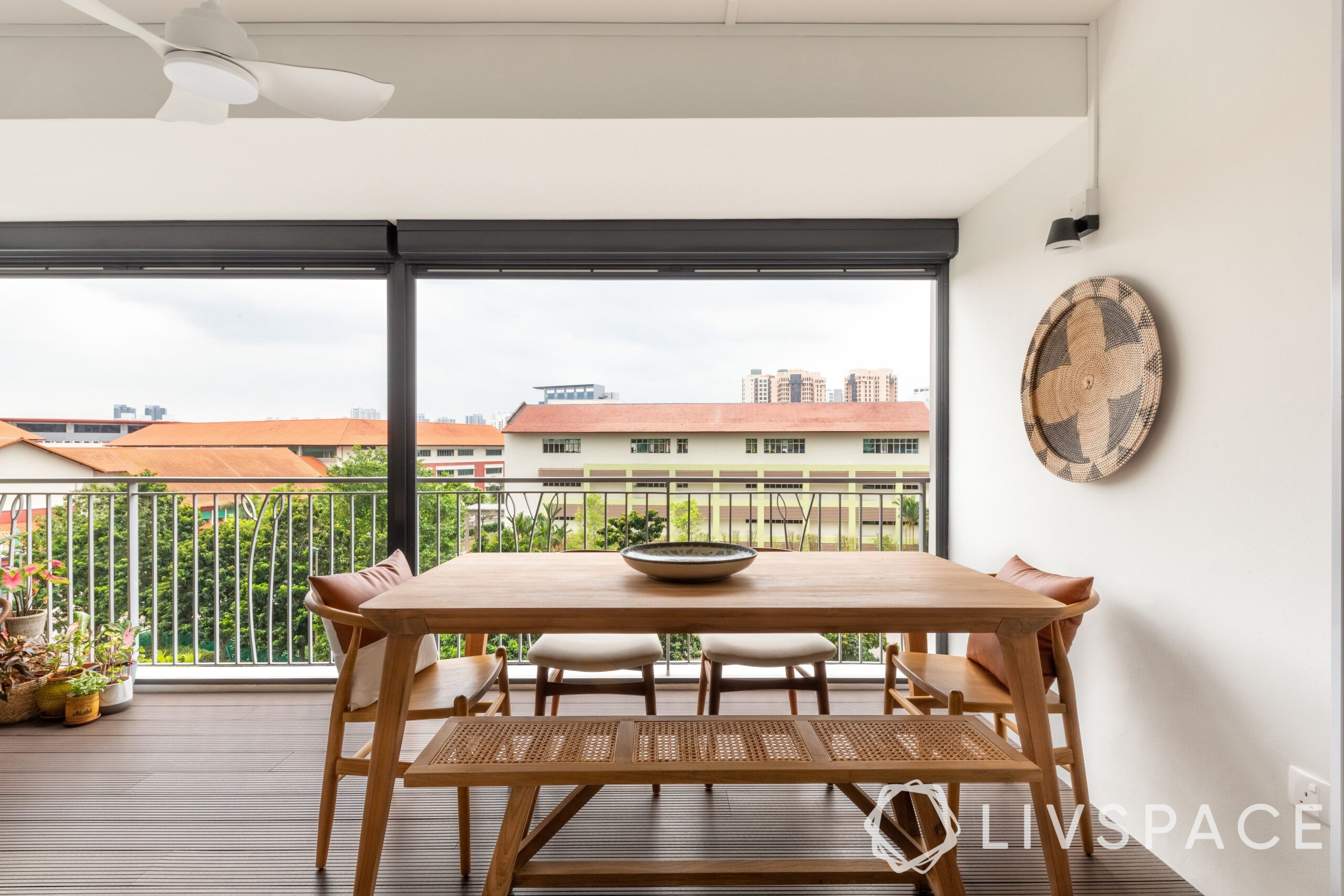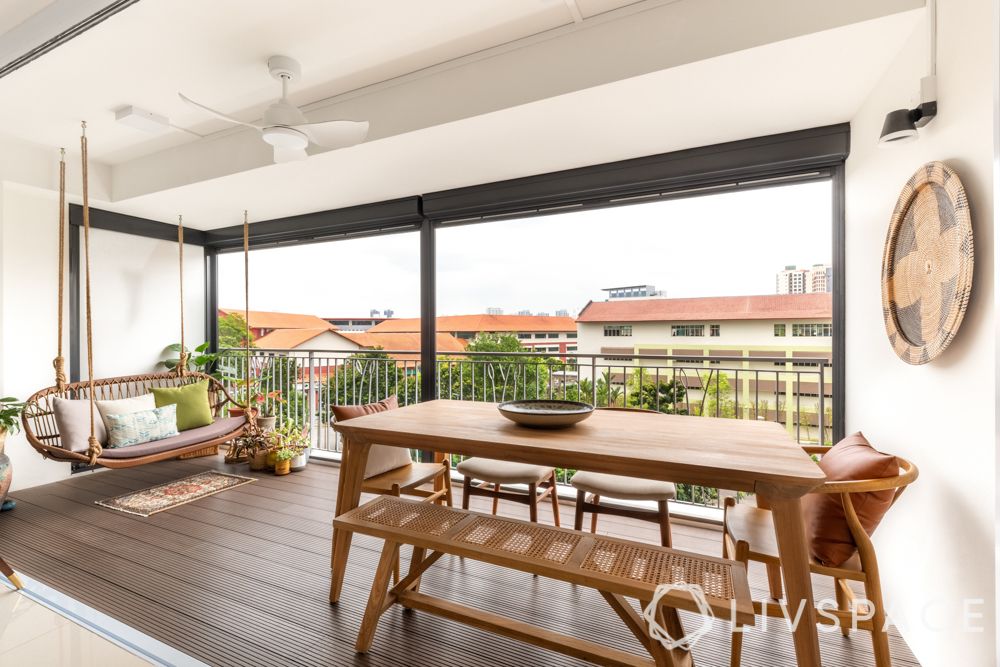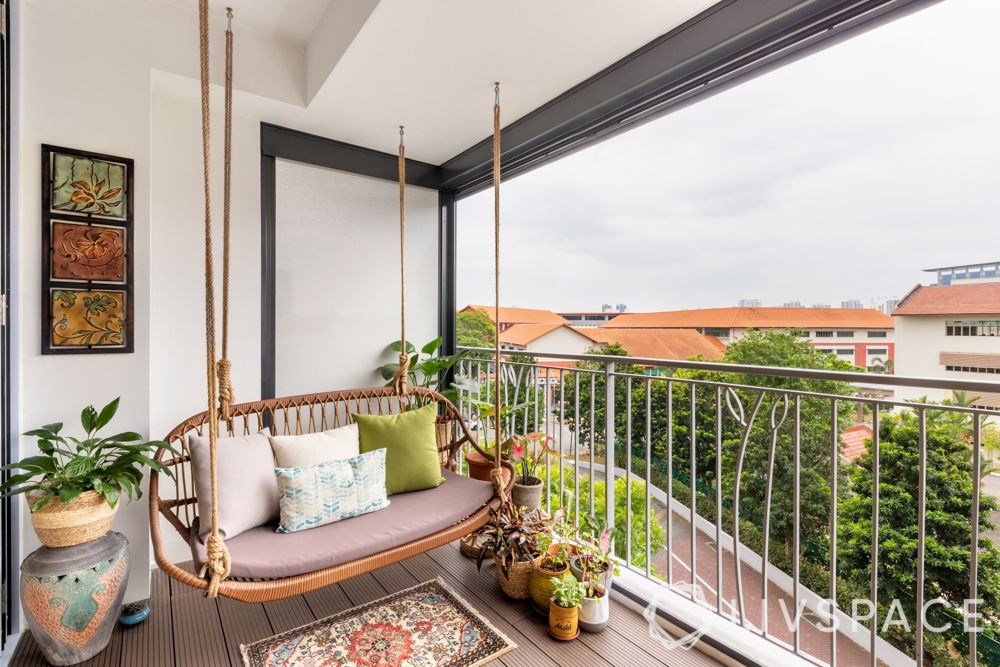 Roslyn really wanted an outdoor dining area and Weigen found the perfect spot for it. The balcony deck with wooden flooring and a suspended swing was the chosen place to keep the dining table. It is a warm wooden dining table set with a bench that can accommodate extra people if need be. We can totally imagine a barbecue party going on here! Do not miss the cluster of potted plants next to the swing that add a dash of greenery.
"I wanted my home to be very warm, welcoming and a place where I can entertain a lot. I particularly loved the layout, design and materials that were suggested by Weigen, our designer. Both him and our Project Manager, Kent, are very responsible and quick with problem-solving. I am very happy with the final outcome and I love my new home!"

Roslyn Ng

Livspace Homeowner
An open kitchen for someone who loves entertaining friends and family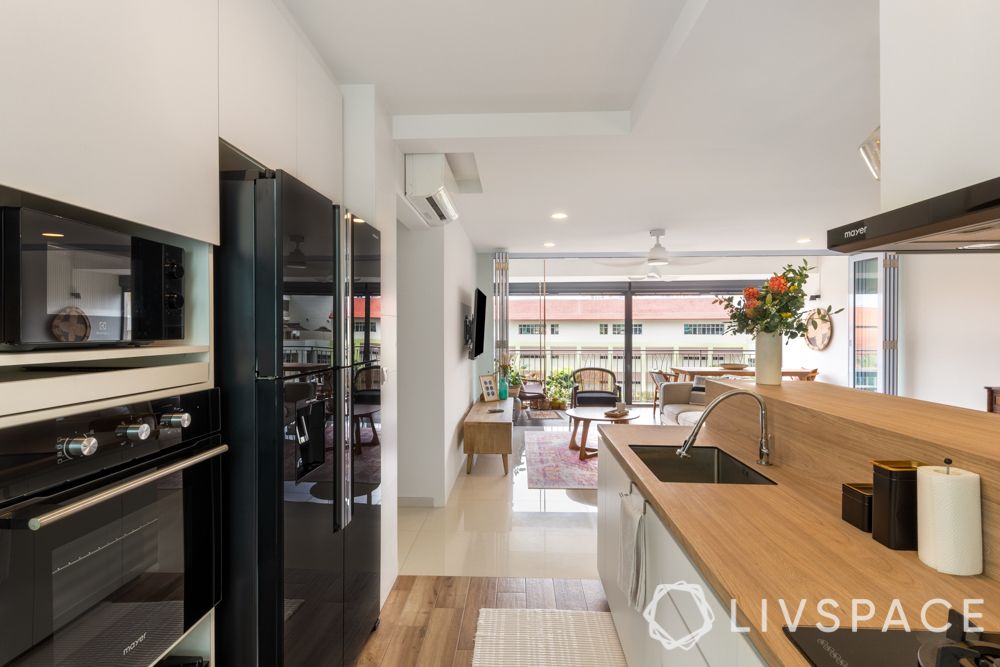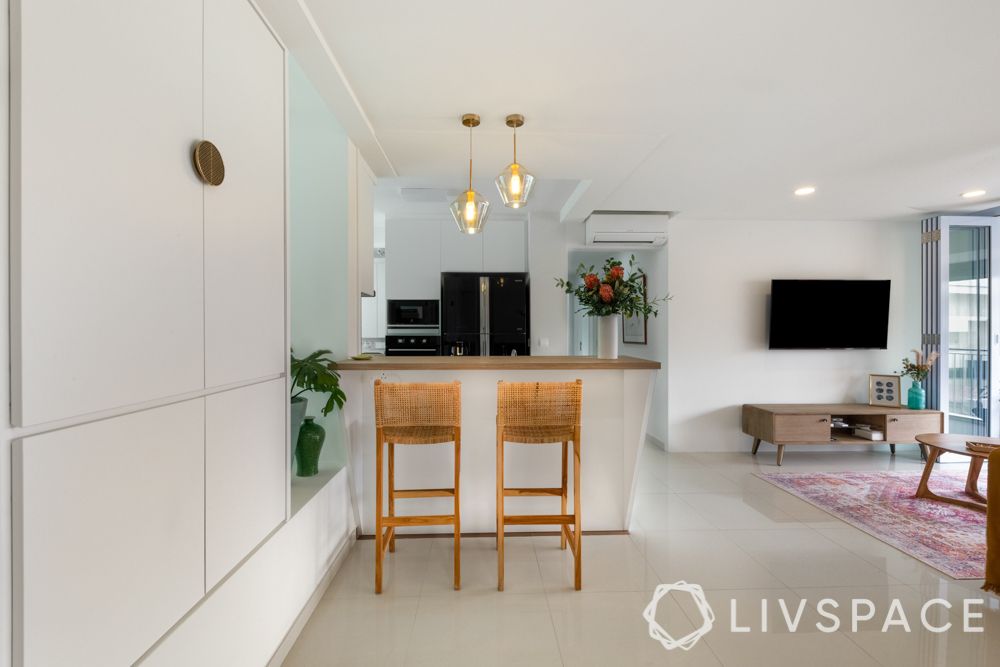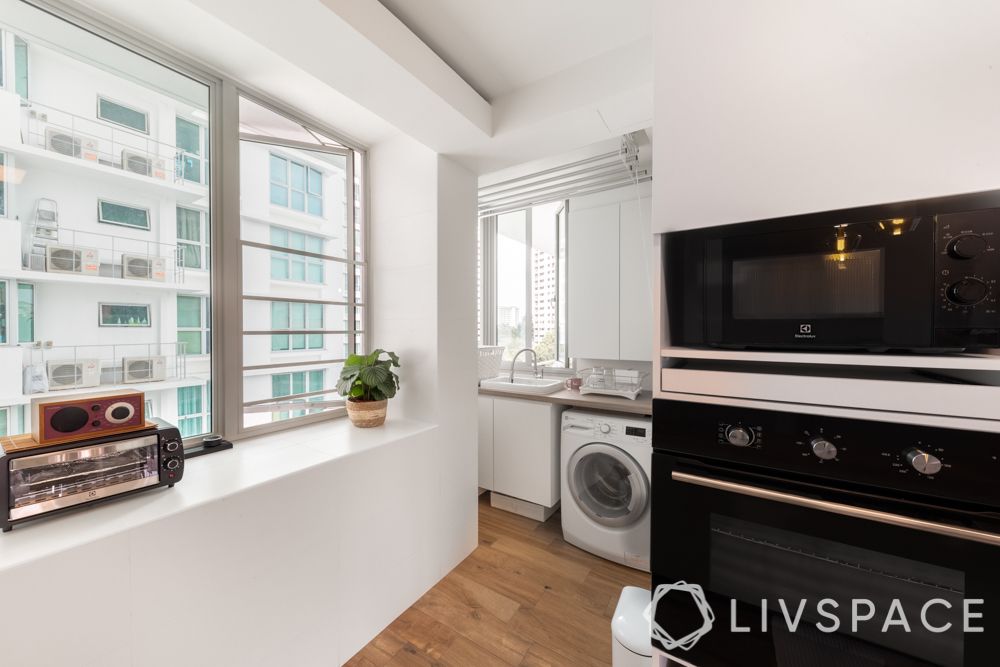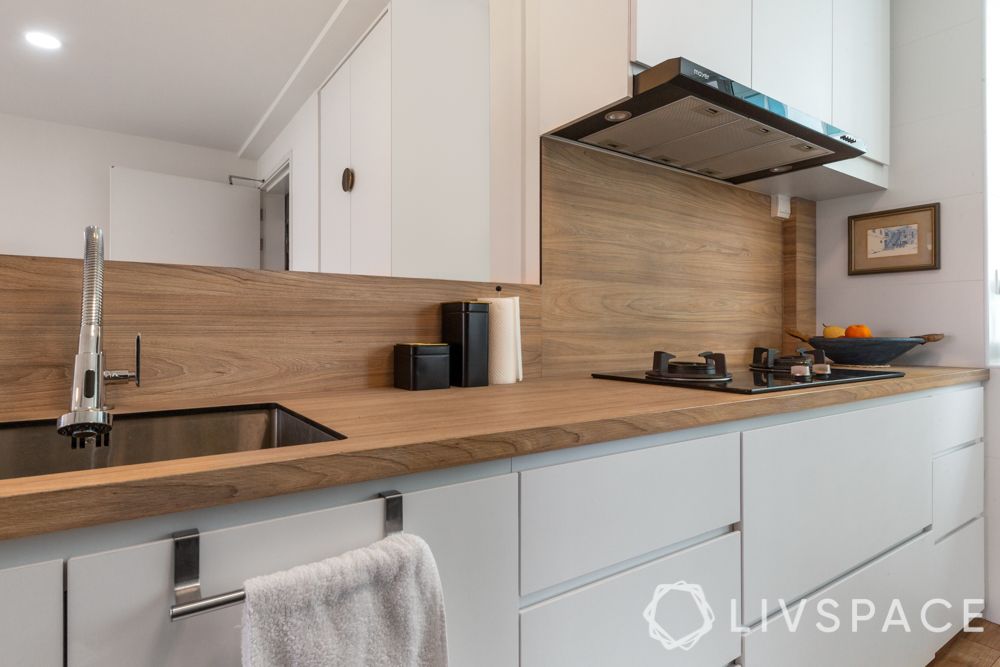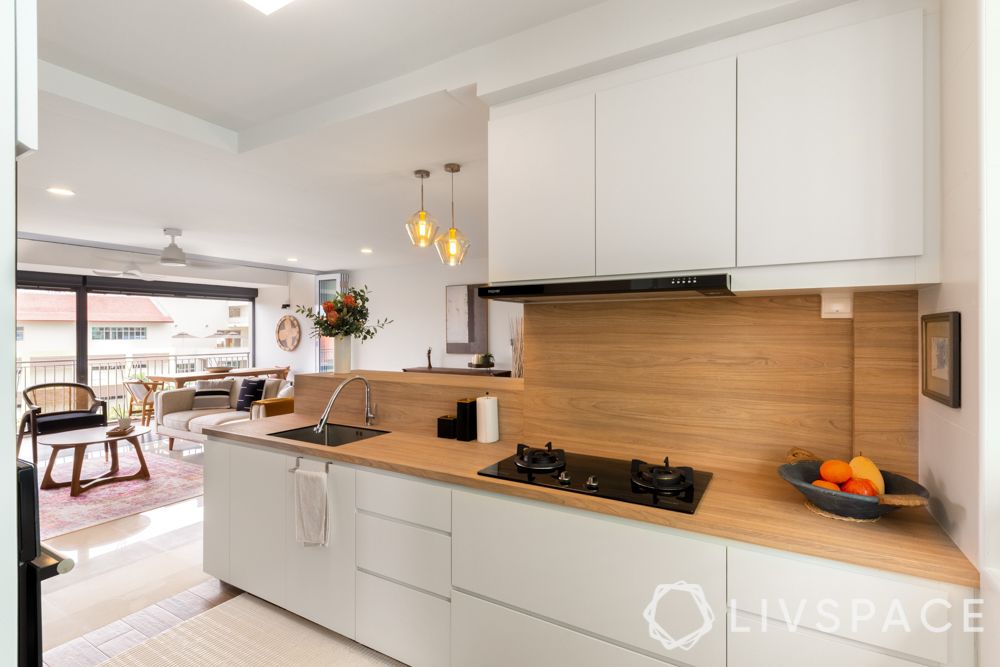 Open kitchens are the rage these days and when you're designing a home that is meant to entertain, it is certainly the right choice. The kitchen sports a lovely combination of white and wooden laminate that is perfect for an open kitchen since it seamlessly blends with the rest of the home. All the white cabinetry you see here is from Admiro and is finished in antibacterial laminate. To make the countertop look befitting, Weigen has added Kompacplus, instead of real timber, on the countertops for easy maintenance, that is also fire and water-resistant.
You can also spot a unique step-like breakfast counter with high chairs that can double-up as a bar counter when required.
The art of designing a compact bedroom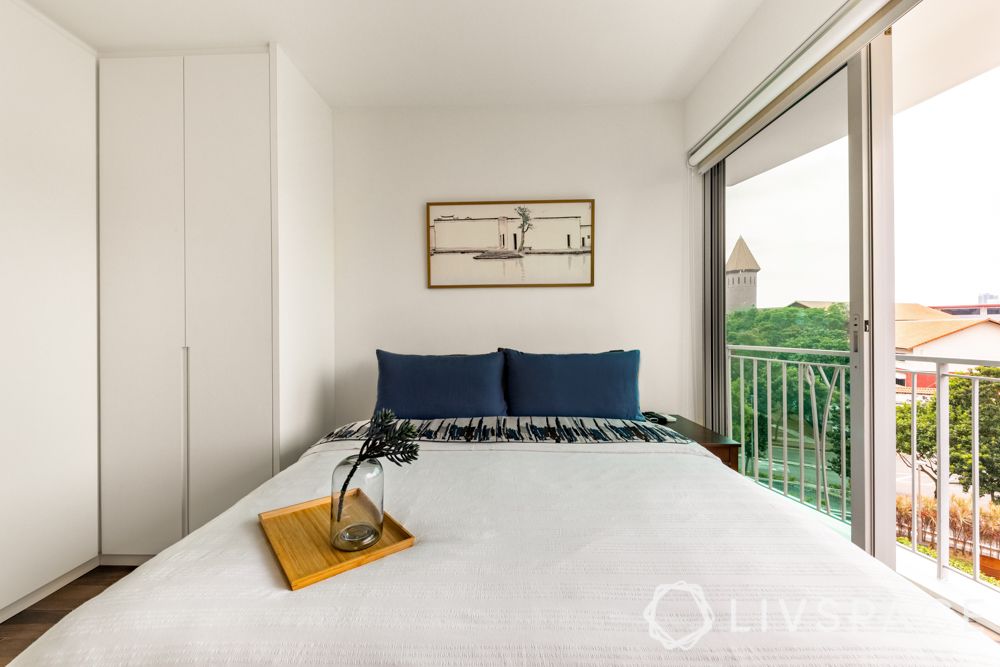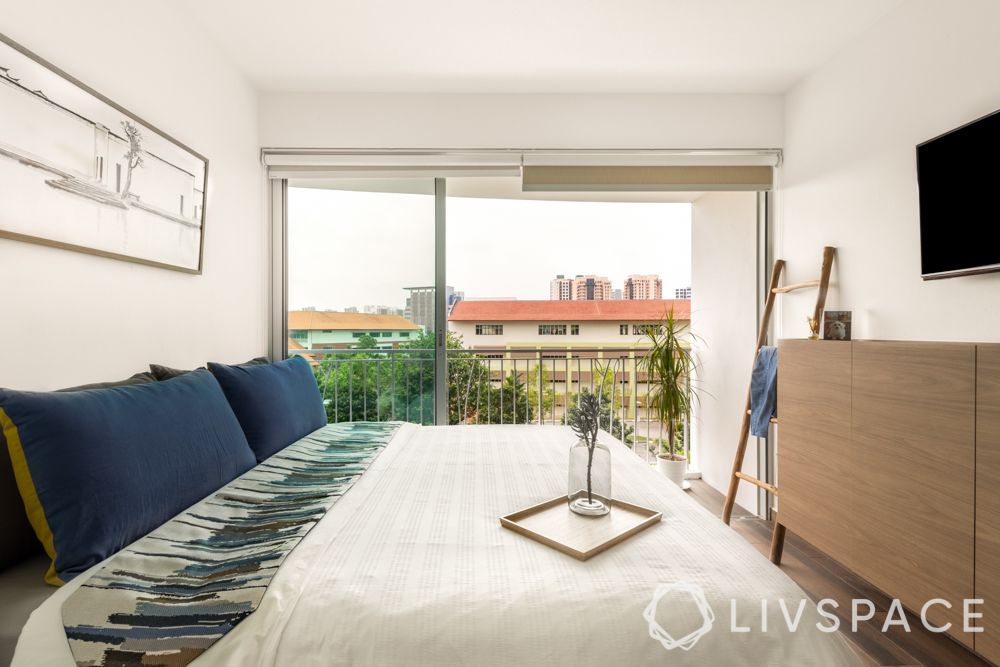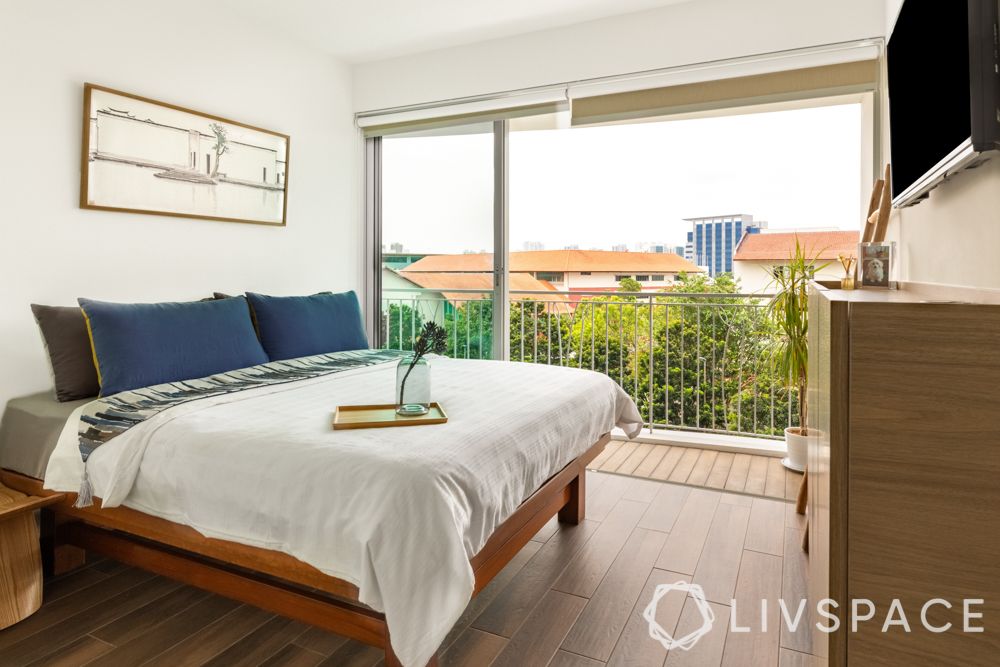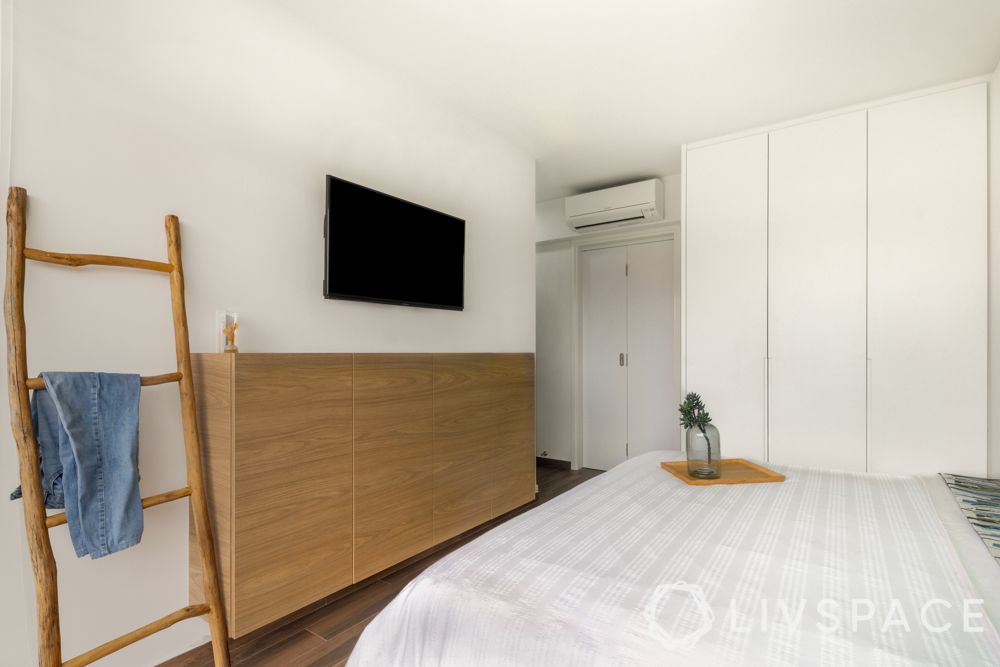 Most bedrooms in this 4 room HDB design are simple and minimal. Some elements to spot in this bedroom are the wooden bed sans the headboard, wall mounted TV console and the ladder-style display unit. To utilise space to the maximum, Weigen has added an L-shaped wardrobe that is finished in white laminate. Also, to save up on floor space, there are no bedside tables in this bedroom.
A Bohemian touch for this bedroom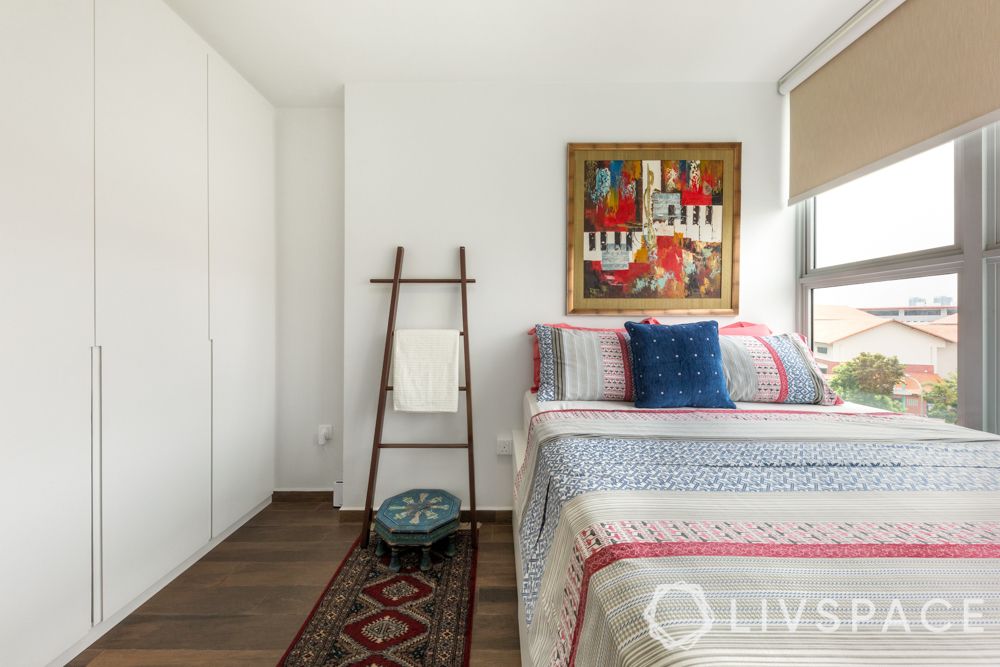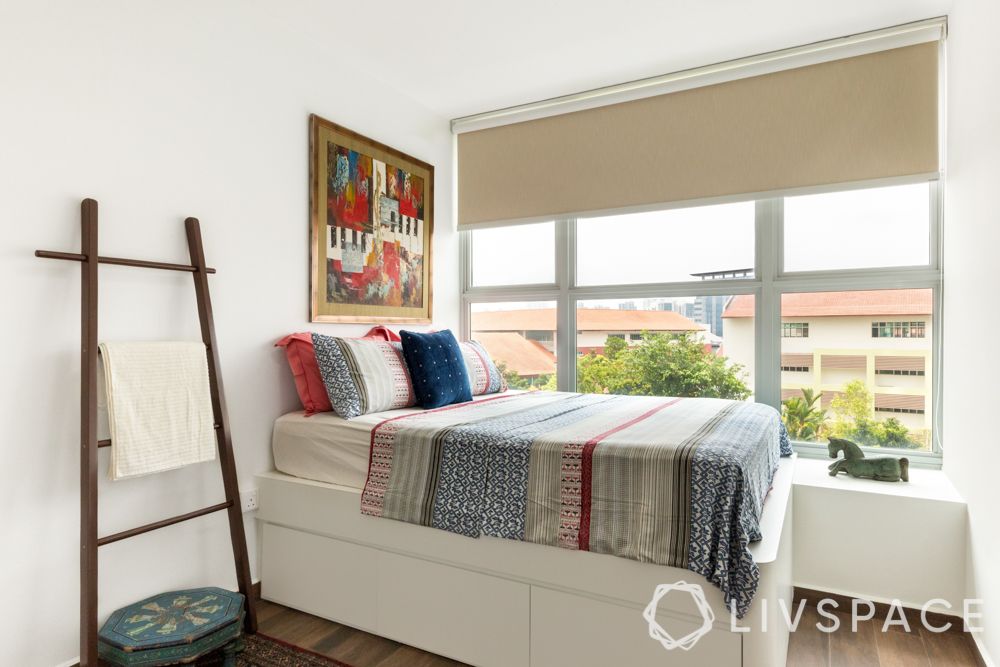 Another minimal bedroom in this HDB has wooden flooring and a bed with drawer storage which is great for compact spaces like this. Here, too, Weigen has skipped the bedside tables and instead, added a ladder display rack next to the bed. Built-in white laminate wardrobes run along the entire length of one wall, and keeping things clean are the beige blinds. Furthermore, the abstract painting on the wall beside adds an nice artistic touch to this bedroom.
Multi-functional furniture and a great view for the study room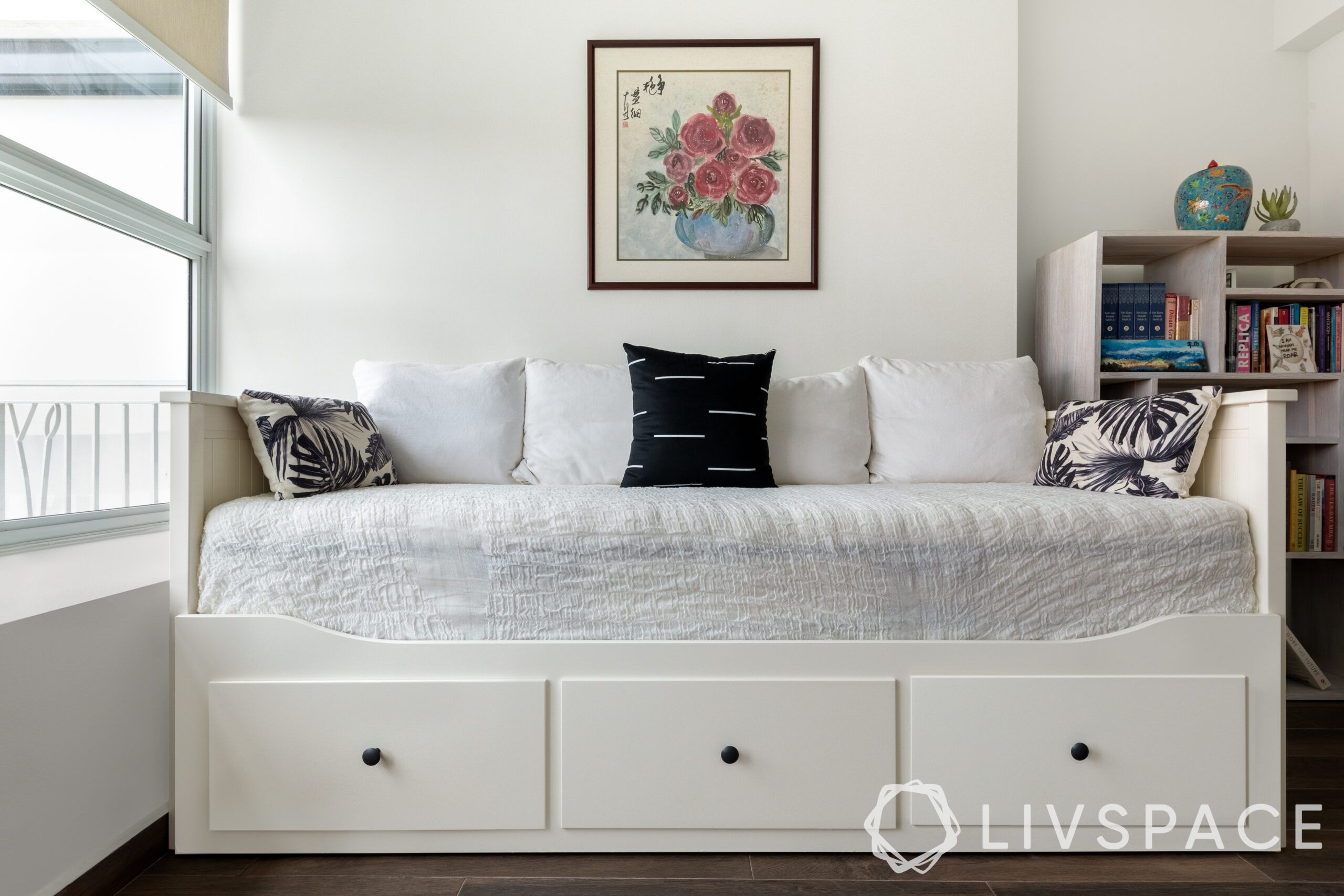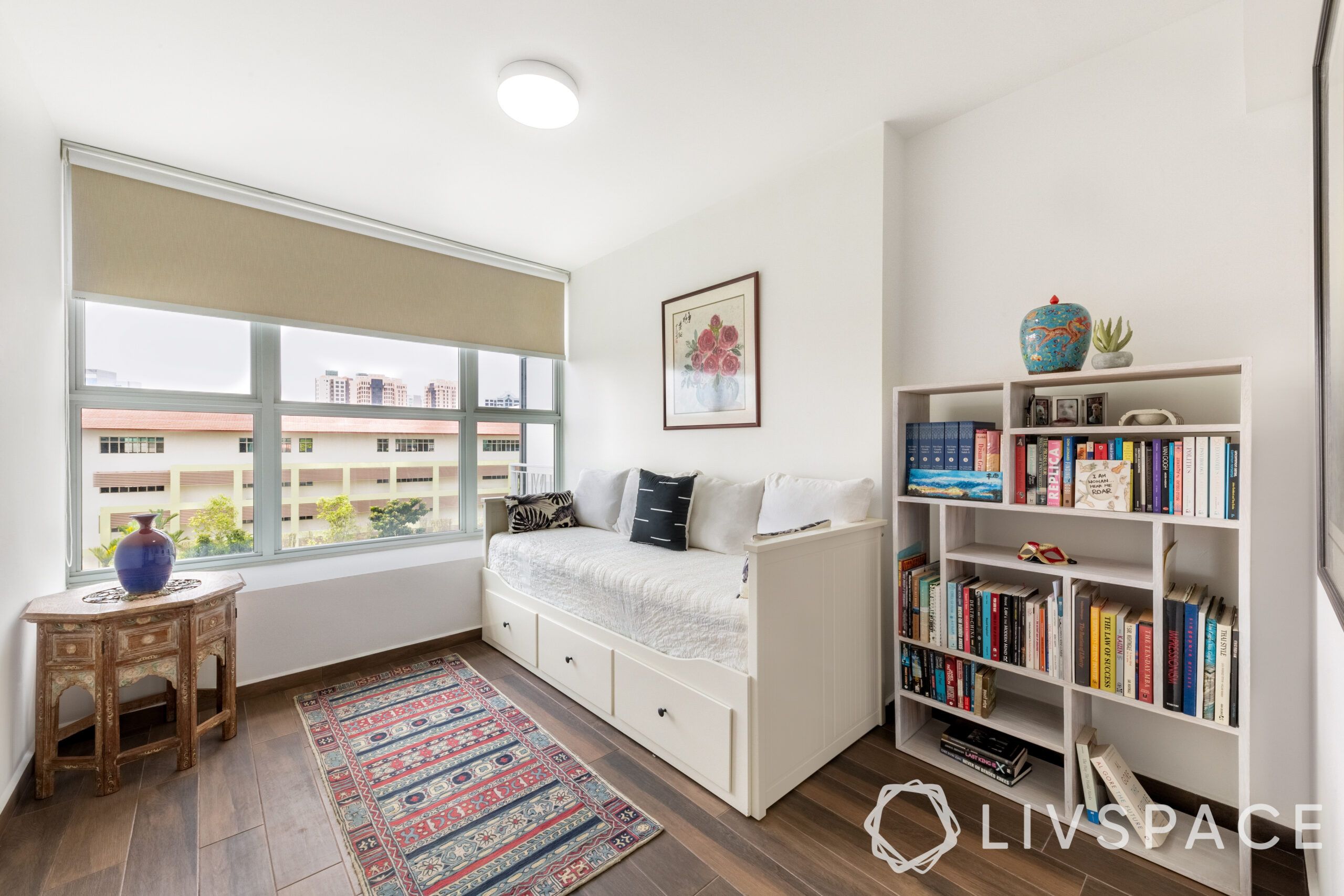 Who wouldn't love curling up with a book in this study room? We totally would! Check out the lovely multi-functional bed that features drawer storage. A bookshelf right next to it completes the look and a dated accent table adds an antique touch to this otherwise modern space.
Bathrooms that are renovated to suit specific needs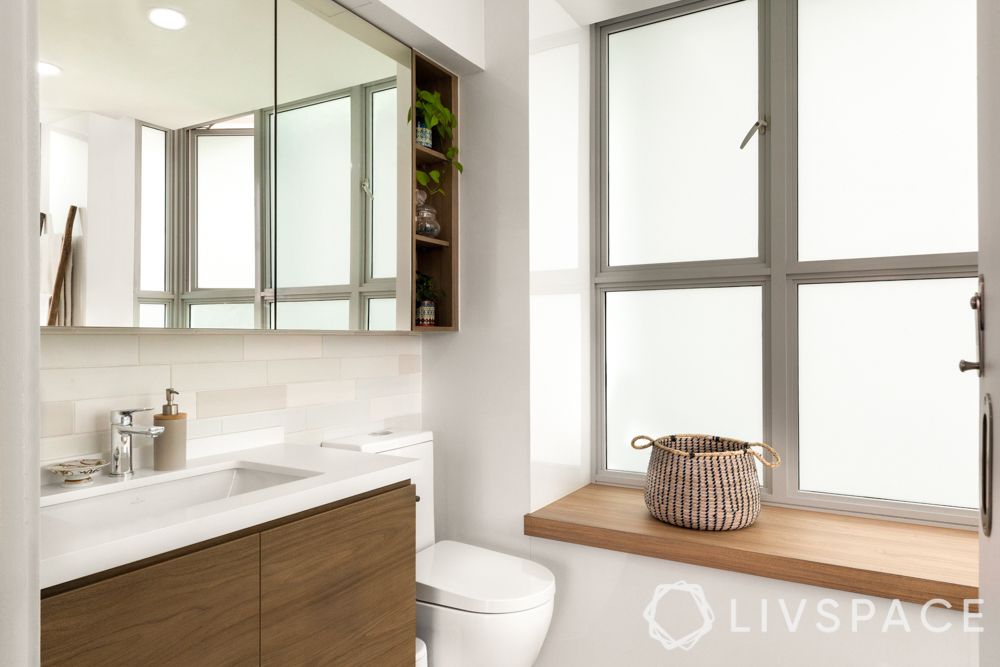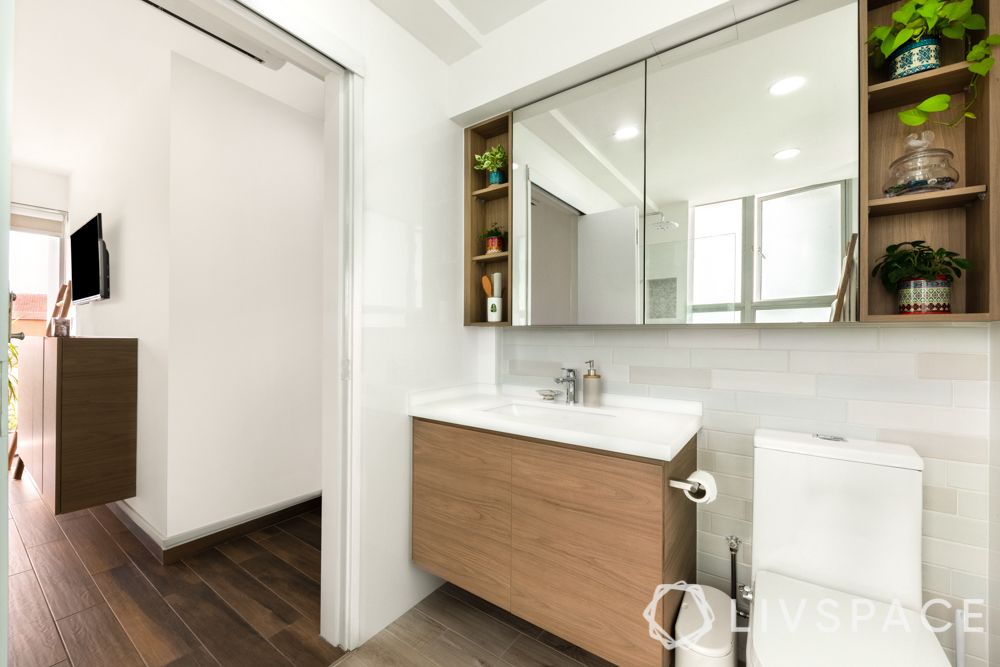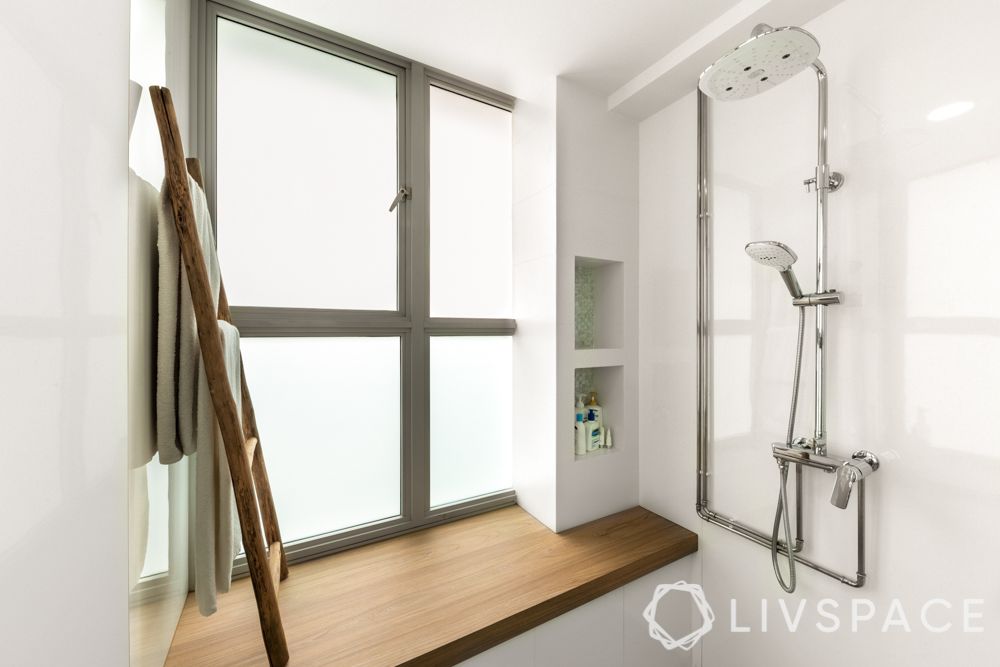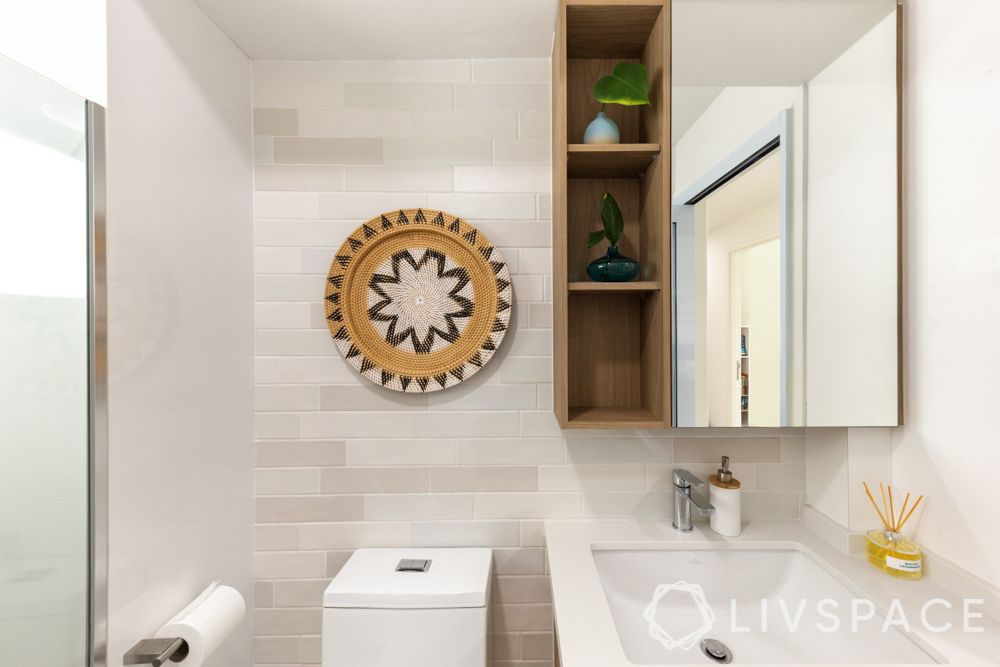 In the bathrooms as well, you can spot low maintenance materials and tiles. Wall panels in the shower area come in large pieces which results in less grout lines. It is easy to clean such spaces and it looks clean as well. In both bathrooms, Weigen has added lots of storage in the vanity area and they are outfitted with modern fixtures. Here, too, you can spot specs of fresh greens that add the much needed colour.
" Roslyn was very accommodating and understanding throughout the design journey. She is very creative herself and that helped us get cracking with some great ideas. Since maintenance was a major concern, I made sure I suggested very low maintenance materials and finishes everywhere. I believe in the concept of keeping it simple and sweet, hence I have tried to keep the look minimal and Scandi, with pops of colour for fun. It was a great project to work on."

Weigen Pan

Interior Designer, Livspace
Loved this 3 room HDB design? We have another HDB renovation project that you might enjoy looking at: 4 Room HDB Renovation for a Couple Who Loves Scandi and Clean Look.
Send in your comments & suggestions to editor.sg@livspace.com.