This 3 room renovation is not just another any other project. It is cosy, it is warm and it is modern, all at the same time!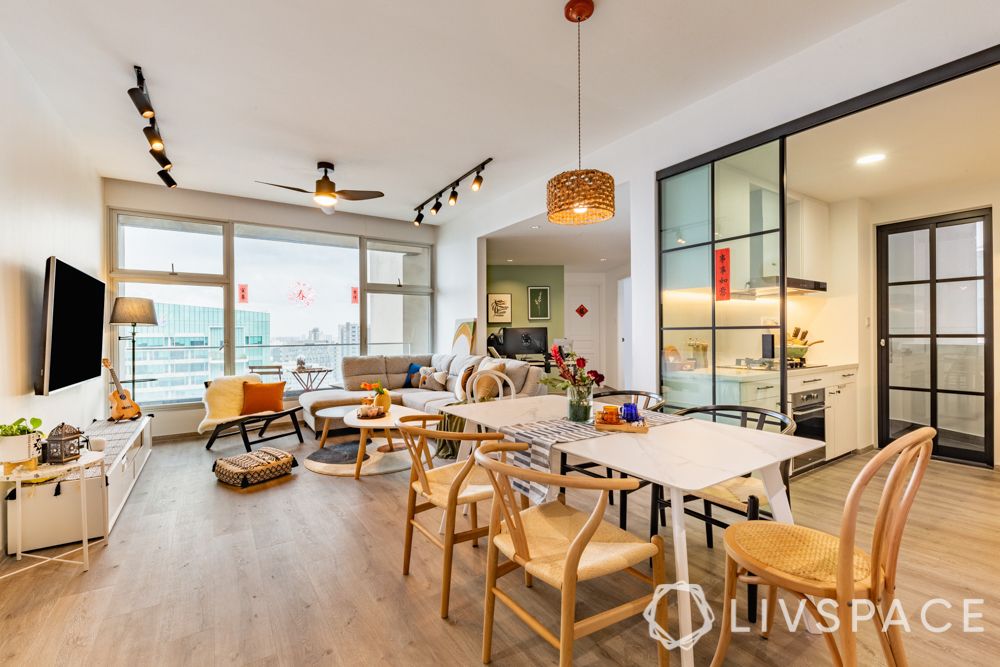 ---
Who livs here: Irene and Zee
Location: Sturdee Road
Type of home: 3 room condo
Livspace team: Interior Designer Wanting Liu and Project Manager Kent Huang
Livspace service: Full design scope including carpentry, masonry, electrical, plumbing, etc
Budget: $$$$$
---
As soon as you enter this condo, you are welcomed by this warm wooden, American country vibe that is offset by stark white, Scandi walls. Now isn't that a picture that you would want to paint in your minds forever? This condo renovation project will give you design goals if you are someone who likes neat, clean lines contrasted by a comfy Boho-chic vibe. So when our designer, Wanting Liu, met Irene and Zee, she knew that she had to work her magic. They said that the colours, patterns and textures they had in mind were just not falling in place until they met Wanting.
We're excited to show you how the design journey of this 3 room renovation took shape. Read on.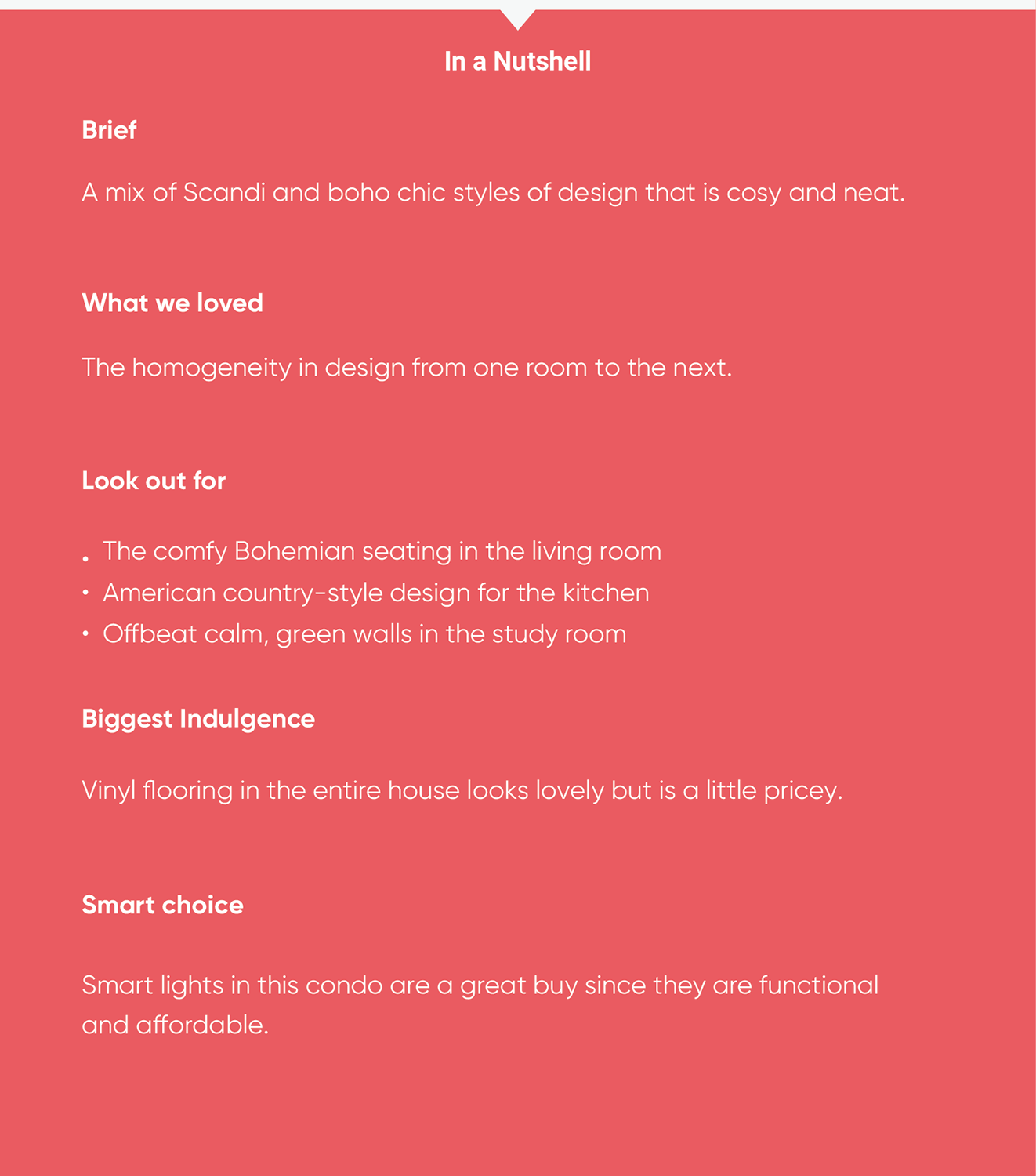 Simple grey colour scheme in the foyer to set the tone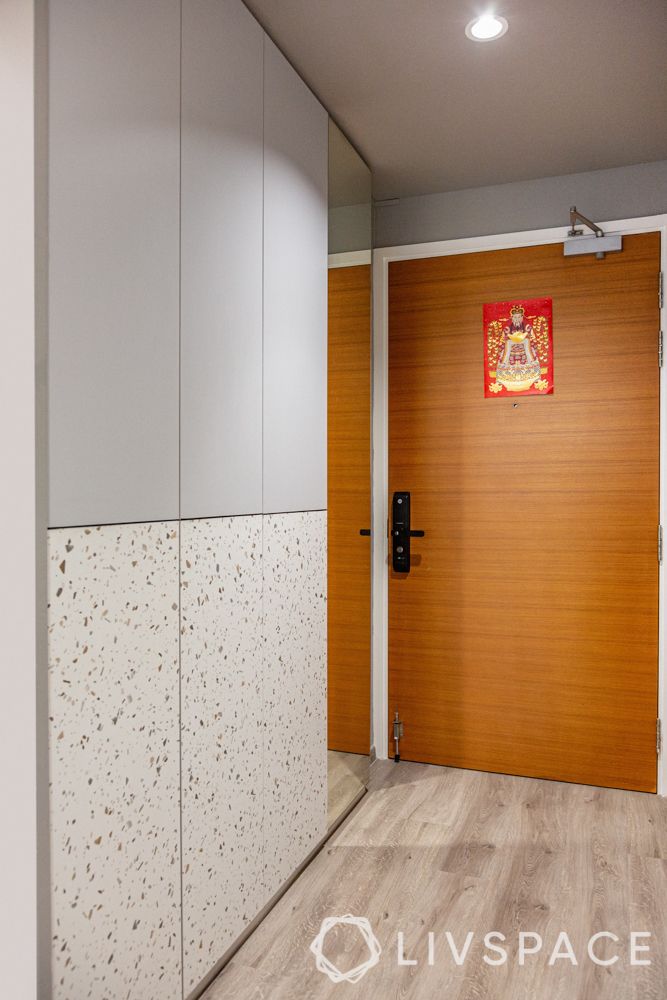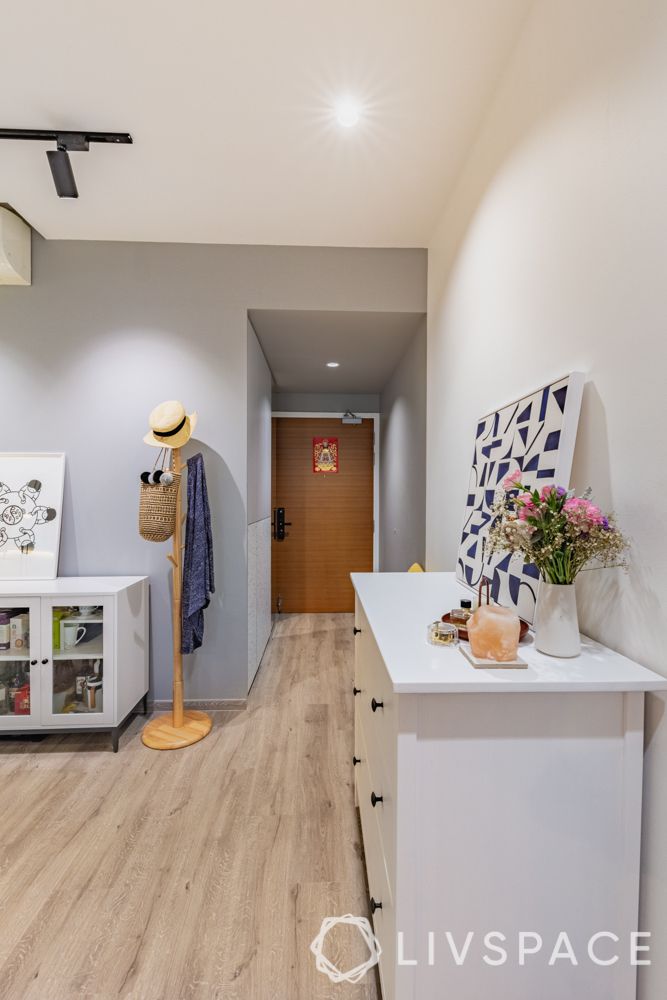 The foyer is like a prelude to what lies ahead, and Wanting wanted to keep it simple here. Hence, you see no seats, shoe racks or shelves. The fuss-free look is amplified by the use of classic grey paint on the walls and plush terrazzo. The warm wooden flooring leads you towards the interiors of this unique condo.
Hit by the Boho vibe in the living room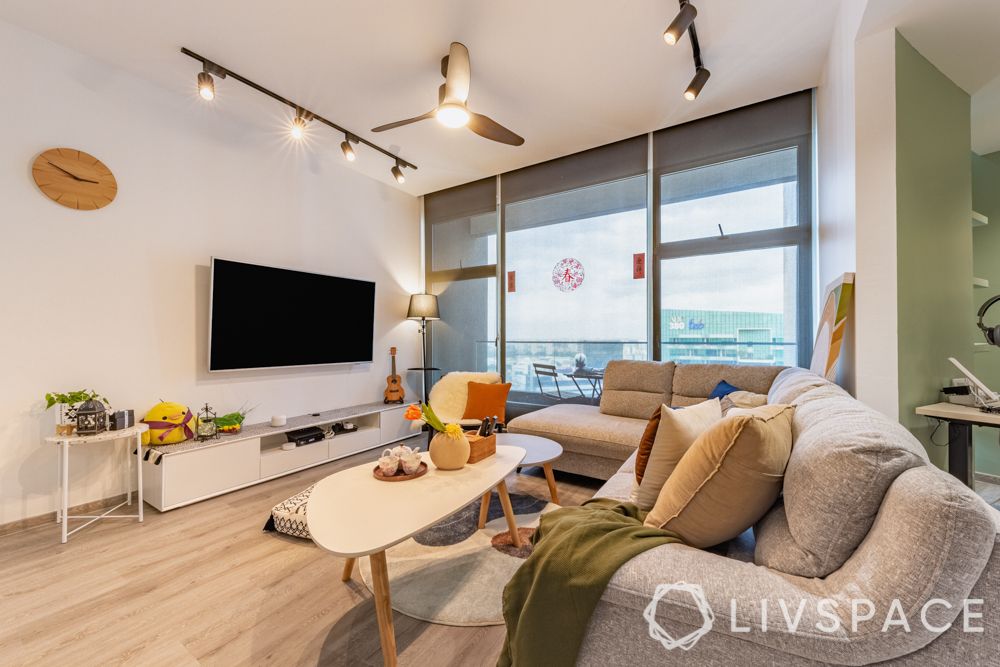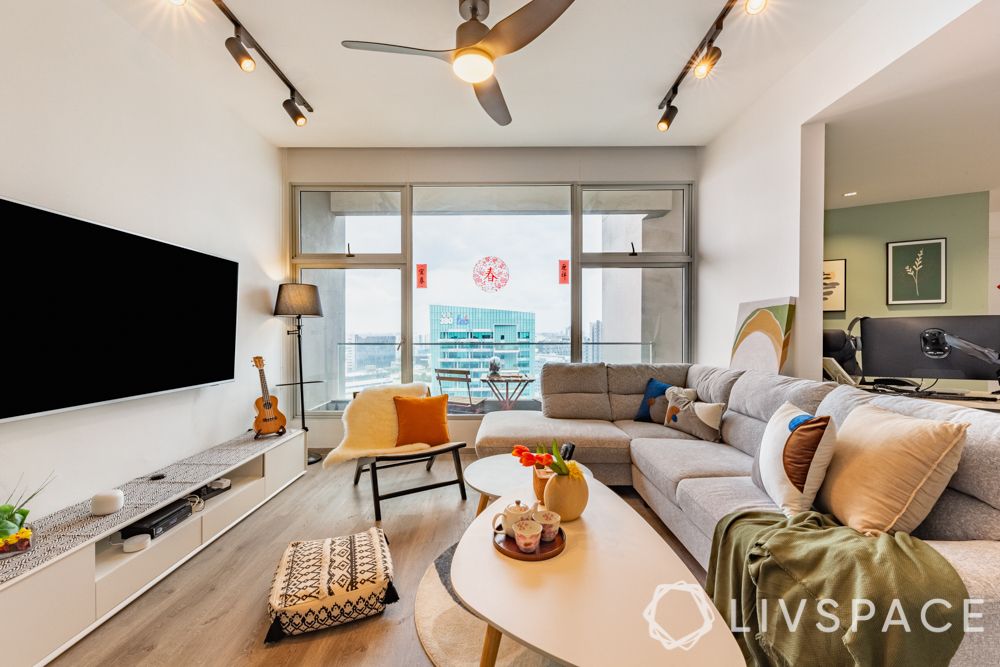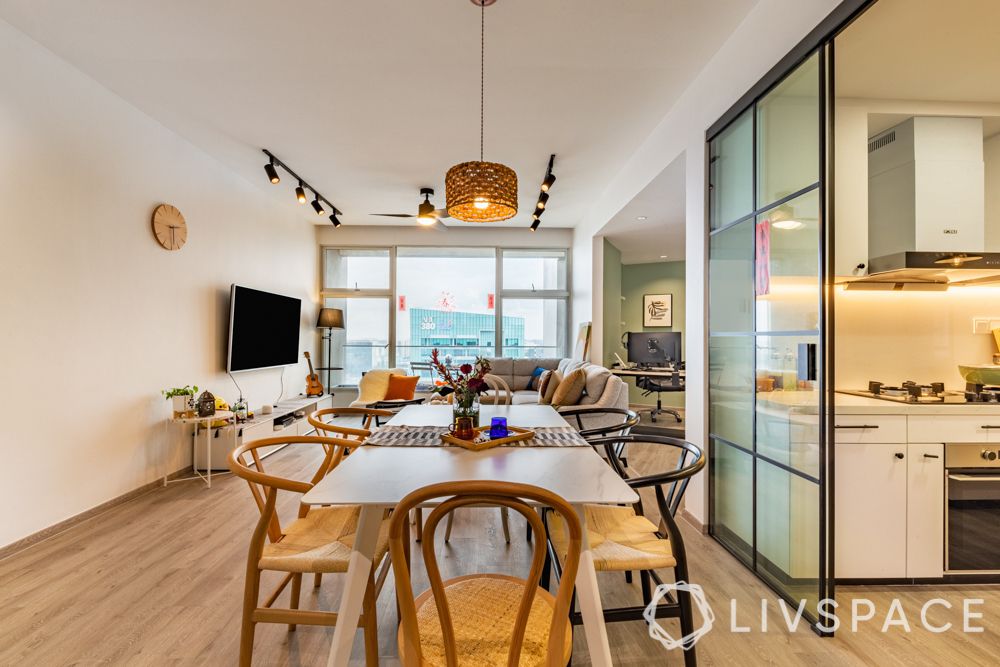 The moment you step foot in the living room, you'll understand why we call this home "comfy and Boho". A variety of textures and patterns welcome you home in the form of furniture and upholstery. Since Irene and Zee wanted an absolute chill vibe to flow through their home, they opted for versatile seating with an L-shaped sofa, a chair and some cushions. It lends a laid-back look to the entire place. Wanting has added a simple TV console here with a wall-hung TV which can be turned towards the dining area, if required.
The dining area is equally warm and welcoming, with a wooden dining set and chairs with patterned seats. A sliding glass door behind the dining table adds to the ambience when they have guests over.
American country style kitchen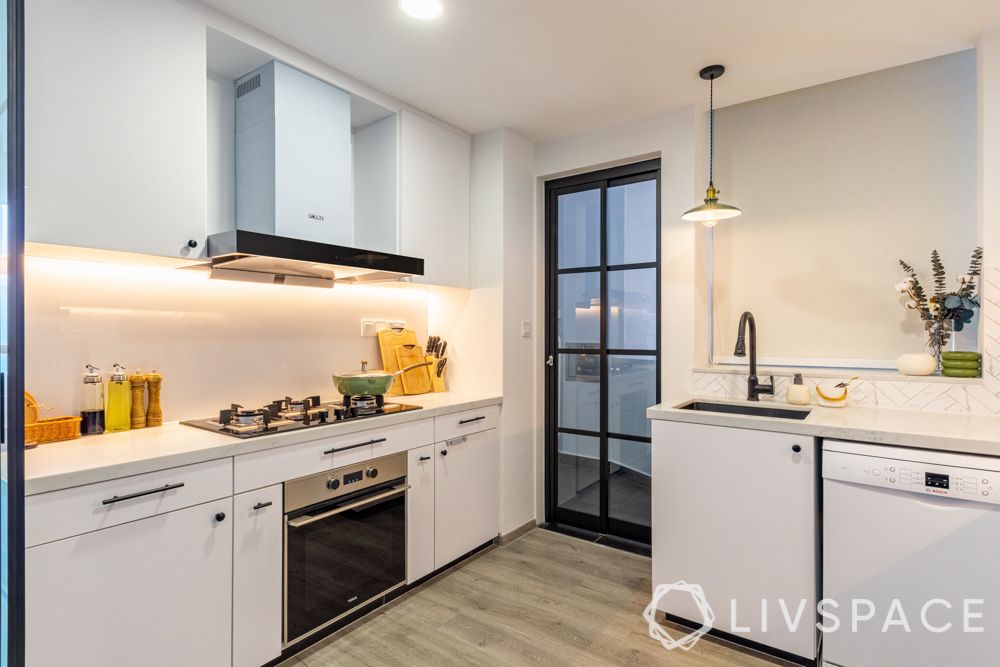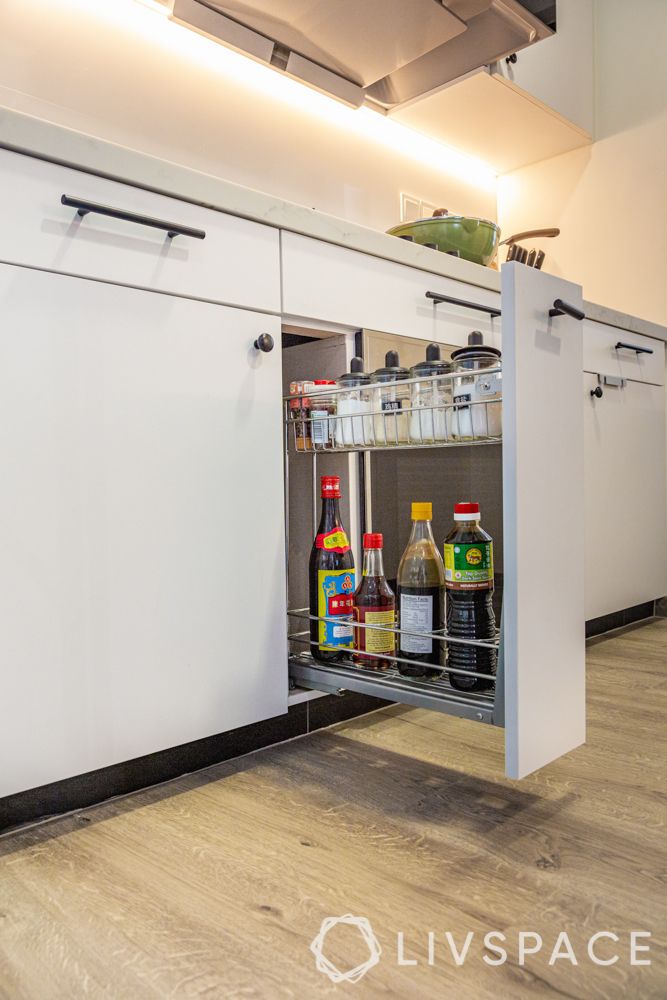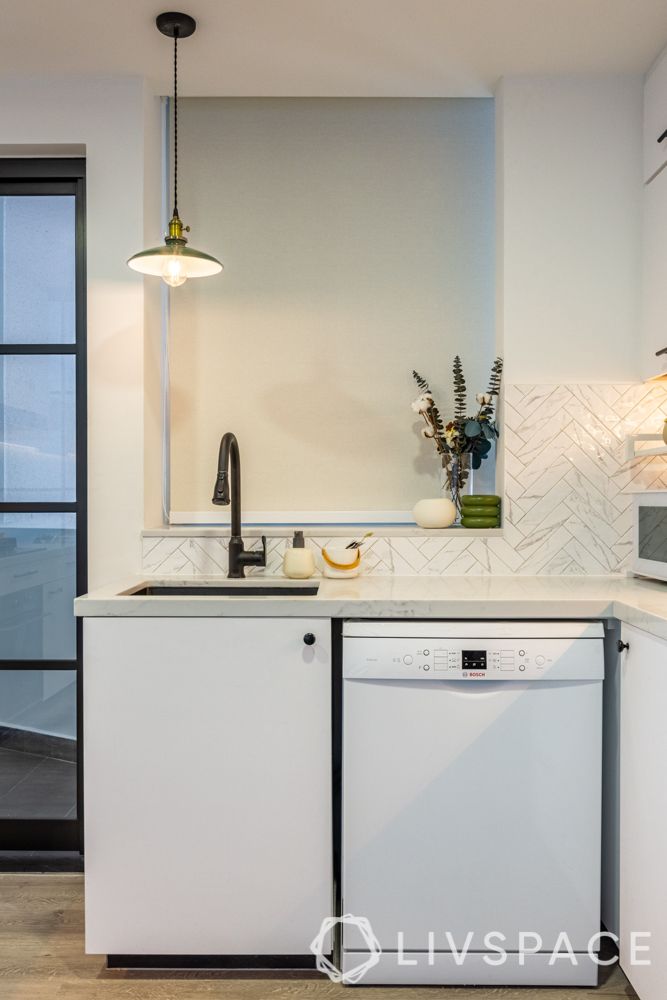 "Everything Wanting has done for our condo is our favourite, but we love the kitchen in particular, because it is so high on functionality and design that we really enjoy preparing meals in here," say Irene and Zee. And we couldn't agree more. The kitchen looks stunning with all-white cabinetry and matching backsplash. The profile kitchen cabinets bring out the American country style of design beautifully. Wanting has outfitted this kitchen with all the accessories they would need for organisation and added smart task lights to help illuminate the right spots.
"Everybody is very responsive, including the designer, project manager, vendors and contractors. The workers respond and rectify any issue on the spot. Overall, it makes our renovation journey convenient and with minimal supervision. They rectify problems quickly even after handing over the project, trying their best to fulfill our requests. Wanting and her team really push their boundary helping us to achieve our visions and solving any doubts we have."

Irene and Zee

Livspace Homeowners
A warm woody affair in the master bedroom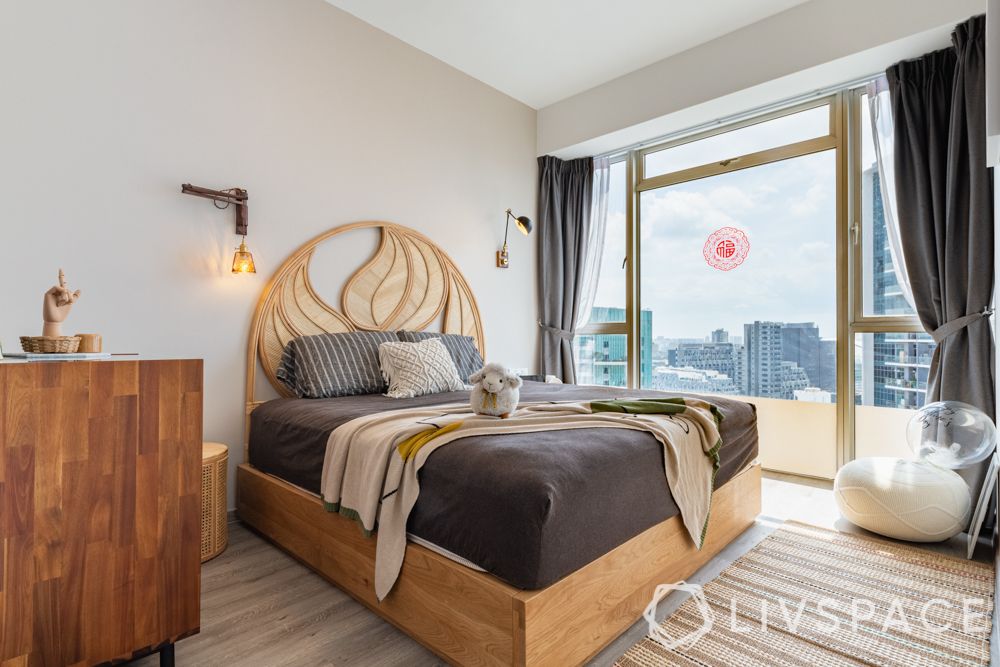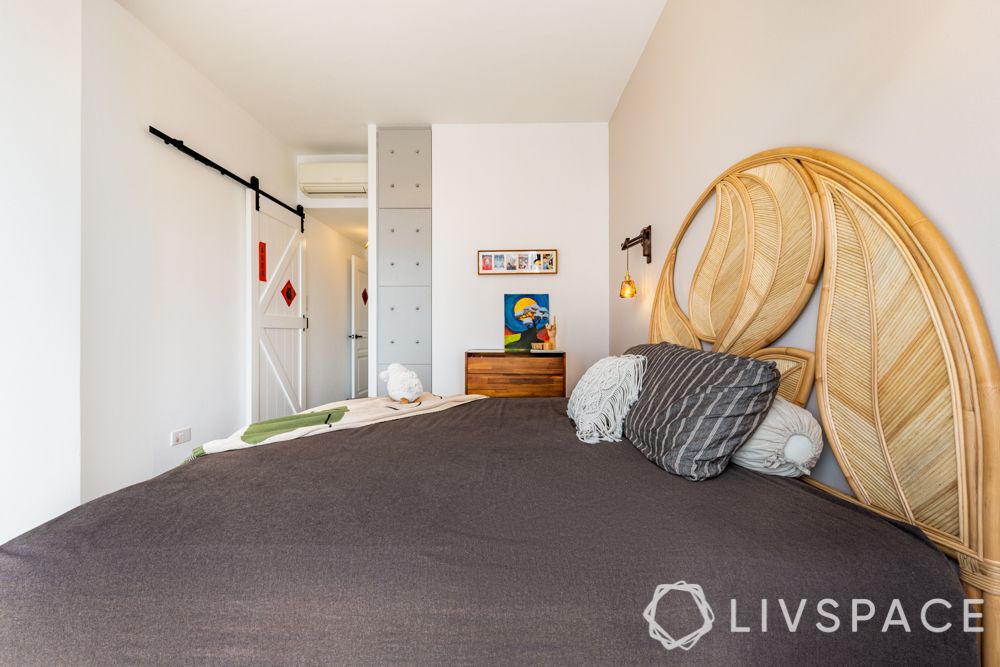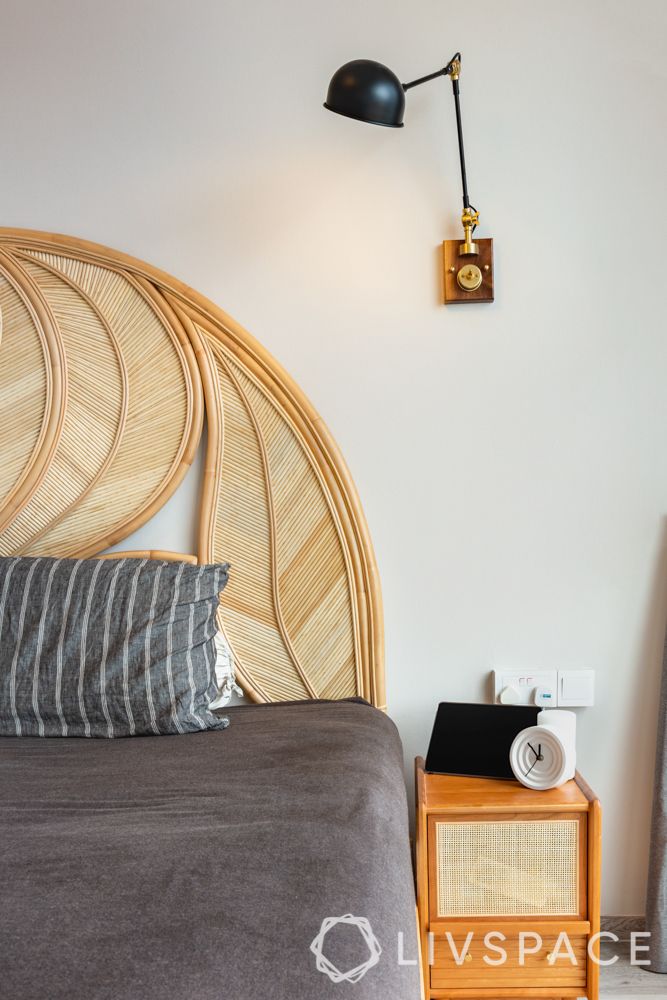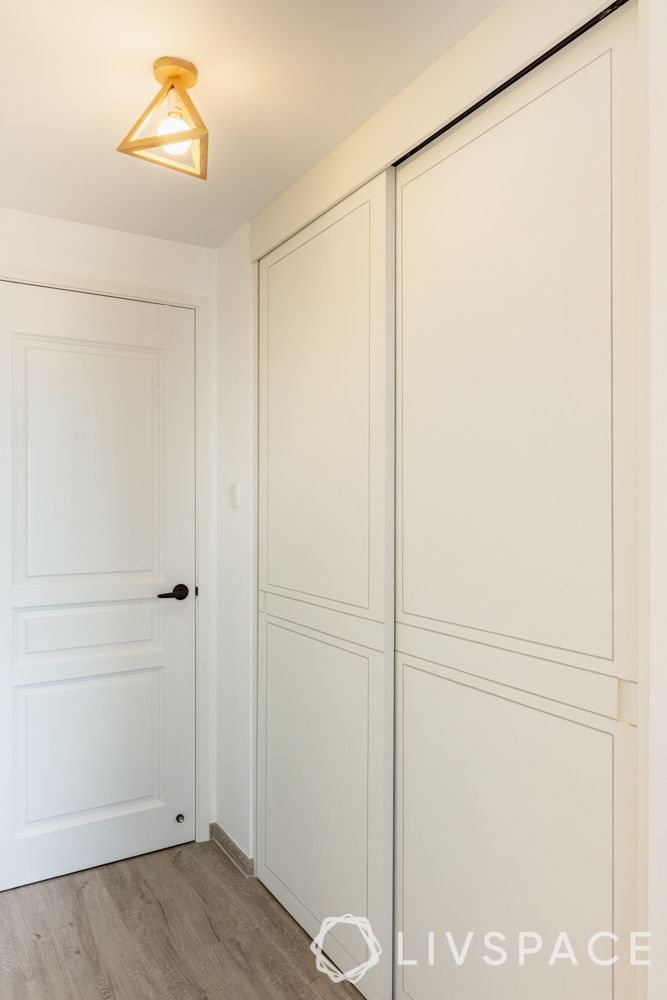 You will spot a lot of wooden elements in the master bedroom in this 3 room renovation project. We love the bed with the designer headboard that transports us to a countryside cottage. Matching bedside tables accentuate the vibe of this room. The wall lamps have been elevated to a certain height to add to the design style. Wanting has also replaced the wardrobe shutter with a shaker door to add that Scandinavian touch. Overall, this bedroom makes Irene and Zee feel relaxed and comfortable, just what is designed to do.
A guest bedroom that is just simple and fuss-free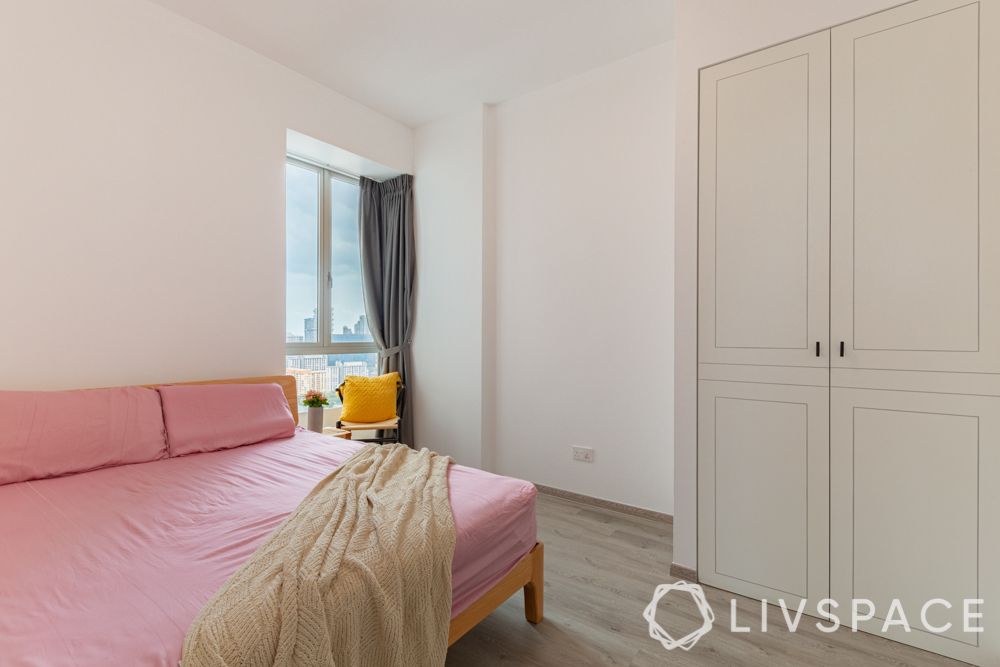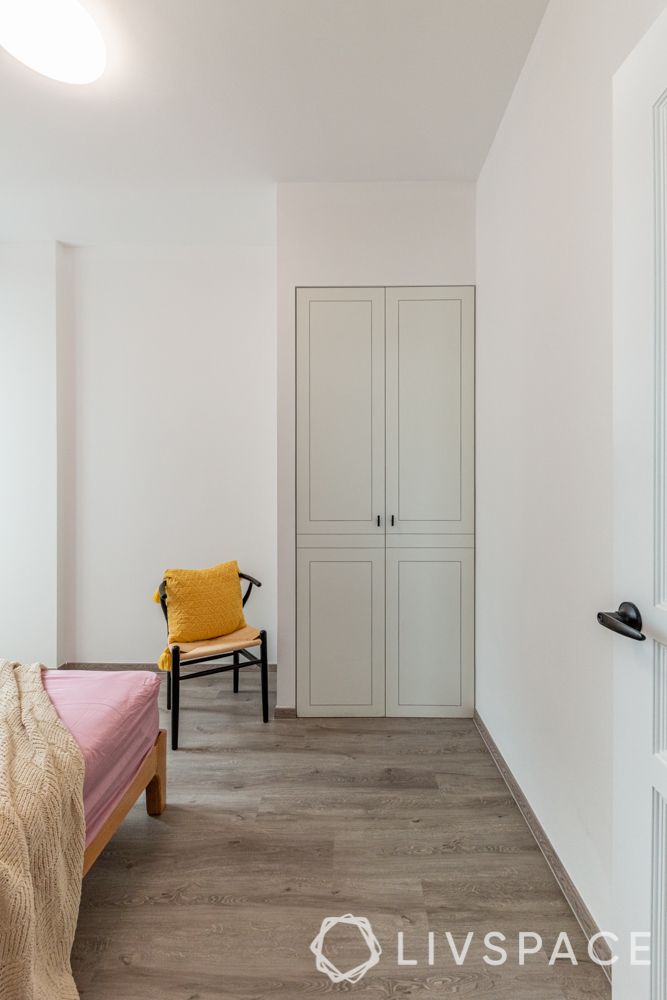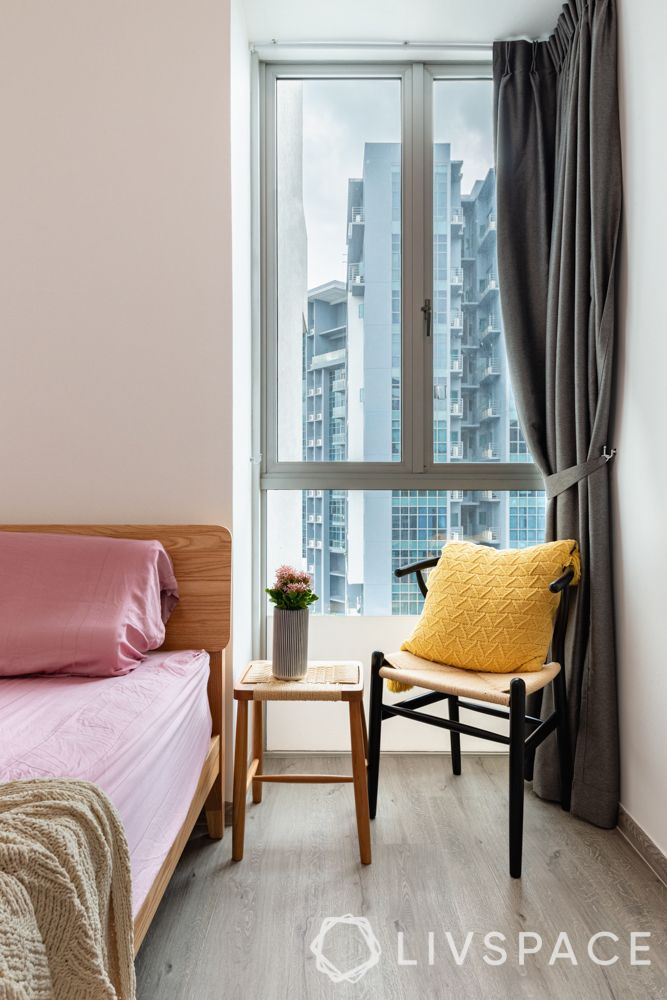 The guest bedroom at this 3 room renovation condo is just as clean as it can get. With a simple wooden bed and a stool on the bedside, this room is ideal for guests when they're staying over. Here, you can spot a similar laminate wardrobe that you saw in the master bedroom.
Study room in a calm blue-green hue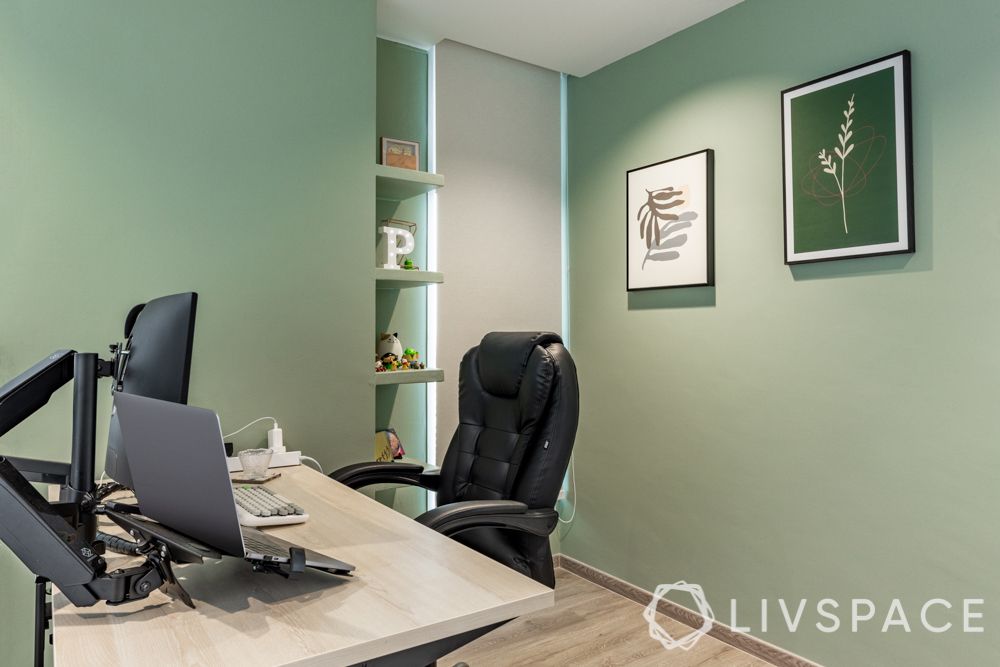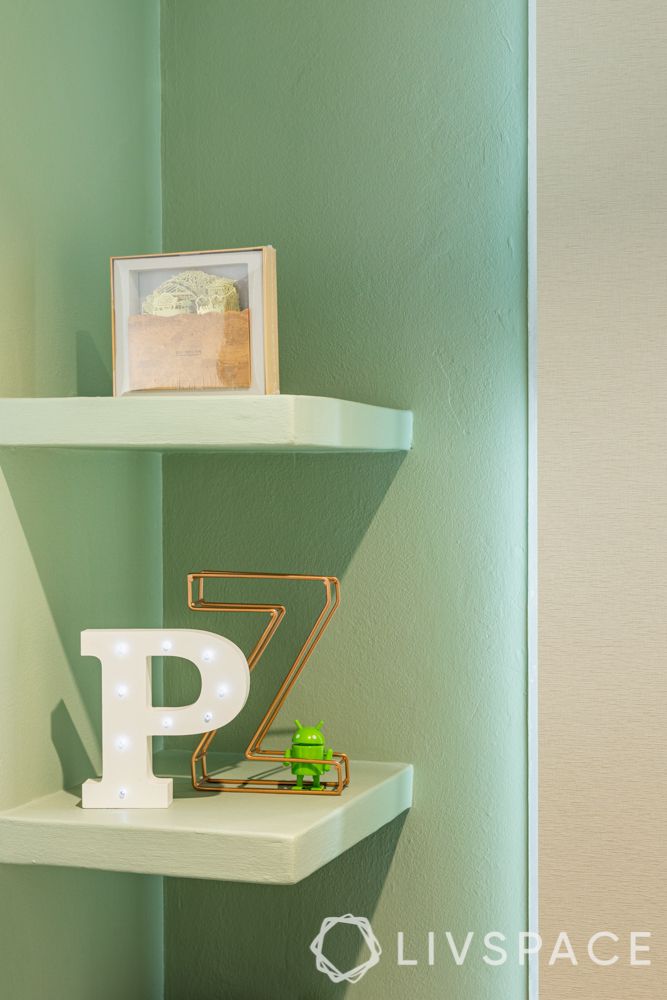 For the study room, Wanting has splattered the walls with a serene blue-green wall paint that seems ideal for a space like this. A study table and chair are placed in one corner with an open display shelf carved on one side of the wall next to the table. A combination of ambient and task lights keep things lit in here.
Bathrooms that are stylish yet functional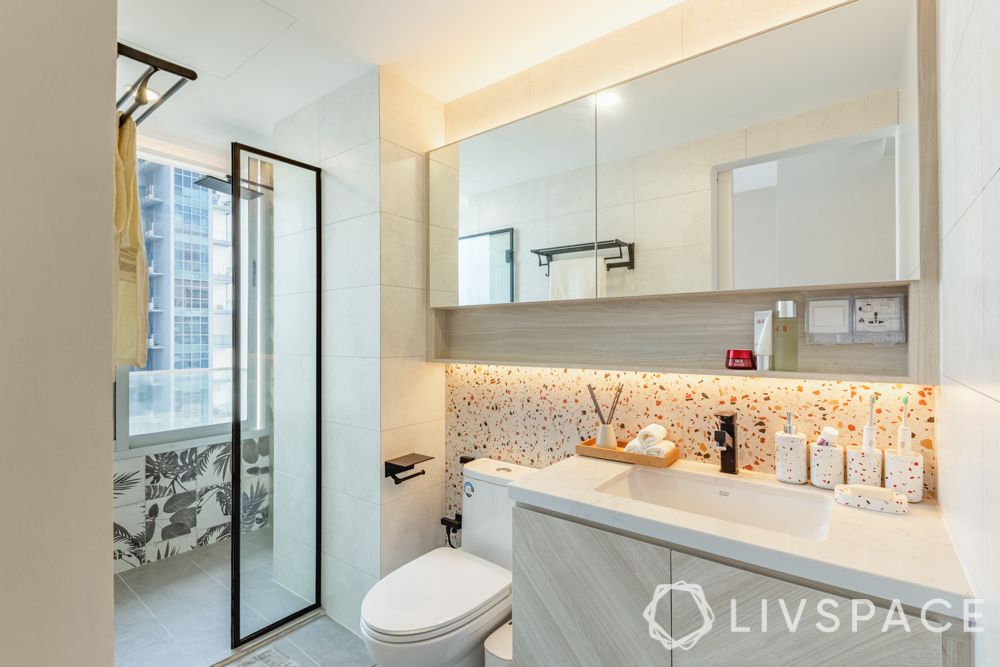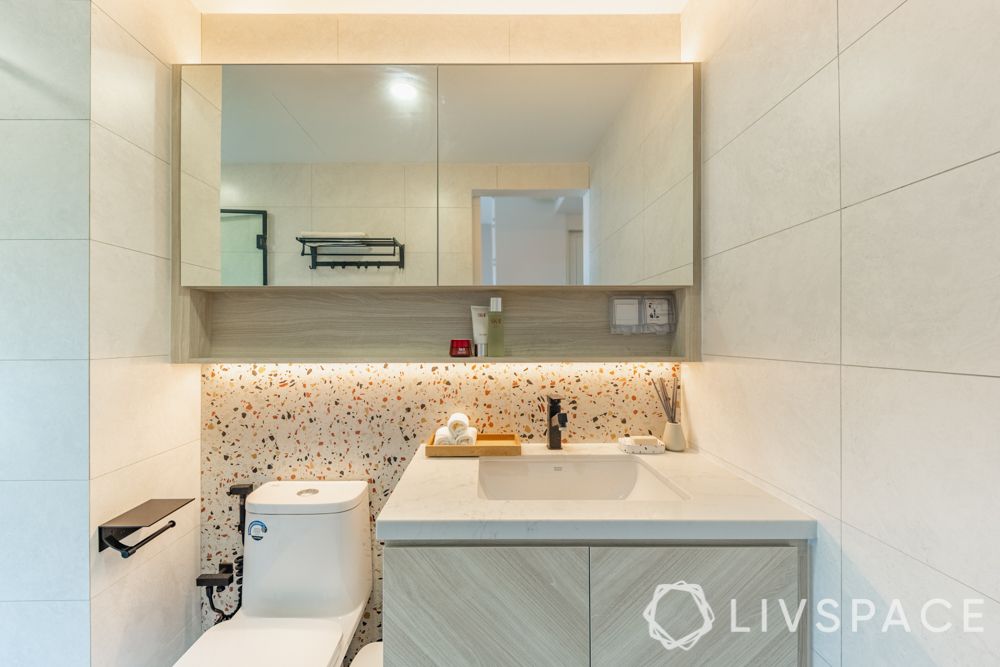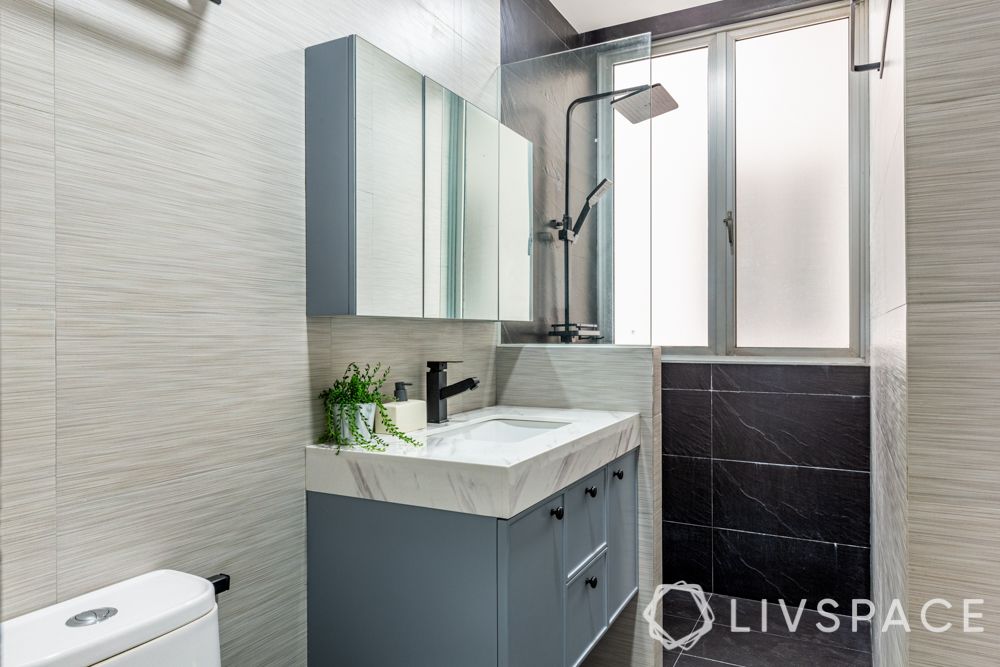 The magic of terrazzo follows into the bathrooms and it makes such a difference in the way this space looks. You can also spot leafy patterned tiles near the window in the master bathroom. Adding to the textures here are the herringbone pattern tiles in the shower area. A trendy addition to these bathrooms is black sanitary ware including a glass shower screen. Wanting has also added ambient lighting on top and below the vanity. "The master bathroom was one of the most exiting spaces to design," chirps Wanting!
"It was incredible working with Irene and Zee as they had complete faith in me. Due to budget constraints, I tried to retain the originsl layout and only hack portions that really needed a makeover. I had to be careful because we were not breaking down the entire condo. I enjoyed designing the master bedroom and master bathroom and the materials used are both classy and budgeted. It was a great experience!"

Wanting Liu

Interior Designer, Livspace
Enjoyed reading this? Check out another condo renovation story here: How to Ace That Modern Yet Chic Look for a 4-room Condo.
Send in your comments and suggestions to editor.sg@livspace.com.