When you buy a new home or move into one, you most likely already have a vision for how you would want it to look. You might want to make superficial or drastic changes based on the condition it's in when you purchased it. However, no matter the nature of the changes, it's still bound to take a bit of work to turn your new home into your ideal space. This was also the case for Najib and Jannah's new 4-room HDB design. 
Having moved into a new home, the family was looking for an interior design for their 4-room BTO flat that could reflect their tastes and lifestyle. To help bring their 4-room HDB BTO interior design ideas to life, Livspace designer Winny Widodo went all in. Read on to know how Winny turned this 4-room HDB design into Najib and Jannah's dream home!
---
Who Livs here: Najib and Jannah
Location: Fernvale Lane 
Size of home: 4-room HDB
Design team: Interior Designer Winny Widodo and Business Manager Shim Chen Fui 
Livspace service: Carpentry, electrical work and plumbing 
Budget: $$$$$
---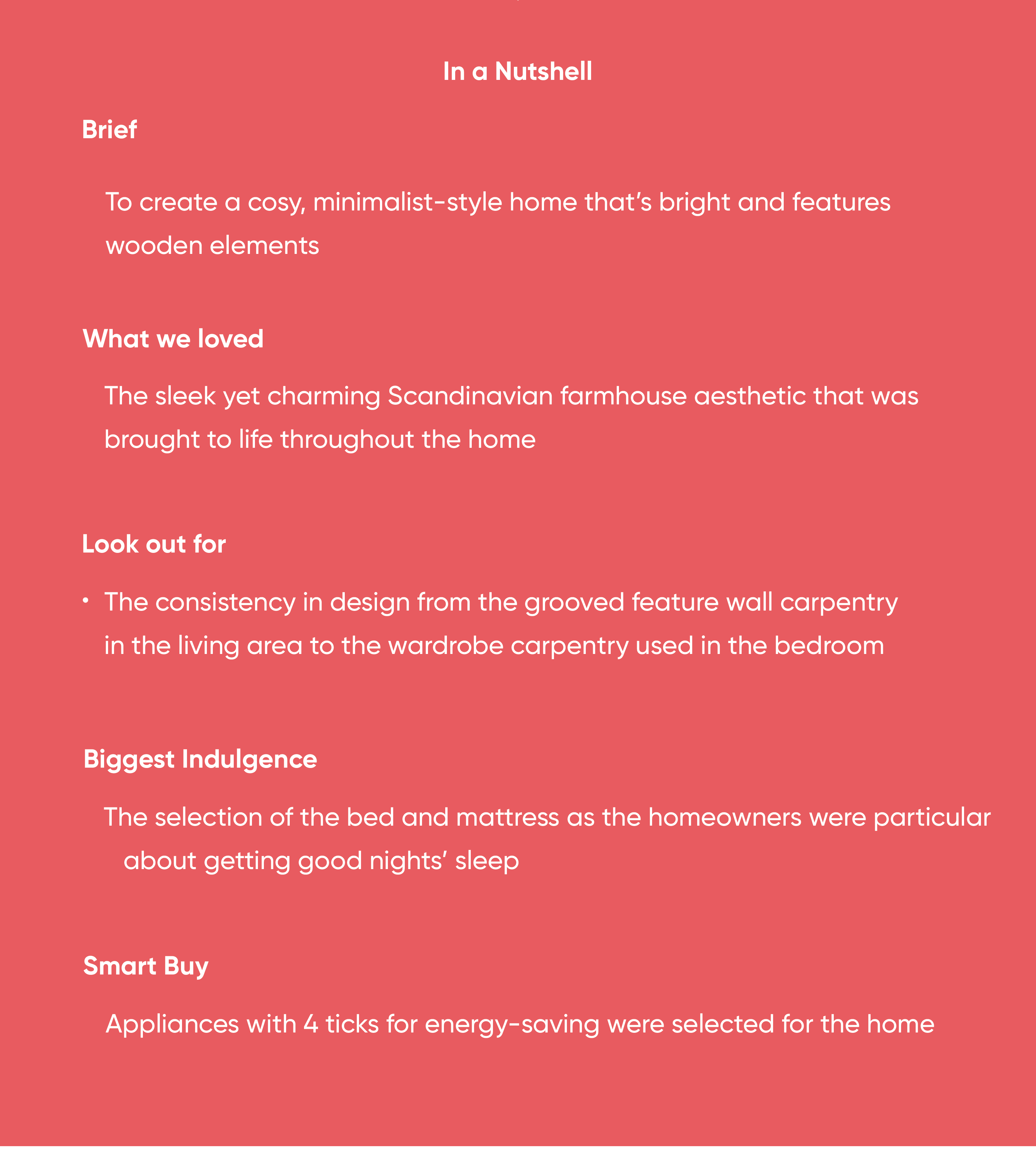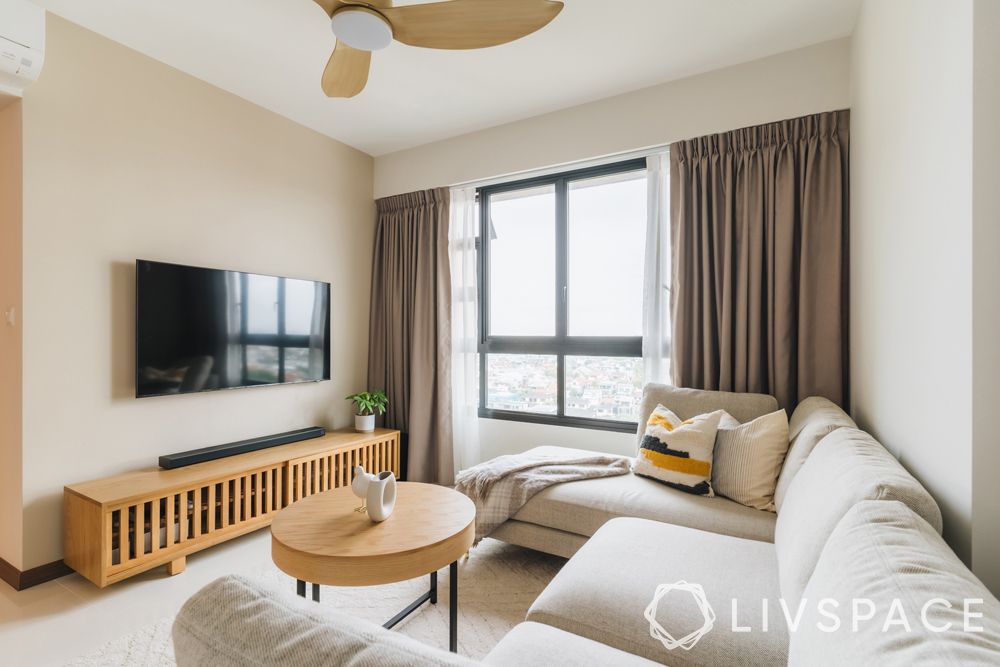 In this 4-room HDB design, the homeowners took inspiration from Scandinavian interiors that boast a cosy aesthetic. To make this happen, Winny embraced a 4-room BTO renovation design that encompasses a mix of Scandinavian and farmhouse style elements. The entire house follows a combination of warm tones, rustic-style materials and minimalist palettes. 
The living room in this 4-room HDB design is now Najib and Jannah's favourite space in the entire home due to its cosy and inviting vibe. Wondering how you can get this look? Read 6 Best Scandinavian Livspace Homes to Check Out if You Want to Go All Hygge, for more details.
#2: Simple Yet Detailed Design for a Bomb Shelter Door Styled as a Feature Wall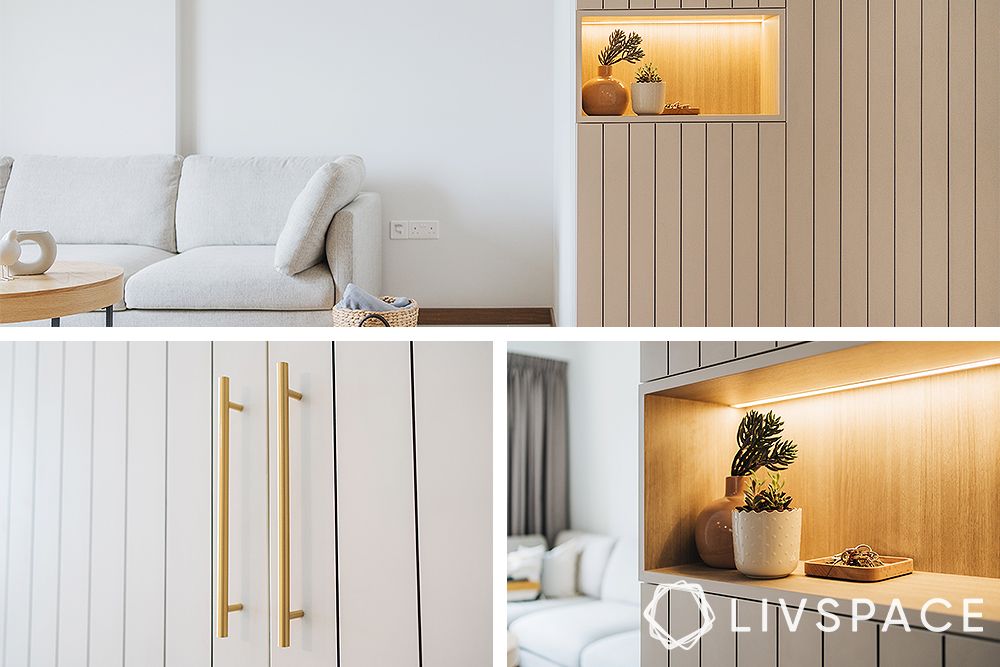 In tune with the farmhouse-style interiors the family and designer were keen on maintaining, the living area makes use of plank-like panelling for its feature wall. The plank-style panelling used in this 4-room HDB design closely reflects modern farmhouse-style interiors that bring a rustic-chic look to the space. 
Without the brass door pulls, you might not even realise this feature wall is actually a bomb shelter door! The open shelf detailing with wooden lining in a warmer colour complements the light shades of the feature wall, giving it a cosy rustic look.
Also read: 6 Clever Bomb Shelter Designs to Help Inspire Your Interiors
#3: Light Colour Palettes and Wooden Materials Adorn This 4-Room BTO Renovation Design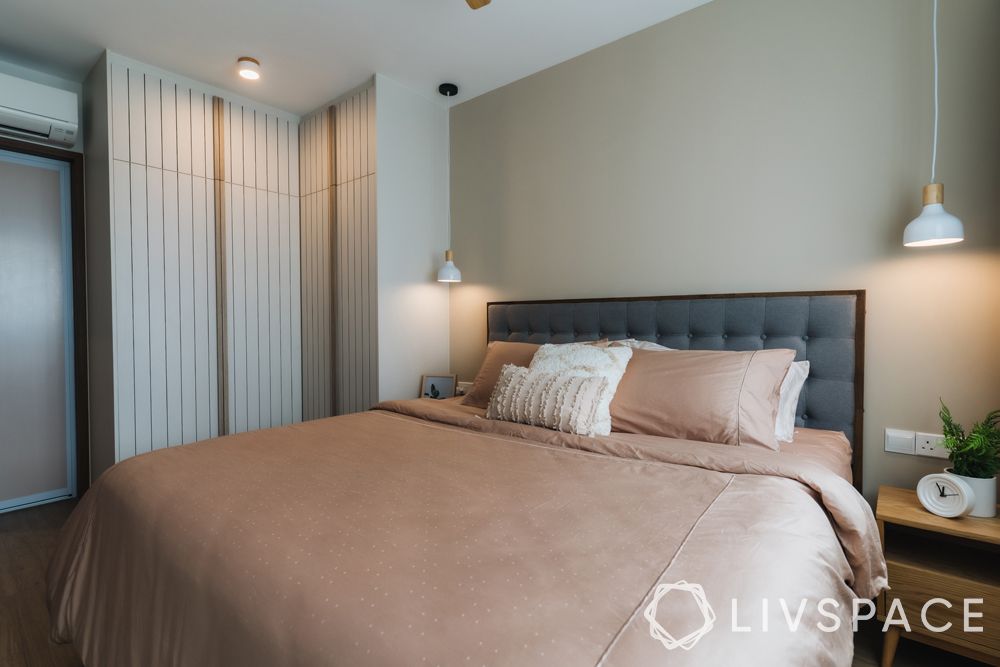 During the renovation, the homeowners were particular about exploring 4-room HDB BTO interior design ideas that could make their home look brighter. To the same end, Winny made use of light-coloured shades across the interior design for this 4-room BTO flat. As you look through the 4-room HDB design, you might notice the consistency in colour palettes as it never strays away from minimal and light shades. 
Similarly, since the Scandinavian style makes use of wooden materials and finishes, Winny also uses wooden door handles for the built-in wardrobes. The colour of the handles were intentionally designed in a different shade of wood to make them the focal point of the wardrobe. Remember the bomb shelter door design in the living area? The same design has been replicated here to create consistency across the 4-room HDB design. 
Also read: Get Expert Advice on How to Choose Colours for Scandinavian Interiors
#4: Simple Pendant Lights Add Warmth Across the Home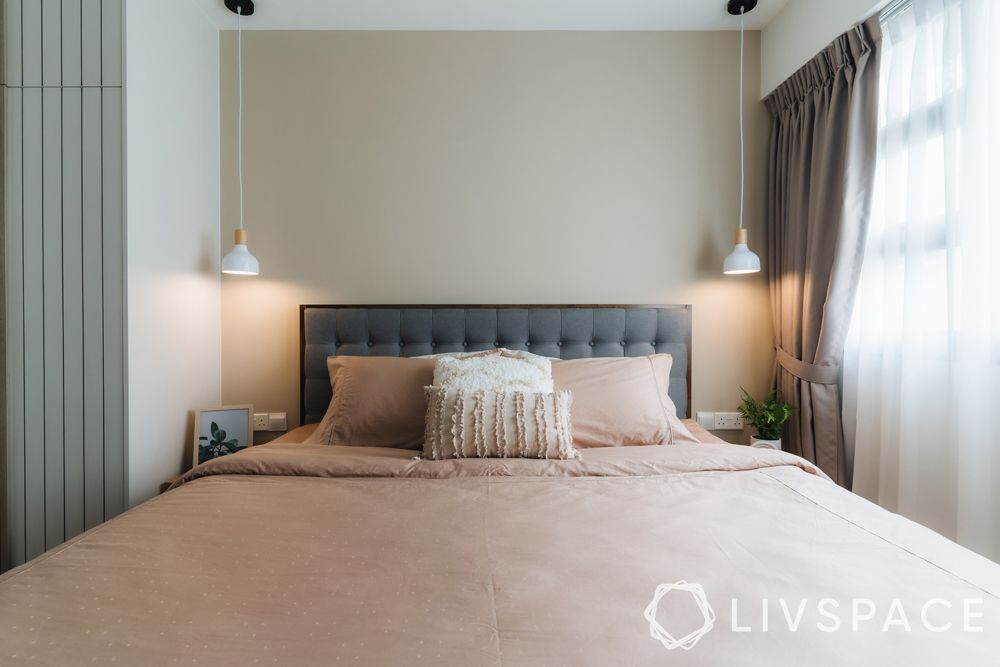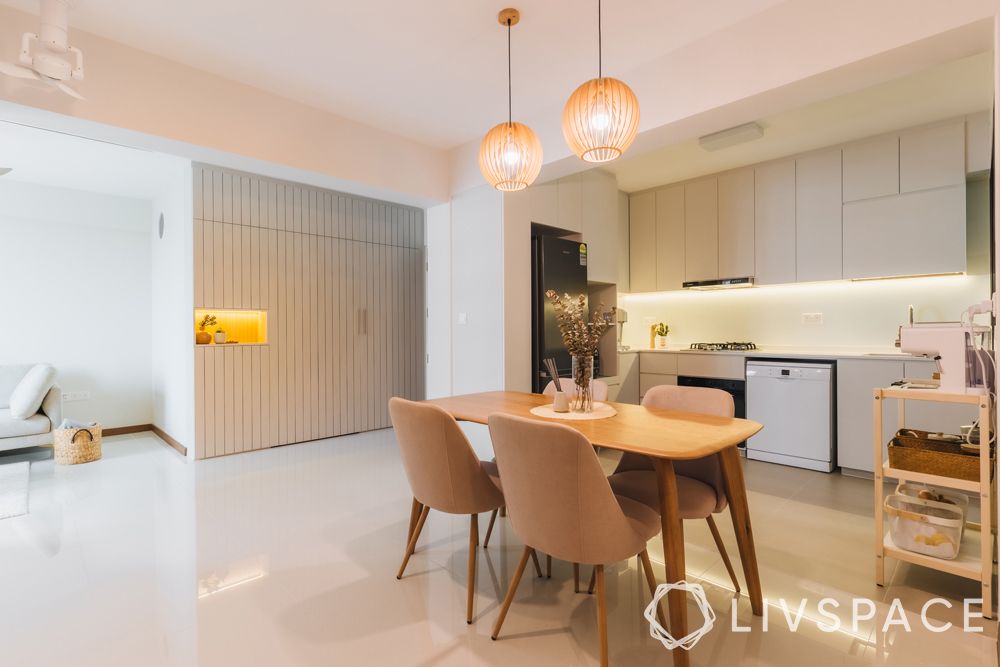 Wondering how to make the most of a Scandinavian-themed 4-room HDB design? Well, you'd need the right lighting for starters. The plank-style panelling is not the only common design element in use across this 4-room HDB BTO interior design. The common areas and the bedroom also feature pendant lights that not only brighten the space, but also bring a feeling of warmth to it. 
Since the homeowners are big on cosiness, Winny made sure to use the right kind of mood lighting to get the job done. In terms of comfort and brightness, this 4-room HDB design surely scores full points!
#5: Optimised for User Experience: The Kitchen in This 4-Room HDB Design Sparks Envy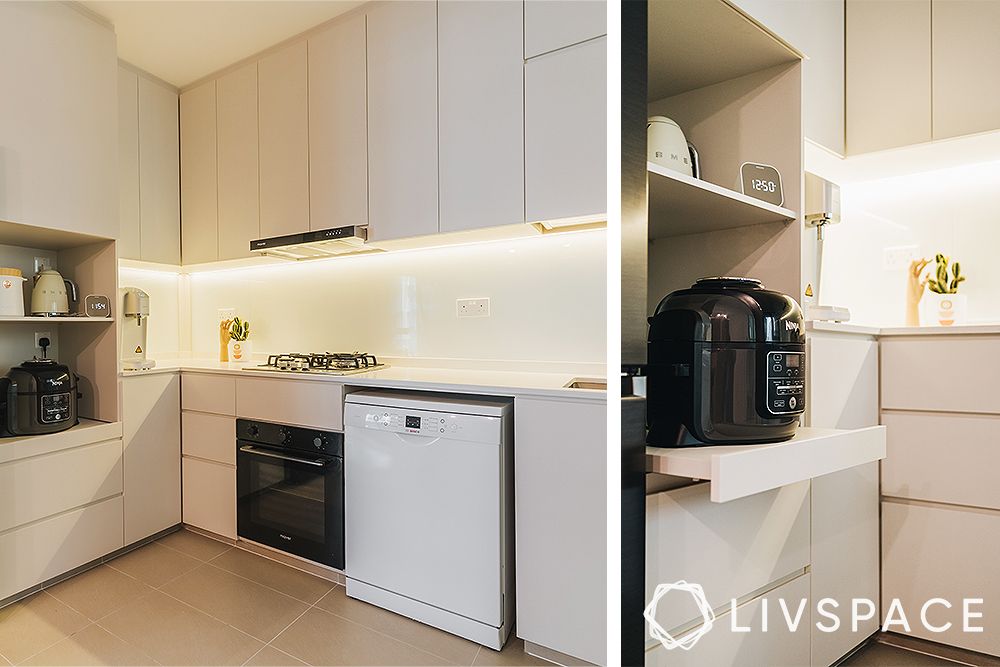 Everybody loves a well-designed kitchen but nothing beats a kitchen that's specifically optimised for your use. In the same way, the carpentry used in the kitchen was designed to accommodate the homeowner's needs and lifestyle. As rice is a fan-favourite in most Asian households, the tools we use to cook it with deserve their own attention. 
What makes the kitchen in this 4-room HDB design unique is the fact that it has a pull-out tray made specifically to house their pressure cooker. In terms of adding user experience to this 4-room HDB BTO interior design, Winny surely outdid herself with this kitchen accessory.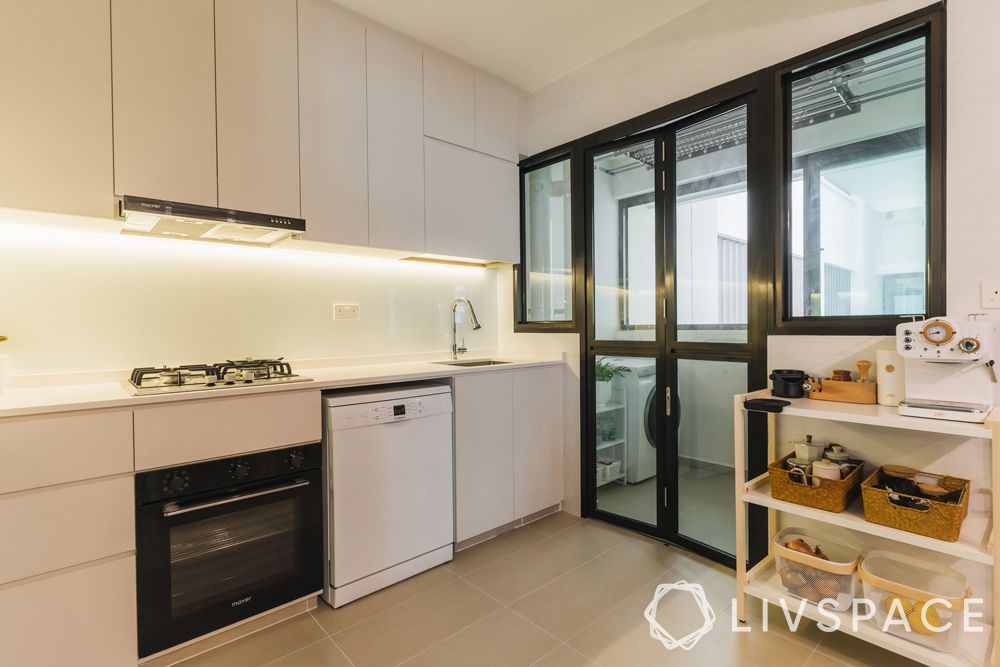 If you thought the cosy vibe that envelopes this 4-room HDB design was limited to the living room and bedroom, you haven't seen it all yet! Besides user-optimised carpentry we covered earlier, this chic kitchen also houses a coffee machine that makes this space reminiscent of cafe-style interiors. 
The simple framed glass door, that cordons off the service yard from the rest of the kitchen, adds a touch of modernity to the space as well.
#6: Need 4-Room HDB BTO Interior Design Ideas Similar To This Home? Double Up on Plants to Get the Look!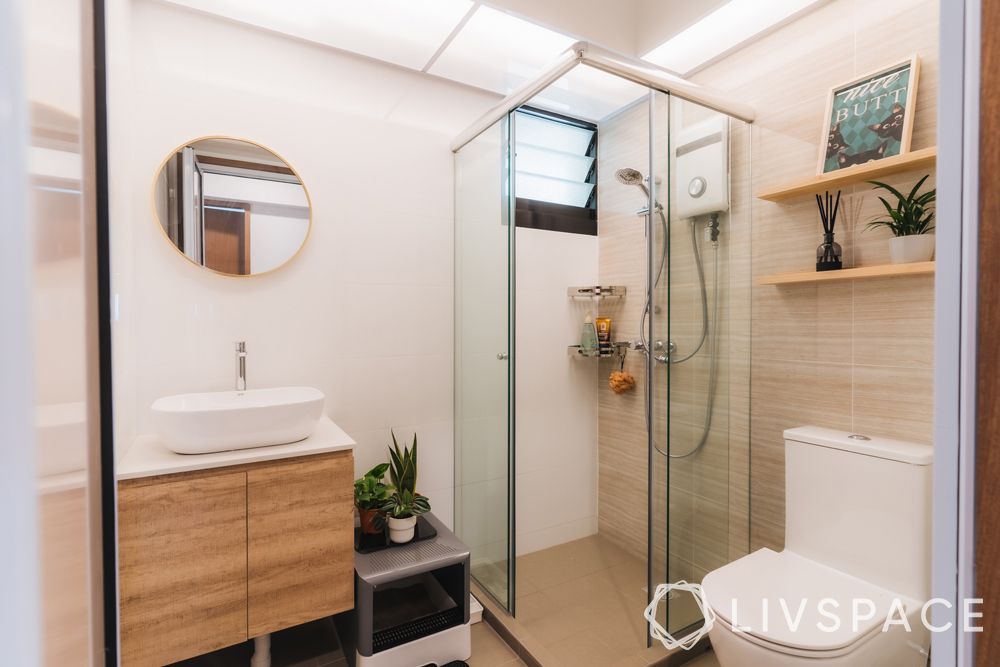 Besides the reigning theme of Scandinavian interiors and colour palettes, you might have also noticed another element that's peppered across this 4-room HDB design. In case you missed it, it's the generous inclusion of plants throughout the interiors of this home. 
As much as the lovely minimalist colour palettes and wooden finishes breathe life into the 4-room HDB design, without the addition of the plants, the Scandi-look just wouldn't be complete. You can either choose to go all out with big indoor plants to make a statement, or you can go for smaller house plants like what Najib and Jannah did.  
If you're looking for BTO 4-room renovation ideas that are simple to implement, just go for a minimal makeover with as many plants as you can. Place them in your living areas or in your bathroom based on whichever space could use a bit of colour.
Here's What the Homeowners Had to Say About Their New 4-room HDB design:
"We heard about Livspace from a friend who had their home renovated by Shim. As we trust our friend, we also went to their place to look at the workmanship Livspace provided. We wouldn't mind recommending Livspace to others as we would still get Winny's services even for our future renovations."

Najib and Jannah, Homeowners
How Can Livspace Help You?
Did these BTO 4-room renovation ideas inspire your next home renovation? If so, be sure to check out 6 Features of Scandinavian Interior Design That You Must Try at Home for more details.
If you want your home to be just as beautiful, then look no further. Book an online consultation with Livspace today.