Living in Singapore has its own perks. You have access to every metropolitan amenity, and the HDB offers incredible housing subsidies. However, having an abundance of space to live in might not always be one of the benefits of living in this city. So you need to plan your 4-room resale flat renovation in such a way that it maximises the space. So what should you do if you want to maximise the space in a really small apartment? Contact Livspace, is what we would advise!
When Zeng and his family decided to completely revamp their 4-room resale HDB design, our Livspace designer Eleonora made it happen within a budget. She transformed this little resale flat into a spacious, individualised place. Let's take a tour of this HDB design to get some fundamental 4-room HDB resale renovation ideas for your next reno!
---
Who Livs here: Zeng with his family
Location: Oleander Breeze at Yishun
Design team: Interior Designer Eleonora and Business Manager Sheik
Livspace service: Master bedroom, kitchen and master bathroom
Budget: $$
---


In a Nutshell

Design Brief
A storage-intensive home that is also functional

What We Loved
The seamless installation of storage throughout the home

Look Out for
-The laminate finish
-The smart storage and appliances
-The biophilic elements
-The smart bathroom storage


1. You Can Get a Decluttered Look for Your Kitchen With Seamless Storage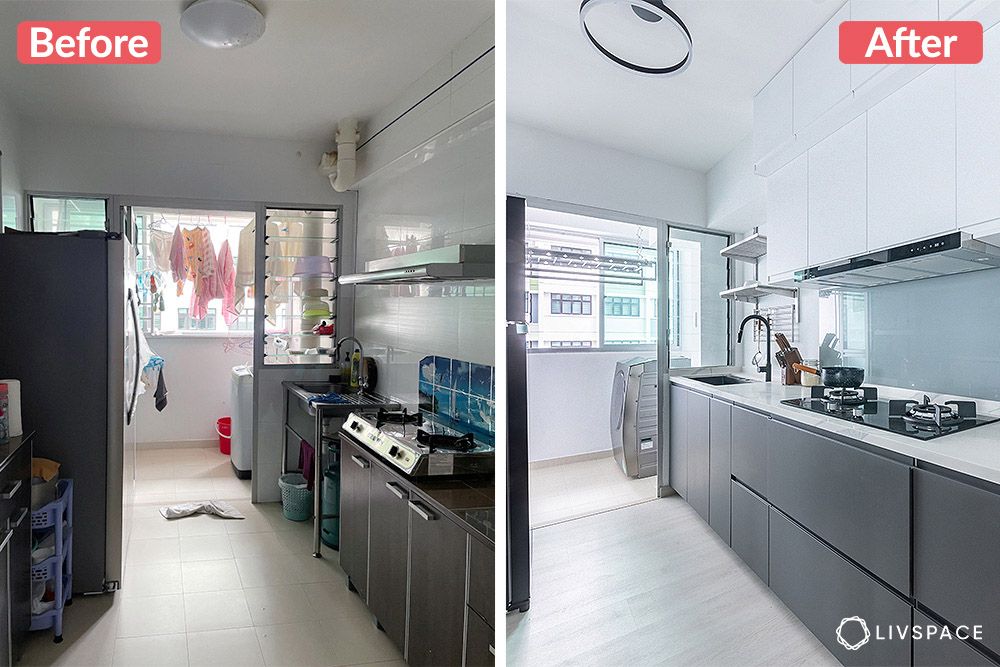 Who likes a messy kitchen? No matter how well your kitchen makeover integrates aesthetics and function, it may not reach its full potential without the help of smart storage. Your kitchen design will be more functional if you clear the clutter from your worktops and organise what's in the cupboards and on shelves. This was the case with this kitchen before we stepped to do its renovation.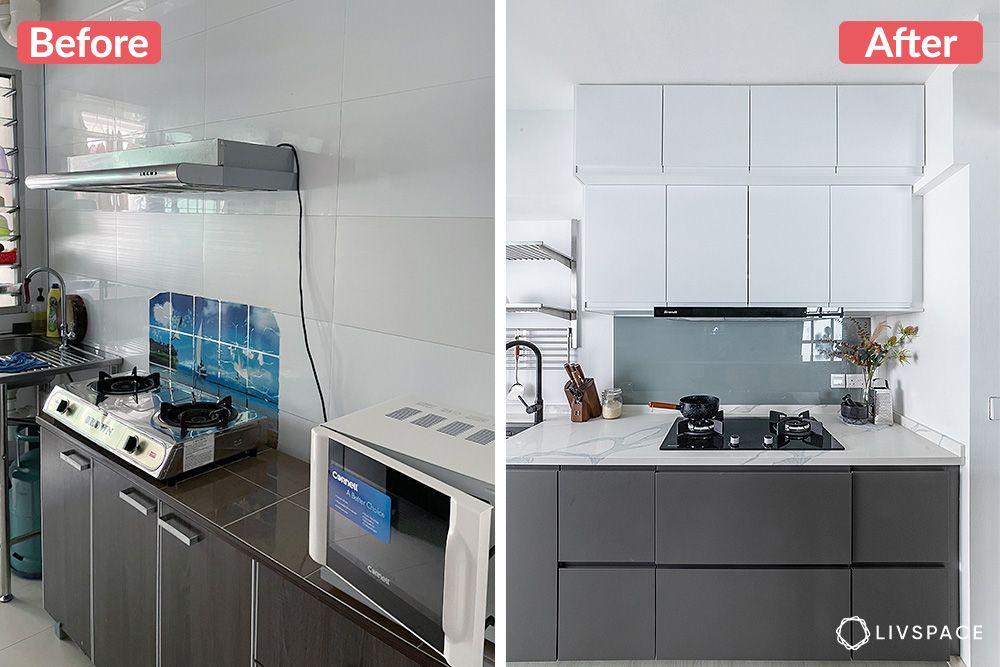 To make the kitchen space decluttered, Livspace designer Eleonora amped up the previous kitchen storage to a modular and seamless one. She installed handleless top and bottom cabinets to provide sufficient storage space in the kitchen. Given that it maximises the utility of small spaces, a parallel kitchen design was chosen for this 4-room resale HDB renovation. As you can see, we made efficient use of the available space by incorporating pull-out drawers and cabinets, skirting drawers, and oil pull-outs. Even smart appliances have been placed at convenient locations to make cooking absolutely hassle-free.
2. You Can Partially Remove the Kitchen Wall to Make Your 4-Room Resale HDB Flat Look Spacious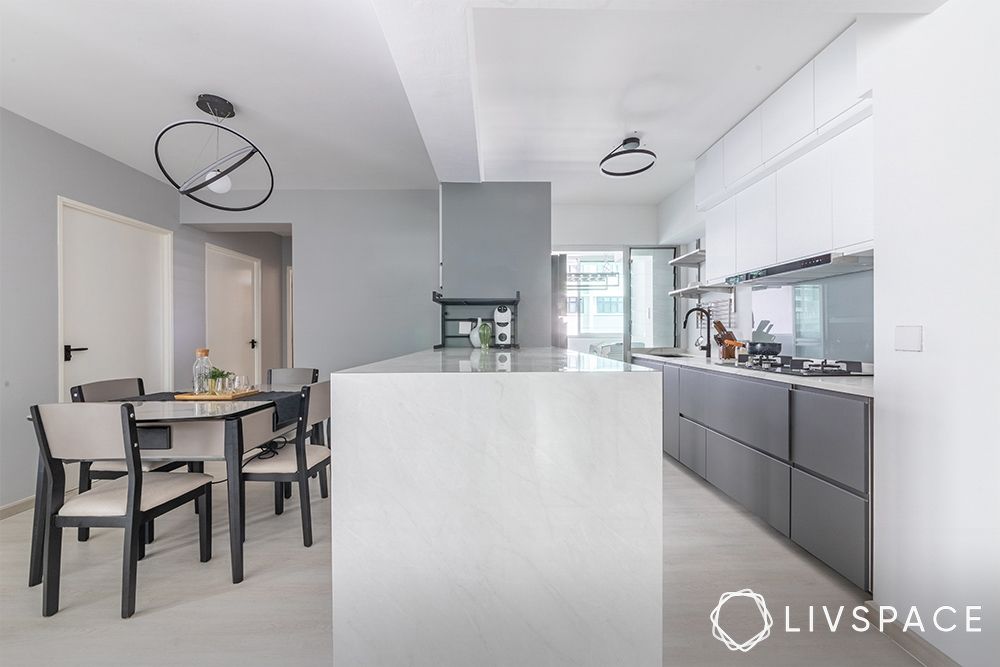 We all know how compact HDB kitchens can be and how cluttered they might look if not designed properly. The kitchen of this 4-room resale HDB used to be very cluttered and compact. The area lacked storage, and looked crowded and dull before the renovation. So what precisely did we do to make the kitchen as bright as it is now?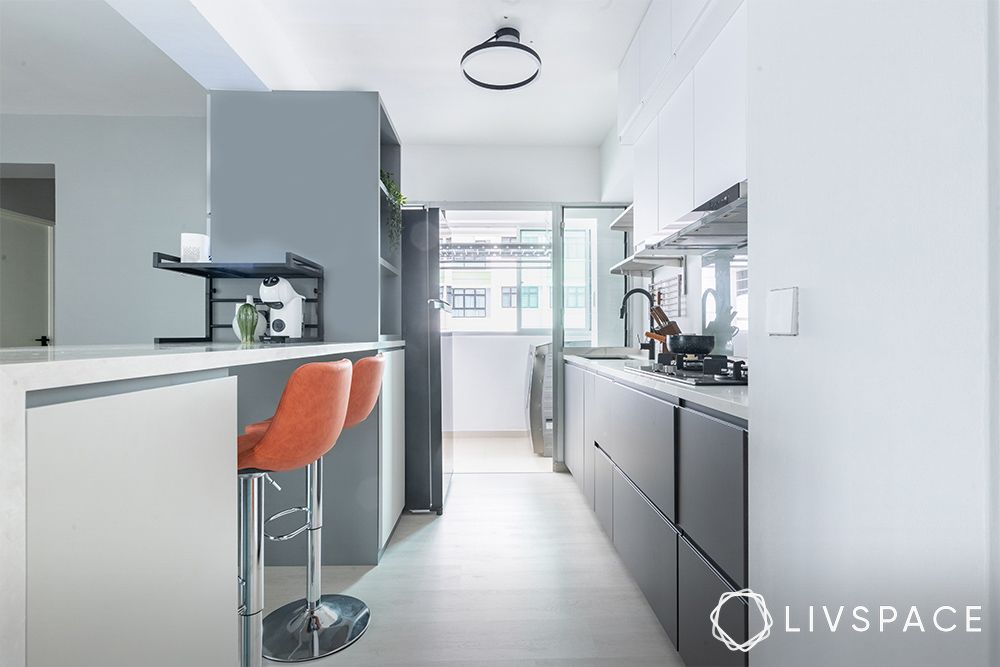 A little hacking holds the key to the problem. In order to make the kitchen in this 4-room resale HDB renovation more spacious, we partially tore down the entrance wall. After the entrance wall was taken down, it was simpler to maximise the kitchen's area and functionality. It immediately made the kitchen spacious and provided some additional space for the kitchen island. This further helped draw a boundary between the kitchen and the other areas around it.
Also Read: Estimate Your Kitchen Renovation Cost With Ease Using These 6 Expert Tips
3. Install Built-In Furniture in the Master Bedroom to Save Space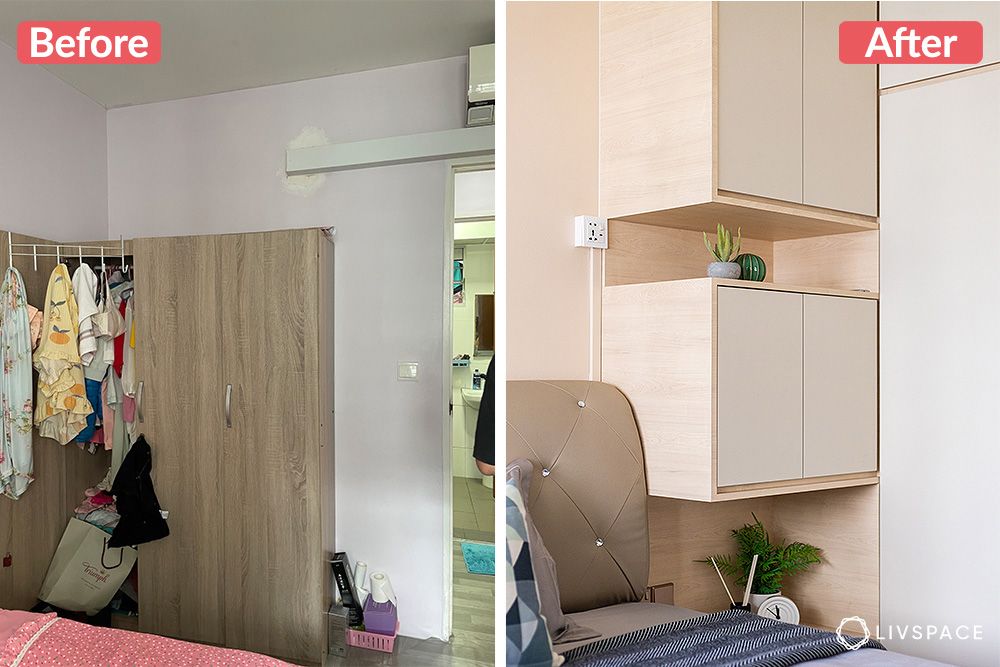 We, Singaporeans, always have a lot to store in very little space, thanks to the compact HDB flat sizes. This master bedroom had a wooden wardrobe before which obviously wasn't enough for the family's needs. To overcome this issue, Eleonora provided built-in storage for the family to make the most of the space, and make it look less cramped and less cluttered at the same time.
The wardrobe was replaced by a built-in wardrobe. Built-in wardrobes are a great choice for compact spaces as they do not need additional space to open. The wall-mounted storage over the nightstand is another example of how storage can be provided in compact spaces. The handleless wardrobe and cabinets give the master bedroom in this 4-room resale HDB design a seamless look.
4. Separate Dry and Wet Bathroom Areas; Make Bathroom Storage-Intensive Too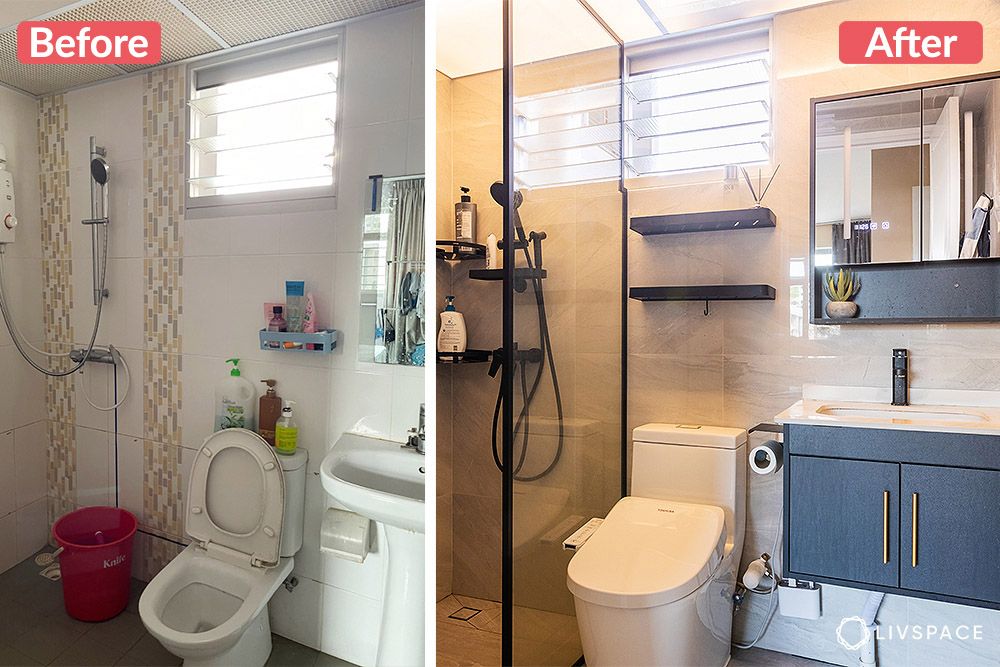 The master bathroom in this home was previously dull, with no segregation of zones and no storage. This is definitely not how the compact bathroom in your HDB flat should be. We say, compact designs can also be functional and aesthetically beautiful if you implement the correct 4-room HDB resale renovation ideas, just like we did with this one.
Our primary task was to create separate wet and dry areas in the bathroom so that it stays dry as much as possible. We installed a glass partition to separate the shower area from the rest of the bathroom. Tiles were also used on the bathroom floor and on the walls. As for storage, we added a vanity cabinet with a mirror in the dry area. This unit provides ample storage space for bathroom accessories. The mirror also opens into shelves to add to the storage options.
5. Install Your Kitchen Appliances in Built-In Cabinets and Use Corners for Decor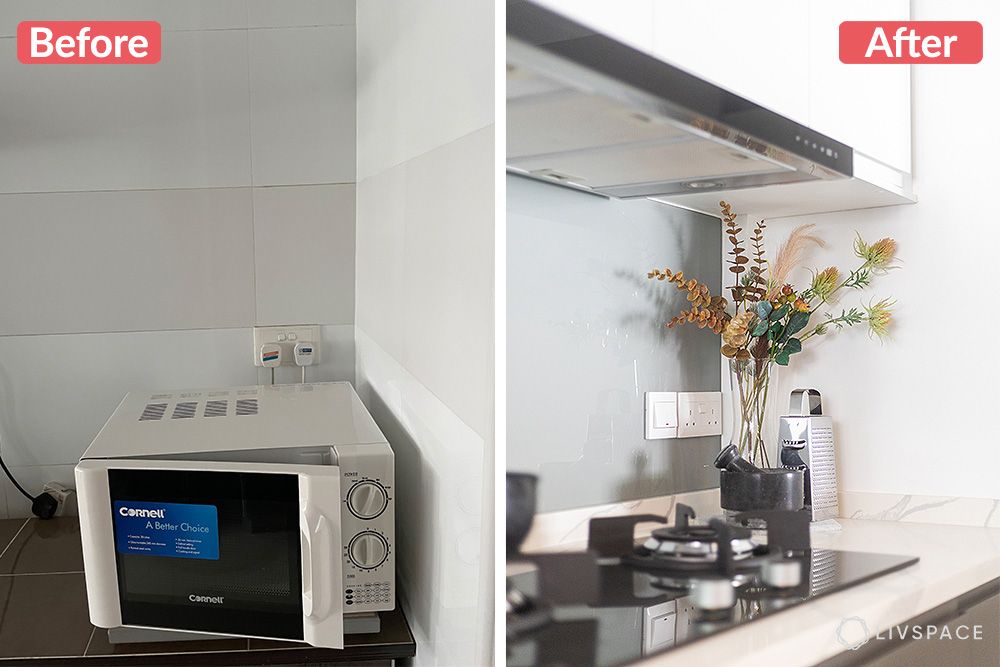 When you place all your bulky appliances on the countertop, you may not be left with any scope to add some decor. And it might present safety concerns too! So, what do you do to accommodate all your modern cooking appliances smartly? You either go for built-in appliances or have planned cabinets for them.
This is exactly what Eleonora did. For instance, this microwave was initially occupying a great deal of space on the countertop. She moved it to a built-in cabinet and placed a flower vase to add to the decor element. Basic kitchen appliances like a wall-mounted chimney to keep your kitchen smoke-free and a cooktop with brass burners are used throughout this 4-room resale flat renovation.
Also Read: Renovation Cost for a 4-Room Resale Flat: How Much Should You Budget?
How Can Livspace Help You?
We hope you found these interior design ideas useful! If you want your home to be just as beautiful, then look no further. Book an online consultation with Livspace today. Have some comments and suggestions you'd like to share with us? We're all ears! Feel free to write to us at editor.sg@livspace.com
Disclaimer: All contents of the story are specific to the time of publication. Mentions of costs, budget, materials, finishes, and products from the Livspace catalogue can vary with reference to current rates. Talk to our designer for more details on pricing and availability.