A minimalist design dressed in soft hues is usually a winner when it comes to HDB designs in Singapore. Add a sophisticated contemporary touch, and you have a house that is sure to draw attention, just as we, at Livspace, refurbished this 4-room resale HDB interior design at Fernvale Street. The brief? This young family desired a cosy, breezy and minimalistic home with soft hues where they can relax and enjoy after coming back home. Keeping up with Singapore's interior design trends, we also included space-saving and storage elements to keep the layout simple and airy. Let's tour this home!
---
---
Who Livs here: Li Meihui and her family
Location: Fernvale Street
Type of home: 4-room resale HDB flat
Design team: Interior Designer Yong Kun and Business Manager Danson
Livspace service: Flooring, hacking, carpentry, painting, tiling, electrical rewiring, false ceiling, and appliances
Budget: $$$
---

IN A NUTSHELL

Brief
To create a cosy HDB interior design for this home at Fernvale Street, Singapore making the best use of limited space

What We Loved
The seamless storage units designed throughout the home

Look Out For
– The sliding door partition between kitchen and dining area
– The use of soft colour palettes throughout the home
– The long hanging pendant light covering almost entire dining space

Biggest Indulgence
Strategic planning and placement of the power points and electrical outlets to suit the appliance needs



This Living Room Sparkles with Pleasantly Minimalistic Vibes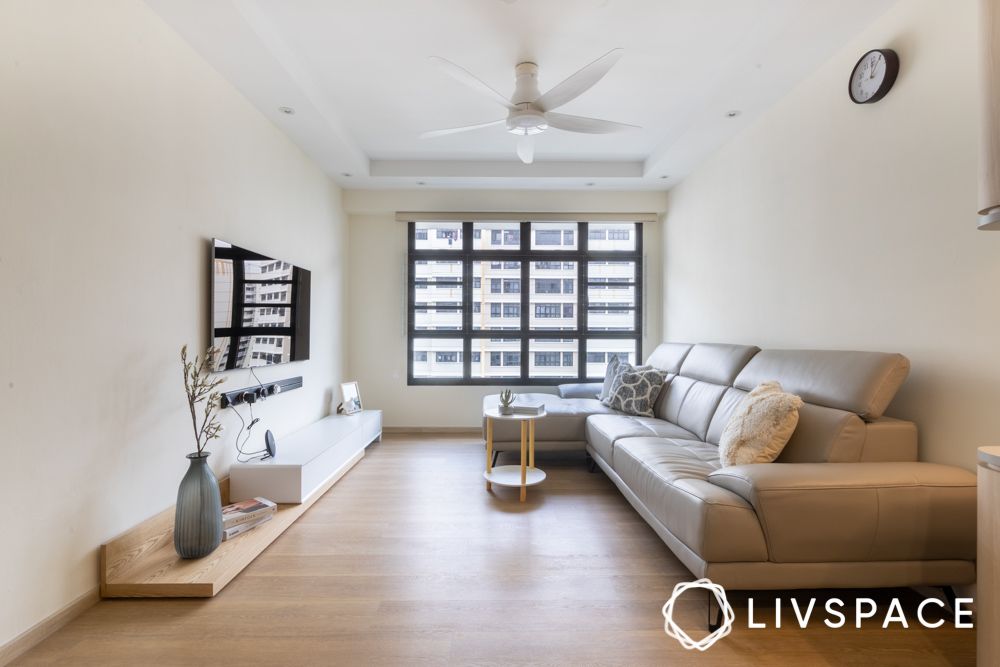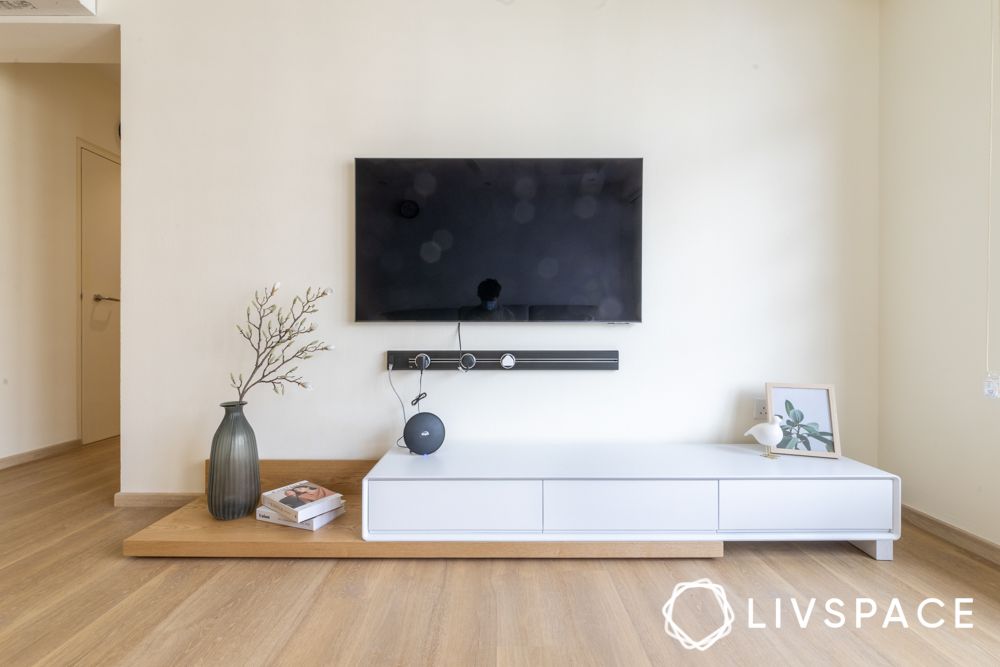 The house has a spacious, breezy living room that is appropriate for a modern, contemporary dwelling. Livspace ID Yong Kun followed the open layout in this HDB interior design at Fernvale Street in Singapore with a natural flow of light. As requested by the couple, our Livspace ID made sure to include lots of storage to maintain a spatial flow throughout the house.
The living room is bathed in soft wooden tones, and furnished with only the essentials. The focal point of the room is a modern, storage-intensive TV unit dressed in neutrals. The sleek coffee table with a white top adds necessity and practicality to this minimalistic design. The walls sport the neutrals and the false ceiling with track lights enhance the room's softness.
A Dining Area Flaunting Soft Colours, Curved Edges and Seamless Storage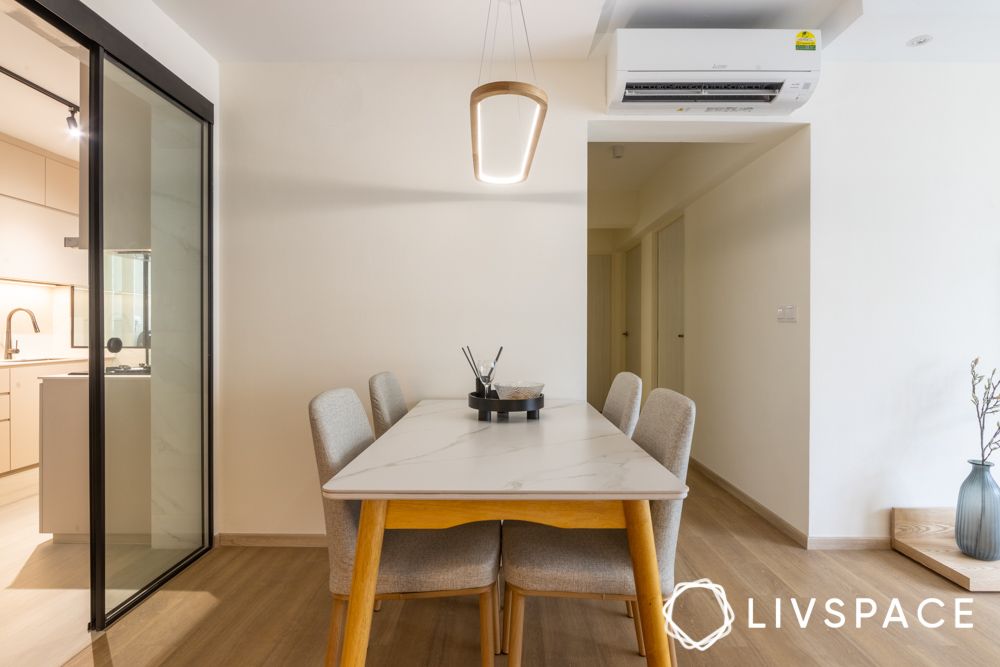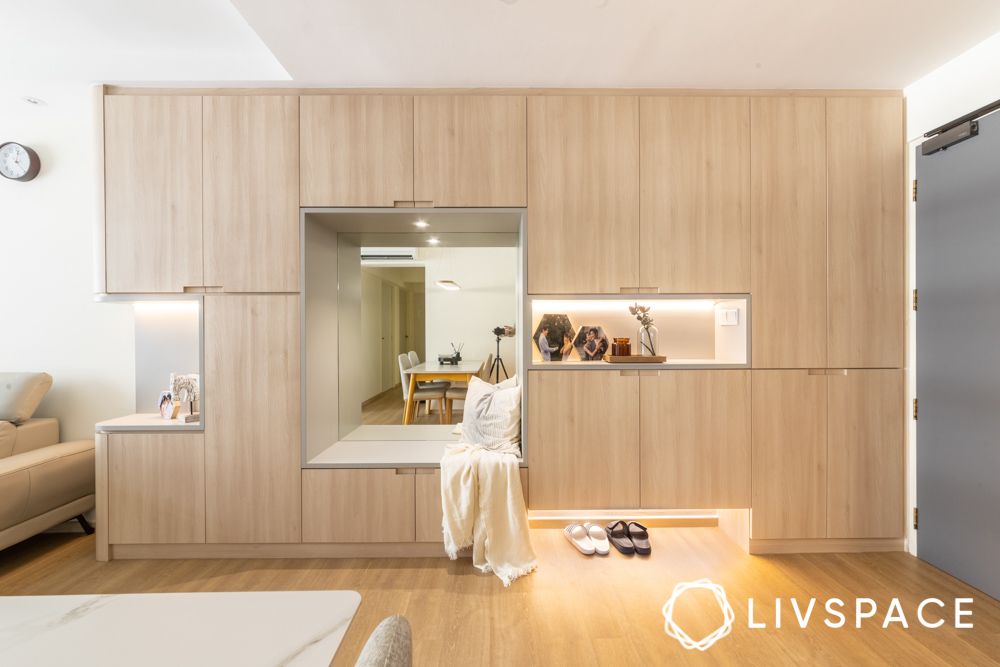 According to Yong Kun, the dining room is one of the best spaces in this 4-room HDB design in Fernvale Street, Singapore. It lies directly between the living room and kitchen, and is designed very elegantly. The Livspace design team made the deliberate choice to "soften the edges" of the home due to the angular designs of the floor plan. The dining table and the chairs follow the same colour theme as there is throughout the house. The hanging pendant light with curved edges draws immediate attention. A sliding door separates the kitchen from the dining area which not only demarcates the two regions but also maintains the continuity of space even when it is closed.
Also read: 10 Incredible Livspace Condo Renovations Between S$10k – S$50k That Suit Every Budget

The Kitchen in This 4-Room Resale HDB Design at Fernvale Street Is Packed with Utility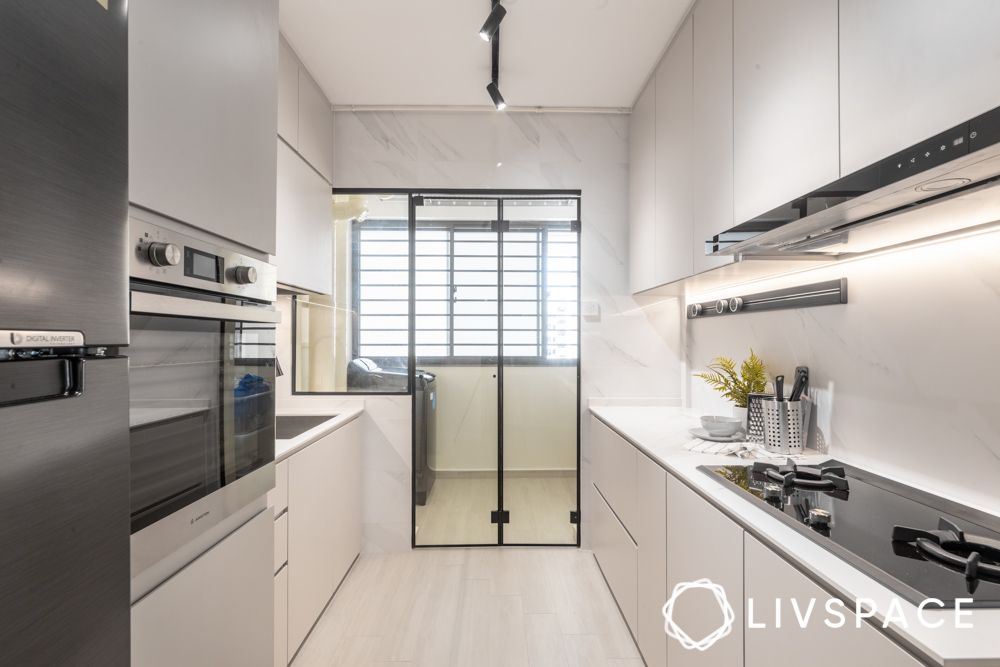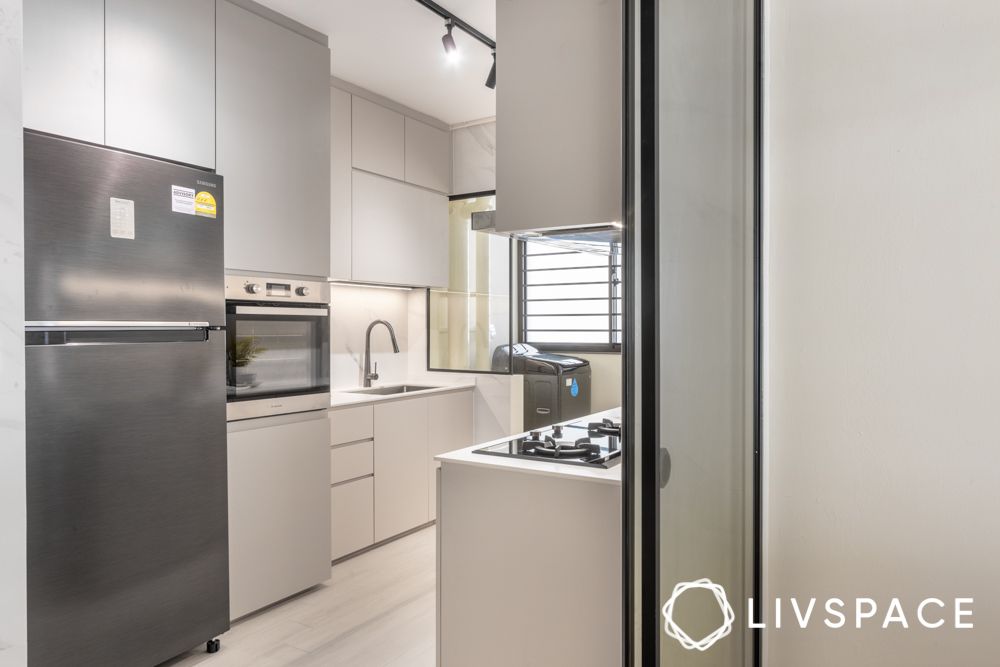 The kitchen in this resale HDB interior design at Fernvale Street is renovated in whites and neutrals, and has lots of storage space. The light colour scheme and straightforward design of this parallel kitchen give it all the hallmarks of a modern contemporary aesthetic. It's interesting to note that the cabinets are painted in whites and are handleless for a seamless look. With the white laminate countertops this kitchen is both functional and practical.
We Revamped the Electrical Plug Points Too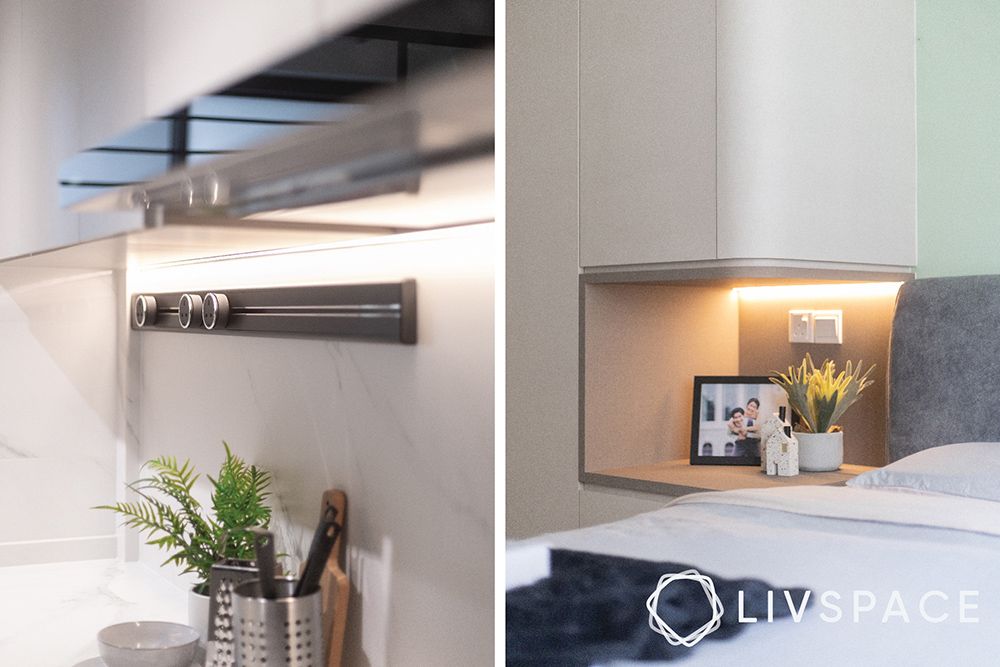 Another noteworthy element in the kitchen design (actually the entire home) is the alignment of the electrical and power sockets with the requirement. Li Meihui wanted our designers to rework on the electrical plug points. So, Livspace designer Yong kun planned the power points accordingly in this HDB interior design at Fernvale Street, Singapore. The original 4-room resale HDB design at Fernvale Street had asic power points but based on the appliances the homeowners had, he planned them strategically. We also installed a line socket in the kitchen and the living room as we foresaw that there's going to be a huge use of appliances in these two areas. Also, we can always add more sockets to it.
Want to figure out how you can achieve a similar style for your home? Check out What Makes a Home Contemporary & How to Get it Right?
A Simple and Comfortable Master Bedroom with Maximum Storage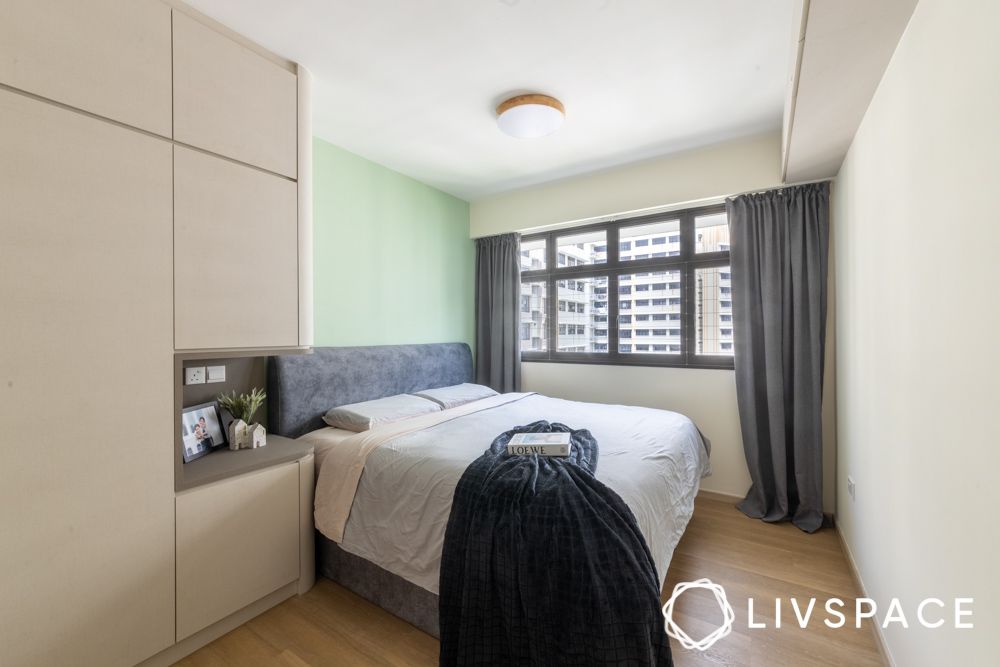 The homeowners wished to maintain a tidy and uncluttered bedroom. The absence of extra furniture gives the area a serene, minimalist atmosphere that is perfect for them to unwind in.
The room also features the same neutral colour flow with seamless wardrobe for storage. Next to the bed, attached to the wardrobe, is a nightstand creating a cosy nook for the decorative accessories. The big window, on the other hand, maintains the flow of natural light and air.
We've Played Around With Colours and Accessories in This Bathroom Design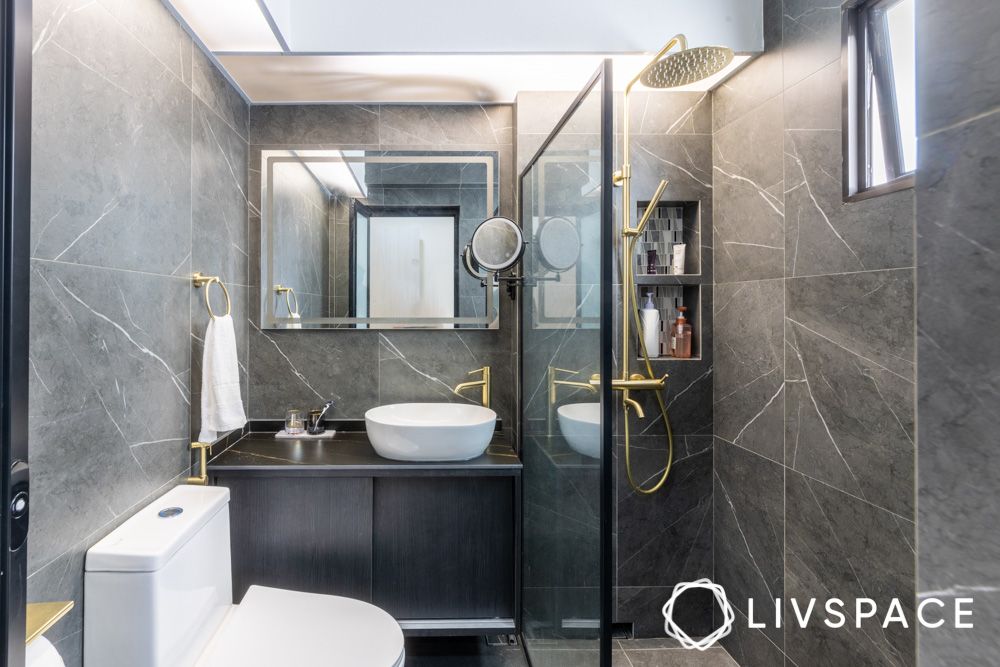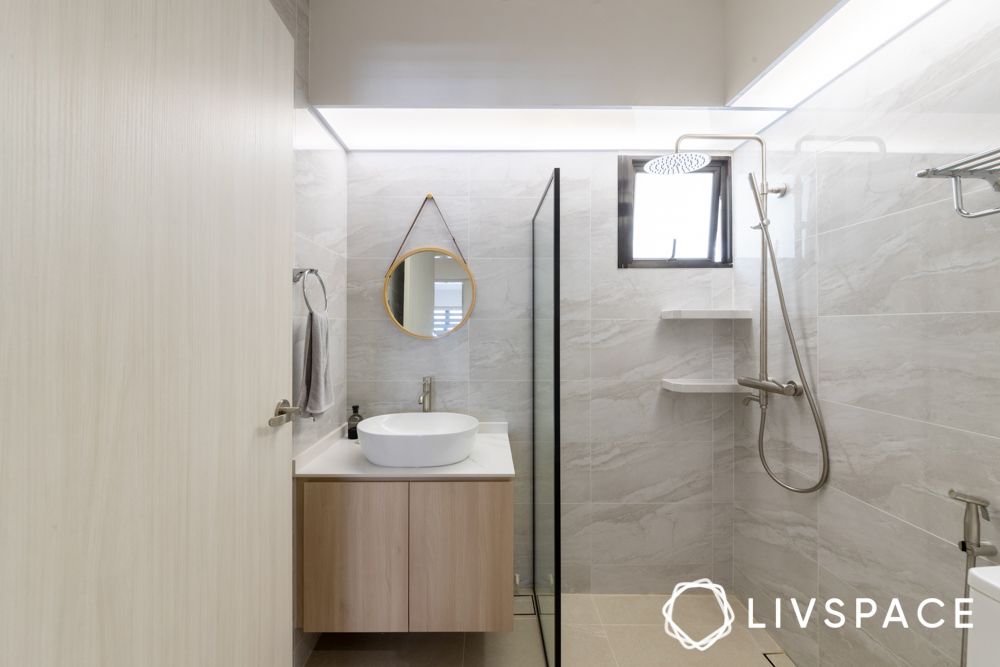 Yong Kun and colleagues were restricted by space, as in most HDB toilets. They were, nevertheless, able to give the two bathrooms a contemporary appearance, though. Both bathrooms include shower stalls, and even feature floating cupboards with wood finishes for all the homeowners' storage requirements.
Also read: Do You Know You've Been Making These 10 Bathroom Design Mistakes?
How can Livspace help you?
Enjoyed this modern contemporary resale HDB interior design at Fernvale Street, Singapore? Now, it's your turn to get beautiful interiors for your dream home. All you have to do is book a consultation with Livspace designers. With safety as our priority, you will get quality interiors. You can learn more about our COVID-19 safety protocols here.
Send in your thoughts and suggestions at editor.sg@livspace.com.