This 5 room flat design flaunts a rather clean look, with hints of an English Farmhouse in the kitchen.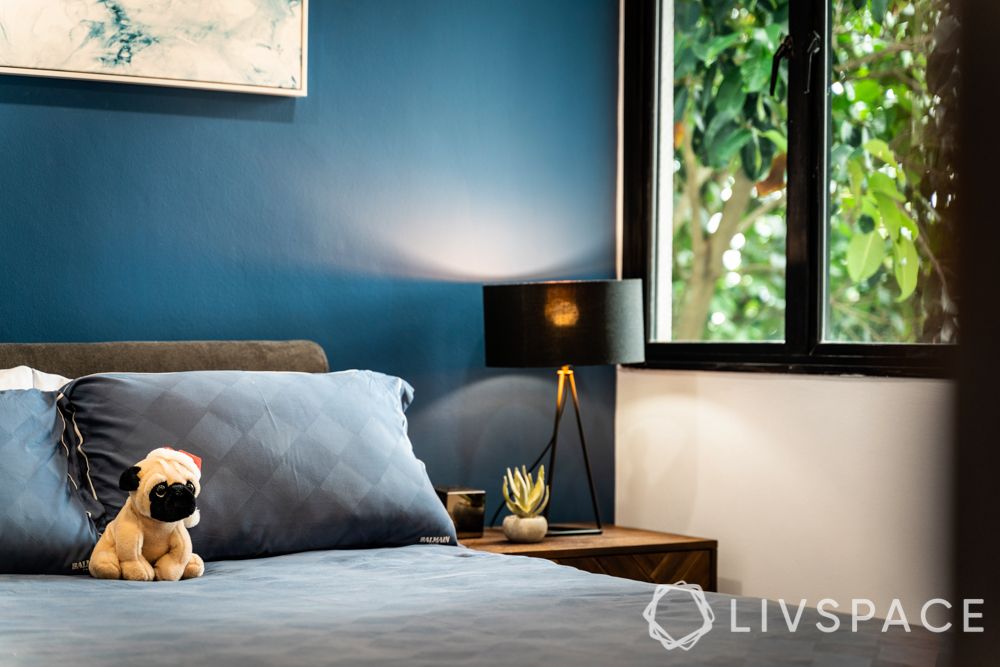 ---
Who livs here: Gordon and Marianna
Location: Central Grove
Type of home: 5-room condo
Livspace team: Interior Designer Noel Tan Rongkeng and Project Manager Kent Huang
Livspace service: Hacking, plumbing, electrical, tiling, flooring, painting, carpentry, ceiling
Budget: $$$$$
---
"Elegance does not catch the eye. It stays in memory."
– Giorgio Armani
If you ask us, we'd say, this quote stands true for this home too. How your condo, BTO or HDB looks, is a direct reflection of your personality. And it's always advisable to choose elegance over everything else. When we took up the task of this 5 room flat design, we knew we had to make it look neat, classy and timeless. It draws inspiration from the English Farmhouse style of design in bits and pieces. Boasting of a spacious layout, this 120 sq mts condo had immense scope for experimentation and we did not back out.
Read on to find out how Noel Tan Rongkeng hacked this entire condo to give it a new look, fulfilling every requirement that the young couple living here had.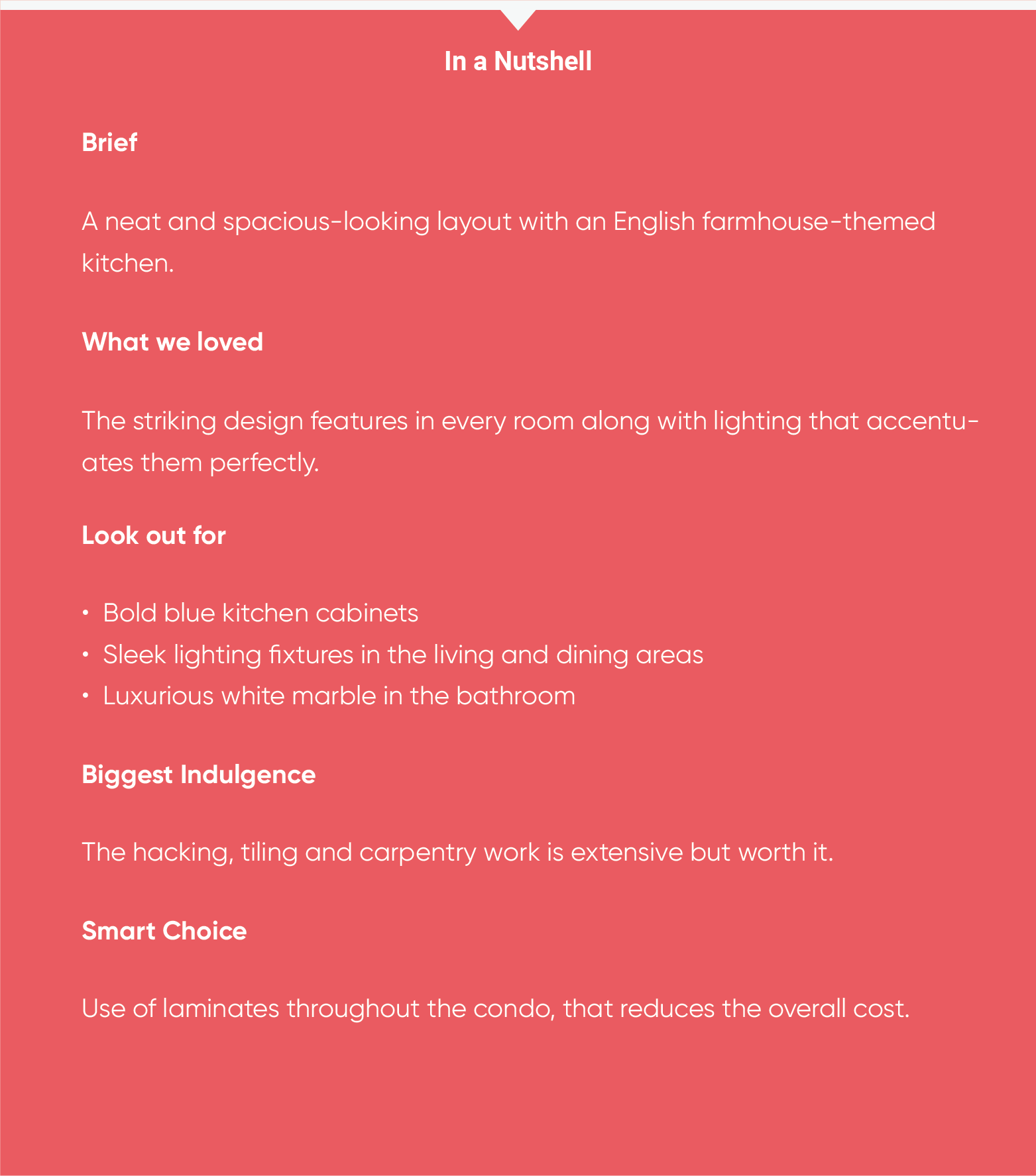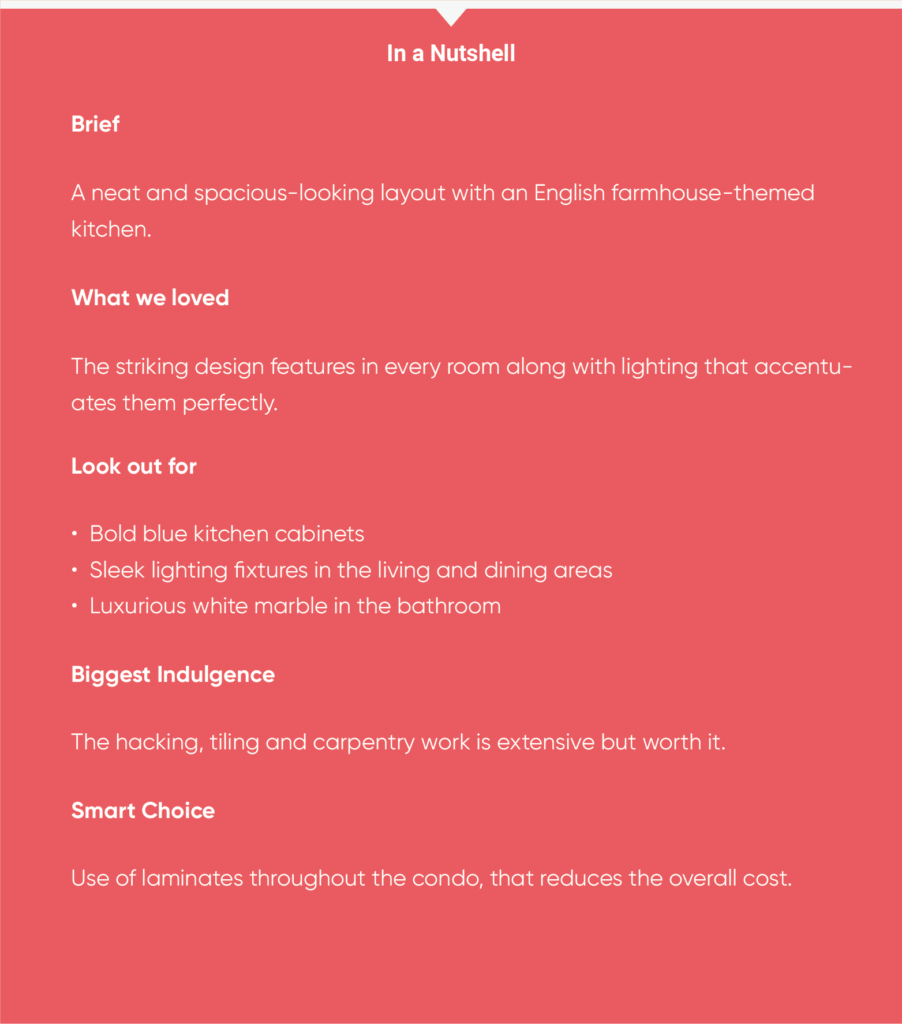 An open layout for living and dining areas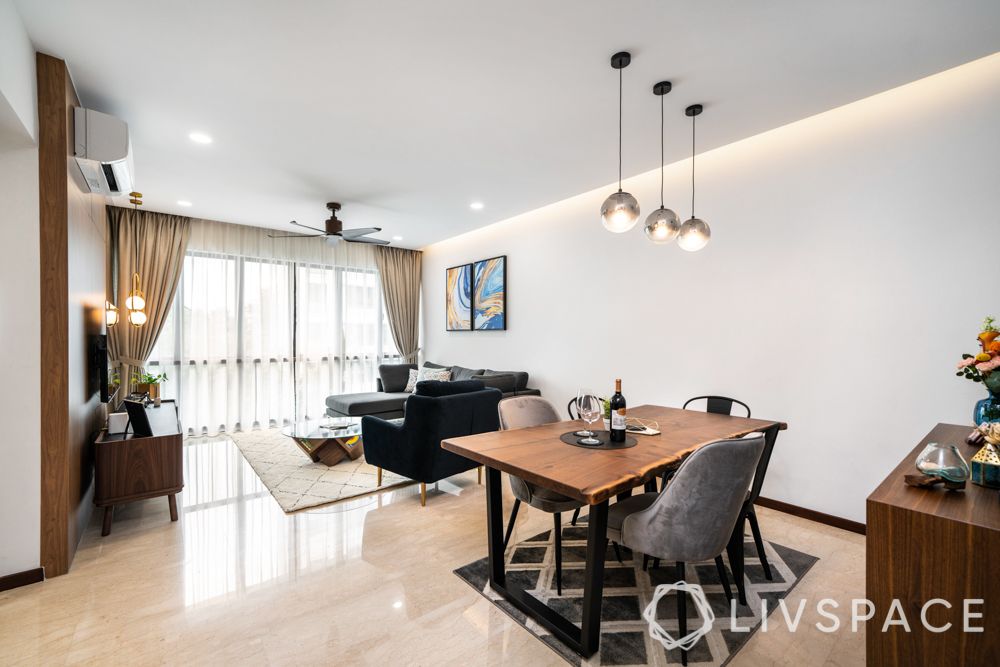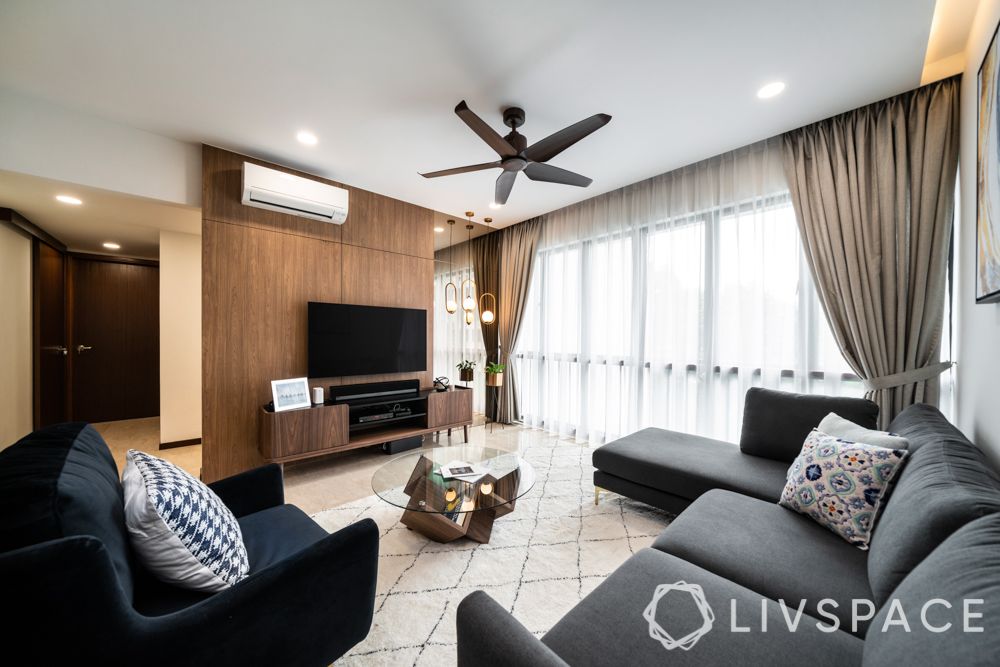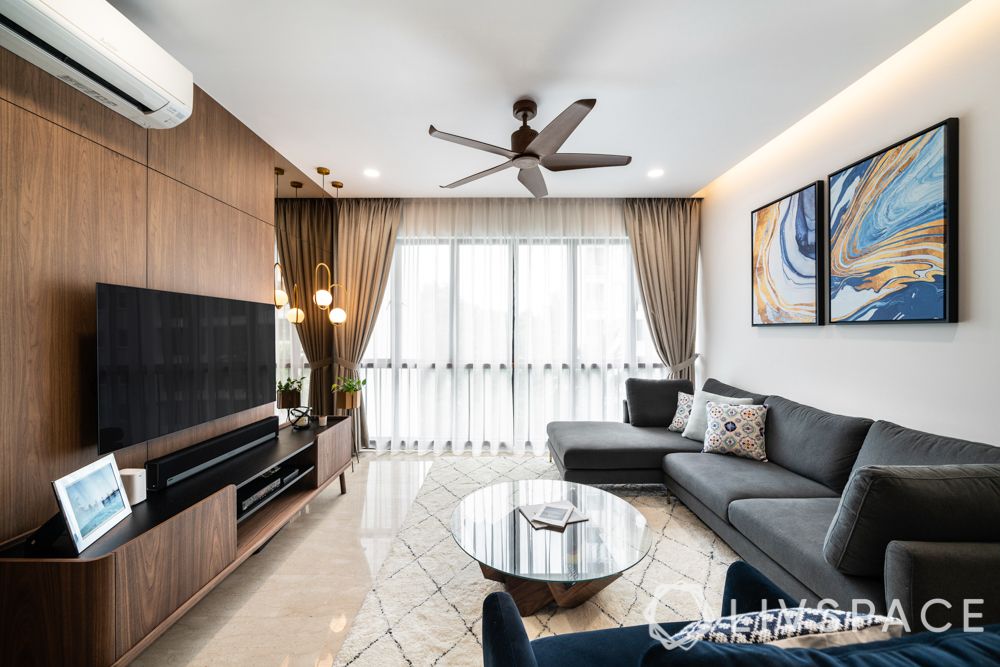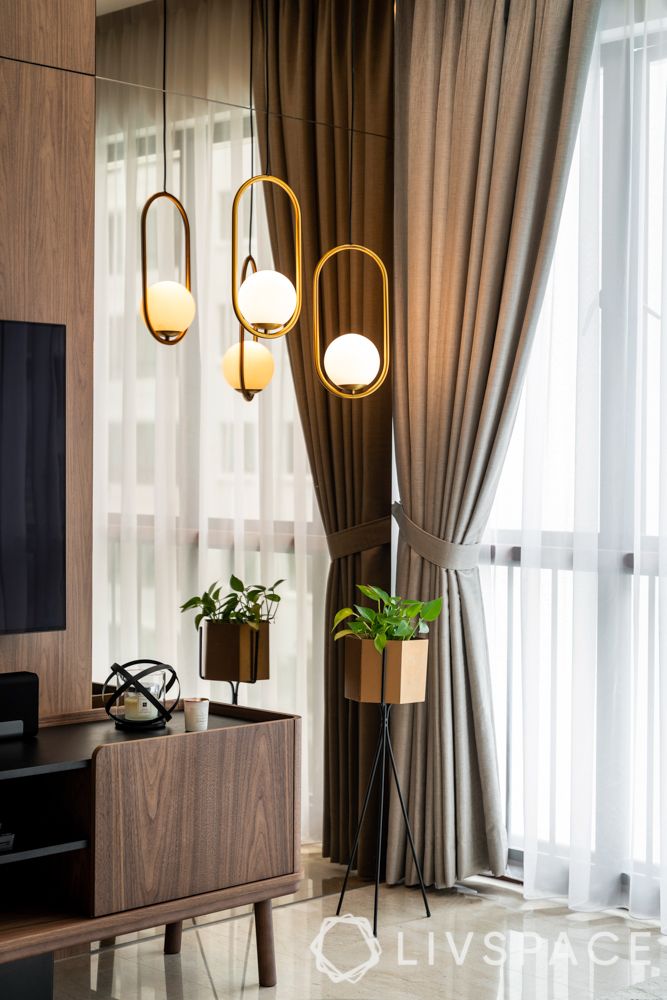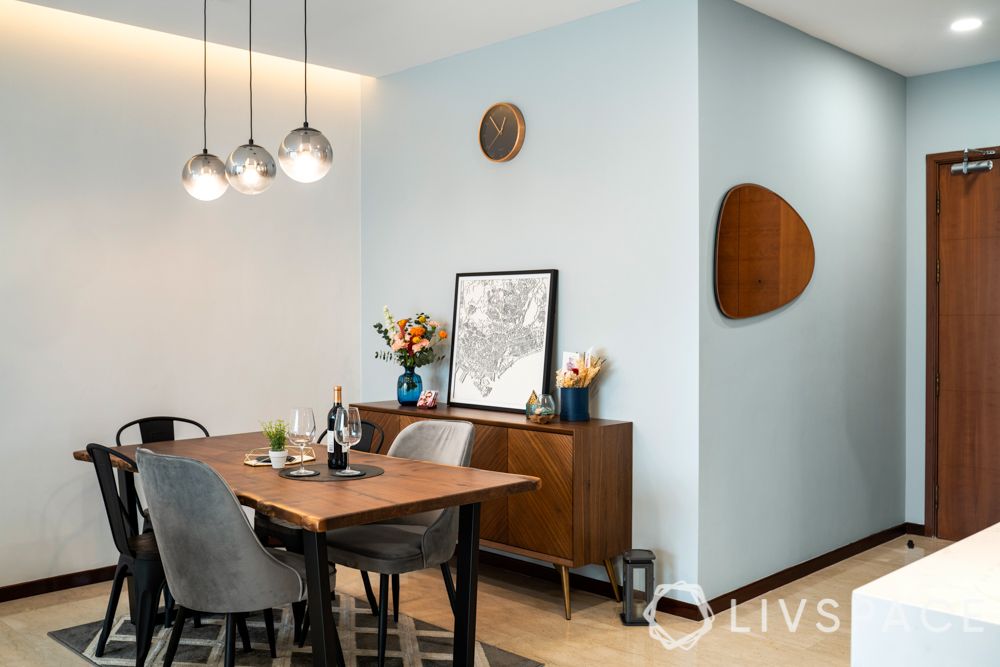 Like most condos, this resale property also welcomes you with an open concept living and dining room. Marked by a spacious layout and simple colours, a calm vibe flows through this space. What grabs our attention here are the lighting fixtures that are sleek yet enhance the ambience. This space mostly flaunts pendant lights and false ceiling lighting. An L-shaped sofa sits right opposite the laminate TV unit wall that has a mirror on one side. We also love the use of area rugs that mark the two spaces from each other.
"We initially thought the home renovation would be stressful. But Livspace was able to provide a smooth journey. Both Noel and Durra were trustworthy and they were very reliable. They were responsive and always on the ball. We came prepared for a stressful time but Livspace has proved otherwise. We love our new home!"

Gordon & Marianna

Livspace Homeowners
A kitchen design to bookmark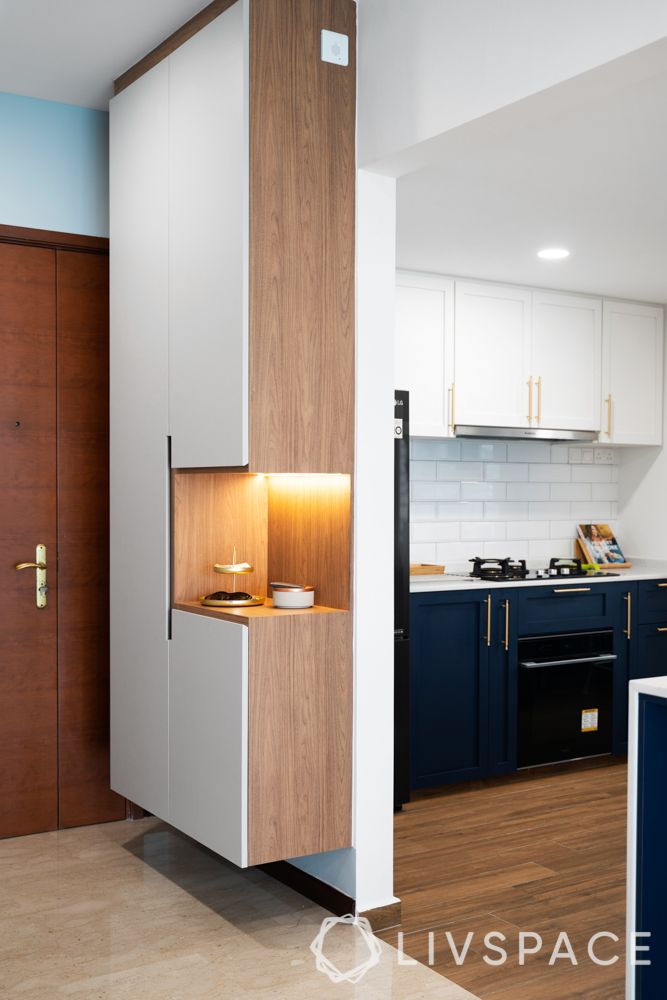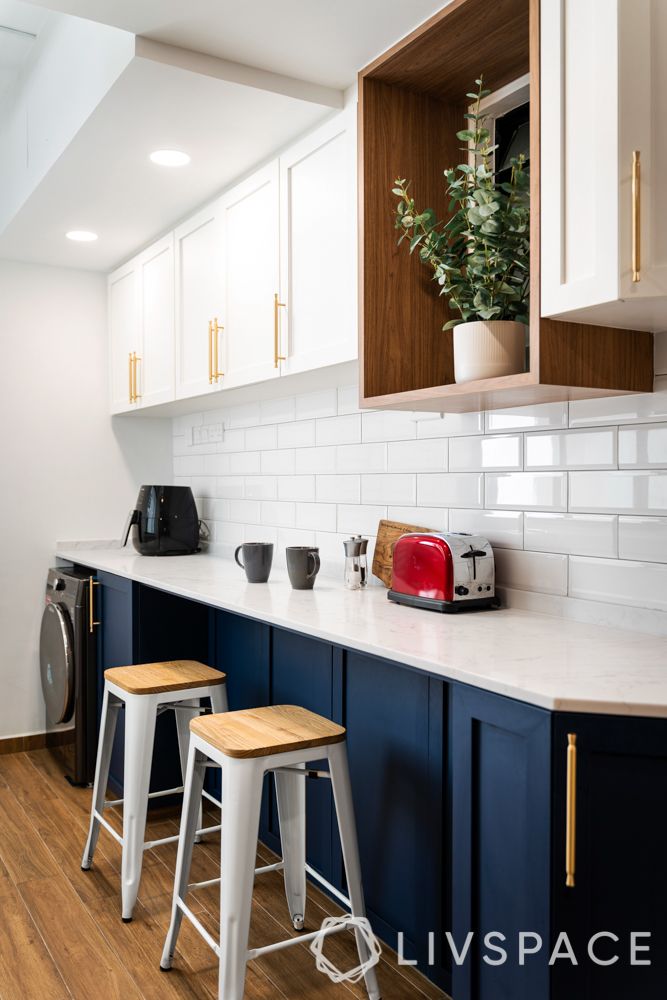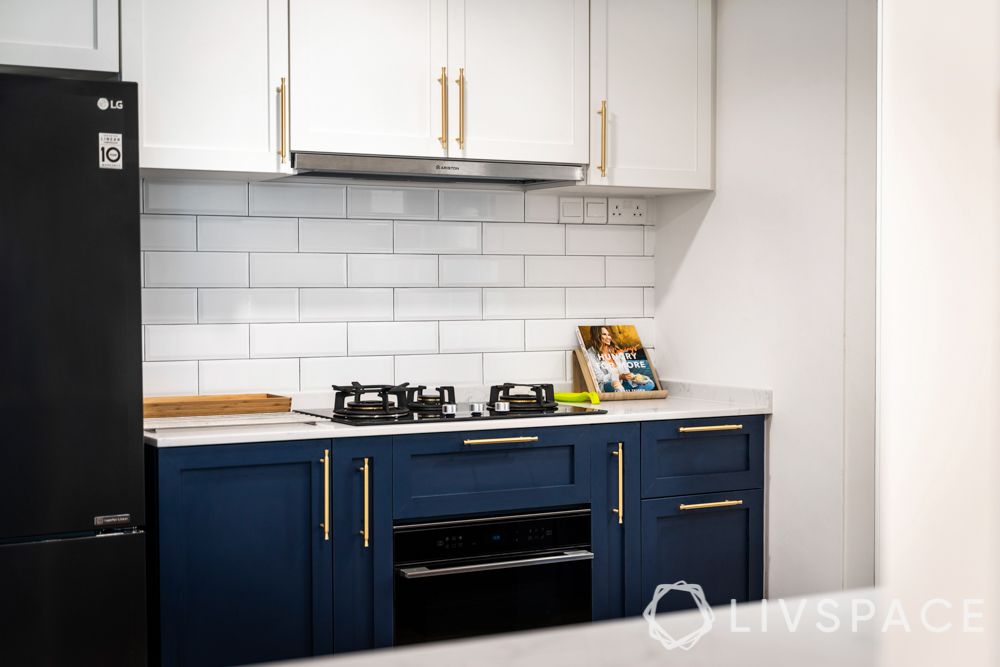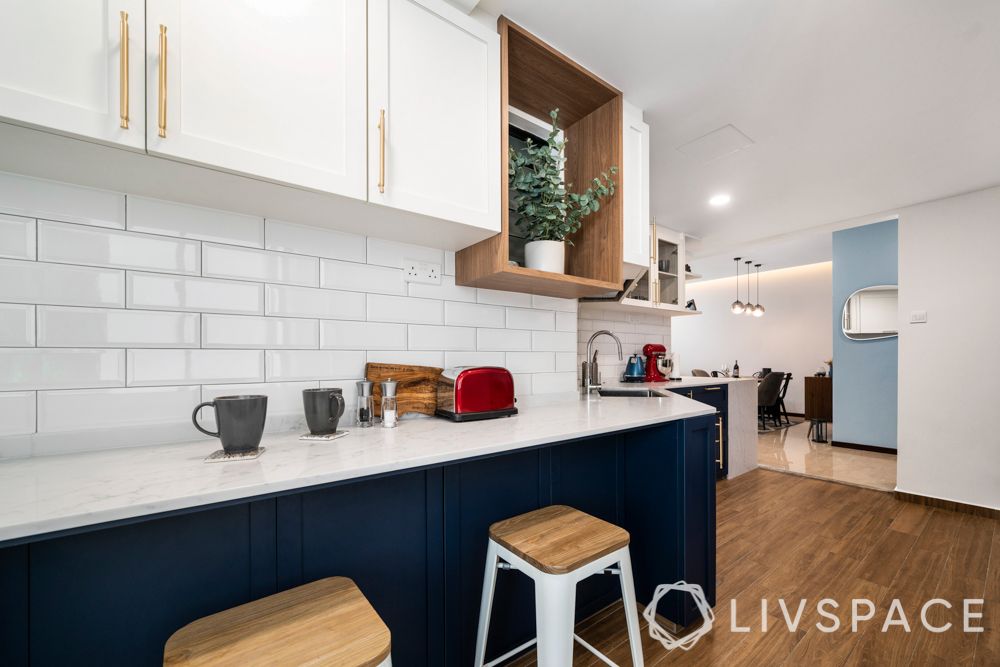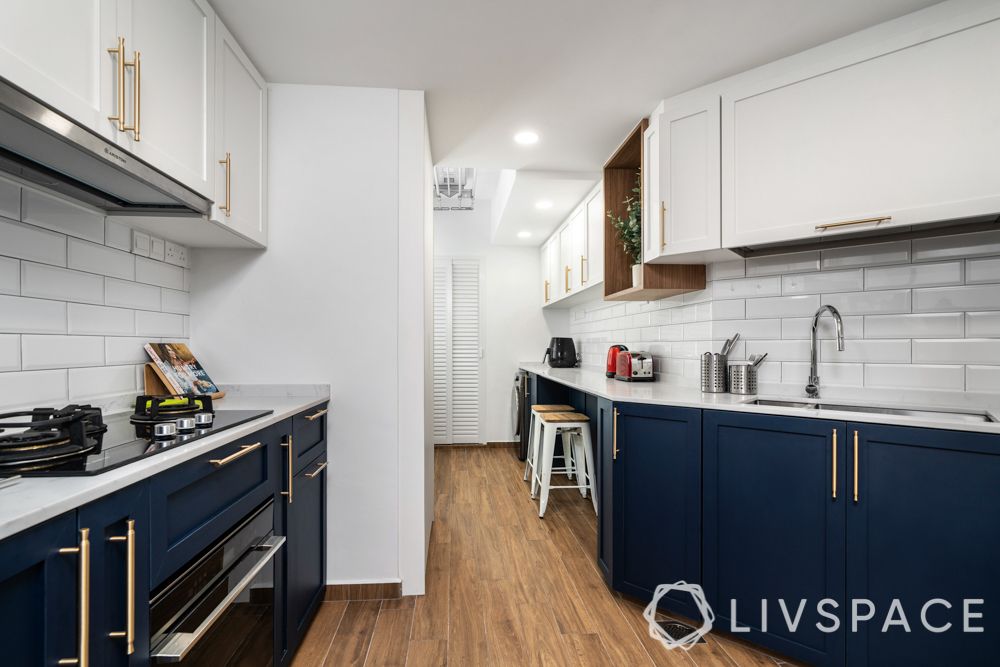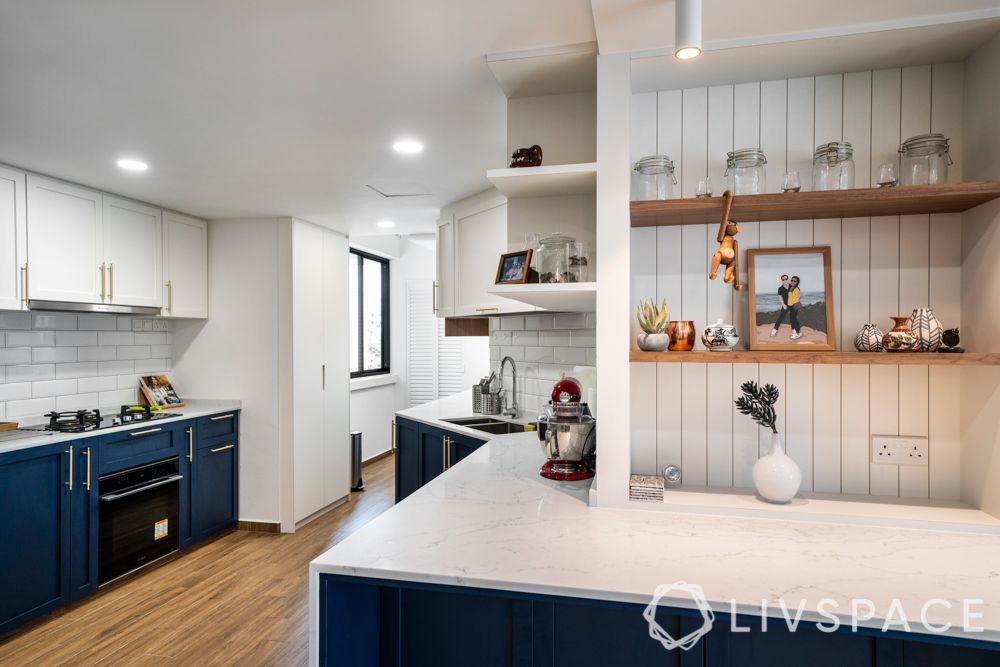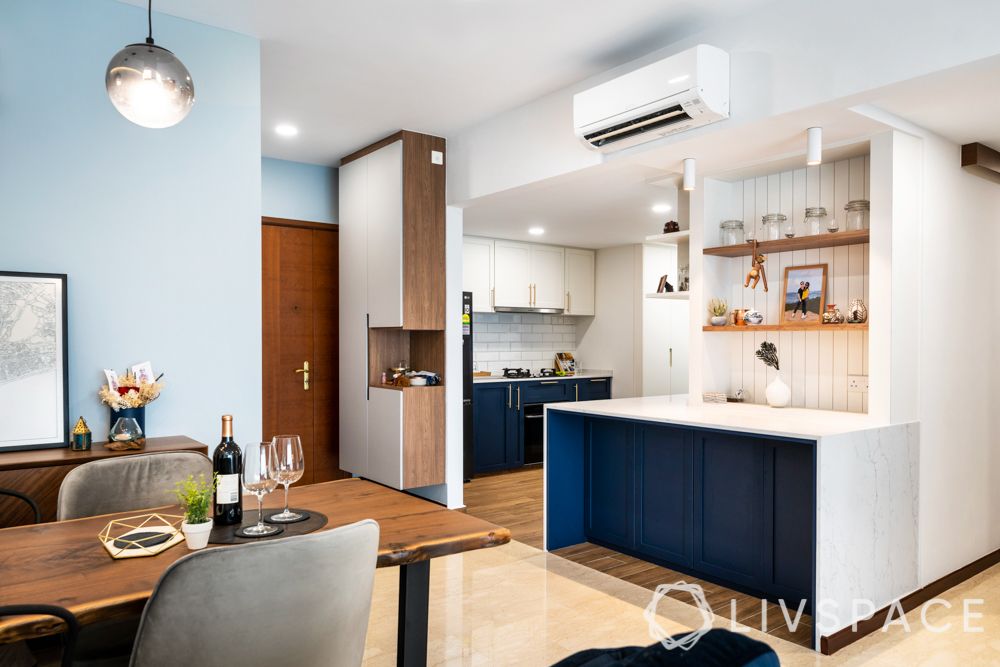 Where should we even begin? This kitchen had our heart from the moment we laid eyes on it. For a social couple, having one spot at home that they can use to gather and chill is a boon. Gordon and Marianna love relaxing at home with friends and family, and their kitchen is the hub of all the activity.
Noel, their designer, enjoyed experimenting with the kitchen design, since there was a lot of scope to do so. He was dealing with a rather unique layout where he had to rack his brain a little bit. But the result is absolutely gorgeous. This English Farmhouse style kitchen is designed using bold blue laminates on the cabinets and an open bar island with a travel display shelf.
Serene and simple master bedroom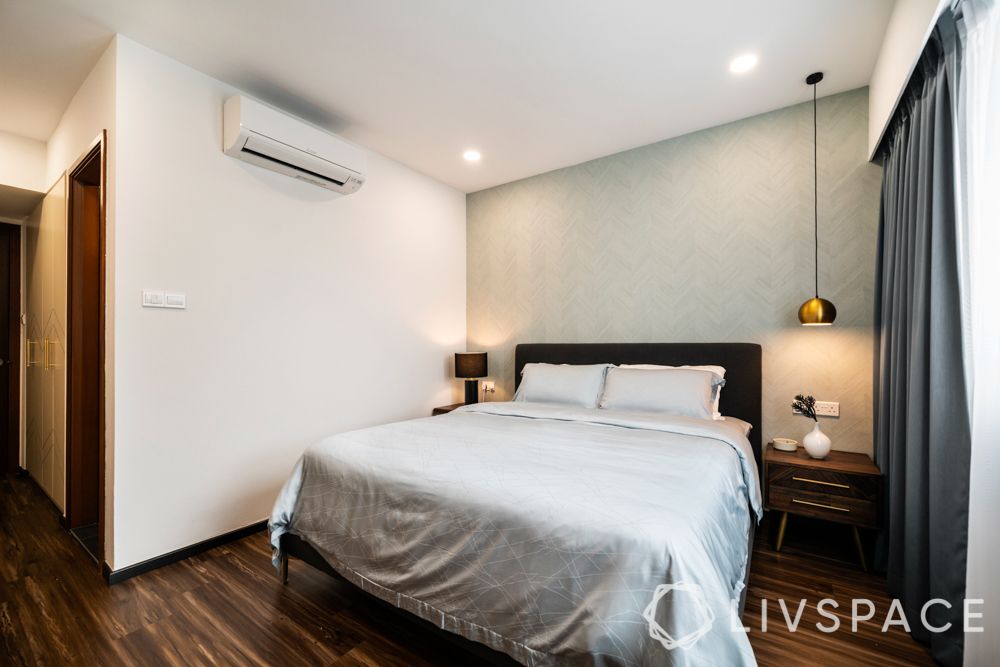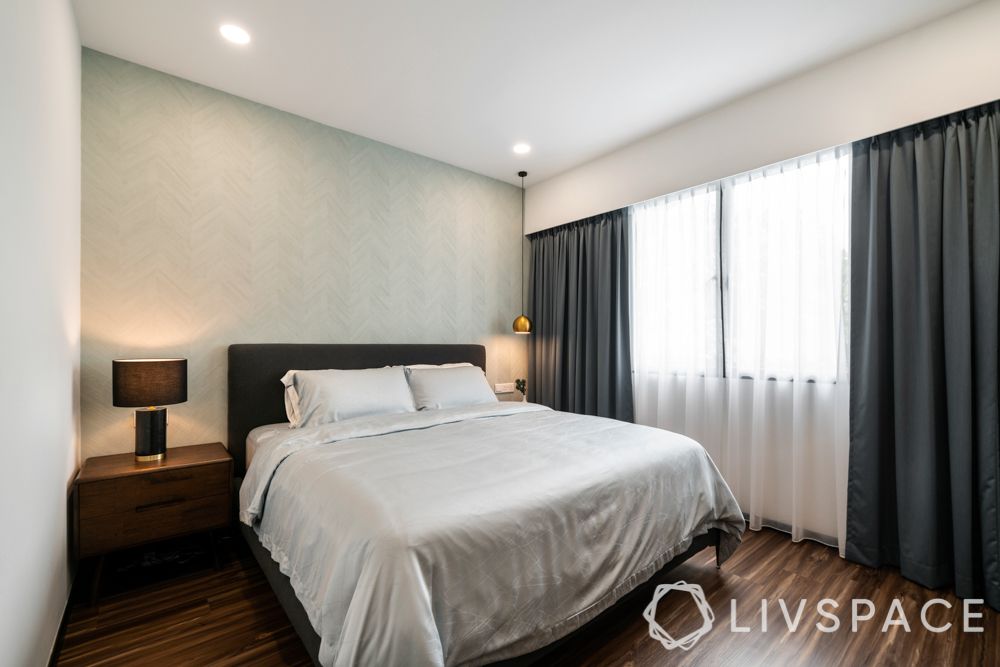 The master bedroom in this 5 room flat design is the definition of serenity. It is important to go back to a subtle zone when you're about to snooze. A mint green wallpaper was the chosen design element for this bedroom. Adding the right amount of warmth in here is the wooden flooring complemented by natural wood side tables. Layered drapes, table lamp and a tiny hanging pendant light provide the right lighting.
The best colour to use in a bedroom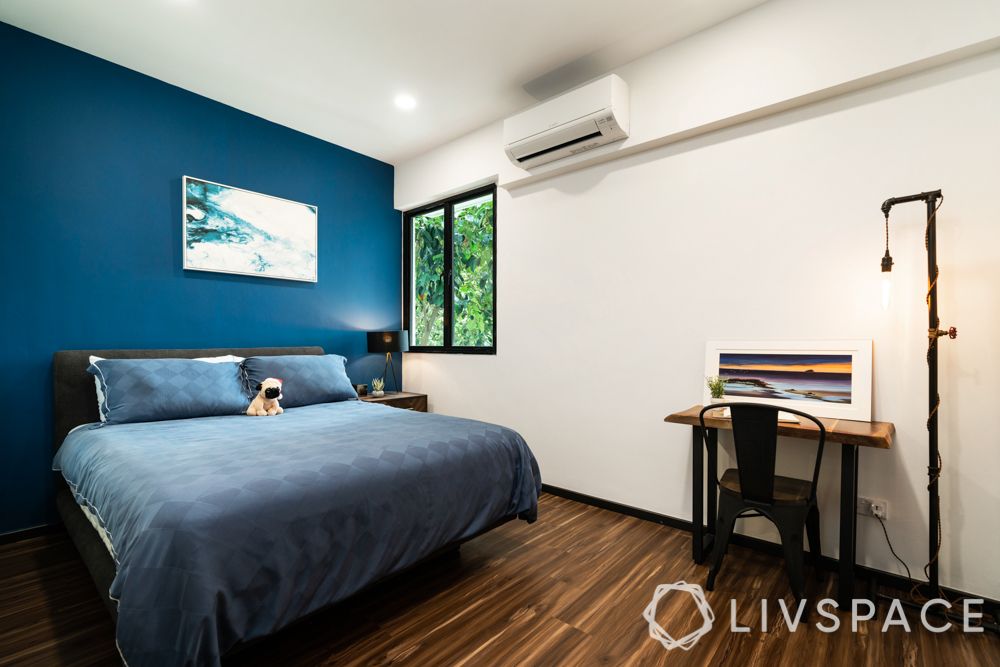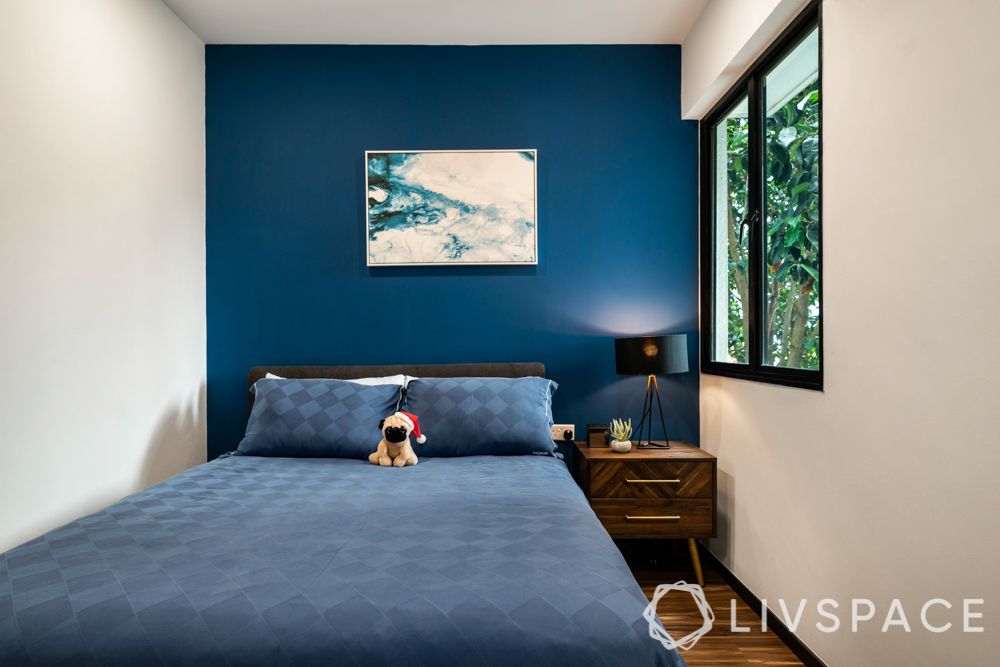 Blue, of course! The second bedroom in this 5 room flat design has a starkly different vibe, than the master bedroom. Noel chose a bold blue wall paint for the bedside wall here. A wooden side table and a compact study table are ideal furniture additions for a bedroom like this. Don't miss the exposed bulb floor lamp next to the study table!
Study, work and chill..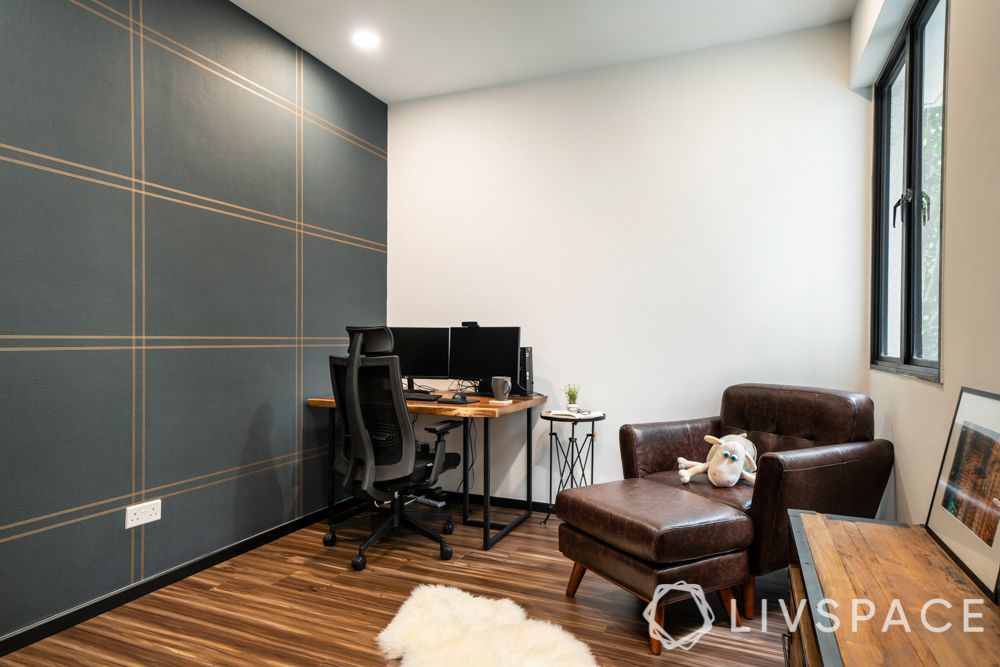 This extra room in the 5 room flat design has been converted into a full-fledged study room. Look at that compact yet amazing work setup. Noel has created a cosy reading corner as well, with the help of a delectable brown accent chair next to the window. Tiny details like the furry rug go a long way in adding cosiness to this room.
Bathrooms that make the most of space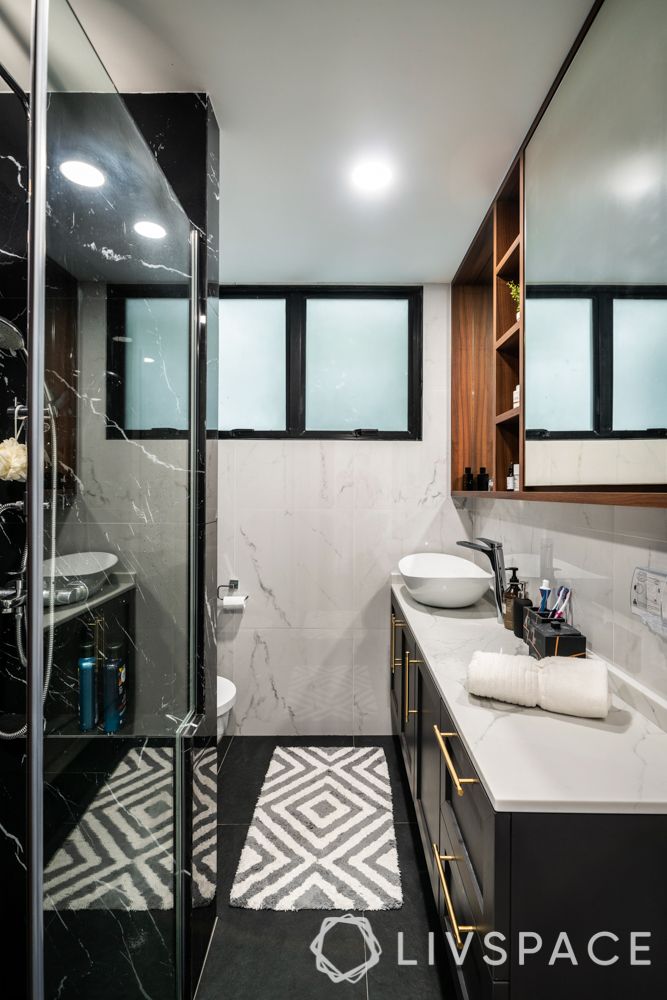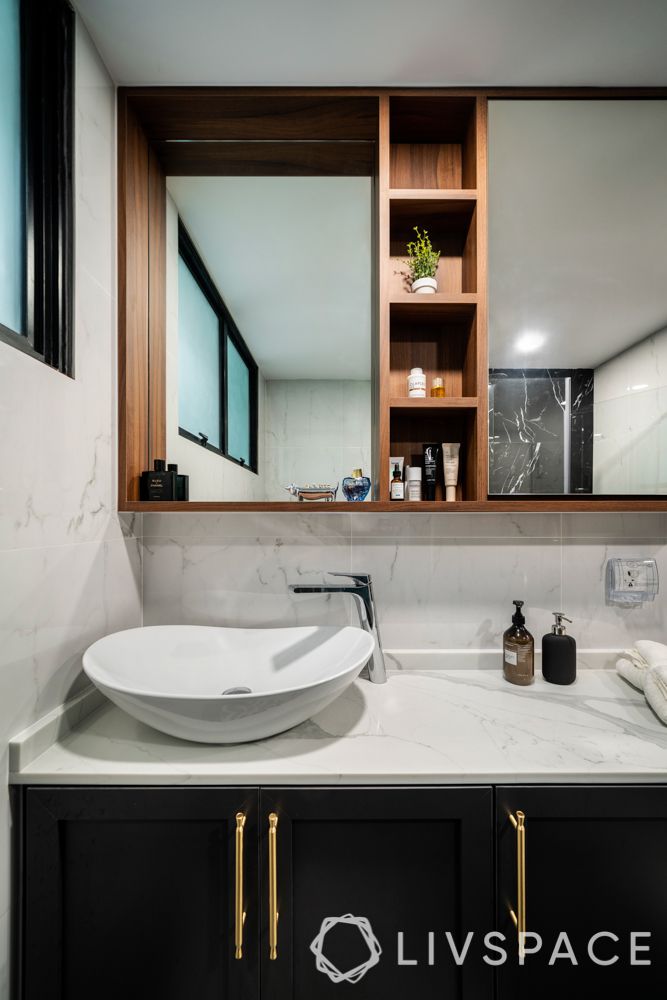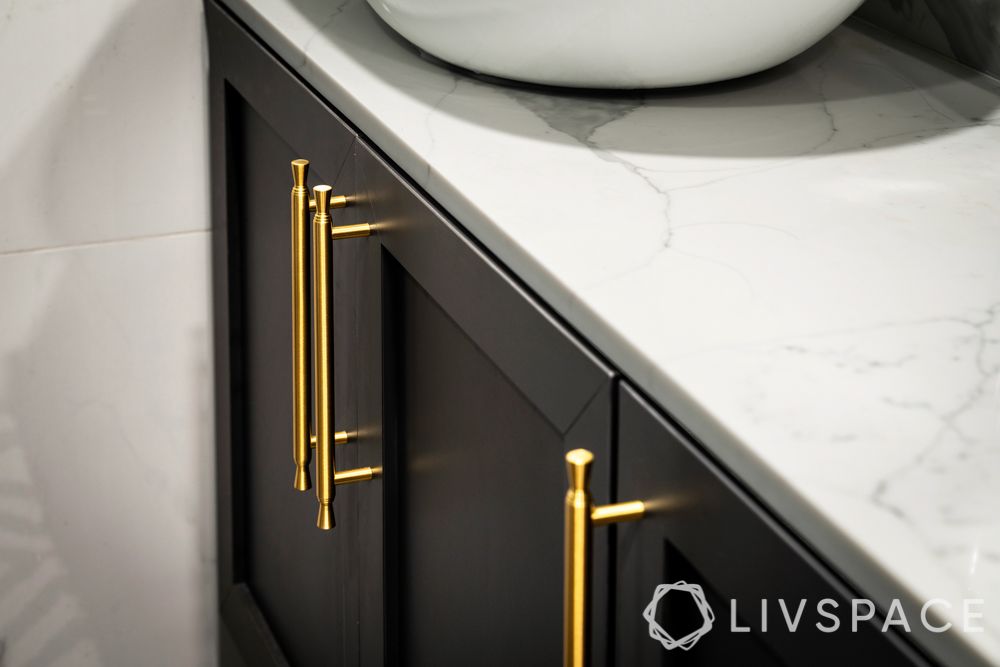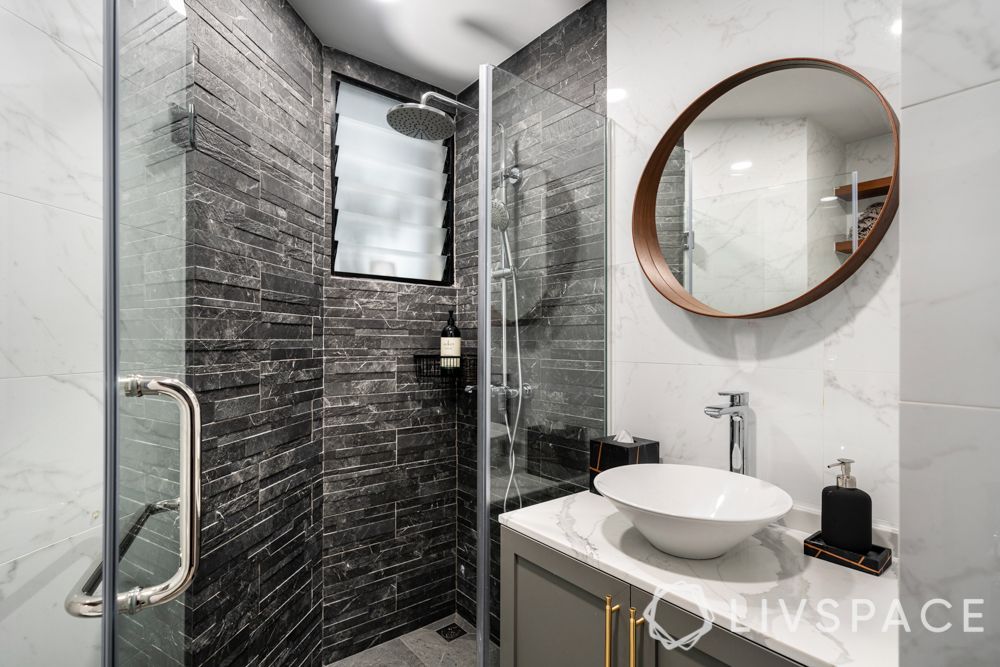 One of the major highlights of this project is the reconfiguration of the master bathroom. Noel had to work with extremely compact bathrooms here, therefore it was essential that he makes intelligent use of space. While one bathroom flaunts a classic black colour scheme, the other is done up in luxe white marble. We would totally call this a black and white wonder! Also, notice how striking these metallic golden handles look? We're totally bowled over.
"We made sure we listen to their requirements carefully and are able to deliver to the best of our abilities. The couple was very receptive to new ideas and allowed me to experiment with the design. It was a pleasure working for them."

Noel Tan Rongkeng

Interior Designer, Livspace
Loved this resale condo design story? If you're looking for a similar renovation story for a HDB, check this out: This is How a 20-year-old HDB Should be Renovated.
Send in your thoughts and suggestions to editor.sg@livspace.com.