You will love how modern and contemporary designs styles merge with colours in this pleasing 5 room HDB.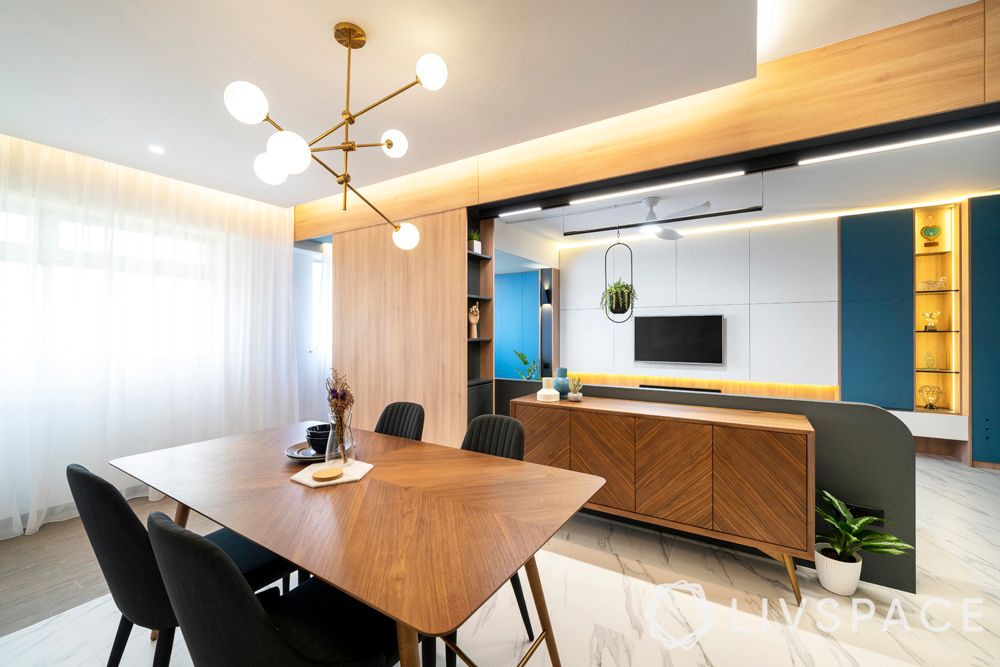 ---
Who livs here: Randy Phua with his wife and children
Location: 406 Woodlands St
Type of home: 5-room HDB
Livspace team: Interior Designer Shalom with Project Manager Jared Tng
Livspace service: Design, masonry, demolition, carpentry, electrical, false ceiling, painting
Budget: $$$$$
---
Let's face it. When you're living a regular life with growing kids who are about to leave their teen years, your home can start looking regular too. But then there are families like the Phuas who do not want to settle for anything less. Randy Phua and his wife wanted to completely redesign their 5-room HDB and fill it with colours. When they contacted us, we were more than happy to renovate their flat and the happiness seen on their faces post-reno is our reward.
Check out how our designer, Shalom, transformed this packed and cluttered HDB into one that now has a place for everything and everything in its place!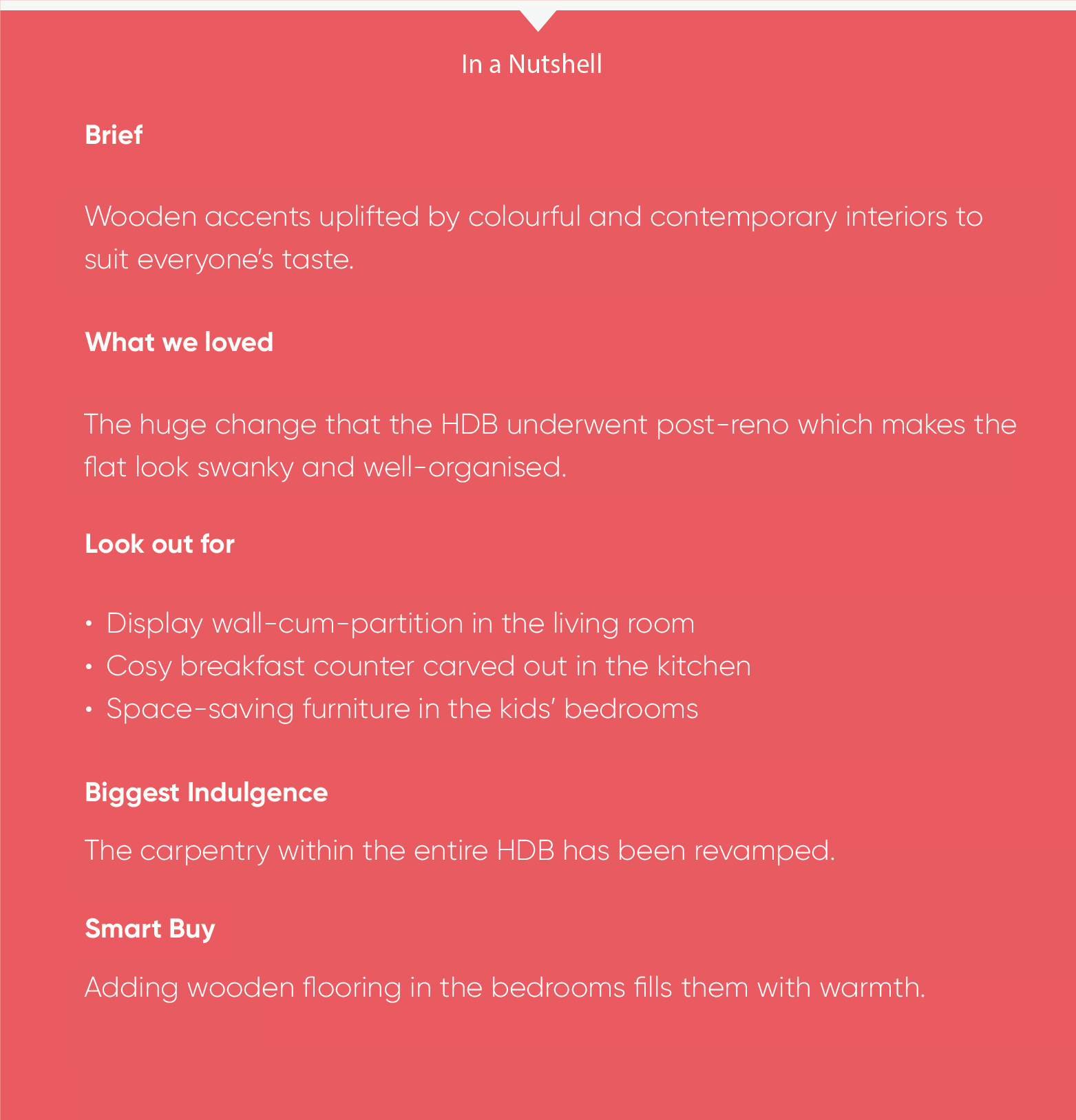 Kicking off with before-afters that will stun you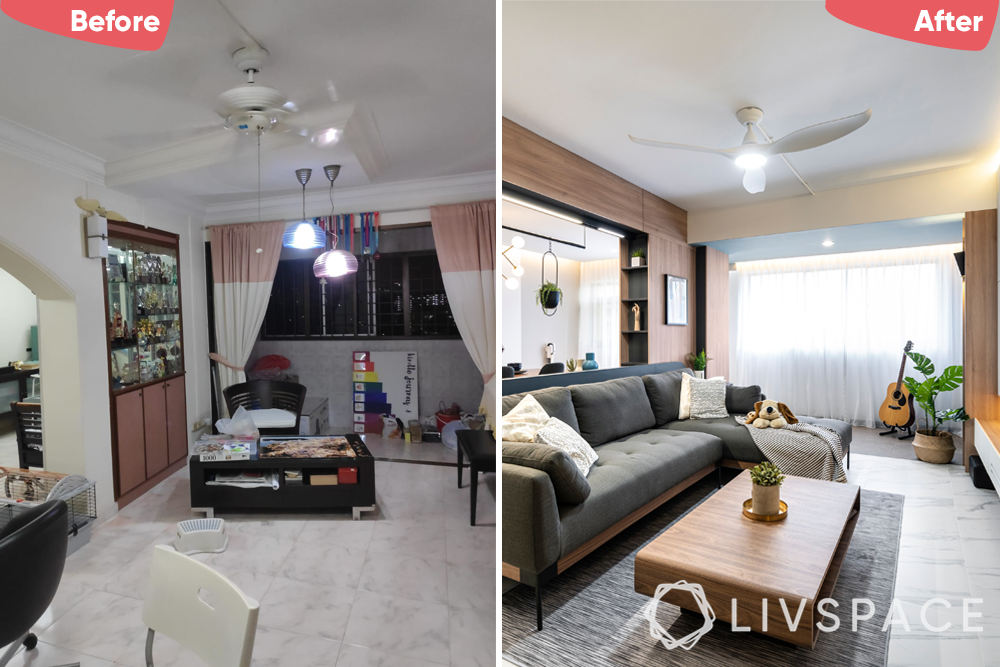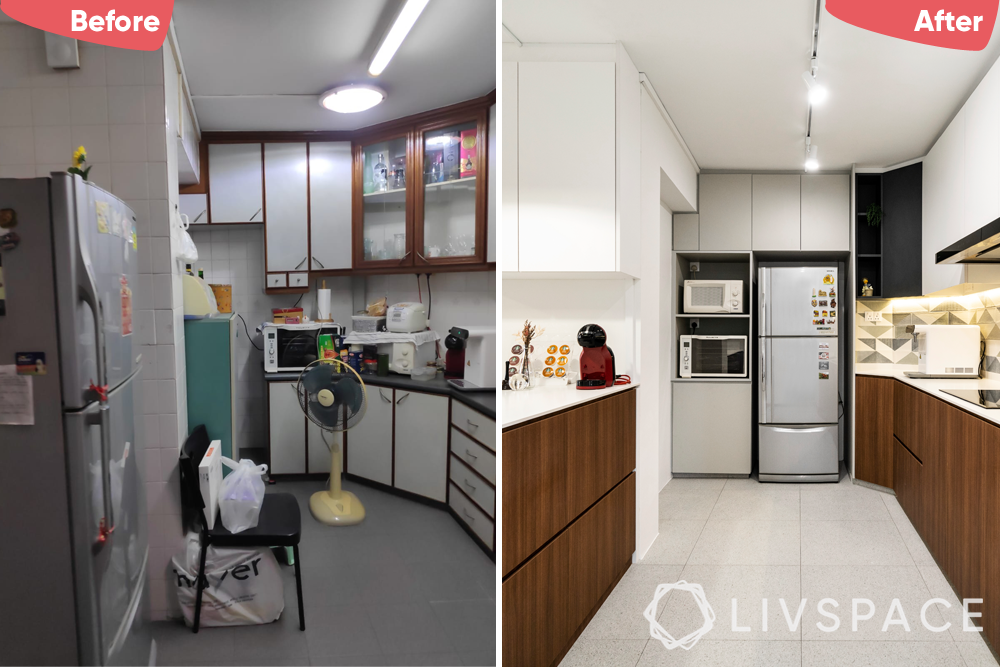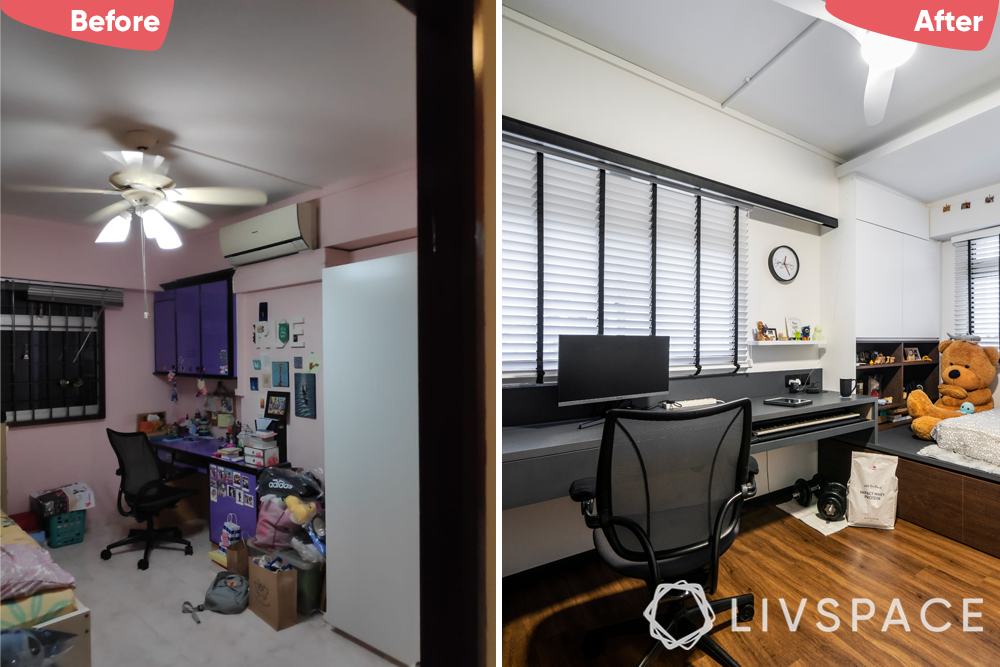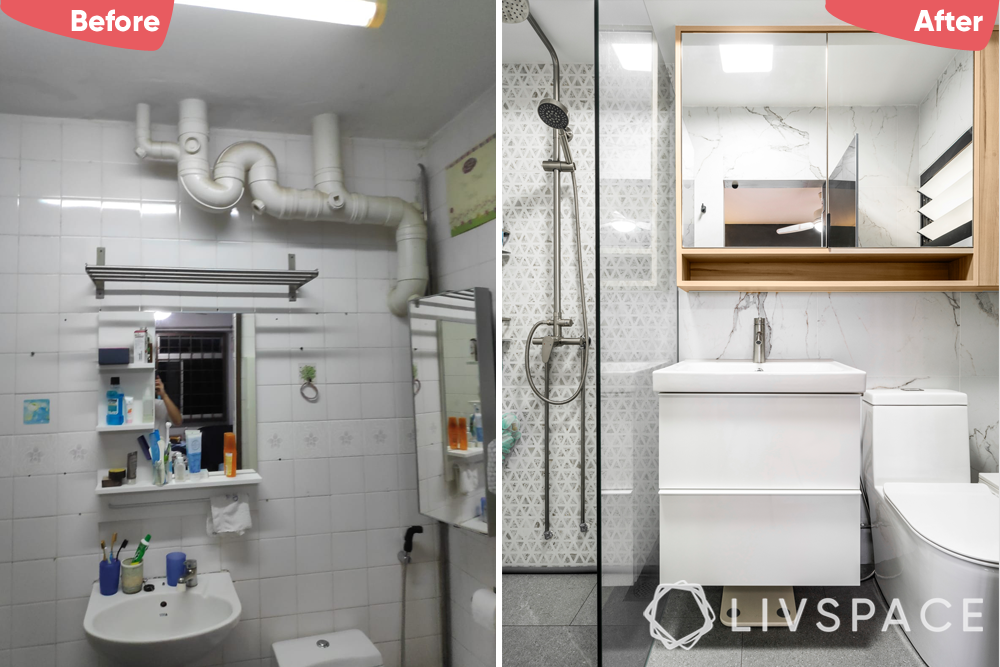 This foyer cannot be skipped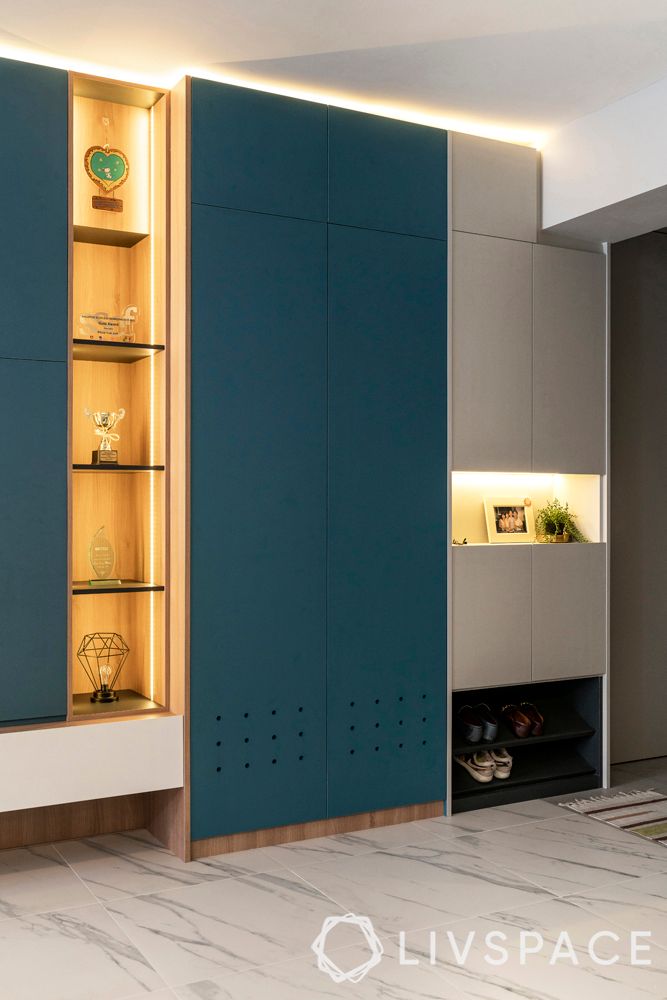 A well-organised foyer is a must and a prelude to what awaits. For this 5-room HDB, our designer followed a soothing colour scheme of grey and blue. He outfitted this space with a shoe rack and grey conceal door to the bomb shelter.
Smooth designs and lighting make up this living room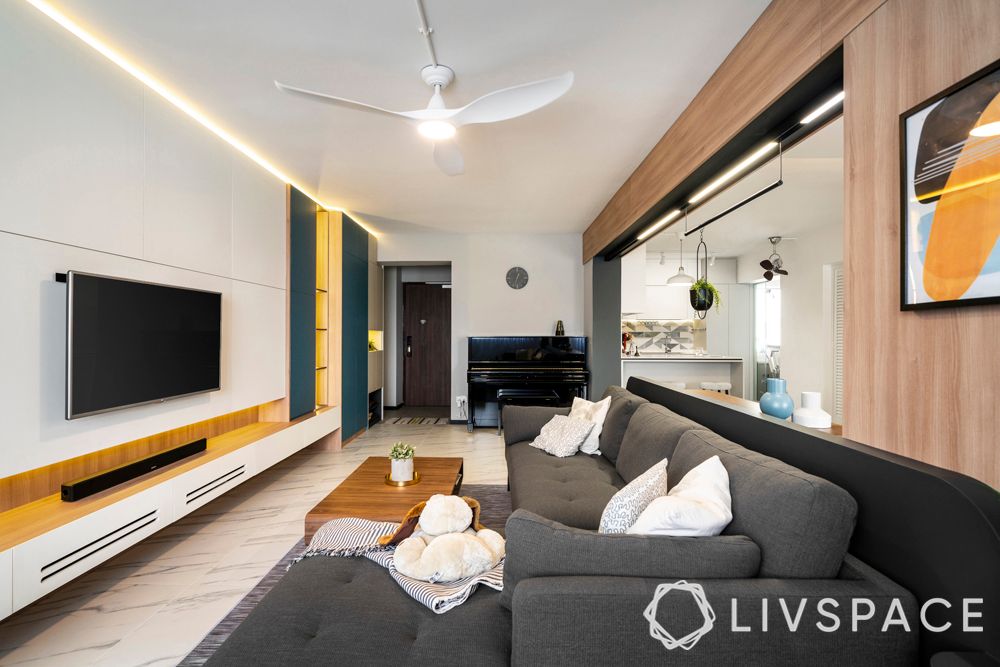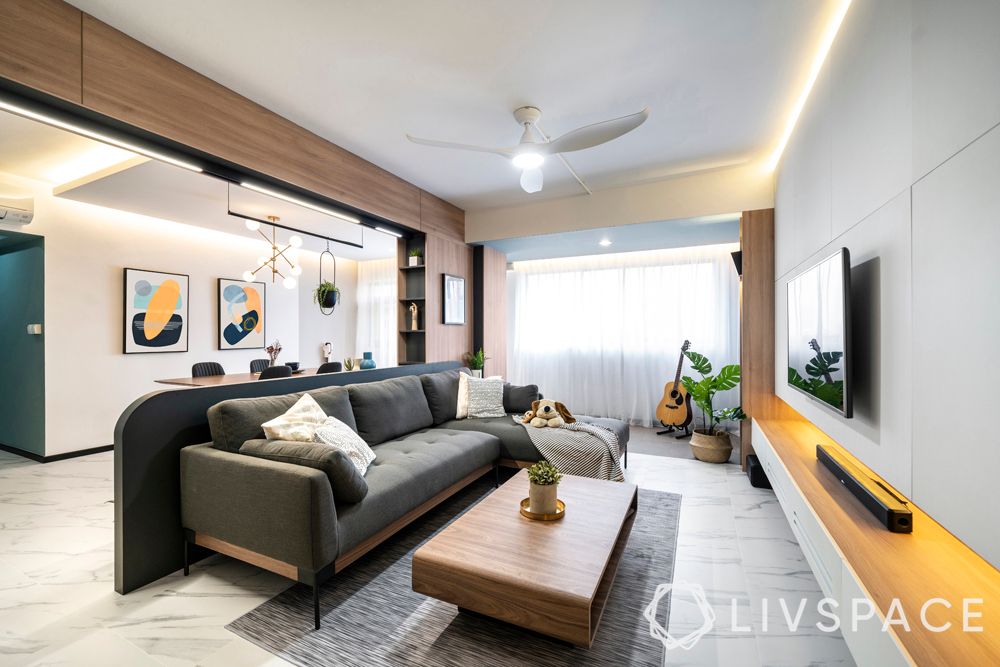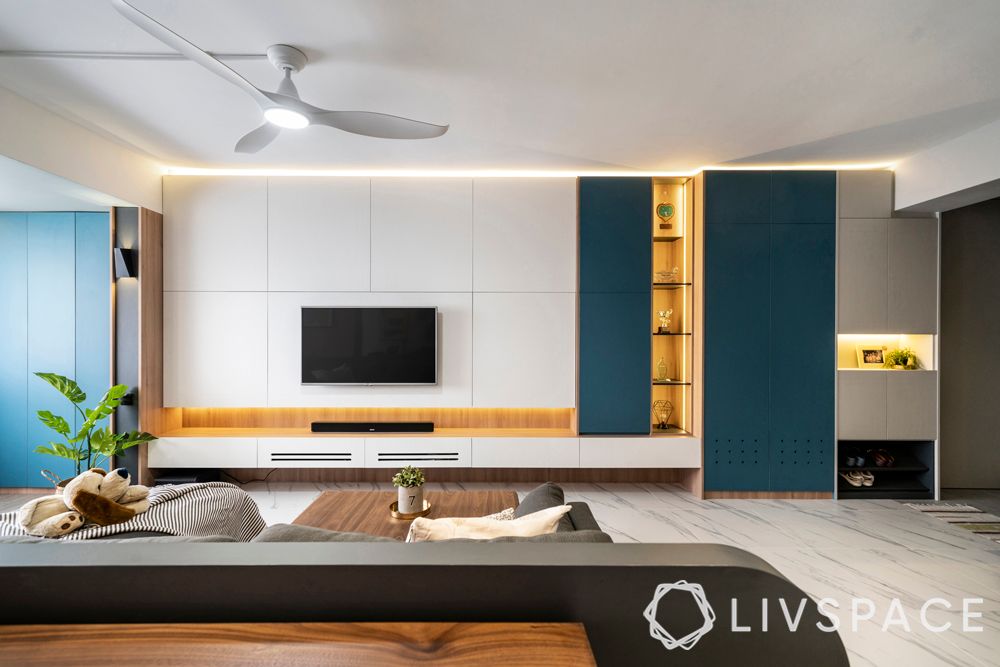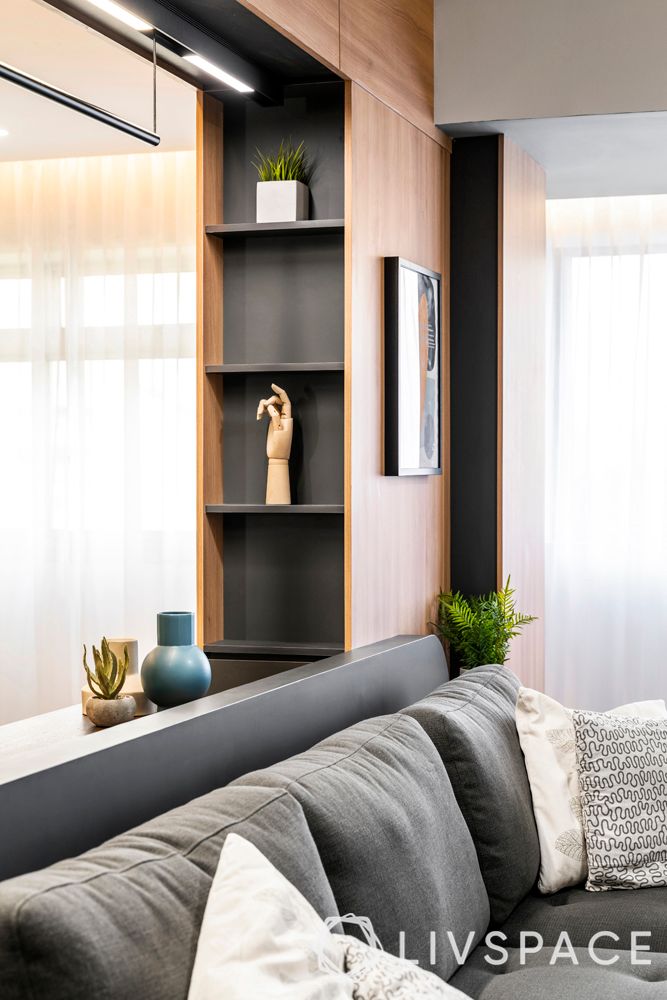 Moving on the favourite part of the Phua residence that they absolutely love relaxing in — the living room. If you noticed the before photos of this space, you must have noticed the unorganised corners and haphazard placement of furniture. Shalom has completely renovated this area to accommodate a sleek grey sofa and a TV unit that extends from one corner to the other.
Also, let us bring your attention to the low beam that is now cladded in wood and acts as the perfect partition between the dining room and the living room. Hanging planters, shelves with quirky decor and a panel behind the sofa complete the look. We also love the lighting on the TV unit wall that illuminates the area brilliantly.
Let's hear from the Phuas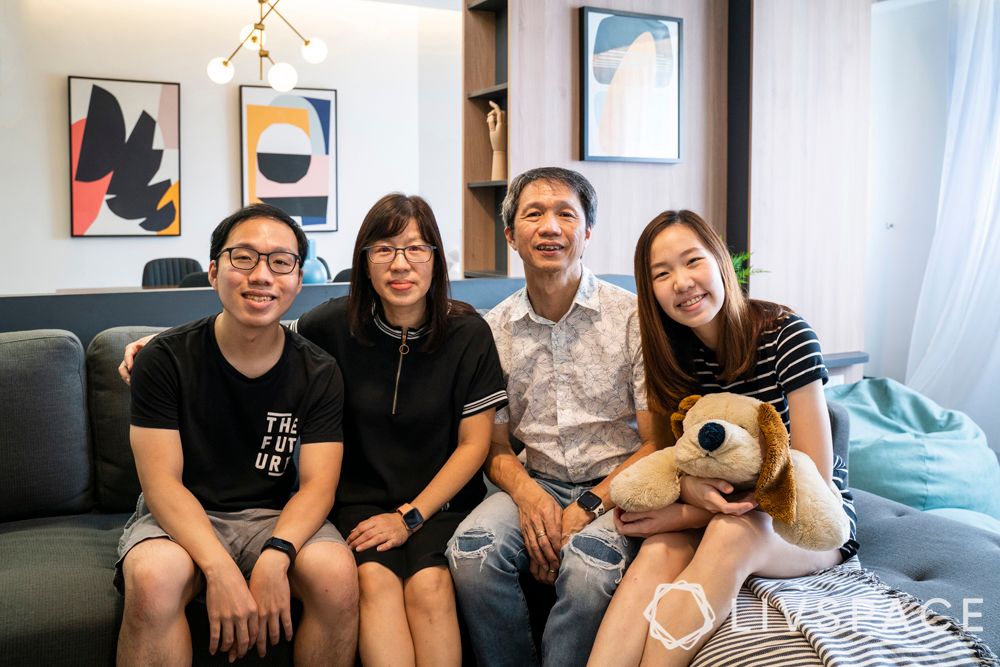 "Overall, we are happy with the outcome. The idea to walk us through the design helps to convince us and understand how our home will look, unlike other designers who only show us 2D designs. Shalom has great ideas and he comes up with a lot of advice and recommendations."

Randy Phua

Livspace Homeowner
Dining rooms that are so dreamy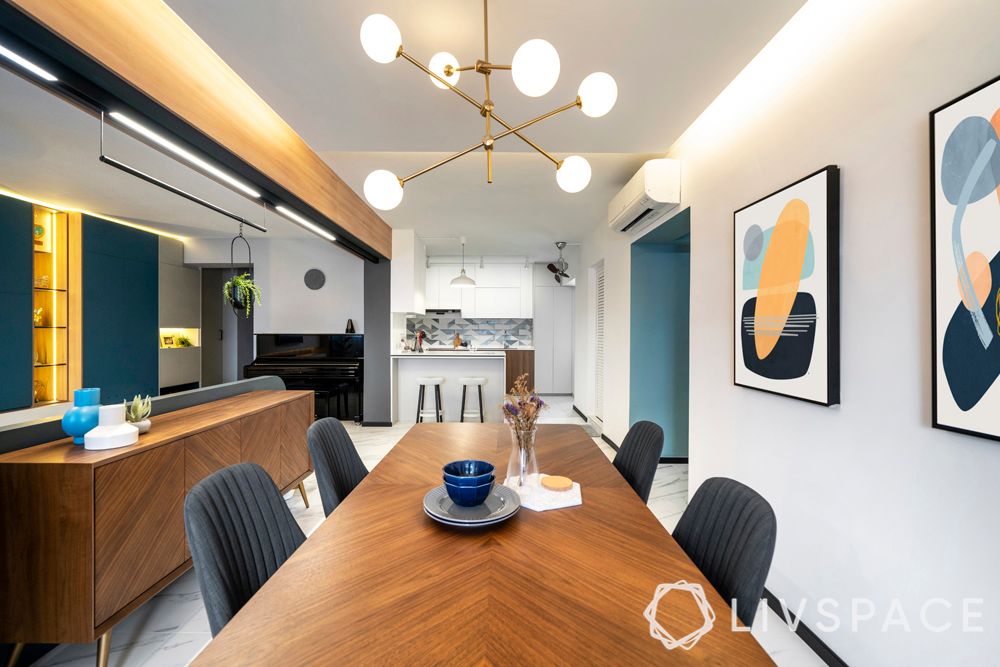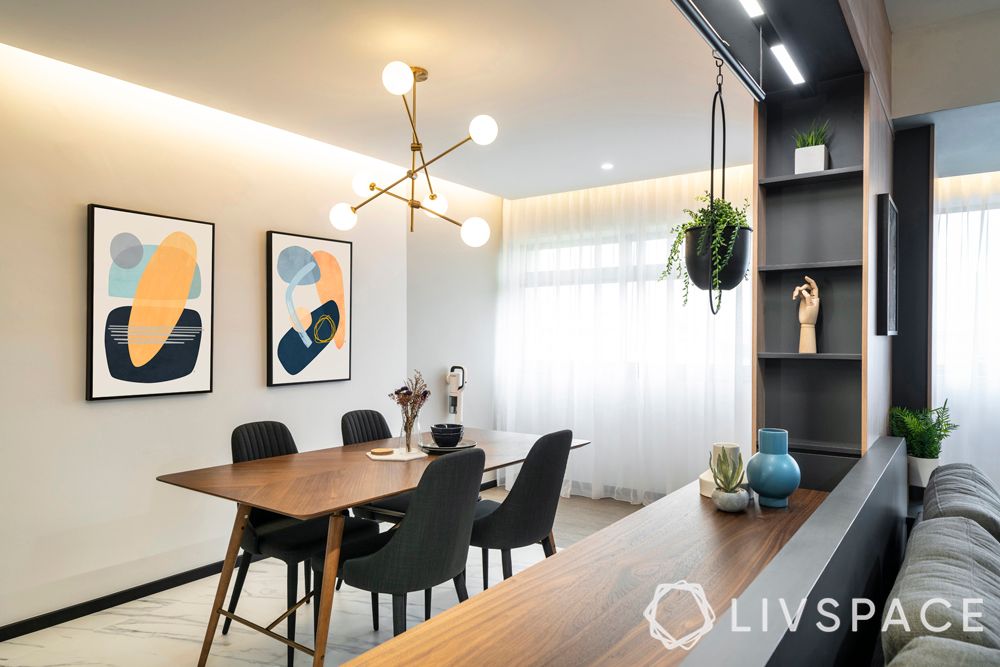 The hero in this dining room are the different types of lights that we have given them. The false ceiling with cove lights help to frame up the dining area. While the statement pendant lights atop the table are an excellent choice to make this area look outstanding. Sheer curtains allow unhindered natural light into this room.
A completely renovated HDB kitchen that makes cooking fun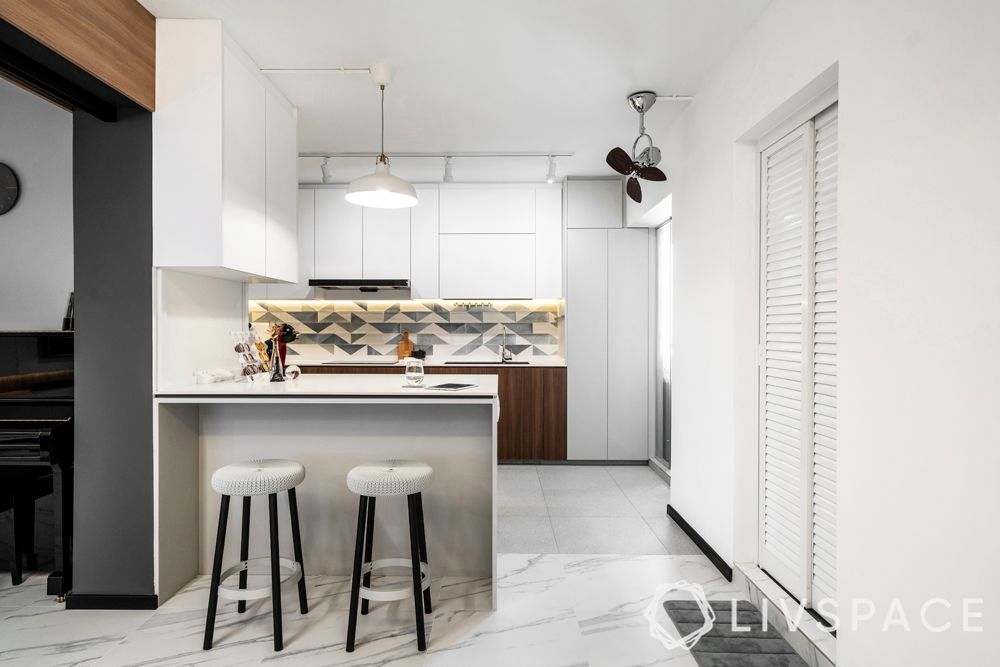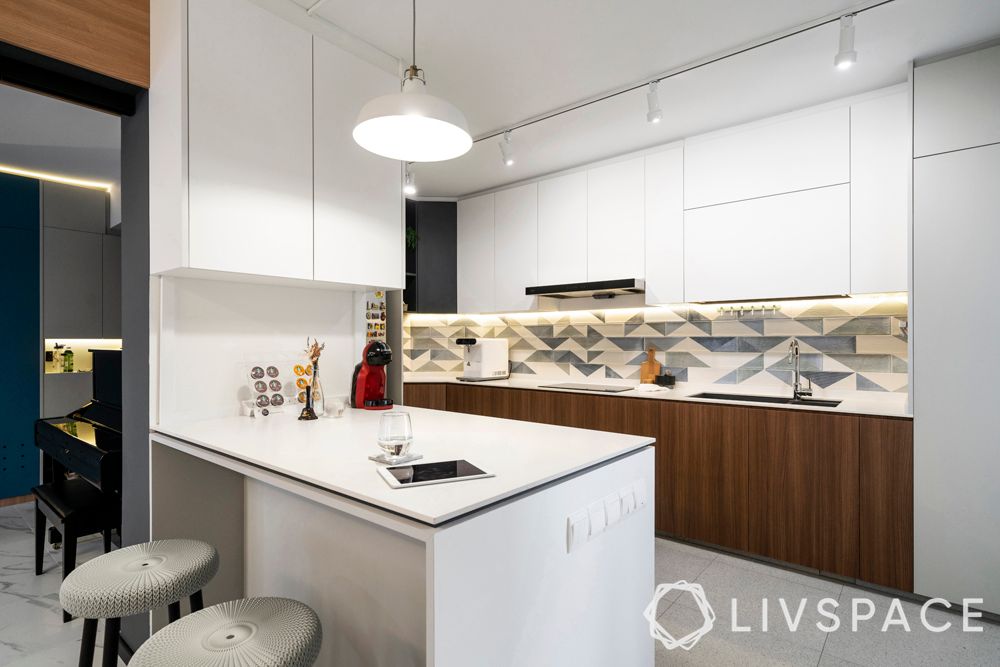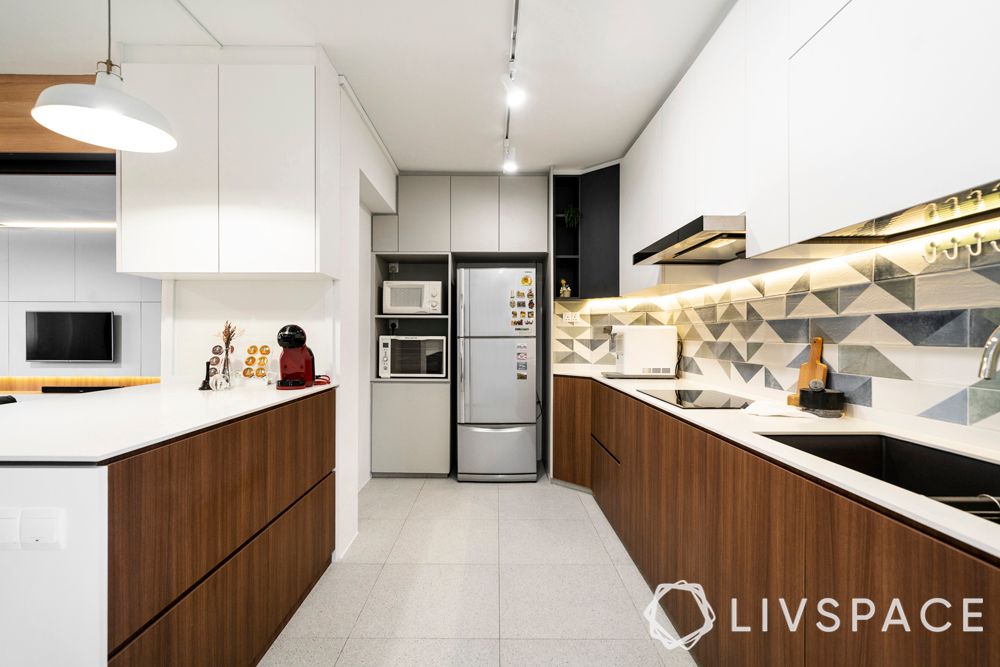 We must admit, the kitchen looks as new as a fiddle! It is renovated to have a lot of storage space — something that the family really wanted. Shalom also knocked down one part of the kitchen to accommodate a peninsula island that gives more definition to the open kitchen. Another design highlight of this 5-room HDB kitchen is the backsplash. The designer tiles standout in this stark white kitchen. Track lights and seamless cabinetry (which was the main splurge at this flat) are like cherries on the cake!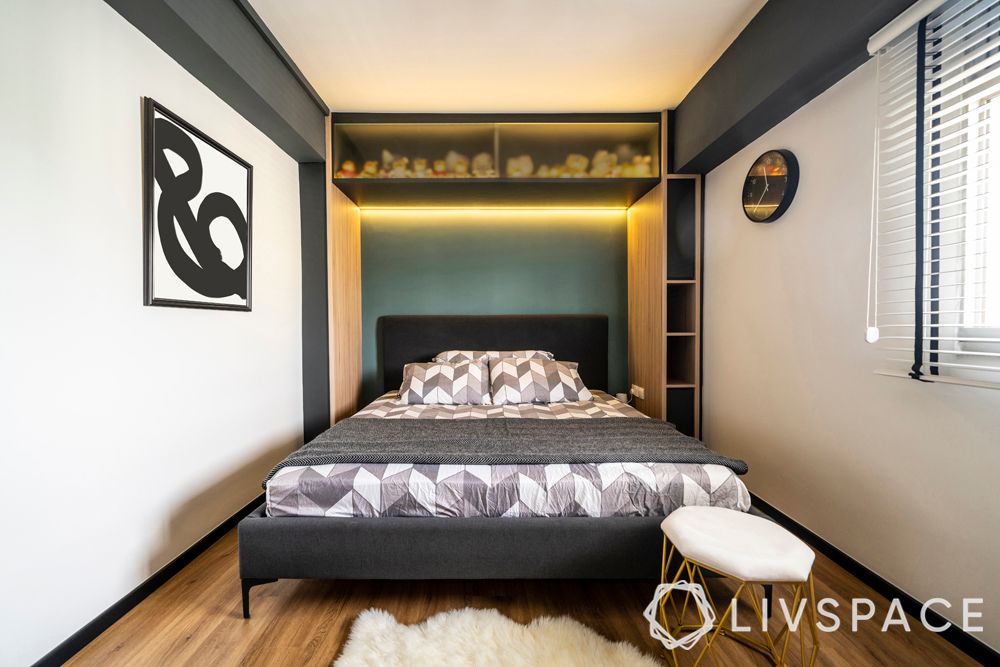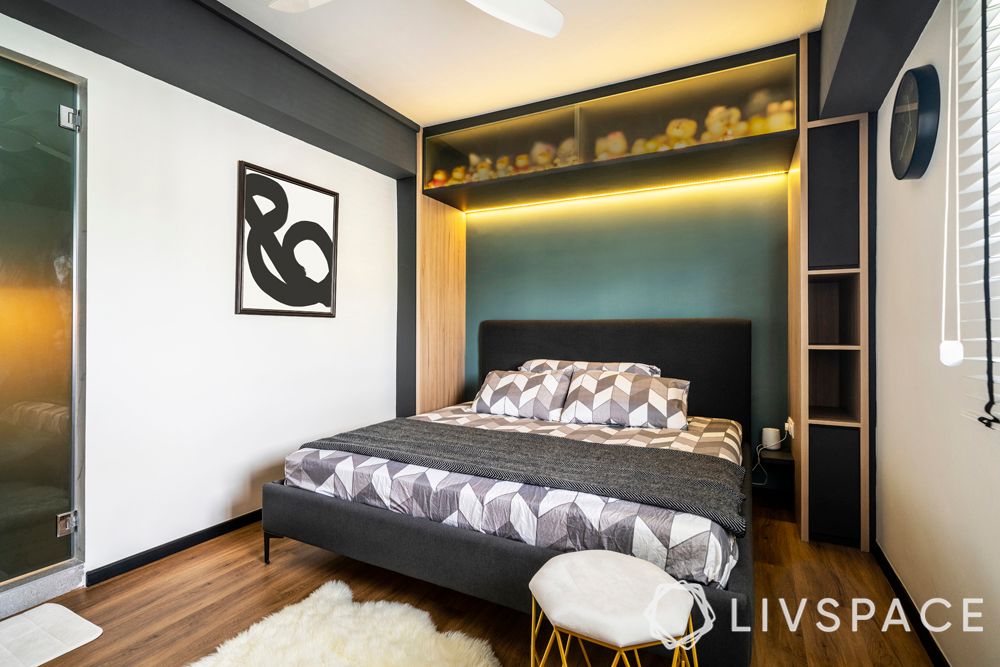 One challenge that we faced while designing this 5-room HDB was the size and layout of the bedrooms. The master bedroom, for instance, is a long space, therefore Shalom had to come up with solutions that fit the bill. He gave them a walk-in wardrobe concealed behind a sliding door. The unsightly beam in the room is also painted dark grey and turned into a design feature.
Compact room ideas for the son's bedroom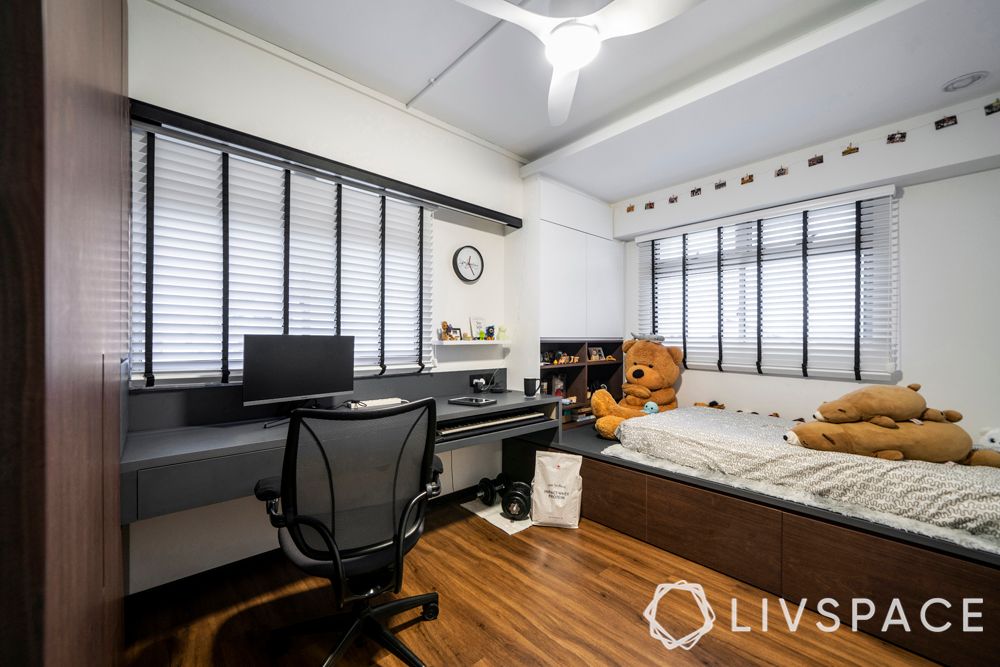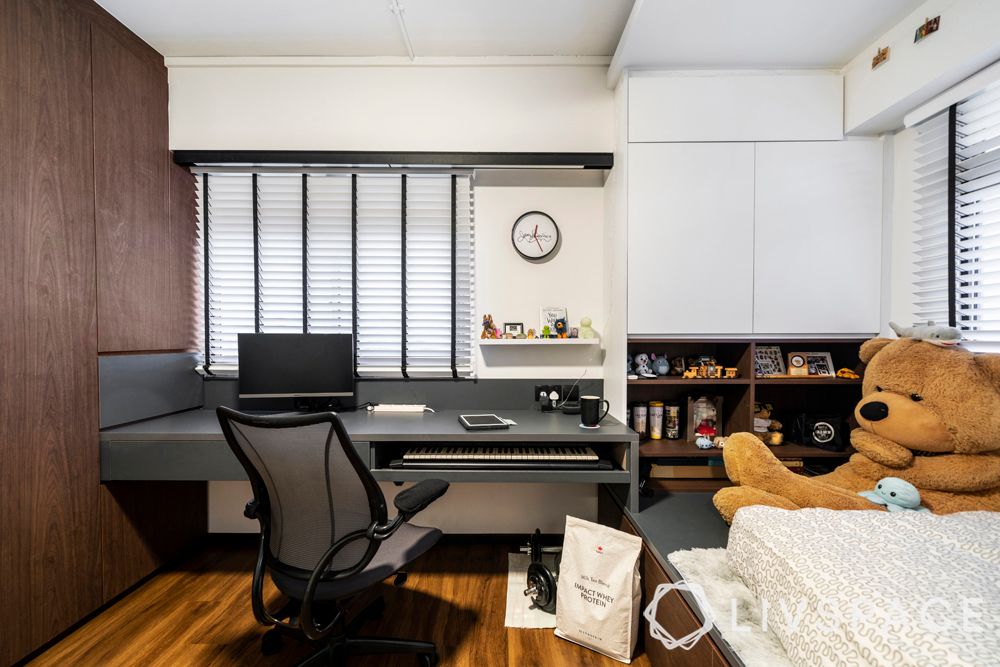 Designing a room for young adults who are entering their twenties can be quite tricky, but Shalom nailed it. The son's bedroom wears a cozy look with wooden flooring, dark grey study table and adequate storage space. He can keep all his little memorabilia close to him on the shelves next to his bed.
Lighter tones for the daughter's bedroom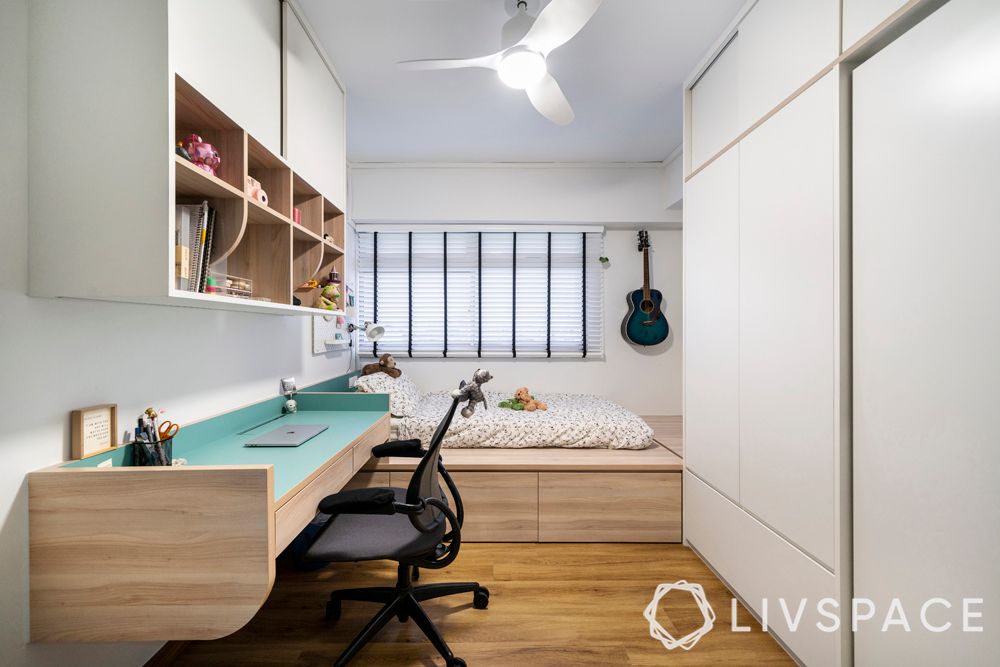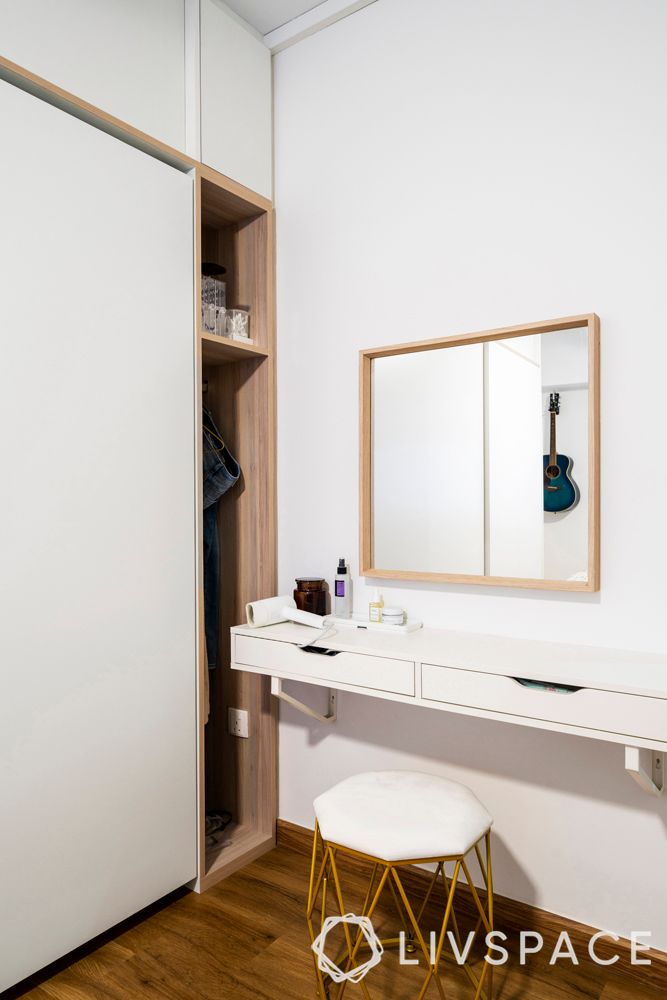 For the daughter's bedroom we opted for lighter colours since we had to accommodate more storage here. Shalom has given her a sliding wardrobe in cream, with an integrated open shelf. Next to that she also has a comfy dresser with wall-mounted drawers. She also has a platform bed with storage underneath.
If you enjoyed looking at this transformation, you will love reading this too: 35-Year-Old Flat Gets a Fresh Makeover (With Before & After Pics).
Send in your comments and suggestions to editor.sg@livspace.com.