A house just doesn't feel like a home until you nail the right design for it. You could have the most trending interior design flush with smart gadgets, yet without a distinct personality, it remains as nothing but a shell. So if you're looking for the right way to add some charm to your space to make it warm and inviting, just like this young couple, our designer Mizan has some neat ideas for you. In this full home renovation, designer Mizan brings out the best of subtle bohemian interior design to add life to the space.
So, if boho interior design is something you're keen on exploring, read on to know how you can get the look for your home too!
---
Who Livs here: A young couple, Justin and Amanda
Location: Punggol Walk
Size of home: 90 sqm
Design team: Interior designer Mizan, Project Manager Fione, Business Manager Andrea
Livspace service: Full home renovation
Budget: $$$$$
---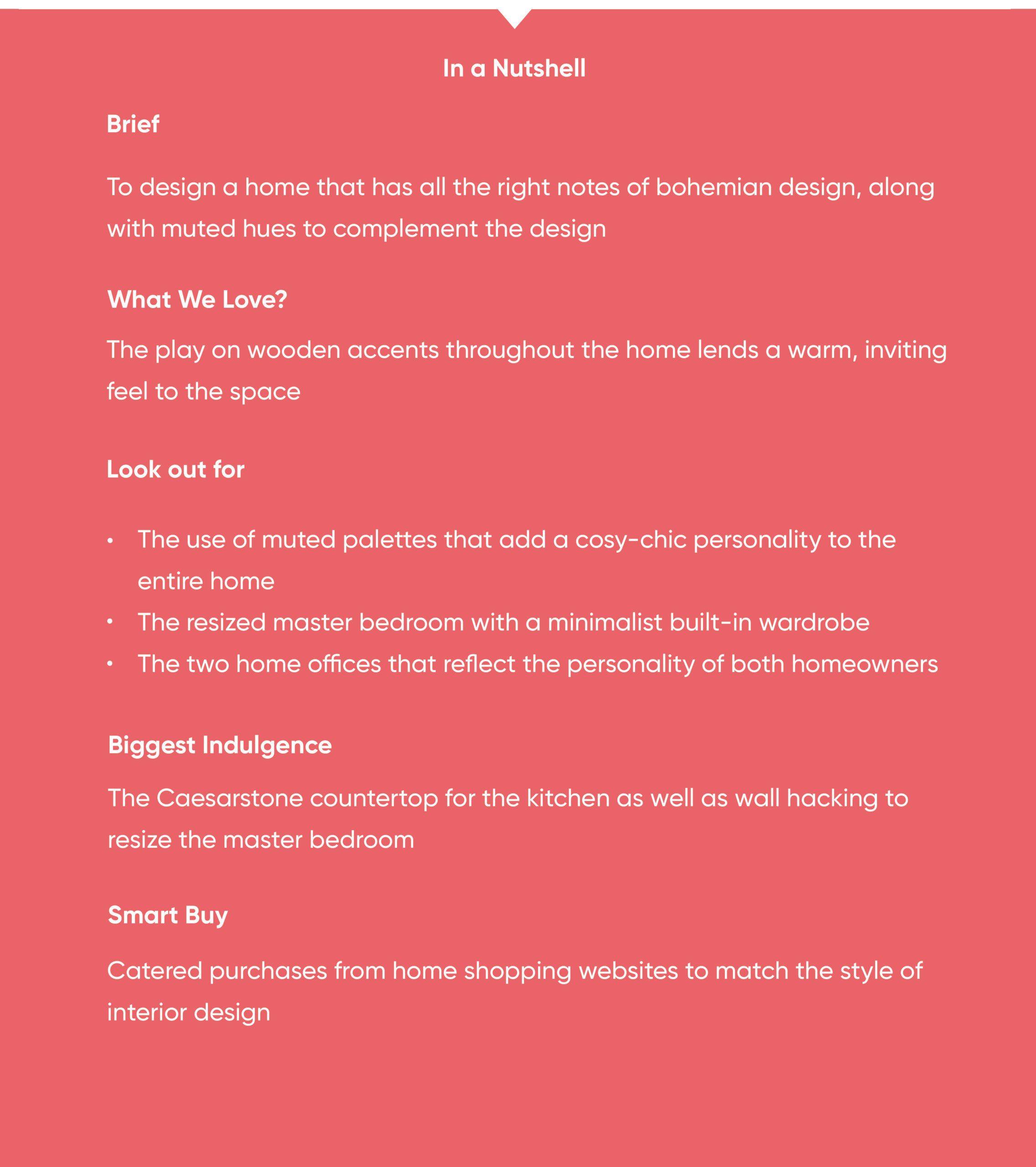 Bohemian Interior Design Inspired by Subtle Accents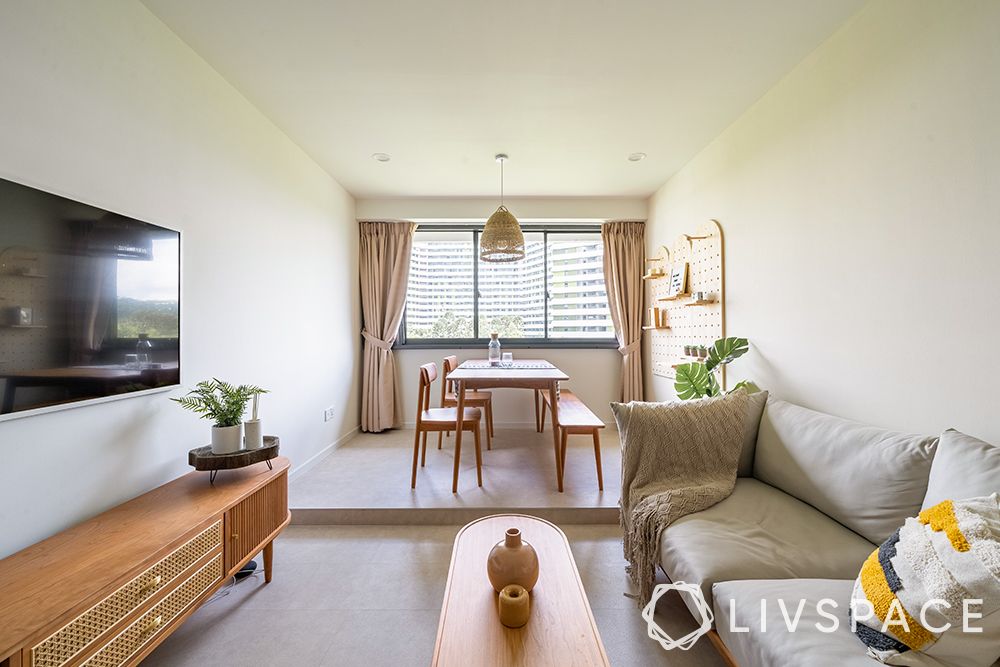 Homeowners Justin and Amanda's brief for their home was fairly simple and straightforward. They wanted to create a homely bohemian style interior design that could reflect their personal tastes while still looking on-trend. For the same, the homeowners sought inspiration from Instagram via a couple's feed to offer our designer some reference material.
Using this as a point of reference, Mizan weaved subtle elements of bohemian interior design to further elevate the space and give it more personality. Materials like wood or rattan for the furniture, paired with soft textures as seen on the couch, enhance the style of boho interior design.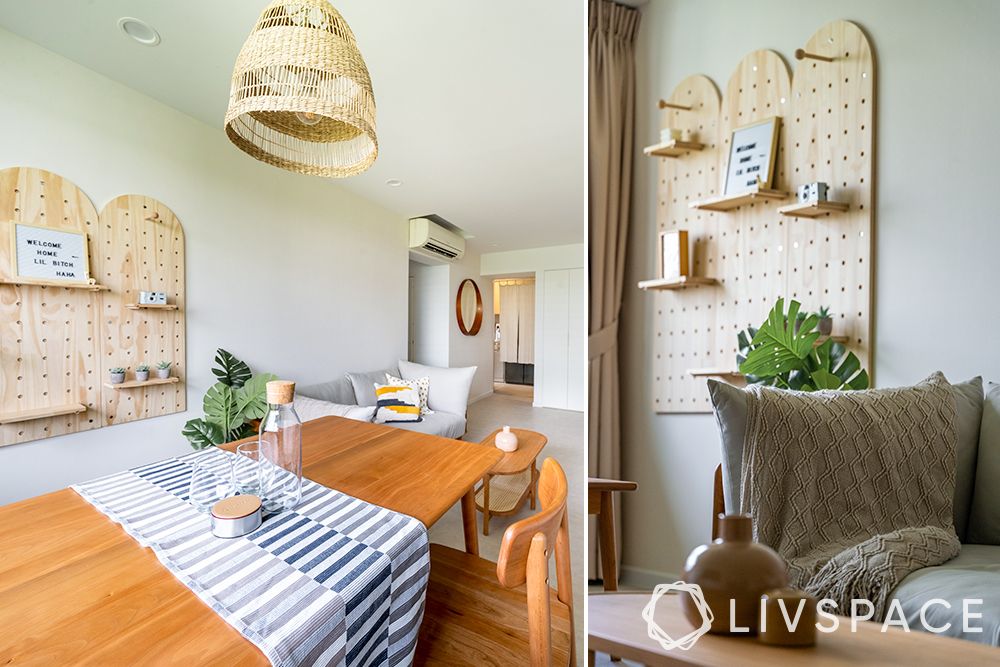 Mizan aimed to create a soft and subtle bohemian interior design look by ensuring that carpentry, furniture and accessories stand out in the design. Similarly, to keep things airy and minimal, the design focuses on muted palettes for a bright look. The flooring in this space uses a vinyl overlay to further tie the space together in one theme.
Since the home follows an open-floor concept, the dining and living room co-exist in the same space. However, a simple elevation towards the window helps demarcate the dining area from the rest of the room. The use of plants further strengthens the aesthetic of boho interior design across the open floor. Being a beautifully designed space that overlooks the waterway, the homeowners favour the living room the most in the entire design.
A Sleek and Stunning Kitchen Transformation That Hits All the Right Notes of Boho Interior Design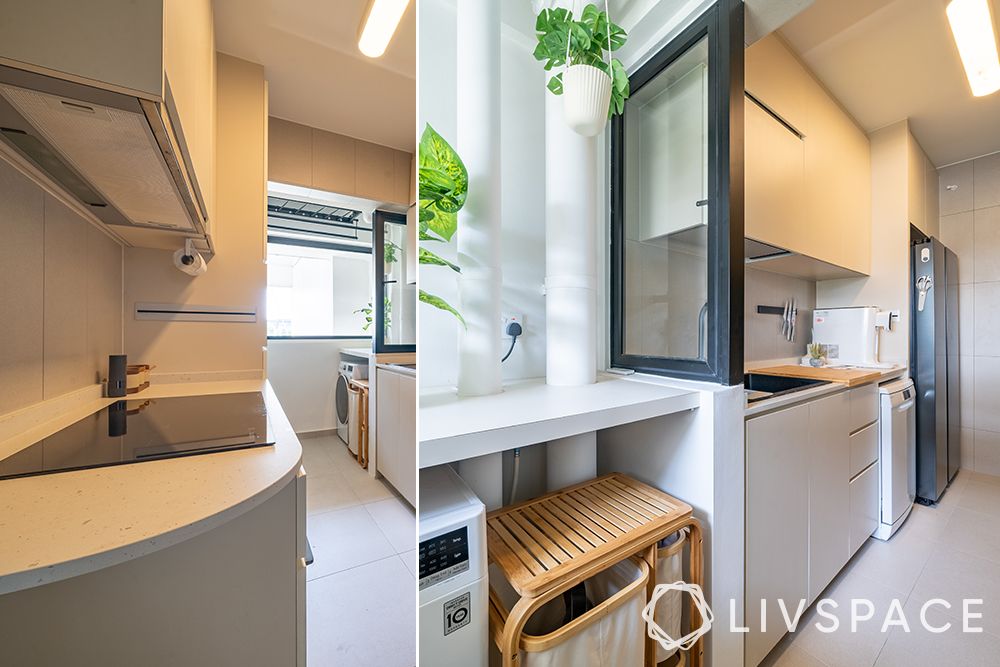 No matter the space you have to work with, an efficient kitchen design can surely maximise it. Though this home is only 90 sqm in size, the kitchen houses sufficient storage to support the family. To make this happen, designer Mizan carried out a full hack of the kitchen to align the space with the rest of the home's bohemian interior design aesthetic.
The colour palettes in the kitchen are minimal and light to help tie to the theme followed into the surrounding rooms. The kitchen counter also uses a sleek terrazzo countertop from Caesarstone that makes the room look brighter by reflecting light. Warm light from the ceiling further helps keep the space cosy and inviting, much like the boho interior design that dresses the living room area.
The Resized Master Bedroom Allows for Maximised Storage Solutions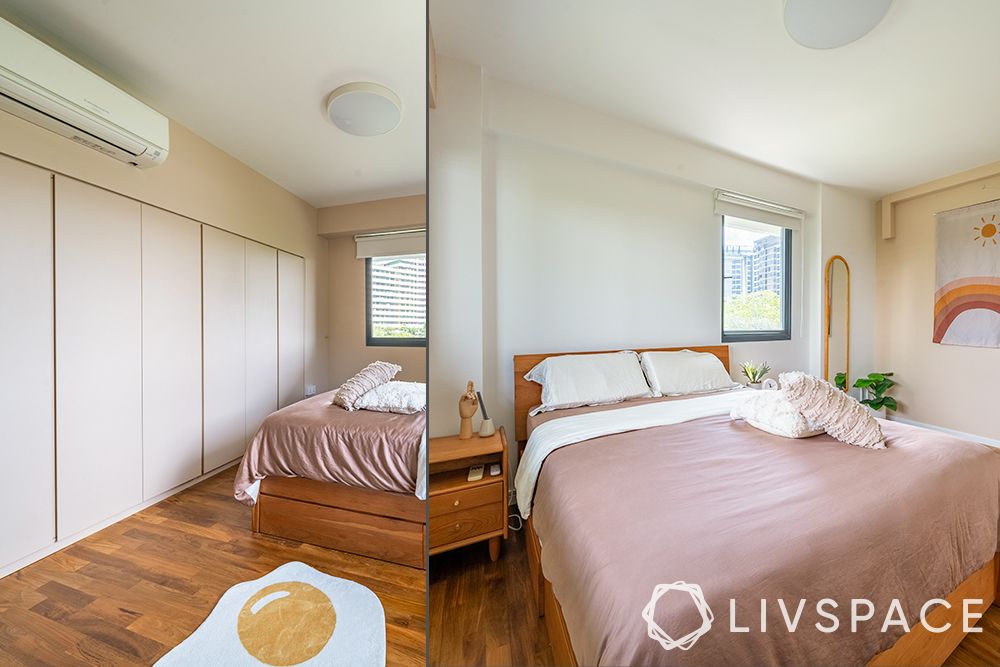 When you think about a master bedroom, you'd probably envision a room with a lot of space. In some cases, space can be hard to come by, especially if your home is less than 10 sqm! So what do you do when you need more room in a small home? Here's where wall hacking might come in handy. And that's exactly what designer Mizan did to maximise the space in this master bedroom and give it a sleek yet subtle bohemian interior design.
The home initially had the wardrobe fitted into the common bedroom which made it quite a task for the homeowners to access their belongings. Post the renovation and room resizing, the wardrobe now sits in the master bedroom offering an additional storage boost to the space.
Since wooden accents help accessorise boho interior design, special focus is also given to enhancing existing flooring. The parquet floors in the master bedroom have been revarnished to give the room a fresh and clean look.
Minimalist-Style Makeover for the Bathroom Walls and Floors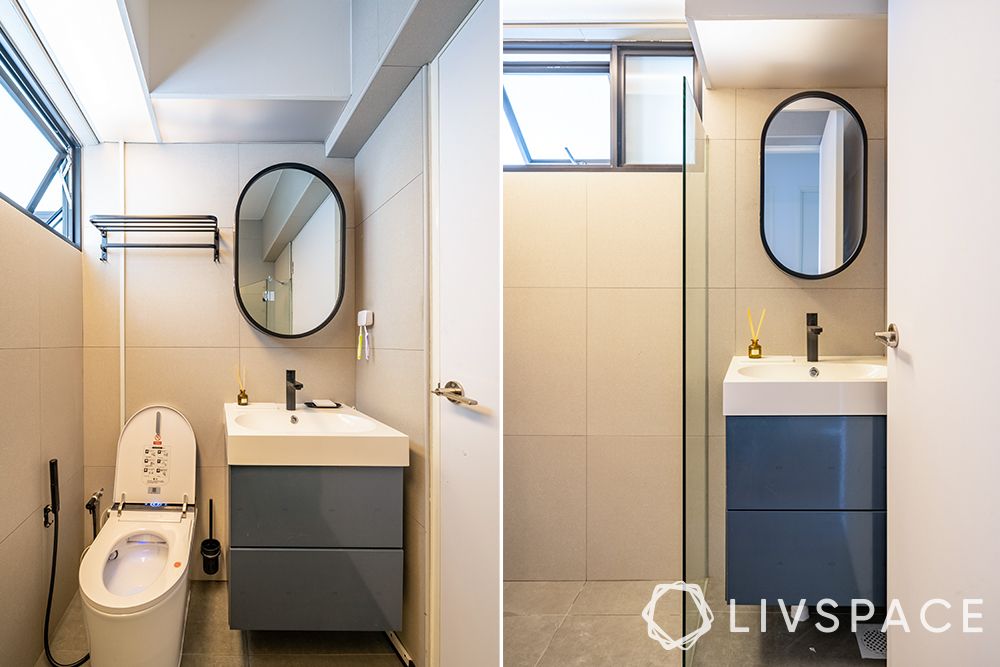 Besides wall hacking for the master bedroom, the bathroom also witnessed its fair share of changes to match the new bohemian interior design for the home. Since the home was going for a cosy boho interior design, some of the older elements in the home needed to be upgraded.
Our designer Mizan helped give this space a makeover with a fresh overlay of floor and wall tiles that match the colour palettes across the home. The light colours present here are equally important to such small spaces as they give the appearance of a more spacious room.
Pro Tip
"Always be on the lookout for potential space-saving solutions when you design or renovate a home."

— Mizan Arsad, Interior Designer
Home Offices That Perfect the Work From Home Era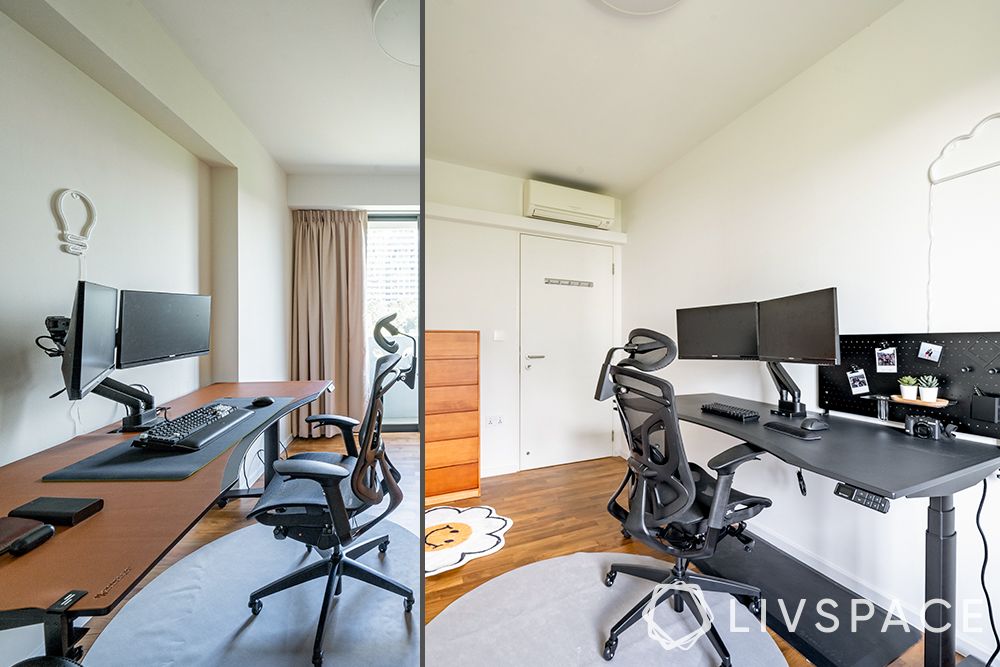 Both homeowners Justin and Amanda are quite tech-savvy and spend most of their time working in front of computers. Naturally, a catered space that facilitates this activity is quite important to their home's design. Keeping in line with the reigning theme of bohemian interior design, two smart yet comfortable home offices are born!
Notice how the storage units in both rooms carry a similar look and finish? This helps carry forward continuity in the bohemian interior design from room to room as most of the home's furniture is dressed in the same style and shade.
Here's What Our Designer and Homeowners Had to Say About This HDB's Boho Style Interior Design:
I enjoyed seeing how best I could design the home so that the space looks natural and does not look overdone. The living room was one of the most exciting spaces to design and I really like how it turned out. It has a beautiful view overlooking the waterway. The space is also very relaxed and bright.

— Mizan Arsad, Interior Designer
Our Experience with Livspace was generally quite positive. Mizan's design is relatively modern but he does not forcefully insist on his design and neglect our choice. We were given a 3D rendering of the design which was helpful. Our ID got our vision of the house quite fast. We also think the back-end system is quite automated with the timeline and payment, we think that's quite cool.

— Justin and Amanda, Homeowners
Bonus Tips on How to Make Use of Bohemian Style Decor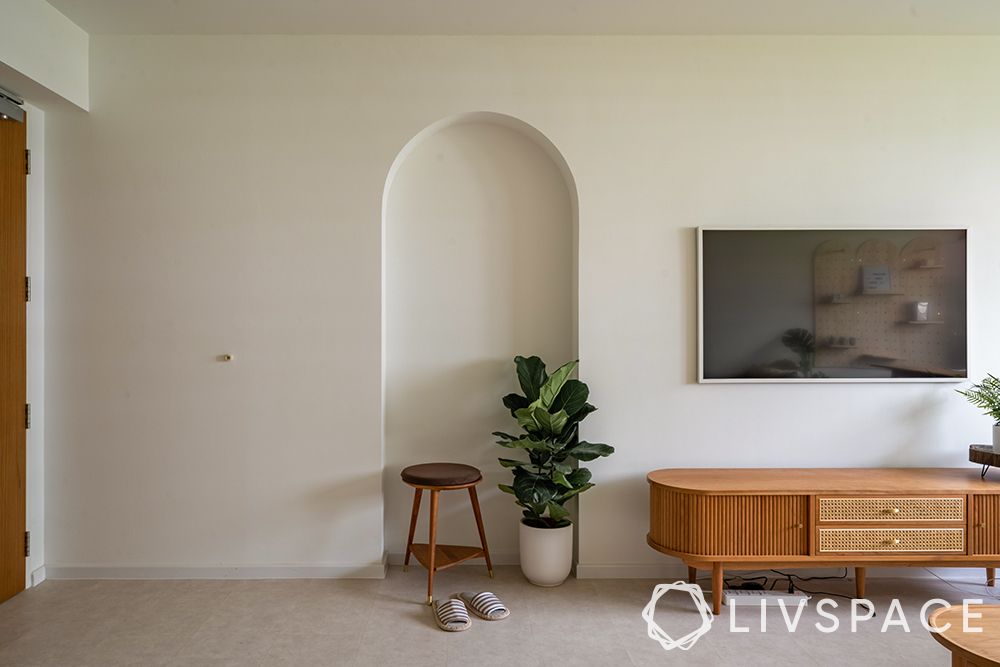 You probably would have noticed the different types of decor elements used in the bohemian style interior design of this home. So, let's summarise all of them in case you're looking for bohemian style decor for your own home:
Play with wooden and natural materials as much as possible
Mix different textures together to create a cosy 'thrown-together' boho style interior design
Introduce houseplants to bring a touch of vibrancy to your design
Embrace muted shades and light colour palettes for a subtle bohemian style interior design
Accessorise with trinkets and ornaments of different styles and aesthetics for a well-travelled look
How Can Livspace Help You?
We hope you found the tour of this HDB with bohemian interior design insightful! For more home design inspiration, also check out Need 4-Room HDB Design Ideas? This Beautiful Home is Sure to Inspire You.
If you want your home to be just as beautiful, then look no further. Book an online consultation with Livspace today!