If you've ever wondered what a professional chef's kitchen looks like, you're in for a treat! Check out a condo renovation that celebrates female influences, and the interests and achievements of the modern chef.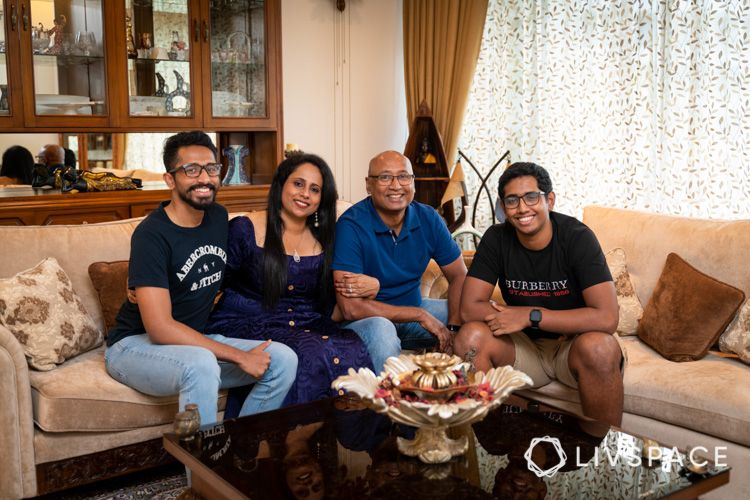 ---
Who livs here: Priya Subin Joseph with her husband and two sons
Location: The Interlace, Depot Road
Type of home: A four-room condo
Livspace team: Interior Designer Shivani Malhotra and Project Manager Kent Loke
Renovation scope: Kitchen, bathrooms, balcony, dining area, private lounge in the master bedroom, bedroom cum study & walkway
---
A professional chef, a traveler, a mother, a curio enthusiast — these are the many sides of Priya Subin Joseph. For International Women's Week, we share how we renovated Priya's new condo to reflect both her own style and her family's. Read on to find out more about the bright and warm settings of this four-room apartment at The Interlace!
Even as she was selecting a home for herself and her family, Priya knew what she wanted from the layout — enough space to display her collection of art, collectibles, a big living room, a sizeable, comfortable kitchen and lots of natural light. And given her profession, not surprisingly, our first stop in this modern-meets-traditional apartment is the kitchen, the heart of the home.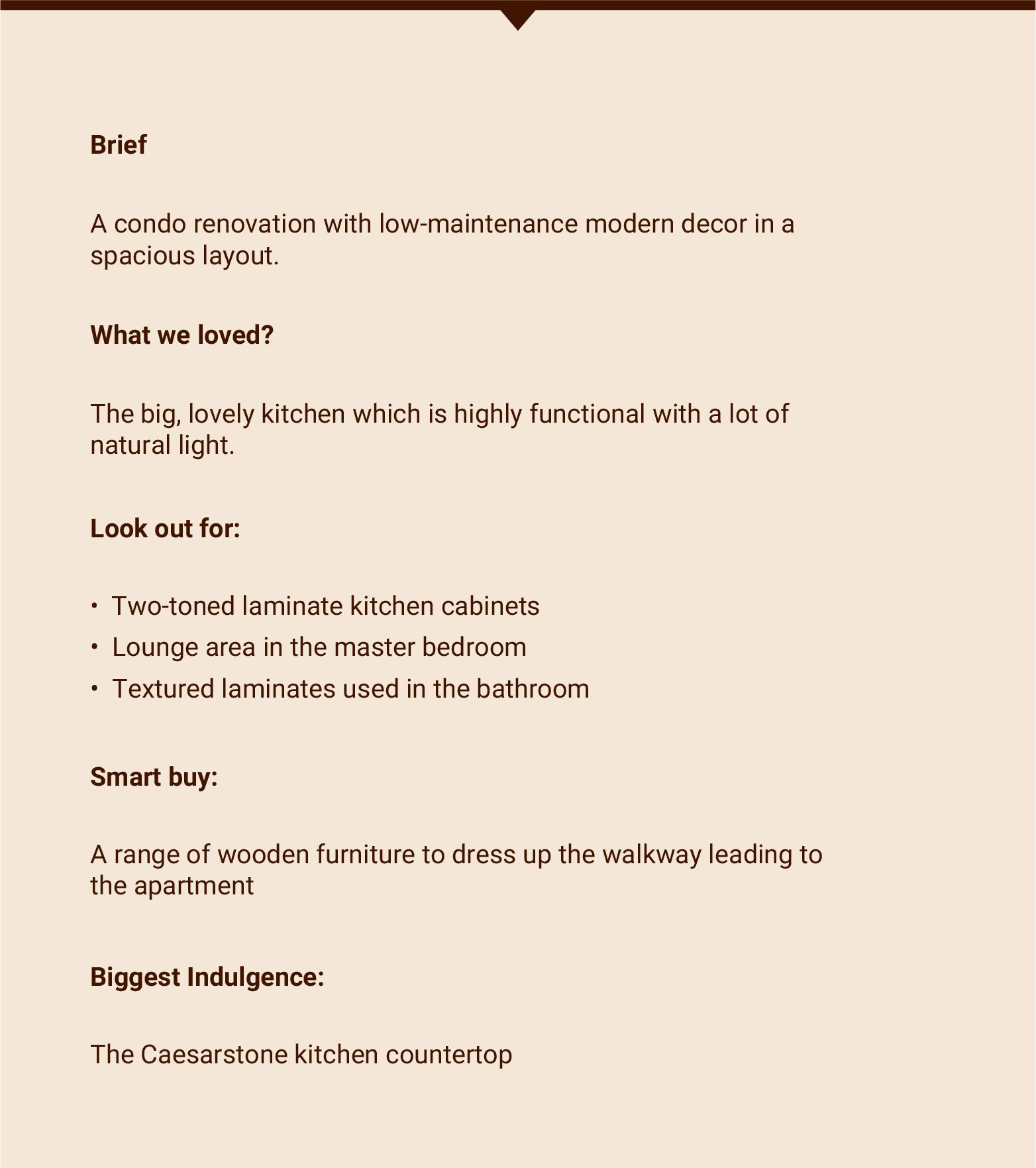 A Kitchen That's High on Style & Functionality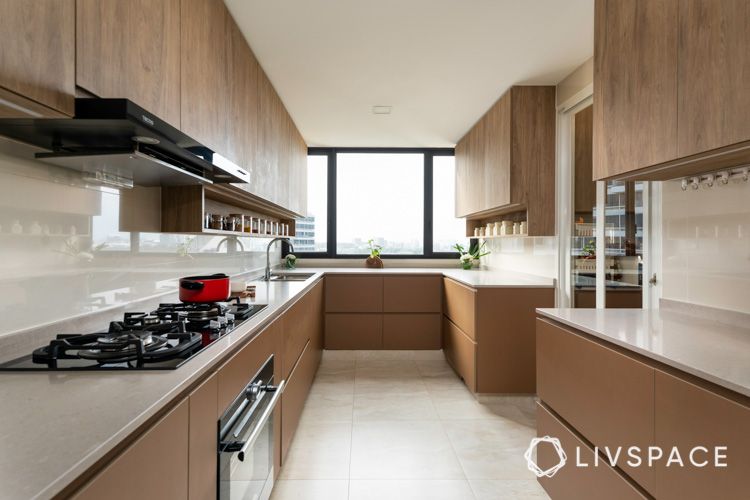 Shivani Malhotra, a seasoned Livspace designer, focused on designing a highly functional and easy-to-maintain kitchen. A classic palette inspired by woody, earth tones was selected and all finishes complement the theme. The choice of materials puts emphasis on utility — the flooring tiles are anti-slip, laminates chosen for the kitchen cabinetry are easy to wipe. In addition, quartz has been used for the countertop, which is 20mm thick and relatively expensive, but is durable and can even withstand the heat of a blow torch — commonplace for a professional chef.
More inspiring features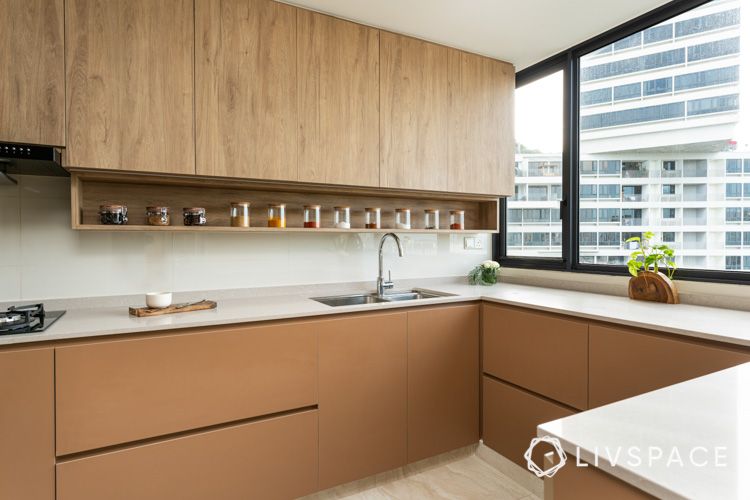 Malhotra also opted for cabinets that go up to the ceiling, deep drawers below the countertop, installed with soft-close hinges and a sturdy track system. The result? All of Priya's culinary equipment, including over 20 pans and a Chinese wok, are properly stored away. This leaves the countertop with lots of free working space. This comes especially handy when she is experimenting with new dishes and different plating techniques.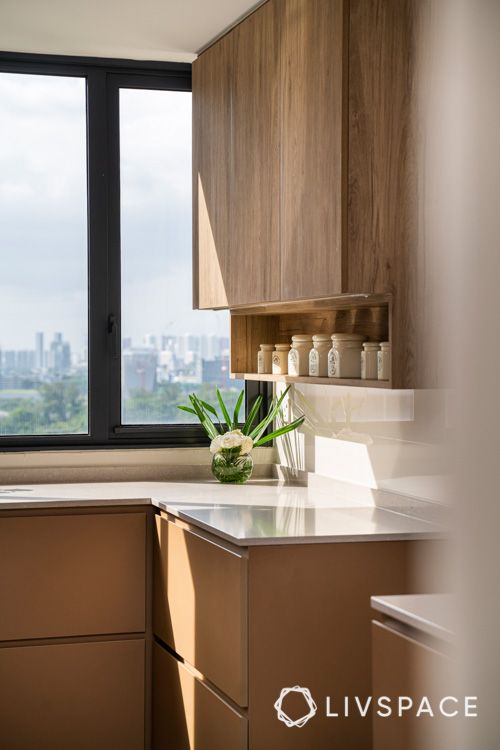 The kitchen lets in a lot of natural light. Lighting is further augmented with functional work lights, LED strip lights and some ambient lighting, helping to imbue a softer feel in this hardworking kitchen.
Priya shares, "It's a really lovely kitchen. Plus, it's very functional! Things are accessible and yet, there's enough space to work. I never feel tired working in here."
Walkway of warm colours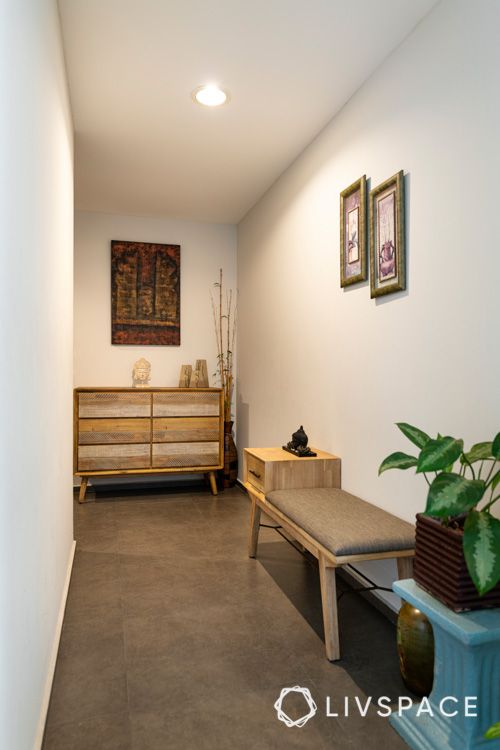 The walkway leading to the apartment is warm and inviting, and it was also the final area of decor. The cleverly placed furniture pieces sourced by Livspace, as well as the eye-catching artefacts are showcased to visitors. Moreover, it lends a taste of the family's personality as they enter the lovely condo.
Brighter with mirror & ornamentation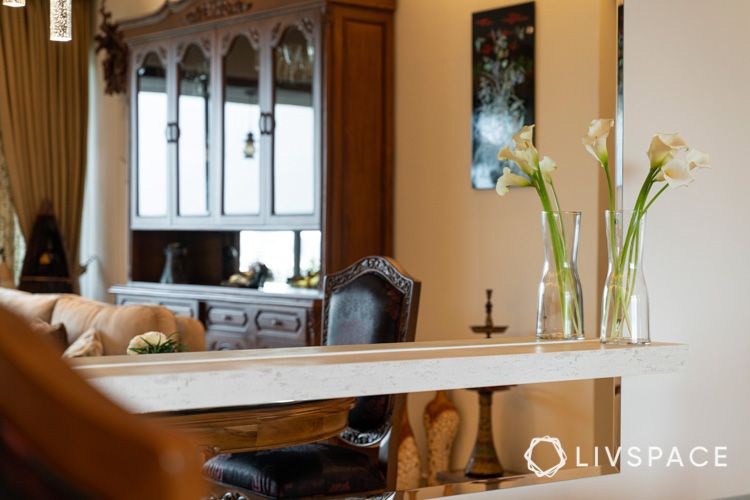 While Priya wanted to retain the dining furniture from her last home, she was also looking to uplift the space of the dining area at the new condo.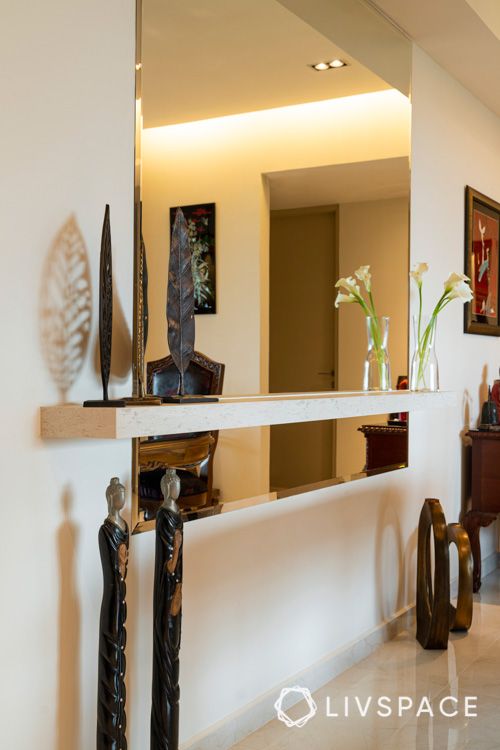 Malhotra's solution was a mirror to break the visual monotony of a long wall and a shelf to add decor — atop and under. It worked like magic and defines the dining area better.
Breezy balcony beckons with plants!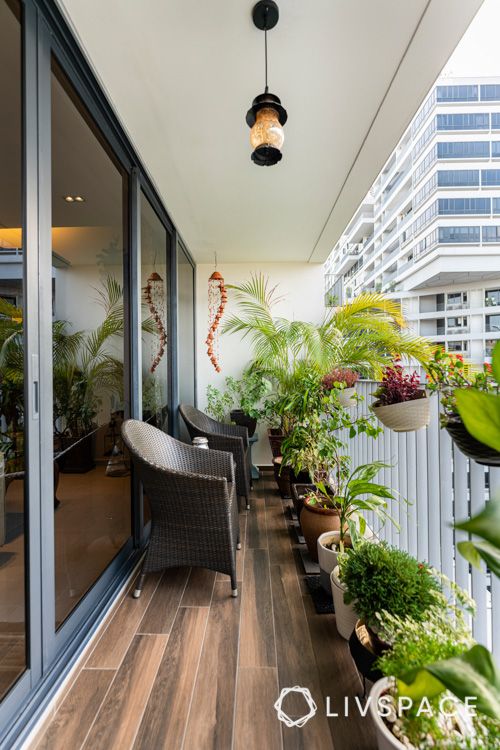 The long balcony is decked pleasantly with plants and flowers to make their own greenscape. Homogeneous tiles, rattan chairs and a stained glass light complete a natural wooden look. Above all, it falls in line with the overall modern-meets-traditional apartment decor.
A private lounge for relaxation inside the master bedroom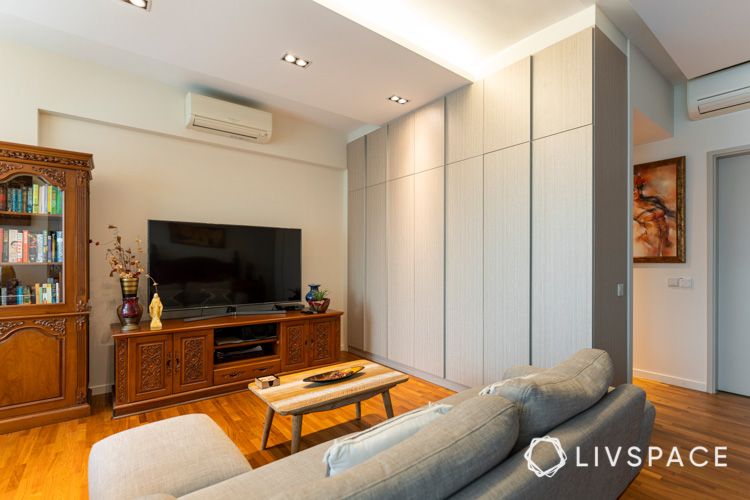 Originally, the master bedroom's entrance was a set of sliding doors. During the renovation, we knocked down a wall that divided a small common room and the master bedroom. Finally, we added a separate nook that comprises a sleeping area and a private lounge for Priya and her husband.
The lounge has been designed for the couple to catch up on their favourite shows or to read a book on a lazy Sunday afternoon. The TV console and the book cabinet feature ornamental wood, in keeping with the couple's style. In addition, there is a full height wardrobe and a plush couch that adds a modern touch to this space. As a result, the room allows for plenty of storage and comfort.
Sleek, contemporary bathrooms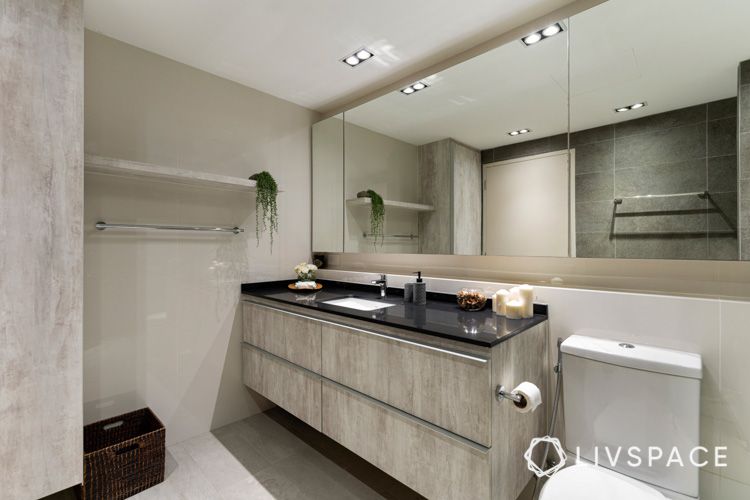 The contemporary bathrooms post condo renovation echo the owner's preference for fuss-free living. Priya and Shivani considered a multitude of materials before deciding on this neutral combination.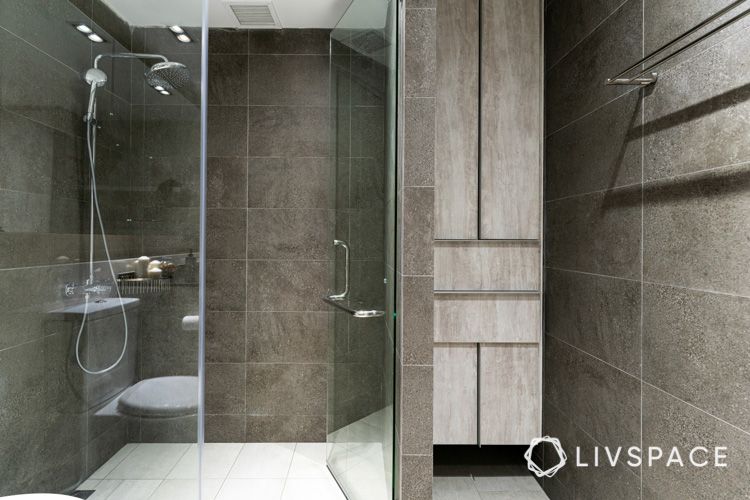 The texture of wood and stone combined with impeccable lighting gives this space an air of au-naturale-meets-luxury. Furthermore, wall-to-wall mirrors add to the illusion of more space and clever illumination from the top makes grooming easy.
This contemporary apartment exudes a feminine interior with effective spatial layout. Moreover, the simple sophistication of this apartment serves as a perfect canvas to the many accent pieces from the owner's memorabilia and collectibles. Also, it is an interior design that celebrates female influences, and the interests and achievements of the modern chef!
You can also take a look at more inspiration on condo renovation design here.