This BTO renovation story is going to leave you speechless!
---
Who livs here: Alan Siang with his family
Location: 406A Northshore Drive
Type of home: 5-room BTO
Livspace team: Interior Designer Songhao Chua with Design Manager Andee Ching
Livspace service: Full scope including carpentry, masonry, electrical, plumbing, etc
Budget: $$$$$
---
What do you think when you see a bare flat? Don't you start imagining how this space is going to look in some time and turn into your home? That's exactly what Alan and his family came to us for. When they bought their BTO, it was nothing but a blank canvas which had to be designed carefully. The family was looking for someone who could understand the nitty gritty of things and give them impeccable design solutions. A cosy, modern, comfortable and functional home is how they describe it now. Read on to find out how Songhao Chua, their designer managed to turn this BTO renovation project into a stunning home for five.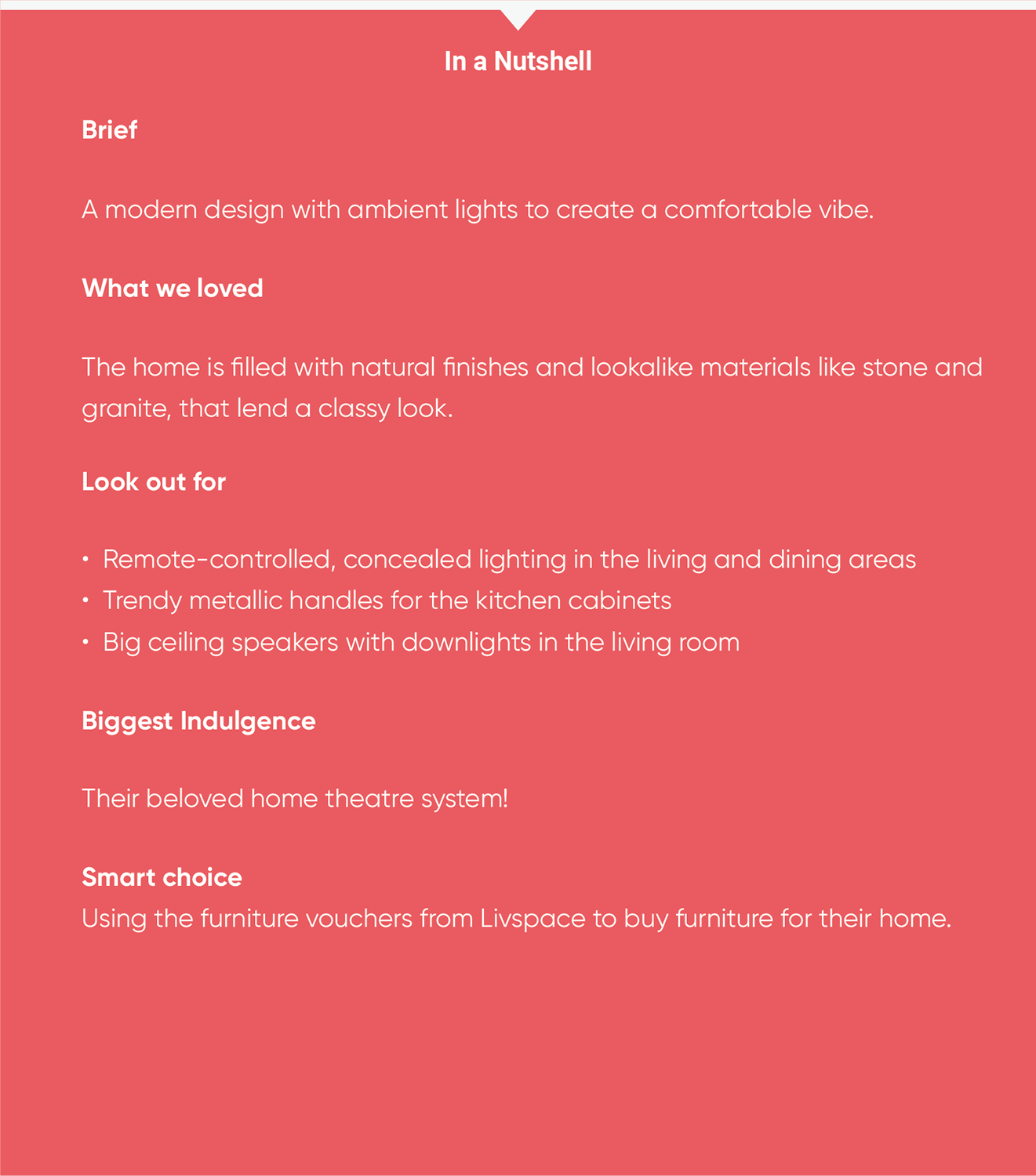 Let's start with some barespace to Livspace transformations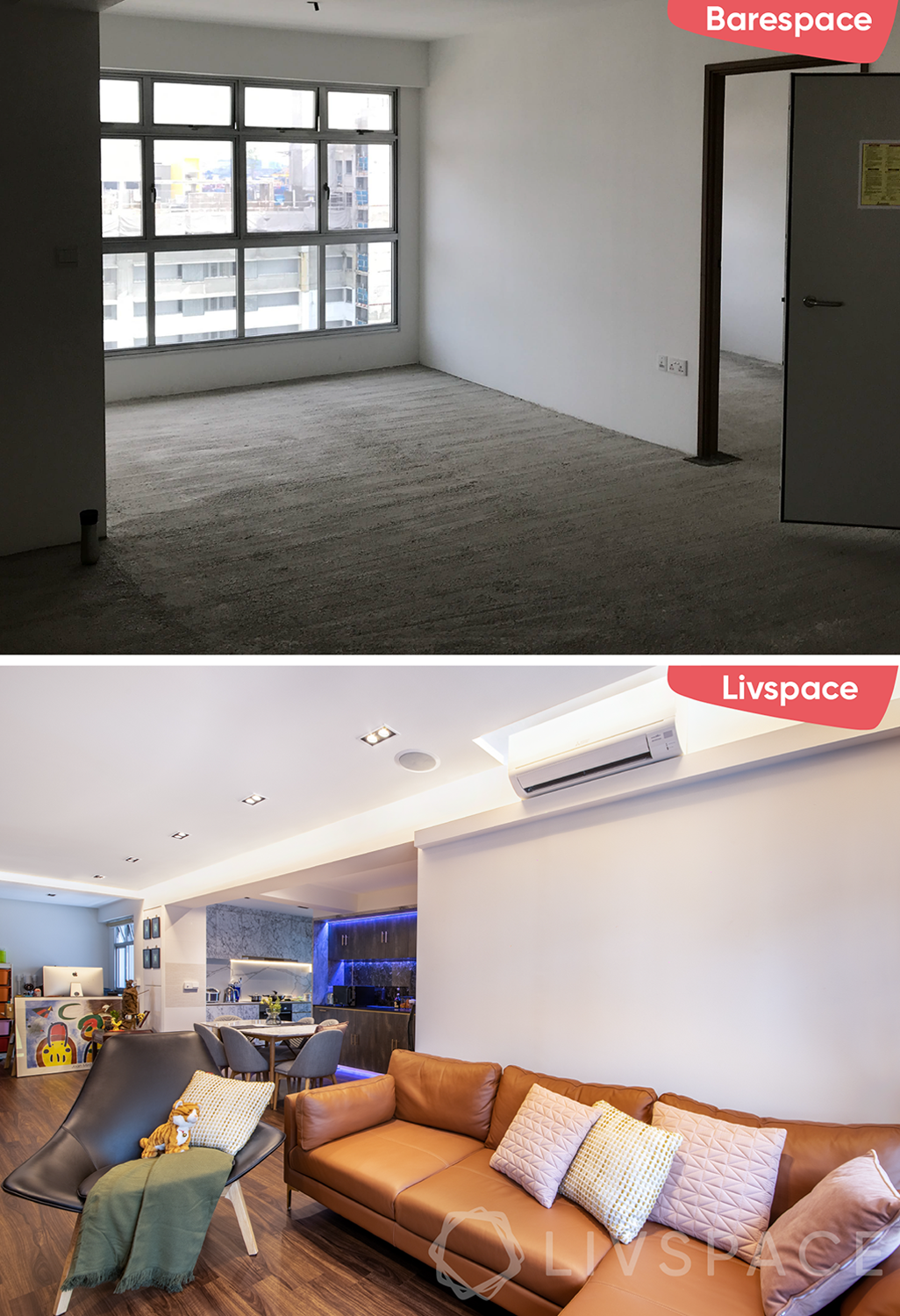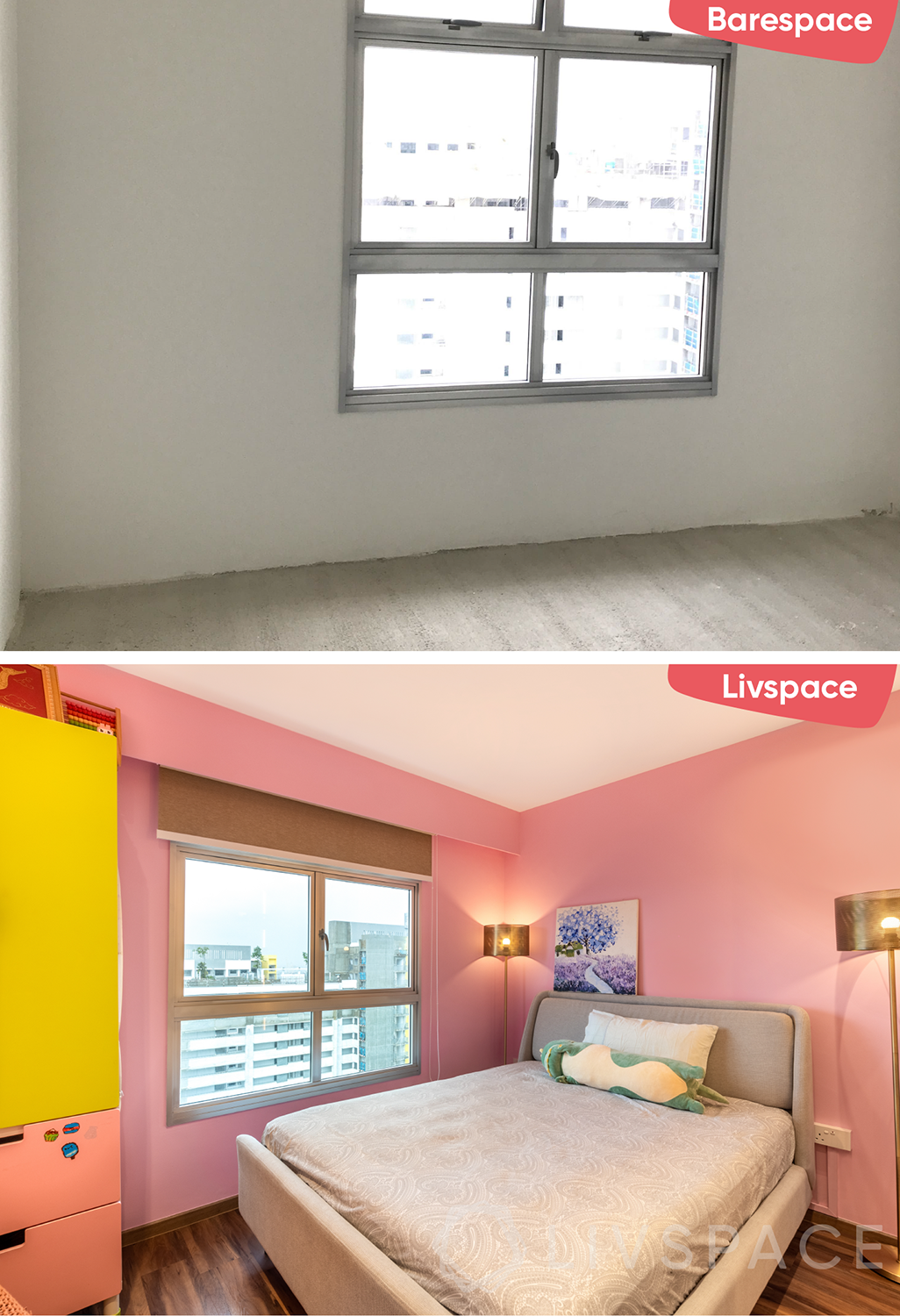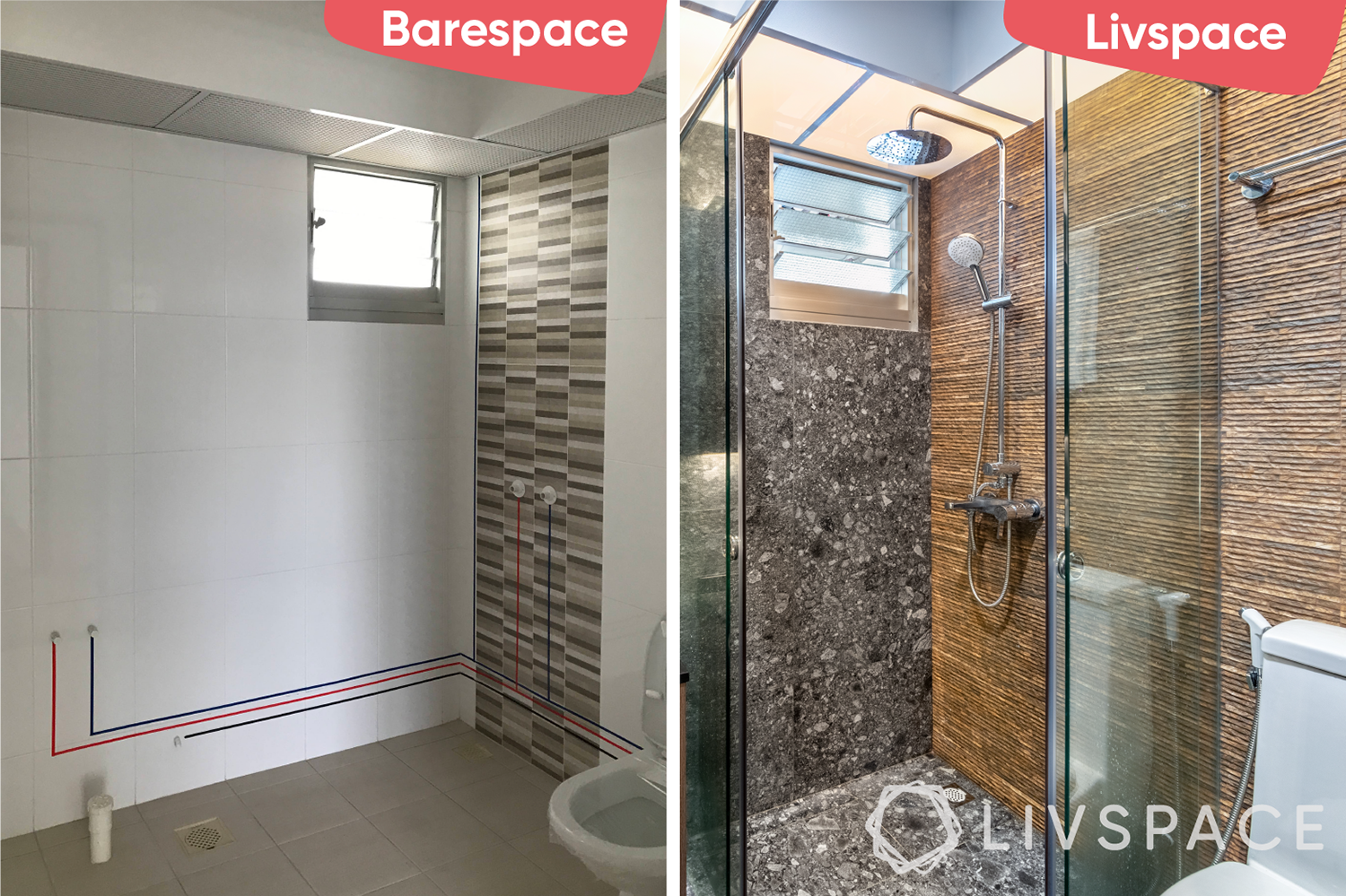 A glimpse of the open plan living room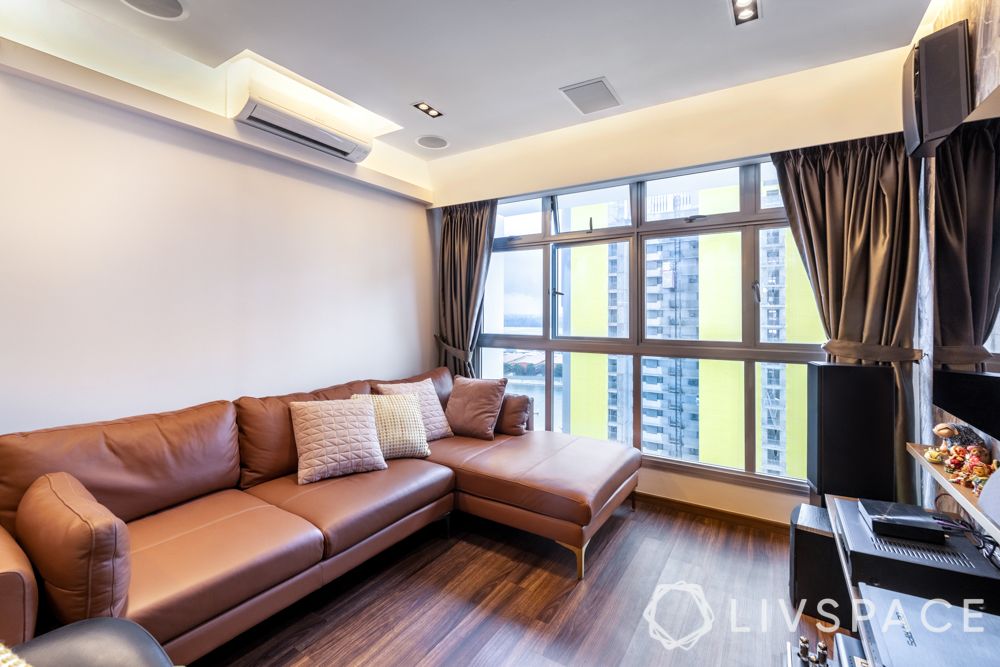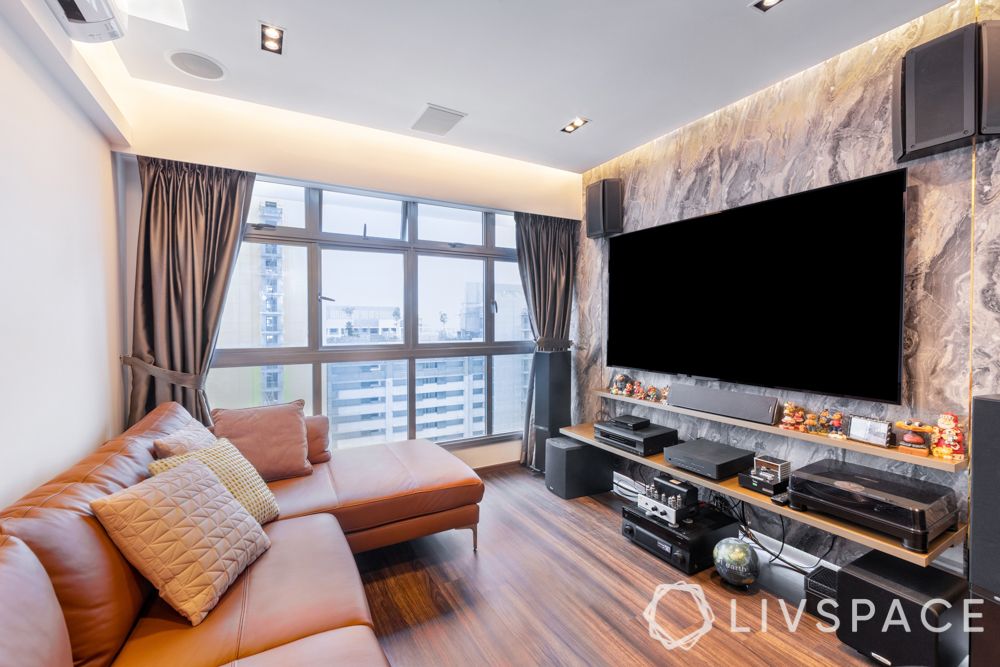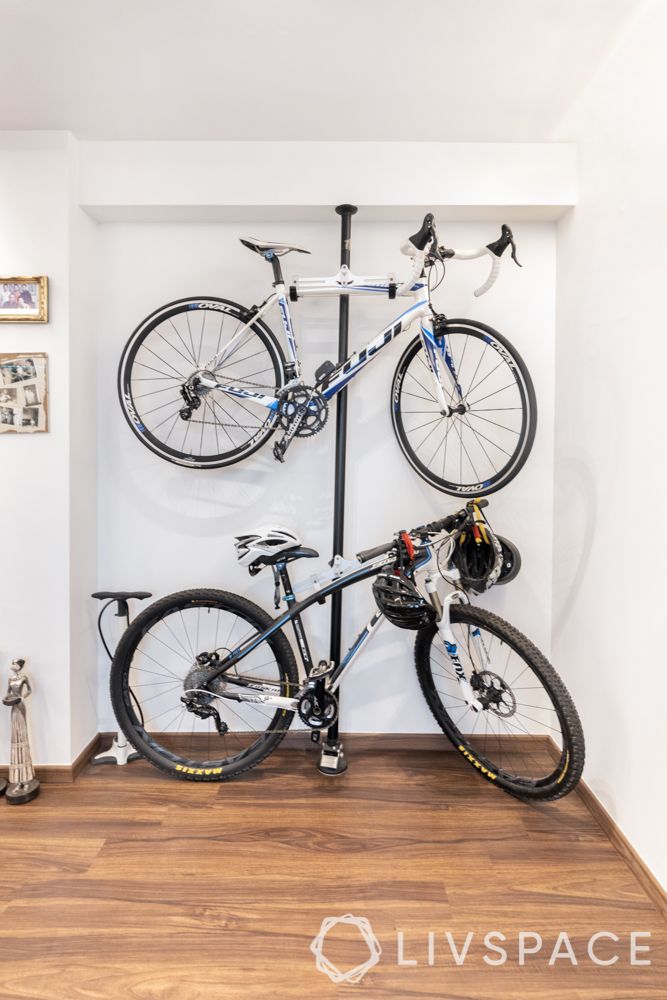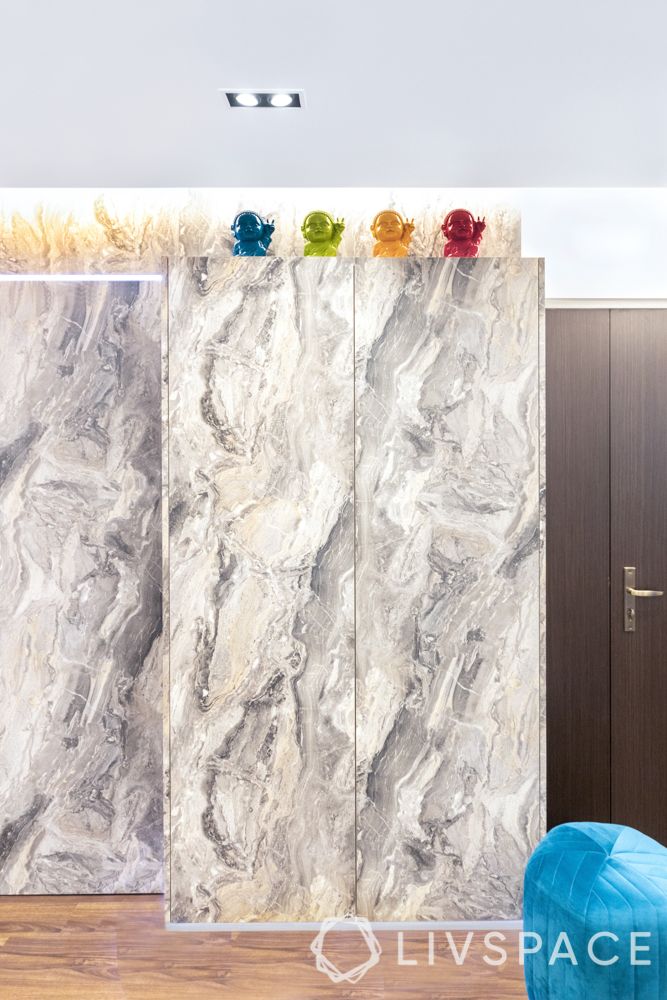 One look at this living room and you instantly know that this belongs to someone who loves music. The living room in this BTO renovation is full of sound systems and speakers along with heaps of vinyl records which Alan loves collecting. A comfy brown L-shaped sofa sits pretty in front of the television where the family binge-watches series together. To accomodate all sound systems and equipment, Songhao had to carefully measure the height and ledges of the TV console to fit them perfectly.
On the right of the living room, you will spot the foyer where we have added a huge shoe cabinet and a space for them to keep their bicycles. This entire stretch is designed with stone-textured laminate finish walls that have concealed remote-controlled lighting. There are two concealed doors here—one that leads to a bedroom and another that leads to the bomb shelter. The seamless finish makes it impossible to spot these hidden doors.
Moving on to the hero of this BTO—the kitchen-cum-dining area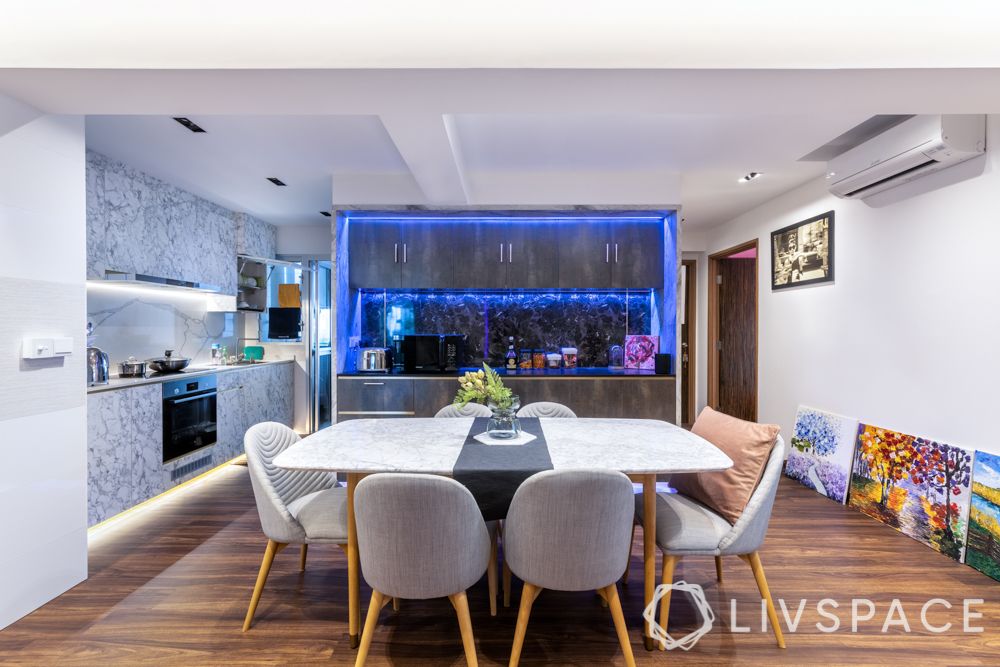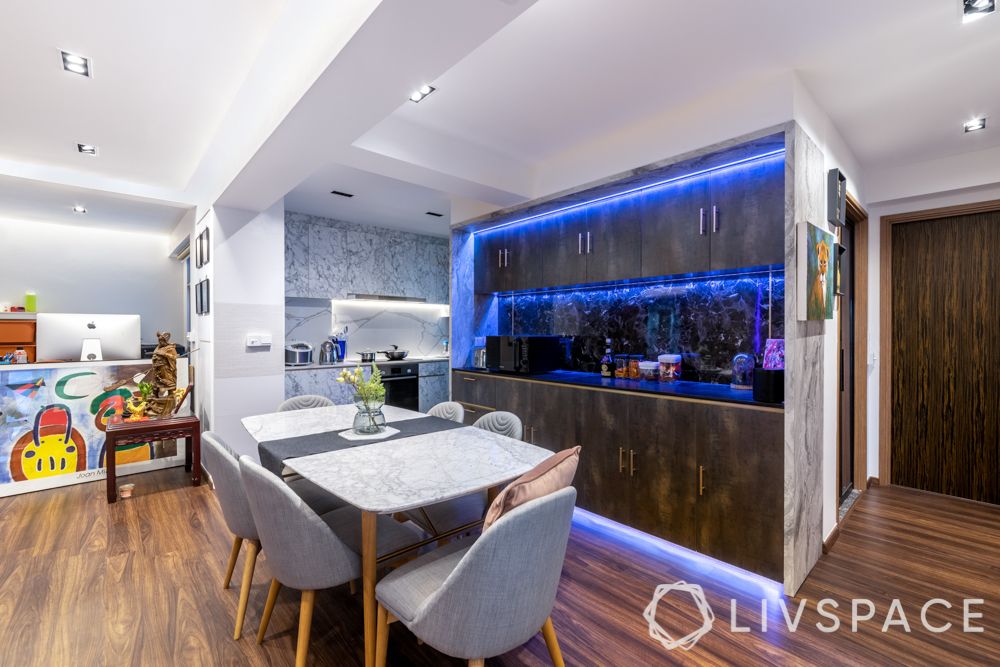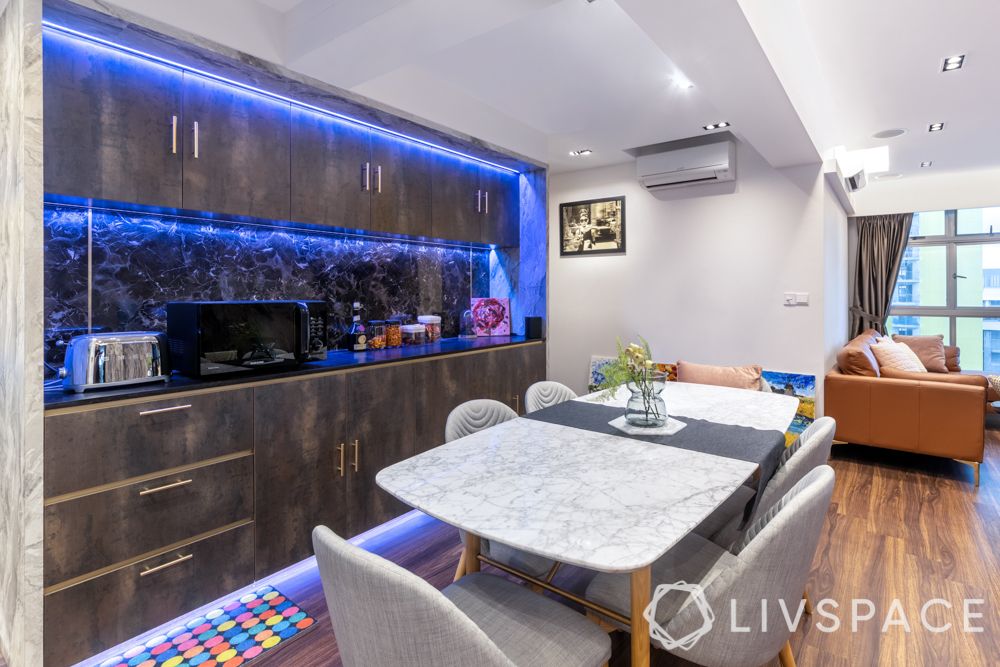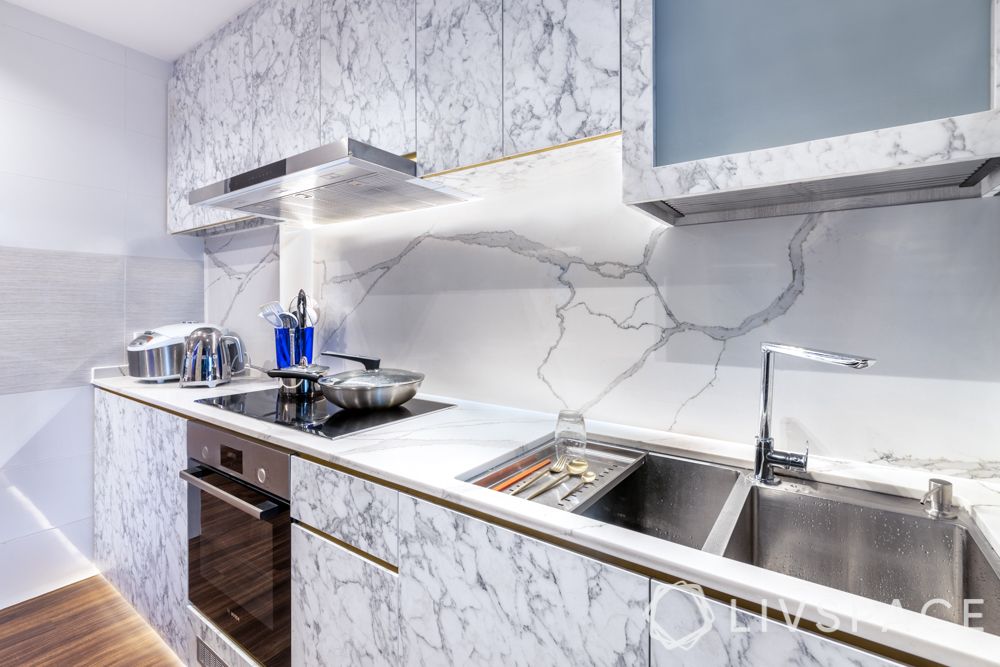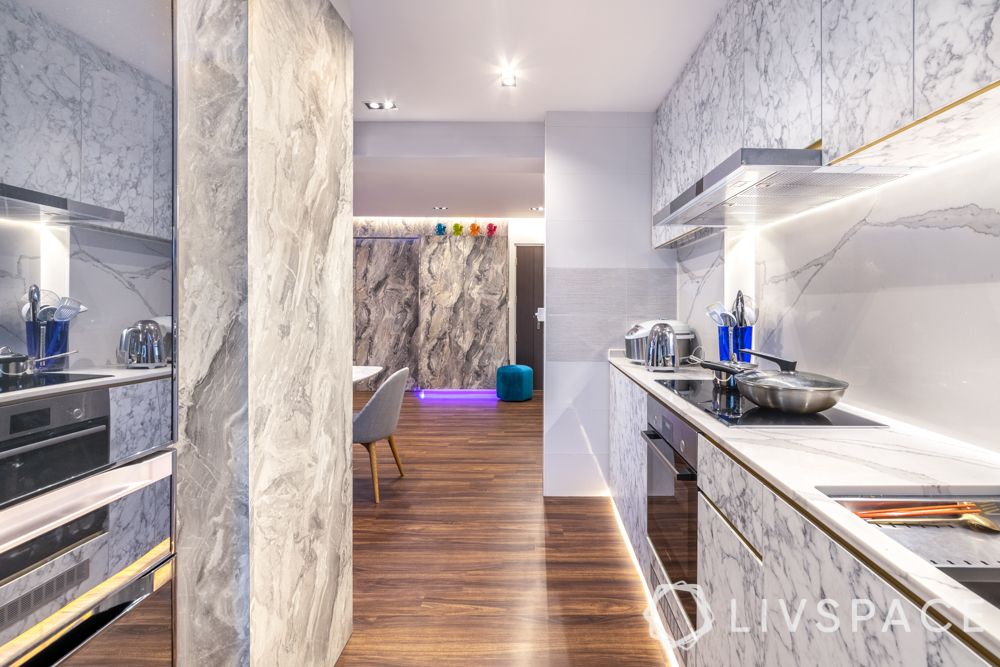 The kitchen in this BTO renovation is divided into wet and dry areas that are designed carefully. The dry kitchen dons darker tones with dark emperador marble look-alike backsplash and steel laminate panels. The most exciting part about this zone is the lighting that changes to blue and green according to the current mood. This feature makes this open kitchen truly unique since it changes the vibe of the entire space.
The wet kitchen, on the other hand, sports a lighter white marble look that balances out the dark colours in the dry area. Warm wooden flooring and stainless steel appliances complete the look of this space.
"It was a very pleasant experience with Songhao (our designer) and he tried his best to solve all our problems. I have no complaints with the workmanship as well and I love the work they have put in. Songhao gave us recommendations and suggestions for every little thing and I appreciate the fact that he could conceal all the cables for the sound system flawlessly. We did not have any delays and everything went according to schedule."

Alan Siang

Livspace Homeowner
A simple and well-planned master bedroom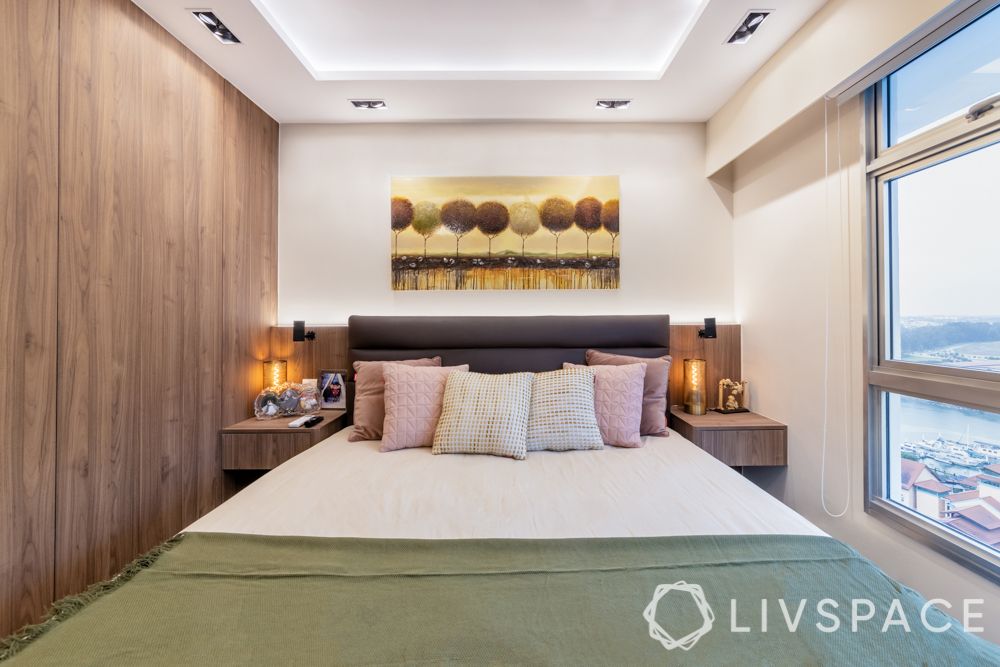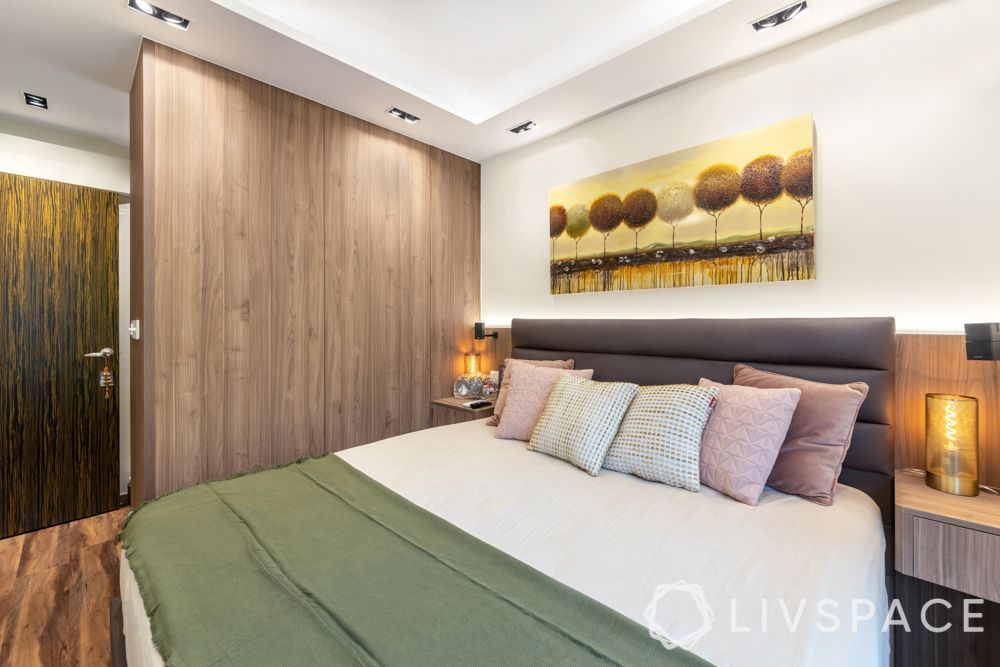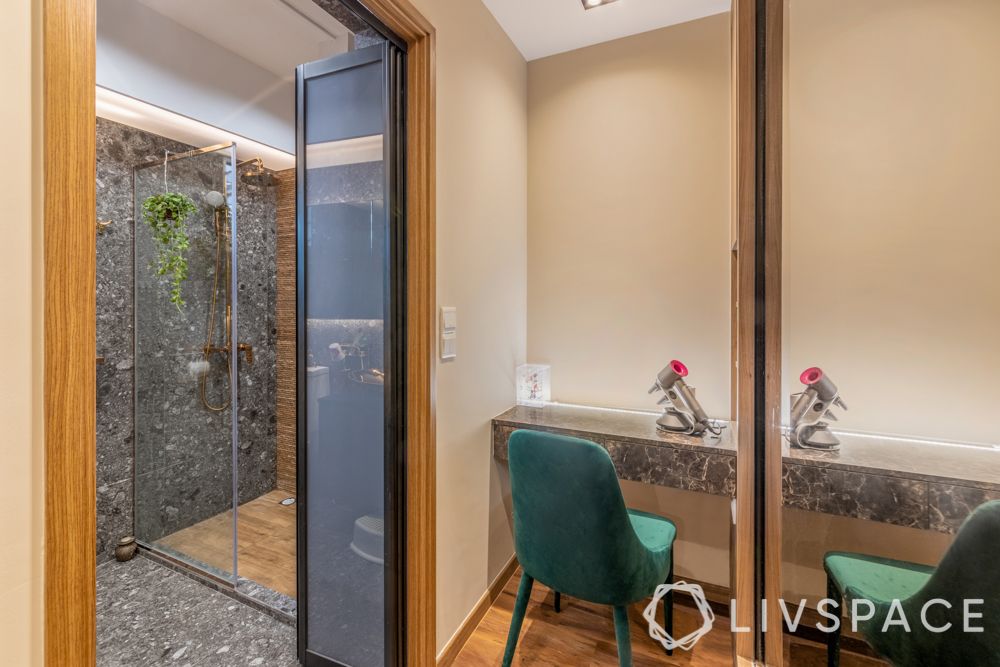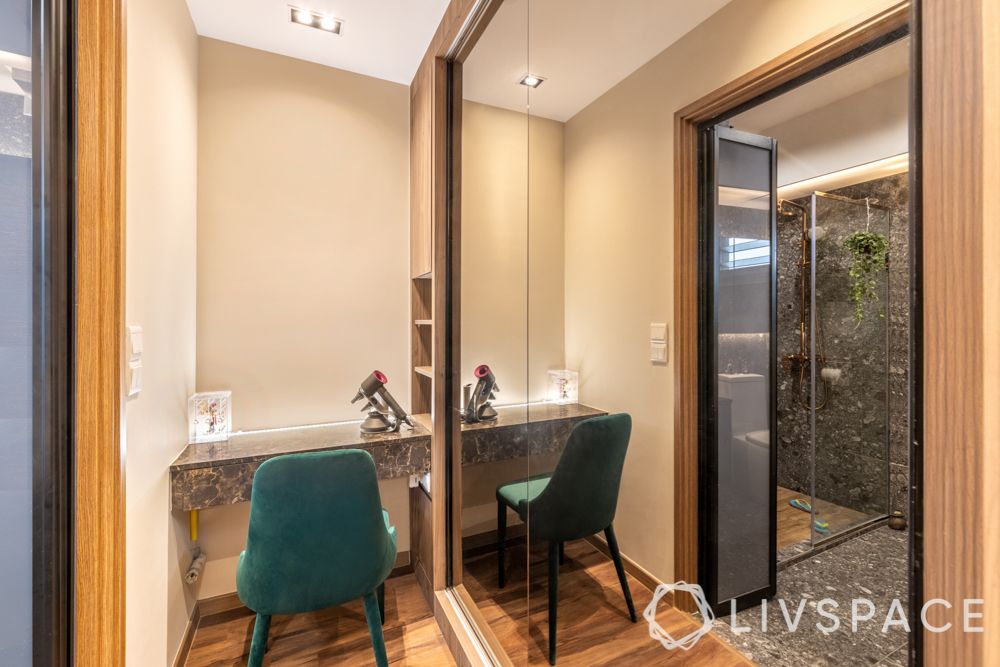 The master bedroom flaunts warm wood tones in the flooring and wardrobes. The functional sliding door wardrobe makes sure that no space is wasted in the front while bedside tables in a similar finish tie the look together. Songhao has also designed a dresser area for the couple, with a sleek wall-mounted dresser and a bronze mirror next to it. It is so well-planned that every inch of space is utilised efficiently.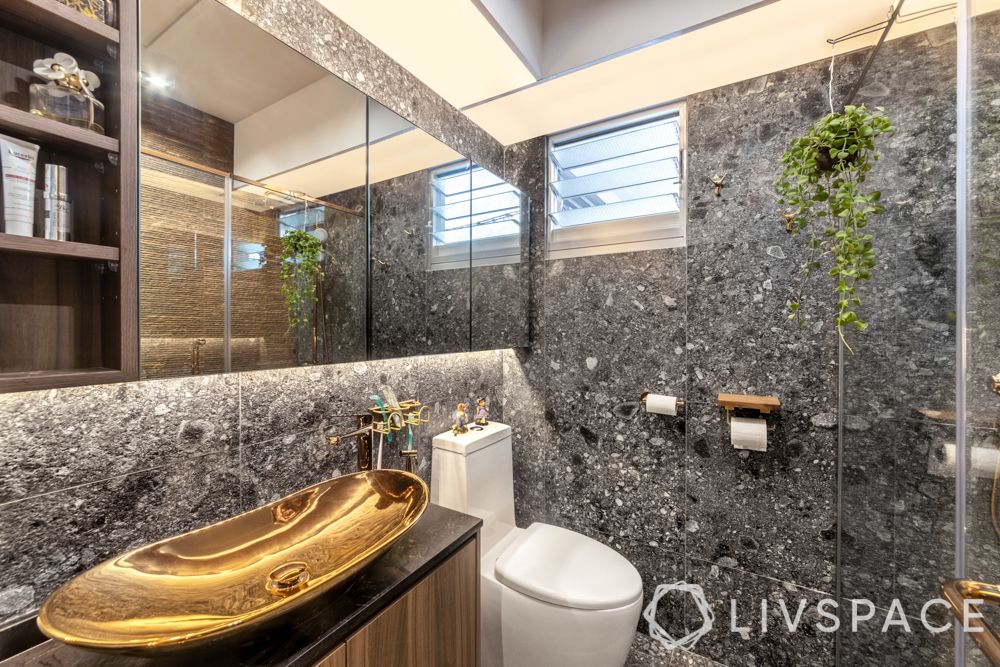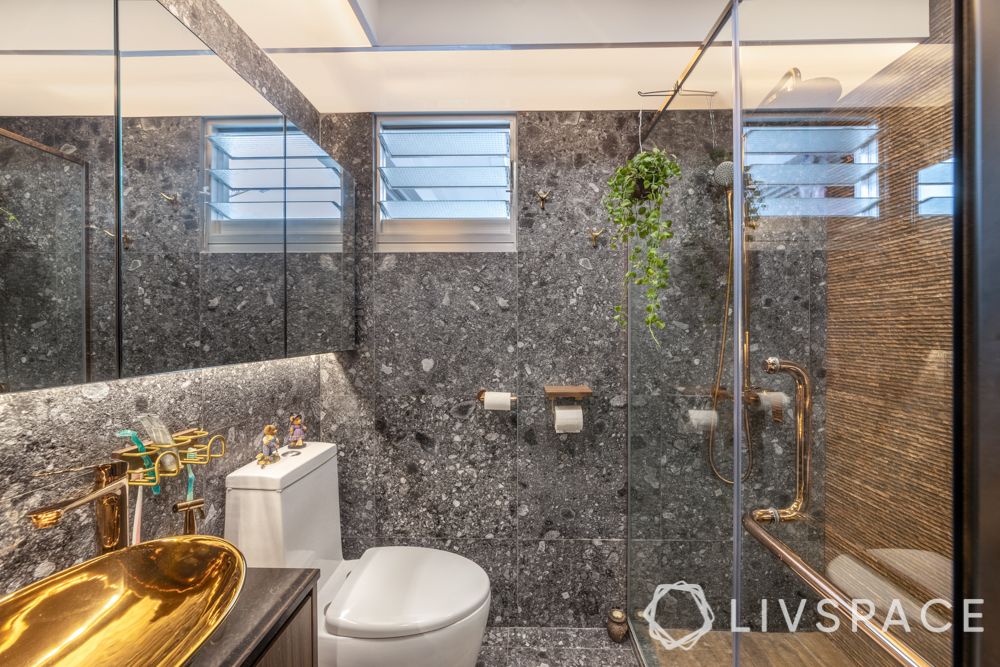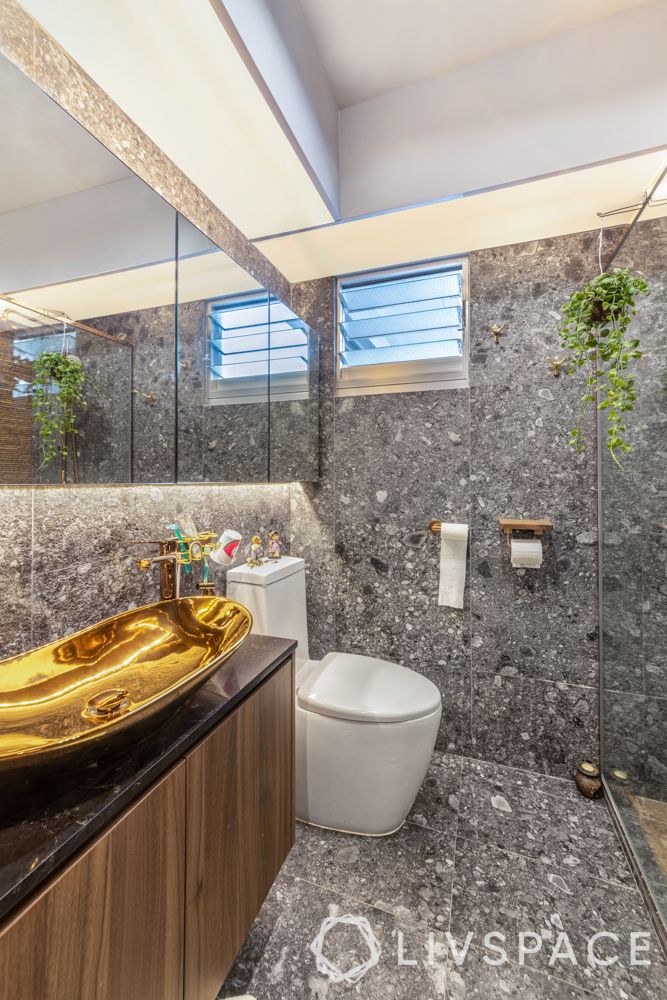 The overall theme of the master bathroom in this BTO renovation is texture and greenery, and Songhao chose textured tiles for the walls and floor with a highlight in the shower area. An accent wall that continues to the floor for the shower cubicle. The golden basin in the vanity area adds that touch of glam to this bathroom.
A sweet, feminine theme for the daughter's bedroom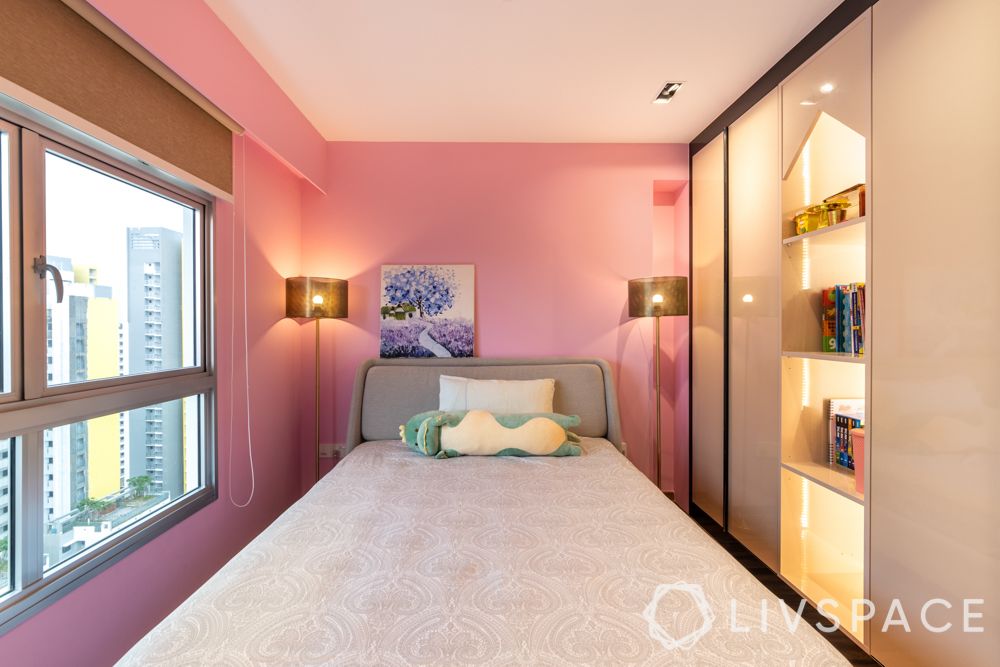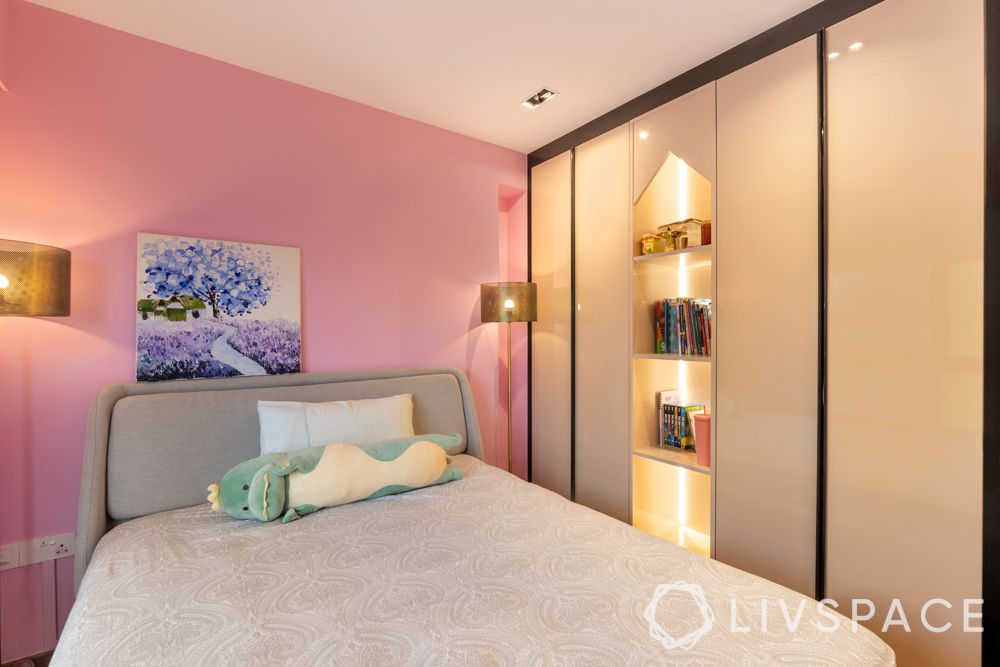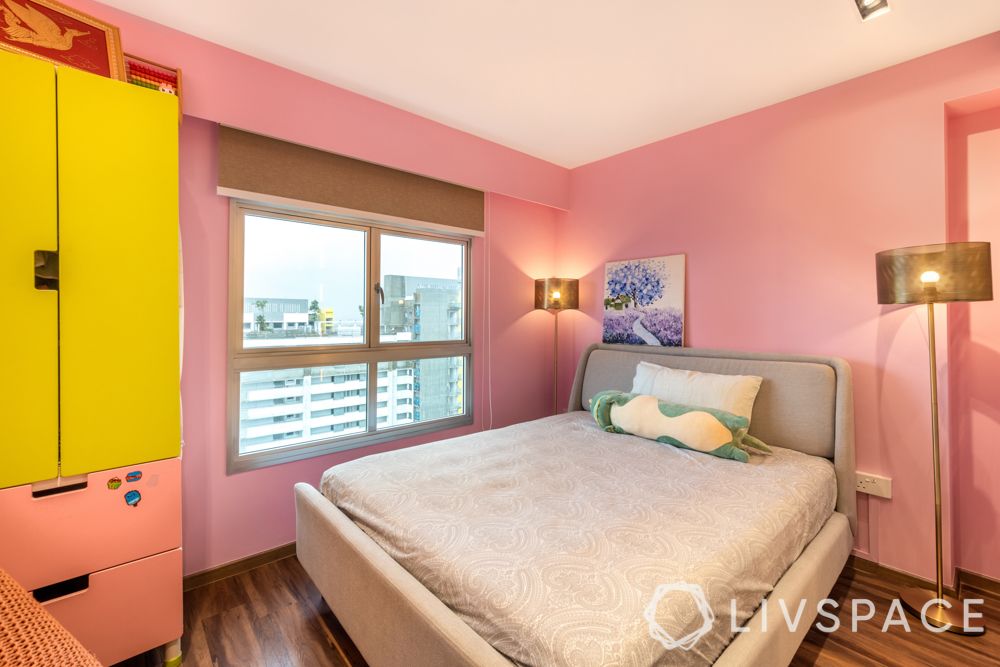 The couple's daughter's bedroom is awash in a quintessential pink colour that lends it a very feminine look. With walls painted in pink, Songhao chose to keep the wardrobe in a neutral beige. An open shelf with internal lighting in between the wardrobe keeps her books close to her. Floor lamps replace the usual pendant lights and a cabinet takes care of storing away her toys.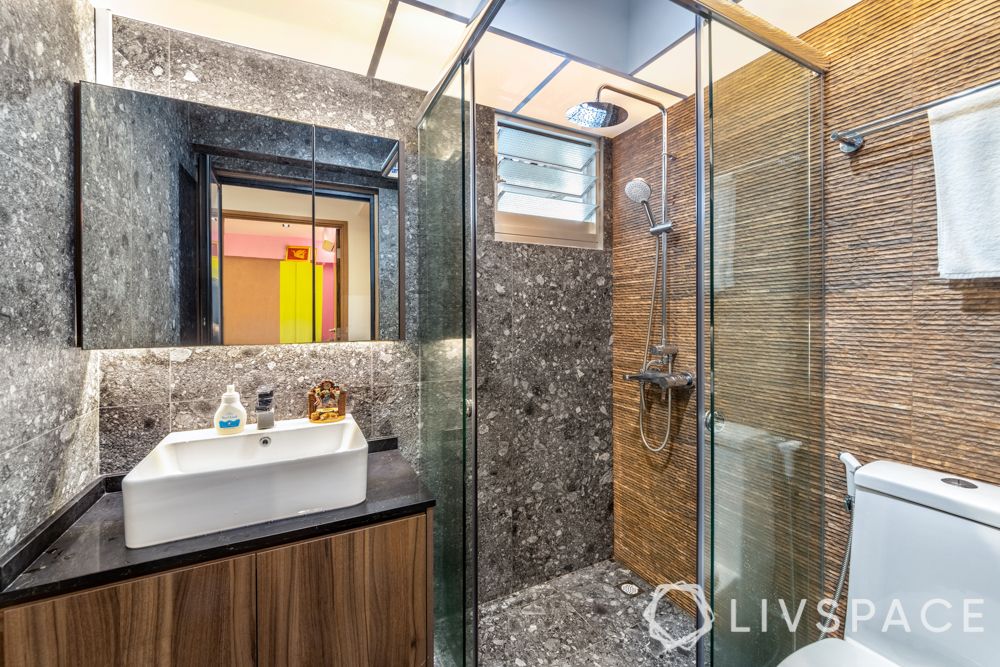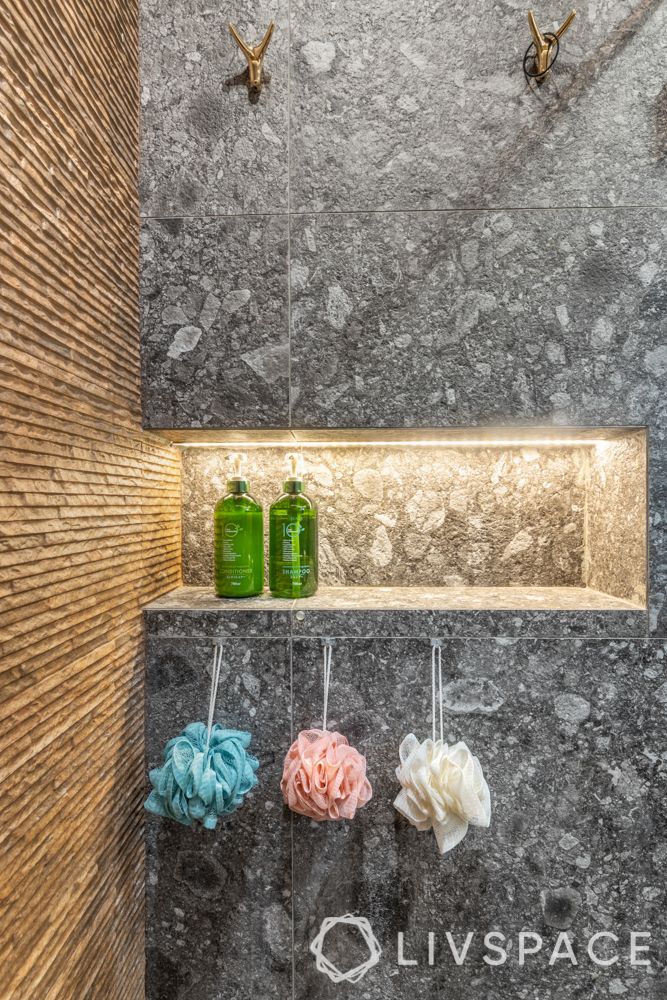 The daughter's bathroom too flaunts textured tiles on the wall and floor with an accent wall for the shower area. Niche storage with lighting is built in the shower cubicle for her to keep her bath essentials. The vanity is rather simple, with a laminate finish cabinet for storage.
"I think a designer's hard work is paid off when the client tells them that they love the home after they move in. I was very happy to receive this feedback and it made my day. A unique aspect of this home was the fact that they wanted plenty of lights in every space. I enjoyed exploring material options for them as well. It was a special project and very different from the homes I have designed so far."

Songhao Chua

Interior Designer, Livspace
This was indeed a unique BTO design and we loved it! We hope you enjoyed reading about it too. If you want to look at another home we designed recently, check this out: Ample Light and Pretty Functional Furniture for This 5-room HDB.
Send in your comments and suggestions to editor.sg@livspace.com.