A condo interior design Singapore that's high on functionality!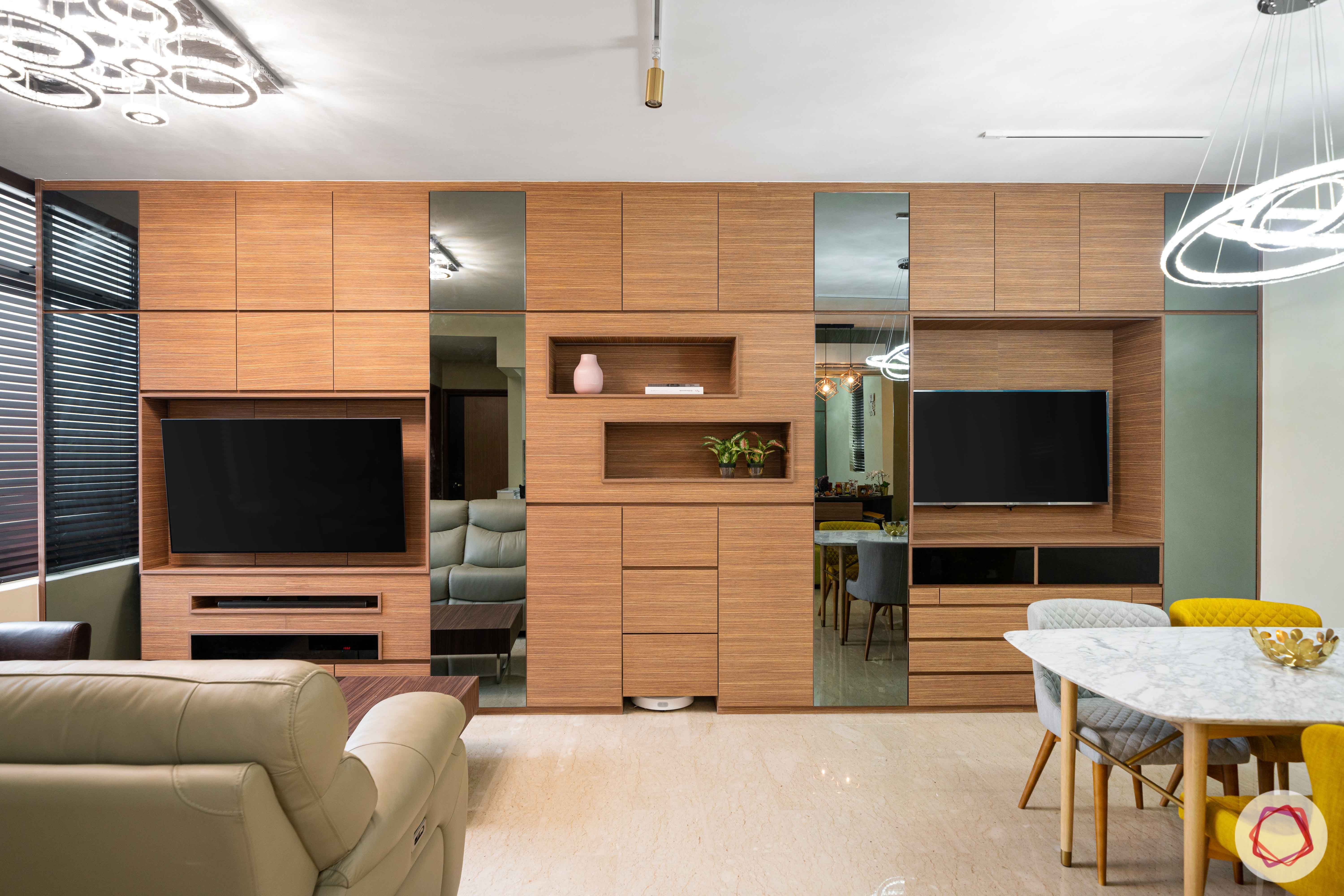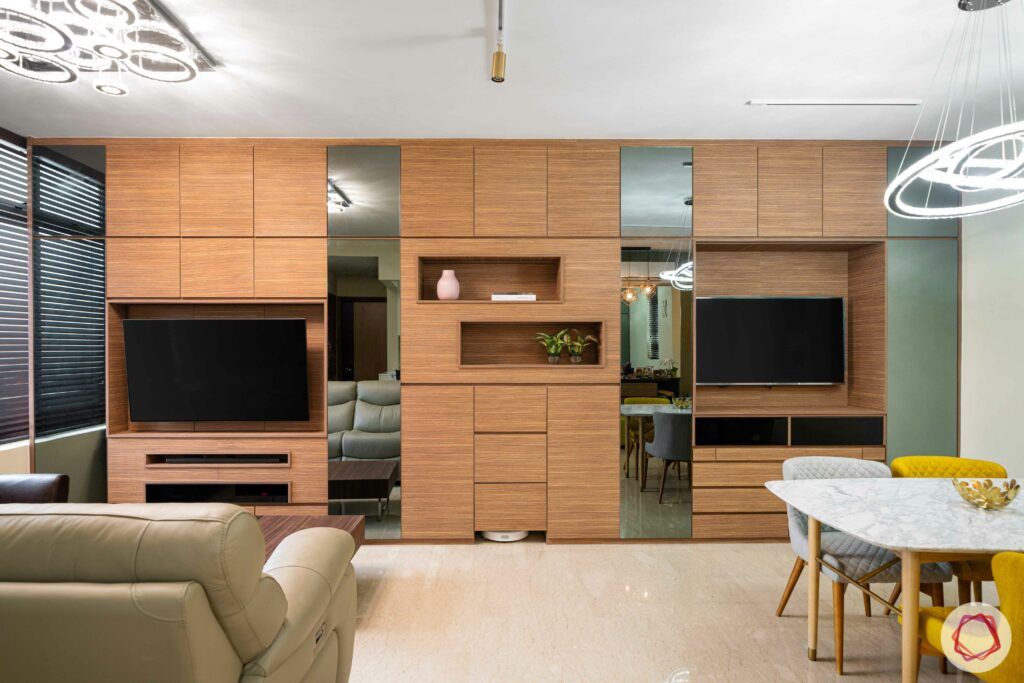 Who livs here: Katherine, her husband and their son
Location: Compass Height, Sengkang Square
Size of home: 3-room condo spanning 90 -100 sq m
Design team: Interior designer William Chong
Livspace Scope: Full home design (some images have been withheld for privacy reasons)
If you love travelling and are constantly looking for your next great adventure, we're certain you've collected many souvenirs along the way. Much like Katherine and her husband. In fact, when this globe-trotting couple first met with Livspace they were clear about one thing. They needed solutions to keep all their things together in a modern clutter-free design for their condo in Sengkang Square.
Armed with years of design experience, Livspace designer William Chong was soon put to the task of decorating the 3 bedder condo. Besides being highly functional, William stirred in earthy hues to keep the look warm and cosy. Let's take a look-see into the condo interior design in Singapore!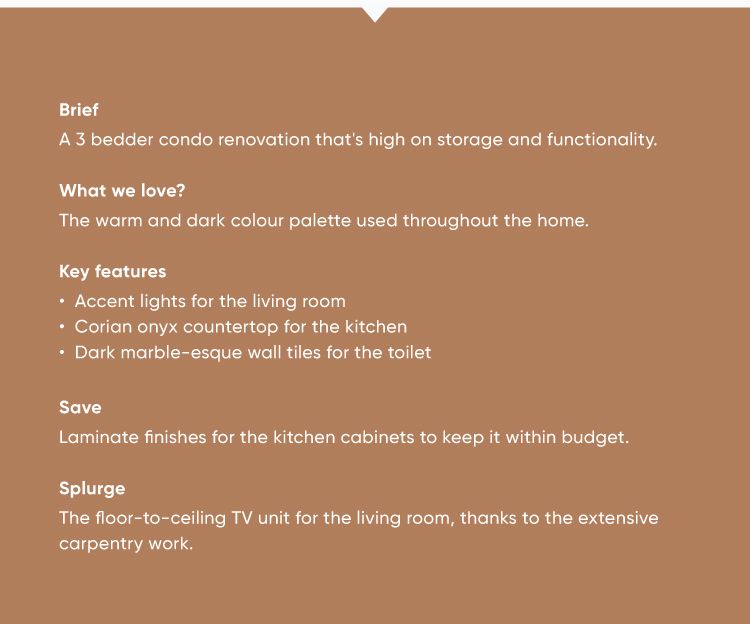 A touch of gold for the entrance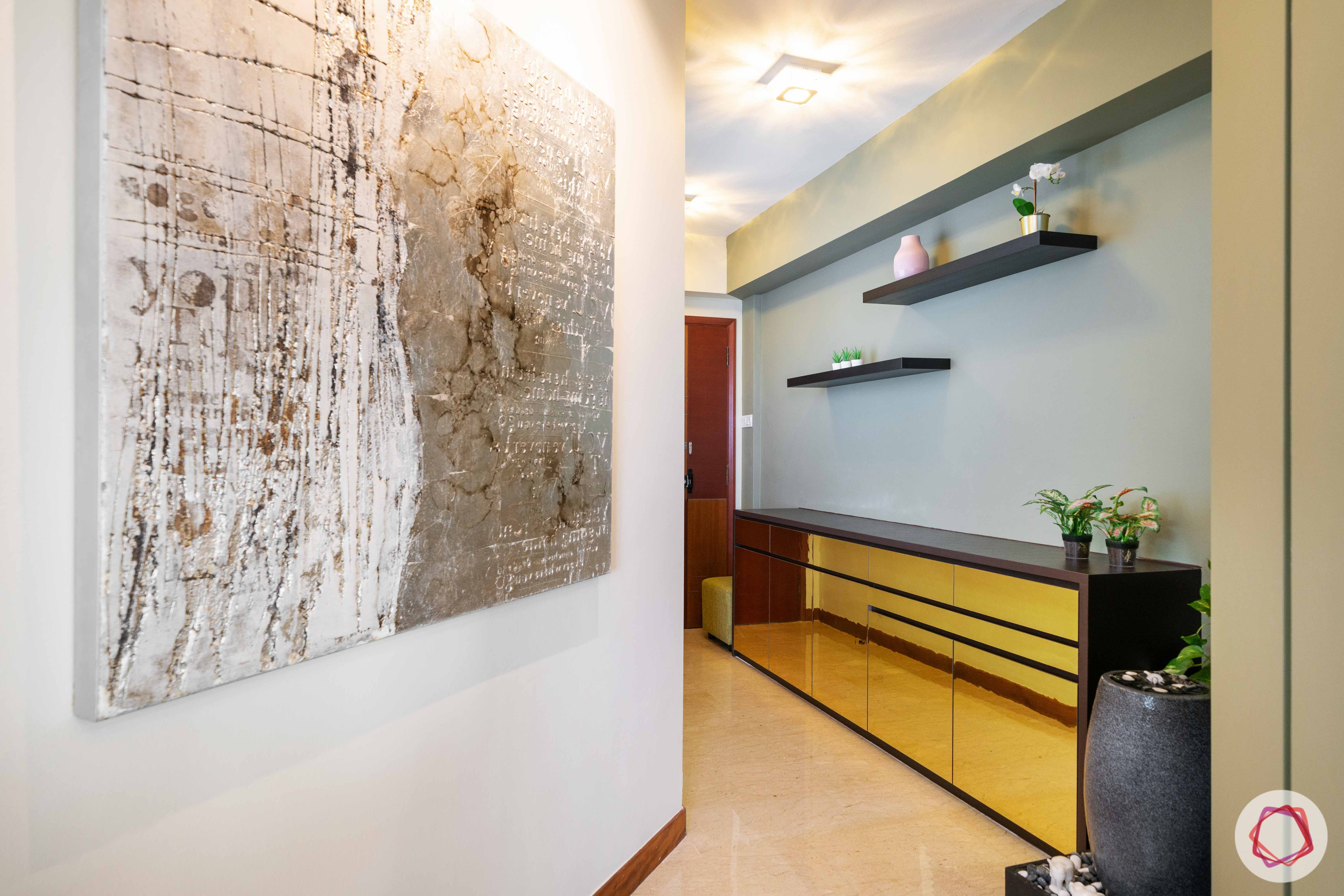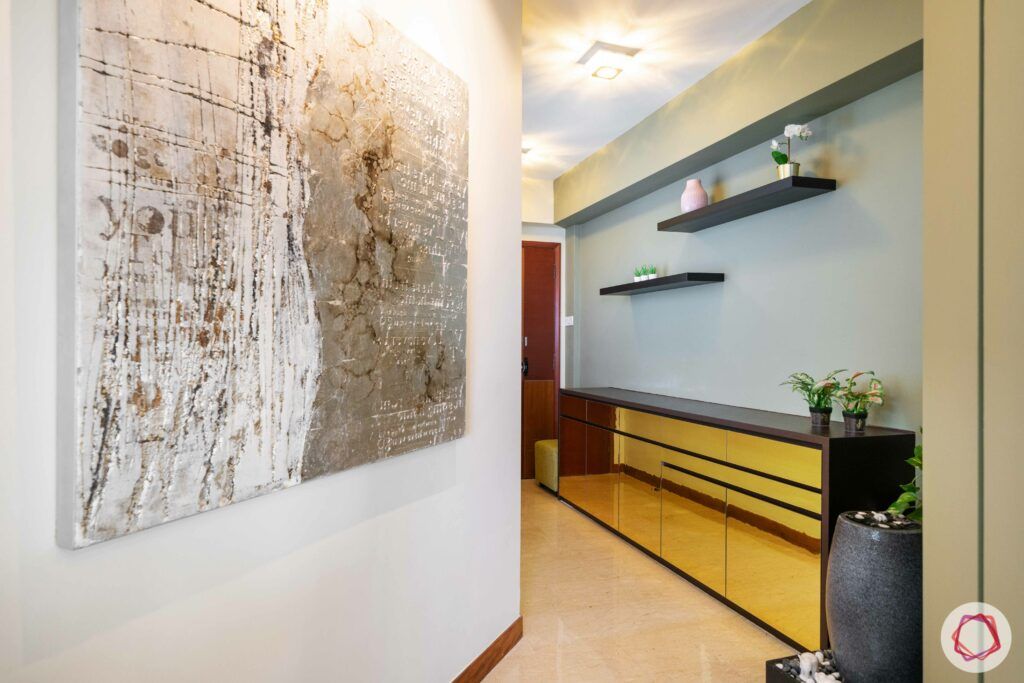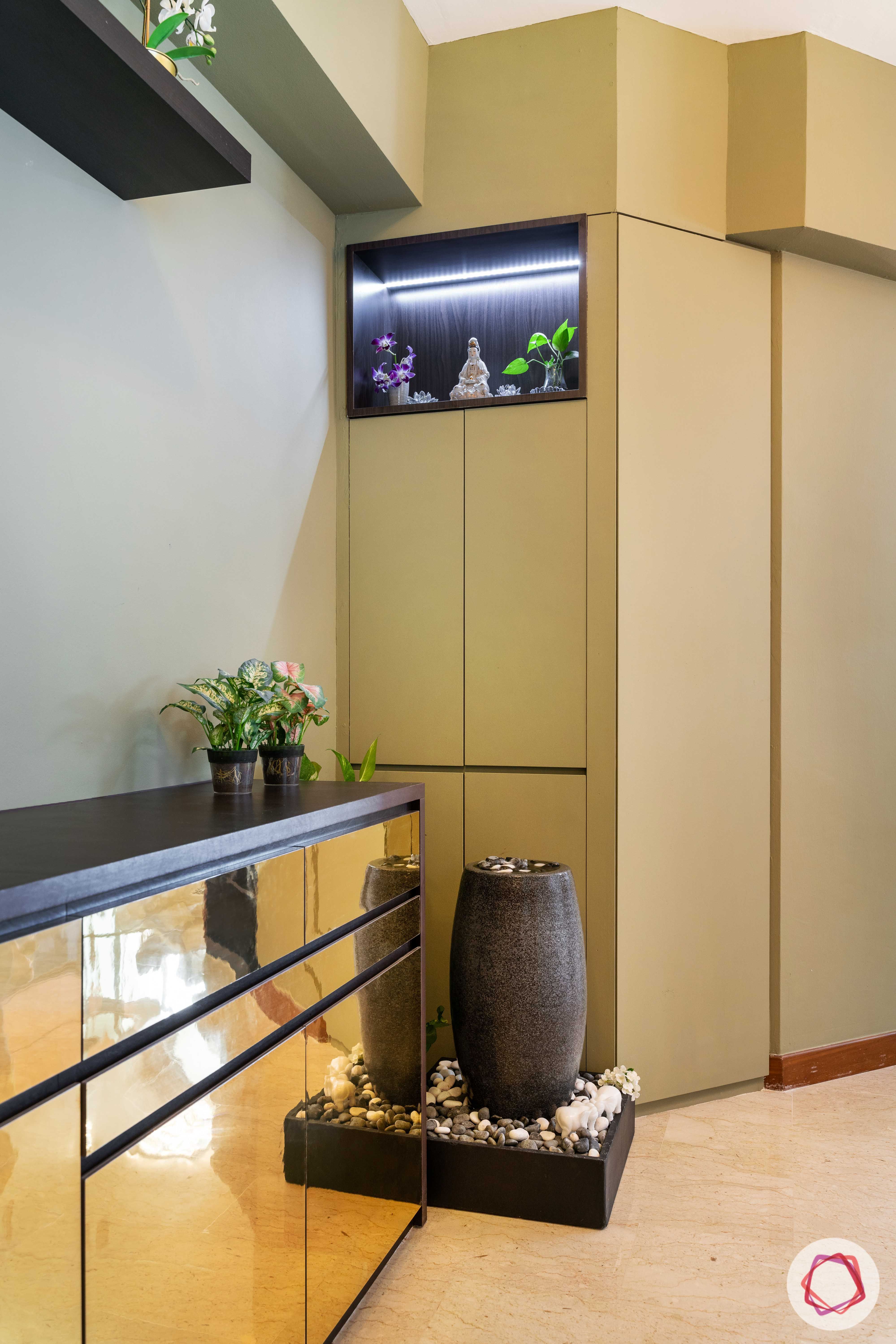 First impressions are important. Especially when it comes to a home. Sleek, clean and with a touch of glam, these are the boxes that instantly get ticked when you enter this home. Of course, the highlight is the glossy gold-toned console table paired against a greyish blue wall. In addition, the seamless storage cabinet next to it stands tall in a sand hue with a highlighted niche.
Cosy living with functional cabinets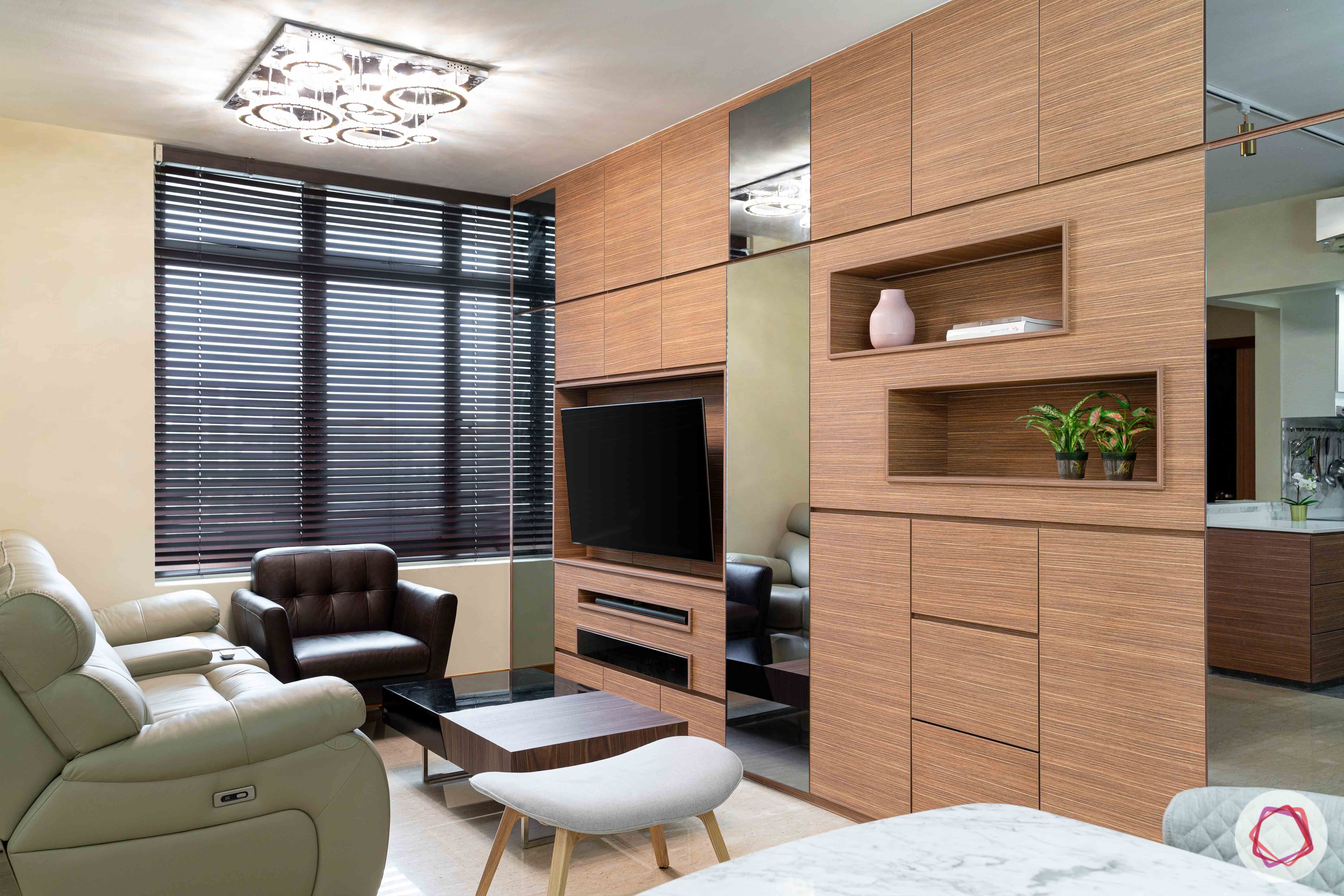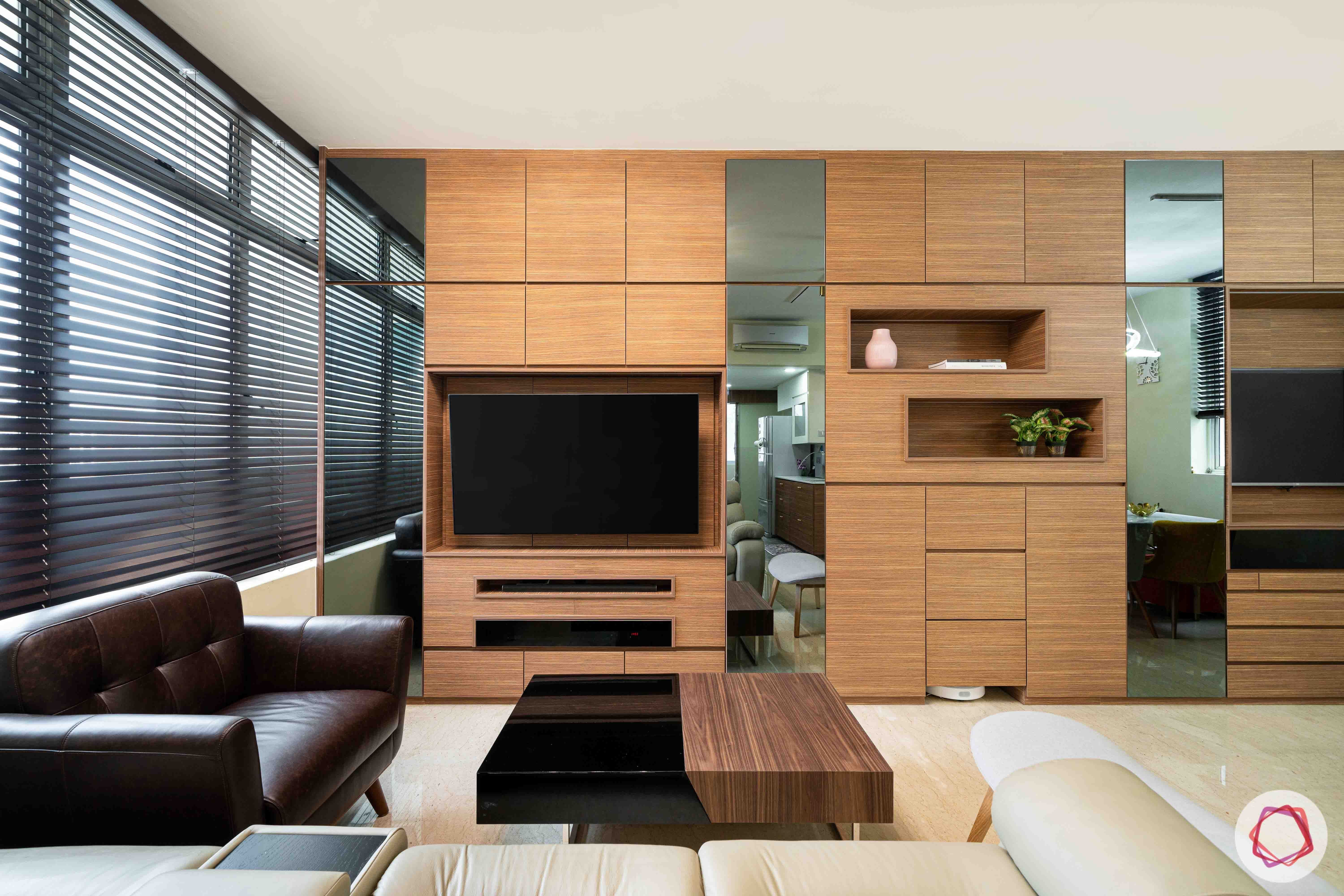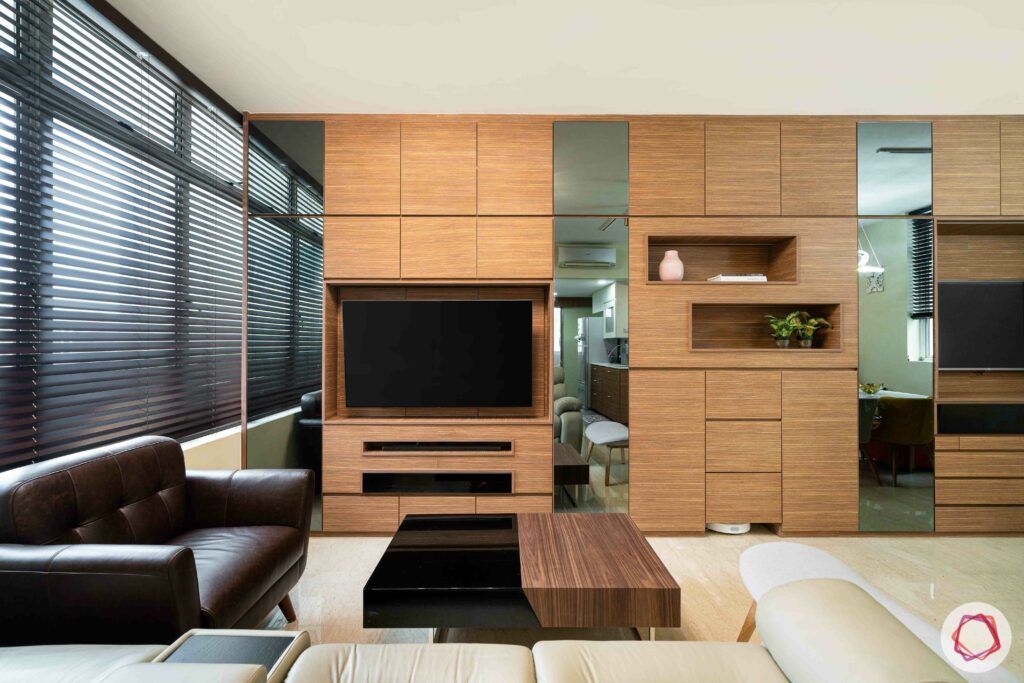 The living room scores on comfort. With cosy seating options and a mixed ganache-like coffee table, the room is doused in neutral tones. Balancing style and functionality, a TV unit in walnut brown laminate is the focal point of the room. Featuring mirror panels, a mix of cabinet sizes, and niches, the unit is a clear example of fine craftsmanship. An accent light adds a touch of intrigue as well for this condo interior design.
Pop of yellow for the dining nook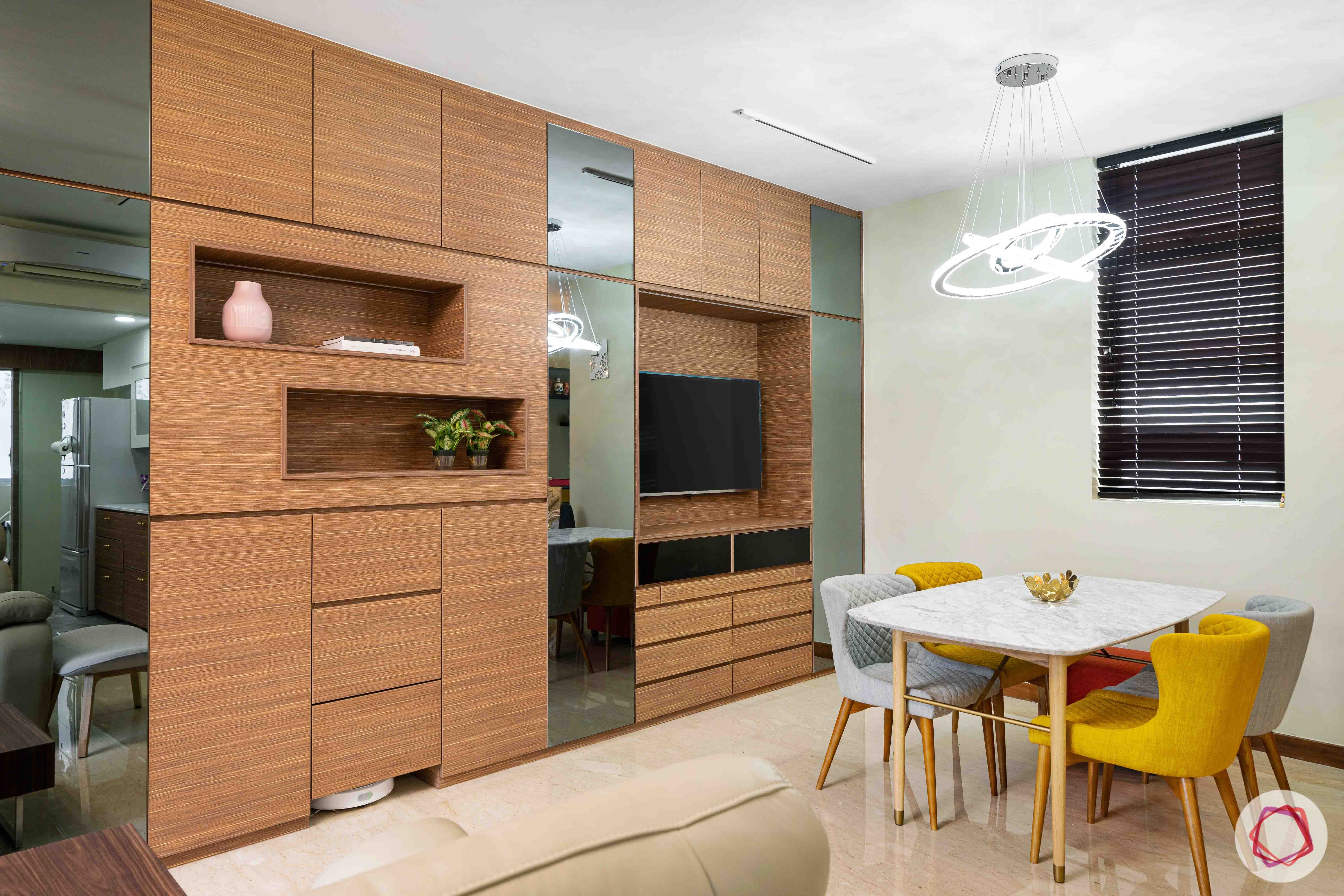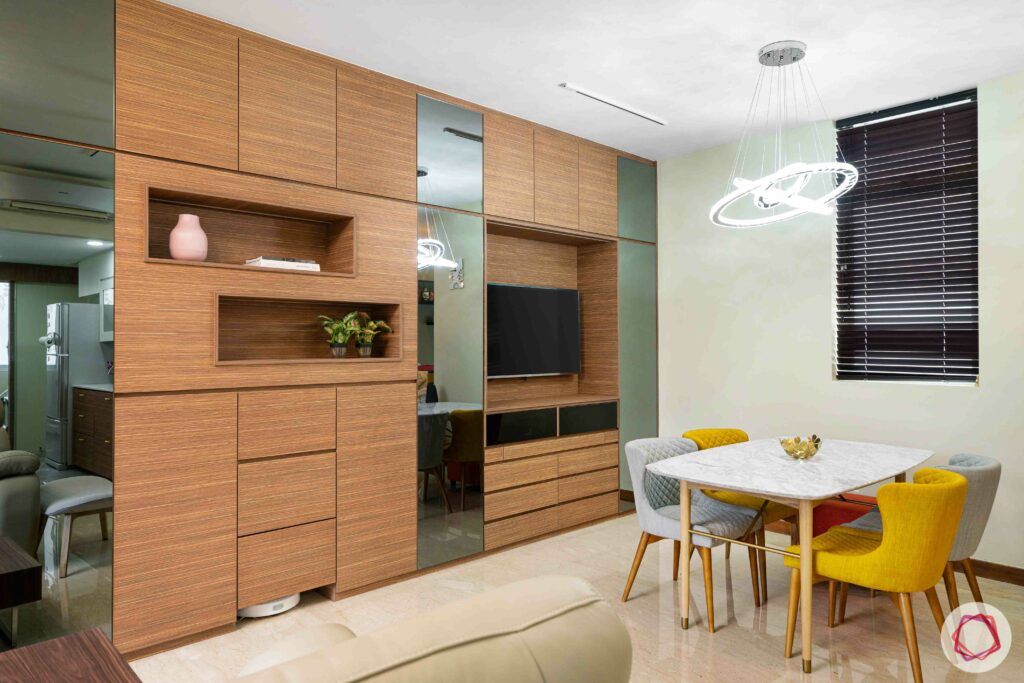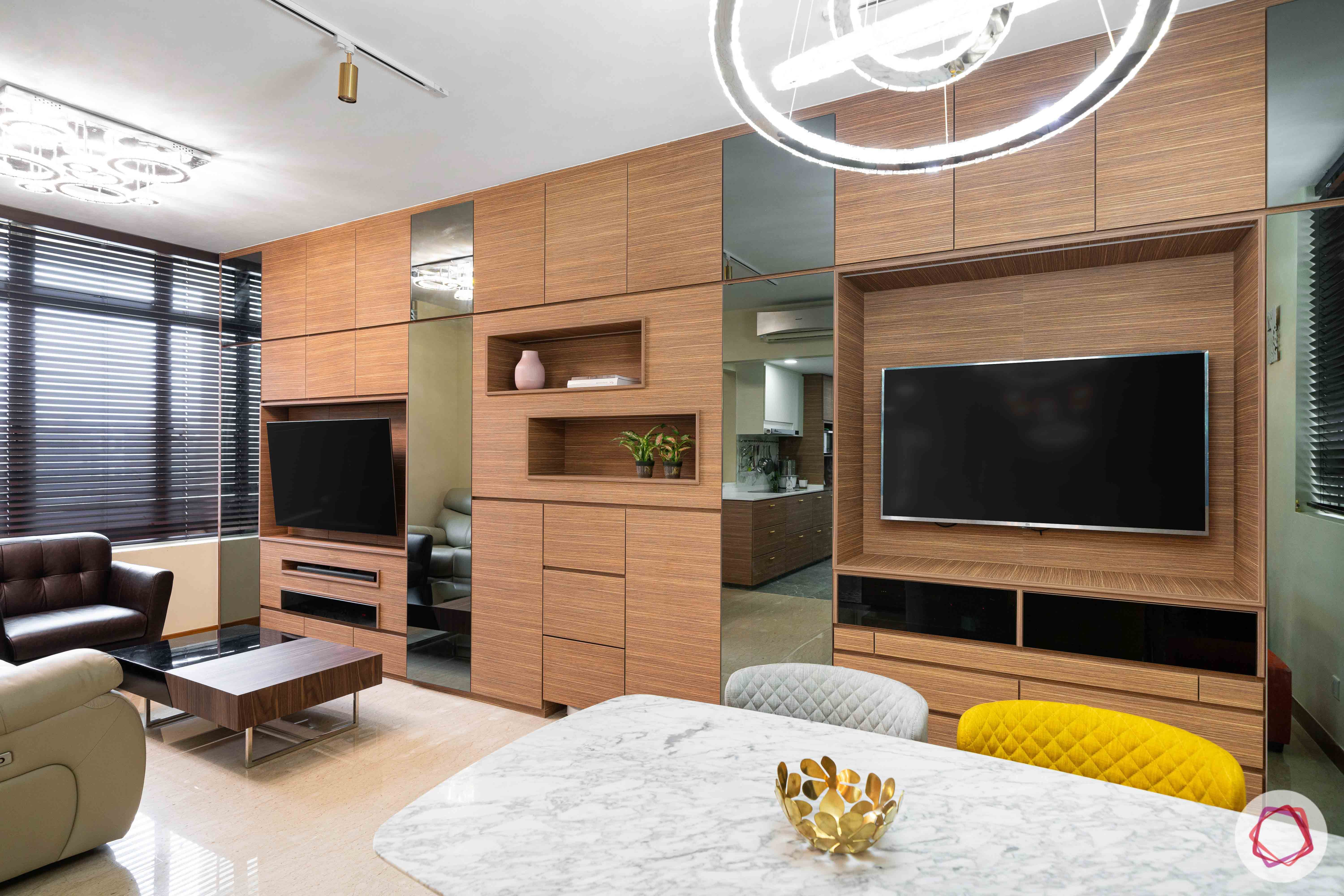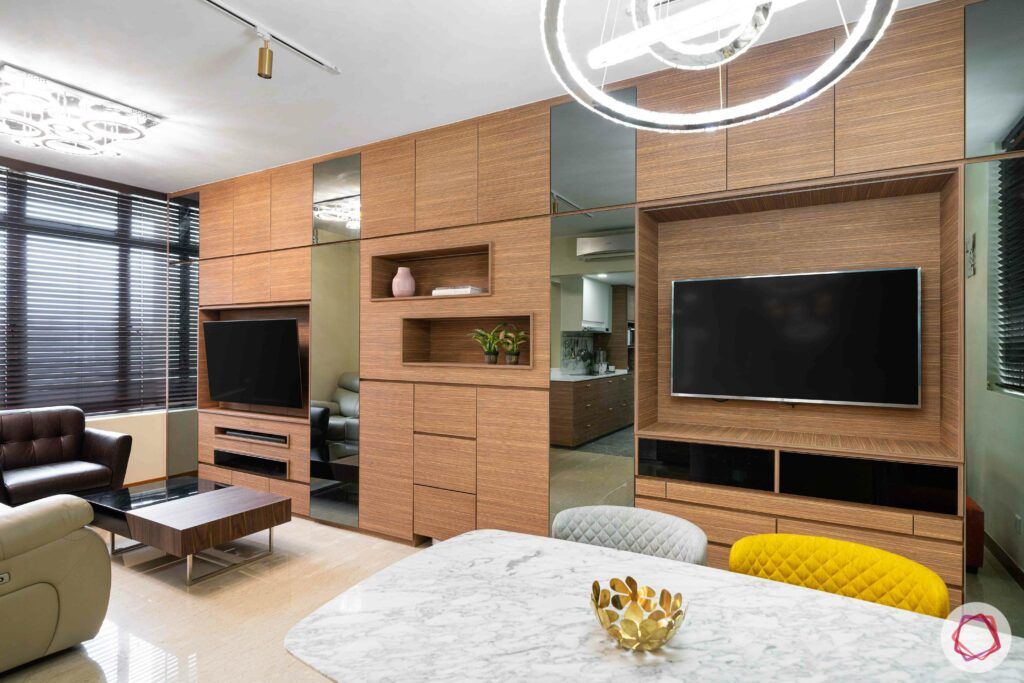 The floor-to-ceiling unit that also extends wall-to-wall, forms a nook with the dining space as well. We especially love the pop of yellow for the wingback chairs and the elliptical rings light fixture that brings in a subtle drama.
Bright in Neutrals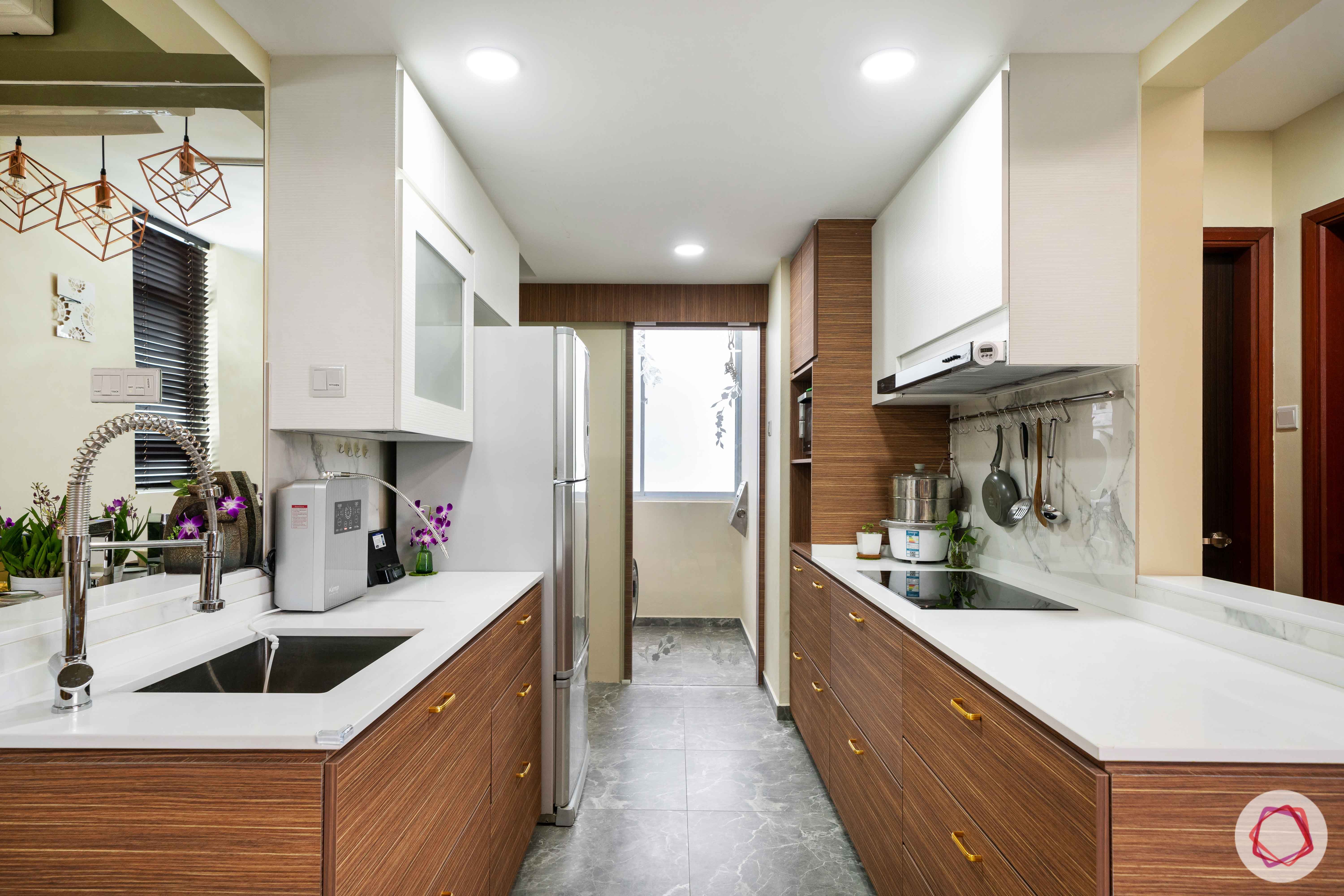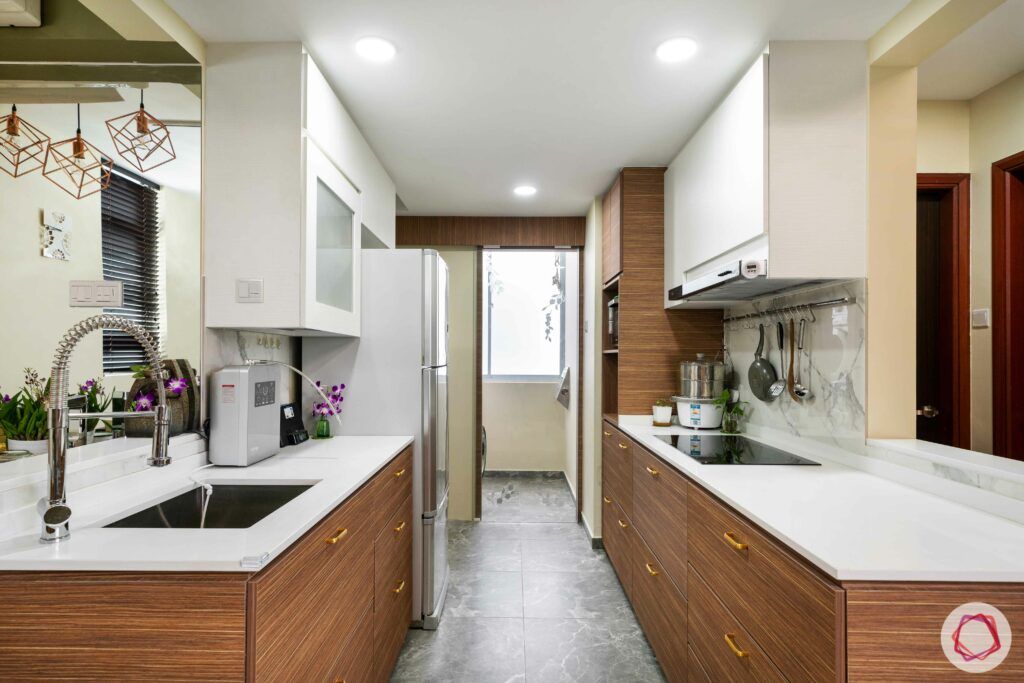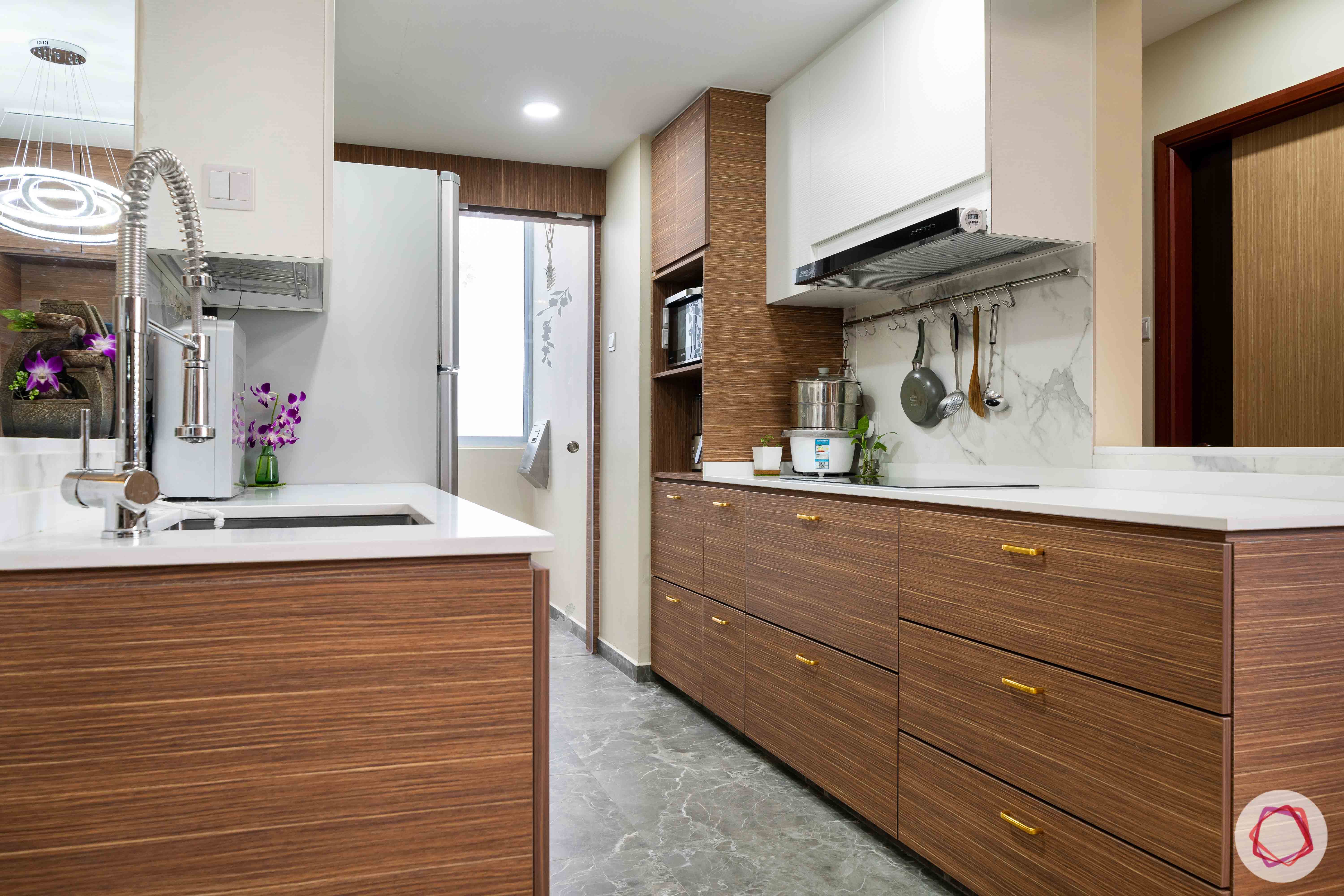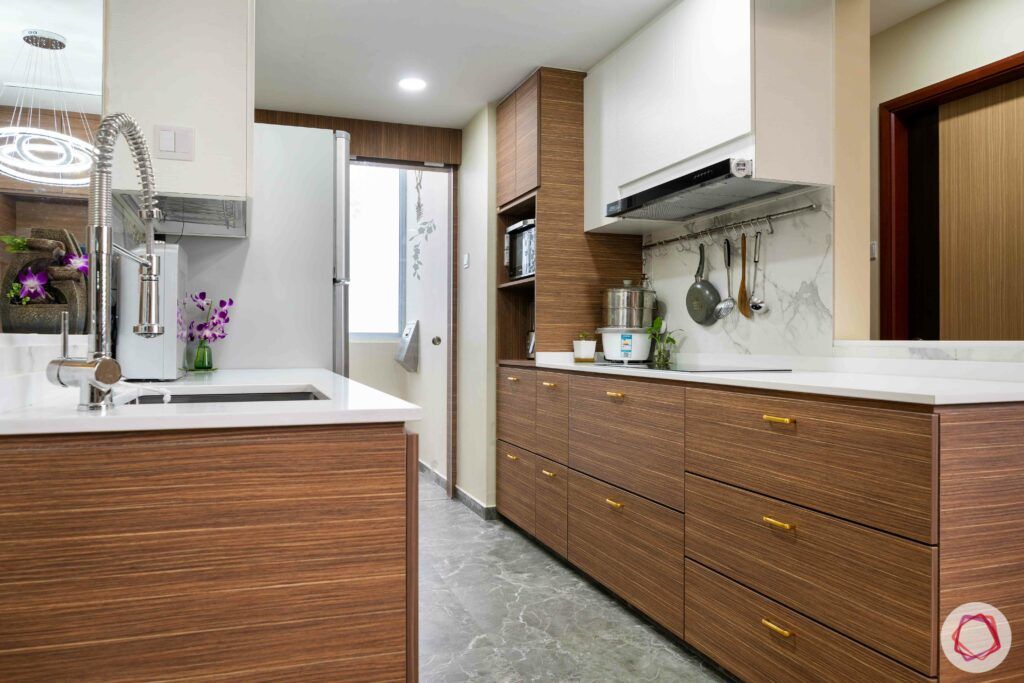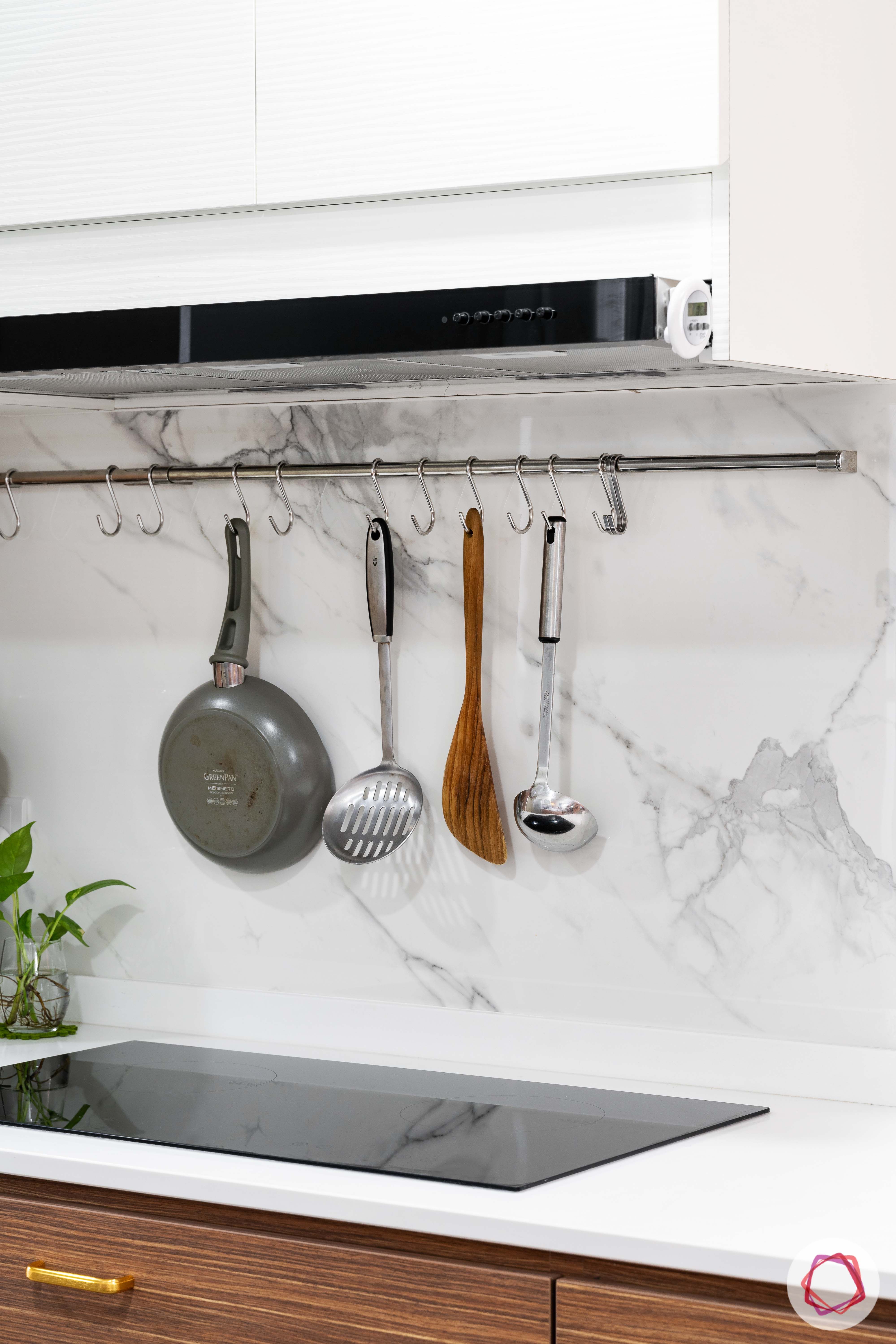 The kitchen for this condo interior design stands in an elegant rosewood hue and pristine white combination. Thanks to its low-maintenance, laminate was the easy choice for the kitchen cabinets. William dressed all the storage options with gold bar handles. In addition, he put in a simple under cabinet hanger rack for ladles and other quick essentials. The Corian onyx countertop and marble-esque wall tiles seal the deal.
A rustic toilet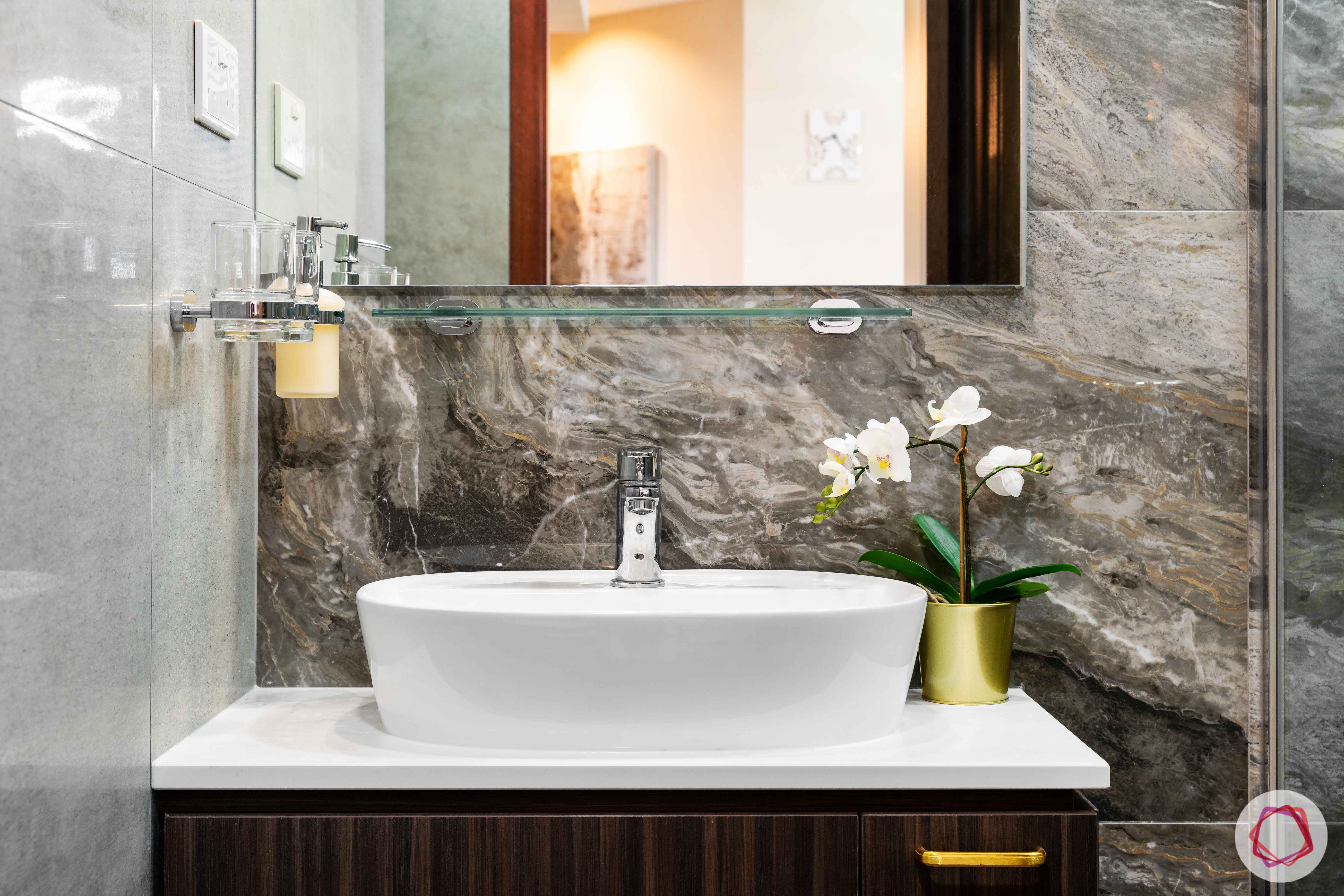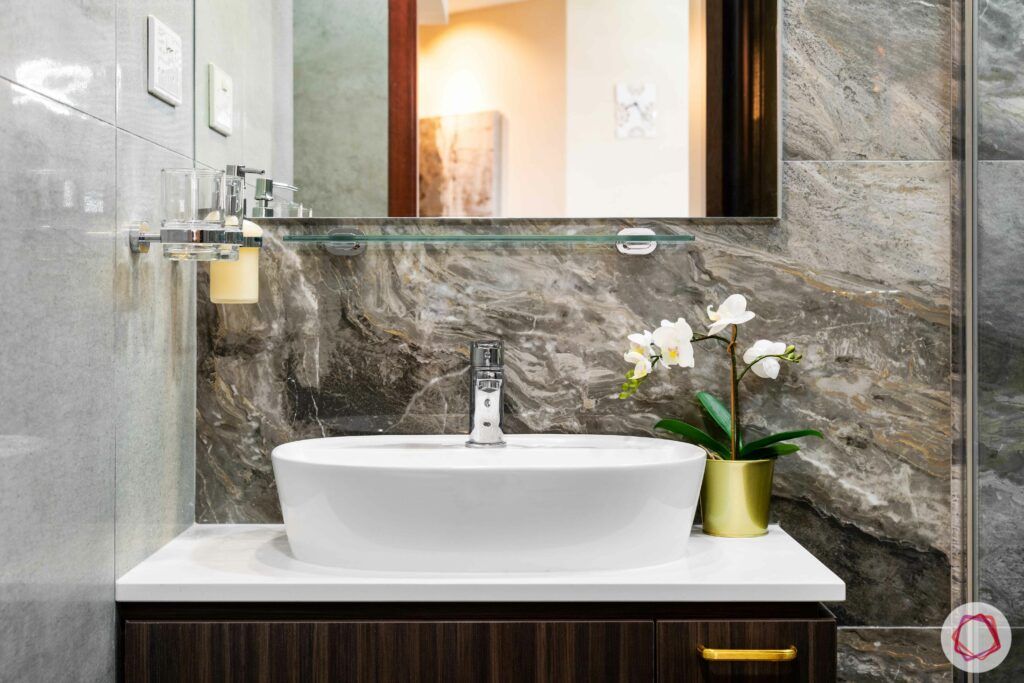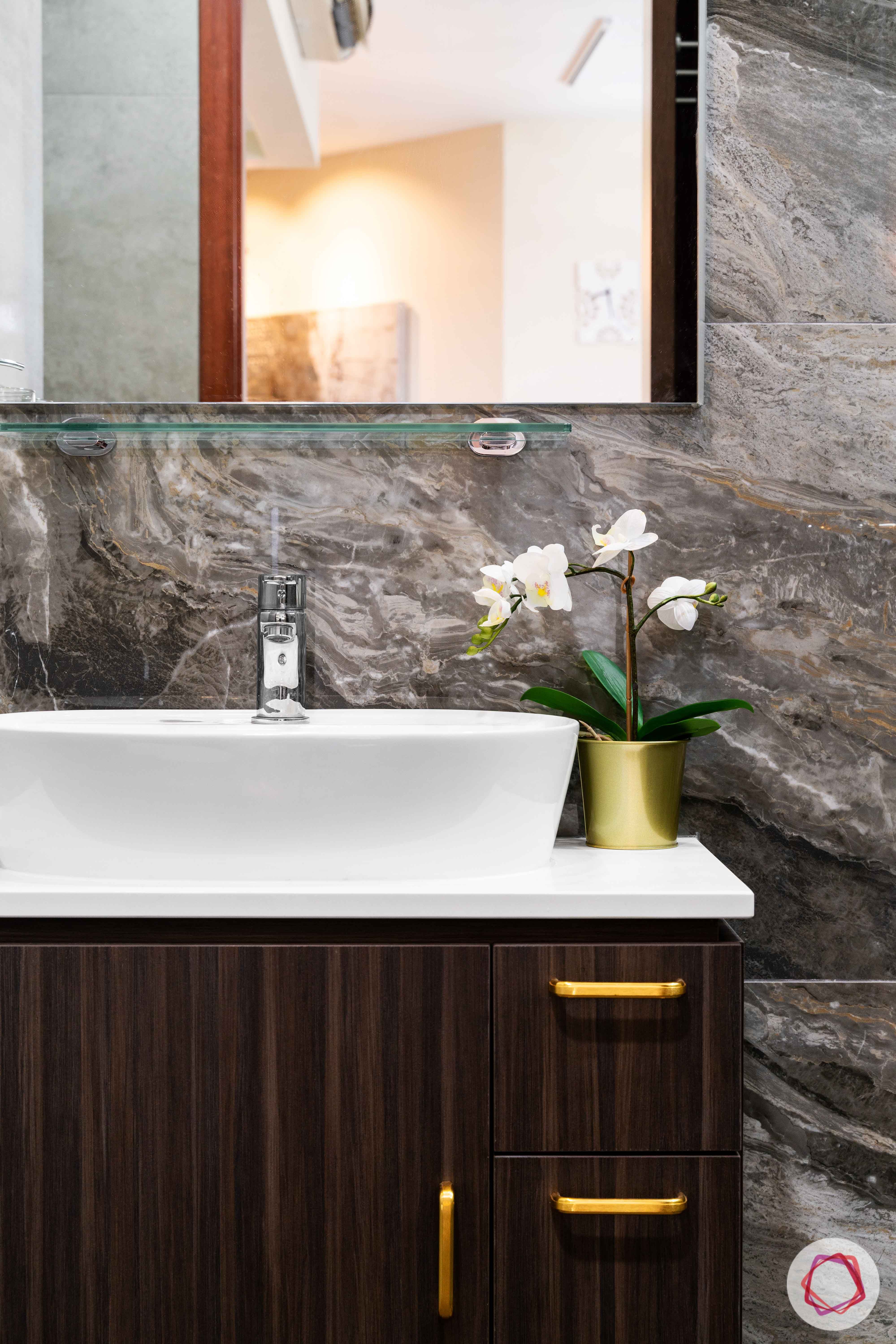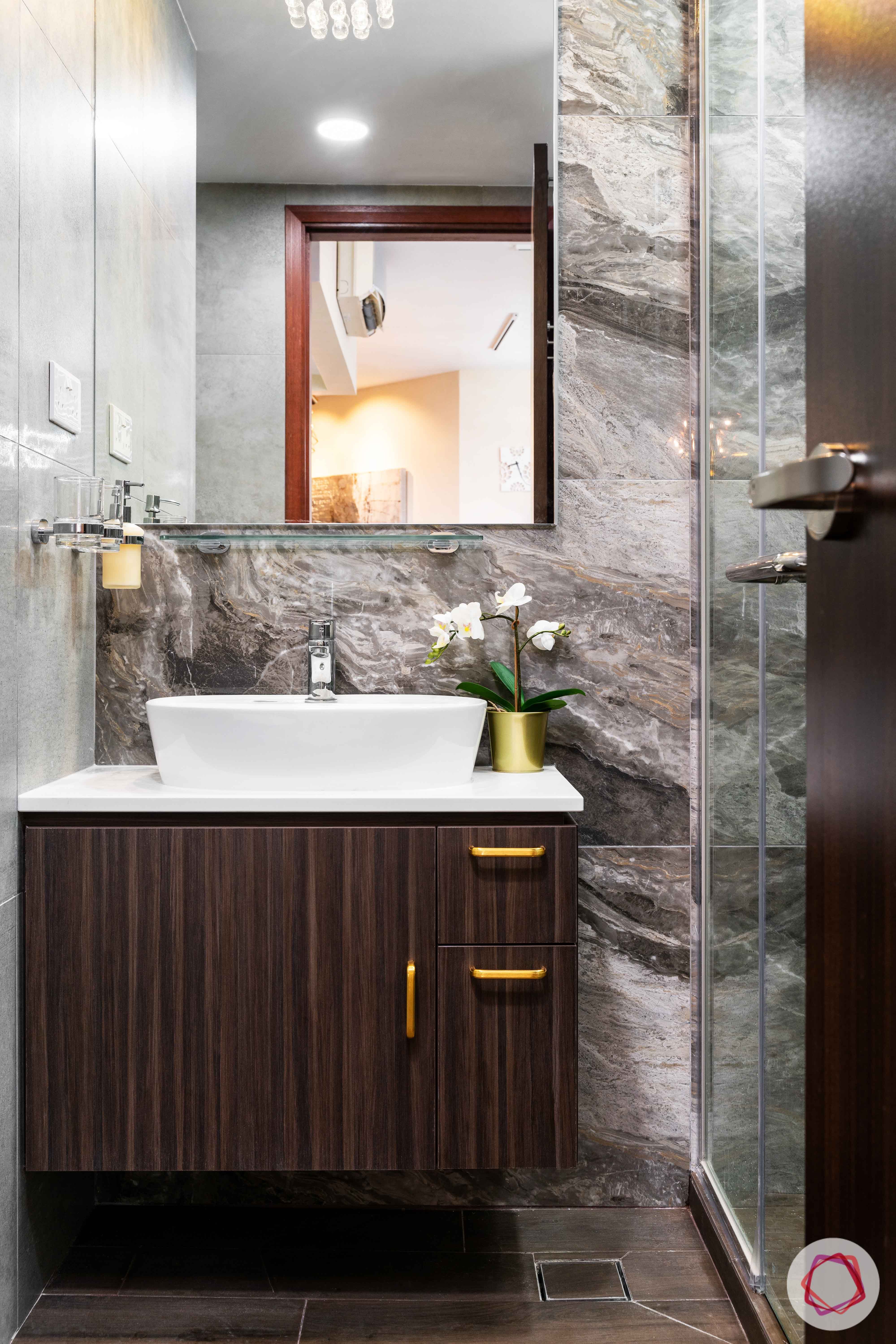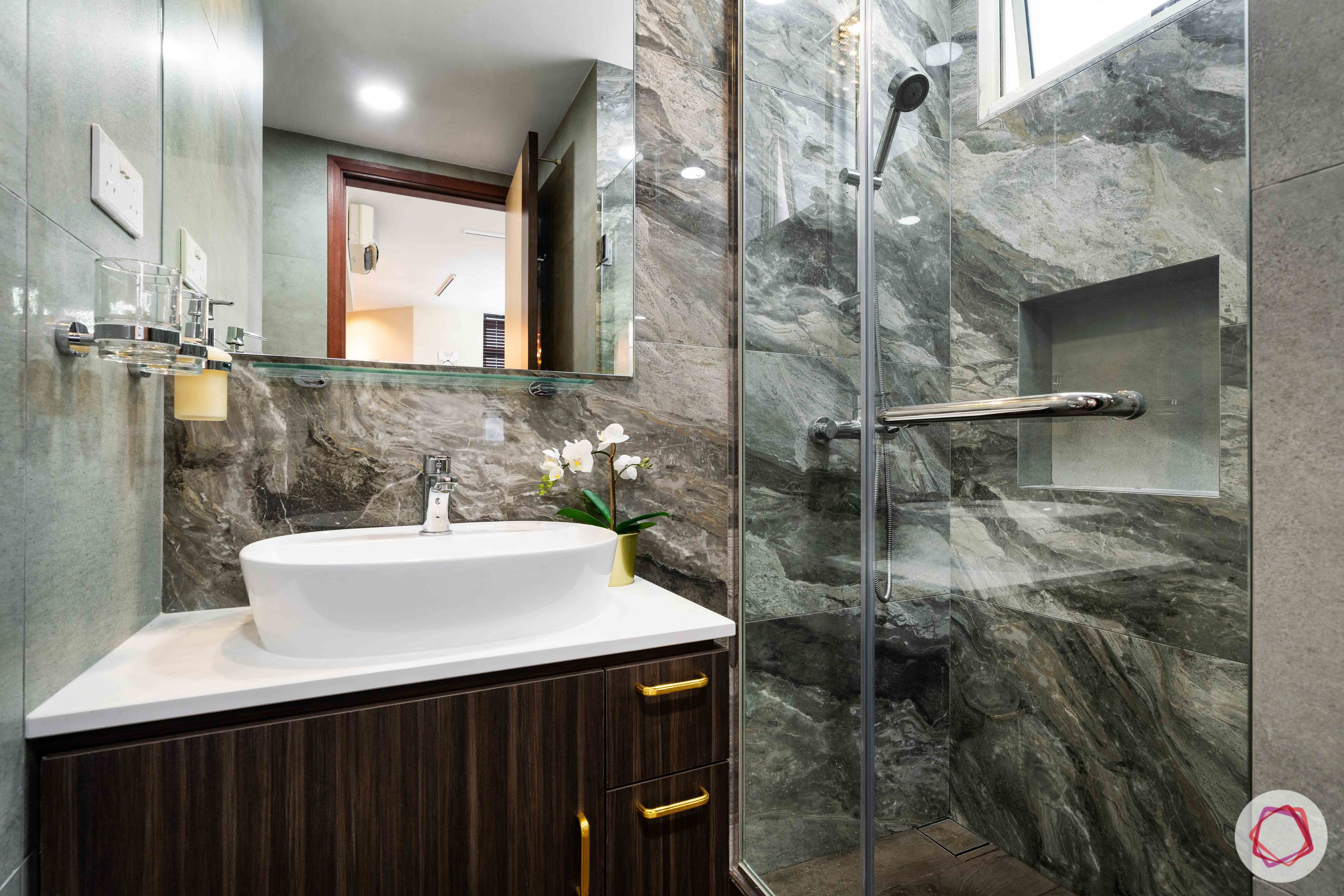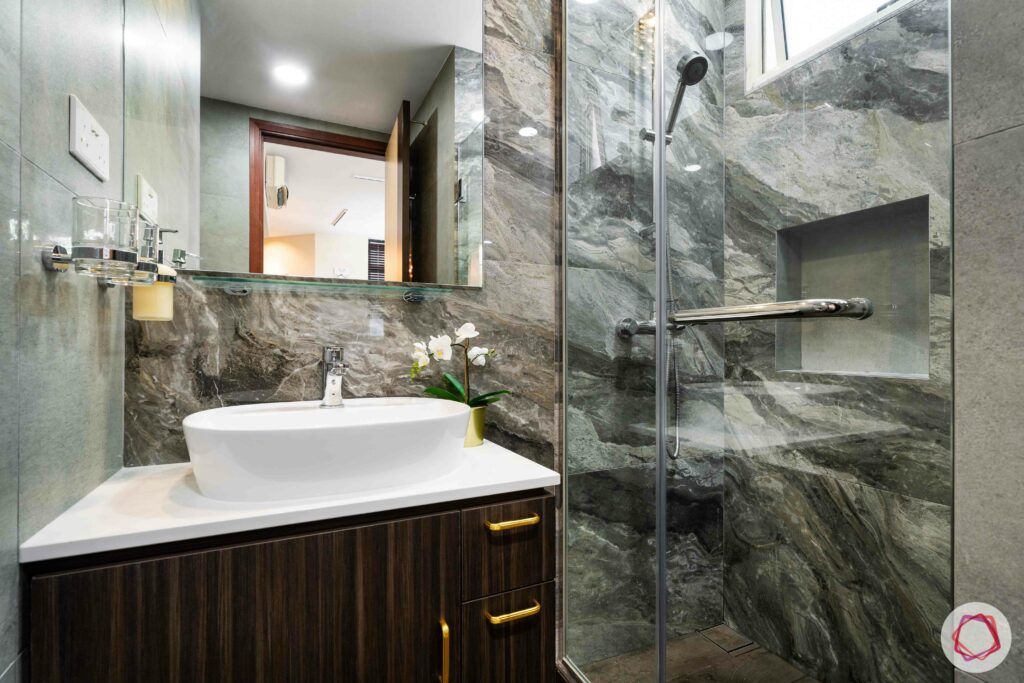 Katherine and her family were particular about having dark colours for their condo, especially in the toilet. As a result, William picked an intriguing wall tile crafted out of a mixture of materials that mimicked dark marble. The textured wall plays match with the flooring as well. Topped with Corian onyx (just like in the kitchen), the pristine white sink works well with the mounted dark-hued vanity cabinet.
A chic wardrobe in matte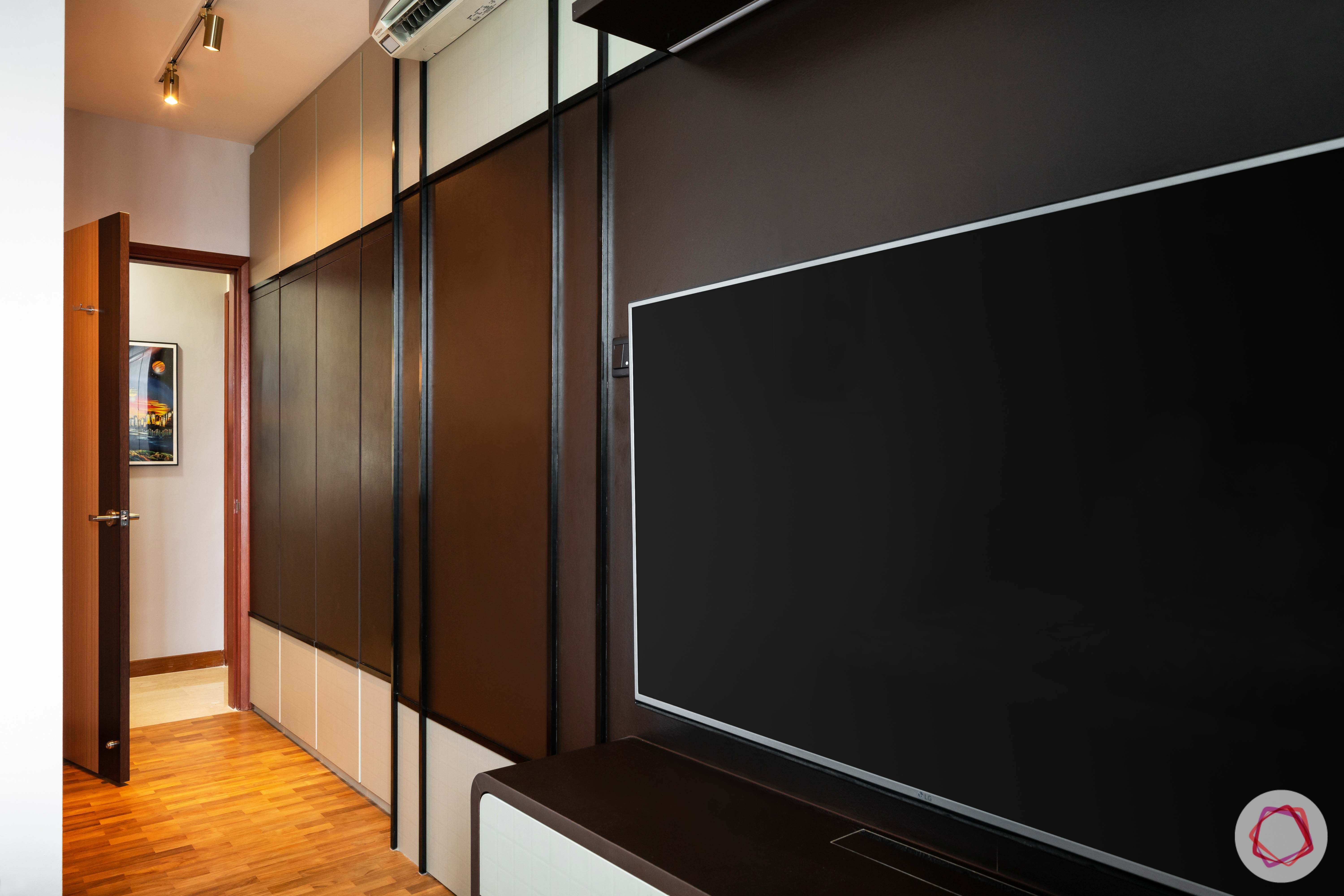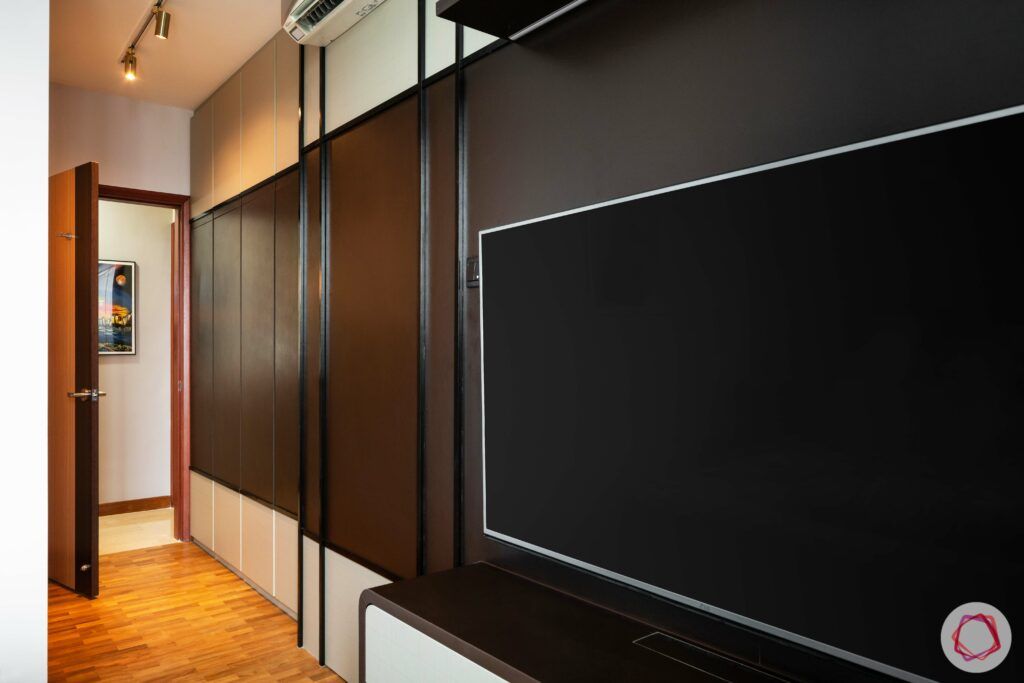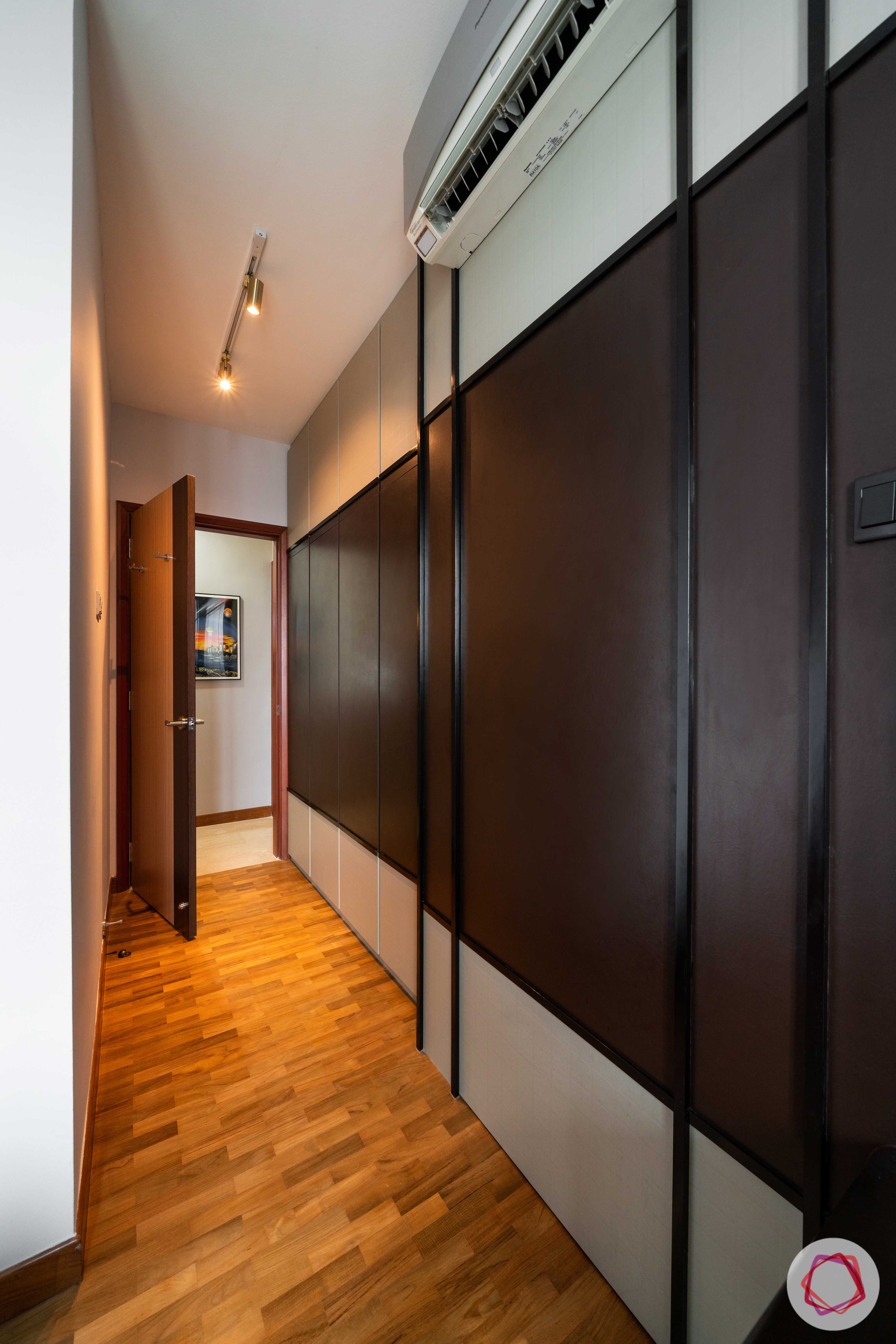 For the main bedroom wardrobe, William put in a floor-to-ceiling sliding option. Done up in KD panel, the dark chocolate matte finish looks stunning with black outlines. It perfectly complements the light wooden flooring for the room and almost looks toasty under track lights.
"It was a great experience designing Katherine's home and working with dark colours. I especially loved how the toilet design turned out to be."

– William Chong, Interior Designer, Livspace
If you liked reading about this condo interior design Singapore, we would love to hear from you! Send in your comments and suggestions to editor.sg@livspace.com