This renovation of condo Singapore is a pastel dream.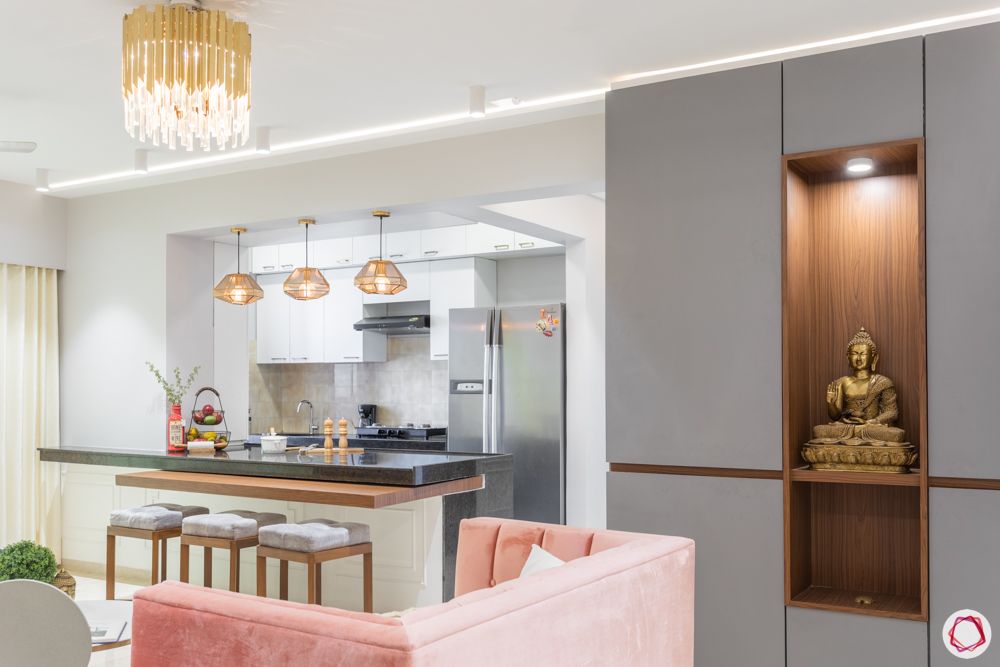 ---
Size: 3 bedrooms spanning 111 square metre
Who lives here: A young working couple and their daughter
Livspace service: Interior design and contracting for bedrooms
Renovation includes: M&E, flooring, furniture and decor, wall treatments, soft furnishings, and more.
Style: Victorian
---
We love renovating homes that have a lot of heart. And when it comes to condo Singapore, minimal with complementing pops of colour are always a sure winner. Now, throw in an elegant Victorian style and you've got a home that's sure to catch eyeballs. Like how we renovated this 3 bedroom. The brief? This young family wanted to live in an Victorian-inspired era with wall mouldings and chic hues.
Keeping up with the true condo interior design of Singapore, we also put in space-saving features to keep the design clean and breezy. Let's take a look-see!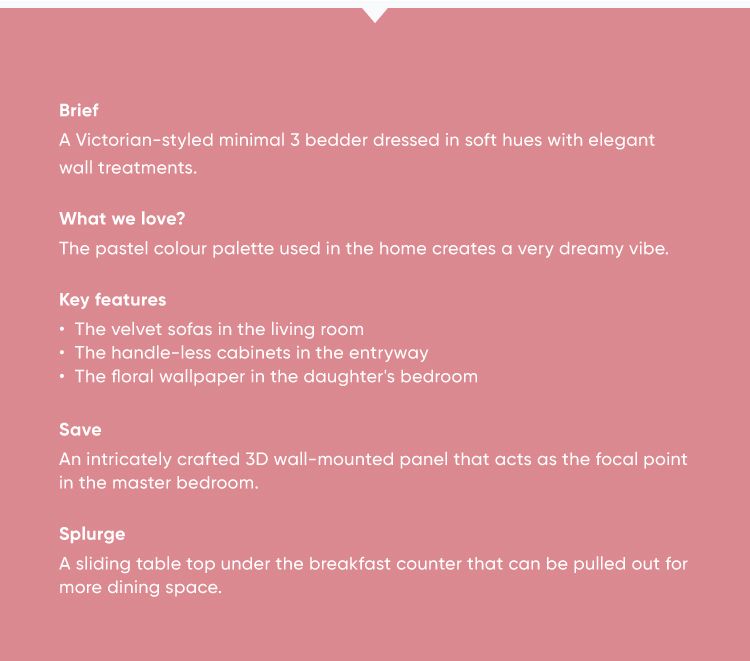 Velvet Haven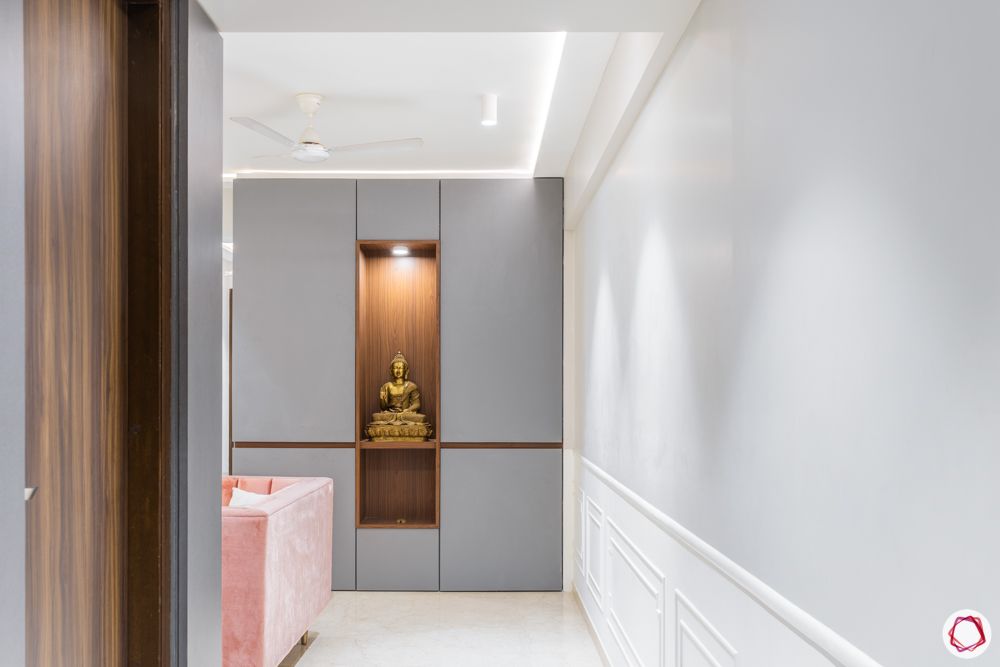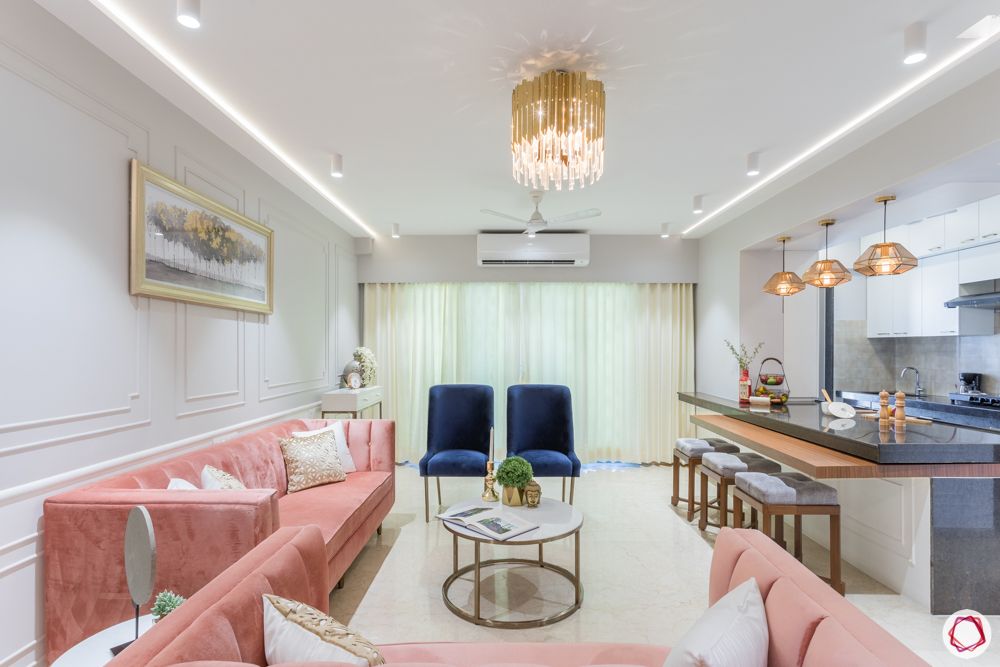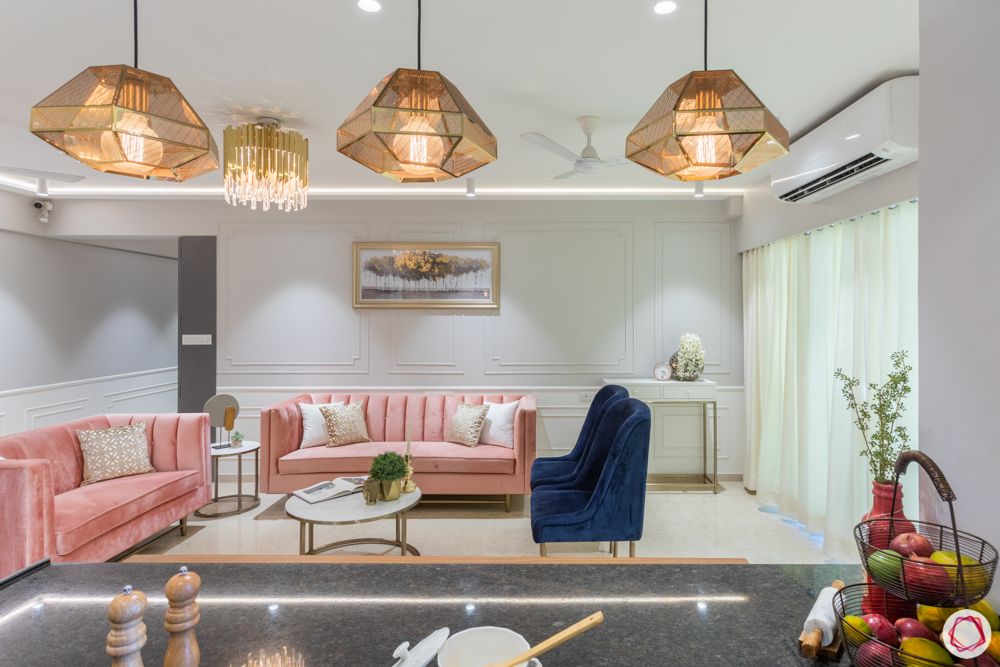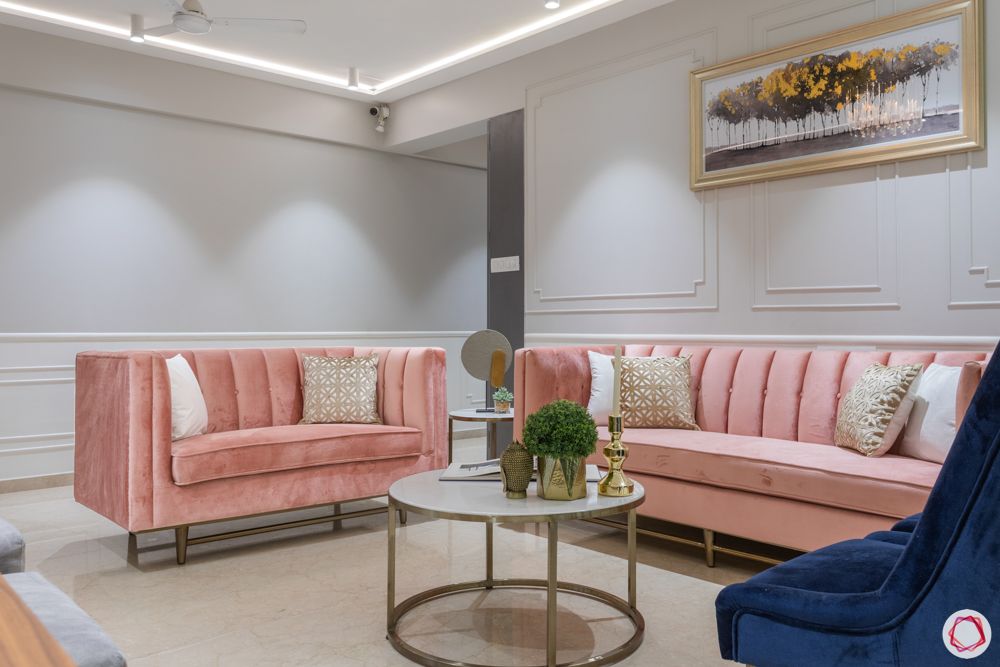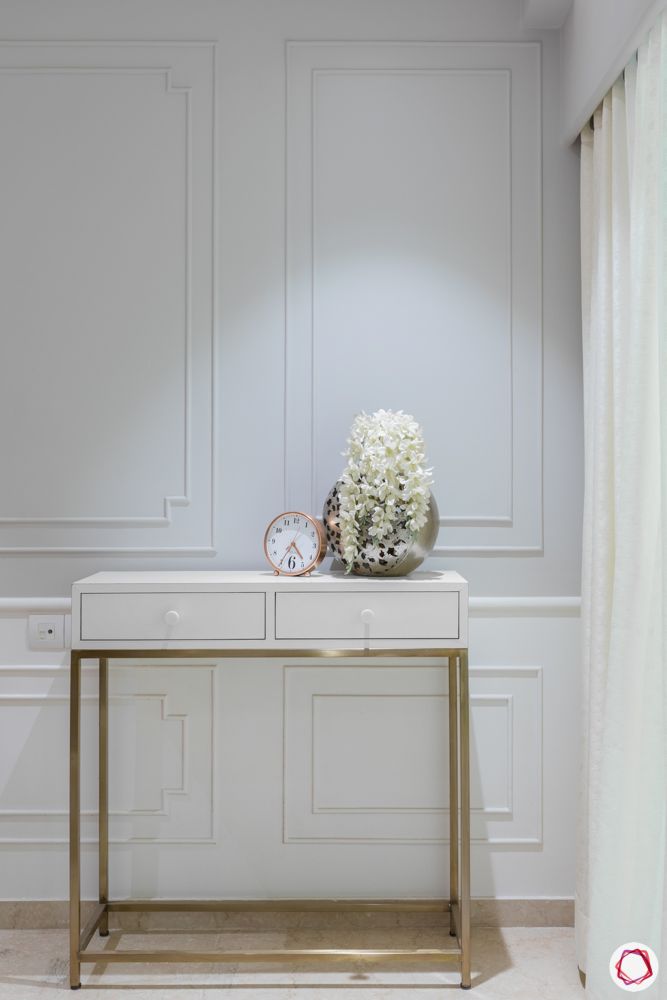 First impressions are a big deal, even when it comes to condo Singapore. Stepping into this home, it would take a few minutes to take in all the chic elements that light up the space. Moreover, a storage cabinet in smooth slate grey laminate stands right at the entrance without handles. Of course, the highlight of the cabinet would be the statue of Buddha placed under a spotlight in a wooden niche. In fact, we love how storage, display and a style statement are rolled into this element!
While two of the sofas are in a happy peach, two lounge chairs in royal blue have been paired together as a contrast. A sleek round coffee table with a white top centres the space. In addition, a console table with two drawers standing on brass legs has been tucked into a corner.
We designed the walls with special care, where the top half flaunts a light grey hue and the bottom portion stands in white. The wall mouldings and false ceiling with track lights in particular elevate the softness of the space.
Efficient Kitchen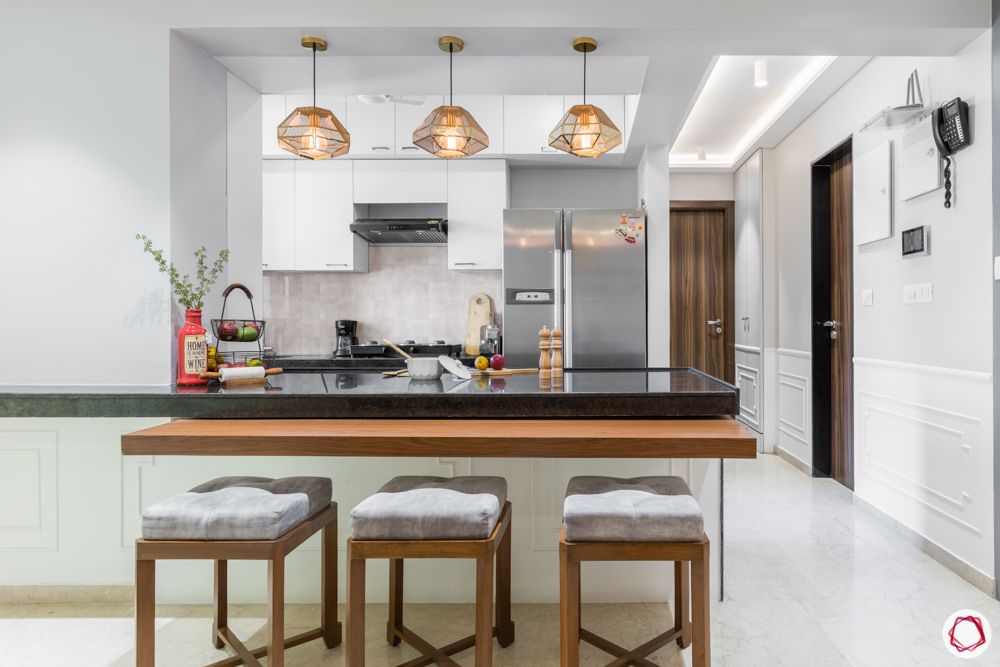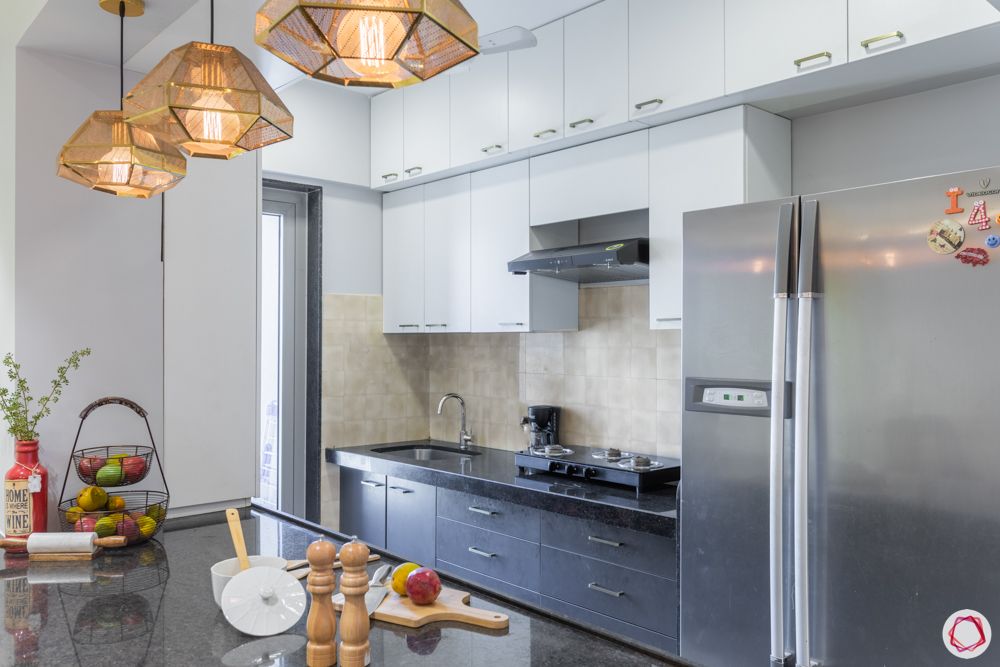 Renovated in white and dark grey, the kitchen is packed with ample storage. Of course, the highlight is the breakfast nook that's lit up with three geometric-esque light fixtures. Also, if you look carefully, you would notice a wooden-toned table top has been tucked under the breakfast counter. This can be pulled out as additional dining space when the entire family decides to sit and dine together – a setting that's perfect for any condo!
Dreamy Bedroom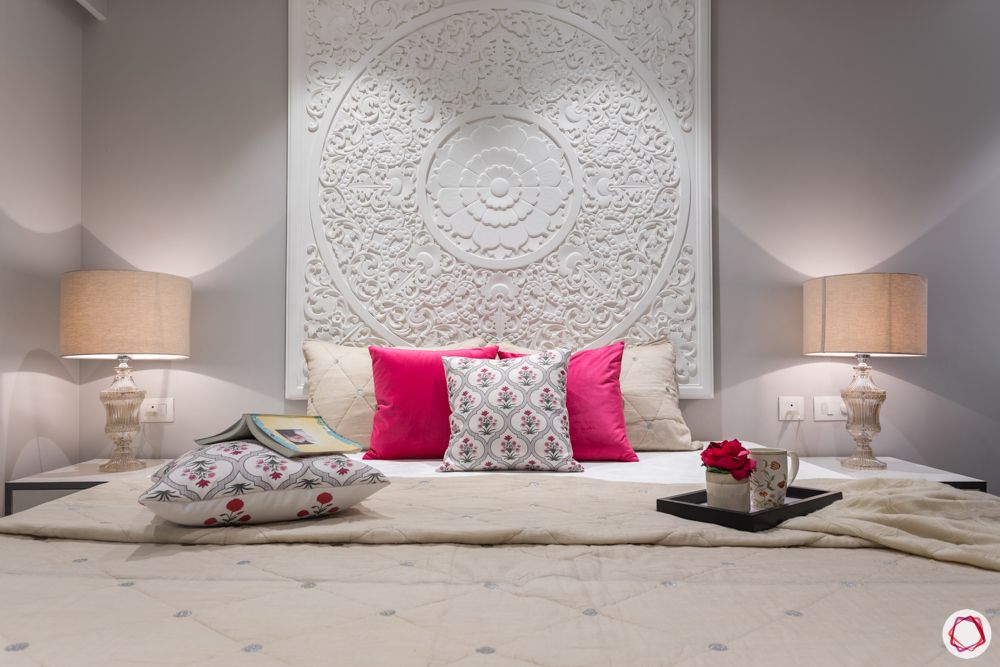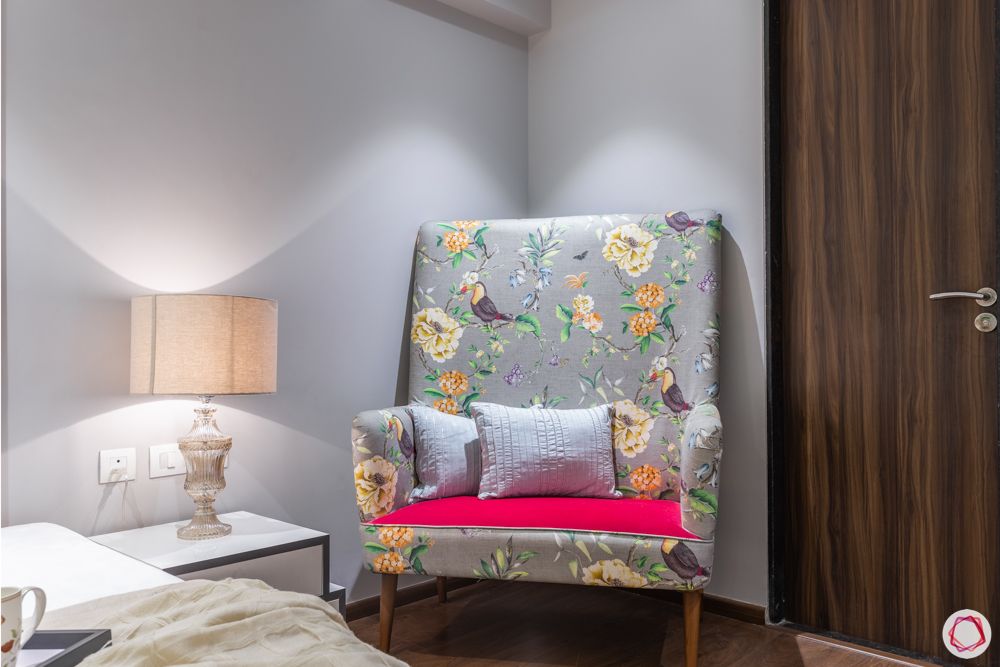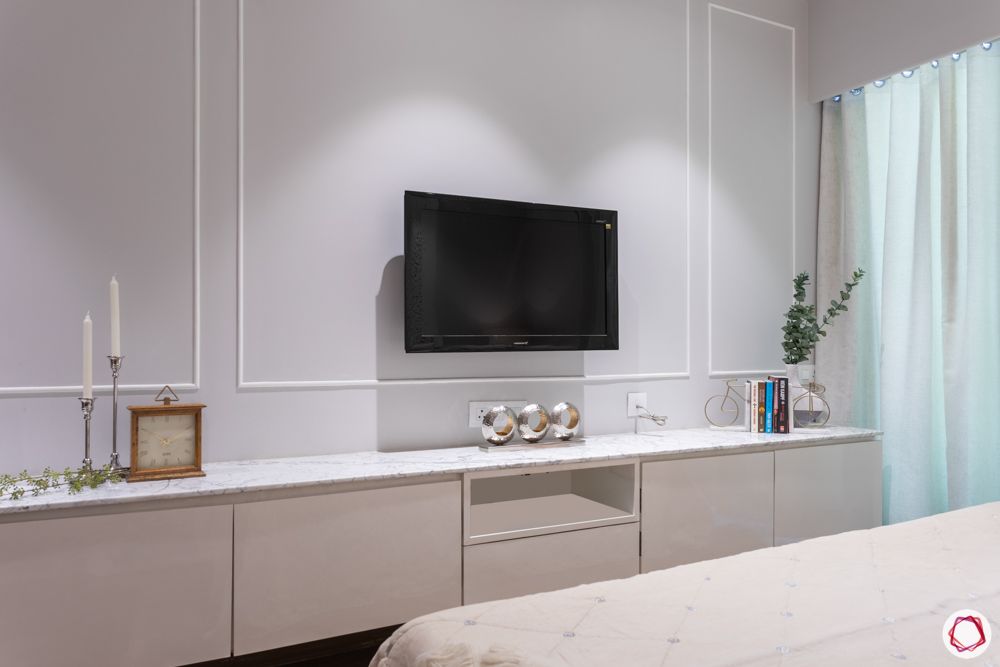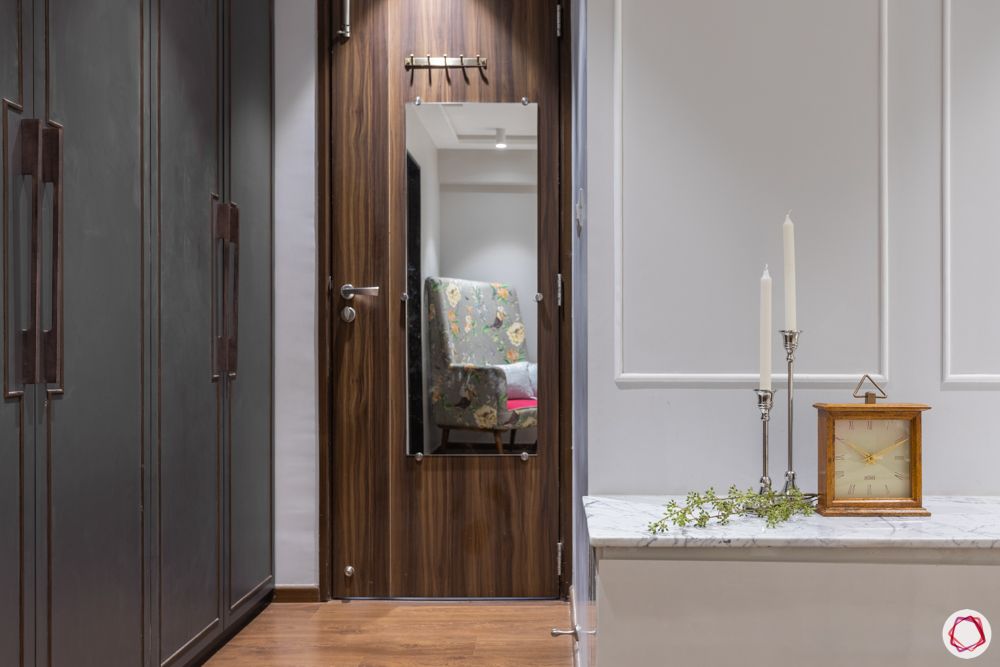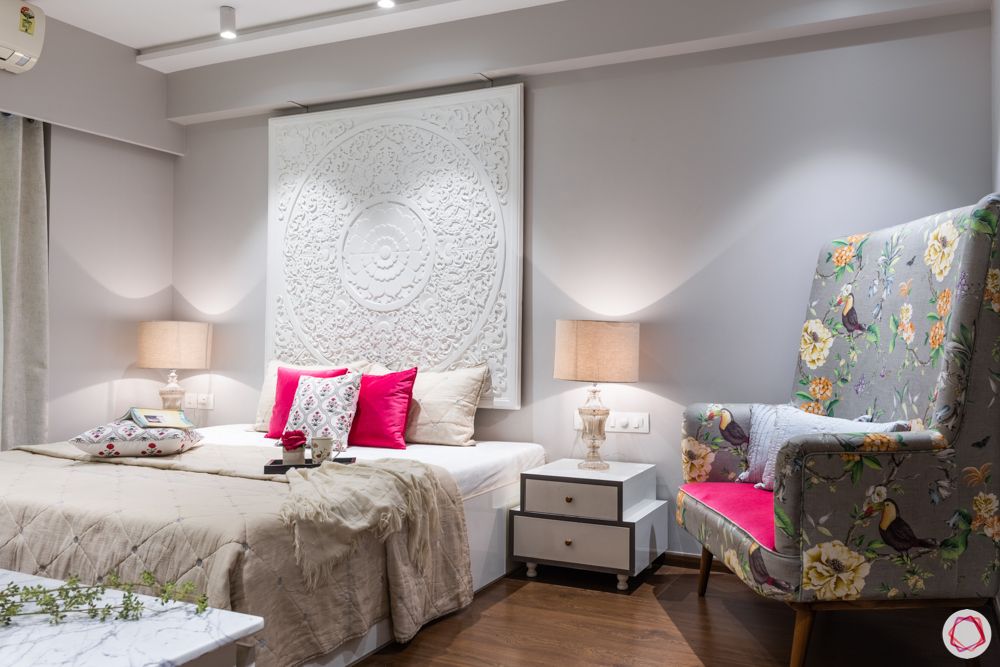 The master bedroom deserves a round of applause. Essentially, it is flaunting the same elegant grey walls with mouldings, the focal point is an intricately crafted 3D panel above the bed. Additionally, a floral armchair big enough for two people is placed beside the bed, making for a comfy corner to snuggle with a book. There is a sleek beige laminate TV unit here on which there is a statement Statuario marble. Moreover, a walk-in wardrobe stands in the corner of the room in slate grey with copper finish moulding.
Floral & Peppy Bedroom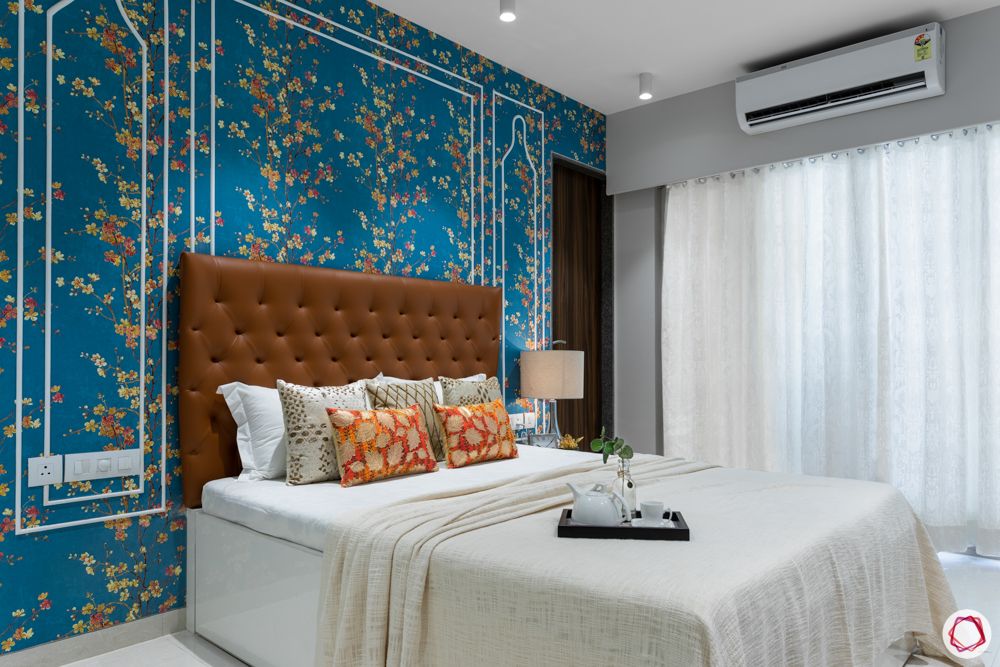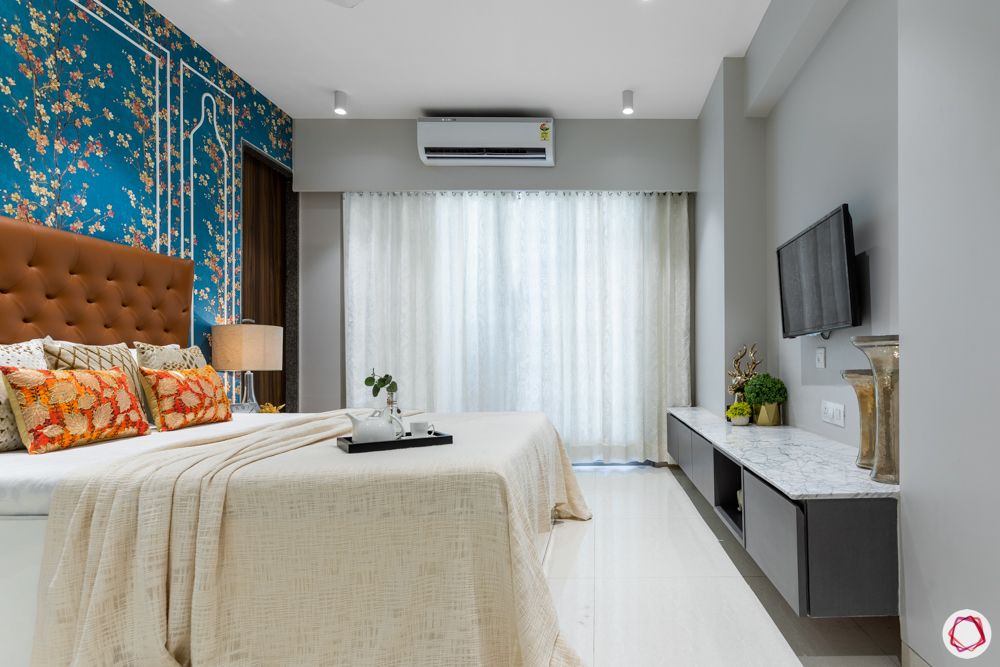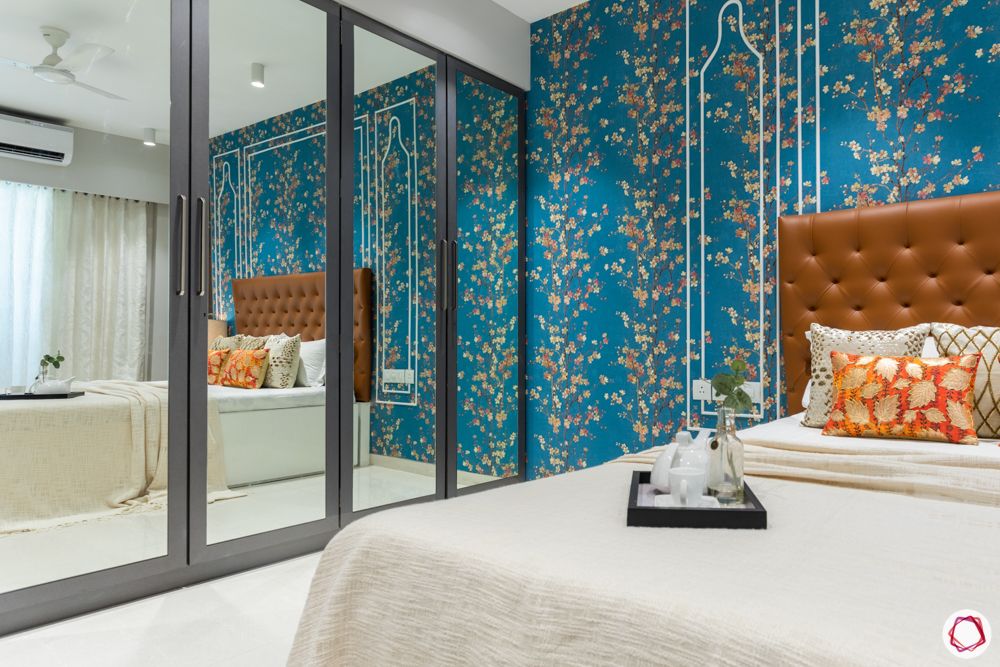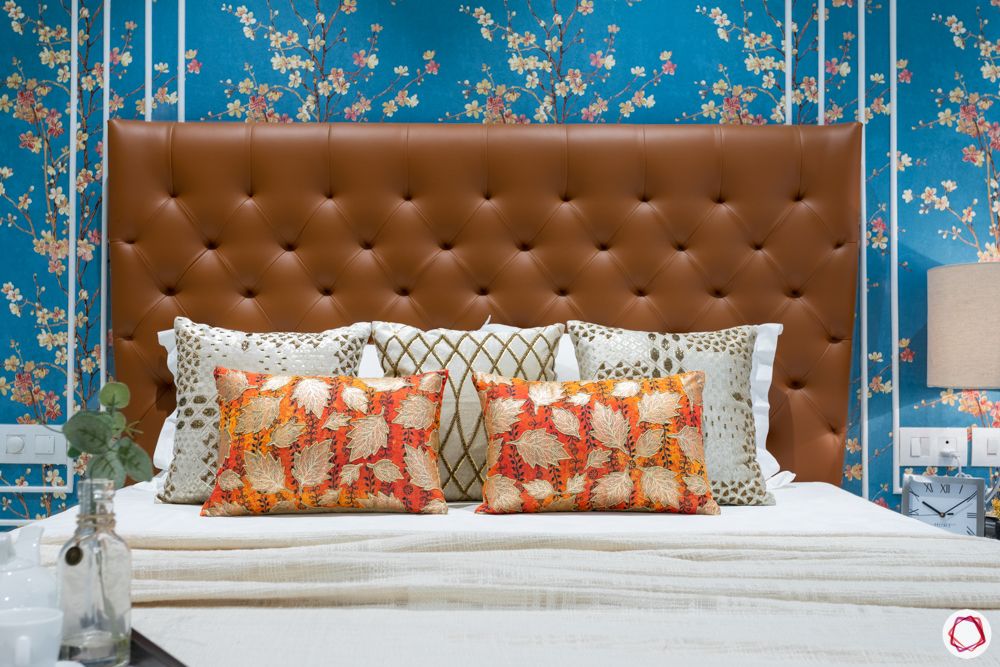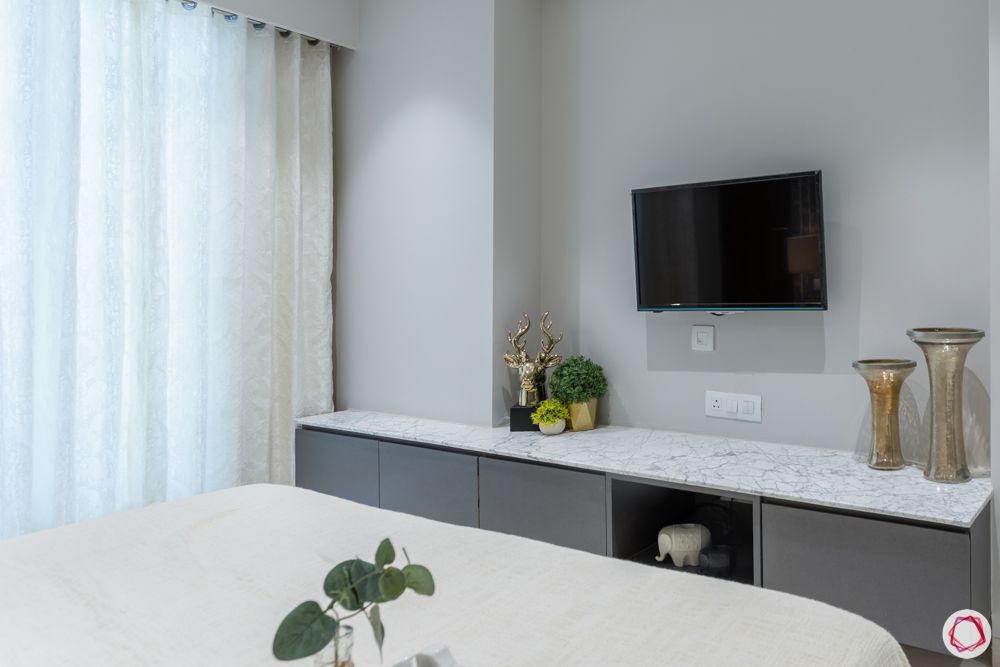 The second bedroom features an exotic wallpaper as the backdrop. In fact, it contrasts with the brown leather tufted headboard. In addition, opposite to the bed, a TV unit with Statuario marble top and grey laminate drawers keep things elegant and pristine. Another intriguing part of the room is the wardrobe done up completely with mirrors to save up on having a separate unit for a dresser. Also, if you look carefully, you would notice the lofts on top of the wardrobe have been cleverly done in the same ceiling colour for a barely-there look.
Minimal Bedroom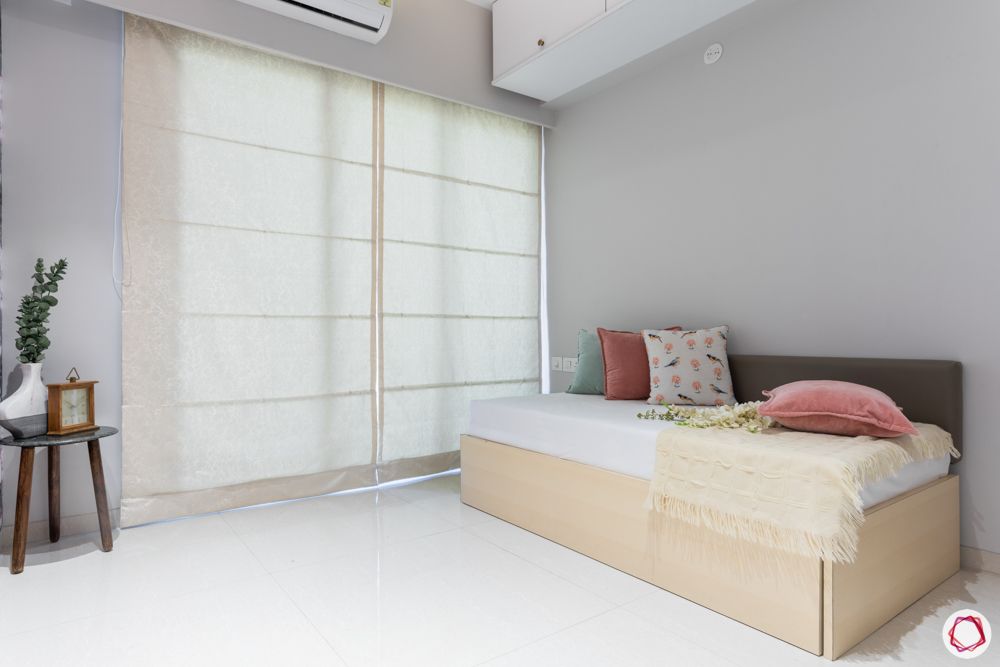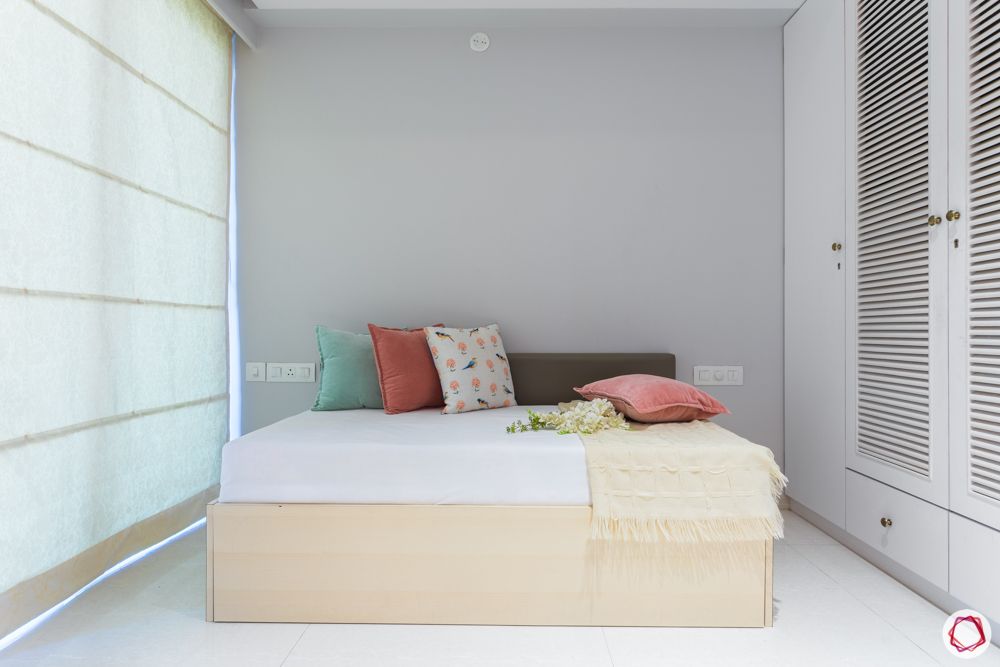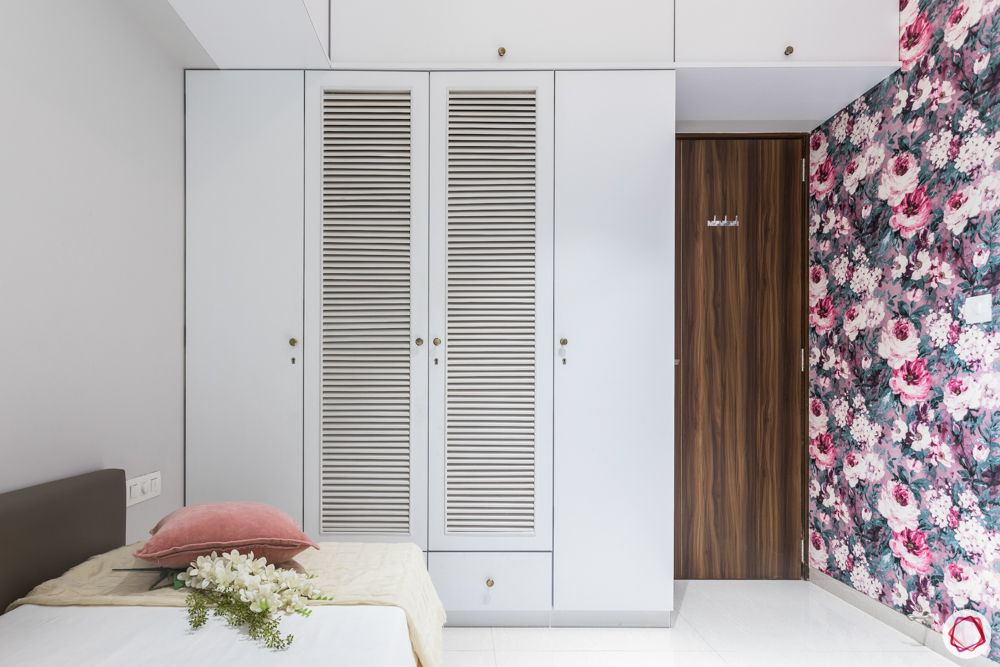 The daughter's bedroom is minimal at its best. We love how the Victorian theme runs to this room as well. Keeping white as the base palette, the space features a sofa-cum-bed and wardrobe alone. However, the interesting part of the wardrobe is that it's been done with white laminate on the extreme sides and louvre doors in the middle. In addition, lofts have also been placed for extra storage. A striking floral wallpaper adorns the centre wall of this room.
Send in your comments and suggestions.