You'll never guess that the marble-esque finishes in this private condominium in Singapore are actually glossy laminate! The interior design of this Singapore condo uses monochromes to recreate the look and feel of the interiors of a plush hotel.
---
Who livs here: Mr Chua NS and his wife, Haniza Hashim
Type of home: Condo spanning 100 sq. m.
Livspace team: Interior designer Noel Tan and project manager Kent Loke 
Livspace service: Living room, kitchen, master bedroom and study, including design, demolition, masonry, wall finishing, false ceiling, floor polishing, painting, lighting and electricals
Budget: $$$$$

---
Mr Chua NS and his wife, who run a home-based digital services company, were eager to have their private condominium in Singapore renovated. And since they had rented it out for about nine years, the wear and tear needed mending as well. Having gone through the designs of four leading interior design firms in Singapore, the couple had a hard time deciding — until they spoke to Livspace designer Noel Chong.
In the very first meeting, Noel understood exactly what the homeowners were looking for — this is an extremely important and underestimated step. His design ideas breathed life into the home interiors that the couple always wanted. Peek in and see how this luxurious condo Singapore design turned out!
Plush Living Room Design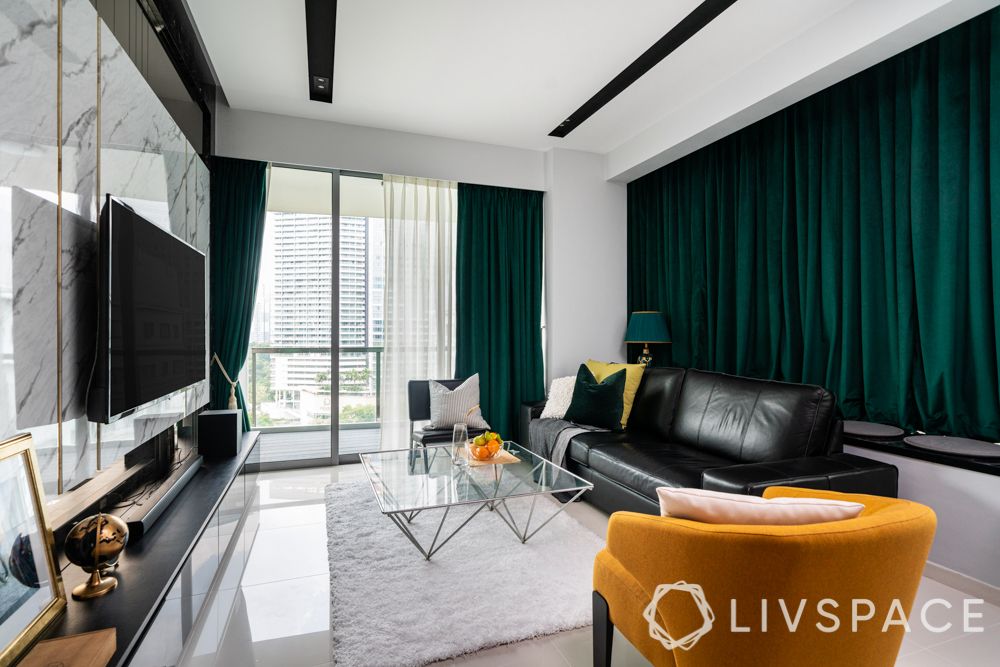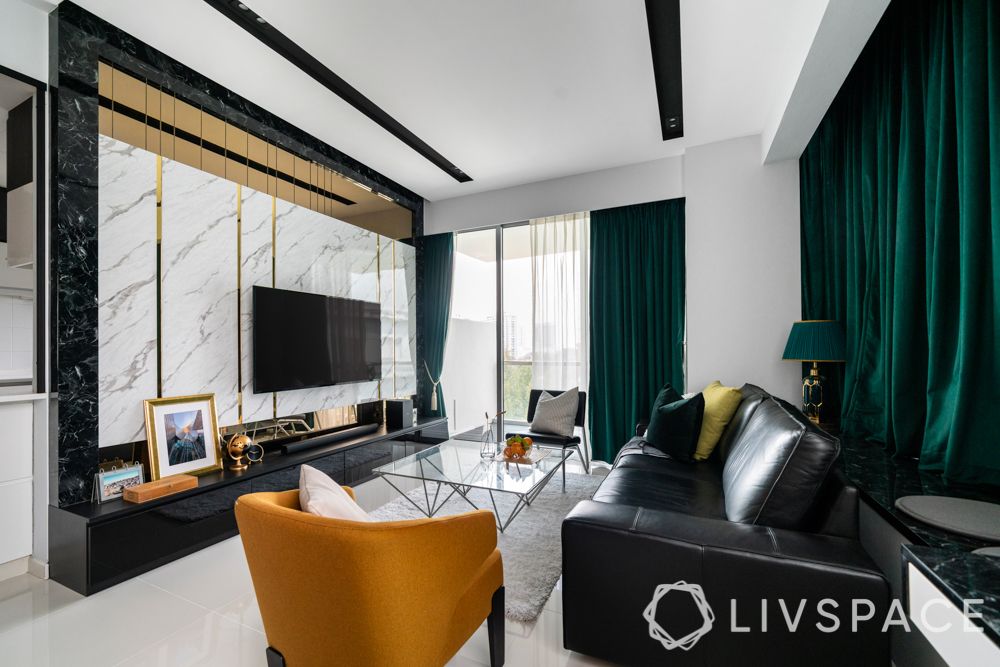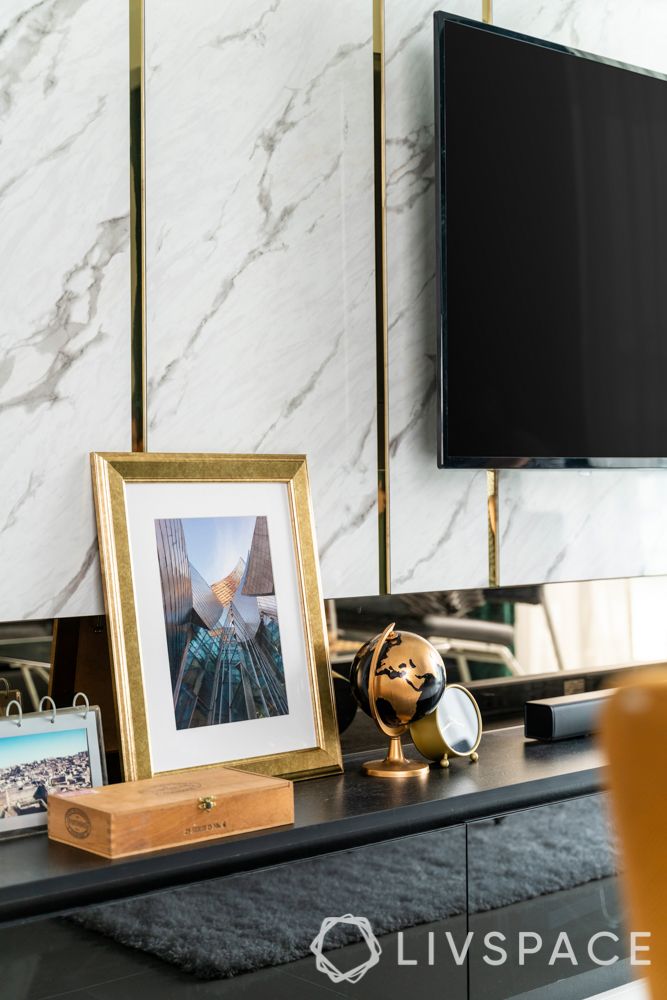 Keeping the luxe theme in mind, Noel designed a marble-esque feature wall for the TV. Made of marble-finished glossy laminates, this black-and-white feature wall comes with gold trims. A copper-tinted mirror completes the look.
In keeping with the monochrome colour scheme, Noel designed the false ceiling with a black recess, with ceiling strips in a black finish. This creates an interesting contrast for the false ceiling and creates visual depth. The black recess also has twin spotlights with soft white lights for ambient lighting.
Dark green drapes complete the room. While it can be a bold colour choice, it works as a daintier accent colour that adds to the plush look of the interiors. The marble-esque tiles on the floors were regrouted and cleaned to add to the charm of the space.
A Custom Home Office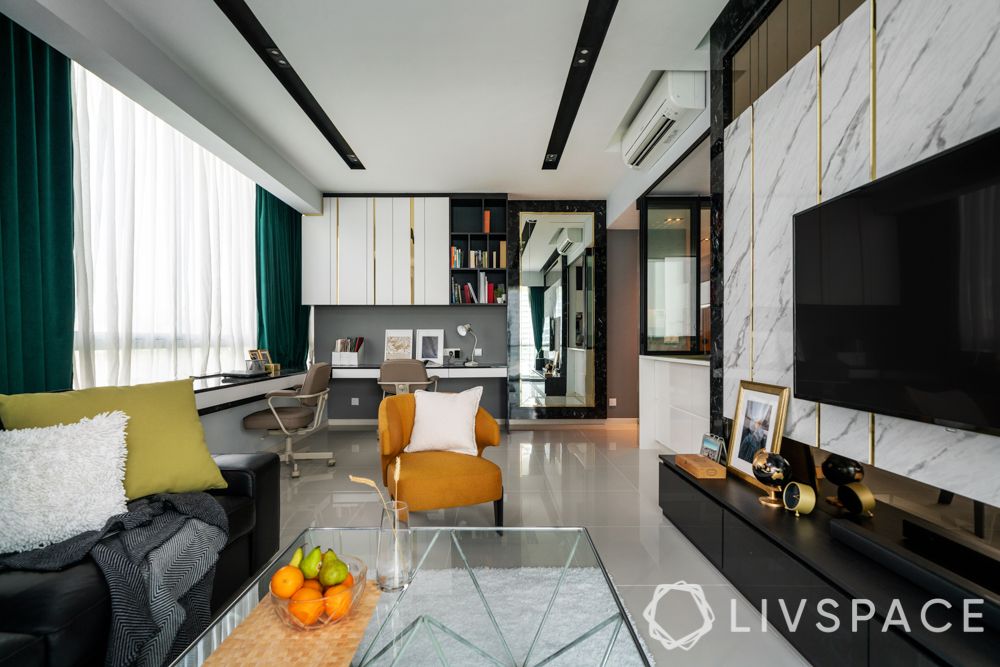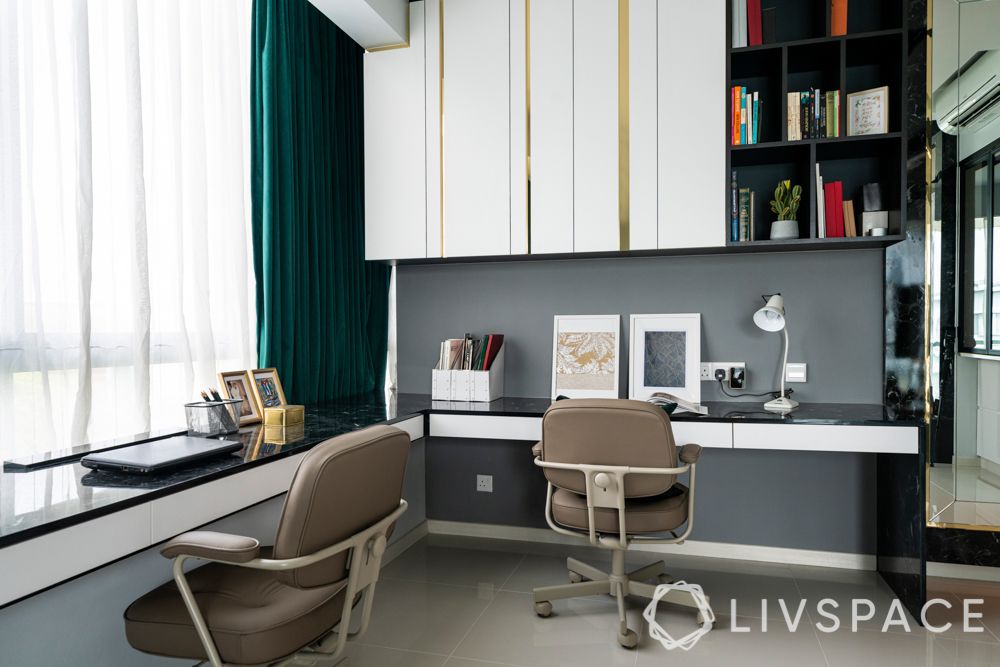 Noel had impressed Chua with his ideas for the small home office. Since the couple works predominantly from home, the design is a marriage of storage and functionality. Noel finalised the table and seating heights with special attention to the couple's requirements. Instead of the typical black office chair, Noel picked grey-green leather chairs that add to the modern look of the space. The cabinets are covered with glossy white laminate strips with gold accents.
"In my very first discussion with Noel, I realised that he had grasped the concept of the home we wanted. Since he could envision what we wanted in the home, the time it took to design the condo was cut down considerably. We love the final look!"

– Chua N.S. and Haniza Hashim, Livspace Homeowners
High on Storage, Low on Clutter Bedroom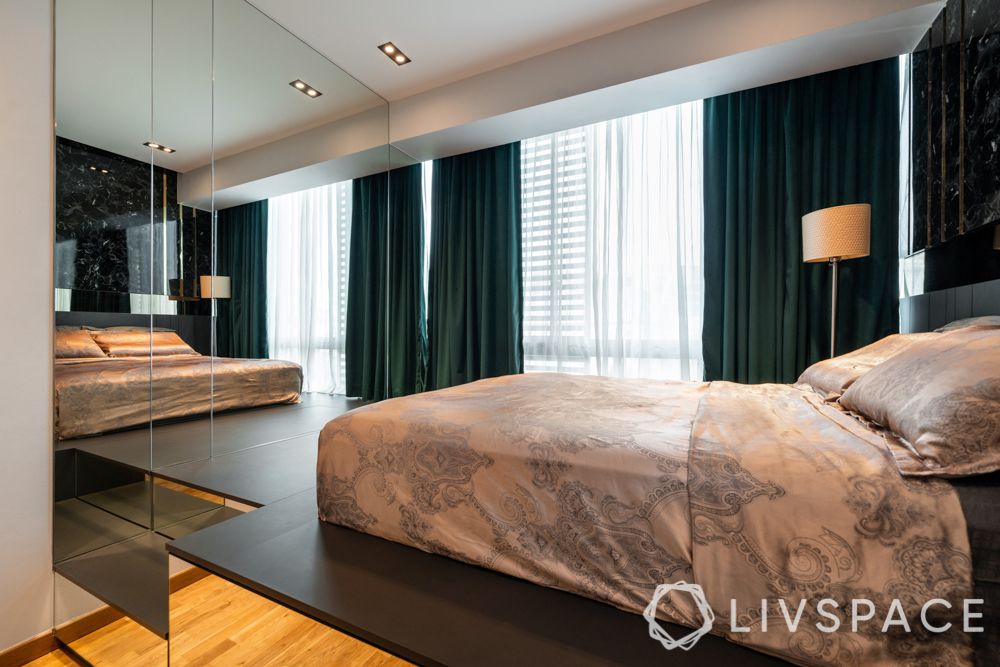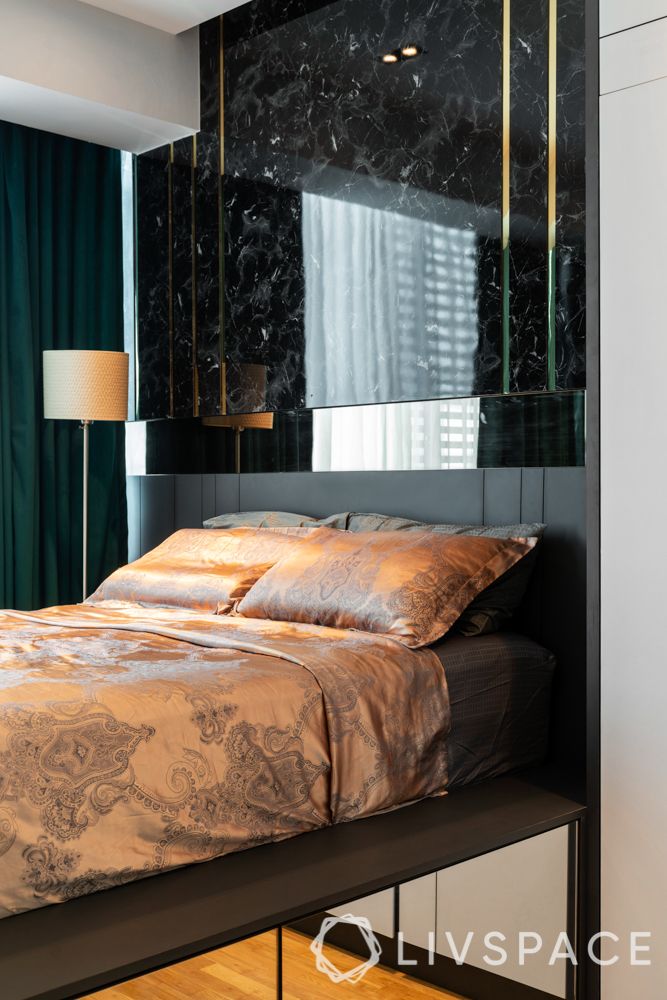 We love the black marble-finished glossy laminate headboard in the couple's condominium in Singapore. To add to the rich look, Noel has used white laminate and gold strips. The platform bed with storage is space-saving, while mirrors on the platform, as well as the wardrobe, open up the space. Noel has also created cove lighting as a part of the bedhead.
Since the condo had bay seating in the living room and master bedroom, Noel has beautifully integrated them into the design. In this room, they are separated from the main room by sheer white curtains. This creates a cosy nook to catch up over a cuppa.
A Space of One's Own
This study unit or man cave is a part of the common bedroom. Chua wanted a dedicated space for gaming and the storing of collectables. Since they also had part-time staff or freelancers working out of their residence, they wanted this room to be designed in such a way that they could work out of this space comfortably. The glossy grey laminate in this bedroom design Singapore adds to the masculine feel of the space, as opposed to white laminates used across the home.
"I enjoy working on modern luxe-themed homes, but this took the design element up a notch. I was able to understand exactly what the homeowners wanted, and gave them a home they loved!"

– Noel Chong, Interior Designer, Livspace.
How can Livspace help you?
We hope you enjoyed the tour of this condominium in Singapore. If you also want a luxury condo design in Singapore, then Livspace is your go-to expert. Book a consultation with our designers for quality and safe interiors. Learn more about our COVID-19 safety protocols here.
For more condo renovation ideas, check out this Space-savvy, Stylish Condo Design That Flaunts Clever Storage Ideas.
Send in your thoughts and suggestions to editor.sg@livspace.com.