A rare type of HDB — this executive apartment flaunts an open layout with pops of colour.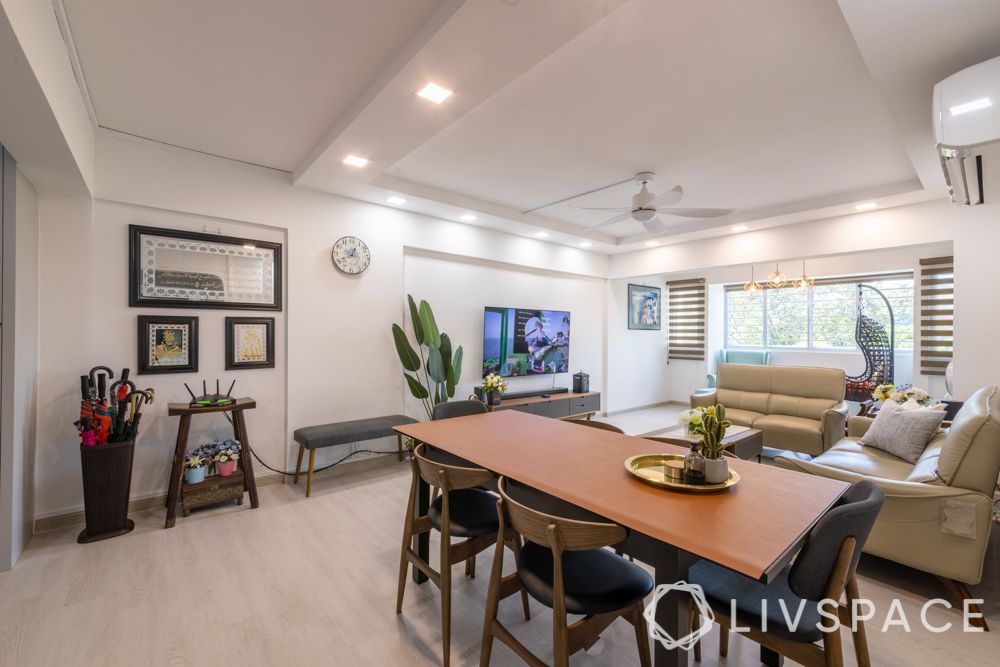 Who livs here: Aziz Rafiah & Juanda with their kids
Location: Block 148 Tampines Ave 5
Type of home: HDB Executive Apartment
Livspace team: Interior Designer Syafiq Azmad and Project Manager Glen
Livspace service: Electrical, hacking, masonry, vinyl work, demolition, painting
Budget: $$$$$
Executive apartments are one of the most sought-after HDB properties in Singapore; given the space provided in each of them, this definitely comes as no surprise. This particular apartment belongs to a family of 5 who wanted their new home to be bright, airy and comfortable. Right from the colours and the finishes to the design itself, this home ticks all the boxes of a modern industrial aesthetic. You will also spot a few pops of colour here and there at this executive apartment that we are sure you will love.
Check out how our designer Syafiq Azmad designed this home for the family and became friends with them during the process.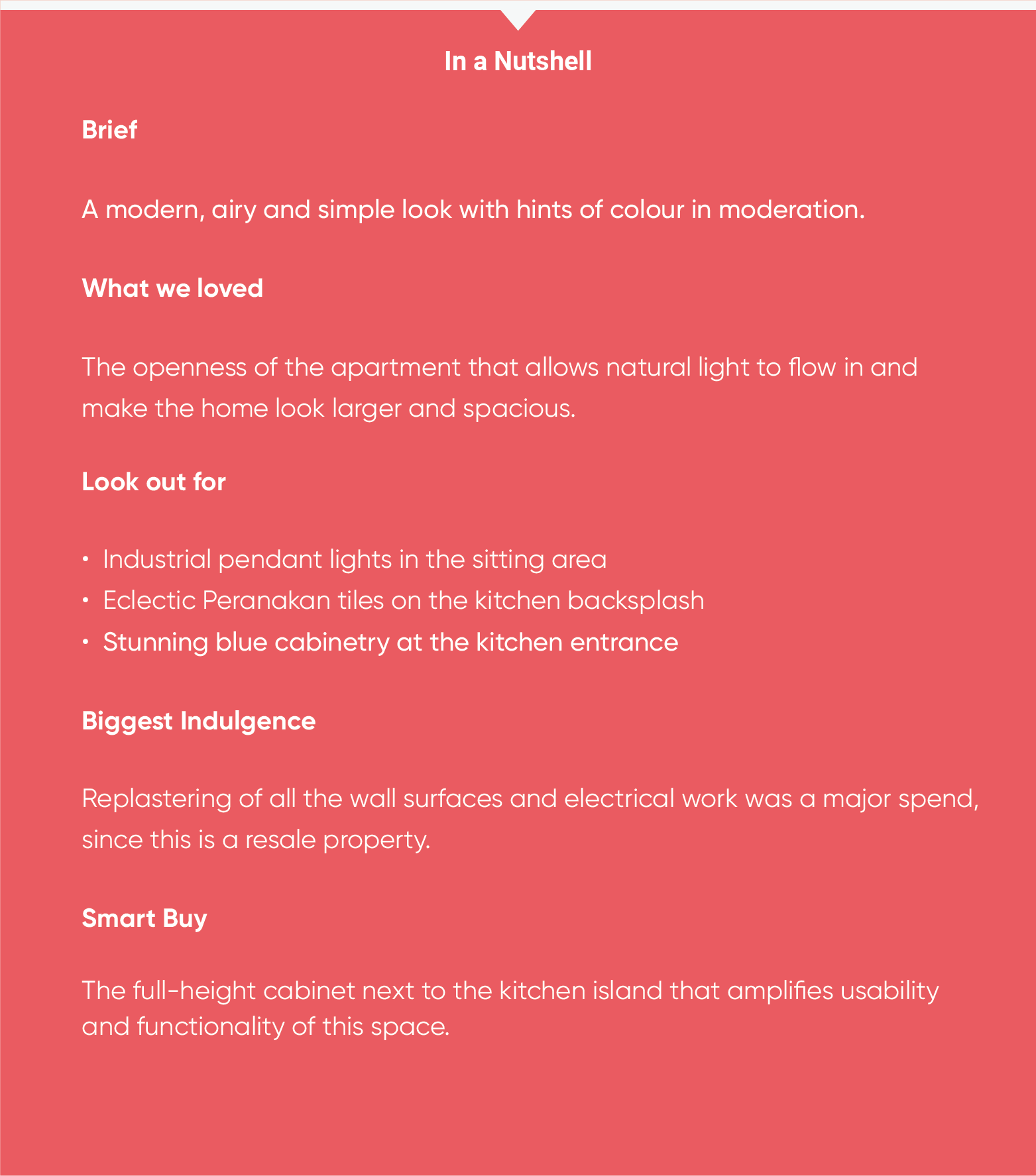 Kicking it off with unbelievable transformations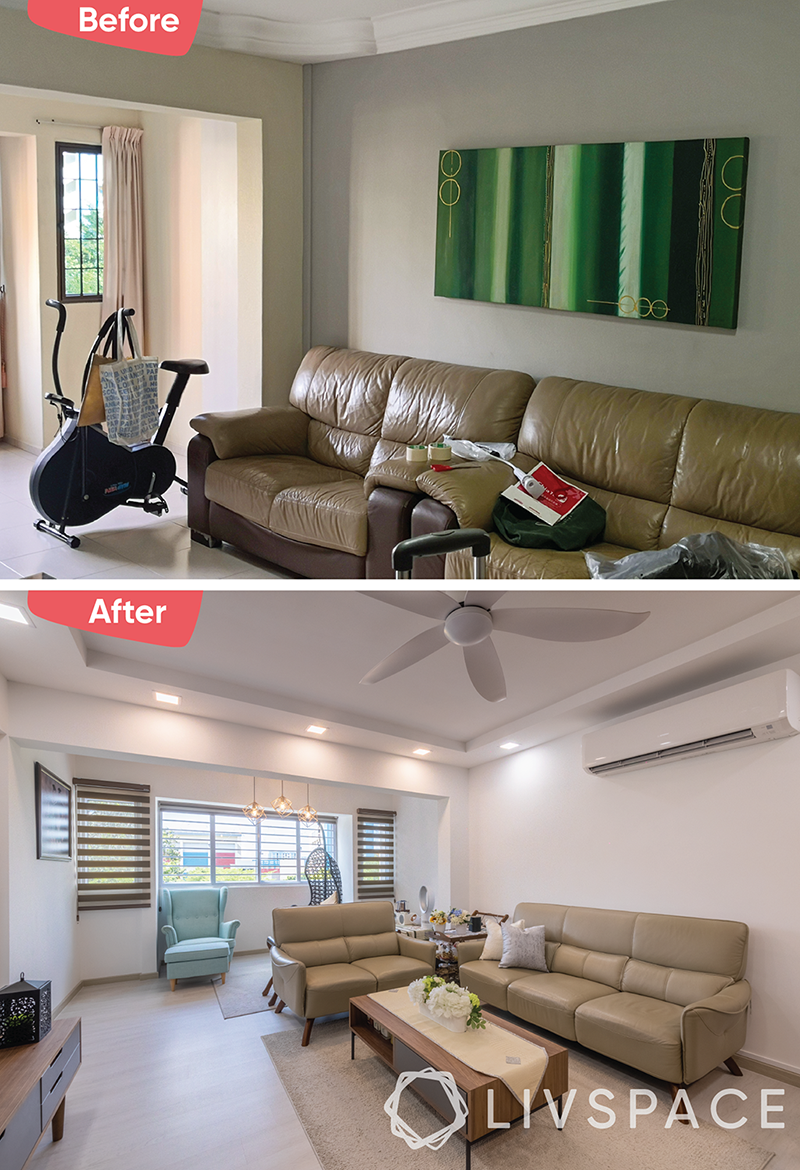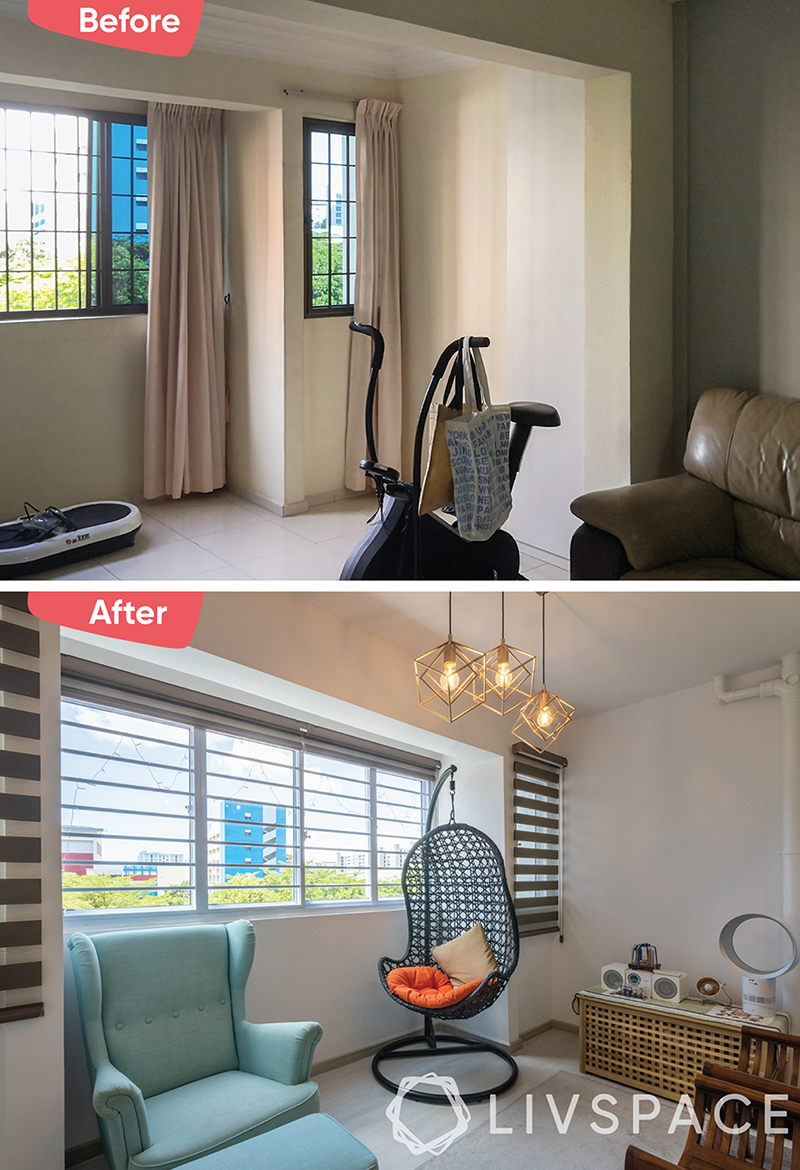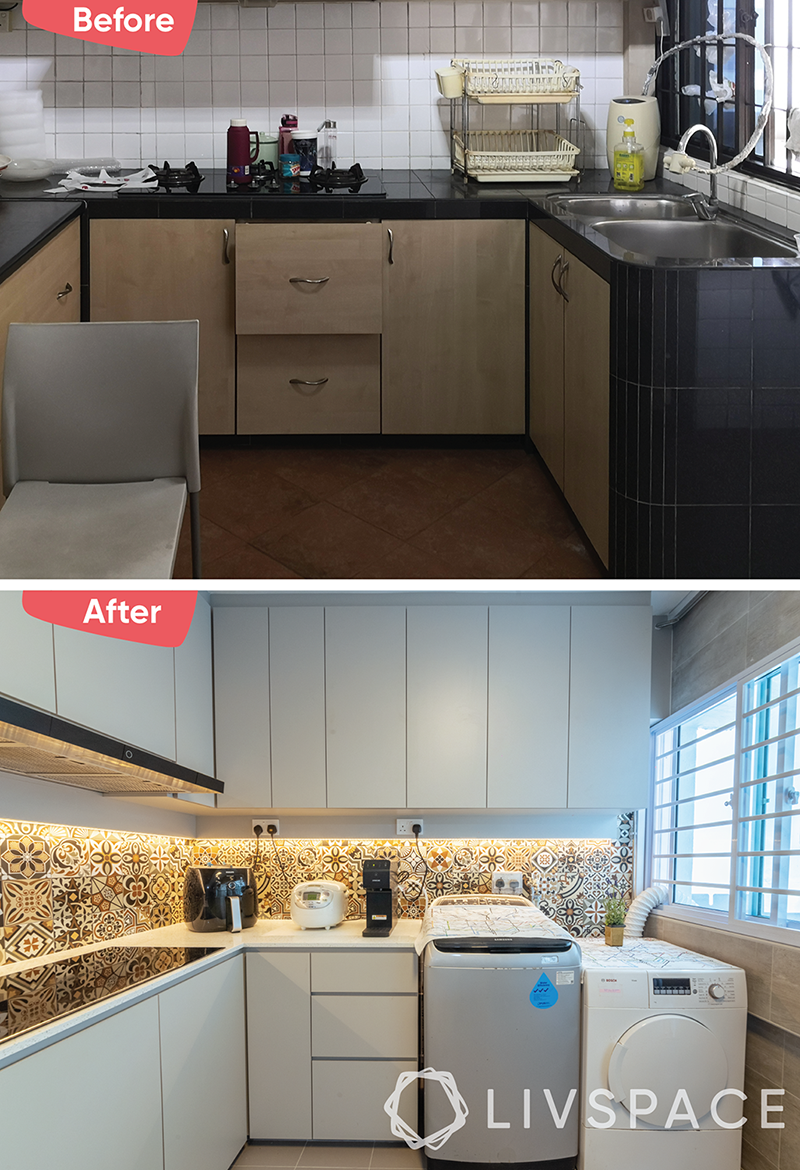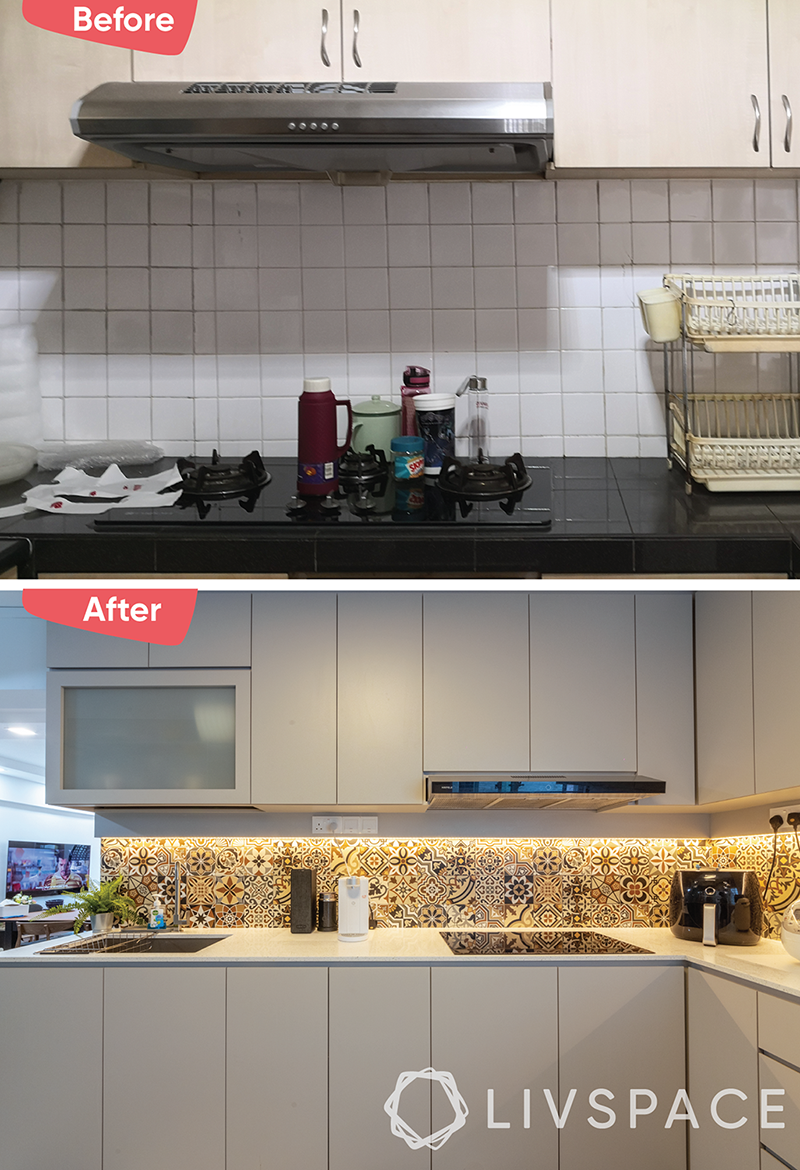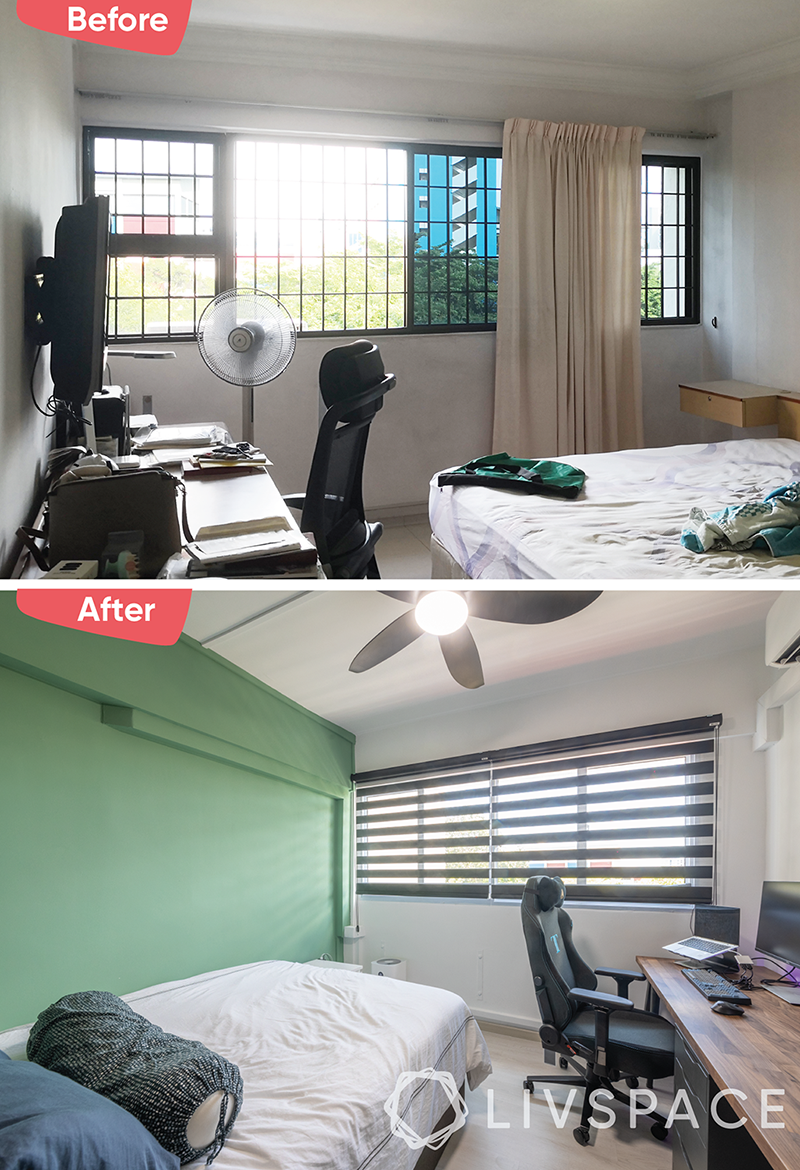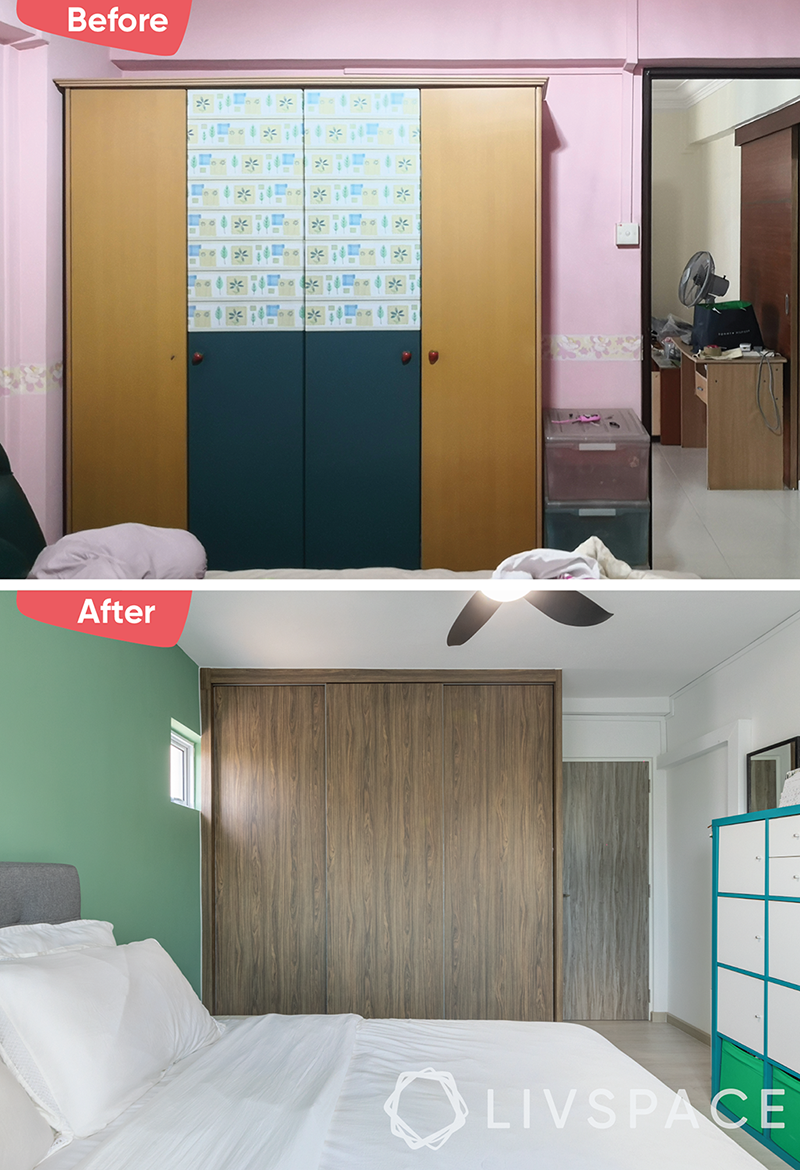 How to make the most of an entryway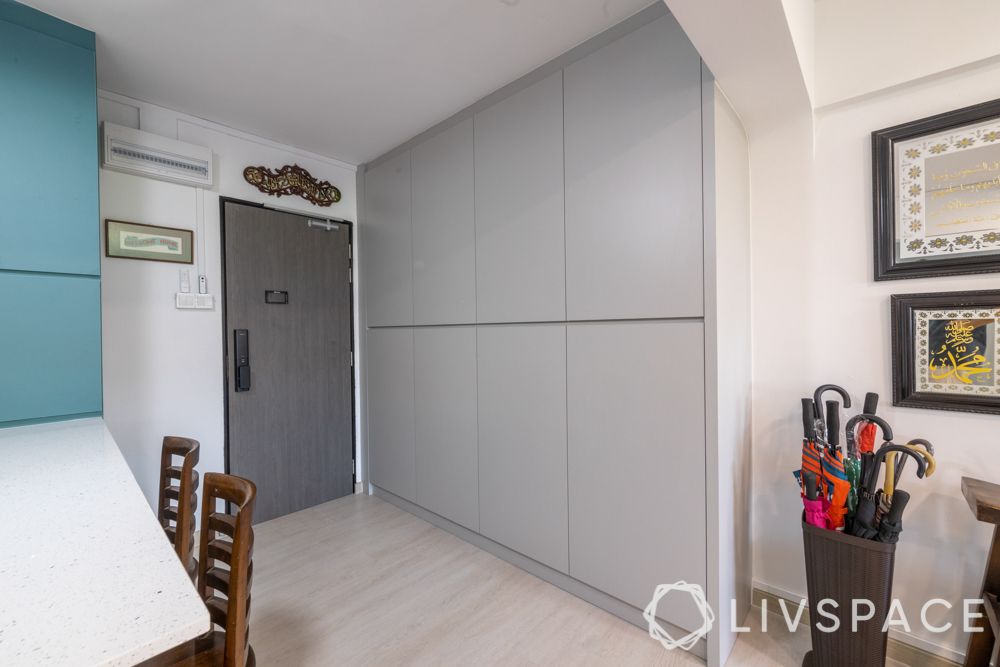 If you end up treating your entryway like an afterthought, then you must take some tips from this executive apartment. Syafiq added a full-wall storage cabinet here, which is a great way to make use of space. Seamless matte-grey laminate-finish cabinets take care of shoes and other miscellaneous stuff. Some inscription frames on the wall and an essential umbrella holder complete the look.
This is how you create an open layout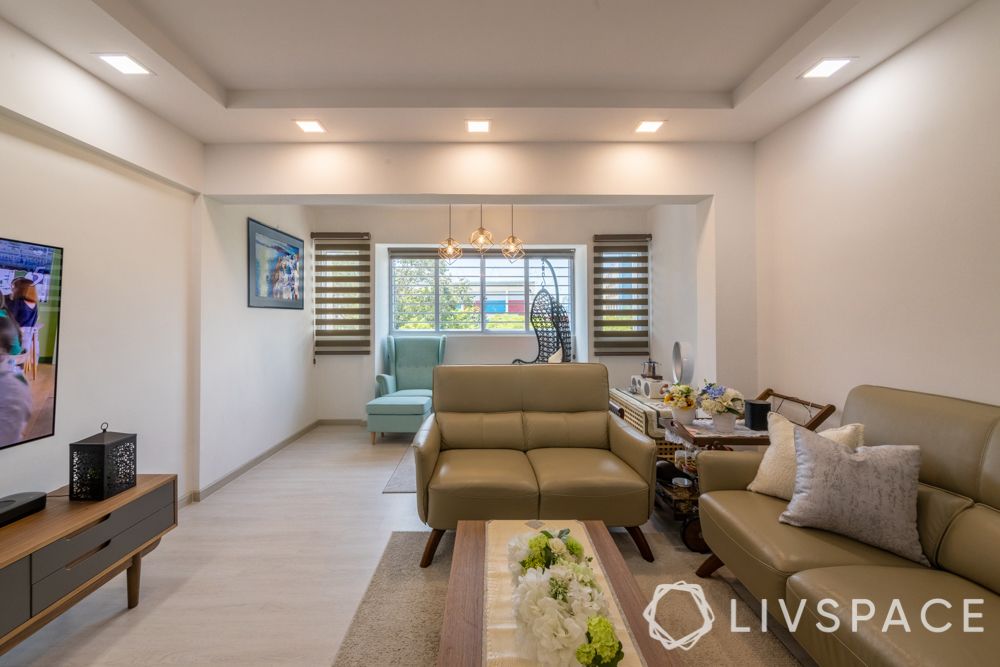 The first thing that you need to do to create more space is knock down walls and demarcate spaces with clever design solutions. This is exactly what our designer did for the couple staying at this apartment. They wanted a bright and airy home where the family could spend time together in the common areas. He therefore gave them a living-cum-dining area with a neutral colour palette so that the entire space would appear larger.
A reading corner that makes us want to relax with a book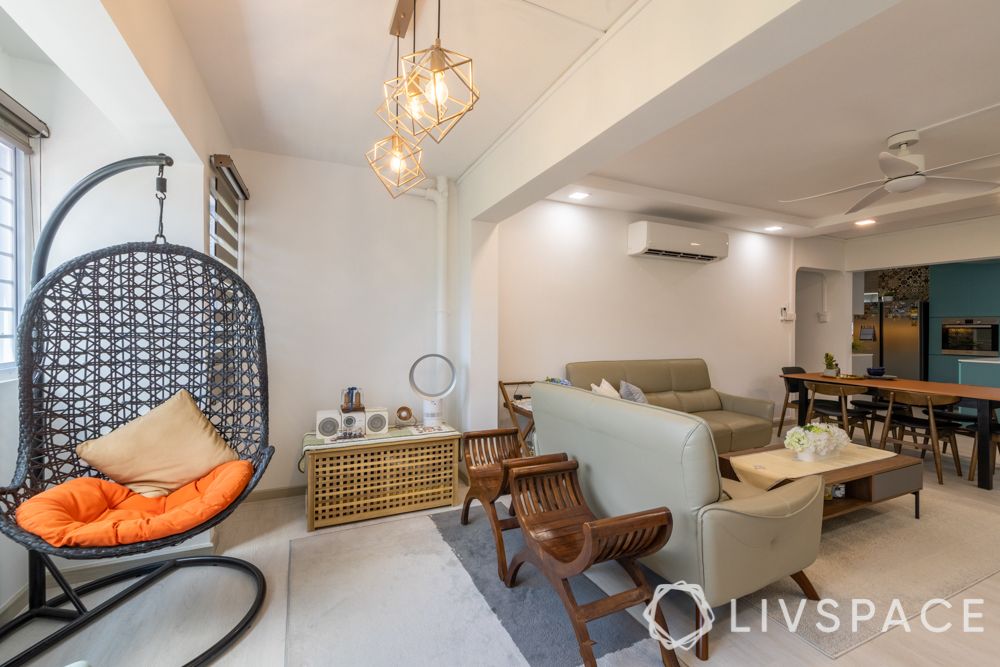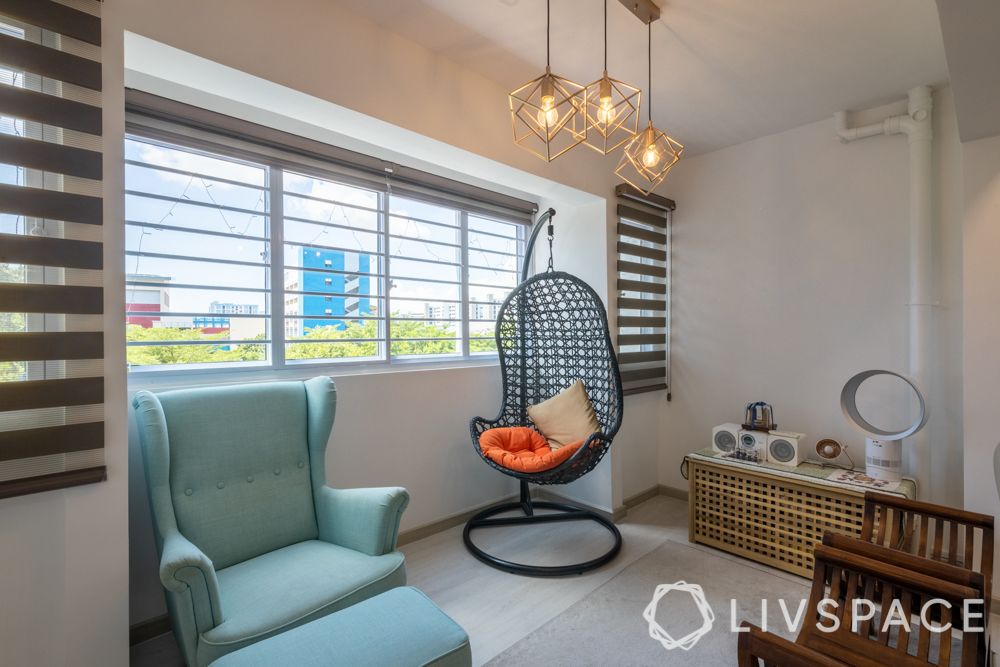 There are a number of advantages of open layouts. One of them is that you get extra space for recreational activities (if you enjoy them). Look at this stunner of a reading corner created right next to the living room. It has a mint-coloured accent chair with a footstool for added comfort, as well as an indoor swing. Syafiq merged the modern and industrial styles of design here by adding metal pendant lights. We love this concept!
A mix of styles in this open kitchen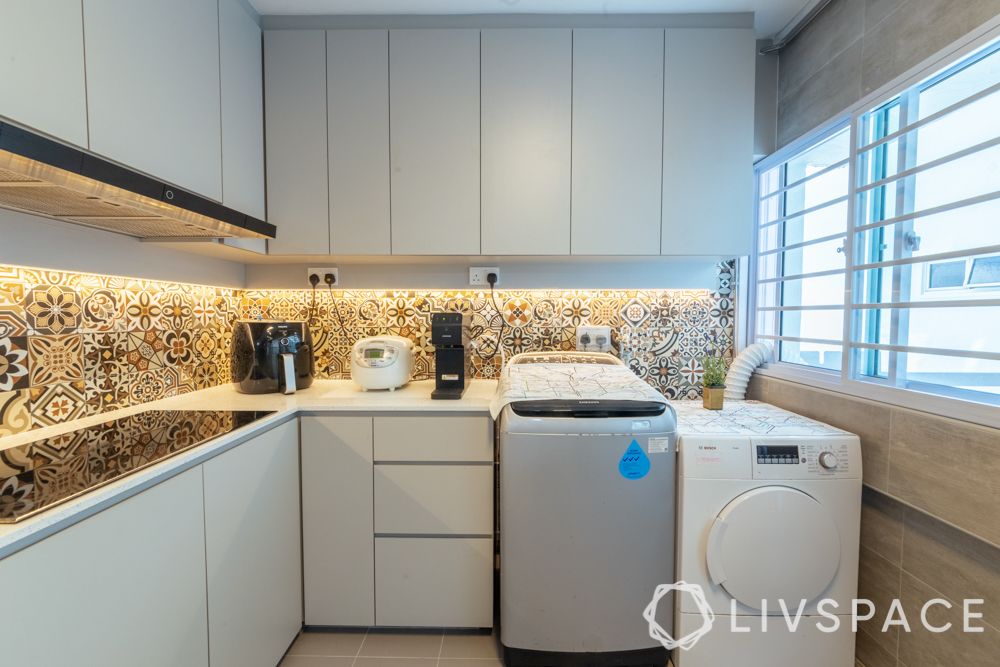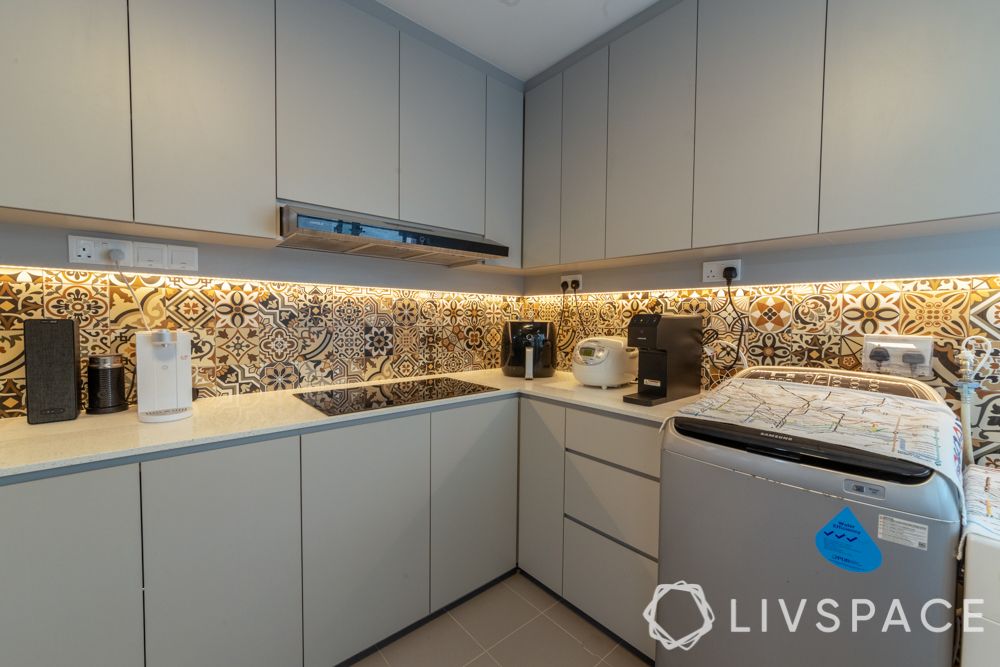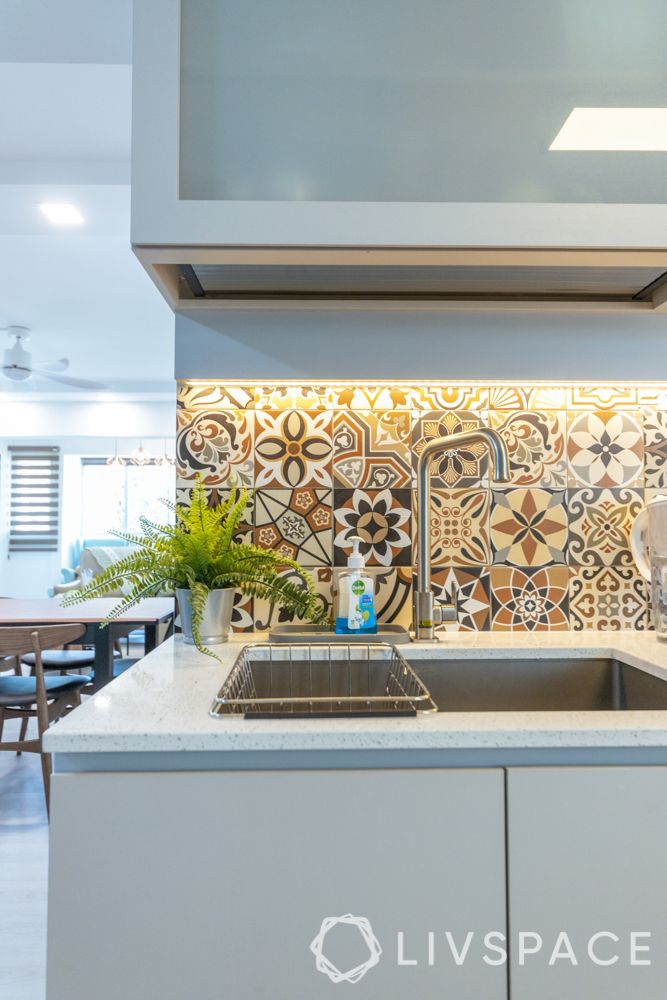 This kitchen is a true example of, and a lesson on, combining design styles with absolute ease. Modern, seamless cabinetry marries Parkenan Moroccan tiles in this interesting design. Equipped with all the necessary accessories a modular kitchen must have, this one is particularly high on storage as well. Check out the tall wall cabinets that also work as lofts for extra space. The right kind of electrical work and placement of circuits at exactly the right spots has ensured that using appliances is a breeze.
"We consulted about 8 to 10 interior design companies before zeroing down on Livspace and we are glad we did. Our designer, Syafiq, was very good and very responsive. He fulfilled our vision for our new home quite successfully. Our children love their respective bedrooms but overall, we love the kitchen island and the multipurpose corner. They standout when we look at our home. We are very happy with Syafiq and Livspace."

Aziz Rafiah & Juanda

Livspace Homeowners
The standout spot in this executive apartment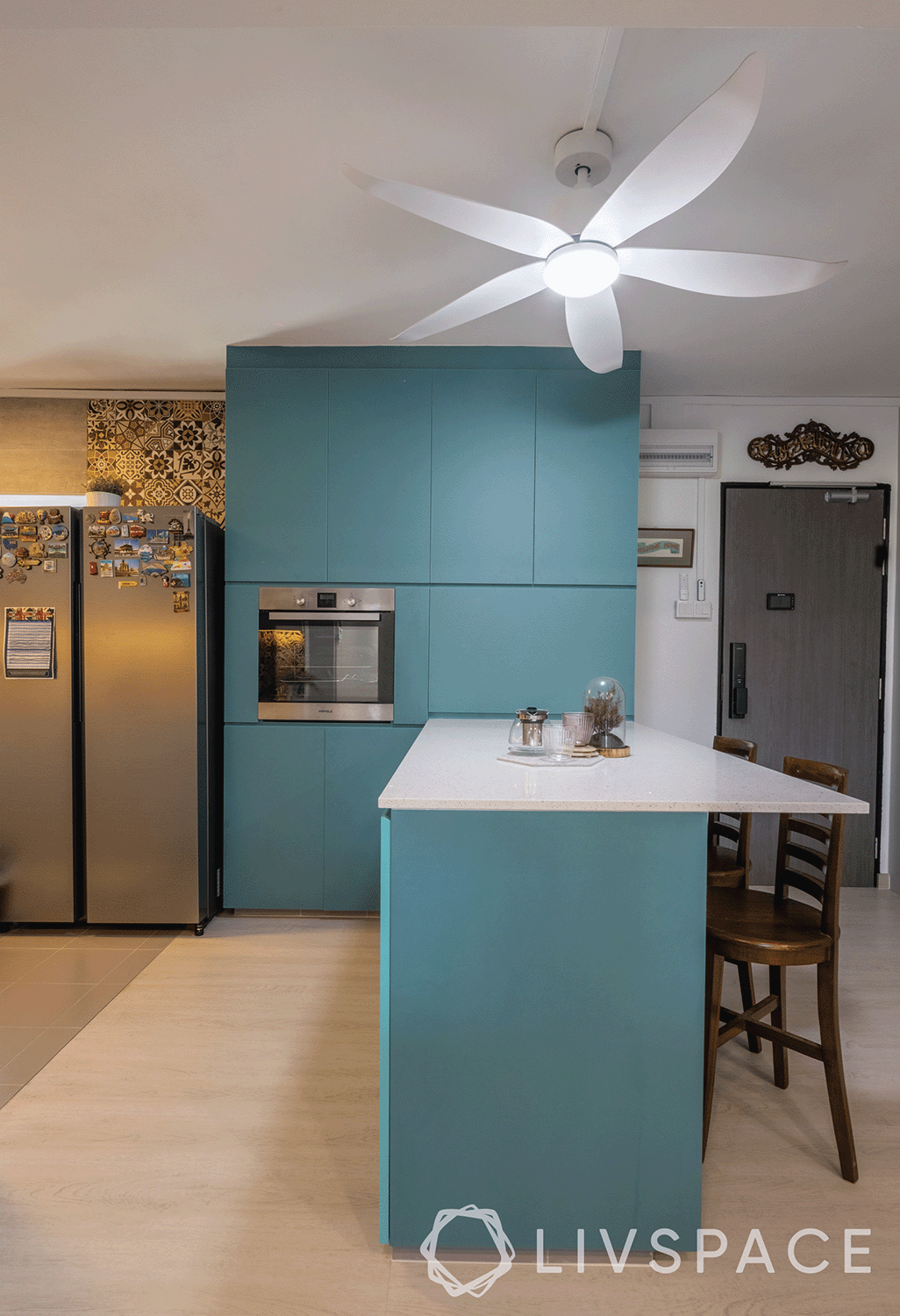 Introducing you to the much-loved spot in this home — the kitchen island by the demarcating the entrance into the kitchen area. This spot is a favourite amongst all the family members as they love enjoying small meals and baking over here. The full-wall cabinet next to it is also a functional addition to this pretty area where they can store their groceries. What makes this corner stunning is the colour chosen for the laminate. It is subtle yet pops amid the simple colour scheme.
A look at the simple master bedroom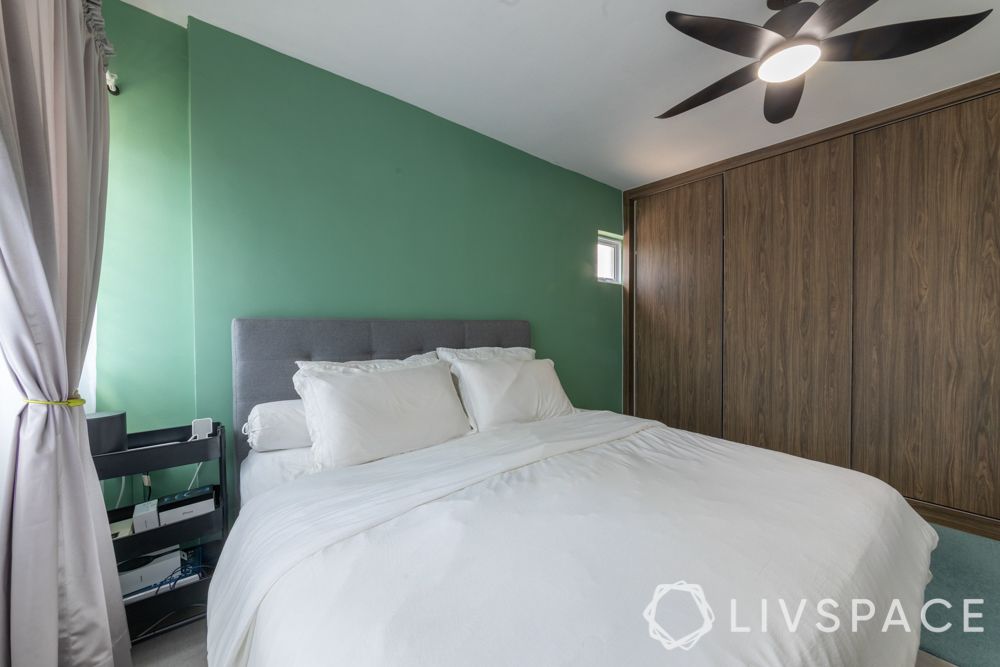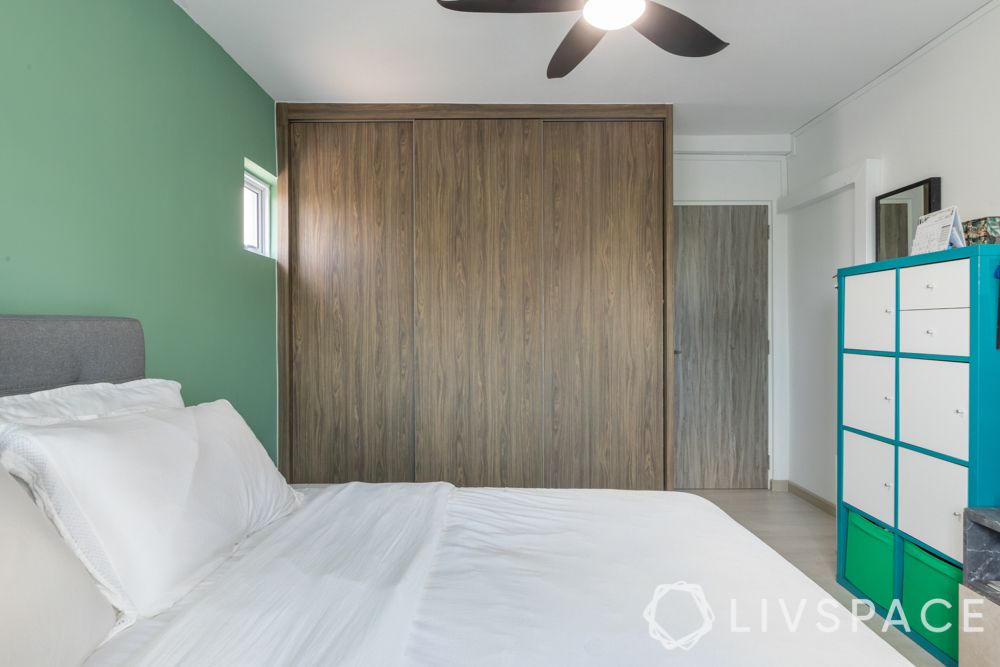 Syafiq, literally changed the face of this room. The couple's favourite shade of green is used to create a simple feature wall. Storage is taken care of by sleek sliding-door wardrobes and stand-alone cabinets right in front of the bed.
One for the kids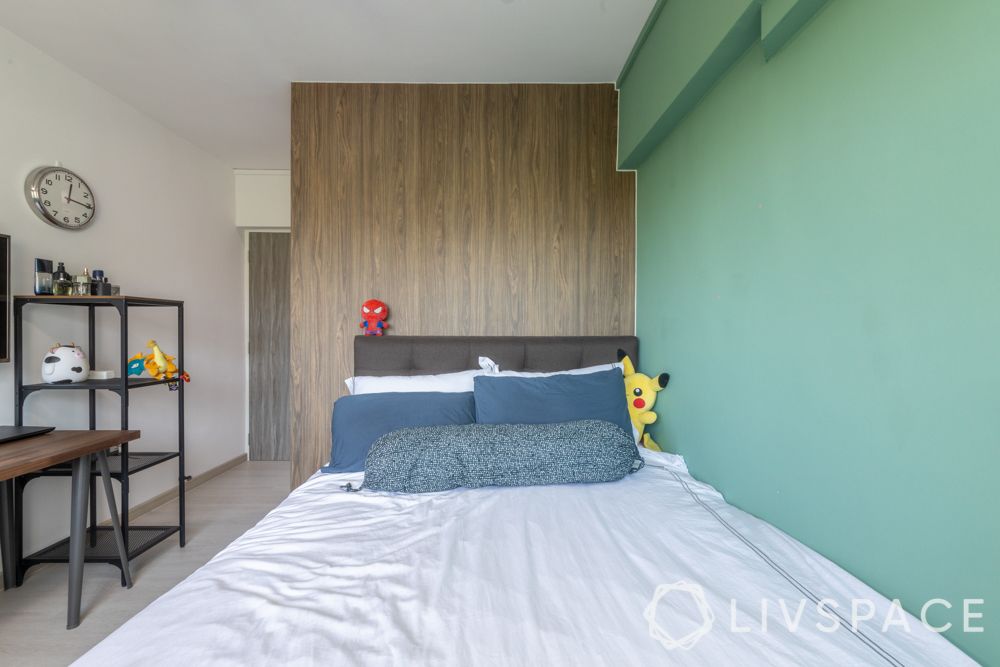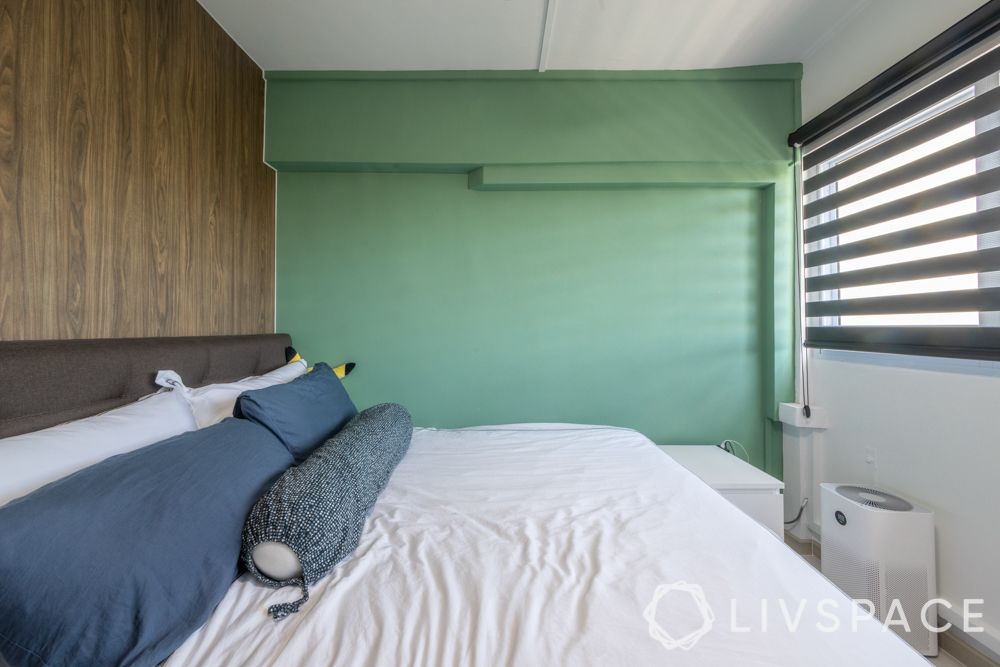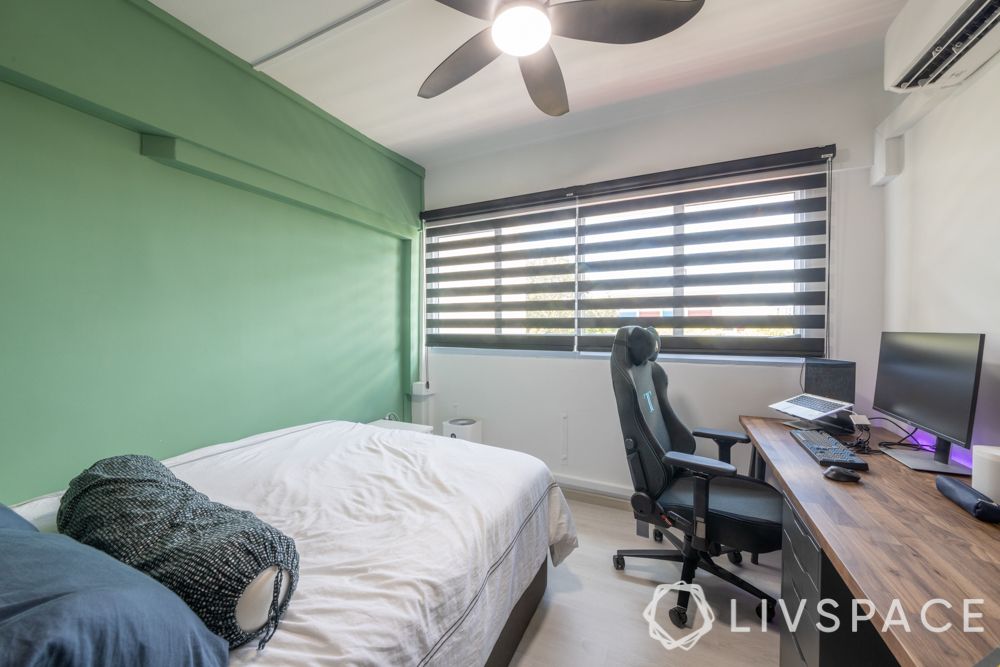 It is sometimes important to maintain a certain continuity in design and this is what Syafiq did for this bedroom. Borrowed from the master bedroom is a wall dipped in the same shade of green. Making the most of the space in this compact bedroom is the study table right next to the bed. Wondering where the wardrobe is? It is right behind the headboard of the queen-size bed.
How to turn a storeroom into an extra room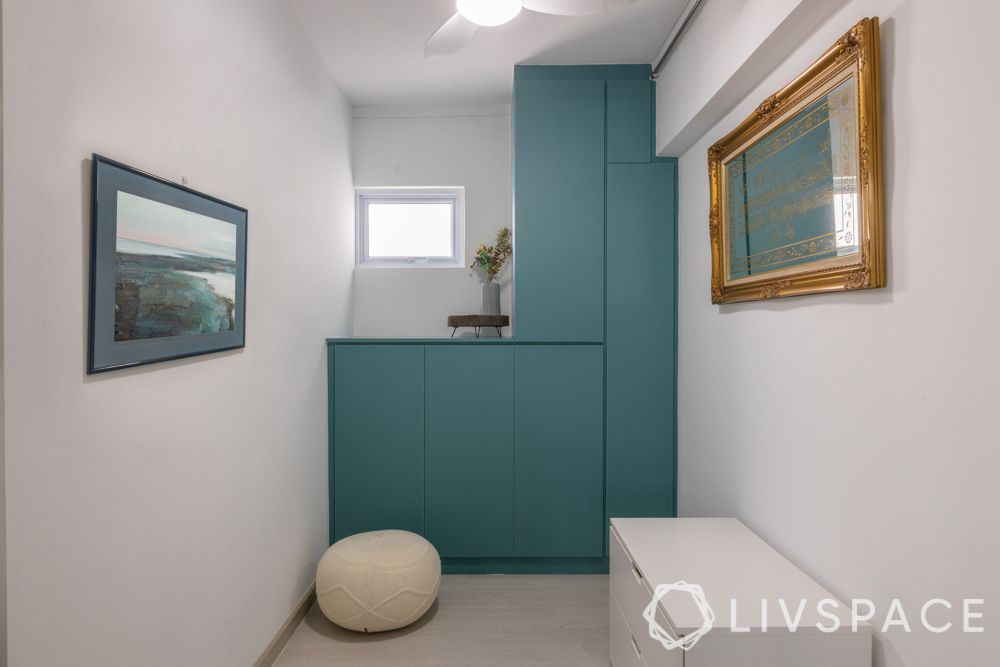 Let's face it — storerooms are unsightly most of the time and impossible to keep tidy if they are not blessed with the right cabinets. Therefore, the need for extra storage space is solved with this big storage unit in the corner.
How to renovate bathrooms to make the most of the available space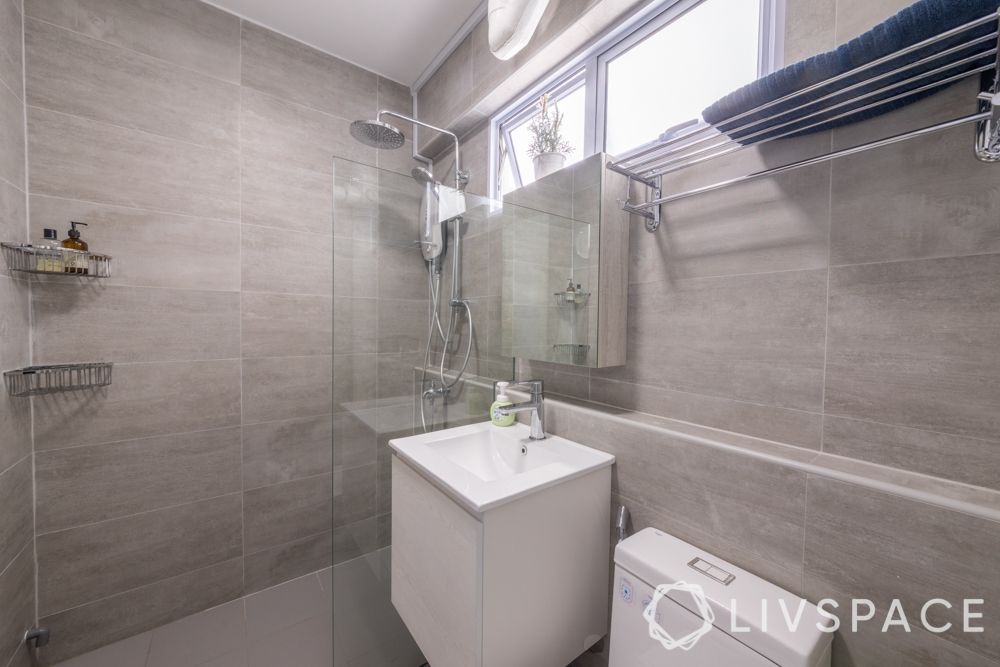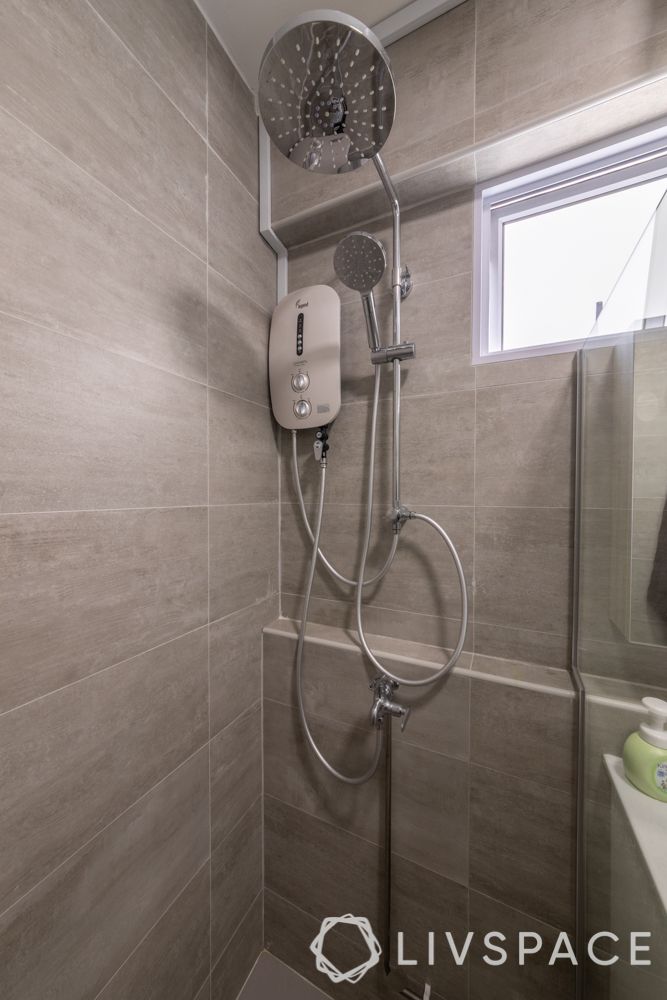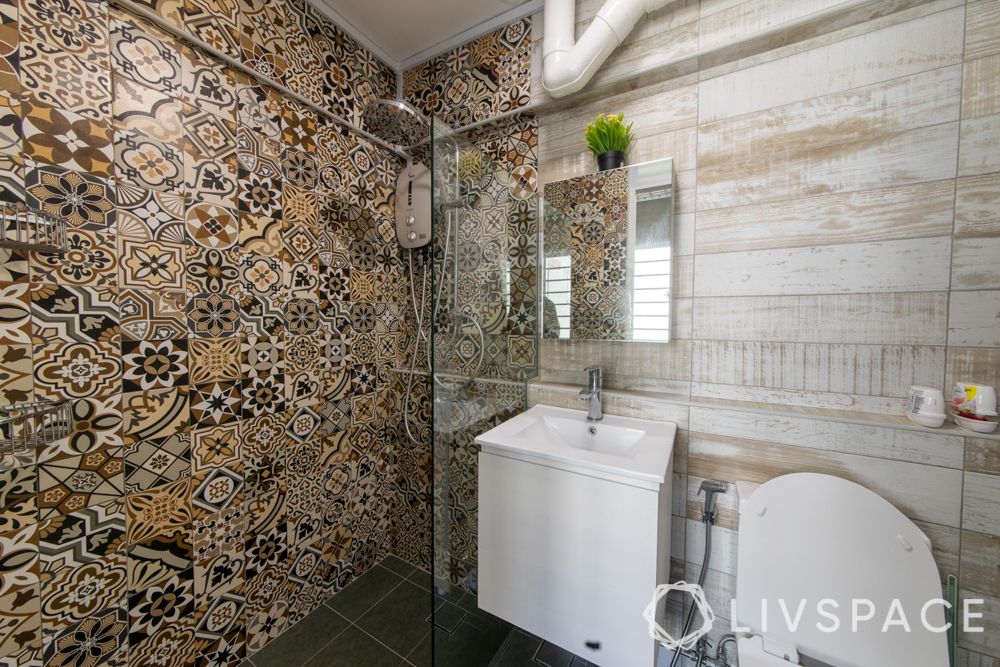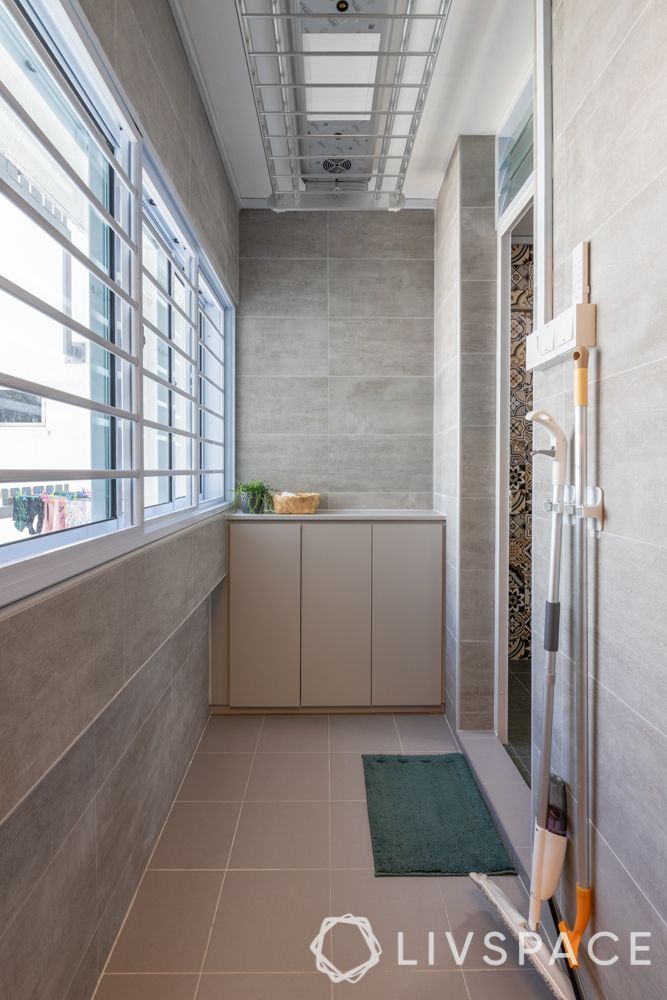 Now let's move on to the bathrooms and the service balcony at this executive apartment. In casual banter, Syafiq revealed that the master toilet design was headed by the ladies (mom and twin daughters) at home while the common toilet was taken up by the men (dad and son). The master toilet features simple bath tiles while the common toilet is exploding with bold-patterned wall tiles.
The service balcony also lies outside the common toilet and is used to keep household cleaning items and other knick-knacks. While the space is not huge, it is utilised very well.
"The entire apartment is designed with clean lines and a modern look. Personally, I enjoyed designing the kitchen island and the common toilet. Our thoughts were in sync and it was very easy to select tiles for the bathroom. Brainstorming design concepts with the couple was a lot of fun. From the start, we had a very strong desire to bring out a stronger character in the space. I am glad I could do that and the final outcome is simply stunning!"

Syafiq Azmad

Interior Designer, Livspace
Did you love reading this and looking at the transformation? Here are some Extreme Kitchen Makeovers that Will Inspire You to Get One Too!
How can Livspace help you?
We hope you found our ideas useful! If you want your home to be just as beautiful, then look no further. Book an online consultation with Livspace today. Delivering safe home interiors is our No. 1 priority. Click here to find out how interiors are being delivered following all safety protocols.
Send in your comments and suggestions at editor.sg@livspace.com