This HDB 5 room design comes with ample concealed storage space. With soft Mediterranean colours and a spacious layout, this home is all you could wish for.
---
Who livs here: Kader S. with Malikka Begum and their toddler son
Size of home: 5-room HDB BTO spanning 112 sqm
Design team: Interior Designer Kader S.
Livspace service: Full home design including design, demolition, masonry and tiling, wall finishing, false ceiling and lighting, electrical, plumbing, and painting
Budget: $$$$$
---
Have you ever wondered what a designer's home interiors would look like? You know it's going to be special! Take a sneak peek inside Kader and Malikka's modern Mediterranean-themed home for example. Kader, a Livspace designer, breathed life into their HDB 5 room design. 
In this spacious home, Kader and Malikka decided to prioritise storage that was kid-friendly too. Since they wanted their toddler to grow up free to run around the house, they looked for concealed storage options. With plenty of soothing colours and child-friendly elements, this HDB looks straight out of a dream. Let's take a look together.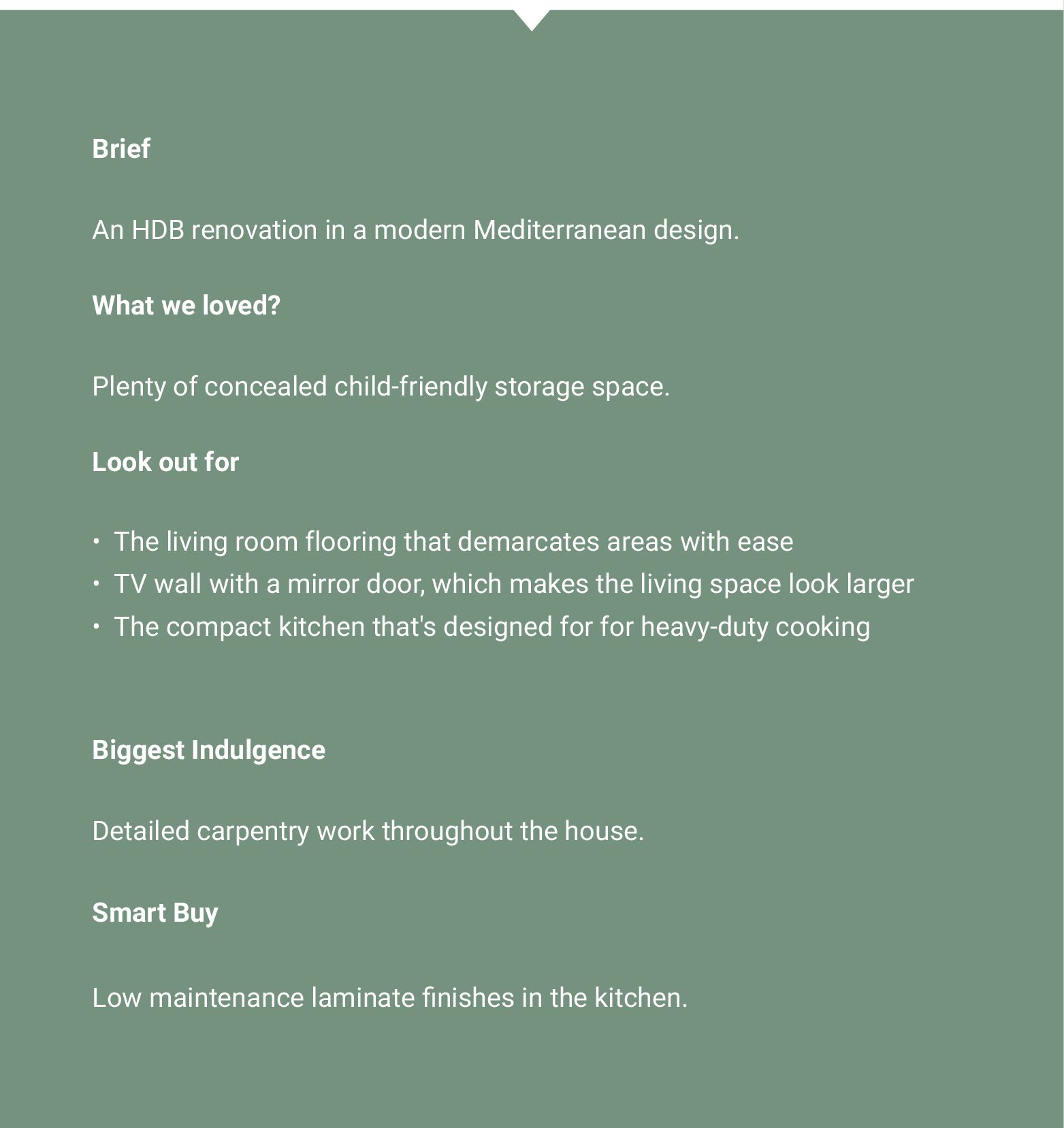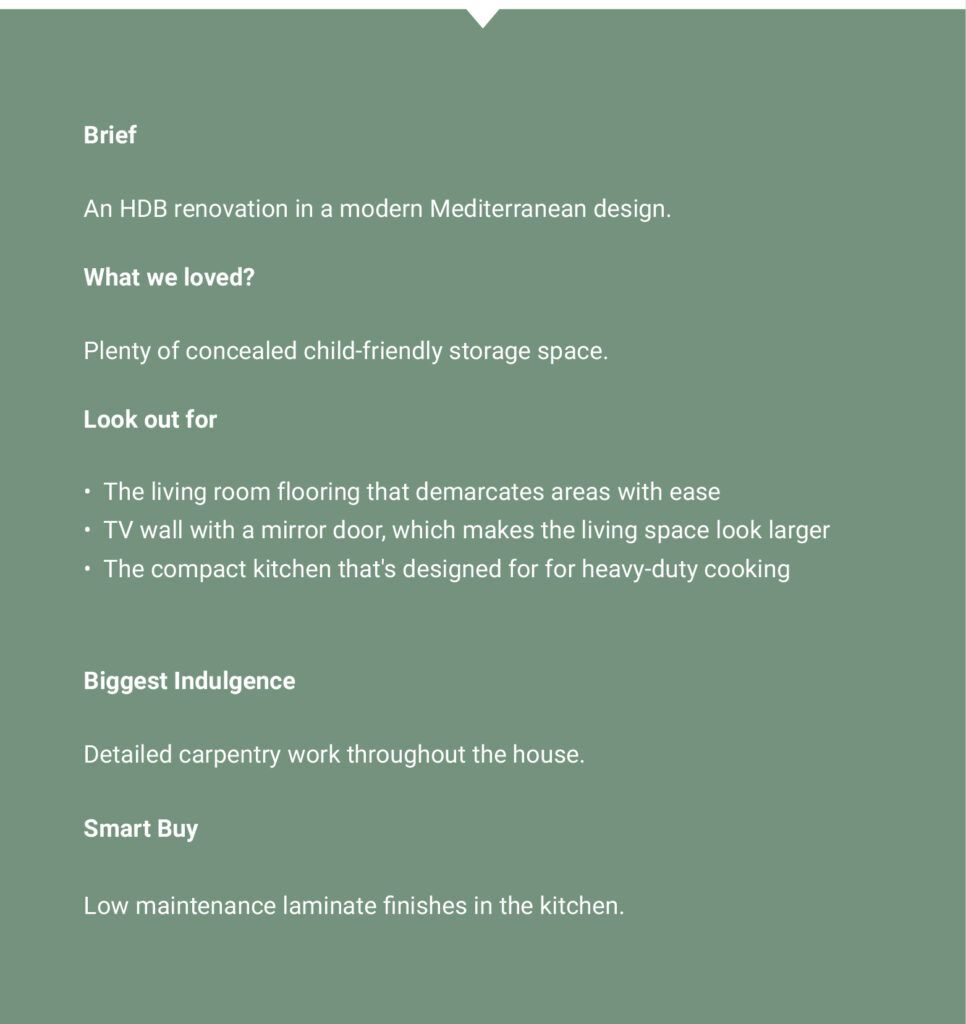 Making the most of an open layout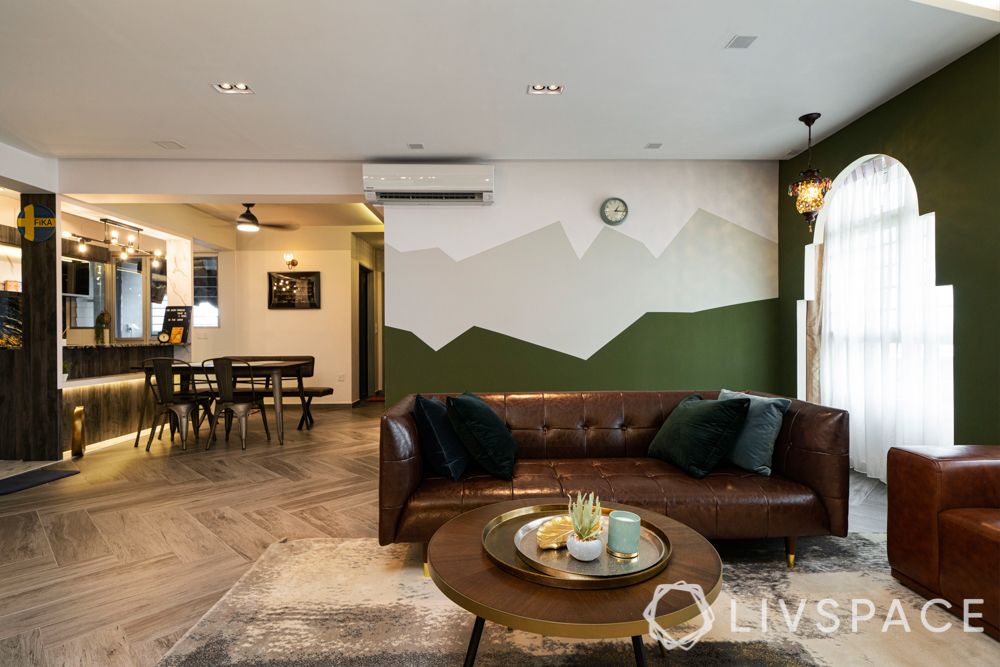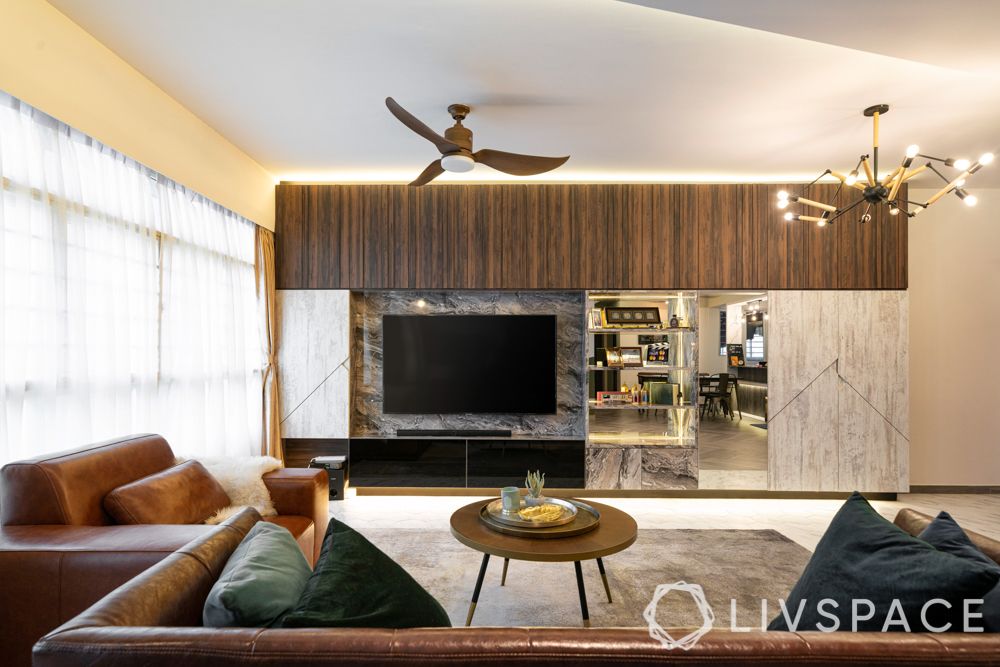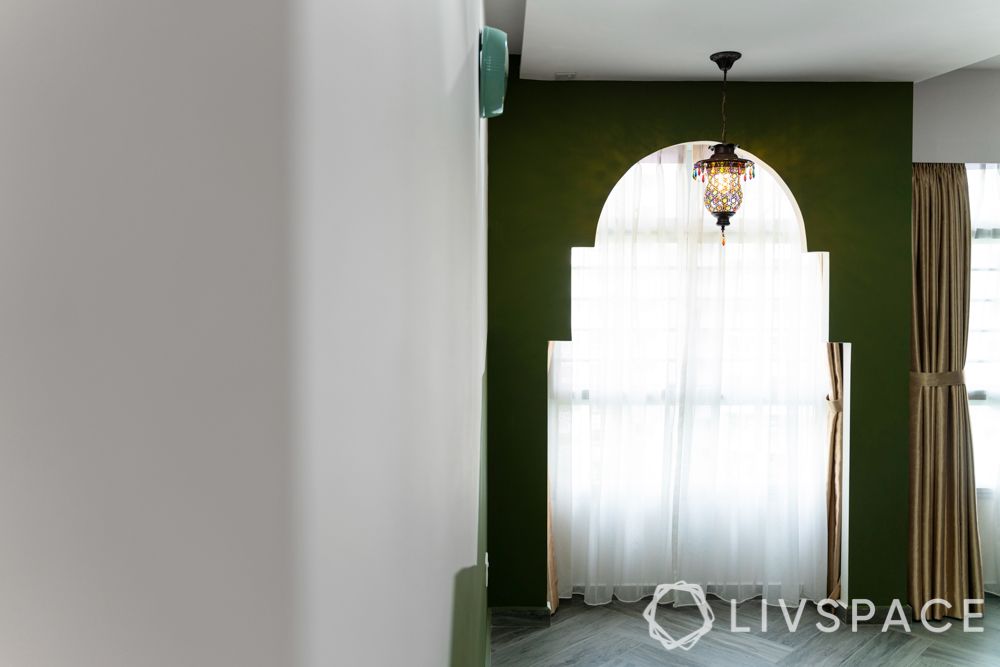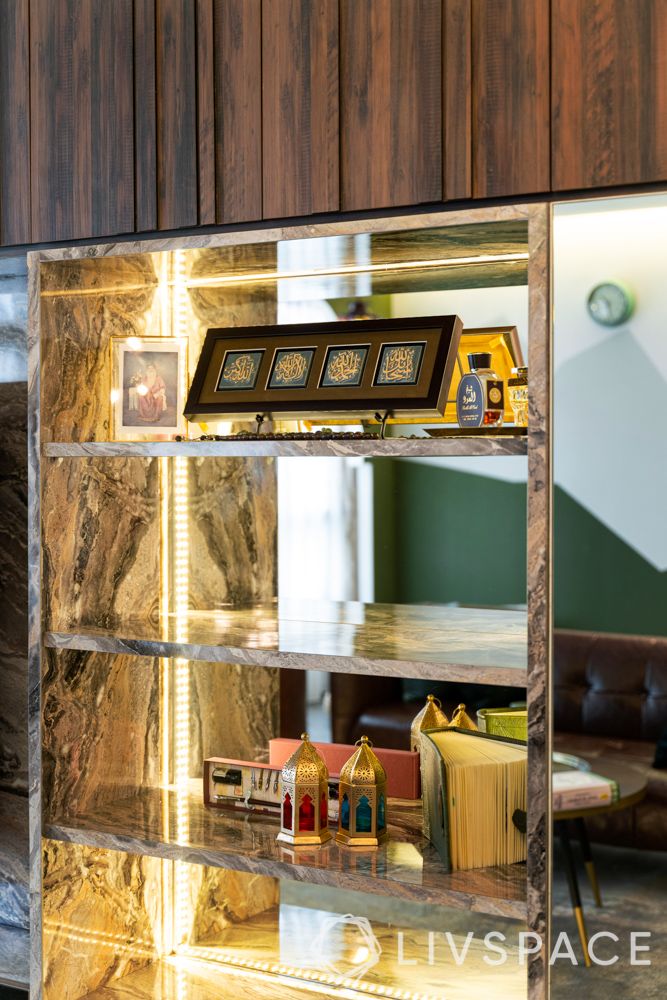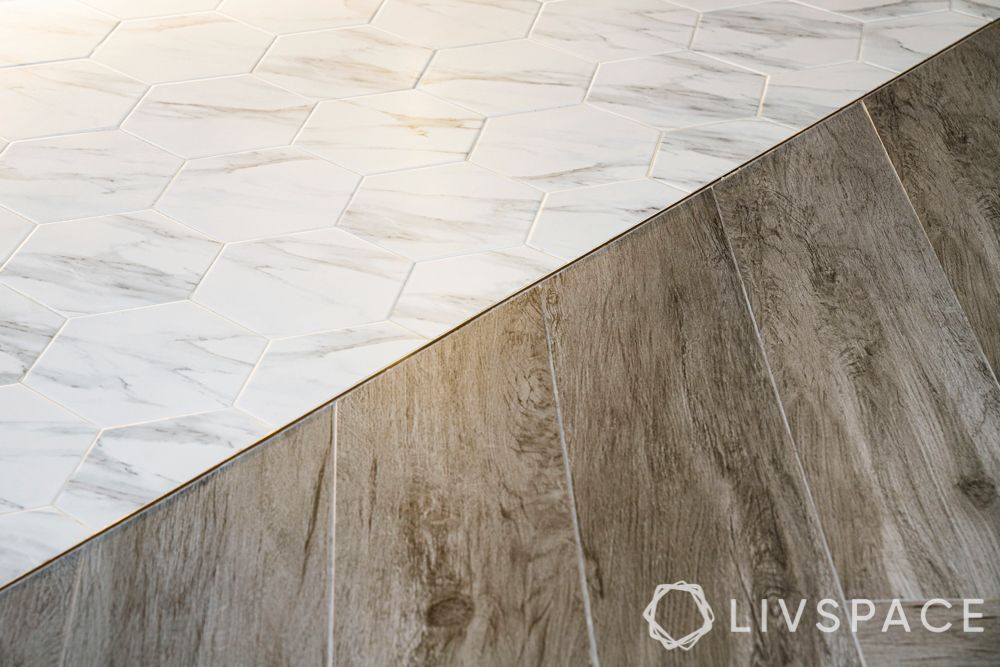 The Mediterranean influence is evident from the living room. Kader and Malikka loved elements like arches, lamps and shades, so he used colours and lights to recreate the Mediterranean feel. It's difficult to miss the green accent wall, as well as the arch with a hanging pendant lamp in this room!
The family wanted an open layout. So they have a laminate TV unit with a mirror door that makes the room look wide and spacious. At the same time, they have ample space to display accessories. In keeping with the open layout, Kader decided to use the flooring to demarcate areas. So they have marble hexagonal tiles leading to the forecourt of the living room, and herringbone tiles for the space that integrates with the dining.
A kitchen designed for heavy-duty cooking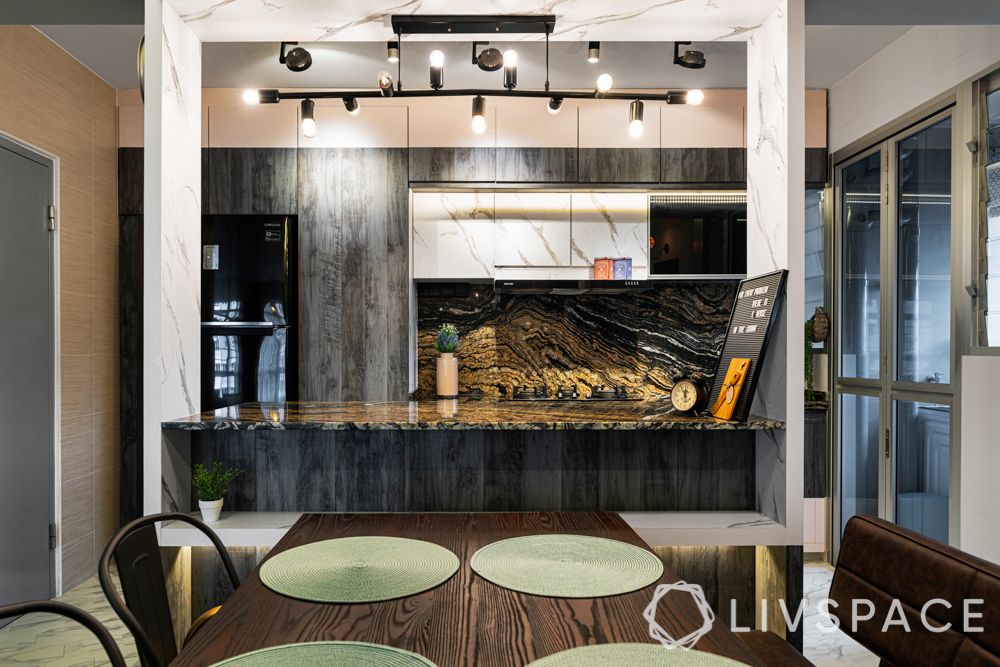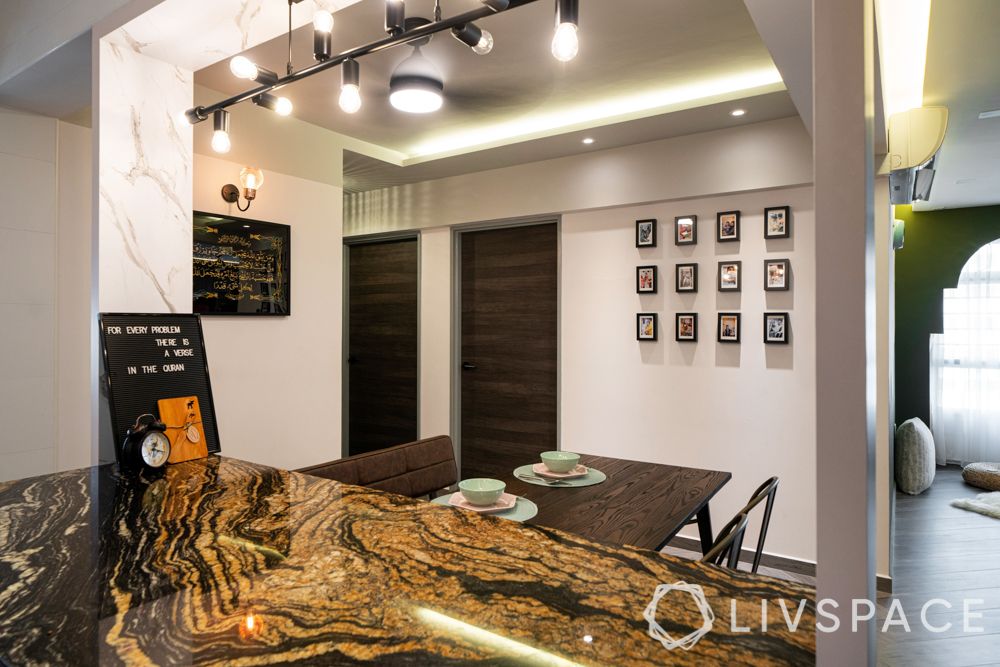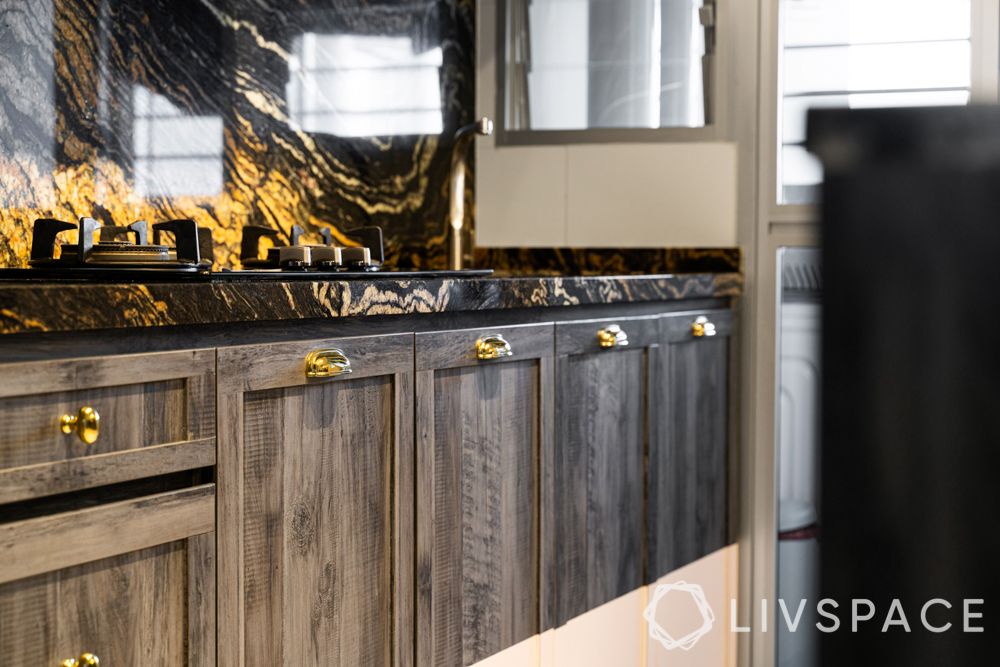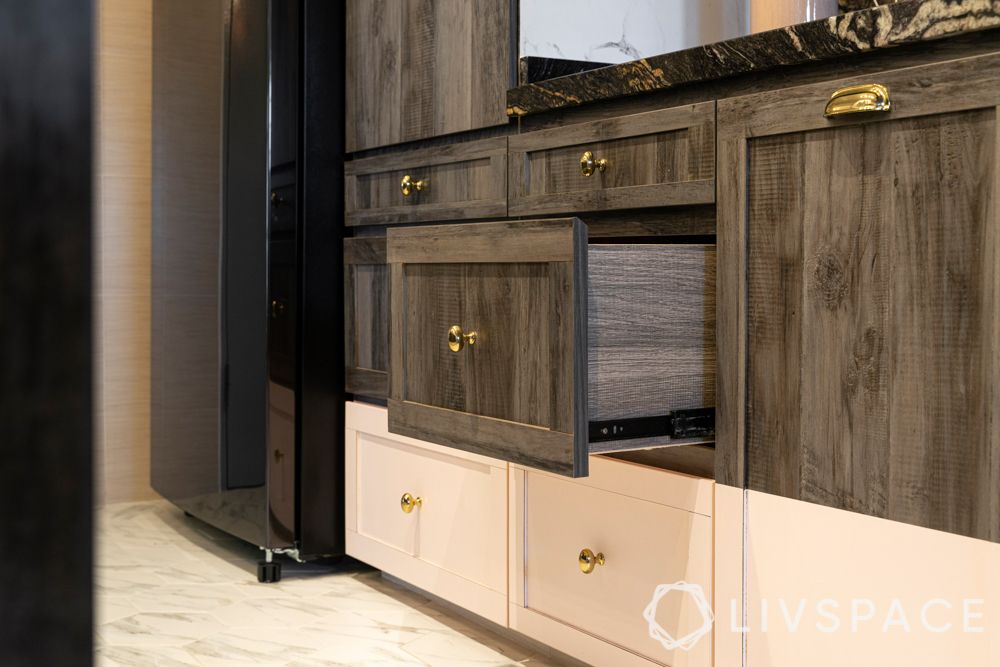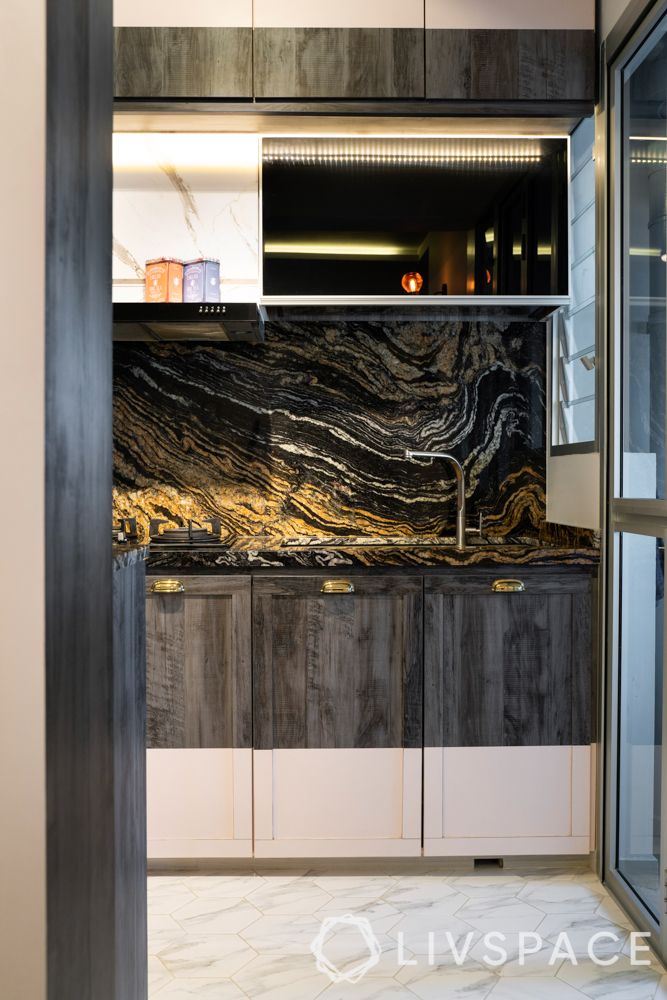 In the entire HDB 5 room design, Kader admits that he enjoyed designing the kitchen most. Since the family uses the kitchen for heavy cooking, Kader sought durable options for the kitchen. Instead of the usual monochrome or dual colour schemes popular in Singapore kitchens, he experimented with multiple colours. That's how we have black wooden laminate doors for the base cabinets, pink borders, white marble upper cabinet doors, and metal handles. A black granite countertop ties the kitchen together.
Kader and Malikka wanted their dining room to be warm and cosy. So they have a gallery wall in the background and a solid wood table top to catch up over delicious meals!
Maximising storage in the bedroom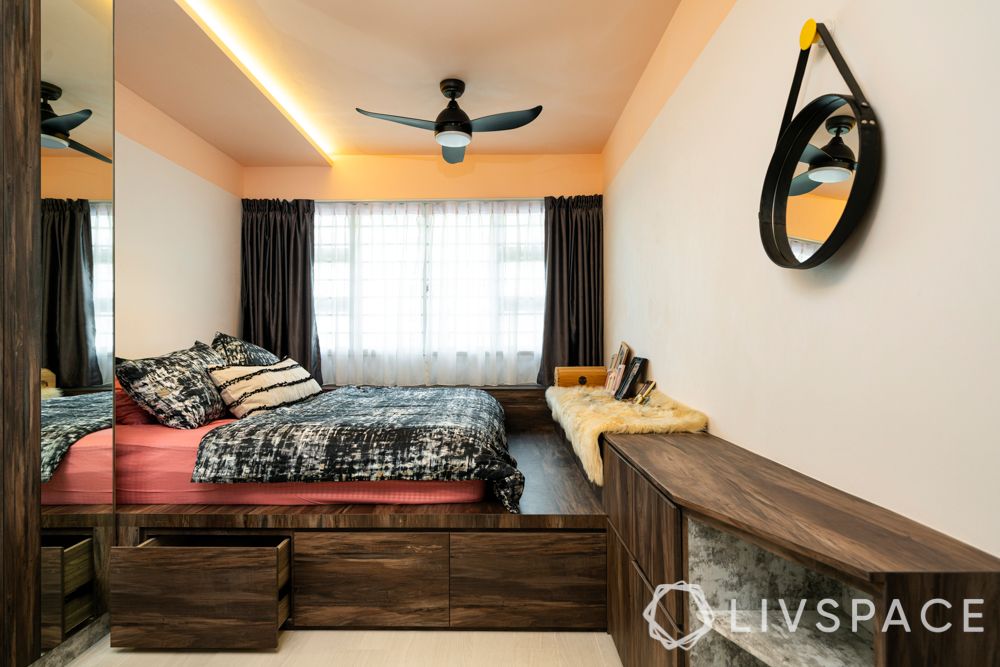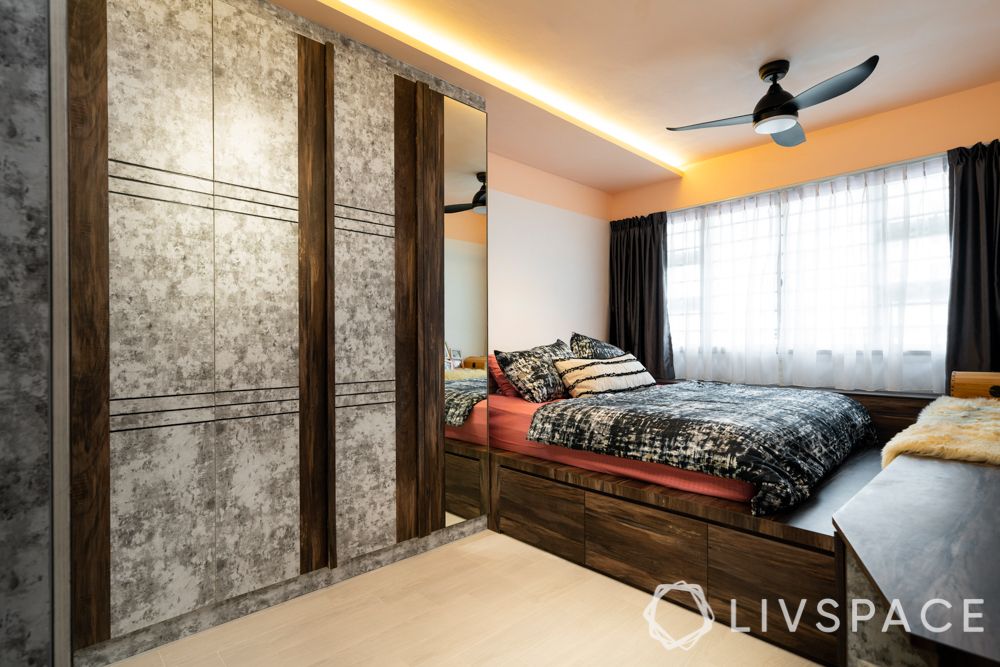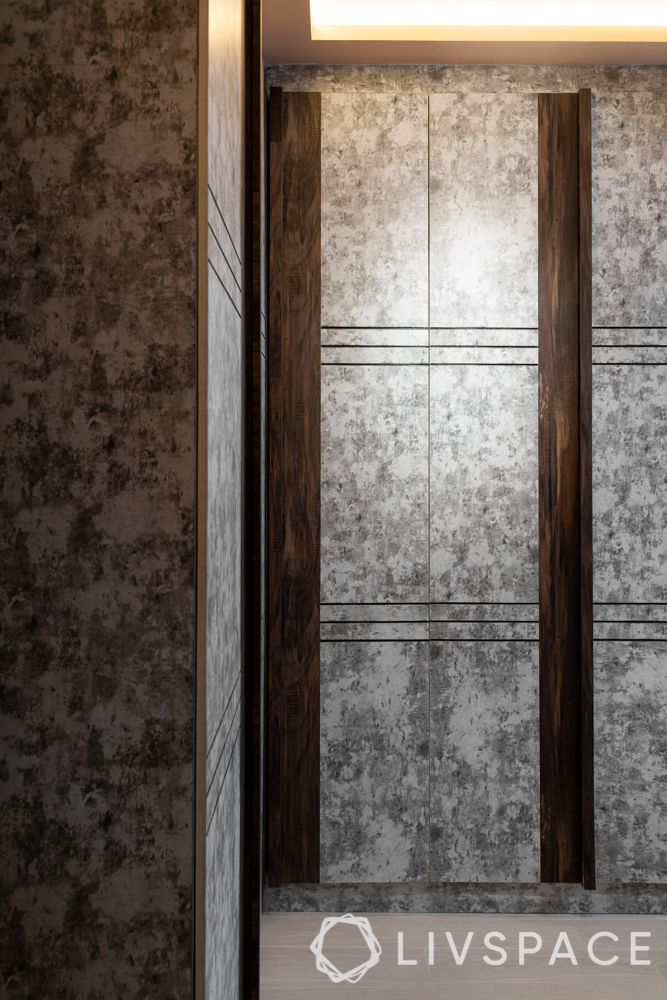 For the master bedroom, Kader and Malikka decided upon a dark coloured wooden bed with plenty of storage space, as well as a laminate wardrobe in shades of grey. This ties in perfectly with the profile lighting on the ceiling and large window. The overall effect is that of a soothing and well-lit room that helps you slumber peacefully through the night.
A blank canvas for the son's room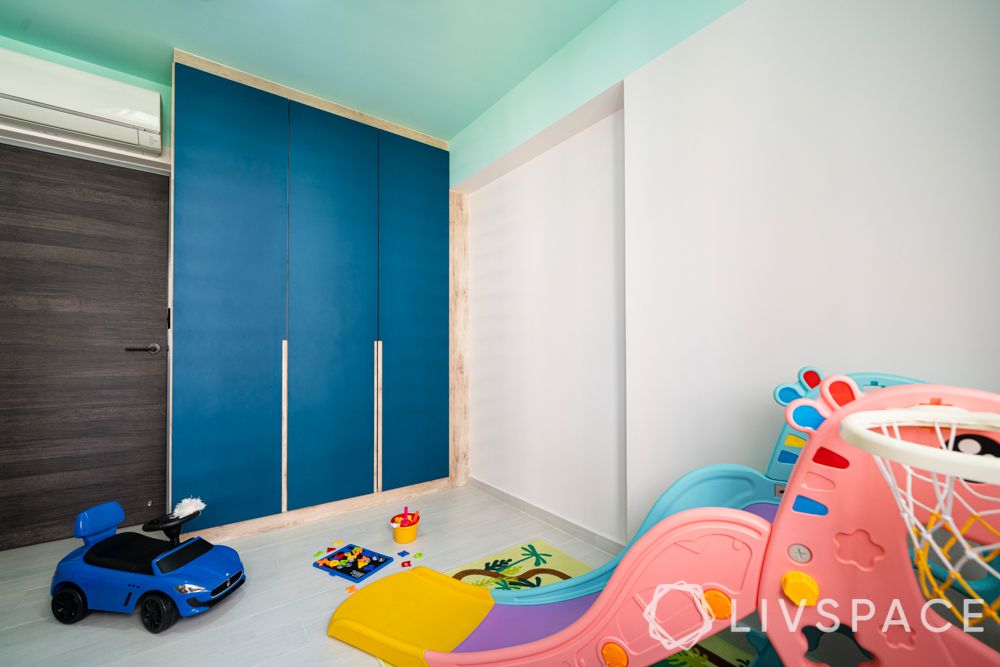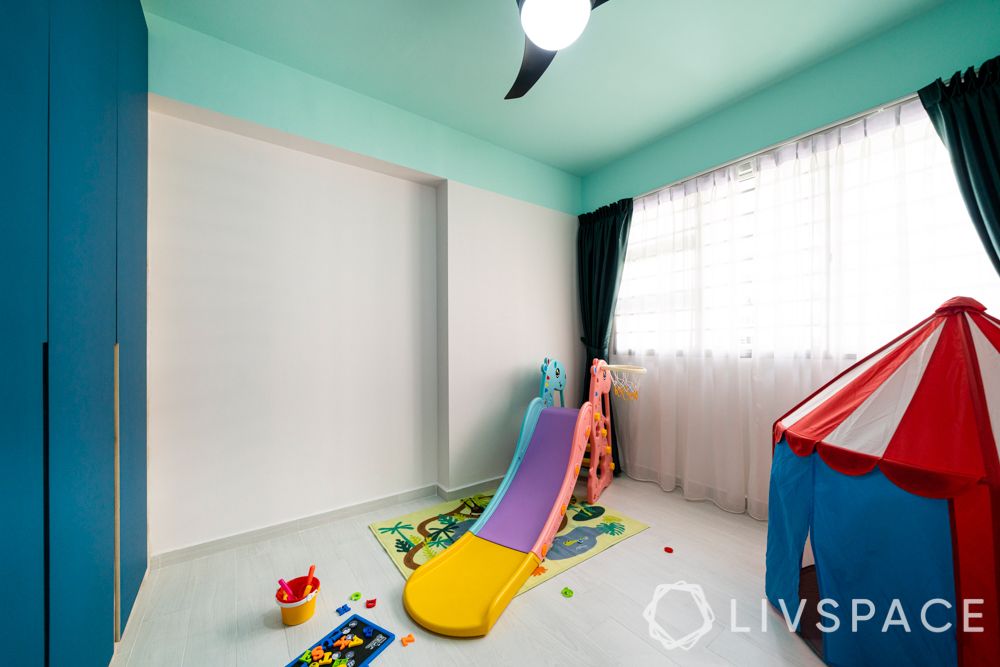 Kader wanted a dedicated space for his toddler to play and keep his toys, which could be personalised as the little boy grew up. So he left the walls white, but added a playful pale blue ceiling. This ties in with the matte finish blue laminate wardrobe shutters. And the large window ensures that this room receives plenty of sunshine!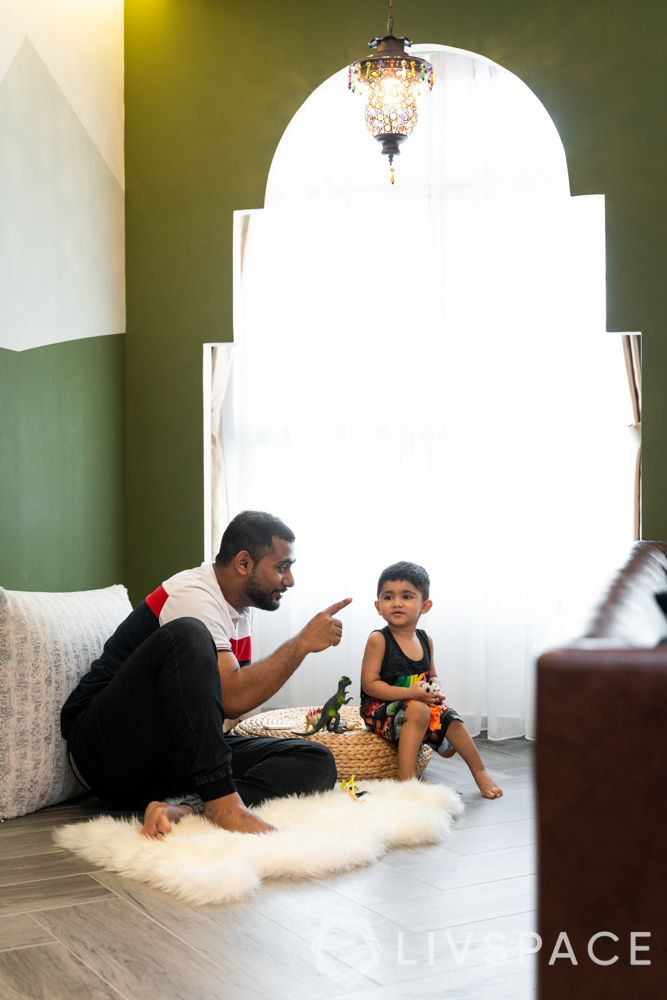 "Designing our home was a unique experience. I knew what we needed in our home, so I designed each element with care to meet our requirements. From the Mediterranean elements in the living room to the dainty-hued kitchen and lively playroom for my son, I was free to experiment. And we love the result!"
– Kader S., Interior Designer, Livspace
Enjoyed looking into this HBD? Also check out A Non-Cookie Cutter Home To Inspire Your Renovation.
Write to us at editor.sg@livspace.com.