Customised to perfectly suit the homeowner's lifestyle, this HDB 5-room renovation will leave you asking for more!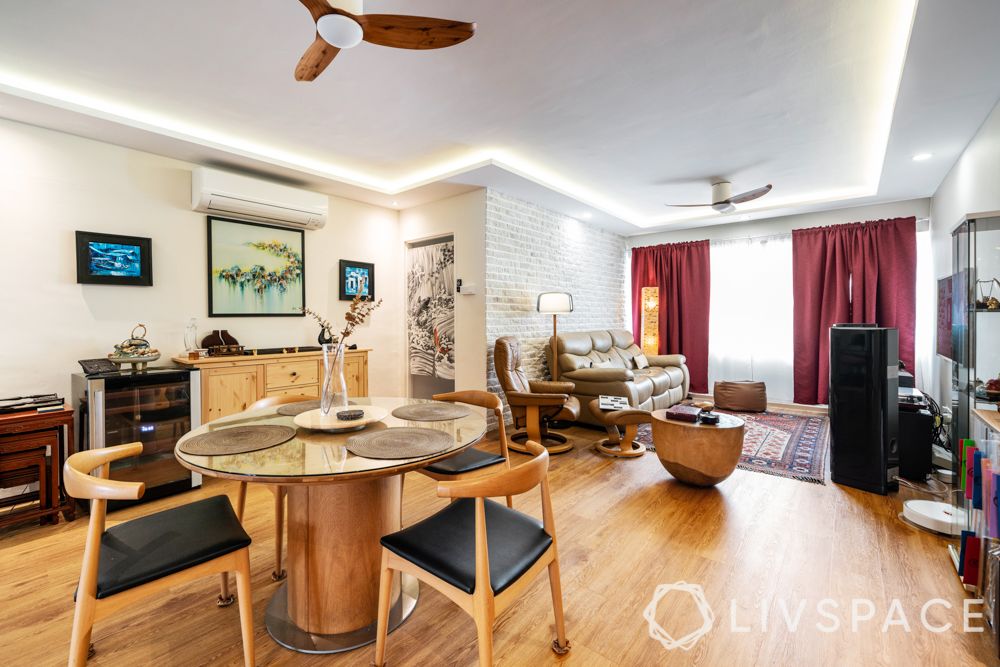 ---
Who livs here: Krish Iyer
Location: 772 Bedok Reservoir View
Type of home: 5-room HDB
Livspace team: Interior designer Ava Gui and project manager Kent Huang
Livspace service: Design, demolition, masonry, carpentry, electrical, plumbing, ceiling and partition work, painting
Budget: $$$$$
---
It's not uncommon for homeowners to come with a must-have list for designers prior to renovation. But for Krish Iyer, the homeowner of this 5-room HDB, the big task was just designing a home that was cosy and comfortable to live in, or in his words, "A home I want to live in," which is what Krish told his designer, Ava Gui. Since this is a resale HDB 5-room renovation project, the entire face of the flat has been transformed. Now with its neutral walls, comfy furniture and warm colours, this home feels fresh and welcoming in more than one way!
Allow us to walk you through the old HDB 5-room renovation design process.
PS: We have some HDB renovation before and after images too. Don't miss it.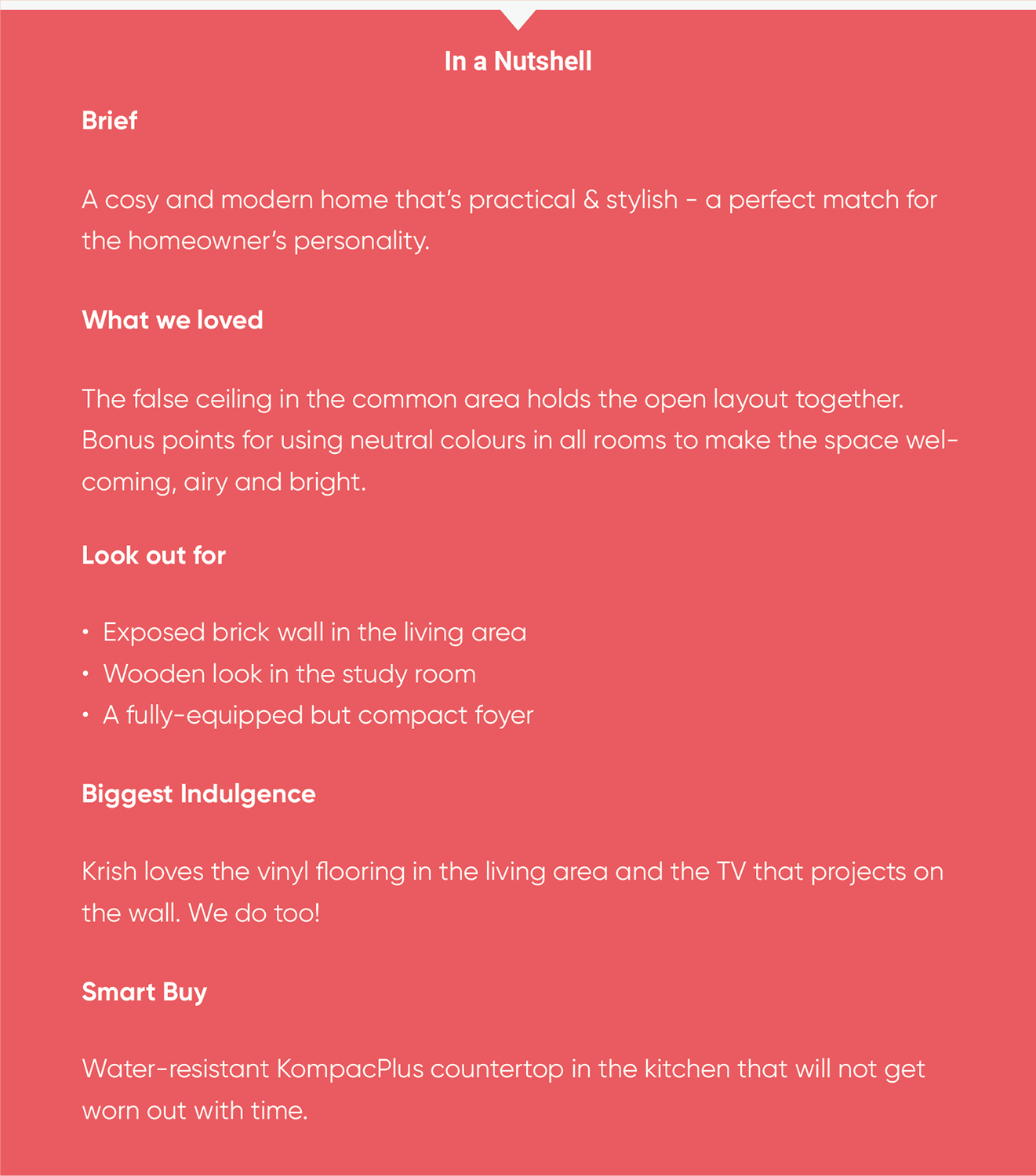 First, let's look at the transformation that this 5-room renovation led to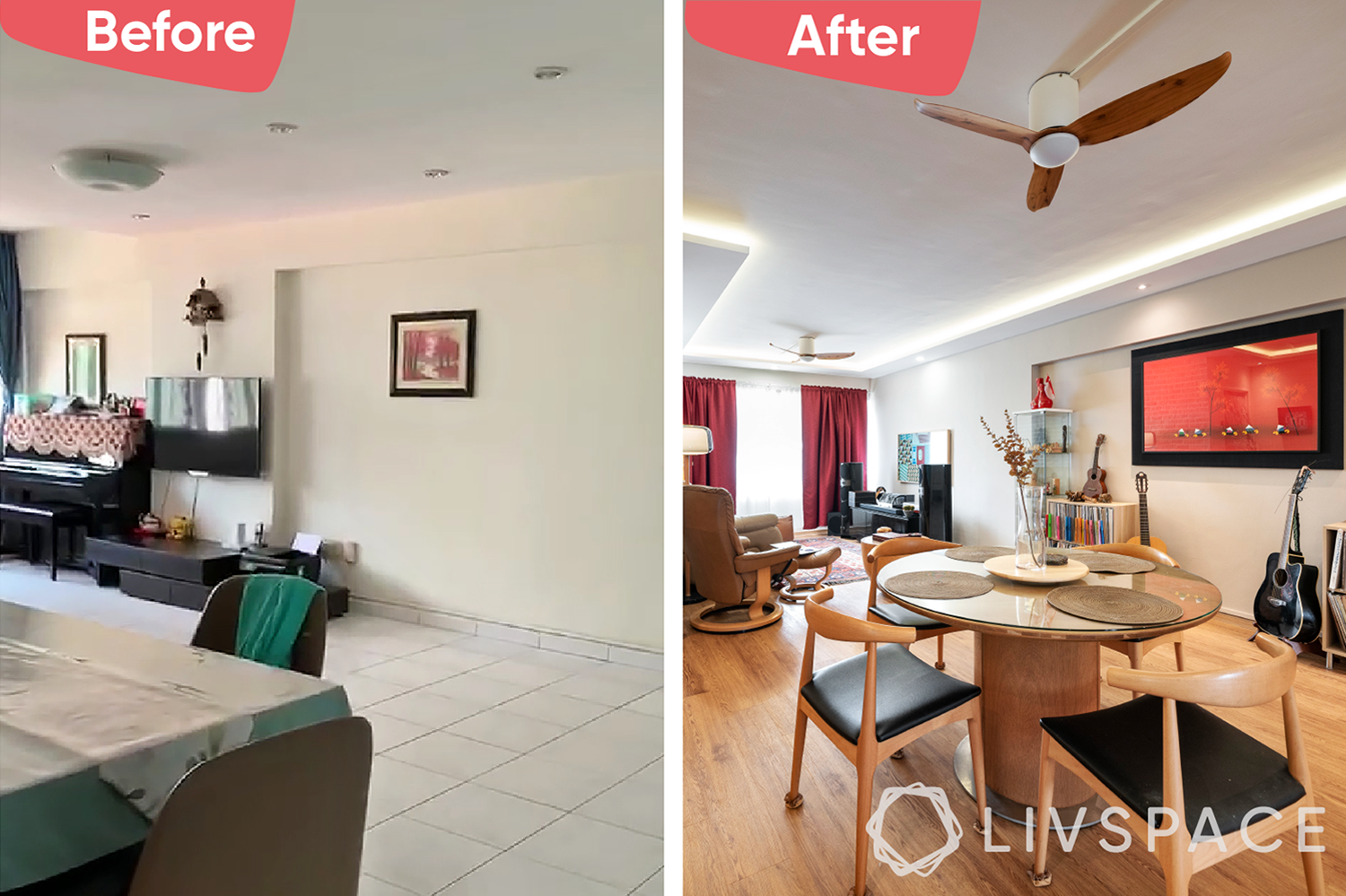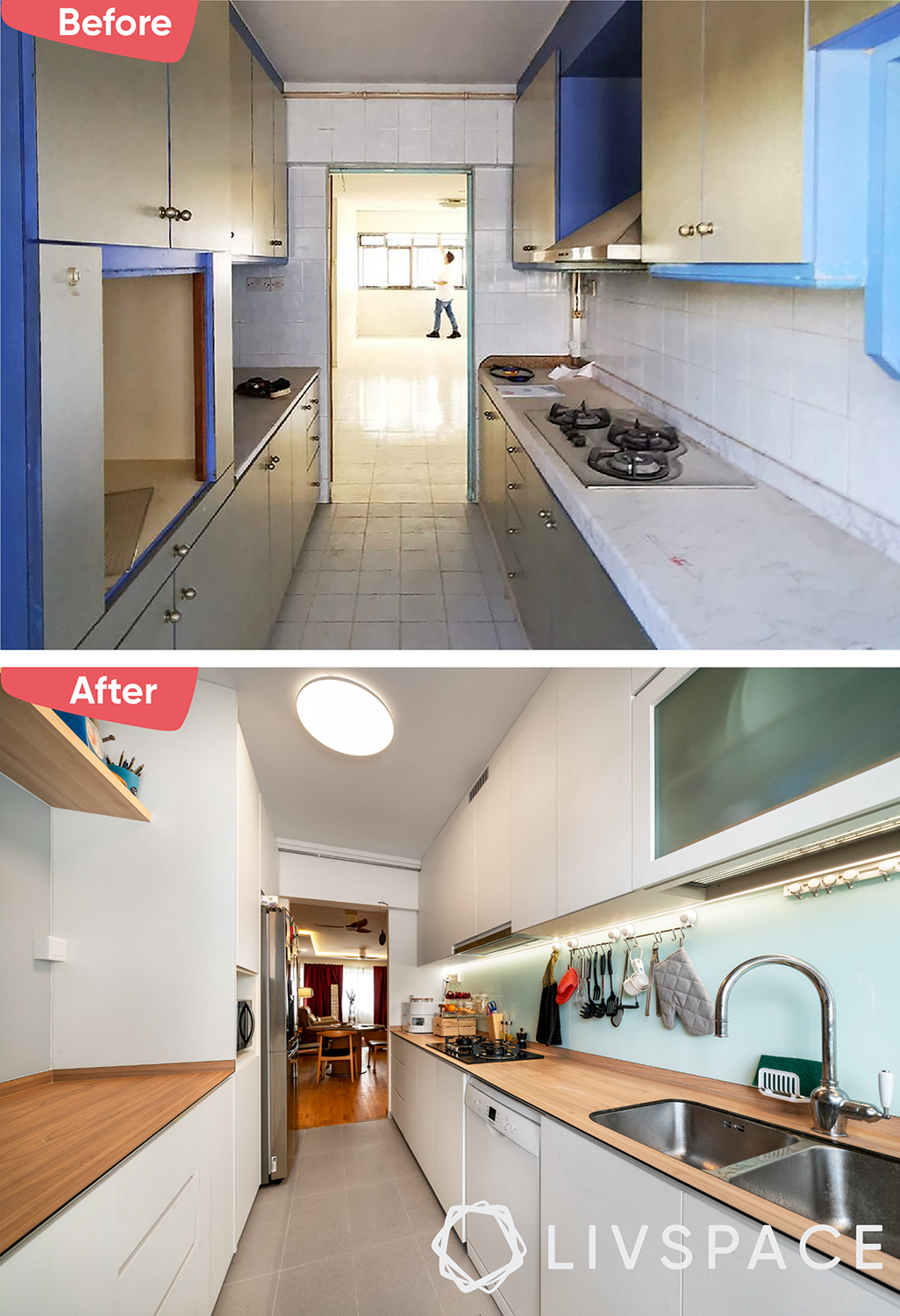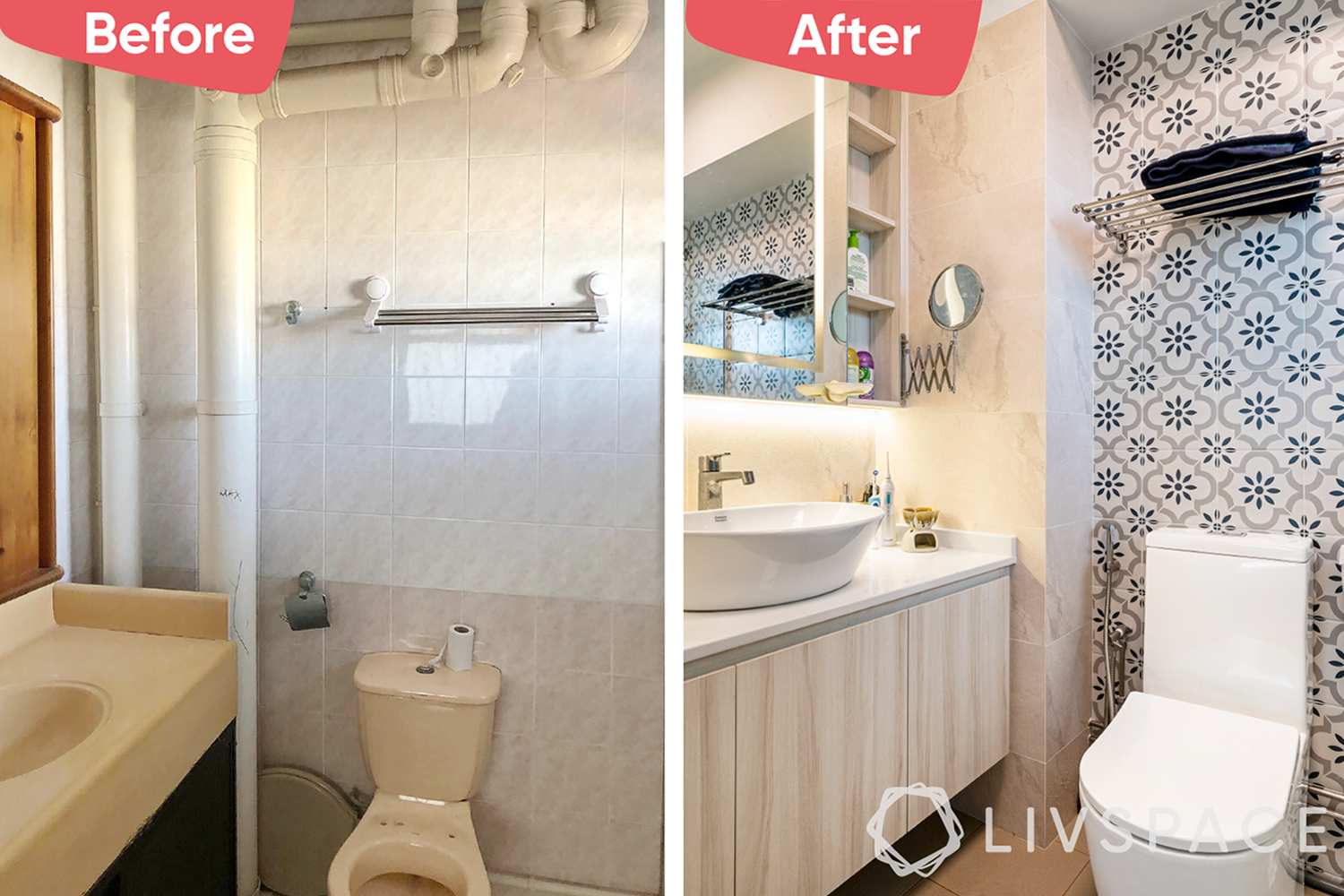 What is the Best Way to Welcome Guests?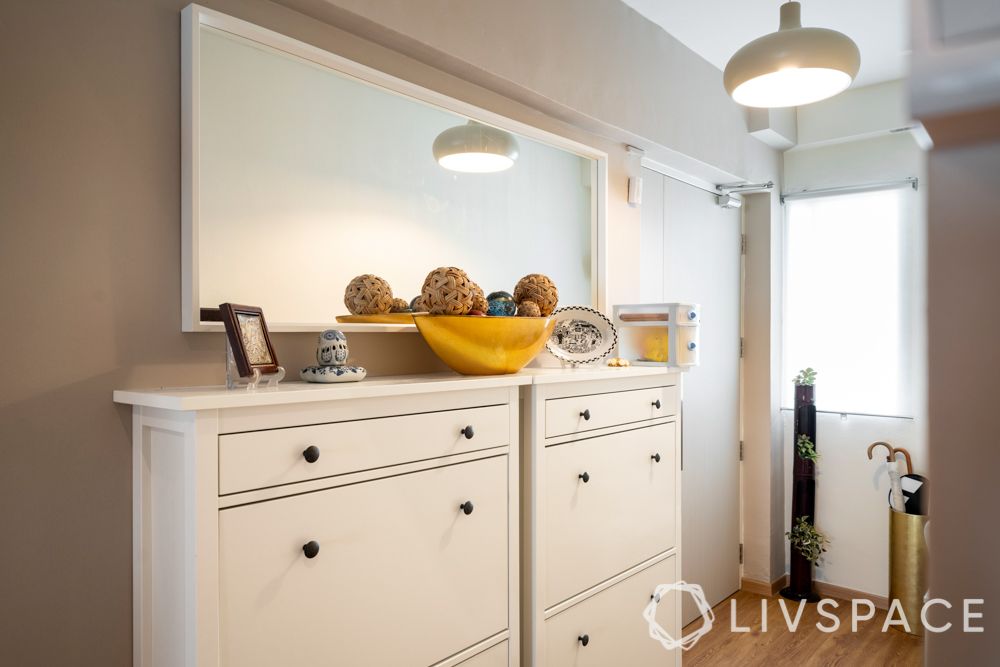 Who doesn't love having that extra bit of space when walking into an apartment? This HDB 5-room renovation kicked off with the foyer where Ava has painted the walls in a soothing earth colour and added white, powder-coated windows for a fresh look. The white shoe cabinet paired with the huge rectangle mirror is a great spot to stop by and check yourself out before heading out!
A Living Room Designed for Precious Downtime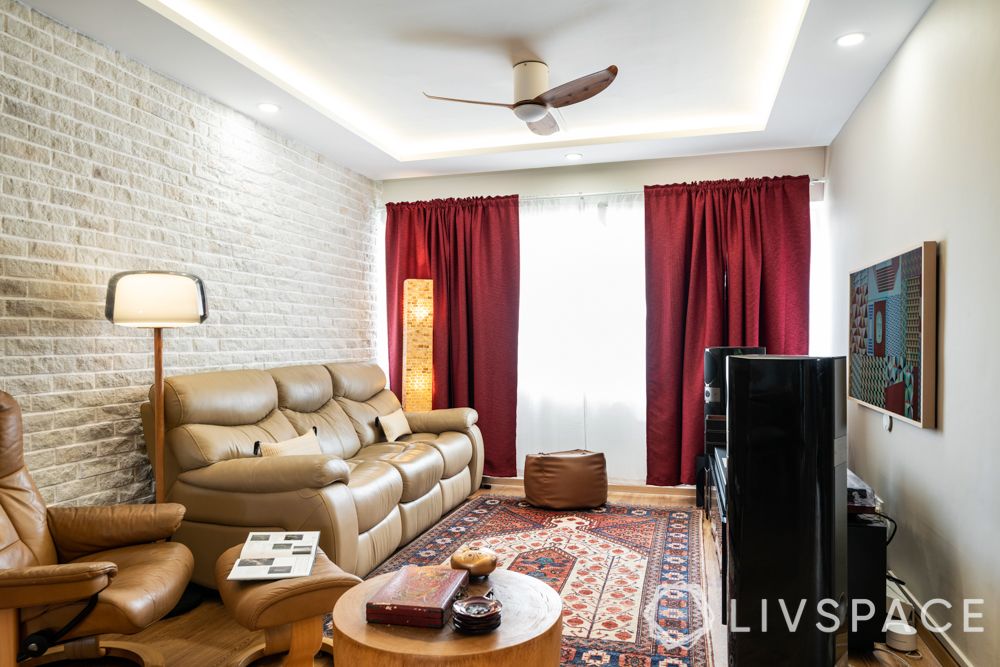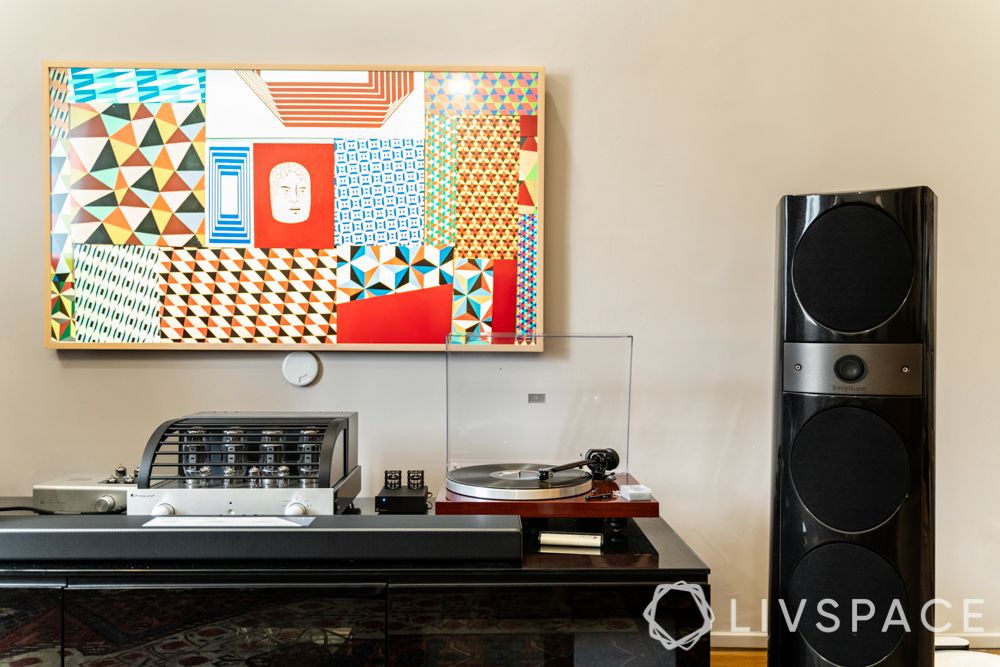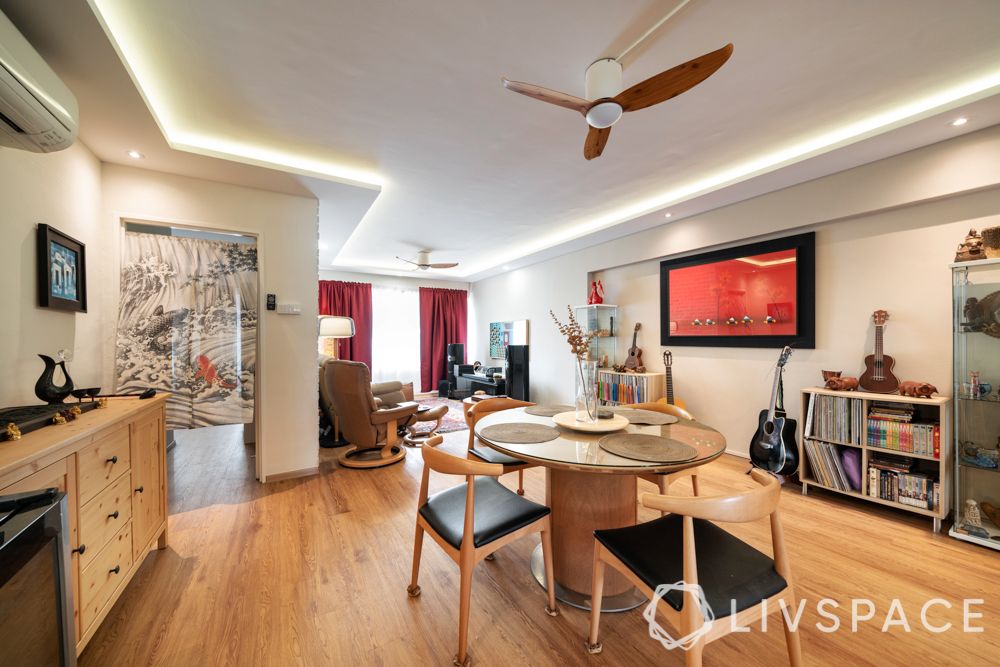 This home belongs to a family that loves listening to music and watching movies. Their living room is literally an extension of their personality. In this HDB 5-room renovation project, you'll find an open layout with comfortable recliners, a sound system with amplifiers and a TV console for the huge collection of vinyl records. Another element that stands out is the exposed brick accent wall that adds character to the space.
What ties the living and dining spaces together design-wise is the false ceiling with cove lighting that provides ambient lighting and imparts a soft glow. Perfect for some downtime, we think.
A Compact But Fully Loaded Kitchen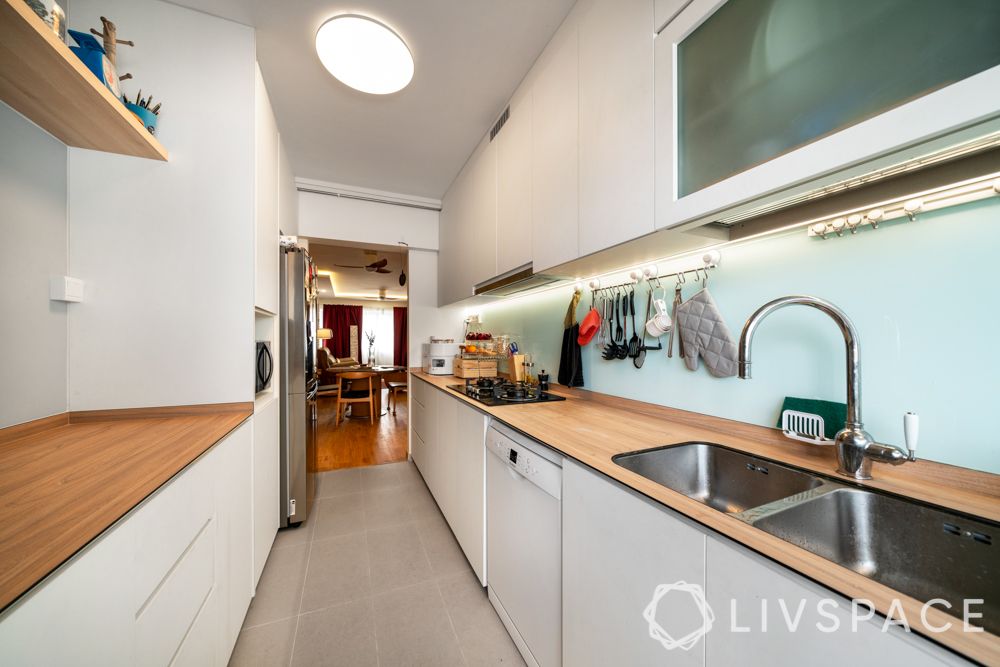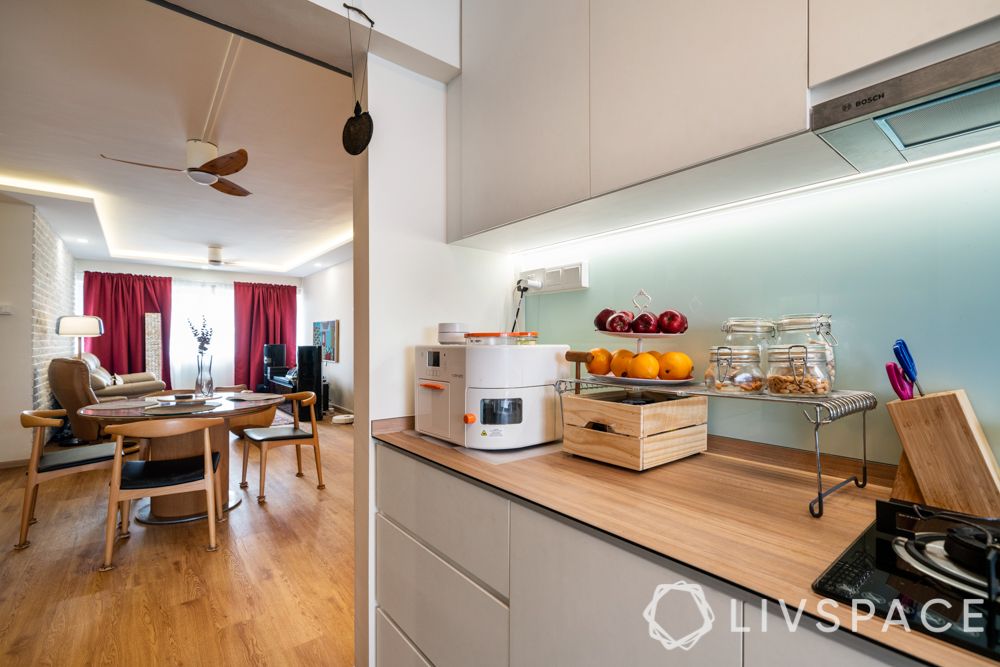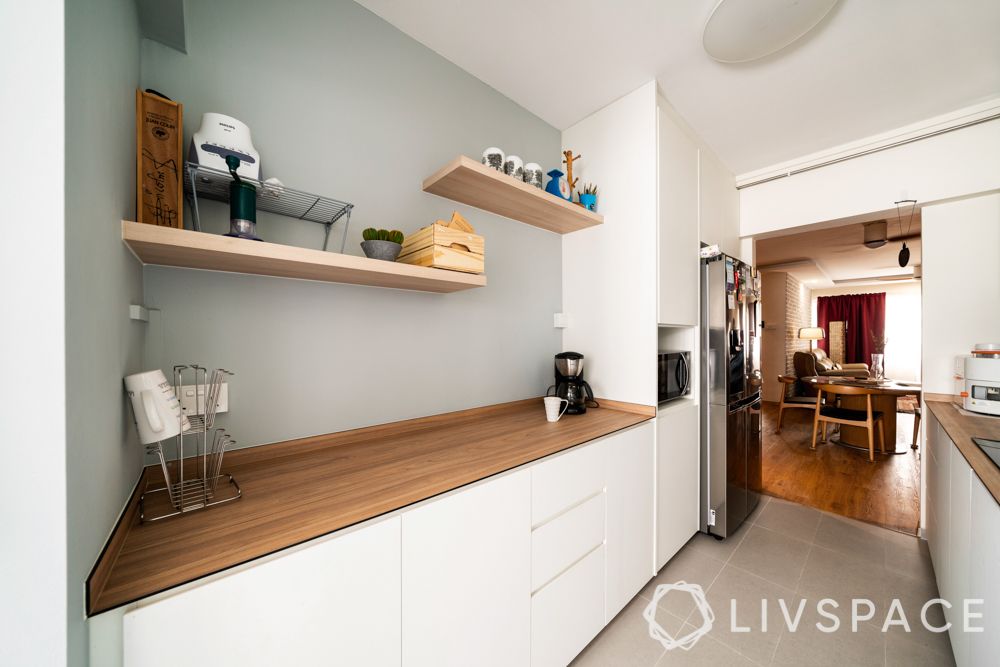 While the kitchen has not been changed in terms of the layout, Ava made excellent use of the available space. While designing this space, she kept a modern and minimal style in mind, using pristine white cabinets in contrast to the warm wooden-coloured countertops. She has also equipped this kitchen with open shelves and accessories that let Krish indulge his culinary adventures.
ALSO READ: Essentials of Kitchen Renovation and How to Save Cost While Renovating
Warm Wooden Notes in the Study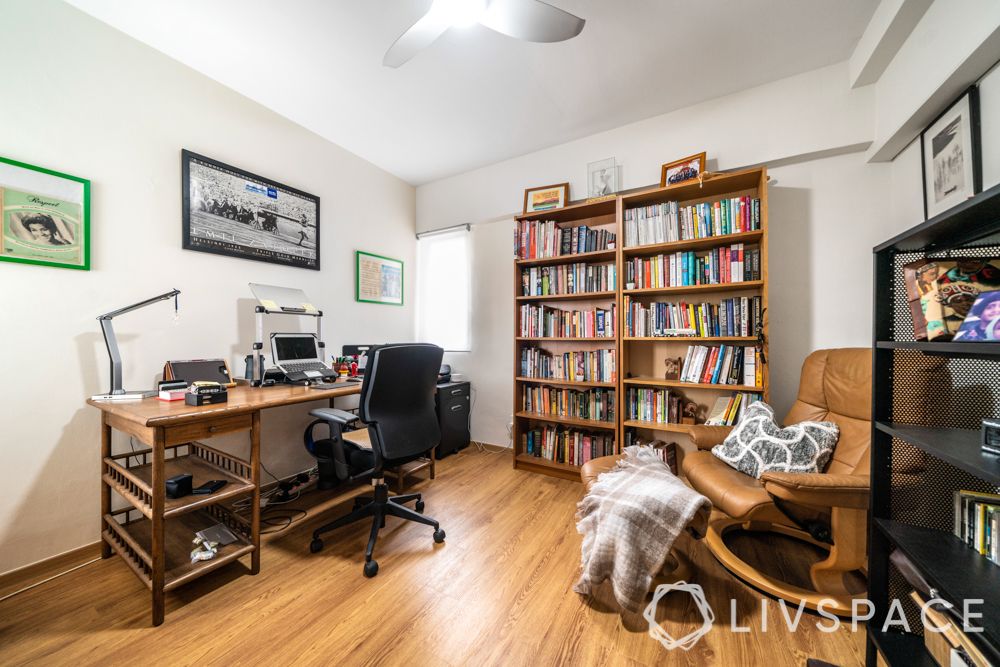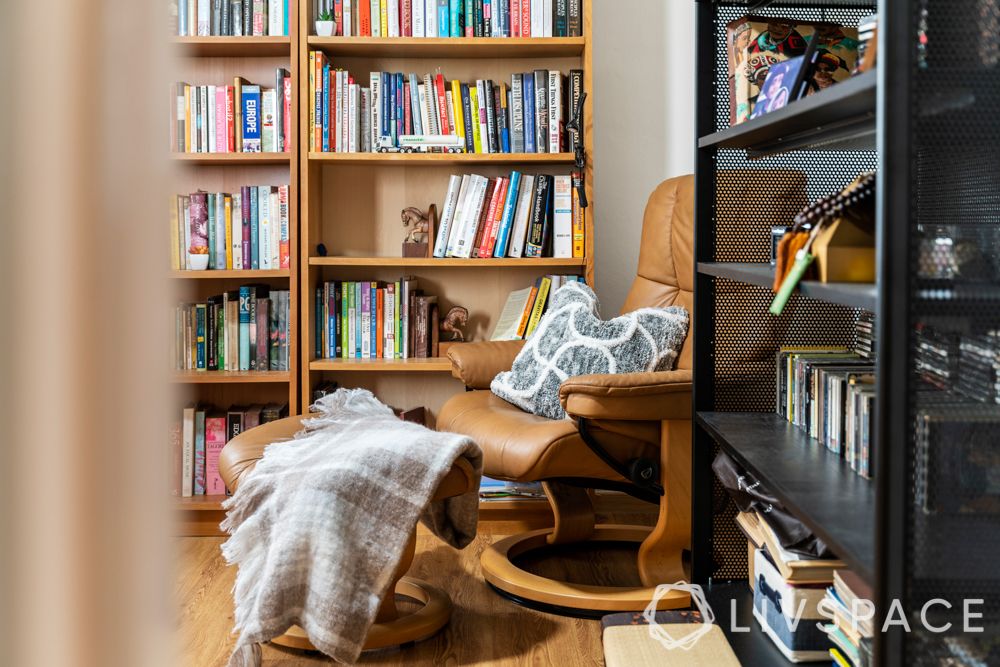 In casual banter, Krish remarked that he spends at least three days a week in his study. So Ava decided to equip the room with an IKEA pax wardrobe that is ideal for books. Being completely customisable, it fits right in. She also added a wooden study table and completed the look with wooden flooring.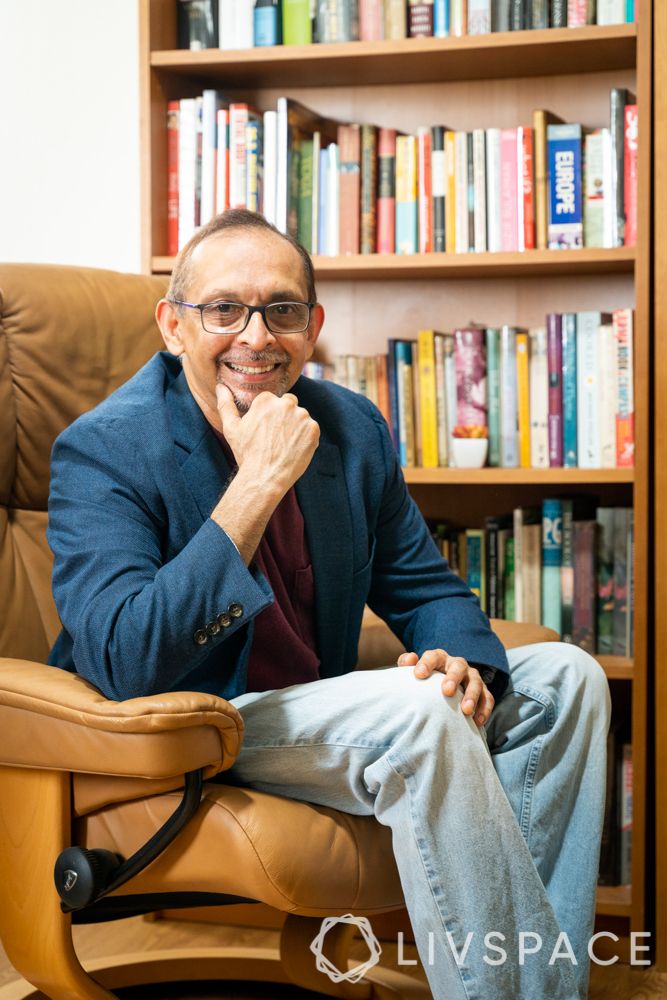 "It was a delight to interact with Ava through the design process. I am happy about the fact that she incorporated our requirements and translated them into a classy yet cost effective design concept. I would also like to mention Kent, for his meticulous project management. He worked tirelessly to bring the workers together. I would like to thank Livspace for their efforts and immaculatecustomer-focused service."

Krish Iyer

Livspace Homeowner
IKEA Wardrobes Add Storage in the Bedroom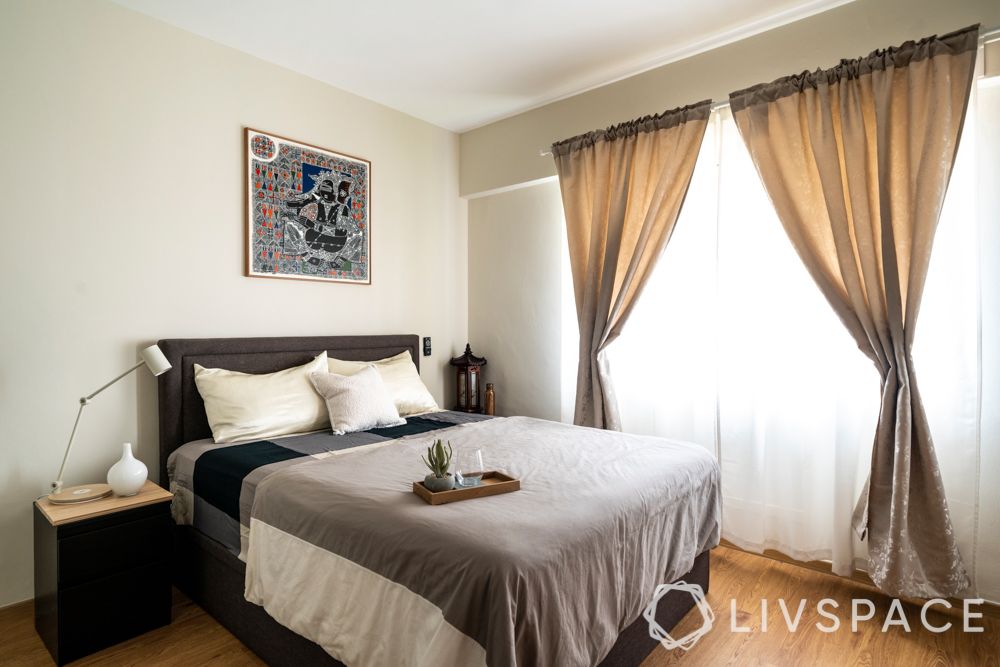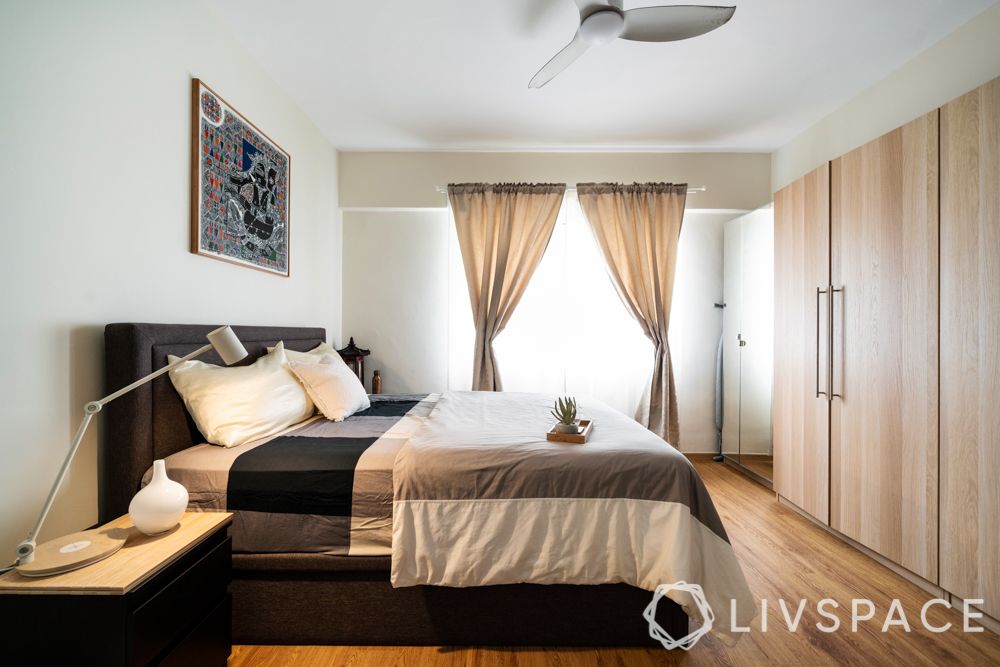 The bedrooms in this lovely home paint a serene picture. Since Krish wanted a simple and modern look that was clutter-free too, Ava made sure she did not crowd the HDB rooms with furniture. All she did was add wardrobes from IKEA that come with a lot of storage space. In the guest room, she has added a sofa for seating. All the bedrooms flaunt a warm wooden flooring for an inviting look.
ALSO READ: Know the Best Way to Use IKEA's Furniture From This Waterway Sunrise Home
How to Renovate Compact Bathrooms and Hide Pipes?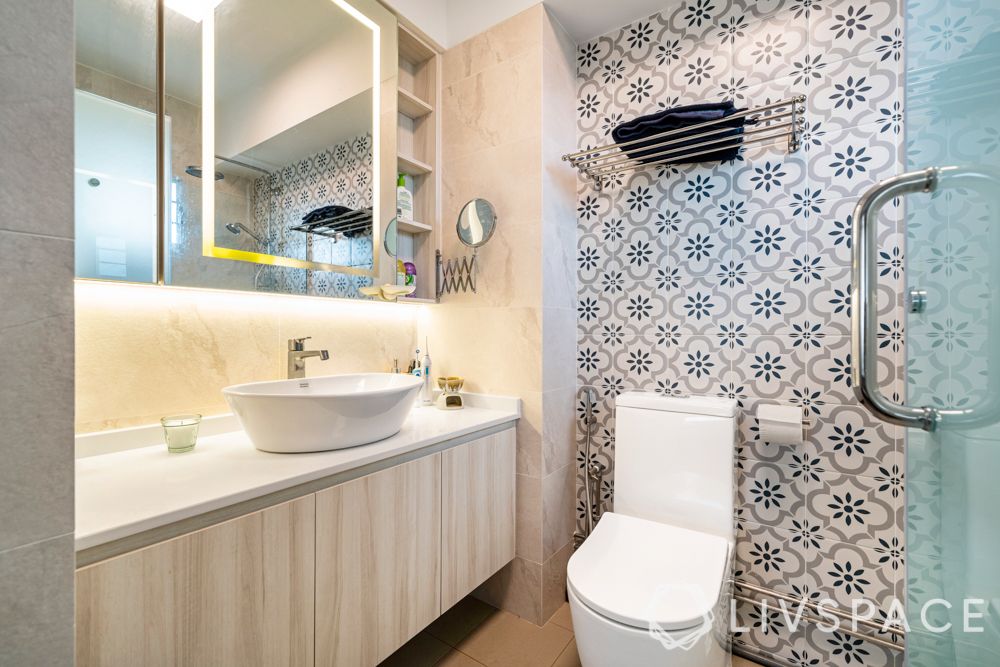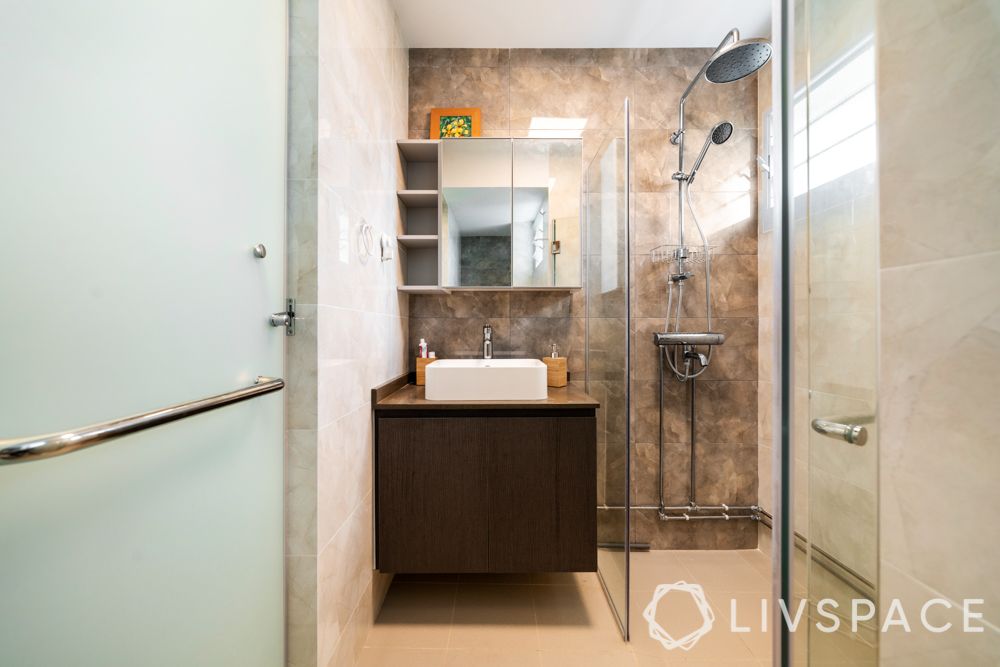 The most common problem in bathrooms is unsightly pipes that take up space and look bad. So Ava boxed the pipes in the bathrooms with calcium silicate. For designing the space she used a mix of tiles on the wall and floor. A special feature wall with unique Peranakan tiles is the highlight of the master bathroom in this HDB 5-room renovation project. The common bathroom walls have two different shades of the same tiles that create an illusion of depth and width in a small bathroom.
"Krish and his family were very open and receptive to my design ideas, so it has been a very enjoyable process in creating their dream home. The project had to be put on hold due to a circuit breaker issue and we managed to get it completed promptly. I think that was the highlight of this renovation project."

Ava Gui

Interior Designer, Livspace
How can Livspace help you?
Are you impressed with this HDB 5-room renovation? You can get such beautiful interiors too with Livspace. Book a consultation with our talented designers to get safe and quality interiors. You can learn more about our COVID-19 safety standards here.
If you loved this HDB renovation, then you should check out 5-Room HDB Renovation Ideas That Will Inspire You.
Send in your thoughts and suggestions to editor.sg@livspace.com.