This three-bedroom HDB BTO design is dressed in whites, pops of pastels and stunning wooden grains. The Scandinavian-styled home is simply a visual treat!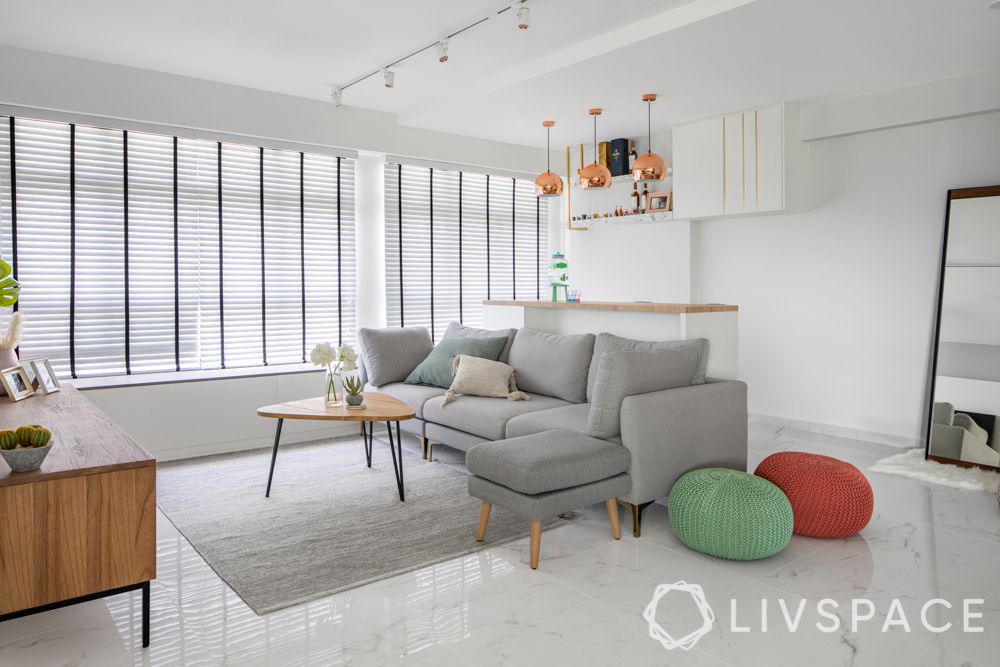 ---
Who livs here: A couple, Ian Ng and Wong Huiting
Size of home: A five-room HDB
Design team: Interior Designer Noel Tan & Project manager Ricky Lee
Livspace service: Full Home Design
Budget: $$$$$
---
For homeowners, Ian Ng and Wong Huiting, it was all about creating a light and airy home with a specific colour palette. They also had their hearts set on a transforming a complete room into a walk-in wardrobe and getting a bar counter in the living room. Sounds like the perfect home to unwind in at the end of the day, doesn't it?
With a keen interest in Nordic styles, Livspace designer Noel Tan has given this flat a whole new contemporary look. Strictly sticking to the theme, Noel has chalked out a space-efficient design characterised by cool tones. Here's the tour!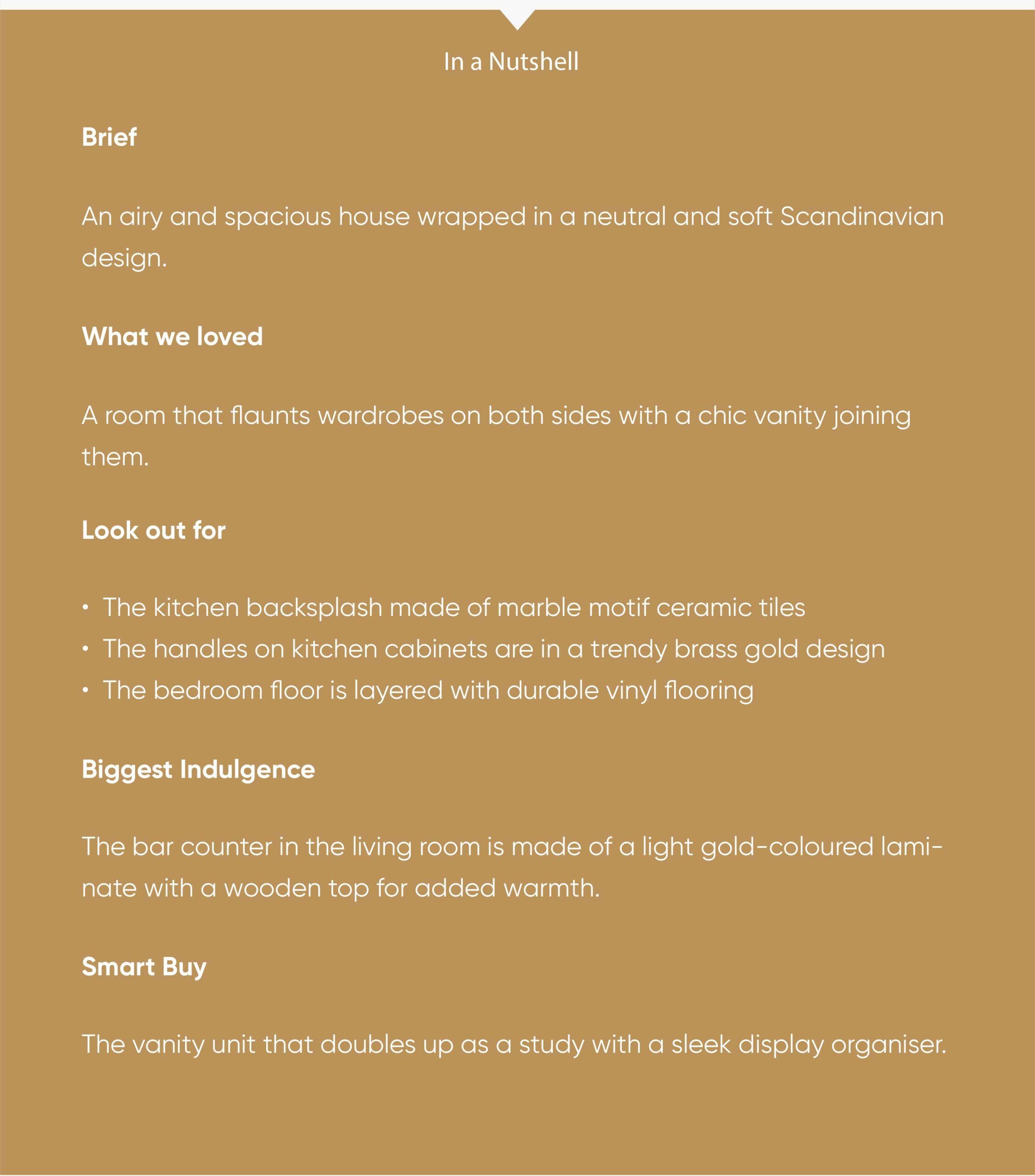 This Living Room Design Puts the Fun in Functional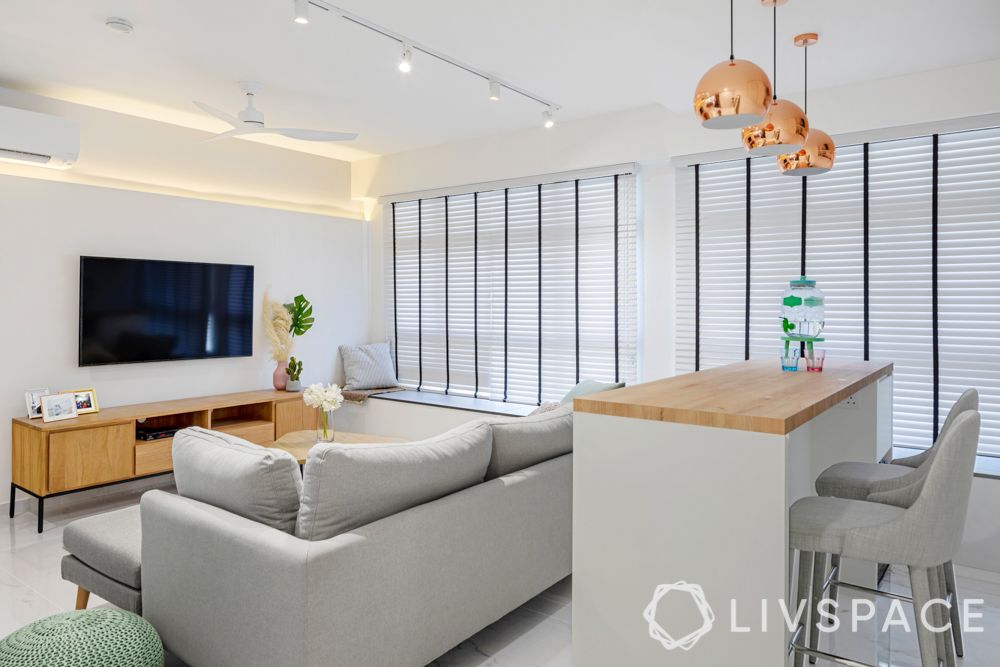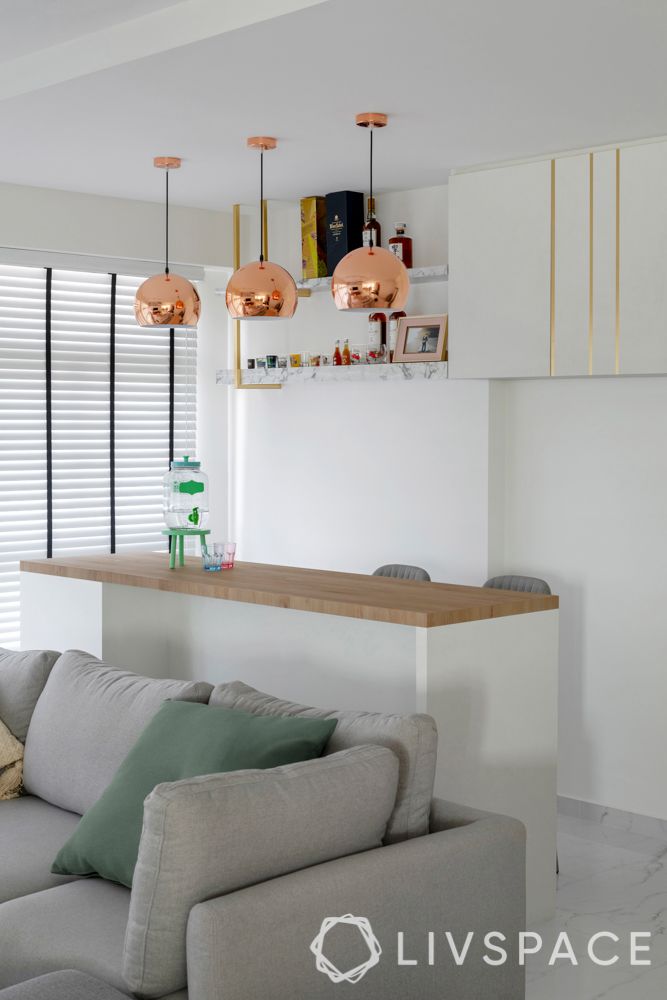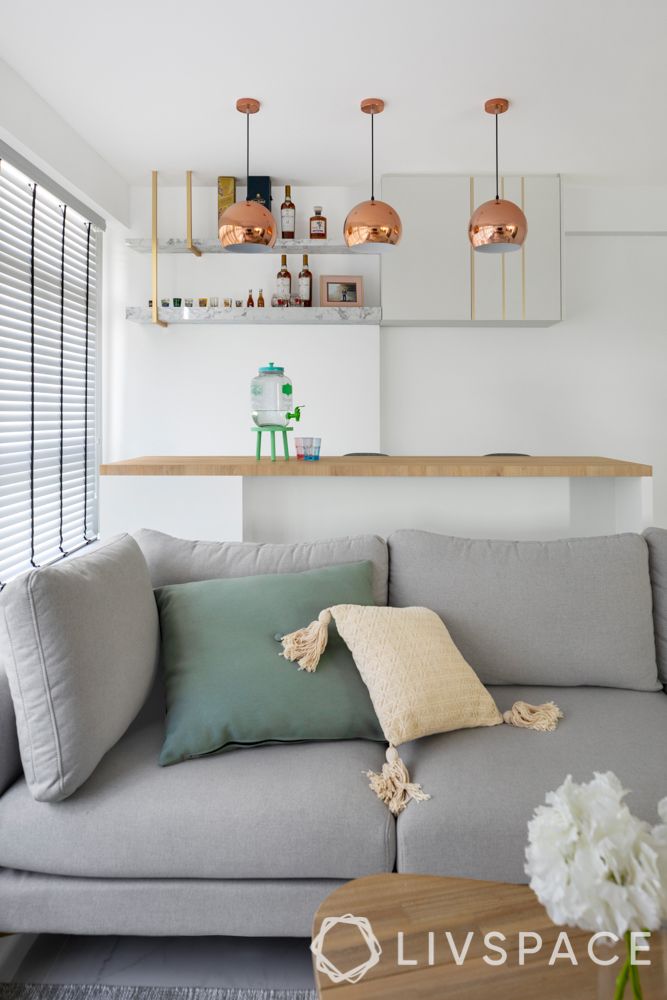 Stepping into the all-white living room, the design is quite restful on the eyes. The aim was to create a space that was visually minimal and uncluttered. "White marble-looking materials are chosen as the primary detail that resonates with the modern Scandinavian theme," says Noel.
Moreover, a noteworthy and unique feature in this room is the simple bar counter. Why? Well, the homeowners enjoy a drink or two after a long day. On other days, they use the bar counter to enjoy their meals while watching a movie. Constructed by the team, it blends in seamlessly with the rest of the decor.
However, the lounge is not devoid of colour. This HDB BTO design is the perfect blank canvas for wooden finishes, rose gold lighting and pastel green fabrics.
Dining in Style & Comfort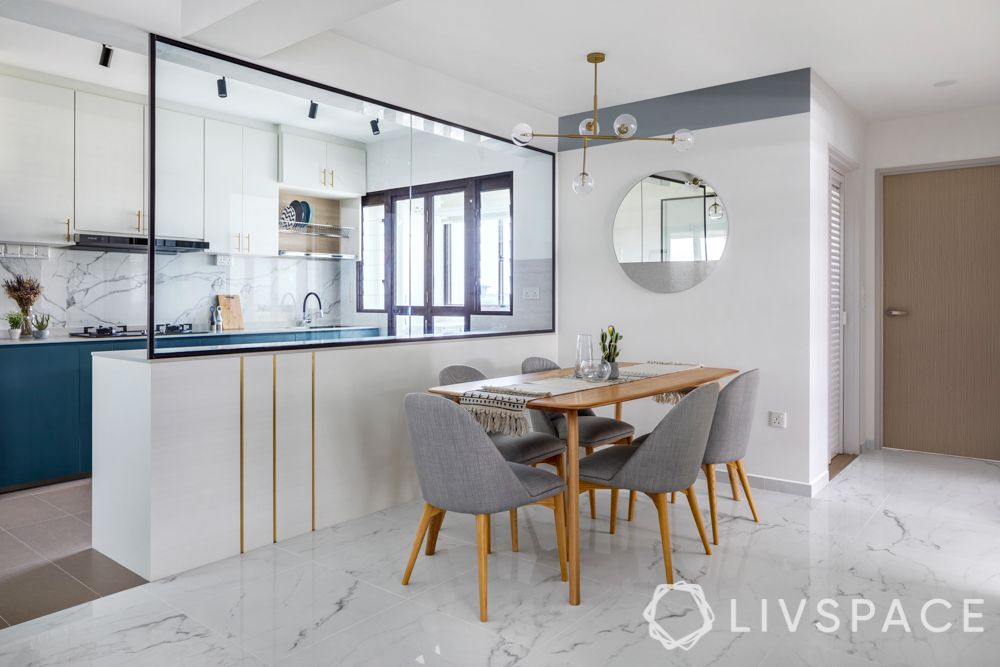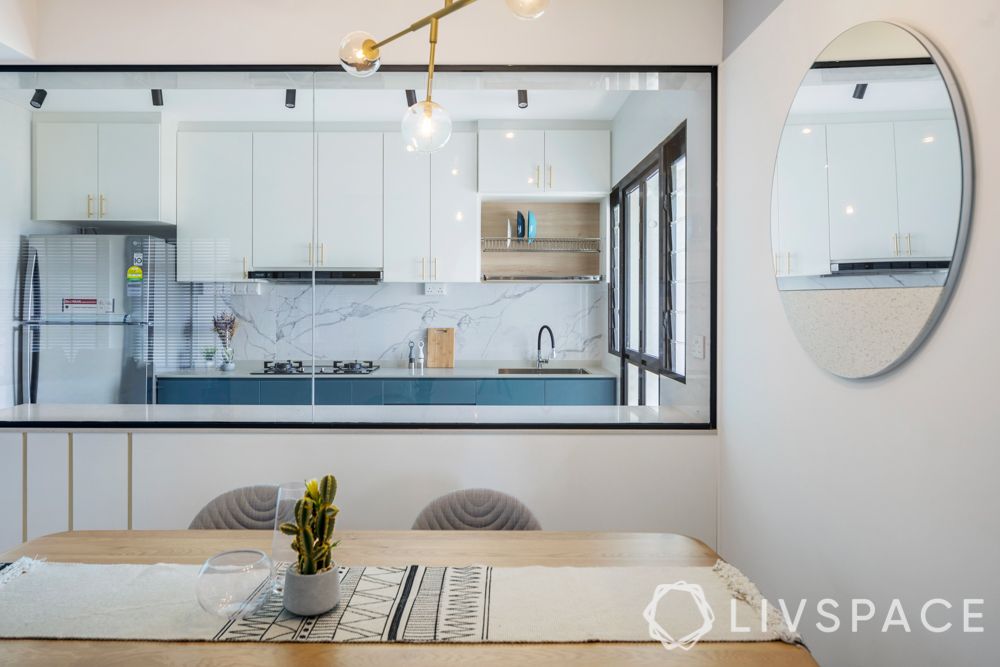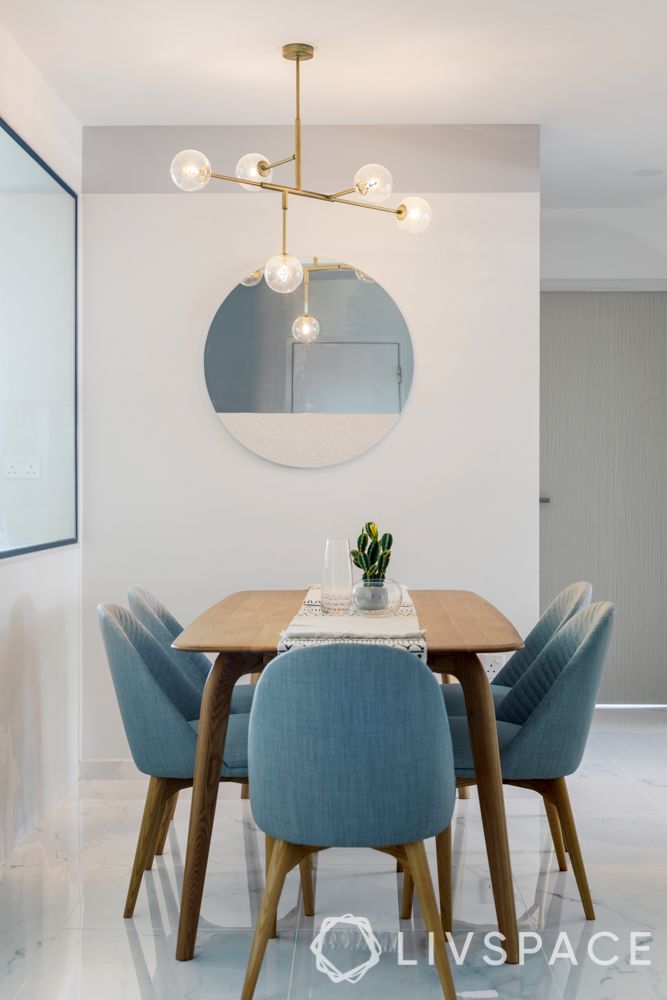 The dining room represents the Scandinavian style to the T. However, it's also a lesson on designing a spacious room with limited space. The dining room is separated from the kitchen by a glass partition. This helps in giving the kitchen an open look while it contains its function to its own layout.
Subsequently, the couple liked the idea of having a wooden six-seater dining table even though they enjoy their meals at the bar counter. The basic round mirror on the wall reflects natural light from the windows.
Moreover, soft lighting is an important element in Scandinavian style. Therefore, Noel and the homeowners opted for a trendy linear sprawl chandelier.
Kitchen Design with a Touch of Teal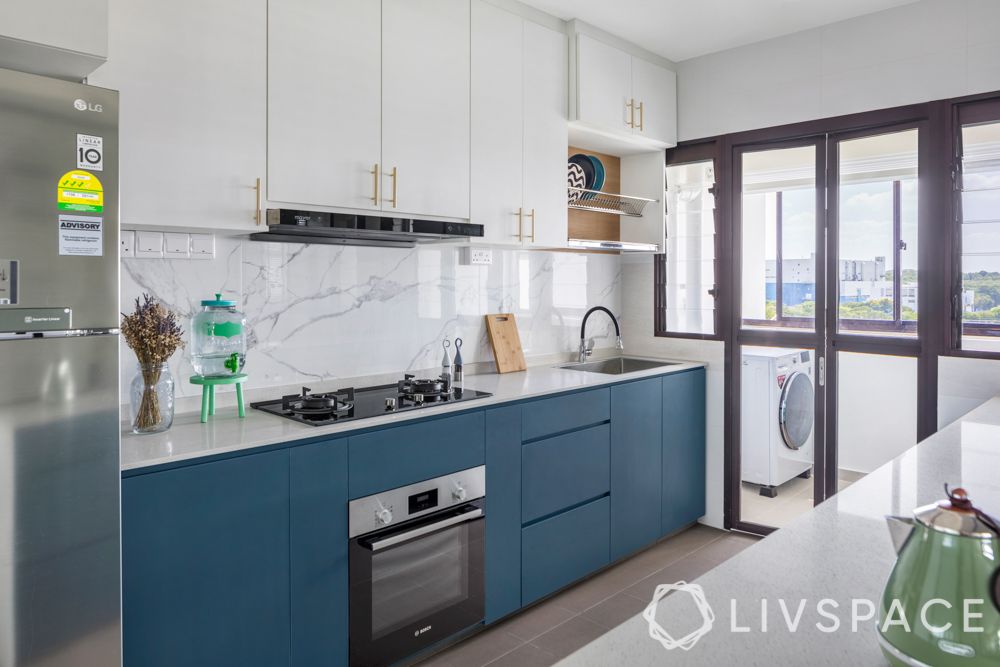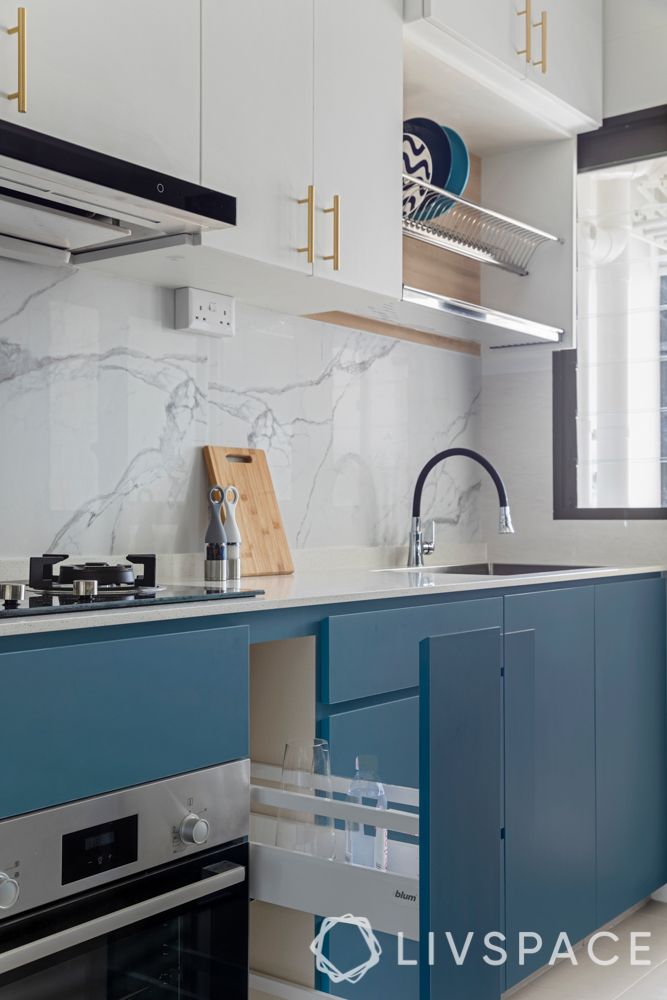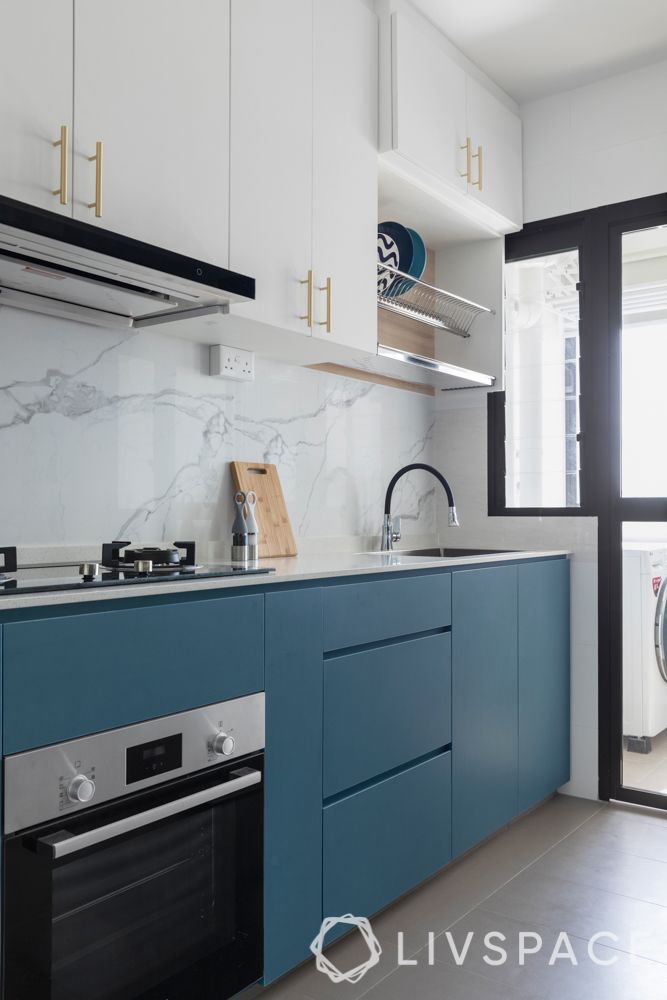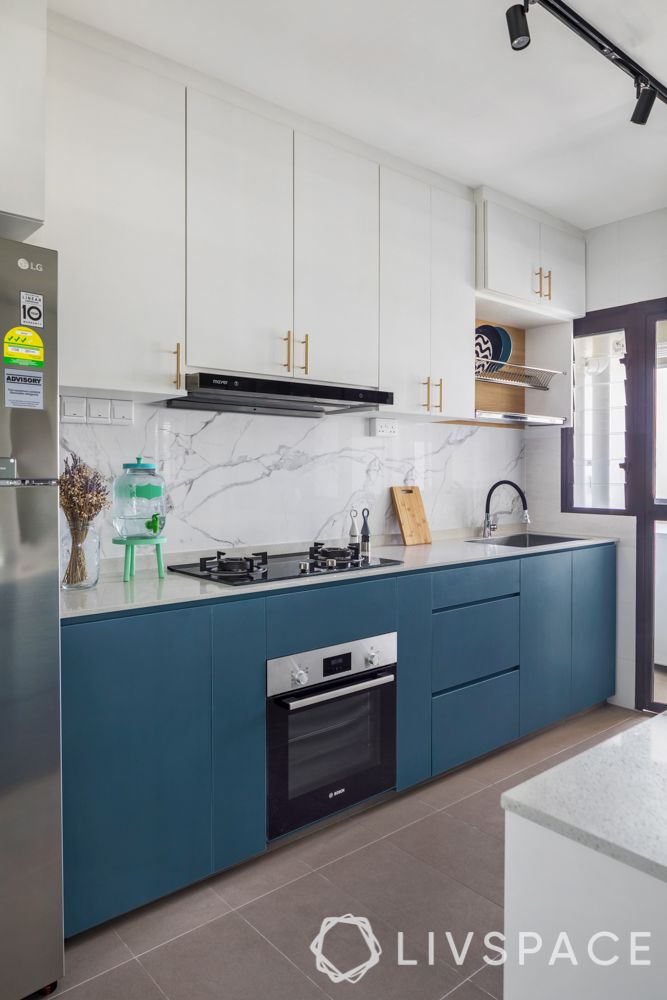 Now that's a dreamy kitchen! "The third colour in the overall scheme is a dark shade of teal. I used this modern hue in the kitchen cabinets and master bedroom," says Noel. The wall and base cabinets are in a laminate finish as they are less susceptible to colour change. Consequently, a mix of brass-gold handles and seamless cabinets elevates the look too.
Pastel-themed Master Bedroom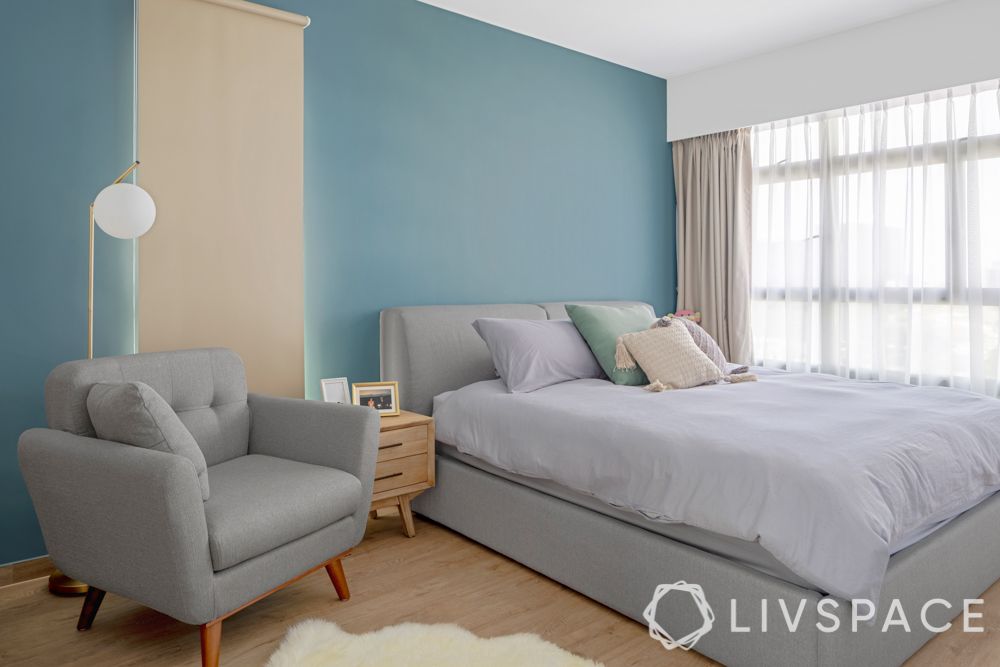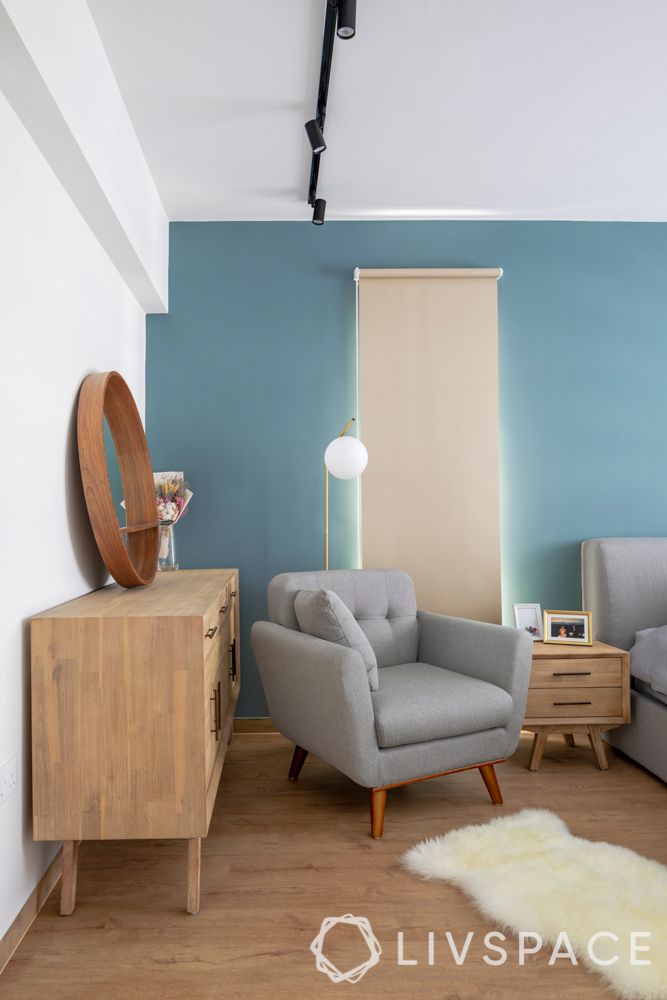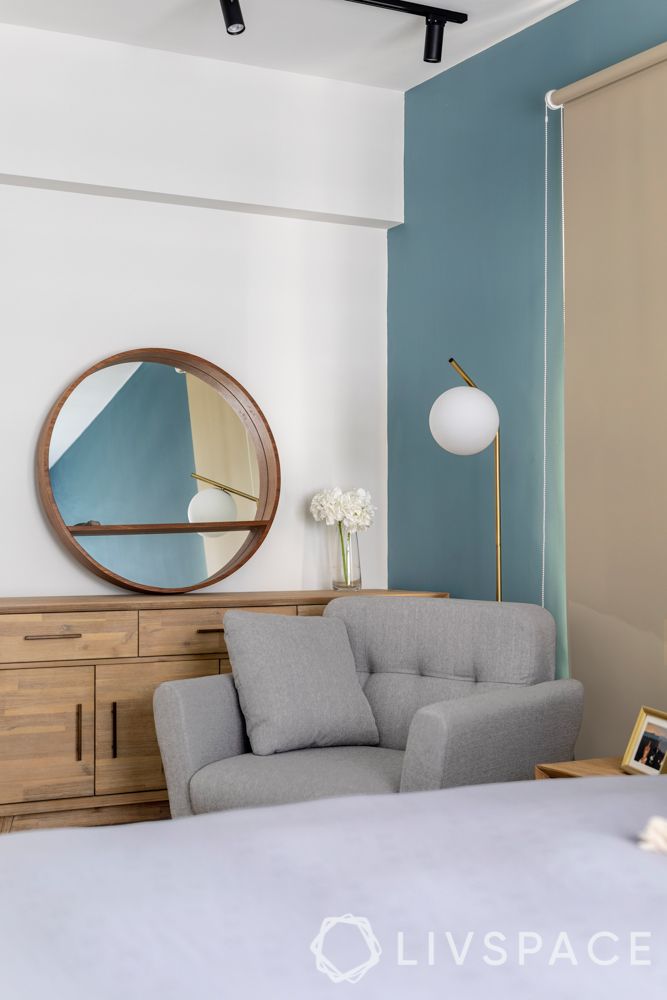 A cool calming colour scheme like this one for the bedroom is a breath of fresh air. Similar to the living room and kitchen in this HDB BTO design the scheme has whites, greys and pastel teal colours. Furthermore, adding to the Scandinavian design is the light wooden side table and chest of drawers used for storage. Since minimal lighting is a key component in this style of design, Noel has opted for one glass ball floor lamp and track lights for task lighting. Lastly, the bedroom has all new vinyl flooring.
Step into Their Spacious Wardrobe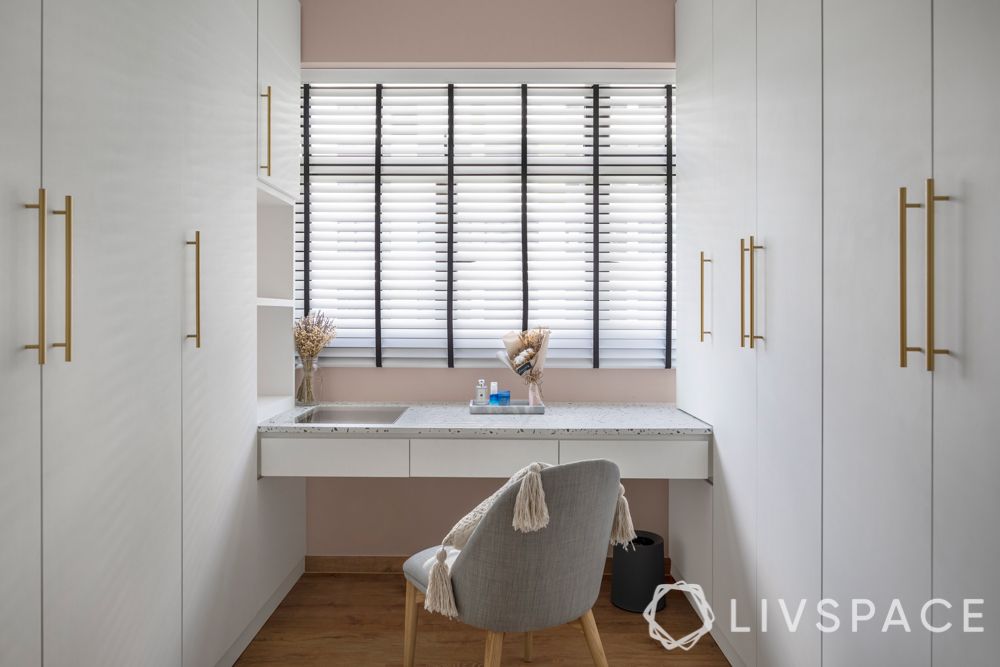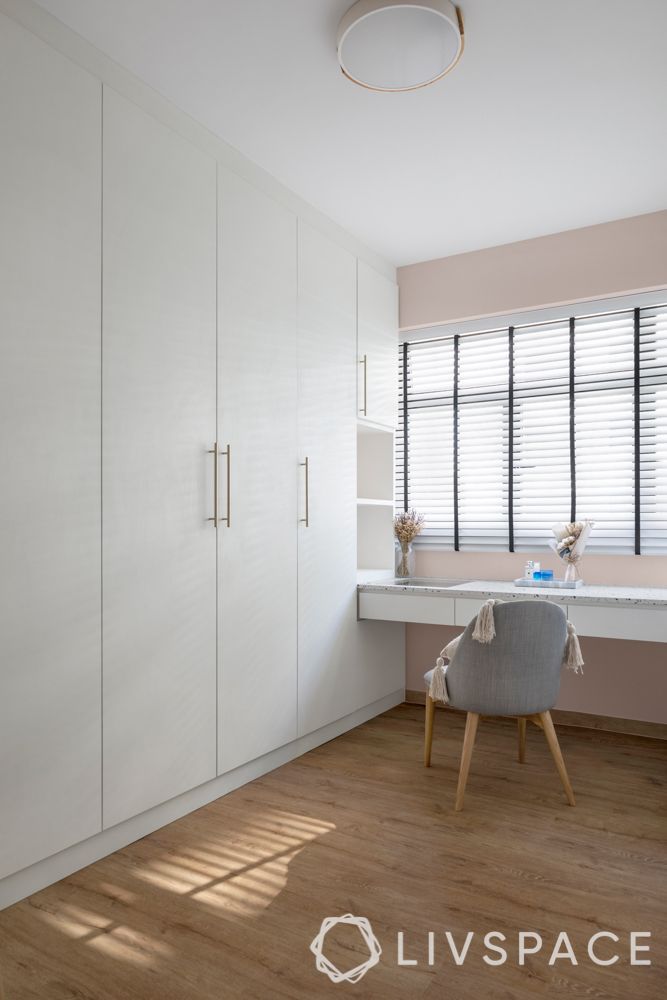 Moving away from the set theme of whites and greys, this room has a dusty pink setting. The homeowners wanted this room to act as their walk-in wardrobe. The storage carcass is in plywood while showing off a durable laminate finish.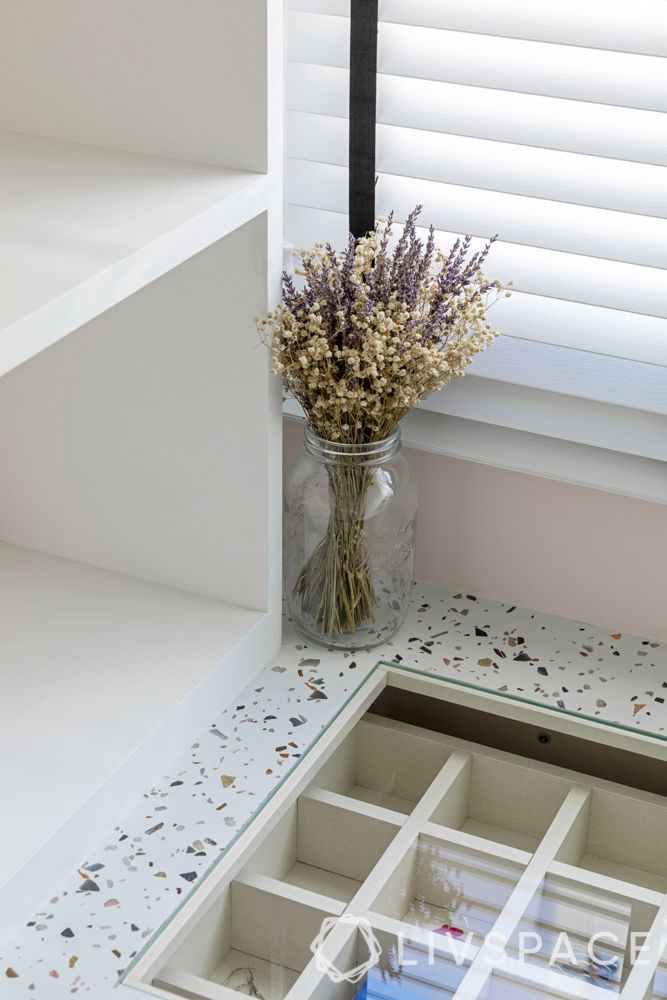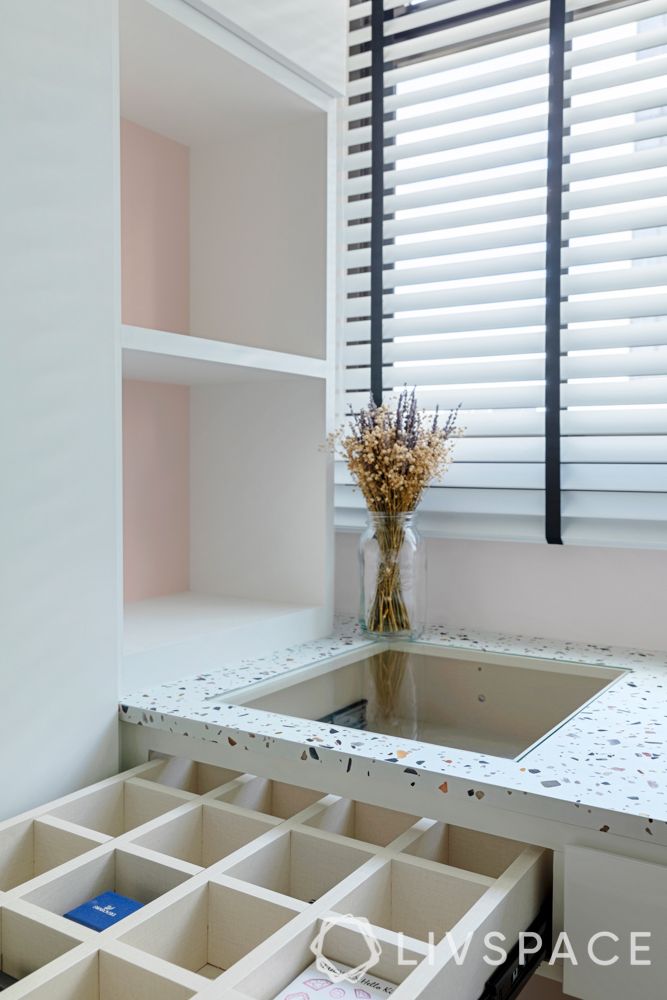 The room converted into a walk-in wardrobe has a striking feature, the vanity unit. This has a pullout drawer that also serves as a semi-display organiser for their accessories and jewellery. Consequently, the counter laminate has a terrazzo-look.
And lastly, the beautiful bathrooms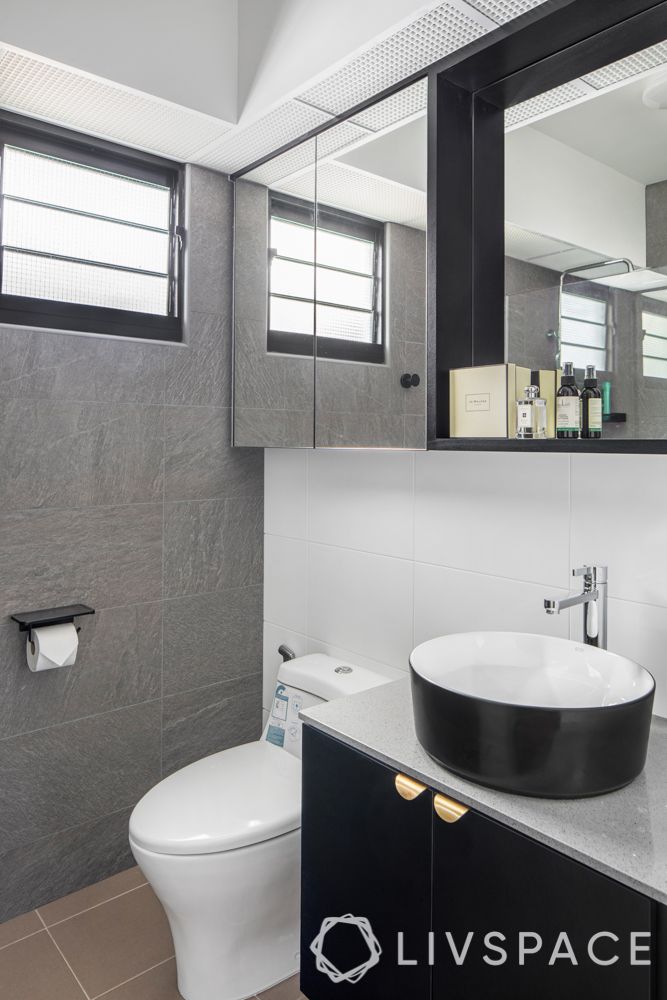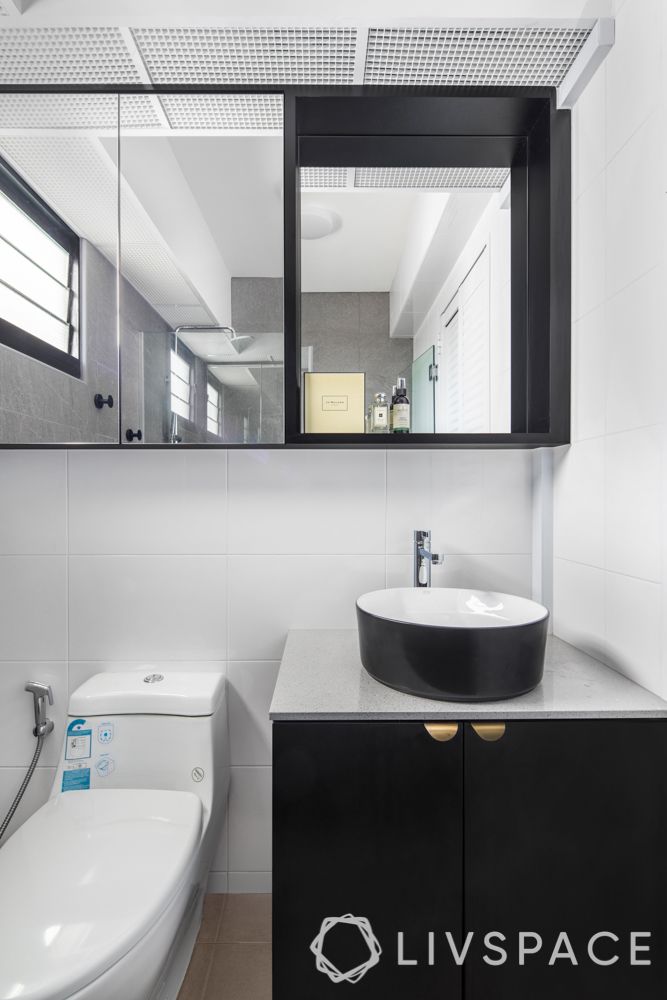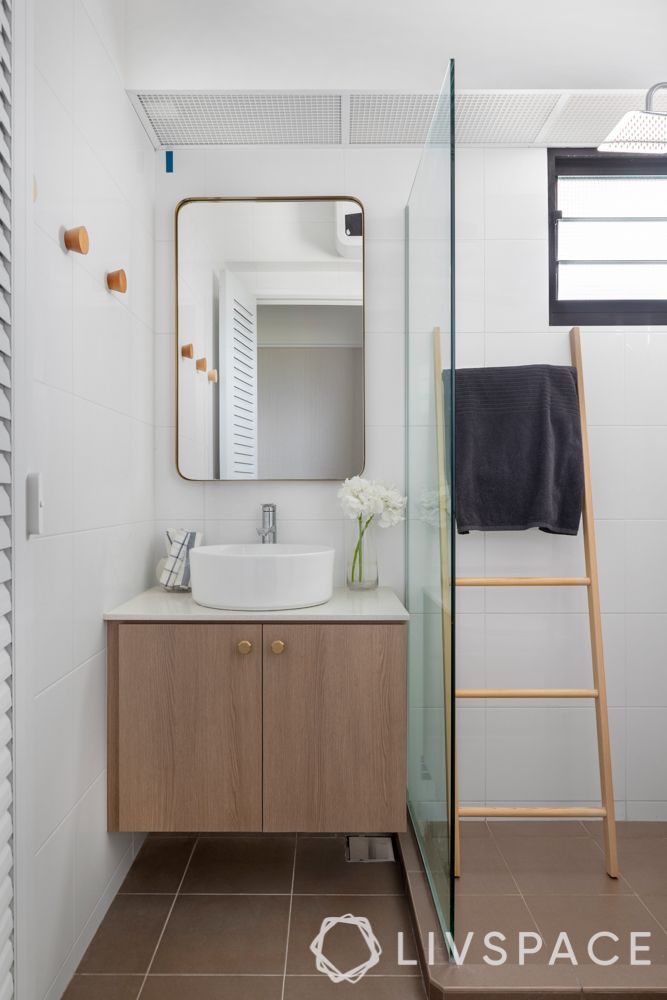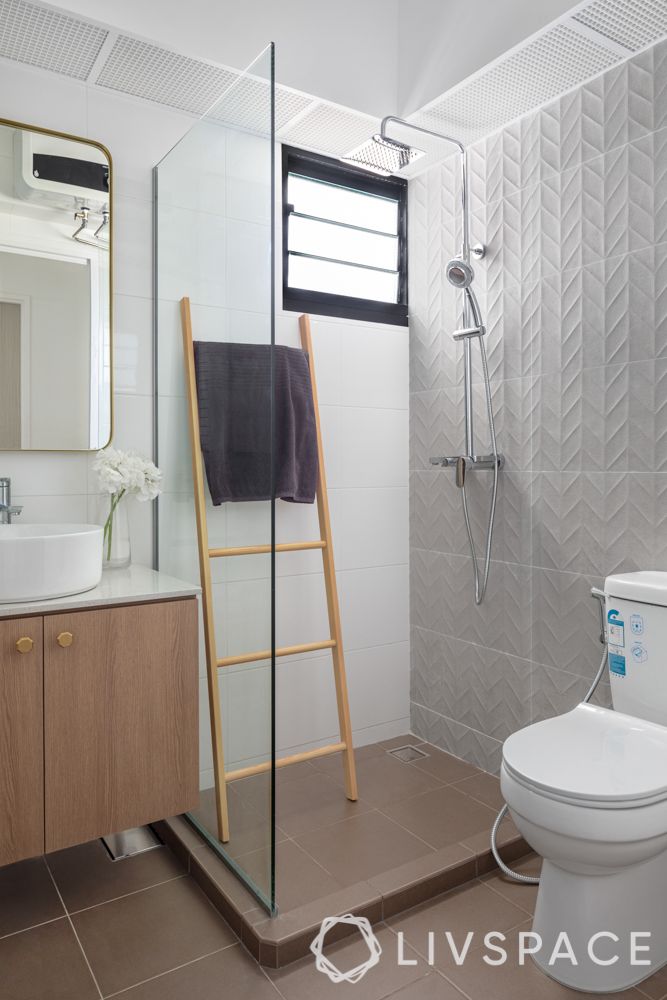 The master bedroom bathroom is in a sleek grey and black theme that comes from the ceramic tiles that were used for the walls and flooring. Subsequently, both bathrooms in this HDB BTO were designed with great attention to detail.
While one of them has dainty gold coloured leaf-pulled handles, the other has hexagonal handles. Moreover, the chevron pattern tiles in the common bathroom adds texture while the ladder is a great hack if you don't want to drill holes into your wall for a rack.
"My favourite part was designing the wardrobe. Using the empty room to create a layout that gave the couple a practical space. The design elements were made to suit each of their individual preferences. So the walls colours became a dusty pink while the carpentry became white and gold."

– Noel Tan, Interior Designer, Livspace
If you enjoyed this home tour, take a look at: Muted Colours & Elegant Detailing for this 4-room Condo
How Can Livspace Help You?
If you are thinking of redesigning your home, then consider Livspace. Book an online consultation with our designers now to turn your dream home into a reality. We are all about quality and safe interiors.
Let the pandemic not stop you from attaining your dream home. We follow strict COVID-19 safety protocols, which you can read about here.
Write to us at, editor.sg@livspace.com.