An HDB BTO that blends an impeccable sense of style with elements of functionality.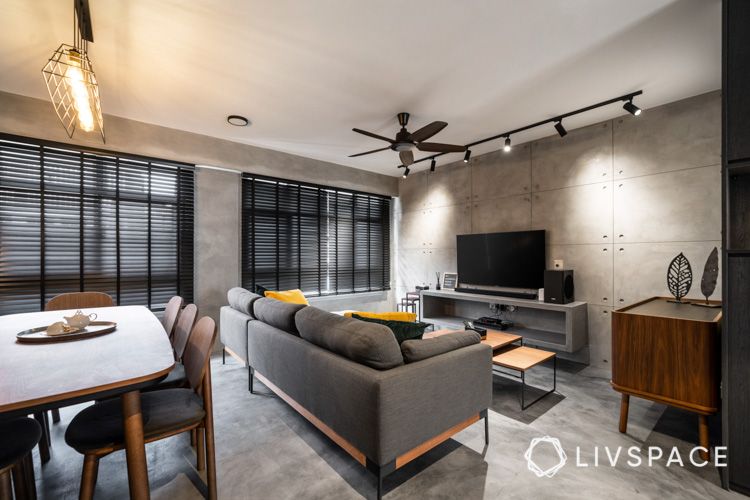 ---
Who livs here: Nigel Ng and Madaline Chin and their toddler daughter
Location: 612B Tampines Greenweave, Singapore
Size of home: 5-room HDB spanning 100 sqm
Design team: Interior Designer Jake Tong and Project Manager Ricky Lee
Livspace service: Full home design including cement screed walls and floors, partitions, carpentry, wall finishings, false ceiling electrical and lighting, painting, consultation and shopping for furniture and fixtures as well as feature walls
---
Owning a house for the first time comes with a sense of pure elation but also some apprehension. And that is the exact mix of emotions that Nigel and Madaline were feeling when they were about to shift into their HDB BTO from their parents' home. The enthusiastic couple with a toddling daughter had some very practical requirements for their new home. For instance, being a young (and growing) family, they wanted plenty of storage that could cater to their future needs. However, homes often stand out for more than just needs; they are also made of our dreams.
So apart from being practical, Nigel and Madaline also wanted their home to be edgy and industrial-themed. They were completely sold on the industrial style statement. The couple built a rapport soon with our designer Jake Tong as he fleshed out the elements of this style and incorporated them into a cosy home. They found his out-of-the-box ideas engaging and were excited with the design plan proposed by him. This excitement expresses itself in their home that is filled with bold lighting effects, insightful design choices, and intriguingly dark finishes.
If you too are a new homeowner, then this HDB BTO is the perfect inspiration for you! Here's a sneak peek into this Tampines Greenweave home.
Let's start with the most striking detail: the industrial theme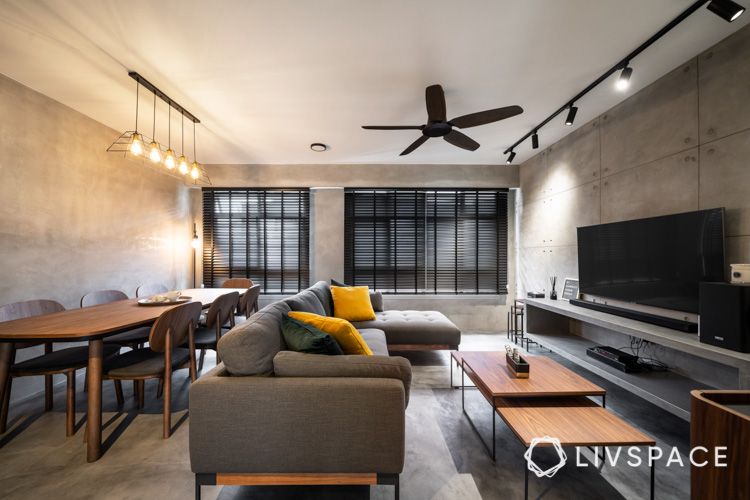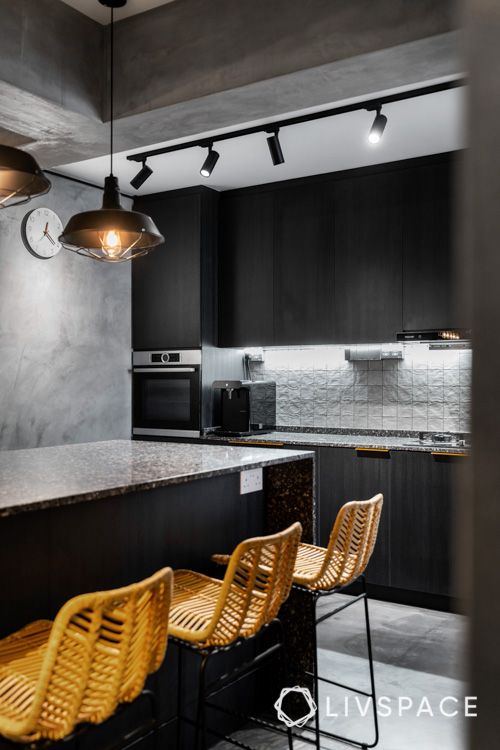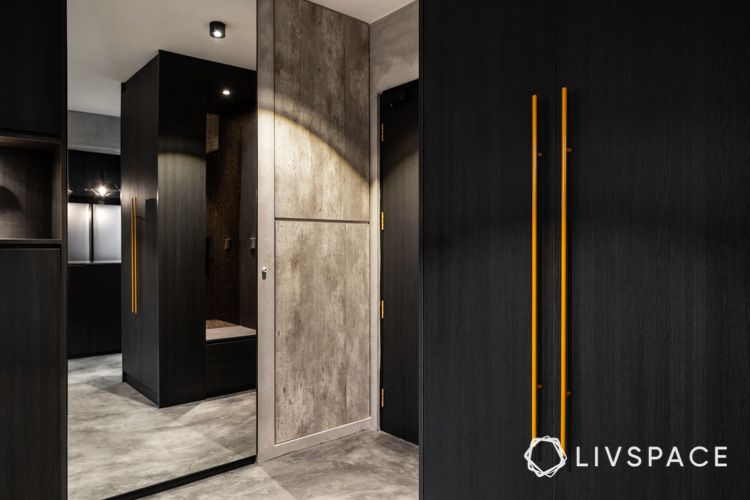 Most homeowners don't opt for an industrial style because they find it too grim or unfamiliar. So Madaline cleared the air as she remarked, "To others, the whole industrial theme might seem dark. However, this home is cosy like how we imagined it to be. It's really a dream come true for us!"
And do you know why this home has turned out to be so cosy? It's because Jake has stuck to the vein of industrial decor in this HDB BTO without opting for its more cliqued elements. You will not find any exposed pipes, unfinished brick walls, distressed furniture or rustic surfaces in this home. Instead, greys, dark wood shades and accents of black dominate the design plan, giving this 5-room flat unmistakably industrial interiors. Also, the style becomes apparent with subtleties of layered lighting in this HDB renovation.
"Livspace helped us connect with an interior designer , who was perfect for us. We weren't looking for something safe andJake's concepts and ideas were bold and in sync with what we wanted. We consulted Jake to pick the appropriate lighting and furnishings too. The quality of the workmanship is also great! We are unsure of the long-term effect yet, but so far, the cement screeding on the entire house looks great. It is fair to say that the contractors managed to deliver on the design and looks that we requested for."
– Nigel & Madaline, Livspace Homeowners
Stocking up on scalable storage
Storage requirements of a family are a dynamic property; it changes depending on your plan for the future. However, you really dont do a HDB renovation again and again, do you? So in the case of a young couple like Nigel and Madaline, Jake felt it was best to keep the storage as scalable as possible for any future requirements. Hence, you will find plenty of storage options in this home that can be used and expanded if the need arises. The storage unit in the entryway that also serves as a divider between the foyer and kitchen, is an example of how storage can be added smartly.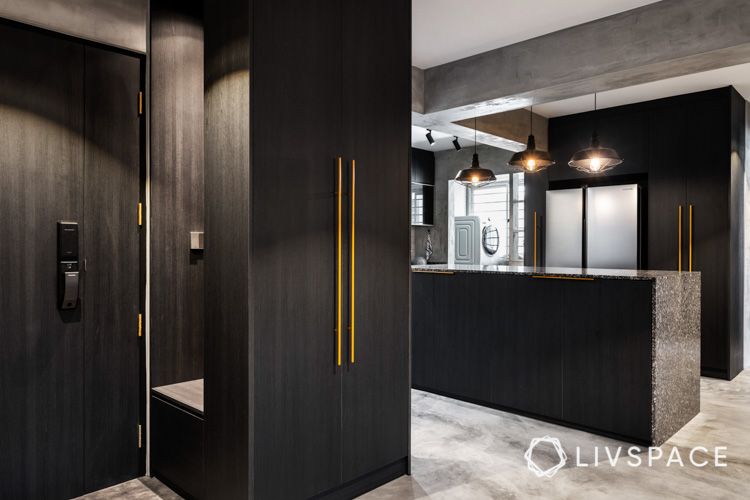 Into a cosy kitchen
The kitchen in this HDB BTO is quite spacious and hence, Jake has made the most of it with an island counter. And guess what, the island too has been fitted with storage. True to any modern industrial interiors, we find laminates in black-browns, doors of dark natural wood, a terrazzo stone countertop and wrought iron pendant lights, laid out cleverly to form a compelling dark-toned imagery. A steel-door fridge and bright brassy handles bring touches of modernity that heighten the visual drama here.
"For all the carpentry work, measurements need to be very precise to ensure the ergonomics of all the cabinets complement the overall design. They can't be bulky but need to be completely streamlined to provide a lot of space for circulation," Jake elaborates on the intricacies behind the layout and carpentry measurements during the final design planning stage.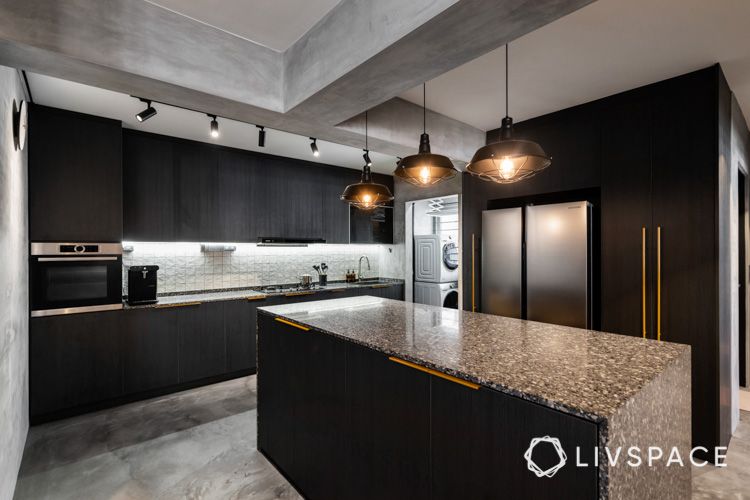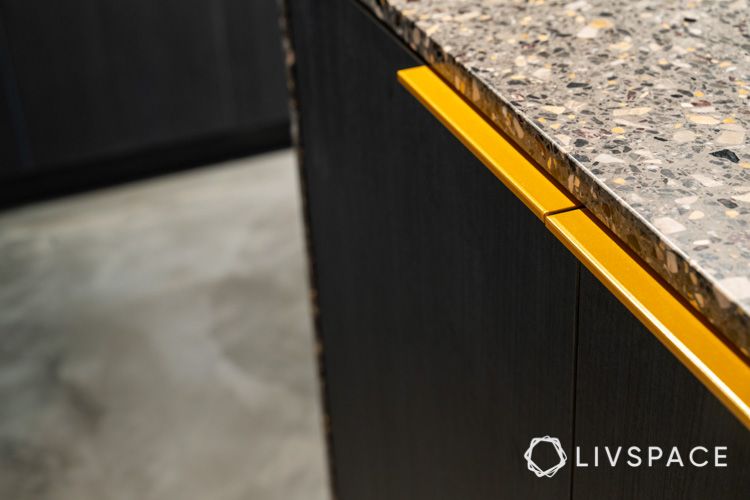 Here's a bedroom built for privacy
In Nigel and Madaline's bedroom, a long black wardrobe doubles up as a room divider to separate the master bathroom from the bedroom. This design is strategically important as it is built to suit the morning routines of the couple.
This wardrobe itself has a carcass made of plywood, while its' black tinted glass doors are framed in black aluminium. Jake included strips of LED lights within the wardrobe for added functionality as well as a warmer ambience. So even when the bedroom lights are off, clothes inside the wardrobe are visible.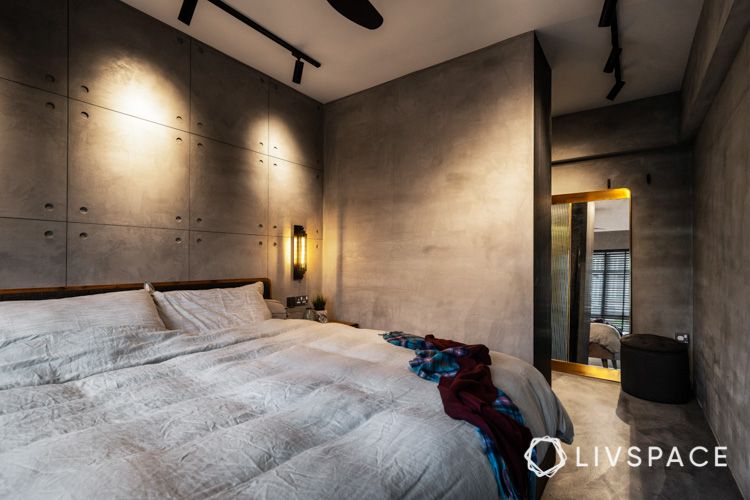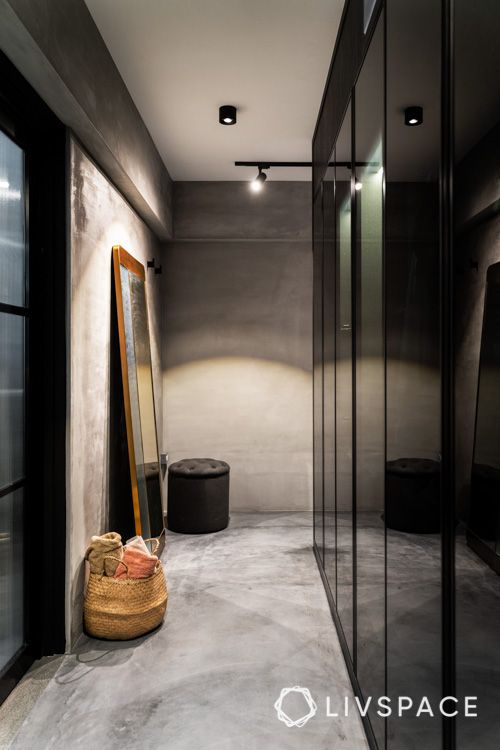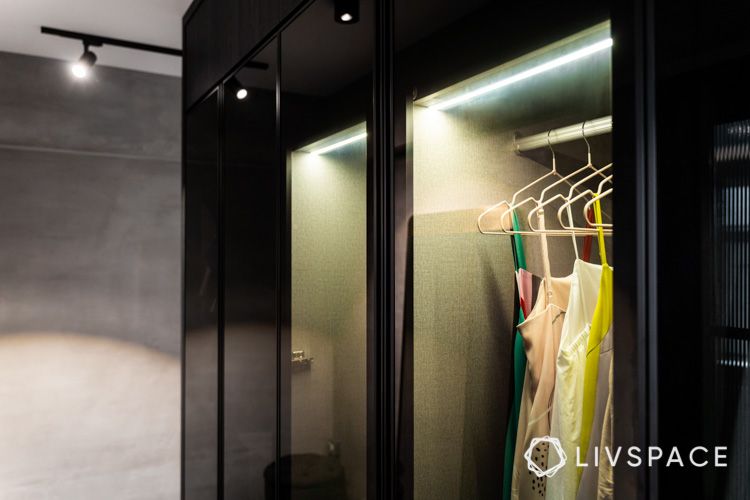 A play on lights & shadows
Jake has helped Nigel and Madaline pick a wide variety of lighting fixtures for their home. And with his expert designer's eye, he has ensured that all the lighting is connected by a common thread — the play of light of shadows. Throughout the home we see spots of bright lighting interspersed with dimly lit spaces.
The industrial overtones are implicit in the light fixtures like the wrought-iron pendant lights over the kitchen island. Moreover, the spotlights in the living room highlight the feature wall, adding an incandescent warmth to the space. In another corner of the living room, we have black metallic floor lamp with a large vanity bulb, which is at once contemporary and makes a bold statement. Jake has also made sure that Nigel and Madaline have wall-mounted reading lights in their bedroom. Moreover, we found the use of profile lighting around the mirror in the bathroom brilliant. All these come together to provide layered ambient lighting to this home, carefully highlighting some of its best features.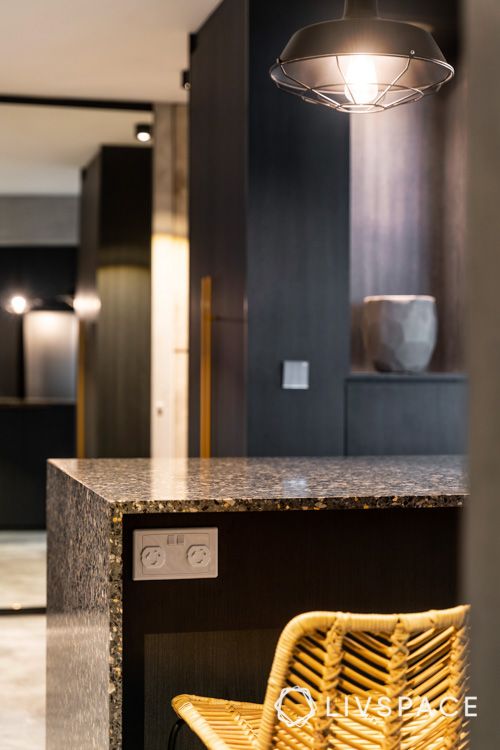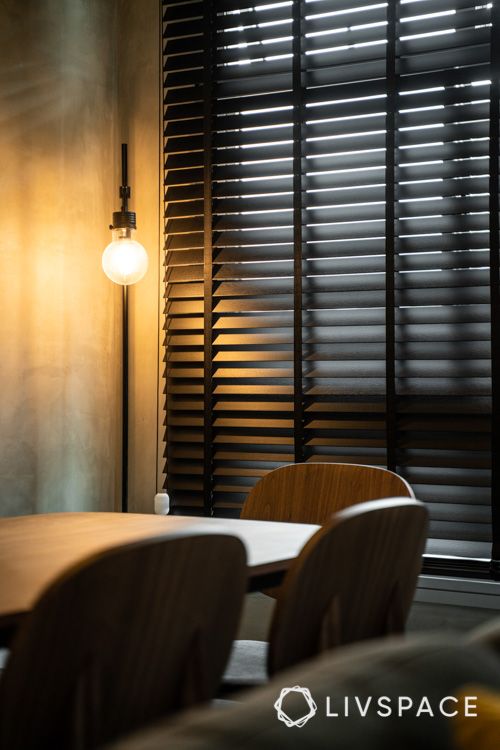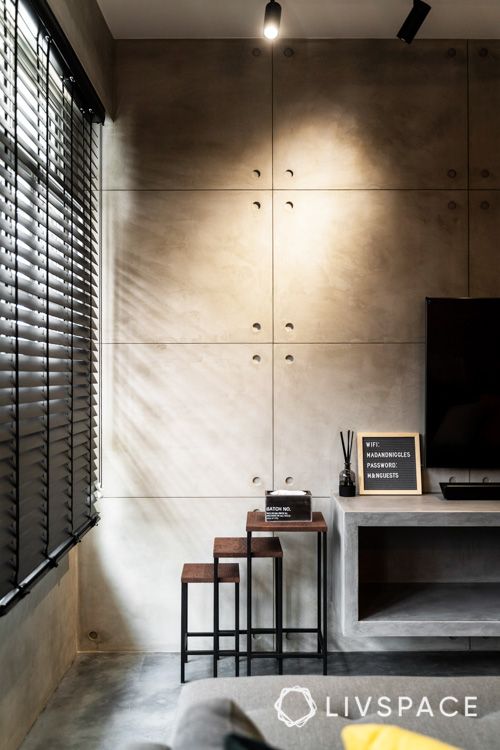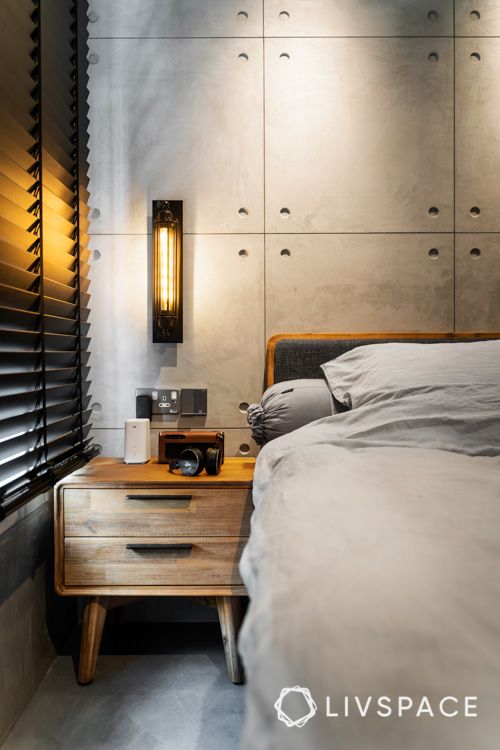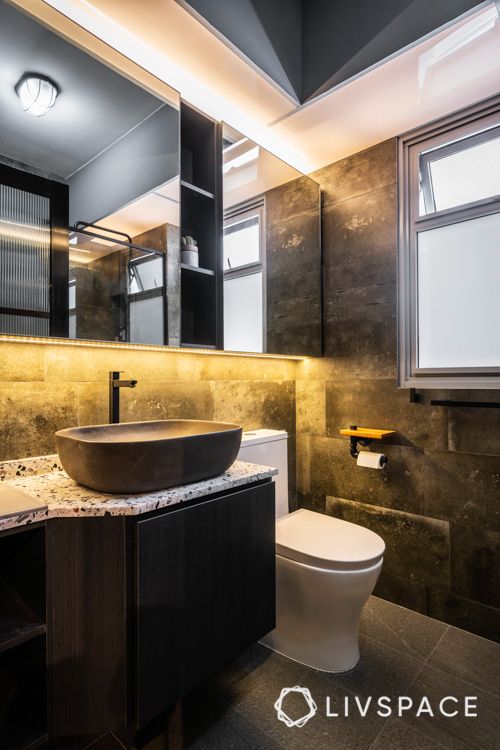 Materials that make a statement for your home
Nigel and Madaline took a fancy to cement screed walls and flooring. So when it came to furnishing their home, Jake used this finish for the living room feature wall. Additionally, the feature wall in the master bedroom may be the exact same cement slabs used in the living room. However, the resulting look is quite different: a warm ambience is created here with track lights and wall lights in wrought iron mounted atop the bedside tables.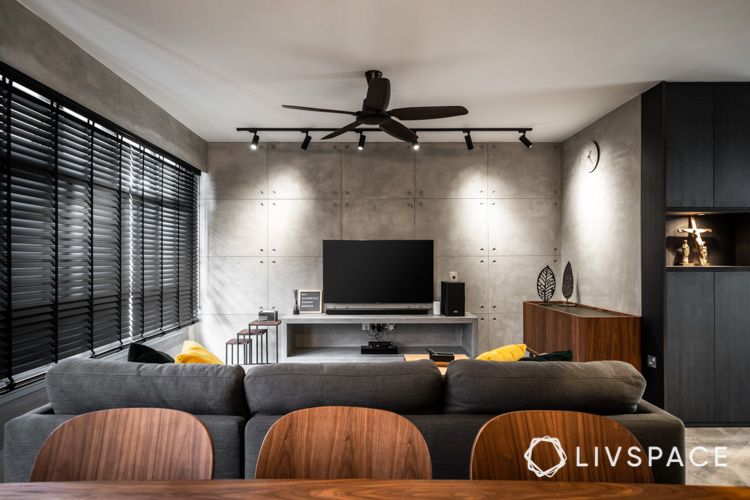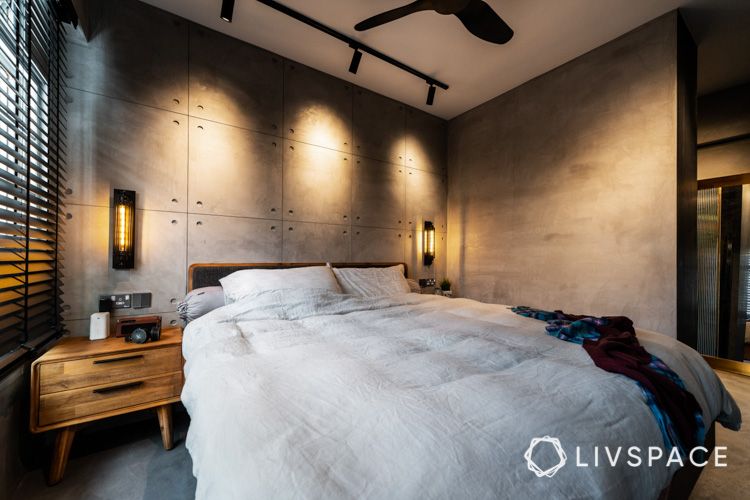 In a HDB BTO replete with raw industrial finishes, there is one element that adds a pop of plushness to the settings. And that is the terrazzo marble used for the countertop of the kitchen and island. We see this material used in the bathroom vanity countertop for a smooth and seamless look.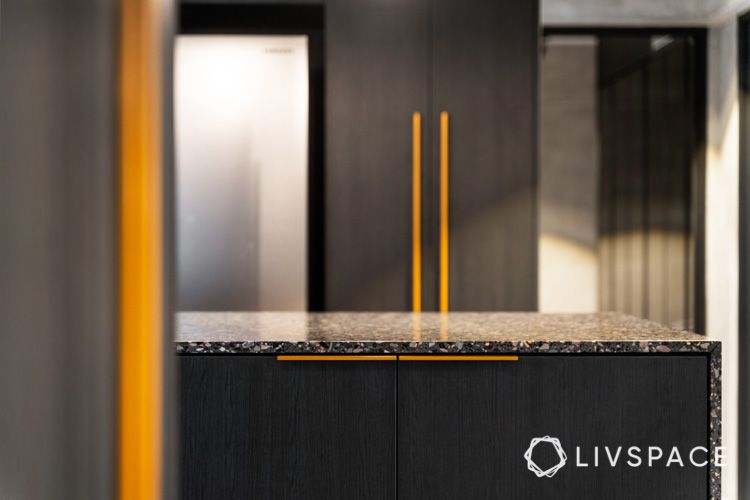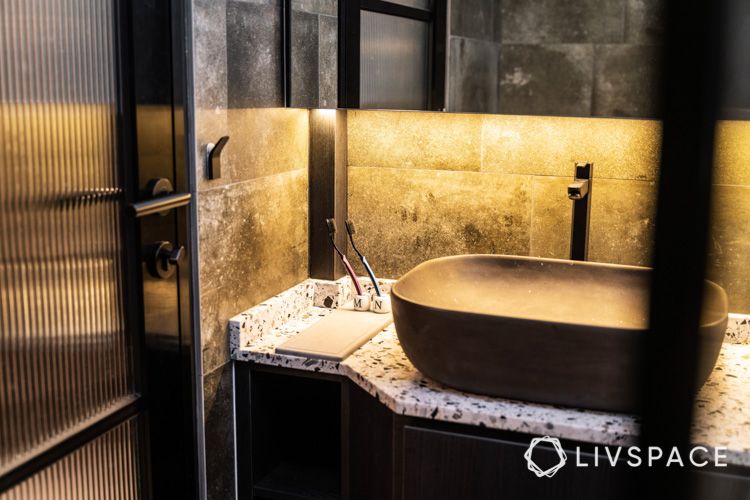 Moving on, the sleek finish of this kitchen is mainly brought about by all the smooth, reflective surfaces in addition to the dark carpentry. In fact, the only grittiness to break through the overall sleek and polished look is the backsplash.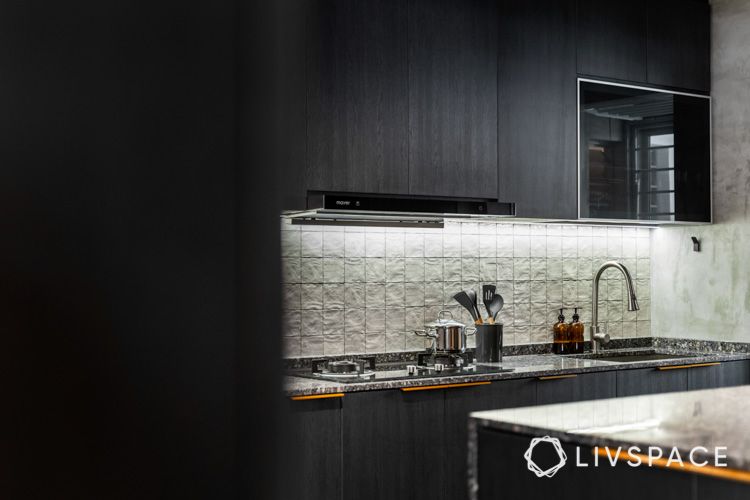 Madeline shared, "I am happy Jake chose this tile with an uneven surface to form the backsplash; it is very unique with the square-ness of the tiles and the uneven textures. The overall design meshes well with the terrazzo countertops."
We do hope you enjoyed reading about this HDB renovation that gave a young family its dream home. For more inspiration, also explore Space-savvy, Stylish Condo Design with Cafe Vibe.