This 30-year-old HDB design got a clean and clutter-free revamp!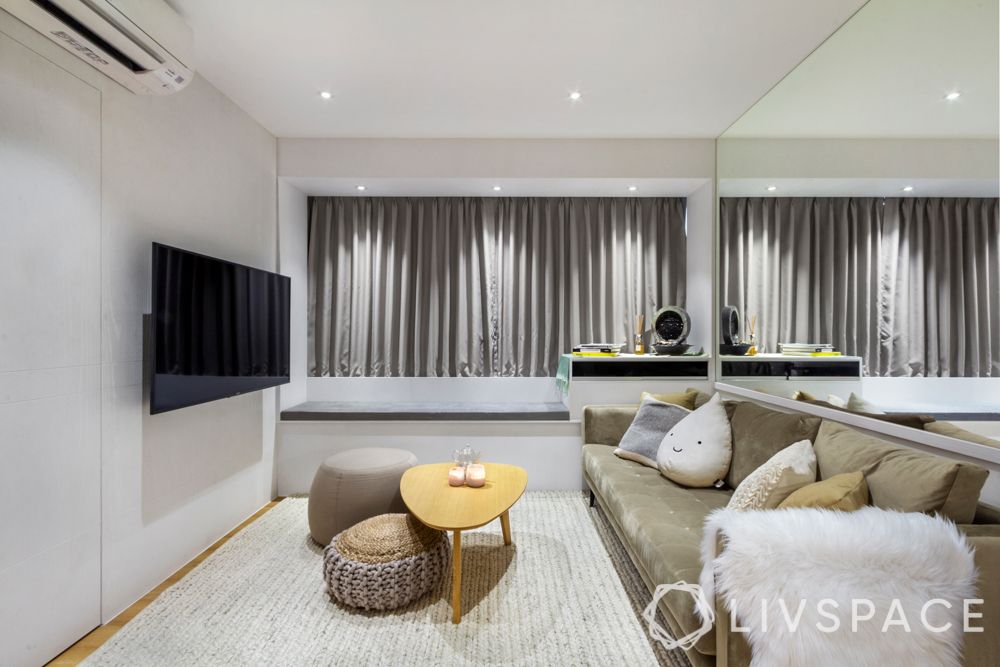 ---
Who livs here: Ivan and HuiMin
Location: 58 Havelock Road, Singapore
Size of home: 3 Room HDB spanning 69 sqm
Design team: Interior designer William Chong
Livspace service: Full home design including demolition, masonry & tiling, wall finishing, electrical, lighting, plumbing, flooring, partitions, erection of walls (and full height wardrobe), joinery, painting and shopping for furniture and fixtures
---
There are many advantages to living in Singapore. You have all the urban facilities at your disposal and the government gives amazing subsidies on housing. However, having an abundance of space is not one of the plus sides of residing in this city. So what do you do when you have a really compact apartment and want to make the most of it? Our suggestion would be to come talk to us!
That is what HuiMin and Ivan did when they wanted to give their 30-year-old HDB design a complete makeover. The couple worked with our interior designer, William Chong, to turn their cosy apartment into a roomy personalised space. William used a two-pronged approach to make this possible—use of functional spaces and a light colour palette using whites and neutrals.
Let us explore this compact HDB design so that you can use its basic principles to renovate your own apartment.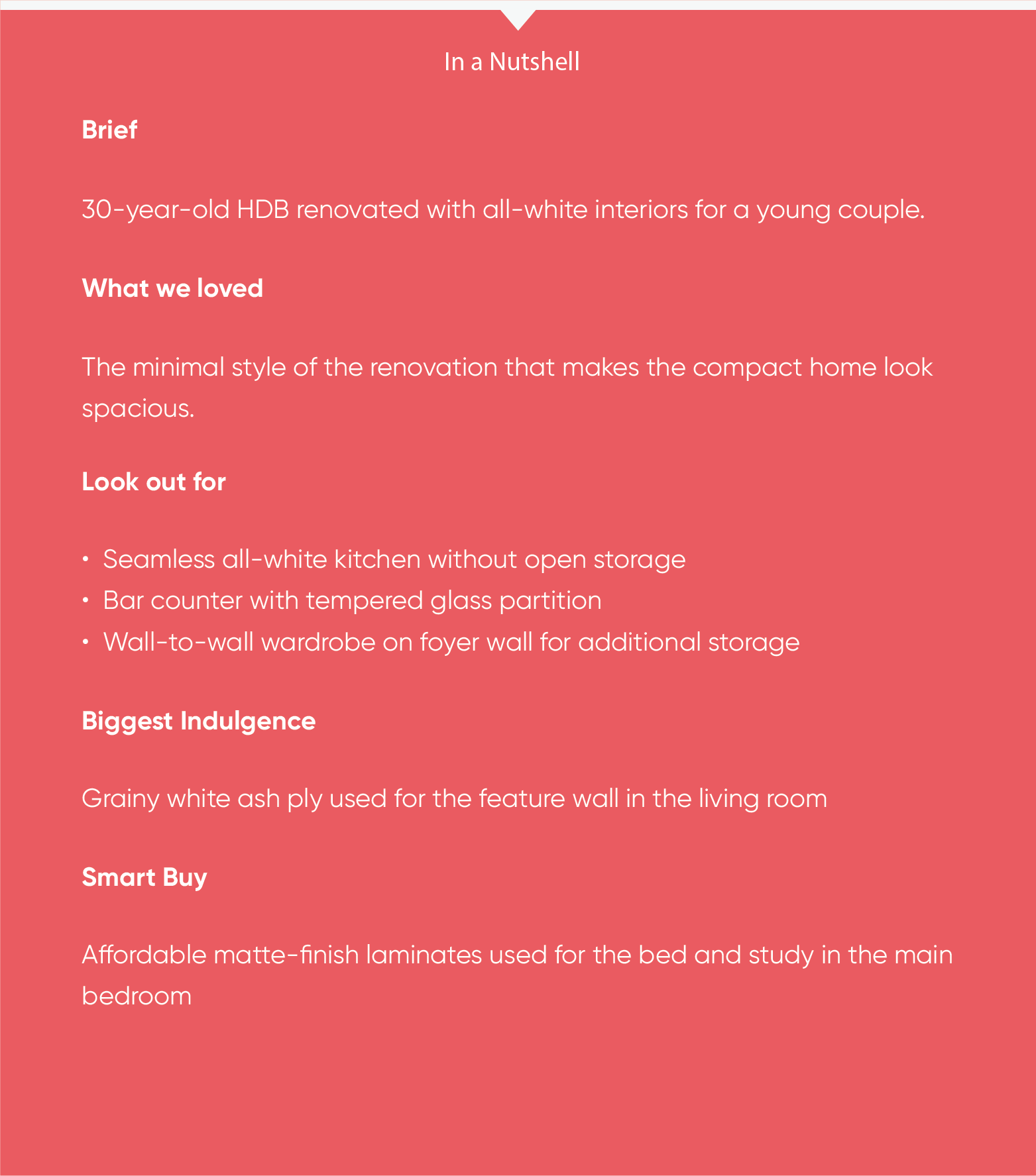 All white renovation for this 3-room HDB design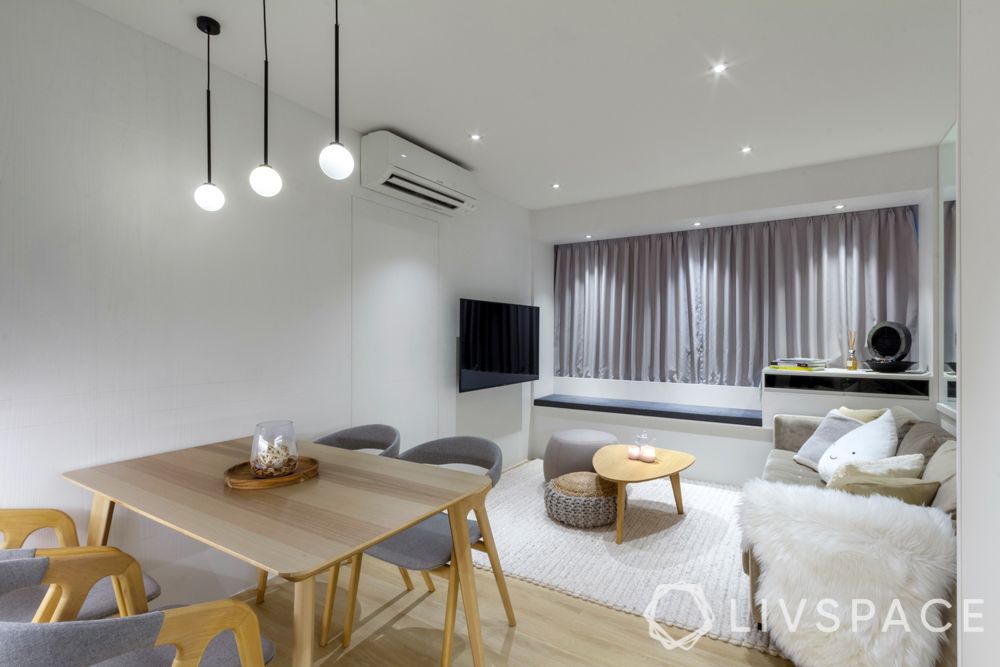 Ivan and HuiMin insisted on using plenty of white finishes for their home design. As this 3-room HDB is just about 69 sqm, our interior designer William concurred with them. Apart from the kitchen that is all white, the living room too had a very tight space arrangement that included the drawing and dining areas. Hence, the mirror panel on one of the walls, helps open up the space even further. Also, we see a feature wall created using ash white ply that is rather basic, keeping the design clean and uncluttered.
In between the copious amounts of whites (including soft furnishings like rug, throw and cushions) and wooden elements like the flooring, the dining table and chairs as well as the coffee table, the living room of this HDB design looks rather Scandinavian in style. In fact, that is exactly how the designer intended it to be.
Designer Speaks
"Personally, I prefer woody and white finishes in terms of decor as well as clean spacious areas rather than dark ones. Hence, Ivan and HuiMin's taste totally resonated with me. I am glad we could create a different tone for the white interiors that they requested and deliver their home on time!"

–William Chong, Interior Designer, Livspace
A bar counter for a home-bound couple
Ivan and HuiMin prefer to stay in on most evenings for a few quiet drinks and enjoy their privacy. So William pitched the idea of having a mini bar at home for them. One of the walls in the kitchen was hacked to make way for a partition with a bar unit. The entire setup is simple enough and comprises a black metal frame with tempered glass. In fact, the mini bar closely overlooks the dining table.
A squeaky clean kitchen for a baking enthusiast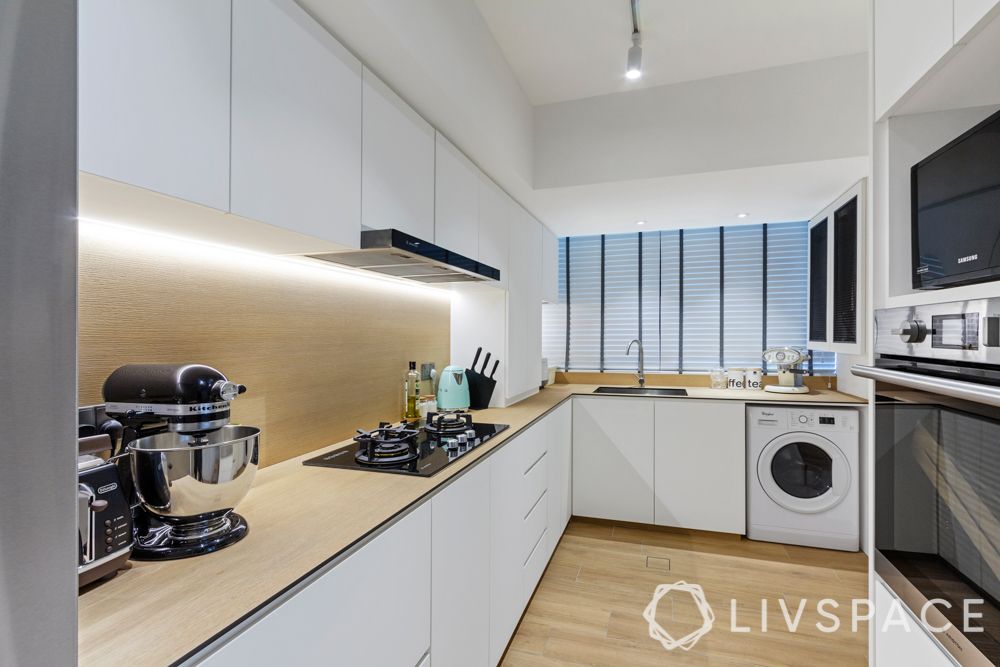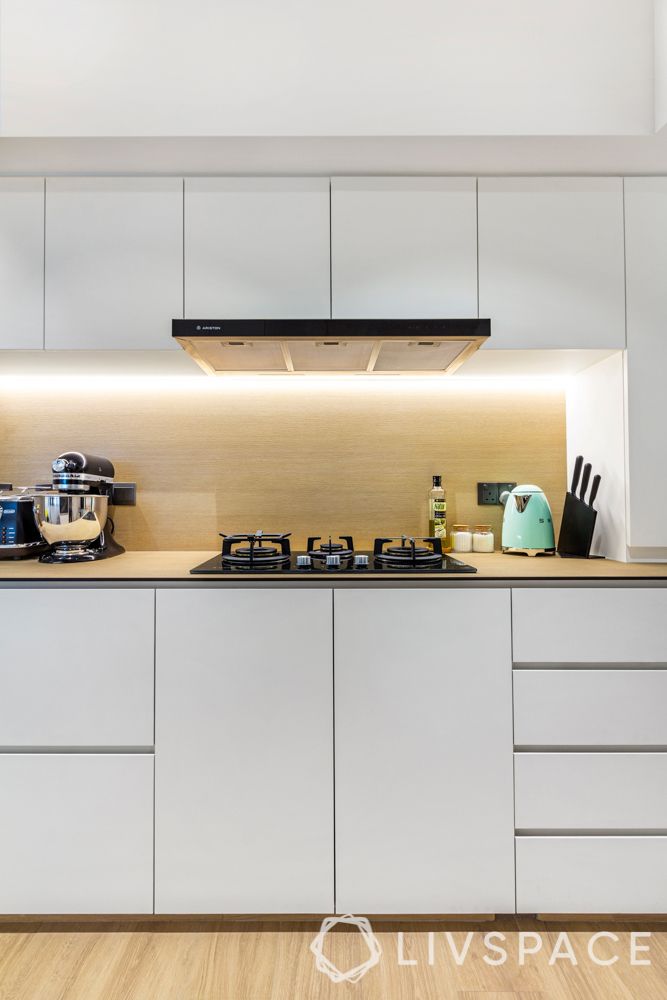 HuiMin, who is a baking enthusiast, wanted a kitchen that would be completely seamless with everything tucked up neatly. Opting for an all-white kitchen using matte laminate shutters, ensured that it looks larger than it is. In spite of being completely white, this kitchen is surprisingly low maintenance. As there are no open shelves, there is a lesser chance of dust collecting anywhere.
The squeaky clean look of this kitchen can be attributed to an absence of cabinet handles and sufficient units to stow away all the appliances (regular ones plus the extra baking equipment used by HuiMin). The backsplash is a block of wood encased in wire-pressed glass, which further accentuates the seamless look.
Bedroom with a home office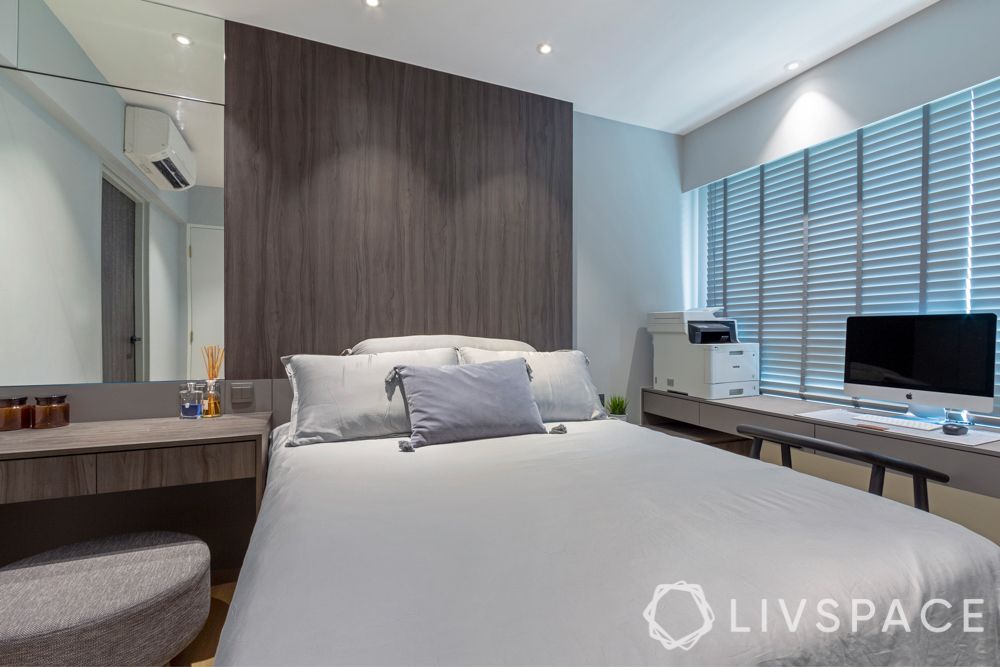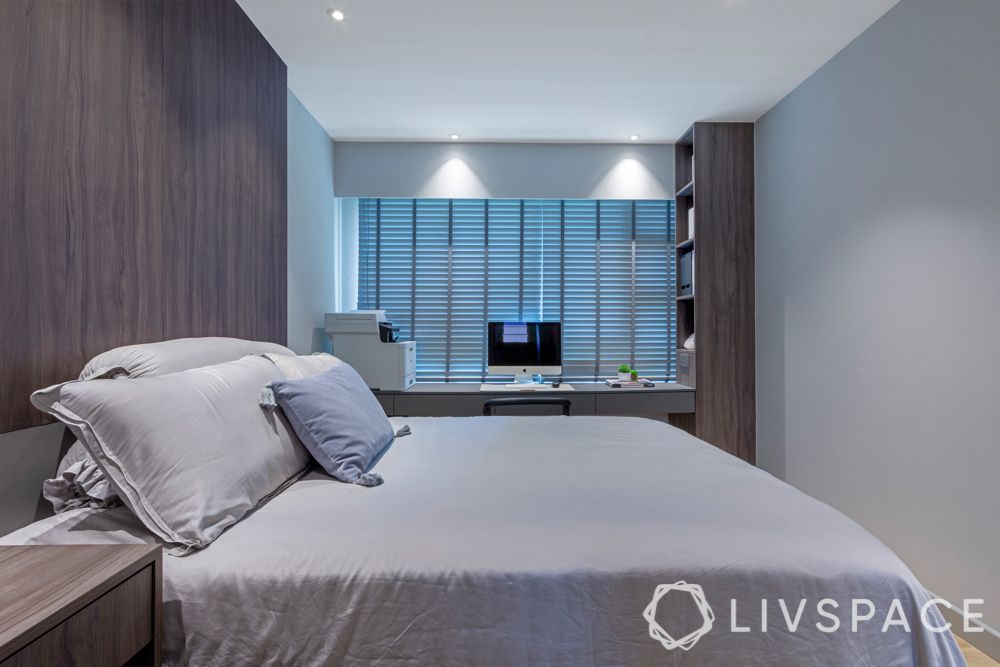 The couple's bedroom is very basic keeping with the simplicity of this unique HDB design. The bed is not accompanied by side tables. Instead, William put in a vanity unit with minimal storage. In addition, he used dark brown laminate to furnish this bedroom.
Smartly placed storage at their entrance & in the spare room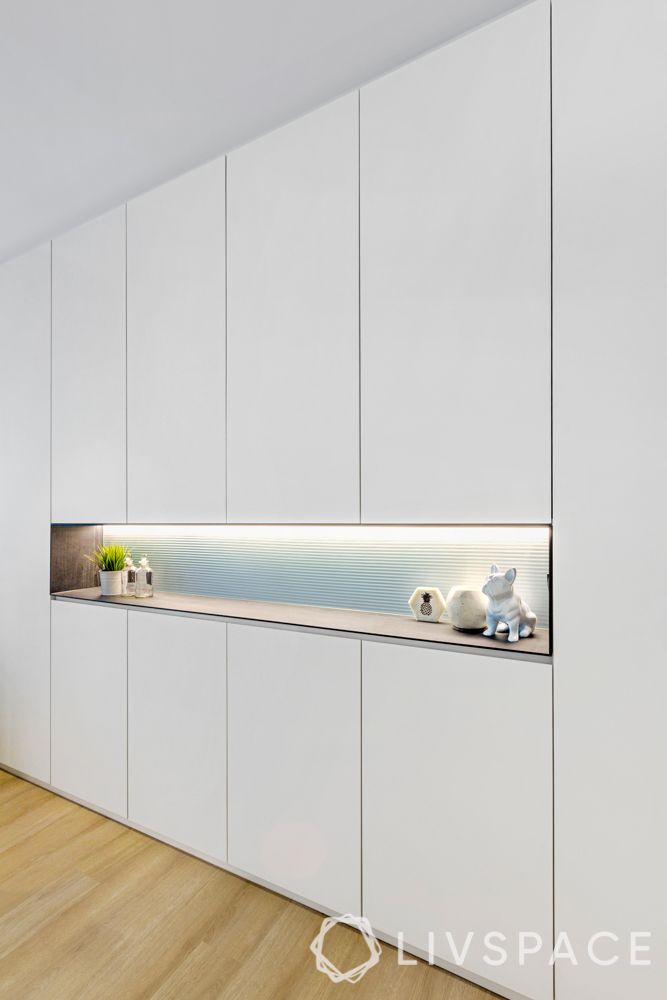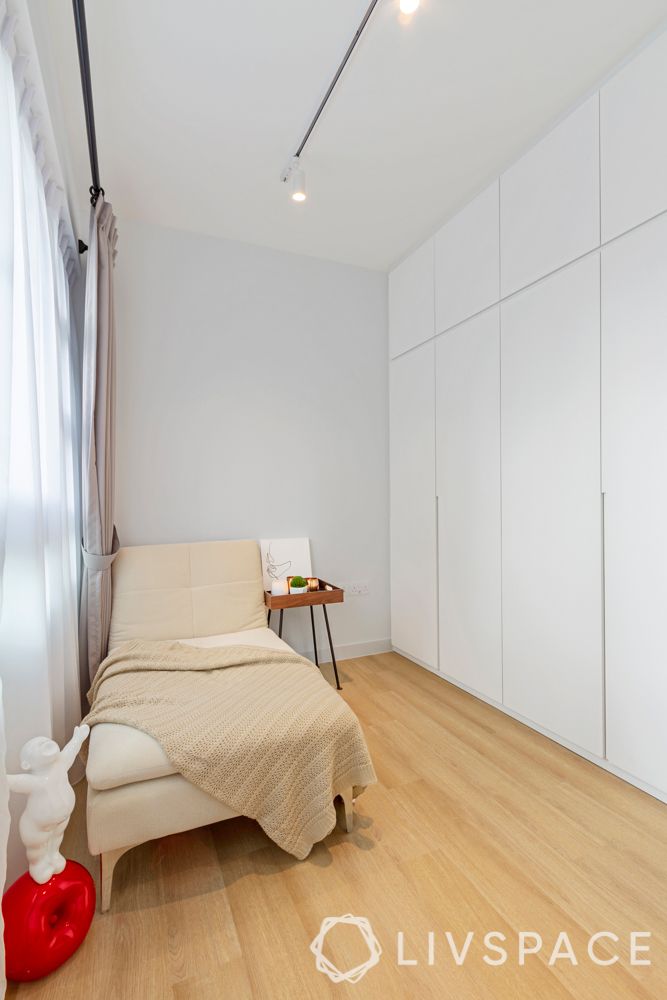 As William used the space for the wardrobe in the couple's bedroom to create a home office space, the storage options had to be compensated for. He managed to do it quite smartly by creating an end-to-end storage unit on the entrance wall that leads up to the kitchen. This storage space is used by the couple for shoes, bags and other miscellaneous items. Thanks to the glossy white laminate finish of this storage unit, the entire piece appears to be seamlessly integrated with the wall.
For clothes and other essentials, there is an end-to-end wardrobe installed in the spare bedroom. This unit too has a seamless finish with no handles and a pearly white colour that helps to maintain the illusion of space.
A gaming cave in this 3-room HDB design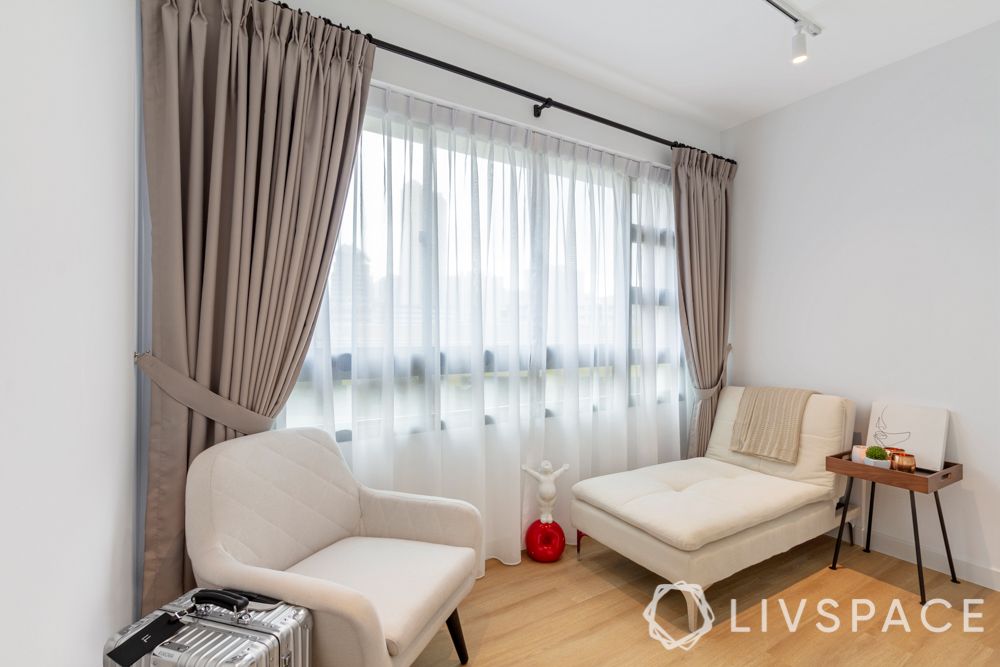 Ivan has a passion for gaming and lounging at home with his handheld devices in his spare time. So, Willaim suggested that the couple turn their spare room into a gaming den cum chilling zone instead of a typical bedroom for guests. The chaise lounge placed here looks cosy enough to sink into and lose yourself in your hobby.
Freshly renovated modern toilets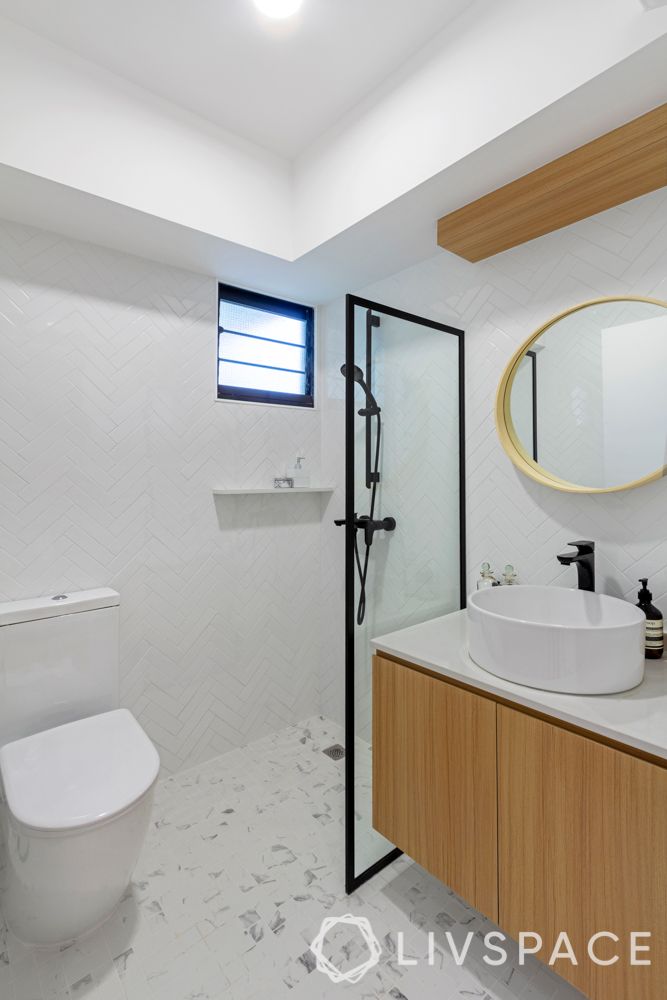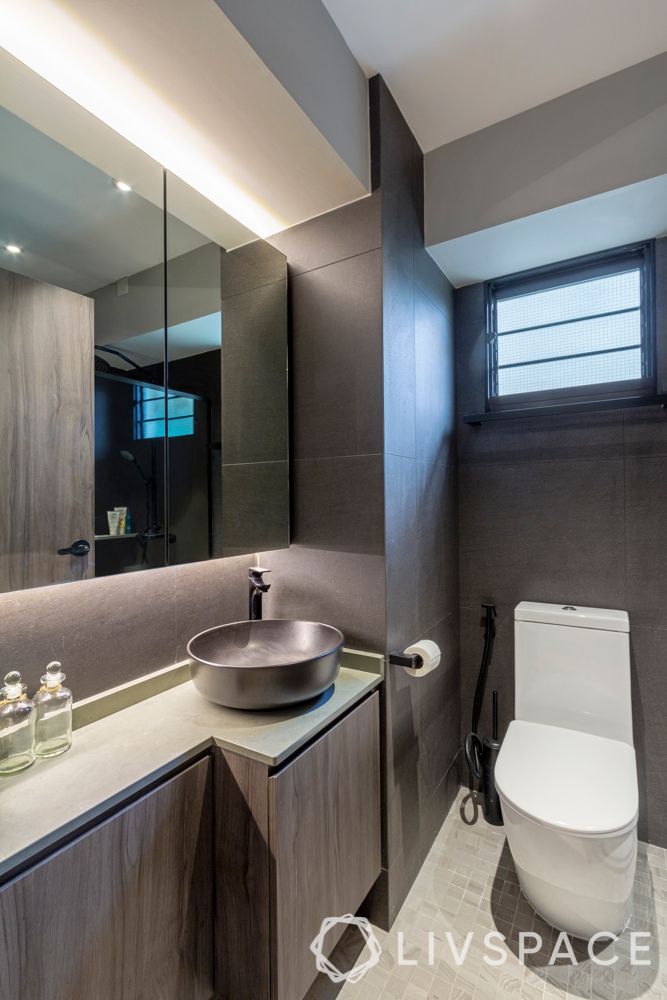 Both the toilets in this HDB design have been renovated completely. The toilet attached to the master bedroom has powdered black ceramic ware while the common one has white bathware. Both toilets have smooth quartz countertops and backlit mirrors on their vanity units. This helps to complement the clean layout of the bathrooms with boxed in pipes.
How can Livspace help you?
We hope you enjoyed reading about the HDB design of this 30-year-old apartment. If you are planning on an HDB renovation, then Livspace is your go-to expert. Book a consultation with our expert designers to get safe and quality interiors.
If you like this HDB design, you will also like Non-Cookie Cutter Home To Inspire Your Renovation.
Send in your comments & suggestions to editor.sg@livspace.com