This spacious and sophisticated home is chalked out by Livspace designer, Susana Rodriguez for a young family with a toddler and a dog! Take a look at how nature-inspired motifs, colours and furniture has been used to create this relaxing HDB house!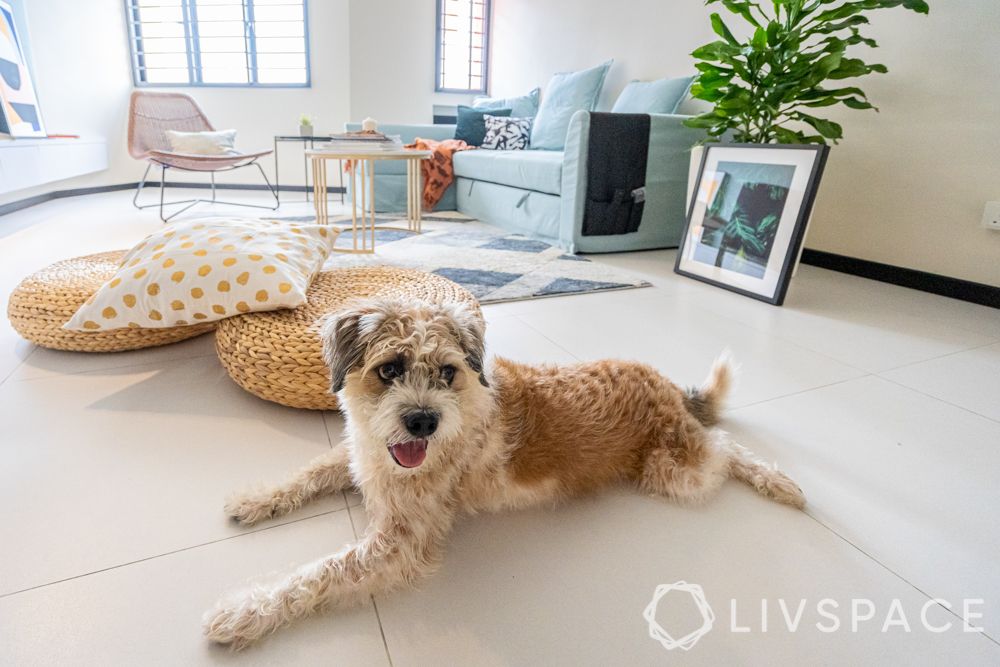 ---
Who livs here: A family and their dog
Size of home: 148 sqm
Design team: Interior Designer Susana Rodriguez and Project Manager Alvin Tan
Livspace service: Full home design
Budget: $$$$$
---
This 4-room HDB is located in the East region of Singapore. The homeowners were certain about living in an area that has good people in the neighbourhood, good food, amenities and also excellent schools. Moreover, they found a location that is close to their friends and local seafood haunts.
Pasir Ris was a great pull factor for the nature-loving couple. There are many parks and the breezy east coast is just a stone's throw away.
So, when it came to designing this HDB Executive Apartment, Susana tells us that the home is a clear reflection of the couple. They are homebodies and nature-lovers. Therefore, they required a space that is quiet and comfortable while incorporating elements of nature into the design. Take a room-wise tour of the home to see how Susana designed this modern and casual space.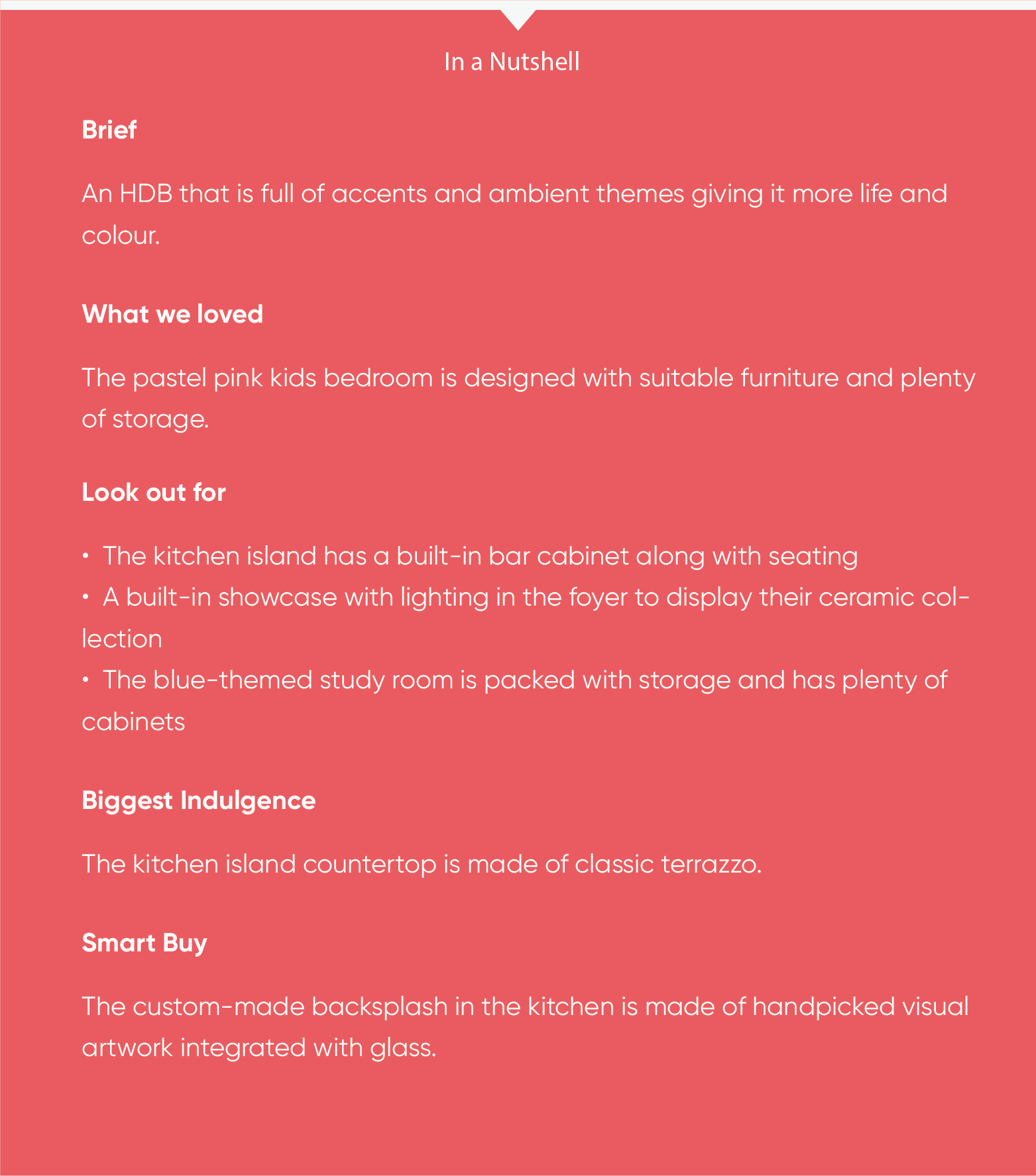 Modern and minimalist entryway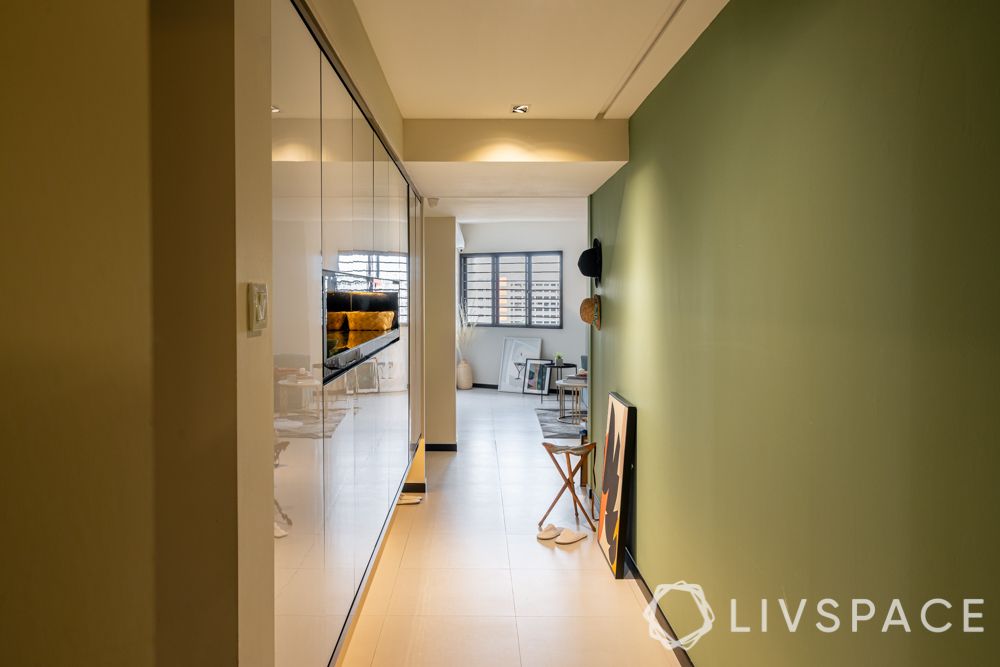 Entering the doorway, on your left is a narrow foyer that sets the theme of this HDB house. The walkway has been designed keeping storage in the form of full length shallow cabinets for coats and umbrellas. Moreover, the teal wall brings the colour of the garden city into the home. Subsequently, shades of blue and green are used abundantly in every room.
An effortlessly cosy living room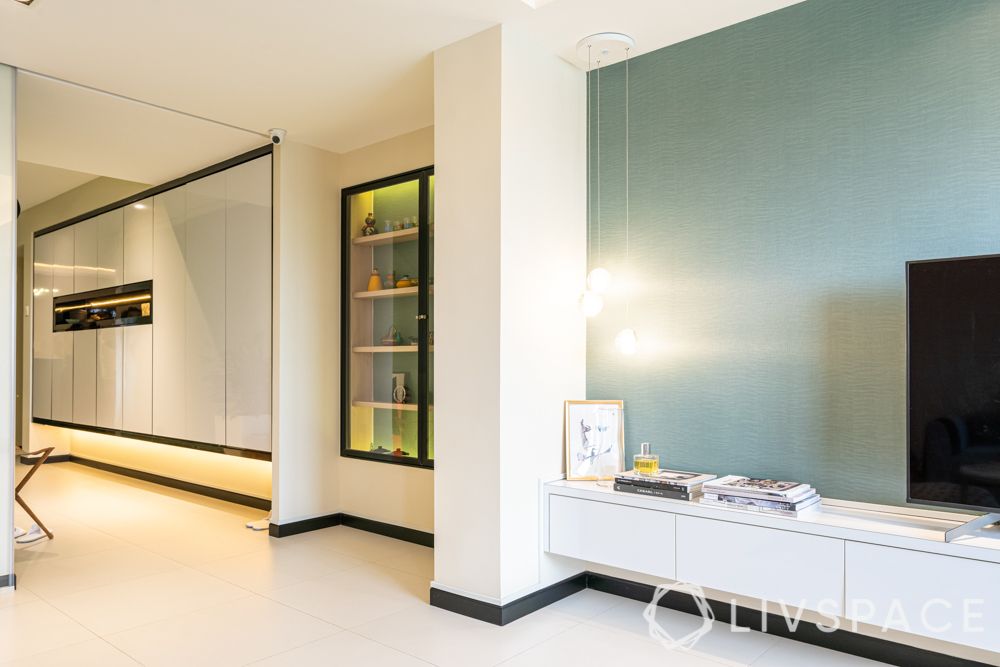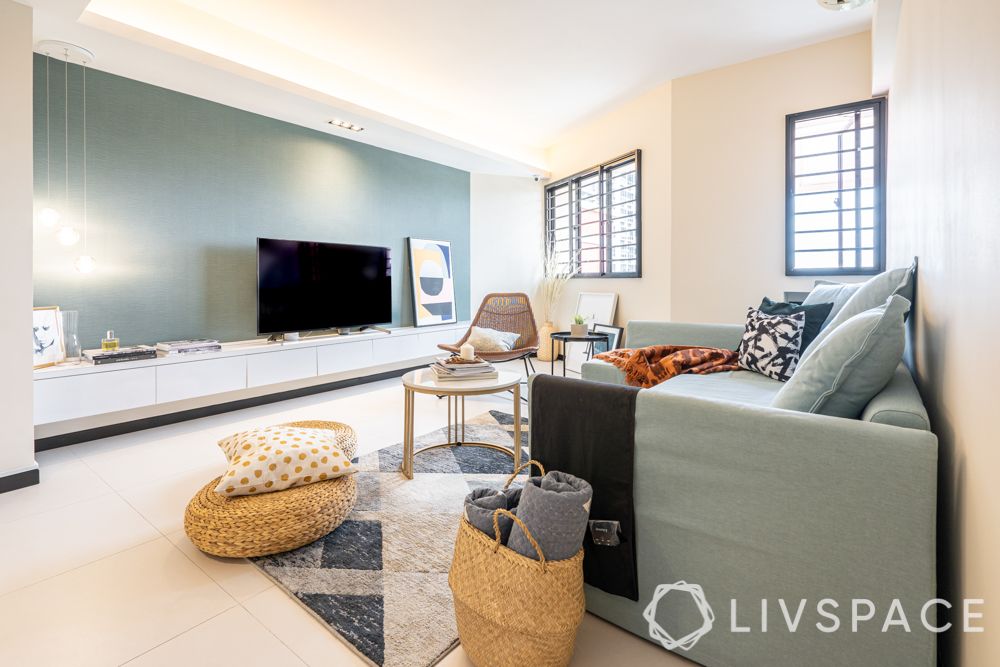 Stepping out of the foyer, on your left stands a built-in glass showcase in a wall niche. This cabinet is installed with backlighting that illuminates the space.The wall niche turned out to be the perfect spot for the homeowners to display their ceramic collection.
Moving on, the living room has plenty of lights and a clear blue theme. Apart from the blue and green furniture and wall accents, the home is dressed in an off-white base for a reason. Susana lets us in on a design secret here. "Off-white is used instead of pure white which makes the design and ambience cold. My design with off-white walls makes the home more warm and welcoming," she says.
Furthermore, the TV unit in laminate finish and lighting is hand-picked and designed by Susana to perfectly fit their design requirements.
Designing an open layout kitchen and dining space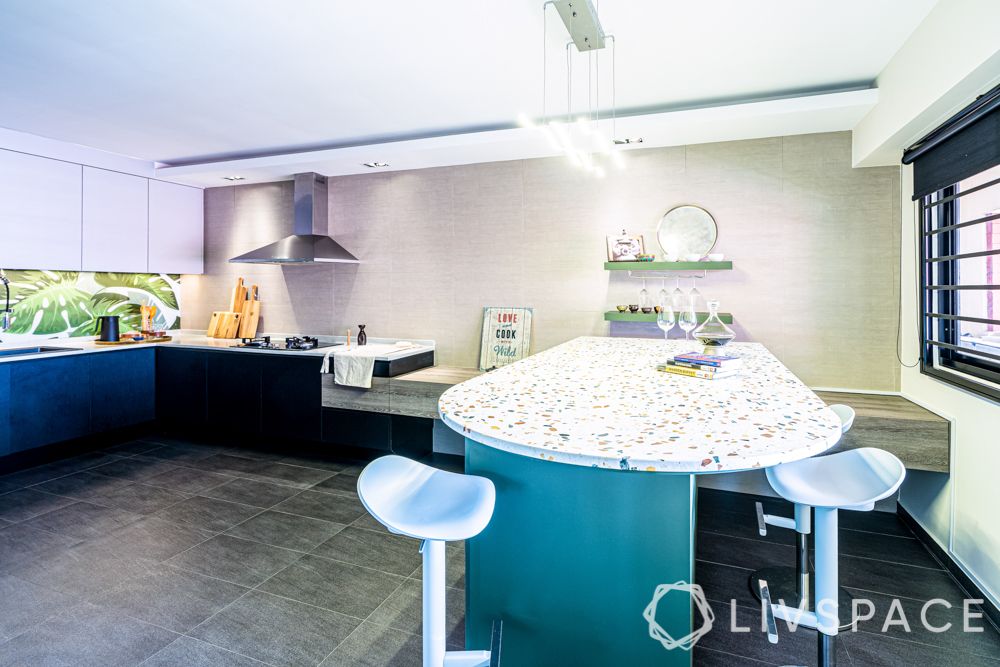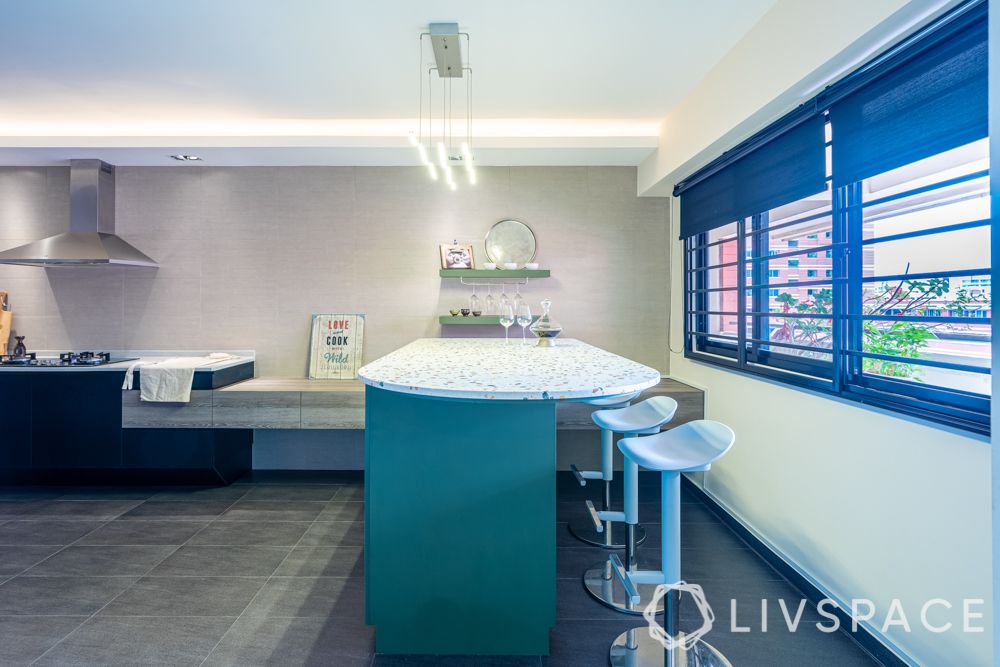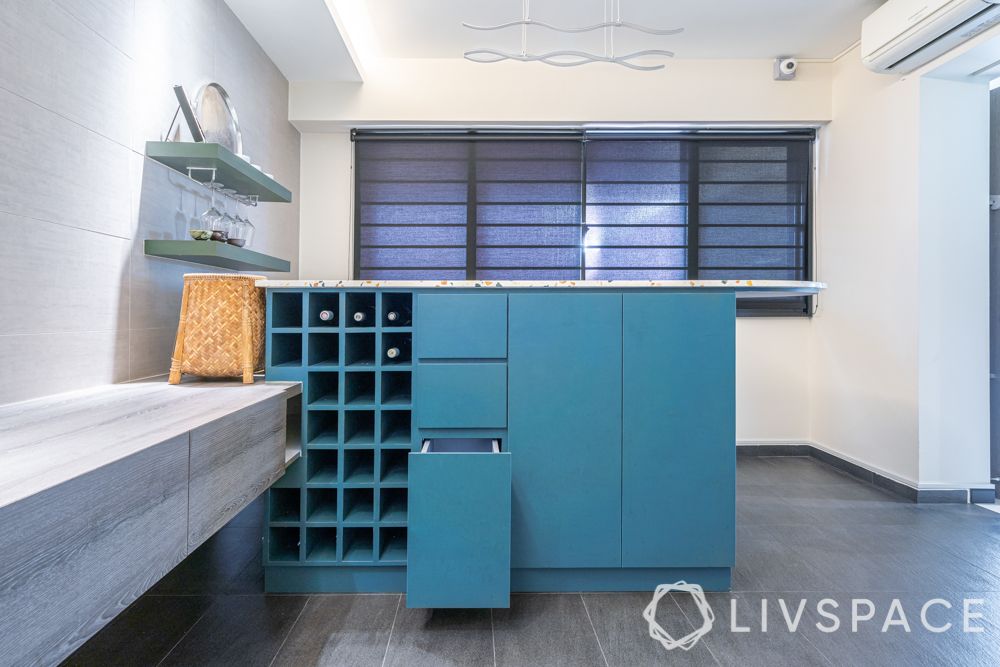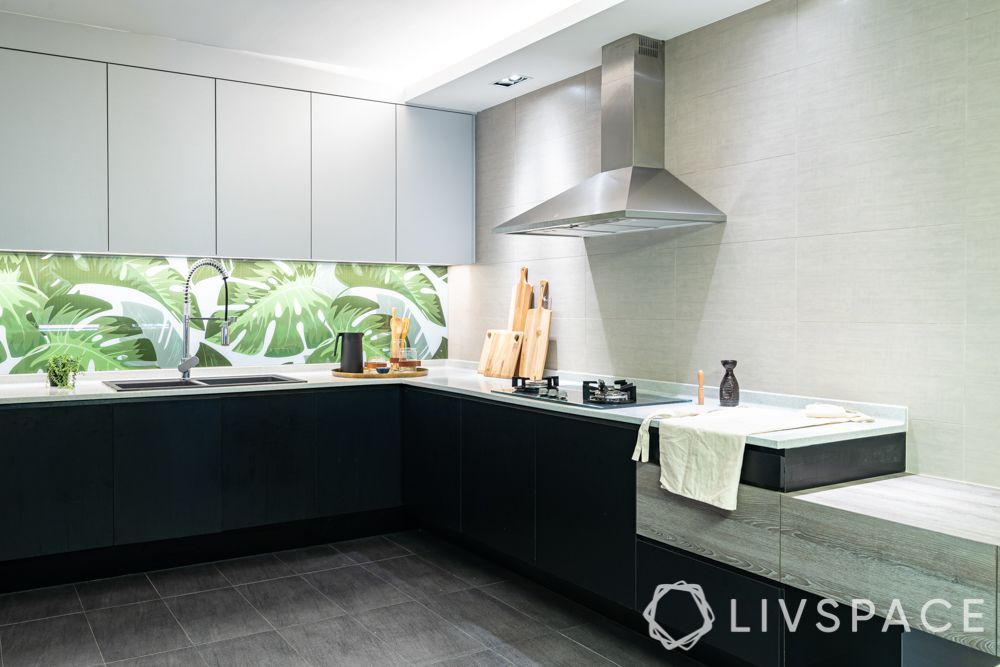 Unlike other flats, this spacious HDB house received a visual upgrade when the designer called for the demolition of the dining room making it one large space kitchen and dining space. This open layout brings in a villa-esque vibe to the flat. For a simple yet classy look, plywood cabinets with laminate finish were chosen with plenty of counter space running all along the walls. Accompanying the design is a unique backsplash. Susana printed a leafy piece of artwork and fitted it with glass, making it durable and easy to clean.
A noteworthy feature in this space is the kitchen island with plenty of storage and a terrazzo countertop. It doubles up as a dining table and bar unit with all the seating around it.
A master bedroom with everything and more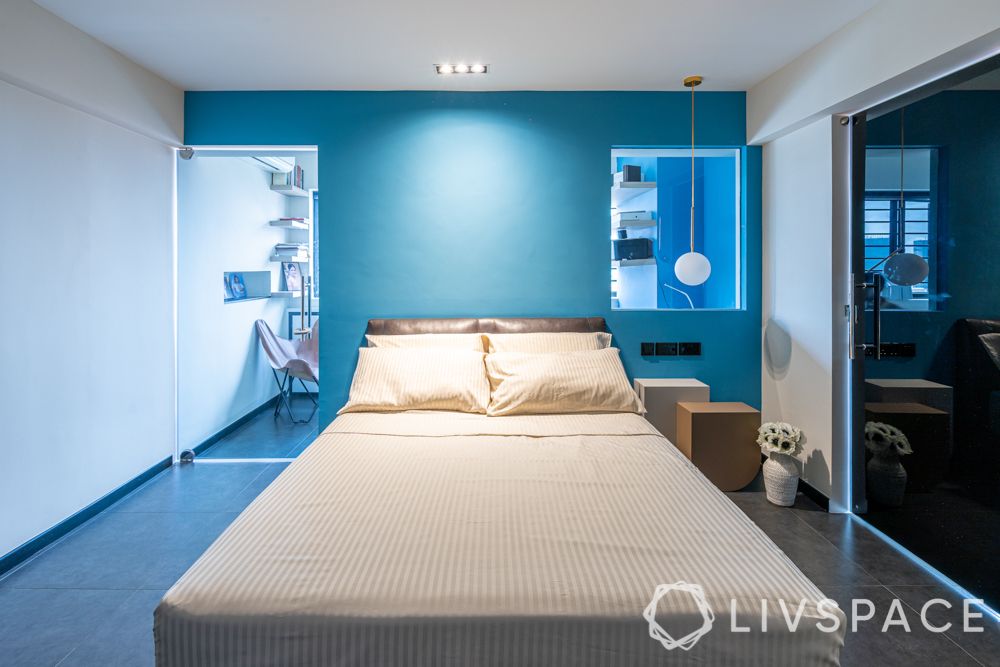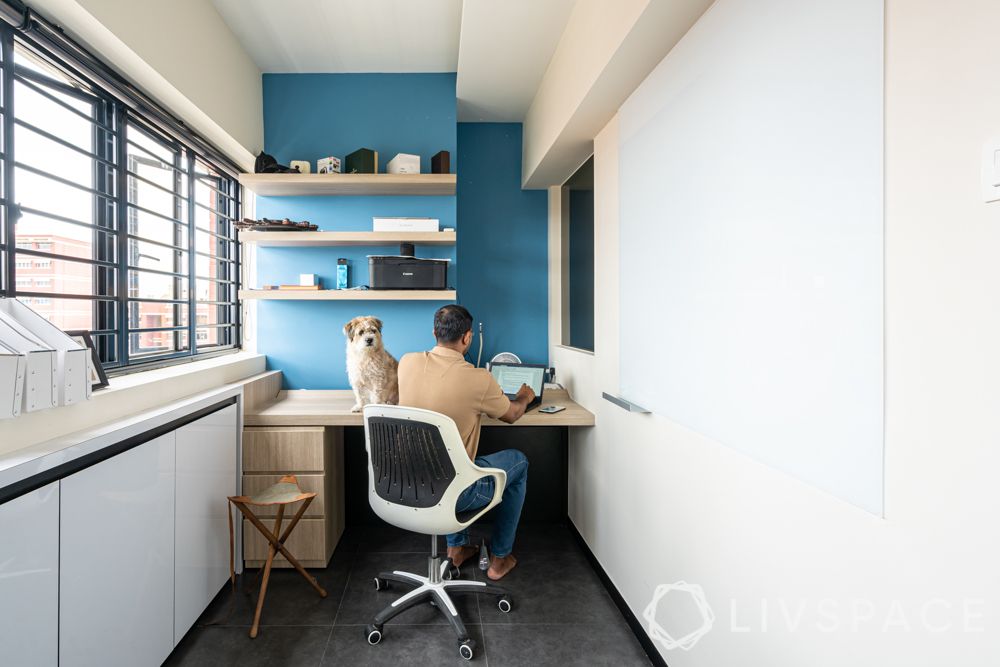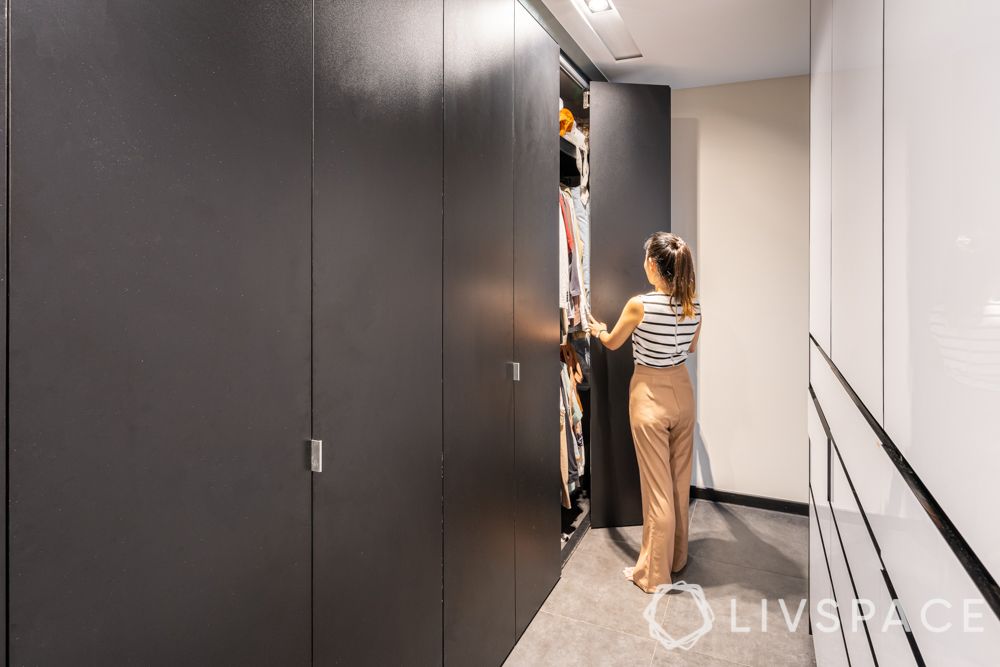 The master bedroom design alone is the most convenient and restful part of the home. Previously featuring a dull theme, Susana and the homeowners decided to incorporate bright and lively colours from other rooms into this room.
The main bedroom is in a bright blue colour with minimal furniture. Attached to the room is an undisturbed space for a home office. Designed with storage in the form of closed cabinets, open shelves and drawers, this space is perfect for days when the homeowners are working from home.
Lasty, the room opens up into a walking closet with black and white laminate wardrobes on either side.
Pretty pastel paradise for a toddler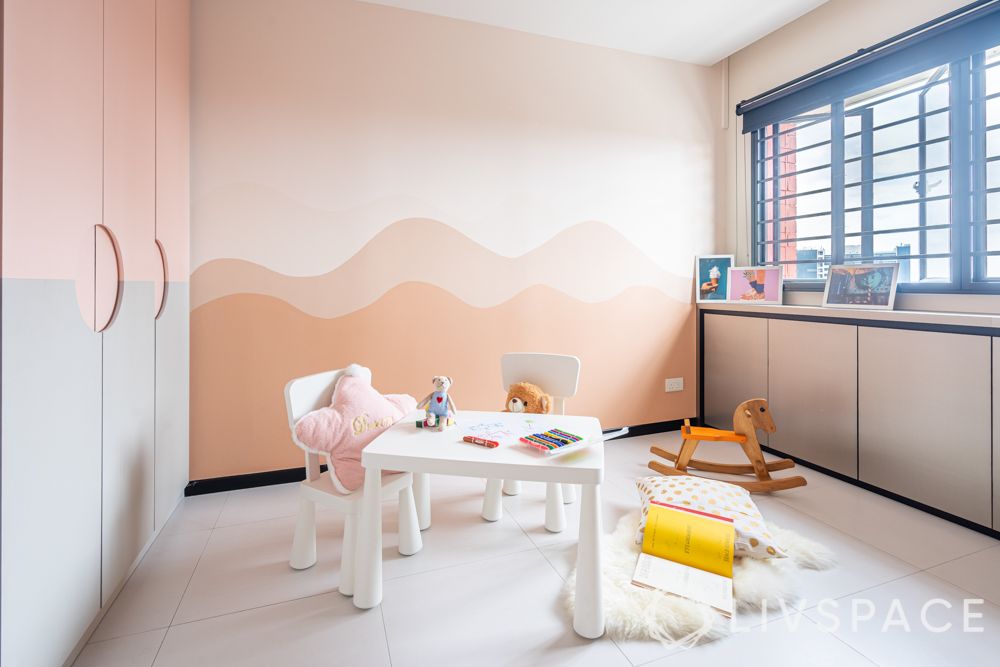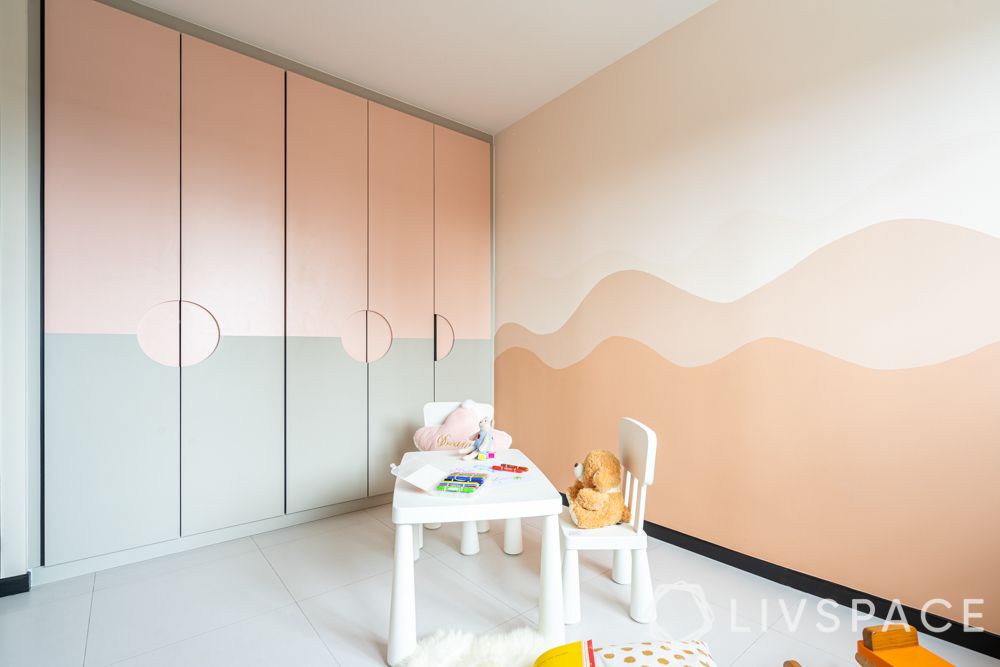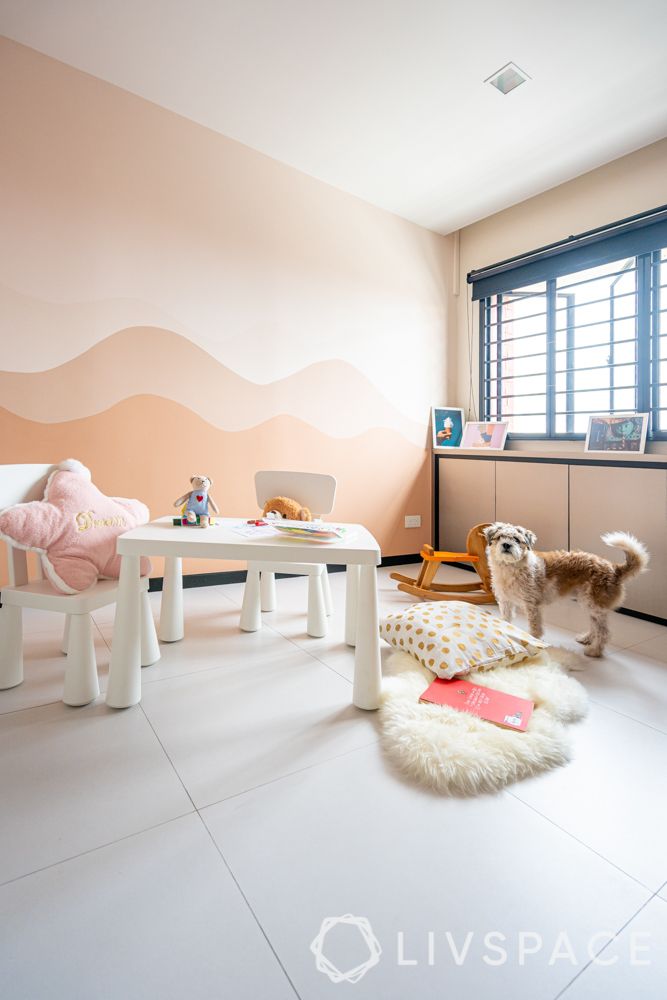 A favourite among all, the kids bedroom is straight out of a Disney movie! The homeowners wanted to personalise this space for their daughter. Therefore, they drew up measurements and outlines of the artwork, while the design team filled in the colours. Consequently, this room has an open atmosphere, fun furniture and storage for toys and books.
Touch-ups for the bathroom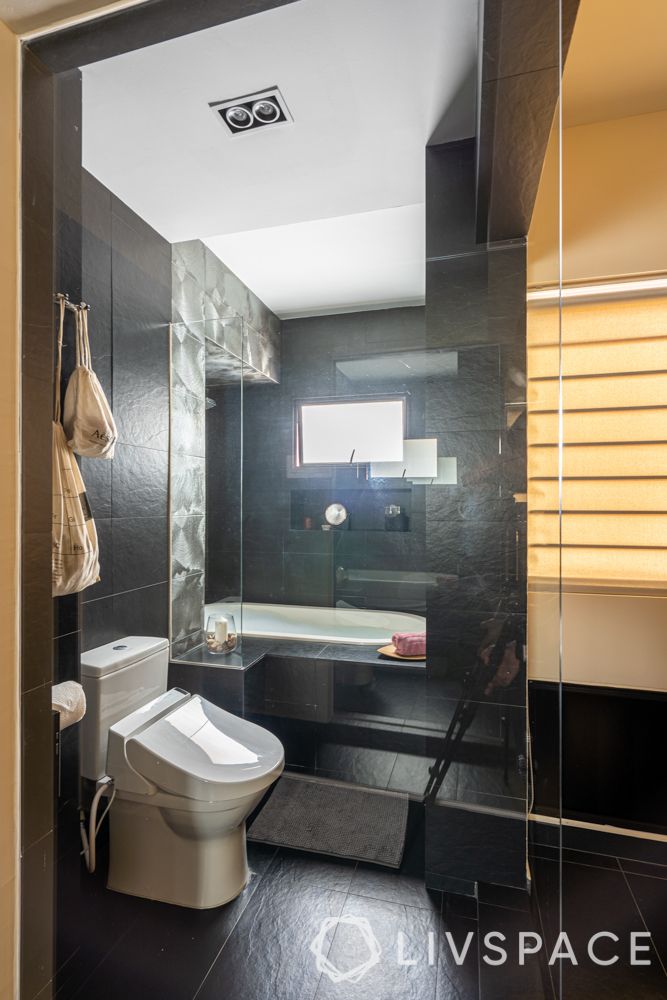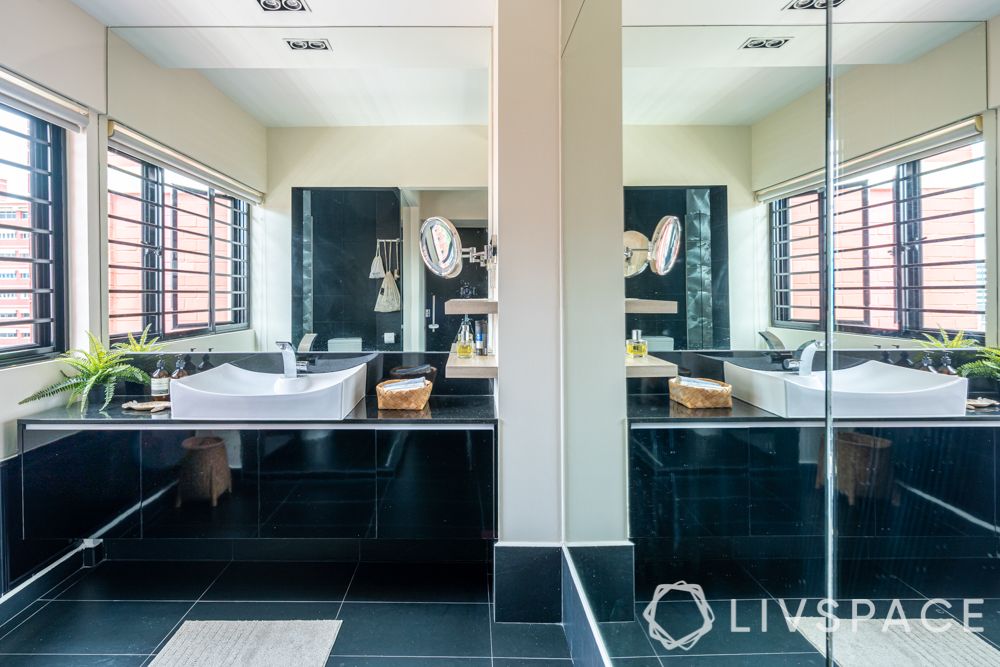 Both the bathrooms in this HDB house have retained their original designs apart from a little retouching here and there. Moreover, the black homogenous tiles display a dark theme.
If you enjoyed reading about this HDB house, take a look at How We Made This Compact 3-Room HDB Look Spacious.
Send in your comments & suggestions to editor.sg@livspace.com