Living in a compact home while compromising on comfort and style is not the way to do it. Livspace designer Shim shows us how this 85 sqm home for a financial consultant duo is everything and more in terms of style, space and comfort for a HDB interior design in Singapore.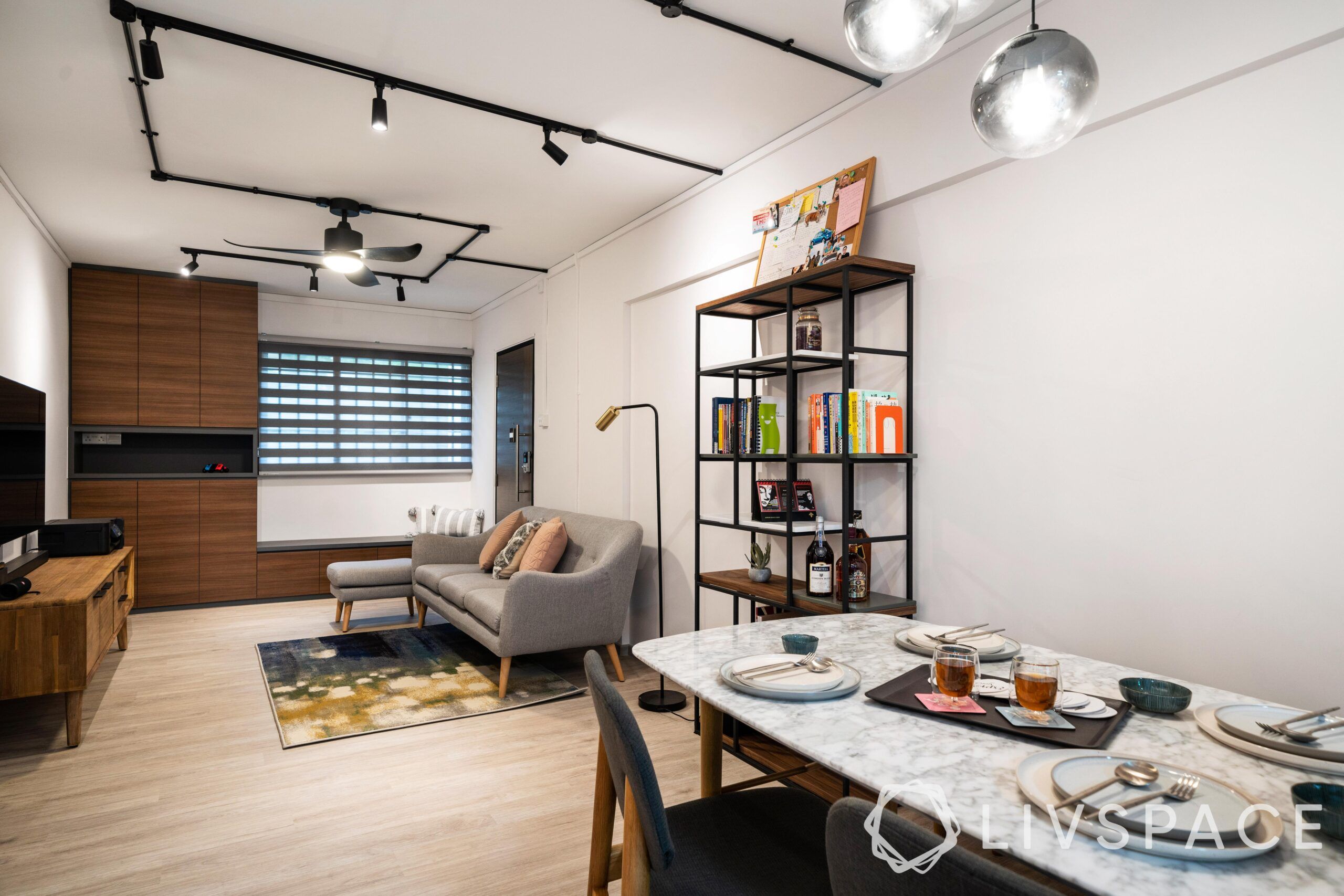 ---
Who livs here: A couple
Size of home: 3-room HDB spanning 85 sqm
Design team: Interior Designer Shim
Livspace service: Full home design
Budget: $$$$$
---
When it comes to design, a tightly-packed space does not mean you have to restrict yourself from everything you want. This home renovation is sure to prove just that! Homeowners of this 40-year-old property were certain that they wanted their home to flaunt a modern look all the while being up to date with trending designs. Therefore, Shim approached this HDB interior design in Singapore with a straightforward plan and added in a few unique tweaks to make the most of its space. Read one to find out how!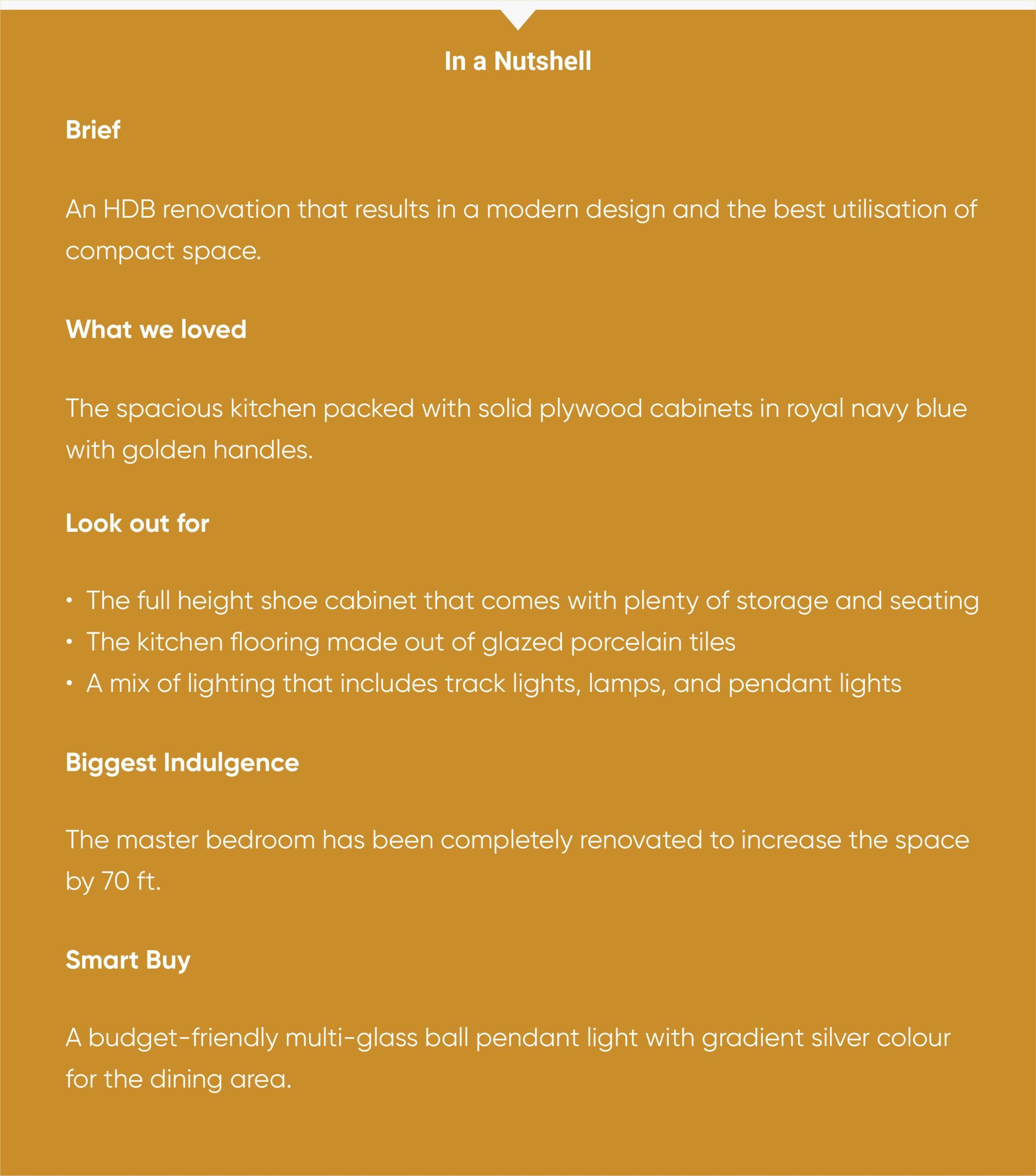 Designing a relaxing living room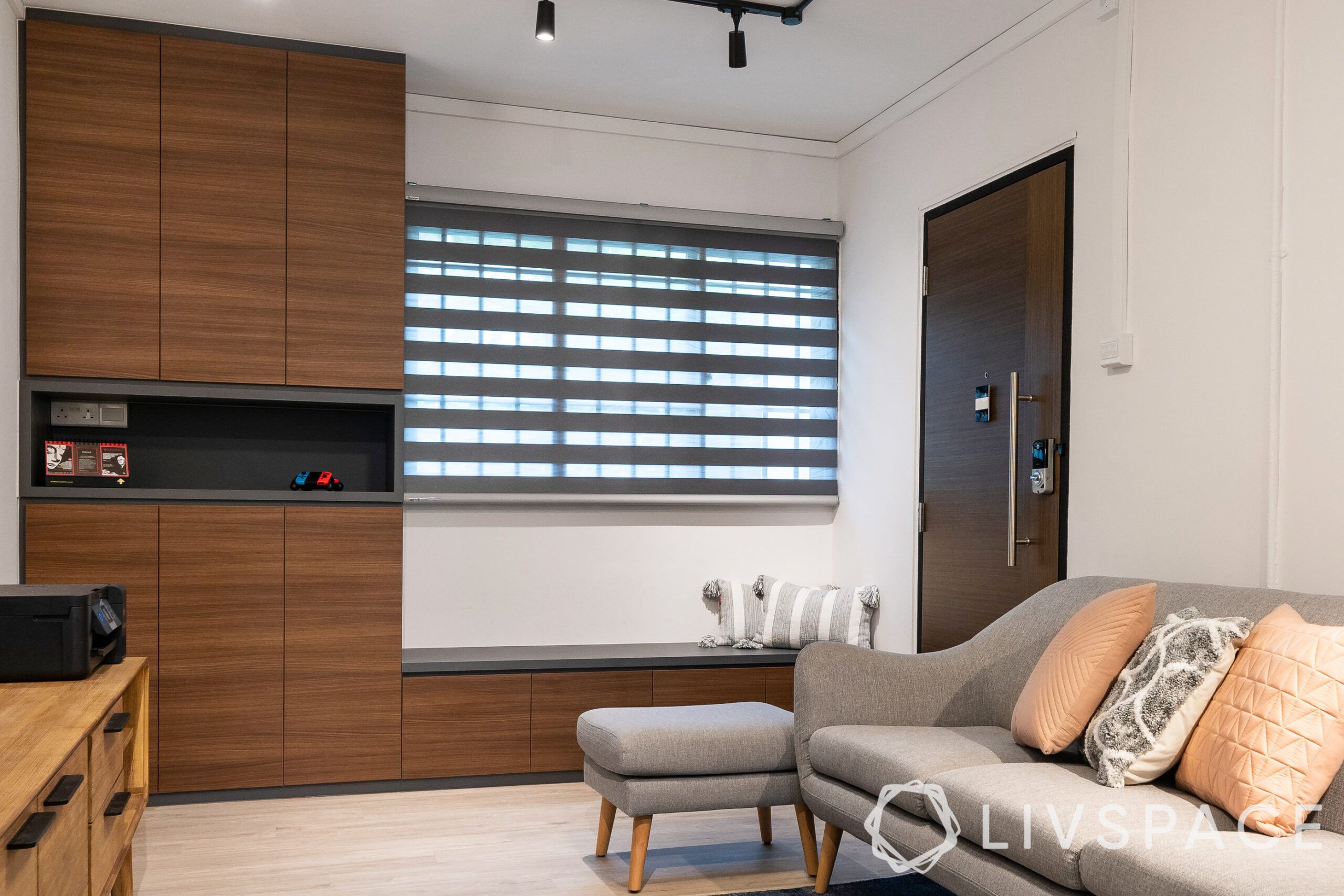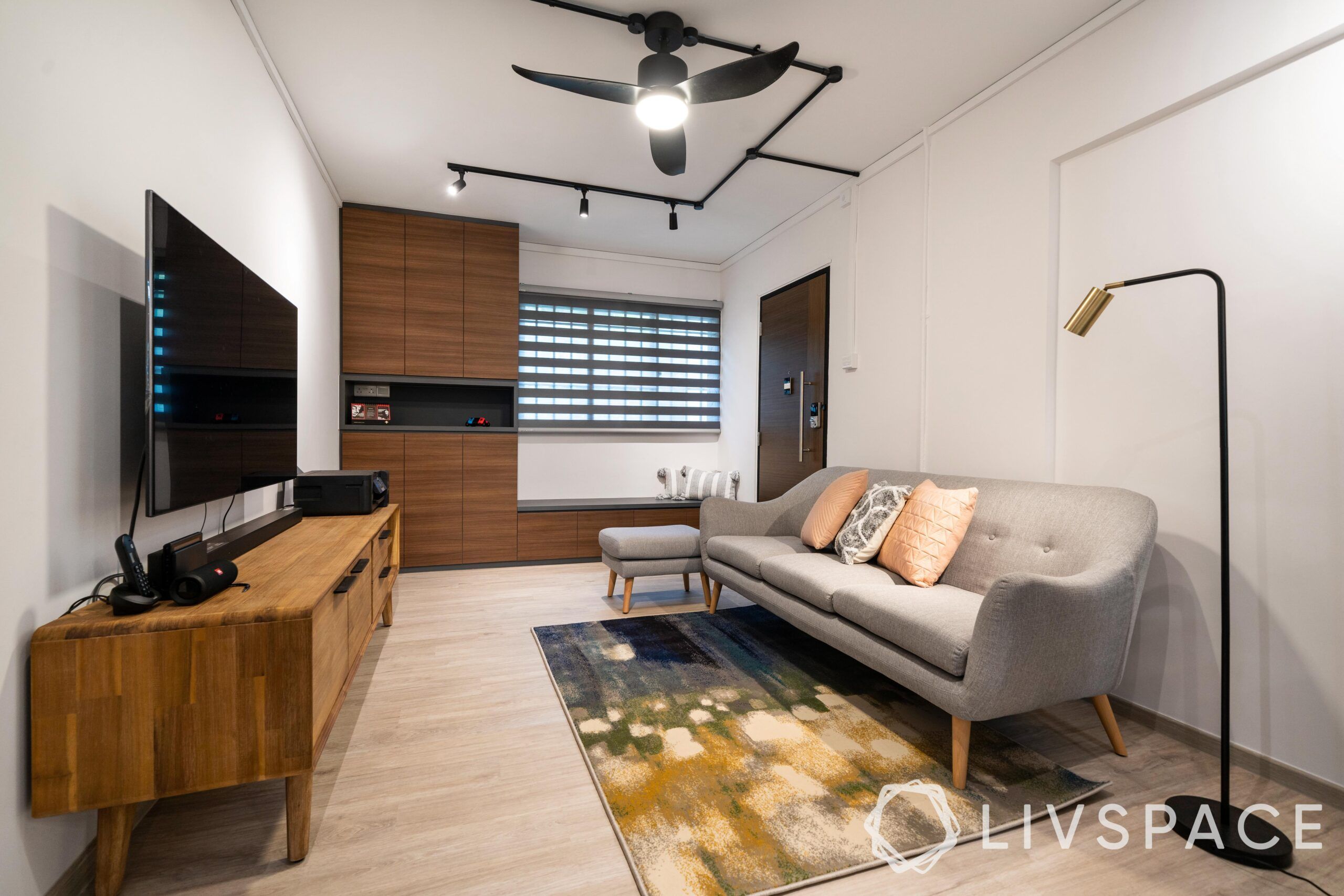 Starting with one the homeowners' favourite spaces, the living room has an uncomplicated design. Besides,the couple wanted a relaxing space to retire into at the end of a hectic day. Therefore, the colour palette is kept neutral in order for it to fall easy on the eyes. The walls are kept white while a splash of industrial design comes from the metal frame bookshelf and dark track lights.
Moreover, this home has a few unique features in it. Do you see the sizable storage unit against the wall? This high on storage wooden cabinet doubles up as a shoe rack. In addition, Shim found the perfect corner for a customised settee that was attached to the unit. On the other hand, the DB box that was on the wall next to the entrance has been moved into the unit to conceal it and give the walls a neater look.
Setting up a dining room in a rectangular living area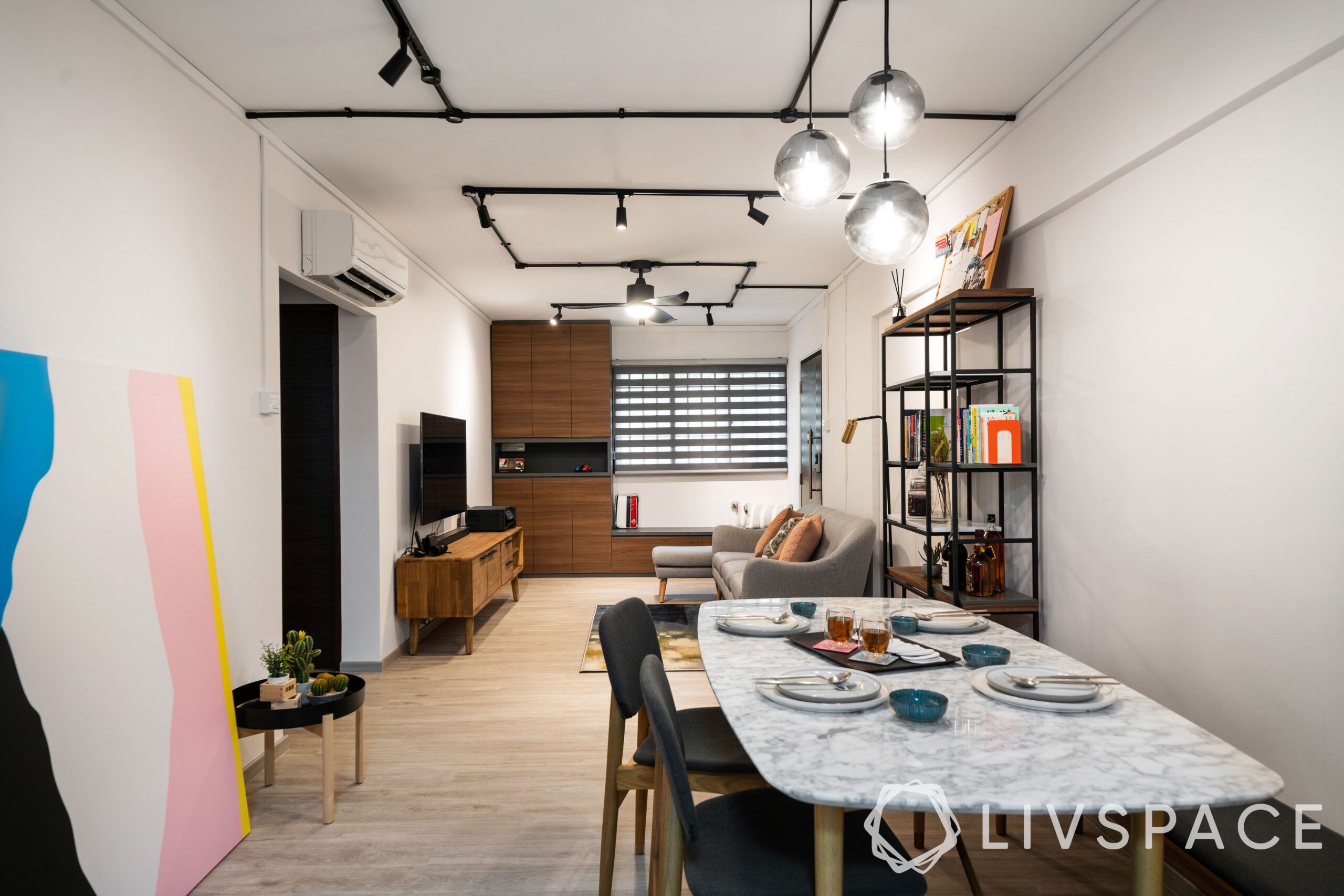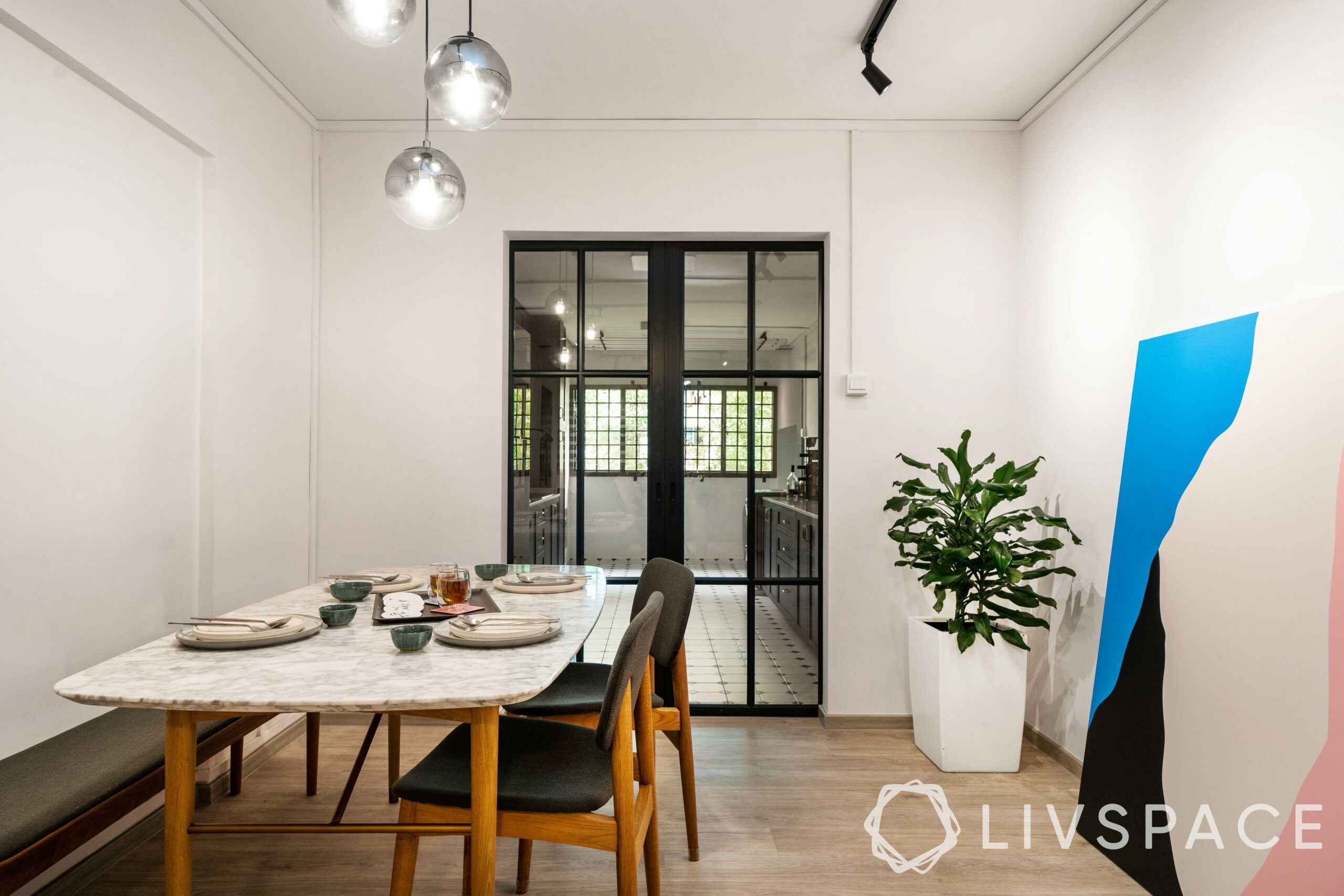 In the same space, adjoining the living room is cosy nook with a four seater dining table. In addition, this space is illuminated with a 3 piece glass pendant light that was a great budget find. Subsequently, a marble top dining table is positioned in front of the kitchen entrance leaving ample space for movement.
A country style kitchen design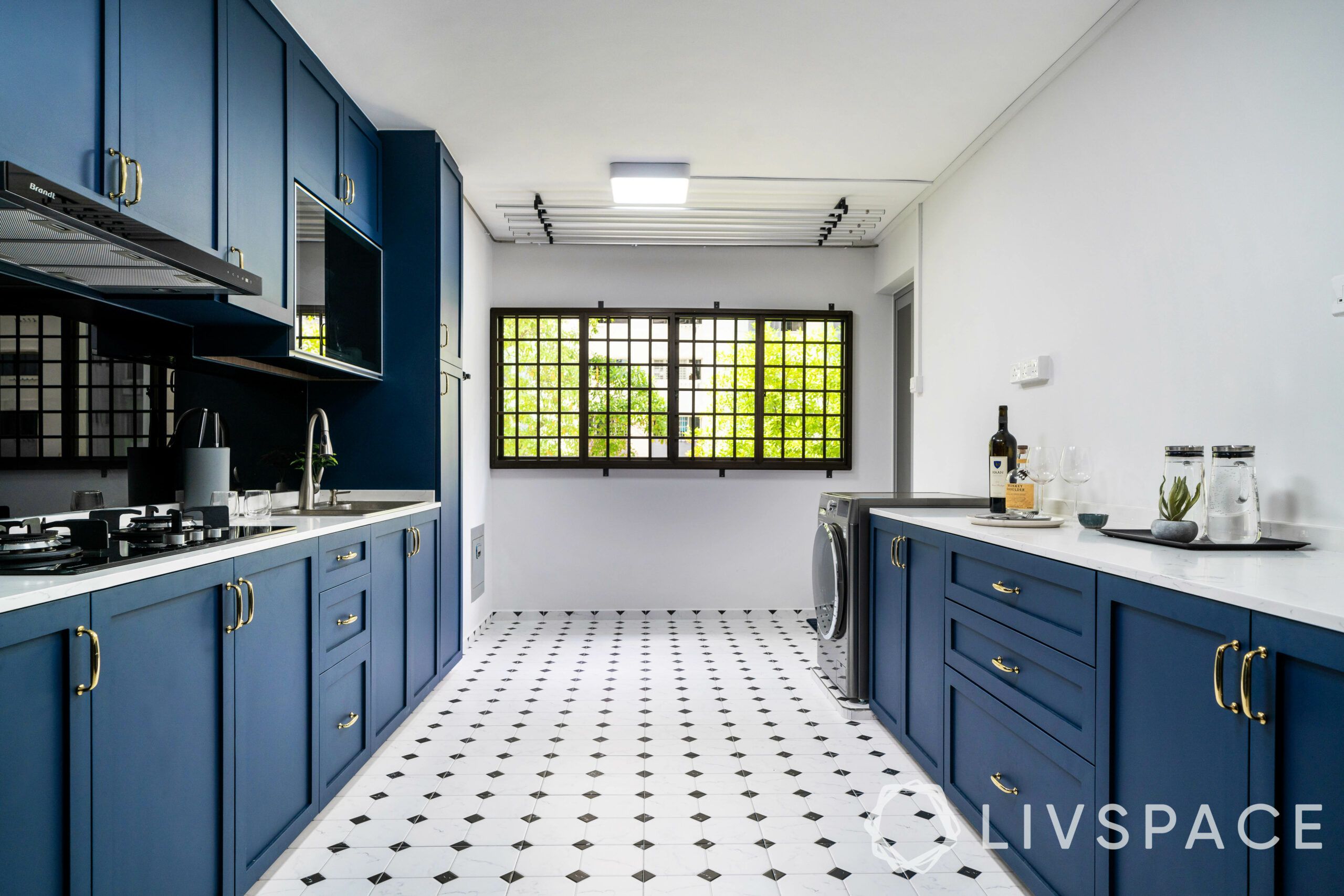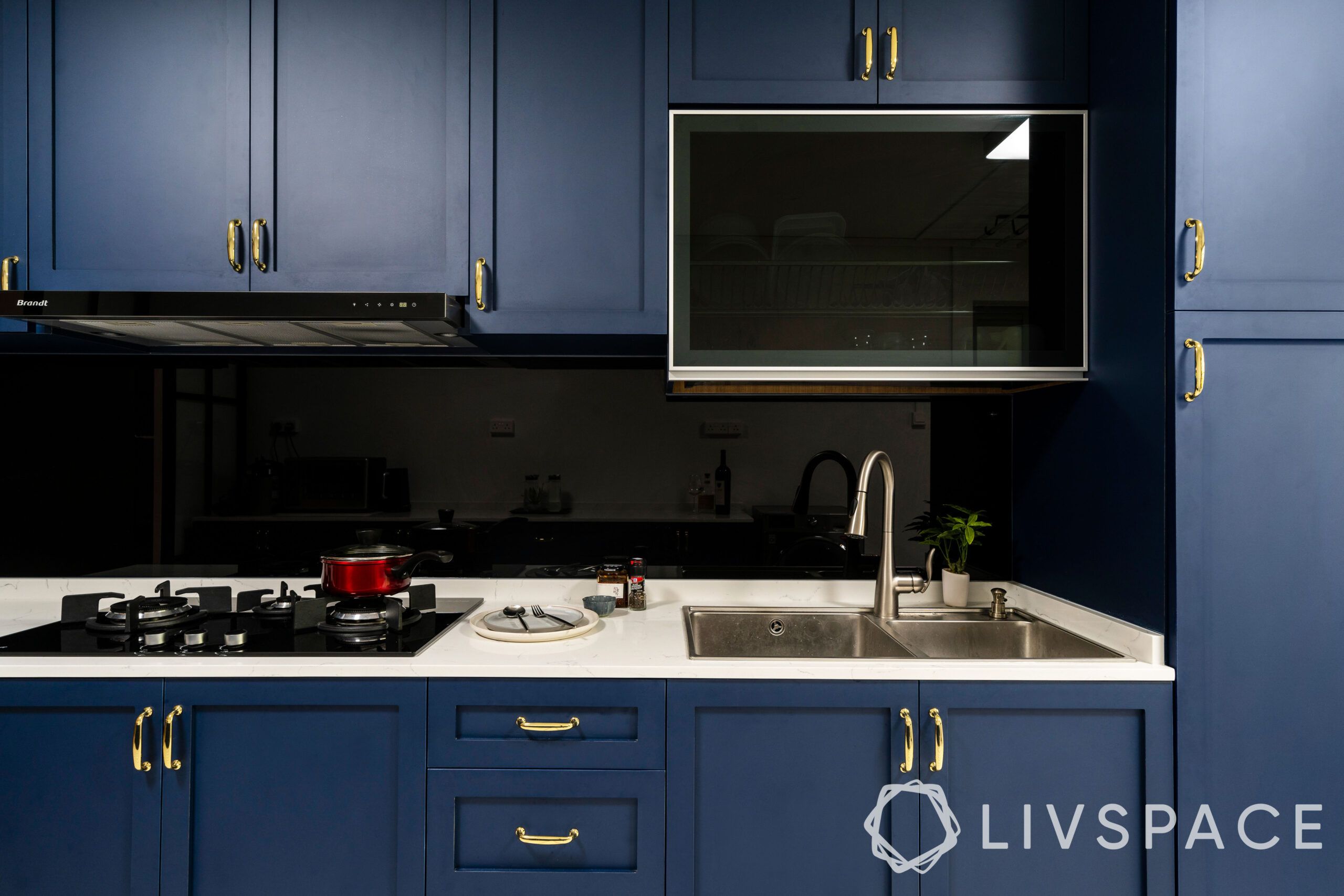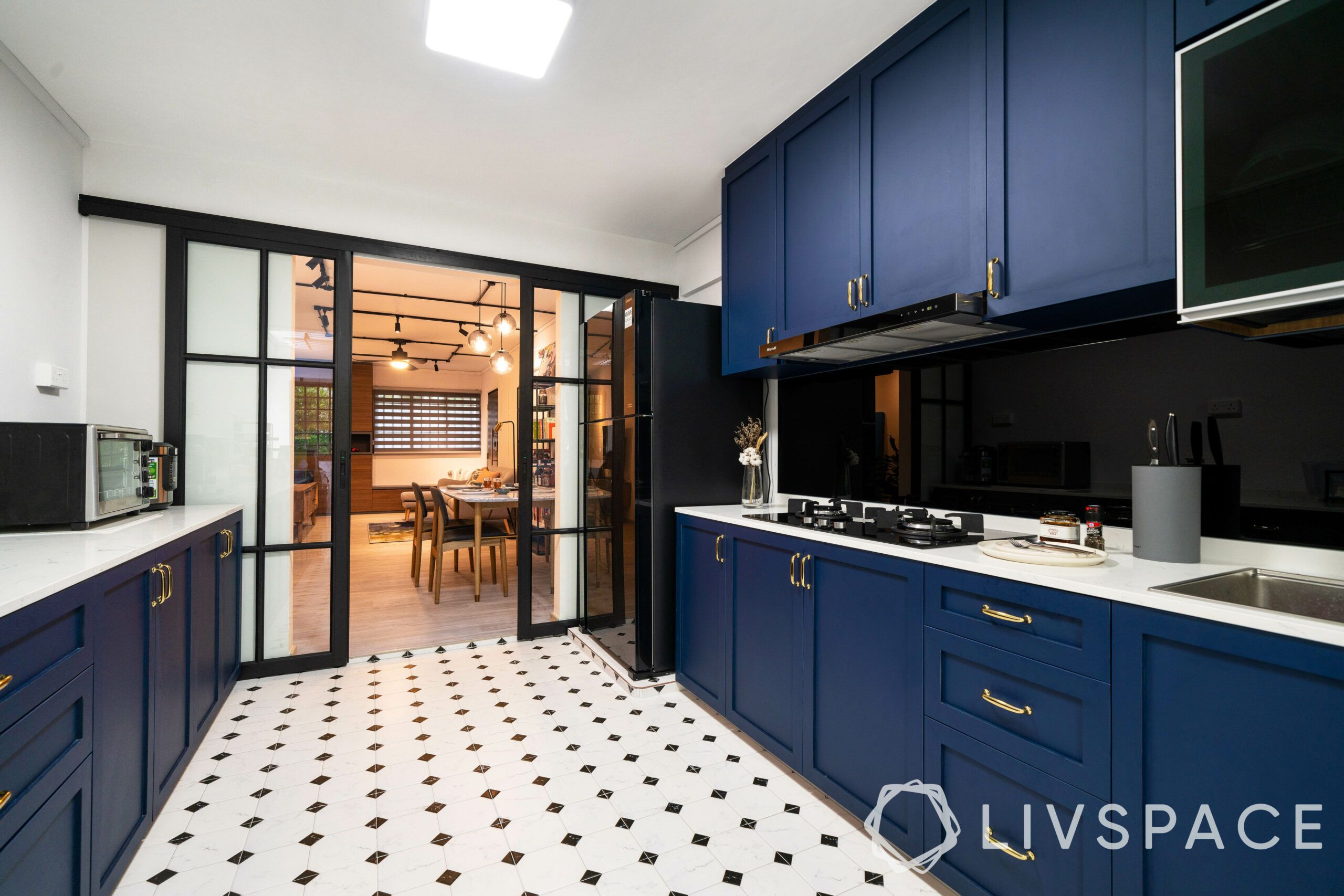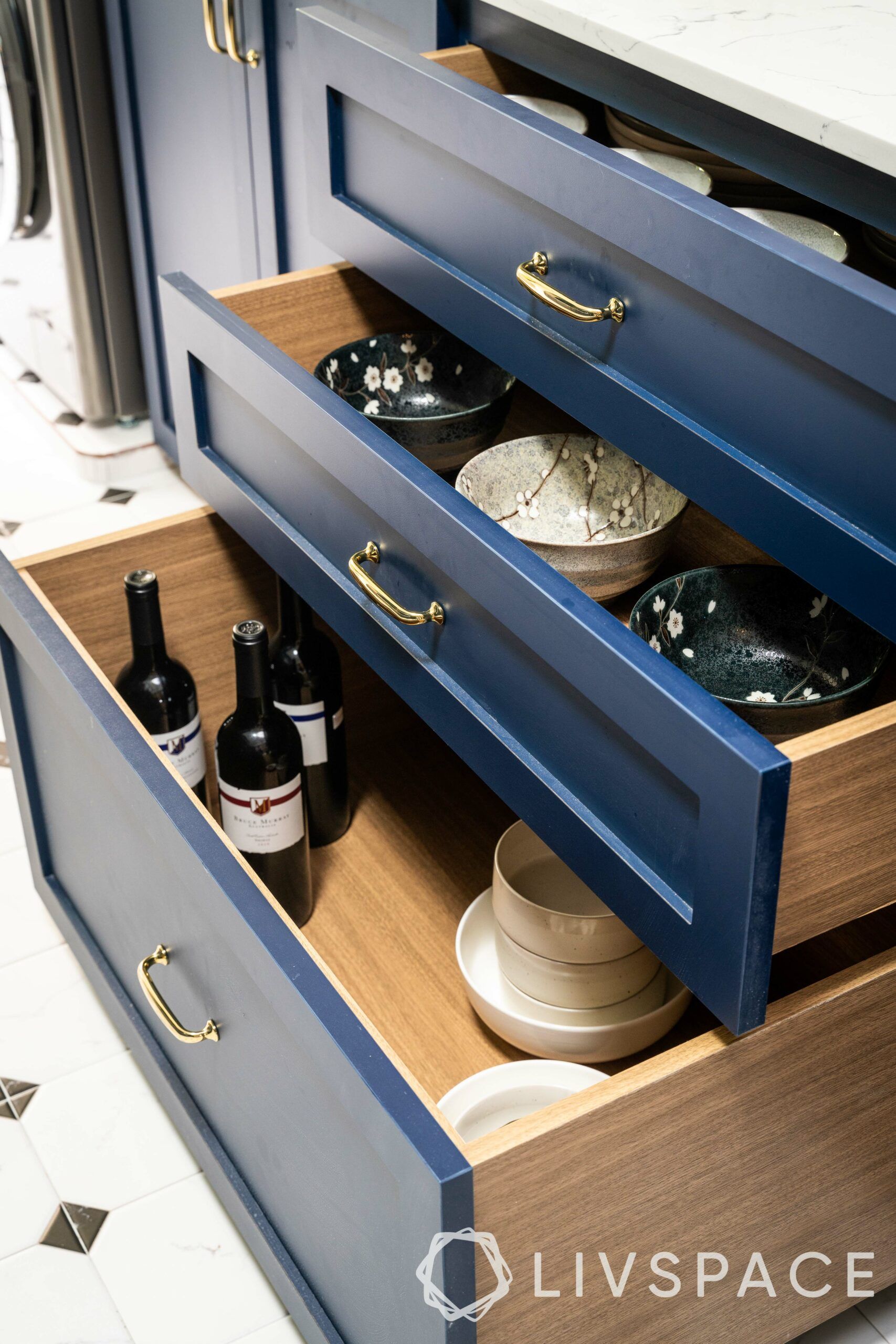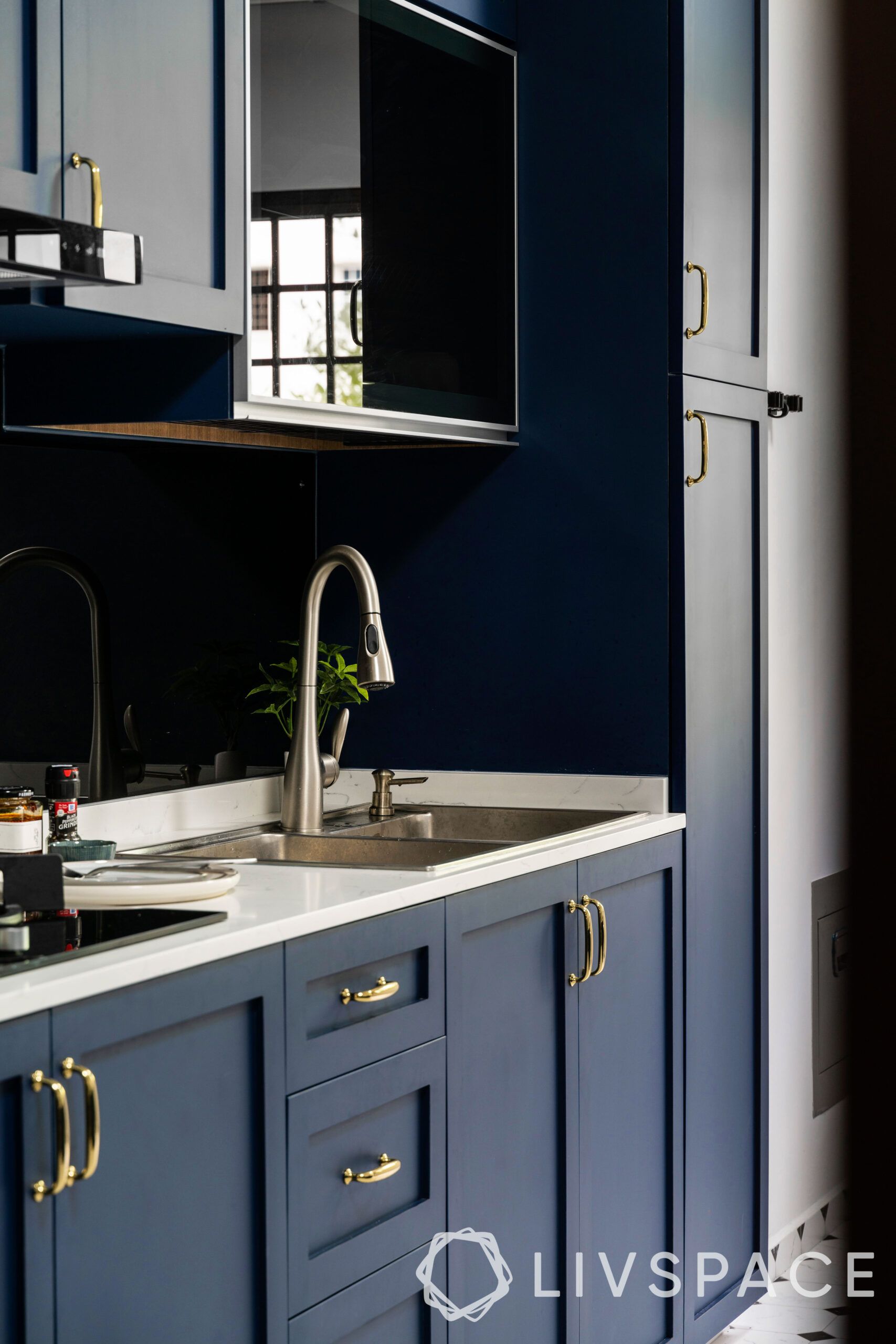 "The kitchen is the most outstanding space in the home because of the colour combination and the amount of space I could experiment with," Shim explained.
The team assigned to this HDB interior design in Singapore has renovated the space to widen the entrance. Moreover, they have installed a set of black, aluminium powder-coated sliding doors to give it a more modern feel. Consequently, this element subtly ties in with the exposed electrical trunking in the living room.
Once you're inside the kitchen, you will be pleasantly surprised by the design style. We love how the kitchen stands out for its country style cabinets and colour scheme. Moreover, it features navy blue cabinets made of solid plywood and laminate finish. In addition, it sports dainty, gold-coloured Ikea handles. Finally, the glazed porcelain tiles with a diamond pattern adds to the theme.
Maximising the master bedroom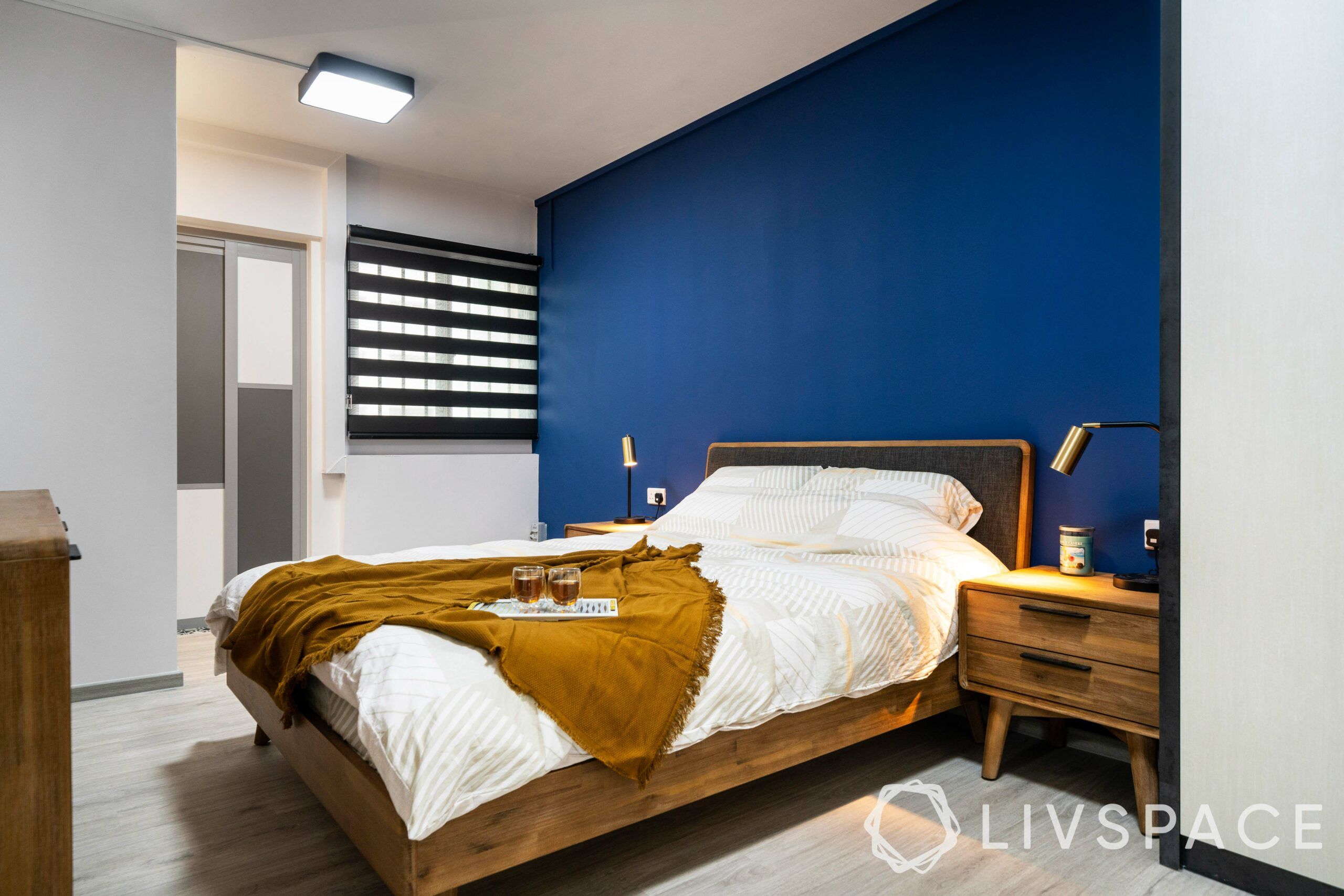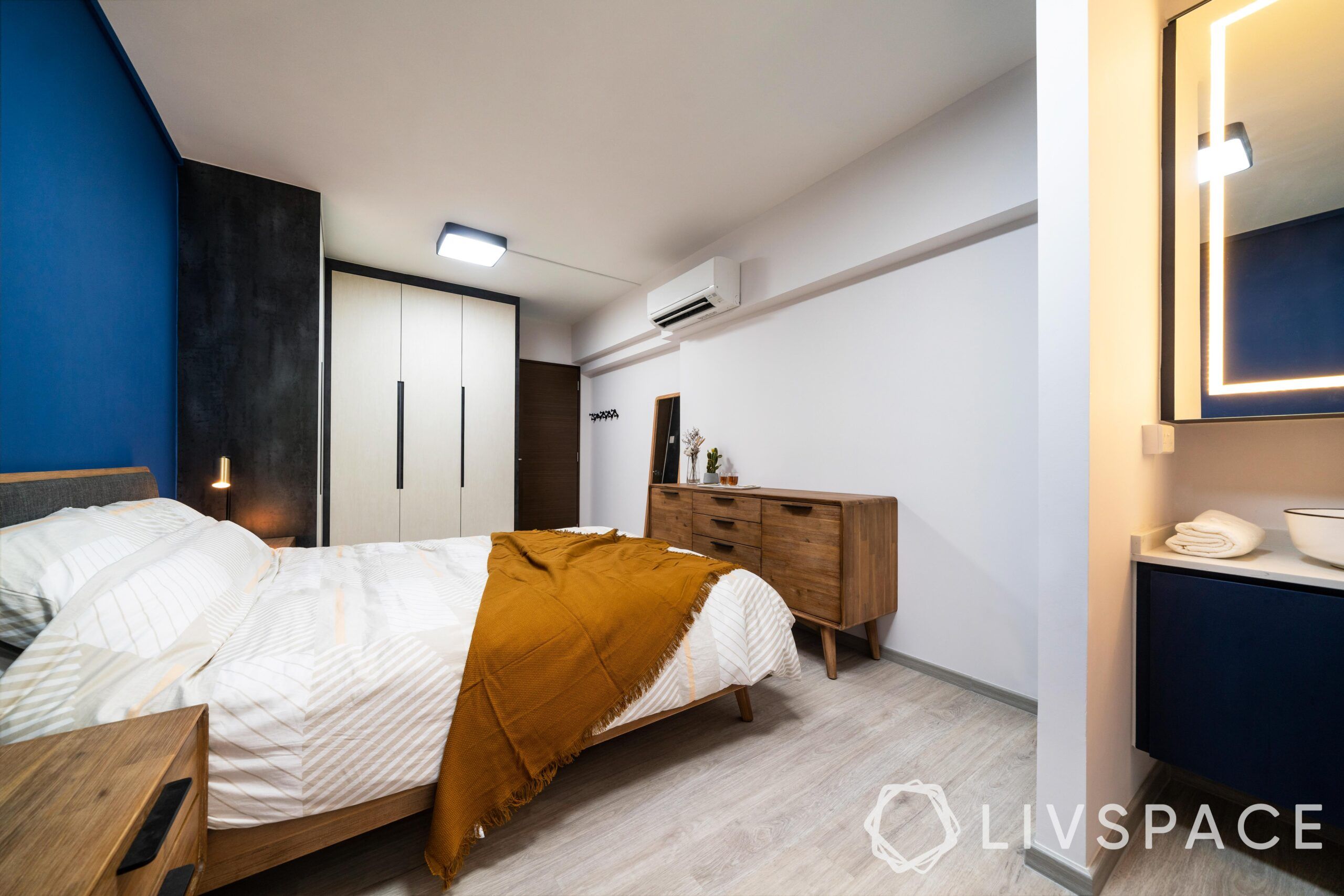 Since the homeowners desired a bigger bedroom, this HDB interior design in Singapore called for extensive civil changes. "Therefore. the original wall with the main entrance to the bedroom was knocked down. Subsequently, a new wall was erected to increase the bedroom by over 70 sqft," says Shim. Subsequently, this allowed him to add in extra storage and paint the wall a rich navy blue.
A unique design solution for a compact bathroom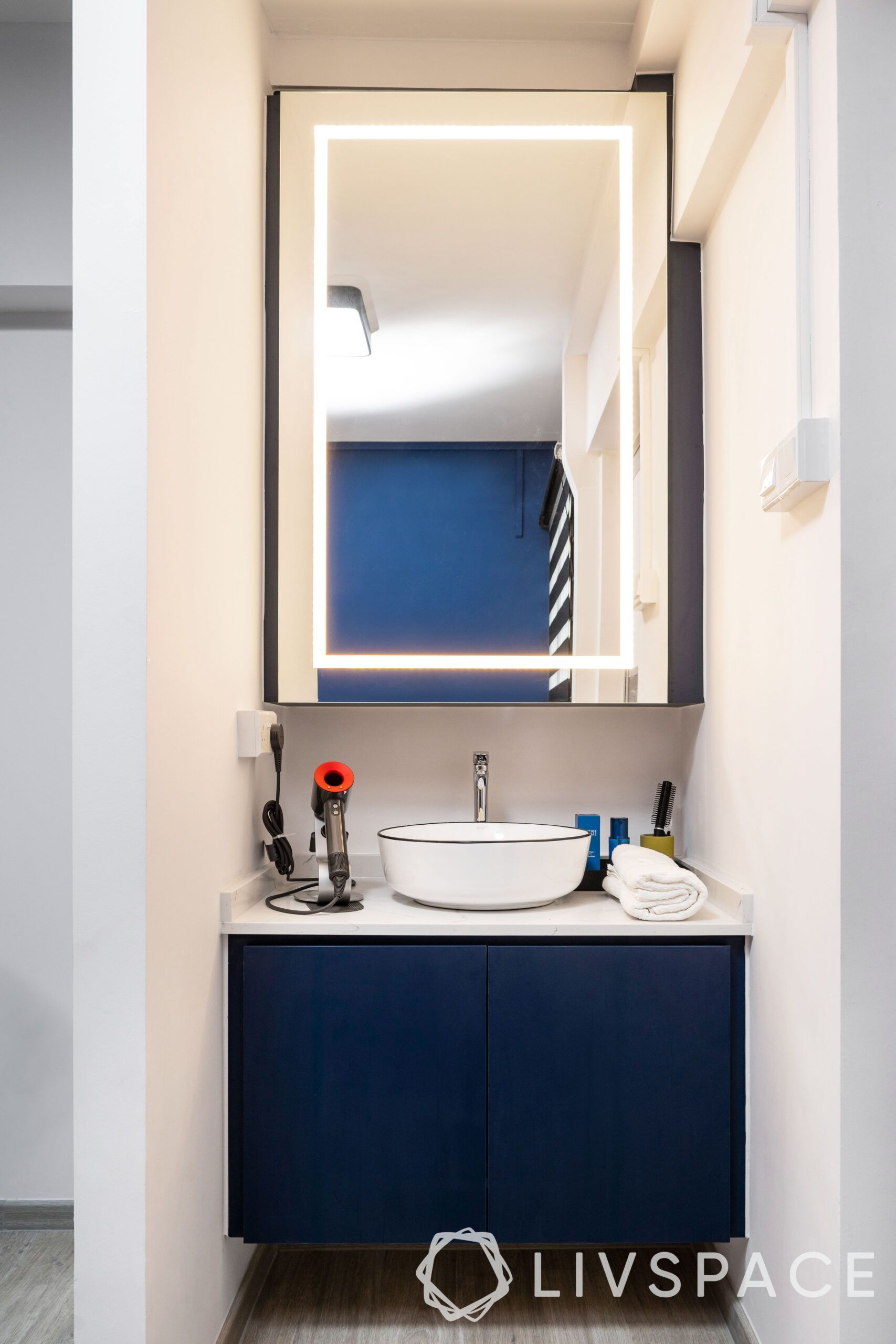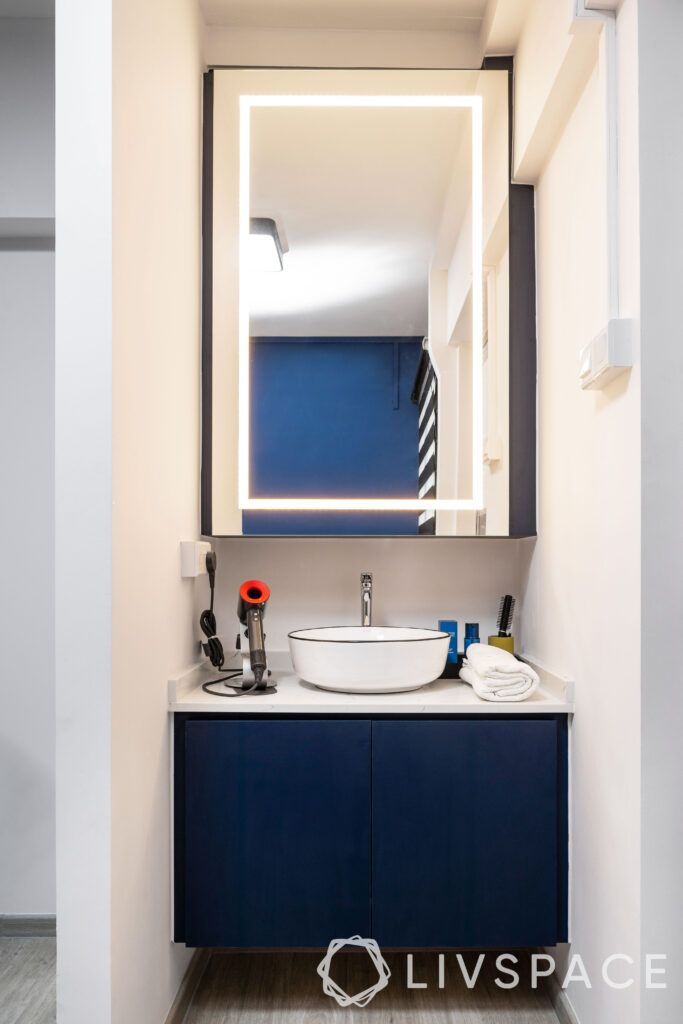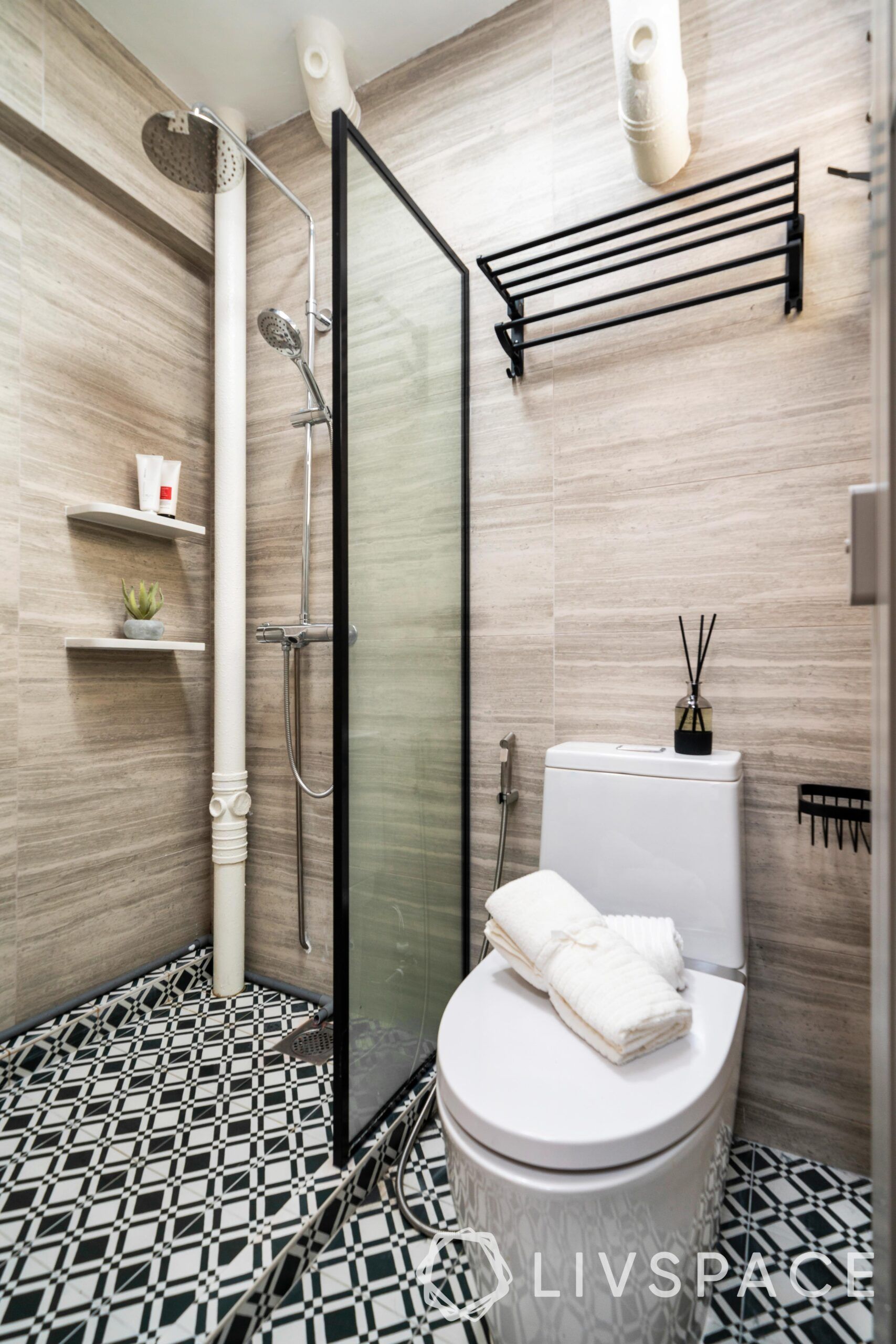 Shim's practical eye for design shines through in this part of the home. The glazed porcelain-tiled bathroom posed a space problem. Therefore, Shim had to design a workable bathroom in less than 35 sq ft of space that also had plenty of pipes. Furthermore, he suggested moving the bathroom sink out of the space and installing it in a custom built vanity section.
"I designed and planned it such that the vanity counter with the basin was carefully built right at the corner. Moreover, it was positioned right next to the toilet for convenience," Shim explains.
A cosy and dreamy guest bedroom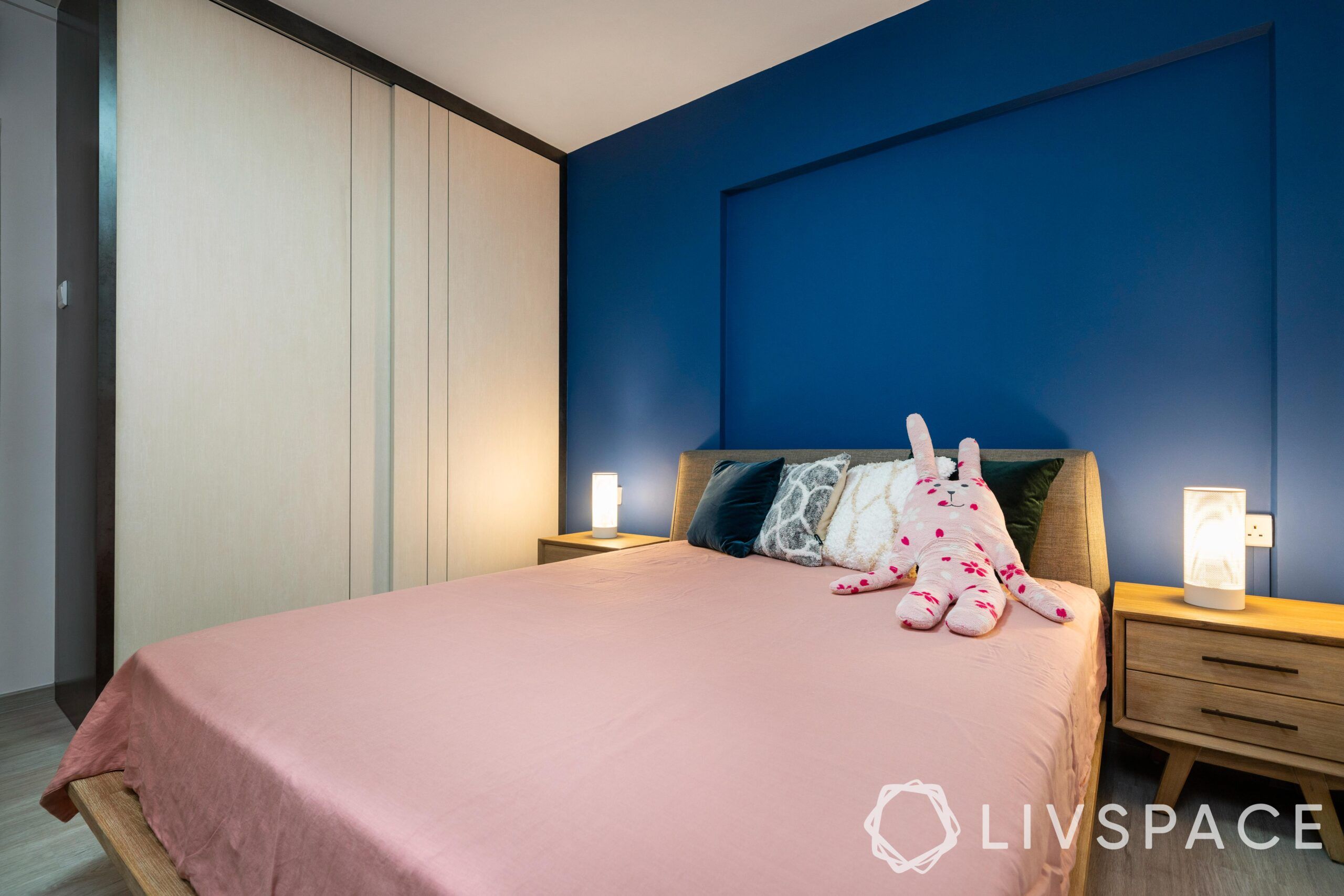 The second bedroom in this HDB interior design in Singapore is chalked out for visiting friends and family. Consequently, it has a fairly simple design and resembles the master bedroom. In addition to this, the bedroom is packed with storage featuring sliding wardrobes.
If you enjoyed this home tour, take a look at: This Cool-toned Home Is What Dreams Are Made of
Write to us at, editor.sg@livspace.com.