When you are a young couple who is soon-to-be-married, you'd want a home that has an ideal private space and common spaces to entertain friends. That's exactly what this HBD Singapore flaunts!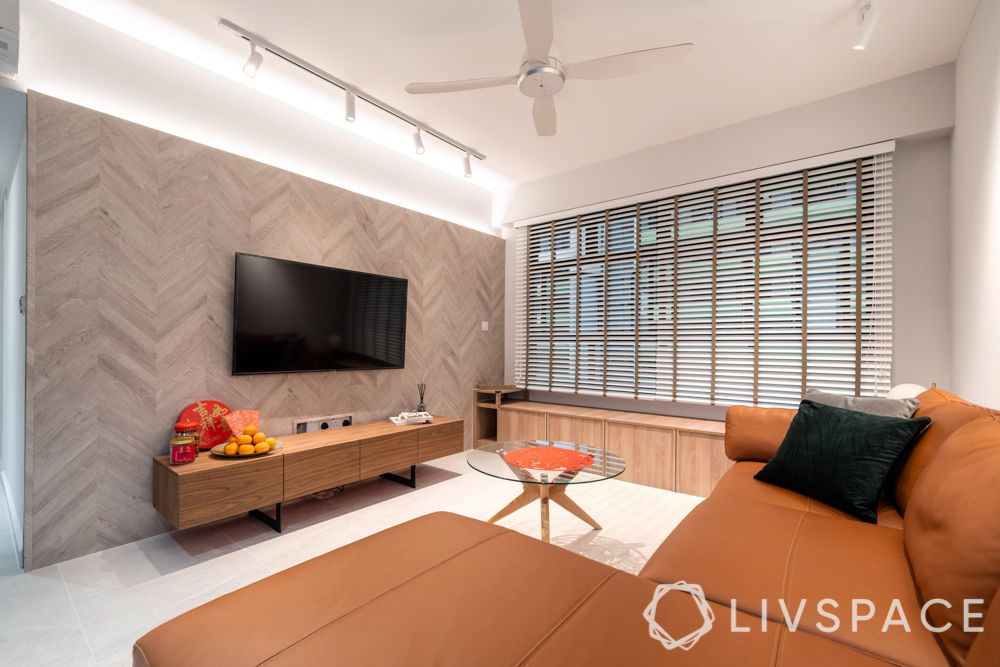 ---
Who livs here: See Zhibin and Tong Shuyi
Type of home: 5-room HDB BTO spanning 92 sqm
Livspace team: Jake Tong for Interior Design and Ricky Lee for Project Management
Livspace service: Full home design and renovation including demolition, masonry & tiling, wall Finishing, electrical, lighting, plumbing, flooring, partitions, erection of walls, false ceiling & painting
---
When Shuyi and Zhibin approached us, all they wanted to do was transform their HDB BTO with a simple and minimalist design with neutral colours on the walls. But a simple design does not mean we compromise on the functionality aspect at any cost. This couple wanted maximum storage space and open layouts that would help them host friends and colleagues regularly. Therefore, Jake Tong, their designer took over and we are sure you will love the result!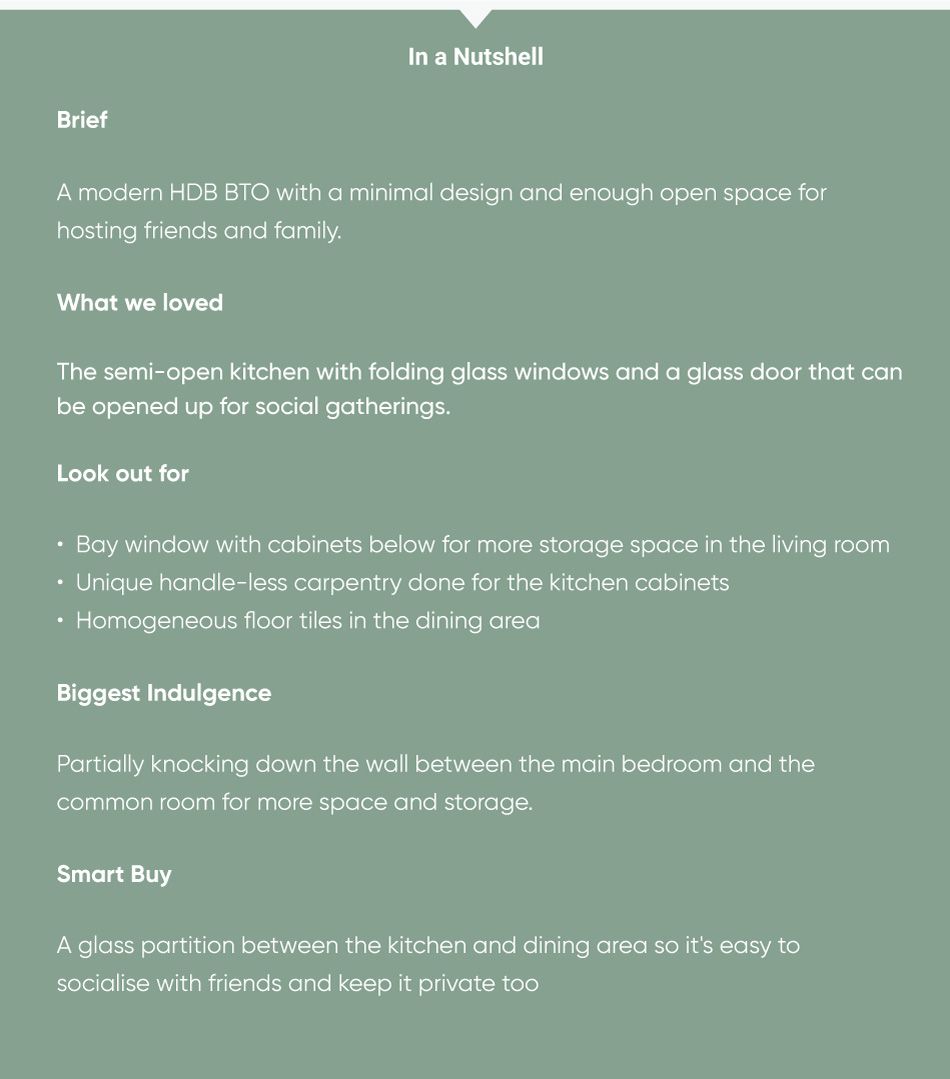 A living room designed to look seamless and functional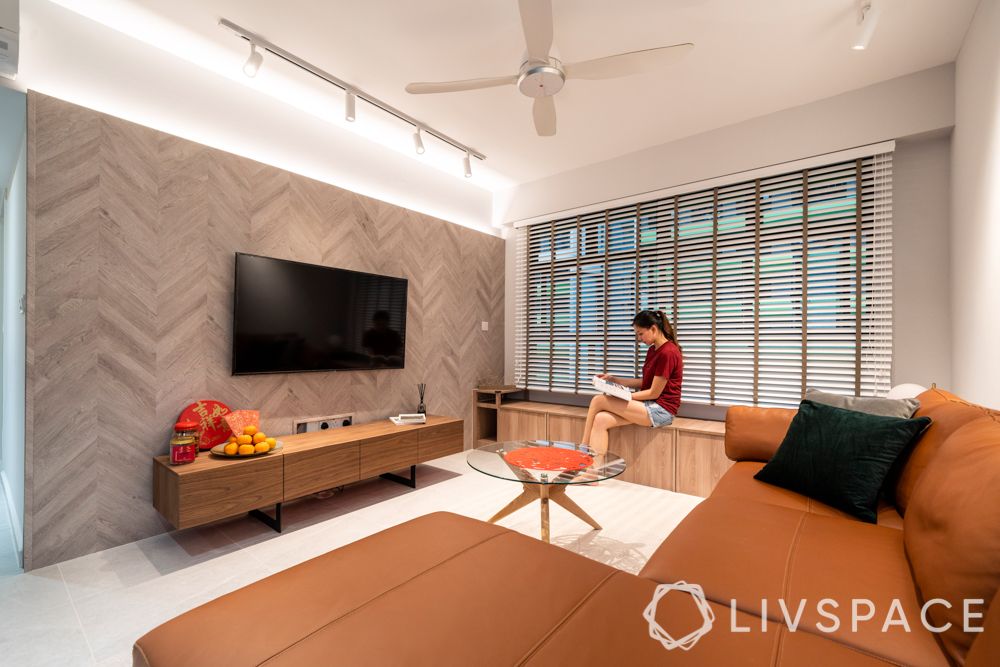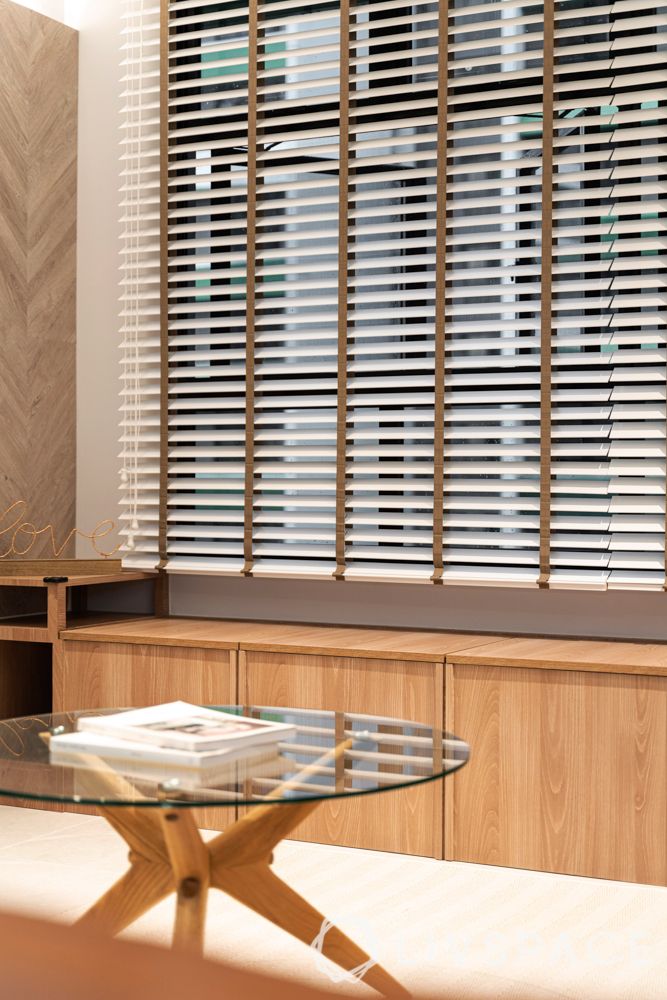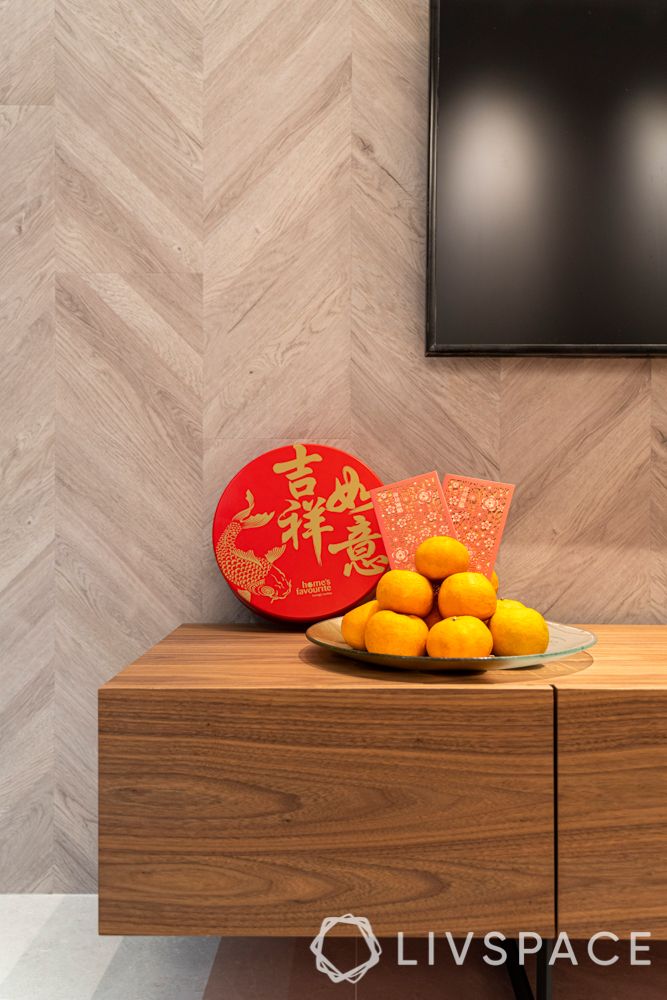 The living room at this HDB Singapore is one space where Jake could experiment a lot. He added vinyl flooring to the TV unit feature wall. This helped lower the cost and time taken to construct the entire thing. To make the TV console fit seamlessly, he created a niche in the wall where the wiring and sockets could hideaway. Also, notice the bay window that Jake has added for extra storage and seating space. Each wooden panel here has intricate detailing as opposed to having plain textures.
This dining room is made for get-togethers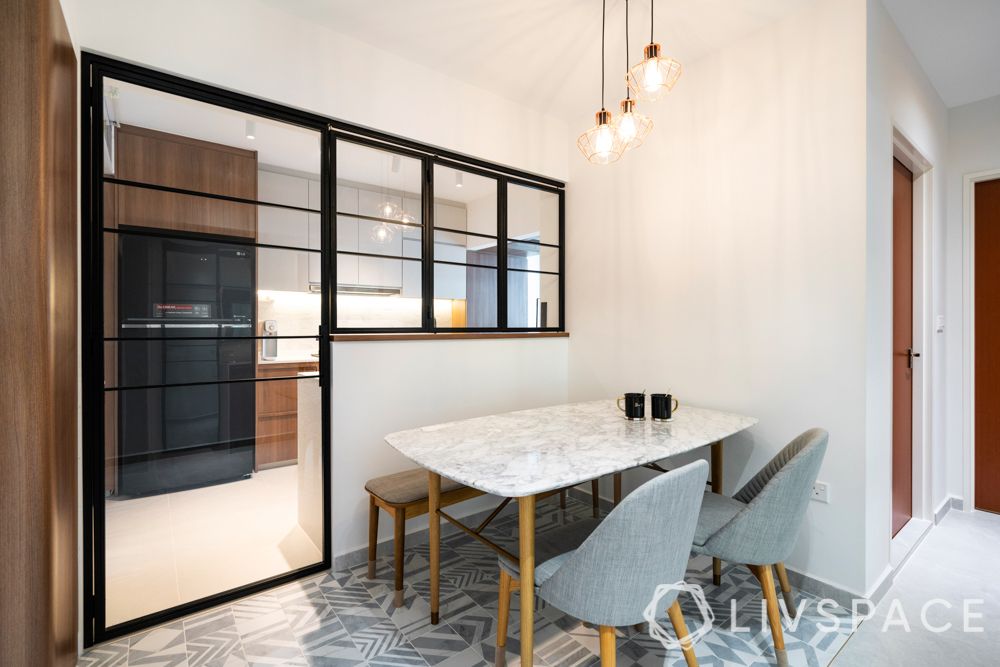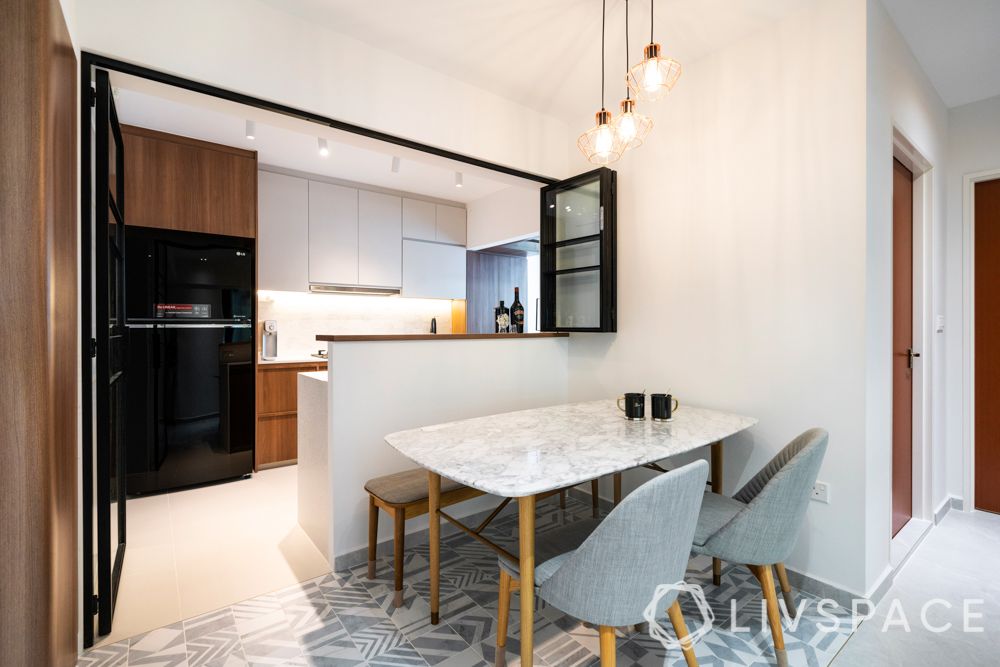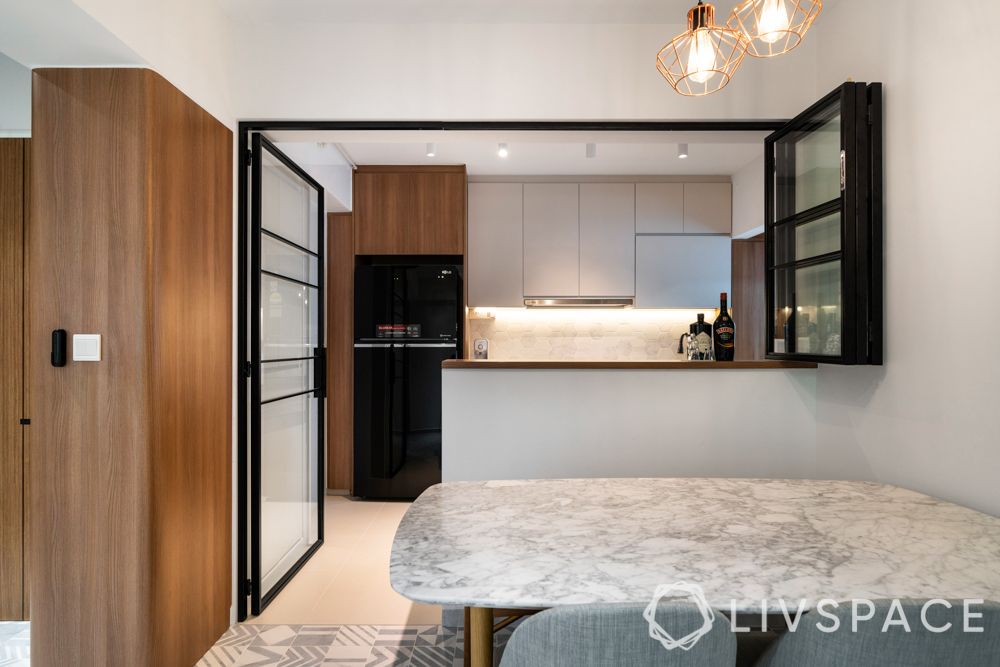 The dining area at this HDB Singapore has one unique feature that is totally standing out. Yes, the homogeneous floor tiles are something that Jake had insisted on, to demarcate this area and make it look interesting. In a candid chat, the couple admits to having taken the leap of faith by choosing these tiles and they are so glad they did. The versatile seating options in this area add an element of quirk as well as makes space for one more person.
In the words of the couple
"We found Jake to be a professional and responsible person. He is responsive and whenever we wanted to follow up on status or were curious about certain design amendments, he was fast and always able to give us the right advice. We both love the final interior design, which is very close to the 3D designs we saw and we are happy to see our home design now and it provides us with a very great sense of belonging."

– See Zhibin and Tong Shuyi, Livspace Homeowners
A sophisticated and timeless look for the kitchen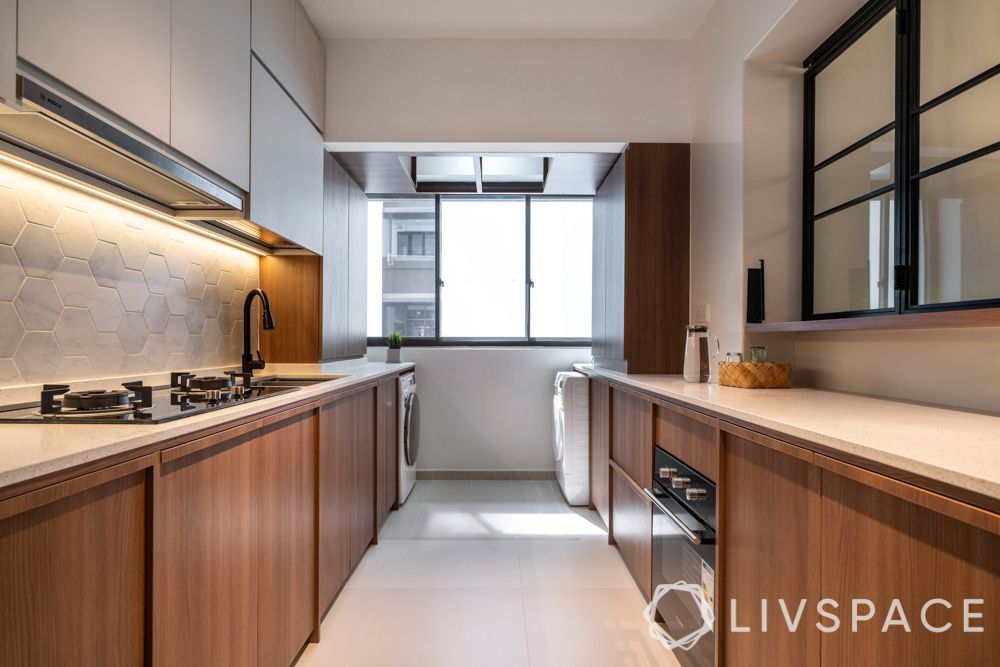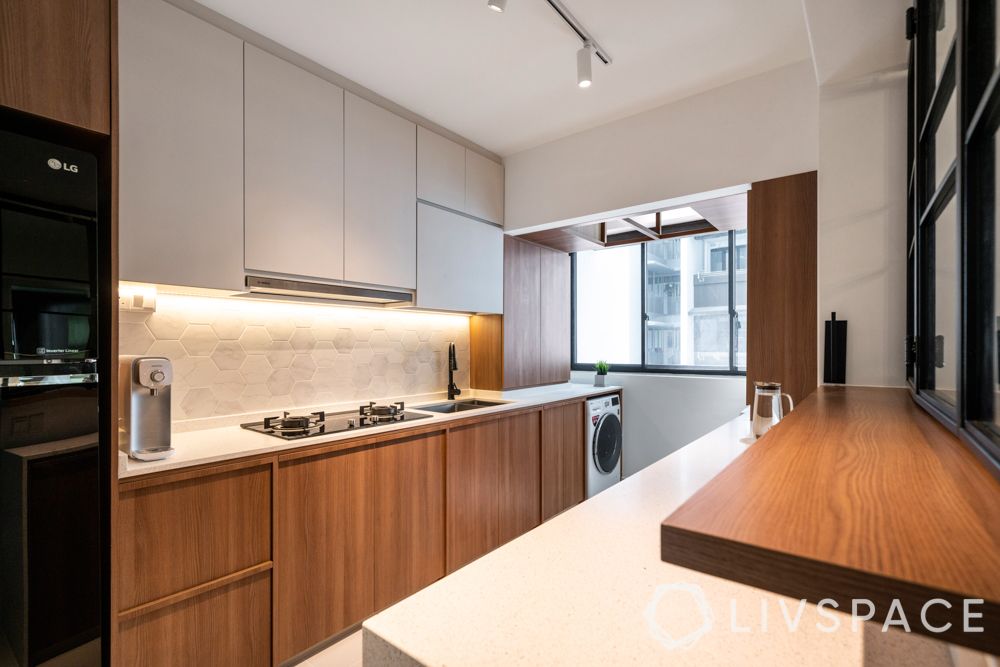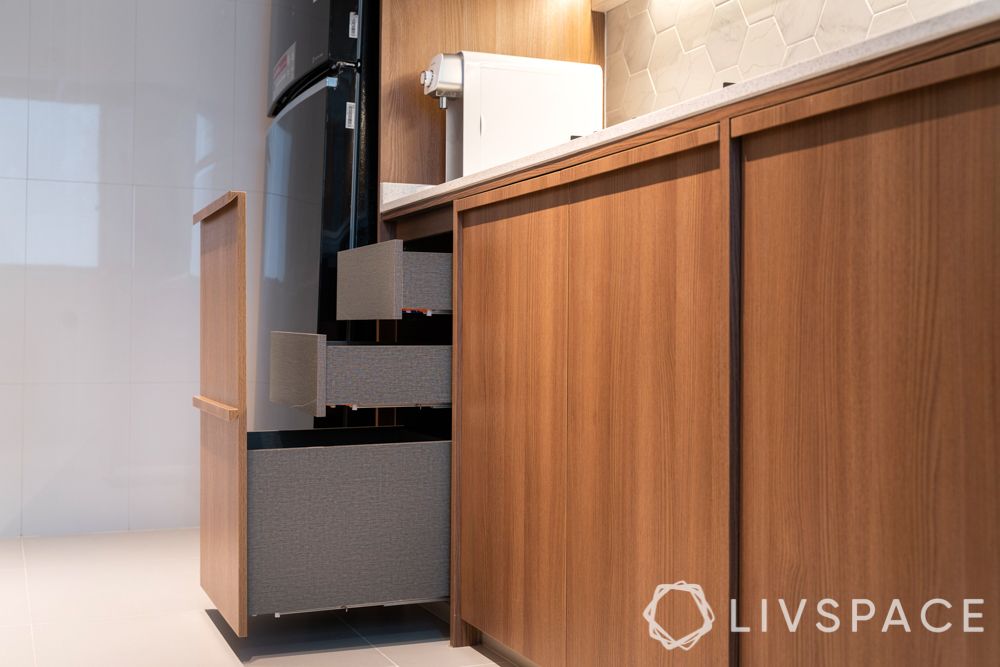 This kitchen serves more than just cooking needs at this HDB Singapore. This space was designed keeping in mind that the couple will have a lot of friends over and it had to look open and spacious. Therefore, Jake added a glass shutter on the island and added a glass door. When all of this is open, this space looks like one huge area.
As for the carpentry of the kitchen cabinets, he created a sophisticated and timeless look. The cabinets are made of plywood with laminate finish while the backsplash is made up of octagonal-shaped homogeneous tiles. The countertop flaunts terrazzo. Also, do not miss the drawer-cum-door design for the kitchen cabinets, which means the drawers come inside the cabinet doors. This creates a trendy and seamless look.
An ambient bedroom for a restful night's sleep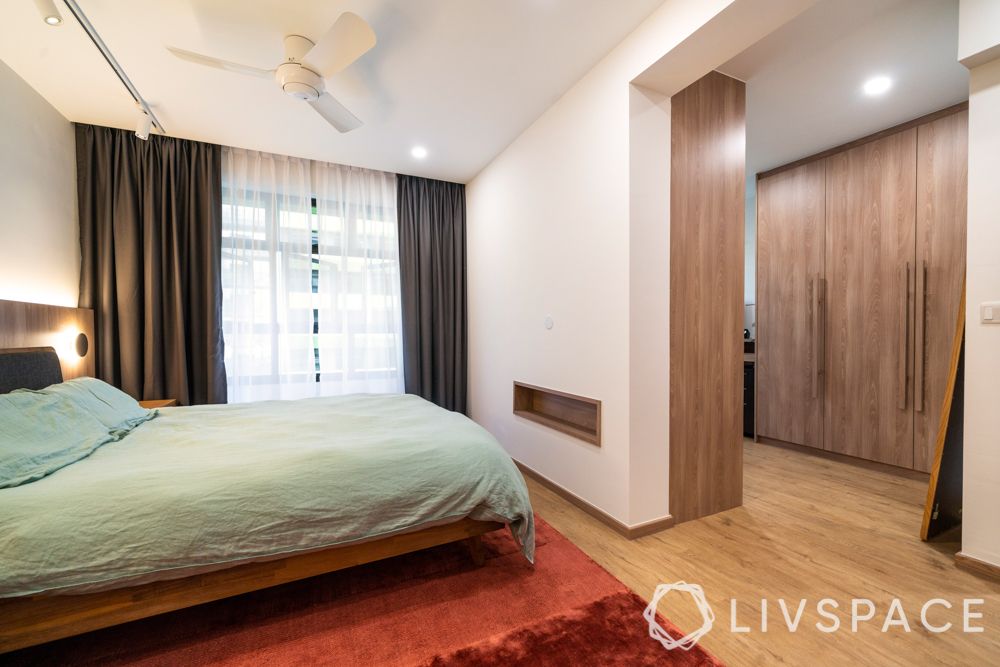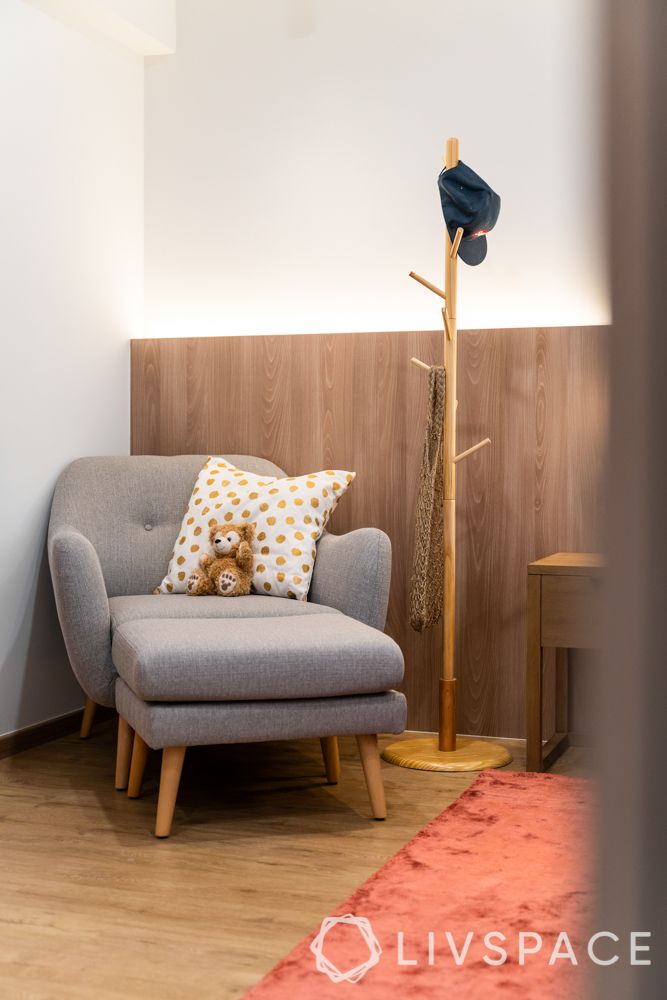 Once you enter the main bedroom, you will feel a sense of calm. Thanks to the light decks incorporated into the bedhead for ambient lighting. We feel that lighting can change the look of a room and this bedroom is proof of that. The bedhead sports laminate finish and there's enough space for a cosy seat right next to the bed.
Full-height wardrobes that fit into a study room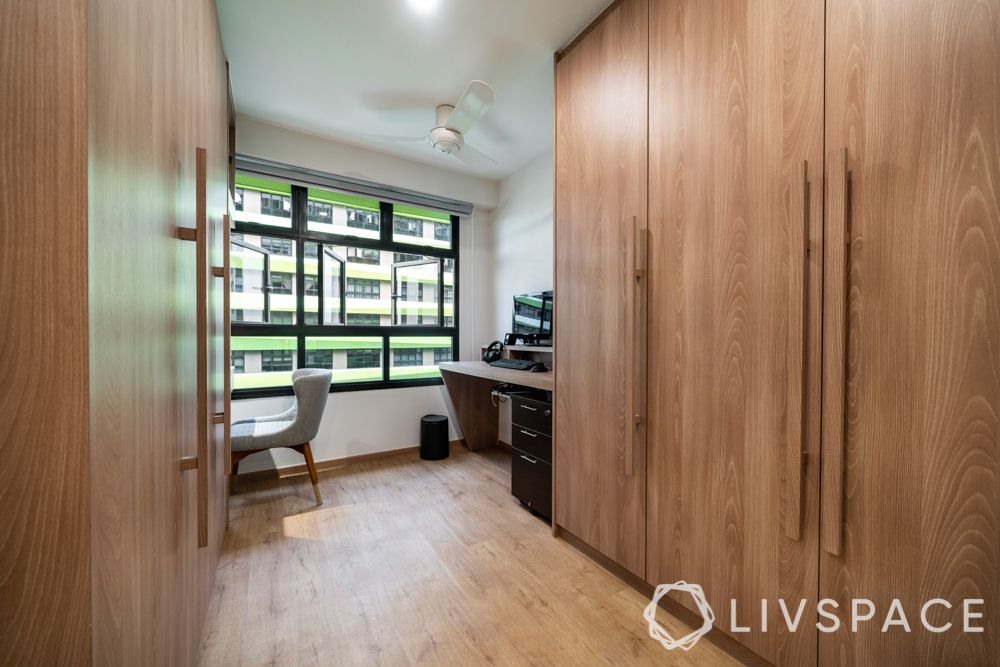 This Layout integrating the study room makes the space look bigger and allows for better movement. Design-wise, this layout makes the main and the study rooms look more like they are just one room. Each of them has their own space to keep their own stuff in this spacious walk-in wardrobe at this HDB Singapore. The wardrobe is made up of plywood with laminate doors and special-customised door handles as well, which was given on a special request by the couple.
Homogeneous tiles and clean look for this bathroom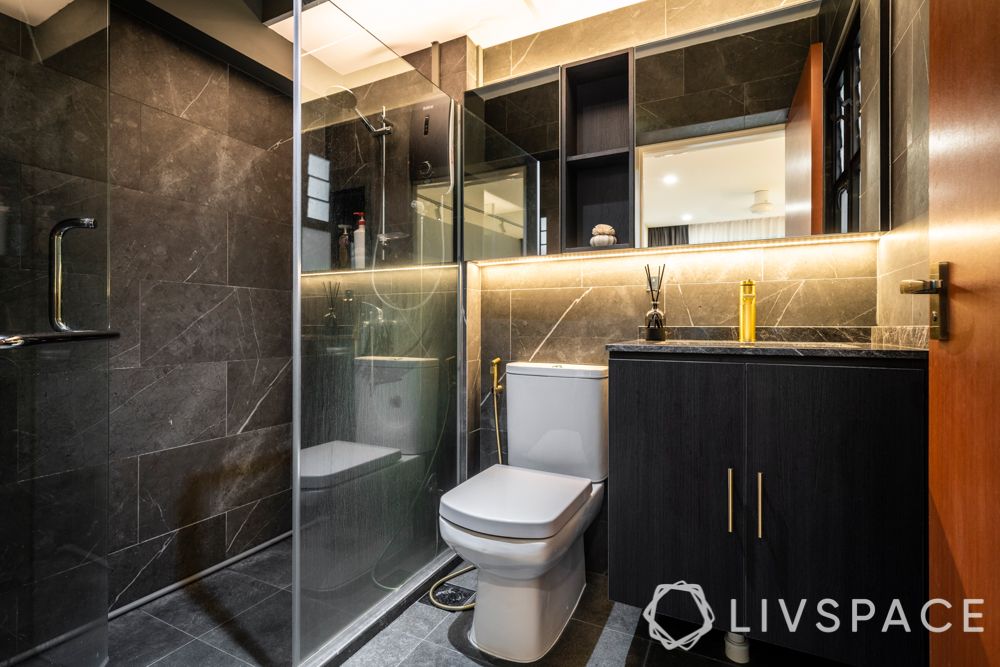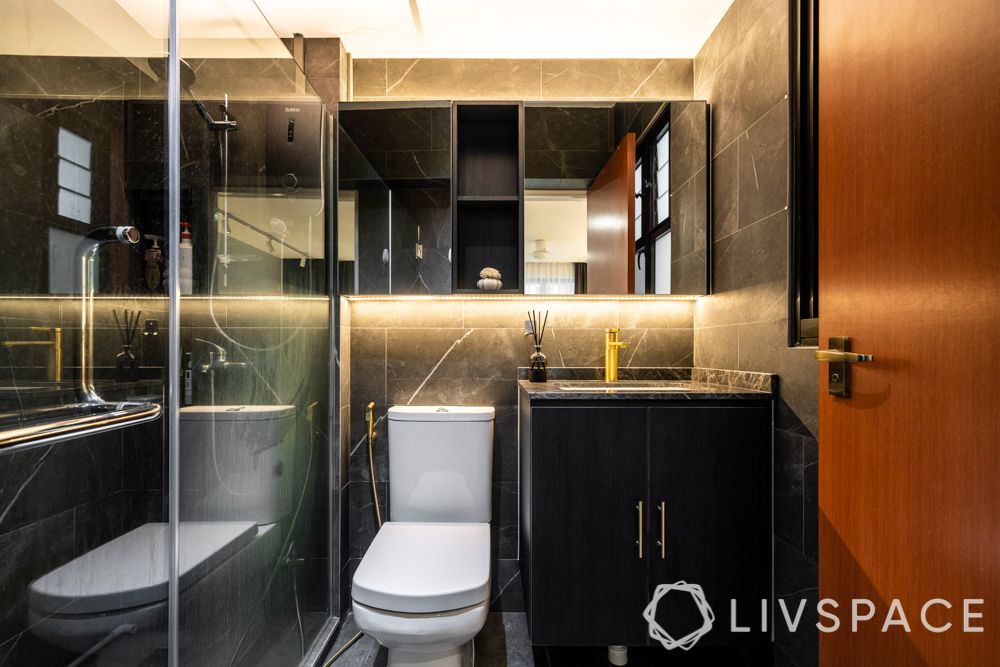 The couple wanted a simple but elegant looking bathroom and Jake decided to go for homogeneous tiles on the wall. This creates a clean look and does not look heavy on the eye. The carpentry includes laminate and in order to save costs on sanitary ware, Jake created a niche for holding toiletries. This space also flaunts ambient lighting which seals the deal.
Here's what our designer says
"I really enjoyed working on this project because they trusted my taste and design which is very important for an interior designer. It was a smooth journey since the couple is flexible with space planning recommendations."

– Jake Tong, Interior Designer, Livspace
If this HDB BTO design inspired you, you will love reading this too: Revealing its Exclusive Renovation Secrets: An 85 sqm Home Tour.
Write to us at editor.sg@livspace.com.