Are you all prepped up for the holiday season? And what about your home? We all know that the holiday season is the best time of the year to revamp your house interiors and give your home a fresh look. And trust us, nothing can be better than Crate & Barrel's exclusive range of home furniture to achieve this goal. So, we decided to combine forces with Crate & Barrel to ensure that you get the best house interior designs with a great choice of home furniture to elevate the look of your house. And we're excited to show you the outcome of just how the transformative furniture from Crate & Barrel can revamp your home for both style and comfort.
We picked a 3-bedroom multigenerational landed home from 24 Bedok Lane designed by Andrea Rodriguez Junquera and supplemented by affordable yet exclusive home furniture from Crate & Barrel. This home with 3 bedrooms is envisioned to be perfect for a family of five, which includes parents, Jack and Min, aged 51 and 48 respectively, and three children, Mark, Joshua and Arielle, aged 23, 20 and 18 respectively. This home, perfect for a family of five, has an open-plan living and dining area, and has three bedrooms.
"The design mood of this house has been inspired by Sweden Summer. The light colours of the walls, floor and furniture give it a modern, plush and clean look. And you can always place a Christmas tree & décor to give it a temporary bright holiday feel."

Andrea Rodriguez Junquera, Interior Designer, Livspace
#1. Enter Into a Plush Living-cum-Dining Area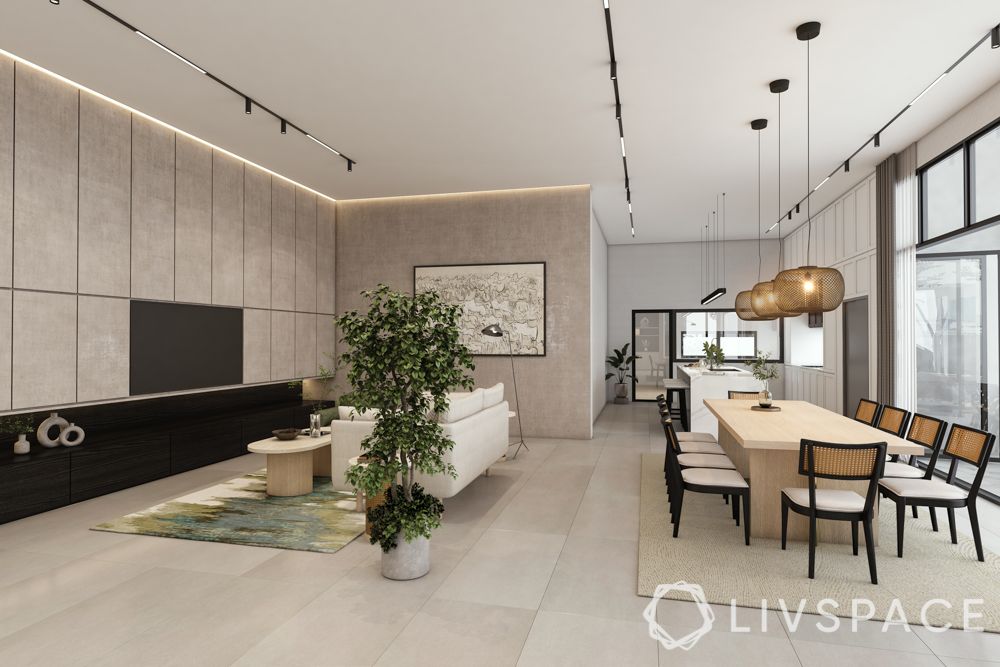 Let's start from the entrance. The home interior design follows an open floor plan, with the entrance leading into an open-plan living and dining area. The highlight of this space is the huge glass partition that separates the outdoor and indoor space. This partition helps create an illusion of space and makes it look vast. Additionally, a medium-sized potted plant near the sofa serves as a soft demarcation between the dining and living area, and adds a pop of colour to the neutral-toned palette.
#2. Bamboo Pendant Lamps Adorn the Dining Area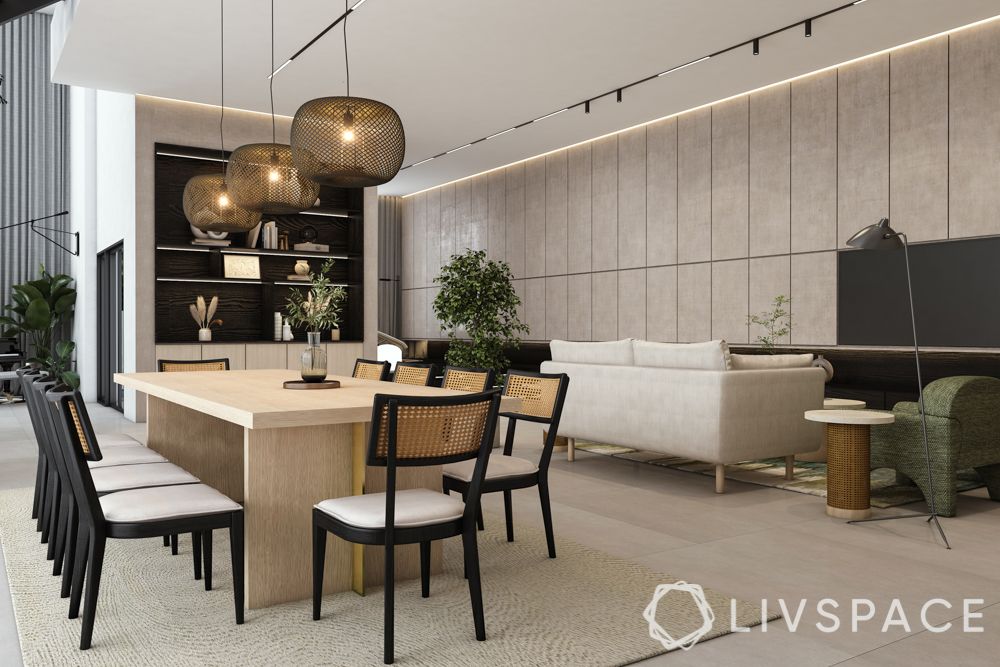 For a family that loves to eat their meals together and entertain guests at home too, a dining area takes on significance. Andrea therefore ensured that this space would look elegant and inviting and chose a 10-seater natural oak dining table from Crate & Barrel to comfortably accommodate the family and friends. The Libby Cane dining chairs were carefully picked for comfort, especially if you're used to lingering over meals!
The dining area wears a contrasting tone of neutrals like glossy off-white, greys and beige highlighted by black. The black pendant lamps, the herd artwork on the wall and black oak console table enhance the luxe look of this small home interior design.

If this elegant dining space is inspiring you to make some changes to your own dining space, check these 9 Handpicked Dining Rooms That Are Perfect for Every Kind of Home for more ideas.
#3. Home Furniture For A Living Room With TV Unit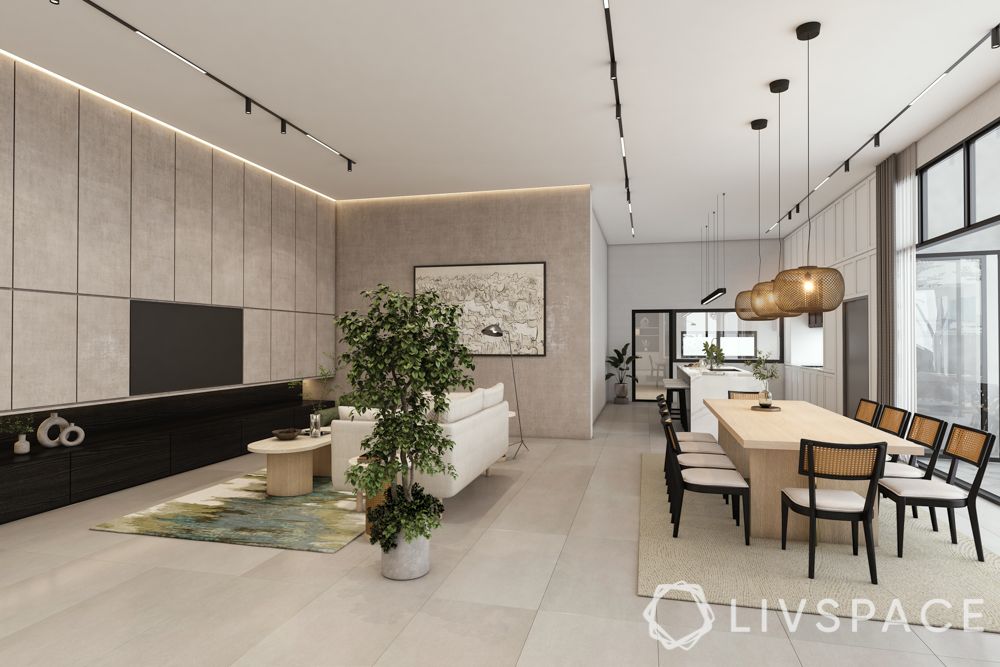 As a family that enjoyed each other's company, Jack and Min wanted a living room area that could accommodate all of them comfortably. Keeping this in mind, Andrea styled the living room with ample seating furniture that was as elegant as it was comfortable. Crate & Barrel's sofa with natural leg finish and archie chair can easily accommodate five people. The birch cyan wool-blend abstract rug adds the dimension to the living area.
The colours were kept neutral for the furniture pieces too, with an off-white sofa, travertine coffee table and end table placed on a shimmery grey rug. A wall-fixed TV ensures that more floor space is free of furniture, and a generous amount of natural light during the day make this an ideal living room.
#4. Home Furniture For A Space-Maximizing Master Bedroom
Livspace designer Andrea said that the master bedroom was the biggest and the most comfortable room in the home but it was one of the most challenging spaces to design too, given the space constraints. Finally, though, with the help of Crate & Barrel furniture, the master bedroom got a sophisticated touch. The amazing Canyon king-sized arched bed with upholstered headboard dominates the room, adding an unmistakable majestic look. .
And bringing it all together seamlessly is the charcoal floating nightstand, the Hasim stone table lamp, a Scribble Circle rattan wall art and a neutral heathered rug.
#5. The First Common Bedroom With Elaborate Seating Space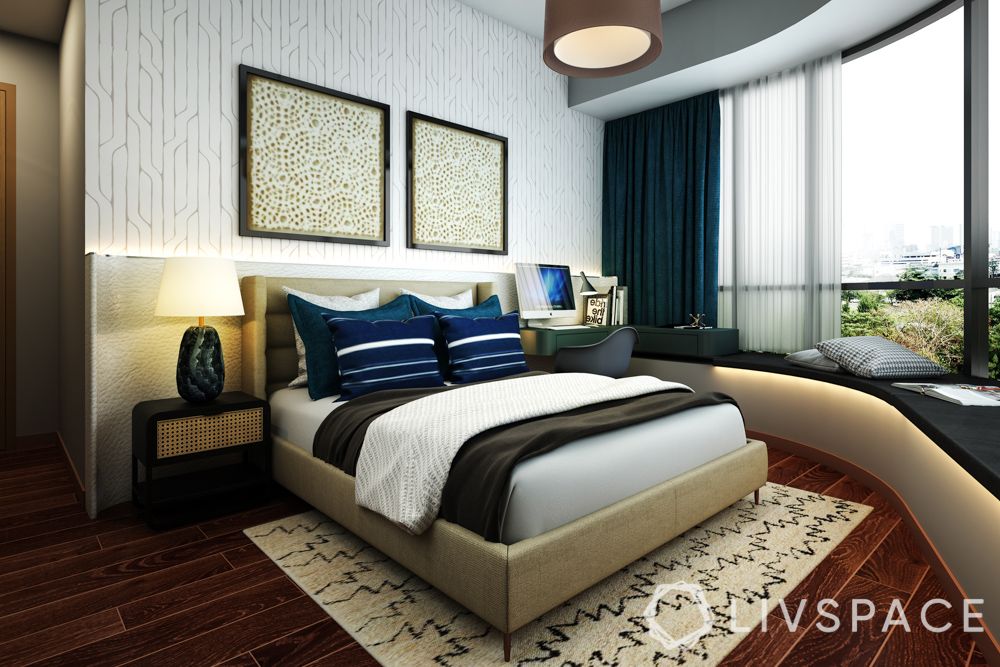 The colour theme for one of the common bedrooms in this 3-bedroom multigenerational landed home had a blend of both neutrals and dark contrasts, dominated by whites and blues. Outfitted with a Gia upholstered queen bed from Crate & Barrel, this room had an elaborative seating space next to the window which gives the bedroom a luxe touch. This room is perfect for Mark and Joshua; it's great for working, unwinding or having friends over. The Renard nightstand, Natural Circles paper wall art and blue Natika table lamp add to the aesthetic of this room. The hand-knotted rug offsets the wooden flooring. But it is the incredibly planned long window seating arrangement that really adds to the look and comfort of the room. A great way to make the most of those picture windows that dominate one wall!
#6. A Calm and Comfortable Second Common Bedroom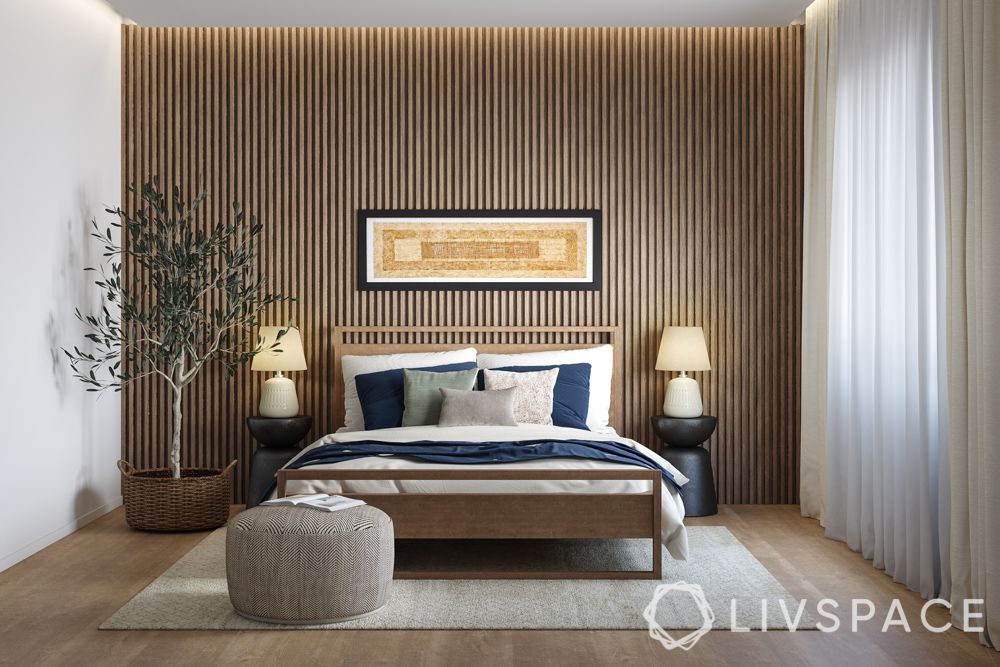 The last bedroom of this home continues the neutral colour scheme of the home, with contrasts of blue and black. The natural queen-sized bed dominates the bedroom design. Two accent tables next to the bed with stone table lamps don't just serve a function but enrich the design as well. The muted colours are also seen in the papeles print behind the bed and heritage taupe rug only seems to enhance the sense of tranquility that permeates this bedroom.
How can Livspace help you?
Did you find this small landed home renovation in Singapore inspiring enough? This is how you can design your home with Crate & Barrel's range of home furniture with the help of Livspace. So, what are you waiting for? Book an online consultation with our design experts.
If you like this home, you might also like This practical and snug home design for this Singapore couple.
Send in your suggestions and comments — editor.sg@livspace.com