When you hear the words bachelor pad, what comes to your mind? Is it a vision of a messy home, with a laundry pile on an armchair and processed food in the refrigerator? Then this beautiful 4-room resale HDB at Bukit Batok will prove you wrong! The owner wanted a home that would match his personality, reflect his love for music and indulge his habit of chilling with his friends at home. In addition, he also wanted natural, forest-like decor with some Bohemian vibes. How did we manage to get all this in one space? Read on to find out!
---
Who Livs Here: A single man
Location: Bukit Batok St. 25
Type of Home: 4-room resale HDB
Design Team: Interior Designer and Project Manager Stephanie Ng and Business Manager Howie Tan
Livspace Service: Full home renovation
Budget: S$60,000 to S$70,000
---
IN A NUTSHELL


Design Brief

A bachelor pad with an unmistakable Bohemian vibe and is perfect for entertaining guests

What We Loved

The use of patterned tiles throughout the home as per the client's preferences

Look Out for

— The feature wall with a crafted cross
— Patterned tiles
— The spacious layout

Biggest Indulgence

Unique tiles were carefully selected for each room in this HDB

Smart Buy

Opening up the wall between the kitchen and the dining room to make the home look more spacious


Apart from being a beautiful HDB, there's another reason why it stands out—this home was originally more than 20 years old before we gave it a complete revamp. Join us for a tour of this 4-room resale HDB.
#1: Welcome to a Bohemian-Style HDB With a Forest-Like Vibe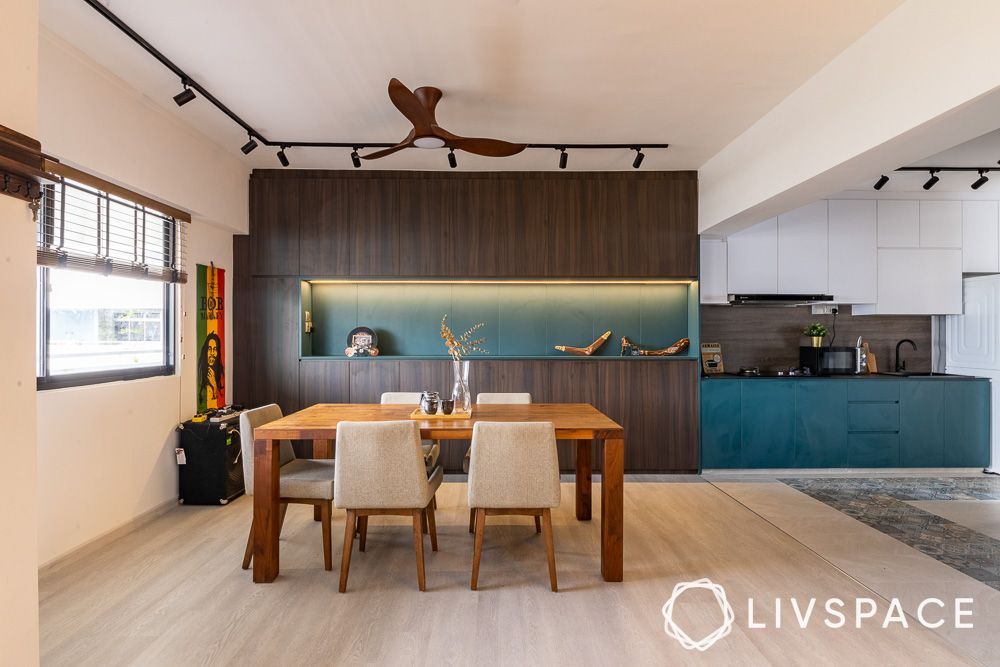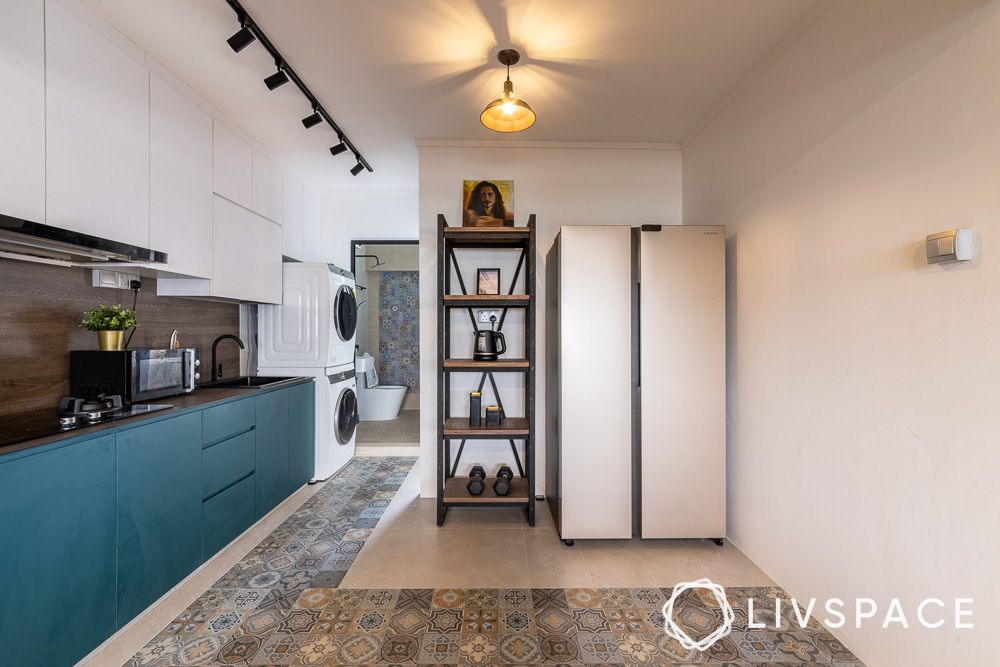 The homeowner originally wanted his HDB to have a very earthy tone. However, as the design progressed, he decided he wanted to incorporate his love for patterned tiles into his space. As a result, the design style shifted to a more Bohemian look with a distinctive, forest-like vibe. Moreover, this theme also makes the home look more spacious, open and airy.
#2: How Is This HDB Perfect for a Bachelor?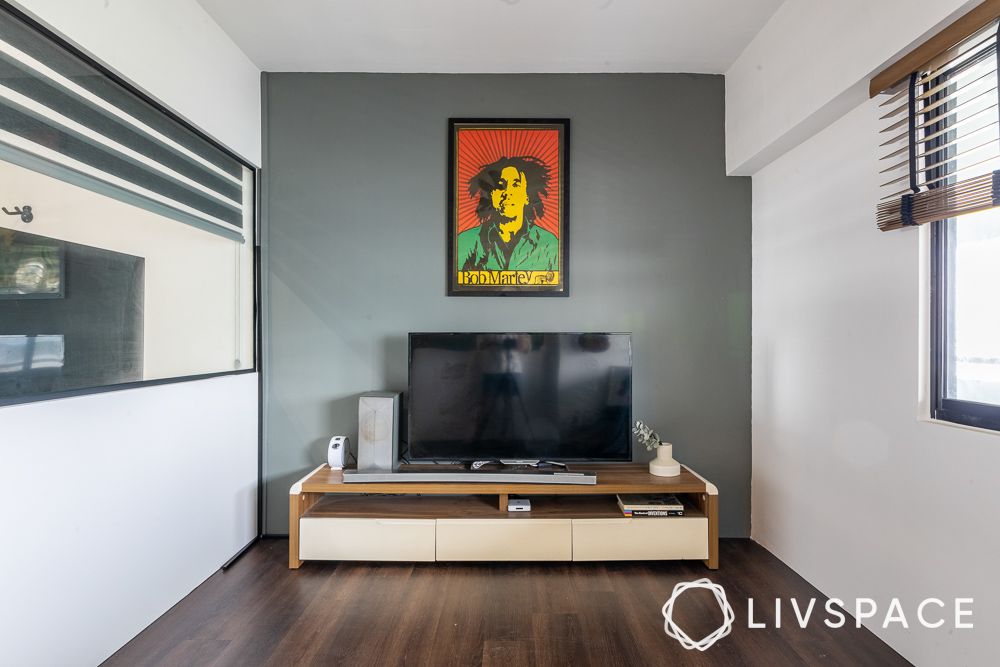 If there are two things that most bachelors love, it's their friends and hobbies. This is easily visible in this 4-room resale HDB. Our designer, Stephanie told us that she wanted to infuse her client's personality into his HDB interiors. Considering his love for music, you can see a Bob Marley artwork right above his TV unit as well as in the dining area.
The homeowner also loves to chill and relax at home with his friends. To accommodate this, Stephanie elongated his balcony space so that there was ample space to entertain guests. Similarly, the open layout between the dining area and the kitchen provides extra space and makes it easy for people to move around.
#3: A Tale of Tiles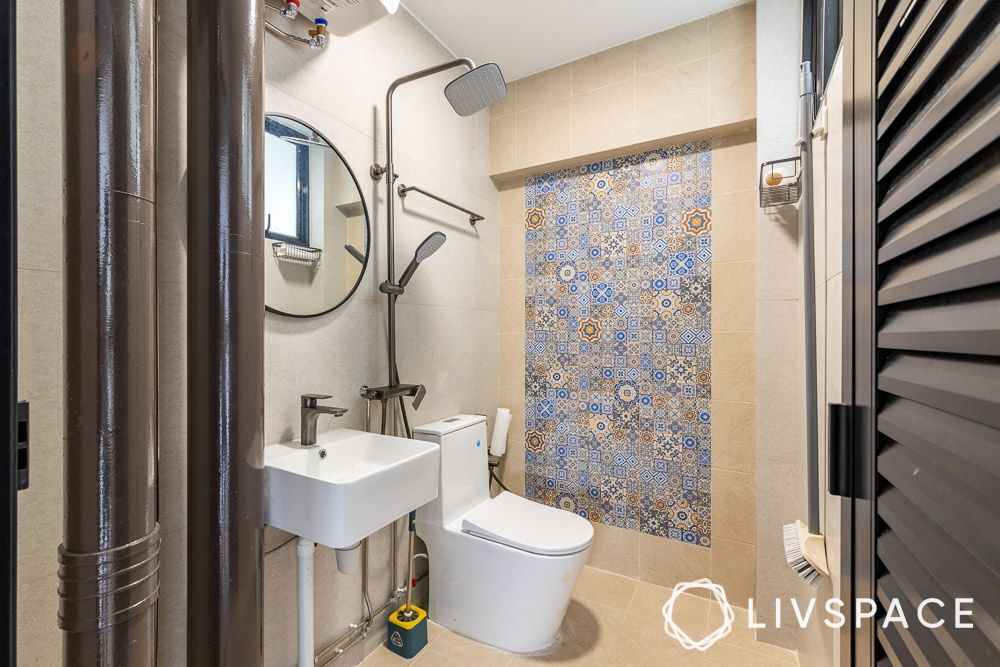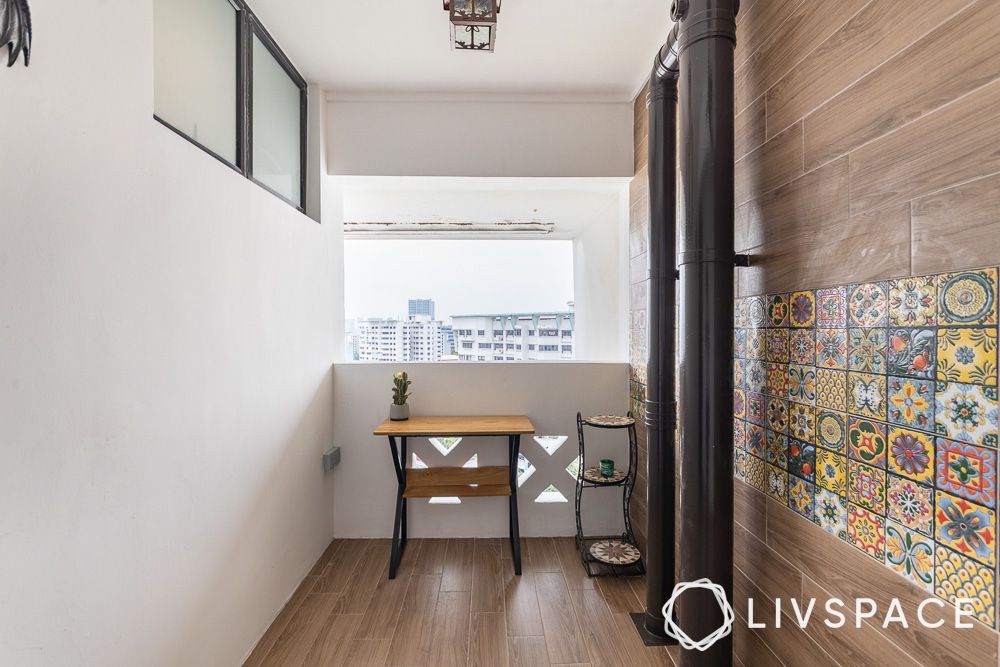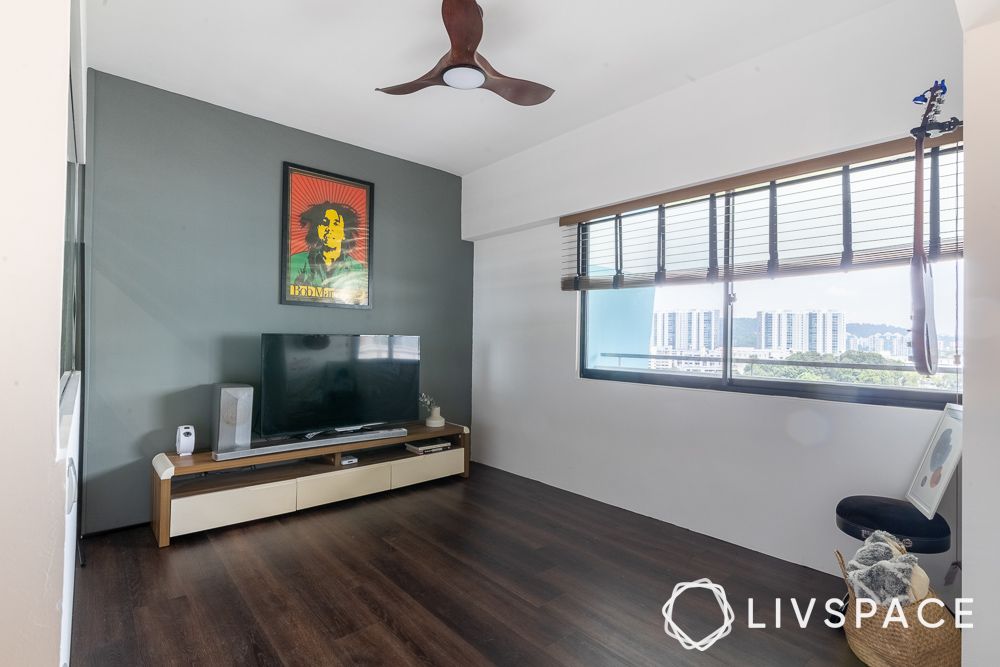 Given the client's partiality towards patterned tiles, Stephanie decided to incorporate them into the space as interesting, eye-catching accents. As such, she carefully selected appropriate tiles for different parts of this 4-room resale HDB.
Most notable among these are the Peranakan tiles you can see throughout the home. Originally known as Majolica tiles, these patterns became popular among the Peranakan community who moved to Singapore in the 1800s, post which they came to be known as Peranakan tiles in Singapore. These designs can be identified by their artistic and generally geometric or oriental-style patterns.
Here are the different tiles that you can see in this 4-room HDB:
Kitchen: Subtle, grey floral-patterned Peranakan floor tiles and wooden dado tiles
Bathroom: Blue, floral-patterned Peranakan tiles
Balcony: Wooden flooring and vivid Peranakan tiles on the wall
Dining Room: Laminate flooring
Living Room: Vinyl flooring
#4: What Challenges Did We Overcome While Designing This 4-Room Resale HDB?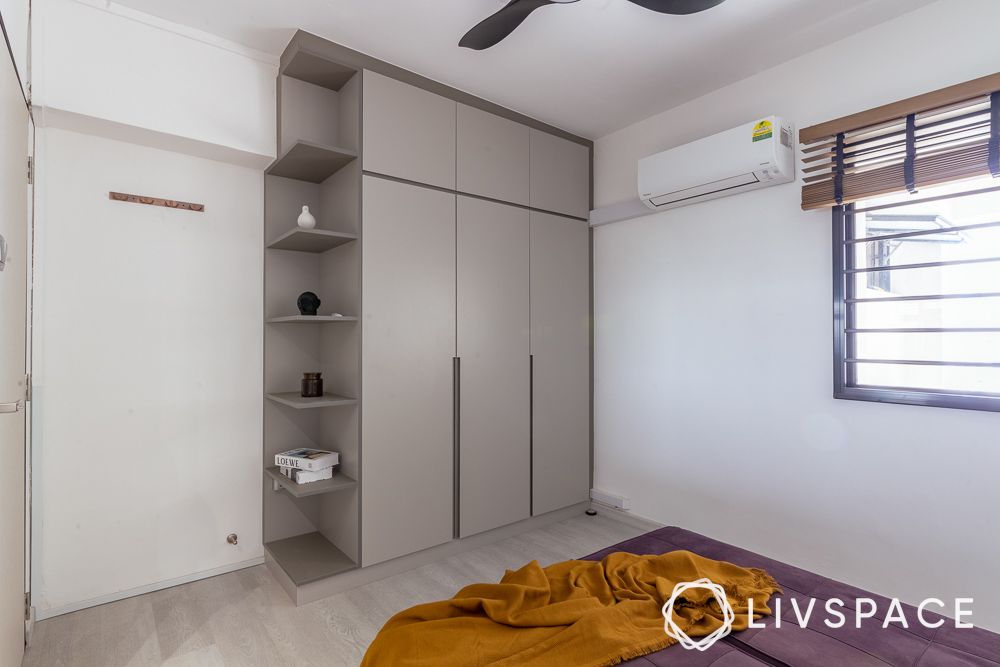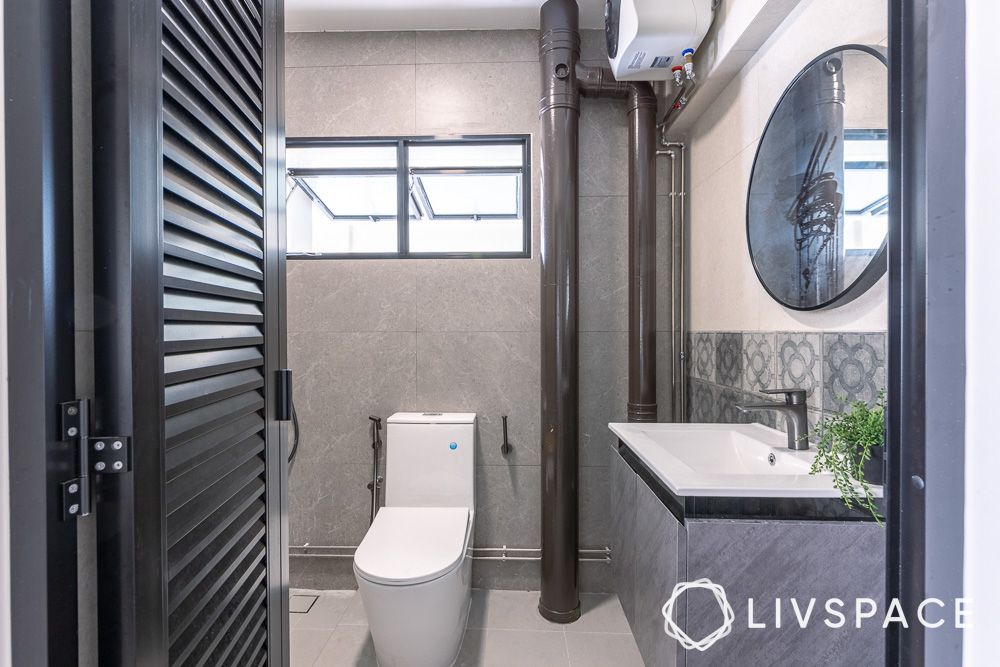 Stephanie tells us that not only was the layout of this 4-room resale HDB quite straightforward, the client himself did not have any big asks. As such, there weren't any huge challenges that she had to overcome to design the home. However, the three main obstacles that she did face were:
The main problem she faced was in placing the wardrobe. Due to the size of the wardrobe, the bedroom was looking cluttered. To overcome this, Stephanie opted for open racks towards the side instead of a complete side panel. This created a more open appearance
The second challenge was that the owner needed space in his kitchen cabinets to place his washer and dryer. This was incorporated by altering the cabinets to create the necessary space
Thirdly, since the common bathroom was quite compact, there was no space for accessories. The homeowner was very open and receptive to our advice on how to strategically place accessories despite the small space
#5: Striking Features of This 4-Room Resale HDB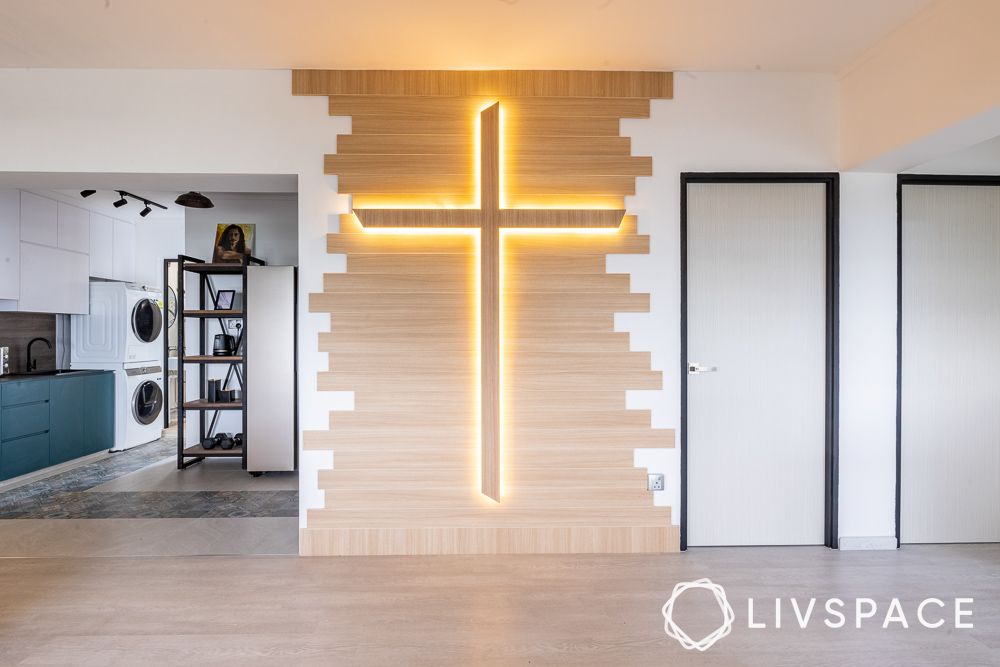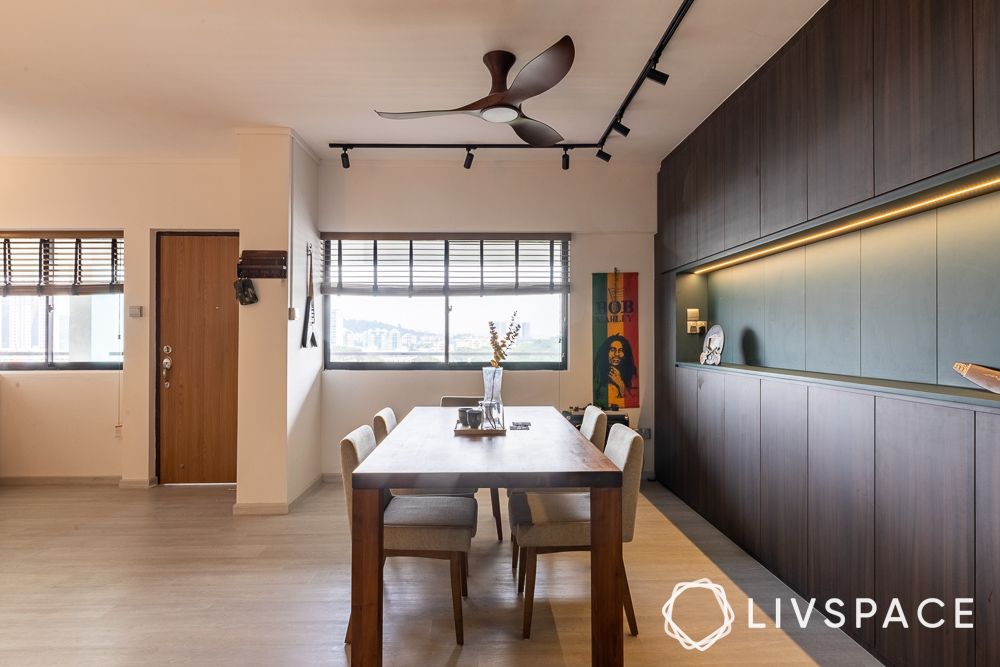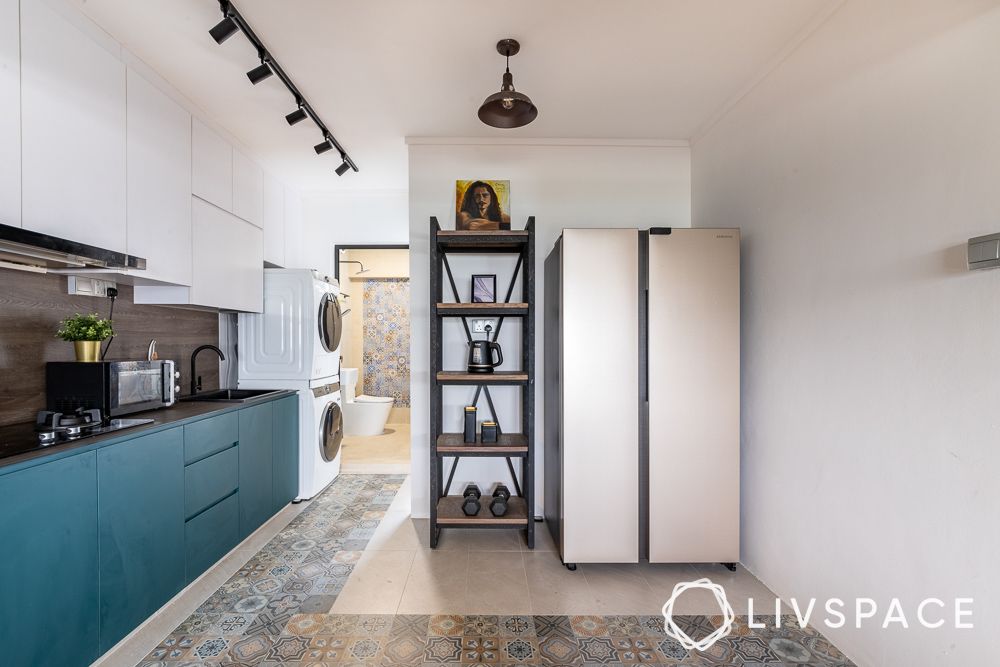 We asked Stephanie what were the striking features of this 4-room resale HDB. Here's what she said:
Feature Wall: As soon as you enter the HDB, you will see a feature wall with a massive crafted cross and backlighting
Spacious Rooms: From the dining room to the balcony, Stephanie designed every space to be open, airy and spacious
Kitchen Flooring: While the flooring stands out throughout this HDB, the kitchen floor is quite striking as it is laid in such a manner that it connects the common bathroom and the kitchen
#6: What's Included in the Cost of This 4-Room Resale HDB?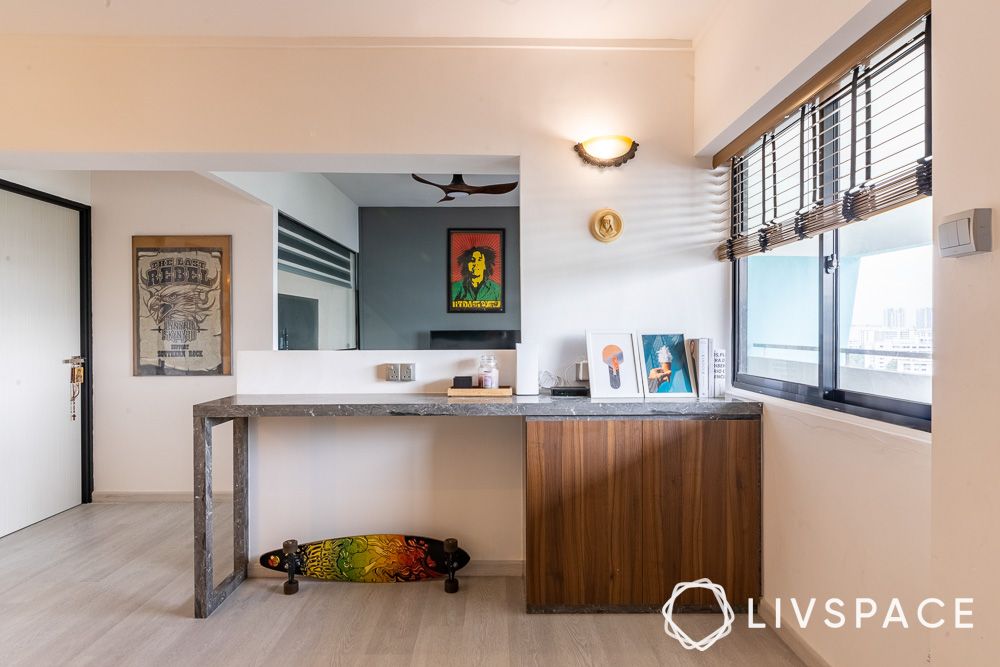 The total budget for this 4-room resale HDB was between $60,000 and $70,000. In the following table, we have included some of the components that went into the budget:
Component
Cost Range*
Bathroom Tiling
$5,000 – $6,000
Bathroom Fixtures & Accessories
$1,000 – $2,000
Gypsum Board Partition
$400 – $500
Painting
$2,000 – $3,000
Louvred Door
in Bathrooms
$500 – $1,000
Laminate Door
in Bedrooms
$500 – $800
Vinyl Flooring
$3,000 – $4,000
Marble Flooring
$1,500 – $2,000
Glass Work
$1,000 – $1,500
Upper and
Lower Cabinets
$3,000 – $4,000
Kompacplus Worktop
$1,000 – $1,500
Storage Cabinet
in Living Room
$3,000 – $4,000
Craft Display
$1,500 – $2,000
Shoe Cabinet
With Bar Counter
$1,500 – $2,000
*Prices mentioned above are only an estimate and relevant to the year the HDB was designed. Actual costs may vary based on designs, materials, finishes and more.
If you liked this 4-room Bohemian style HDB, also check out this 4-room BTO.
How Can Livspace Help You?
We hope you liked this 4-room HDB! Our designers can understand your individual requirements, and customise designs as per your needs. Book an online consultation with Livspace today. Have some comments or suggestions you'd like to share with us? We're all ears! Feel free to write to us at editor.sg@livspace.com.
Disclaimer: All contents of the story are specific to the time of publication. Mentions of costs, budget, materials, and finishes can vary with reference to current rates. Additionally, the designs showcased within the story are subject to availability and will vary based on the year the homes were designed in. Consult our designers for more details on the latest designs, pricing, and availability.