Picture warm interiors, soft, light-wood furniture and tons of natural light — this sums up the Scandinavian interior design style. When Alicia decided to get her Rivertrees Residences condo design done, she was keen on a clean Scandi look. In addition, storage was a must in every room, without making the space look cluttered.
Alicia then spoke to five interior design companies before finally deciding to engage the services of Livspace. Our designer, Elson, immediately clicked with Alicia and was able to come up with a design plan that incorporated all of Alicia's design needs and more! Join us for a tour of this stunning 4-room condo interior design at Rivertrees Residences.
---
Who Livs here: Alicia Tay and her family
Location: Rivertrees Residences
Size of home: 4-room condo
Design team: Interior Designer Elson
Livspace service: Living room and master bedroom design
Budget: $54,000 approx.
---
IN A NUTSHELL


Design Brief

To design a clean and clutter-free home that is inspired by Scandinavian minimalism, but packed with maximum storage

What We Loved

The use of neutral colours to capitalise on the natural light flowing in

Look Out for

– The platform bed in the bedroom
– The wall-to-wall storage in the living room

Smart Buy

Automated lights and curtains

Biggest Indulgence

The platform bed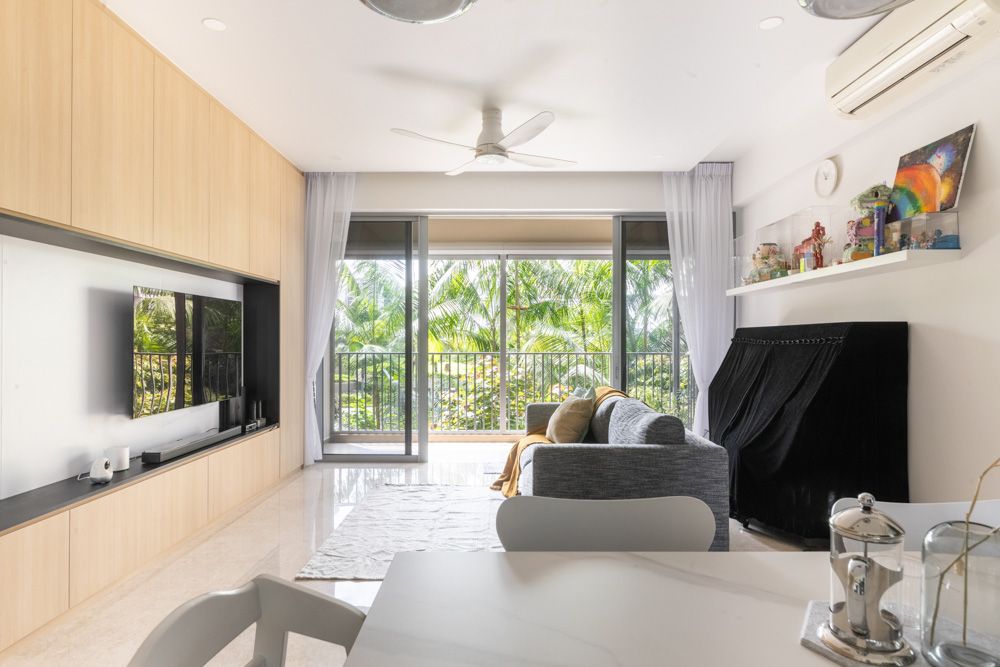 Homes in Singapore tend to be quite small. To make the most of the space available, it's essential to choose interior design styles that will make your condo or HDB flat look more spacious. This condo design features a mix of two interior design styles — minimalism and Scandinavian, but leands more towards the Scandi style.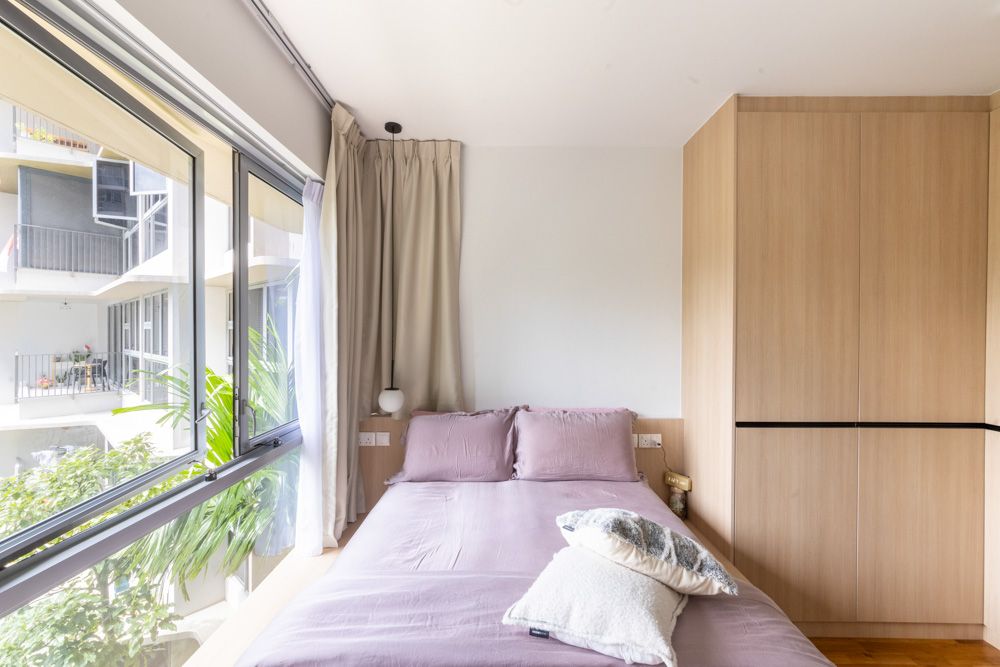 The Scandinavian interior design style can be identified by the following:
Neutral colour palette
Warm fabrics
Light-wood furniture
Natural light
Open layout
If you look at Alicia's living room, the focus is the balcony that lets in tons of natural light. To capitalise on this, designer Elson stuck to basic furniture in light-wood tones and bare walls. Similarly, the focus in the compact bedroom is a large window. By opting for white walls, and only a bed and wardrobe, this bedroom looks much more spacious than it actually is.
#2: To Compensate for the Lack of a Big Store Room, This Living Area is Packed With Storage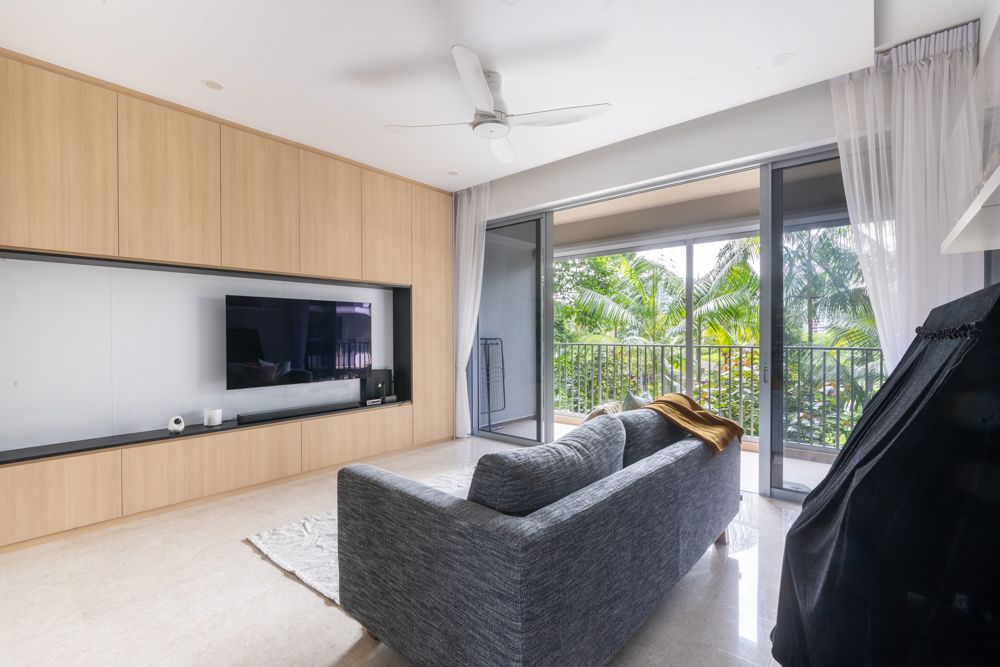 For most of us, bomb shelters serve as extra storage spaces. And when Alicia moved out of her old home, she left behind a large bomb shelter. Her new condo lacked any dedicated storage room, so she was concerned about having space to keep her belongings out of sight.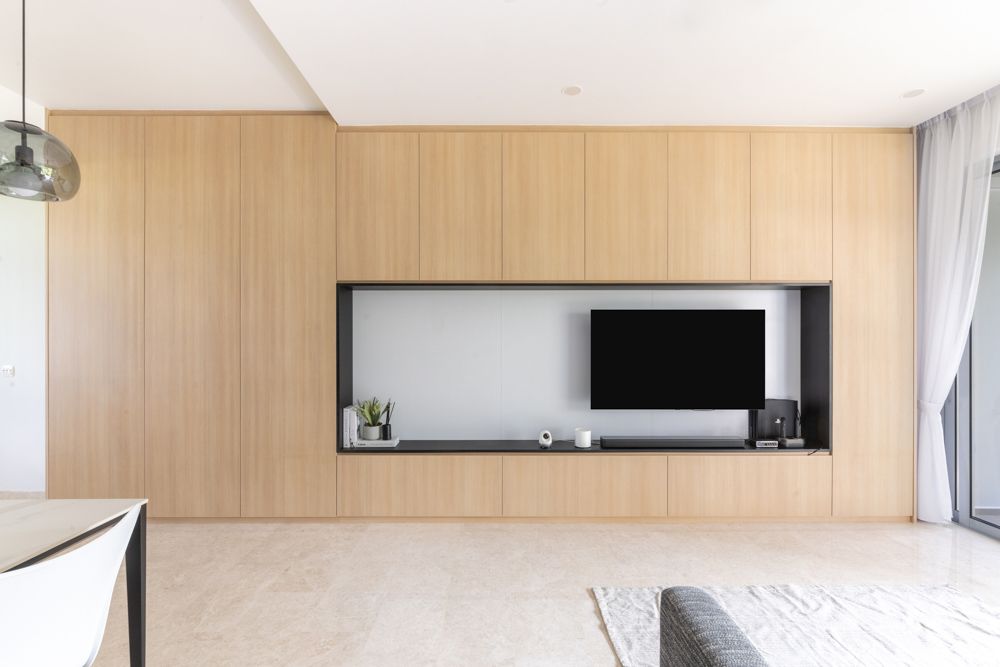 To accommodate this request, Elson built a massive wall-to-wall and floor-to-ceiling TV unit in the living room. The light wood finish not only ensures that it is in line with the Scandinavian interior design style, but also prevents the unit from overpowering the space. The handleless design also helps in achieving this.
We love how the design features open space in the centre, allowing Alicia to display decor here. On the other hand, the closed cabinetry all around keeps the design low-maintenance while also maximising storage space.
#3: The Master Bedroom Comes With a Platform Bed With Storage and a Wardrobe Within a Niche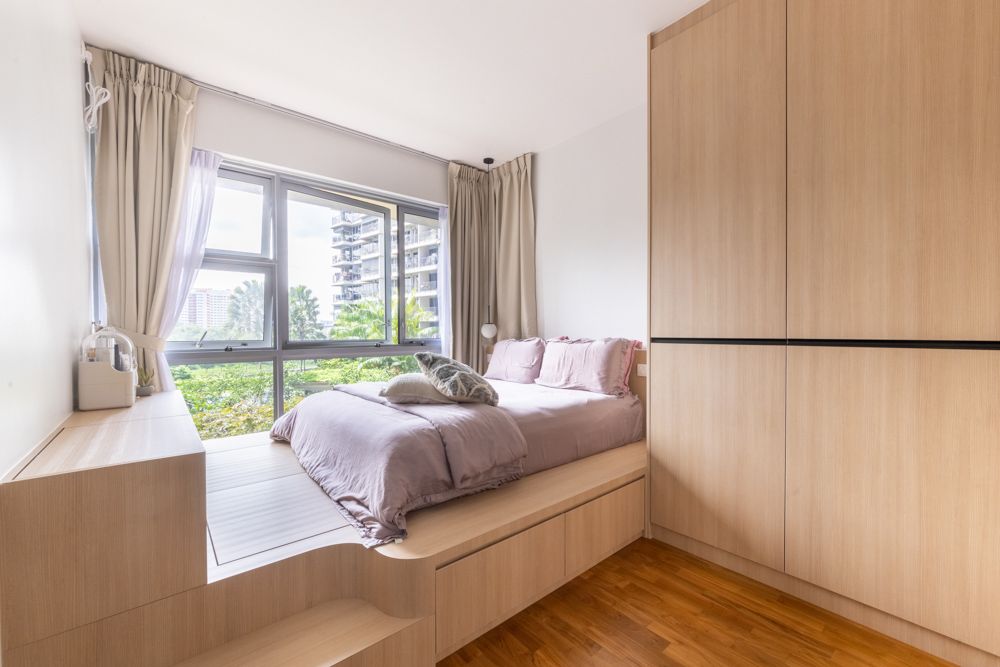 Moving onto Alicia's favourite room, the master bedroom. With light-wood furniture, bare, white walls and a large window, this room exudes cosiness and warmth. The highlight of this room is the platform bed. While Alicia's husband is fond of platform beds in general, Alicia decided to choose this style, as it offers extra storage within a compact space.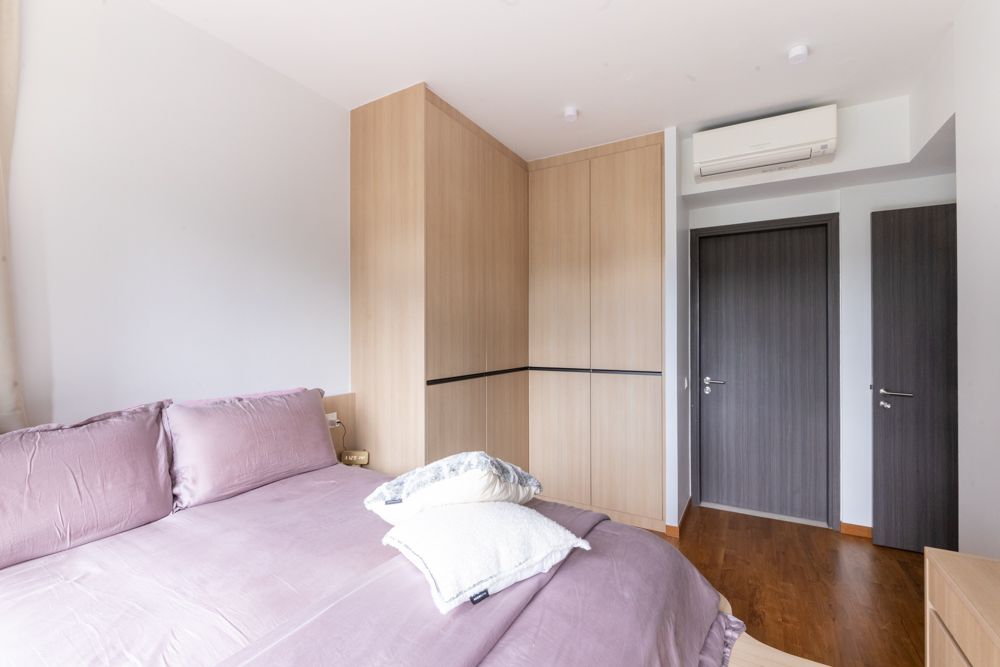 We also love how the wardrobe has been built into a niche. Despite having double doors, the design and colour ensures that it does not take up too much of space. Also, the wardrobe is attached to the bed, creating a seamless look and further saving space.
#4: With Bare Walls and Only Essential Furniture, This Condo Has a Clean and Clutter-Free Look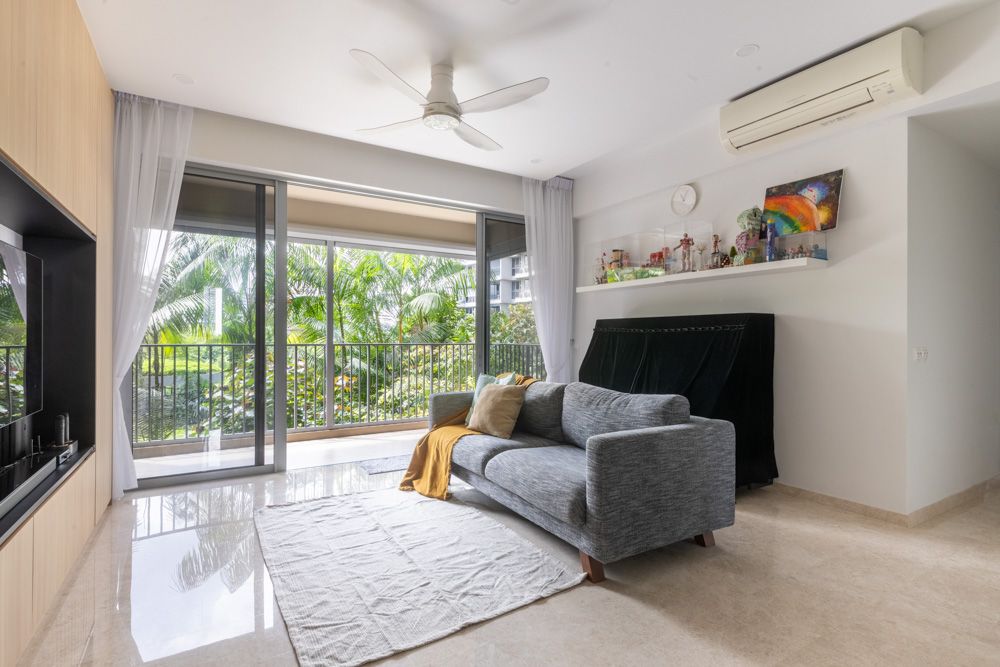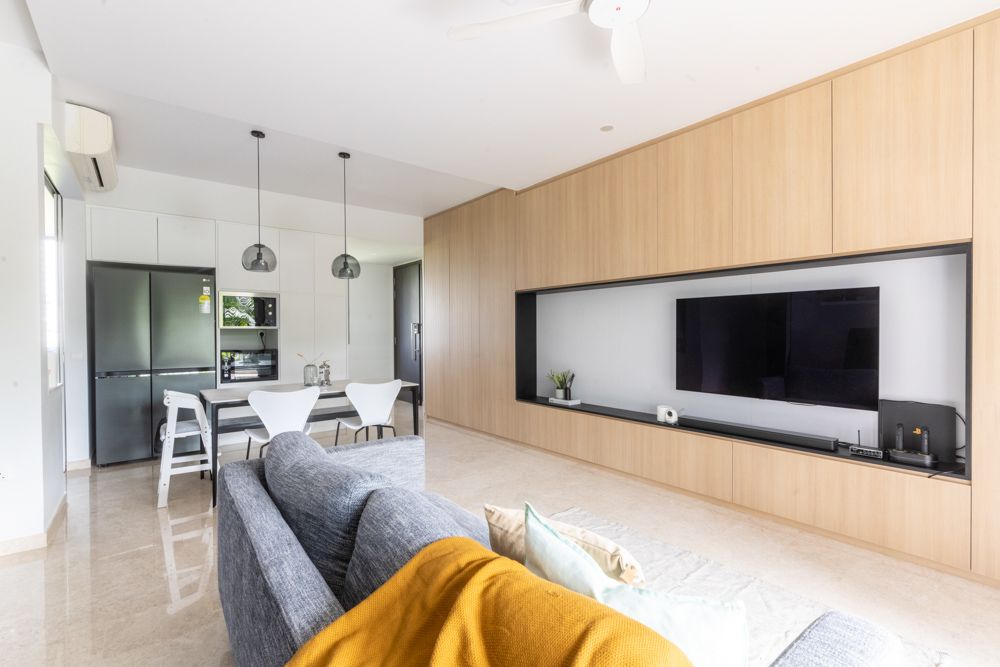 Alicia's condo mainly stands out due to its open, spacious and airy design. Considering a clean look was one of her main requirements, Elson implemented several design tricks to give her what she wants. From an open layout to the colour palette, everything in this condo has been meticulously planned to achieve the final, spacious look. Here are some of the things you should keep in mind if you want a similar look for your condo or HDB:
Opt for a neutral colour palette
Stick to bare walls
Choose glossy finishes, for your furniture or flooring
Don't overinvest in furniture
If there is natural light flowing in, ensure there is no obstruction
We hope you liked this Scandinavian condo design at Rivertrees Residences. Also check out this Santorini-themed Castle Green condo that we designed.
How Can Livspace Help You?
If you want your home to be just as beautiful, then look no further. Book an online consultation with Livspace today. Have some comments or suggestions you'd like to share with us? We're all ears! Feel free to write to us at editor.sg@livspace.com.
Disclaimer: All contents of the story are specific to the time of publication. Mentions of costs, budget, materials, and finishes can vary with reference to current rates. Talk to our designer for more details on pricing and availability.