Most homes in Singapore are compact. However, storage needs of homeowners are limitless. While designers often attempt to come up with smart storage solutions for small homes, the end result is a cluttered and inelegant look. It's crucial to strike the right balance between functionality and beauty, as we did for this gorgeous condo!
We transformed the living room and bedroom to make them more luxurious, spacious and storage-efficient. Moreover, we completed the opulent interior design within a budget of S$28,200! Join us for a tour.
#1: Dial L for Luxury
We all want luxury, but budget can pose a big challenge! However, opulence does not necessarily require a big budget, as you will be able to see in this home.
A) Elegant Colour Palette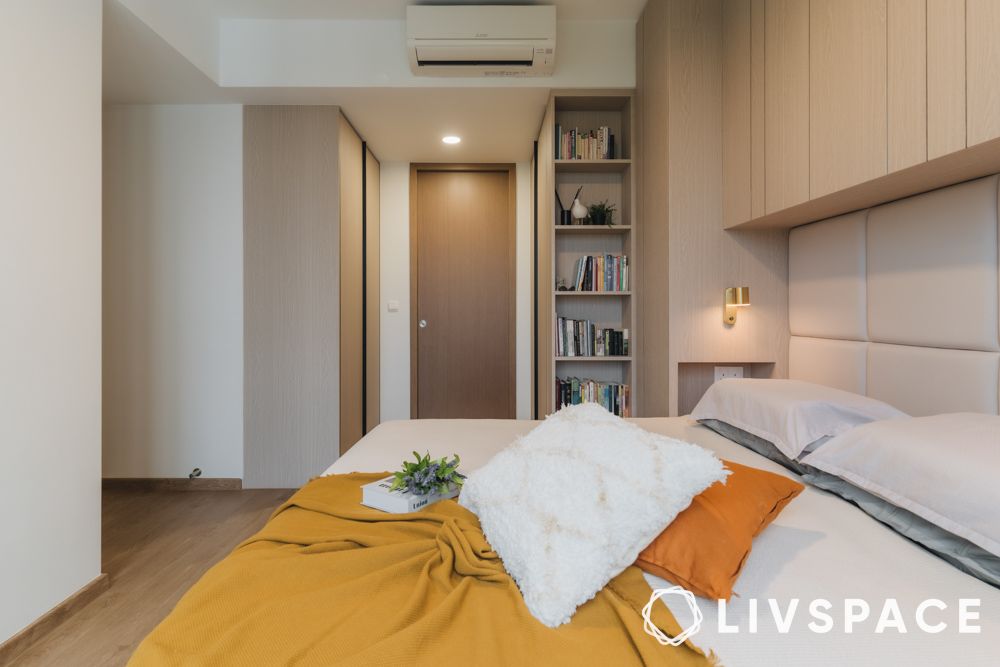 The colour palette that you select can make or break the look of your condo! The safest option that you can always bet on is neutrals. Colours like beige, cream, white and grey ensure a rich look and feel to your space.
B) Striking Wall Designs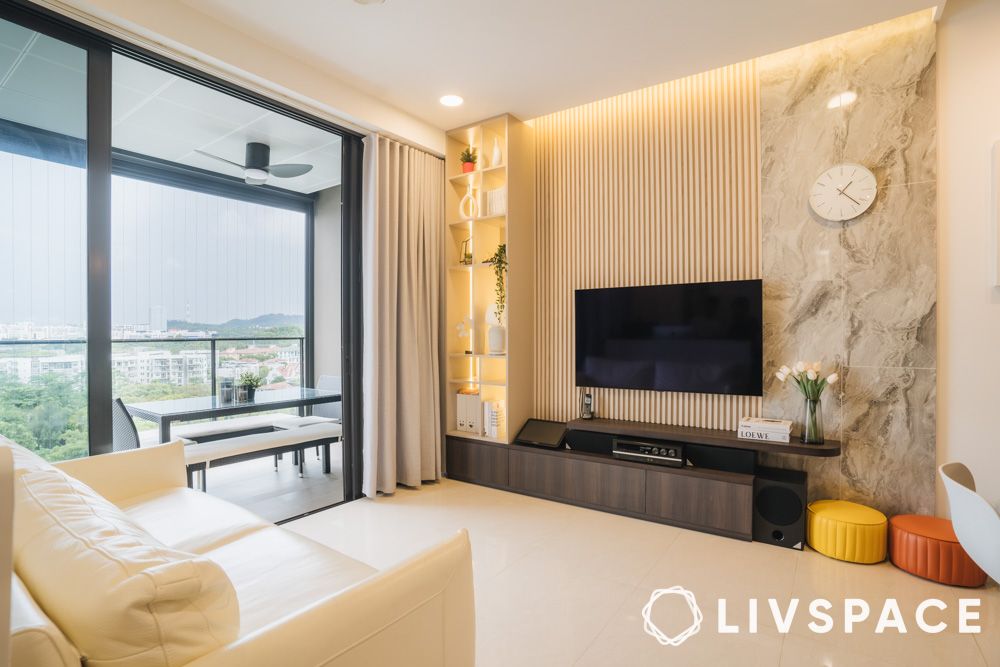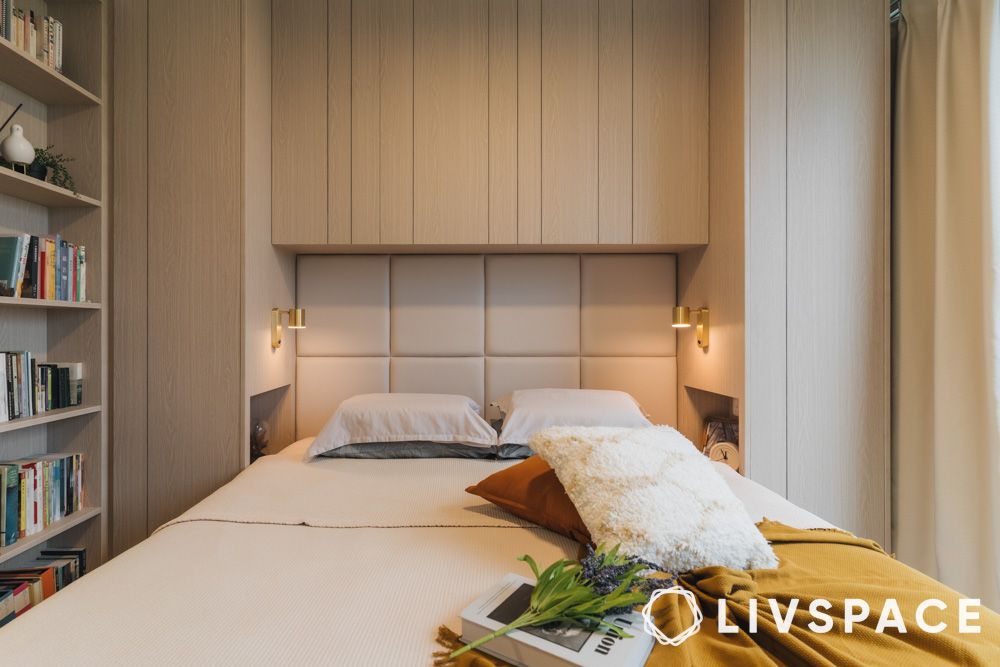 The walls are the first things you see when you enter a room. Boring, plain walls can make a space look dull and uninspiring. On the other hand, unique wall designs can transform a space into a luxurious and glam home.
Wall fluting is a trendy option that's very popular in contemporary homes. In addition, going for a combination of fluting and marble panelling looks both modern and rich, while being more cost effective than an entire marble wall.
When space is scarce, you can add storage to your walls. This saves space while also elevating the look of your walls. Moreover, a fabric headboard wall is great when you have kids and elders at home.
C) The Magic of Lighting
One thing that almost all luxe homes have in common is strategically placed ambient lighting. Lighting can not only make your home look more open and spacious, but also create a soothing and rich ambience. Apart from false ceiling lighting, you can also install spotlights inside your on-display cabinetry and storage units. Moreover, wall sconces help in lighting up dim corners and also look striking.
#2: The Perfect Solution to Your Storage Woes
Whether you live in a spacious condo or a compact HDB, everyone wants some extra storage. However, it's important to plan your storage aesthetically to avoid a bulky look.
A) A Stunning TV Unit With Attached Storage Space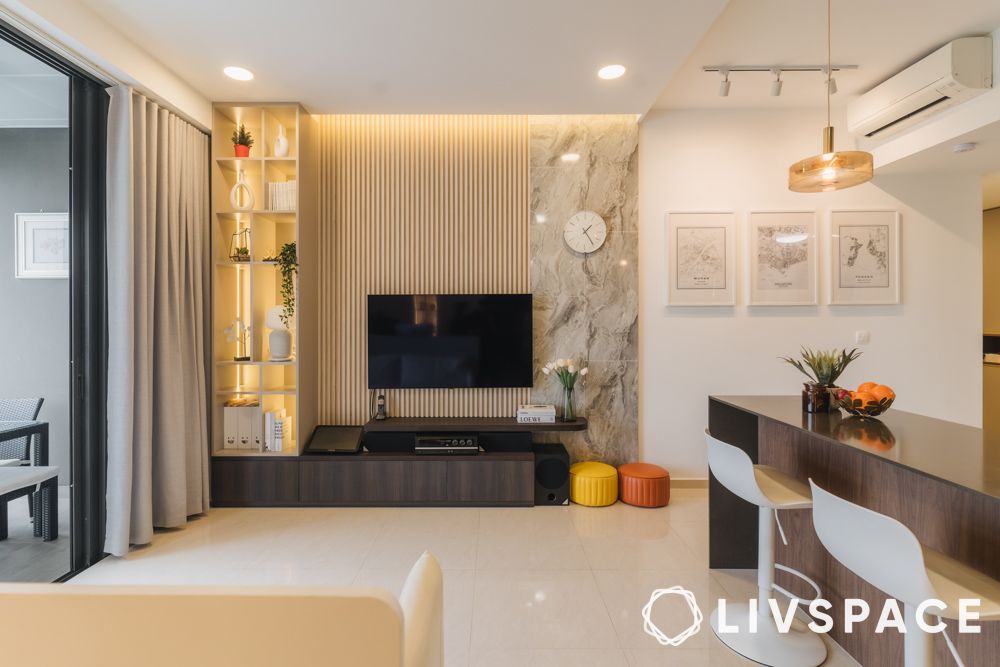 A TV unit is an essential feature of almost every living room. Apart from displaying your TV, an entertainment unit can also serve storage purposes. This TV unit, for instance, features both storage as well as an attached display unit. Moreover, the in-cabinet lighting helps in highlighting the displayed decor.
B) Smart Bedroom Storage
Fitting extra storage into an already compact bedroom—this is where the real challenge lies! However, expert designers know how to make the most of the limited space and maximise storage. A smart idea is to use the space around your bed and install handleless cabinets. In addition, opt for sleek storage units like bookshelves, as these don't look bulky.
How Can Livspace Help You?
We hope you liked this luxurious home. If you want beautiful interiors for your home, look no further. Book an online consultation with Livspace today.
Disclaimer: All contents of the story are specific to the time of publication. Mentions of costs, budget, materials, and finishes can vary with reference to current rates. Additionally, the designs showcased within the story are subject to availability and will vary based on the year the homes were designed in. Consult our designers for more details on the latest designs, pricing, and availability.