If we asked you what your favourite interior design style was, how would you answer? We asked the same question to Arun Kumar, the owner of this 4-room resale condo at Punggol Field Walk. You probably realise that it's not just a simple answer. For Arun, he wanted a mix of multiple design styles to get a simple, cosy and practical interior design. The priority was a home where he could unwind after a long day of work. Let's take a virtual tour of is home, where each room has been adorned with different colours and patterns.
---
Who Livs here: Arun Kumar and his family
Location: Waterwoods, Punggol Field Walk
Size of home: 4-room resale condo
Design team: Interior Designer Sharvari/Mizan and Business Manager Andrea
Livspace service: Full home design
Budget: ₹₹₹
---
IN A NUTSHELL


Brief
To design a practical, cheerful and cosy home for a small family

What We Loved
The use of bold colours and patterns throughout the home

Look Out for
– The breakfast island (with extra storage) in the living room
– The patterned tiles in the kitchen and bathroom
– Every room has its own colourful personality

Smart Buy
The curtain and chandeliers that complement the interior design



A Practical Living Room Design With Bold Colours and Patterns
This apartment used to be fairly small and dark; mainly because of its inefficient layout and space planning. Although the living room receives plenty of natural light, it still appeared drab and lifeless. As a result, the general atmosphere of the living space seemed to be negative and dark. There were space constraints in the old design and it didn't contain enough storage spaces too.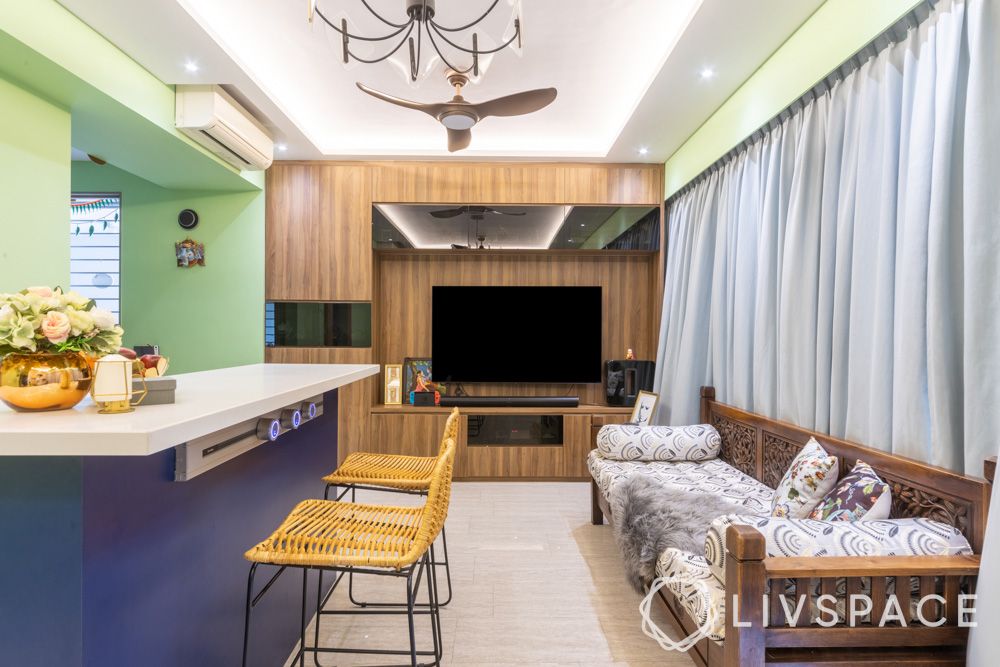 To make things light and right in this 4-room resale condo design for Waterwoods, our designer used multi-colour schemes to give the living area a warm and bold look. As you can see, the room interplays neutral shades against a vibrant green hue. This modernises the interior while still retaining a hint of traditionalism. Not just the wall colours, but the floor patterns and furniture also give this living a unique touch.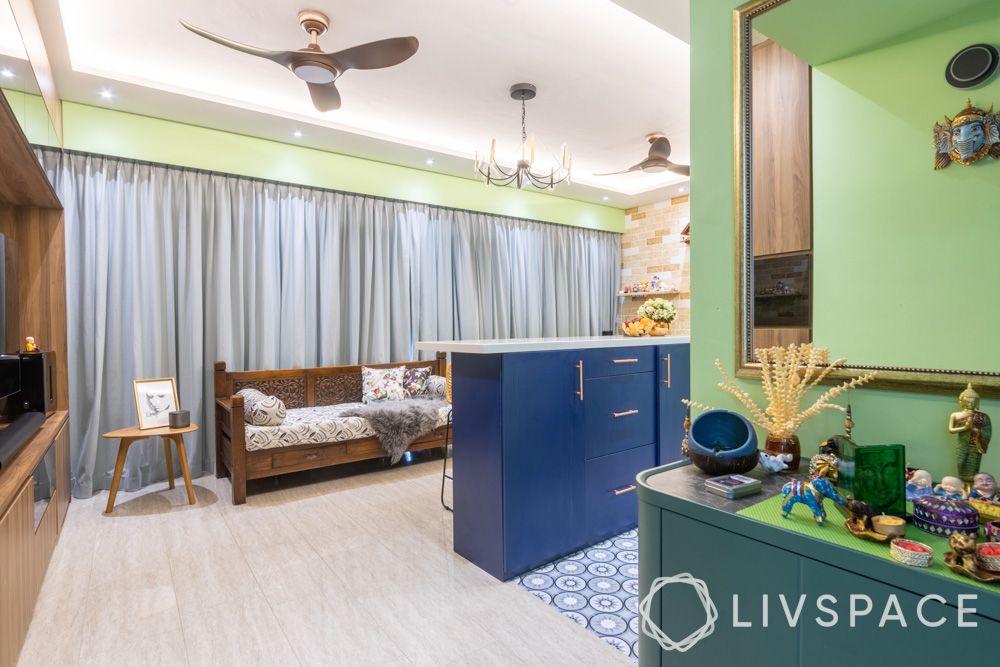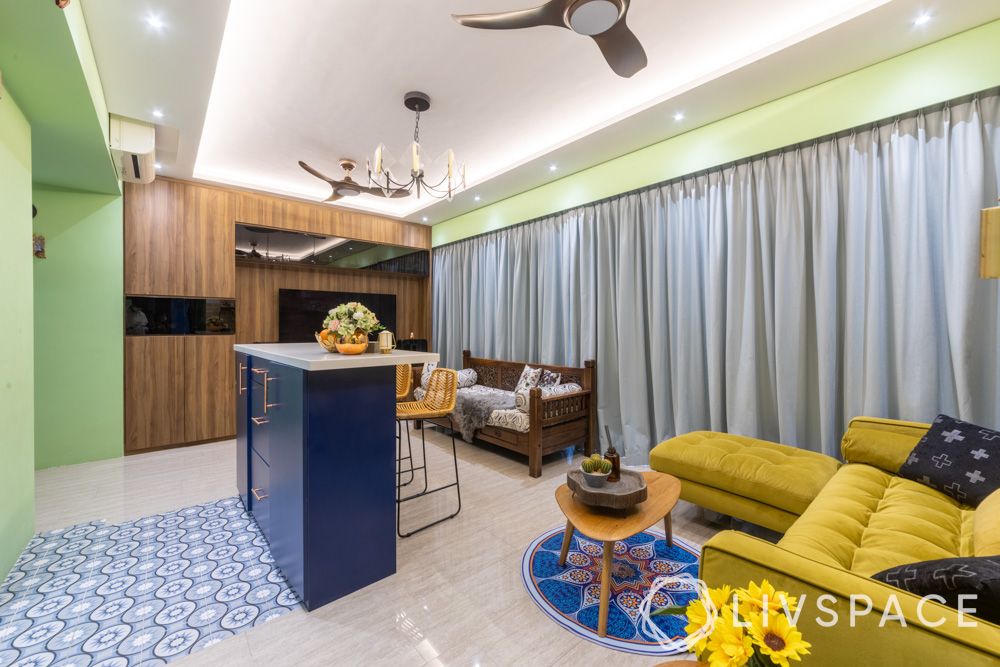 One of the most interesting design features in this apartment is the island counter in the middle of the living room. It was specially requested by Arun and his family, as it acts as a multi-purpose worktop that sits betweem the living room, dining room and kitchen. This breakfast counter is wearing a dark blue shade and is packed with storage shelves.
Similarly, the wooden TV unit is also storage-intensive. Hidden cupbors and drawers allow the homeowners to keep the home looking clean and uncluttered.
Also Read: How This Stunning 20+ Year Old Resale Condo Got a Minimalist Makeover
Storage-Intensive Kitchen With Deep Blue Cabinets
Before the renovation, the kitchen in this condo apartment lacked sufficient storage. It was cluttered and dull. So what precisely did we do to make the kitchen as clean and organised as it is now?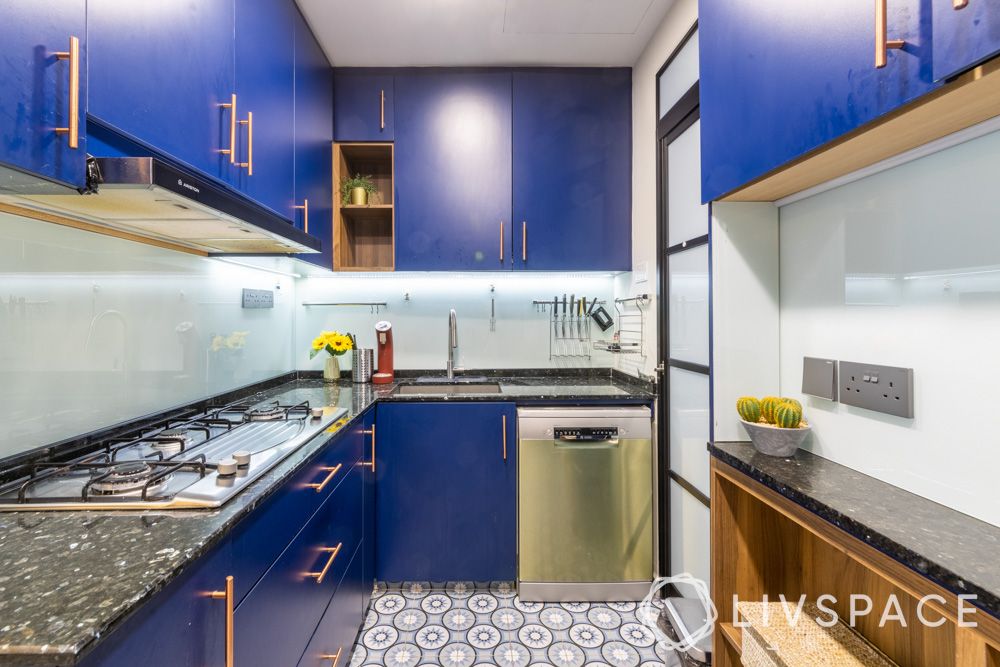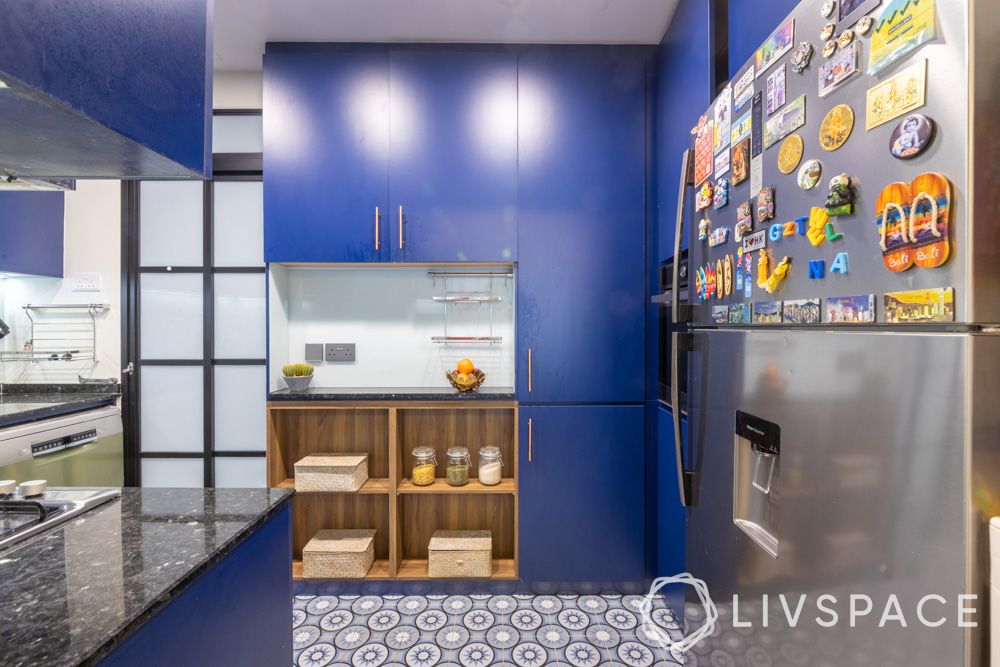 To make the most of the space and make the kitchen decluttered, we rearranged several cabinets and appliances. To increase storage, a second row of cabinets was built to the kitchen's right side. The kitchen adopts a similar colour scheme to the island counter in the living room in this interior design for a 4-room resale condo at Punggol Field Walk.
A dark blue colour is utilised to add some pop of colour to the area. A white glossy backsplash was used throughout the kitchen. This contributed to the appearance of a larger area.
Master Bedroom With En-Suite Walk-In Wardrobe
Is it possible to incorporate a walk-in wardrobe in your bedroom with space constraints? Well, if your designer is smart, then yes. Our Livspace designer managed to do this, and more, in this 4-room condo interior renovation under S$81k. Although walk-in closets are multipurpose and ideal for the modern home, you must make sure that they are flawlessly incorporated into the bedroom's interior design.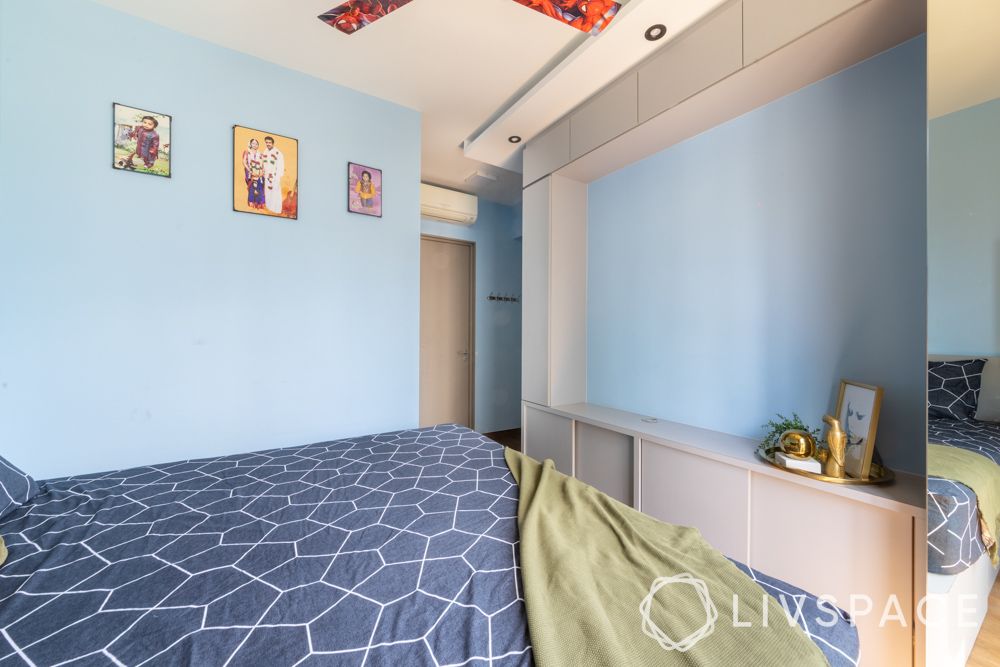 Apart from the walk-in wardrobe, the master bedroom has both top and bottom cabinets to add to the storage space. As for the colour scheme, this home has a different colour in every room. The master bedroom has a light shade of blue on its wall.
Green Walls for the Second Bedroom to Match the Greenery Outside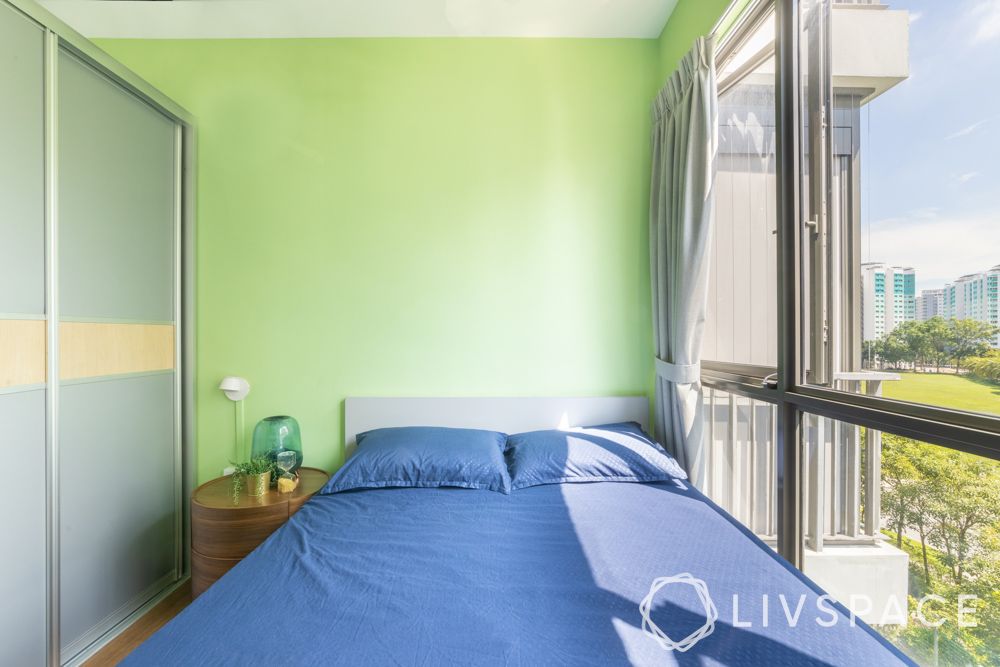 What can be better than a bed next to a window with views overlooking lush green exteriors? The answer is a smartly planned room with systematic storage. In this quaint bedroom, we painted the wall in a cheery shade of green that matches the greenery just beyond the window. Although it's a simple design addition, it actually plays a big role in visually expanding this room.
Also Read: This Chic Farmhouse Style Home Can Tell You How Much to Budget for a 3-Room Condo Reno in Singapore
Master Bathroom With Patterned Tiles and Storage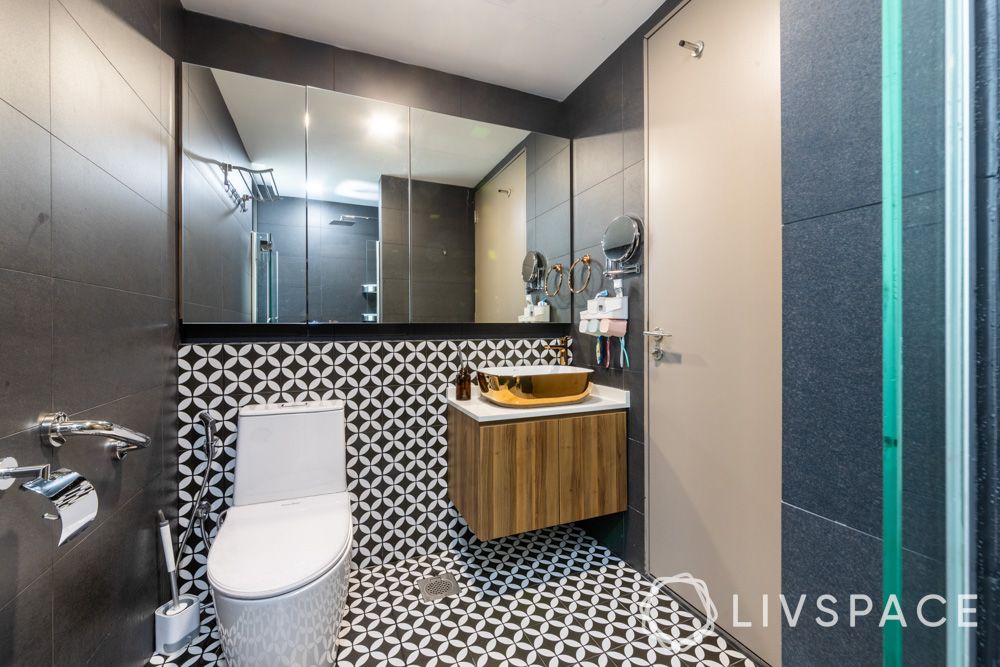 Is your condo's shower curb a little bit constricting? Don't worry, just take a cue from this Waterwoods 4-room resale flat renovation and its bathroom design. To open up the space, our designers played with prints, patterns and textures. The black and white mosaic tiles on the floor repeats halfway up a single wall. This is a smart way of catching the eyes and making the room look longer and higher than it actually is.
Similarly, this bathroom interior design for a 4-room resale condo at Punggol Field Walk has a mix of dark and light colours that provide visual interest.
How Can Livspace Help You?
We hope you found the renovation of this 4-room condo interior at Waterwoods useful! If you're looking for something similar for your home, your search ends here. Book an online consultation with Livspace today, and we can help you plan and manage your reno.
Have some comments or suggestions you'd like to share with us? We're all ears! Feel free to write to us at editor.sg@livspace.com.