One thing that's synonymous with Singapore homes is the space crunch. As most homes fall on the compact end of the spectrum, it can get harder to make room for all your design needs. This is even more restricting in small homes like a studio apartment. So, does this mean a studio apartment can't meet all your design requirements? Of course not! Using this interior design for a 2-room flat at Sengkang West Way as an example, we can show you how to create simple yet functional interiors for even the most compact homes.
Let's take a look at how we designed the kitchen and furnished parts of this apartment with IKEA items for a family of two. But before this, it also helps to answer some questions you might have about studio apartments. We hope you have a notepad ready because here's where you can find some clever Sengkang West Way interior design ideas too.
---
Who Livs here: Tony and his family 
Location: Sengkang West Way
Size of home: 2-room flat
Design team: Interior Designer Erin Quek and Project Manager Ava Gui 
Livspace service: Carpentry for the kitchen cabinets along with IKEA furniture
Budget: $$ 
---
IN A NUTSHELL


Brief

To create a bright and spacious home that offers enough storage for a family of two

What We Loved

The neat and spacious approach to interior design in this 2-room BTO at Sengkang West Way

Look Out for

The seamless cabinet fronts used in the kitchen to tie into the clean, modern vibe of the home

Smart Buy

The AC and the bed used in the bedroom


What Are Some of the Costs That Went Into This Interior Design for a 2-Room Flat at Sengkang West Way?
Type of Work 
Cost
Kitchen Carpentry
S$2,560
Kitchen Countertop (Quartz)
S$910 (7ft. of material)
Plumbing 
S$150
IKEA Items (2-seater sofa, dining table set,
kitchen accessories, bathroom cabinet etc.)
S$1,615 (including delivery & installation fees)
The scope for this home was to design the kitchen and to style the home with select IKEA furniture. All the costs mentioned above are specific to this home's design requirements. Additionally, please note that the prices above are not inclusive of GST and design fees.
The overall cost of design can vary based on your scope of work, material size and selection, and vendor. So be sure to consult a designer for more details on pricing.
Also Read: Home Reno in Singapore: How to Keep Renovation Costs Down?
Why Is Space Planning Especially Important for Studio Apartments?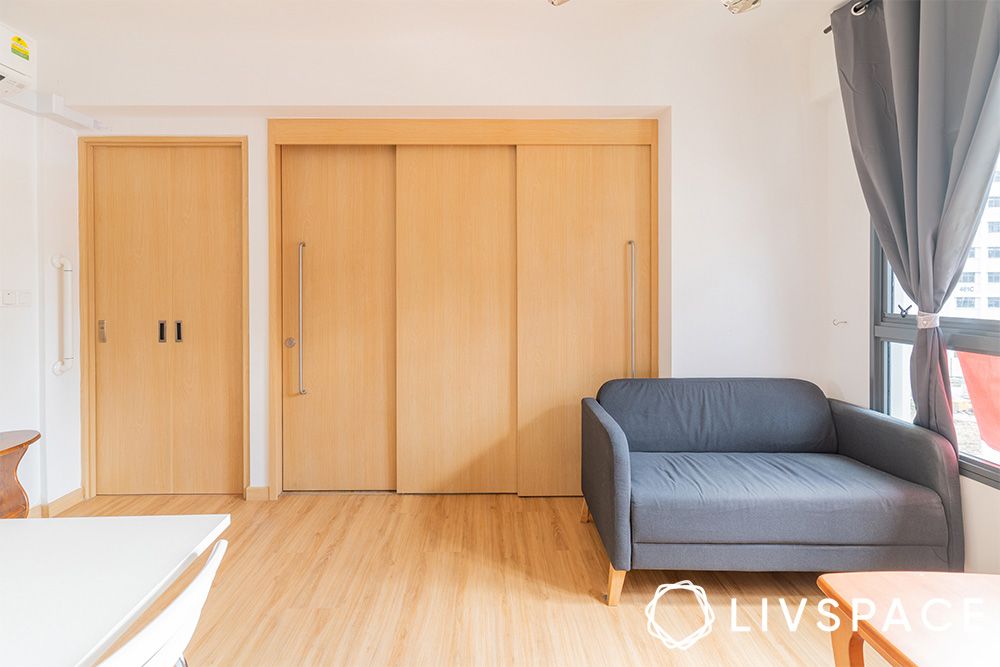 You might have heard the term before, but exactly does space planning entail? Much like its name, it refers to the process of planning how all the elements in your space will be utilised effectively. The reason this is an important step in designing small homes is because it helps make the best use of limited space.
This interior design for a 2-room flat at Sengkang West Way is a great example of a well planned space. Why? Because of the way the furniture is positioned, allowing sufficient room for traffic flow.
Take a look at the shared living and dining area in this BTO interior design for Sengkang West Way. All the furniture is aligned with the walls to ensure free movement across the open layout.
Will a Studio Apartment Limit Your Interior Design Options?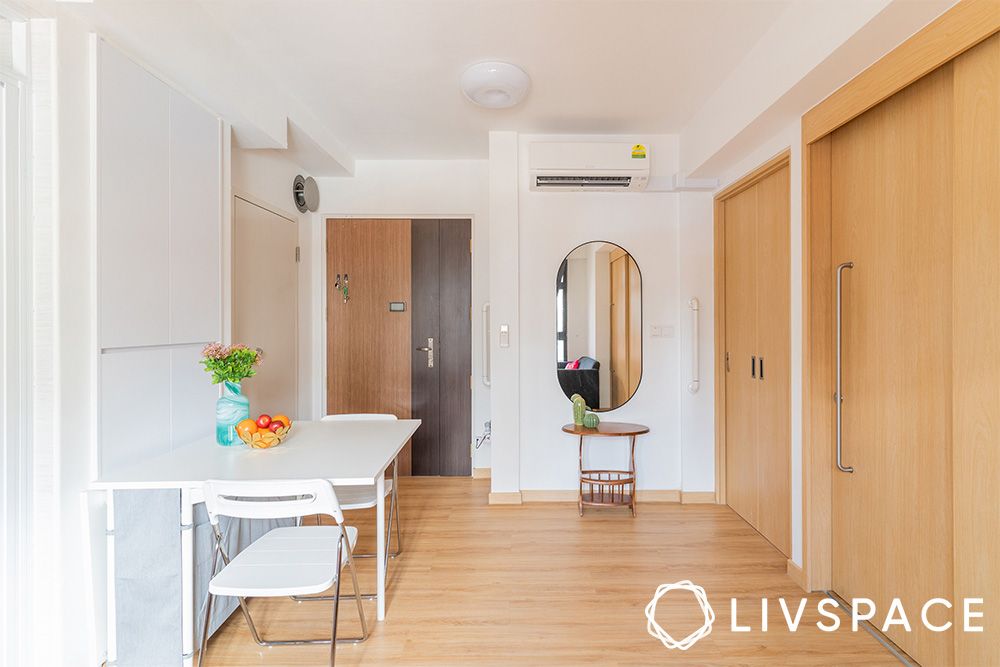 If you're convinced that a smaller home can't meet your needs, perhaps this interior design for a 2-room flat at Sengkang West Way can change your mind. Though a smaller home can seem limiting, there's nothing space planning and the right furniture can't fix.
Be sure to list out all your needs and requirements, so your designer can help you achieve the functionality you want. For smaller homes, it helps to be clear about the design necessities that you absolutely need.
In this interior design for a 2-room flat at Sengkang West Way, we used a Gateleg table from IKEA with storage beneath it. The reason this is the perfect match for a compact home is because it can be modified as per your needs and space.
What Are Some Interior Design Ideas You Can Borrow From This 2-Room Flat at Sengkang West Way? 
Now that you know a small home doesn't necessarily have to throw a wrench in your design capabilities, let's look at how to design one. Though small, this 2-room HDB BTO flat design at Sengkang West Way is mighty. Here are some helpful tips to borrow from it:
1. Opt for Sliding or Bi-Fold Doors Instead of Swing Doors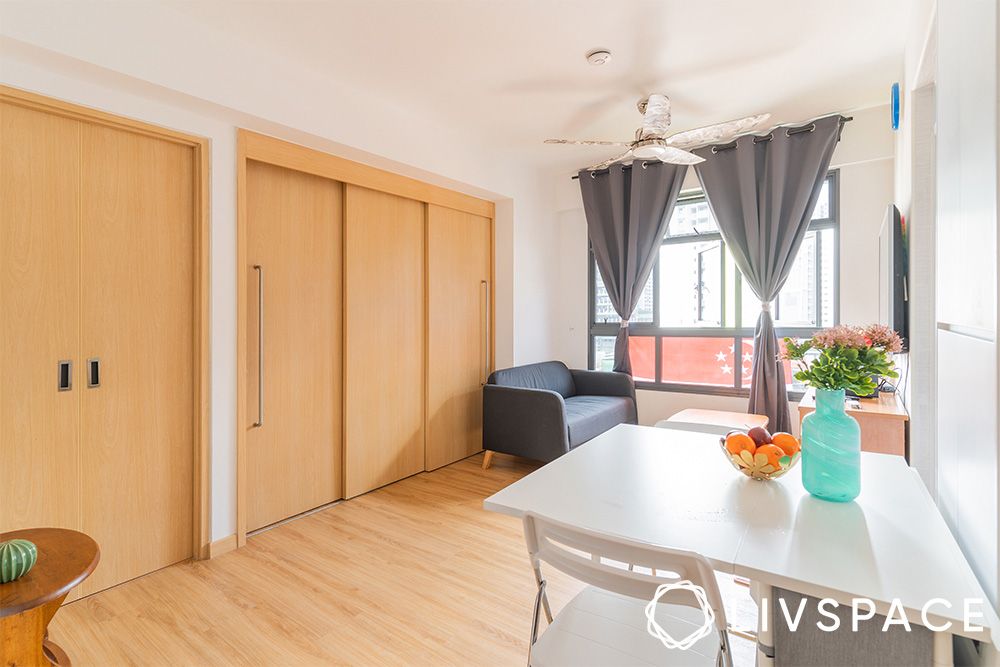 As soon as you enter this 2-room HDB BTO flat at Sengkang West Way, you first see the sliding bedroom doors. If you look closely, you'll also notice that all the doors in this home are either sliding or bi-fold doors. This of course is no coincidence, as these types of doors are better at saving space.
In this interior design for a 2-room flat at Sengkang West Way, a sliding door helps separate the living and bedroom areas. Why does it work in compact homes? Because it doesn't open out into either room, unlike hinged doors. This limits the space it occupies and gives the space a cleaner look.
Similarly, the bathroom door is a hinged bi-fold door that folds back instead of opening out. Both sliding and bi-fold doors double up as space-saving room dividers in compact homes.
2. Choose Seamless Cabinets for a Clutter-Free Look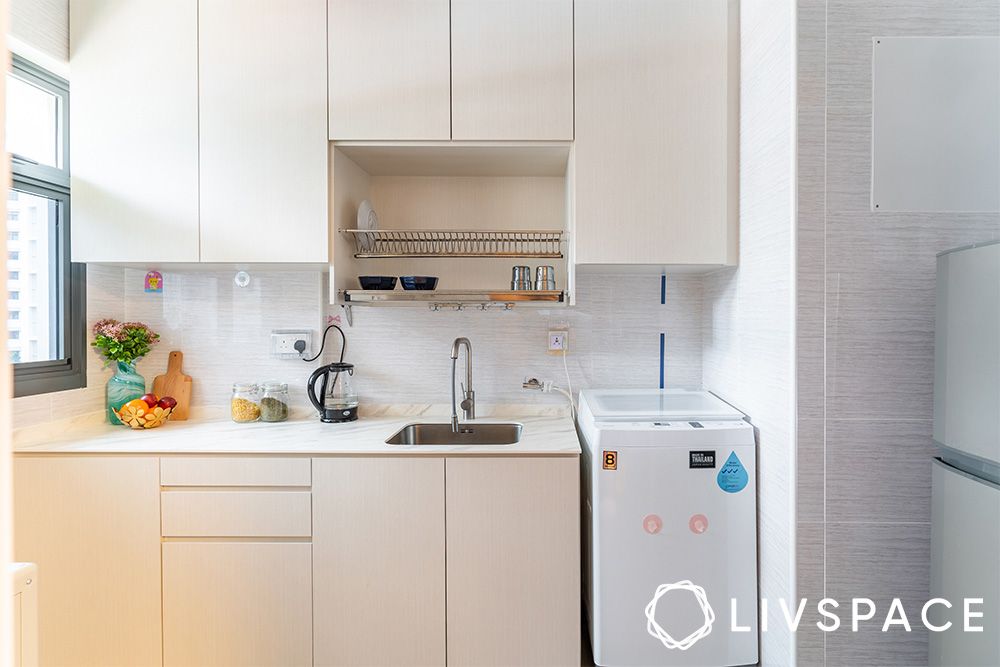 What's one thing most modern or minimalist homes have in common? It's the seamless approach to furniture and cabinetry. Though they can act as a decorative element, handles also run the risk of making your cabinets look bulky. Instead, how about ditching them altogether and going seamless, like we did in this interior design for a 2-room flat at Sengkang West Way?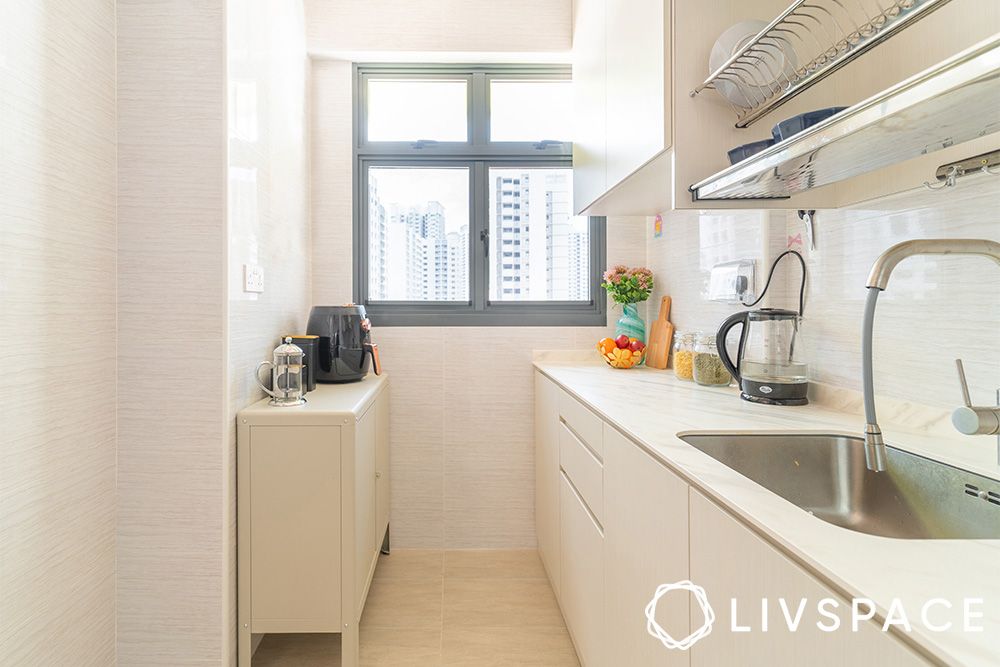 All the cabinetry in the kitchen has been designed, fabricated, and installed by the Livspace team. The cabinets used in this BTO interior design for Sengkang West Way are a result of plywood and high pressure laminates. Livspace designer, Erin Quek, uses plywood as a core material for the carcass and finishes it with high pressure laminates, making them easy to maintain.
Also Read: Kitchen 101: How to Choose the Best Kitchen Cabinets in Singapore
3. Embrace the Principles of Minimalism and Strip Down to the Necessities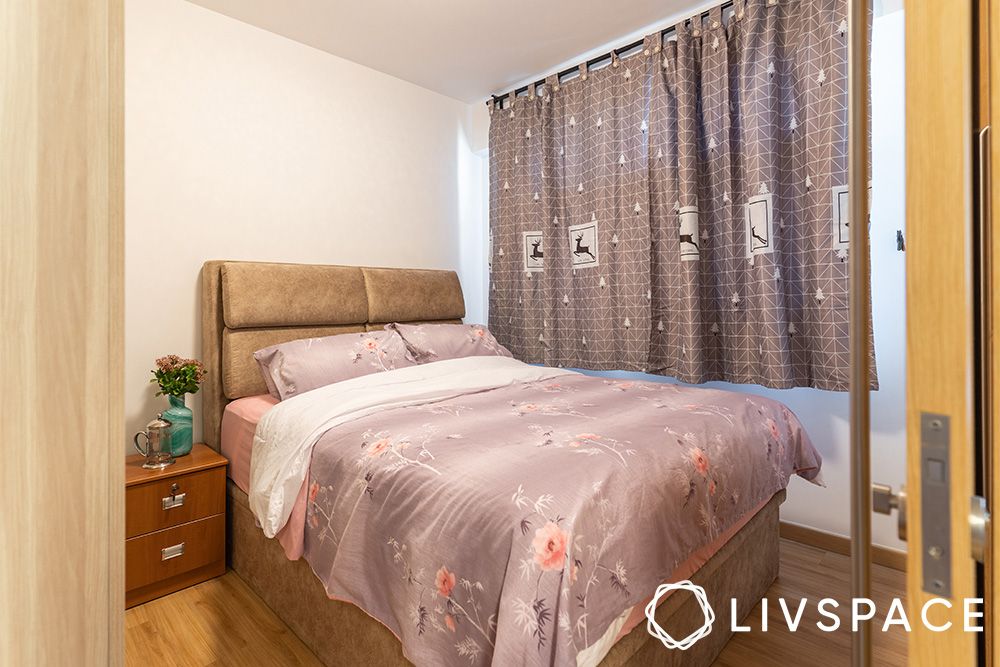 Borrowing from the philosophy of more is less, stripping your room down to only its essentials is ideal for compact homes. You can get rid of a lot of unnecessary clutter the same way as this interior design for a 2-room flat at Sengkang West Way.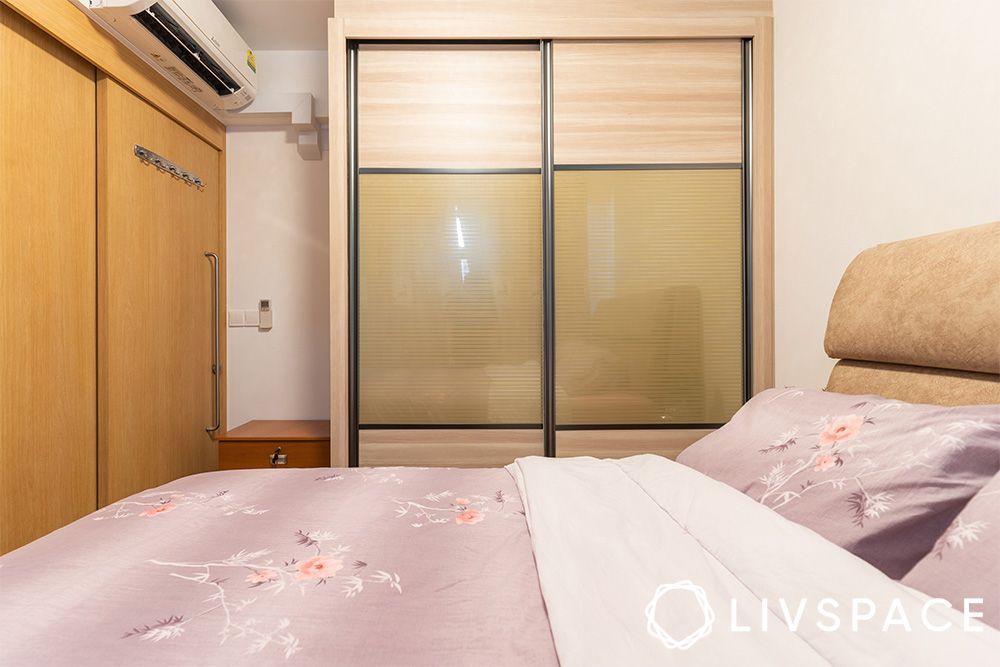 Stick to the basics such as a bedside table, bed, and wardrobe for your bedroom. While having additional units like a study or dressing table is nice to have, you can still make do with just the essentials. Pick out furniture items that don't take up much space and are best suited to your space constraints.
Additionally, much like the bedroom door in this interior design for a 2-room flat at Sengkang West Way, the wardrobes have sliding doors too. Since this bedroom is relatively compact, sliding doors are more space-friendly.
4. Avoid Bulky Cabinetry in Smaller Spaces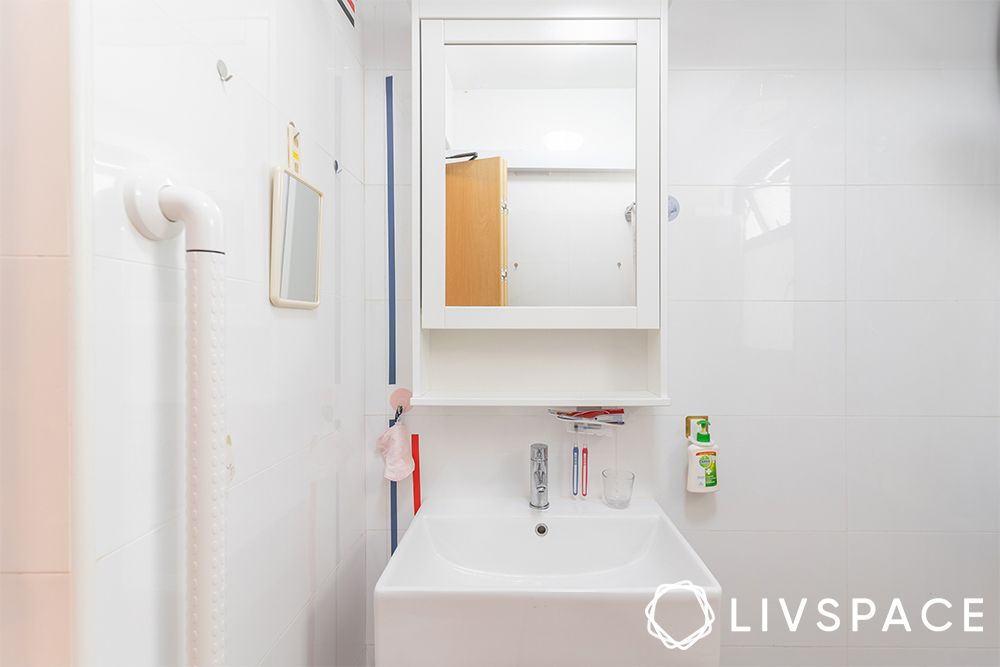 It comes as no surprise that bulky furniture can make a small space look smaller than it is. So, it's more important than ever to avoid using bulky furniture and fittings in a confined space. Take a look at this bathroom interior design for a 2-room flat at Sengkang West Way. From the colours used to the style of vanity cabinetry, it takes on a basic approach to design.
This is because less really can be more in a compact bathroom such as this one. So take a cue from this toilet design and stick to the basics while renovating your BTO's bathroom. Go for a simple bathroom cabinet instead of a full vanity to save space.
Another neat tip to consider borrowing from this interior design for a 2-room flat at Sengkang West Way is the use of anti-slip grab bars around the home. If you live in a multigenerational home, it helps to have these bars fixed in spaces like the bathroom to make it safe for all family members.
Hear What the Homeowners Have to Say About Their New Livspace Home:
"We learnt about Livspace when we went to purchase some furniture from IKEA. Our ID, Erin, was easy going and cooperative, helping us achieve the Scandinavian vision we had for our home. Our flat now looks brighter and more spacious, with enough storage for a family of two."

Tony, Livspace Homeowner
How Can Livspace Help You? 
We hope you found our ideas for this 2-room HDB BTO flat design at Sengkang West Way useful! If you want your home to be just as functional, then look no further. Book an online consultation with Livspace today.
Have some comments or suggestions you'd like to share with us? We're all ears! Feel free to write to us at editor.sg@livspace.com.
Disclaimer: All contents of the story are specific to the time of publication. Mentions of costs, budget, materials, and finishes can vary with reference to current rates. Talk to our designer for more details on pricing and availability.