Kitchen renovations can be tough, both economically and physically. An ideal kitchen must have the fusion of functionality and aesthetics, and must also give you the freedom to personalise. But incorporating all these elements to the kitchen design of your HDB or condo might cost a lot of money. But Livspace managed to bring all these features in an HDB kitchen with just IKEA products. Let's tour this kitchen renovation using IKEA products and get the best IKEA kitchen design inspirations.
---
Who Livs here: Hisham and his family
Location: Northshore Drive
Type of home: 4-room resale HDB
Design team: Interior Designer and Project Manager Erin
Livspace service: Kitchen renovation
---


IN A NUTSHELL

Brief
A practical white-themed kitchen renovation in Northshore Drive that uses only IKEA products

What We Loved
Clever placement of the wet kitchen in the service yard

Look Out For
– The smart use of wall hacking
– Using IKEA products to create a kitchen design within budget
– The laminate finish
– The biophilic elements

Smart Buy
Open shelves with display shutters


1. A Kitchen Renovation With IKEA Products for Smart and Hassle-Free Storage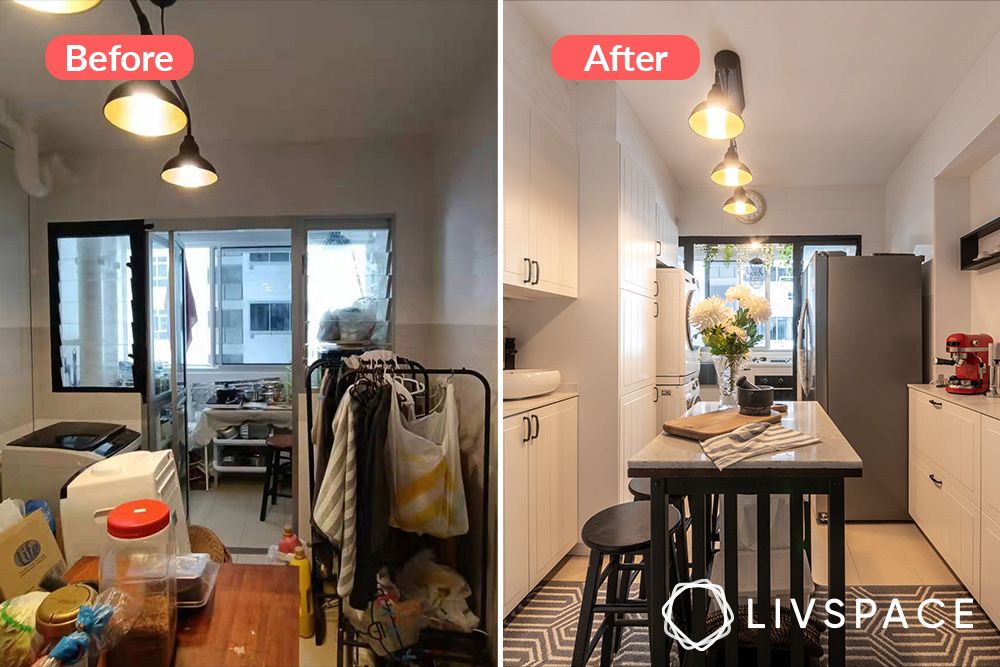 Before the renovation, this kitchen lacked storage. It was cluttered, cramped and dull. There were no defined zones and areas for cooking specified in this kitchen. So what precisely did we do to make the kitchen the light-filled room it is now? A little hacking holds the key to the solution.
In order to make the kitchen in this 4-room resale HDB more spacious, we partially tore down the entrance wall. After the entrance wall was taken down, it was simpler to maximise the kitchen's potential. We also decluttered the kitchen space and created a parallel galley kitchen to give it a cleaner look.
Another focal point of this kitchen renovation using IKEA products is the island in the middle irrespective of the space constraints. Yes, you heard it right. It's possible for an HDB kitchen to have an island despite space constraints!
2. From a Cluttered Space to a Functional IKEA Kitchen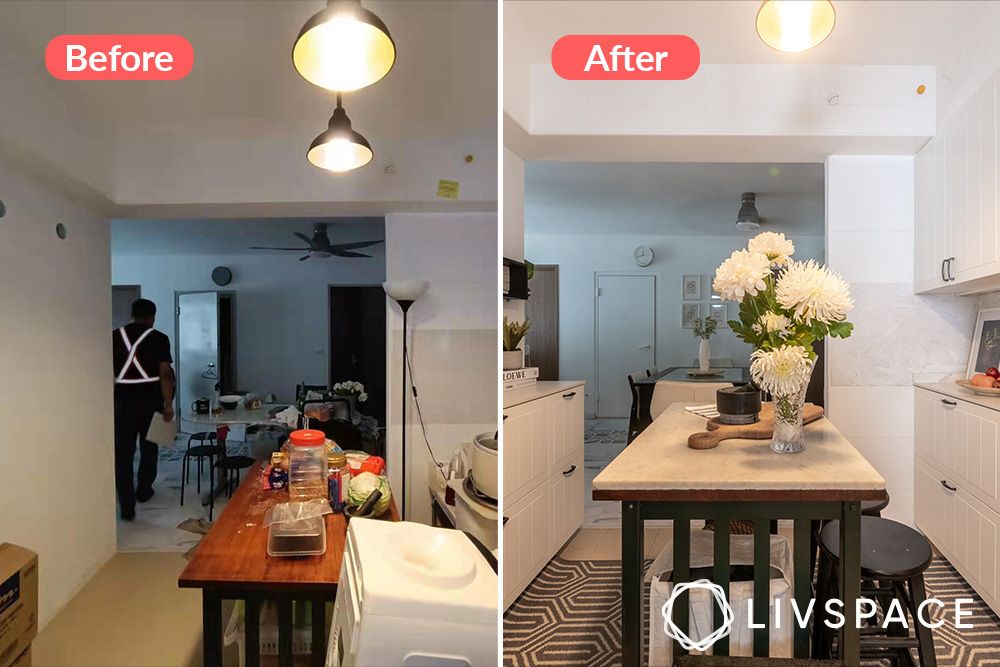 As the 'Before' picture shows, there were no cabinets to help with the kitchen organisation. Our Livspace designer Erin made efficient use of the available space by incorporating pull-out drawers and cabinets, skirting drawers, and oil pull-outs. To maximise storage space, she also installed both top and bottom closed cabinets. Interestingly, the left wall was only fitted with bottom cabinets, leaving the wall space open and keeping the room feeling lighter.
Even smart appliances have been placed at handy locations to make cooking absolutely hassle-free. Not only is a modular kitchen aesthetically pleasing, but it's also remarkably easy to maintain. The units are easy to assemble and disassemble, so you can clean each one separately without making a mess. Any individual component that needs to be fixed or replaced can be done so separately.
Also Read: Renovation Cost for a 4-Room Resale Flat: How Much Should You Budget?
3. Transform the Service Yard Into a Smart Cooking Zone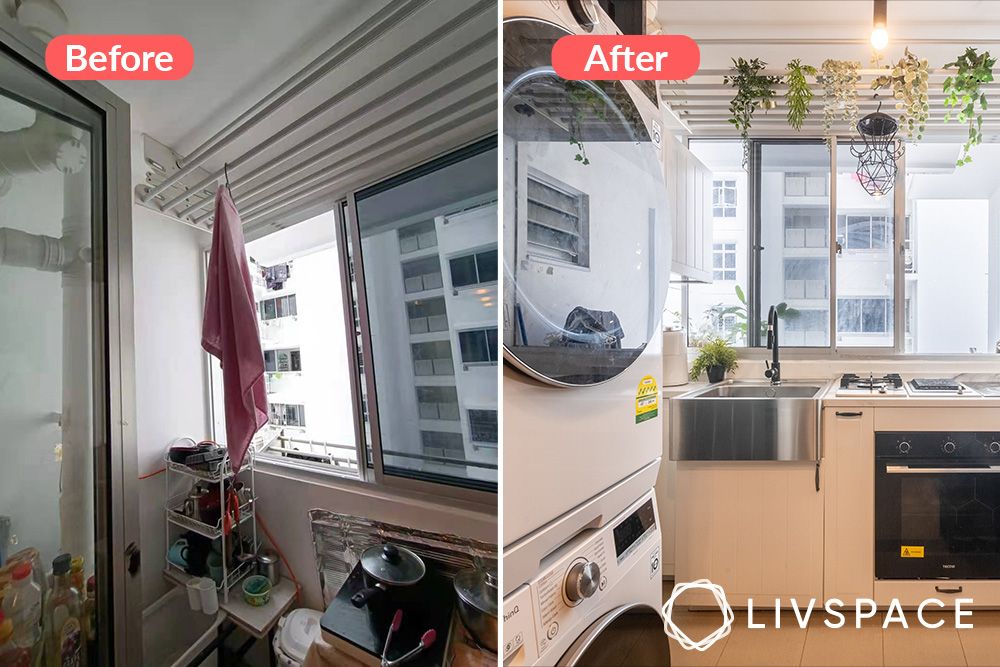 Let's face it, HDB kitchens are infuriatingly small. If not designed well, the space will look cramped and dull. The major problem that exists is space management. Our Livspace designers come up with smart ideas to manage the limited space, just like in this IKEA kitchen design.
How often do you come across the cooking area placed in the service yard or utility area? Rarely. As we can see, the cooking stove is not in the kitchen proper; instead it is in the service yard, overlooking the window. This is a very clever idea implemented by Livspace designer Erin as separating the cooking area will keep the kitchen smoke-free. The owners can close-off the space to prevent cooking smoke and smells from entering the rest of the home and leaving the rest of the kitchen clean.
4. From a Dull to a Smart-Lit IKEA Kitchen Design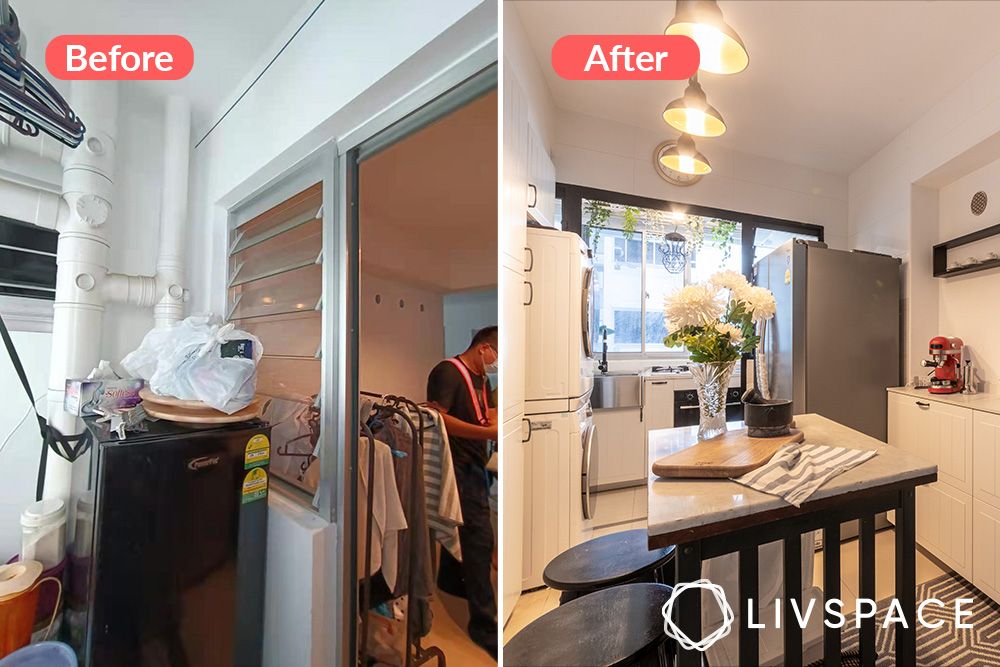 This kitchen was dull and not properly lit. A kitchen needs to be well-lit as it ensures good visibility, safety and cleanliness. This problem was resolved by our designers by providing both natural and artificial lighting in optimum quantity.
The kitchen has pendant task lights over the island which optimally illuminate the entire kitchen. The cooking area is lit using both natural light and cove lights. A big window in the cooking area eases bright daylight into the cooking area. The cove lights facilitate cooking at night in this kitchen renovation using IKEA products.
5. Add Plants to Your IKEA Kitchen for Science-Backed Benefits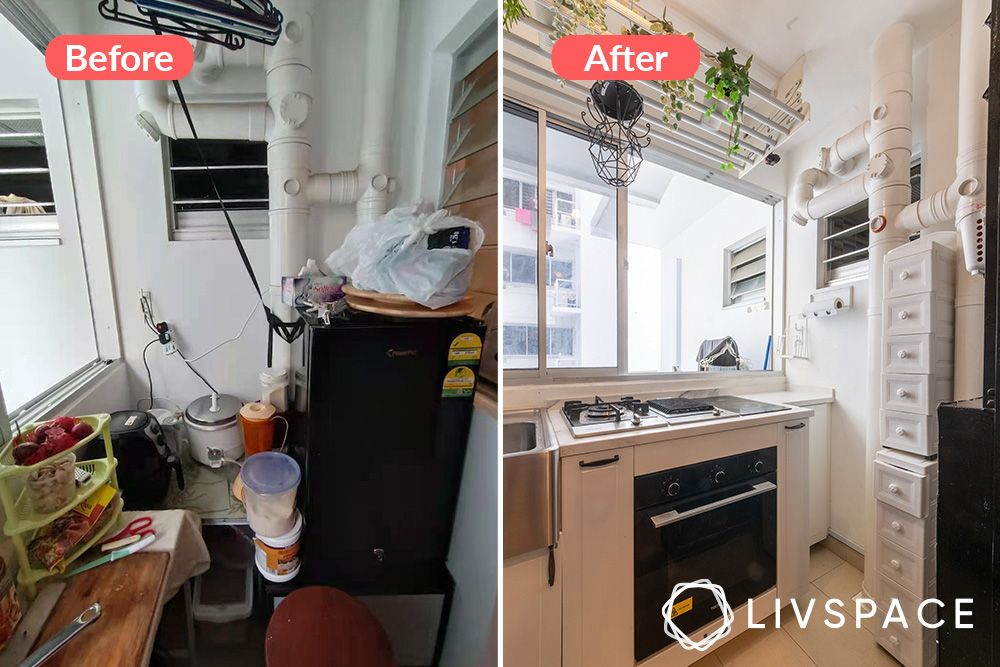 The majority of us are aware that biophilic kitchen designs are very popular in Singapore and beyond. However, did you know that kitchen plants provide a number of benefits that are supported by research? Plants in the kitchen can boost mood, ease breathing, filter the air, and generate relaxing effects. In addition to all this, they add to the aesthetic value too.
Livspace designer Erin made sure that there are plants in all the nooks for this kitchen renovation in Northshore Drive with IKEA products. Take a look at the climbers over the cooking area and plant pots on kitchen countertops. They look really attractive. In your kitchen, you can also cultivate common herbs like basil, coriander, and rosemary.
Also Read: From Fann Wong to Desmond Tan, Sneak a Peek at These 8 Star-Studded Singaporean Celebrity Kitchens
A Few Other Smart Renovation Ideas You Can Adopt From This Kitchen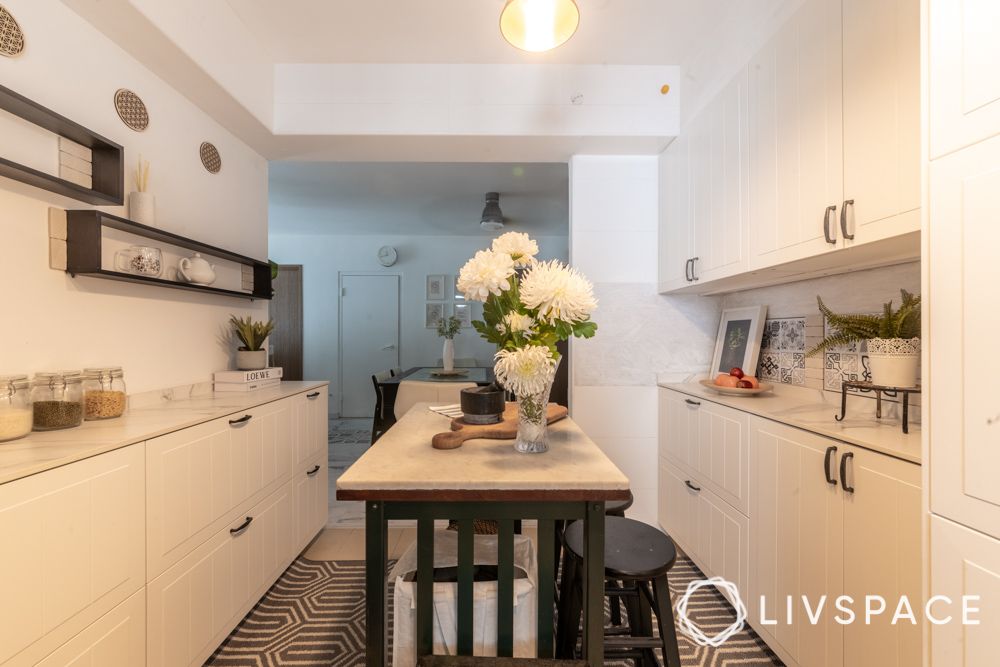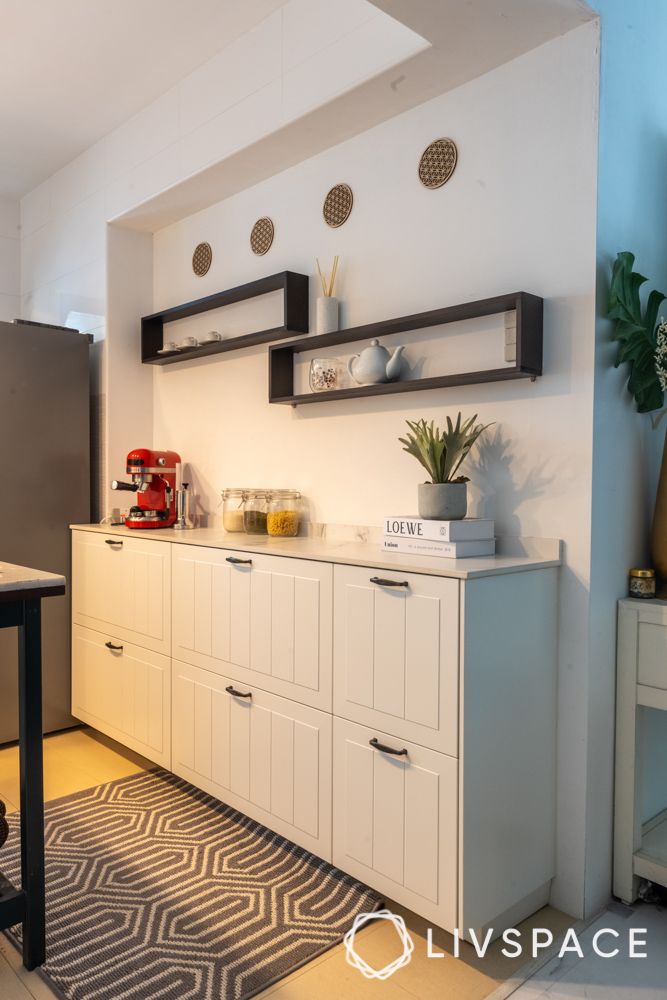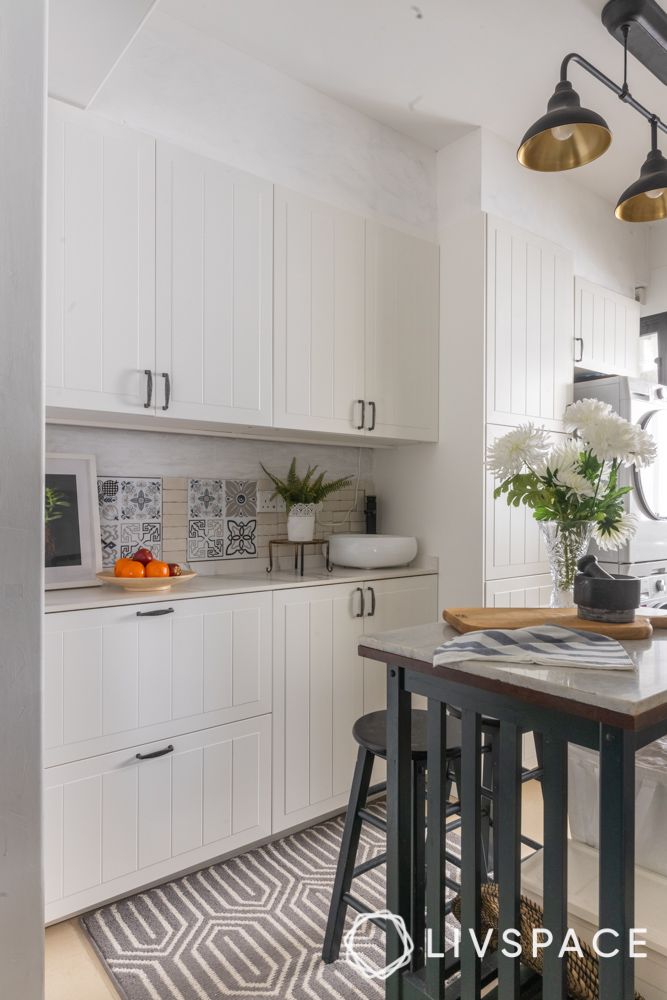 How Can Livspace Help You?
We hope you found this kitchen transformation in Northshore Drive with IKEA products interesting and functional! If you're looking for something similar for your home, your search ends here. Book an online consultation with Livspace today, and we can help you plan and manage your reno.
Have some comments or suggestions you'd like to share with us? We're all ears! Feel free to write to us at editor.sg@livspace.com.