When you think of landed properties, what comes to your mind? Luxurious, spacious, elegant and vast? While all of these are certainly synonymous with landed house design, it is not always just the looks. Sometimes, it is about blending design with functionality, and that is exactly what the homeowners of this landed property wanted from us.
---
Who livs here: Koh Bee Eng
Location: 65 Eng Kong Terrace
Type of home: Landed property
Livspace team: Interior designer Winny Widodo and project manager Kent Huang
Livspace service: Carpentry work for all the rooms
Budget: $$$$$
---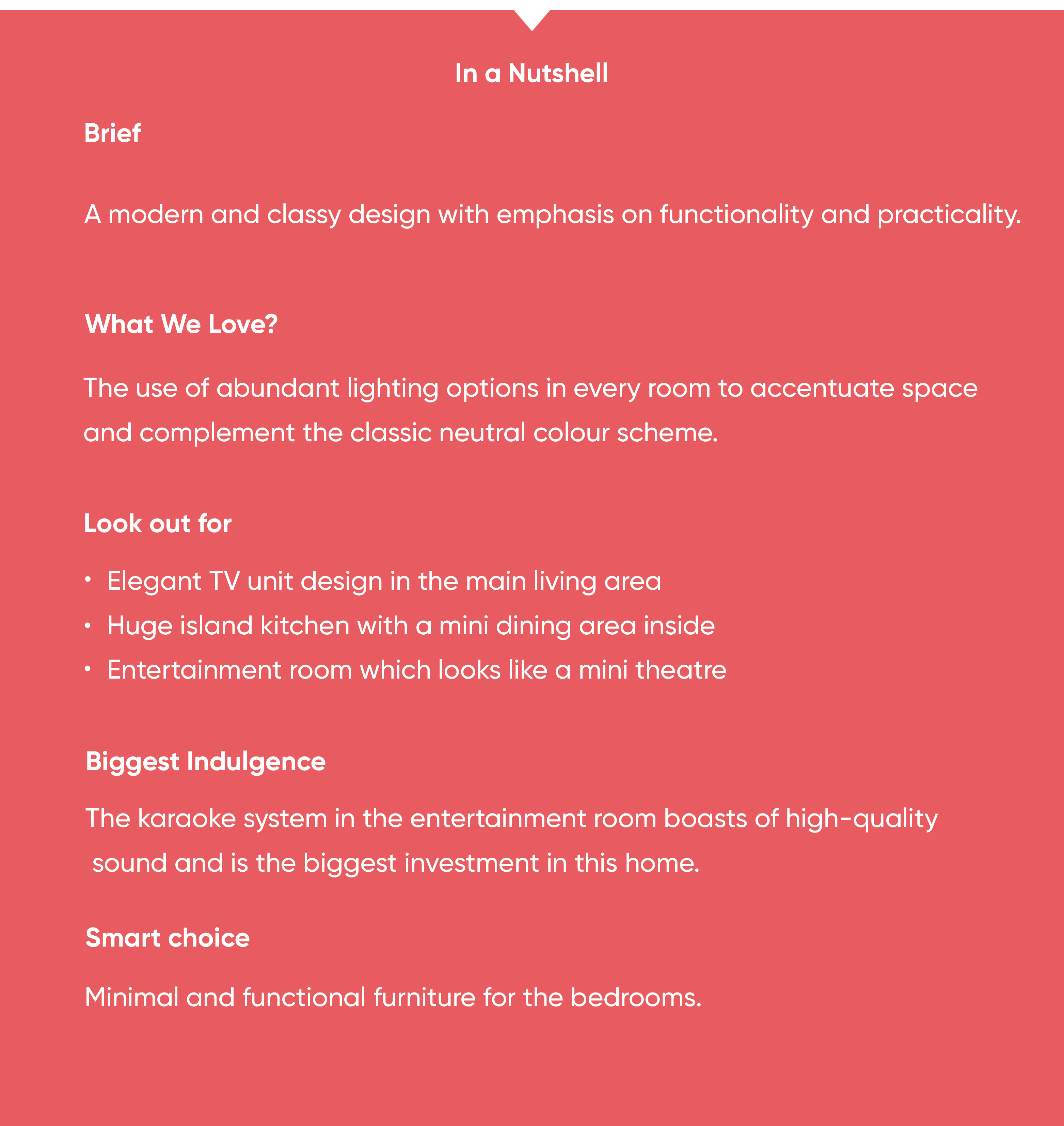 Now that you have a gist of what we are about to show you, let us dive straight into the design without further ado.
The Formal Living and Dining Areas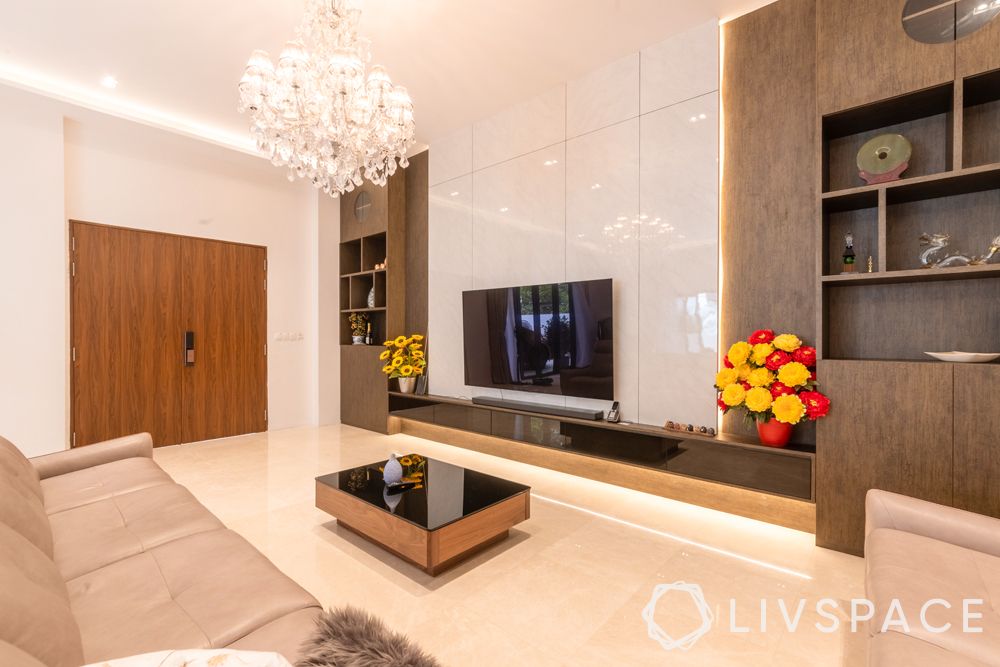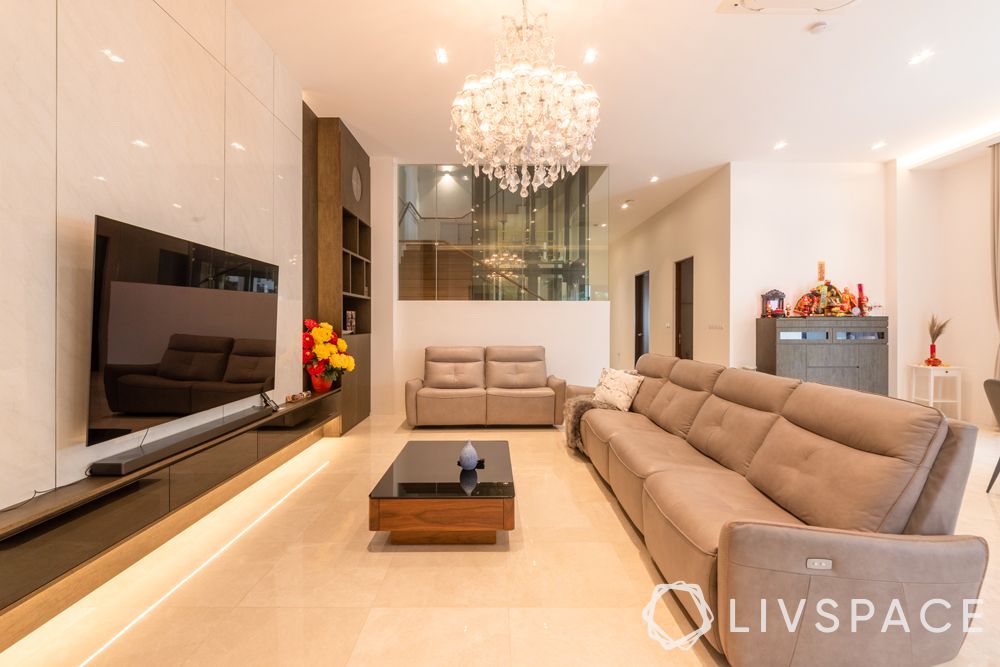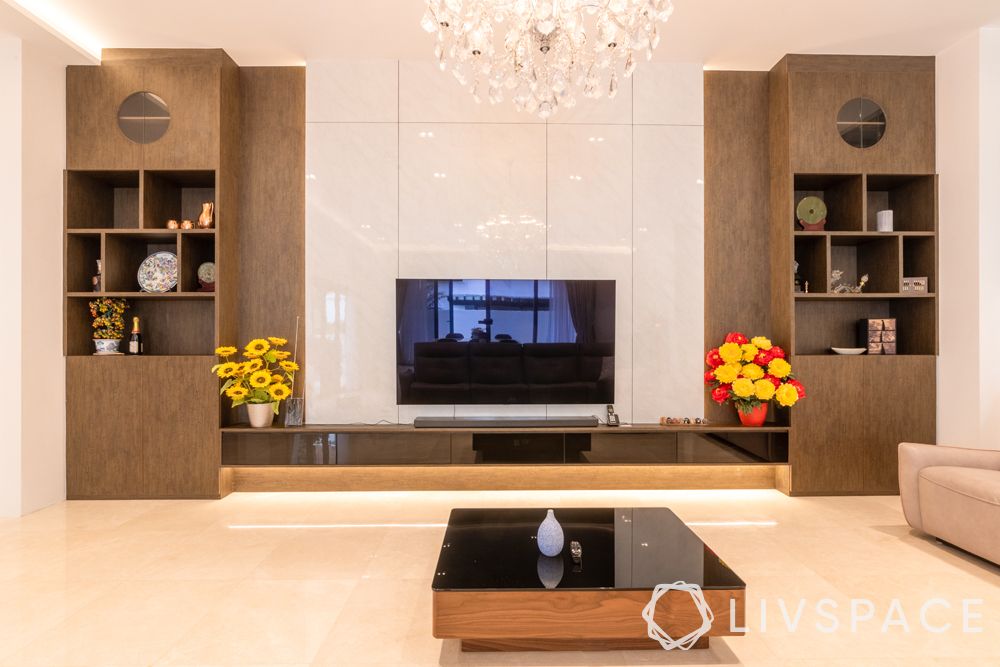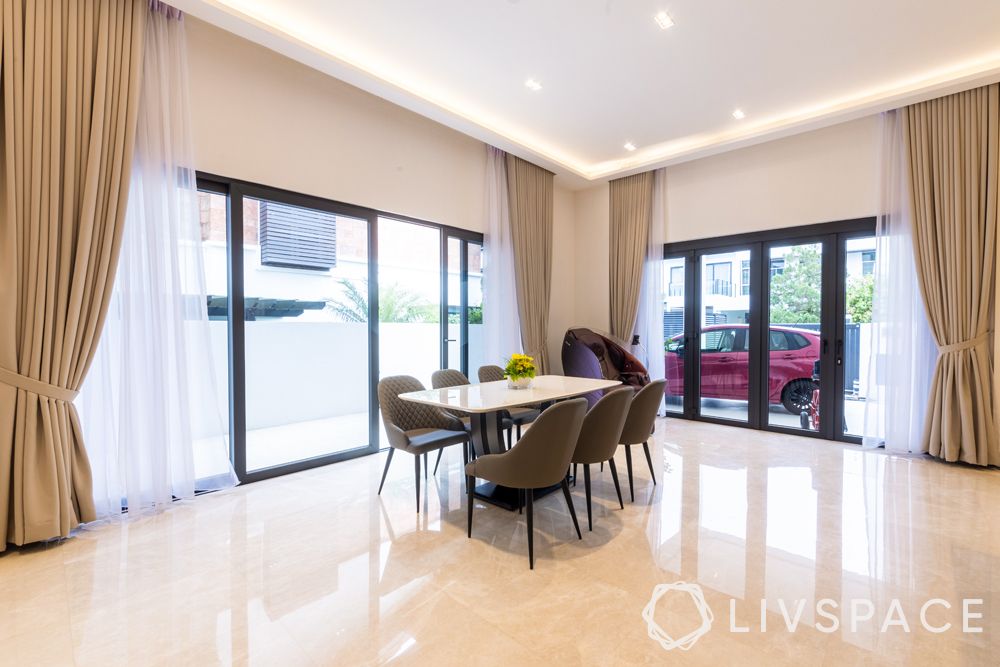 The first thought that pops in your mind when you take in this landed house design is the sheer elegance contained within this beautifully lit space with a subtle neutral colour scheme In the living room, a full-wall entertainment unit with a glossy back panel and ample storage is an eye-catching element. But it is the opulent chandelier that makes the space remarkably stunning . And that the sofa set is a definite splurge, as the homeowners themselves confessed!
In the dining area you can see a simple 6-seater dining table with grey upholstered chairs surrounding it. Cove lighting shining through the false ceiling enhances the visual appeal of this minimal space.
A Dream Kitchen for Many, and a Reality for the Homeowners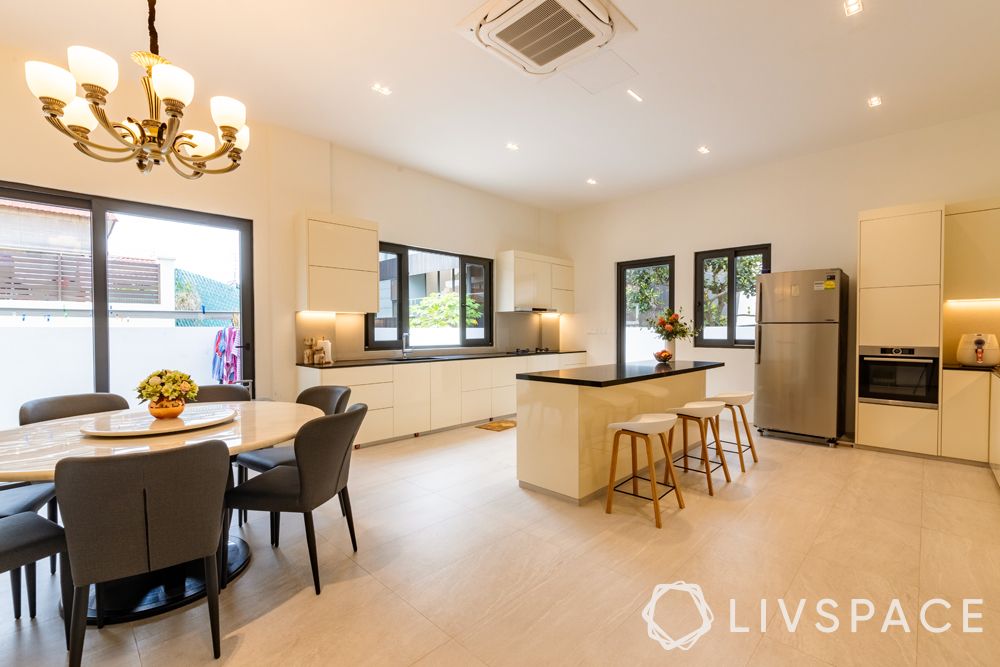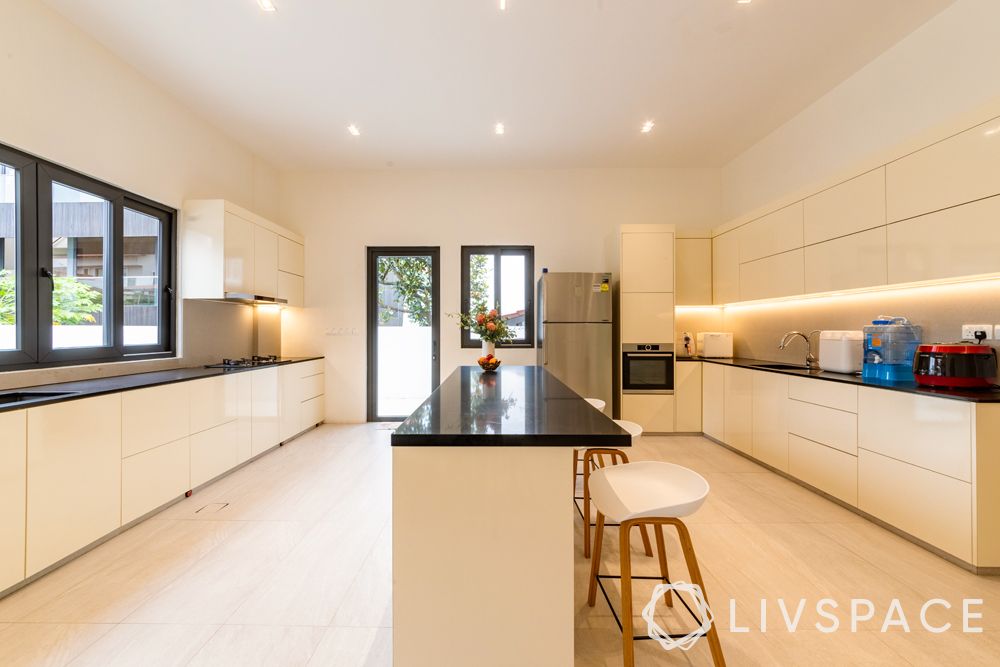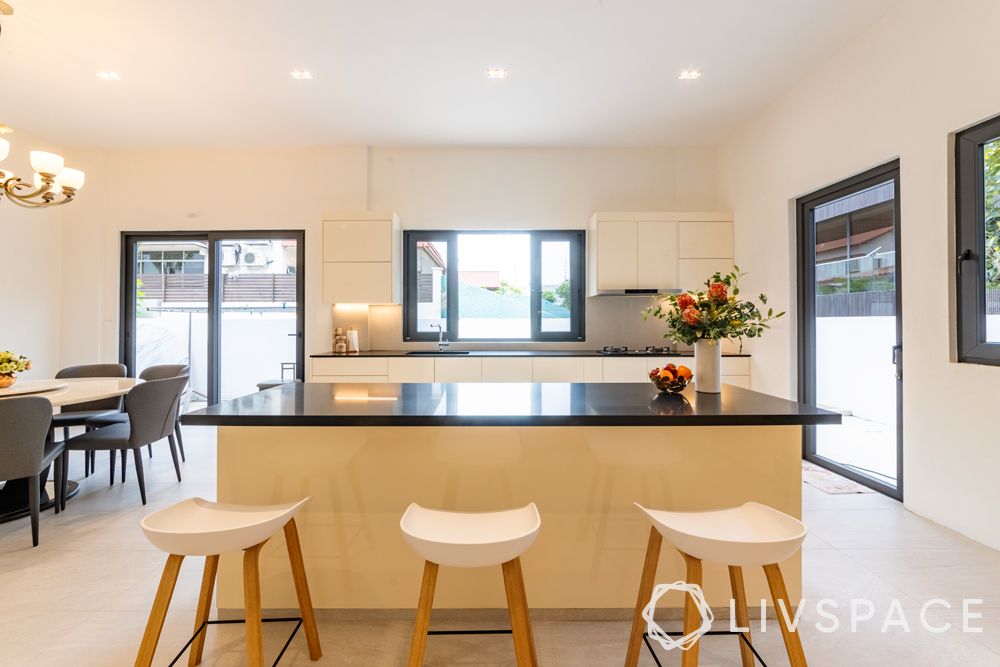 The couple really wanted an island in their kitchen where they could sit and relax. We therefore designed the kitchen in such a way that they not only get an island but also enough space to place a compact, round dining table. This huge kitchen has dedicated counter space for everything and is flooded with natural light. Cream-coloured cabinetry reflects light and makes this space looks even brighter. Our designer Winny also outfitted this kitchen with appropriate task lighting, such as the under-cabinet lights.
Moving on to a More Casual Seating Area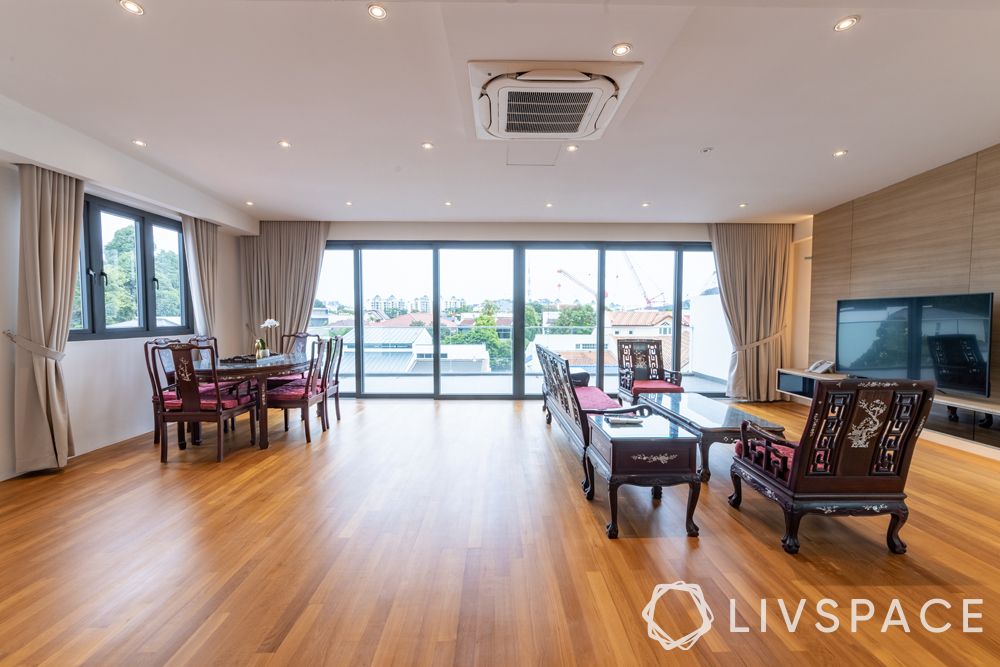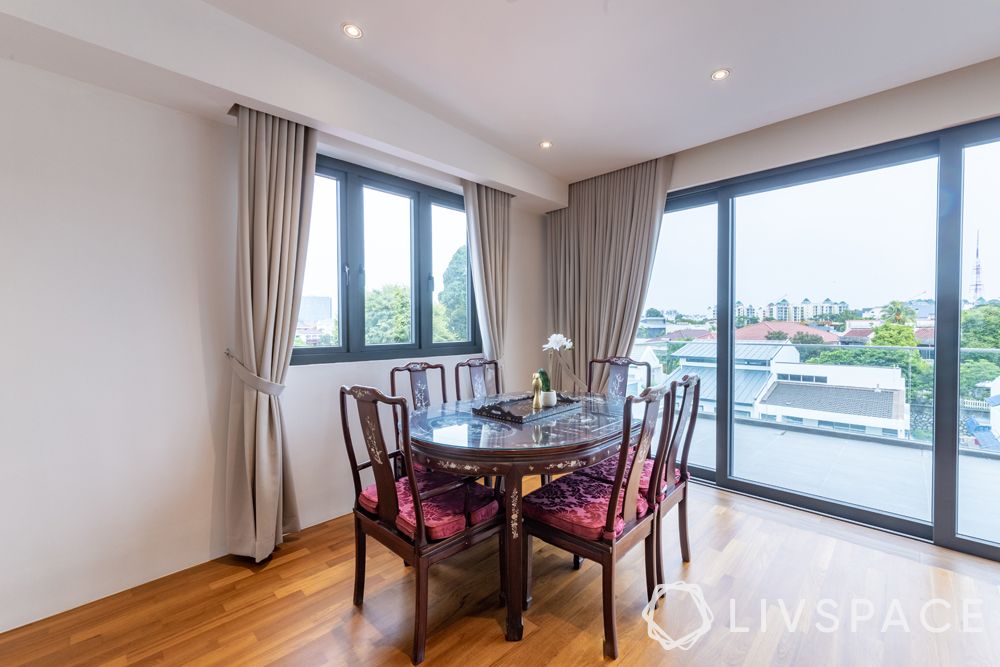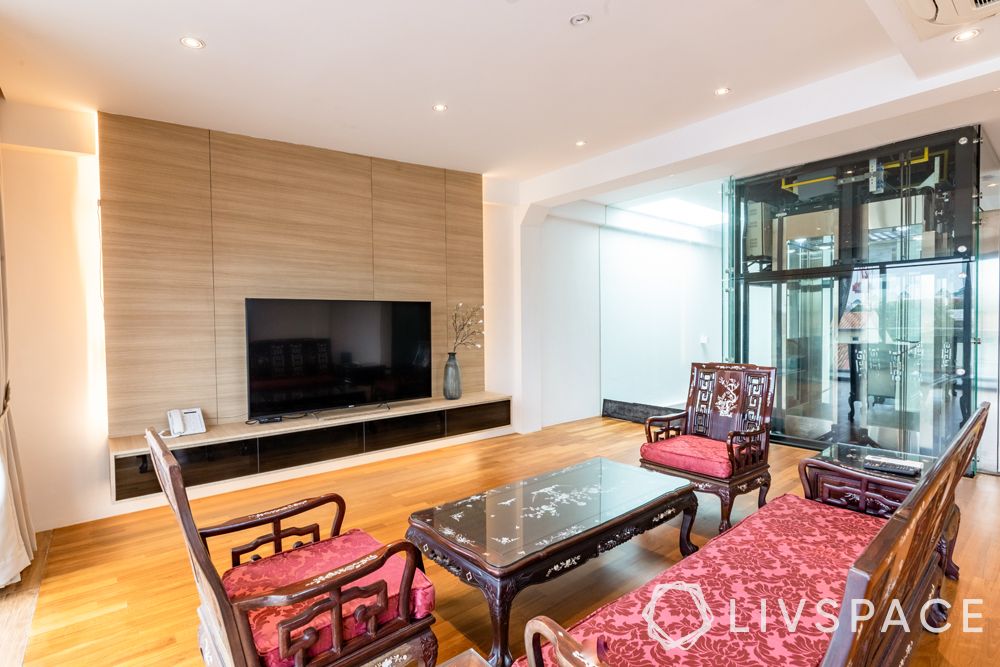 On the floor above, the couple has a casual and warm seating arrangement replete with classic wooden furniture over wooden flooring. This area is starkly different from the main living room. We find this area to have an unmistakably welcoming vibe, thanks to the abundant use of wood here.
A KTV Room That is Nothing Short of a Theatre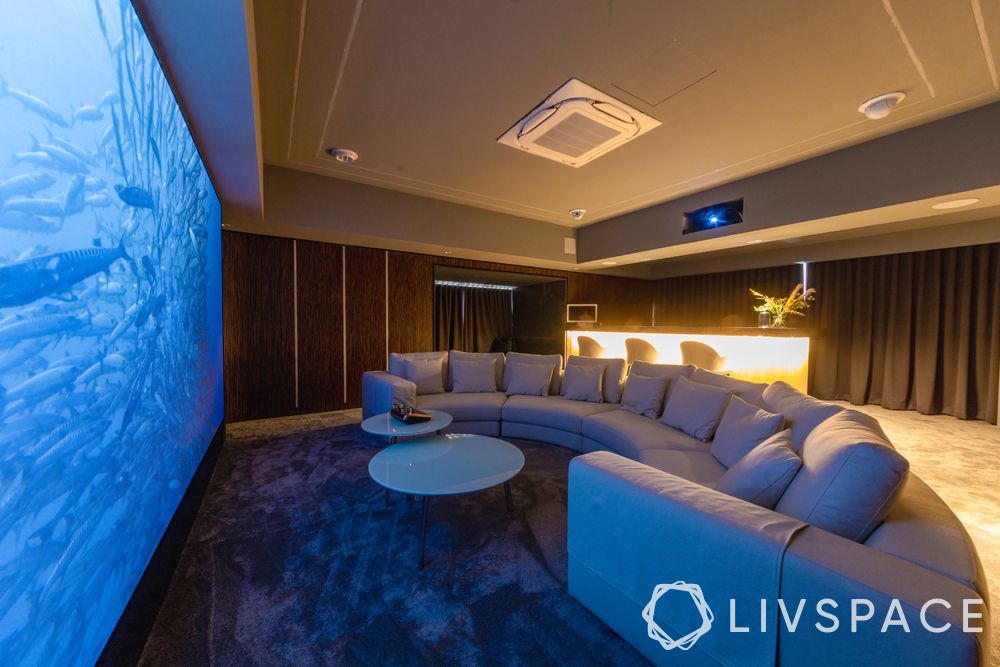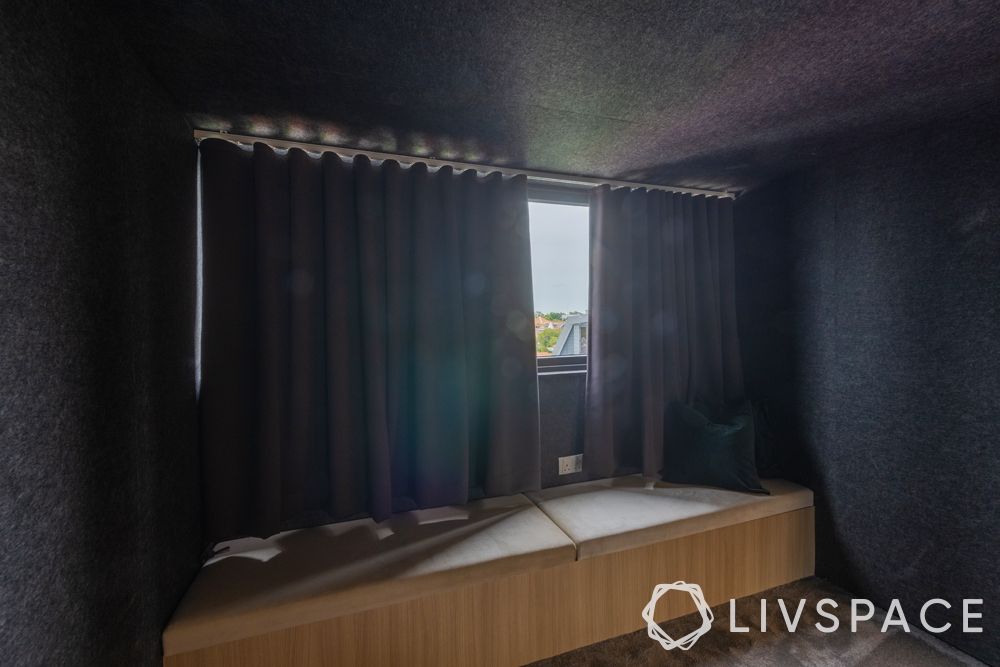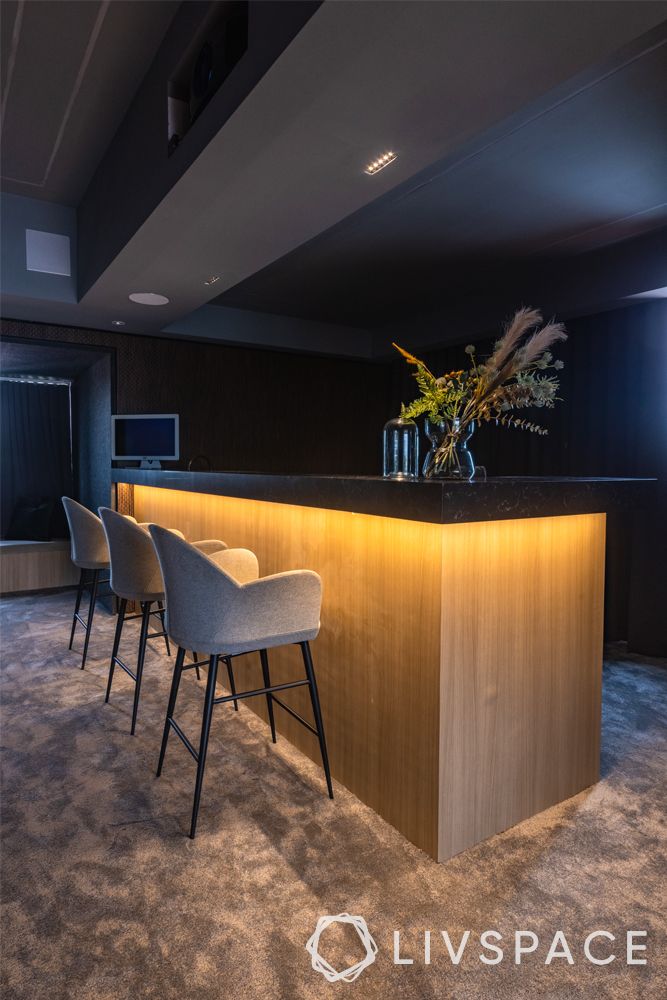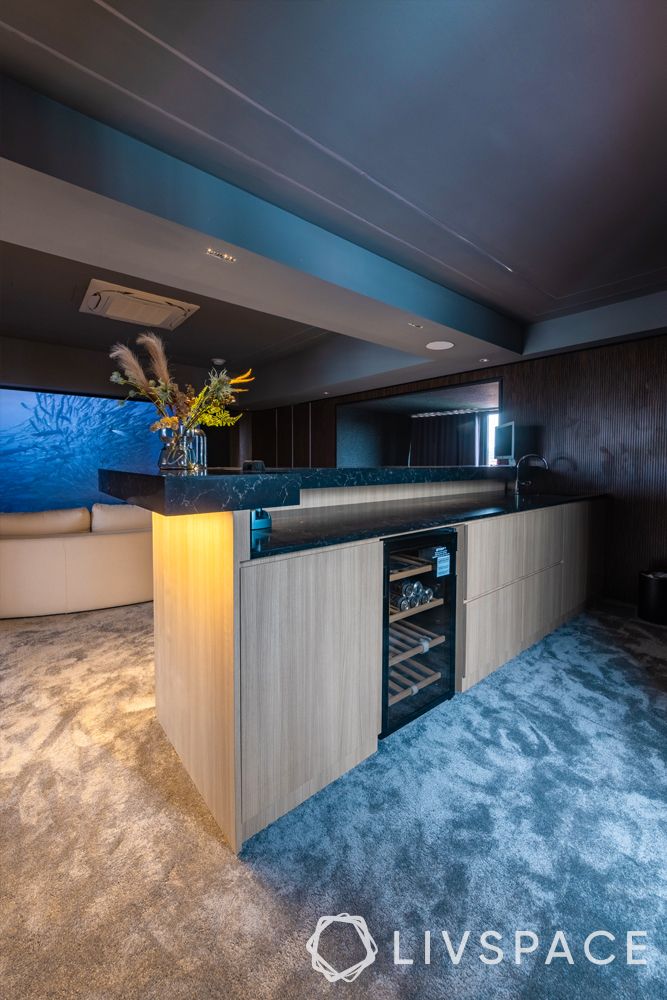 Would you go out to the movie theatre if you had this at home? We certainly wouldn't! The setup here consists of a huge projector screen with a stylish and comfy sofa placed before it. Giving this room more character is the bar unit with LED lights gleaming through. This room also features a sitting corner that offers a peek at the outside world. This is, by far, one of the best KTV rooms we have seen!
Keeping it Simple in the Bedrooms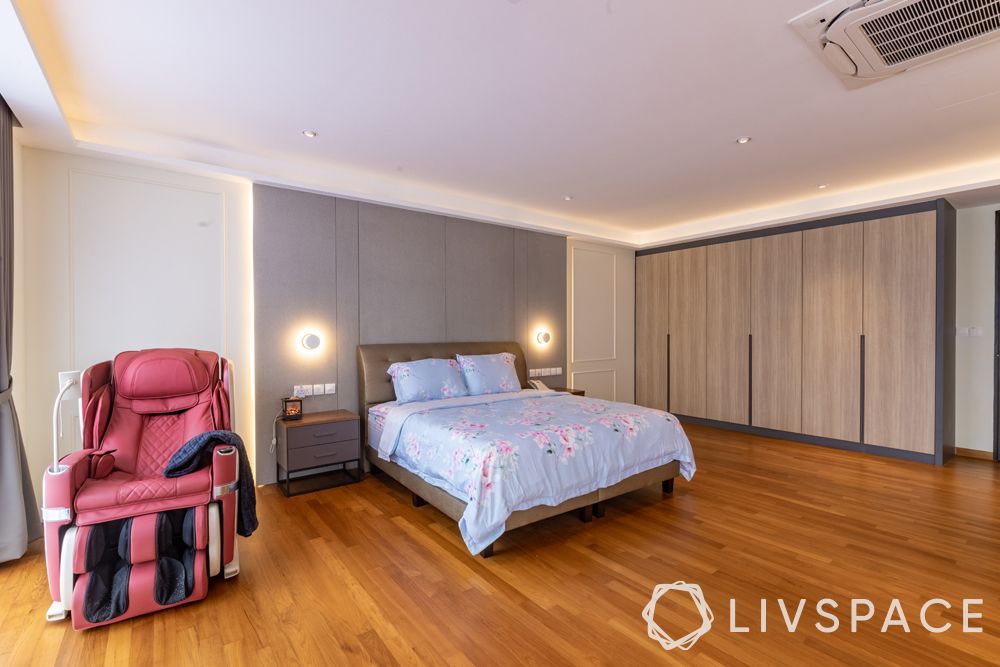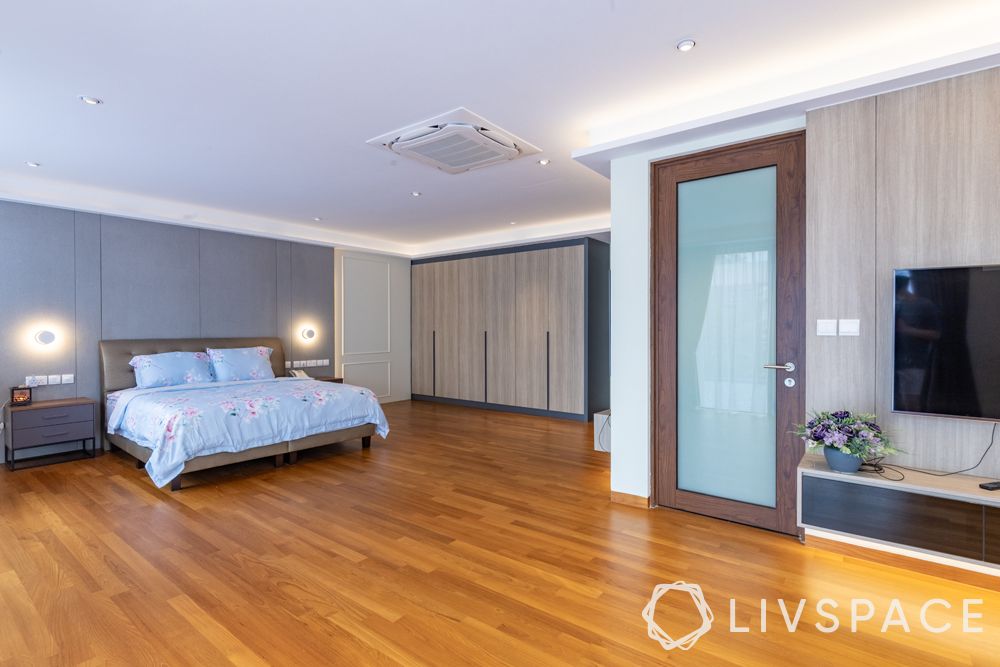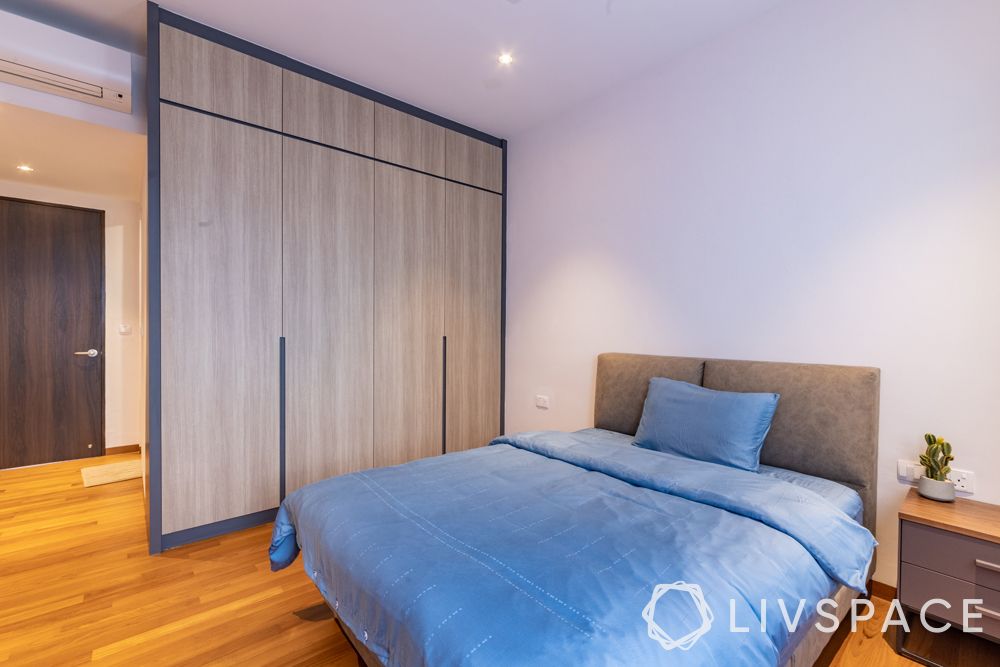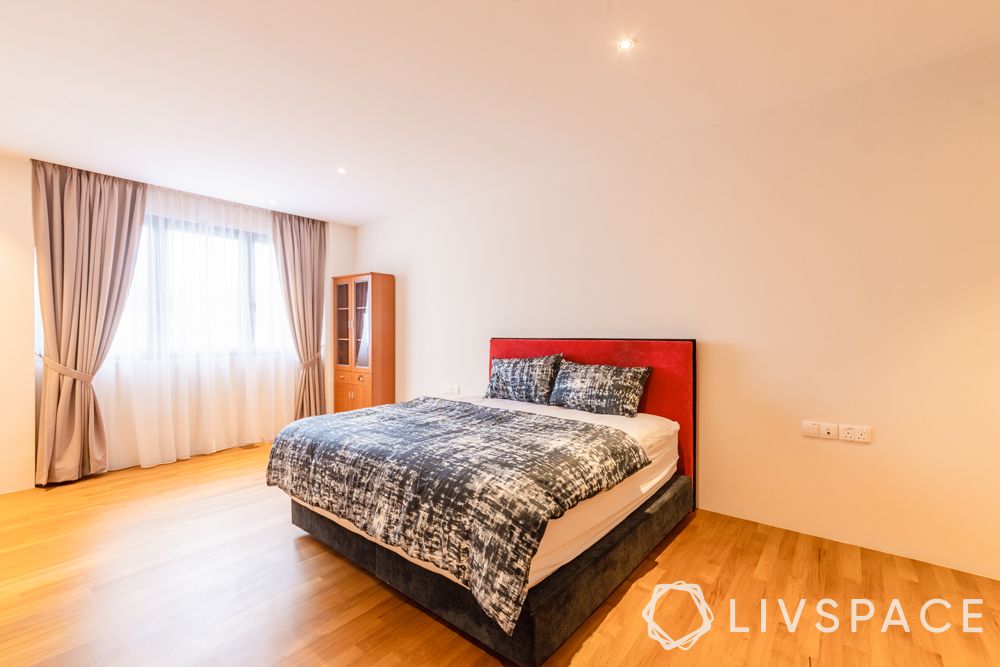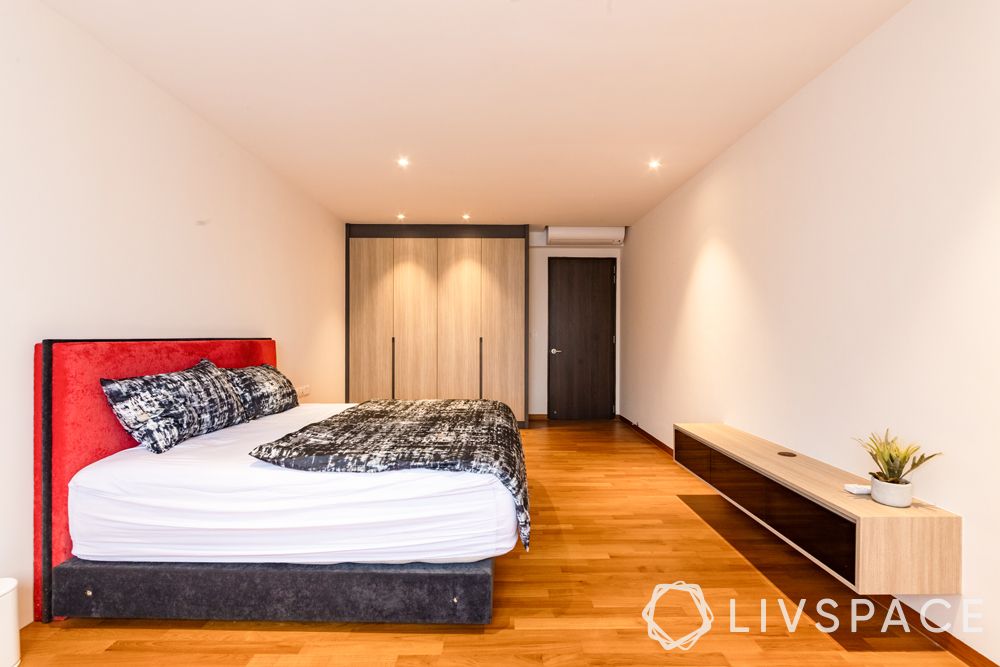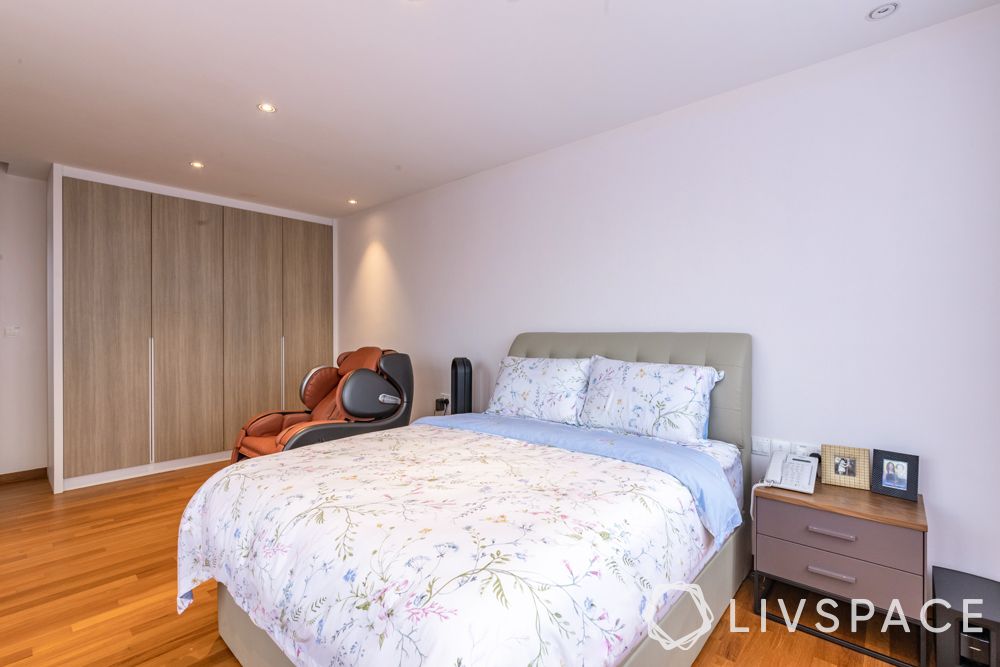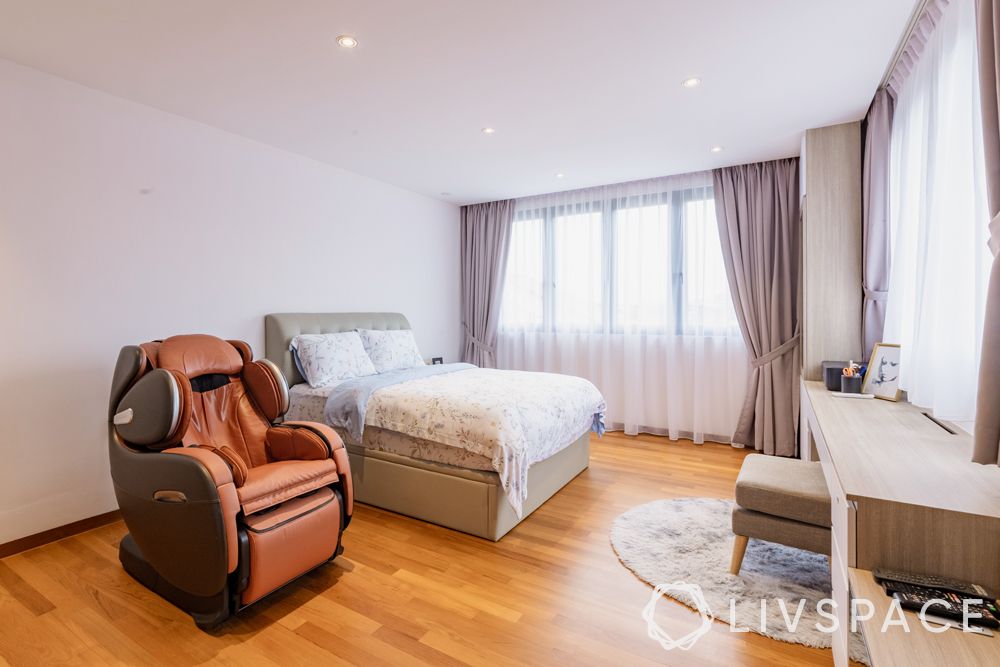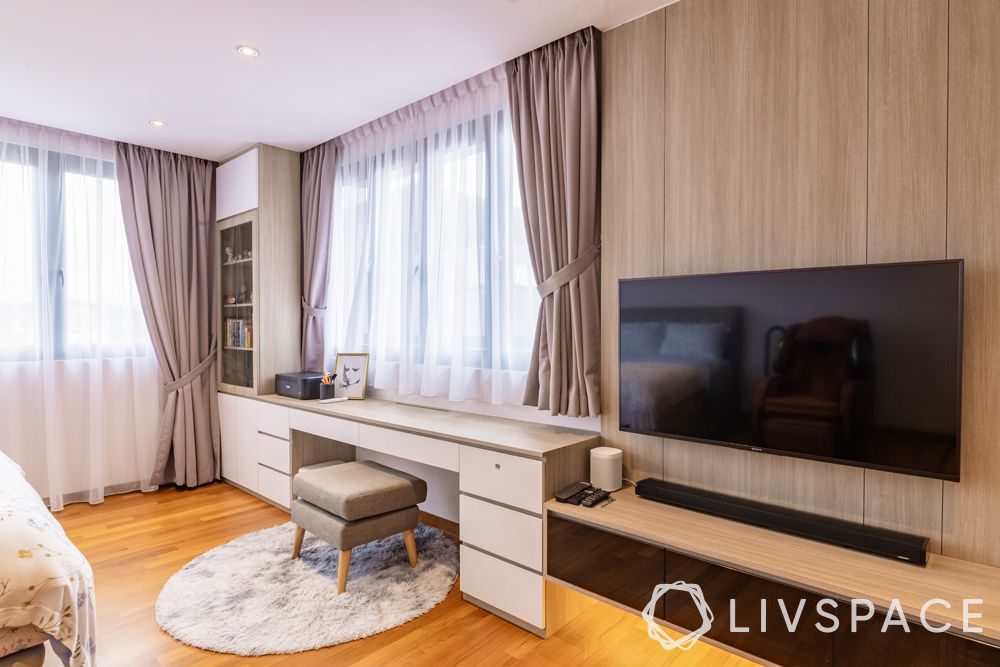 If there was something that the couple was particular about, it was practicality in design. Winny ensured that this requirement was top of mind when it came to the bedroom design as well. As personal spaces, it was important that the bedrooms suited the lifestyle and preferences of the occupants. So every bedroom in this landed house features all the essential furniture pieces, like the bed, TV unit, study table and wardrobes, in a design that suited the homeowners' tastes and style. We were also careful about adding a reclining chair in every bedroom, to ensure that comfort was taken care of.
Nothing Usual About the Bathroom Too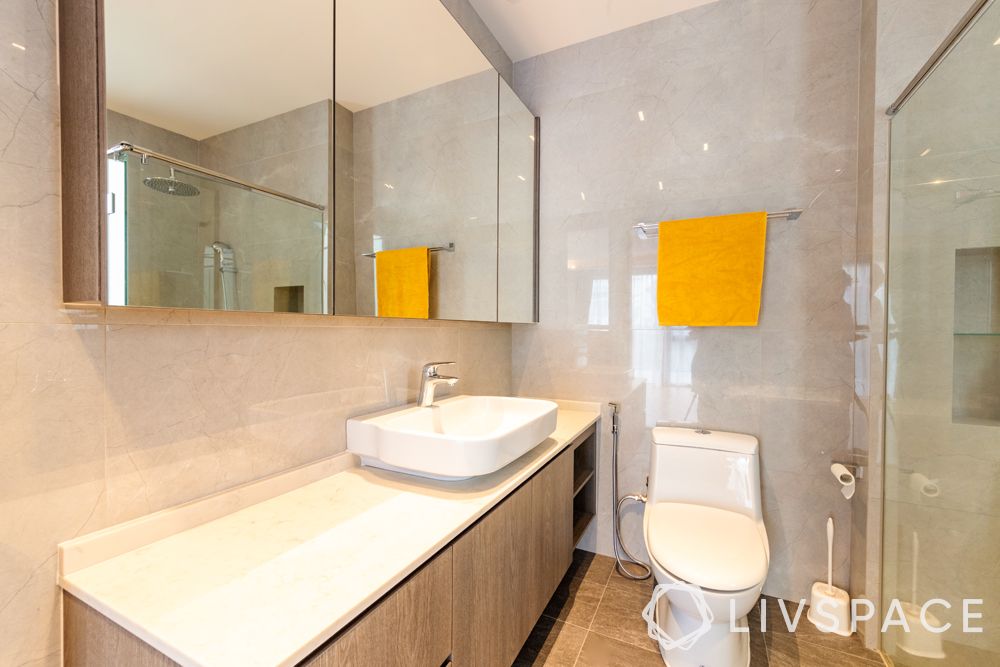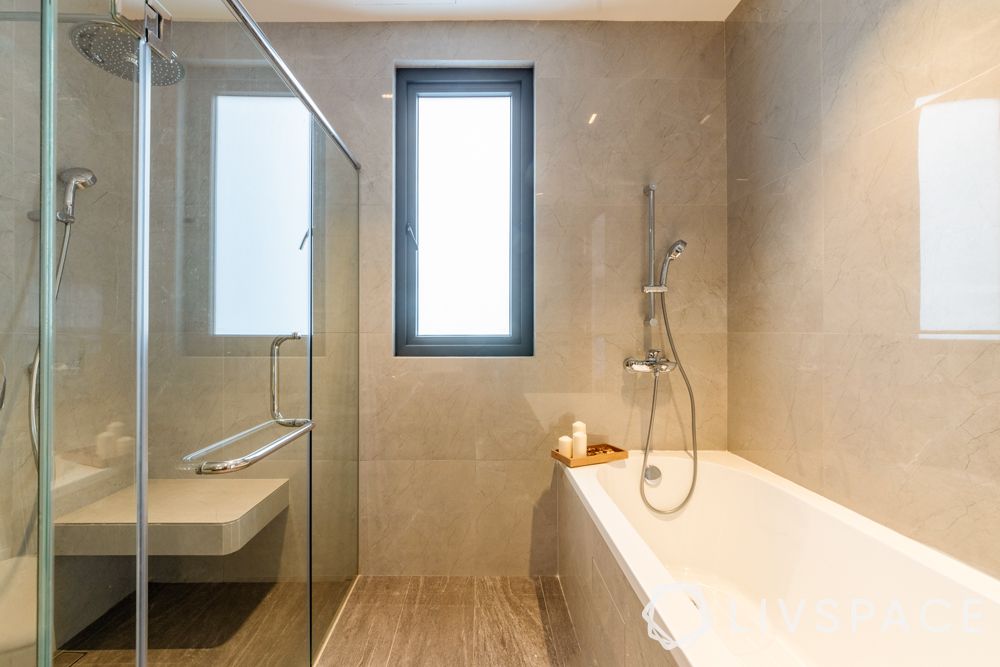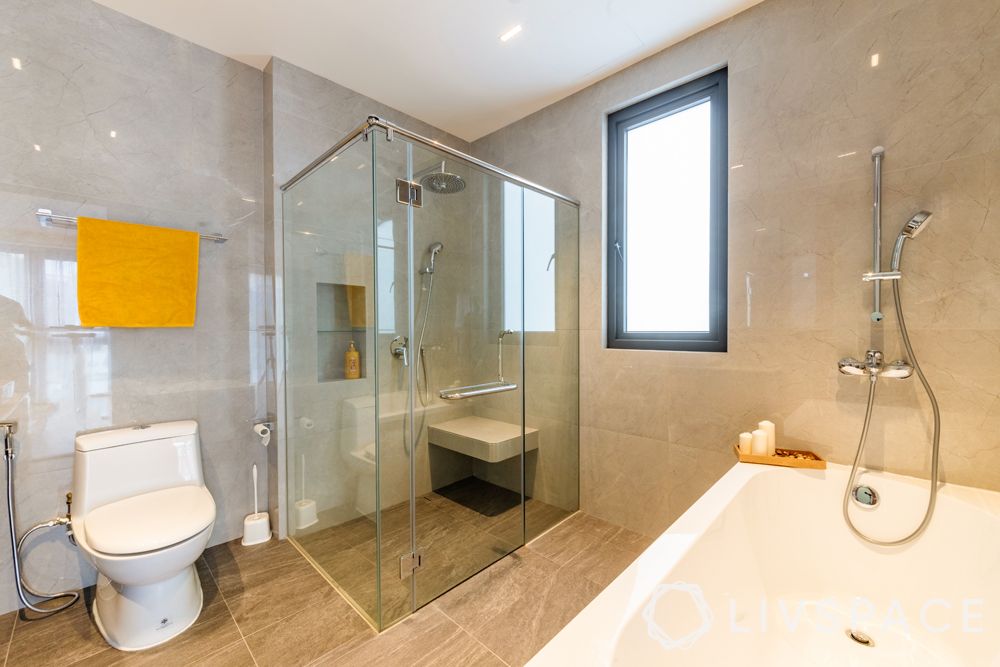 Space optimisation and functionality were the keywords for the bathrooms as well. For instance, in the bathroom above, Winny has carefully segregated wet and dry areas. The shower area is demarcated via a clear glass cubicle while the bathtub sits right outside. To add storage here, she gave them a vanity with ample storage space and a mirror cabinet on the wall.
Did you love this landed house design? We hope you can pick an idea or two from here for your space too! If you want to check out another house designed by us, you should check this out: This Landed Property Has Every Kind of Storage You Can Think Of!
How Can Livspace Help You?
If you are thinking of redesigning your home, then consider Livspace. Book an online consultation with our designers now to turn your dream home into a reality. We are all about quality and safe interiors.
Tell us your favourite ideas from this home. Send us your queries and suggestions to editor.sg@livspace.com