This landed house interior design comes in beaming blues!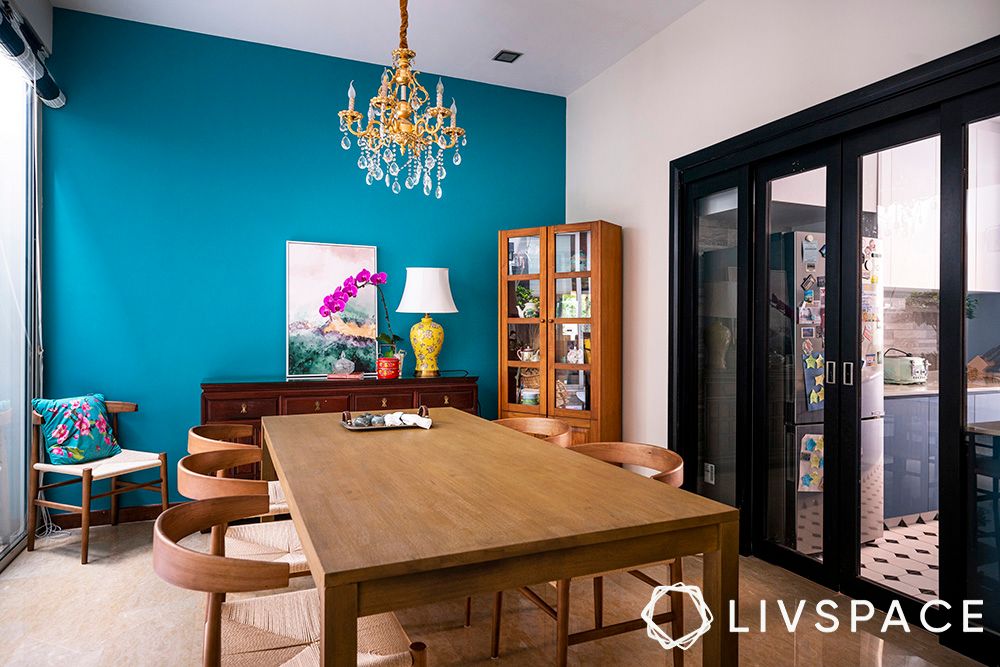 ---
Who livs here: A family 5 with 3 teenage boys
Location: Springside View
Size of home: 300 sqm spanning 3 storeys
Design team: Interior Designer WanTing Liu
Livspace service: Full home design
Budget: $$$$$
---
What does a family with three growing teenage boys need more than anything else? Space! And this family's 3-storey landed home in Springview has plenty of space. However, having space is not enough unless you can put it to good use. So, it is equally important, if nor more, to get the landed house interior design right.
Luckily, the renovation of this landed property was done by the Livspace design team headed by WanTing Liu. And as a landed house interior designer, she made sure that this home was at once functional and also replete with personal touches but at its core, very simple.
A visual tour to explore the extensive renovation of this landed property will be totally worth your while.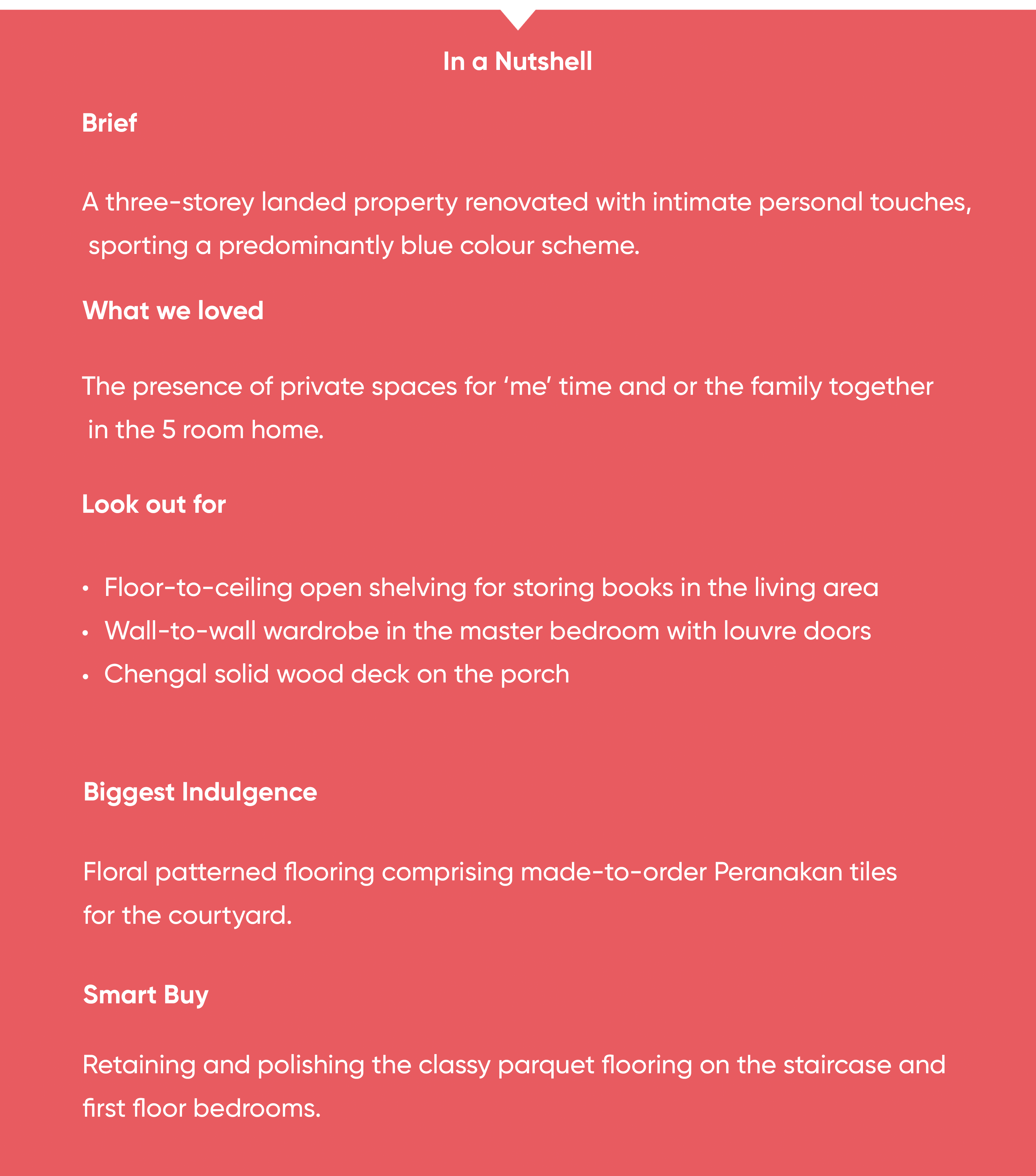 A Teal Template
The family, who do not want to be named for maintaining their privacy, has a particular affinity to the colour teal. Naturally, we see several beaming blue pops in the course of this landed house interior design. To begin with, let's look at the wall in the dining area that is perfect in teal and matched with contrasting accessories.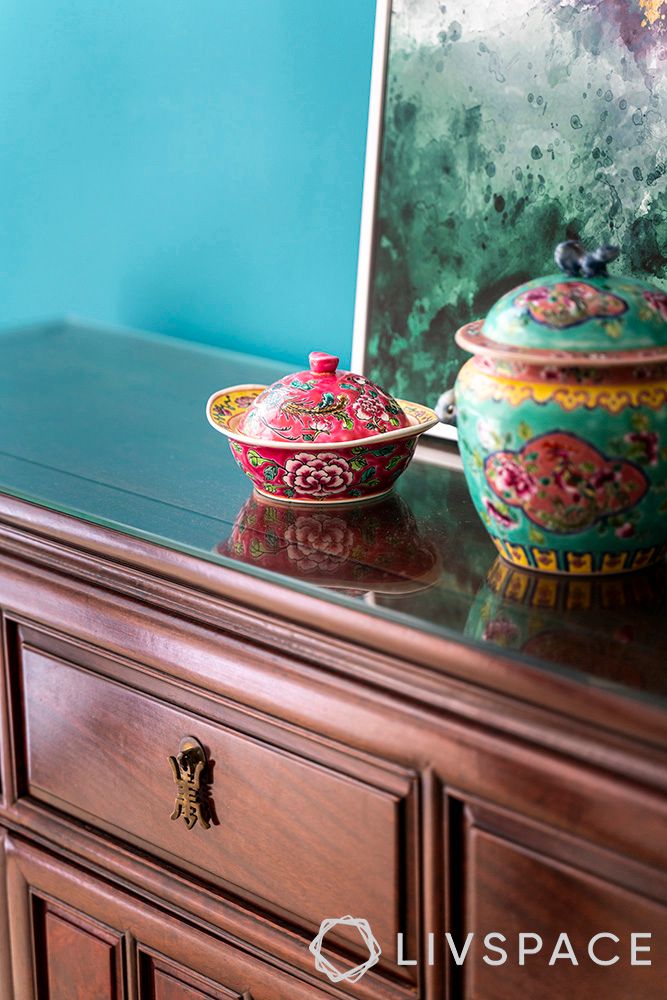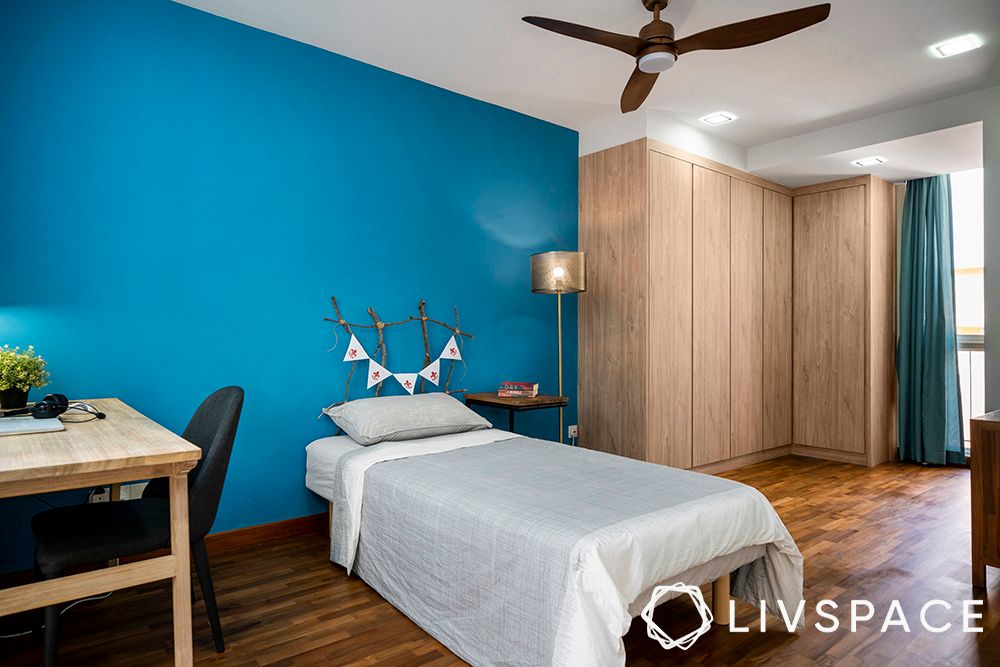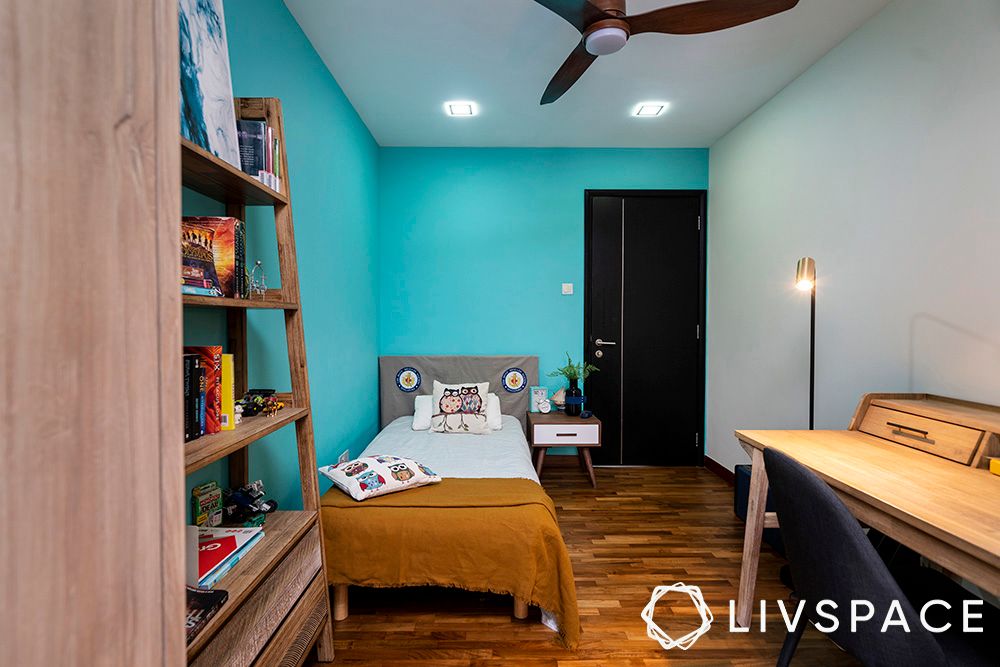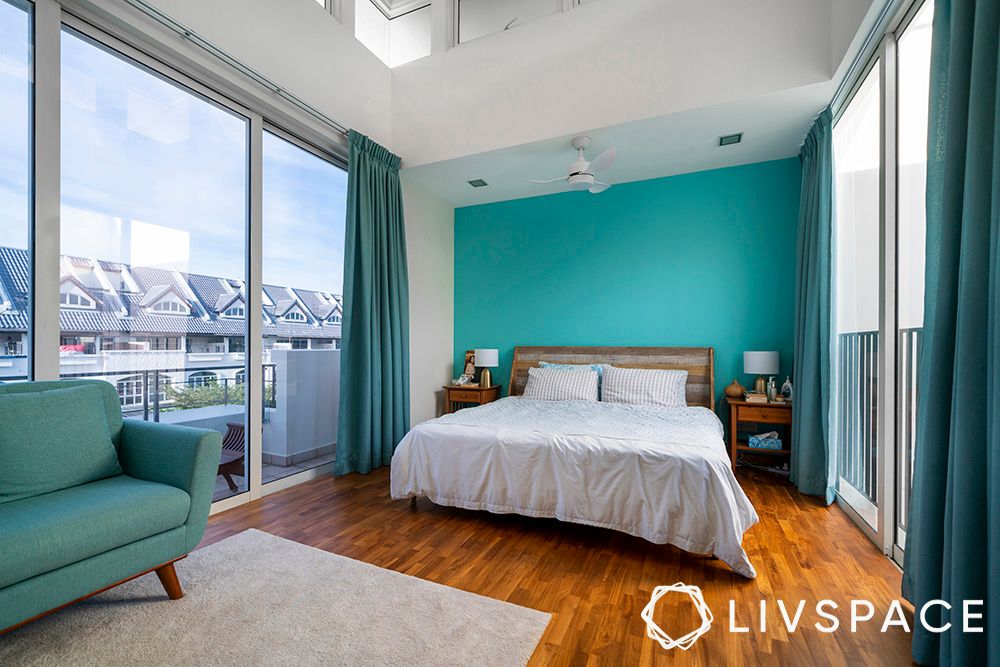 All four bedrooms are also highlighted with blue wall paint and furniture. We also see blotches of blue soft furnishings to complement the settings.
Customer Speak
"Our designer WanTing was able to understand our personal preferences right from the start; it was as if she had known what we were thinking even before we could articulate our design preferences. So, it was a very smooth design process for us. We are also generally happy with the quality of the carpentry work."

– The Happy Family of Livspace Homeowners
All Shades of Storage Needs Addressed
As this is a large family living in a rather big house, it is obvious that they need more storage than the average BTOs or condos. Also, the storage in this home is customised to match the lifestyle of the people residing here. Did we miss mentioning that this is a family of voracious readers? How else do you explain the floor-to-ceiling open laminate finish shelving in the living area that is stocked with books.
That's not all, we see a long horizontal storage shelf for books and collectibles in the common area of the first floor as well. In addition, the bedrooms for boys have a bookshelf each!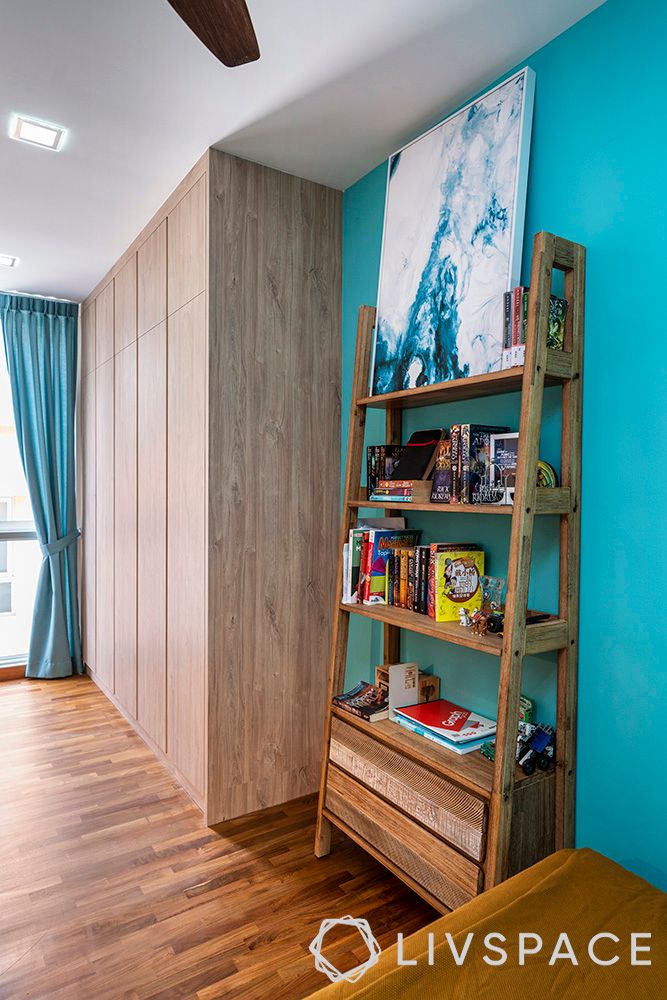 The crockery cabinet in the dining area is a rather vintage addition to the collection of storage units in this home. In fact, it flaunts a dated and most colourful collection of China we have seen in a long time.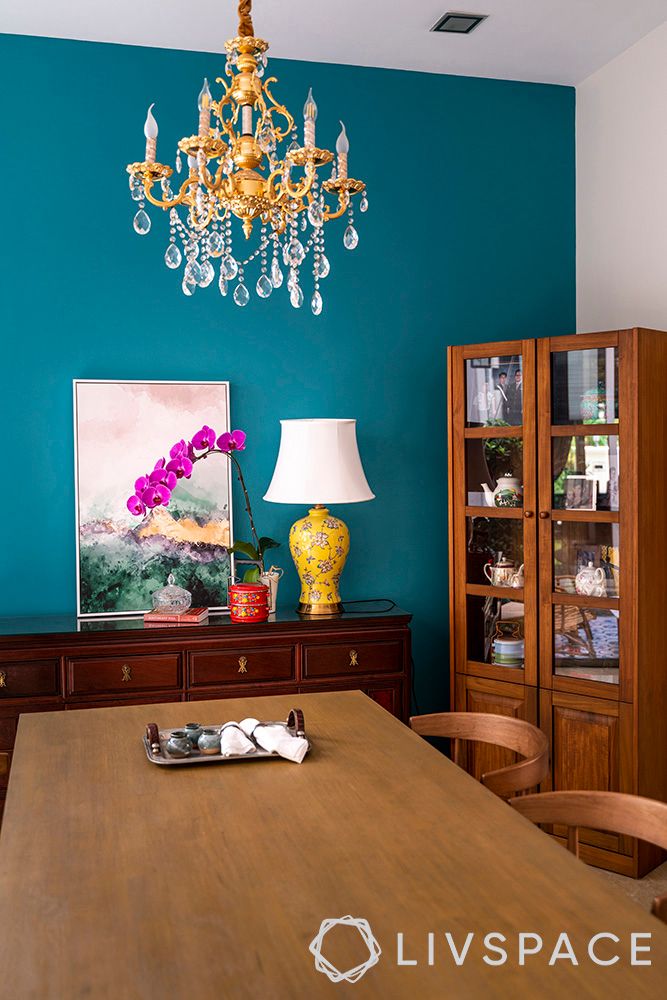 While each of the bedrooms has a wardrobe of its own, we are most taken by the wall-to-wall wardrobe in the master bedroom. Set into a niche, this wardrobe has white louvre doors that add a fine dose of texture to this room.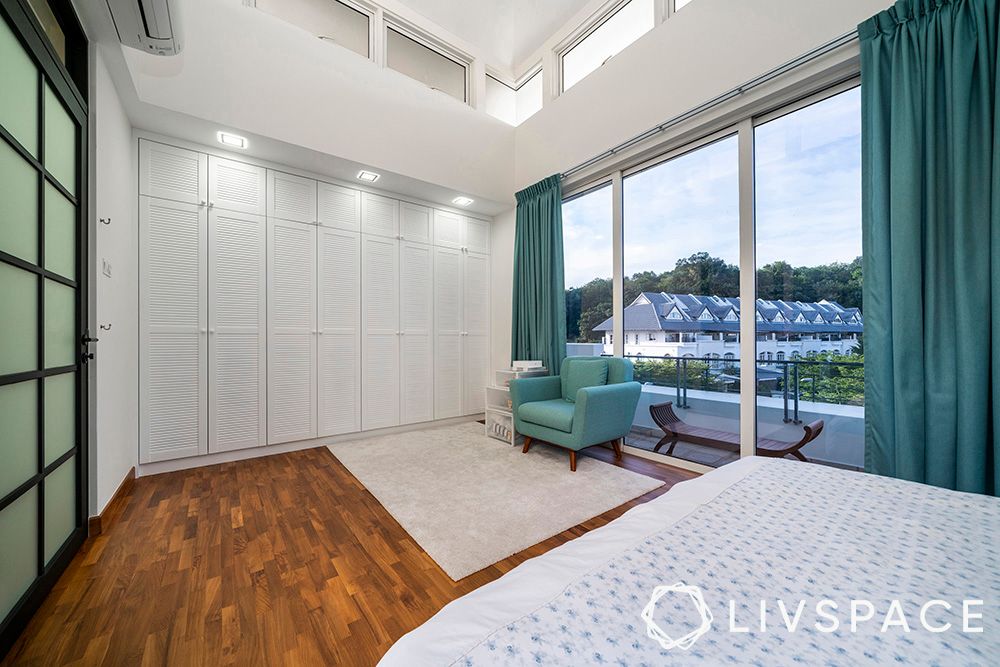 A Functionally Sound And Compact Kitchen
The kitchen in this 3-storey is a no-frills-attached space, functional and seamless. The quartz countertop accommodates a model stainless steel sink. The cabinets are handle-less and have matte laminate finishes. The backsplash is made of cluster stone tiles that are easy to clean and add a rustic edge to this kitchen. To ensure that there is enough light for prepping, the cabinets have profile LED lights.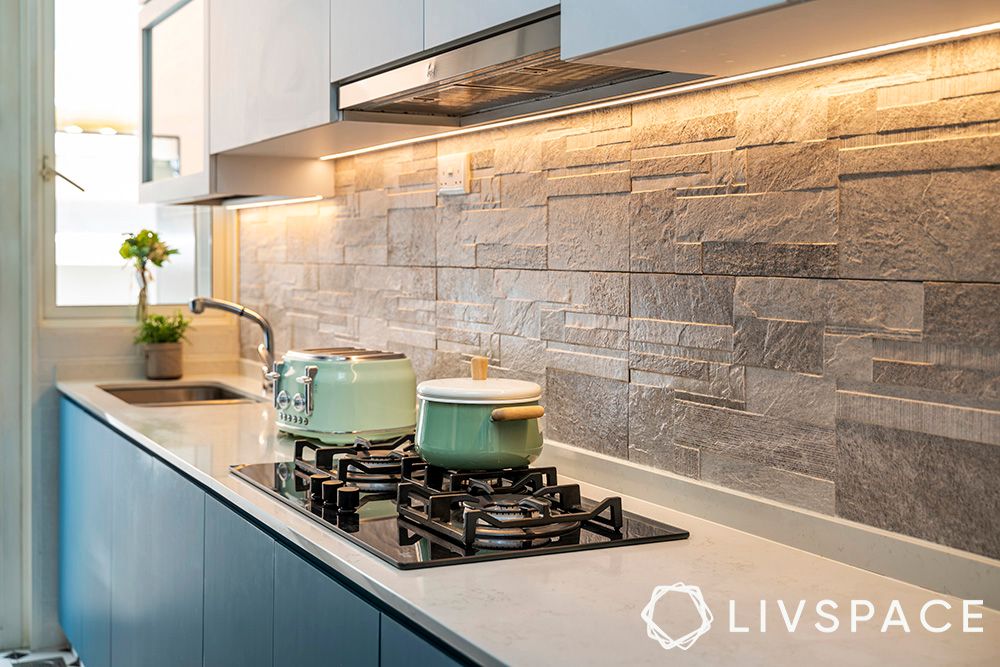 Sit Outs And 'Me' Corners
As a family living together in close quarters, you need both common and private spaces. And the best things about this landed house interior design is that it addresses this very genuine need. For the family to gather together, we have the courtyard with cane chairs and the porch that has a deck furnished with low-height chairs.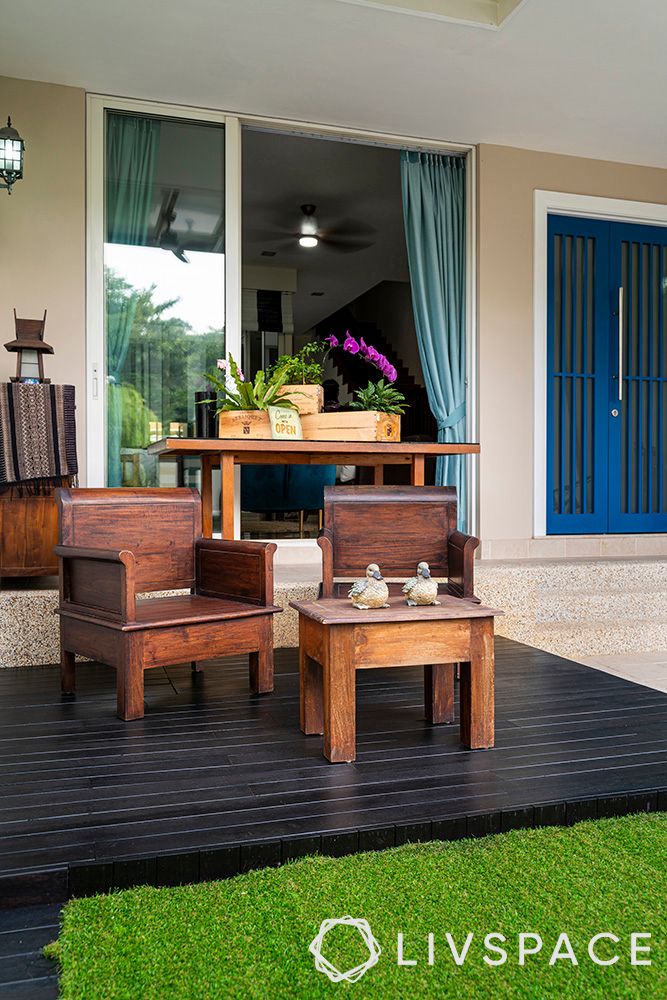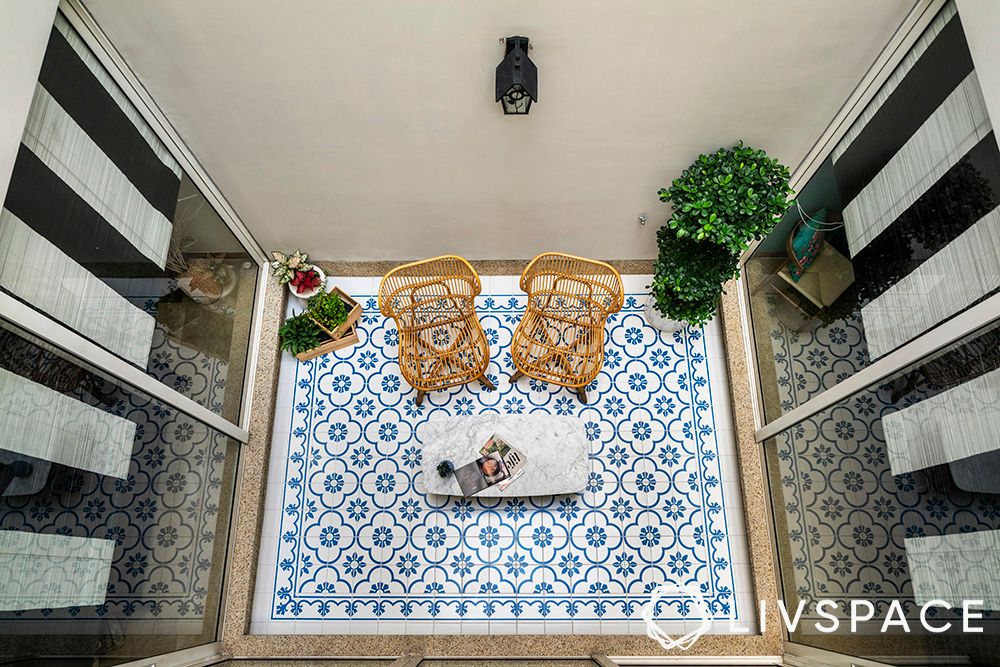 For 'me' corners, the designer has provided private nooks in each of the bedrooms. There is one with a comfy armchair, another with a retro wheeled chair, and the master bedroom has a two-seater couch.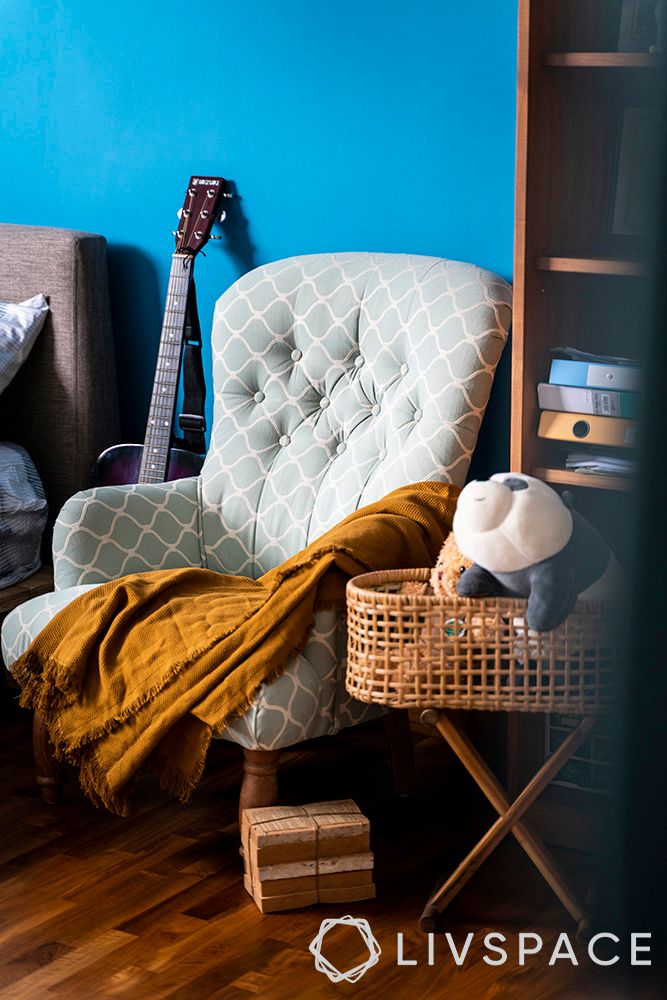 Flawlessly Beautiful Flooring
The most efficient part of this landed house interior design process was the retention of most of the flooring. All the hacking and iterations were made without damaging the flooring which is chic parquet. Thus, the same was polished and reinstated in all the bedrooms, the staircase and the common areas.
"The most challenging job for us was to ensure that we hack only what was necessary and not scratch the flooring anywhere. In spaces like the kitchen and bathroom, we have renovated partially keeping the existing structure so that we don't exceed the budget as per the family's wishes."

– WanTing Liu, Interior Designer, Livspace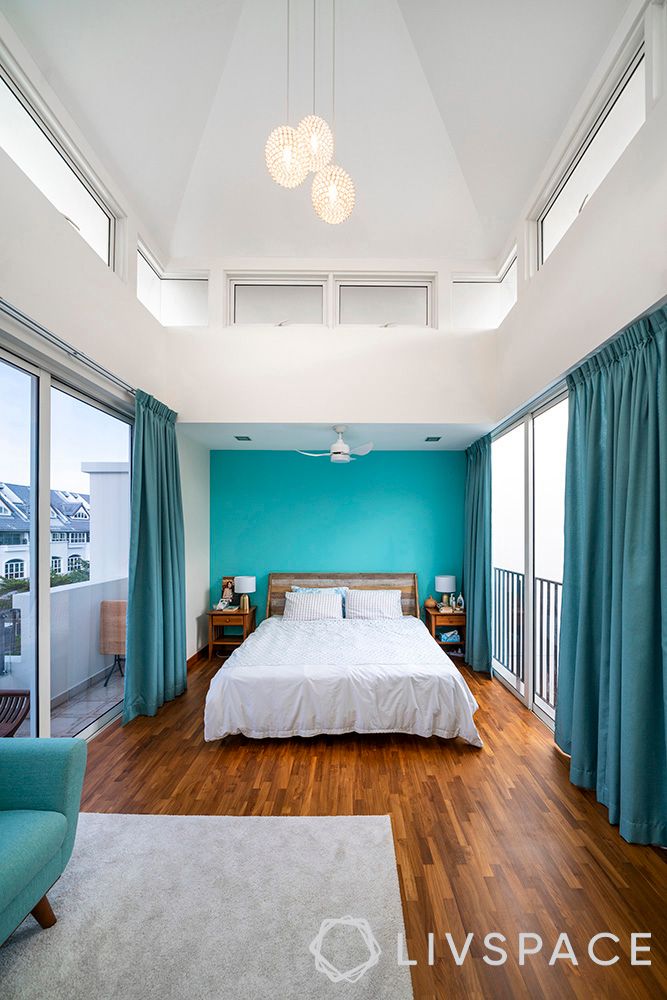 But some areas in this spacious home have statement flooring to sport. The courtyard, for example, is laid out with special Peranakan (the culture and art of early Chinese settlers in Malay) tiles. Moreover, each floret of the floral pattern floor is made up of four separate tiles. The delicate symmetry of this space is the showstopper of this landed property interior design.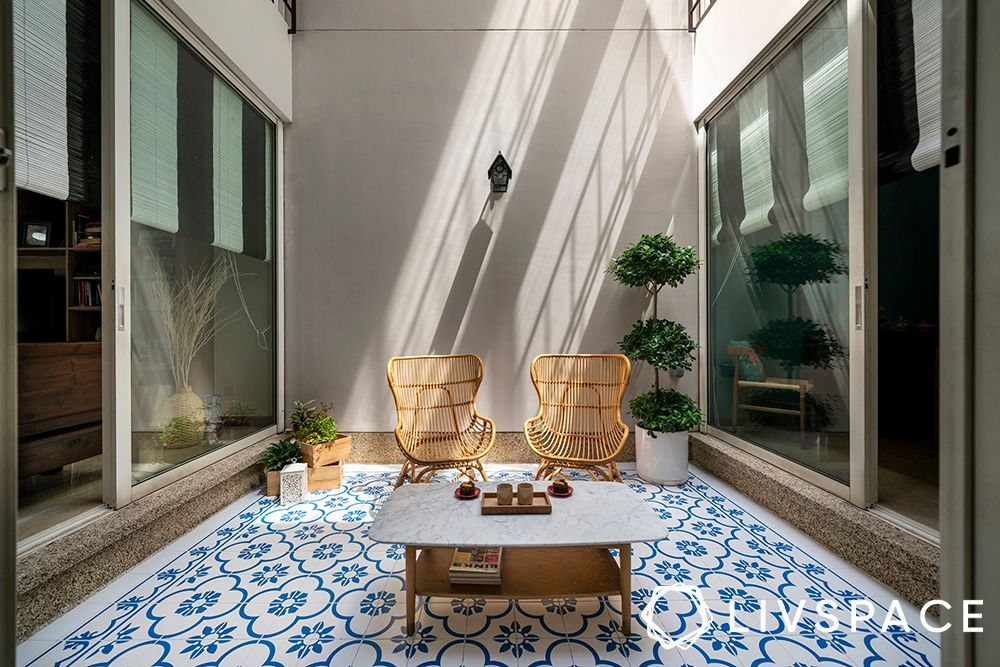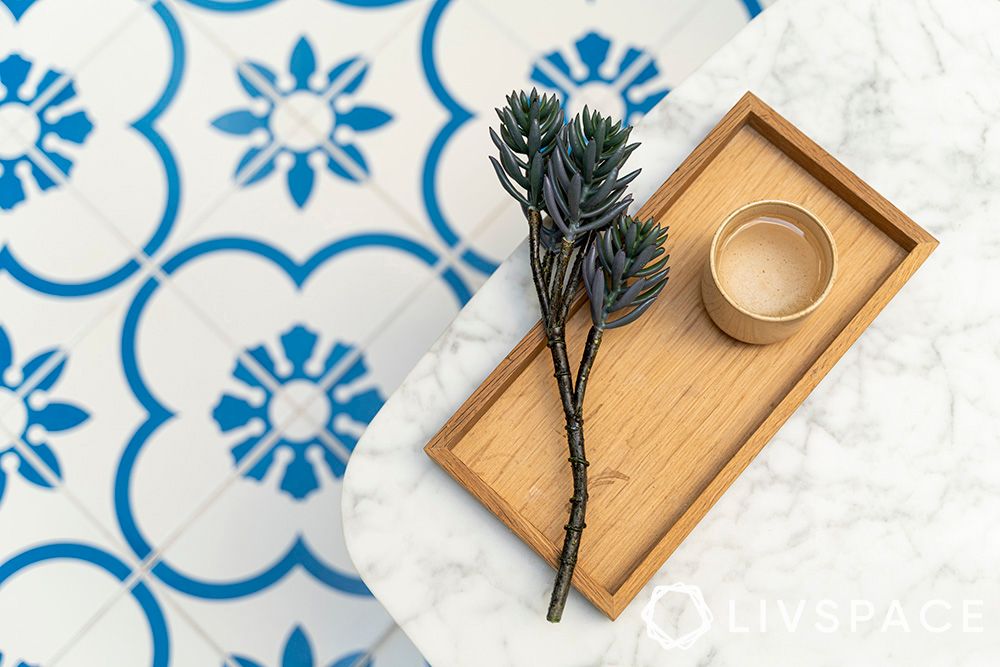 Another flooring sample worthy of note is the front porch that has a deck made of Cheklan solid wood. The varnished back deck is a fitting contrast to the artificial turf laid out around it.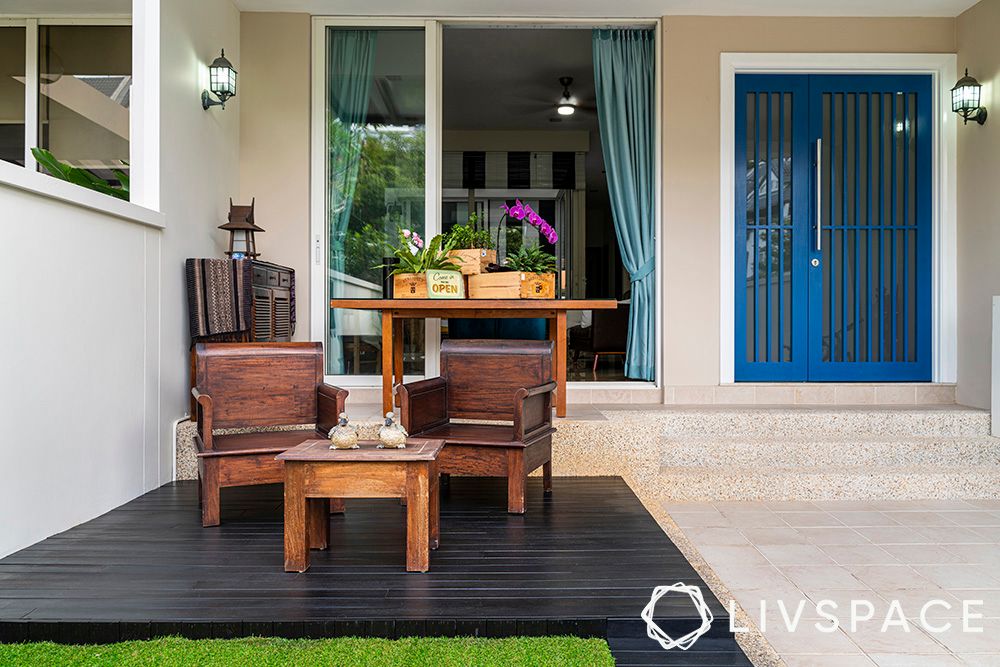 A Freshly Renovated Bathroom of Your Dreams
Have you ever dreamt of having a luxurious bathroom like the ones you see in spas? In fact, this home's master bathroom is everything you dreamt of and more! With twin sinks and a newly installed tub, this bathroom is every bit as relaxing as a five-star spa.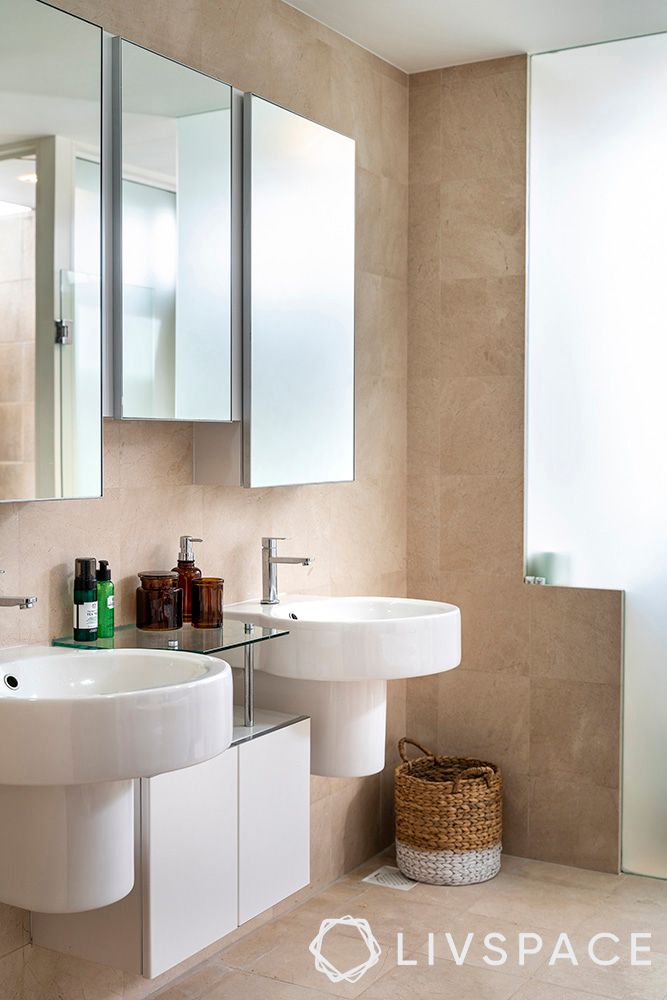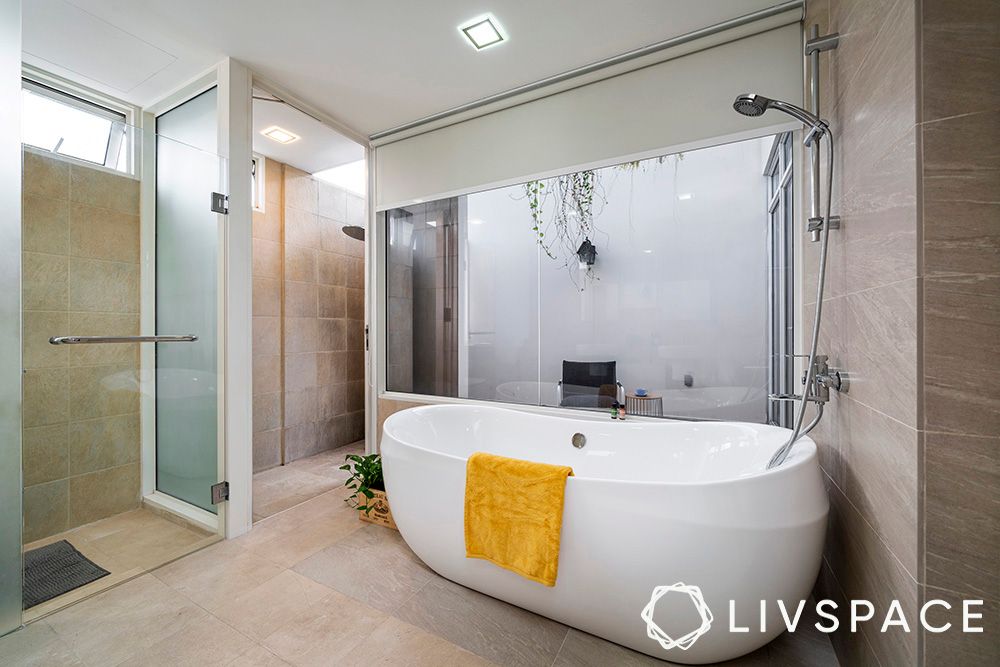 If you enjoyed reading about the renovation of this landed property, also get an idea of how much renovation costs in Singapore.
We would love to hear from you! Write to us at:
– editor.sg@livspace.com
How Can Livspace Help You?
We hope you found our ideas useful! If you want your home to be just as beautiful, then look no further. Book an online consultation with Livspace today.