Opening up the design of a compact apartment can be a Herculean task. This is the reason why the white interior designs in Durrah Faiqah's house stand out. According to Faiqah, her 67 sqm. HDB BTO needed a bit more personality against a white minimalist interior design. So, our Livspace designer Raja M. Fairuz quickly brought in some bright interior design ideas to the rescue. Faiqah's two-bedroom apartment now stands with an air of glam and steal-worthy white interior design ideas.
Fairuz worked under a limited budget to deliver this bright and airy apartment. Let's embark on the journey to discover its white interior designs.
---
Who Livs here: Durrah Faiqah and her mother
Location: Tampines Street 45
Design team: Interior Designer Raja M. Fairuz
Livspace service: Full home interiors
Area of the house: Approximately 67 sq. m.
Budget: $$

Brief:

To design a budget home with minimalist yet cheery interiors, for a family of two

What we loved?

The luxe accent wall in the common area that adds glam to the minimal aesthetic

Look out for:

– Walk-in wardrobe in the master bedroom
– An all-white glossy laminate finish kitchen
– Use of the colour white to bring a light and airy feel

Biggest indulgence:

Kitchen quartz countertop with a chic marble finish

Smart buy:

Bomb shelter cleverly hidden behind a panelled door

#1: Let's Open With White Interior Designs of The Living and Dining Areas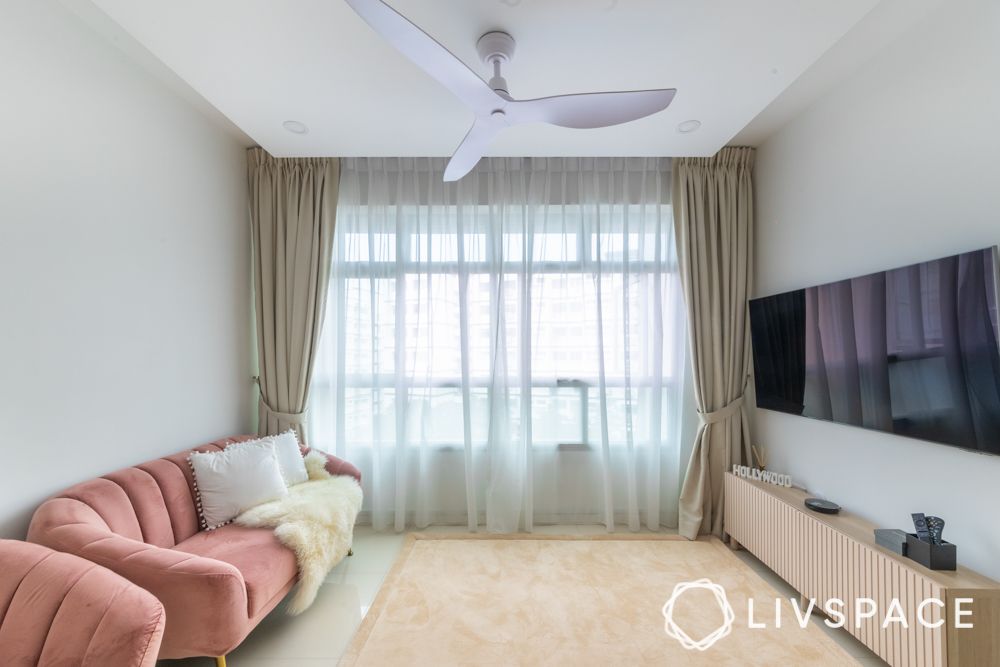 As you enter Faiqah's house, loads of natural lighting and light wooden tones greet you. Sticking true to the aesthetic detail, Interior Designer Fairuz has stuck to modern-styled furniture. The TV unit, for example, is a sleek beauty with ample storage. The blush channel-back sofa, on the other end, is plush and brings in strokes of soft glam. The beige rug matches the drapes bringing a smooth transition to the colour palette.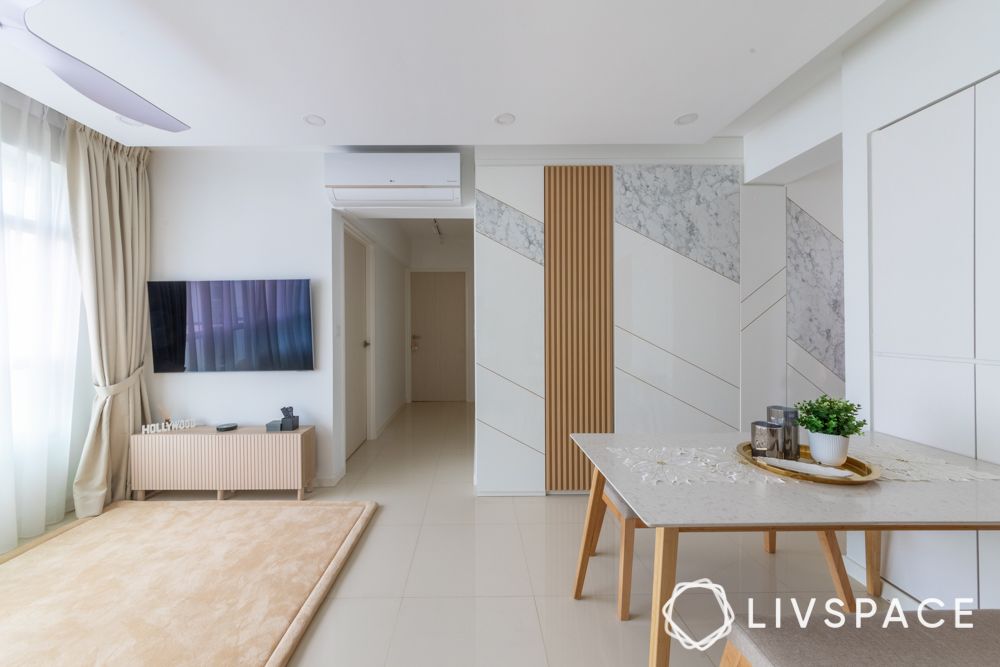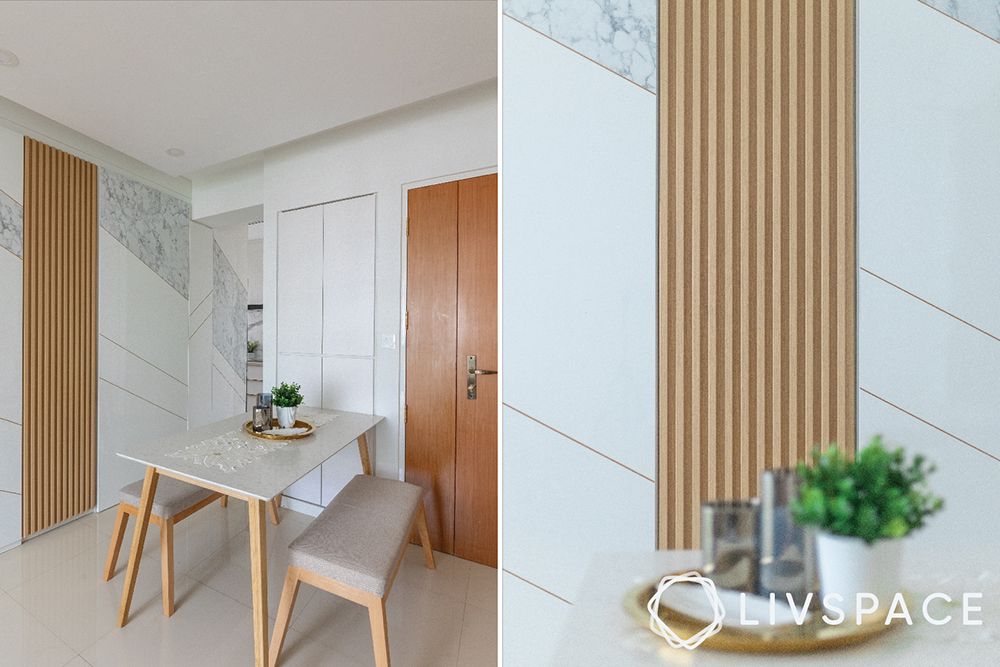 Over in the dining area, the look is decidedly more elegant. The accent wall is a powerful presence with its marble finish, gold inlaid trimming and asymmetrical lines. Not only does it present an eye-catching focal point, it also hides the bomb shelter entrance. Similarly, the panels next to the dining table conceals the entrance to the pantry.
#2: Check Out This Minimalist Kitchen Interior Design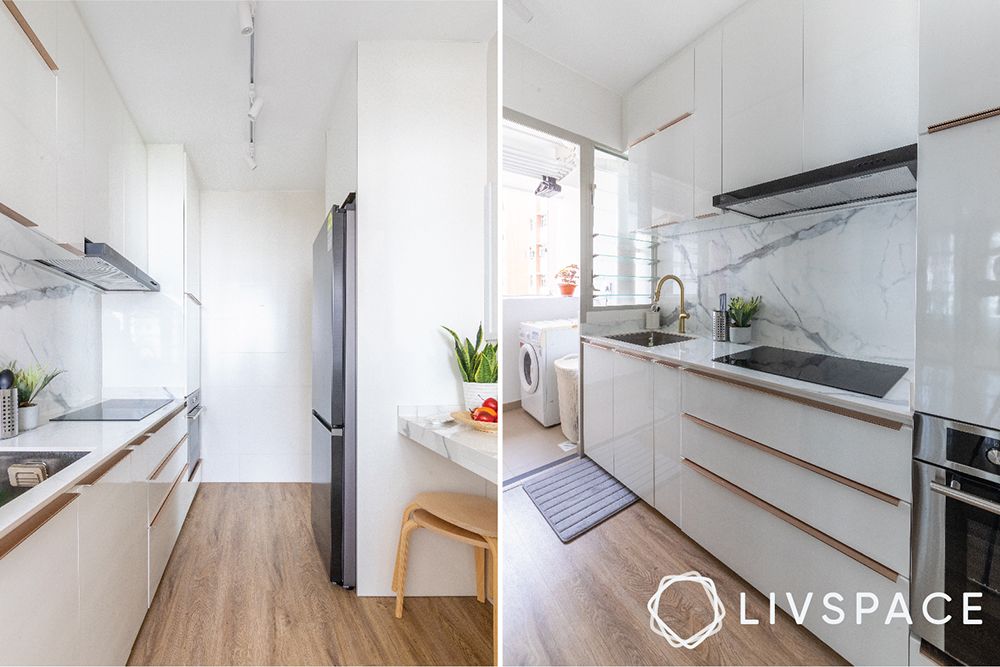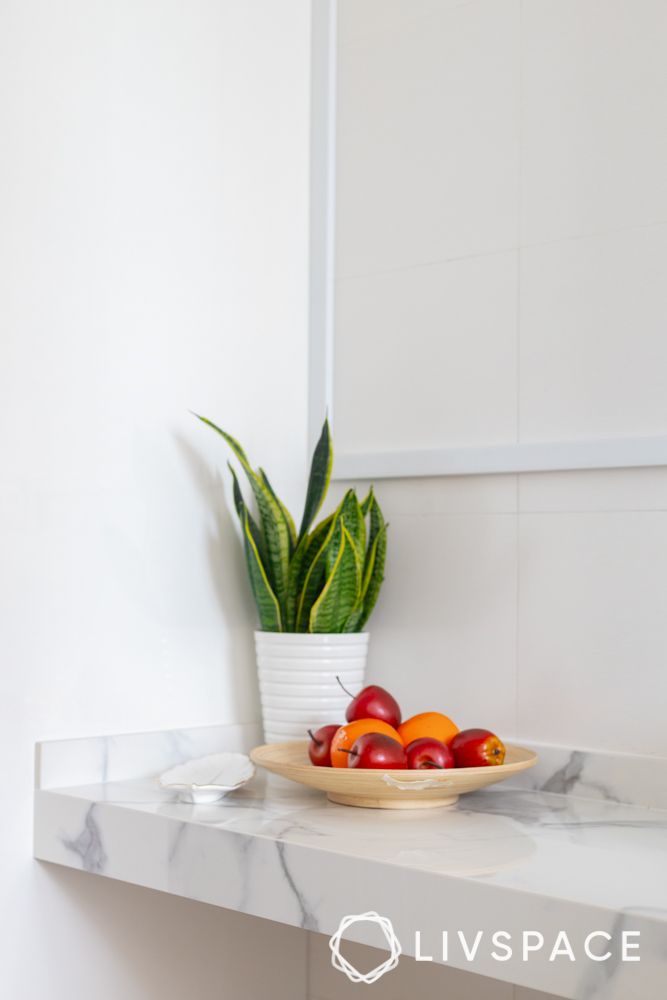 The clean and practical kitchen interior design is one of the biggest indulgences in this home. Specifically, the kitchen backsplash was a pricey investment. It sports a faux marble finish and stretches out across the length of the kitchen wall. According to designer Fairuz, he spent a lot of time perfecting this aspect of the kitchen.
The rest of this galley-style kitchen interior design is just as seamless. The cabinets are sleek with no protruding handles, and they provide ample storage space. Thanks to his space planning Fairuz was even able to squeeze in a tall pantry for Faiqah as well. Honestly speaking, we think this kitchen is a perfect example of a simple yet effective all-white kitchen done right!
#3: Moving On to the Minimalist Bedroom Interior Design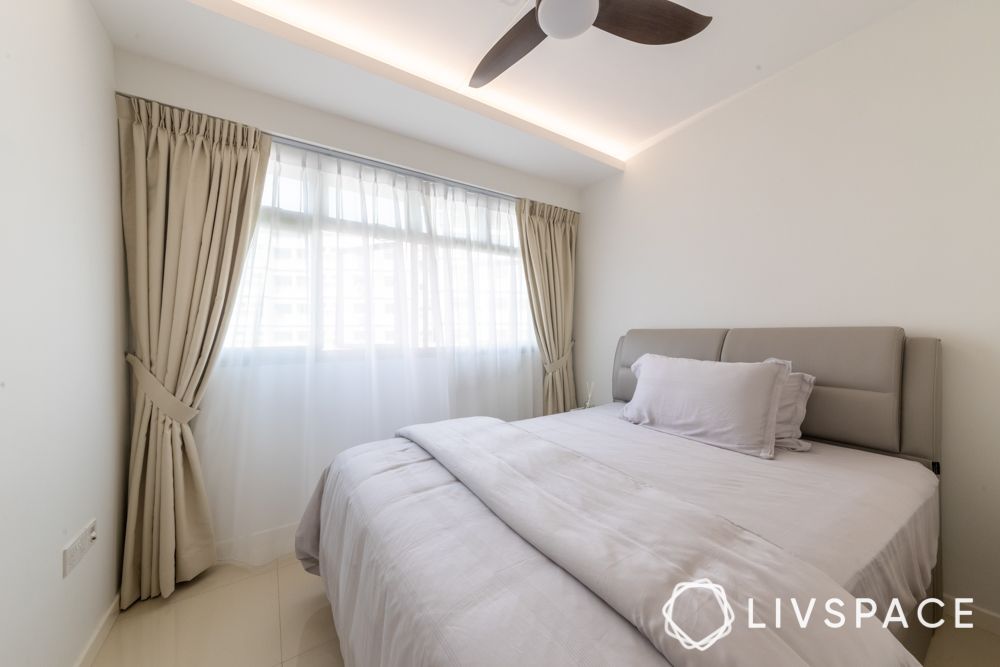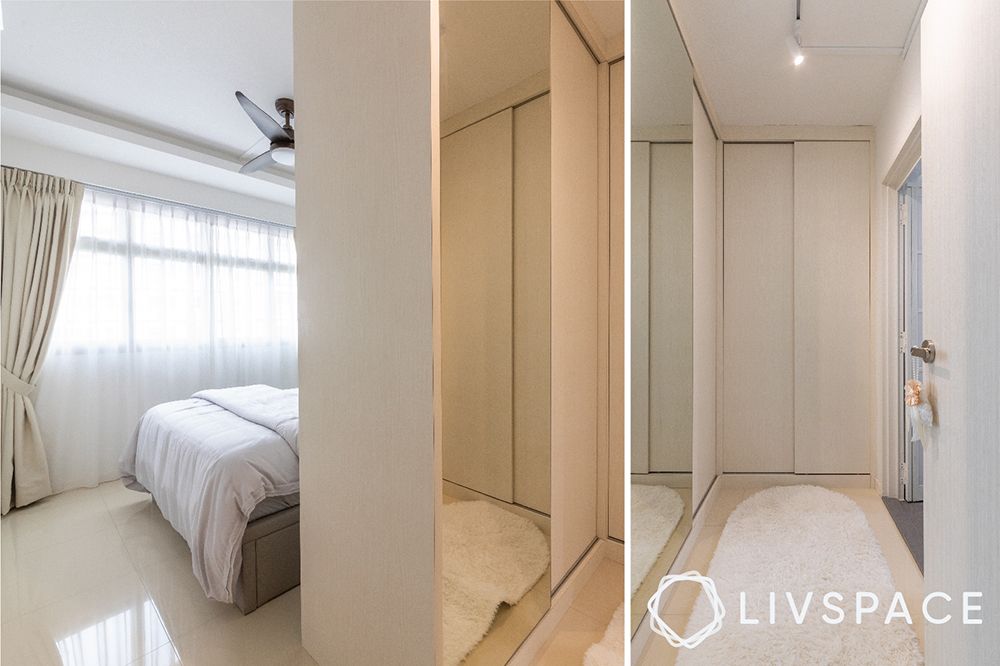 As you walk into Faiqah's bedroom, you first enter into the walk-in wardrobe. Let us take a moment to talk about this glamorous space itself. . It's an L-shaped walkway that cleverly separates the sleeping area from the dressing area and the en-suite bathroom. The closet itself is hidden behind sliding doors that help to conserve space.
To save it from the darkness, designer Fairuz has chosen bright track lights. As Faiqah gets out from her washroom, she is greeted by her walk-in wardrobe where she can get dressed using the mirror installed on the door. Now this is what we call a smart design!
In the bedroom proper, designs are kept to a minimum. This leaves the space cosy, comfortable and ideal for rest and relaxation. The room is swathed in neutral colours and soft fabric, encouraging a sense of tranquillity.
#4: Continuing the White Interior Designs in the Mother's Bedroom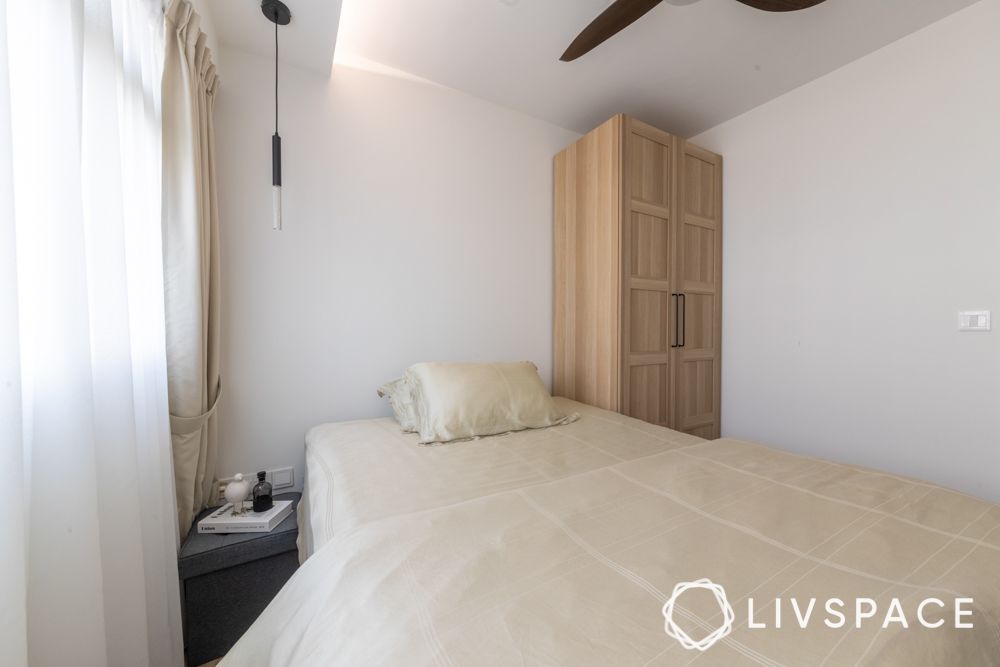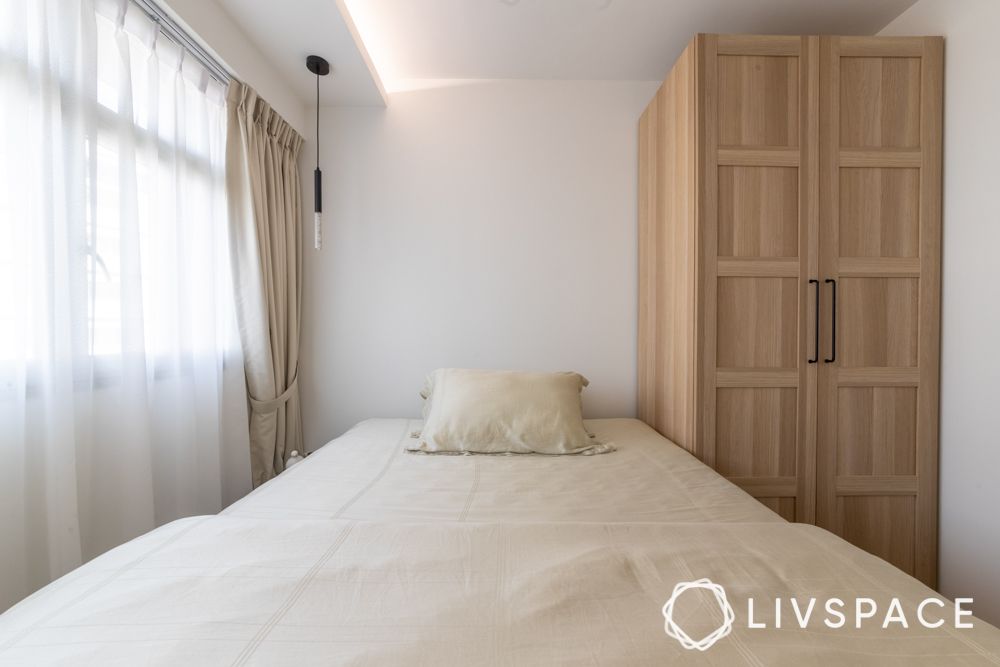 The mom's room follows the same note as that of Faiqah's. The room is bright, amply lit and has a lot of air; thanks to the window placement. Since there was a space crunch, Fairuz decided to give her a custom wardrobe. Everyone can agree that the wardrobe is huge with ample storage. Additionally, he managed to add a pendant light and a floating bedside table in the room.
#5: Some Bright Interior Design Ideas From the Bathrooms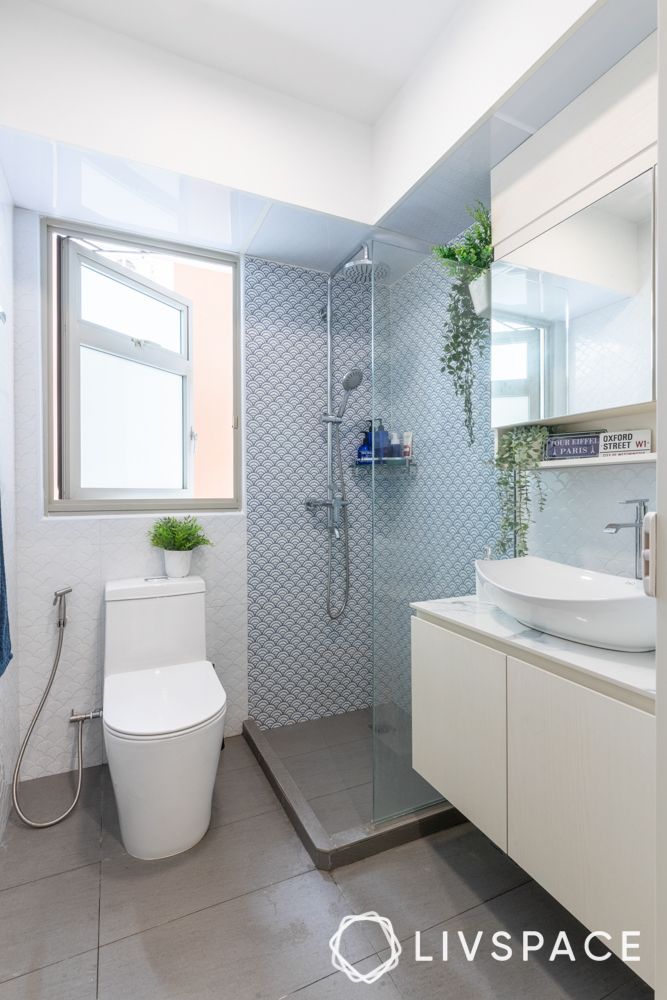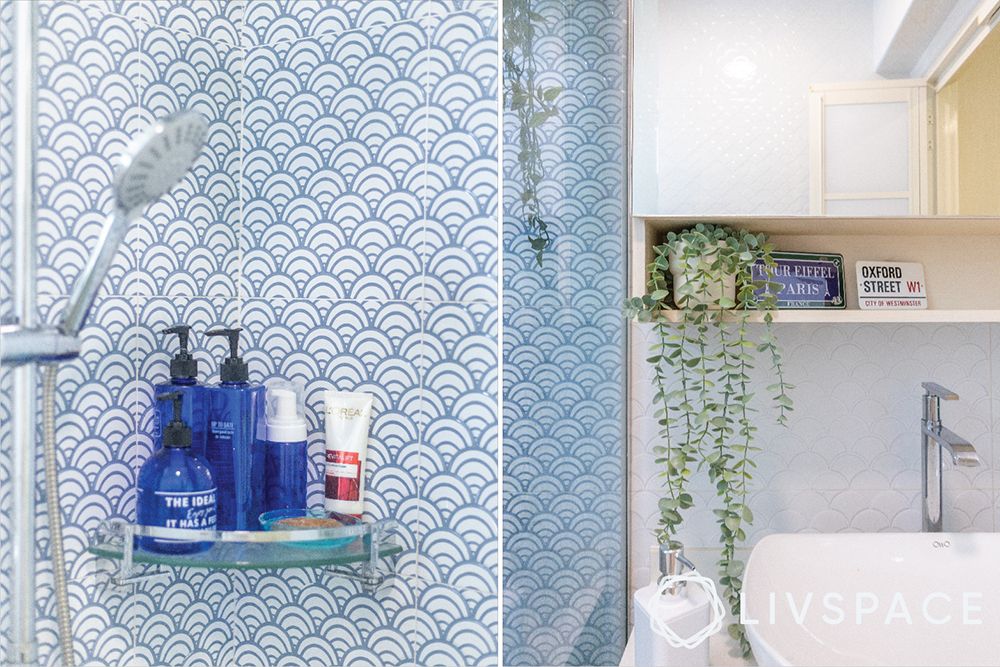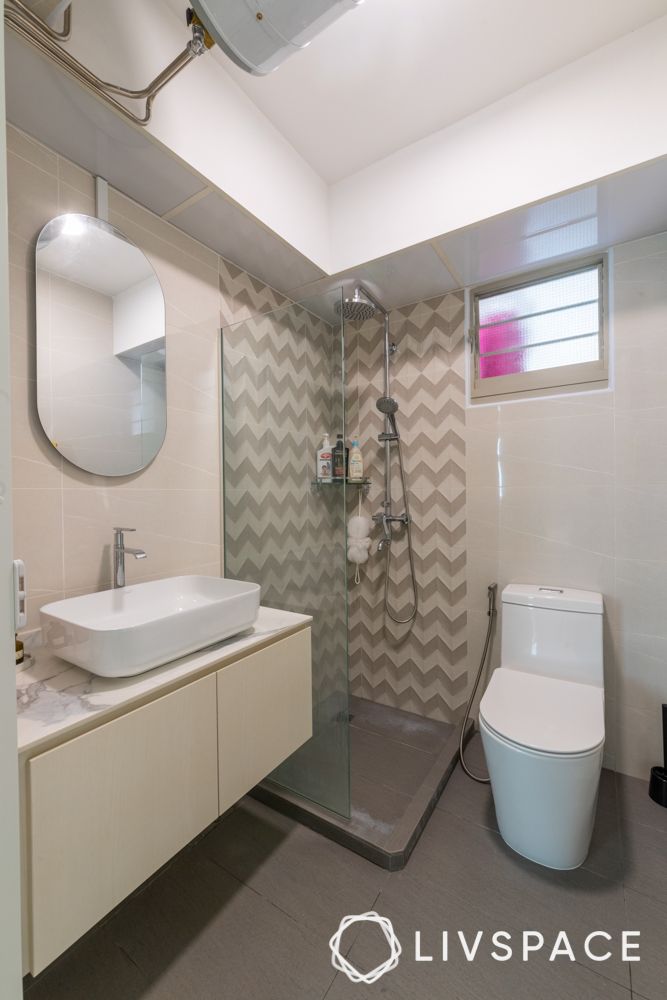 As you can notice, both the washrooms have quite a few similarities. They both have separated shower areas: a designer-approved move. They are both well ventilated and have ample storage to offer. The only distinction is in the tiling choices.
While Faiqah's washroom is finished in white and blue tiles, her mother opted for earthy tones. Both the tiles have their own distinct qualities. While the blue patterned tiles in Faiqah's bathroom design are quirky, the earthy neutrals have a soothing aura to themselves. We love them both equally!
We bet you can definitely borrow some white interior design ideas from Faiqah's home. Want more white interior design ideas? Then you should read What is the Best Way to Design Your Home Like a Minimalist. Reach out to us if you want your home interiors done within a budget.
How Can Livspace Help You?
We hope you found our ideas useful! If you want your home to be just as beautiful, then look no further. Book an online consultation with Livspace today. Delivering safe home interiors has been our No. 1 priority. Click here to find out how interiors are being delivered following all safety protocols.