Khabibah and her son are a fan of modern white interior design, and when it came to their new 3-room BTO on Margaret Drive, they chose Livspace to add a twist. Our Livspace designer, Stephanie Ng, designed this all-white interior with subtle hints of metal, stone and wood all over the house.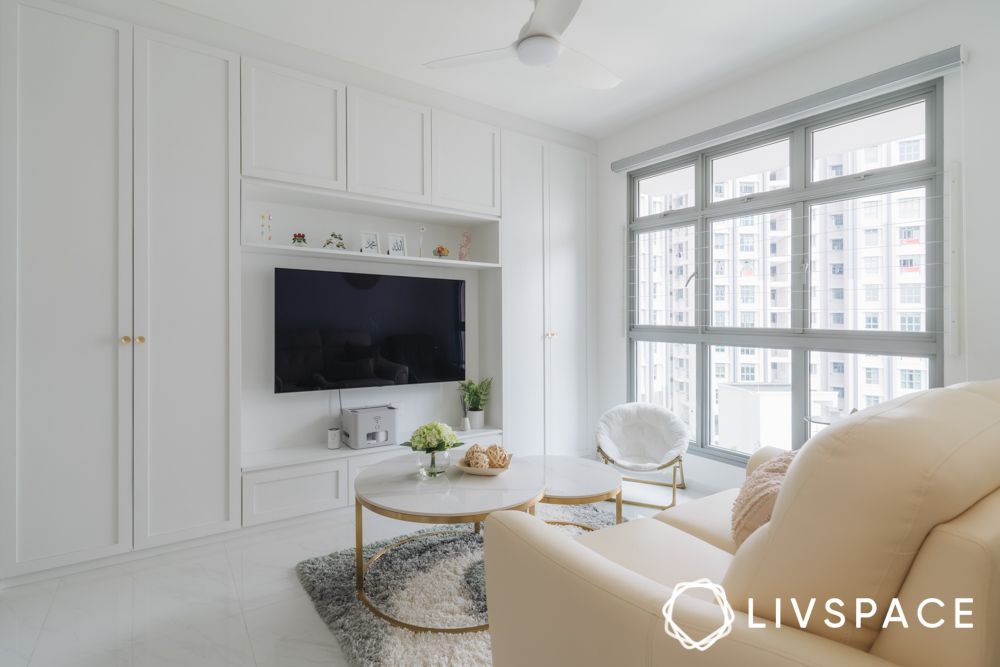 ---
Who Livs here: Khabibah and her son
Location: Margaret Drive
Size of home: 3-room HDB BTO
Design team: Interior Designer and Project Manager Stephanie Ng
Livspace service: Full home design
Budget: $$$
---
IN A NUTSHELL

Brief
A modern white interior design with hints of gold. The interior must look bright, cosy and spacious

What We Loved
The laminates and countertops with subtle natural textures in white hue

Look Out For
Storage-compliant modular solutions



Here's a tour of their modern white interior design:
The Clean and Cosy Living Room Design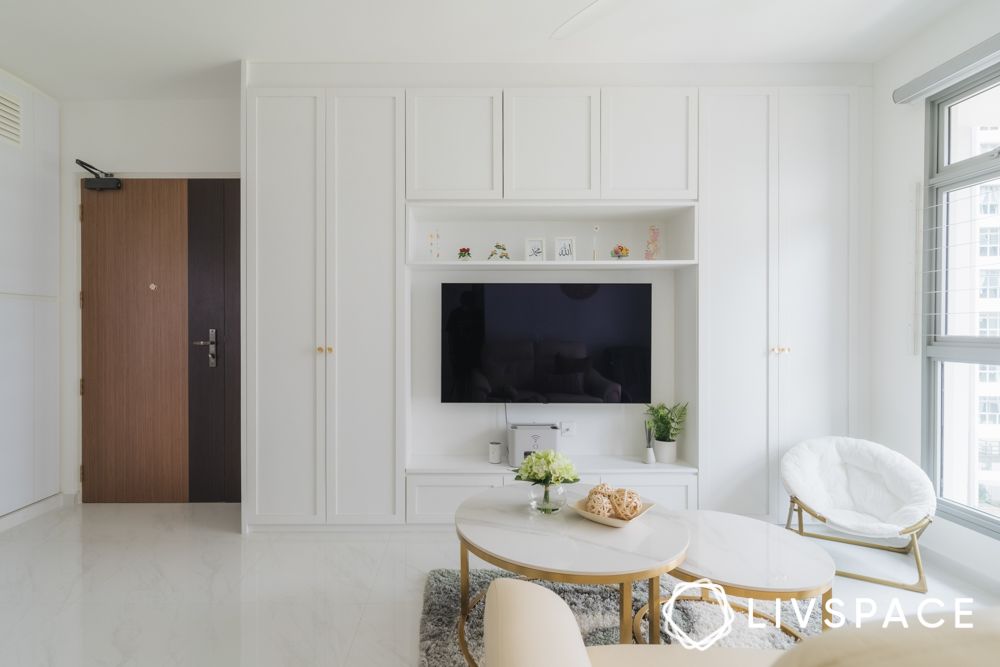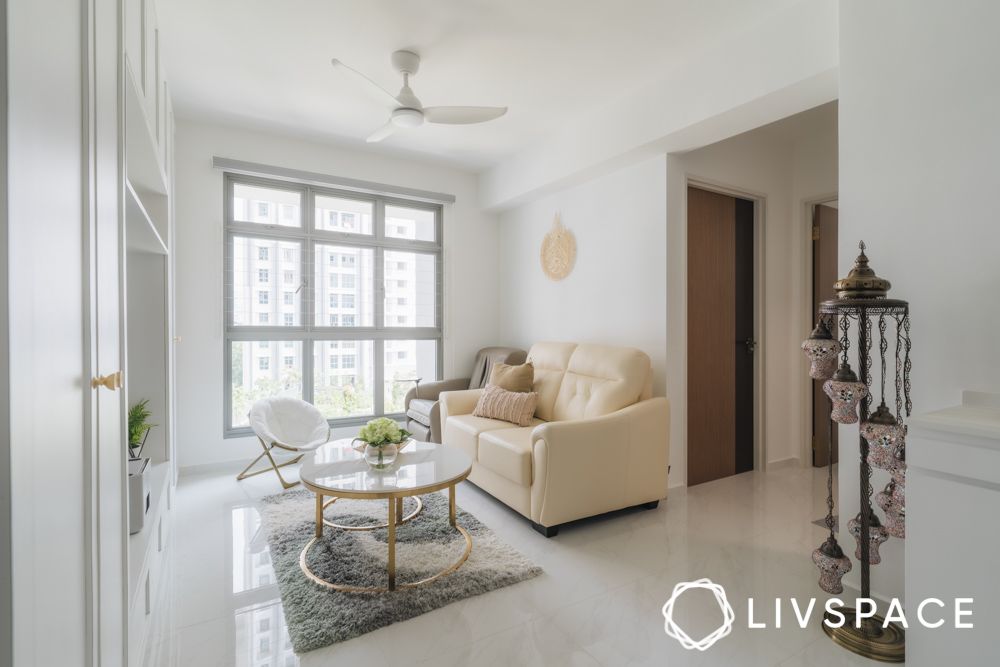 Khabibah wanted her interiors to be able to instantly relax her when she got home. This is why Stephanie designed this clean and symmetrical TV unit that hides all the clutter effortlessly. Even the off-white sofa in this all-white interior design is set to look inviting and is easy to maintain.
But what sets her living room apart are the chrome details like the door handles and the coffee table frame. They give this white room a luxurious vibe due to their distinct look from the rest of the furniture. Not to mention, the marble floor tiles seal this deal with their reflective shine.
The Spacious and Flexible Dining Room Design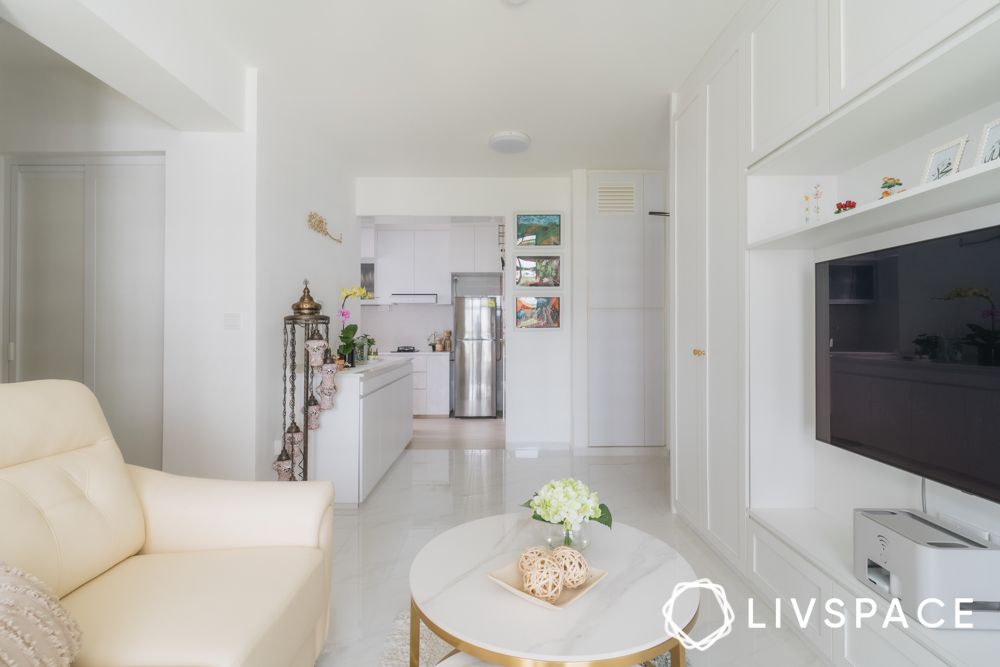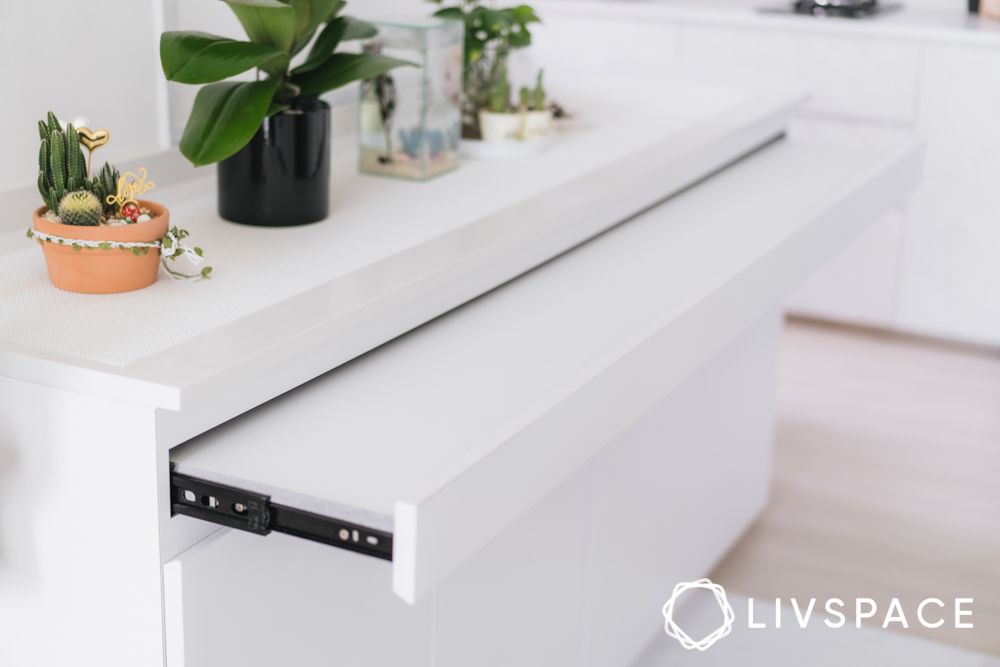 Space is not just another aesthetic principle, it is also a constant need that is felt by your mind and body. This is why the perception of spaciousness in open plans has caused them to become so popular with designers and homeowners.
Hence, Stephanie hacked the kitchen wall and opened up the whole space. She used the same aesthetics in all over the house to take full advantage of the open floor plan.
Furthermore, she built the storage unit in this room with a pull-out dining table. If you are worried that such tables may break easily, then rest assured that the telescopic channels used to fix this table, provide it with great resistance to heavy weight and sudden impacts.
Finally, she used the antique floor lamp and the metallic wall hanging to add the same luxurious touch to the space like the living room.
The Seamless Modular Kitchen Design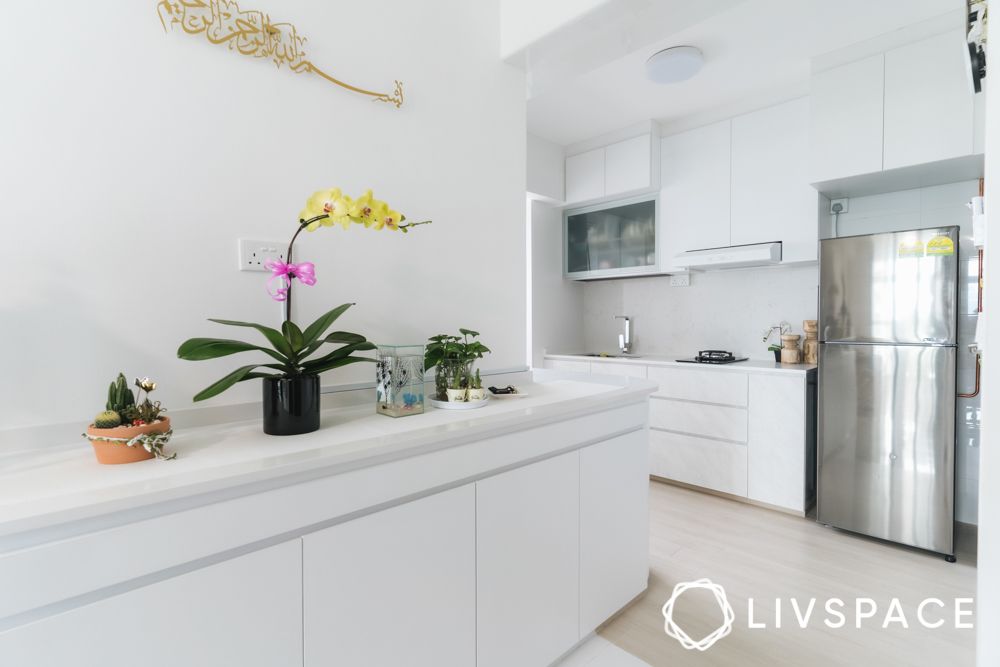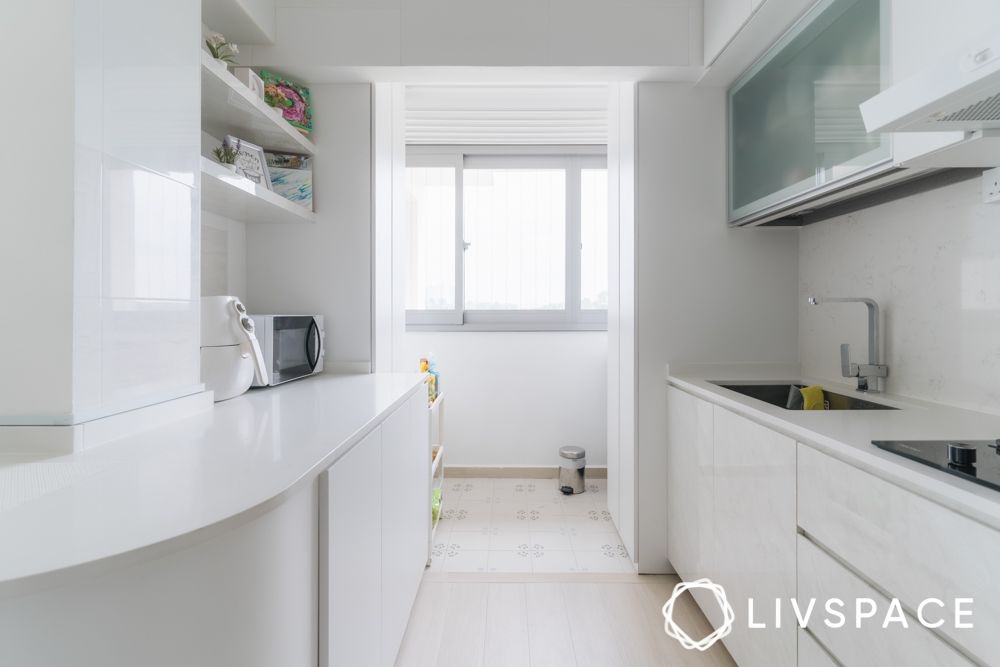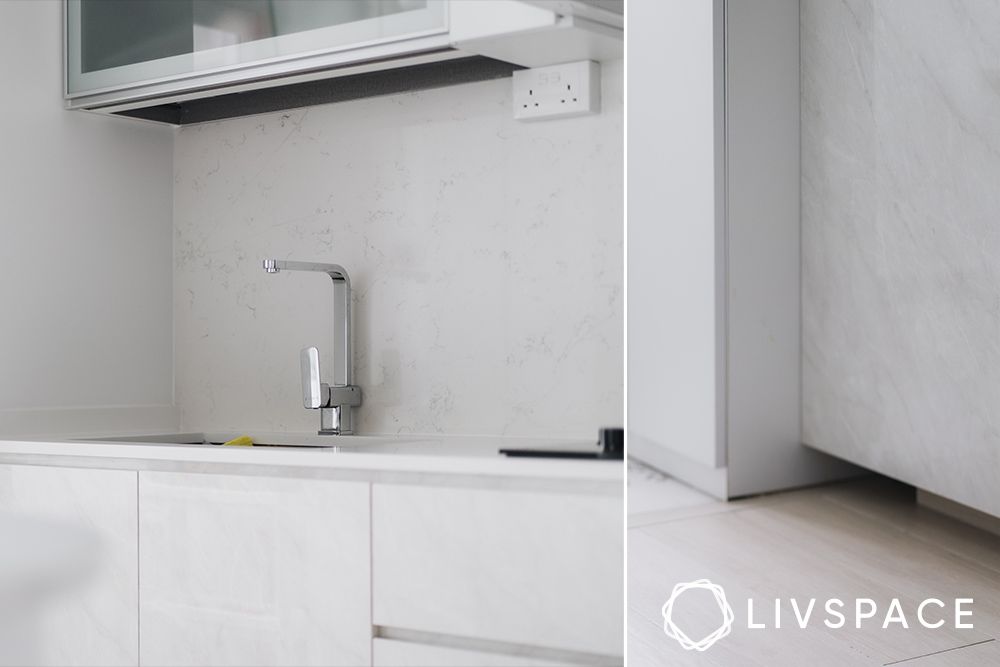 The kitchen packs more subtle surprises in its all-white interior design that any other room. It has a white oak flooring, marble-like laminate finish on cabinets and quartz backsplash, to mix things up a little. These textures come together to induce a tranquil yet plush appearance, that you'll love just being in this space.
When modern white interiors are made with occasional use of some reflective surfaces (in this case, kitchen cabinets), it lets the natural light play around a little and make the room appear more spacious and cosy. Stephanie used this principle to give Khabibah exactly what she desired – a spacious and cosy white interior design, with a twist.
The Divine Bedroom Interiors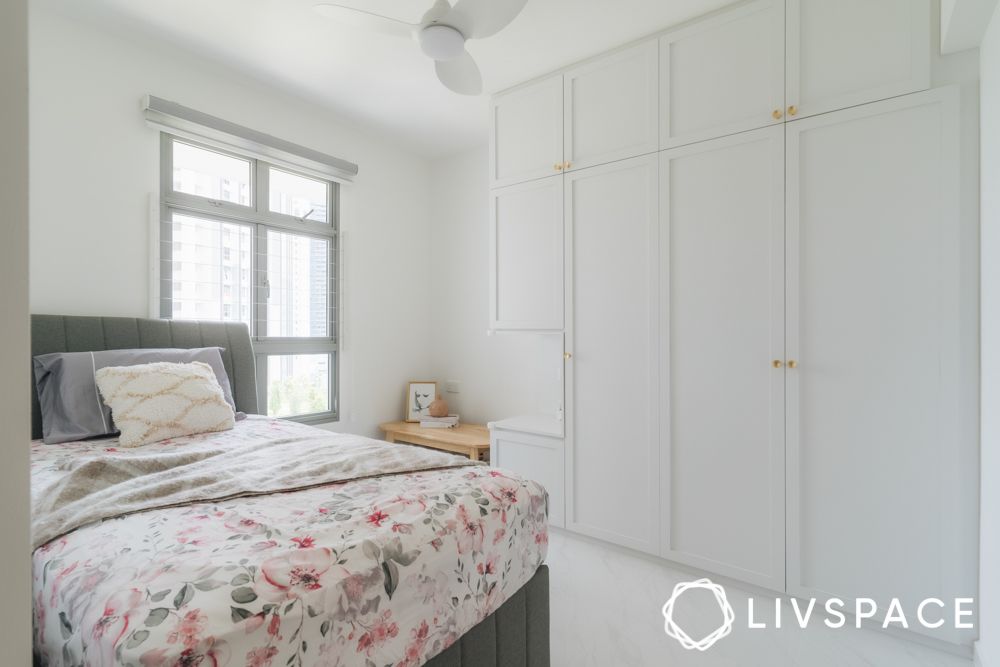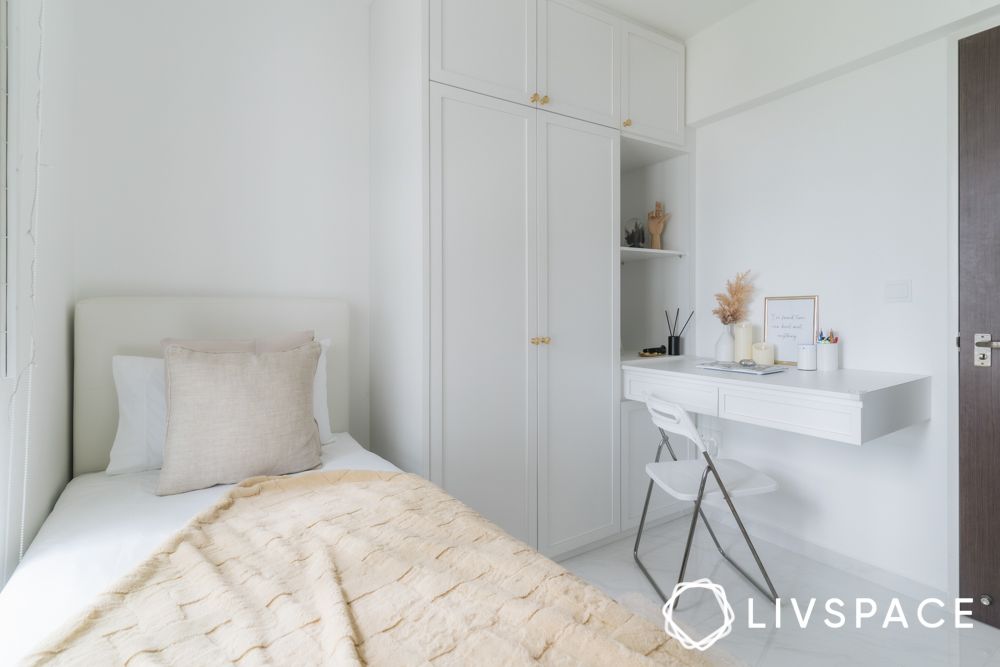 Just like the modern white interior design of the living room, even the bedrooms are all-white with subtle, warm details. The son's bedroom also has a study table with the same matte-finish laminate to match the wardrobe.
The Bright Bathroom Renovations With a Hint of Colour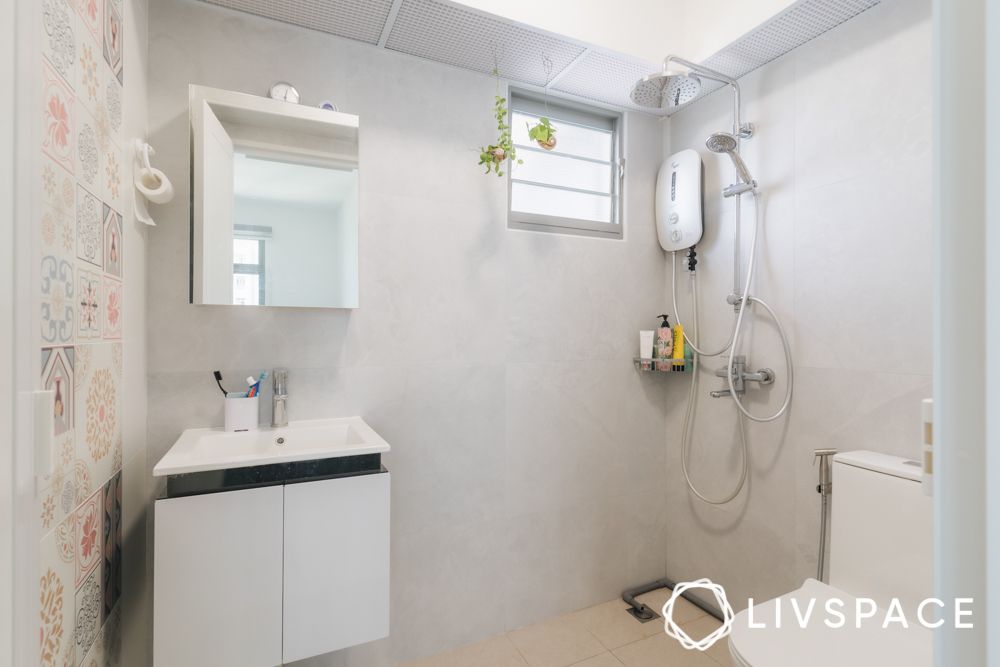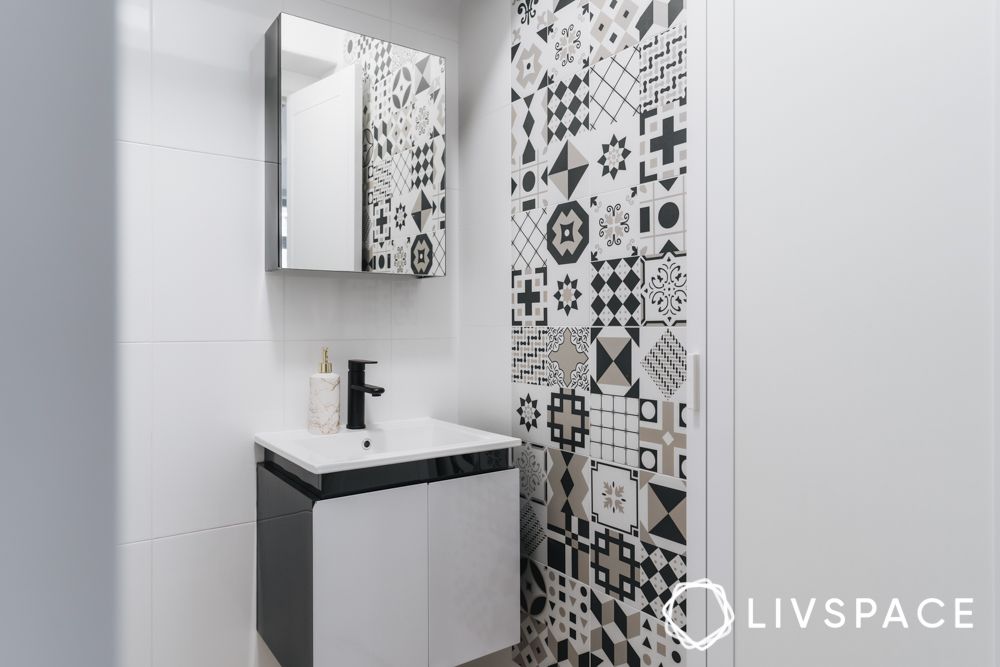 The bathrooms also needed new tiles and vanity units to keep up with the rest of the interiors. While Stephanie has mostly used white tiles on these walls, she made things interesting and easy to maintain by using printed tiles near the sinks.
No wonder Khabibah is extremely pleased with her Livspace interiors, she got everything she wanted in her home! They even rated us 5 on 5 for our professionalism, workmanship, design, as well as project management!
Want to see more ways to do all-white interior, the read: These Charming Castle Green Condo Interiors Will Make You Feel Like You're in Santorini!
How Can Livspace Help You?
We hope you enjoyed touring this 3-room interior design for Castle Green condo! If you want your home to be just as beautiful, then look no further. Book an online consultation with Livspace today.
Have some comments or suggestions you'd like to share with us? We're all ears! Feel free to write to us at editor.sg@livspace.com.
Disclaimer: All contents of the story are specific to the time of publication. Mentions of costs, budget, materials, and finishes can vary with reference to current rates. Talk to our designer for more details on pricing and availability.