This Palm Grove condo is like a slice of India in Singapore, with warm wooden furniture and contrast white elements.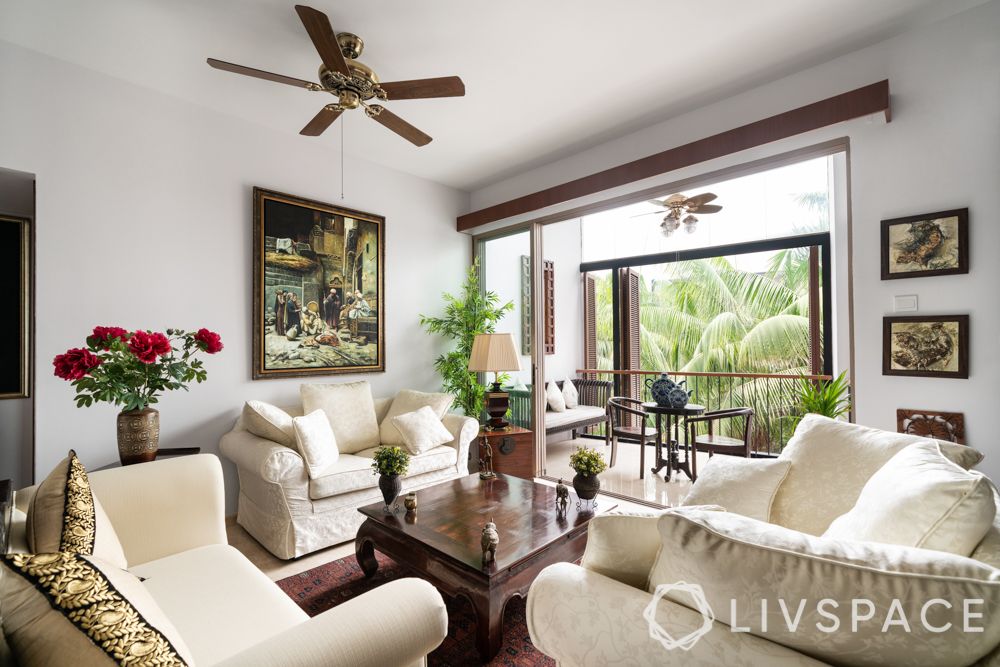 ---
Who livs here: Nalin Grover and Aditi Grover
Type of home: 3-room Condo spanning 121 sqm
Livspace team: Ankita Gupta for interior design and Andee Ching for project management
Livspace service: Design, demolition, masonry & tiling, false ceiling, wall finishing, electrical, lighting, plumbing, flooring, erection of walls, painting
Budget: $$$$$
---
This Indian couple staying in Singapore wanted to stay connected to their roots, hence they opted for using their existing wooden furniture in their newly renovated Palm Grove condo. They were looking for insights and inputs on how to do it, from a professional interior designer, when they stumbled upon Livspace.
Their designer Ankita Gupta is well-versed in designing minimalist homes and balancing out furniture with her designs. While the couple wanted an open and welcoming look in their condo, she also suggested they go for white as the dominant colour, which would act as a great contrast for the solid wood furniture. This home also flaunts multiple paintings and traditional, intricately designed furniture in every nook and corner.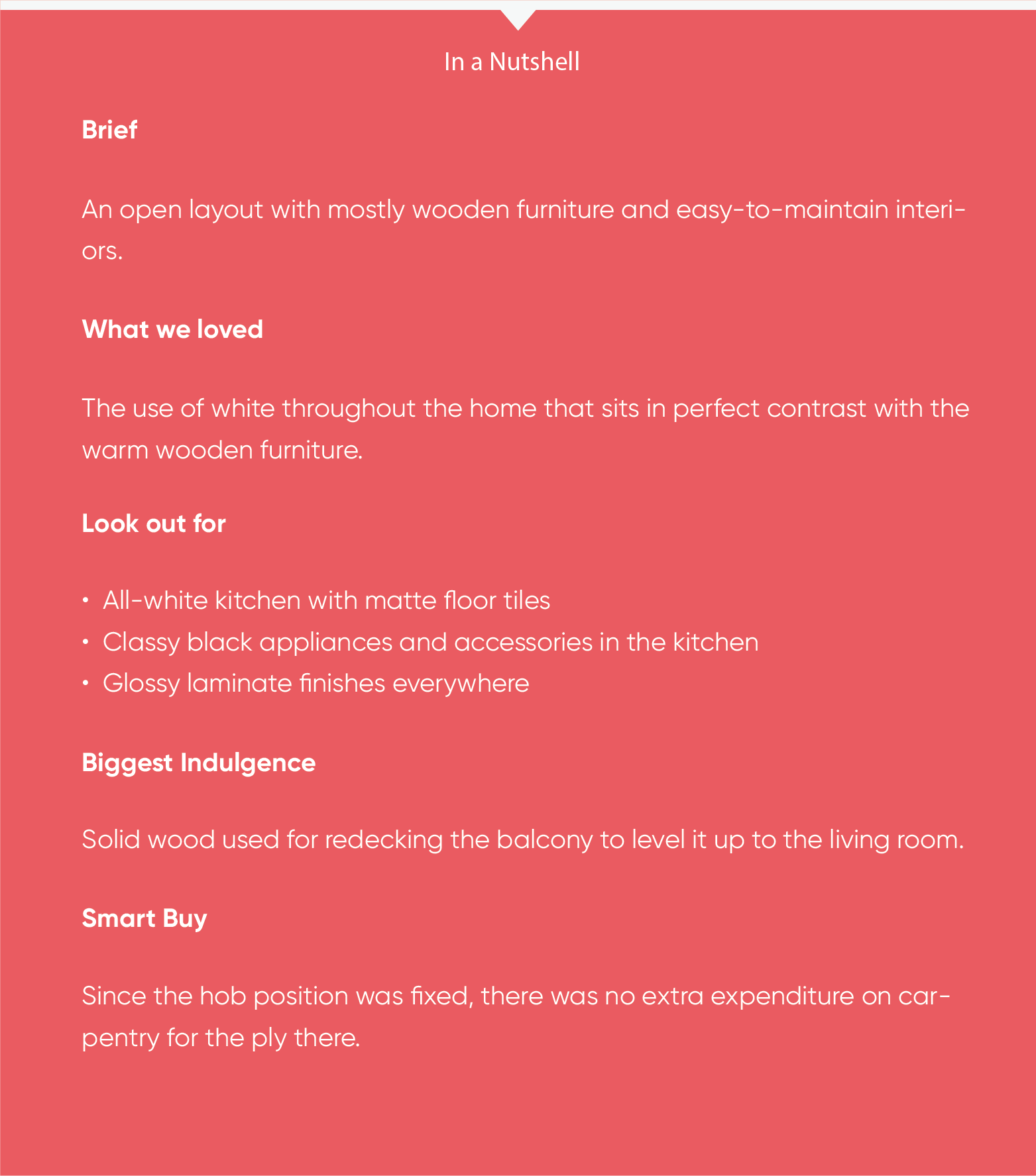 A living room and balcony that's traditionally Indian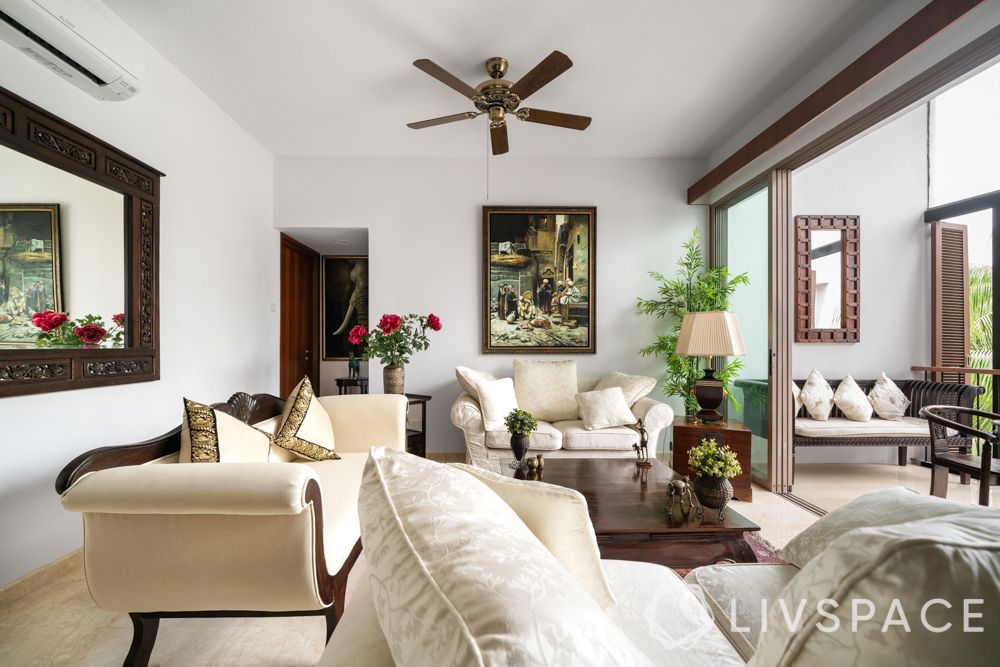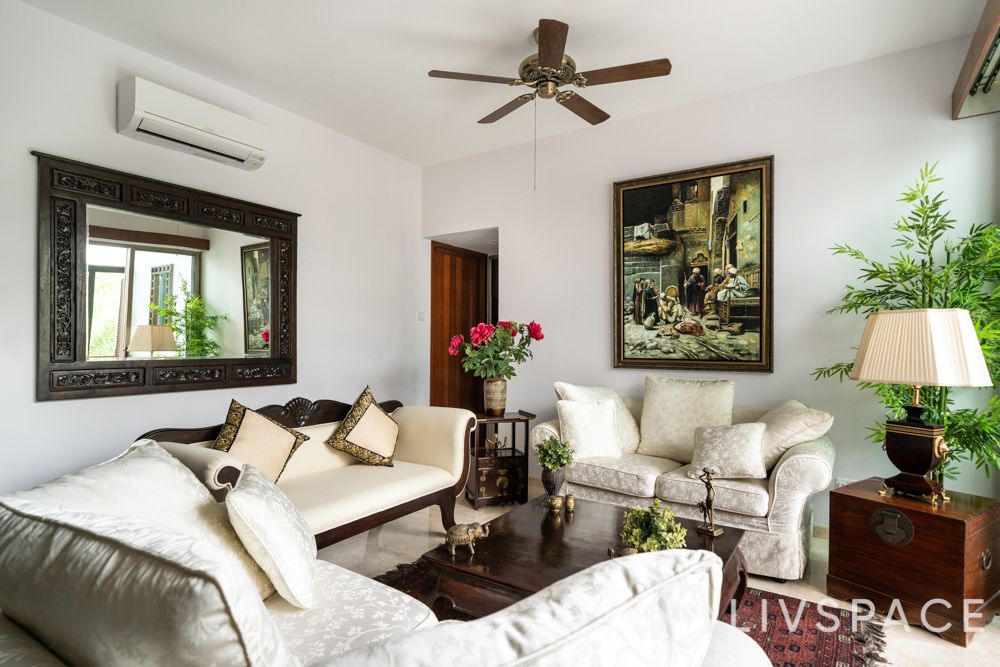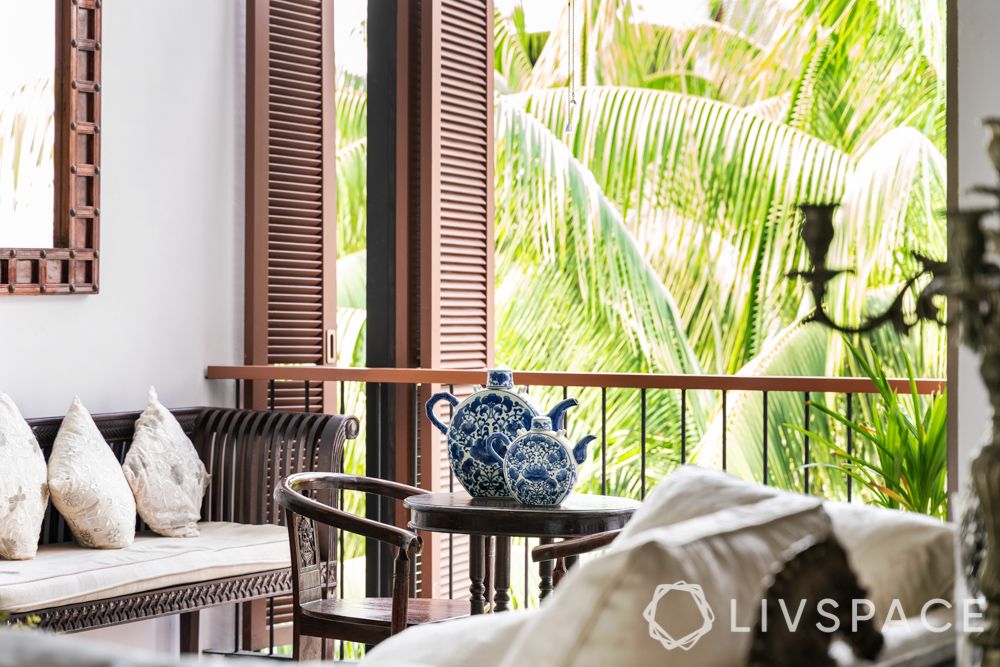 Nalin and Aditi Grover love their furniture and did not want to part ways with it. And, looking at this living room, we know why. Who wouldn't want these beauties in their home! This Palm Grove condo comes to life with solid wood furniture, painting, ornate mirror and furnishings.
You can also spot some plants and flowers that keep this living room looking fresh and blooming. With a classic curvy structure, the 3-seater sofa facing the balcony has found its perfect spot. As you can see, white upholstery adds that hint of contrast amid the sea of browns.
Whiffs of warmth and greenery in the dining room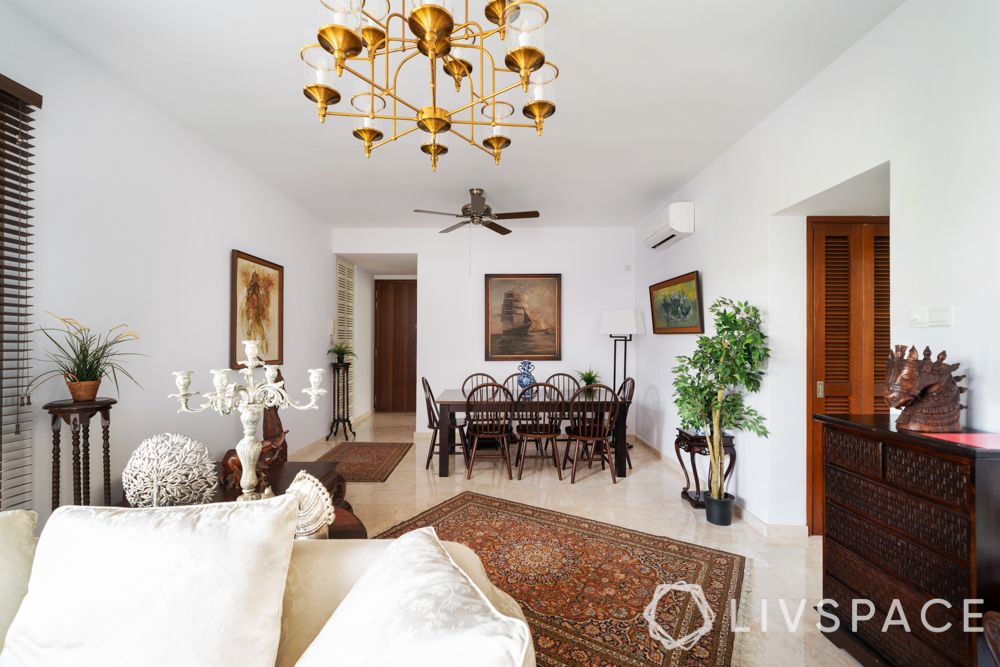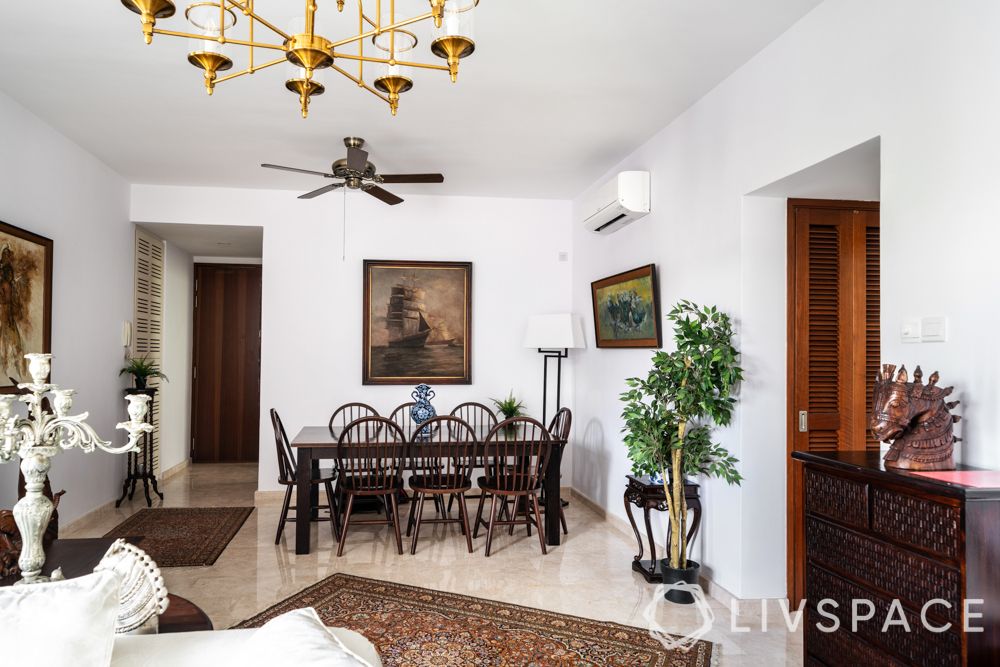 The dining room flaunts customised furniture and cabinetry that matches with the rest of the home. We love the lone floor lamp with a white lampshade in the corner and the painting that does not let the white walls look bare. Also, do not miss the carpet that ups the traditional setting of this space.
---
"Once the project started, it was smooth sailing all the way. Ankita and the Livspace team helped solve a number of problems that came our way while the work was going on. Their ID's did a fabulous job in executing the work. The house was delivered back to us on exactly the day they had said it would. The designs were very practical yet elegantly done. We loved their insights & inputs. This was our dream home and we wanted it to look elegant & classic."

– Nalin and Aditi Grover, Livspace Homeowners
---
A compact, stark white and modern kitchen design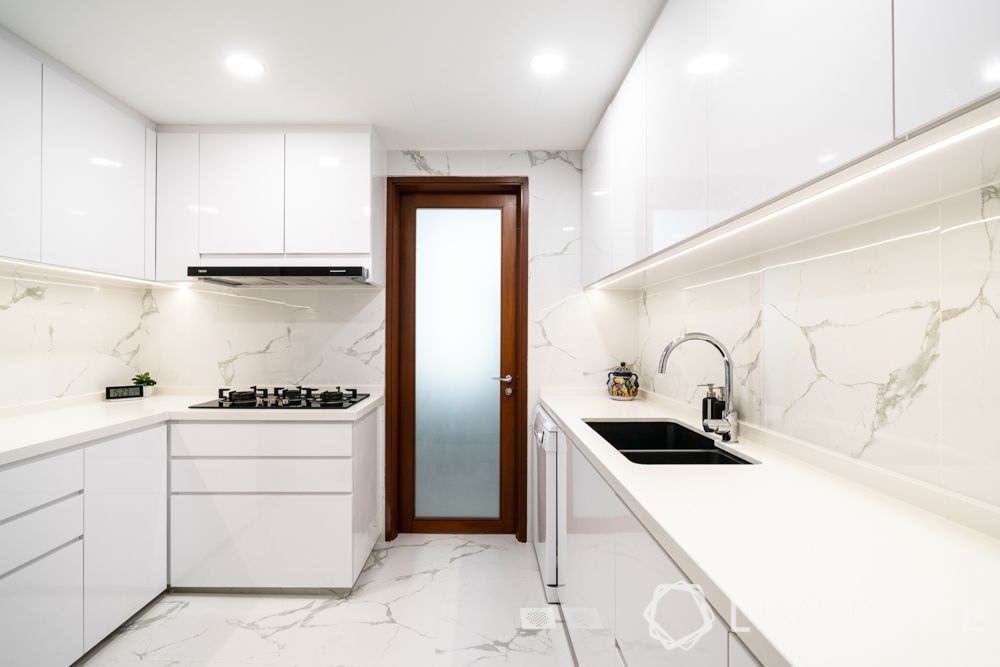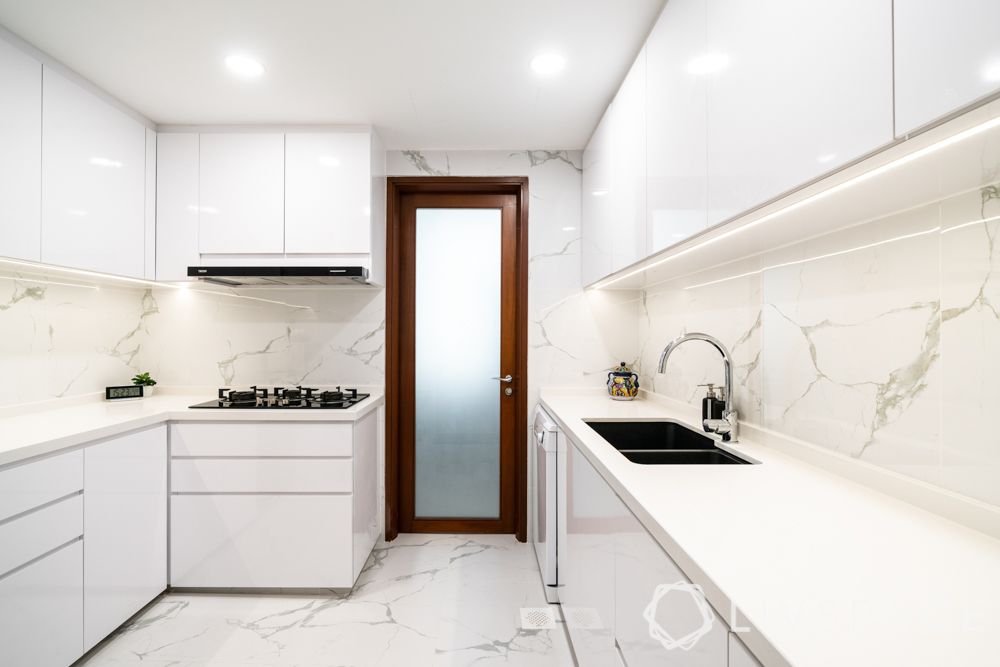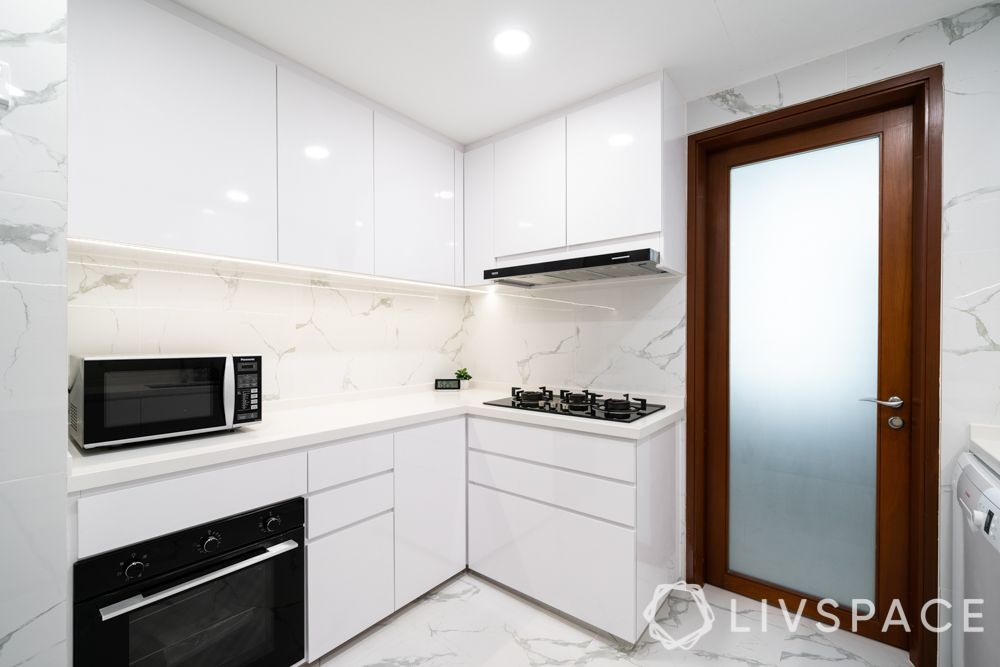 With the kitchen, Ankita was given ultimate freedom and she wanted to make this space look very different from the rest of the home. Of course, this kitchen had to be designed for heavy Indian cooking and thus, she added low maintenance materials here. She also recommended cool white lights in the kitchen so that it brightens up a little more. Recessed lights on the ceiling and LED strip lights under the cabinets makes this space well-lit.
Another interesting element that Ankita added here are the black steel appliances and accessories. They fit in seamlessly and add a modern and functional touch to this space. They also hacked a glass partition to create a wall between the dining room and the kitchen.
A bedroom that looks like a page out of heritage books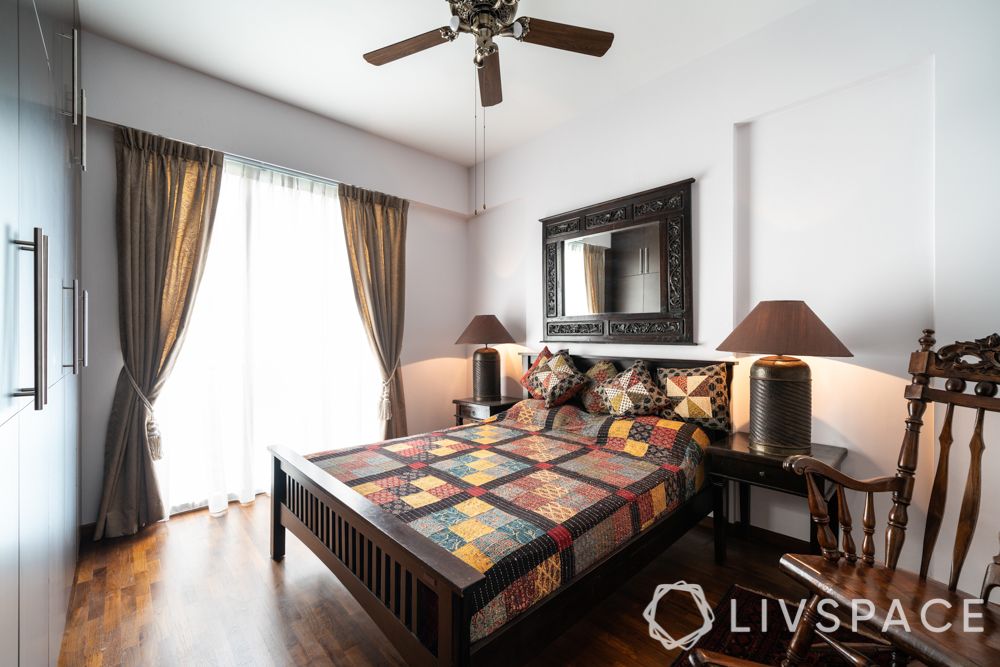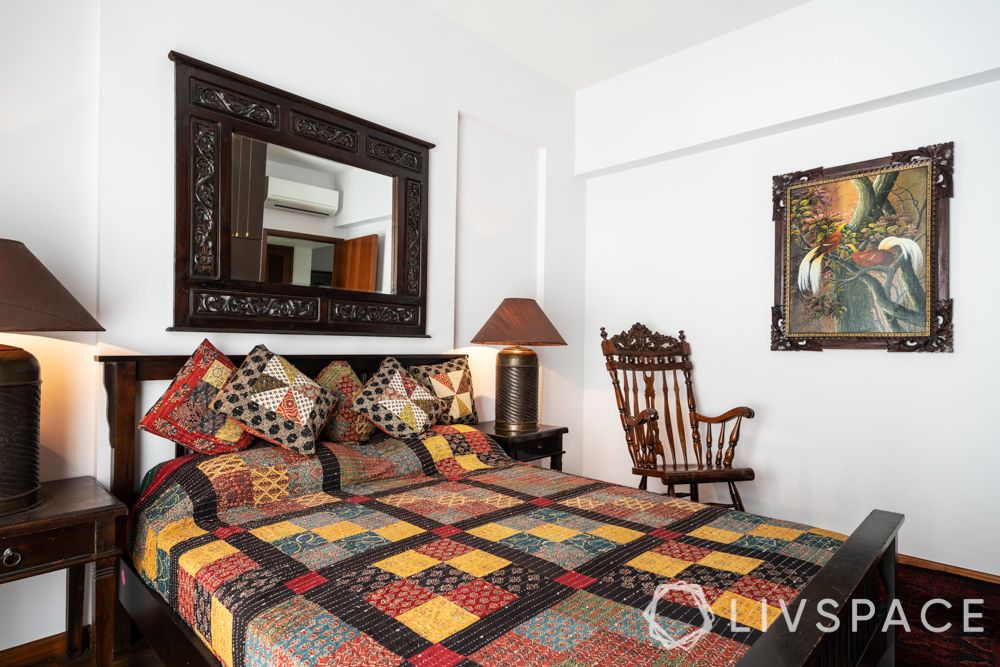 Doesn't this bedroom remind you of yesteryear palaces? Look at the lovely varnished parquet flooring, the wooden armchair, the ornate mirror and solid wood side tables. Everything is so warm in here. Layered drapes are just the right addition in this welcoming room.
Glossy laminates and a view to die for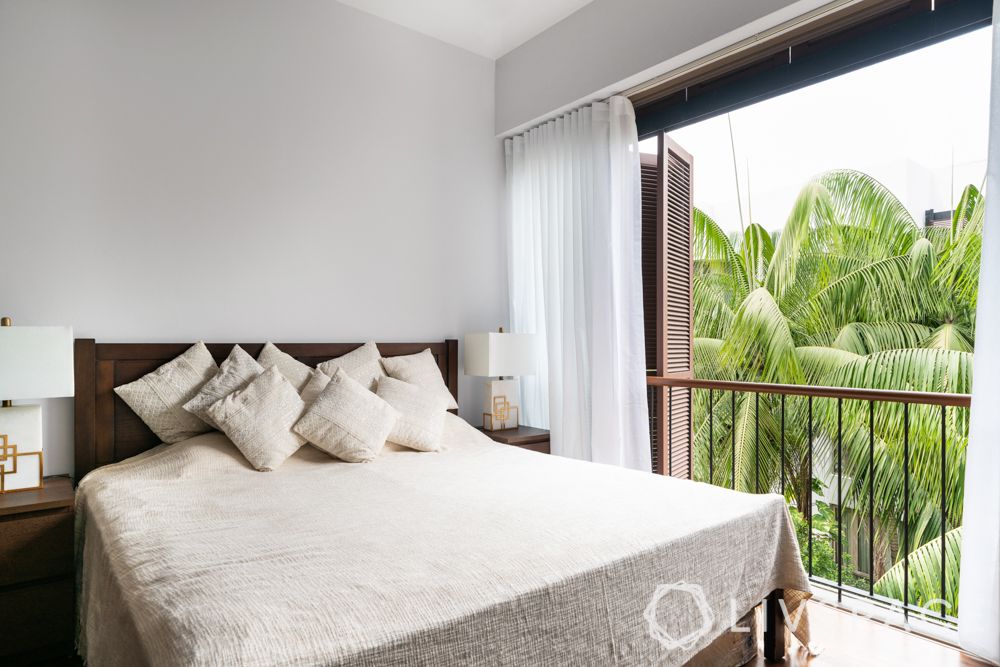 Ankita mentioned that the couple wanted materials that can be cleaned easily and what better than laminate? Glossy laminate can be swiped clean with a cloth. Therefore, this bedroom flaunts laminate wardrobes with lofts that are storage-intensive. A full wall mirror reflects the rest of the room and makes it appear bigger. We would love to wake up in this beautiful room with that stunning view!
This study room was built from scratch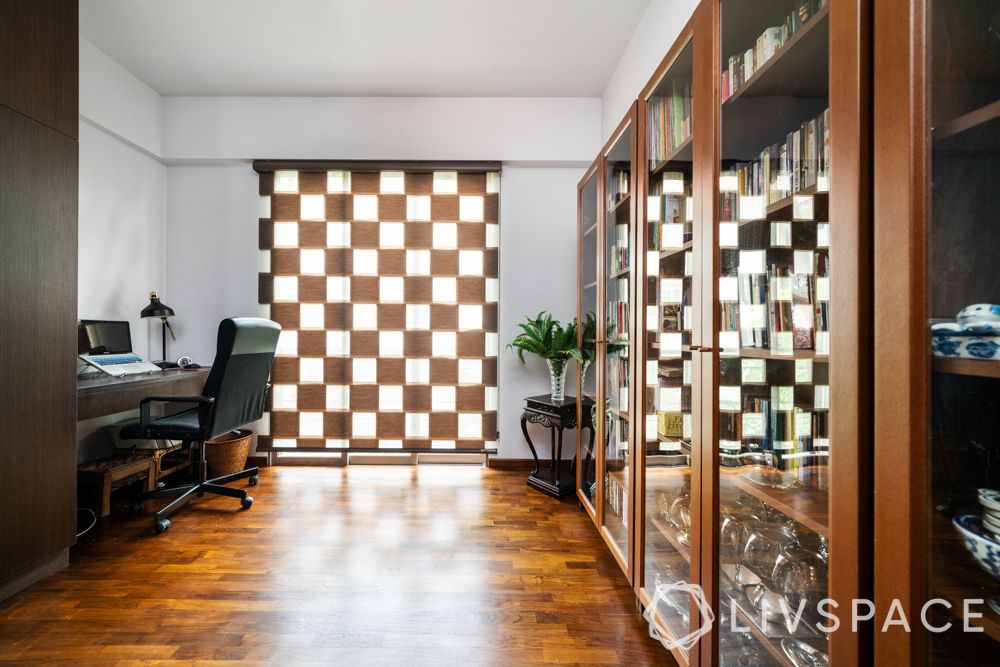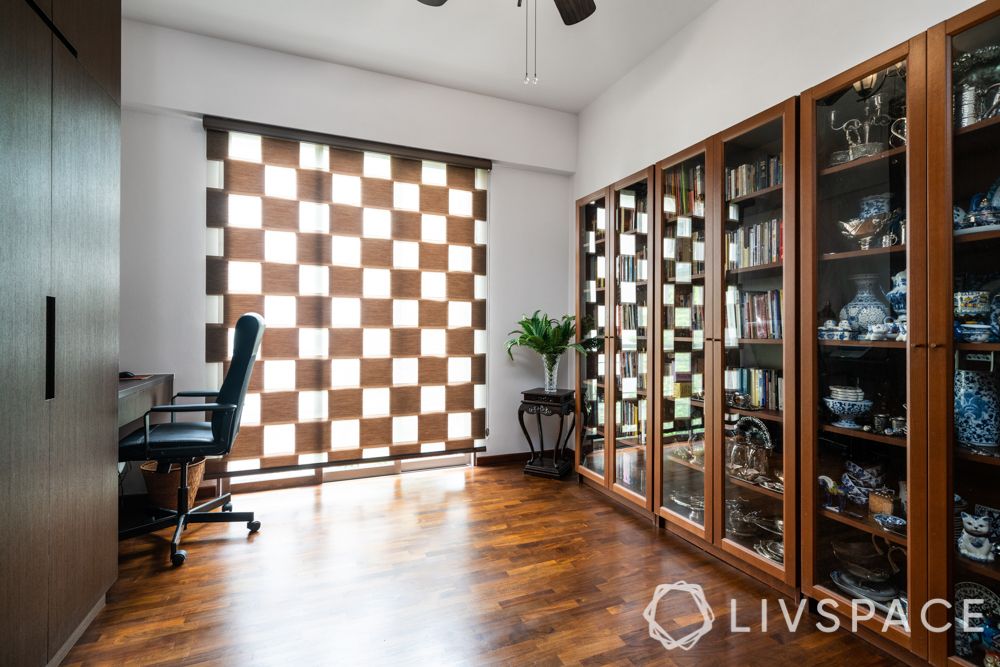 Nalin and Aditi wanted a dedicated room for work. Hence, Ankita designed a complete study table and wardrobe for them. This wardrobe has glass doors and can store all their books and exclusive chinaware. Here too, you can spot polished parquet flooring that plays match with the other bedrooms.
Some fixes were done to this 17-year-old bathroom too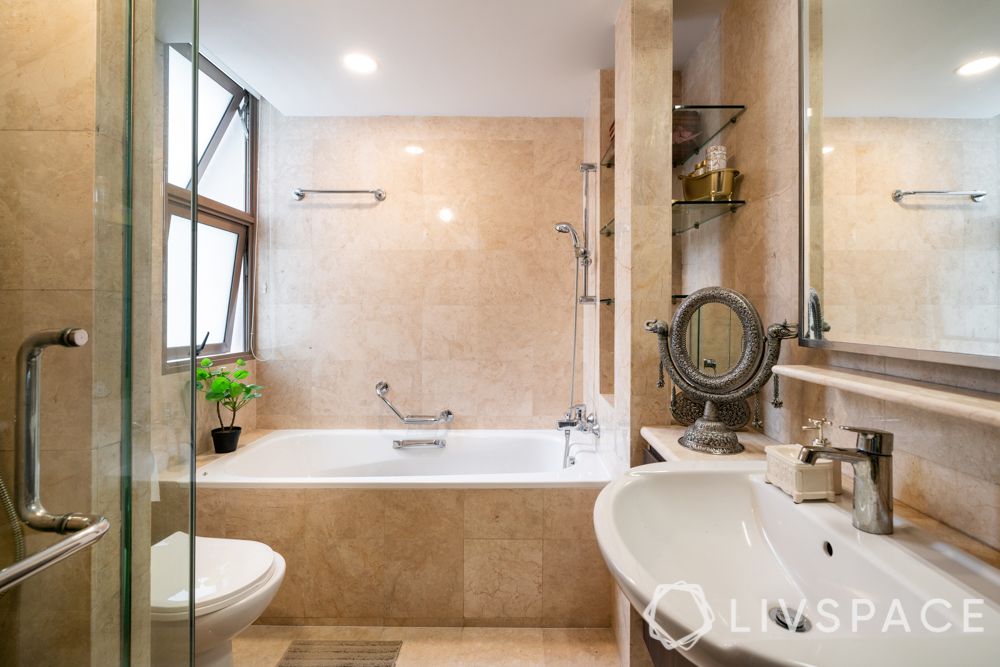 This bathroom did not undergo major renovations. Certain plumbing fixtures and cleaning of bathroom tiles took place here. We also replaced the basin and painted it for the couple.
---
"I made sure that I had regular meetings with the couple because that helps a lot in understanding their tastes and preferences. I tried to give them a practical yet modern design that would fit their requirements."

– Ankita Gupta, Interior Designer, Livspace
---
Did this Palm Grove condo inspire you? We have another completely unique design for you: This is How You Design a Stylish Elder-friendly Condo.
Send in your comments & suggestions to editor.sg@livspace.com.