This is how a penthouse condo should be designed when you have the space for it!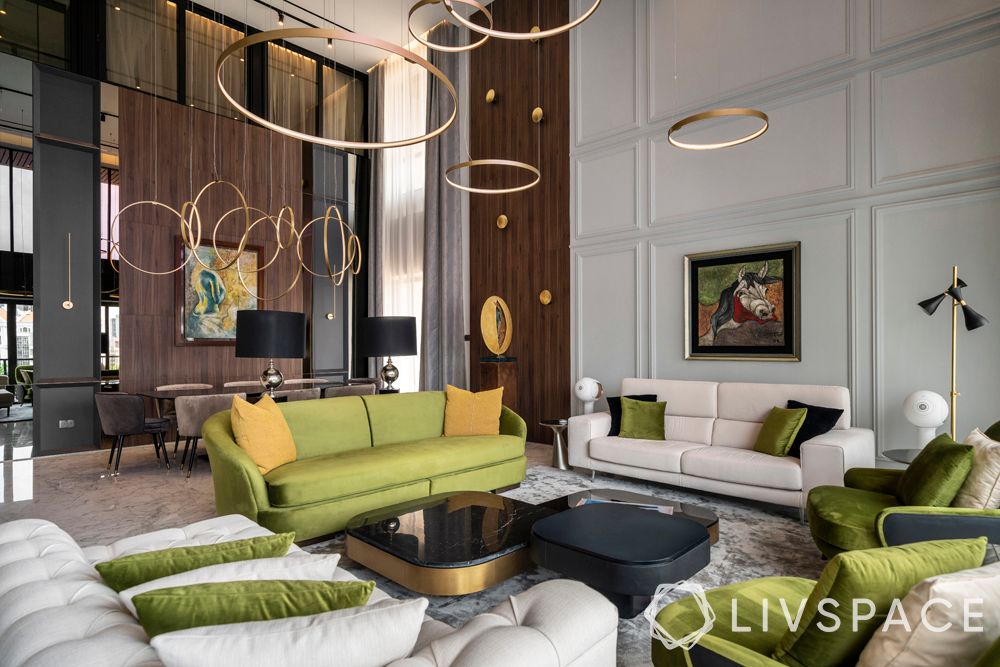 ---
Location: 327 River Valley Road
Type of home: 4-room penthouse
Livspace team: Interior Designer Wanting Liu and Project Manager Jamal
Livspace service: Demolition, masonry, plumbing, electrical, glass and metal works, carpentry, floor and wall finishes, painting, design, FFE
Budget: $$$$$
---
How many times do you come across a home that takes your breath away? Sounds cliche? Once you check out this 4-room private penthouse, you will be bound to believe us. With lush greenery in the balconies and rooftop, and ultra luxurious interiors, this condo looks right out of our dreams. It is spacious and lit-up like no other home. Wondering how it turned out to be this stunning? Thanks to the amazing work showcased by our designer, Wanting Liu, and the couple residing here, this home looks the way it does because of lucid conversations. The couple communicated very well and when the idea is crystal clear, the result is stunning. Take a tour!
Mirrors and marble welcome you home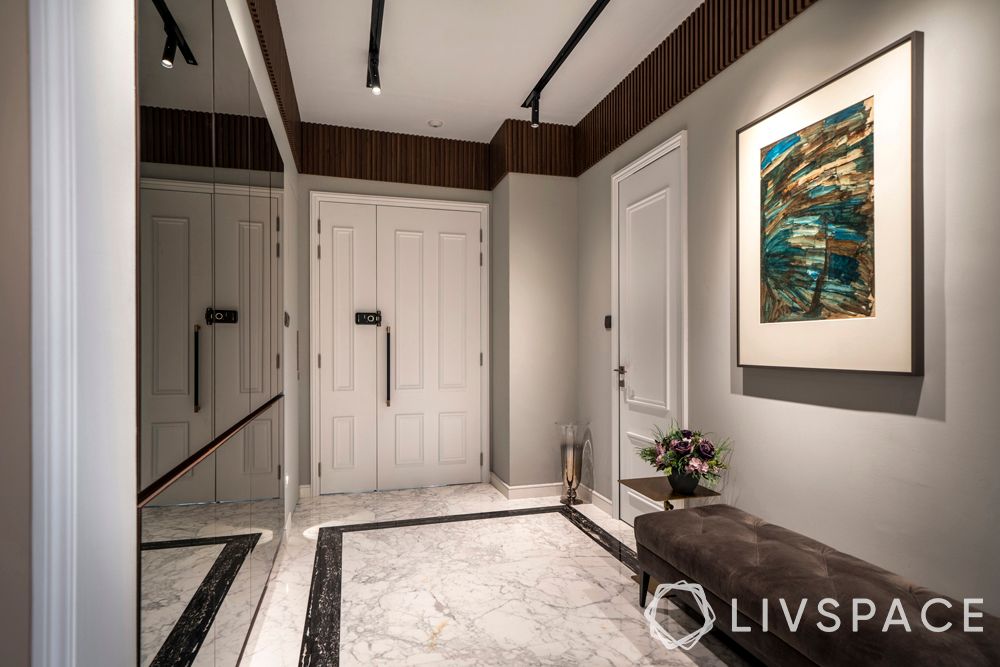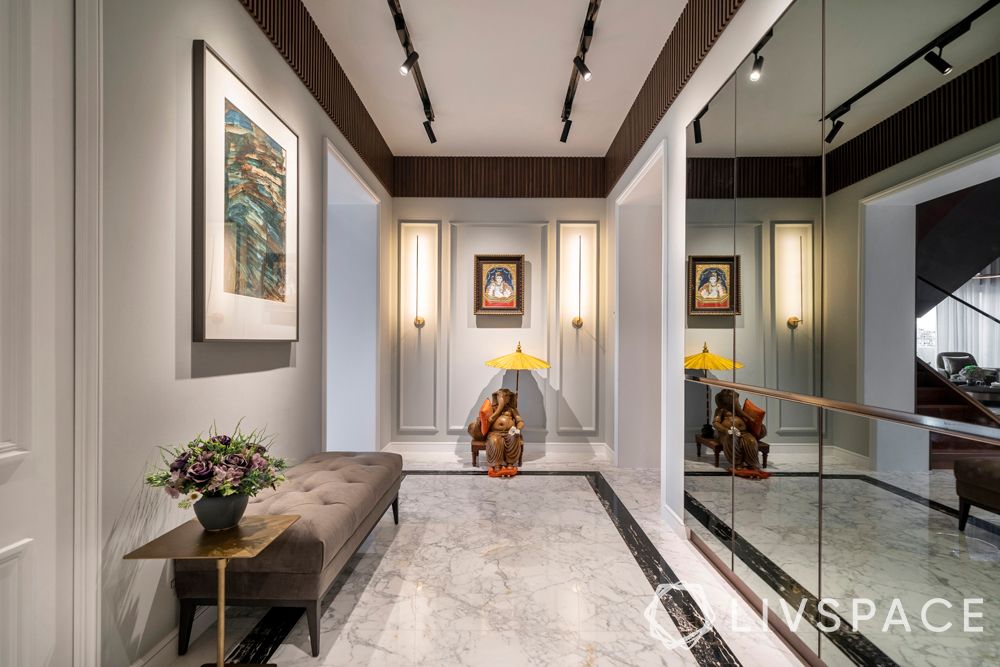 A lavish entryway like this sure sets the mood for what lies ahead. This huge penthouse is replete with lush materials and finishes and every corner is designed tastefully. Setting the tone here is the foyer that has marble flooring and mirror panels on the wall. Don't miss the sleek track lights on the ceiling and the plush tufted bench.
A formal living and dining room for the family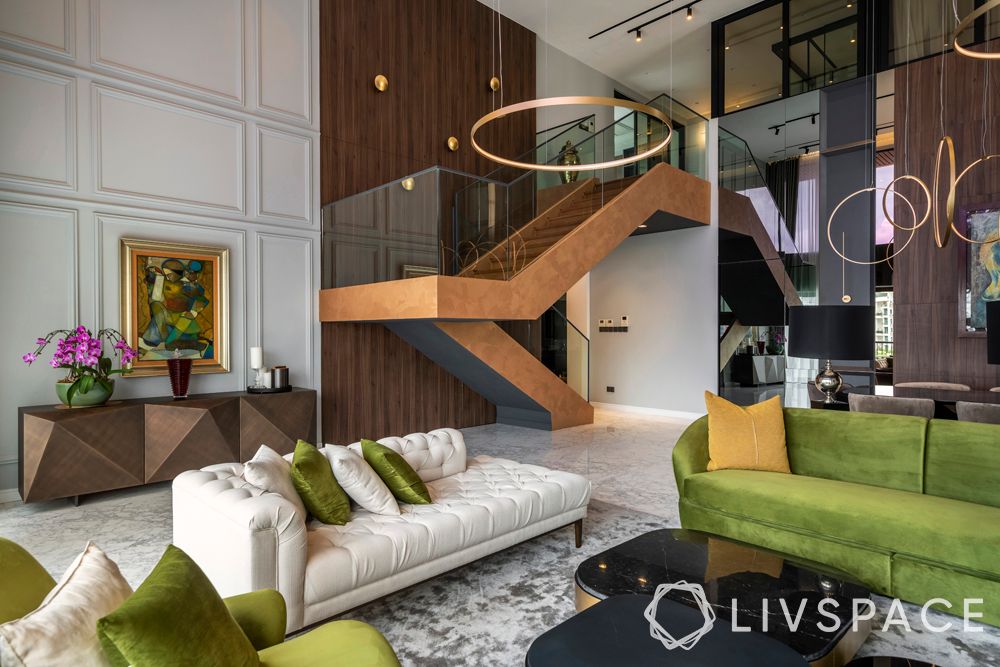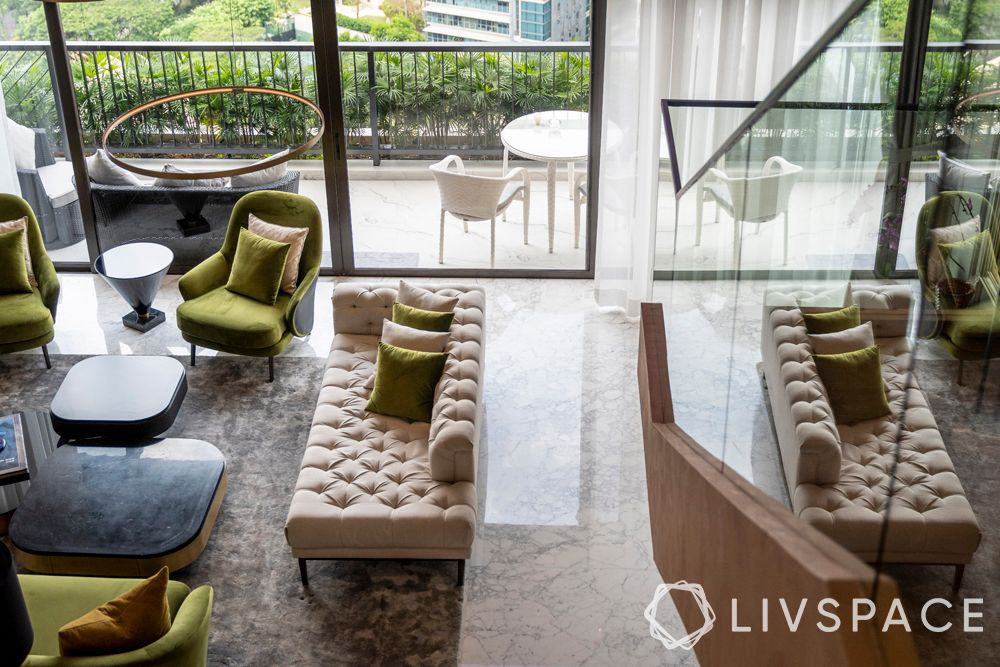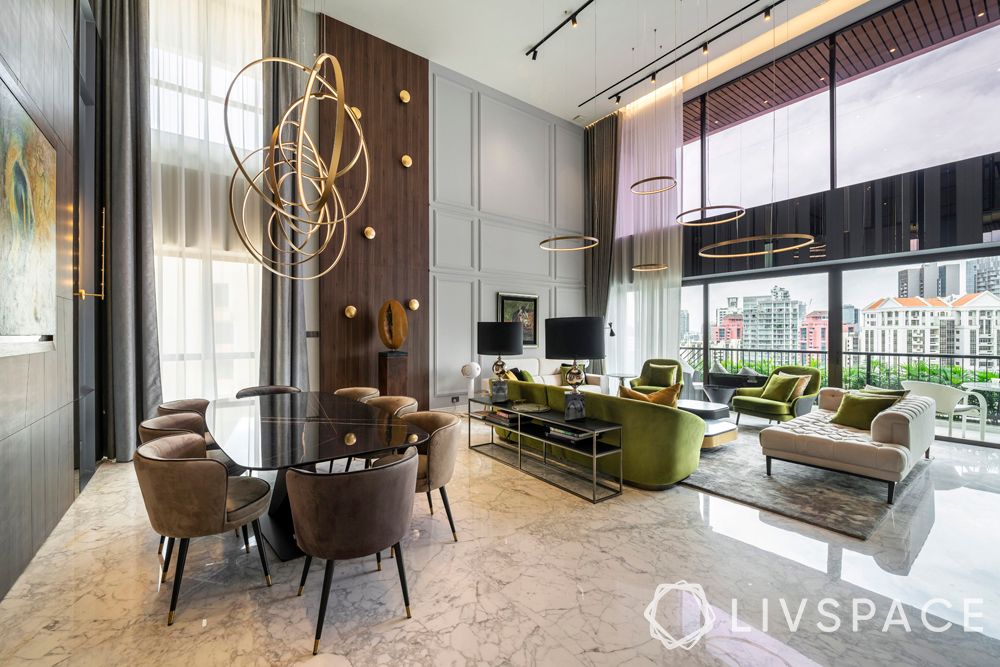 If we had to define the formal living room in this penthouse, we would call it contemporary luxury. Marked by bronze finishes and dark laminates, this living room has our heart. And the high ceilings add to the look and feel of this space. Since the family loves throwing parties and having get-togethers, they wanted ample seating in the living and dining rooms. Wanting was careful while selecting the colours since that is something that can alter the entire ambience of a space.
A casual sitting area for relaxation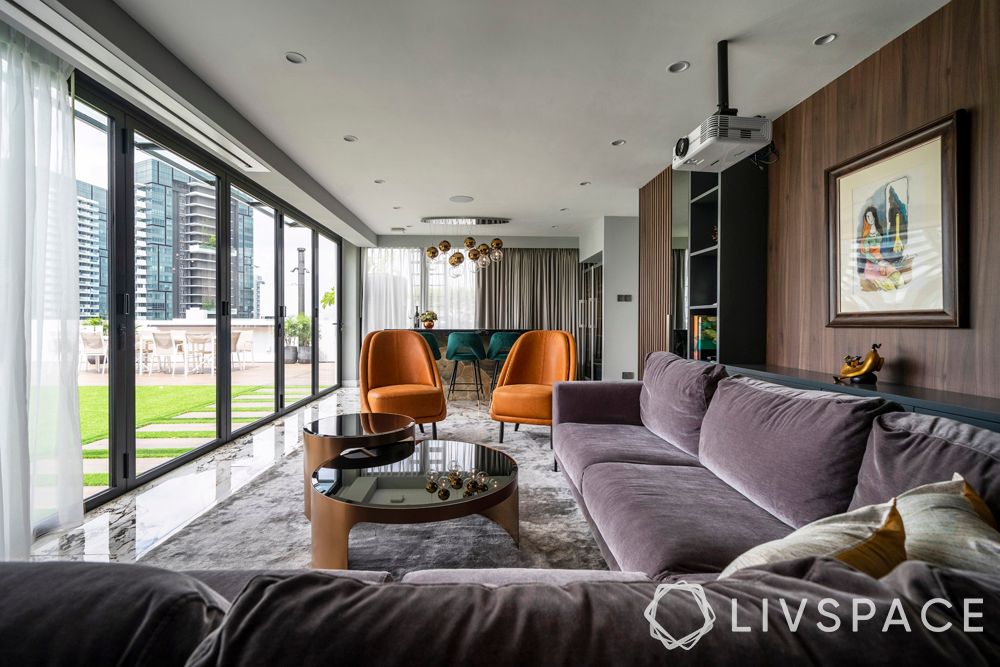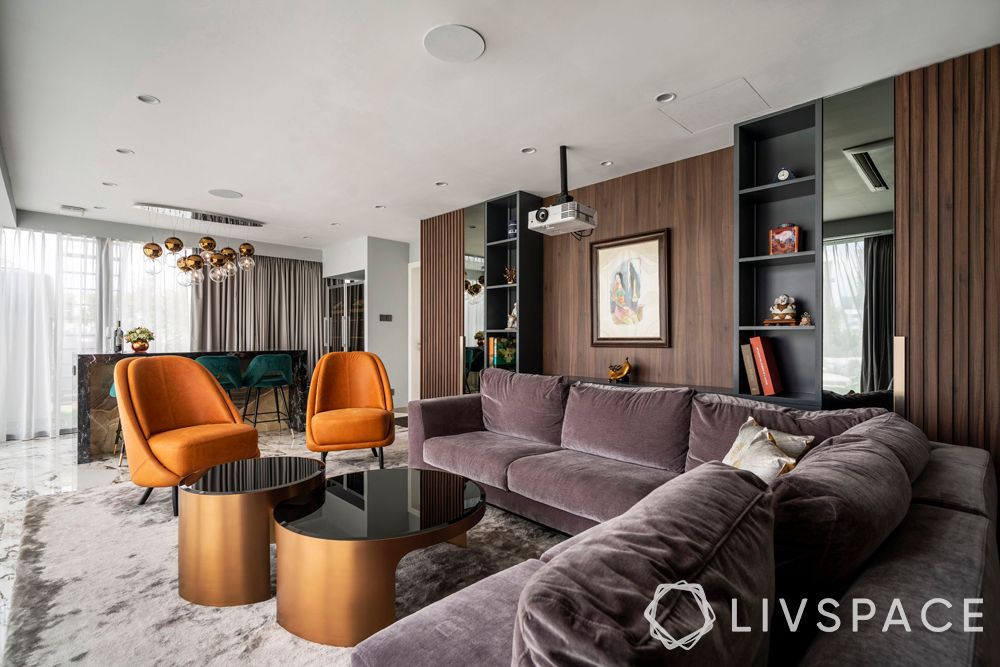 This one is especially designed for movie nights and it overlooks the open skies outside. The casual sitting area, as the family calls it, is filled with velvet upholstered sofas and a couple of accent chairs for ultimate comfort. A projector on the ceiling makes it perfect for the family to bond over television series, sports and games. A design highlight here is the centre table that is finished in bronze and topped off with black glass.
Onto the lush green sit outs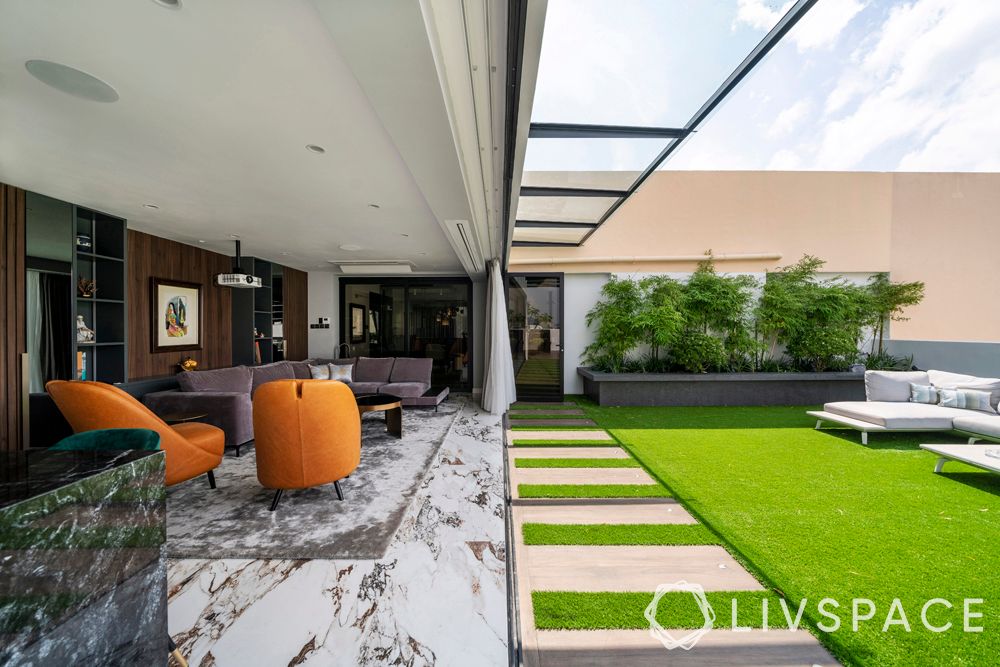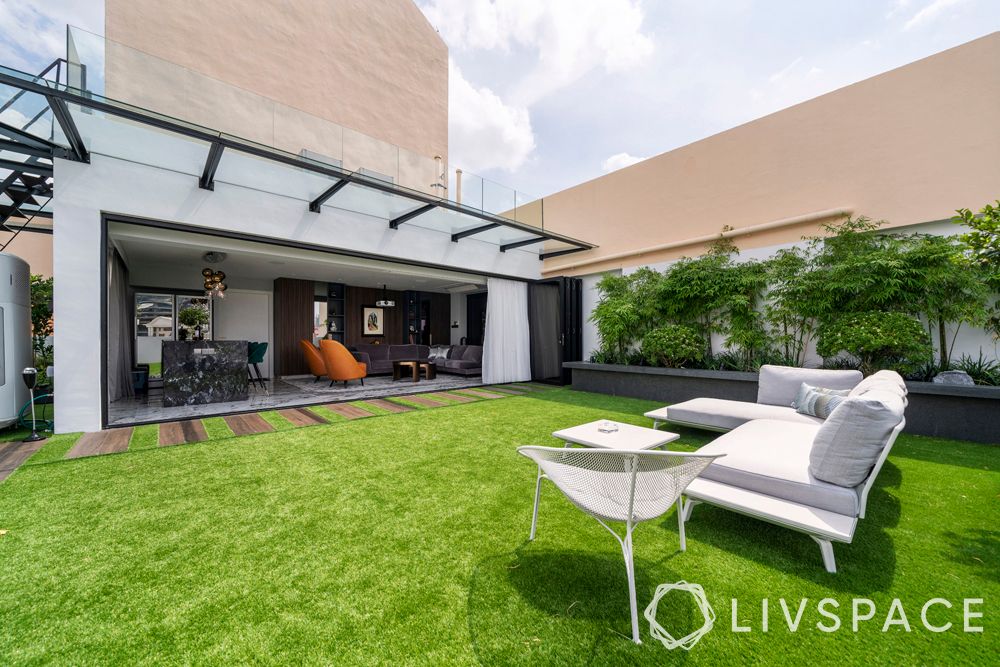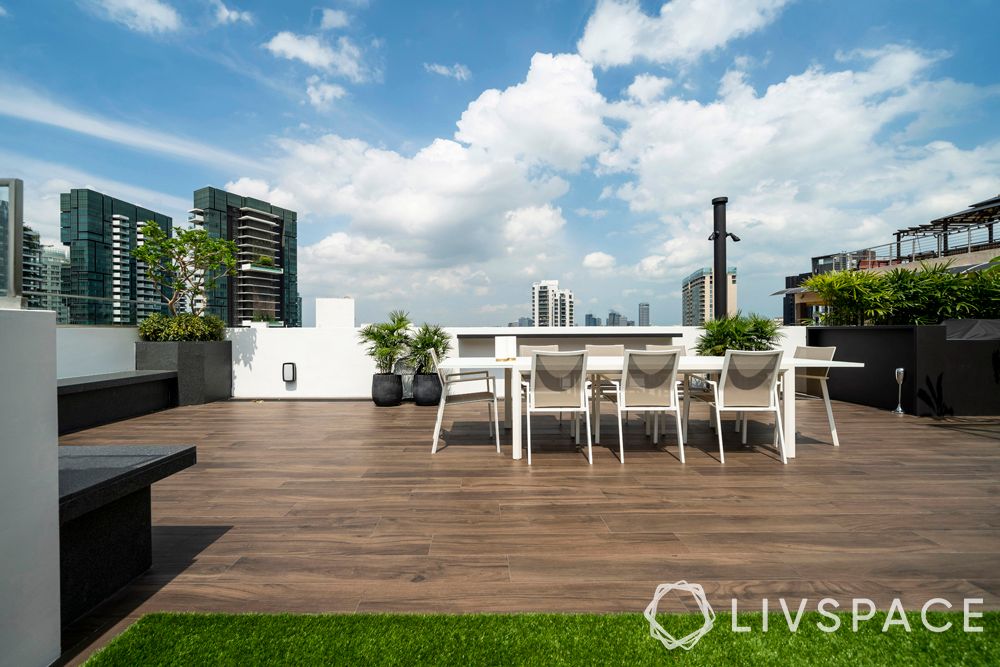 Something that penthouses enjoy is the luxury of having open terraces and rooftops. Isn't it lovely to have sit outs and enjoy with your friends and family under the sky? Wanting has made sitting arrangements in every balcony and rooftop where the family can relax. Lots of plants can be seen around here and it gives you major goals to develop your green thumb!
A sleek grey and white kitchen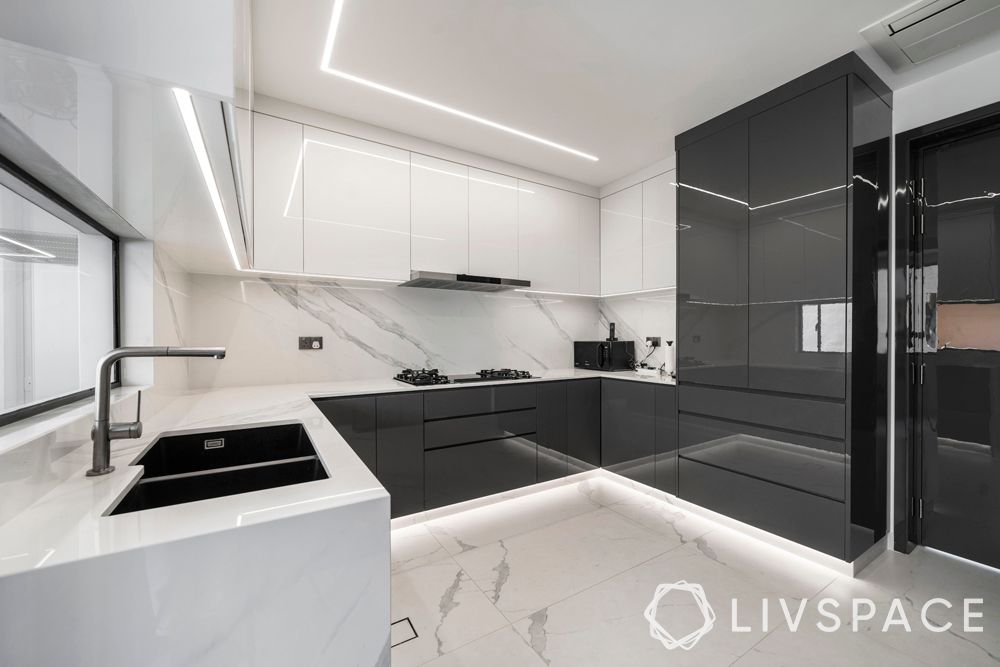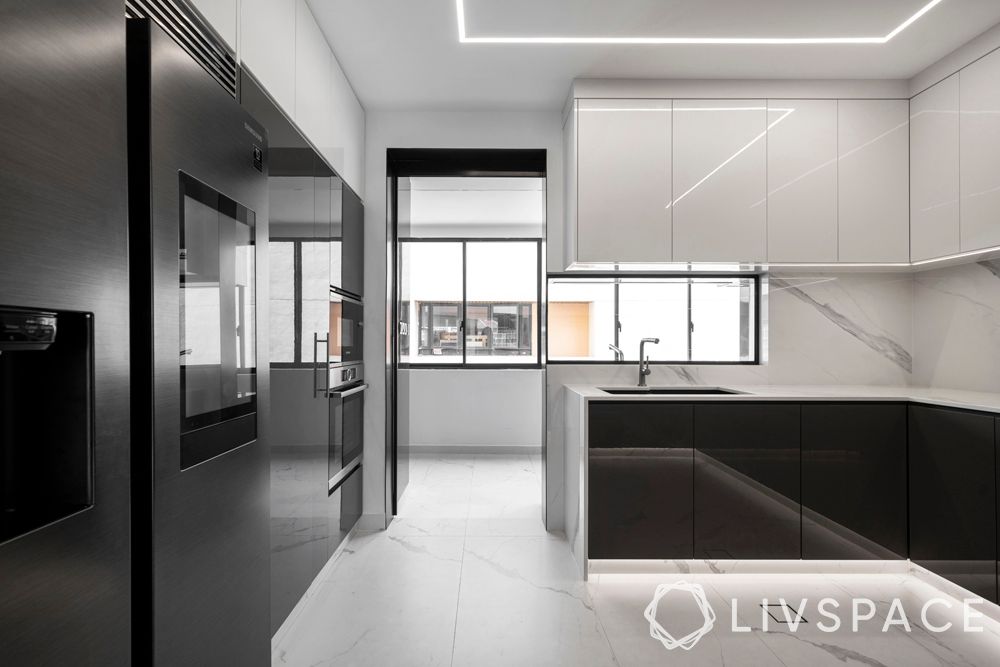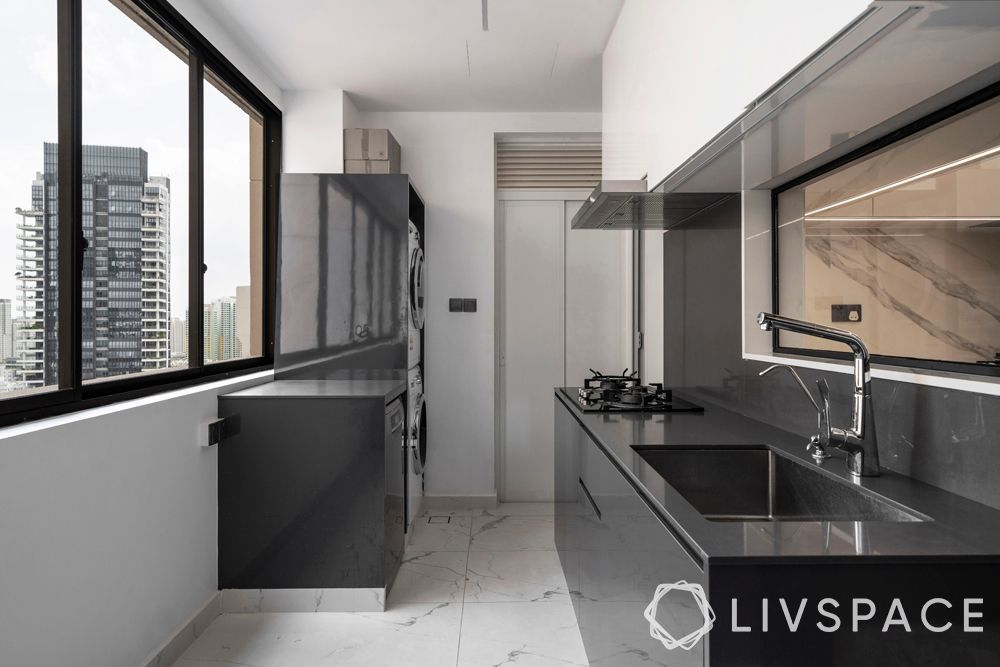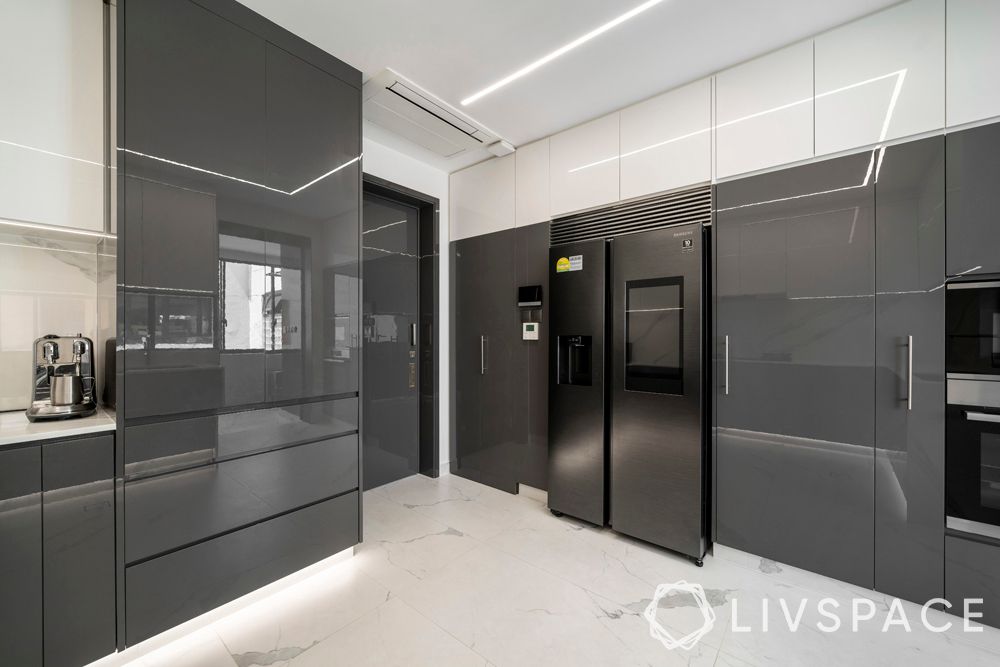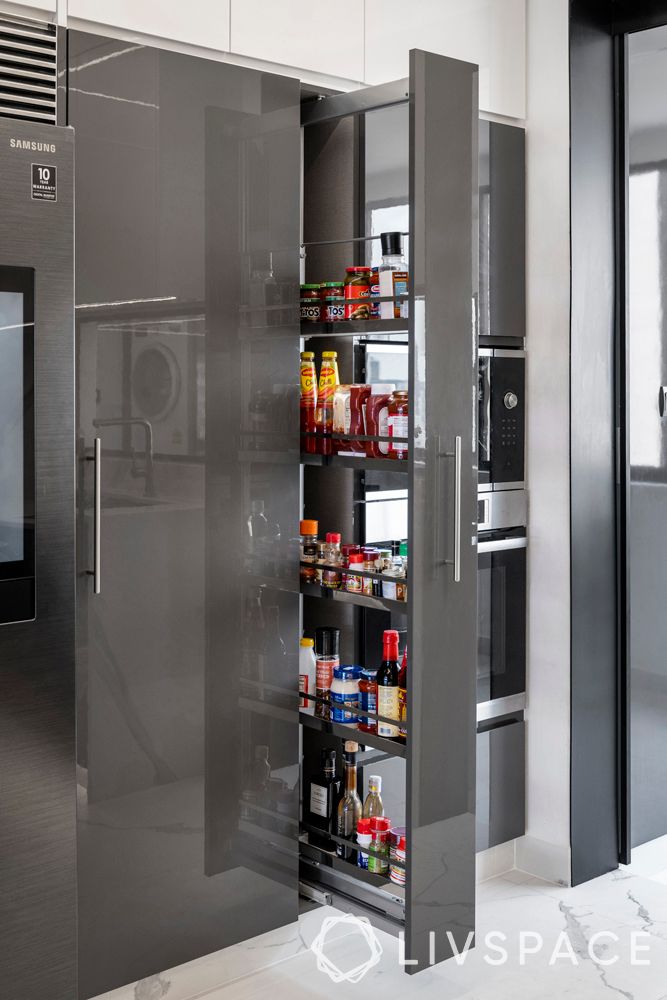 This fully modular kitchen is a dream for every family that loves cooking and throwing parties. Wanting has added ample storage space and made this kitchen look as seamless as possible. High gloss acrylic cabinetry with handleless cabinets and drawers add that shine to this kitchen. The classic combination of grey and white has come to life with Dekton countertop and backsplash in ceramic tiles. This kitchen is very spacious and enjoys ample natural lighting that is amplified by ambient and task lights in the right places.
A corner devoted to praying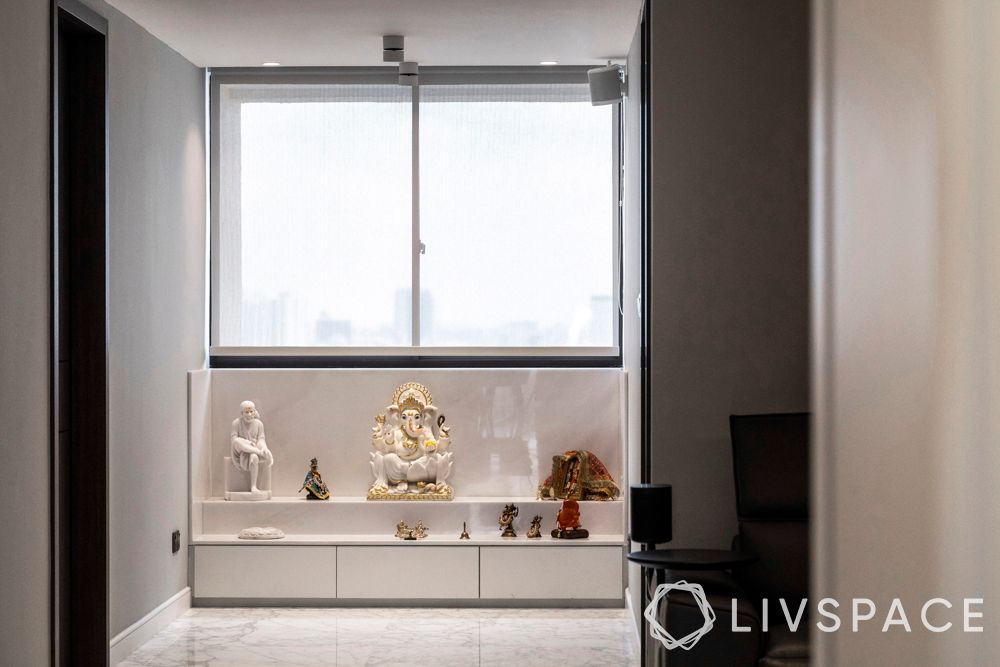 The Indian family residing at this penthouse wanted a quiet corner for praying. Wanting designed this perfect step-like prayer corner for them. She chose to go with white as it is calming and auspicious for prayer rooms.
Beige notes for the master bedroom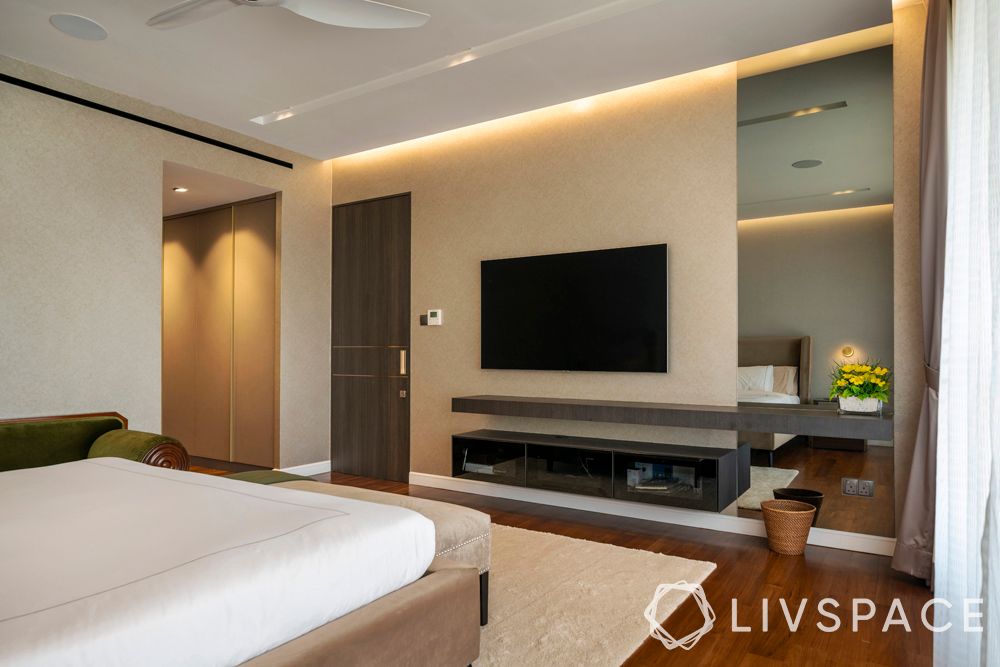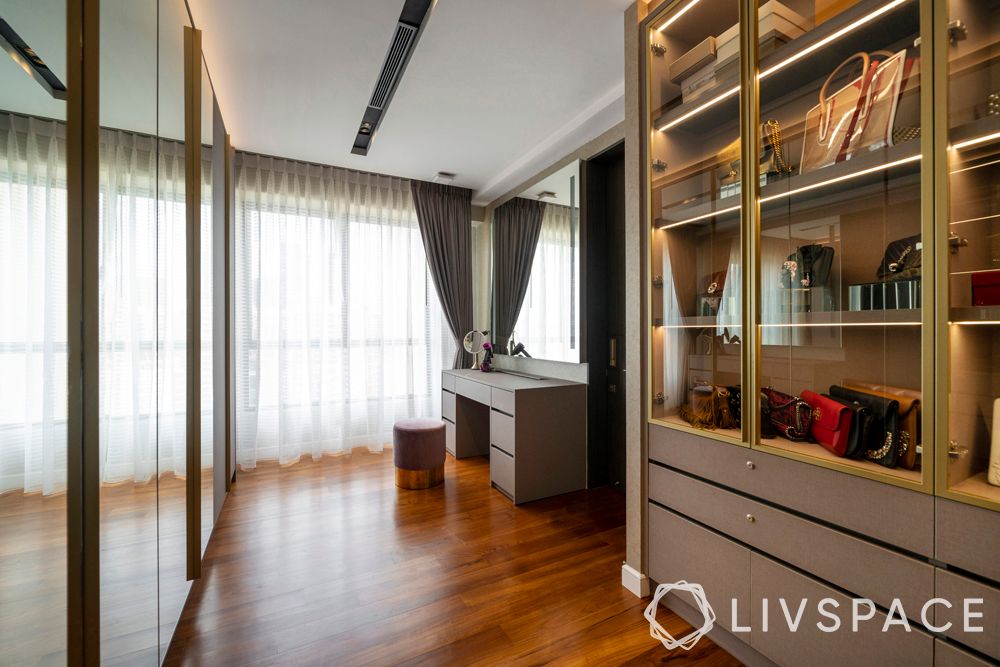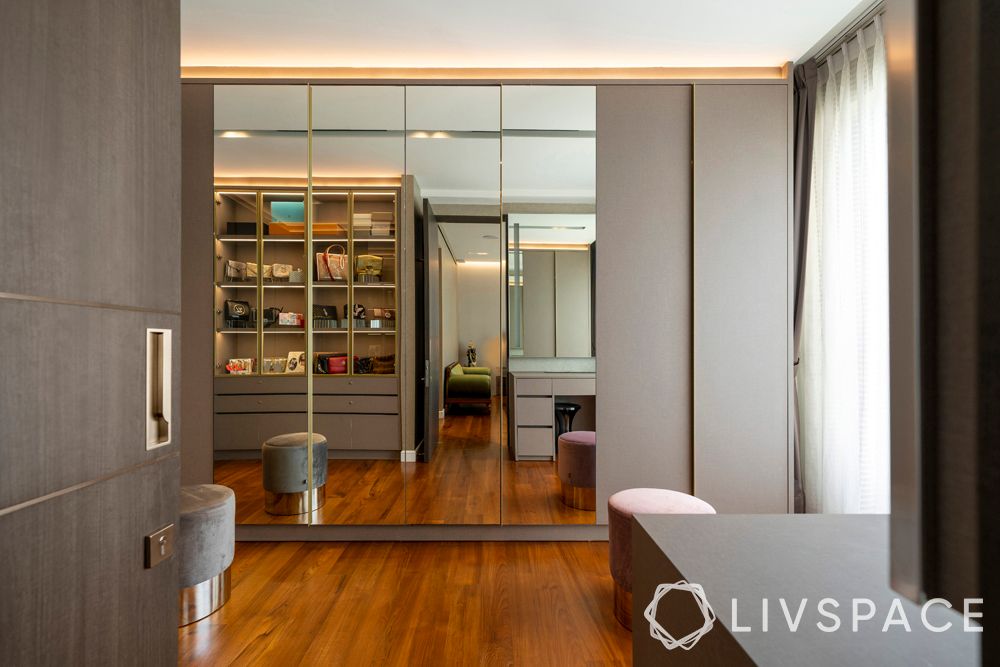 If there's one word for the master bedroom, it has to be wow! A wingback fully upholstered bed in beige finds space right in the centre, flanked by bedside tables. Wanting has also added a false ceiling here so that she could give them some ambient lighting. Vinyl wall coverings can be spotted on all the walls and an accent chair is the only pop of colour you can see here. Another noteworthy design feature is the walk-in wardrobe area at this penthouse condo that looks absolutely stunning. Teak parquet flooring dresses the floors and mirrored shutters for the sliding wardrobe make this walk-in wardrobe every bit plush.
Gorgeous bedrooms with unique design details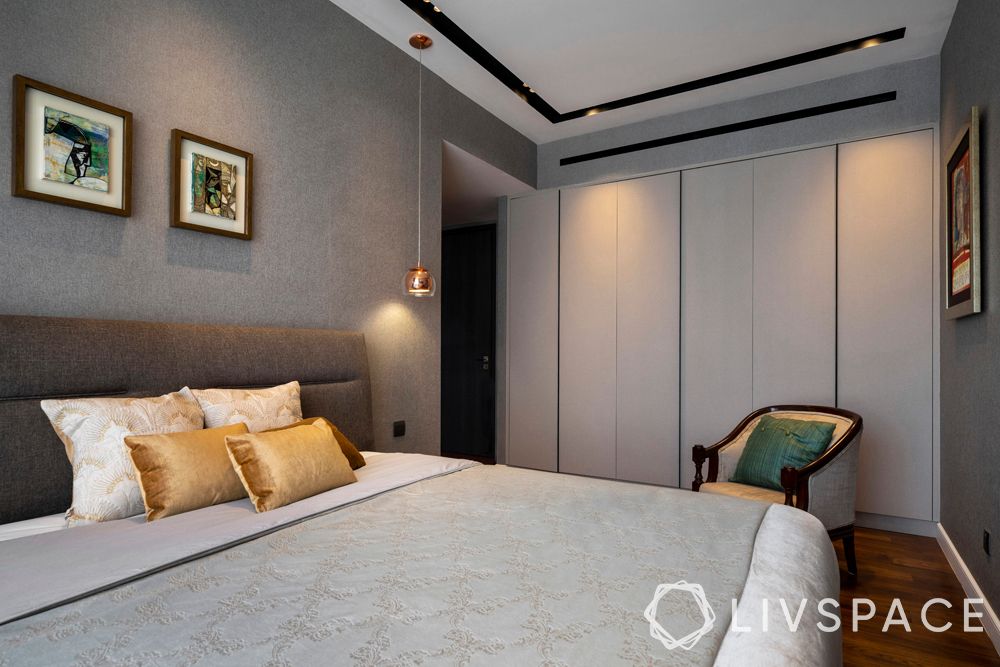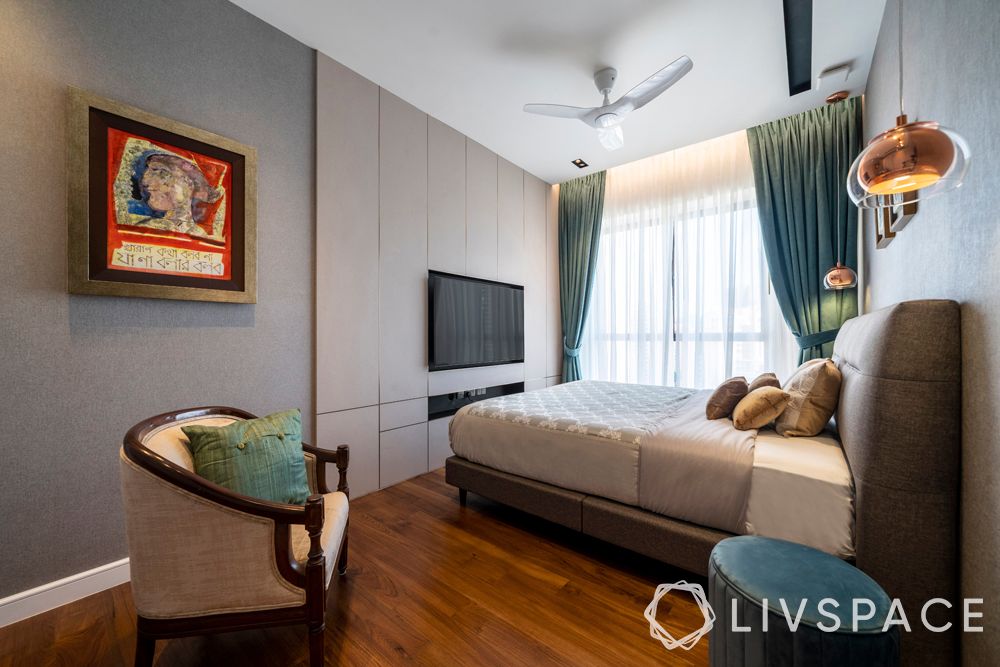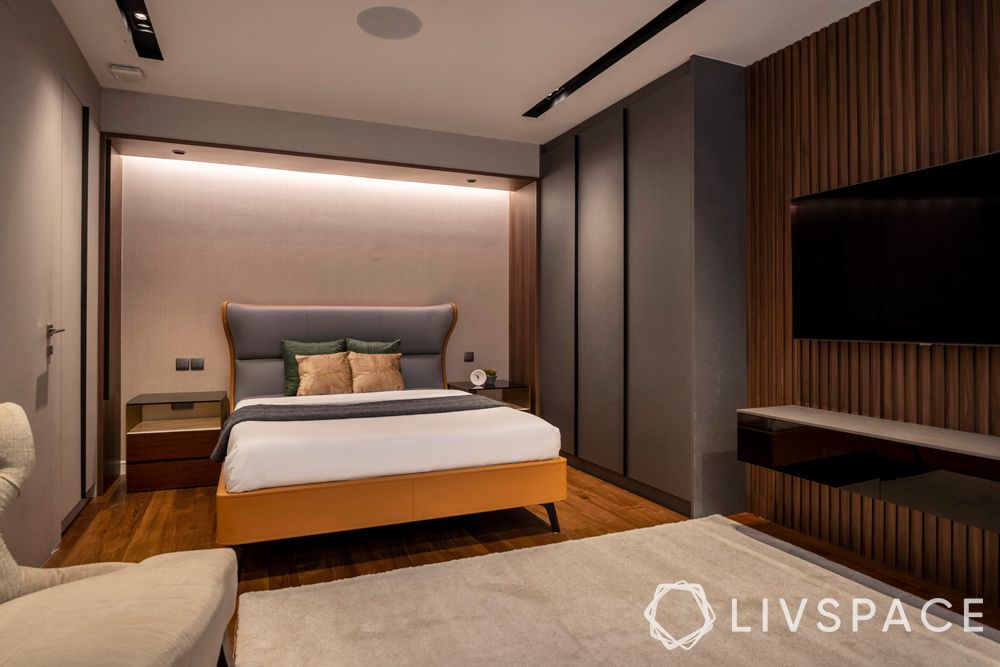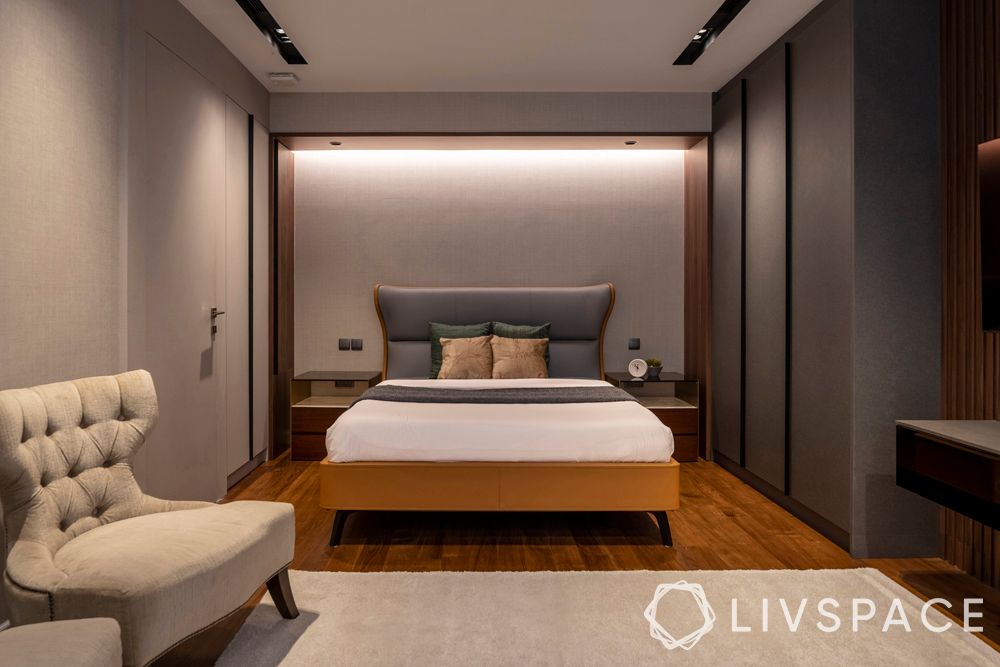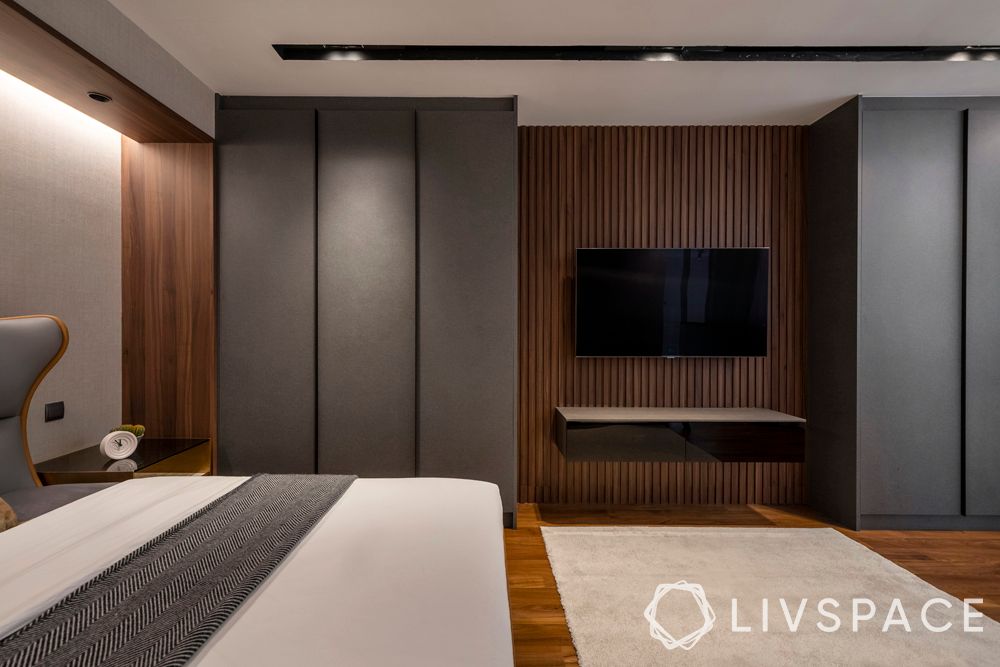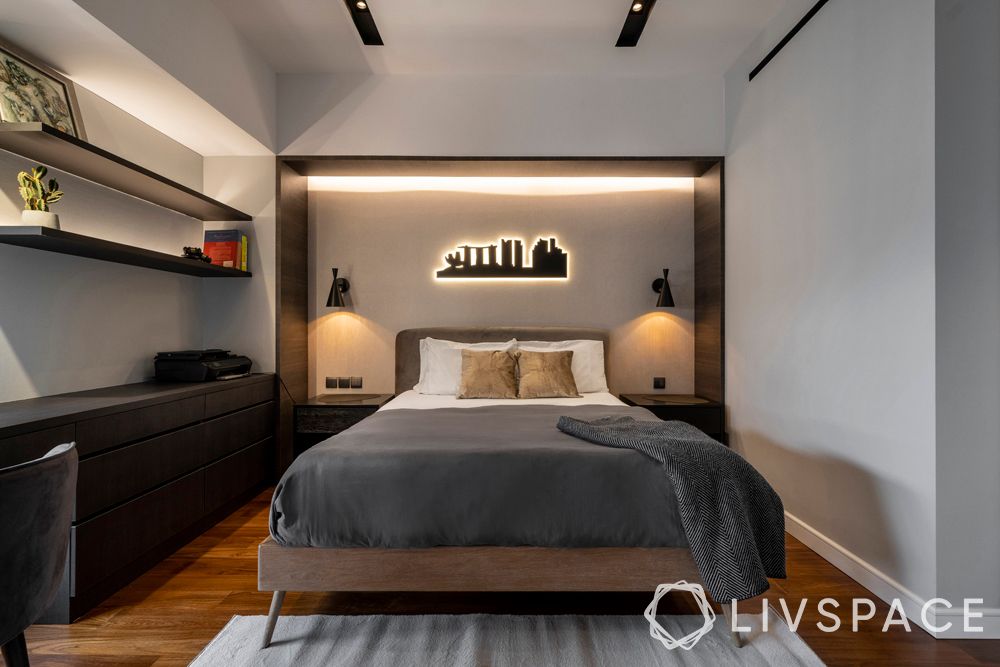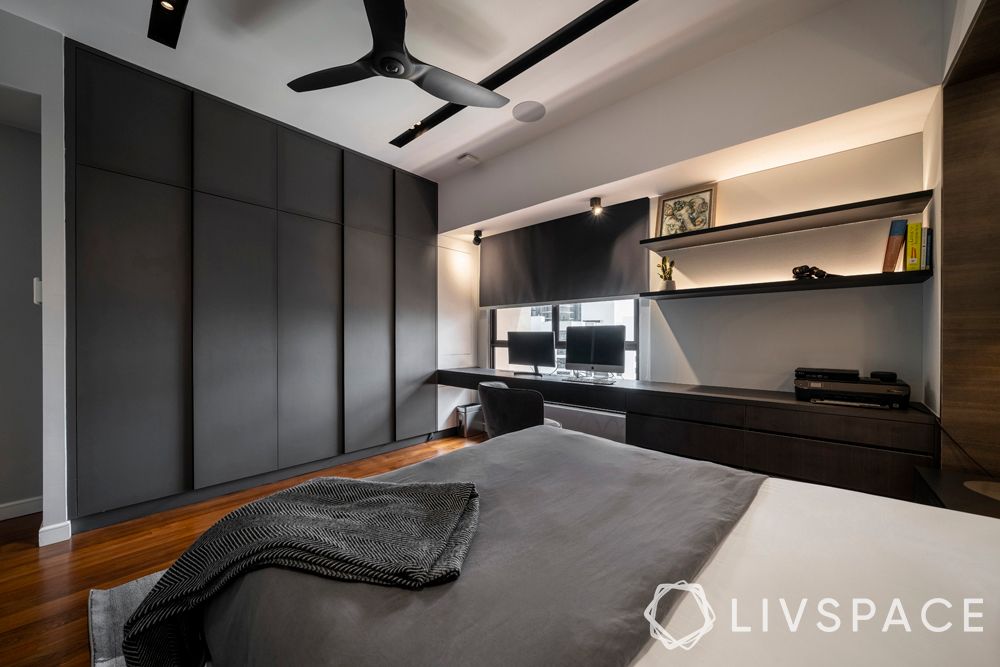 While the master bedroom is the most plush bedroom in this penthouse, Wanting has left no stone unturned for the rest of the bedrooms as well. In the guest bedroom, you can spot vinyl wall covering in subtle colours and a tasteful colour palette that looks so soothing to the eyes. Don't miss the unique pendant lights in every room and the ambient lighting in the guest bedroom. For the kid's room, she has added this wall-to-wall study table in laminate that has shelves and task lights to facilitate functionality.
An essential work from home setup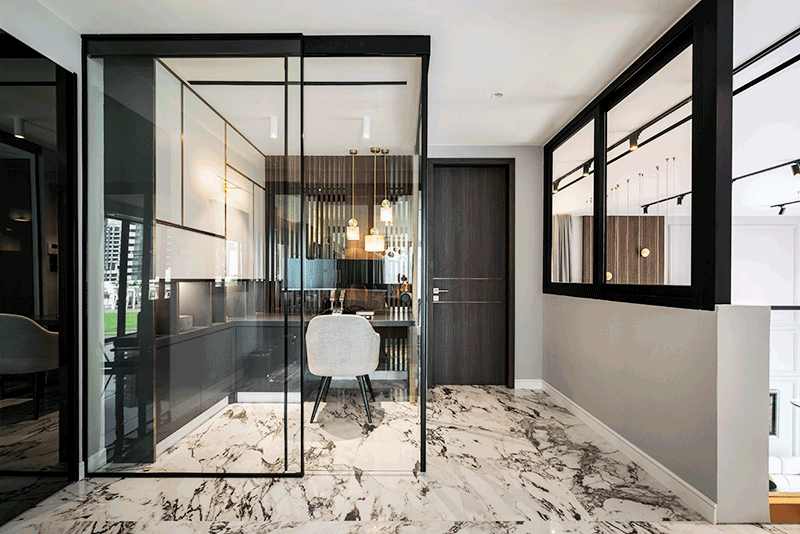 Given how the last year has gone and with the pandemic still raging in many parts of the world, it made it essential for most homeowners to have a dedicated work zone at home. For this penthouse condo, Wanting has designed this enclosed work area which is divided by glass doors. Check out the display-cum-storage next to the table that is specially designed to accommodate decor and official documents.
The bathrooms are equally stunning in this penthouse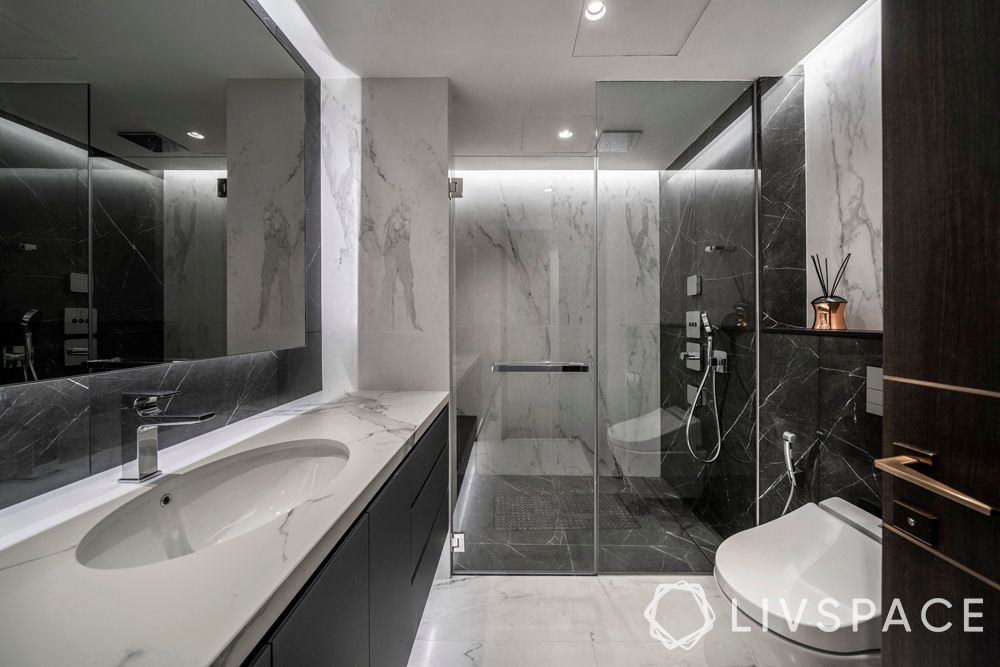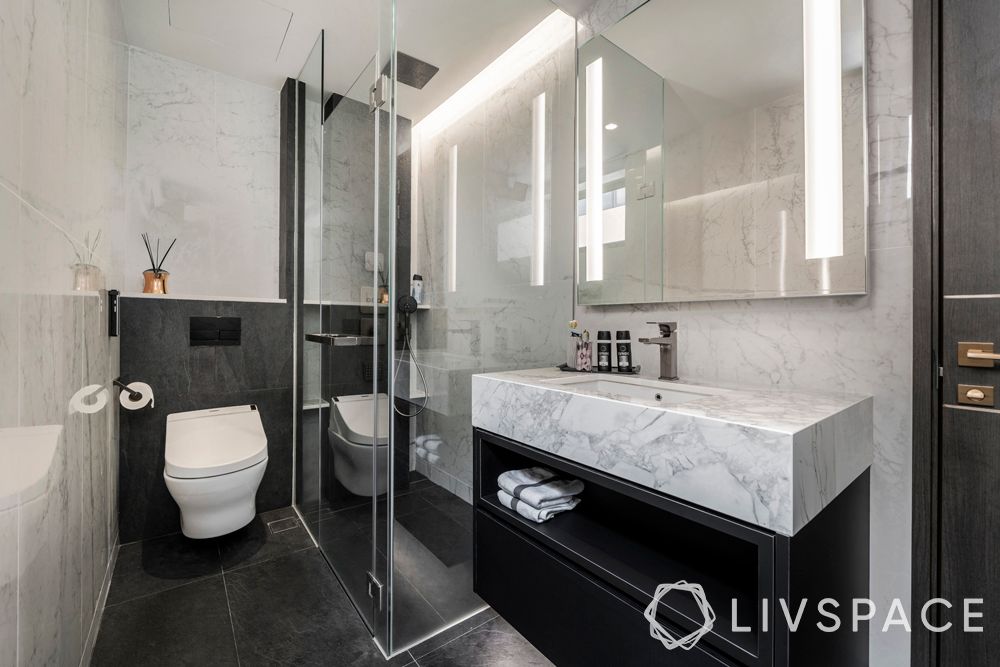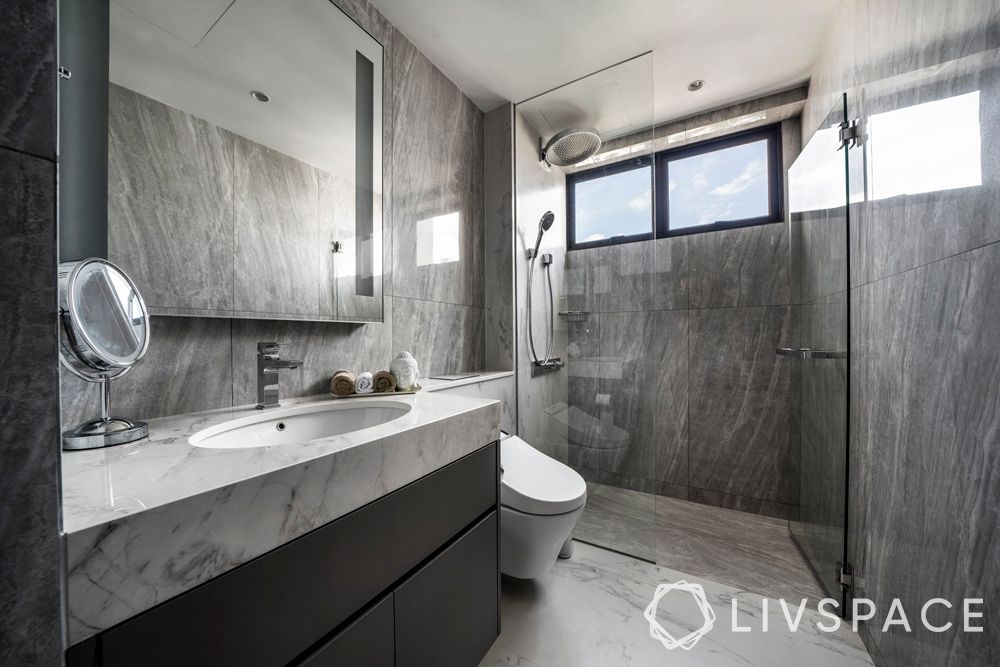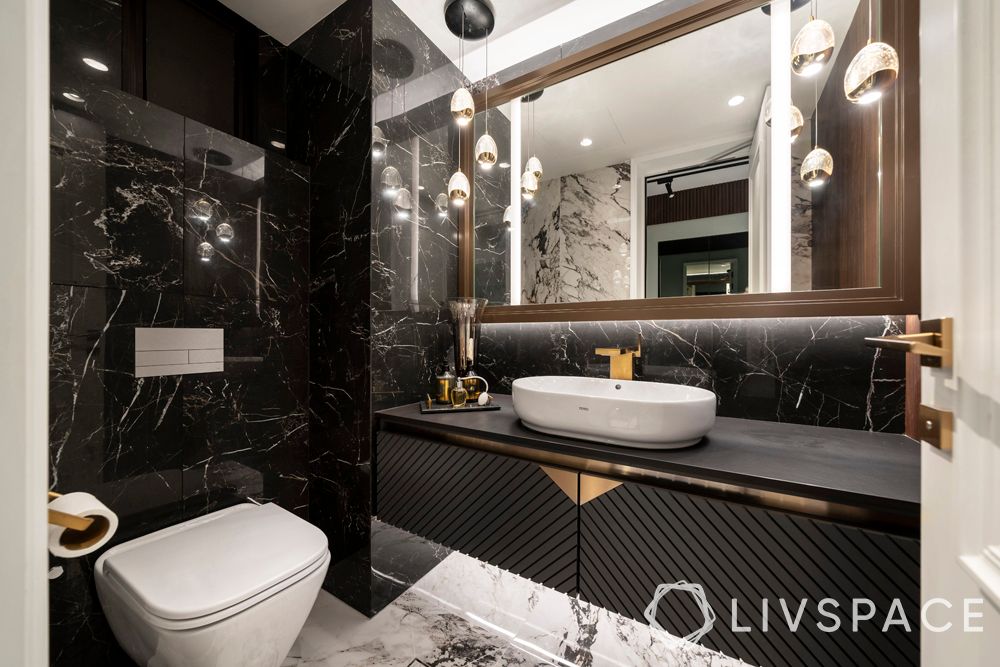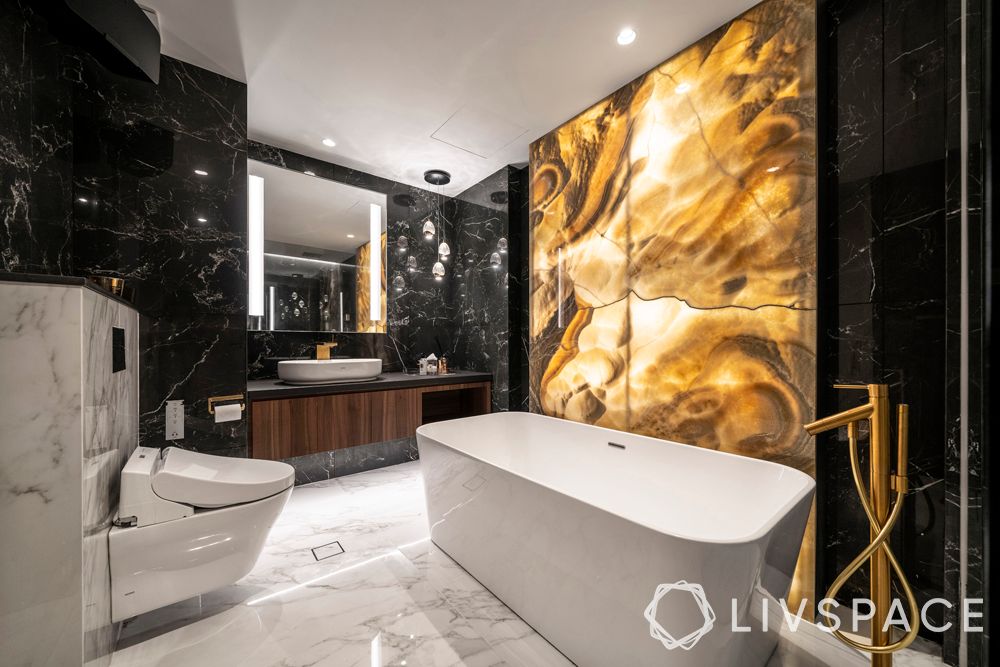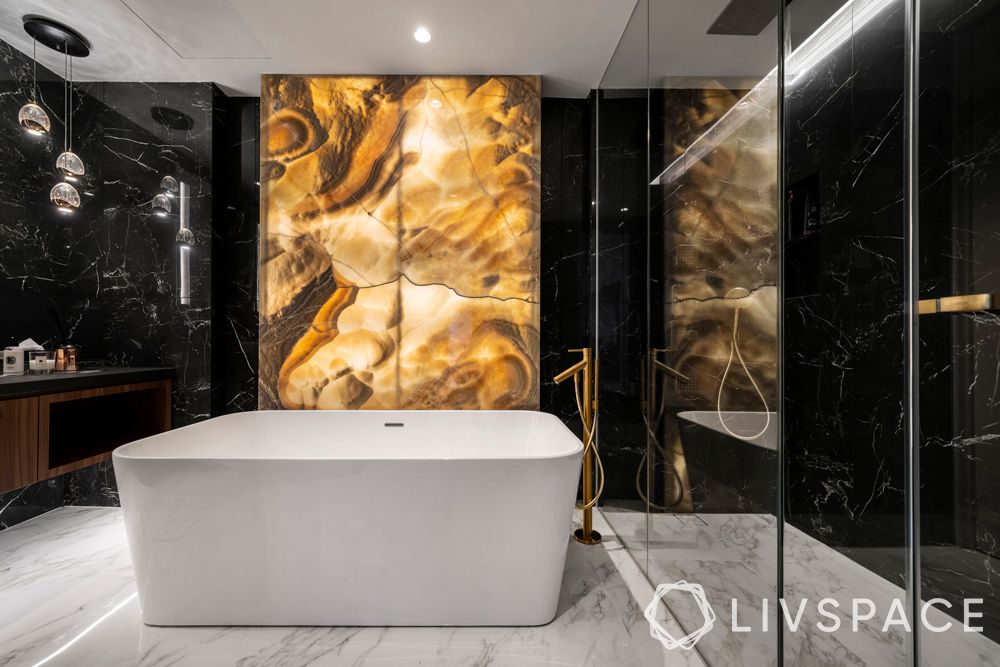 The bathrooms in this penthouse condo speak for themselves and there's hardly any justice we can do with words. Just look at the plush materials and finishes used in each bathroom. From ceramic tiles to Dekton countertops in each, these bathrooms look like they are a part of some premium hotel room. With every bathroom flaunting a different colour scheme, it is very easy to pick up design ideas from each.
"Working alongside the clients, exchanging ideas and helping them achieve their dream home was the highlight of this project and it was so much fun to work on this one. I had a lot of space to play around with and I experimented with materials and finishes while keeping the overall theme in mind."

Andrea Rodriguez Junquera

Business Manager, Livspace
Found this penthouse condo awe-inspiring? We have another condo renovation story that is different but equally unique: Fall in Love With the Rustic Yet Modern Vibe of This Spacious Condo.
Send in your comments & suggestions to editor.sg@livspace.com.