We gave a complete makeover to this 5-room condo at Prince Charles Crescent and it now wears a clean, Scandi look.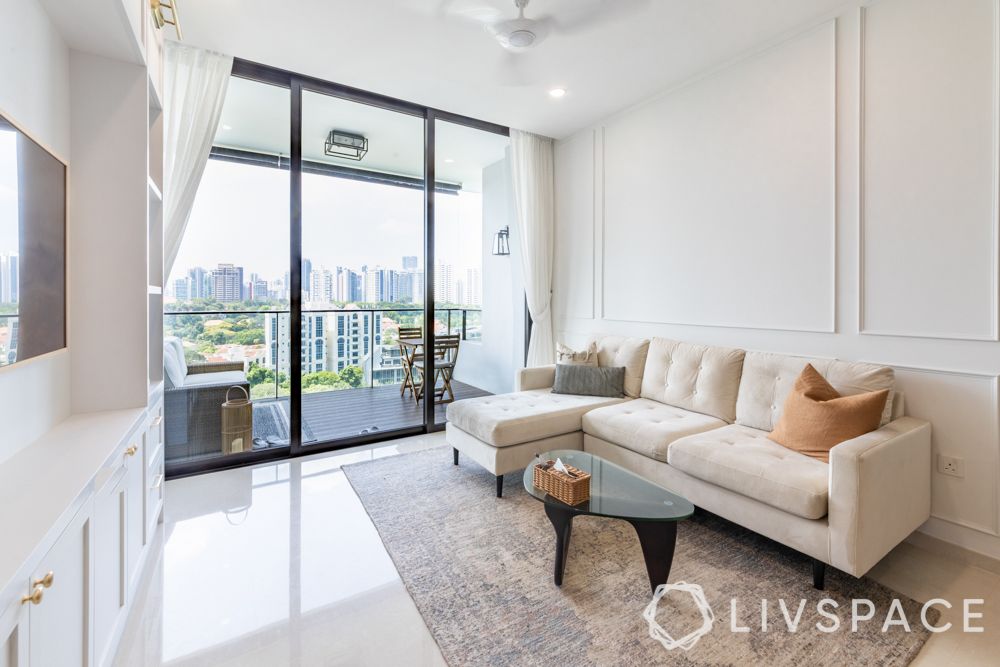 ---
Who livs here: Elena and Bernard
Location: Block 101, Prince Charles Crescent
Type of home: 5-room condo
Livspace team: Interior Designer Noel Tan Rongkeng and Project Manager Jamal
Livspace service: Hacking, tiling, plumbing , electrical, painting and carpentry
Budget: $$$$$
---
This condo design is one of the many projects that were completed during Covid and it was a new and learning experience for everyone. When the couple, Elena and Bernard approached Livspace to get their interiors designed, we knew that everything had to be perfect. They have a great sense of style and possess some amazing pieces of decor that we wanted to do complete justice to. Modern, farmhouse and homely were the keywords playing in everyone's minds and that was our stepping stone to this amazing condo renovation.
Check out how designer Noel has infused it with Modern English Colonial look everywhere!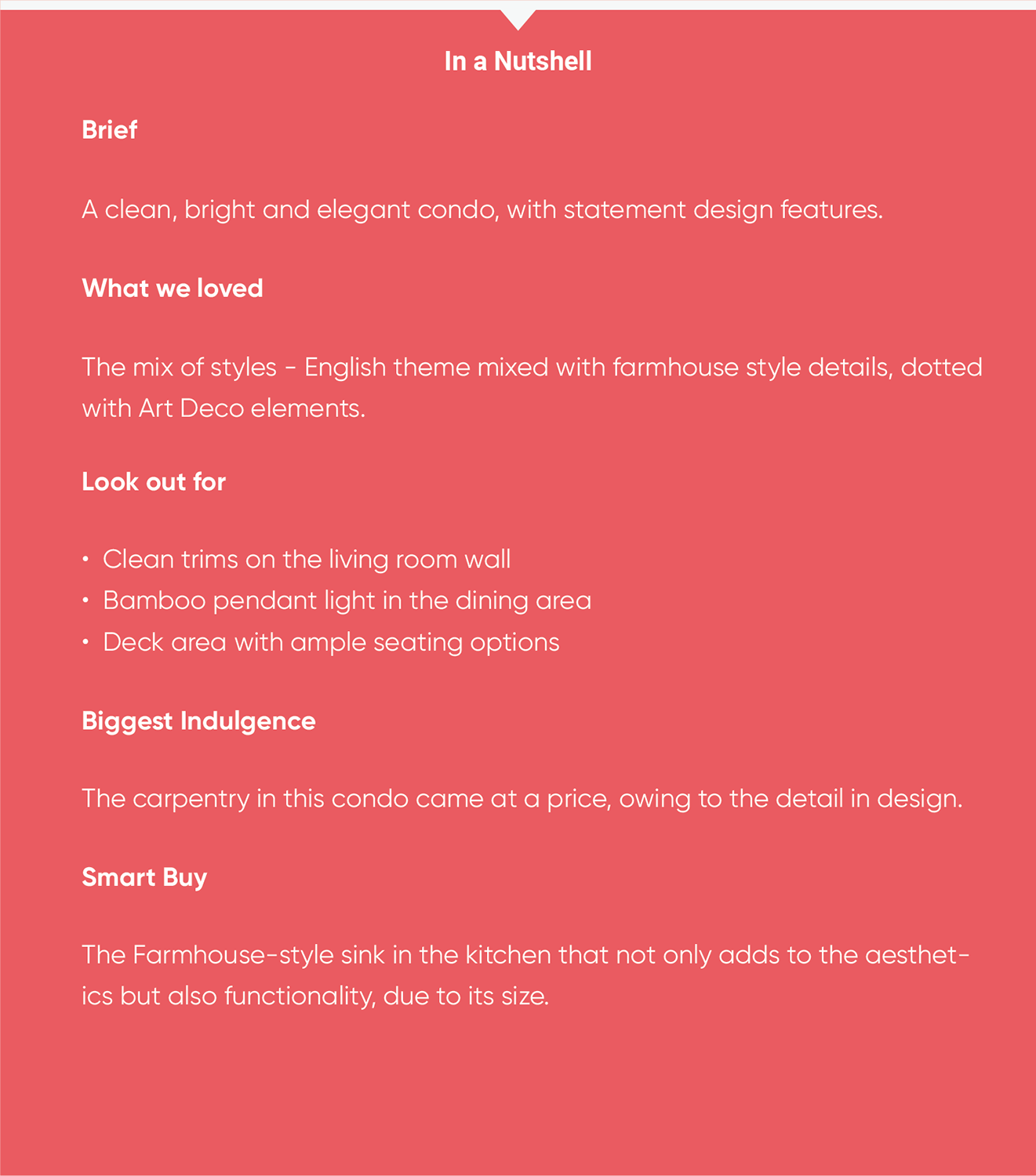 Spot the DIY in this sleek and Scandi living room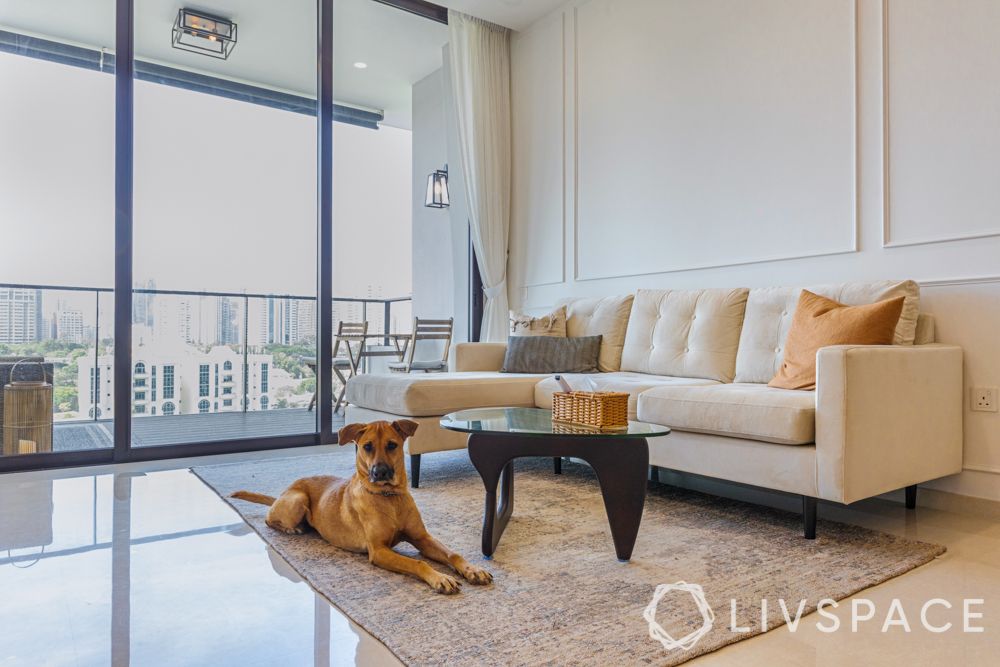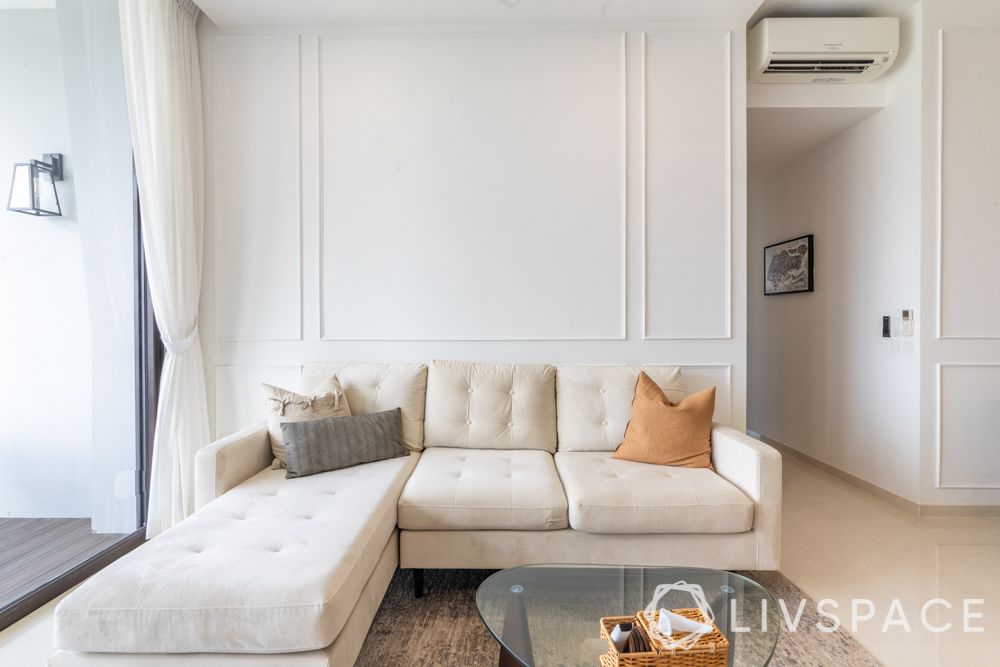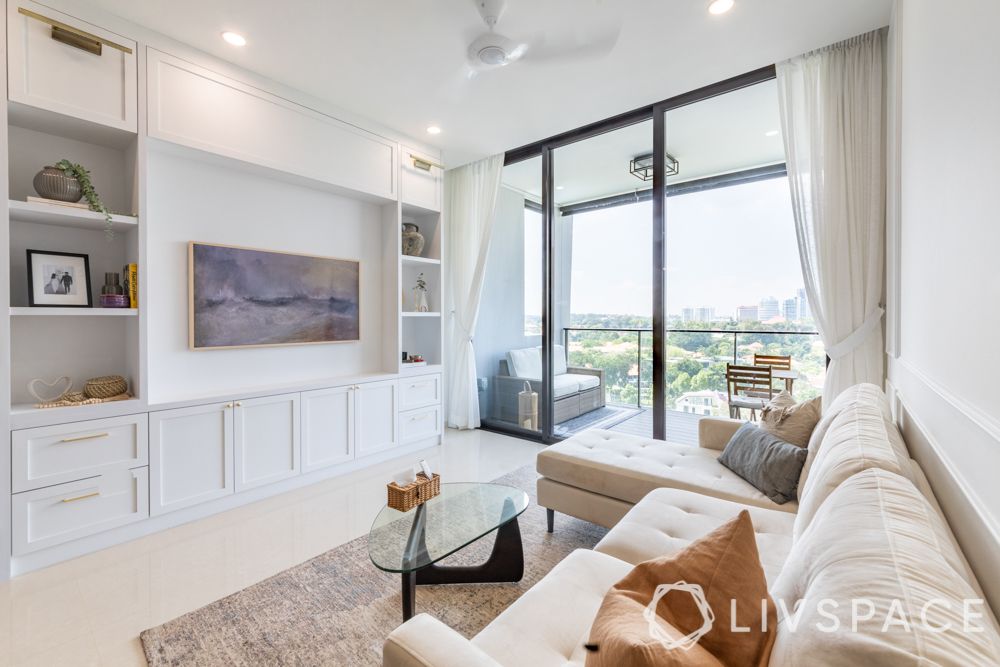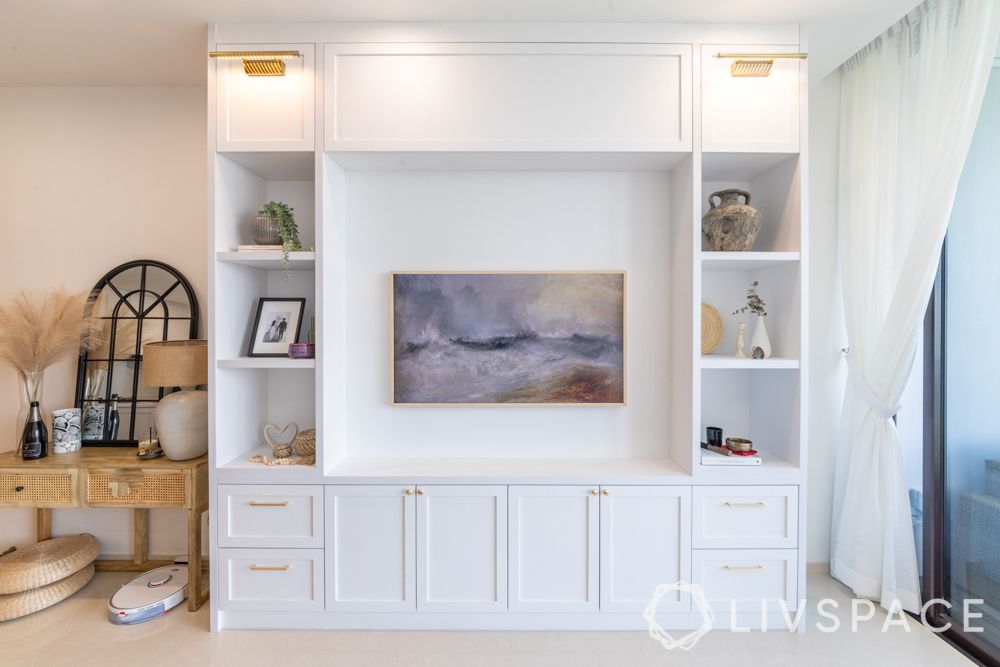 Problem: Chance of overshooting the budget due to design details that the couple wanted in the living room.
Solution: It is every designer's duty to give the homeowners what they want and Noel stood by it completely. Alongwith the design for this space, there were electrical and ceiling works, as well as additional wall trimming details that the couple wanted to achieve here. In order to add trims to the wall, Noel suggested some fun DIY. They got some wooden trimmings and stuck them to the wall before painting them. It turned out beautifully and was a fun learning process for everyone.
As for the rest of the look, Noel made sure he kept up with the design theme and kept the walls plain white. For seating, he has given them an L-shaped sofa with plush button-tufts. You can also spot a full-fledged TV unit with ample storage and display shelves.
Colonial-style dining area with natural materials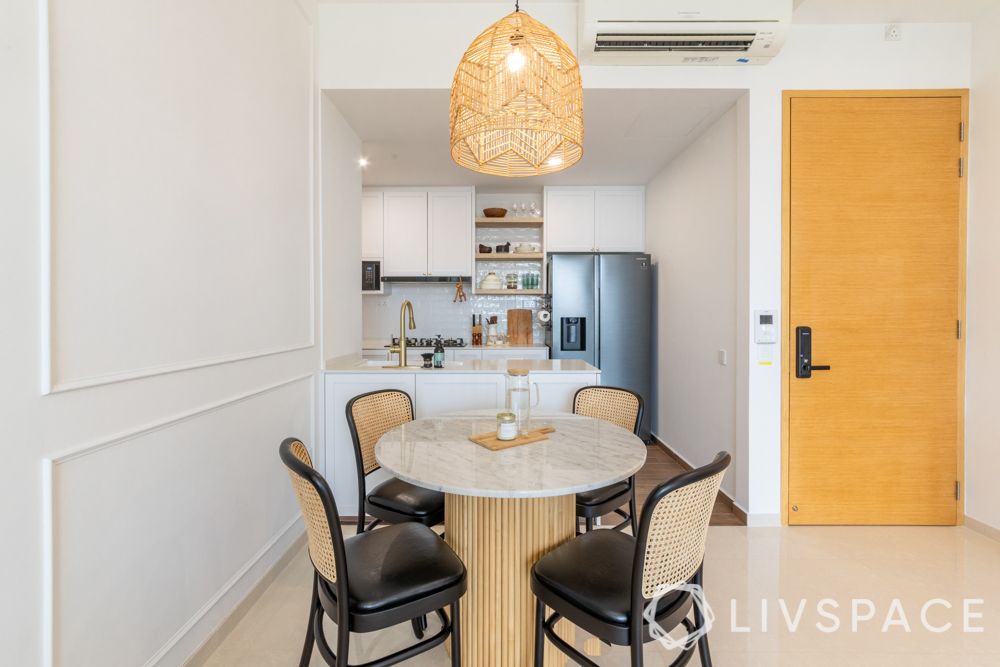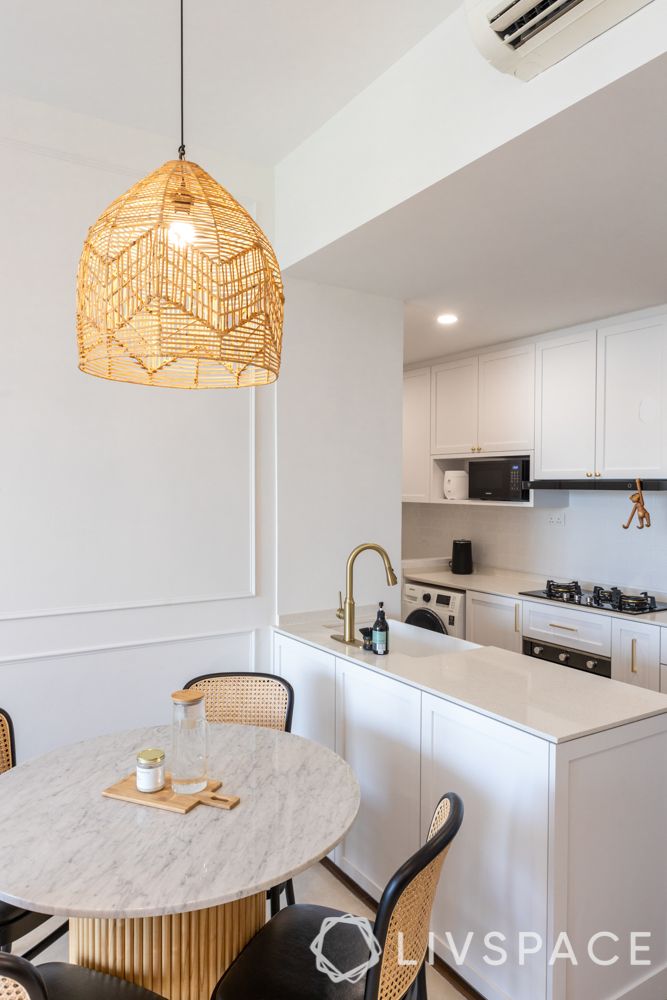 Problem: Carving out enough space for two and not wasting too much space to accommodate a dining table.
Solution: The dining room at this Prince Charles Crescent condo lies just at the right spot and Noel has made sure that it is close to the kitchen so that no other corner is wasted. Since the kitchen is open, it made sense to add a round dining table just outside it.
As far as the design of the rest of this space goes, you can spot rattan dining chairs around the table and a bamboo pendant light that steals the show.
A brighter and more organised kitchen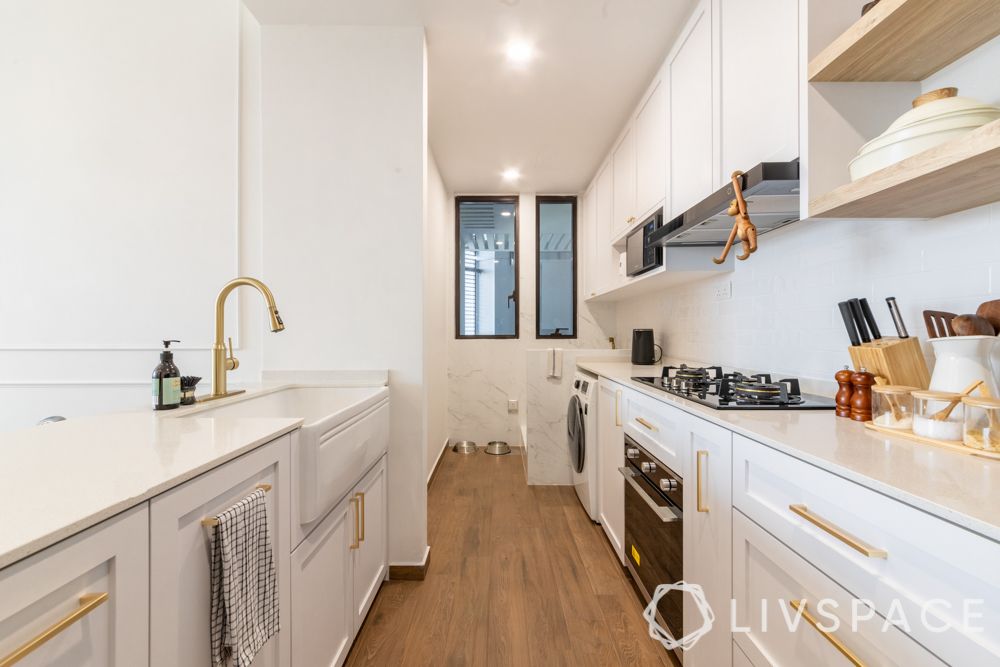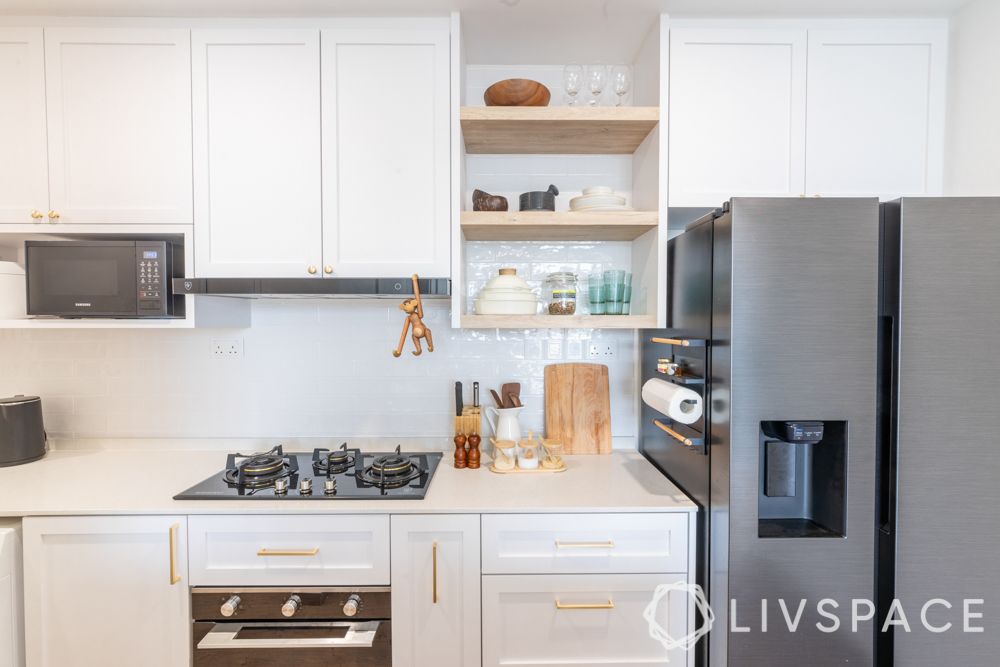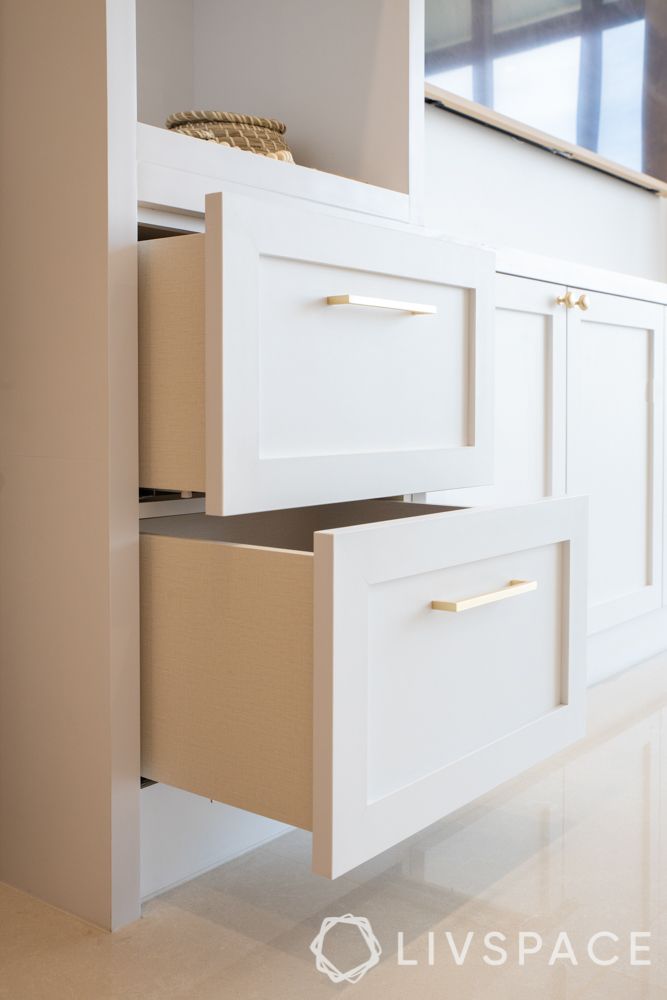 Problem: Due to restrictions from the condo management, they were quite strict with certain things in terms of the structural concerns. The kitchen at this Prince Charles Crescent condo has parts of the wall that have piping protruding out of the wall, and it seemed difficult to have open shelving at first. But this was something that the couple really wanted.
Solution: to combat this blocker, Noel actually helped to build a false wall to conceal the piping and layed wall tiles over it. The wall looks like a flat wall when looking from the front but there's a portion that comes out and not leveled with the rest of the wall. Noel knocked down the powder room at the back of the kitchen to make the kitchen bigger and also create a pet showering area.
The original layout of the kitchen was such that it looked very narrow and dull. The couple loves bright and open spaces, therefore knocking down walls and creating an open kitchen was something that Noel had to achieve. There's a lot of storage space in this farmhouse style kitchen as well.
Balconies are more important than we think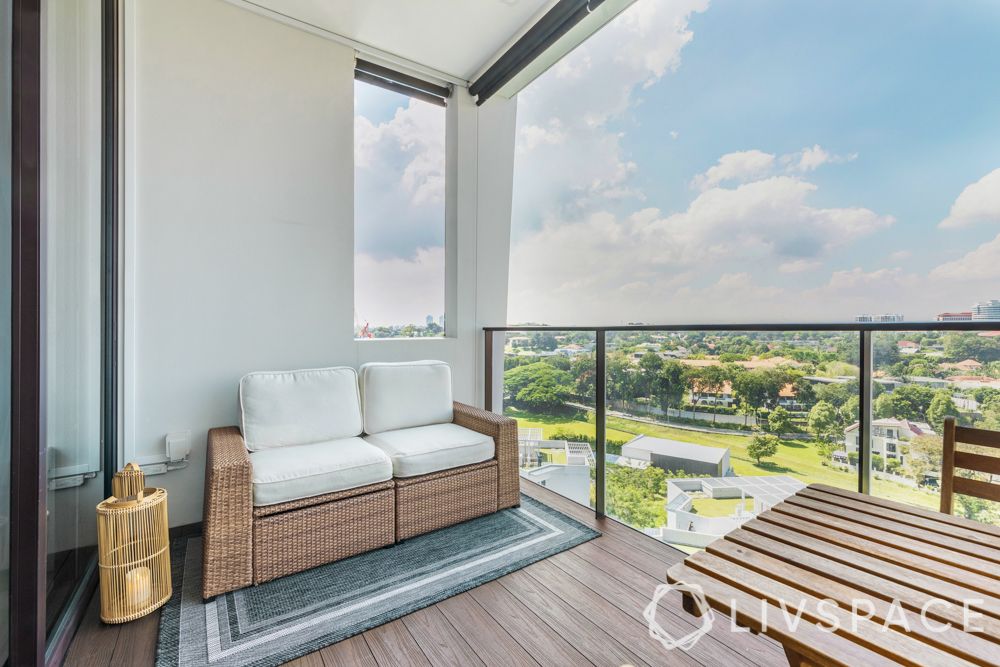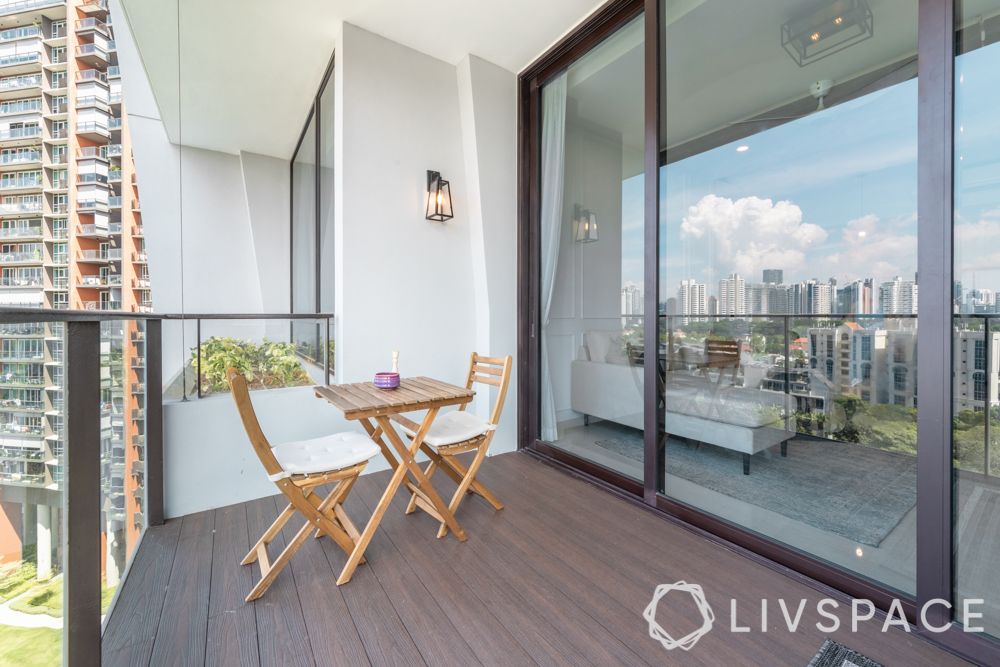 When we are all cooped up at home, balconies play a major role in uplifting our spirits. For this Prince Charles Crescent condo, Noel designed two types of seating areas in one balcony. On one side you can spot a two-seater outdoor sofa and on the other you can see a foldable garden table set. So the couple can relax how they want to.
"It was a very positive experience. Noel is very willing to listen to requirements and he was able to accommodate everything we needed, even though it was a very last minute change or things that were technically more difficult to execute. We were pretty hands on in the entire renovation process and had very specific ideas on how we wanted the space to look and feel. Noel was always very welcoming of our suggestions and we never felt like he was imposing his ideas on us. We are very appreciative of that."

Elena and Bernard

Livspace Homeowners
A master bedroom that has ultra soothing interiors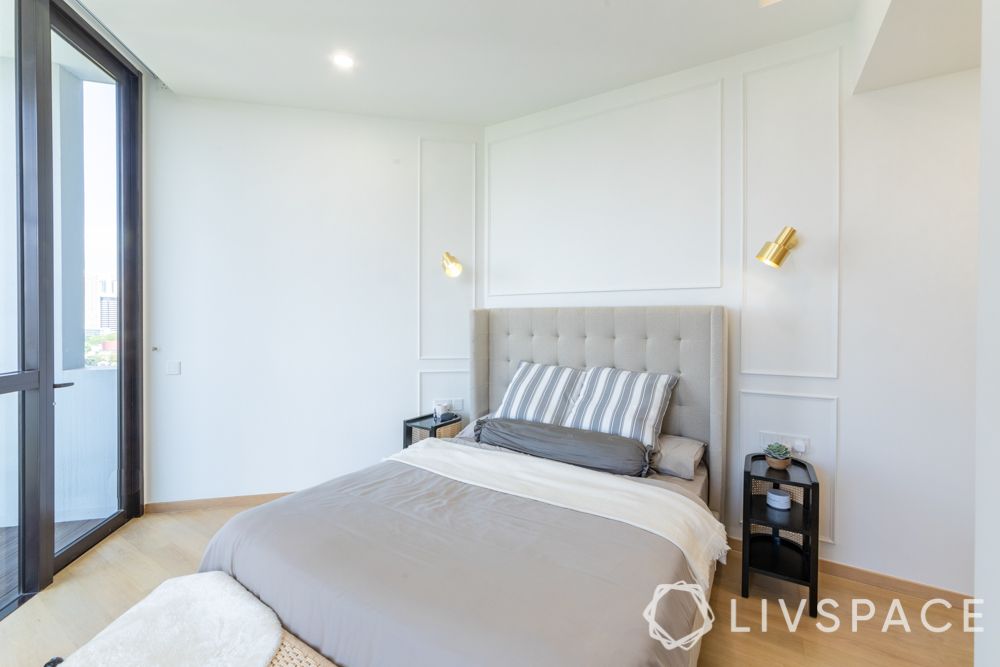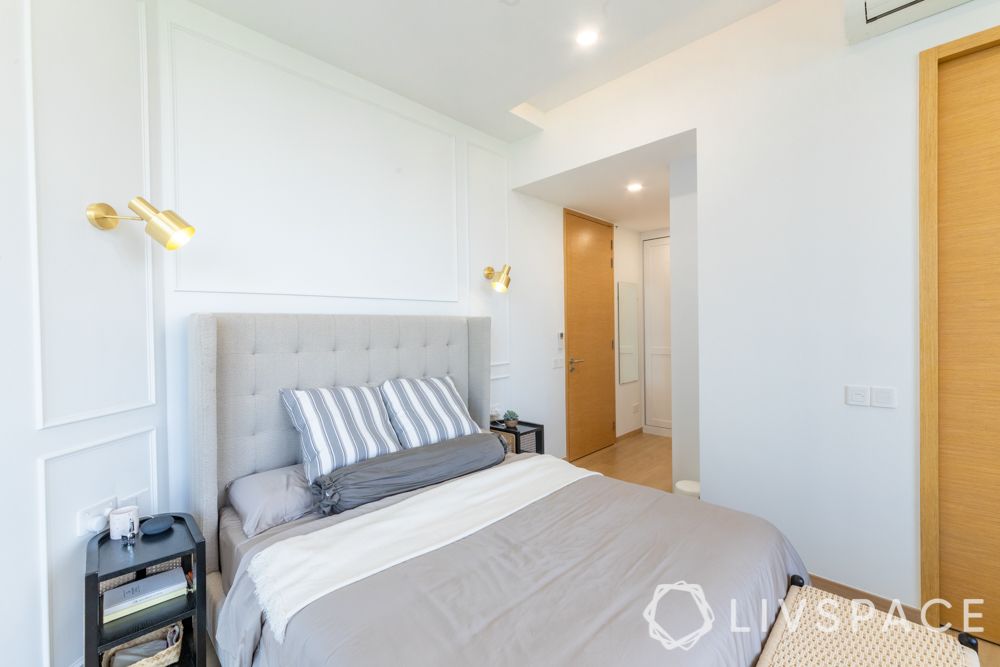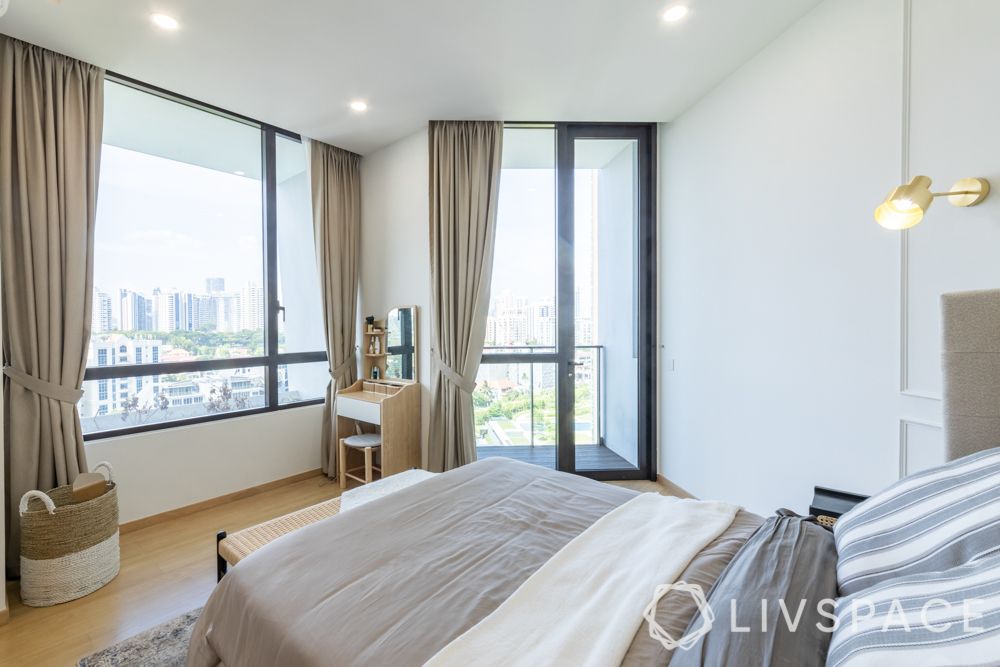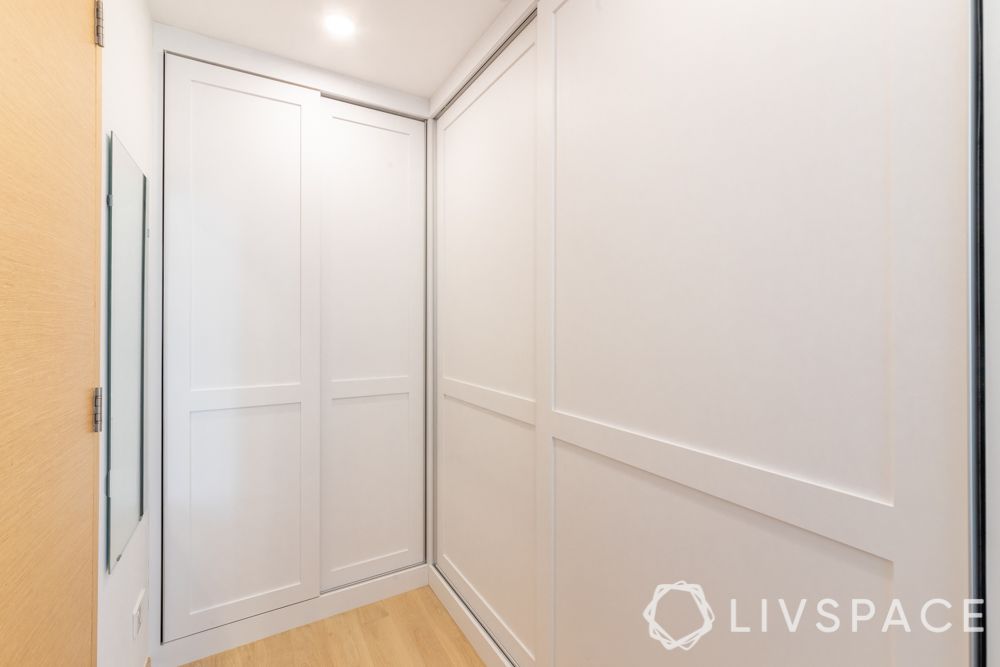 Problem: The couple was concerned about consistency in design when it came to the bedrooms and the rest of the condo.
Solution: It is a true designer's mark to make sure that the design language is followed in every corner of the house and that is what Noel did. He continued the wall trims into the master bedroom and that really tied the entire look together. Even the white walls and the shaker-style wardrobes look very Modern Colonial.
The wingback bed that is fully upholstered looks so comfy that we want to save it for later. Since this room at Prince Charles Crescent enjoys a lovely view outside, Noel has given the couple picture windows that allow an unhindered view of the sky and greenery outside. A tiny dresser also finds a place in one corner of the room.
An extra bedroom turned into a yoga room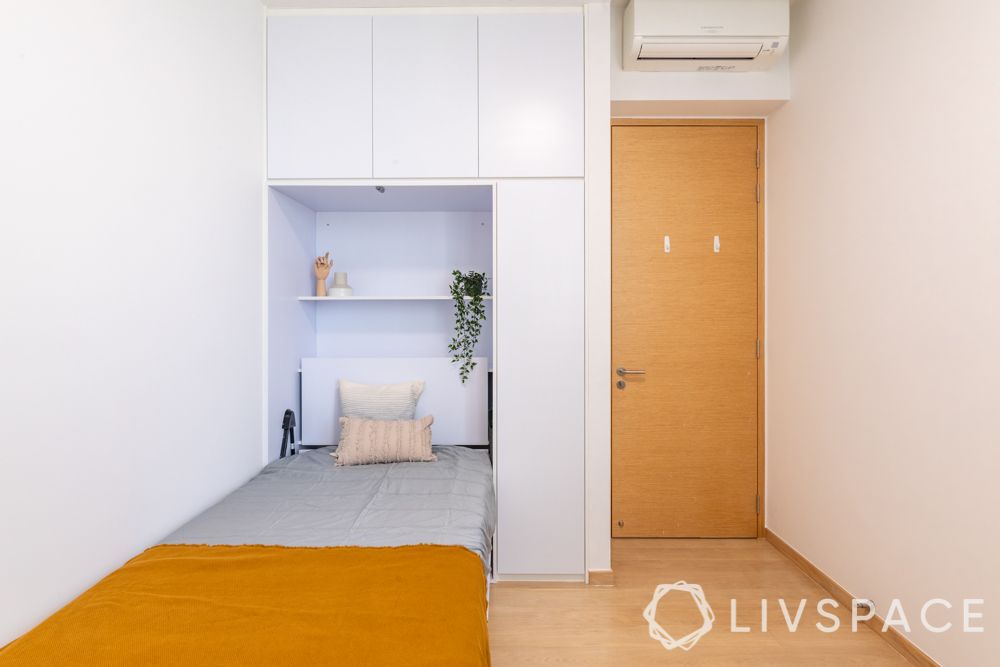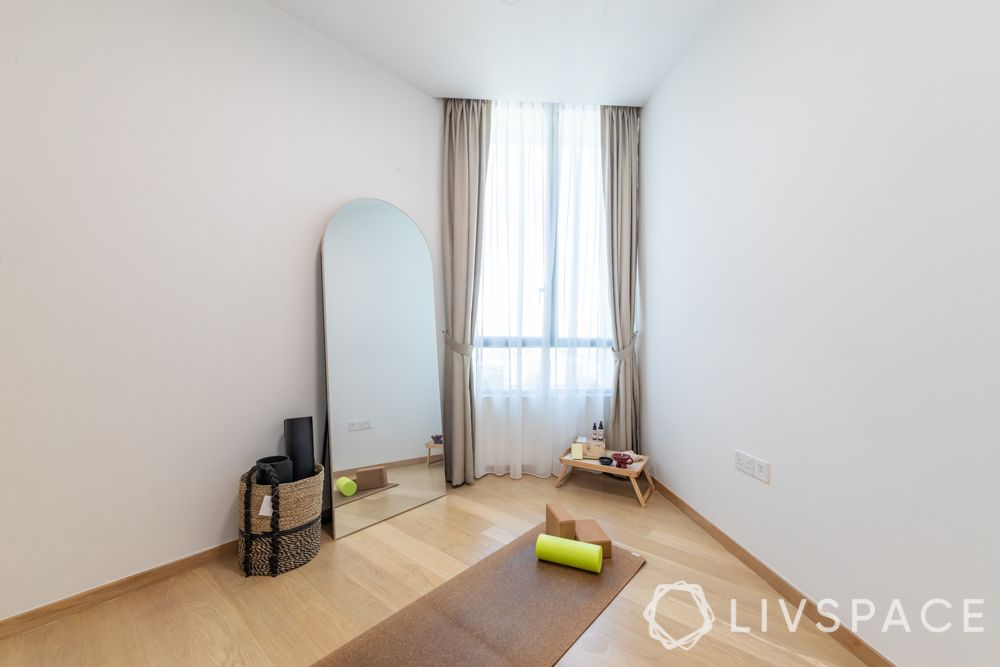 This bedroom in this Prince Charles Crescent condo is a multi-functional space. Noel has added a folding bed that folds up into a wall niche when not in use. And in turn, there's enough floor space for the couple to exercise and practice yoga.
Bathrooms that are renovated to be more functional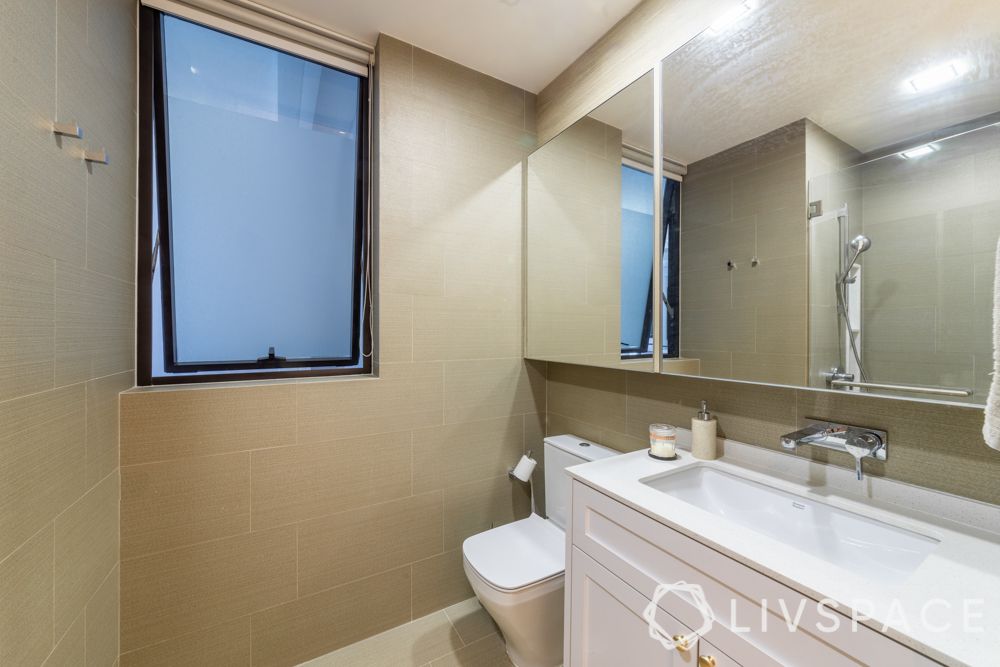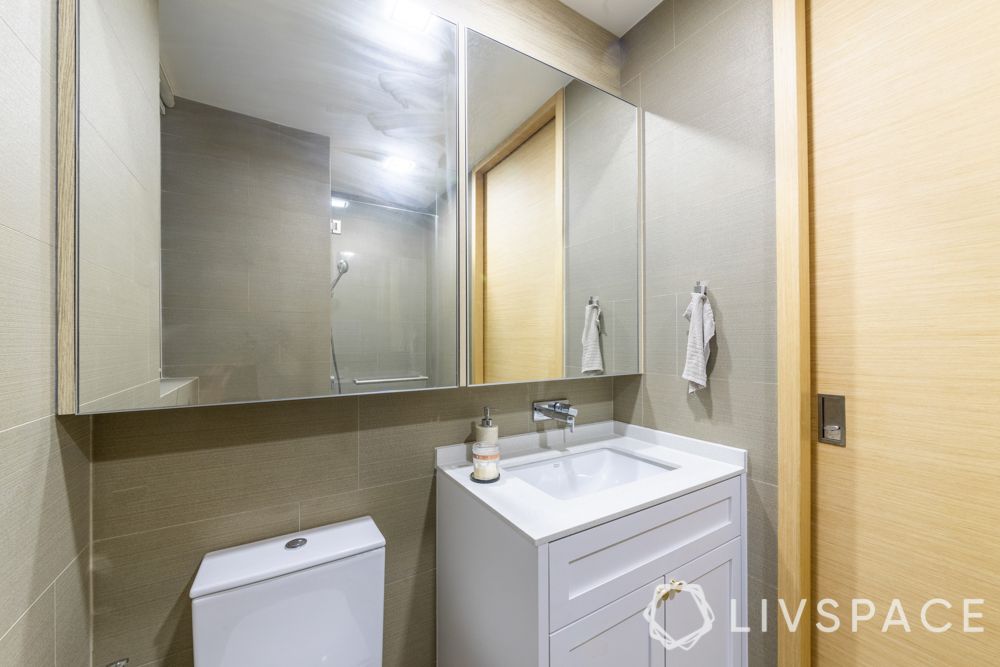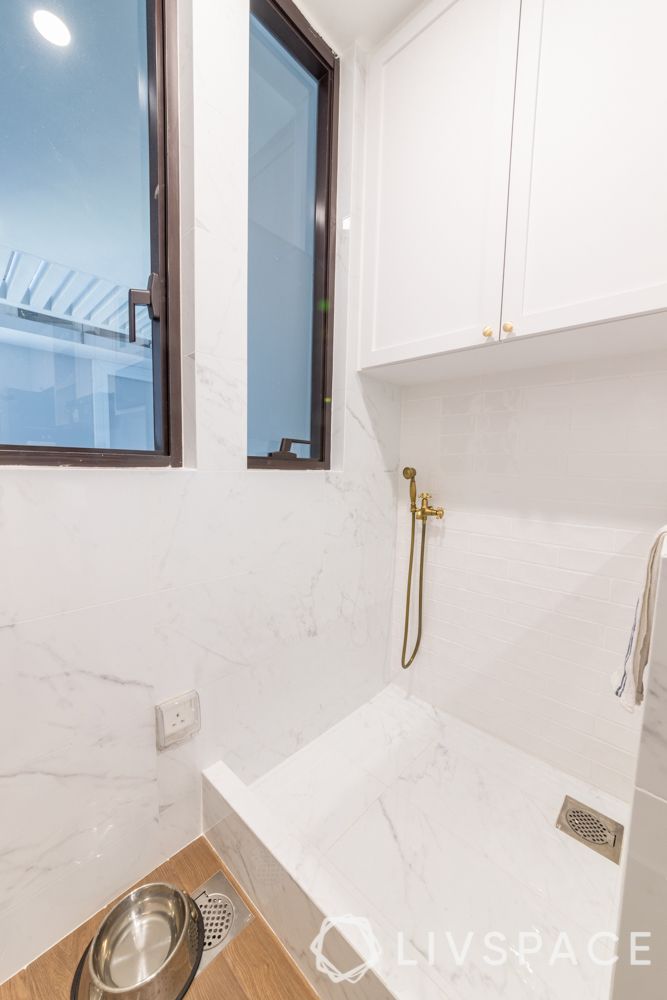 The master bathroom in this condo sports homogeneous tiles all over the walls and sufficient storage in the vanity. A wall-to-wall mirror also has storage behind it. Therefore, this is a great idea for a compact bathroom. Noel has also managed to build a small pet wash area in the kitchen where their furry friend can have a nice bath time!
"I really love the overall look of the entire condo and the way it has turned out. The DIY wall trimming in the living room is another fun aspect of this project. Elena and Bernard were very clear on what they wanted and as a result, the designing and planning was very smooth. It was a great project to work on!"

Noel Tan Rongkeng

Interior Designer, Livspace
If you loved our design solutions for this Prince Charles Crescent condo, you might enjoy reading this too: This is How You Design a Penthouse Condo That's Unique and Luxurious.
Send in your comments & suggestions to editor.sg@livspace.com.