Budgets are an important part of the interior design journey for most homeowners looking to renovate their homes. While certain aspects of a design might require you to splurge on quality, there are still multiple ways to rein in your spending. This being said, you might be wondering how much the renovation cost for a 4-room resale flat can run up to. Before you commit to an expensive design, why not explore some budget-friendly ideas for your home reno instead? This is exactly what homeowner Chia Lee Kim had in mind when she approached Livspace for her 4-room resale renovation.
With the help of interior designer Siti Nurshafiqah, this 15-year-old HDB renovation got the best of budget interiors, without straying away from style. So, how did Shafiqah keep the renovation cost for this 4-room resale flat within a budget of S$26,000? We've got all the cost-related details below and more! If you're wondering how much you would need to set aside for a similar design, be sure to read on:
---
Who Livs here: Chia Lee Kim and her family
Location: 635 Yishun Street
Size of home: 91 sqm
Design team: Interior designer Siti Nurshafiqah and business manager William Chong
Livspace service: Partial home renovation
Budget: $$$$$
---

Brief

To create a cosy and contemporary design that does not increase the renovation cost for a 4-room resale flat

What we loved

The bright and spacious transformation of a previously cluttered and compact kitchen

Look out for

– The use of homogeneous floor tiles for a budget kitchen renovation
– Cost-effective furniture options for the living room and kitchen
– Use of light colour palettes for a spacious-looking home

Smart Buy

Inexpensive furniture with quality workmanship


Laminate Kitchen Cabinets for a Budget Kitchen Renovation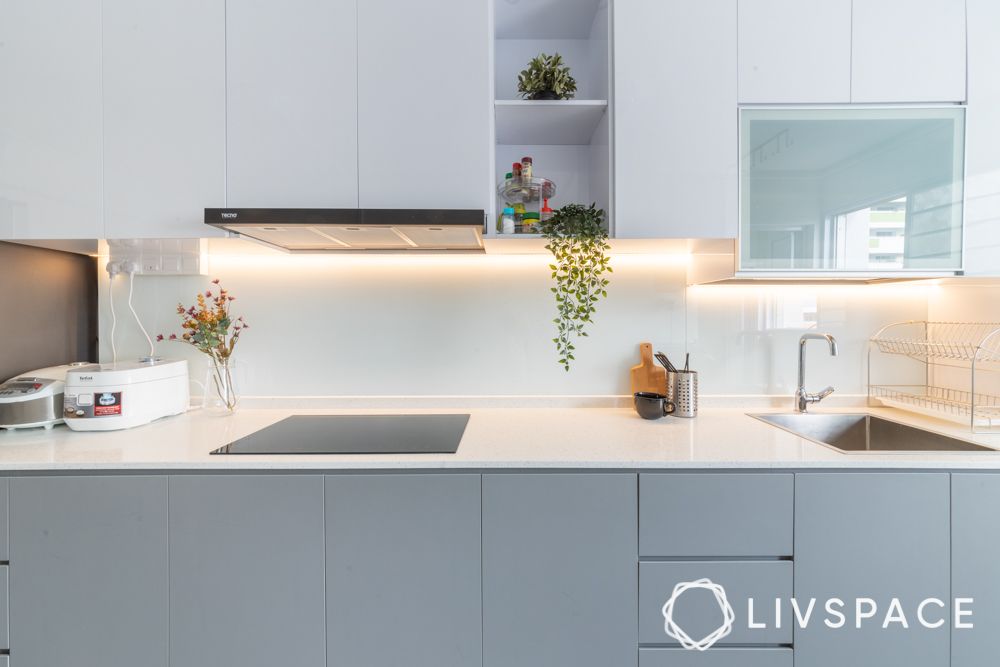 Laminates are cost-effective cabinet options when it comes to a kitchen remodel on a budget. They offer quality surface protection against scratches and stains, making it a useful addition to your kitchen cabinetry. Here, Shafiqah uses cabinet laminates in bright, neutral colours to keep this budget kitchen renovation looking bright and airy.
Did you know that you can also get antibacterial laminates for your kitchen? If you or a family member suffers from allergies, hypoallergenic materials are your best bet. Consult your designer to know more about such kitchen cabinet materials.
How Much Did This Kitchen Remodel on a Budget Cost?
| | |
| --- | --- |
| Type of Work | Cost |
| Cost of labour for demolition, hacking, and waste disposal in the kitchen | S$5,460 |
| General fixes such as waterproofing, laying floor tiles, wall cement screeding, kitchen cabinet construction etc. | S$6,150 |
| Cost of glass backsplash | S$900 |
| Design, fabrication, and installation of the kitchen cabinets | S$5,800 |
| Cost of the quartz worktop | S$1,300 |
Please scroll to the right for the full table
Just one glance at the before and after images gives us some insight to the magnitude of changes that went into this budget kitchen renovation. The table above offers a simple breakdown of the costs that went into this kitchen remodel on a budget.
Disclaimer: Please note that the renovation cost for this 4-room resale flat is relative to the size/dimensions of this particular kitchen. The cost of renovating larger or smaller kitchens alike would vary based on the materials and type of work needed. Consult a designer for more details on estimated costs for your floor plan.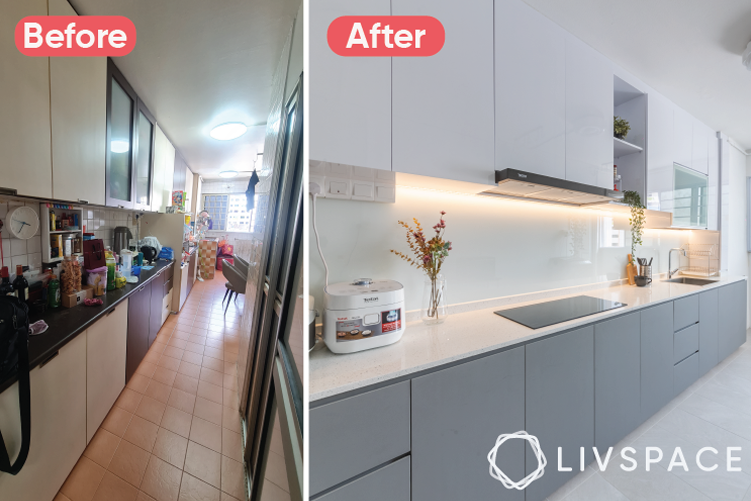 From the above table, it is clear that a lion's share of the renovation cost for this 4-room resale flat was allocated to the kitchen alone. This is also because a few structural changes needed to be made to the space. The old kitchen previously had a storeroom by its entrance, making the space appear small and congested.
To better optimise the space, Shafiqah did away with the storeroom and hacked the existing tall unit as well. By doing so, the overall look and feel of the kitchen improved, making it more functional and spacious than ever!
Budget-Friendly and Durable Floor Tiles for an Old HDB Renovation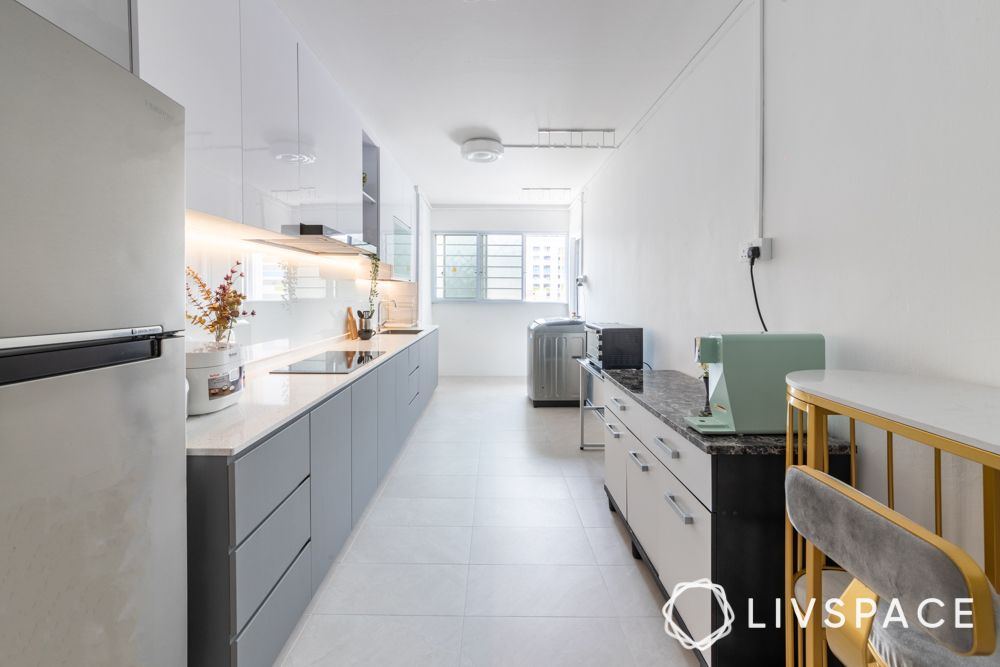 Thinking about what type of 4-room resale renovation ideas you should consider for your HDB? It might help to plan from the floor up to understand how much to put aside for your renovation cost for a 4-room resale flat. The kitchen floor tiles of this HDB might not be the most budget-friendly option in the market, but it certainly is worth the price given its multiple benefits.
During this old HDB renovation, the kitchen floors were replaced with homogenous tiles (also known as full-body porcelain tiles) which are durable and water-resistant. What's more, such flooring tiles are great to have in kitchens and bathrooms, as they are both stain-resistant and slip-resistant.
Vinyl Flooring for the Living Room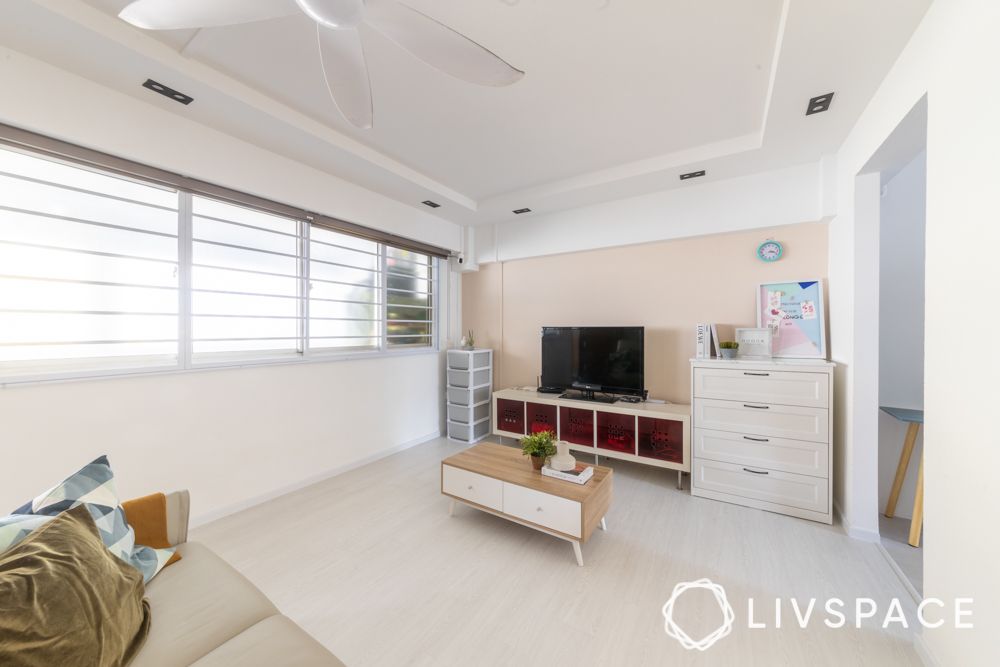 Another great way to lower the renovation cost for a 4-room resale flat is to go for flooring materials like vinyl. Vinyl flooring is a popular choice for homes where hacking is not a viable option, as you can overlay it on your existing tiles. This works especially well for an old HDB renovation that might require intensive hacking to replace the floors.
It is also worth noting that vinyl tiles run the risk of emitting toxins into the environment depending on their manufacturing. However, this does not mean that vinyl flooring is not suitable for your home. At Livspace, our designers ensure that you have the safest materials available without compromising your home's environment.
So, before you opt for vinyl flooring, be sure to check with your designer or vendor if the vinyl you are purchasing is Green Label certified. These products are safe for the environment and do not pose the threat of releasing toxins into your home.
Here's the Living Room Renovation Cost for this 4-Room Resale Flat:
Besides adding vinyl flooring, Shafiqah also changed the ceiling design and brought some storage into the living room. Here's a simple breakup of the costs that went into designing the living room of this 4-room resale renovation:
| | |
| --- | --- |
| Type of Work | Cost |
| Total cost of installing the vinyl flooring | S$1,920 |
| Cost of materials + installation of the ceiling L-box | S$955 |
| Cost of the storage cabinet | S$1,800 |
| Cost of removing the existing built-in TV console | S$200 |
Please scroll to the right for the full table
A few structural changes are inevitable during an old HDB renovation. Here, Shafiqah had to remove the built-in TV console to better optimise the space. Similarly, the ceiling design was also refined to improve the overall brightness of the room. To make the area spacious yet storage-intensive, Shafiqah added a few storage cabinets in complementary colours.
The renovation cost for this 4-room resale flat, as mentioned for the kitchen and living room, comes up to around S$24,000. The remaining S$2,000 is split between cleaning fees, window grill replacements, painting charges, and other miscellaneous work.
Space-Enhancing Colour Palettes for a Spacious Look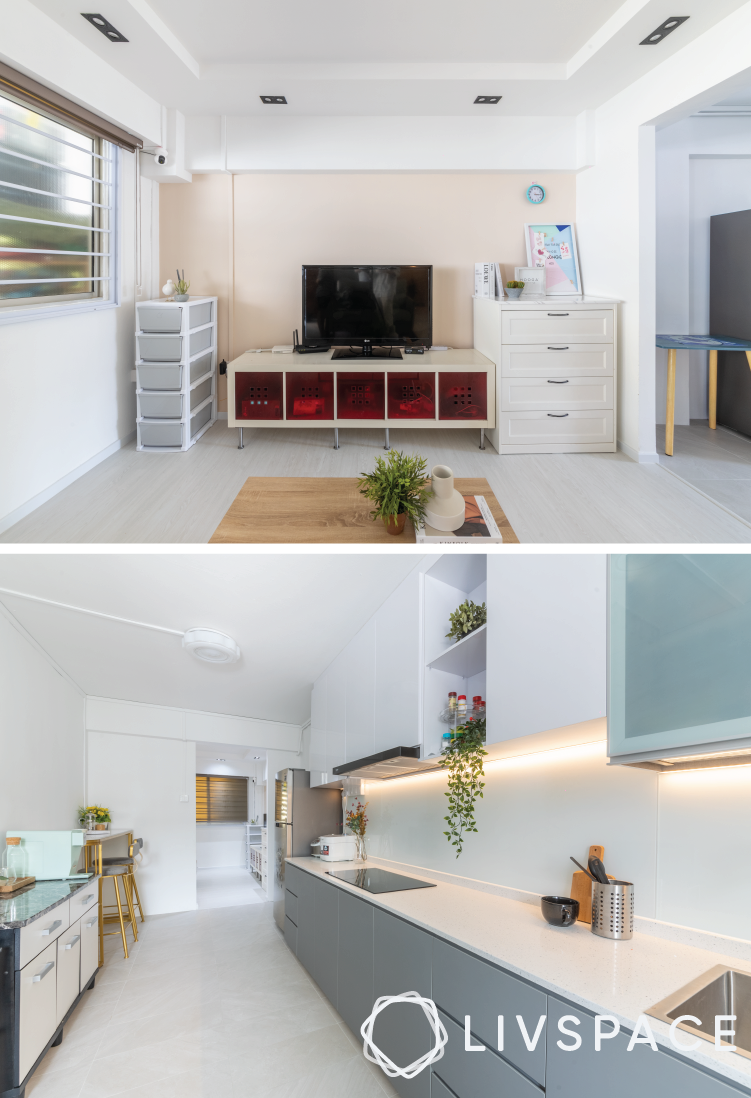 Besides being selective with your choice of materials, you can also reduce the renovation cost for a 4-room resale flat by embracing a simple design. Though only 91 sqm in size, this 4-room resale renovation has a spacious and premium feel to it. This is possible by opting for space-enhancing colours such as soft neutrals for that premium look and feel.
Expert Insights From Our Designer Shafiqah:
"Trends may go away, but practicality stays."

Interior Designer, Siti Nurshafiqah
So, if you're planning your renovation cost for a 4-room resale flat, be sure to opt for a practical design that stays timeless.
4-Room Resale Renovation Ideas To Consider for a Budget Makeover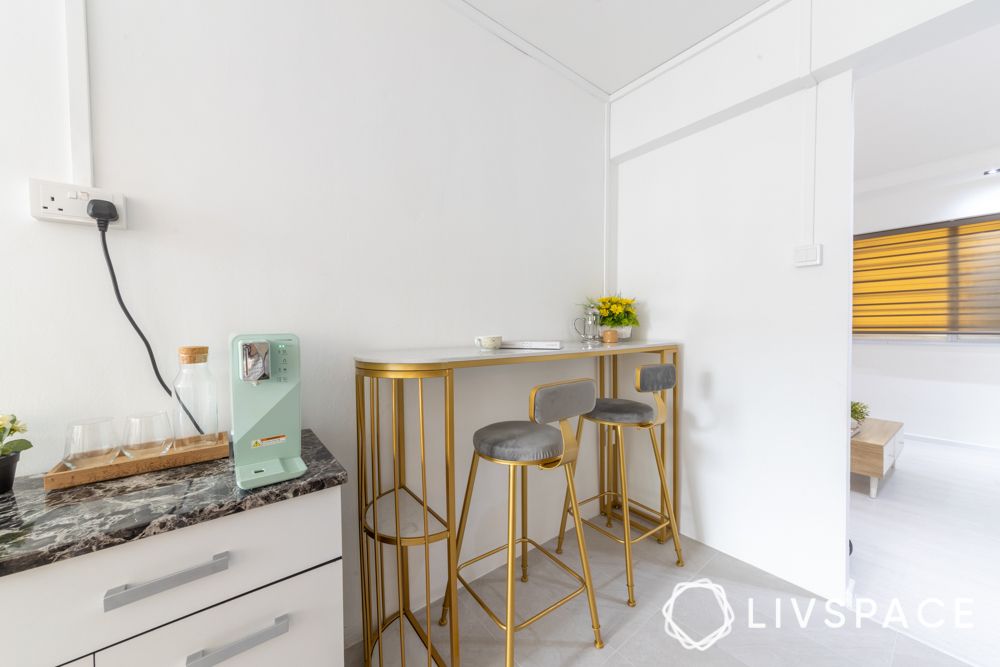 Engage with your ID to get a better idea of how to renovate your space on a budget
Check with your renovation company to see if you can avail partner vouchers or discounts during the renovation
Opt for cost-effective materials that can offer a premium look/feel wherever possible
Enhance your space and make your small home appear bigger by decluttering and embracing minimalism
Approach your design with practicality to improve the overall functionality of the space instead of solely trying to replicate a trend
Hear What the Family Has to Say About Their New Home:
"The smart buy for us was to engage our ID, as she helped us save a lot of money and meet our budget. She's very accommodative and responds very fast. She still promptly replies even after the renovation has been completed. We would say that her service is close to perfect. She gave us great advice."

Chia Lee Kim, Livspace Homeowner
How Can Livspace Help You?
We hope you found this breakup on the renovation cost for a 4-room resale flat useful! If you want your home to be just as beautiful, then look no further. Book an online consultation with Livspace today.
Have some comments and suggestions you'd like to share with us? We're all ears! Feel free to write to us at editor.sg@livspace.com.