A home renovation can often be tricky to navigate; especially when your property surpasses a certain age. But when it's done well, the beautiful modern design that comes out, as a result of it, is always worth it. However, sometimes, while transitioning your design from a regular house to a welcoming home, the feeling of a 'home' might get overlooked. So how do you ensure that you capture the feeling of a 'home' while renovating something like a 20+ year old resale condo? This is where Livspace designer Eleonora Massaccesi comes in to show us how it's done.
Within a short timeline of eight weeks, Eleonora was able to work her magic and transform a 20+ year old resale condo into a warm and welcoming home. So, how exactly did she pull this off? Read on to find out!
---
Who Livs here: Mr. Ken and his family
Location: Bukit Batok
Size of home: 105 sqm
Design team: Interior Designer Eleonora Massaccesi and Project Manager Jayden Chew
Livspace service: Full home renovation
Budget: $$$$
---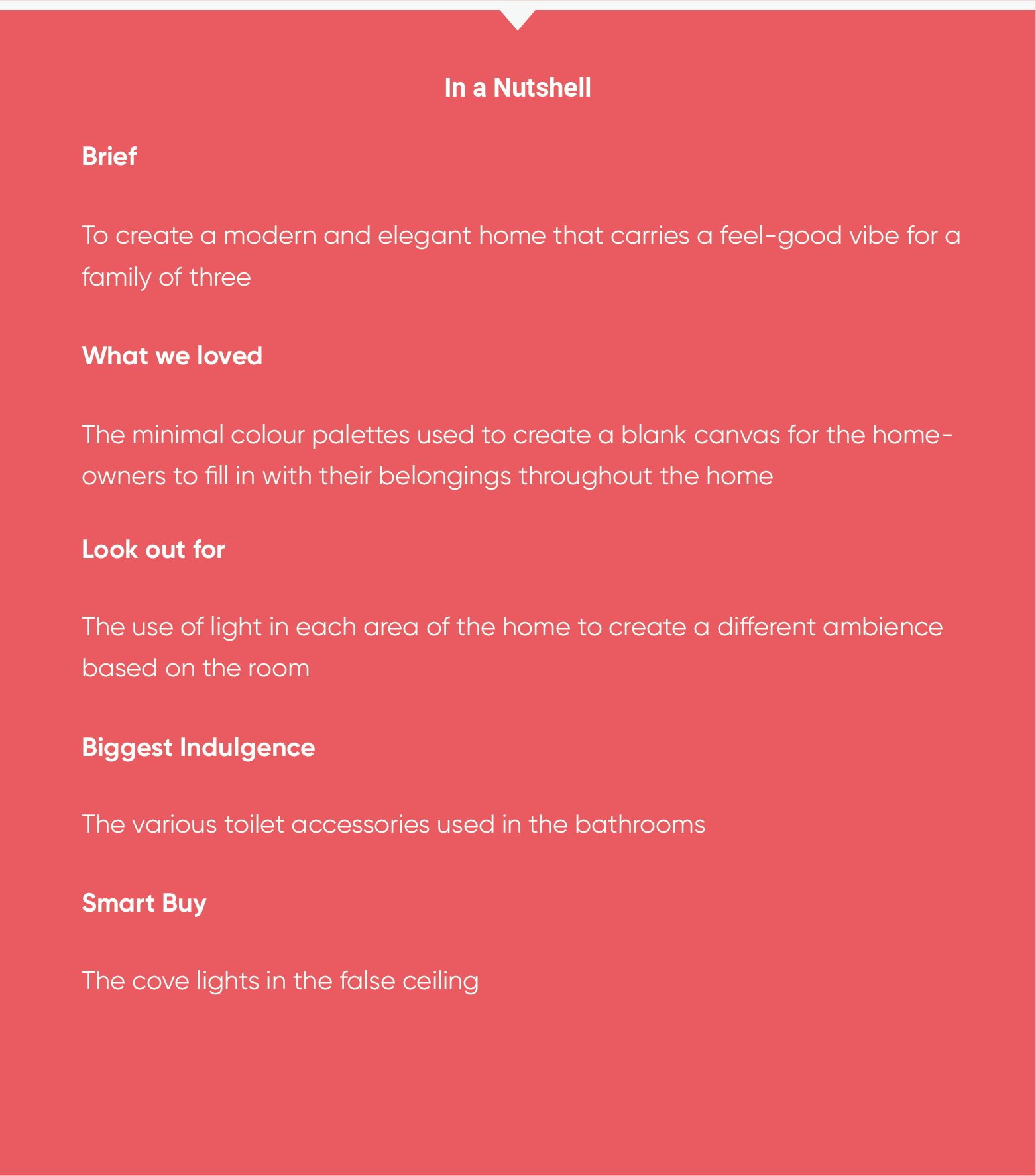 Lights Will Guide You Across the Dining Hall!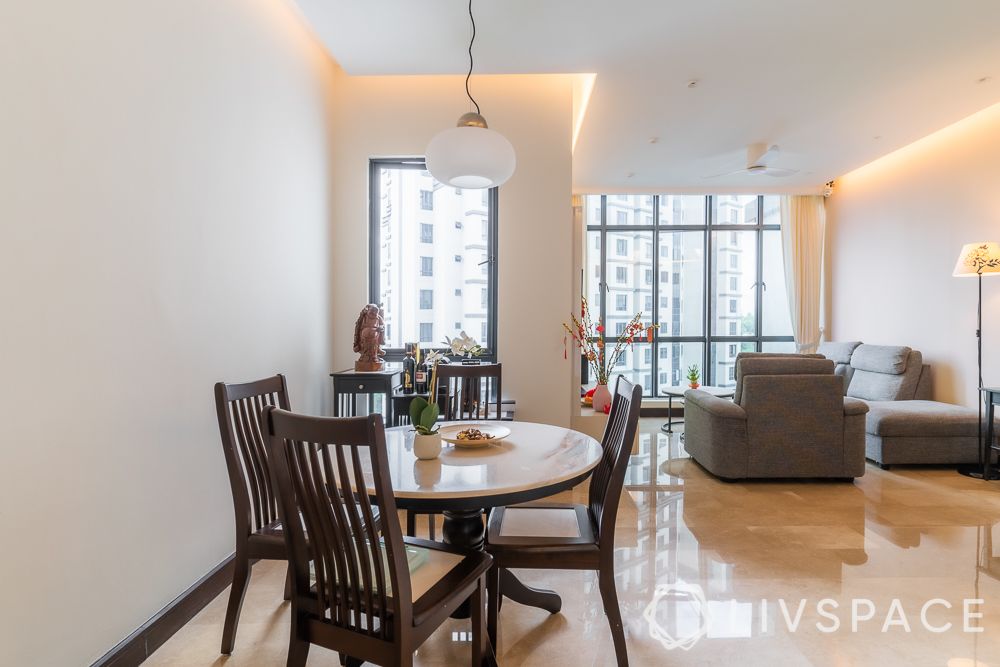 Eleonora's vision for this resale condo was simple yet full of heart. She wanted to create a simple minimal design that complemented Mr. Ken's desire for a 'hotel-like' theme. To make this happen, she brought in some warm lighting options across the dining and living areas. As you look at the cove lights along the false ceiling, it cleverly leads you into the rest of the home. This gives off the impression of a warm and inviting space, just like the homeowners and our designer envisioned.
Where Modern Minimal Design Meets Traditional Elements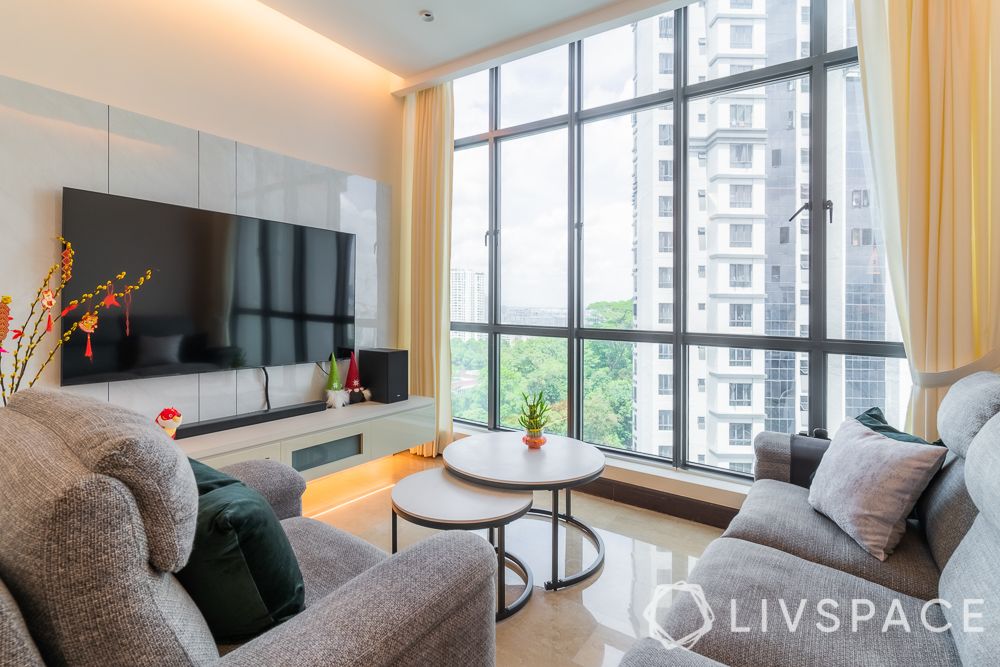 For the living room, Mr. Ken and his family were keen to retain some elements from traditional Chinese design. As this is a space where the family will spend a lot of time together, they wanted to embrace their cultural roots and incorporate it into the interior design. However, they also wanted to embrace a modern design for this newly renovated resale condo which Eleonora worked towards successfully delivering.
With a bit of indoor bamboo and a beautiful vase with charms that are reminiscent of the Year of the Tiger, a marriage between modern and traditional design took shape. The living room is now Mr. Ken's favourite space in the entire resale condo, and we can see why!
From a Dim Space to a White Wonderland: This Kitchen Renovation is One for the Books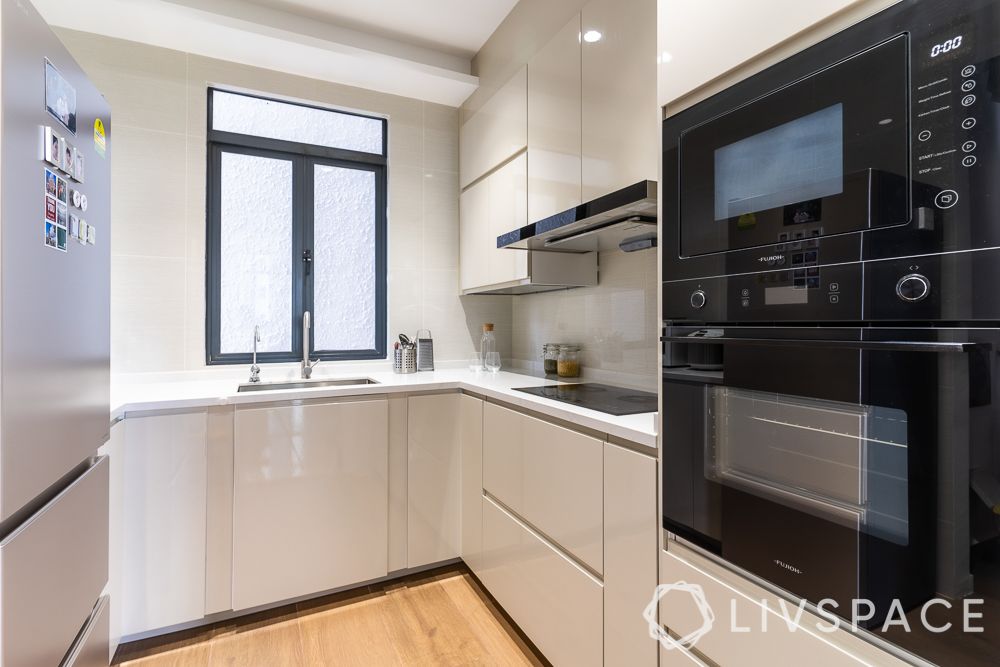 The kitchen's design might look straightforward but the renovation work that went into bringing it to its current state was far and wide. At the time of buying this resale condo home, the kitchen was considerably old and had a low ceiling, with barely any light coming into it. This problem, of course, had to be addressed to give the homeowners the kitchen they deserved.
To do this kitchen renovation justice, designer Eleonora knew it was going to take a bit of work to bring the space up to speed. She first worked towards increasing the ceiling height to give the kitchen a bit of a structural redesign. The original false ceiling was removed and lighter colour palettes were brought in to maintain a minimal design.
Since Eleonora didn't want this kitchen renovation to look too plain, she specifically used tiles with wood finishes to bring in some contrast. Here, the wooden finishes paired with the beige Voxtorp cabinets from IKEA make for a winning combination in this minimal resale condo.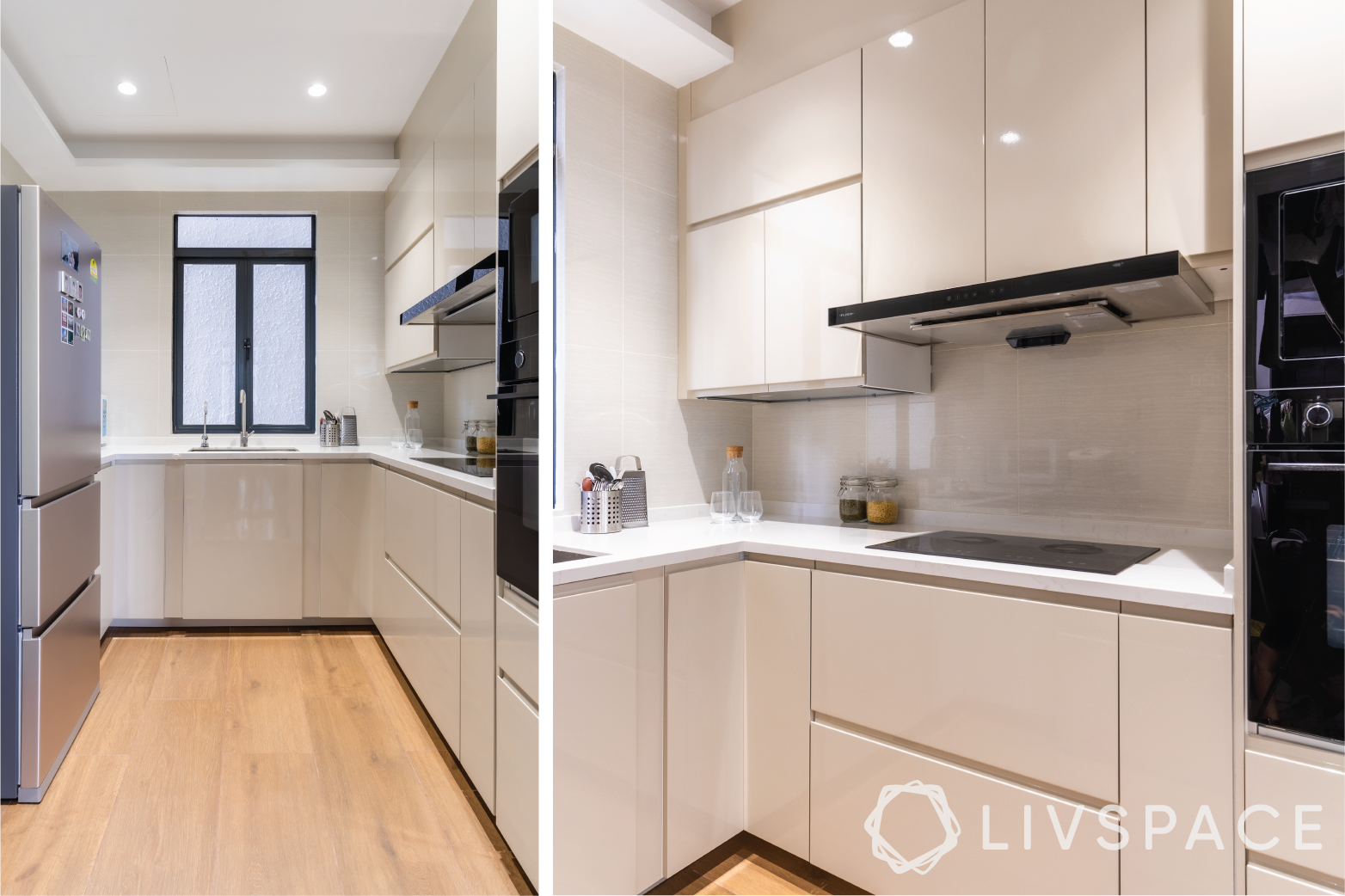 As the original kitchen size was relatively small, the old door between the kitchen and the service yard was removed. This helped create the impression of more space in this compact kitchen.
Also, did you notice the change in lighting from the living and dining areas to the kitchen? The kitchen houses a cooler white tone as opposed to the warm colours in other areas. With this simple change, the space now appears to be slightly bigger!
Also read: Designing a Compact Home? Look at This Smart 55 sq. m. Home Design
A Play on Minimal Palettes to Allow Design-Flexibility Across The Resale Condo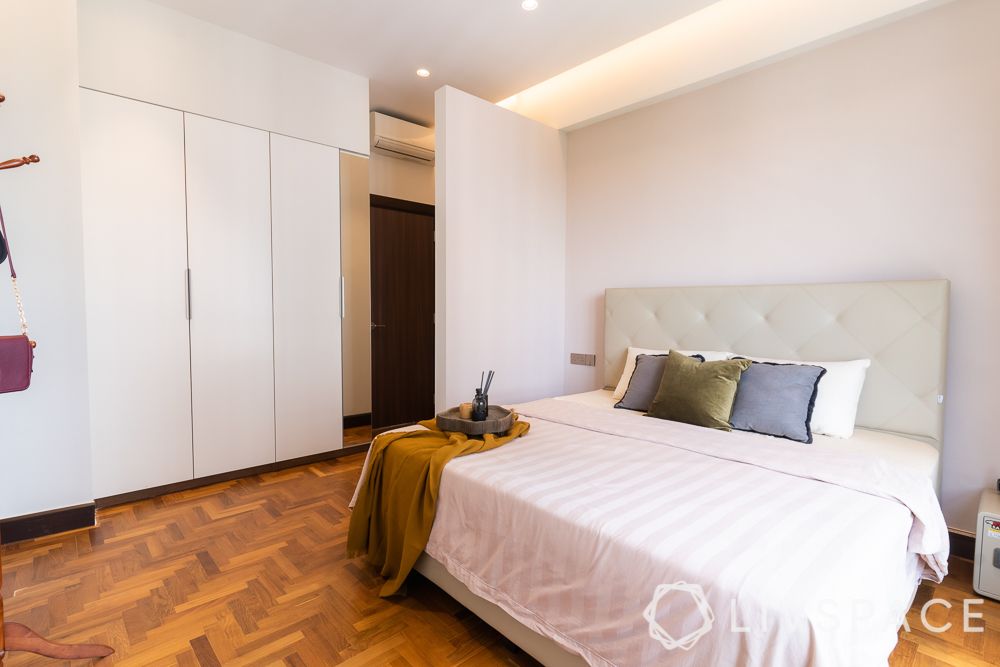 A home renovation is often a collaboration of ideas between homeowners and their interior designers. It's where design and personal preferences meet to create a house you can call home. Bearing this in mind, Eleonora wanted to give the family a home they could customise as they saw fit. As she began the design process, she wanted to stick to minimalist palettes throughout the resale condo. In turn, this helped create blank canvases for the homeowners to use/decorate as they wanted.
"When homeowners move into their new home, they might already have a lot of items in different materials or colours that they'd bring with them. If there are too many colours or textures between the old and new, it can get overpowering. So to give them more flexibility in personalising their space, I wanted to go with a palette that was similar to a white canvas."

Eleonora Massaccesi, Interior Designer
For the master bedroom, Eleonora worked on re-varnishing the beautiful parquet floors to breathe new life into this resale condo. Similarly, she added a simple partition wall in this space that pairs beautifully with IKEA's PAX wardrobes.
Elegant and Bright: A Contemporary Design for a 20+ Year Old Bathroom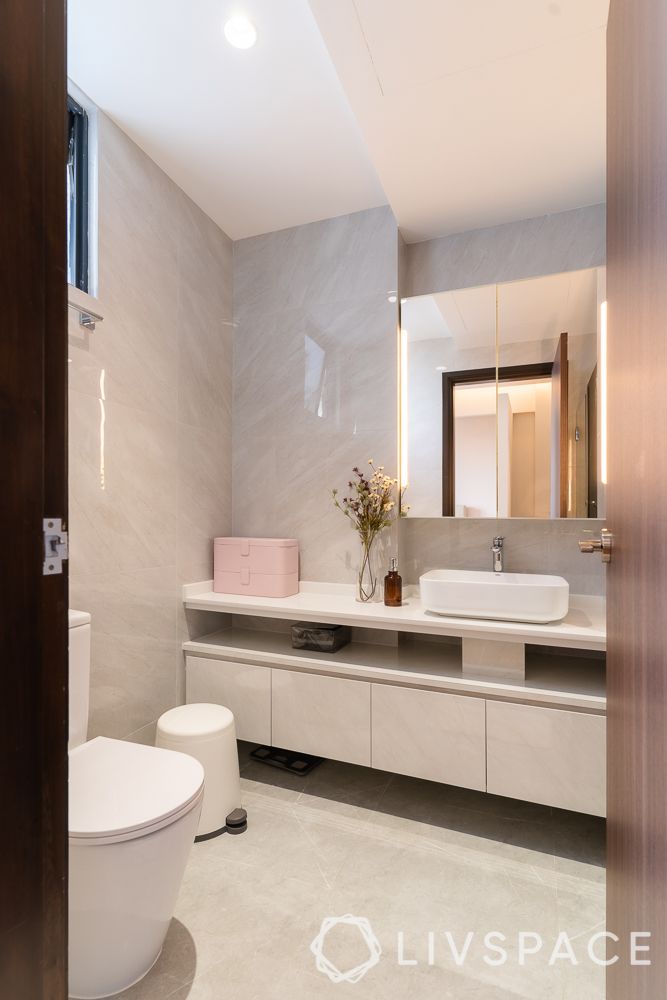 Eleonora recounts the master bathroom as being one room she really enjoyed working on during the home renovation. The original bathroom in this resale condo was entirely different and in need of an elegant face-lift. To maintain uniformity across this home renovation, our designer wanted to make this space just as bright and sophisticated as the rest of the home.
For this, Eleonora worked her magic to bring in a sleek vanity cabinet, paired with warm lights around the bathroom mirror. By doing so, it helped bring the whole look together. Given the new contemporary design, it's hard to believe that this bathroom belongs to a resale condo that's more than two decades old!
This Study Room is a Great Example of How Practicality and Function Intertwine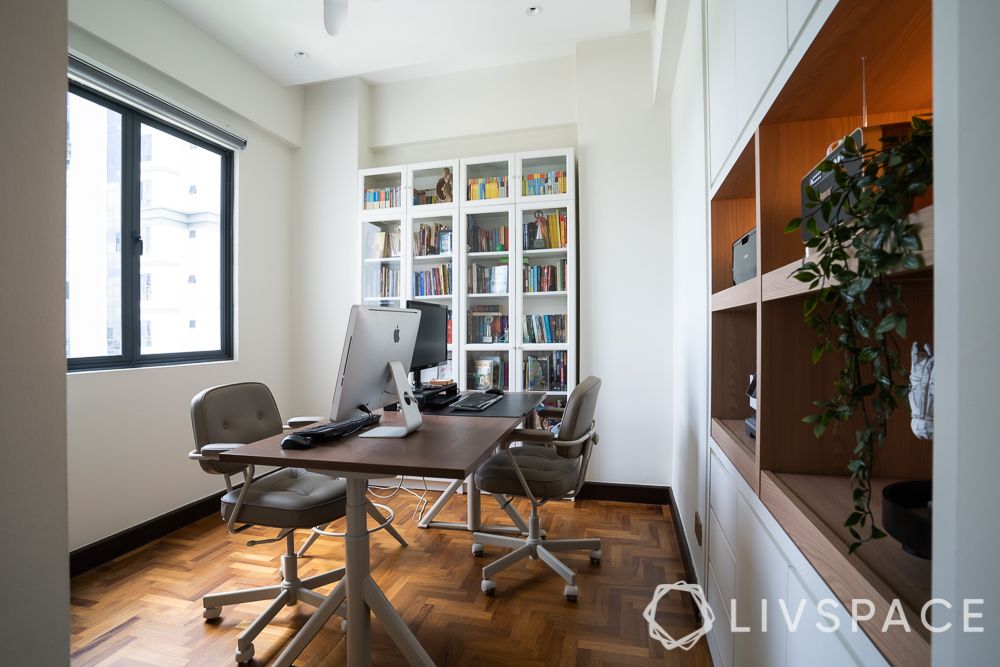 We can all agree that the need to have a study room at home has grown in importance in the recent years. Whether you're still working from home or working from the office, having a designated space for work is far better than working from your bed. So then, what does a well-designed study room for the new era of working from home look like? Here's where Eleonora gives us a tour of her work.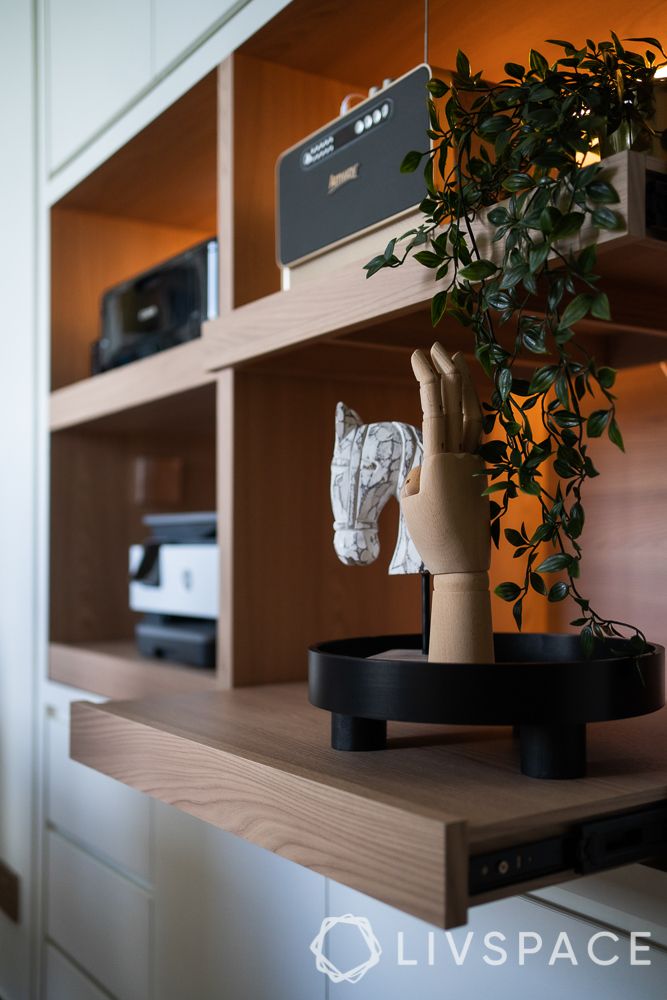 Much like the colour palettes in other areas of the resale condo, the study room is also white and clear. This helps keep the room devoid of distractions while working. The colour white also works well, given the inflow of natural light from the window, making the room appear bigger.
Here, the study table is set in the centre of the room to allow traffic flow on all other sides. By doing so, the bookcase and shelves on either side of the table are easily accessible as well. For more study room inspiration, also check out 12+ Stunning Study Room Designs From the Latest Livspace Homes.
If you enjoyed reading about this resale condo, be sure to read what our designer and homeowner had to say as well:
Designer Speak
"I always trust the relationship between homeowners and designers. When the relationship is strong, the outcome is quite beautiful. During this home renovation, the homeowners were very supportive and speaking to them really helped me further streamline the process. The trust shared between us really made this reno that much more enjoyable."

Eleonora Massaccesi, Interior Designer
Homeowner's Delight
"There were quite a few challenges while renovating the resale condo as it was a fairly old unit. But we always managed to overcome them. The ID and Project Manager were very responsive and resolved any issues that occurred which was really helpful."

Mr. Ken, Homeowner
How Can Livspace Help You?
We hope you enjoyed our tour of this home! If you want your home to be just as beautiful, then look no further. Book an online consultation with Livspace today. Delivering safe home interiors has been our No. 1 priority. Click here to find out how interiors are being delivered following all safety protocols.