Vibrant and snug, this 31 sqm. resale condo's makeover involves new flooring and paint. If you are looking for small condo design ideas, then don't miss this tour.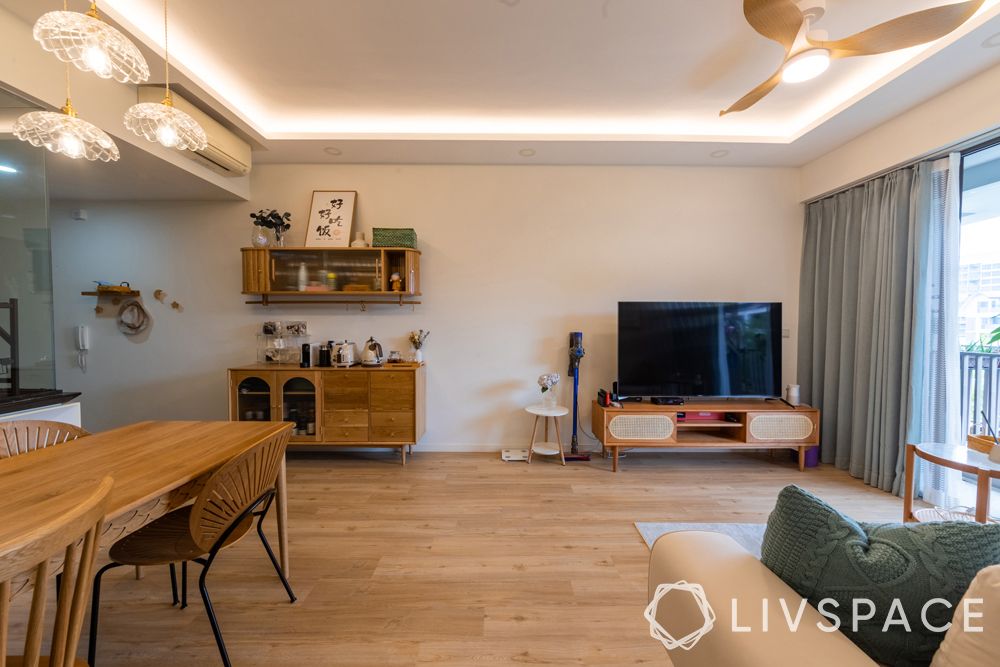 Location: 529 Bedok Reservoir Road
Type of home: 2-room resale condo
Livspace team: Interior Designer Wanting Liu and Project Manager Zach Lee
Livspace service: Flooring, painting and decorating
Budget: $$$$$
---
This new compact resale condo is all in all a perfect place to relax. The place is knitted by warm wood tones throughout. It oozes that old world charm while being functional. The homeowner had plenty of loose furniture and wanted continuity in her condo. So, our designer Wanting Liu helped her with decor, flooring and painting. Without further adieu, let's take a tour of this cosy and charming home. Grab a notepad to take down some small condo design ideas.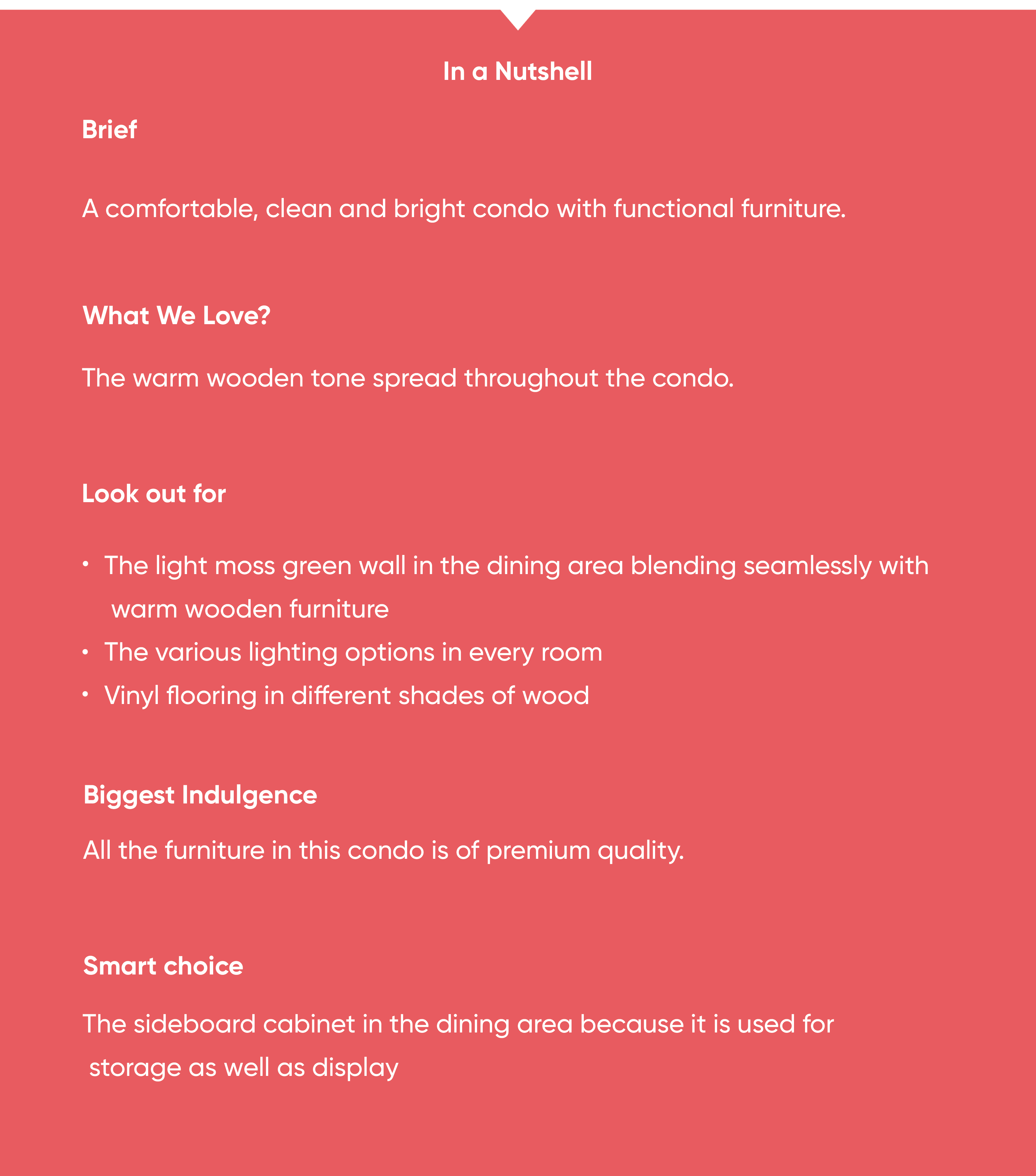 Step into this classy living room with neutral colours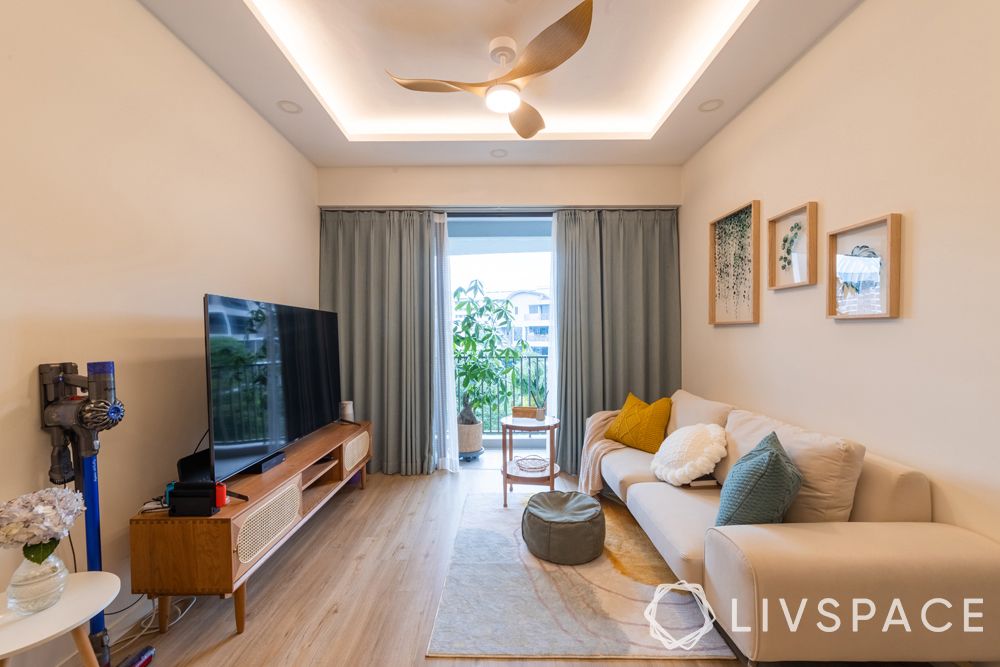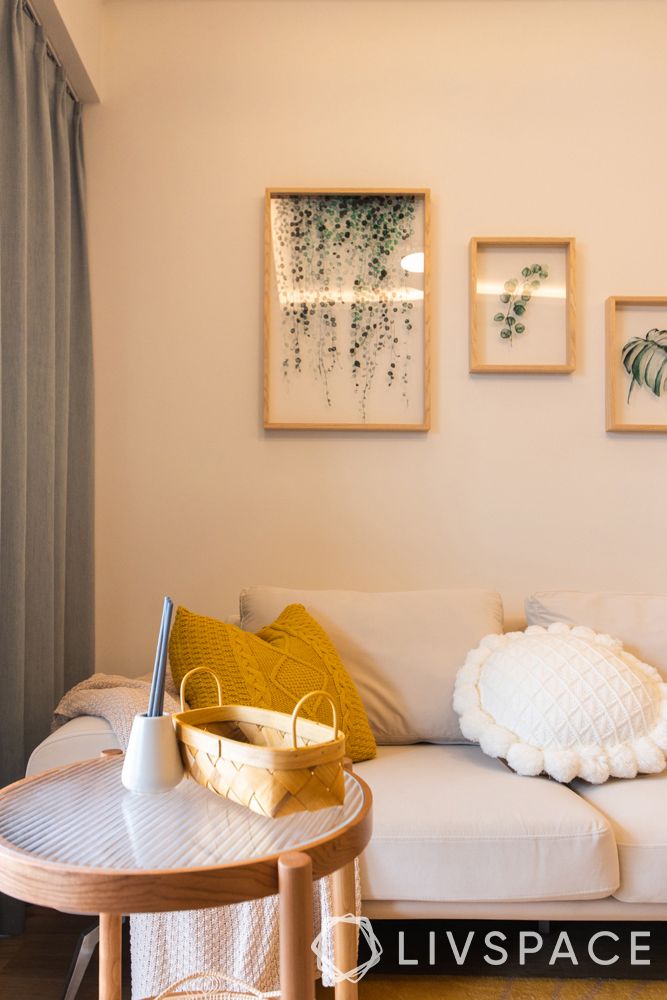 First up, the living room. With a backdrop of neutral tones, this living room is simple and classy. The beige sofa and wooden TV unit are in perfect tandem with the vinyl wooden flooring. The small coffee table blends in seamlessly with the rest of the room's ambience.
Also, notice the lighting in this room. It is brightened up by the false ceiling cove lights and the light fixture on the ceiling fan.
Additionally, the space is brought to life by glass paintings of plants on the wall. To have paintings in the living room is one of those small condo design ideas we highly recommend
Happy and satisfied with her condo's makeover, the homeowner appreciated the Livspace team's work and dedication:
"Wanting is very responsive. She responded to my messages immediately. When I had doubts and queries, she addressed them patiently. Altogether, it was an easy and fun experience."

Livspace Homeowner
Well-lit dining area with a fresh pop of colour exuding a cafe-style vibe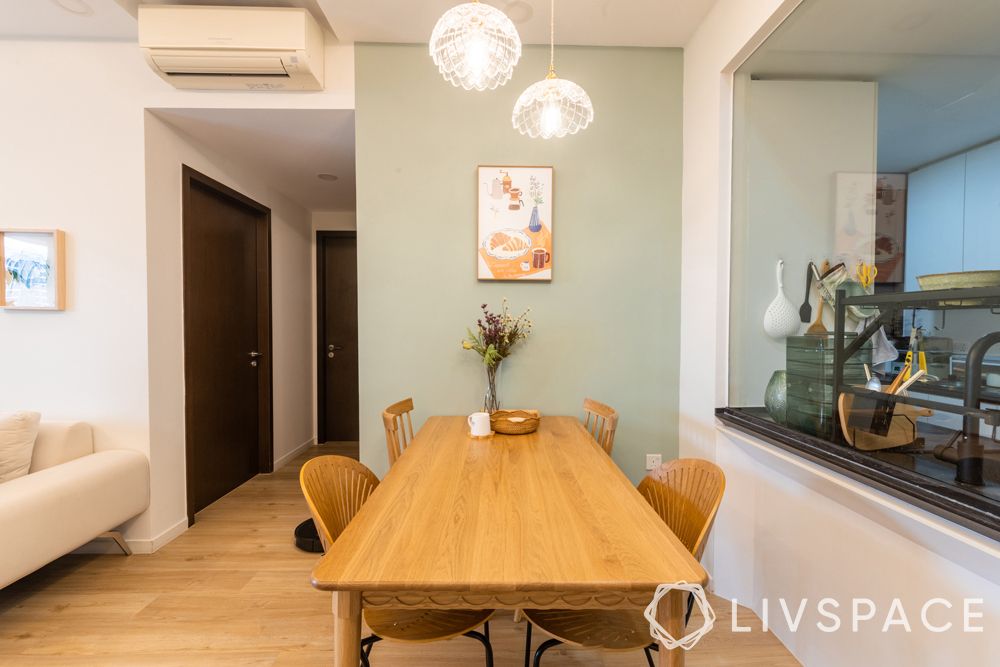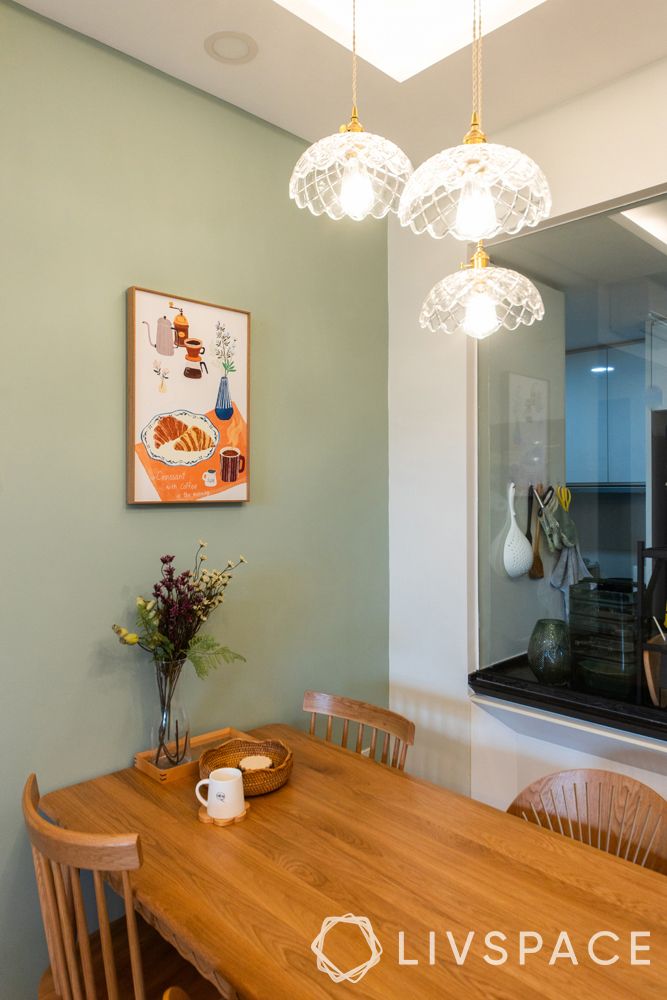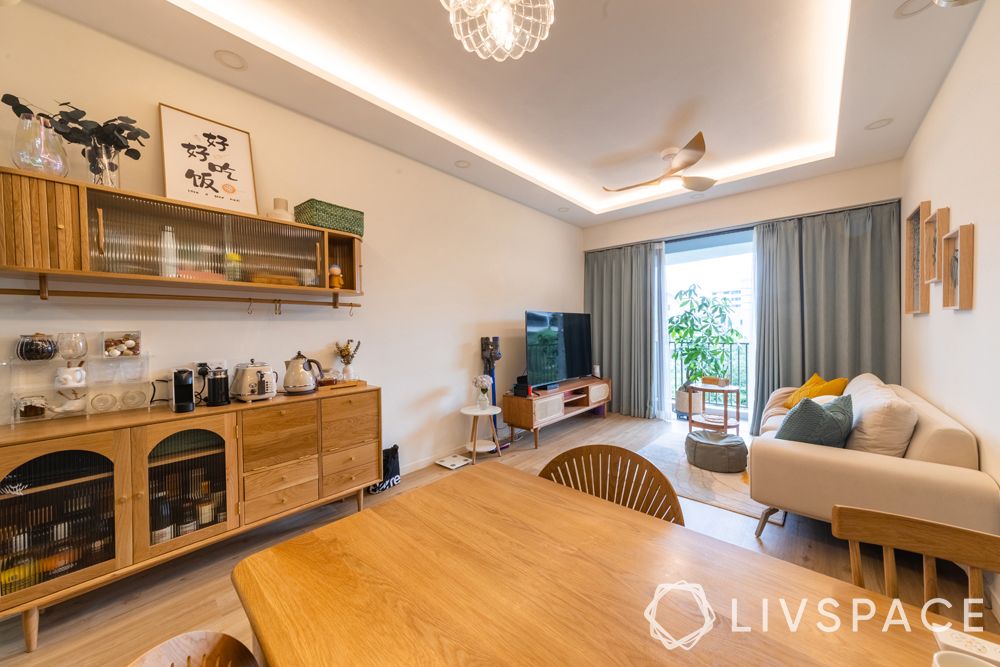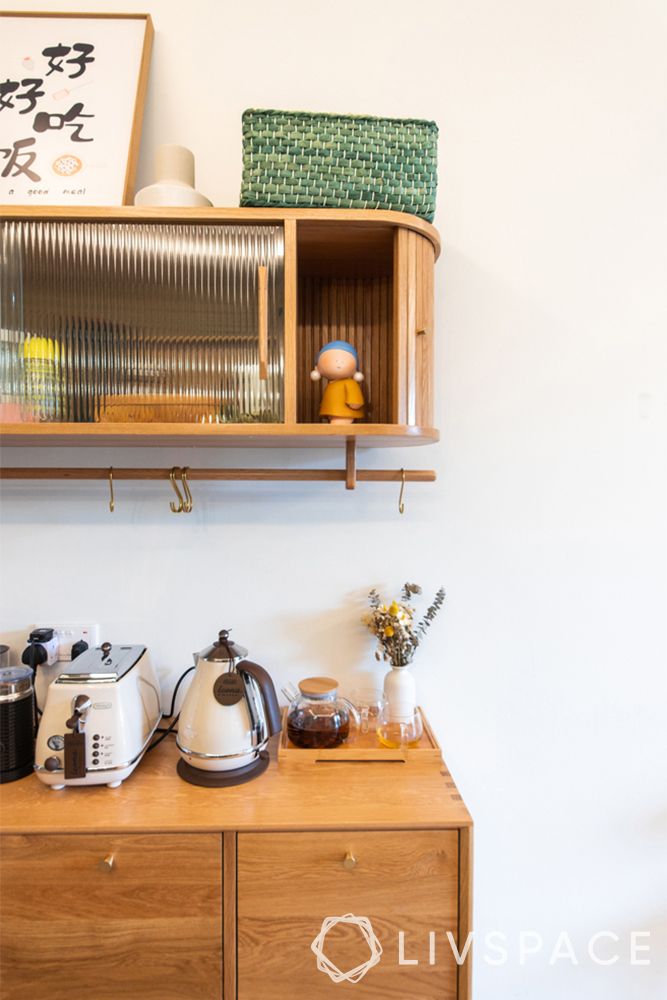 This dining area reminds us of a cosy cafe. With light wooden table and chairs against the moss green wall, this setup is refreshing. Decorative pendant lights add to the brightness of this area. As a final touch, the wall is accentuated with a quirky poster.
Another thing that you must pay attention to in this area is the sideboard unit. The homeowner loves this, especially for it is a functional storage space and can be used for display too. The appliances go on the tabletop for accessibility. What we love about this unit are the reeded glass shutters that break the monotony of wood.
A bright bedroom packed with essential furniture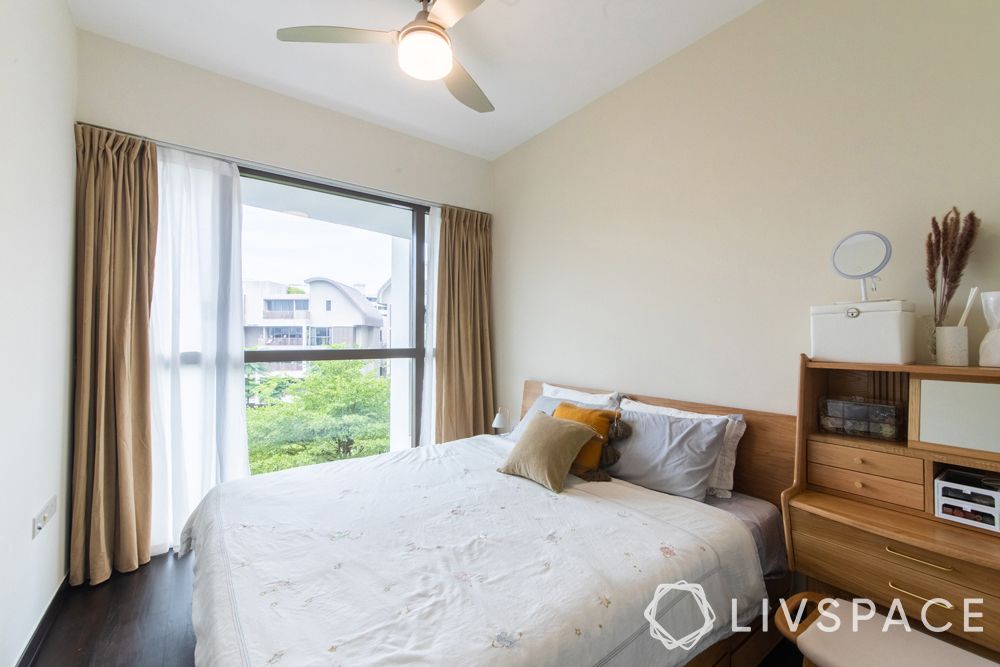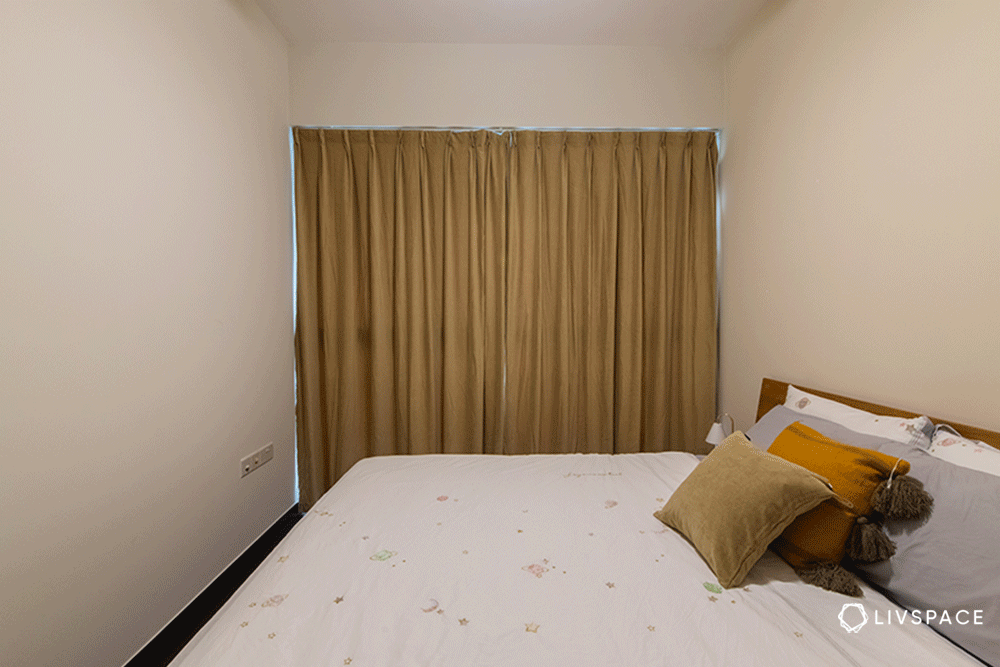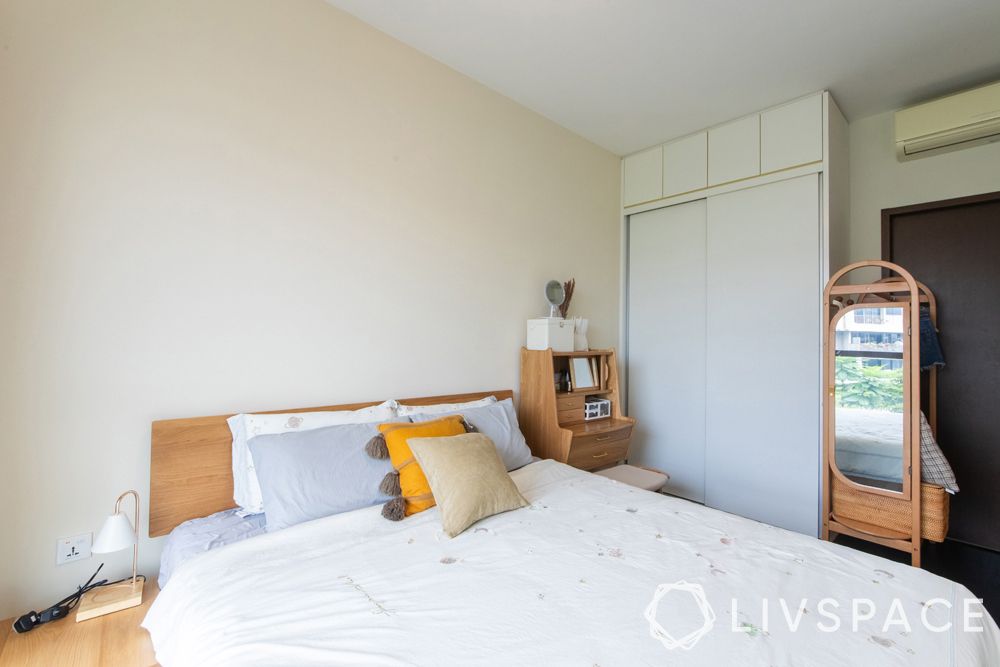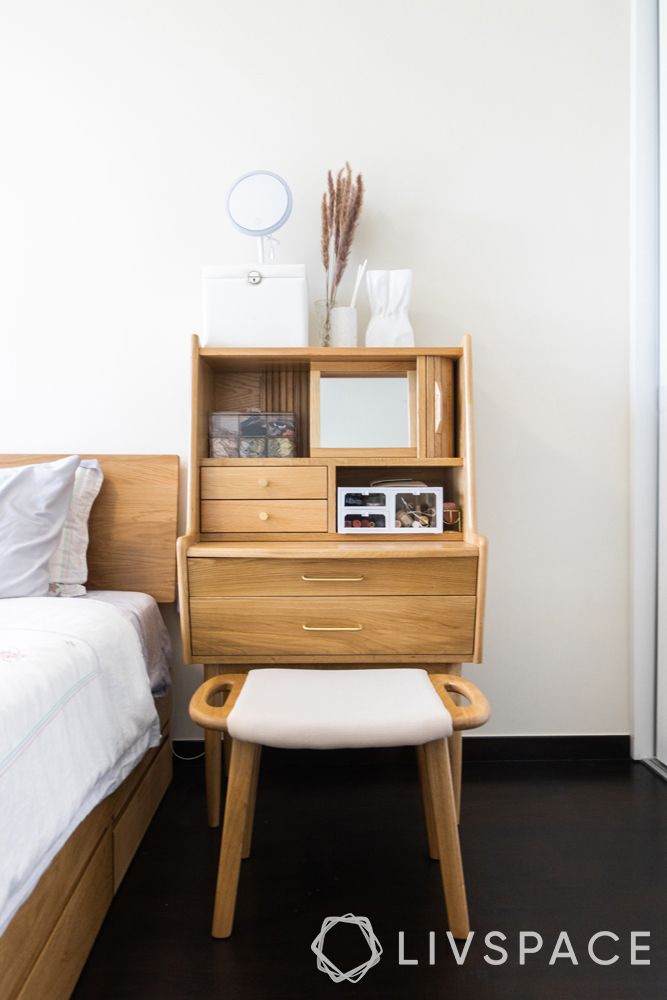 Once again, wooden furniture is the highlight here. We love how continuity is maintained throughout this small condo. The only noticeable difference is that the living and dining areas have light wood vinyl flooring while the bedrooms have the darker version.

Though small in area, this bedroom features all the essentials — a wooden bed with a simple headboard, nightstand and a wardrobe. Additionally, a compact dresser (with several drawers) and clothes rack are also added. Sliding doors for the wardrobe is a good choice as it doesn't come in the way of the dresser unit, saving space.
Another highlight of this room is the large window. The flood of natural light makes this compact room bright and breezy.
A compact home office with a cosy nook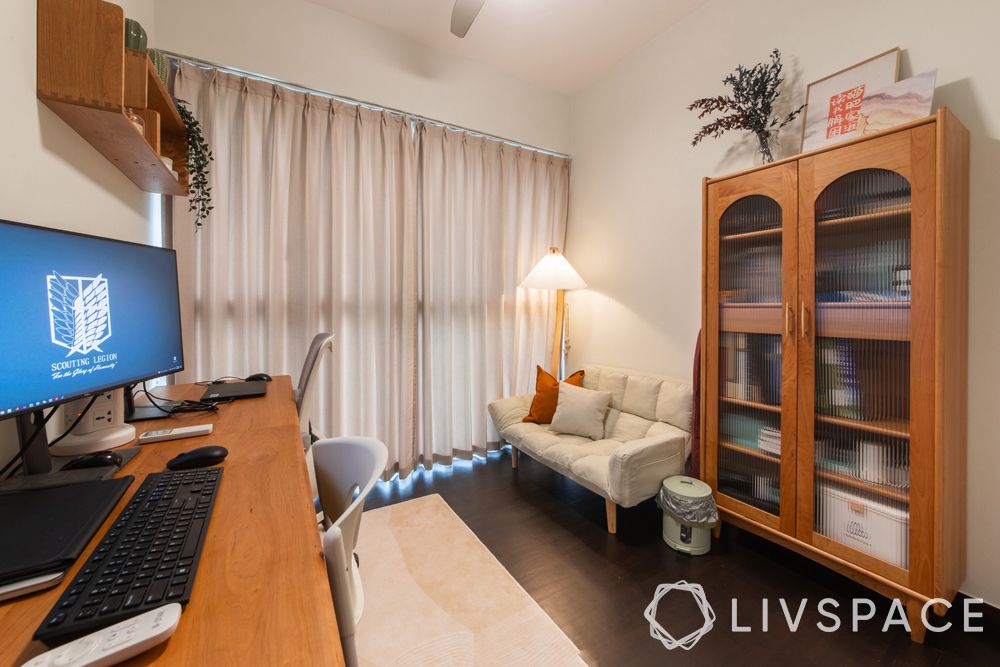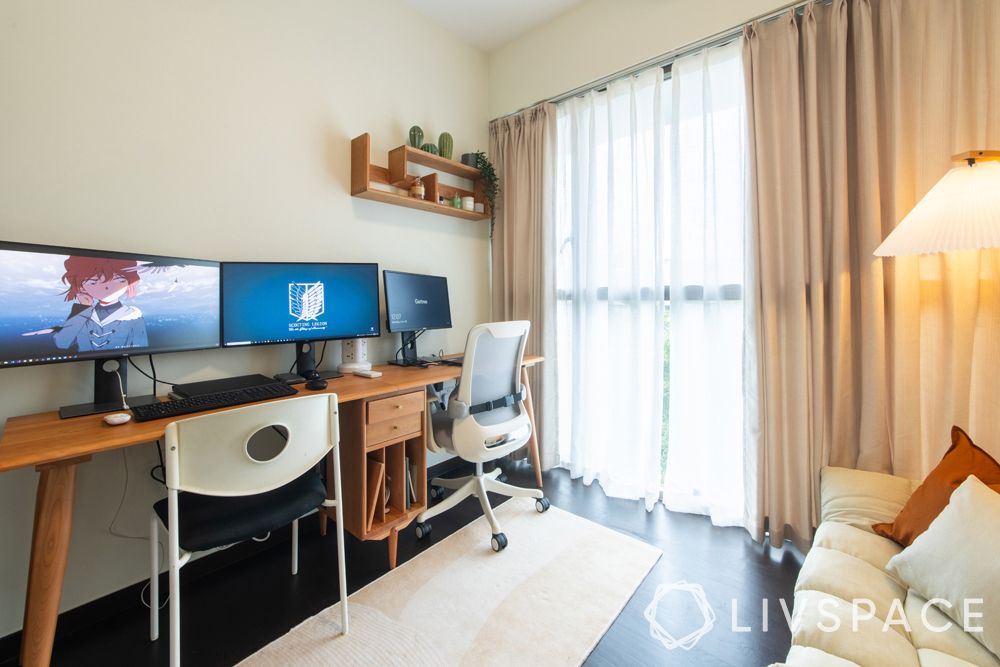 Like the other bedroom, the study also has dark wood vinyl flooring. Compact and airy, this room has a long light wooden desk to hold all the electronics. A small wall shelf is also mounted above the desk for display.
The centre of attraction in this home office is the reading nook. It looks oh-so-relaxing with an upholstered sofa and stylish floor lamp. The slender legs of the sofa and desk ensure that the space doesn't appear too busy and cluttered.
The room also features a beautiful wooden cabinet that's used for storage. The top of the cabinet is used for display, which is a smart small condo design idea if you have a lot of decor and ornaments to display.
"I gave this condo a Scandinavian look with decor that matches the theme. Even though the changes made were small, the entire look of the place is changed and the client loves it."

Wanting Liu

Interior Designer, Livspace
Tour this resort-style condo design:
How can Livspace help you?
We hope the even design of this condo inspired you to take away some tips. If you want your home to be just as beautiful, then look no further. Book an online consultation with Livspace today. Delivering safe home interiors is our No. 1 priority. Click here to find out how interiors are being delivered following all safety protocols.
At that, we have come to an end of this resale condo tour. If you want to look at more such small condo design ideas, then check out Best Compact Space Design Ideas in Livspace Homes This Year.
Send in your comments and suggestions to editor.sg@livspace.com