Occupied by a young woman, this six-year-old condo is all about cosiness and luxury. The homeowner who has friends and family over during the weekend wanted her home to be warm, welcoming and exude a staycation vibe. She connected with Livspace for a complete small condo interior design makeover. And the result is simply wow!
"We are extremely happy with how the home turned out. We couldn't have achieved this without the customer's openness to ideas and enthusiasm. This project was fun and exciting from start to finish."
Songhao Chua, Interior Designer, Livspace
The home is so sophisticated and classy that it looks like something out of an interior design magazine. Scroll on to take a tour of this beautiful house.
PS: Do NOT miss the balcony!
---
Who livs here: A young woman
Location: 25 Terrasse Ln
Type of home: 2-bedroom condo
Livspace team: Interior designers Songhao Chua and Jewel Lim
Livspace service: Design, carpentry, electrical work and furnishing
Budget: $$$$$
---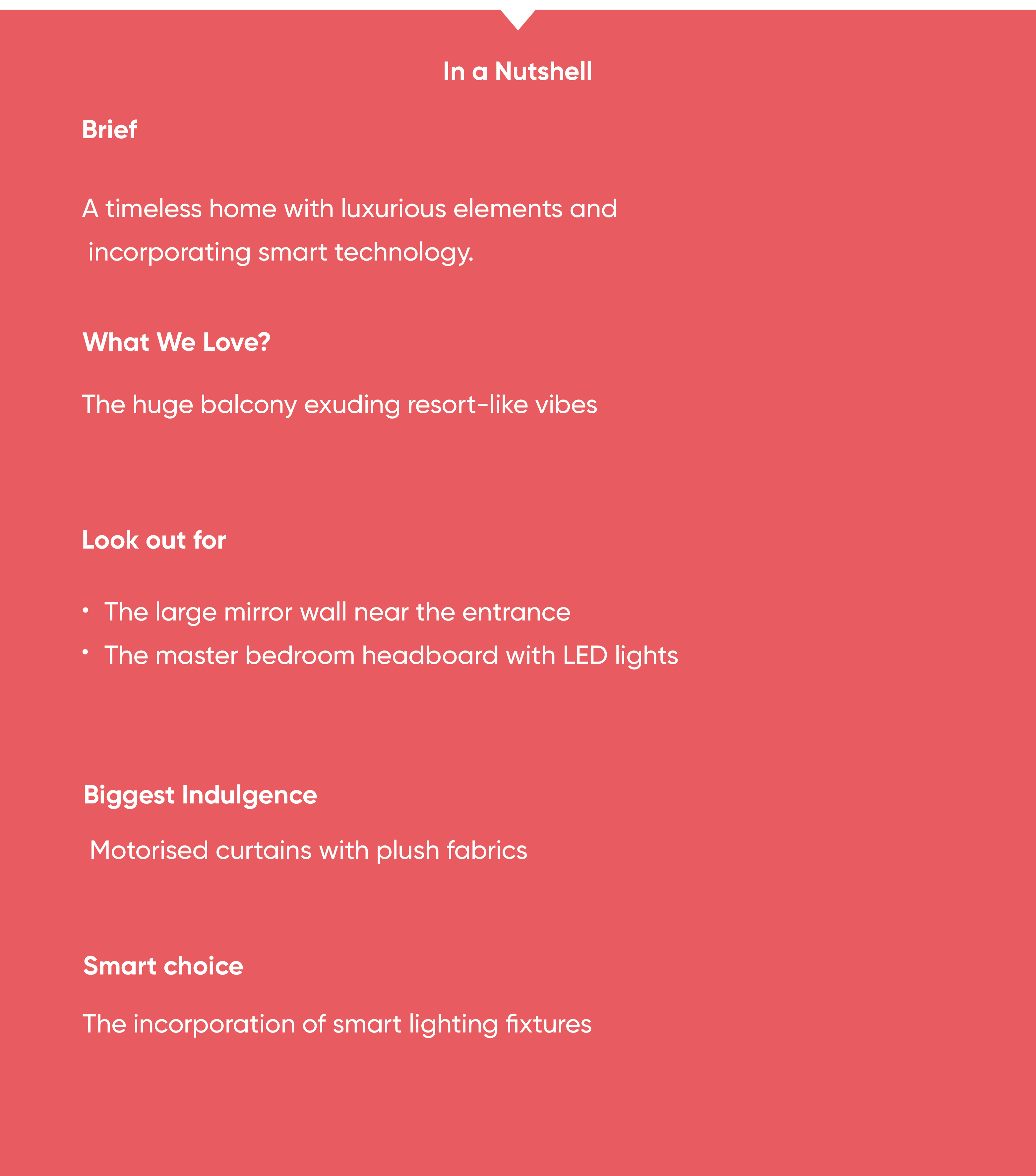 Entrance Opening Up to a Plush Dining-cum-Living Area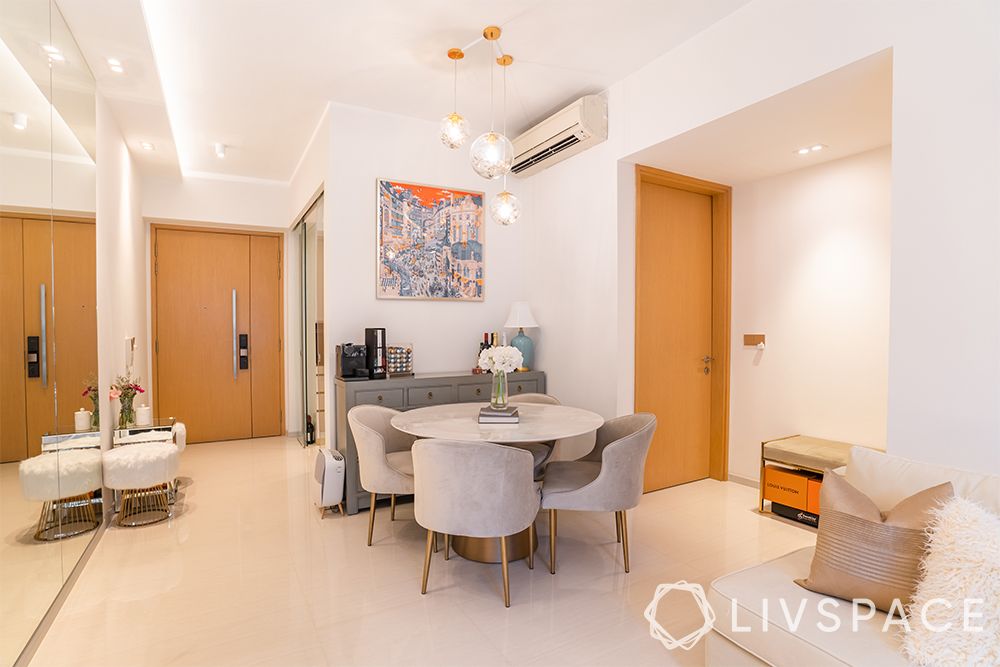 Let's start from the entrance. The small condo interior design follows an open floor plan, with the entrance leading into a foyer, dining area and living room.
The highlight of this space is the mirrored wall. They help create an illusion of space and open up this compact area. Additionally, an ottoman and a small storage unit adorn this space.
Metal Accents Adorn the Dining Area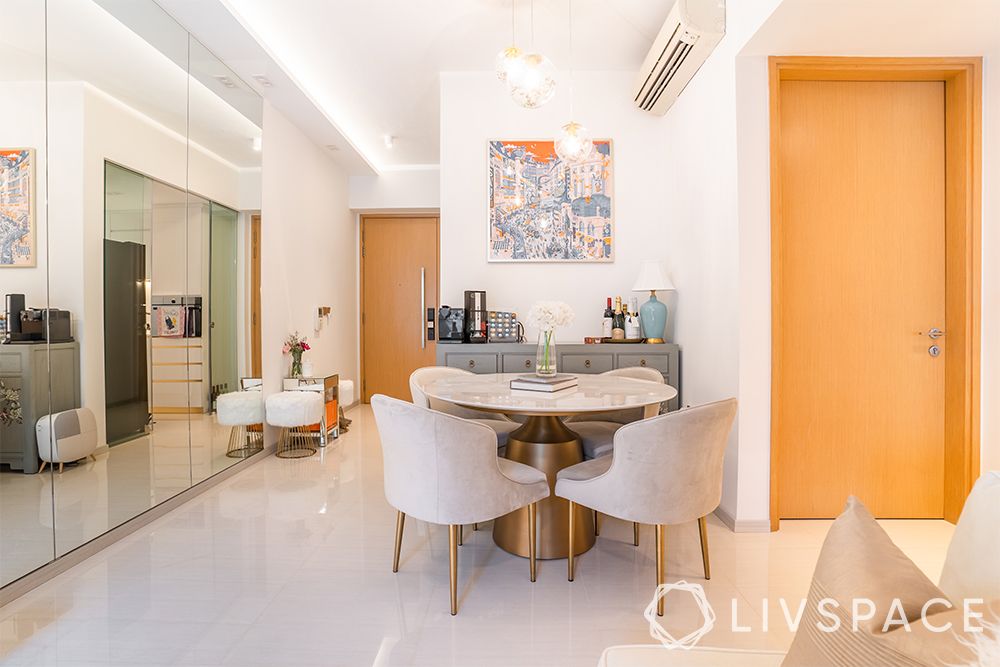 The dining area wears neutral colours such as glossy off-white, greys and beige, paired with brass and gold accents. The white-topped brass-legged dining table can accommodate four people. The soft grey chairs with gold legs, pendant lights and artwork on the wall enhance the luxe look of this small condo interior design. There is also a sideboard for storage and display in the dining area.
A Brightly Lit Living Room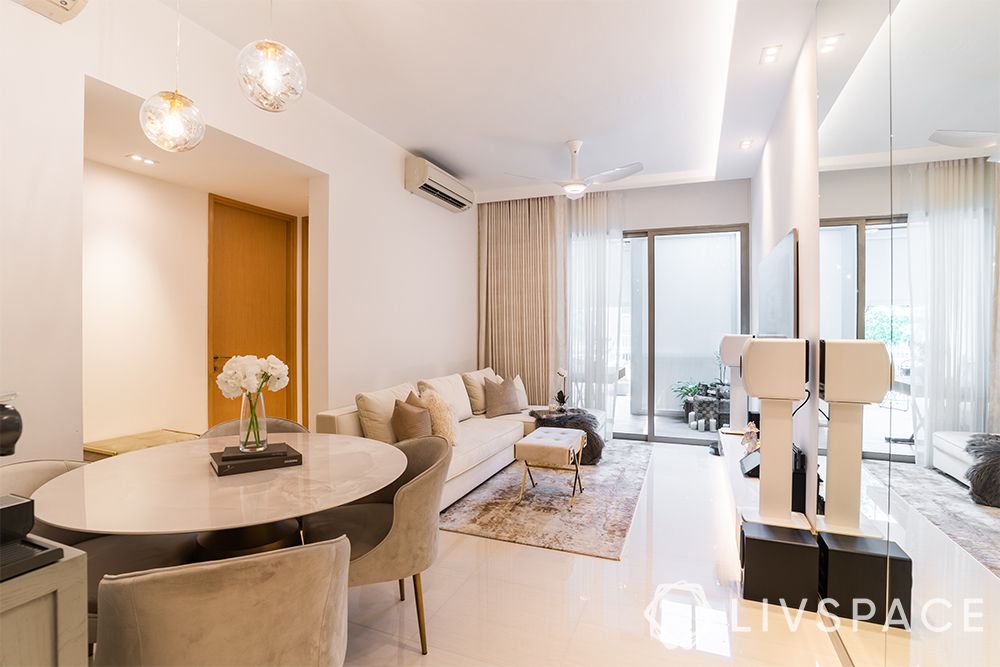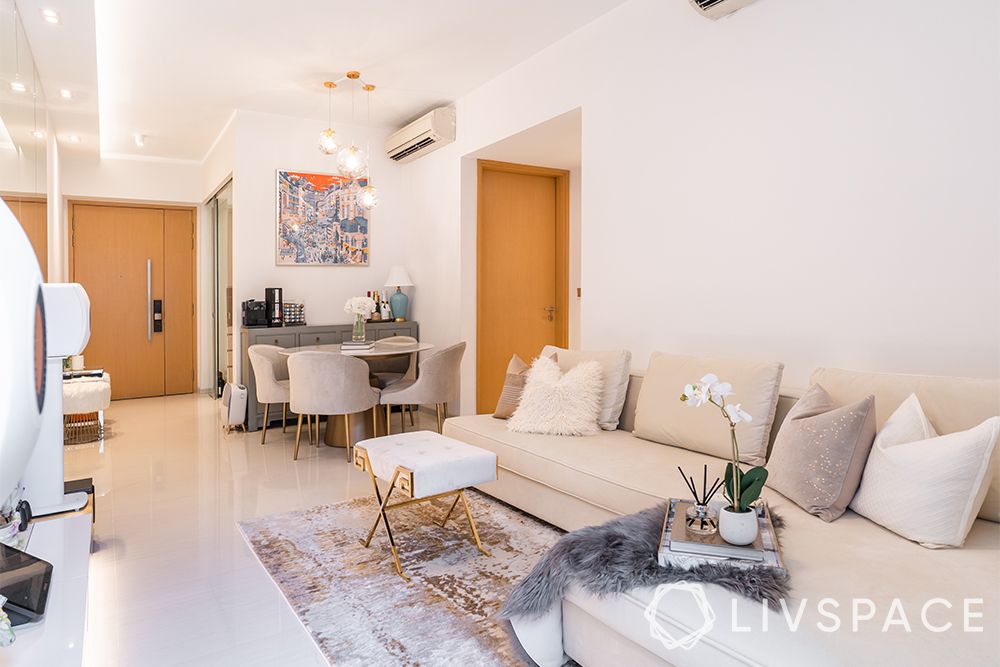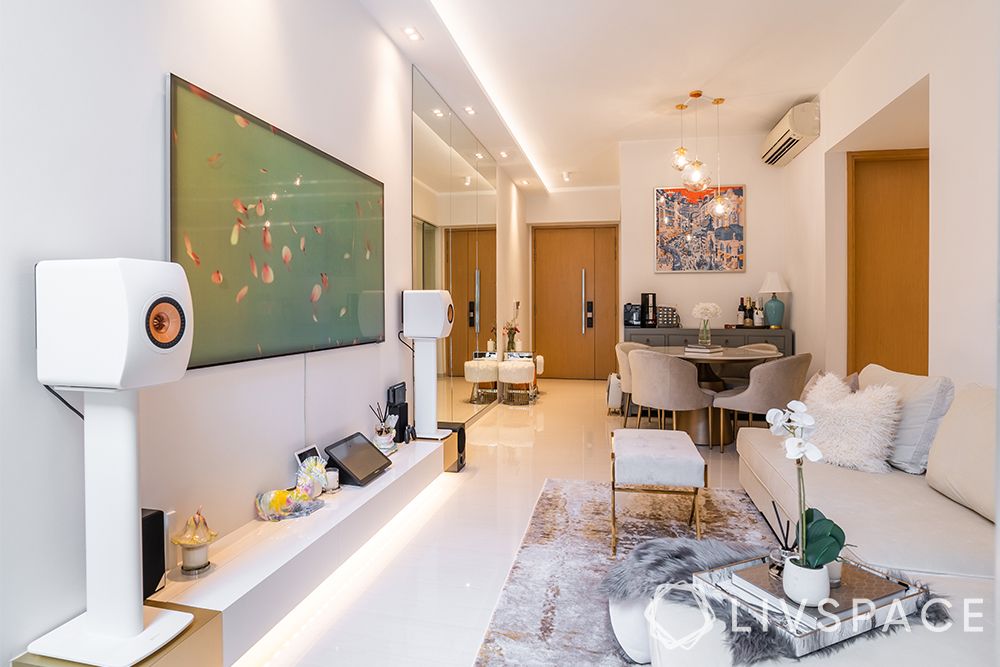 The neutral colours continue into the living room too. A beige L-shaped sofa and an accent stool are perched on a shimmery grey rug that adds dimension to the space. A grey-and-white ledge is used as the TV unit. The whole space is brightened up by warm recessed lights and, during the day, by a generous amount of natural light.
A Resort-Like Balcony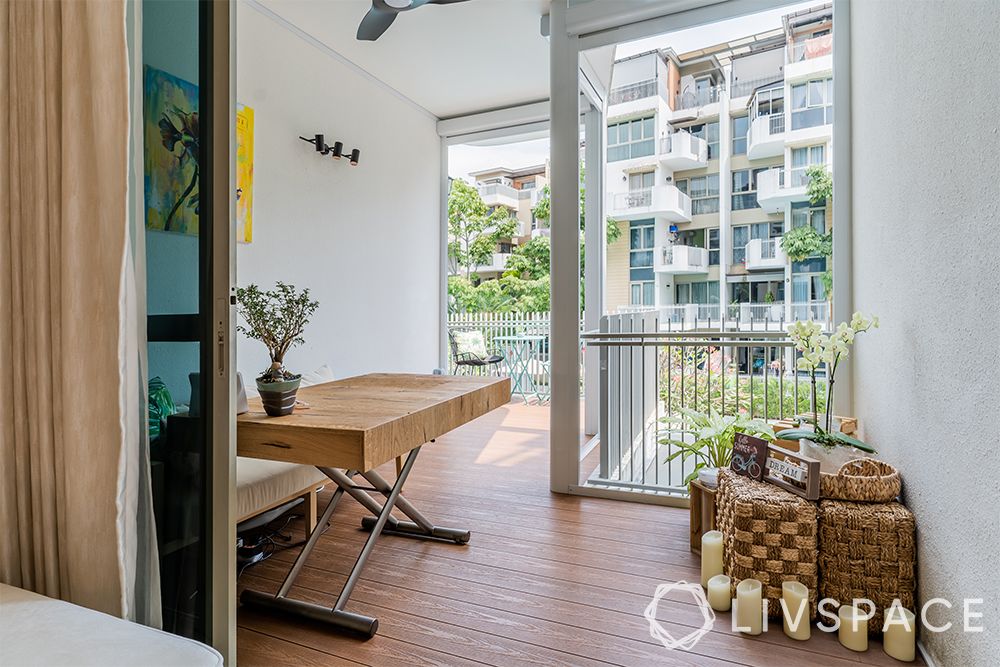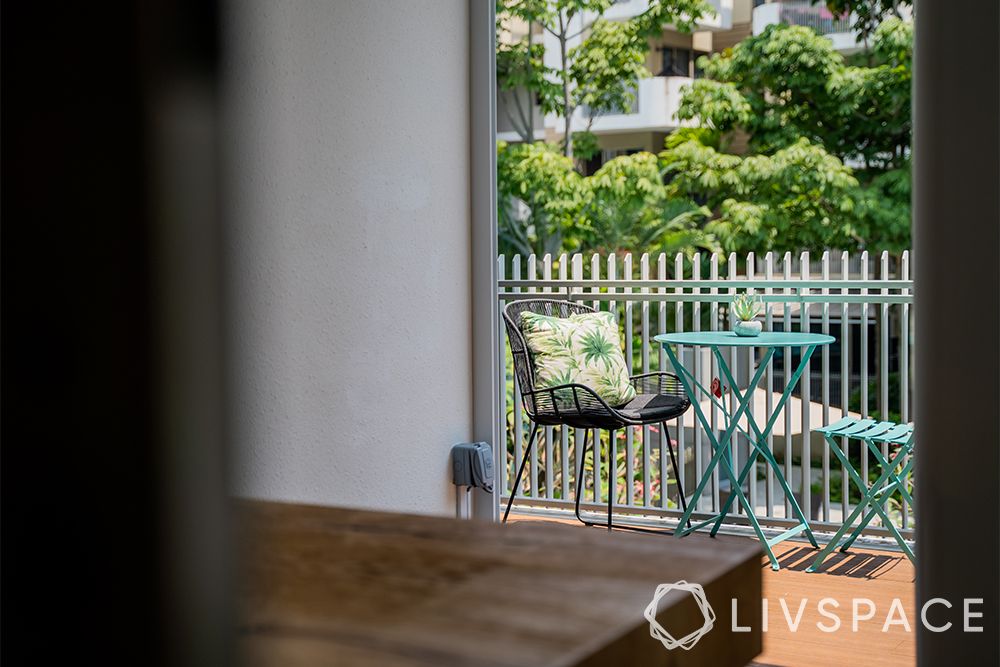 Who wouldn't want a slice of outdoors right in their home? Following the living room is our most favourite part of this small condo interior design: the balcony. With wooden flooring, comfy seats and a nice pool view, it oozes the ambience of a posh resort. We also love how plants are incorporated to add freshness to the space.
ALSO READ: 12+ Balconies From Livspace Homes That you Will Absolutely Love
A Small Kitchen Packed With Storage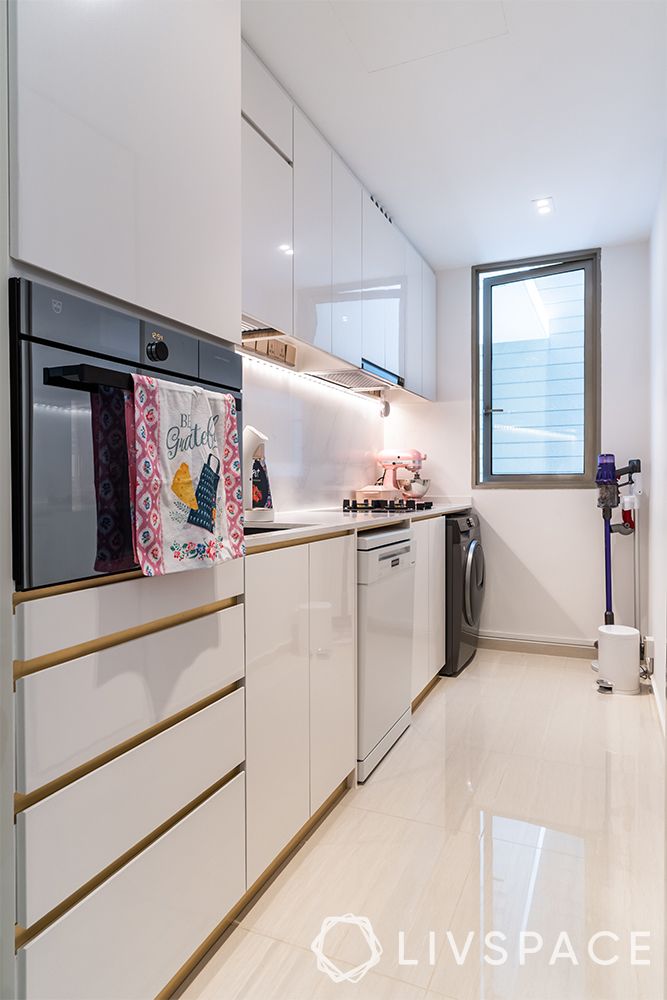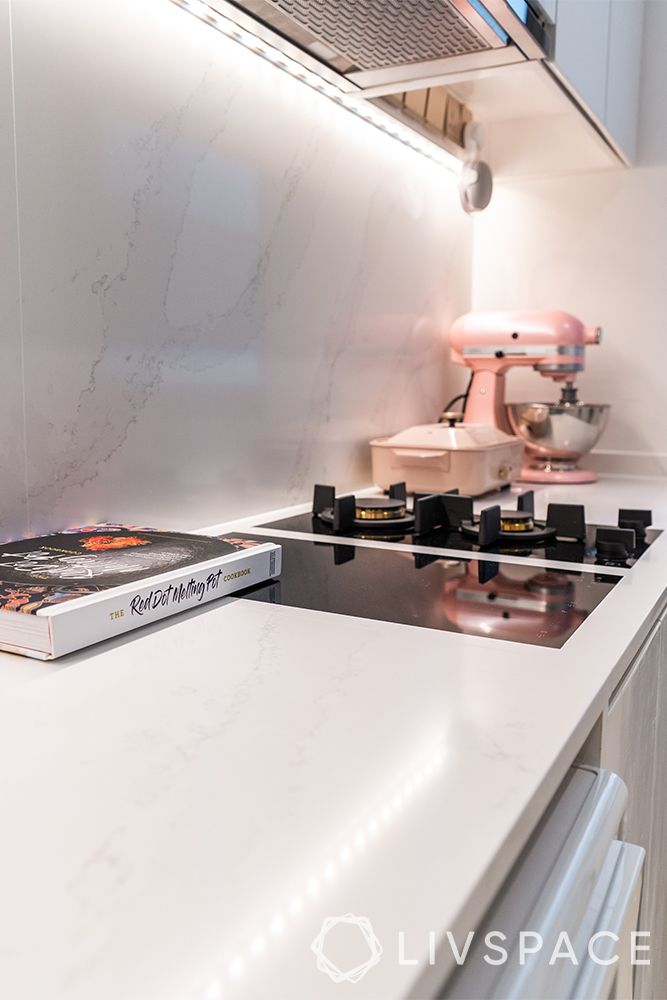 The designers say that remodelling the kitchen was very exciting. The homeowner wanted to fit many appliances and storage in this small area. So from working out the layout to piecing together the cabinets and countertop, it was an exhilarating process for the Livspace team.
The aim was to make the one-wall kitchen look elegant and cosy at the same time. And what could be better than an all-white colour scheme to do the job? But our designers didn't want it to look plain. So, the countertop is given a polished marble-like finish to reflect the warm glow of the under-cabinet lights. Furthermore, gold metal strips are affixed on the cabinet shutters to add to that golden light.
Small Master Bedroom With a Fancy Headboard Design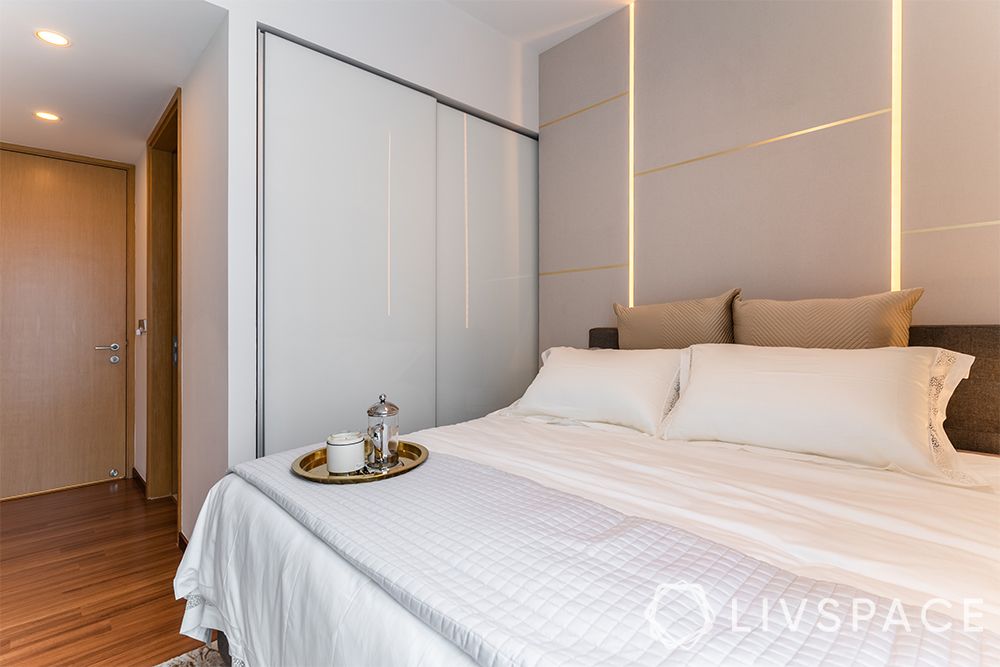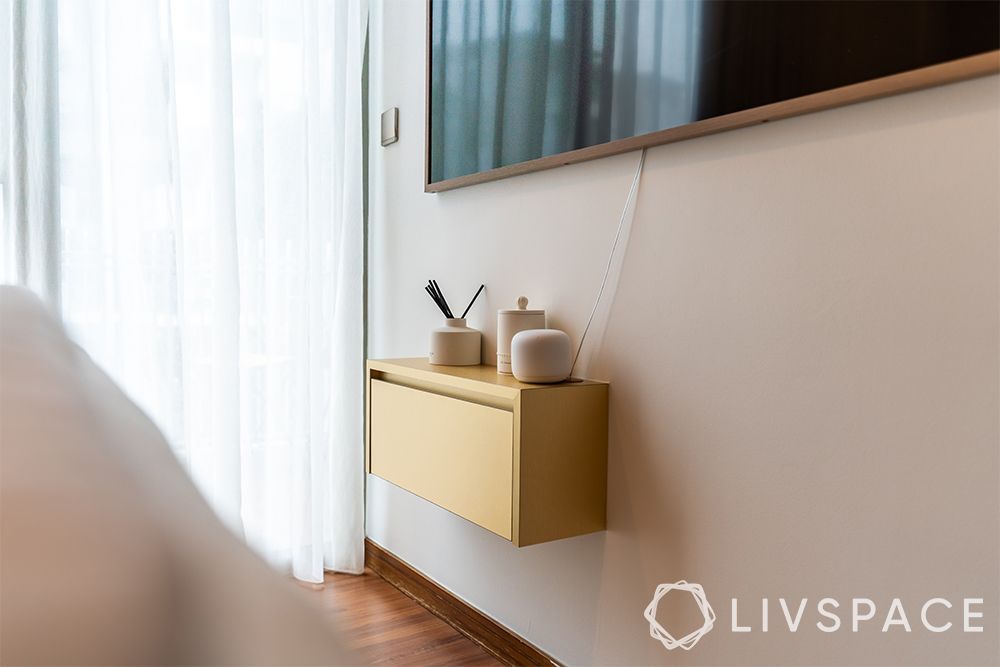 Designer Songhao says that the bedroom was one of the challenging spaces to design given the space constraints. Take a look at the headboard. It is designed with beige fabric-like laminate and embossed with golden strips and LED lights to enliven the space. Simple but exquisite, isn't it?
The bedroom also features a king-size bed, a spacious fitted white wardrobe and a small golden-hued TV console.
Cosy Common Bedroom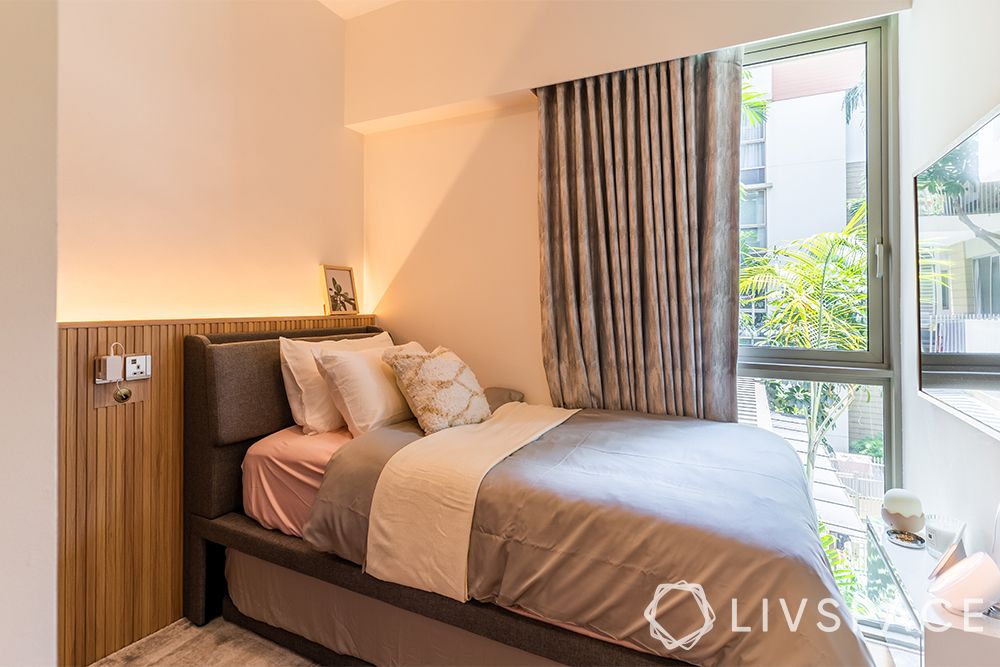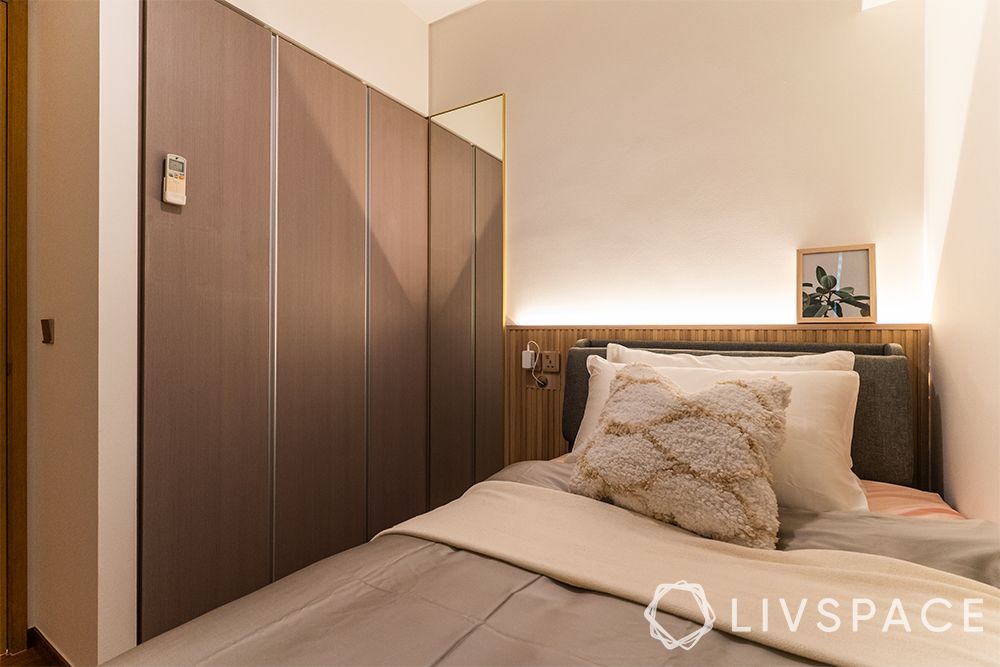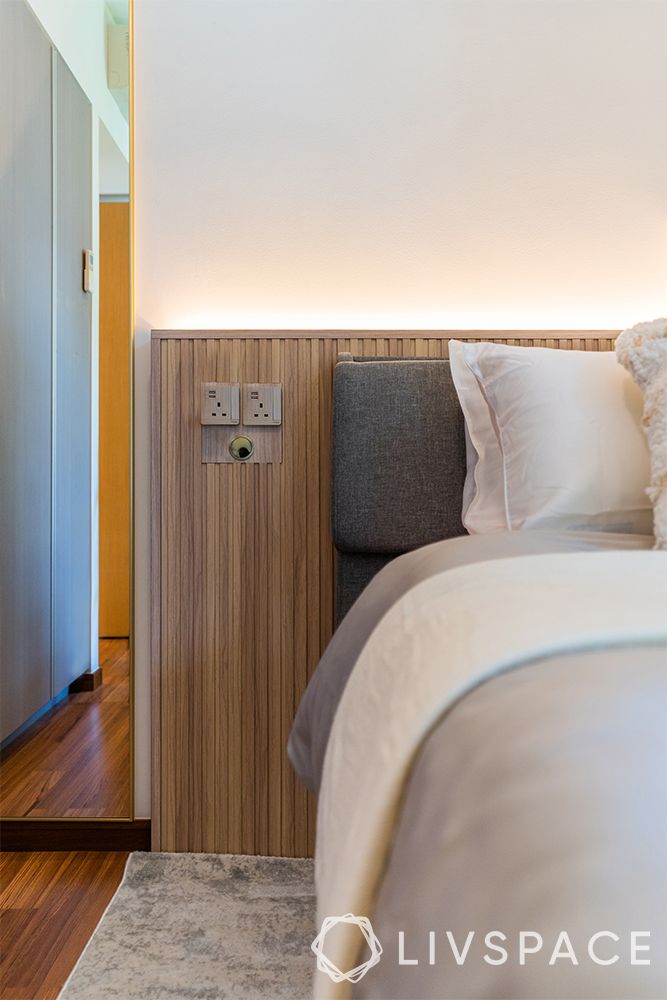 The common bedroom is as warm and cosy as it could be with wooden tones. The highlight of this bedroom is also the half-height headboard, which features fluted panels. With the intention to create a bright look, the designers opted for a soft-wood finish for the headboard and added LED lights behind it to cast light onto the wall.
This bedroom also has a fitted wardrobe, a small TV console and a standard-size bed.
Equally Luxe Toilets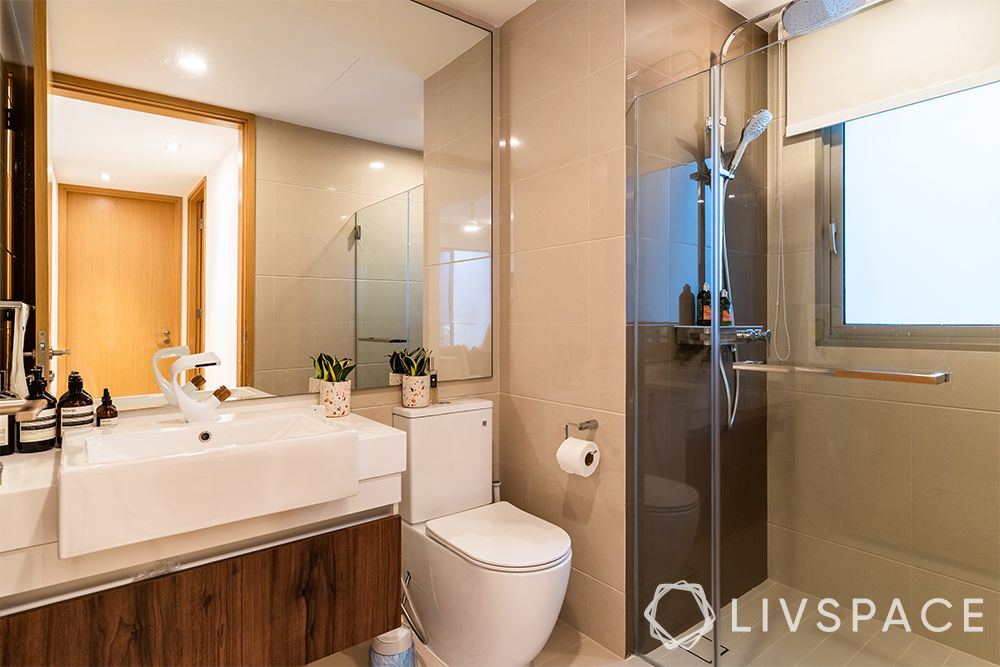 There are two toilets in this small condo interior design.
Clad in brown and beige, the common toilet is spacious. It has wet and dry areas separated by a glass partition. There is also a wooden vanity unit with ample storage space. A large mirror adorns the wall behind the vanity, further extending the space.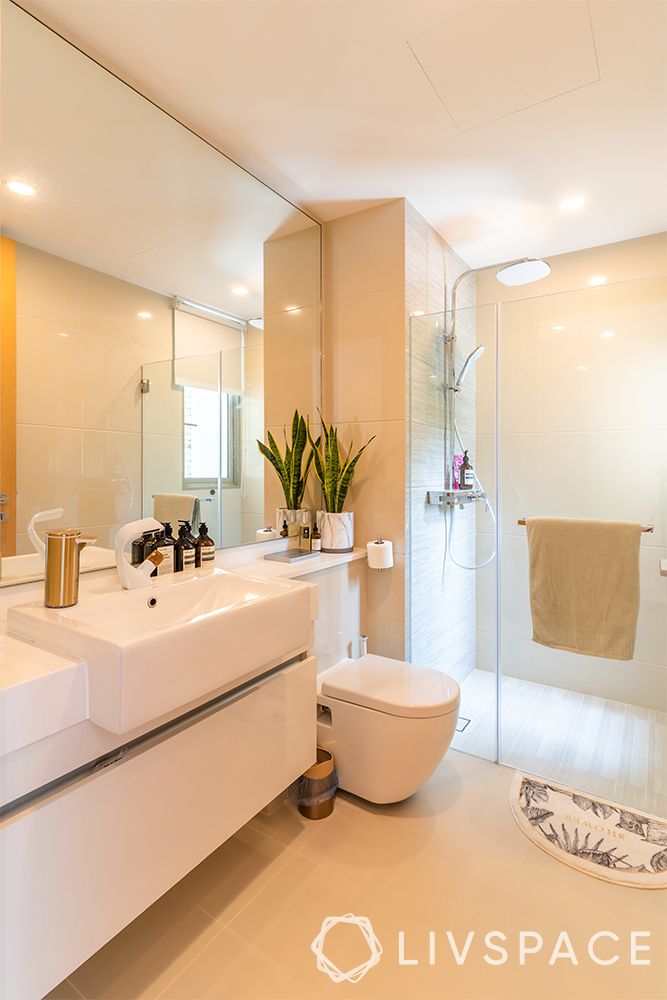 The toilet in the master bedroom is a tad smaller than the common toilet. Decked up completely in off-white, it gives a spa-like feel to the space. Like in the common toilet, there are wet and dry areas, a capacious vanity unit and a large mirror in this toilet too.
"My experience with Livspace was very good. Knowing exactly what I wanted, the team delivered a home that meets all of my criteria and I couldn't be happier."
Livspace Homeowner
How can Livspace help you?
Did you find this small condo interior design inspiring? You can also get such beautiful interiors for your home with the help of Livspace. All you have to do is book an online consultation with our design experts to get safe and quality interiors. You can learn more about COVID-19 safety protocols here.
If you like this home, you might also like This Compact 31 sq. m. Condo Has a Clean Design With a LOT of Ideas to Borrow.
Send in your suggestions and comments — editor.sg@livspace.com.