The hardest part of living in a compact condo is maintenance. Too many things can clutter the whole space, making it a pain to clean it. So, we were surprised when we looked at Katherine and Daniel's one-room condo. It is small yet sufficiently filled up with furniture, that too in an orderly fashion. Their neatly done space inspired some small condo renovation ideas.
Note down these ideas for reference as they are immensely useful.
#1: Let the floor and tabletops be visible, devoid of unnecessary clutter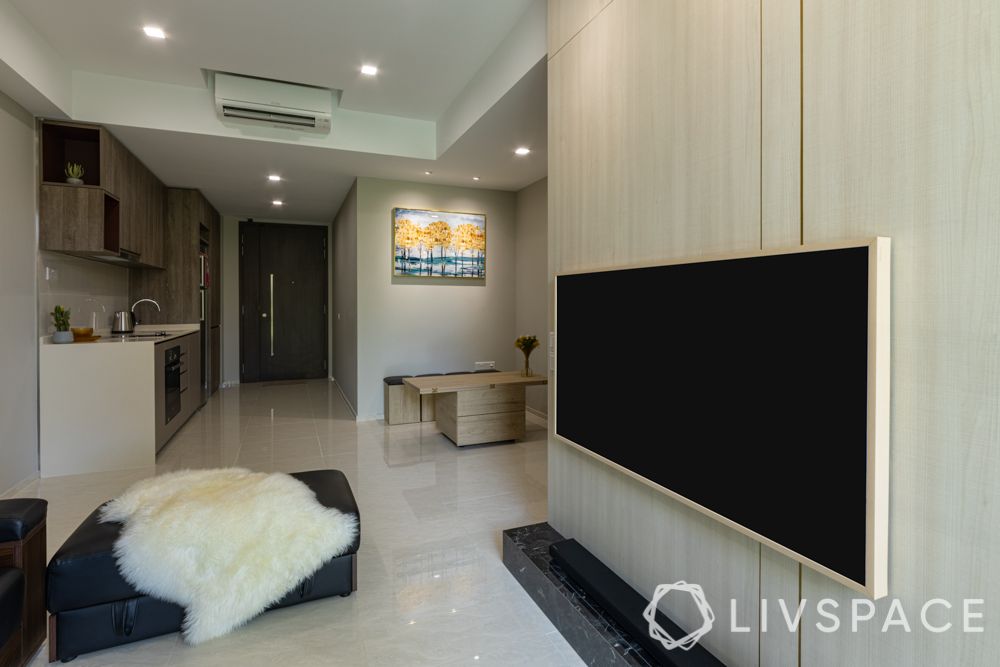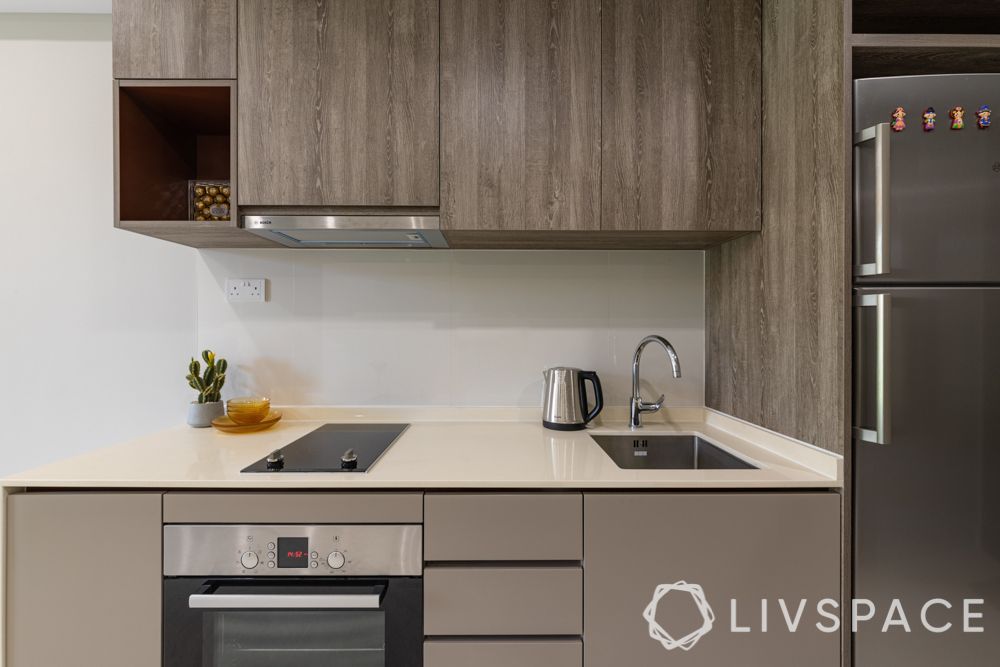 Half the job is done if you keep the floor of your compact condo clean and clutter-free. The thumb rule is to keep what you need and discard the rest. It is okay to make a few sacrifices for an airy home.
What about the furniture, you ask? Go with compact furniture designs for a compact home. Take a look at the TV unit in this living room. It is just a sleek and slim ledge in marble laminate finish, but it efficiently does the job of holding all the electronics and decor items.
Even in the kitchen, the many storage units are meant for kitchenware, while the countertop holds only a hob, sink, kettle and a plant, making it extremely tidy.
#2: Use vertical space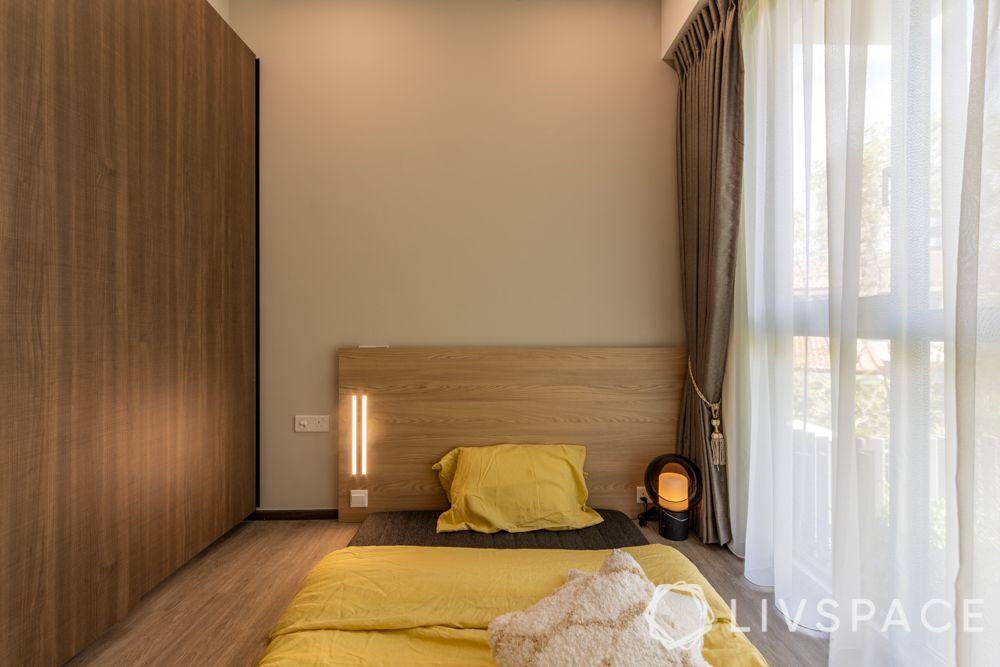 Ever heard the phrase — when one door closes, another one opens? Vertical space is like that for a small house. When you don't have enough horizontal area for storage, you can count on vertical space. Luckily, this condo has high ceilings, and the vertical space is smartly leveraged in the kitchen and bedroom because that's where you need a lot of storage units.
A bonus point of utilising the vertical space is that it will make the small area appear larger as one's eyes will be travelling upwards.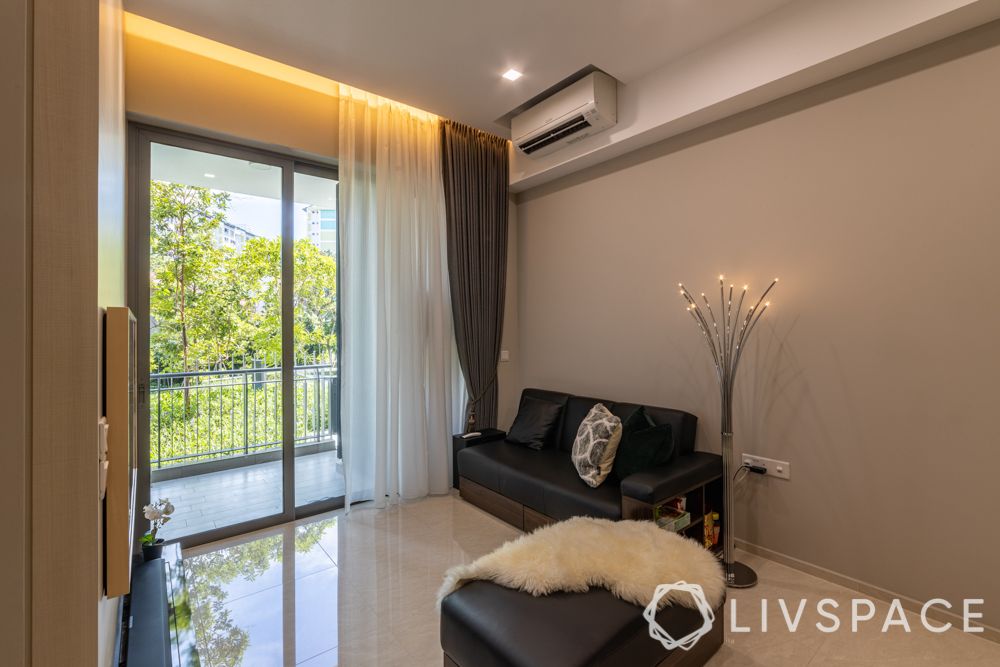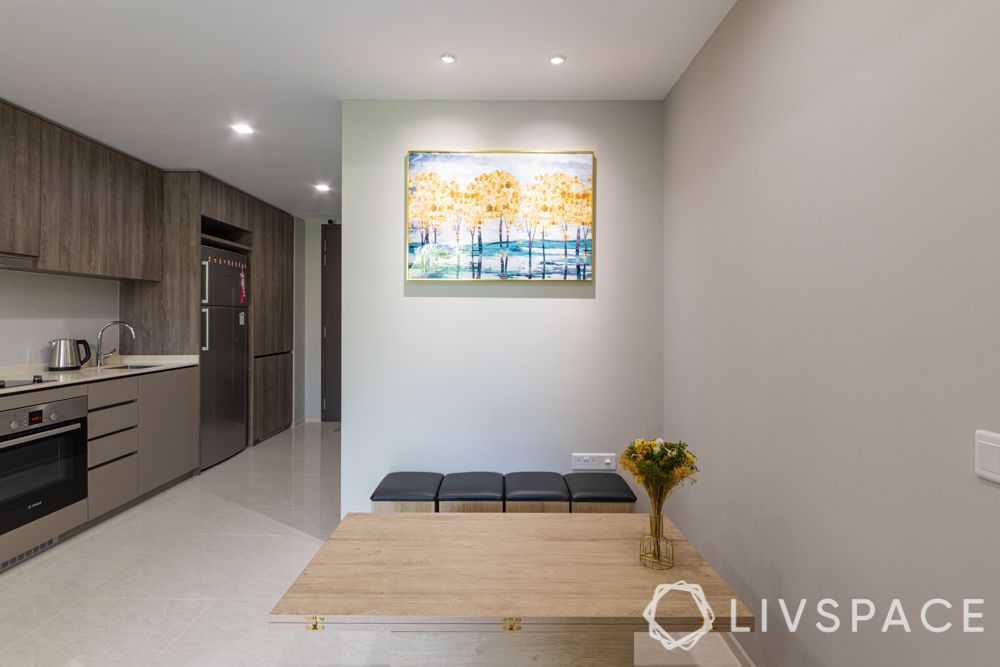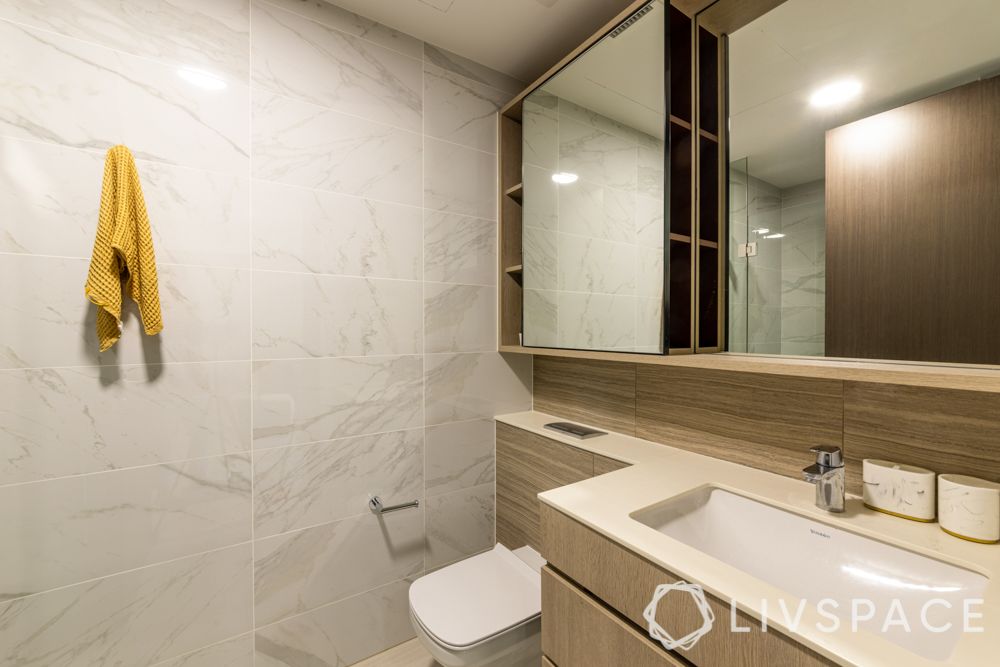 Many small condo renovation ideas may come and go, but storage-related ones will stay on top of every list. One of the things that we rave about Katherine and Daniel's home is how they have seamlessly integrated storage with their main furniture.
The living room sofa has a few shelves on its arm while the dining table is a trunk-style one, facilitating a concealed storage unit. One other room that requires storage space is the toilet. Here, they have included a cabinet hidden behind the vanity mirror as well as a niche storage unit beside it.
#4: Make it visually light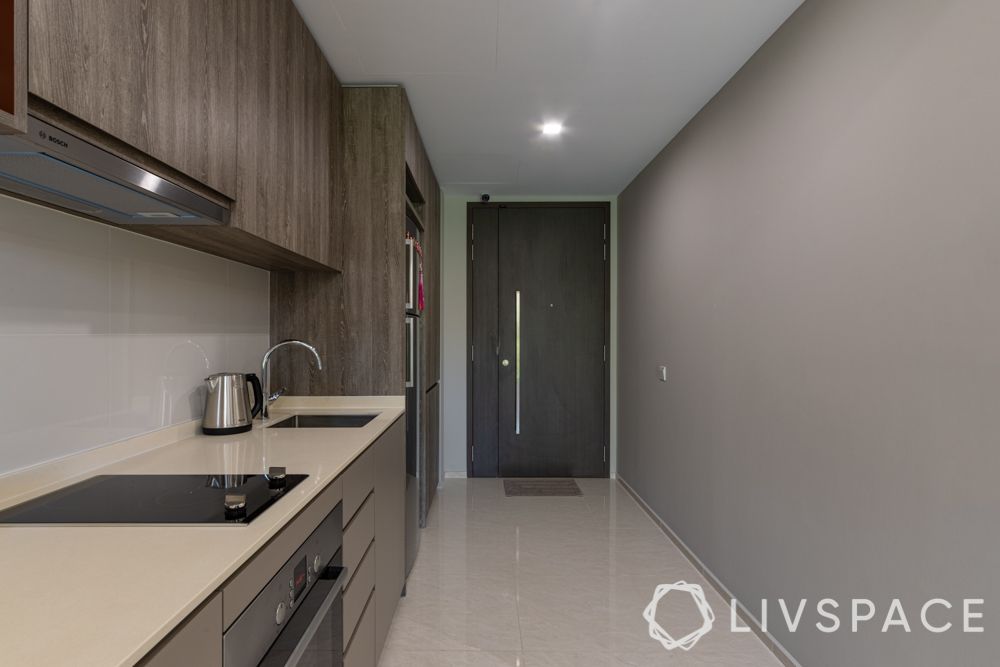 In what ways can you keep your home looking visually light other than avoiding bulky furniture? Designers vouch for paints to do the trick. Neutral shades are the go-to option in this aspect. But a room can be made visually light by opting for the same colour for walls and furniture or, in this case, different tones of the same colour.
#5: Multifunctional/floor bed and floating furniture saves space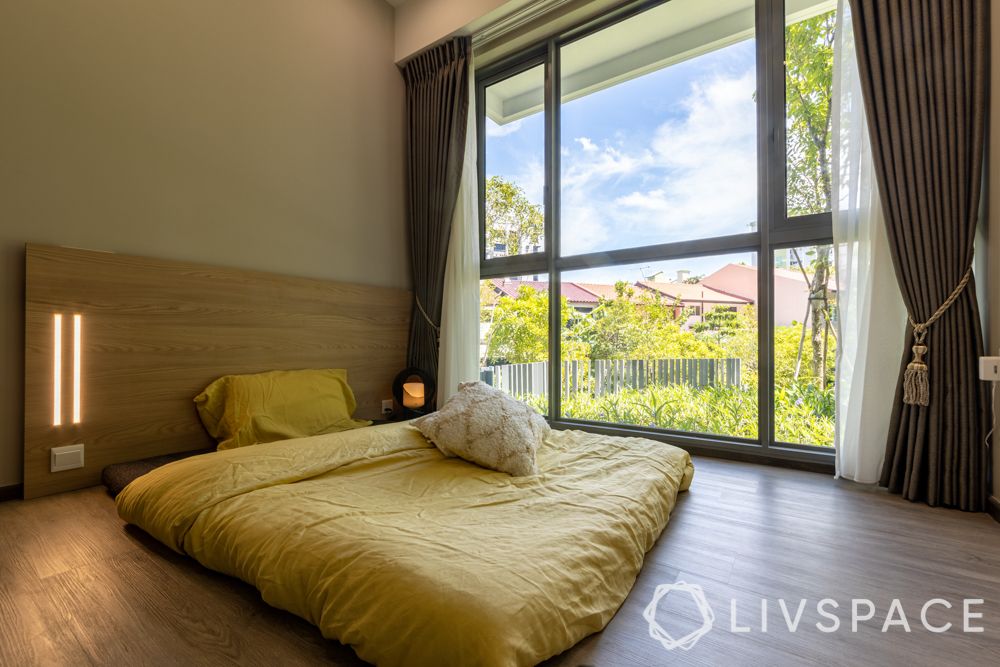 Always, we repeat, always opt for furniture that has more than one purpose. What you see in Katherine and Daniel's bedroom is a sofa that transitions into a floor bed. When not in use, it saves a lot of floor space and makes movement easier.
Floating units like the one in the toilet also helps in maintaining a clutter-free space. Therefore, when it comes to small condo renovation ideas, floating and multifunctional furniture are unavoidable.
How can Livspace help you?
We hope our ideas for a clutter-free condo are helpful. If you are thinking of redesigning your home, then consider Livspace. Book an online consultation with our designers now to turn your small condo renovation ideas into reality. We are all about quality and safe interiors.
Let the pandemic not stop you from attaining your dream home. We follow strict COVID-19 safety protocols, which you can read about here.
Tour this resort-style condo design:
Want more expert-recommended tips? Read 10 Ways to Widen Your Compact Kitchen
Send in your comments and suggestions to editor.sg@livspace.com