Working couple Nathalie and Ivan turned their compact 3-room condo into a modern, hotel-style home. Clad in tasteful darker colours, this home is upscale and unique. Not only in looks, but this contemporary home is also high achieving in terms of facilities. However, the one that impressed us is how vertical space is put to use for storage units. Making the best out of available space, these storage for home options are ideal for compact condos.
So, go ahead and see if you can borrow some of these clever storage ideas.
#1: Entertainment unit covering the entire wall in the living room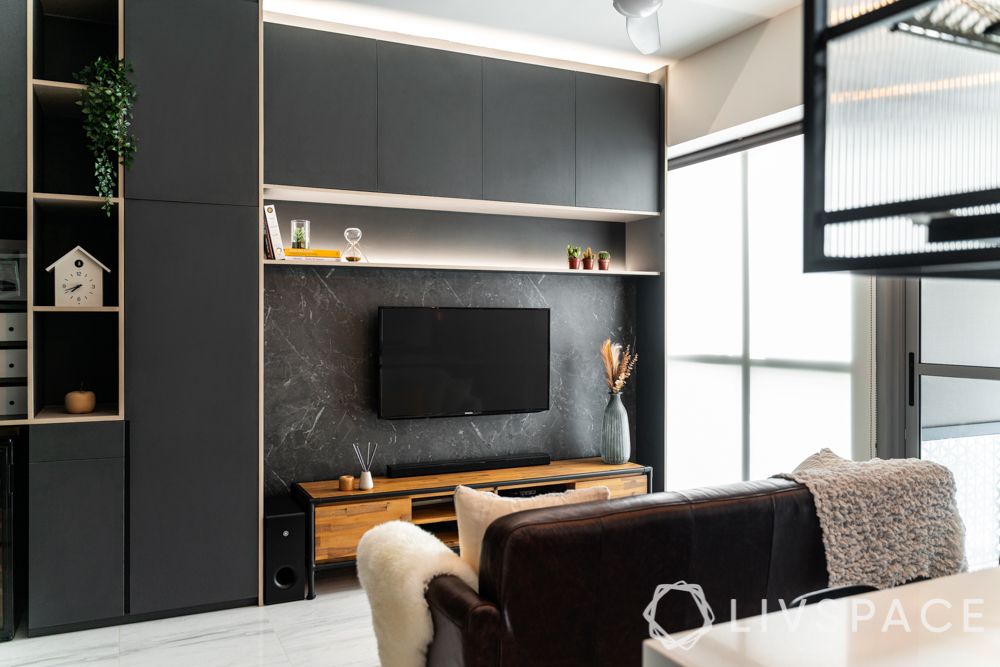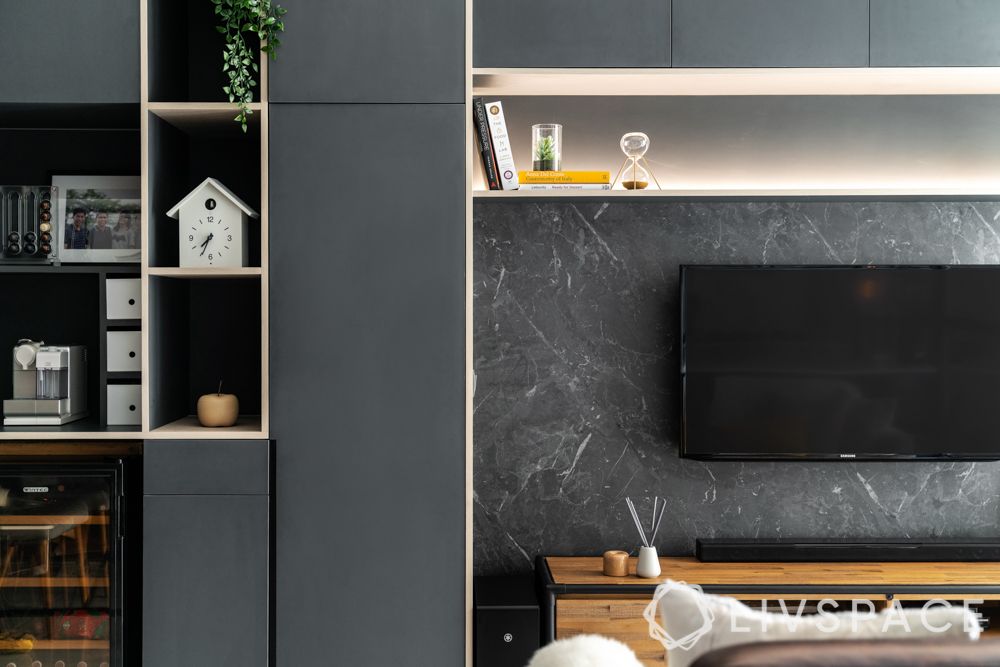 Can you think of an entertainment unit design more perfect than this? With a seamless matte finish, the chic unit occupies the entire TV wall. Coming to storage, it is sorted with several cabinets, open shelves, lofts and niches. Apart from holding plenty of things, the floor-to-ceiling closed unit diverts the attention upwards and visually expands the space. Additionally, there is a row of cabinets above the TV. We also adore how the display shelf below it is backlit. Hence, it serves as a highlight in the sea of dark cabinetry.
You can check out more entertainment designs here: 10 Latest TV Console Designs You Will Fall in Love With
#2: Storage unit continues into the study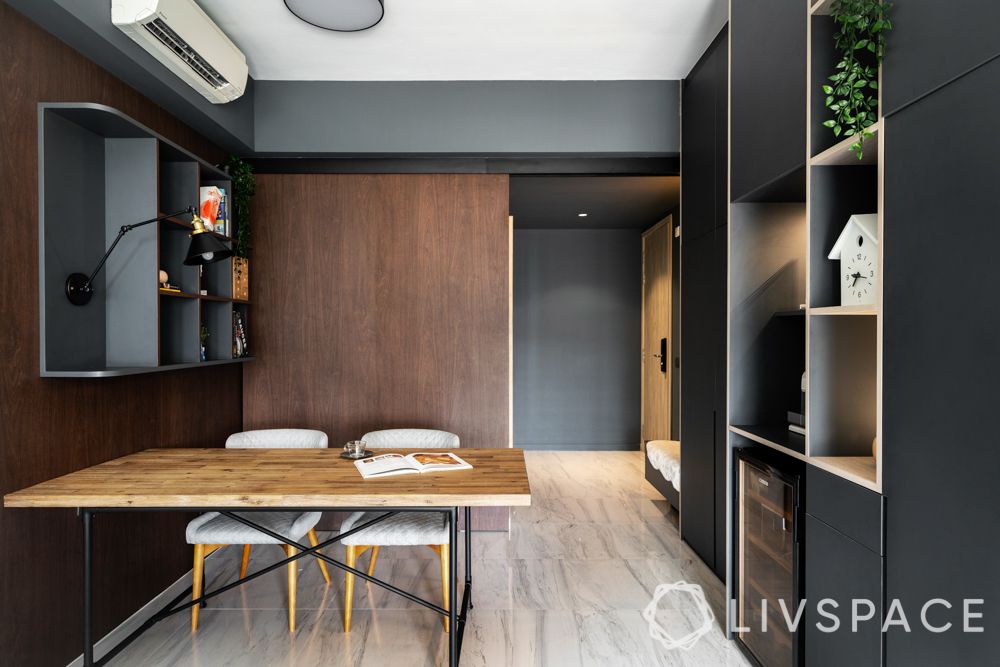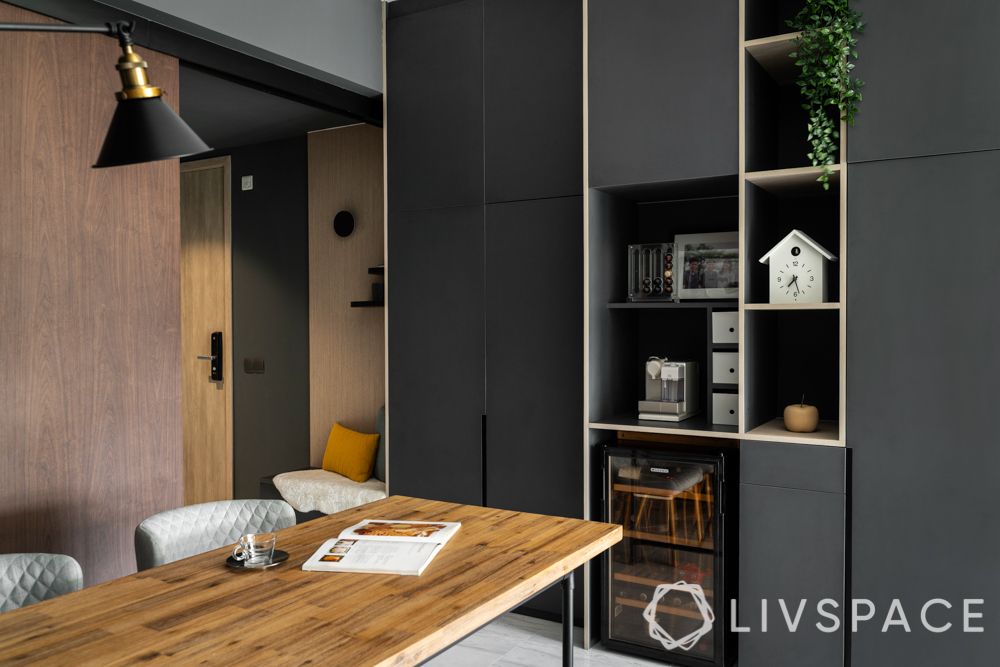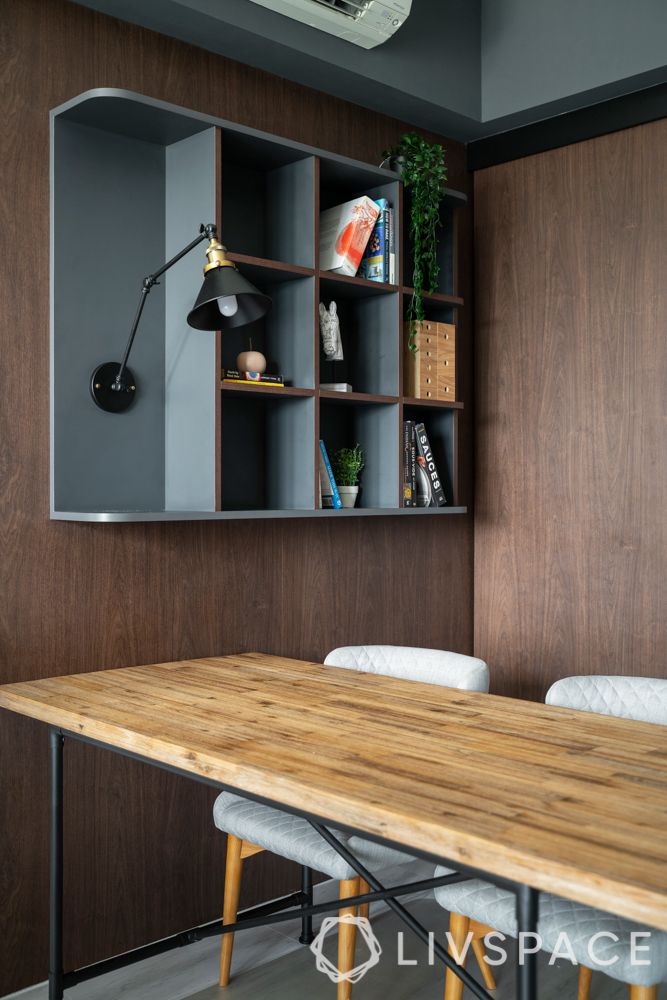 The living room's tall unit flows into the study area too, maintaining coherence. If you notice, the unit, though large, doesn't consume a lot of space, allowing the floor to be visible and, in turn, making the room appear spacious.
The opposite wall is also not empty. A floating shelf is mounted to complete the study corner. We highly recommend this storage for home option as it is multifunctional. The unit has several shelves to hold books and documents, along with a built-in lamp. What else do you need to set up a perfect, minimal study?
#3: Suspended metal shelf with lighting fixtures for the kitchen
This space was entirely created for the couple keeping their interests in mind. A family of bakers, Nathalie and Ivan, have a breakfast counter that doubles up as a kneading counter. But our focus is on the area above. Space optimisation reigns here through the suspended metal shelf to store their baking utensils. In addition, the shelves have also got built-in lamps to efficiently light the area. An idea for the books, isn't it?

#4: Wardrobes framing the bedhead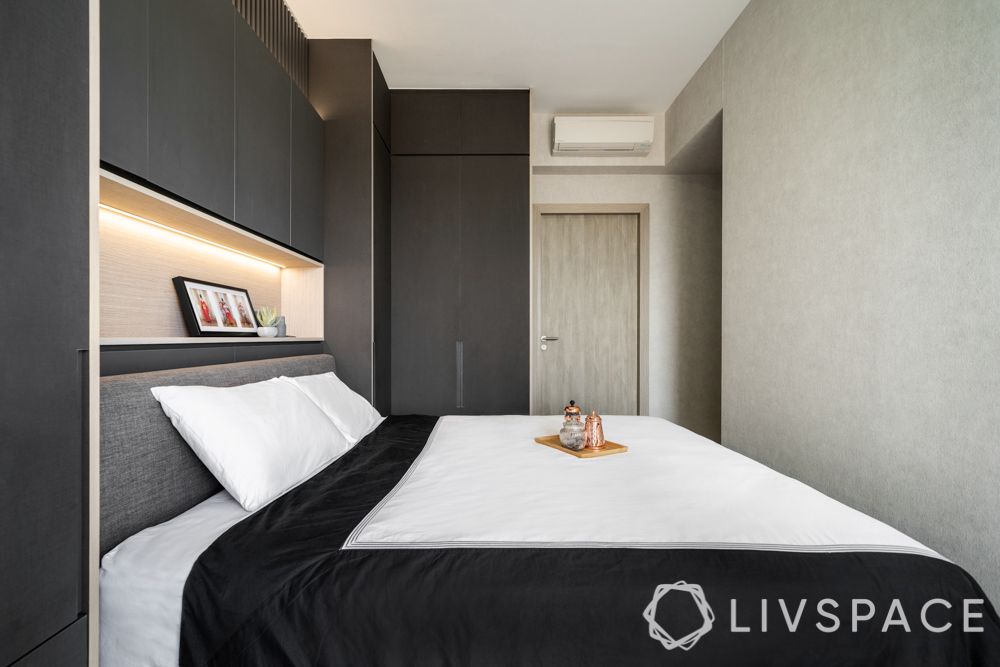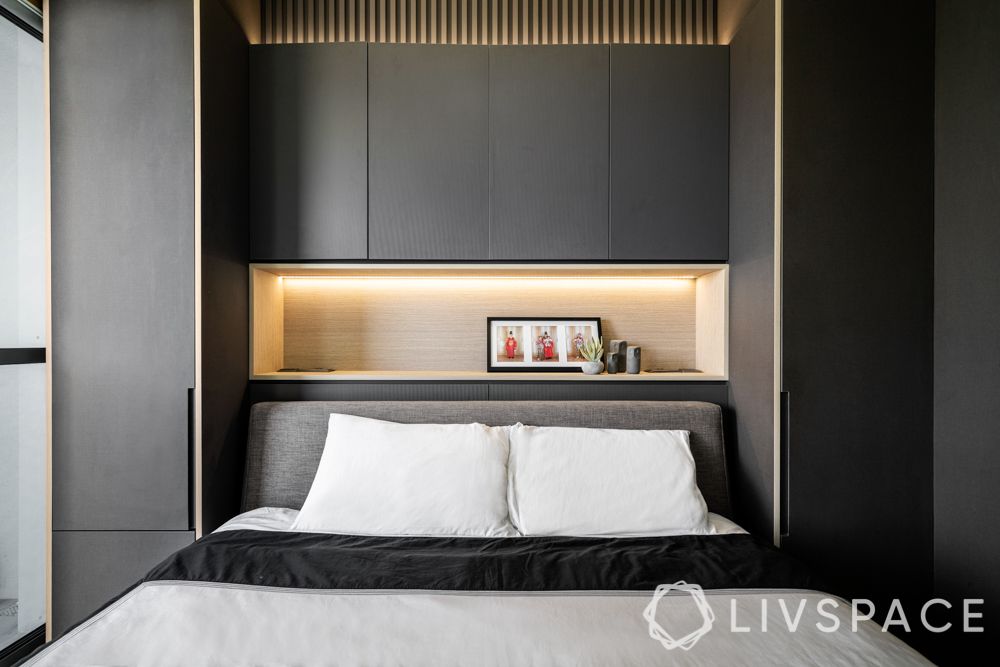 It goes without saying that this bedroom is storage goals. Considering the limited space here, we have given them floor-to-ceiling wardrobes. There is also something unique about the wardrobe placement. There is a regular single wardrobe on one wall, while there are two other wardrobes on either side of the bed. These wardrobes frame the bed like a headboard.
What amuses us even more is the usage of space above the bed (between the wardrobes) to install cabinets and an open niche. Like the one in the living room entertainment unit, this display niche also has warm lighting, elevating the look of this room.
How Can Livspace Help You?
Impressed with the space efficiency employed in this 3-room condo? If you are nodding yes and want similar storage for home, this is where Livspace can help you. Book an online consultation with our talented designers so that you can get quality interiors according to your preference.
We have come to the end of our list of storage for home ideas inspired by Nathalie and Ivan's smart condo. If you liked what we curated for you, then prepare to be ravished by this Space-savvy, Stylish Condo Design That Flaunts Clever Storage Ideas.
Send in your comments & suggestions to editor.sg@livspace.com.