To the onlooker, Samuel and Clariss' requirements for the design of their new BTO flat may seem basic. But, as the saying goes, basic is the best kind of beautiful! The newlyweds came to Livspace with the intention of having a home that would be a blank canvas that allows them to grow and expand their family into. As such, Livspace designer Hoe Siang Wee was allowed the opportunity to suggest a modern contemporary HDB design that comfortably exceeds the homeowners' expectations.
---
Who Livs here: This modern contemporary HDB design is for Samuel and Clariss
Location: Tampines Street 81
Size of home: 113 sqm
Design team: Designer Siang Wee Hoe
Livspace service: Modern Contemporary HDB design (full home)
Budget: $$$
---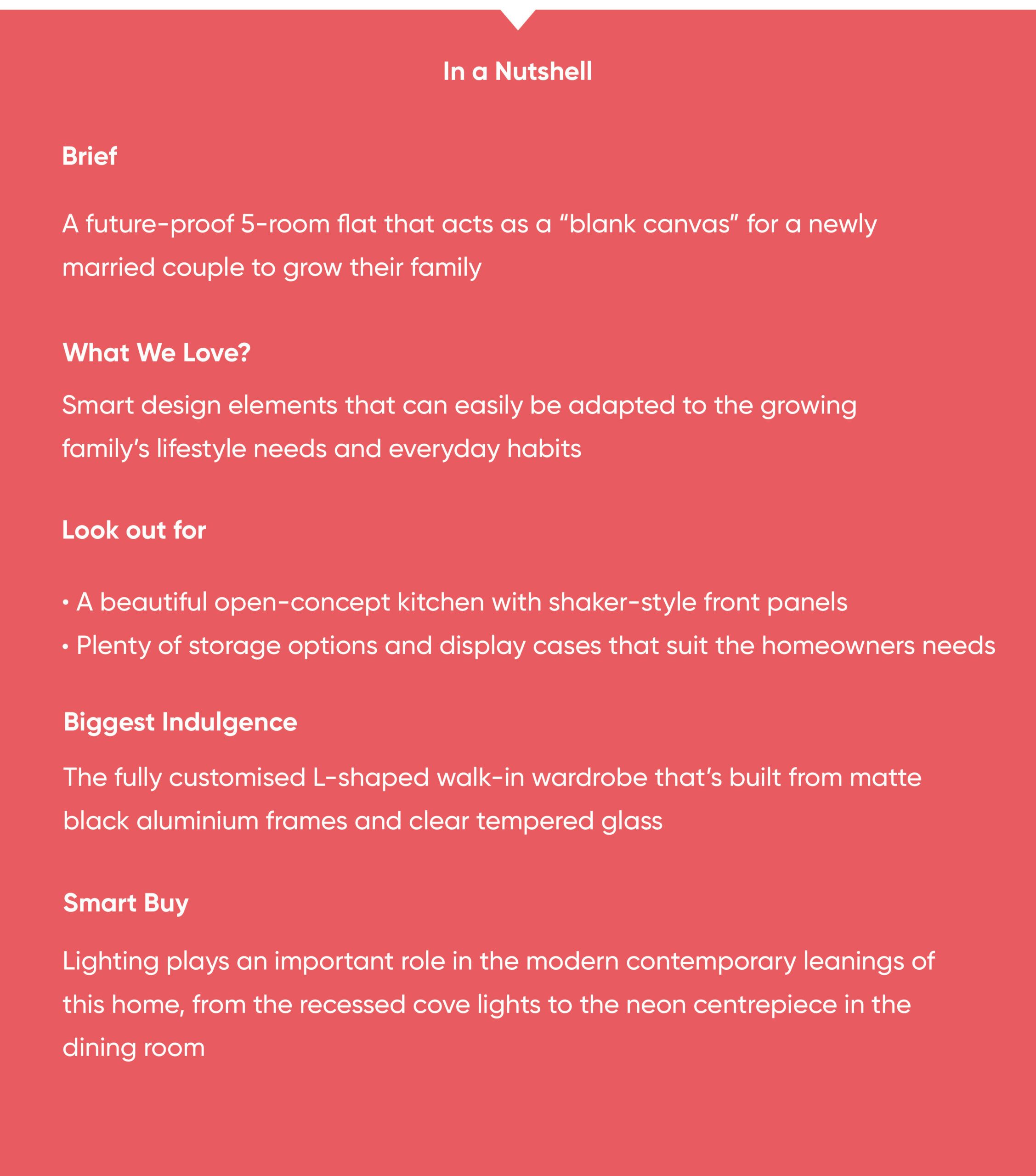 Airy And Open Interiors With Plenty of Space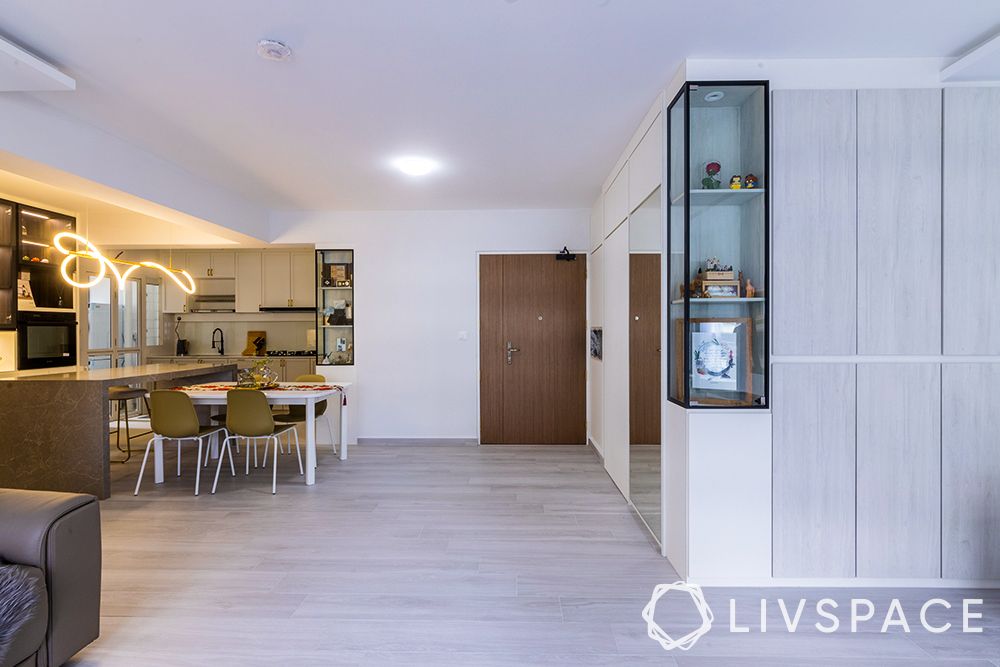 The home features bright and airy interiors that are conducive to a modern contemporary home. Siang Wee and her team knocked down walls to encourage an open concept with a natural flow of light. She also made sure to include plenty of storage and display spaces throughout the home, as per the couple's request.
Because of the angular designs of the floor plan, the Livspace design team also made the conscious decision to "soften the edges" of the home. This included the addition of glass display cabinets and special light fixtures in the common areas of the HDB flat.
A Modern Contemporary Living Room With Lots of Storage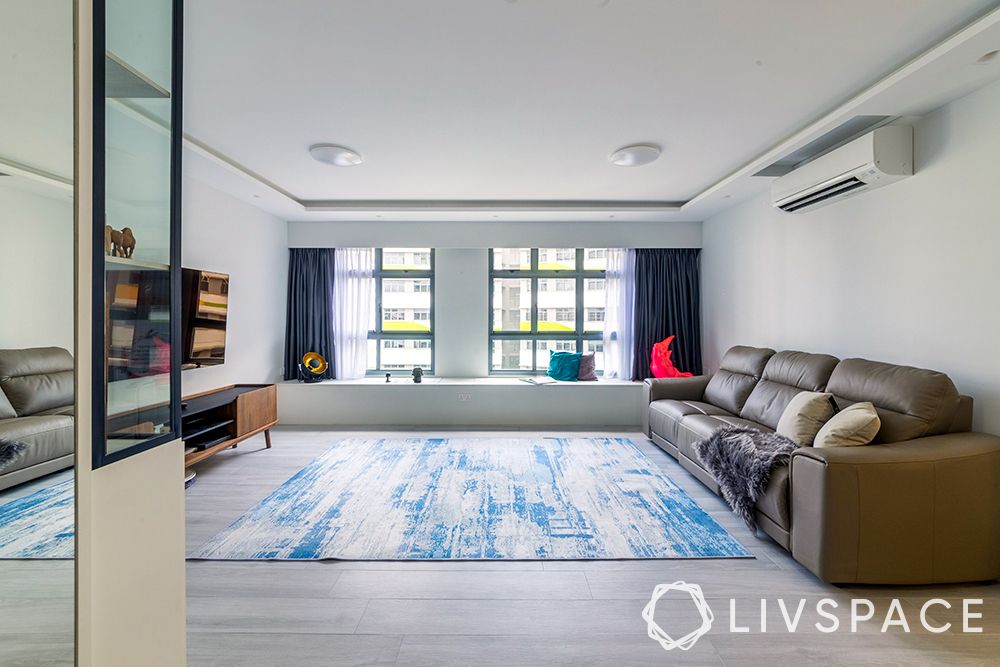 The modern contemporary look is most apparent in the living room, where cool tones and a neutral palette takes centre stage. Siang Wee kept the space open and airy, taking advantage of the large windows to let in a deluge of natural light. The bay windows feature hidden storage compartments that the homeowners can use to keep away any clutter. Built-in storage shelves box up the bomb shelter entrance, resulting in a seamless foyer from the front door.
A Well Considered Dining Area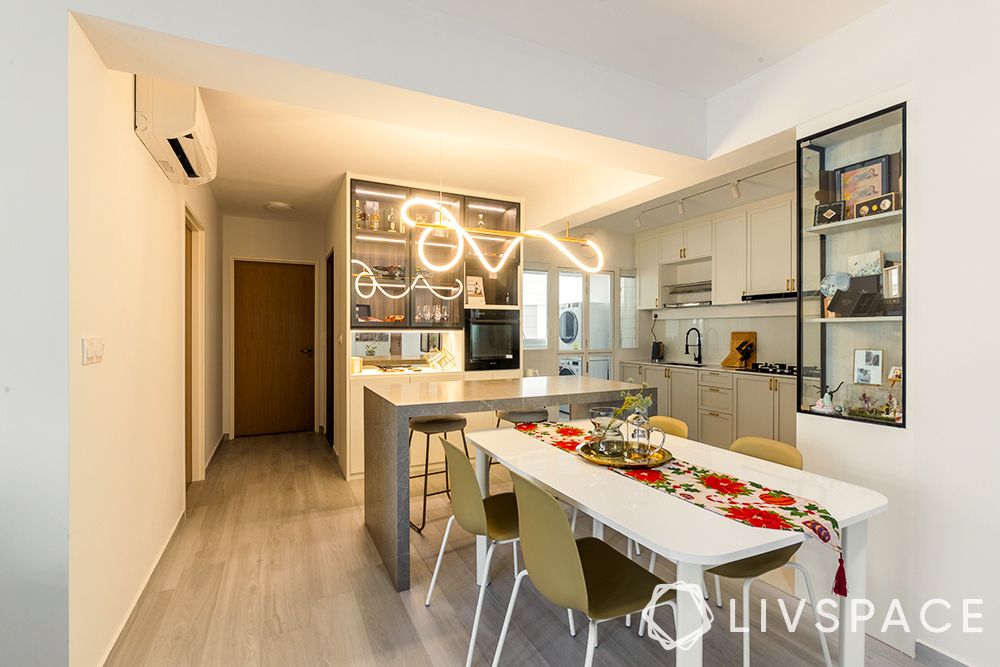 Siang Wee reveals that the dining room underwent several iterations. After hacking away the kitchen wall, the dining area now sits squarely in the space between living room and kitchen. There's a kitchen island with a waterfall countertop, and it's high enough for the extendable dining table to nest underneath. This kitchen worktop doubles as a breakfast counter and an additional workspace when Clariss is baking at home. Siang Wee also installed powerpoints on this island so kitchen appliances can be conveniently powered on.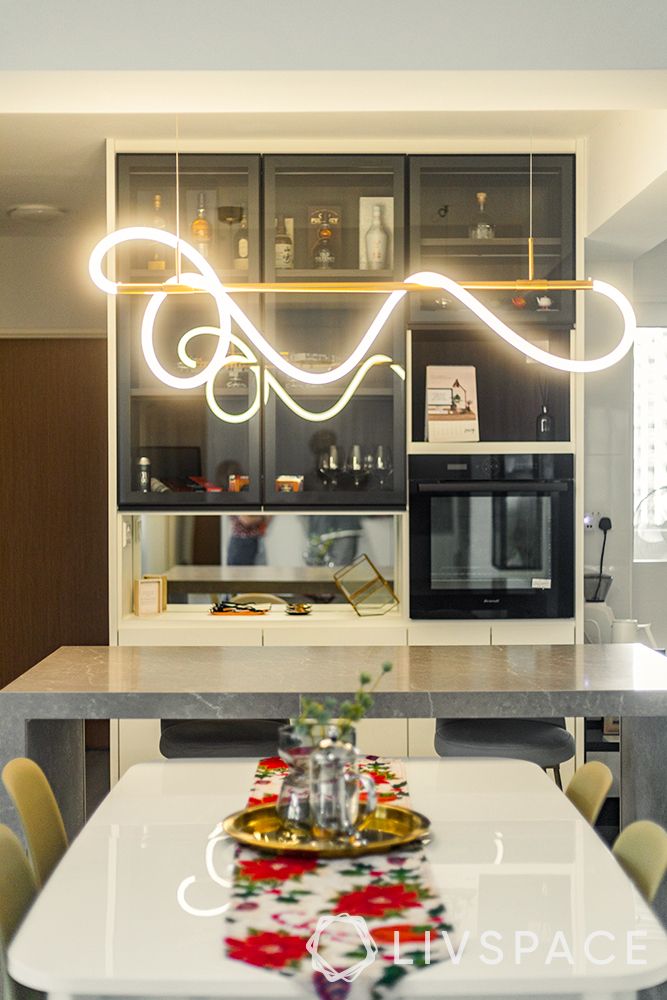 Also of note is the large glass-encased display cabinet and a standout lighting fixture that help to anchor the space.
A Modern Contemporary HDB Design Kitchen Tailor-made for the In-house Chef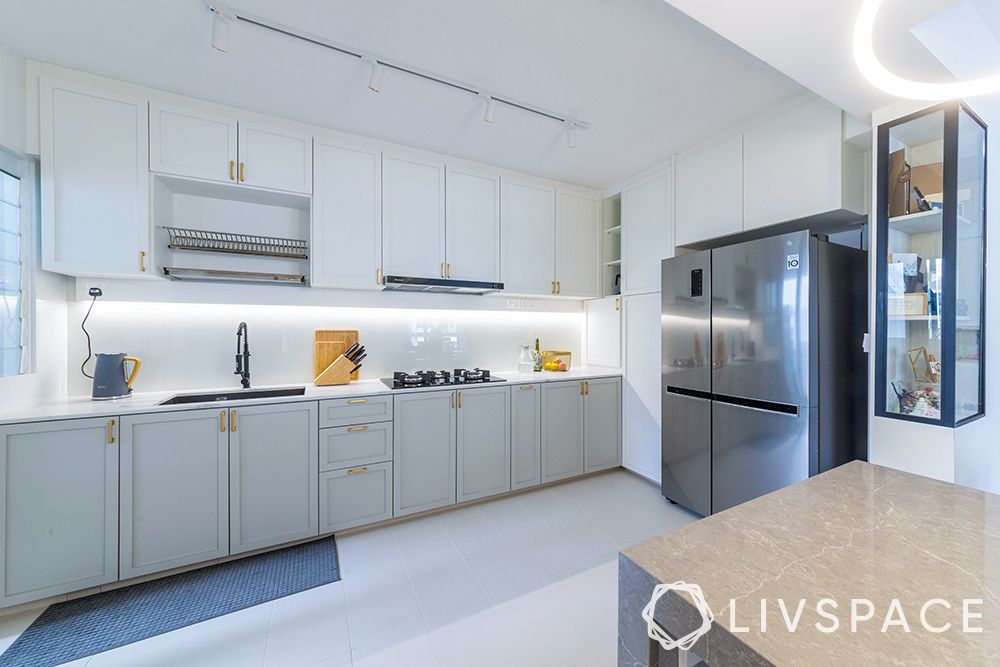 The open-concept kitchen has all the leanings of a modern contemporary aesthetic, thanks to its light palette and clean configuration. Interestingly, the top cabinets are in all-white, while the bottom cabinets are finished in a darker off-white tone. This soothing tone-on-tone combination balances out the space, and is especially effective when paired with the shaker-style cabinet fronts and white marble quartz countertops.
But, it's not just its aesthetics that stand out. This kitchen is packed with design details that accommodate Clariss' cooking habits. For example, there are cabinets with removable slots that can store her baking trays and other bulky items.
Luxury Bedroom With an Ensuite Walk-in-Wardrobe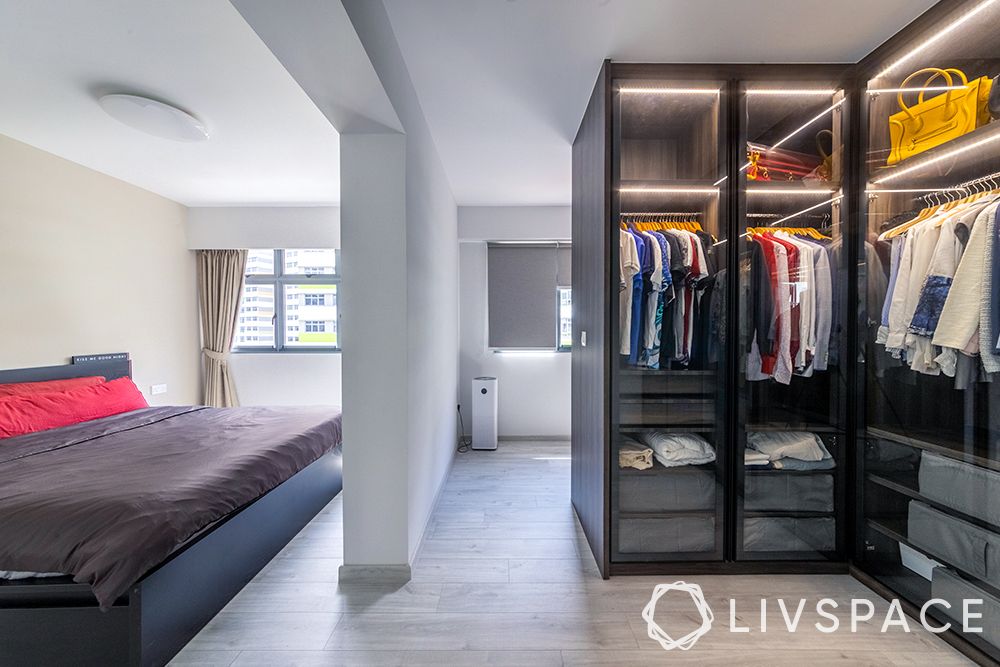 Since Samuel and Clariss had a spare bedroom, Siang Wee suggested combining two rooms into one spacious master bedroom. Careful space planning meant that this newly enlarged bedroom now incorporates a walk-in-wardrobe and even a home office.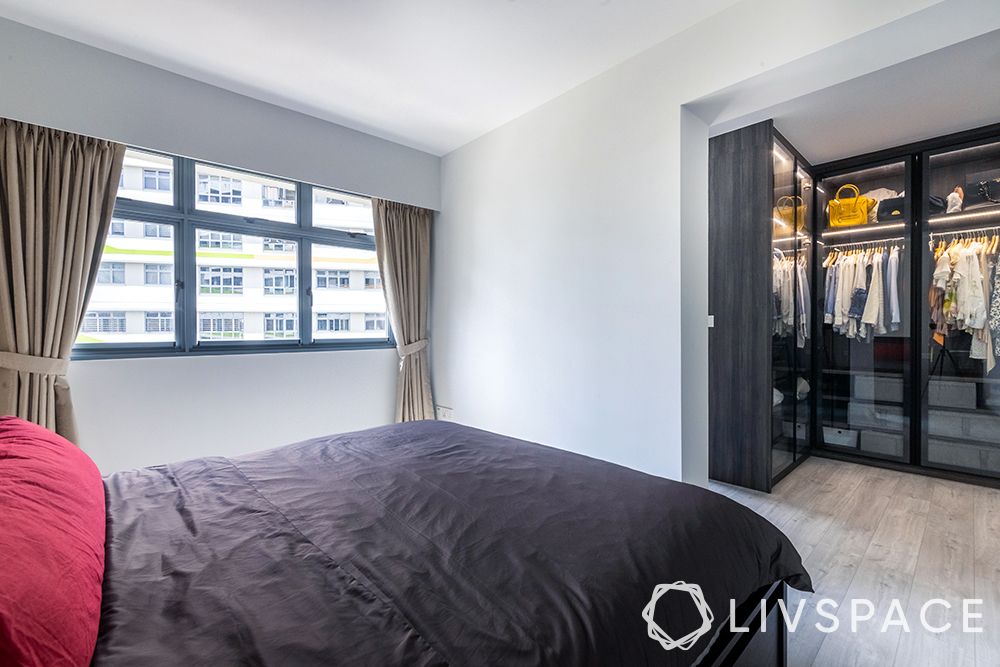 The homeowners wanted to keep the bedroom itself clean and uncluttered. With no unnecessary furniture to fill up the room, the space has a calming minimalist feel that's great for Samuel and Clariss to unwind in.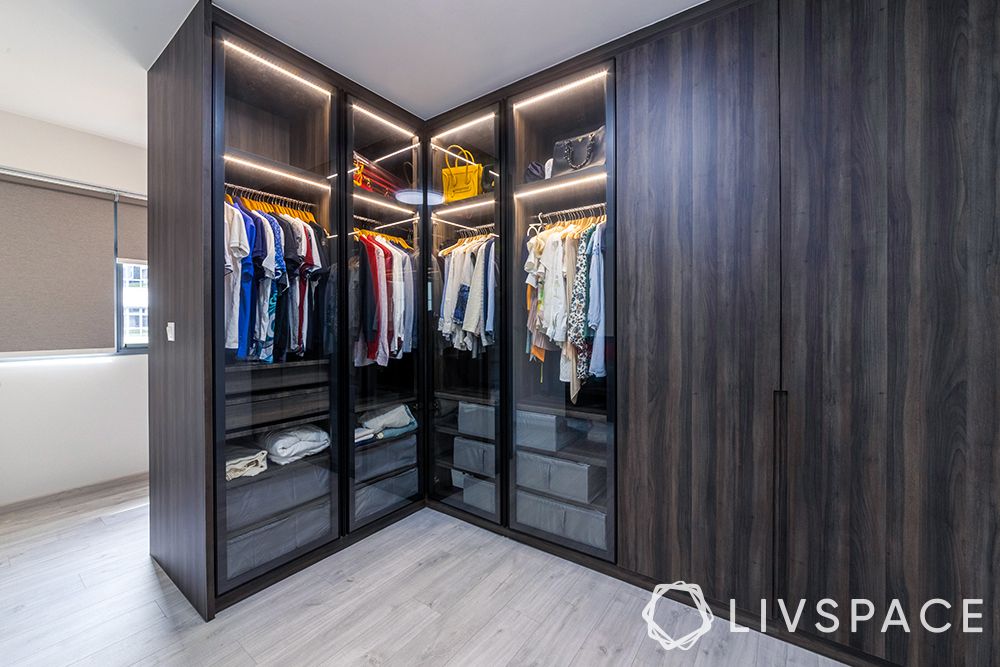 This luxurious L-shaped wardrobe is truly a sight to behold. A lot of care and consideration went into its custom design, ranging from the materials used (black aluminium frames and clear tempered glass) to the customised lighting system to the internal configuration. The end result however, is definitely worth the effort. Instead of an open system that would attract dust and require regular maintenance, Samuel and Clariss opted for clear glass panels that give them full view of the content of the closet.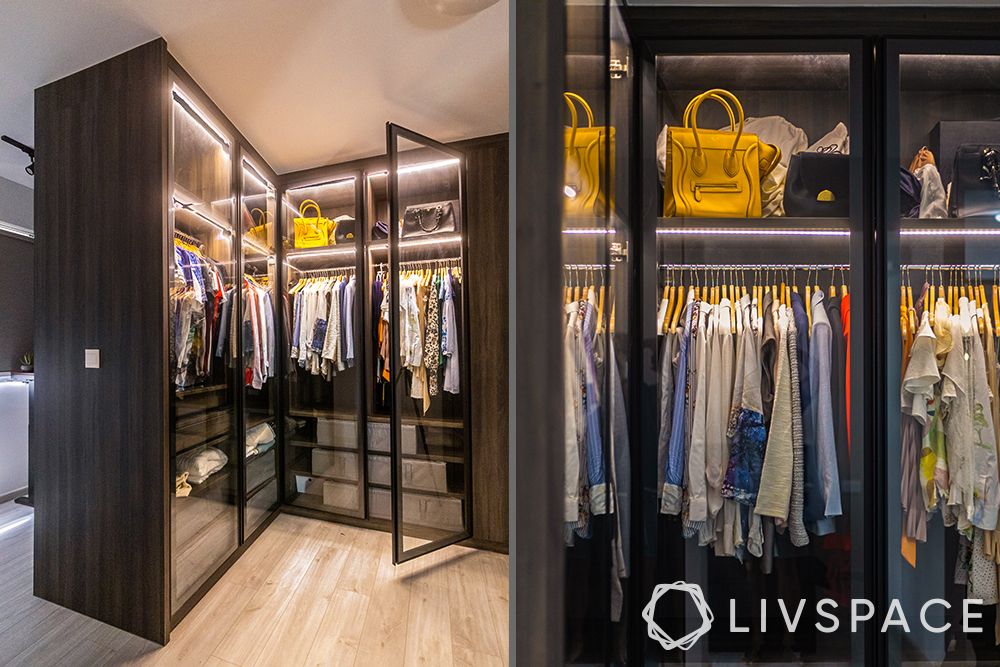 There were initial plans to include an island in the middle of this dressing area, but this would only take up unnecessary space. Instead, Siang Wee incorporated pull-out drawers into the design of the wardrobe. She also made sure there was plenty of loft space for Clariss to display her collection of handbags.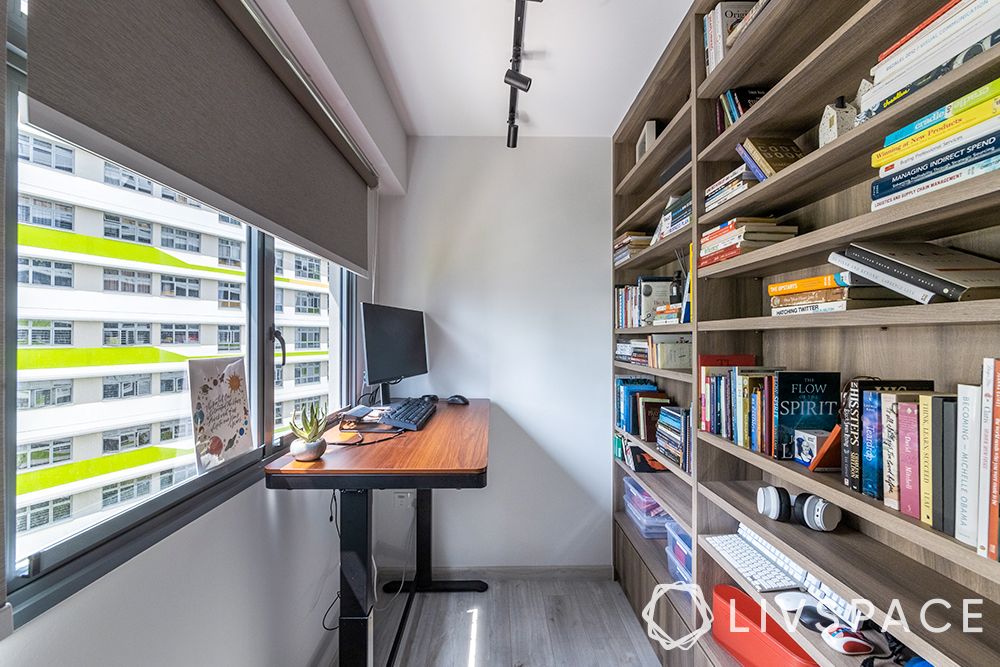 Home Office Carved Out of walking Wardrobe
Since the walk-in wardrobe is in an L-shaped format, Siang Wee carved out some space for a home office. This little niche becomes a quiet study area next to the window, complete with a raisable standing desk and plenty of shelving space.
Quaint yet Customised Bathrooms In This Modern Contemporary HDB Design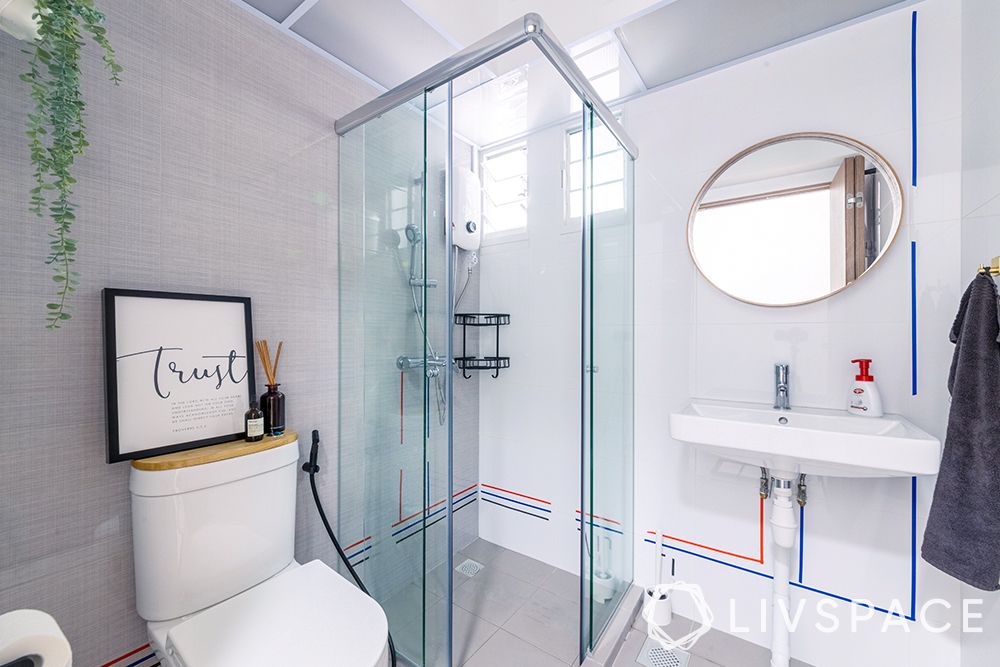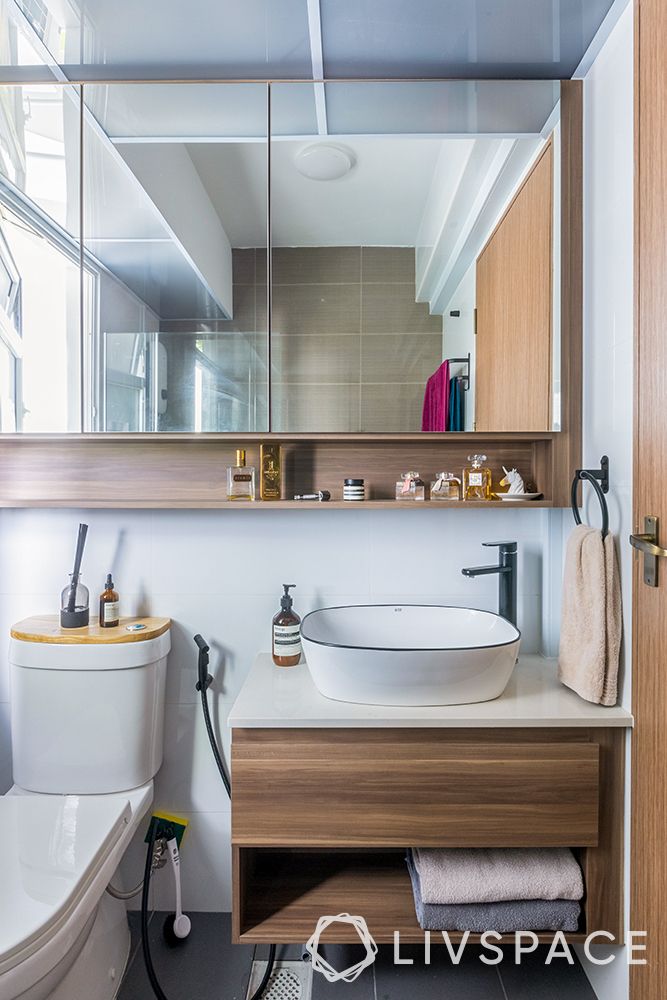 As with most modern contemporary HDB design bathrooms, Siang Wee and her team faced space constraints. However, they still managed to design a modern look for the two toilets. Shower stalls are there in both the bathrooms, and this one even has wood-finished floating cabinets for all the homeowners' storage needs.
How can Livspace help you?
Enjoyed this modern contemporary 5-room HDB renovation? Now, it's your turn to get beautiful interiors for your dream home. All you have to do is book a consultation with Livspace designers. With safety as our priority, you will get quality interiors.
Want to figure out how you can achieve a similar style for your home? Check out What Makes a Home Contemporary & How to Get it Right?
Send in your thoughts and suggestions at editor.sg@livspace.com.