As a homeowner, you probably know there are a variety of options available when it comes to flooring. However, not all these options are easy on the pocket and can be quite the task to maintain in the long run. If affordability and longevity are high on your list of priorities, you might want to consider embracing options like homogeneous tiles and vinyl flooring. Being great options for a budget home makeover, you can even use both types of flooring for different rooms like this 4-room resale HDB did.  
This budget home renovation at Yishun Street makes use of both homogeneous floor tiles and vinyl flooring for the kitchen and living room respectively. The same way, you too can get neat and classy floors without necessarily breaking the bank. 
But, before you invest in these tiles, it helps to know how they differ from each other to ensure you're getting the right fit for your interiors. Here's a simple guide on the differences between homogeneous tiles vs vinyl flooring to help you make an informed decision. 
What Are Homogeneous Tiles?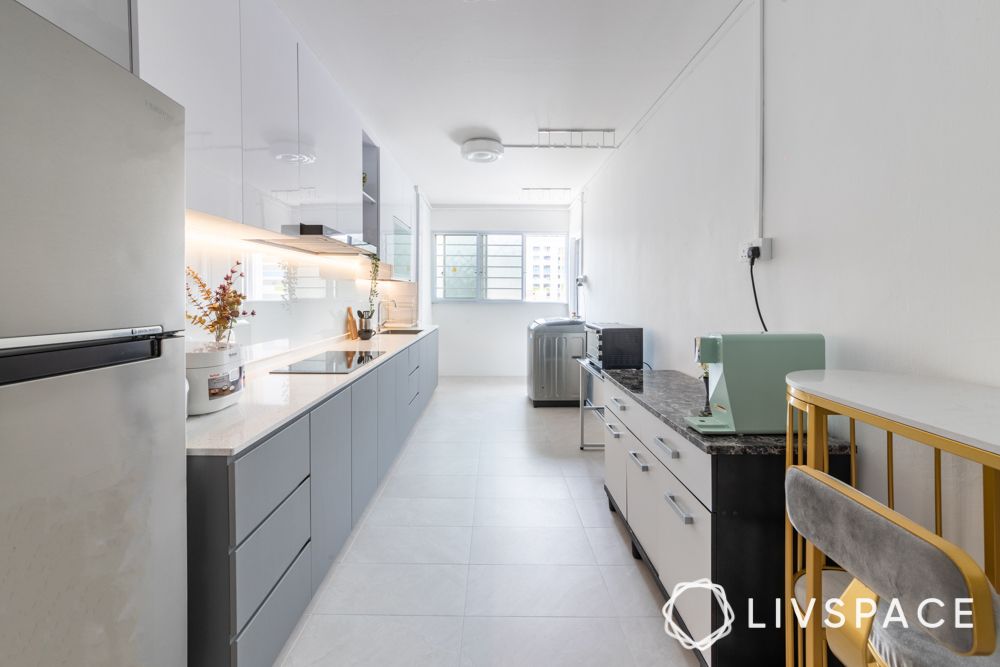 Also known as full-body porcelain tiles, homogeneous tiles essentially fall under the umbrella of non-porous porcelain tiles. With homogeneous tiles, you will notice that the same colour runs uniformly throughout the tile, making it distinct from regular porcelain tiles. 
However, unlike porcelain tiles, homogeneous tiles are unglazed. Being the sturdier counterpart of porcelain tiles, homogeneous tiles are also water-resistant and highly durable. This is why homogeneous flooring can either be used indoors or outdoors depending on your requirements. 
Pro Tip – Use non-slip homogeneous tiles for the bathroom to make it safe for children and the elderly.
What Is Vinyl Flooring?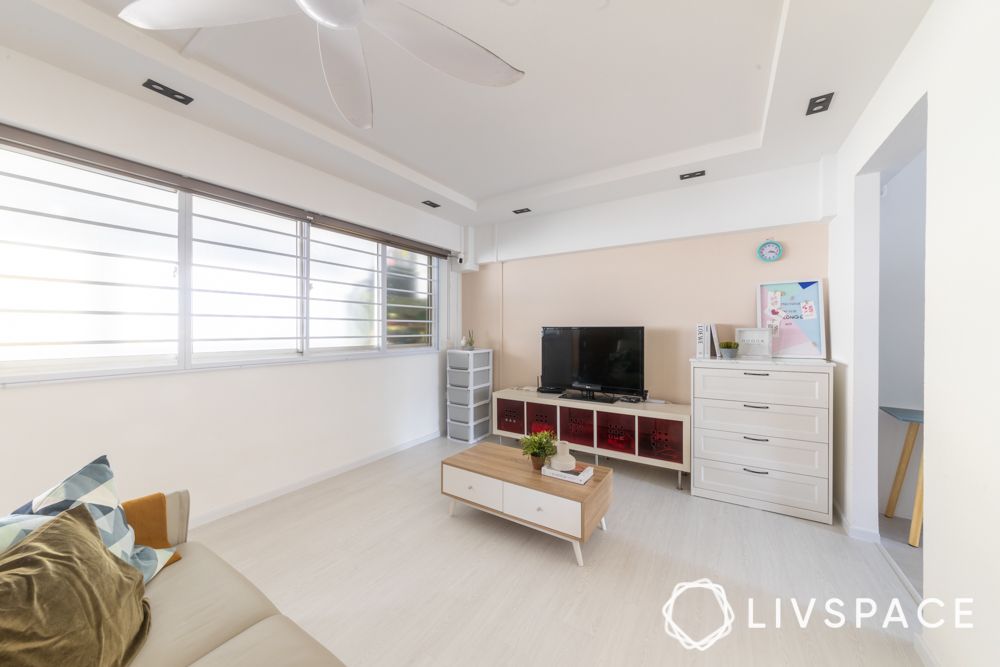 Vinyl flooring is, more or less, one of the more popular options when it comes to affordable flooring options. It is made from compressing several layers of materials together to form a flat, yet durable sheet. What makes vinyl flooring a great option for budget renovations is that it can be overlaid on your existing flooring. 
Differences Between Homogeneous Tiles Vs Vinyl Flooring 
Homogeneous Tiles
Vinyl Tiles
Homogeneous floor tiles are priced
higher than vinyl tiles but are
more cost-effective in the long run
Relatively more affordable
but have a shorter lifespan 
Water-resistant and stain-resistant 
Can be prone to
water damage 
Homogeneous flooring can be
difficult to install without
professional help
Easy to install without
professional help 
Can be used in most
rooms of the house
Risks wear and tear in
bathrooms and kitchens
Eco-friendly 
Requires Green Label Certification 
Though both homogeneous floor tiles and vinyl flooring are great contenders for affordable interiors, they come with their respective strengths and weaknesses. While they might also be a useful budget option, it's important to know how either flooring solution can benefit your home. Here are a few differences between both the options that you should consider before making a final decision: 
#1: Pricing 
Homogeneous Tiles – Since homogeneous tiles require hacking and professional installation, the cost for this type of flooring is typically higher. The tile, in itself, tends to run at a higher cost than vinyl flooring planks, making it comparatively more expensive. 
Vinyl Flooring – It is available in a range of prices that are sure to suit every budget and interior style. Additionally, since it does not require professional installation, you can DIY your vinyl flooring to further cut costs. 
#2: Resale Value 
Homogeneous Tiles – All types of durable porcelain tiles generally improve the resale value of your home as they are long-lasting and do not need to be replaced often.  
Vinyl Flooring – It can only be overlaid once and would need to be replaced if any upgrades are to be made when homeownership changes hands. This, in turn, can lower your resale value as buyers would need to invest more in changing the flooring. 
Also Read: 5 Types of Reno Work That Increase Your HDB Valuation (& 5 That Reduce It)
#3: Maintenance and Upkeep 
Homogeneous Tiles – Owing to their water-resistant properties, these tiles are fairly easy to clean and maintain. Simply sweeping or mopping them regularly will suffice. Similarly, since these tiles have a uniform look throughout, any instance of chipping or scuffing isn't as visible.  
Vinyl Flooring – Regular sweeping and mopping is enough to clean vinyl floors on a frequent basis. Also, try not to use steel wool and harsh scrubs on your floors to prevent scratching off your vinyl overlay. 
#4: Durability 
Homogeneous Tiles – These tiles are highly durable due to their chemical-resistant and non-slip properties (you'd certainly want them in your bathrooms). What's more, homogeneous tiles are relatively scratch-resistant, making them a great addition to homes with kids and pets. Similarly, homogeneous tiles have an average lifespan of 50 years.
Vinyl Flooring – It is prone to discolouration, wear and tear, and water damage if not cared for appropriately. Vinyl flooring has a lifespan of around 10 to 20 years depending on the quality you opt for. 
#5: Installation 
Homogeneous Tiles – They can be more difficult to install without professional support as tiles are thicker than vinyl sheets. If not done properly, you can risk damaging the tiles before installation. 
Vinyl Flooring – It can be installed on your own without professional guidance which makes it a good option for DIY renovations. 
#6: Placement 
Wondering which areas work best for both these flooring options? Here are a few placement ideas you can refer to: 
| | |
| --- | --- |
| Homogeneous Tiles | Vinyl Flooring |
| Bathroom floor / wall | Bedroom floor |
| Kitchen floor / backsplash | Living room floor  |
| Outdoor / patio tiles | Dining area floor  |
#7: Environmental Impact 
Homogeneous Tiles – Comprising organic materials, homogeneous tiles are sustainable and non-polluting. They do not emit any harmful chemicals or gases into the environment, making them an eco-friendly option for your interiors. 
Vinyl Flooring – It contains PVC resin which is known to be a polluting agent that releases harmful gases and toxins in the air. This makes it a health risk in the homes of asthmatics or people with respiratory problems. 
However, please note that this is not always the case when it comes to vinyl flooring as Green Label Certified products are safe to use. Consult your designer for more details on how to get environmentally-friendly vinyl flooring for your home. 
Homogeneous Tiles Vs Vinyl Flooring – Which Option Should You Get?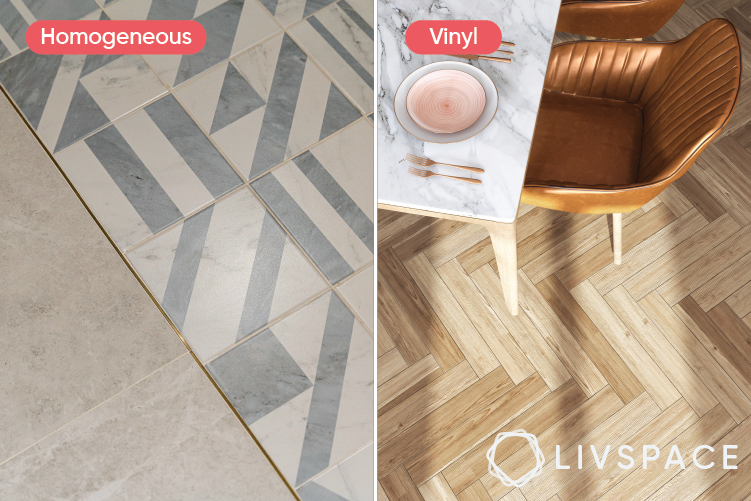 Whether it be homogeneous flooring or vinyl flooring, both options have merits when it comes to decorating your floors. As stated in the points above, no matter the choice of flooring you go for, there are bound to be advantages you can reap from it. 
In other words, if your budget is tight, vinyl flooring might offer some respite. And if you've got some money to spare, homogeneous tiles are an investment that you cannot compare! 
How Can Livspace Help You? 
We hope you found our ideas useful! If you want your home to be just as beautiful, then look no further. Book an online consultation with Livspace today. Have some comments and suggestions you'd like to share with us? We're all ears! Feel free to write to us at editor.sg@livspace.com.