If you still haven't heard of us, then now is a good time to make some introductions and exchange some hellos. So, hello there! We are Livspace, an interior design technology company based out of our very own city, Singapore. So, if you are looking for house design services, then get in touch with us and we will ensure a hassle-free journey for you from start to finish. In a nutshell, we design, deliver and install interiors. However, interiors is a very vague term and we would like you to know what we offer before you meet us. So, as you read further, you will hopefully get to know us better and take an informed decision as to why we could be your preferred choice for your home renovation.
Here's a little bit about what we offer and what we don't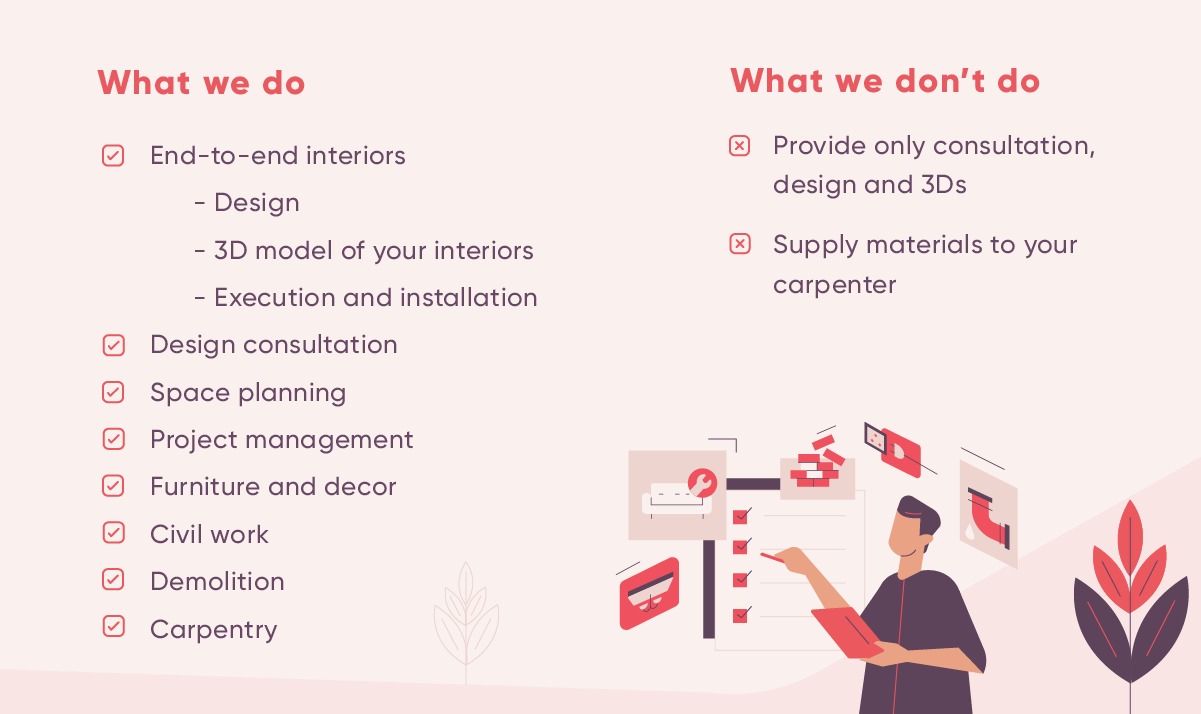 So, how did it all begin and how is it going?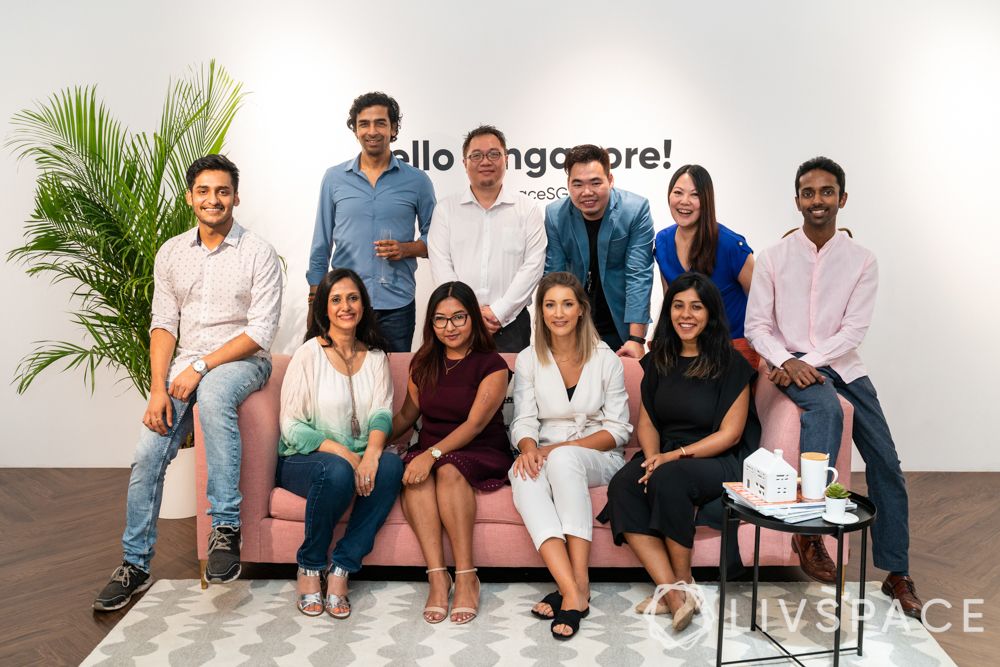 It all started when Anuj Srivatsava and Ramakant Sharma, college friends (and now, Livspace founders), set upon their journeys to make their dream homes. It didn't take them long to realise how fragmented the industry was and how various factors led to a harrowing experience for new and old homeowners to get their interiors designed. Determined to fix this and offer a better experience to other homeowners like themselves, they decided to build Livspace. Their journey, so far, goes something like:
December 2014 – Inception of Livspace in Singapore
January 2015 – Launched in India
March 2019 – Became the world's largest interior design and renovation platform and launched in Singapore
October 2019 – Partnered with IKEA and launched its first pop-up store in IKEA Tampines
February 2020 – Launched the second pop-up store in IKEA Alexandra and co-created 100 homes
July 2020 – Officially partnered with Crate and Barrel
October 2020 – Won the Design Excellence Award (Silver) for Best Residential Design
February 2021 – Awarded the Qanvast SuperTrust badge in 2021, received accreditation from IMDA Singapore and delivered 500 homes
What kind of homes do we service?
We offer renovation services for almost all kinds of properties in Singapore, which include: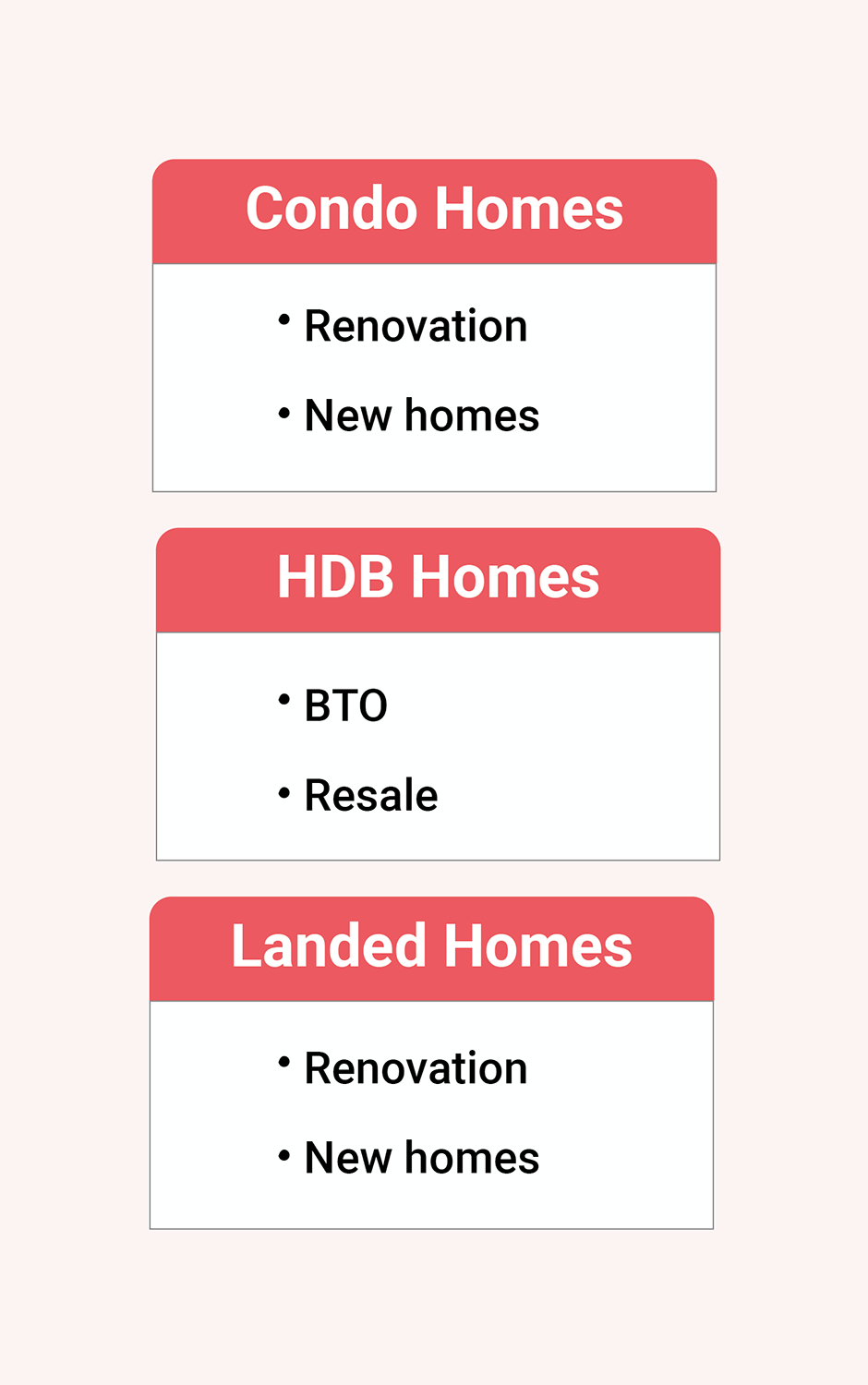 What is the Livspace edge over a typical experience?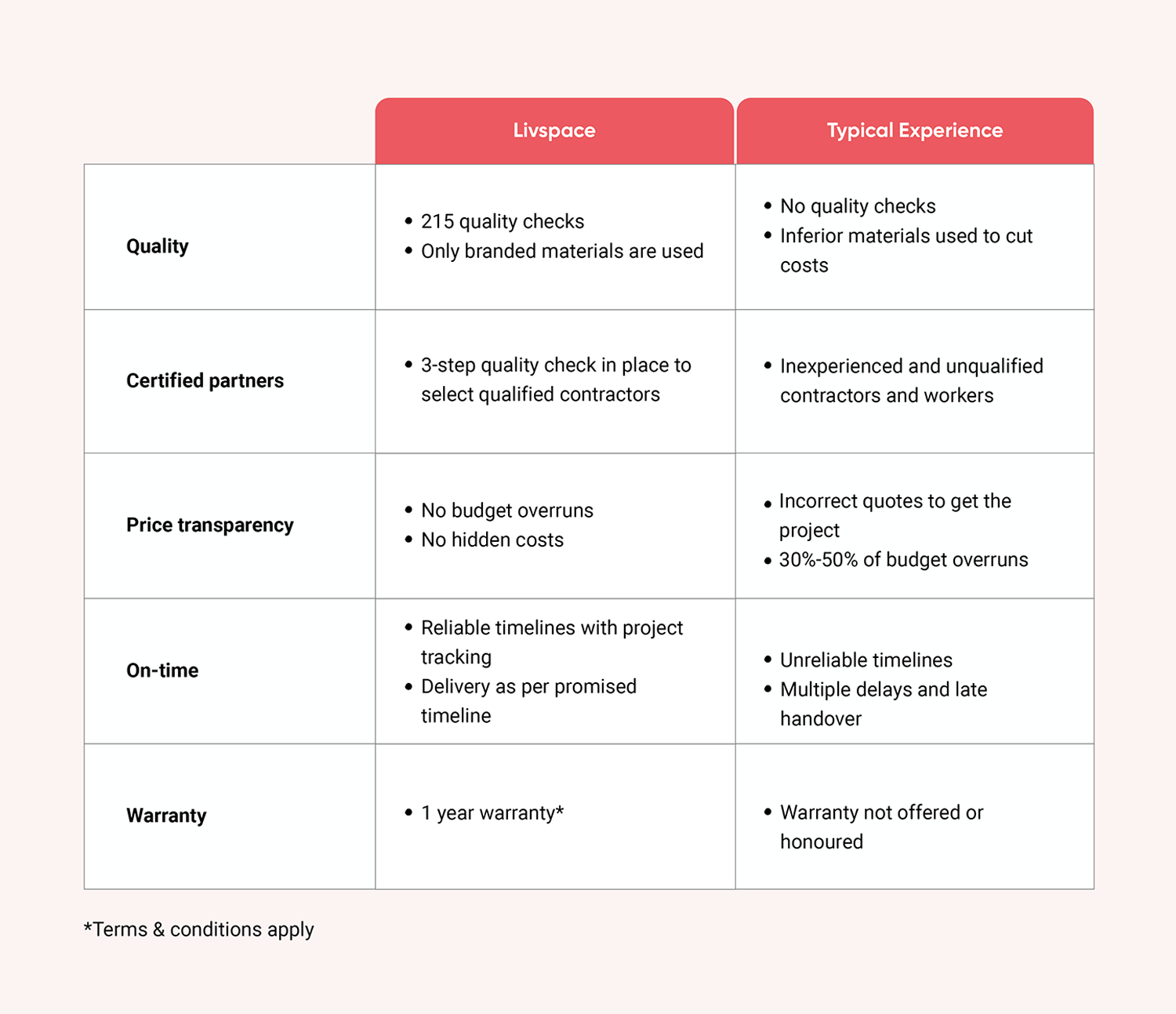 What is the "Livspace way" to renovate your home?
Whenever you decide to book your home renovation with Livspace, you must know that your journey is going to be easy-breezy as we have a very simple step-wise approach to house design. It goes something like:
Step 1:
Meet the designer – Fill up the form to meet a designer and get a free quote. This is your first and easiest step to start your house design journey with us.
Step 2:
Book Livspace – Pay 10% to book us. Collaborate with our designers to make a beautiful home. This is your next step where you decide to go ahead with us if you like the pitch made by our designers.
Step 3:
Place the order – Once you've finalised all products and materials, you can pay the next 40% of the quote to go ahead with the project.
Step 4:
Execution – Manufacturing begins at this stage. Pay the remaining 50% and watch your home come alive.
Step 5:
Move in – Your Livspace home is ready. Enjoy your dream home!
Yes, it is that easy with us. Try it to experience it!
Who are the people behind your dream home?
We want you to know that there would be a dedicated team taking care of your home when you trust us with your dream. It is important to know the people you will be coordinating with and the ones who'll be updating you regularly about the progress of your house design. Here are the people behind your home:
The Designer: A trained, experienced designer will be your first point of contact. They will collaborate with you to understand your requirements and share design concepts and ideas.
The Lead Design Manager: To guide you through your home interiors journey, a lead design manager takes charge of the team and oversees the entire process.
The Project Manager: Once work begins on-site, an experienced project manager will oversee the contractor's work and ensure timely completion of your home interiors.
Who have we partnered with?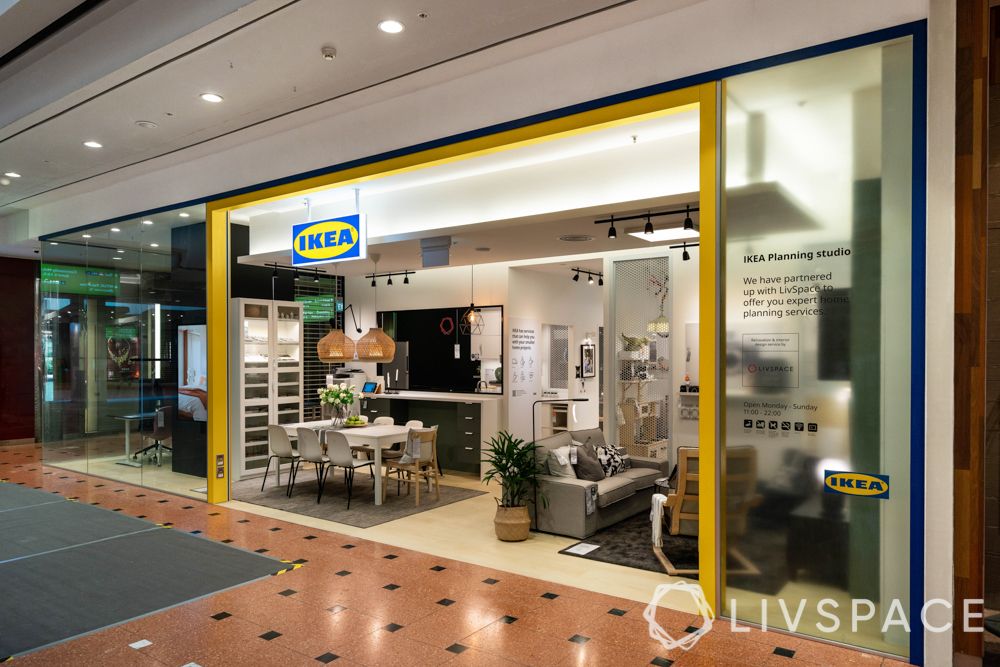 We understand that great things happen when we partner with the best in the industry and to help you build trust in us, we have partnered with the best. We work with over 50 brands and over 200 contractors to deliver high-quality products and services at your doorstep. Some of our partners include IKEA, Castlery, Crate & Barrel, Lixil, Soul & Tables, NestNordic, Fynd Furniture and so on.
Everything we do at Livspace is centered around you. Our team is dedicated to bringing your dream home to life with tailor-made design solutions. At every stage, you will always know how your home is shaping up. So now that you know more about us, we hope to see you soon!
Go here to book a free consultation!
Did you know that we recently celebrated our first Anniversary in Singapore? Check this for details: We Just Completed 1 Year of Designing Beautiful Homes.
Send in your comments & suggestions to editor.sg@livspace.com.