On the lookout for trendy materials to amplify your interior design game? Let us introduce you to fluted glass. This versatile material has a range of use cases and can do wonders for your interiors. Join us as we take you through what the material is about, its pros and cons, as well as how to use it to create a unique home.
1. What Is Fluted Glass?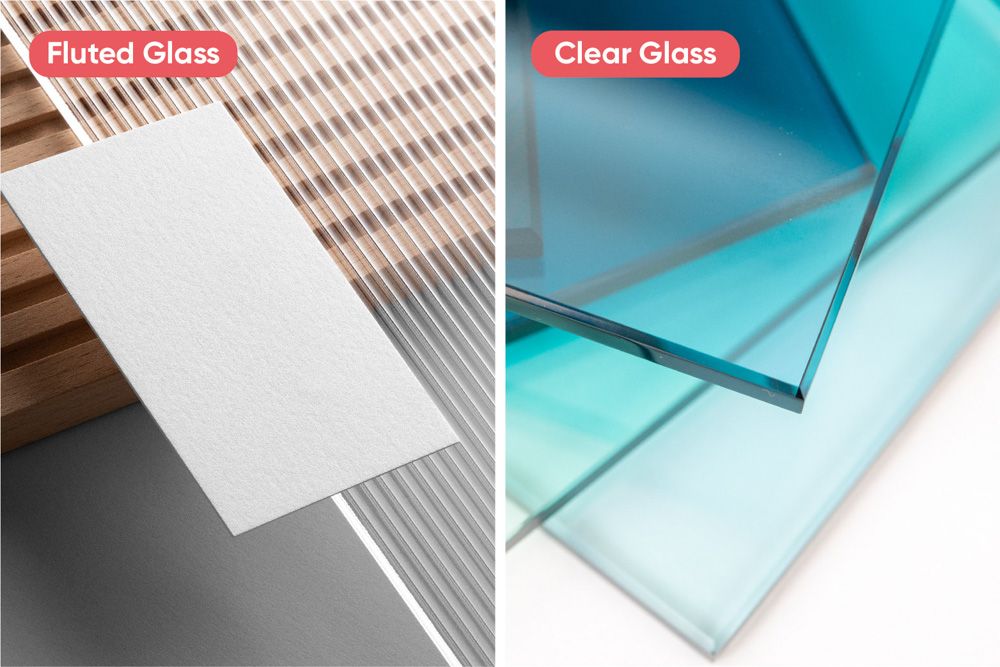 Also known as ribbed or reeded glass, fluted glass is a textured material with vertical grooves. The grooves help in diffusing light while also partitioning the space, ensuring the area stays well lit and private.
2. Where Can You Use Fluted Glass in Your Interiors?
There are multiple places where this design element can be used. So, let's take a look at some popular options for modern homes:
#1: Kitchen Cabinetry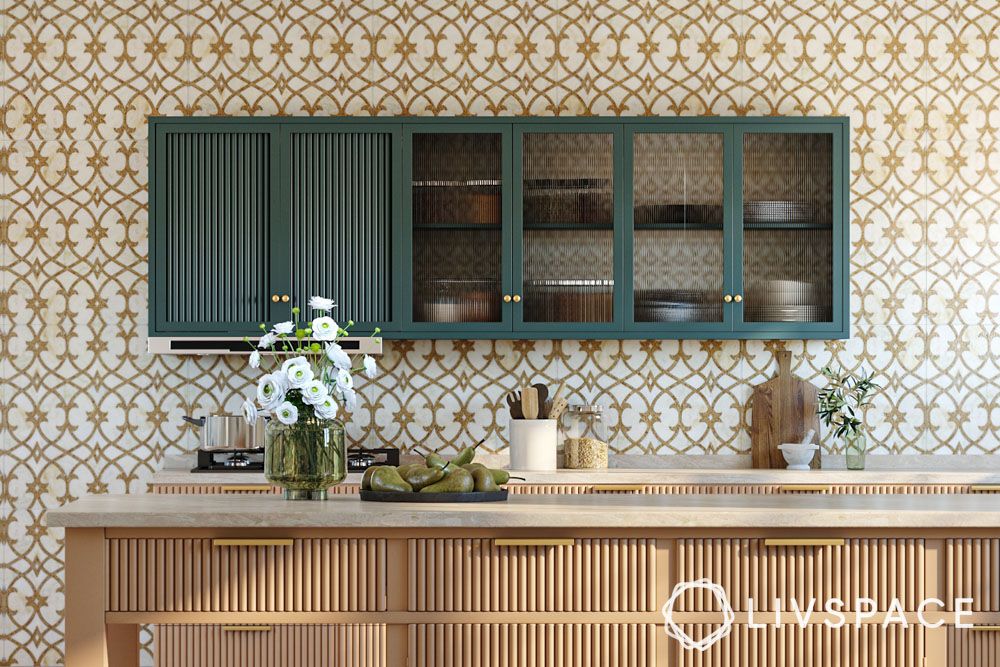 Looking for a simple way to spruce up your old kitchen cabinetry? Fluted glass design to the rescue! It's just the upgrade your plain cabinet fronts need to help them look both stylish and functional.
The textured glass can conceal the items stored behind it, ensuring the room doesn't look cluttered in case your shelves are messy. But at the same time, the glass component can make the kitchen appear more spacious.
#2: Doors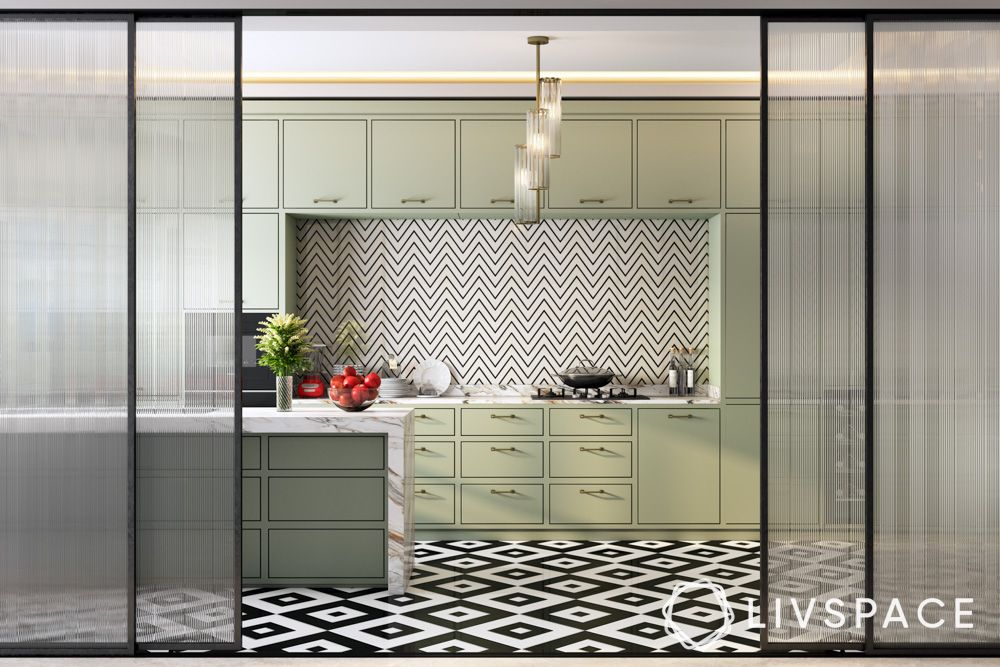 If there's one design element that's often forgotten, it's none other than your doors. In the hustle and bustle of renovation, it's easy to forget the potential doors hold when designed to match the rest of your interiors.
With just a bit of frosted or fluted glass, you can instantly accentuate the look and feel of any room. Decorate your interior doors with a fluted glass design, and you're bound to enjoy the openness they bring to the space.
#3: Room Dividers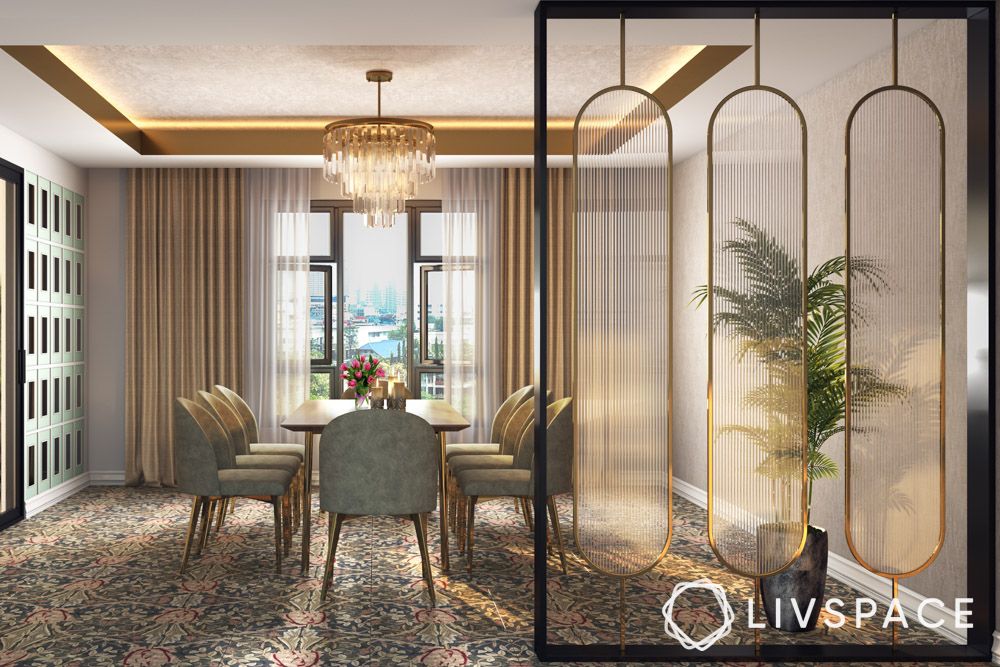 Similar to doors, room dividers offer the same function with a tad more flexibility. This is because room dividers come in a variety of styles and designs (including mobile options), making them a versatile addition to your space.
Be it a full-length divider or a partial breeze wall, it not only helps demarcate two spaces, but works as a style statement as well. To further accentuate your room divider, consider using glass fluting as a decorative element.
Depending on how visible you want the spaces between the divider to be, you can also consider frosted fluted glass for a more concealed look.
#4: Shower Screen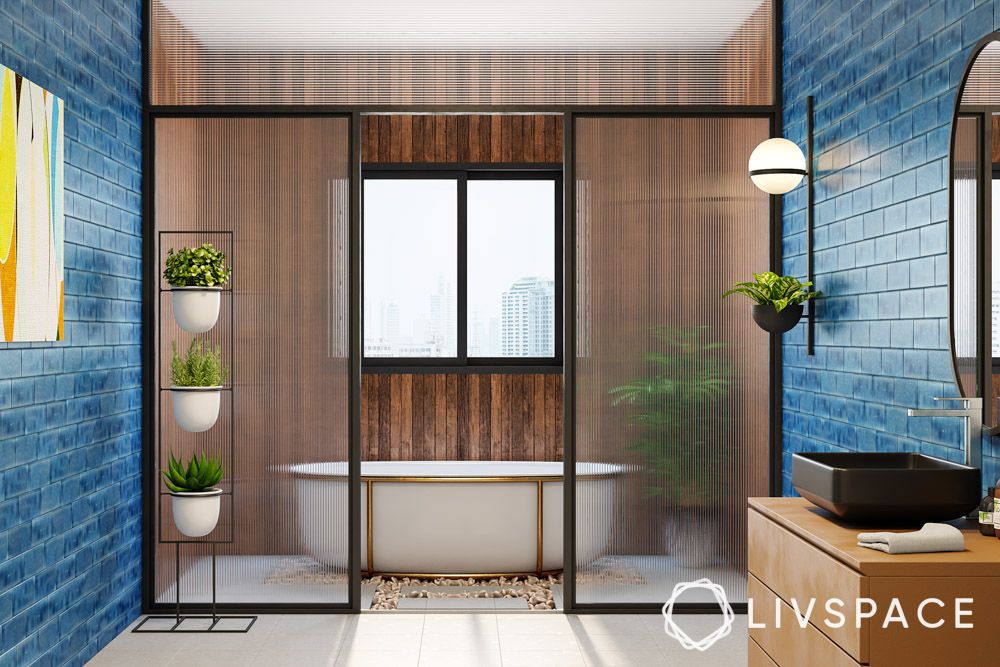 While common areas in an open-concept home may not necessarily need privacy screens, it's non-negotiable when it comes to bathrooms. Whether you live alone or share a bathroom with someone, having a shower screen in place can certainly make the space more functional—not to mention safer!
This is because shower screens help demarcate wet and dry zones in your bathroom, keeping the rest of the bathroom floor dry. If privacy isn't a concern, you can choose to use plain glass for your shower screen. However, if you want to conceal the space, be sure to go for frosted fluted glass.
Also Read: How This 4-Room BTO Renovation by Livspace Gives You Design Goals
#5: Wardrobe Doors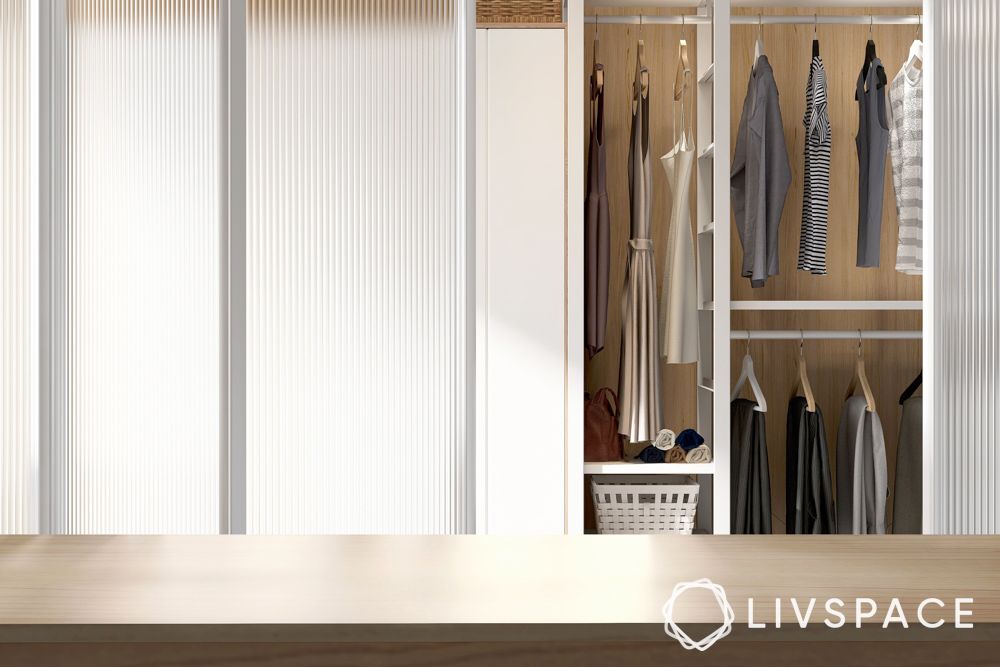 Did you know that your interior doors aren't the only place that can benefit from using fluted glass? In fact, you can also use this stylish material on your wardrobe doors for a unique look!
If you have a walk-in wardrobe and are in need of ideas to partition the space, a fluted glass sliding door can be your best bet. Similarly, you can also opt for using this material in your wardrobe fronts for a hinged wardrobe design.
#6: Light Fixtures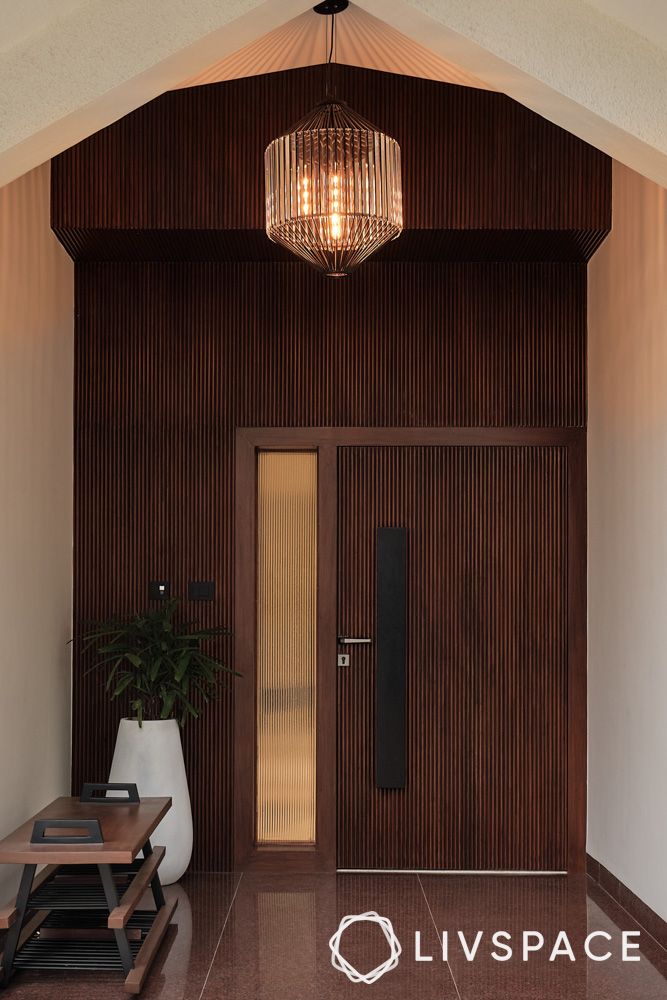 If you thought the use of glass fluting was just limited to furniture, you might want to think again! This versatile material can also be used as a statement piece in your decor or lighting.
The grooves from the fluted glass can help disperse light and create subtle, ribbed shadows across the space. You can use this feature for chandeliers or pendant lights to create cosy mood lighting.
#7: Walls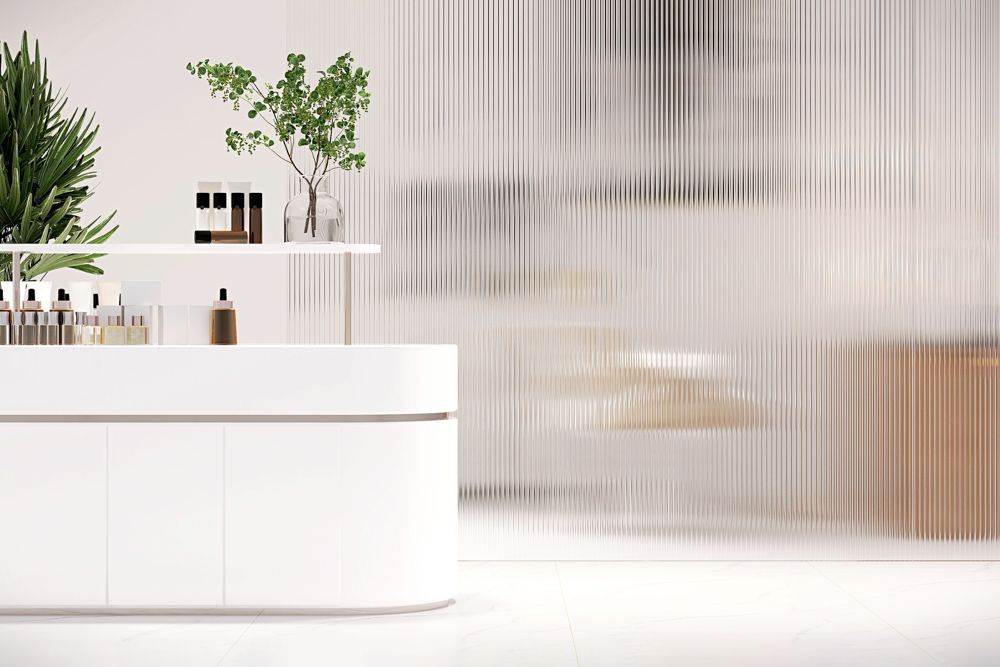 If you loved the idea of glass room dividers, you might also be thinking about taking it a step further. After all, the sky's the limit when it comes to designing your dream home, so why not go all out and create a fluted glass wall?
You heard that right! If you're looking for a more permanent way to separate your rooms without making the space look too compact, a fluted glass wall can do just the trick. Just remember that this will still offer some visibility into the segmented spaces, so be sure to place it in less private spaces.
3. Why Is Fluted Glass So Popular?
Fluted glass is a versatile design element that can easily elevate a space. It's one of the many go-to options for interior designers as it helps add a textural element to the room. It continues to gain popularity due to its many uses in modern interior design.
In fact, it's especially helpful to have as a room divider in dark and compact spaces. Why? That's because it allows light to pass through without making the room feel small or cluttered.
Also Read: 15+ Photogenic Feature Wall Designs That Can Make Your Home Stand Out
4. What Are the Pros and Cons of Fluted Glass? 
Pros
Cons
Helps diffuse and disperse light
Can be relatively more expensive
as glass may be priced higher than
other materials
Can be used to draw the eye upwards
or horizontally depending on the
orientation of the grooves, creating
the illusion of a taller ceiling or wider
room
Maintenance can be tricky due to
the many grooves of the glass
It has multiple use cases offering
versatility in design
Fluted glass may be more susceptible
to damage if it's not tempered
Adds privacy to the space without
blocking it off from other areas
in an open layout
It might not be ideal for homes with
kids and pets as it can be a fragile
material depending on the quality
How Can Livspace Help You? 
Now that you know what fluted glass is all about and how to use it in your interiors, how about trying it out for yourself? Book an online consultation with Livspace today, and we'll help curate your dream home with tailor-made design solutions and the best of materials.
Have some comments or suggestions you'd like to share with us? We're all ears! Feel free to write to us at editor.sg@livspace.com.
Disclaimer: All contents of the story are specific to the time of publication. Mentions of costs, budget, materials, and finishes can vary with reference to current rates. Additionally, the designs showcased within the story are subject to availability and will vary based on the year the homes were designed in. Consult our designers for more details on the latest designs, pricing, and availability.
FAQs
Is Fluted Glass Expensive?
Depending on the quality and style you go for, fluted glass can be priced differently. It may be relatively more expensive than regular glass panelling.
Is Fluted Glass Strong?
Tempered fluted glass is considerably strong. However, low quality materials may not be as durable.
What Is the Difference Between Fluted Glass and Frosted Glass?
Fluted glass consists of vertical grooves or concave waves, whereas frosted glass has a sanded or pitted texture.
What Is the Difference Between Fluted and Reeded Glass?
Fluted and reeded glass are used interchangeably to describe a patterned decorative glass with vertical grooves.
How Do You Use Fluted Glass in Your Interiors?
You can use fluted glass in your doors, cabinets, room dividers, and lighting fixtures for best results.