For most of us, getting home interiors done may seem daunting. But let us tell you, it is not as scary as it sounds. If you have the right people on your side, getting your home designed can be very exciting. Think about all the colours, furniture, upholstery, accessories and furnishings you get to choose for your dream home. Professional interior design firms can make things very easy for you. If you're still confused, here's your gateway to the world of interior design. Let's kick off with the basics!
What is interior design?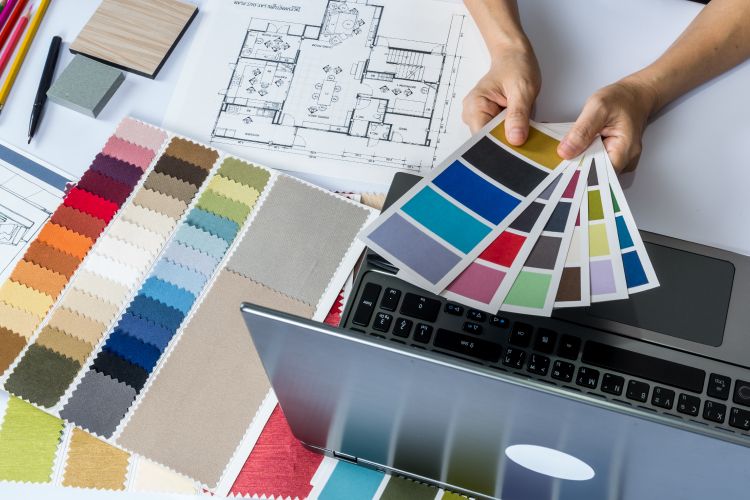 Interior design encompasses everything for your home, from planning to constructing beautiful, practical areas. It blends art with science, which is why interior designers get a bachelor's or master's degree in the field to provide you with the best of both worlds.
While it may appear to be simple, customising interiors for your house necessitates extensive research and planning. Interior designers examine the floorplan of your home to determine the finest materials, furniture, lighting, and decor for the space that suits your lifestyle.
ID vs contractor
The easiest way to understand the difference between an interior designer and a contractor is by looking at the services they provide.
What they do: Contractors concentrate on completing the project according to the homeowners' directions. While interior designers are design specialists that come to your home, listen to your needs, visualise the modifications that need to be made. They then offer you an image of how your space will look when the project is completed based on their observations.
Budget/Pricing: When you engage a contractor, you're basically paying for the project 's execution. The contractor will meticulously follow your directions and deliver exactly what you want. Whereas, an interior designer creates a quote that encompasses everything – from the designs discussed to the prices of the materials to be used, the costs of hiring builders and subcontractors, and so on.
Time taken for completion of work: When you work with a contractor you are the one who makes all the decisions. In other words, you set the schedule for the project's various phases. When you hire an interior designer, they will be the ones to decide the schedule for the various phases of the project.
Who should you hire: For service-based tasks like electrical wiring, carpentry, piping, you can consider a contractor. Basically whatever does not require an excessive amount of emphasis on design. Those who don't have the time to manage an interior design project on their own should hire an interior designer.
How do designers work?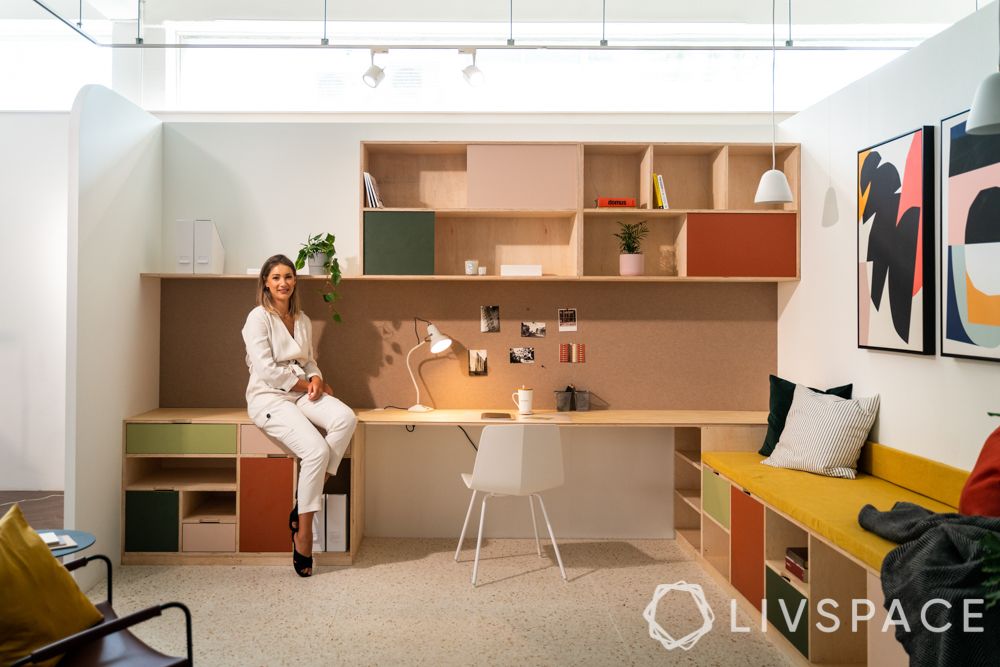 They are highly qualified to create interiors that suit your carpet area, how you move around the space, budget, and style because it involves a lot of intricacy. They are perfect when it comes to structural changes like hacking walls, giving a new layout and so on to enhance the functionality of your home. Interior designers also provide assistance throughout the execution process, as well as overseeing construction and project management. They will listen to your needs and assess the extent of changes and alterations needed to give you a perfectly functional and beautiful home.
If you are new homeowner, read this: One-stop Renovation Guide for First-time Homeowners
Do you need an interior designer?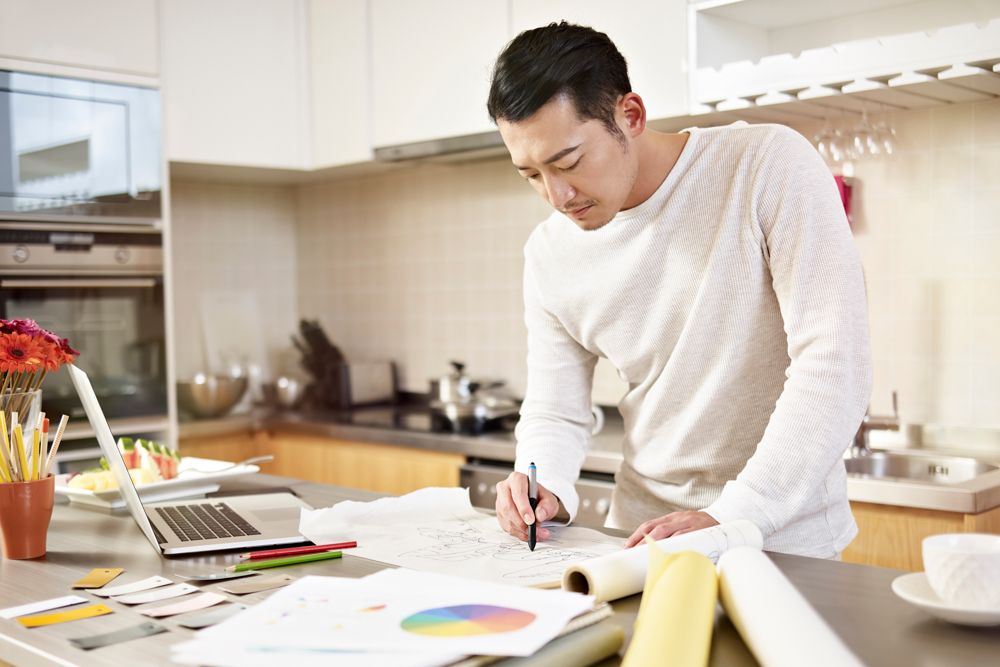 Interior designers understand your way of life and create tailor-made designs for you. They consider your comfort as well as the most efficient use of space.
Save time and money: Interior designers have an eye for detail that most people don't. They are thorough professionals and they know what they are doing. This will save a lot of precious time in going over petty design issues later. Hiring a skilled interior decorator will save you a lot of money since he will prevent you from making costly beginner mistakes.
Assistance in budgeting and planning: When you have a fixed budget in mind, your interior designer can help you stay on track. They have a network of suppliers and know where to obtain good deals on products for your home.
Increase the value of your home: If you plan to sell your property soon, an interior designer will ensure that it attracts a large number of possible purchasers.
How does designing/renovation with Livspace work?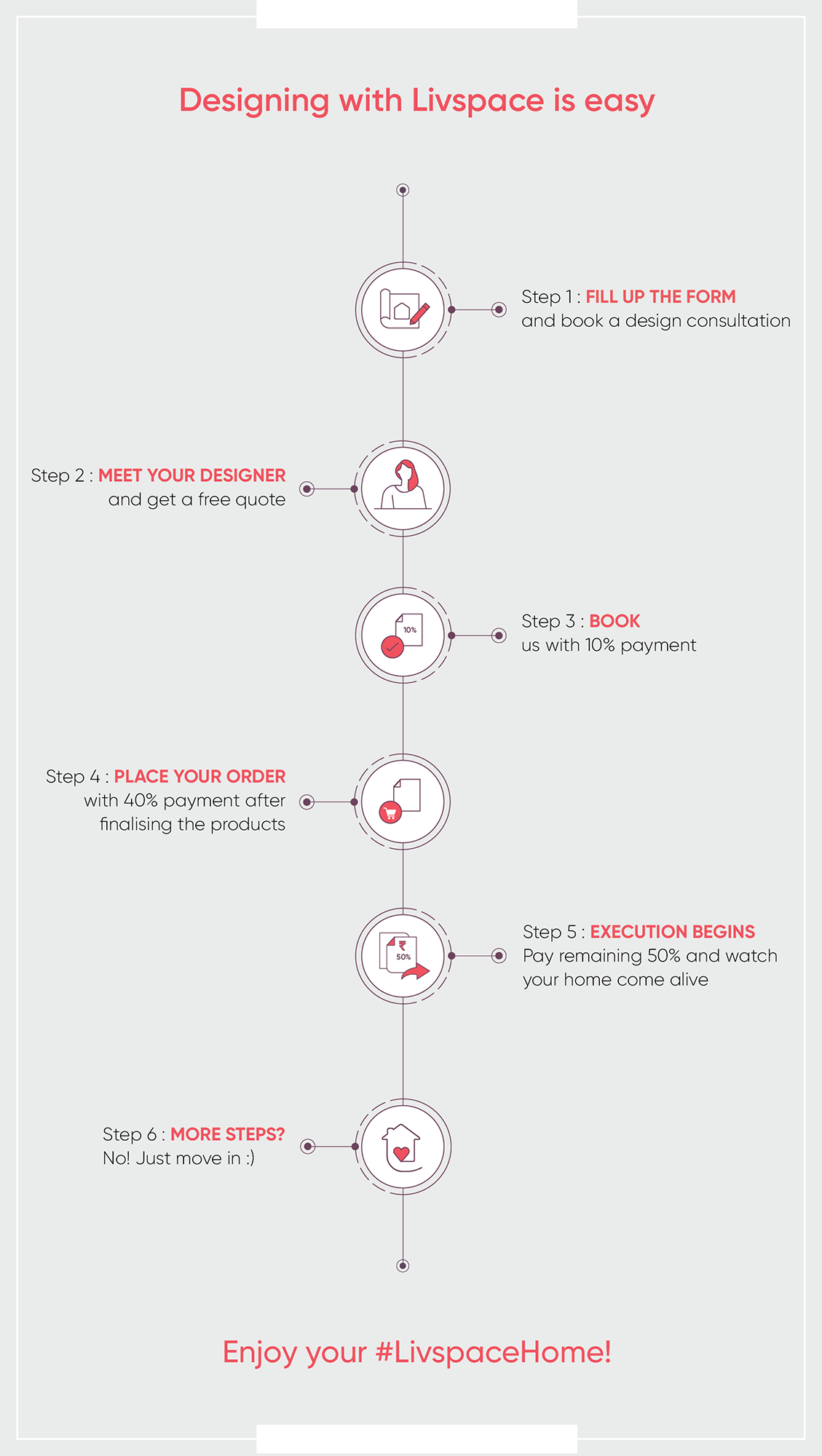 Yes, it is as easy as 5 steps when it comes to designing your home with Livspace!
Design and consultation: Once you book your design consultation with us, you will meet a designer who will give you a free quote on how much your home interior design can cost you. This encompasses things like space planning, colour schemes, materials, and ergonomic layouts.
Selecting products: This is the fundamental part of interior design. Your designer will give you suggestions on which products you could choose for your home and you can select from a wide range of products. This also includes selecting decor and furniture that you envision for your home.
Execution and installation: Our designers will stick with you during the entire execution process and give you timely updates on the progress of your project.
How much does interior design and renovation cost?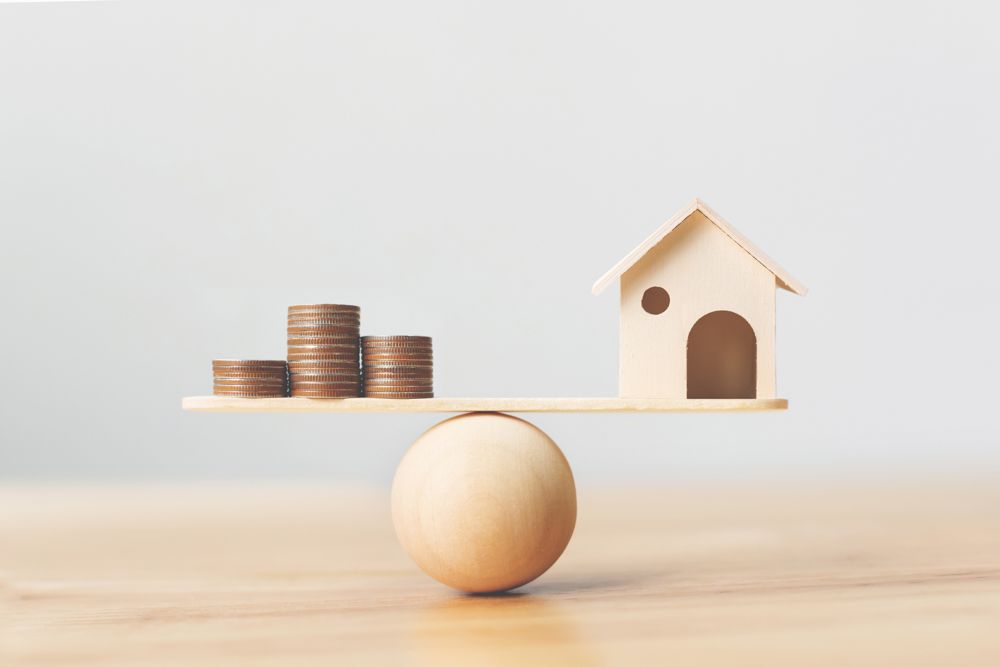 The cost of home renovation depends on the type and size of your home as well as the scope of work required. At Livspace, we believe in transparency. From costing to on-site work, you will always know how your home is shaping up. On an average a 3-room HDB renovation can cost you about S$37,000 while a 5-room HDB can cost anywhere around S$52,000. Similarly, for a 2-bedroom condo you can expect the cost to hover around S$35,000.
Check this out for more information: Your 2021 Home Renovation Cost Guide for Every Type of Property.
So, should you invest in interior design?
We propose that you hire a designer if you lack the professional and technical ability to complete the massive process of creating your home. It will help you:
Get the best quality: High-quality materials and excellent workmanship is a guarantee with most interior designers.
Save yourself the horror of wrong design: When you work with amateurs, you run the risk of poor design mistakes that can be uncomfortable in the long run. Interior designers can save you from all of this.
Co-create a beautiful home: Interior designers love collaborating with you and they will never force their choices on you. You can work with them and put forward your ideas for them to give you the best designs and advice.
How to prepare for your first designer meeting?
Meeting with an interior designer to discuss your home renovation project may make you feel as if you're just a few steps away from creating your dream house. Don't be concerned if you don't know where to begin. For first-time homeowners, it might be a little overwhelming. The purpose of the initial encounter is to get to know each other. It's critical that the designer comprehends your vision, lifestyle, and design needs.
Bring the floorplan: Carry the floorplan in a digital version to make it easier for the interior designer to visualise your property.
Define your budget: It's a good idea to set a rough budget ahead of time. She or he, as an expert, can advise you on the estimated costs for all of the products and services you require.
Define the scope of work: You need to decide what kind of renovation you want for your home. Do you want a full renovation including hacking, or just basic work.
Check this out for more: Meeting Your Designer for the First Time? Read This to Go Prepared.
Here are some favourite renovations we've executed so far
HDBs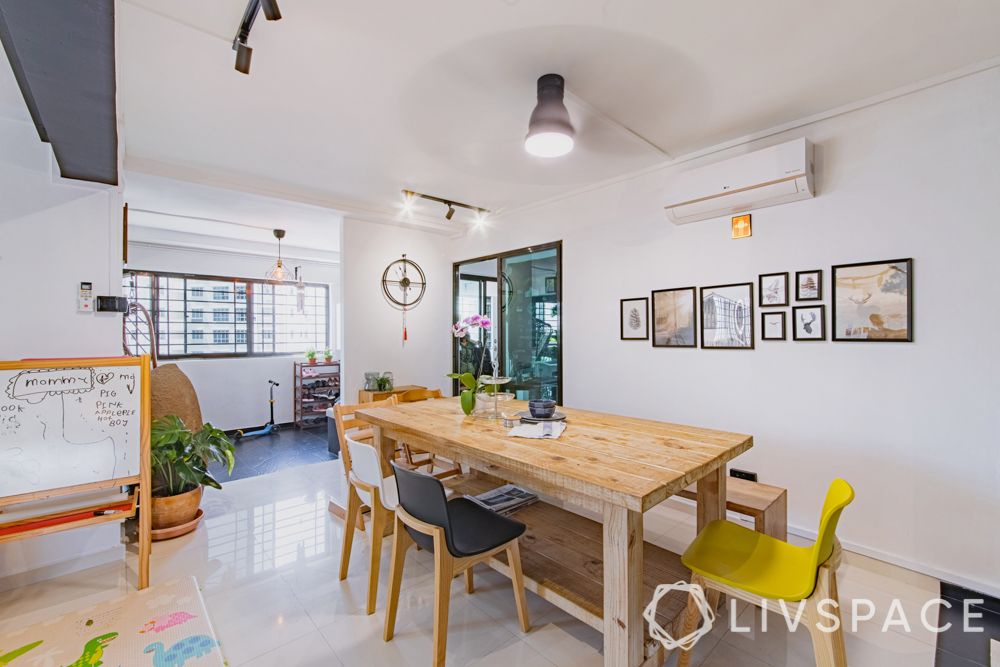 When Tracy and Prem were looking for renovation services for their jumbo resale HDB, they wanted someone who would understand their lifestyle. They wanted the common area, study zone and private resting spaces to be starkly different from each other. Check out how our designer Pallavi Bhagwat did it all!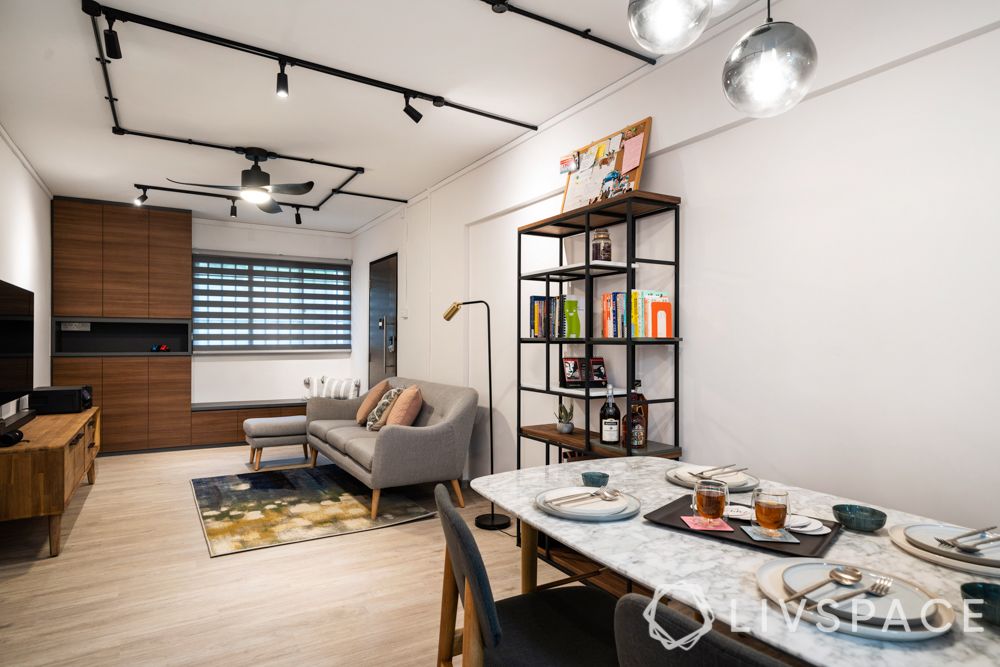 When it comes to design, a tightly-packed space does not mean you have to restrict yourself from everything you want. This home renovation is sure to prove just that!
Condos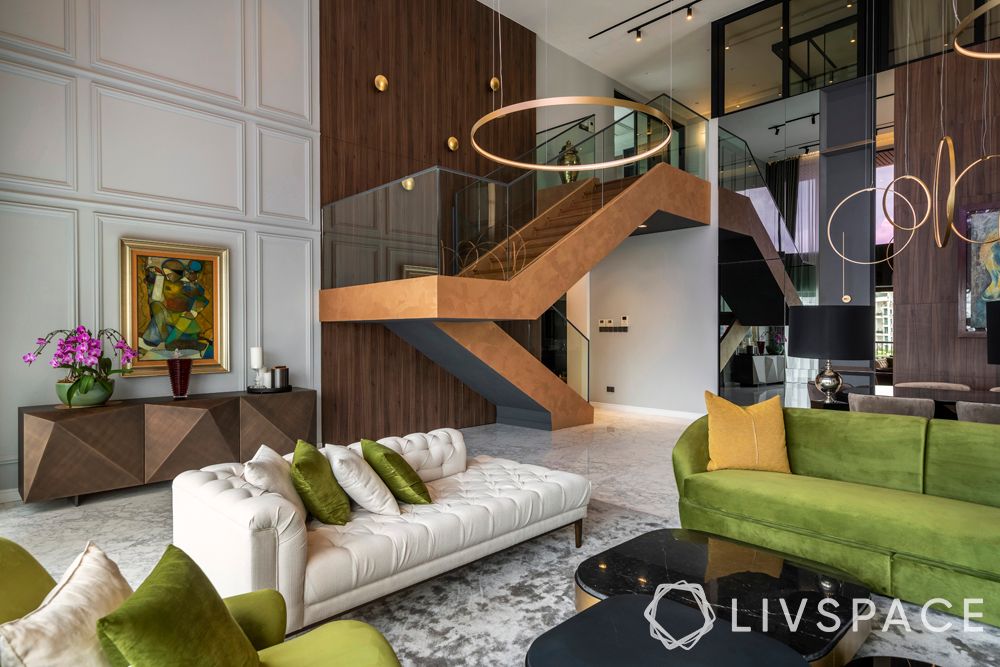 With lush greenery in the balconies and rooftop, and ultra luxurious interiors, this condo looks right out of our dreams. It is spacious and lit-up like no other home. Wondering how it turned out to be this stunning? Thanks to the amazing work showcased by our designer, Wanting Liu.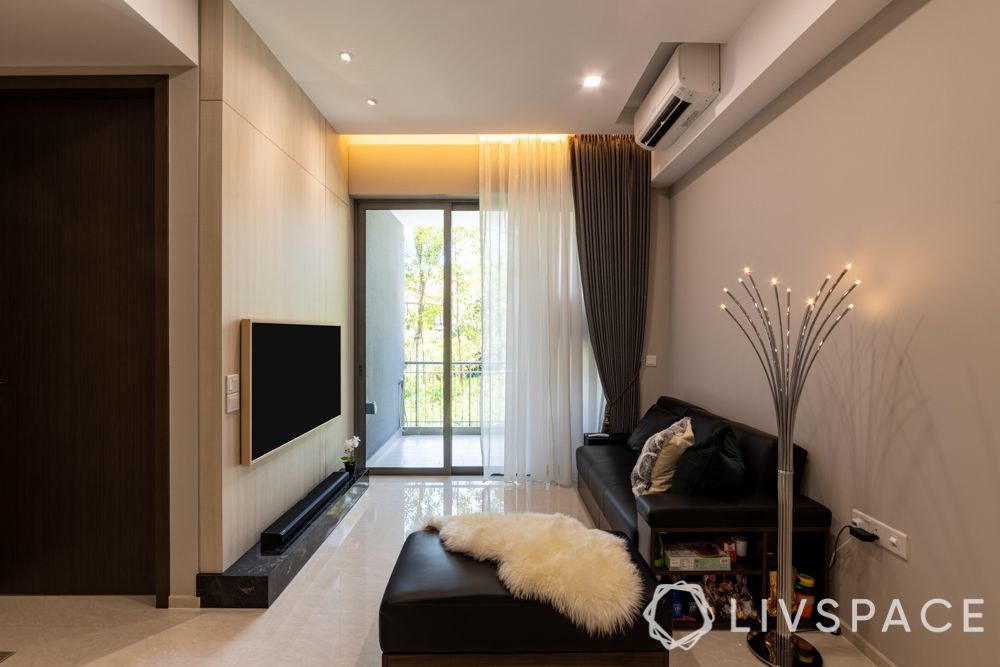 How to make a compact space super functional and pretty? Look no further than this condo right here and do not forget to take notes. Our designer Mazin Arsad and the couple residing here have worked out ideas and brainstormed together to bring this to life.
Are you ready to interior design your home now? Check this out too: 7 Things You Must Avoid for a Smoother Home Renovation.
Send in your comments and suggestions to editor.sg@livspace.com