A 99-year leasehold HDB property, Kim Keat Beacon, is situated at District 12's Kim Keat Avenue. If you have registered a home for yourself here, there is no better time to begin planning for the interior design for new BTO in Kim Keat Beacon, since the anticipated completion dates for these properties are approaching in no time. For those who are still unsure, our blog today will help you explore the best BTO designs in Kim Keat Beacon closely. With these interior design suggestions, you can take a step closer to your dream home.
How Can Livspace Plan Your Interior Design for a New BTO in Kim Keat Beacon?
If you're considering upgrading your new home (or if you just want some ideas for your future home), we have some incredible ideas for home decor for a new BTO in Kim Keat Beacon. Livspace can assist you with any interior design requirements you may have for your new home, from simple home decor to the furniture arrangement. Although you may get a general idea of how your rooms might look from the room photographs below, we went one step further. To assist you in visualising your future house layout and plan, we created a mock BTO interior design Kim Keat Beacon.
P.S. We've created this home decor for a new BTO in Kim Keat Beacon for photographer Marcus (25) and Cheryl (24), a property agent.
Considering a house in Tampines GreenCourt BTO? Here are some practical and smart modern interior design ideas for your home from Livspace.
We Can Create a Functional Living Room With a Curved Glass Brick Wall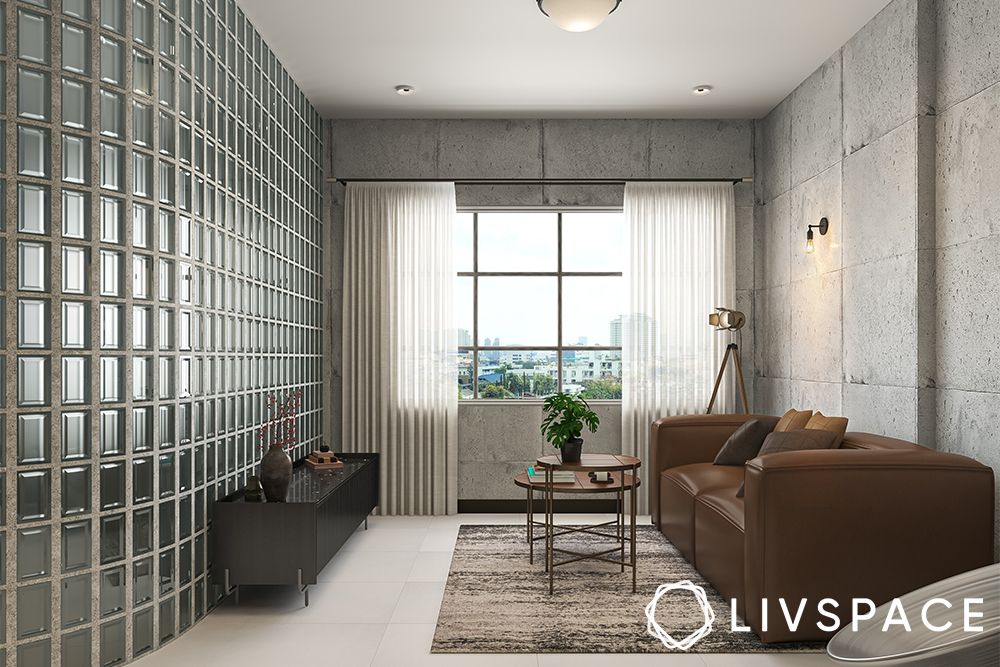 Nothing is more uplifting than entering a living room that looks welcoming and upbeat after a long day of work. This living room interior design combines cheerful shades of white to create an appealing ambience that elevates spirits upon entry. In addition to the colour scheme, the minimalist decor of this living area will allow air and natural light to flow freely throughout the space.
Here's What Livspace Can Do for You:
The key highlight feature of this living room is the curved glass brick wall. It not only adds to the aesthetic value of this industrial-themed living room but also creates a classy partition between two areas in the open layout. Stay with us to know what is on the other side of the partition. We're sure you'll love the idea.
We Use Warm Wooden Accents and Black Highlights to Accentuate This Open-Layout Kitchen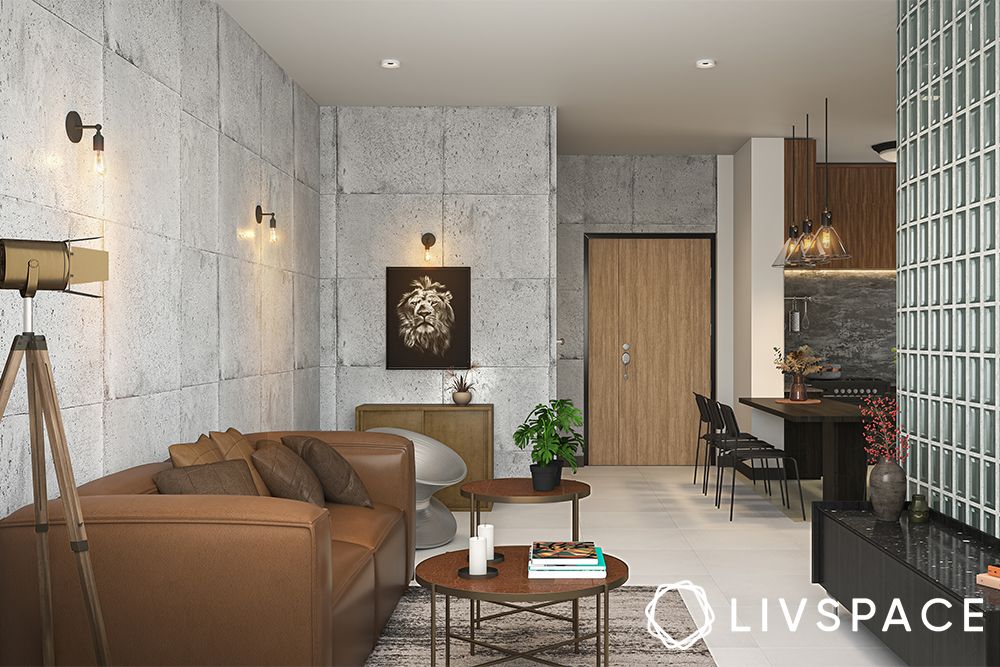 When you are looking for the best BTO designs in Kim Keat Beacon, it is necessary to go for storage-intensive ideas to keep up with the compact spaces. Given the configuration of the flats at Kim Keat Beacon, it's not exactly possible to have your ideal open kitchen. But you can consider a parallel dry and wet kitchen setup.
Here's How Livspace Uses Space Planning:
We use a breakfast island instead of a full-fledged dining room in this interior design for the new BTO in Kim Keat Beacon. With our effective space planning strategies, we ensure that you can make the most of your space. You can utilise the island as a dining space while simultaneously baking or prepping quick meals. To make the two areas appear connected, we keep the colour palette and kitchen cabinet designs the same.
We Designed a Poker Room on the Other Side of the Glass Wall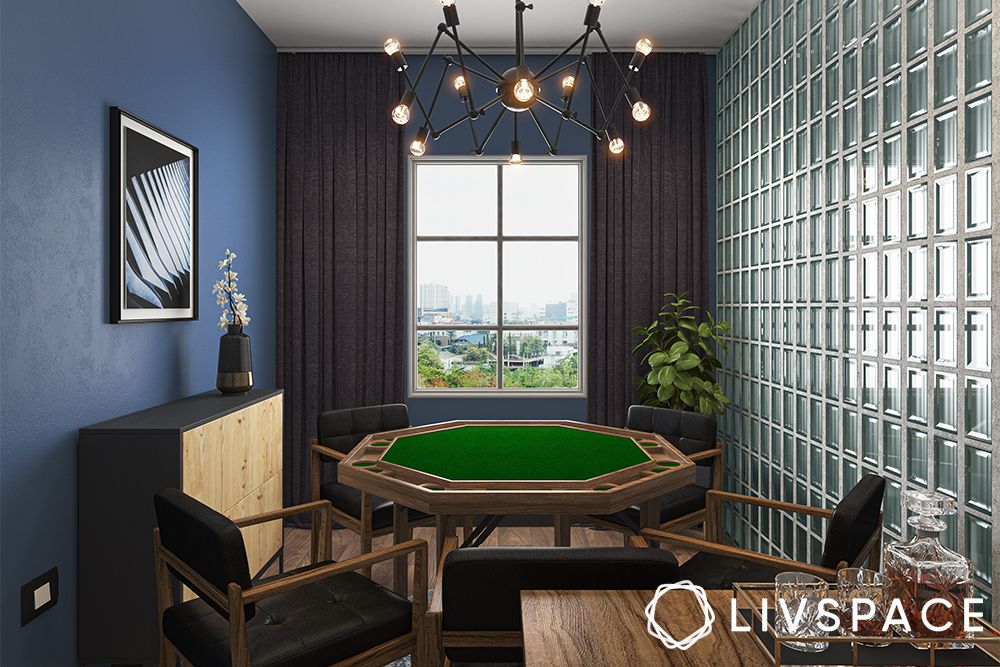 Keeping our promise, here's what is on the other side of the curved glass brick wall. The POKER ROOM! Since this home belongs to young energies, having a lounge area where they can call their friends is a must.
Here's How Livspace Adds a Designer Touch:
A poker table for five and a side table serving as a small bar area makes this room full of style and trend. This room accommodates both natural and artificial lights quite sufficiently.
Planning to take a home in Yishun Glen, and not Kim Keat Beacon? We've got you covered. Click here to get some amazing modern interior design ideas for your home.
We Dabbled in Luxury Elements for This Industrial-Themed Master Bedroom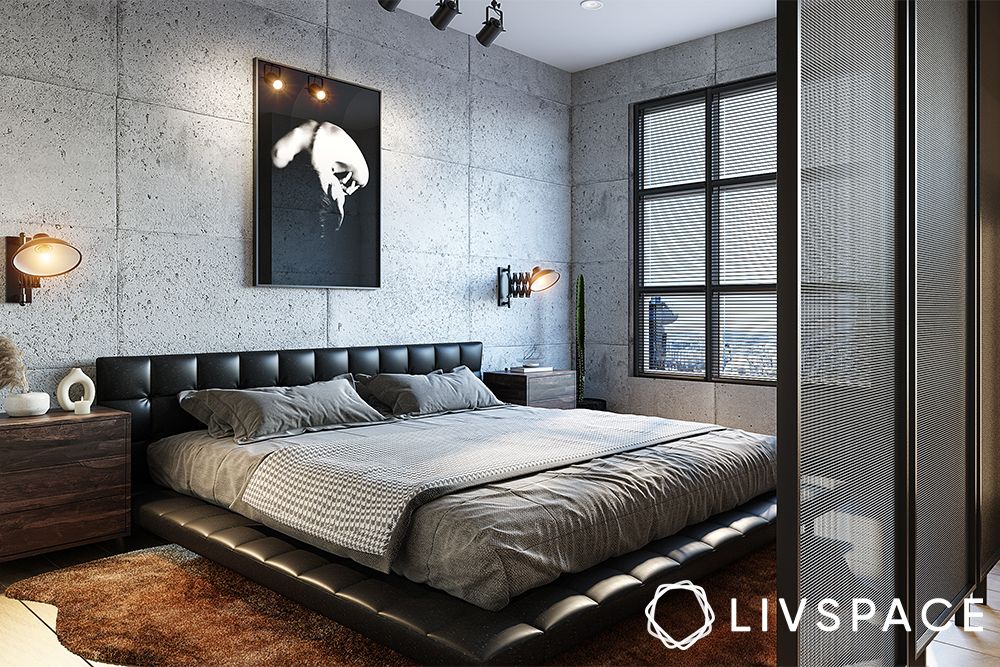 The bedroom of Marcus and Cheryl is an accurate representation of the industrial yet luxe design they chose for the room. The use of cemented wall tiles and wooden flooring makes the space feel even more inviting. The master bedroom adopts a minimalist style, keeping up with the open-concept BTO interior design Kim Keat Beacon.
Here's How Livspace Can Design Your Master Bedroom:
Grey, brown, and black are just a few of the colours that combine to give this master bedroom a clean, minimalist feel. We leave all sides of the bed are un-blocked to promote traffic flow. Here, we divide space into separate zones using the netted, ceiling-height blinds. We also use these blinds to separate the bedroom and the huge walk-in wardrobe.
We Designed a Spacious and Trendy Walk-in Wardrobe That's Perfect for a Young Couple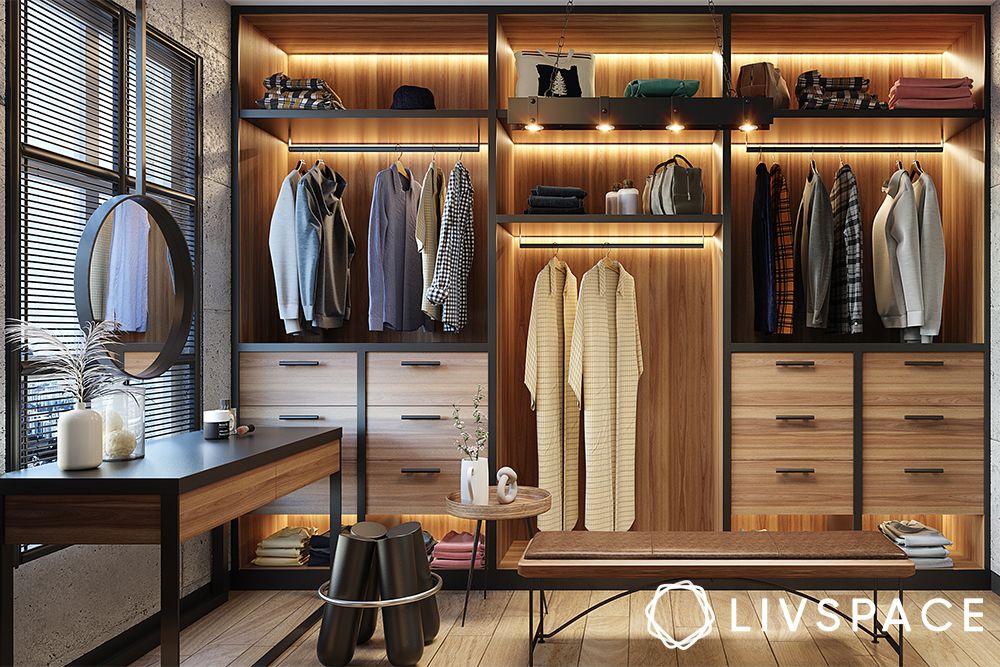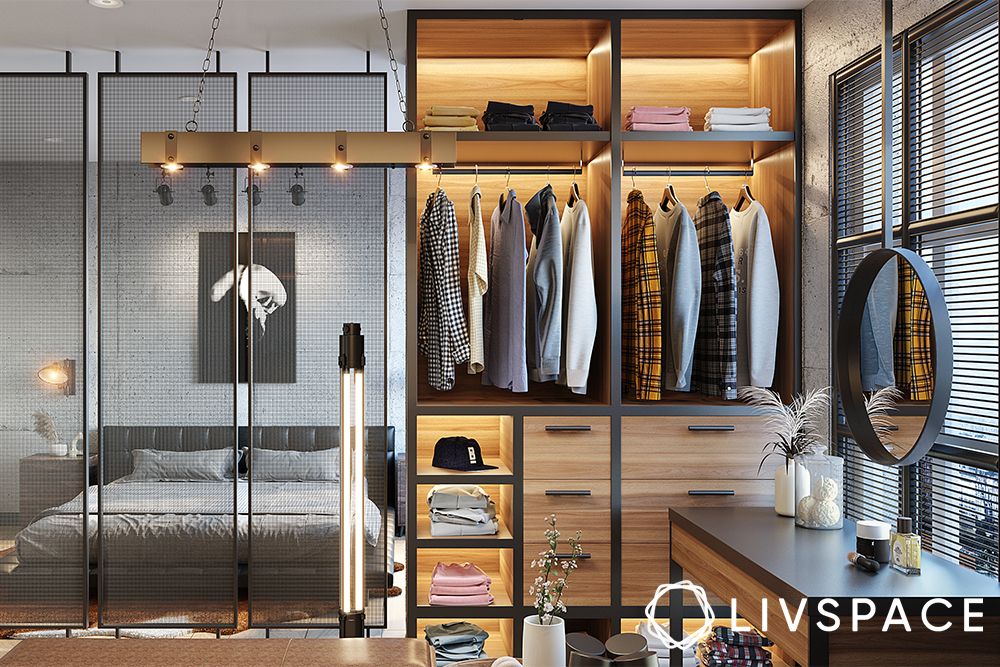 If you are looking for the best BTO designs in Kim Keat Beacon, we'd recommend adding a stylish walk-in closet to your master bedroom. This opulent parallel wardrobe is simply stunning. Its custom design required a great deal of research, from the choice of materials, to the specialised lighting system. However, the outcome is unquestionably worth the work.
Here's How Livspace Designed This Walk-in Wardrobe:
We placed the vanity area in the centre of the parallel wardrobes. A medium-sized oval mirror and a wooden dressing table add to the lushness of the home decor for new BTO Kim Keat Beacon. Another highlight of this interior design for a new BTO in Kim Keat Beacon is the small plant pots in every nook and corner of the house. It doesn't just add to the aesthetic value of the house but also makes the decor look light and breezy.
We Can Also Give You a Sneak Peek at the Master and the Common Bathrooms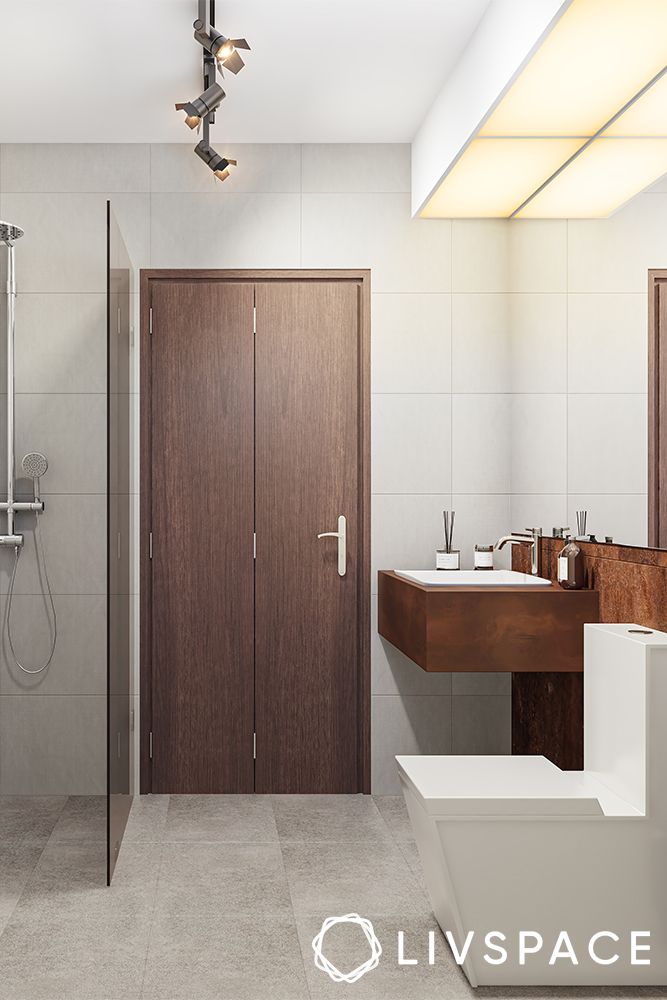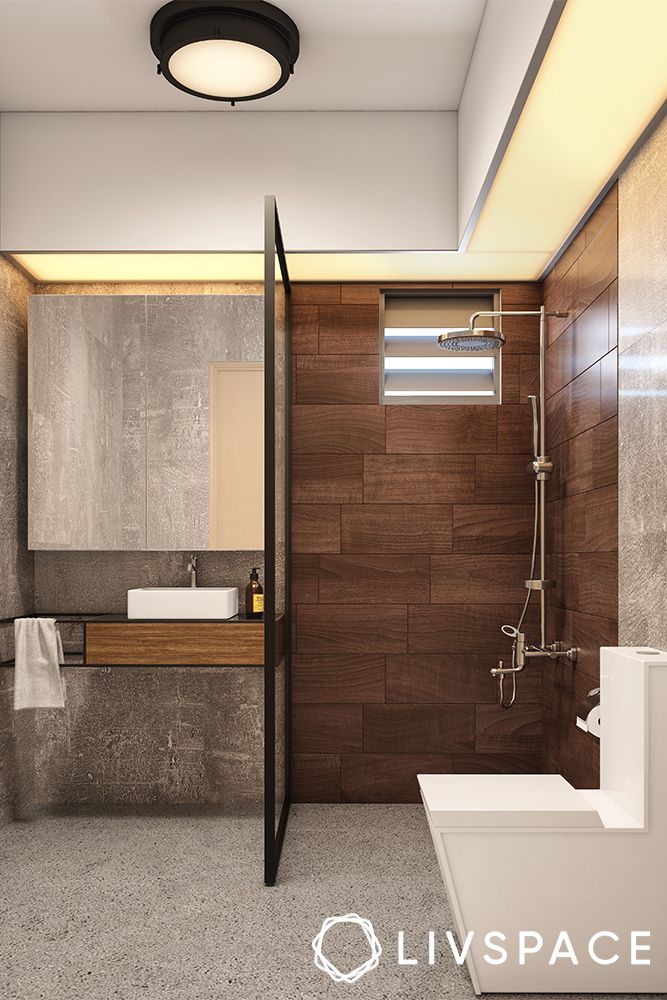 As with most HDB bathrooms, this space is also limited by spatial constraints. However, you can still manage to design a modern look for the two toilets. Both bathrooms are equipped with shower stalls, and these ones even have wood-finished floating cabinets for all the homeowners' storage needs.
In line with keeping things simple for a small bathroom interior design, the couple's common bathroom is just as elegant as the master bathroom. Both bathrooms are similar in design with the Floalt LED light panels occupying the ceiling and the wash-stand in an oak.
Tips From Livspace While Designing Your Bathroom:
Remember to separate wet and dry areas if you plan to decorate your bathroom in a similar manner. Use a glass shower barrier in a small bathroom to divide the two spaces without bringing more visual clutter into the room.
Also read: Need ideas for your upcoming HDB BTO in Clementi Peaks? This pet-friendly home is sure to inspire you.
Property Overview: Kim Keat Beacon
The Kim Keat Beacon will offer 542 units of 3- and 4-room flats in a developed community with a wide range of services. After the July 2014 launch of Toa Payoh Apex, this is the first time a BTO has launched in the Toa Payoh estate. Despite being somewhat distant from Toa Payoh MRT Station (1.4km), this BTO property has excellent connectivity to both the Pans Island Expressway (PIE) and the Central Expressway (CTE).
OVERVIEW
Name of the Project
Kim Keat Beacon
Sales Launch
May 2018 BTO
Type of Project
Built-To-Order (BTO)
Total number of Units
542
Types of Houses
3-room and 4-room flats
Number of Blocks and Floor
3 Blocks and 30 Floors
Length of Tenure
99 years
How Can Livspace Help You?
We hope you enjoyed our few best BTO designs in Kim Keat Beacon! If you have a registered BTO and want the interior design for new BTO in Kim Keat Beacon to be just as beautiful, then look no further. Book an online consultation with Livspace today.